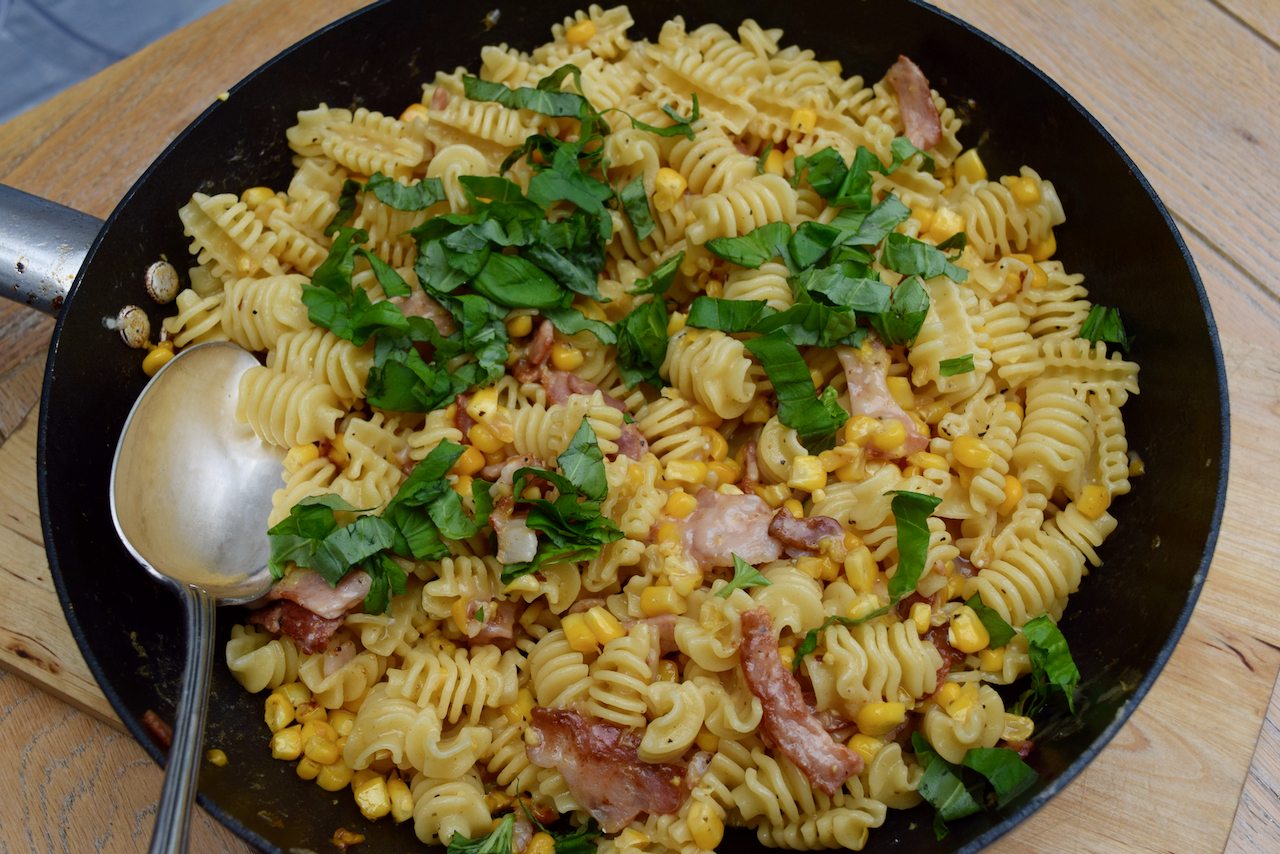 Parmesan, Corn and Bacon Pasta recipe
These last couple of days have had a real whiff of autumn to them. I've popped a polo neck on and tonight our dinner was a creamy, slow cooker casserole. It's only just September, but it's back to school week so everything feels like the end the summer. Let's not feel maudlin though, let's celebrate the new season with a bloody great big bowl of Parmesan, Corn and Bacon Pasta.
I love fresh sweetcorn, it's fresh, crisp and tastes like summer. You could use tinned for this, but it's really no effort to just cut the kernels from the cob. That's about the only mildly taxing part of this recipe. It's effortless and ready in under 25 minutes. Big bowls of pasta always go down well in our house and this one is no exception. It's packed with bacon, slathered in parmesan and a handful of basil gives the pasta a wonderful fragrance. Thank you to the amazing Smitten Kitchen for the heads up on this.
It seems so strange that it's back to school time. It will be good to get some sort of semblance of normality back in our lives. And I really won't miss the daily 'what's for lunch' call from the depth of George's bedroom.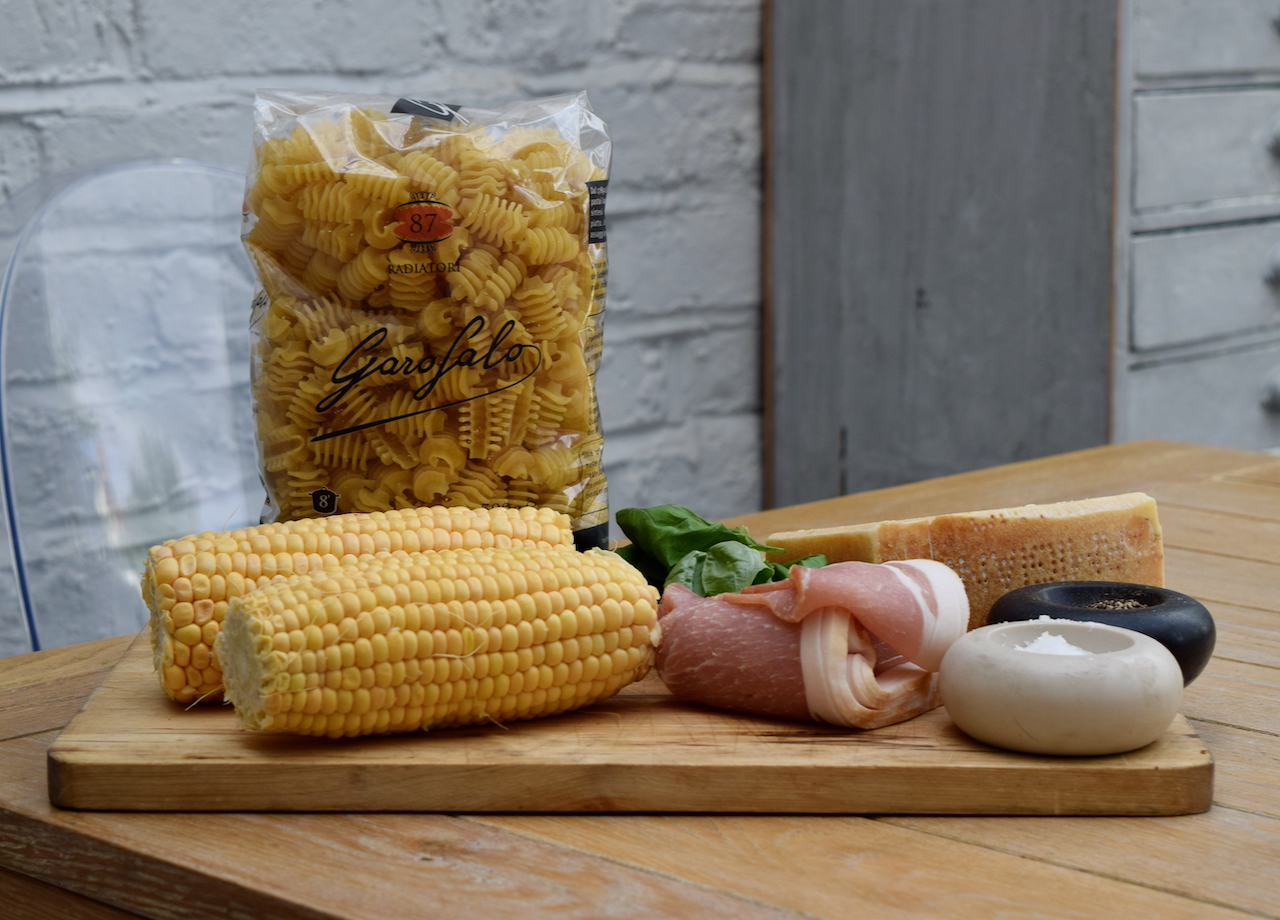 Just a handful of ingredients for late summer pasta based heaven. I bought this interesting Radiatore shape and had to hide it from George as he always eats any special looking pasta I buy. Fresh corn is so sweet and crisp, it's so perfect in this dish.
Make a start by cooking your chosen pasta according to the instructions on the package.
Remove around 250ml of the pasta cooking water before you drain it, then drain it.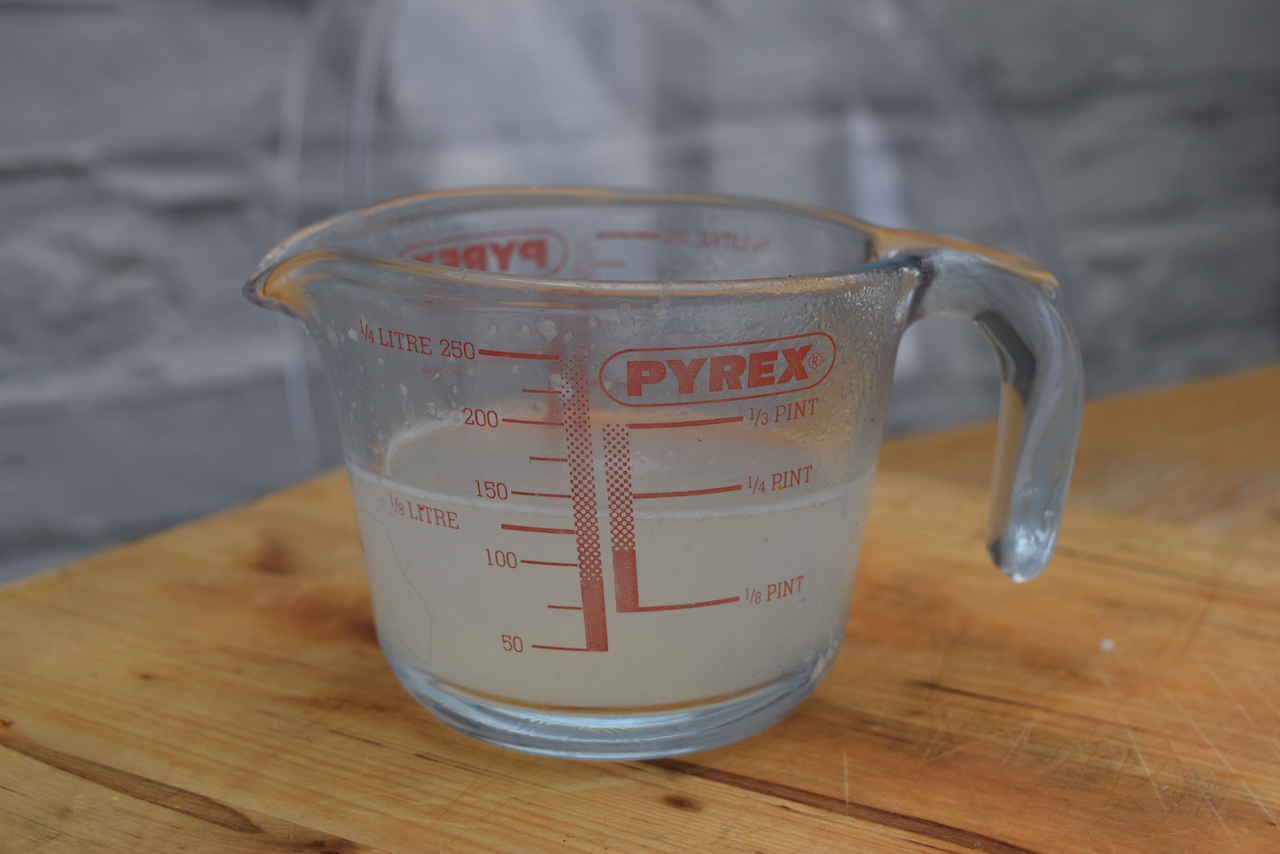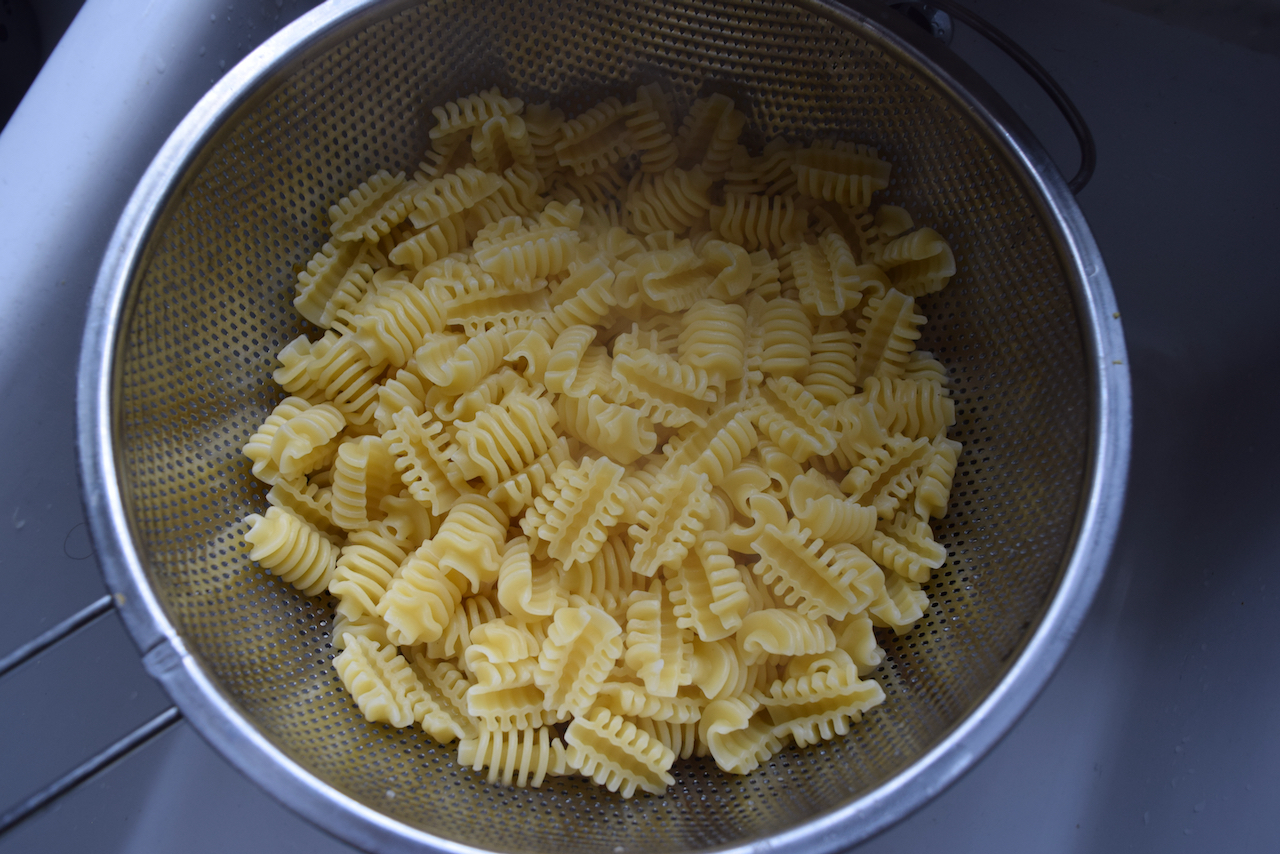 Meanwhile, take a large frying pan, heat over a medium high flame and fry your chopped bacon until crisp.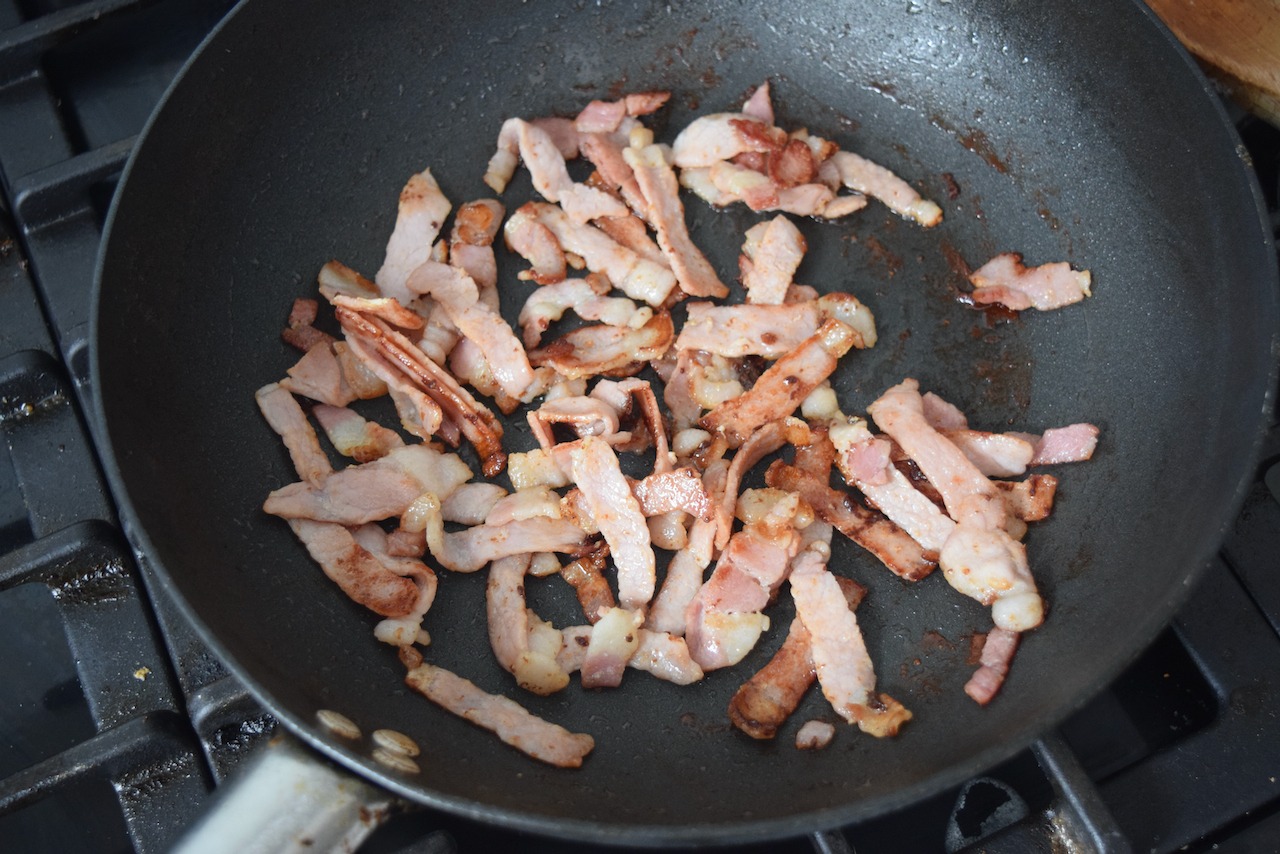 At this point, if your bacon has released a lot of fat, then drain off most of it, leaving around a tablespoon. Mine was fairly lean, so I didn't need to do this.
Cut the corn kernels from the cobs, it's messy, but easy.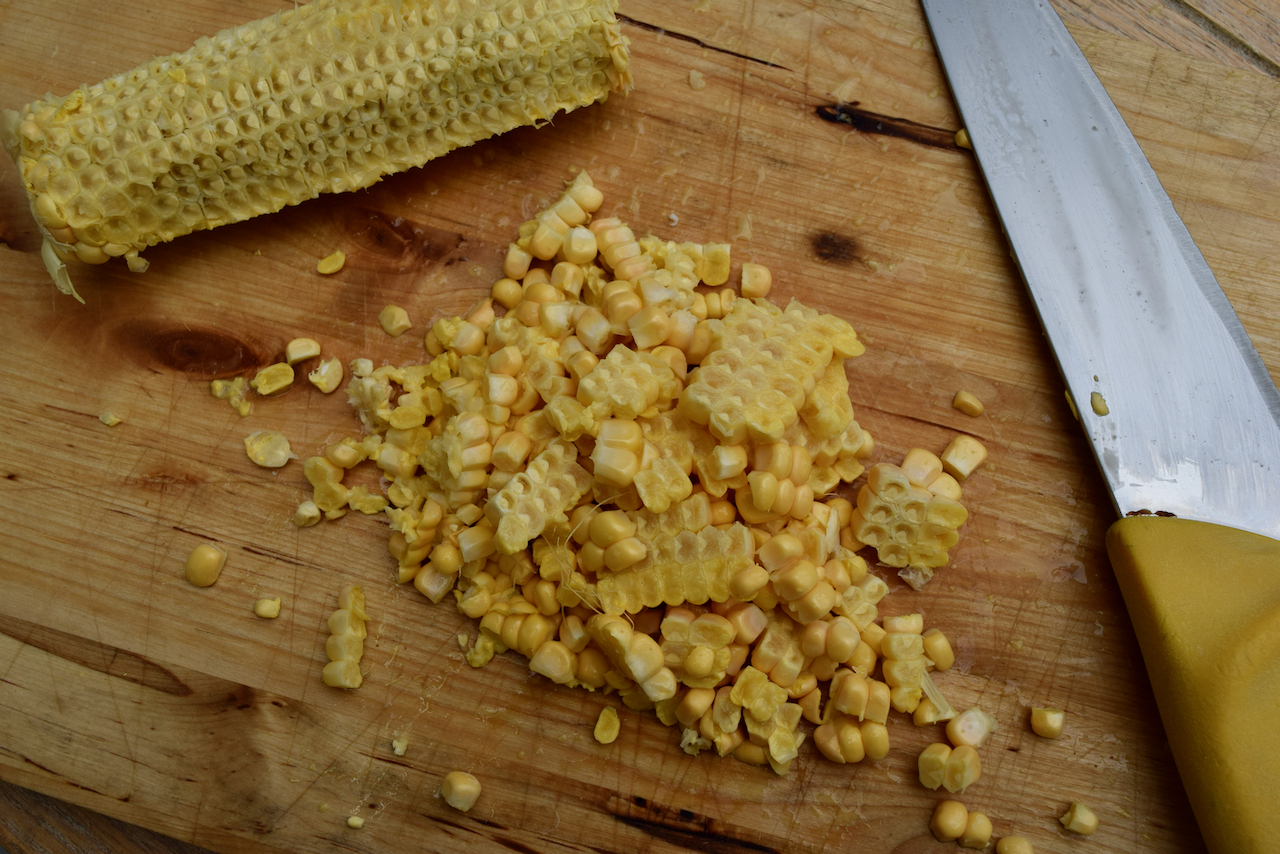 Turn the heat down then toss the sweetcorn into the pan with the bacon. Cook for 2 to 3 minutes or until just tender.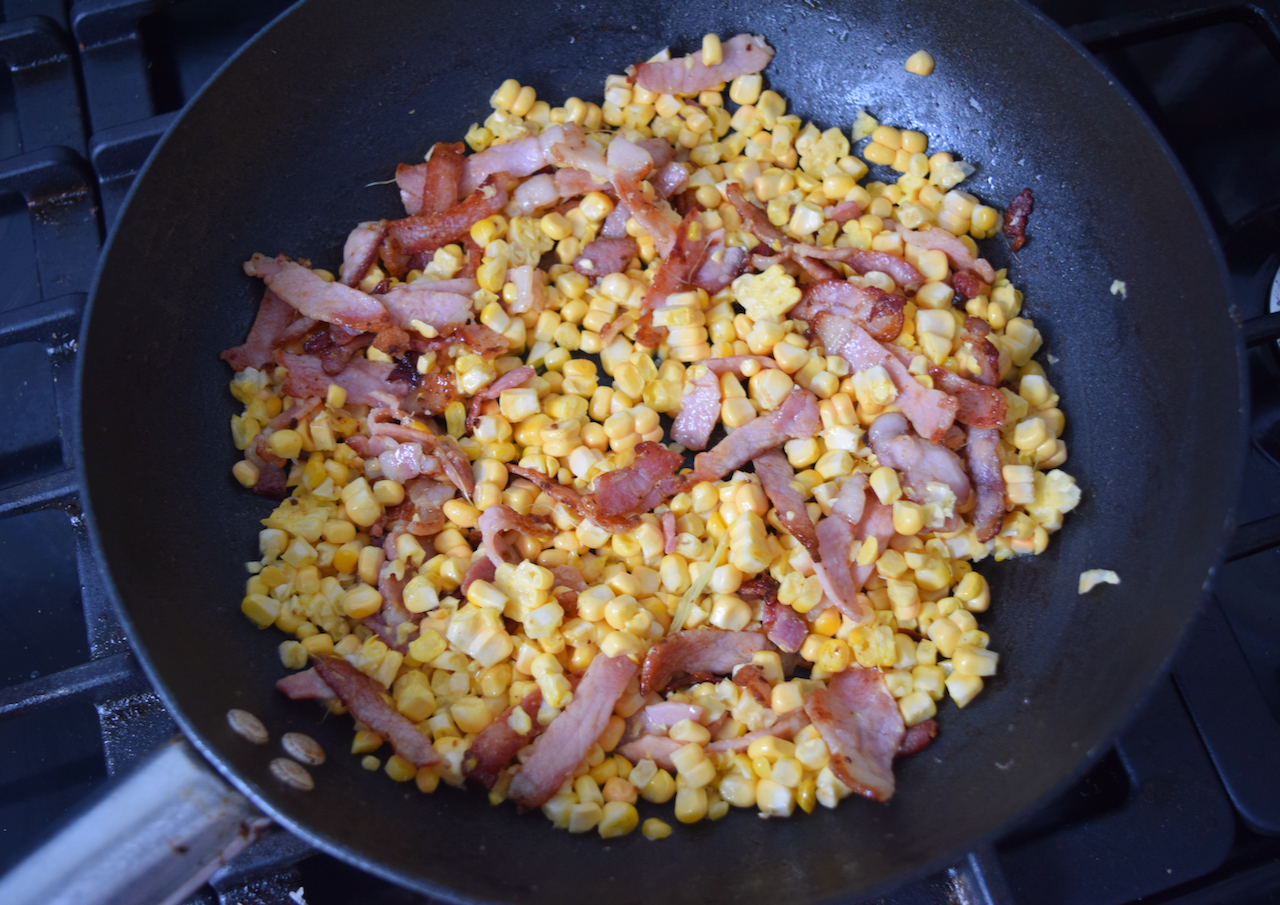 Add your cooked pasta to the pan along with an initial 150ml-ish of the pasta water and the grated parmesan.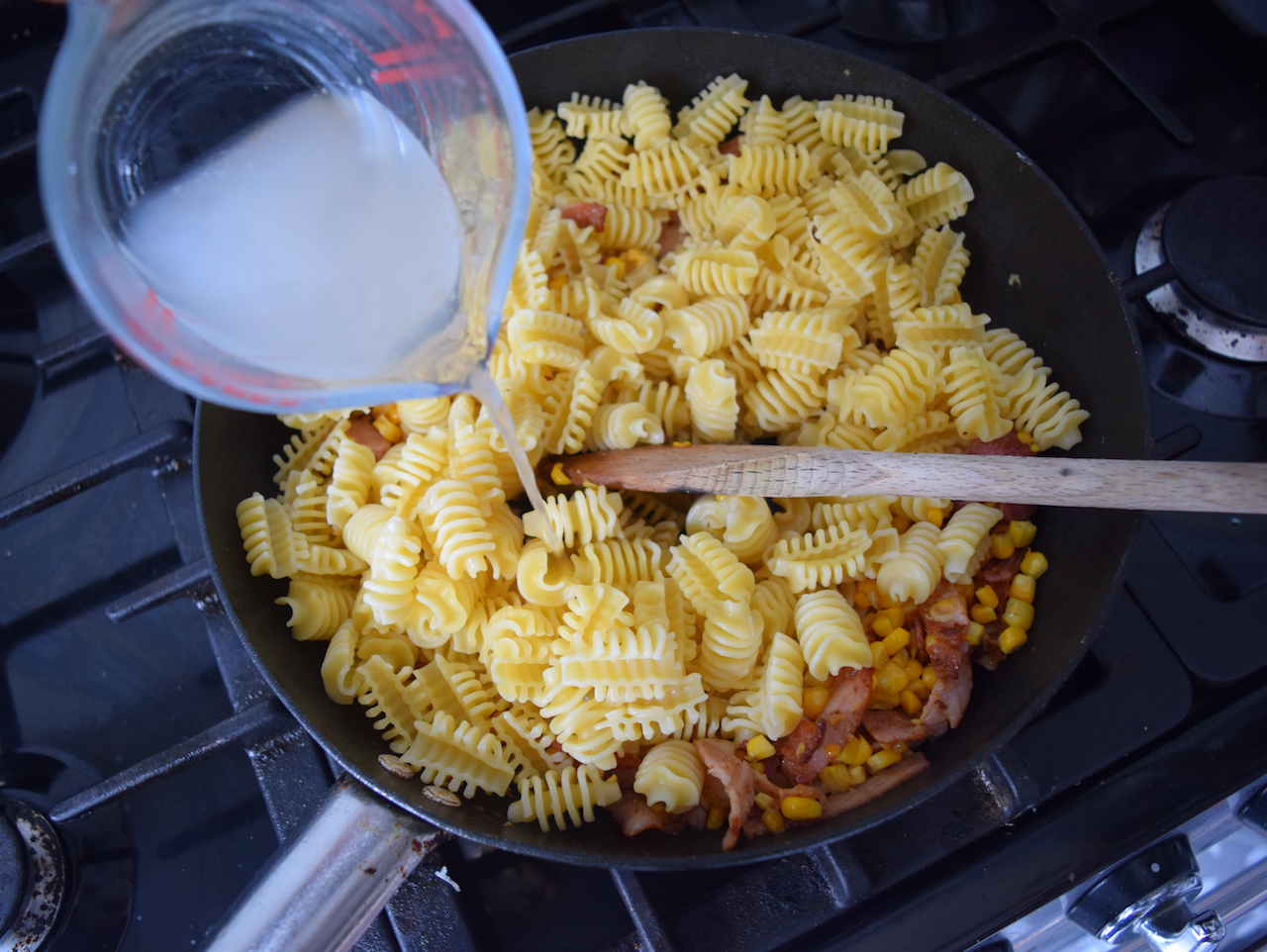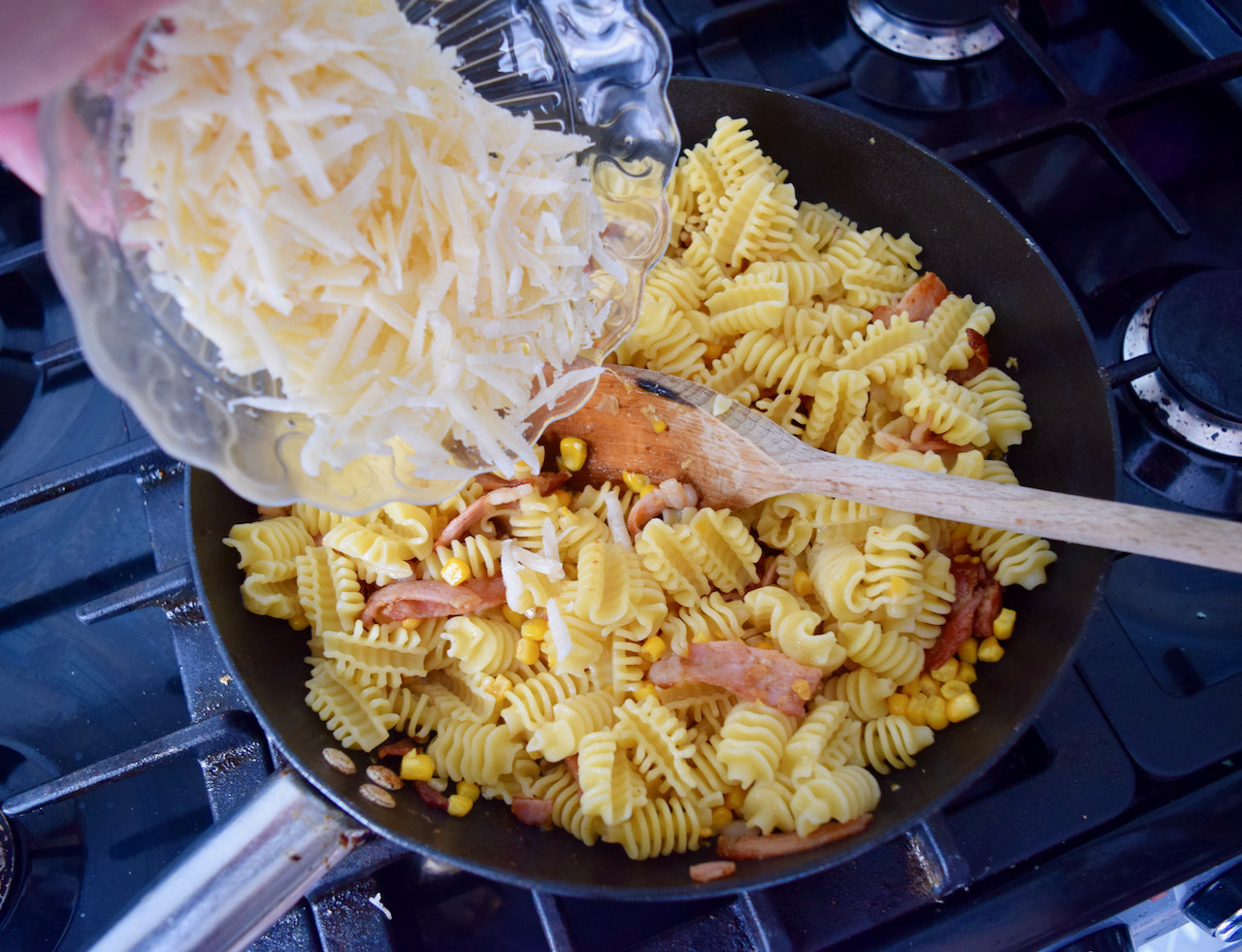 Now stir, stir, stir then stir some more; you want the parmesan and the cooking water to combine and coat the pasta. If it seems to dry, add a touch more of the pasta water to loosen it off.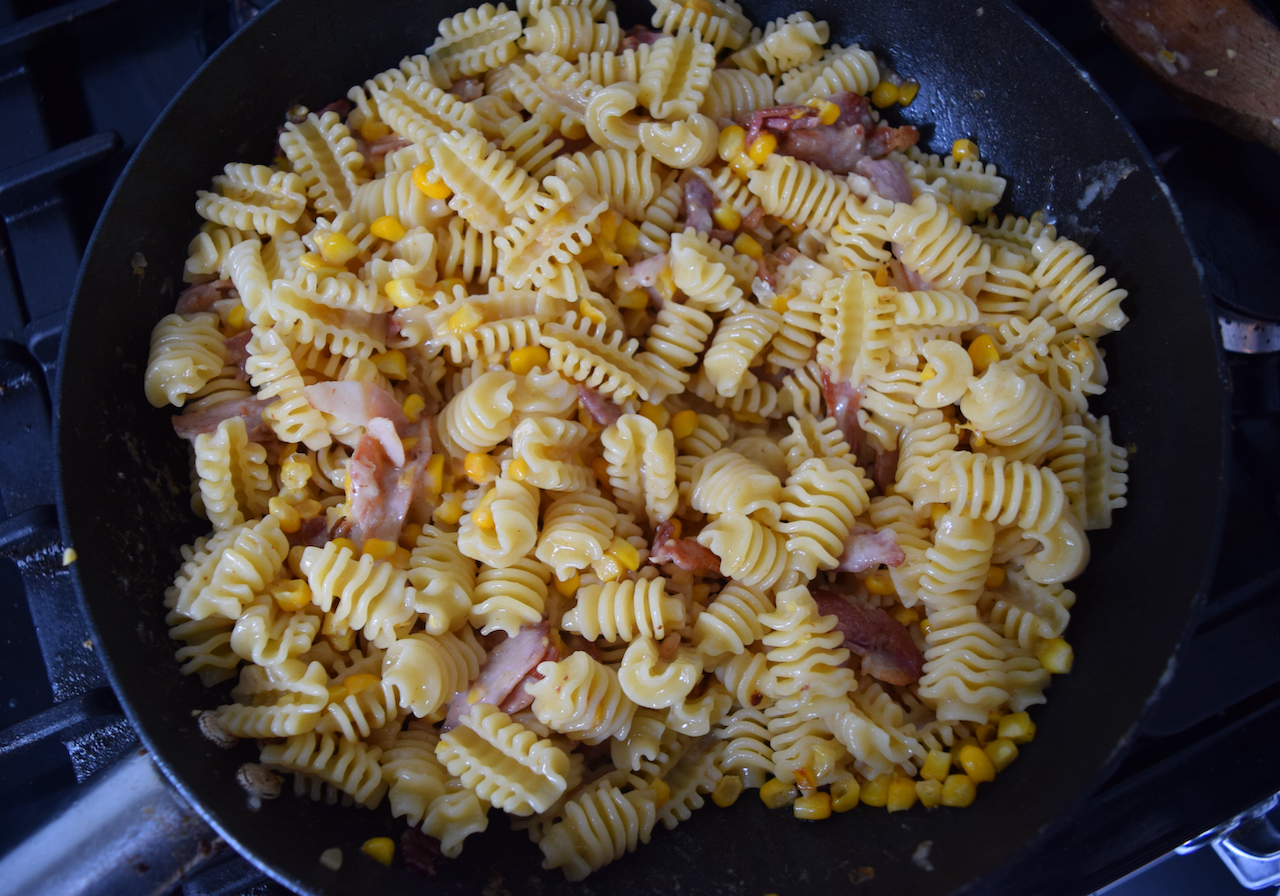 Taste to check for seasoning, season accordingly, then sprinkle on a generous handful of chopped fresh basil. Serve piping hot with some extra parmesan and a touch more basil, if you like. This dish needs no further adornment, just you and a fork.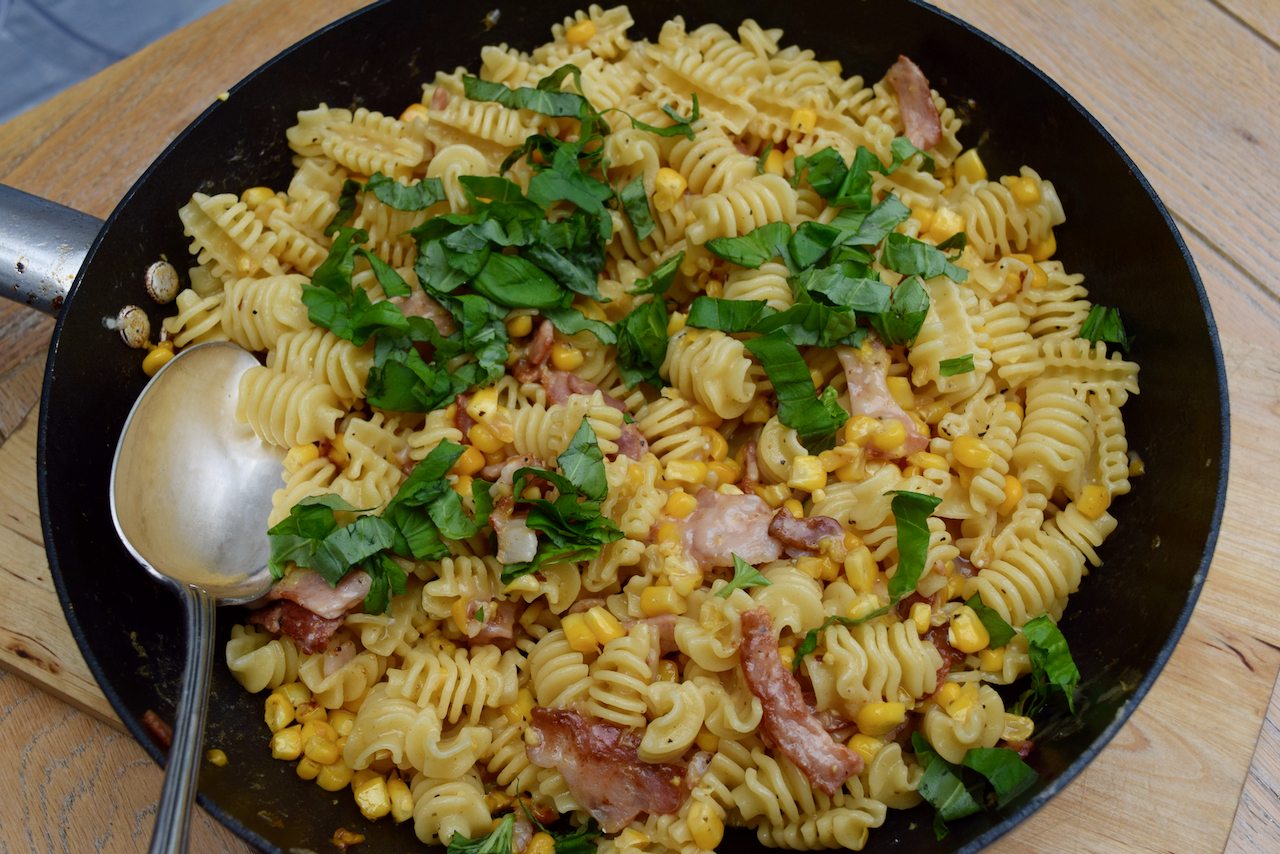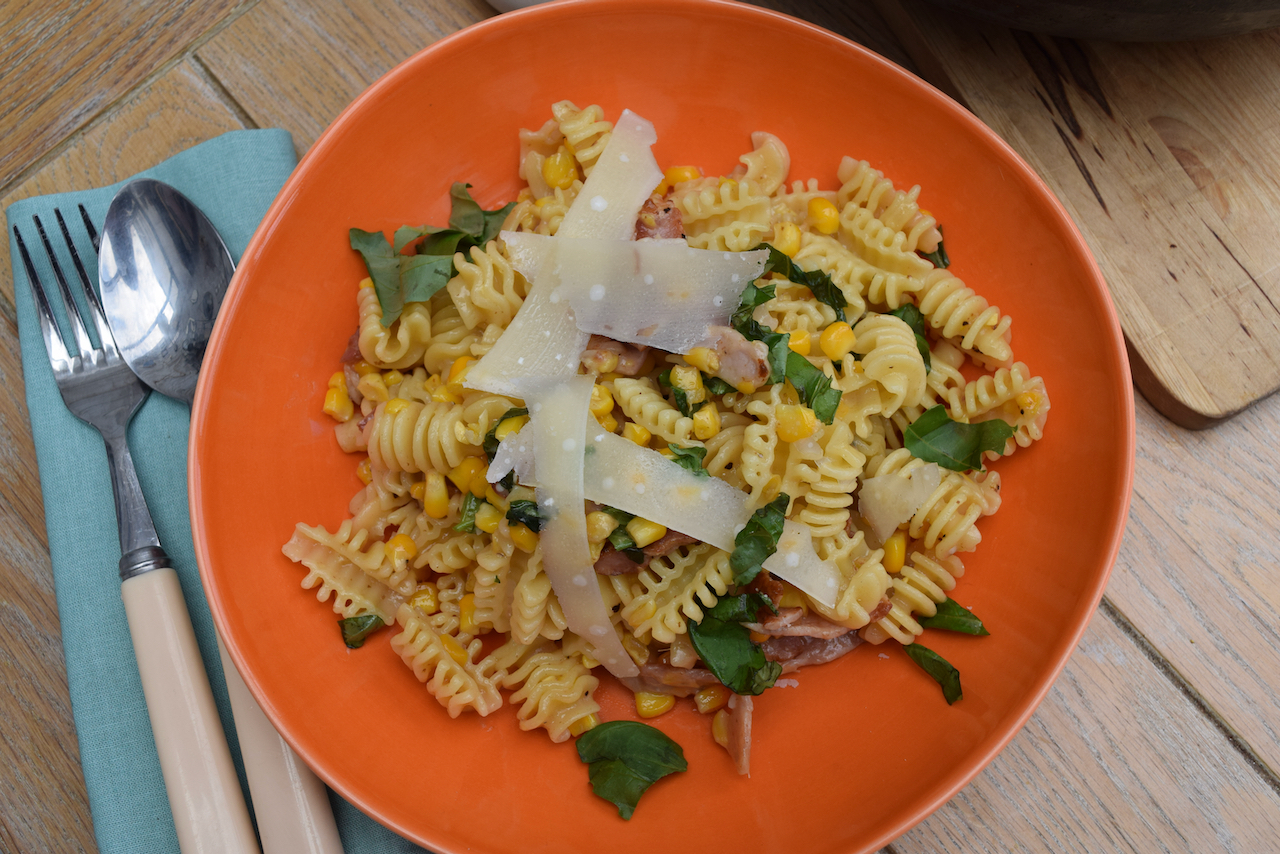 A new pasta dish is always a win. Especially one that's so quick and simple and will make the summer last just a little bit longer.
Lucy x
Parmesan, Corn and Bacon Pasta recipe
Serves 3 to 4
You will just need pans for this simple recipe
300g pasta, something intersting
200g bacon, streaky or back, either is fine, chopped
2 corn cobs
100g parmesan, grated, with extra for garnish
Handful fresh basil, chopped plus a little extra for garnish
Salt and pepper to taste
Cook your pasta according to the instructions on the packet, remove around 250ml of the cooking water for later, then drain.
Remove the kernels from the corn cobs
In a large frying pan, cook the bacon until crisp. If there's a lot of bacon fat, drain all but a tablespoon off, then add the corn and stir well. Cook for 2 to 3 minutes until just cooked.
Tip in the cooked pasta then stir in the parmesan along with around 150ml of the pasta cooking water. Stir really well, you want the sauce to coat the pasta, add a little more cooking water if needed.
Season to taste with salt and pepper then stir through a handful of chopped fresh basil.
Serve in large bowlfuls with parmesan shavings and more fresh basil.