Stuffing Sausage Rolls Recipe
This week, I am have been working with those kind people at Aldi again. And given it's so nearly December, they asked me to fashion a lovely festive recipe to share with you. When I think of Christmas, I think of food. To be fair, when I think of any special occasion, I think of food. Festive food is my favourite of all the food groups. Basically, you start eating at 9am on Christmas Day and finish at 11pm at night with that last Quality Street. There's Christmas cake, gingerbread, bread sauce, truffles, pate, smoked salmon, more bread sauce and I won't even start on the liquid refreshments. So, choosing a recipe to create with Aldi was quite tricky given the enormous choice. However, after much deliberation, I decided to combine two of my most favourite Christmas treats to create these Stuffing Sausage Rolls.
Using Aldi's Specially Selected Lincolnshire pork sausages, their crisp puff pastry and some fresh thyme from their herb selection I created a new festive favourite. I based the stuffing filling on my tried and tested recipe from Delia Smith, who I rely on hugely over Christmas for her impeccable timings and almost drinkable bread sauce, it's so good. I modified this stuffing to include some dried cranberries and then enrobed the whole delicious business in the pastry. Do feel free to use homemade puff or shortcrust pastry if you have far too much time on your hands.
Pop these treats in the oven for a scant 2o to 25 minutes then they are ready to devour by the handful. Or to serve to your drooling guests with a glass of wine. Speaking of which, Aldi's Gavi is super quaffable and I did treat myself to a bottle to savour over Christmas. These also freeze brilliantly which means, while we are still not quite in complete balls to the wall mode, you could whip up a batch and stash them for busier times. Or hungrier times, when no one's around, and you can see off half of them yourself.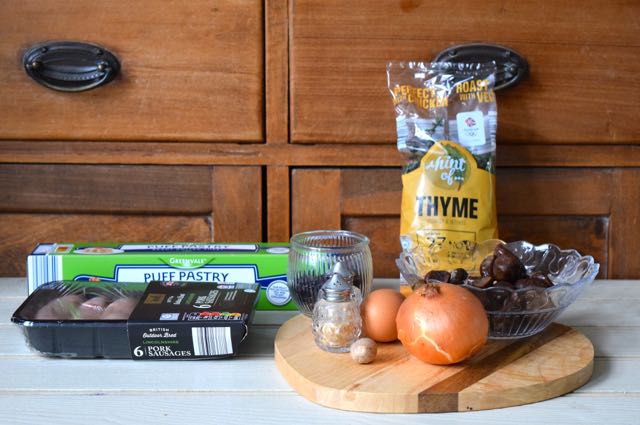 Here's the simple, but oh so tasty and festive line up for my Stuffing Sausage Rolls. I love a touch of cranberry with savoury items, but if this is not your thing, just leave them out. I had some vacuum packed chestnuts left from last year, and hooray they were within their sell by date, so I chopped these finely and added them in for full festive stuffing flavour.
Make a start on these by finely chopping an onion and lightly frying it off until just browning and translucent. Normally I don't worry about chopping too finely, but on this occasion, do chop finely, as nobody wants a big lump of onion all up in their grill *I have been spending too much time talking to my children*. Once cooked, leave this to one side to cool for a moment.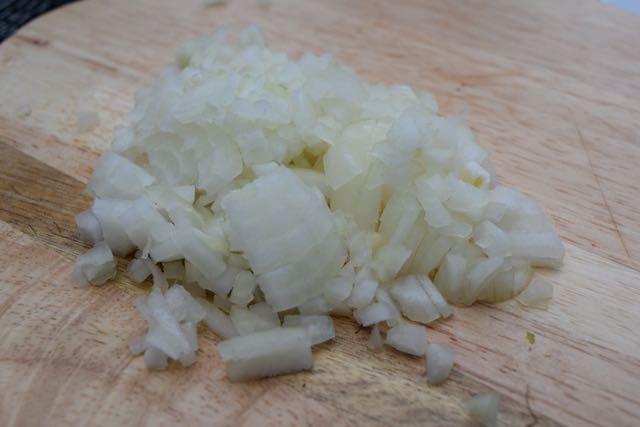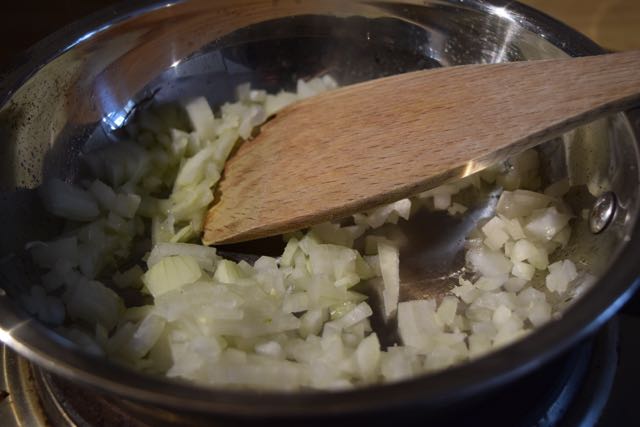 Next, take your tasty sausages or sausage meat and add them to a bowl with the chopped chestnuts and cranberries, if sweet and savoury is your thing.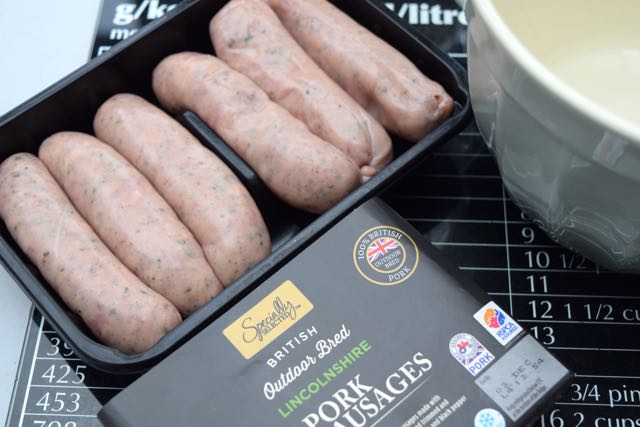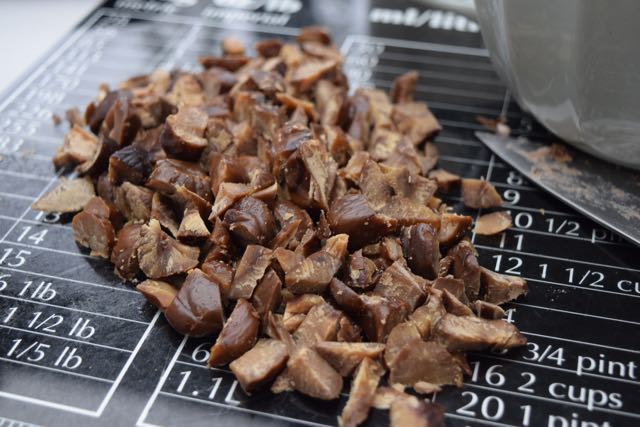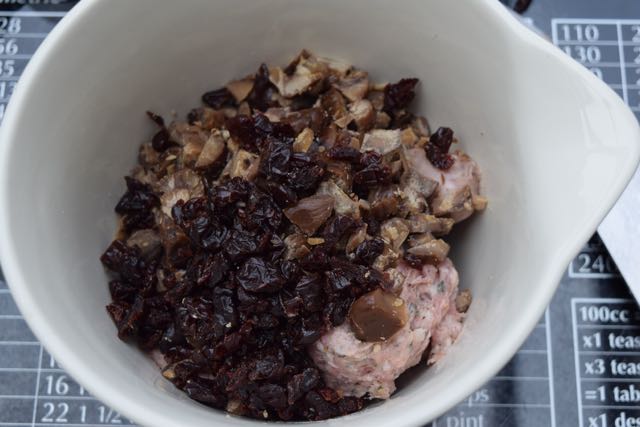 To me this is already Christmas personified. Add the fresh thyme, or if you prefer you could use sage or parsley, a generous grating of nutmeg then add the cooked and cooled onion.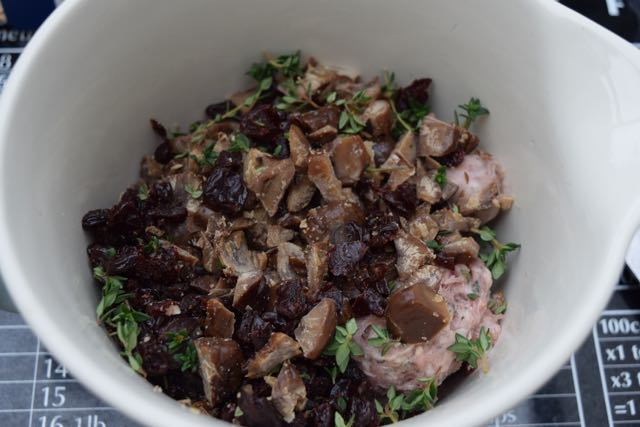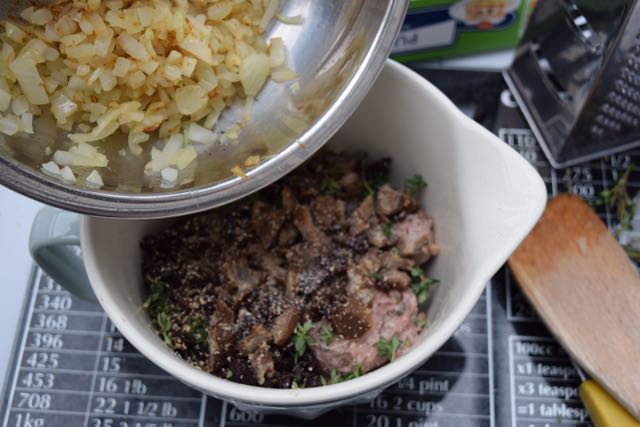 All that's needed now is some salt and pepper then give it all a really good stir or go in with your hands, I did, and have a good squidge.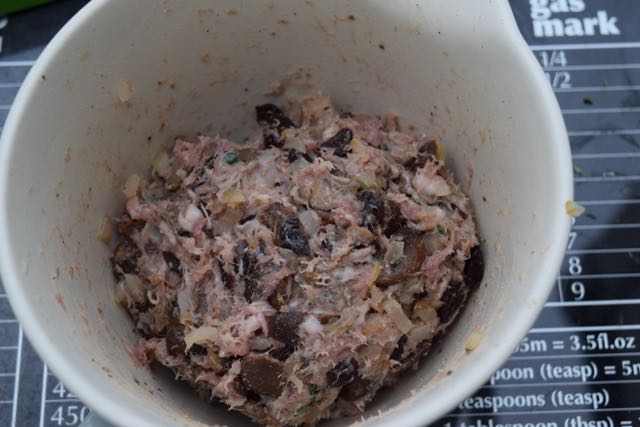 Now for the pastry. If you are using bought pastry, unroll it and give it a little roll with a rolling pin to flatten it out a touch. Then, divide into three long sections with a sharp knife.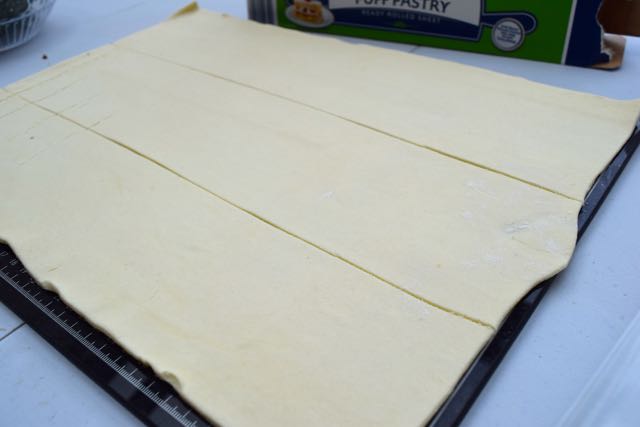 Now, divide the stuffing filling into three sections and fashion a line of this down the centre of each pastry piece.
Voila.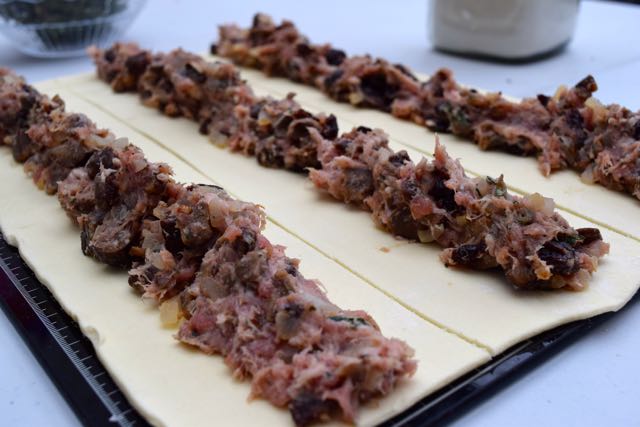 Roll each section over into one long sausage roll, sealing the edges with a fork. Then cut each length into around 12 to 14 cocktail size sausage rolls, although do feel free to make them bigger if you'd prefer.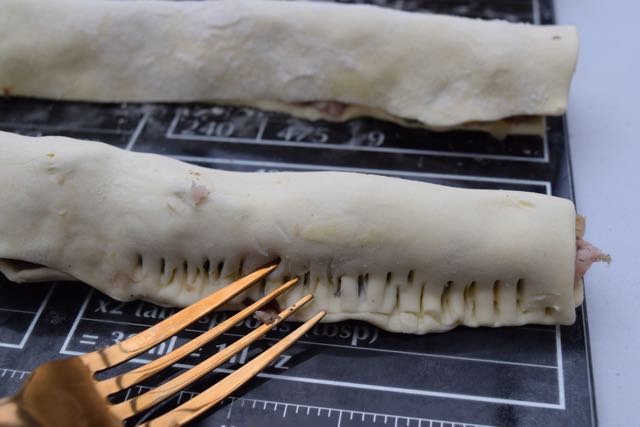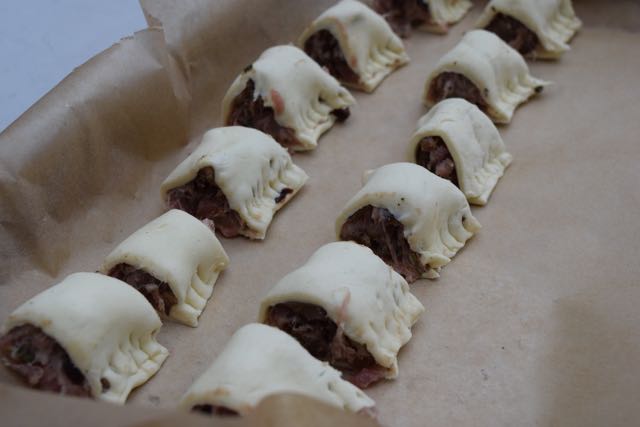 Cut the rest of the sausage rolls and place them all on lined baking sheets. Brush with a little beaten egg for extra shine, then bake in a hot oven for 20 to 25 minutes.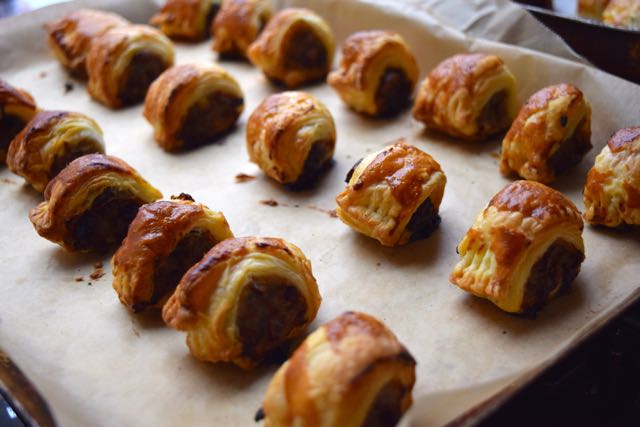 If you are going to freeze these to serve over the forthcoming festivities, I would recommend cooking them for slightly less time then you can re-heat them and brown them off before you serve them.
Allow them to cool slightly so you don't burn the roof of your mouth *I did, twice* then serve garnished with some extra thyme and washed down with some festive cheer.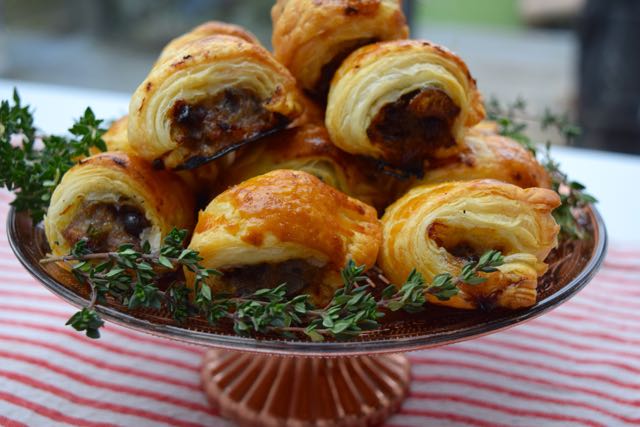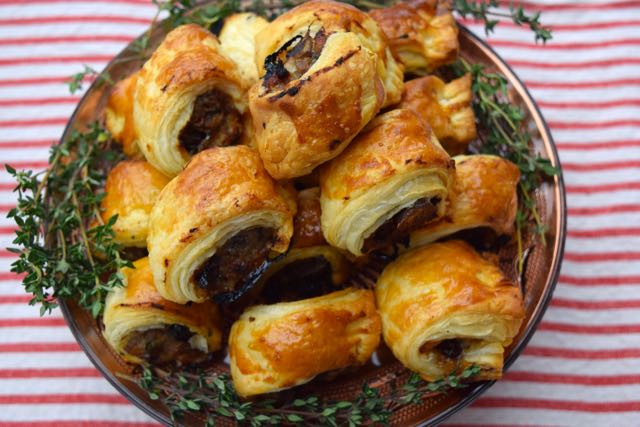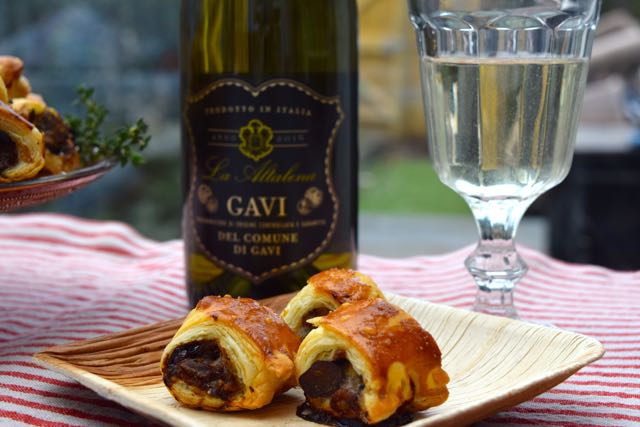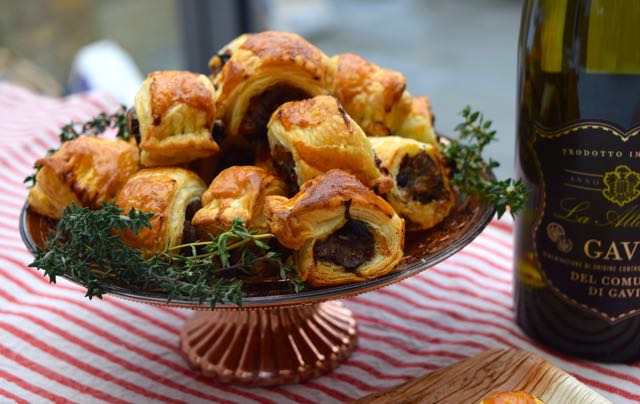 I lost count of how many of these I ate. Even if I do say so myself, these Stuffing Sausage Rolls are destined to become a new Christmas classic. I love a recipe challenge and Aldi are brilliant at a) making me use my recipe creating brain and b) providing wonderful ingredients to create those recipes. So, it's thanks to them, these Stuffing Sausage Rolls will be contributing to my annual Christmas weight gain. I fear this year, it could be worse than ever.
Lucy x
Aldi provided me with vouchers to buy these ingredients, however, all opinions and ramblings are, as always, my own.
Stuffing Sausage Rolls Recipe
You will need lined baking sheets and a big bowl
This recipe makes around 36 to 40 cocktail sized rolls
400g sheet puff pastry, make your own puff or shortcrust
1 small onion, finely chopped
1 tablespoon olive oil
400g sausage meat or sausages, skins removed
200g chestnuts, finely chopped
50g dried cranberries, chopped, optional
good grating fresh nutmeg
approx 2 tablespoons fresh thyme, parsley or sage, or all of them
salt and pepper
1 egg, beaten for egg wash
Pre heat your oven to 160 degrees fan assisted.
Finely chop your onion and add, with a tablespoon of olive oil, to a small frying pan. Fry until just turning golden and translucent. Leave to cool.
Place your sausage meat or skinned sausages in a bowl and add the roughly chopped chestnuts, dried cranberries, if using, grated nutmeg, fresh thyme and salt and pepper. Stir well or go in with your hands and squidge around until thoroughly mixed together.
Take your pastry and lay out on a large chopping board. Give it a little roll with a rolling pin to flatten. Cut the pastry into three long pieces. Lay a third of the stuffing filling along each piece of pastry. Roll the pasty over the filling and seal the edges with a fork. Cut into small cocktail sausage rolls then place on a lined baking sheet. Repeat with the other two pieces of pastry and filling.
Beat an egg and brush each sausage roll with the egg wash. Bake for 20 to 25 minutes or until golden brown and cooked through. Serve piping hot.
These sausage rolls freeze well, just place in a food bag once cooled and pop in the freezer for up to three months.