Sweet Chilli Lamb Recipe
It's here at last – Easter Week. I feel I have been waiting for this four day weekend for the last month. It's been a manic start to the year with our kitchen refurb dragging it's heels, visitors and a combination of work and dinner parties keeping me super busy. This week, I am winding down with some great recipes you can throw together over the Easter break. After all, it is a time to rest and reflect and hopefully get out and about and enjoy time with your family. I expect mine will be spent in the kitchen forking up little nibbly bits and cocktails which my family think appear out of nowhere. I will, however, try to run away with the dog and feel the wind in my/our hair and fur respectively. If you haven't yet established how you are going to feed your family this coming Easter weekend, then this Sweet Chilli Lamb may be something you want to ponder.
Easter is a lovely break, I think. It's time away from the routine and just when you think it's over, you get one last extra day off into the bargain. I will be by the sea, breathing in great big lungfuls of fresh air and probably wrapping myself up in numerous cardi's as this beautiful balmy weather is not set to last into the long weekend. This Sweet Chilli Lamb can be made at any point during your holiday weekend. It's kerfuffle free and is left well alone to work it's magic whilst you partake in your usual family Easter traditions. We will be rowing over Monopoly and drinking too much, I expect. Use a leg or shoulder for this wonderful recipe, which came to me courtesy of the rather elegant Londoner, with huge thanks. It can be served with all the traditional accompaniments or with breads and salads as part of a more casual spread. The lamb is soft, slow roasted and beyond tender. The flavour is traditional yet with a hint of spice and sweetness from the giant basting of sweet chilli sauce. This tasty roast provides the most amazing leftovers too. I adore cold lamb sandwiched between buttered brown bread with mango chutney and watercress. It almost makes the lamb worth making, just for the sandwich alone.
Whether you are going old school or more of a moveable feast this Easter, this lamb should certainly play a part somewhere in the proceedings. Especially as lamb is on offer at most of the supermarkets at the moment, this dish is win win all round.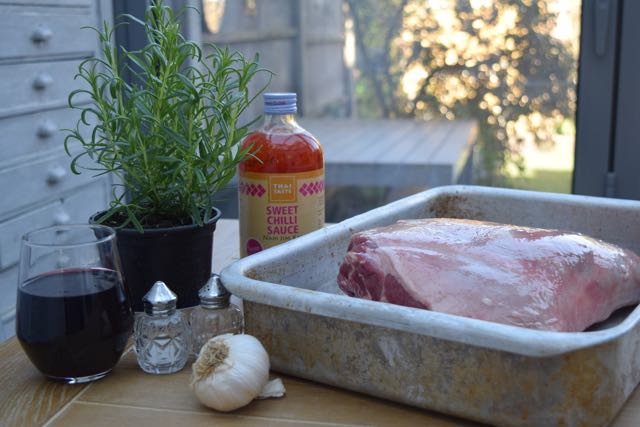 Simple, barely any ingredients and I managed not to forget any of them for a change. The original recipe called for a casserole dish with a lid, but I couldn't find anything to accommodate a leg of lamb so used a giant baking tin with some tight foil. You may have more luck with a casserole dish if you used a smaller shoulder of lamb. Just make sure you seal the foil well and it should be fine, worry not.
Make a start by pre heating your oven to a low 120 to 140 degrees fan assisted. My oven is quite hot so I erred on the low side but you know your own oven and set it accordingly. Now put your lamb into your chosen tin/dish and make some tiny incisions and fill with fresh rosemary sprigs.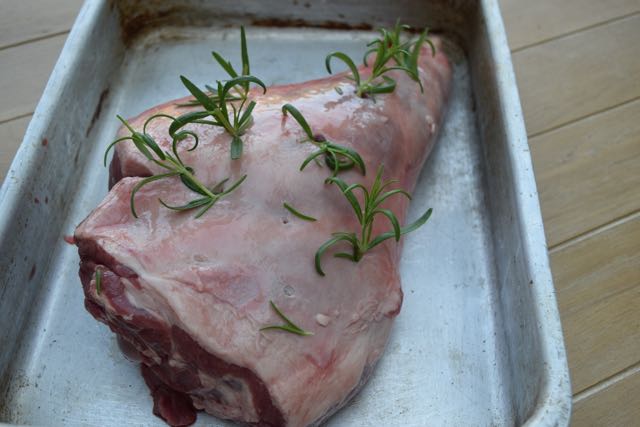 Season well and drizzle on a little olive oil to *eek* moisten your meat. Now, pour in the glass of red wine, after you've had a little sip to quality control it. Then throw in the cloves of garlic, the recipe said peel them, but leave whole.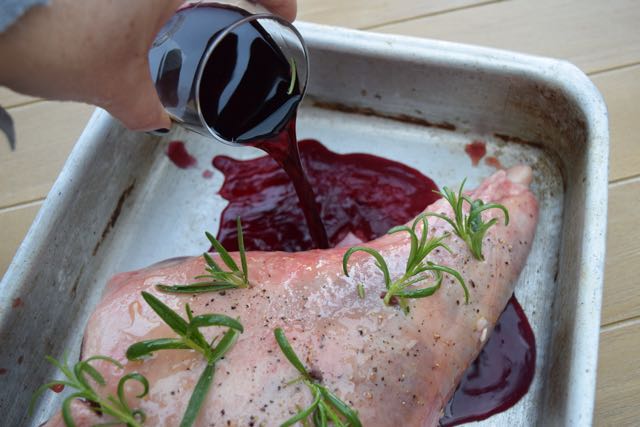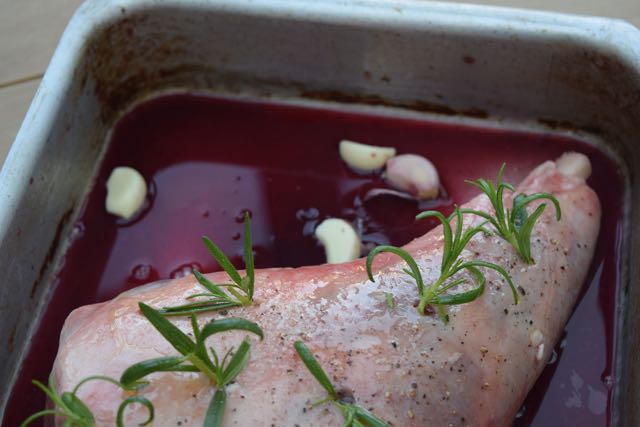 Fashion a tight lid of foil, ensuring you seal the edges well, or put on the lid of your dish and put in the pre heated oven for 3 hours. No need to baste, just sit quietly eating your Easter eggs.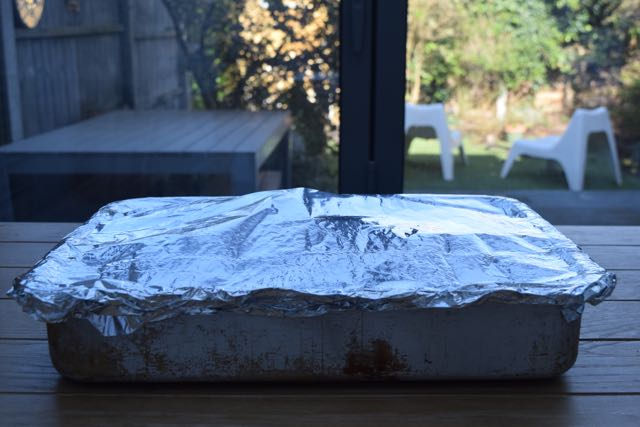 After the 3 hours is up, remove the foil/lid and take off some of the rosemary. I forgot to do this and it didn't really make too much difference.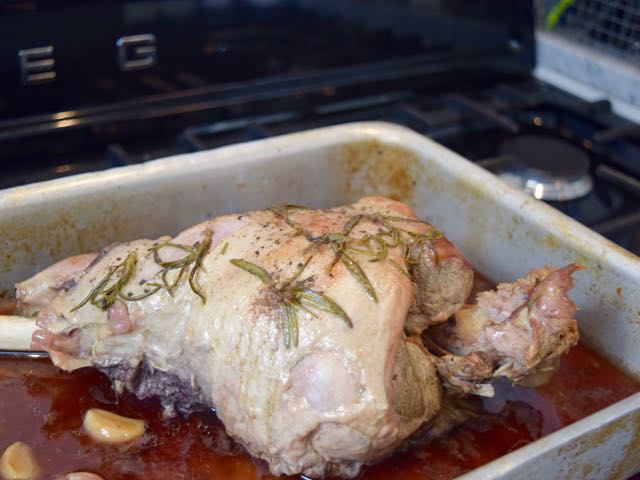 Now pour on the sweet chilli sauce in abundance. Quite a bit of mine just slithered off, but don't worry, you can spoon it back on again. Just make sure you end up with a relatively even coating.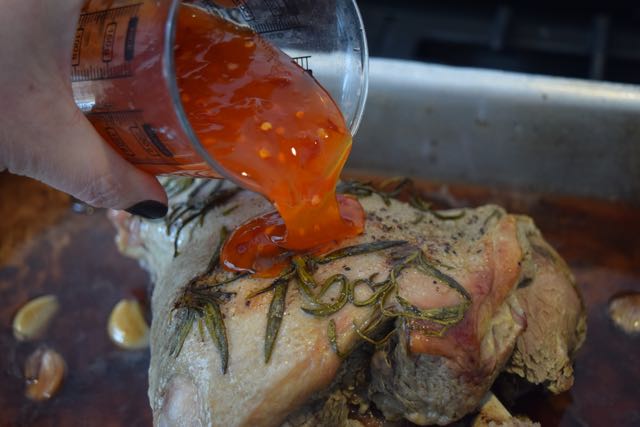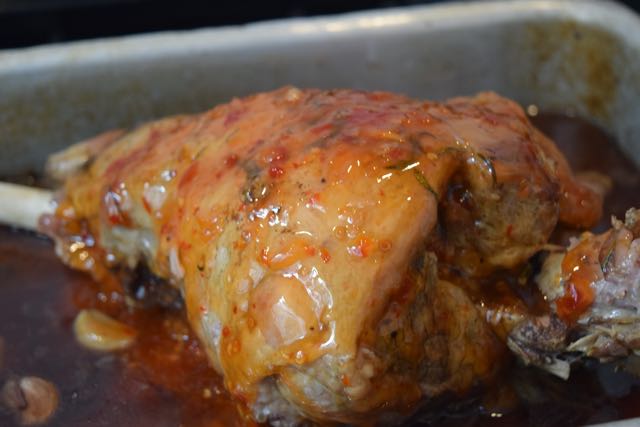 Put the lamb back in the oven for a further one and a half hours, foil off, to turn a wonderful sticky conker brown. You may need a little longer, just play it by ear.
Let the lamb rest, covered in foil, while you deal with the pan juices. These are wonderful and super rich. Strain them into a jug then leave to separate before spooning off the layer of fat which rises to the top. Reheat if necessary before serving sparingly with your lamb.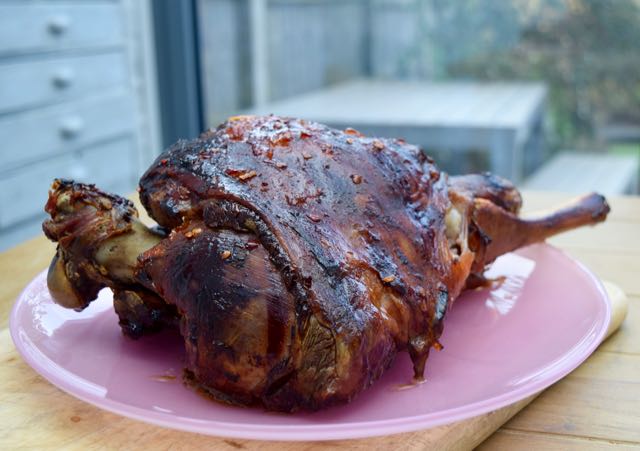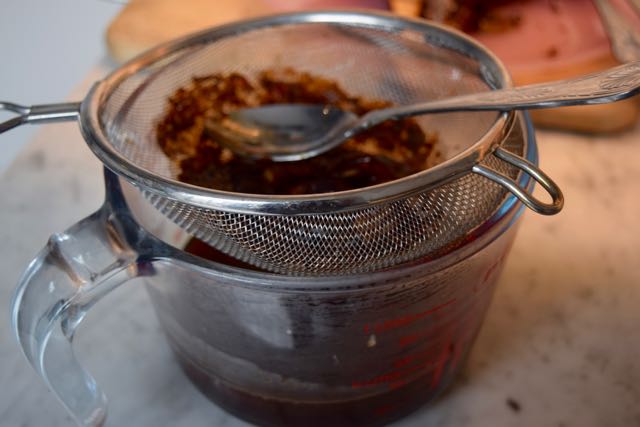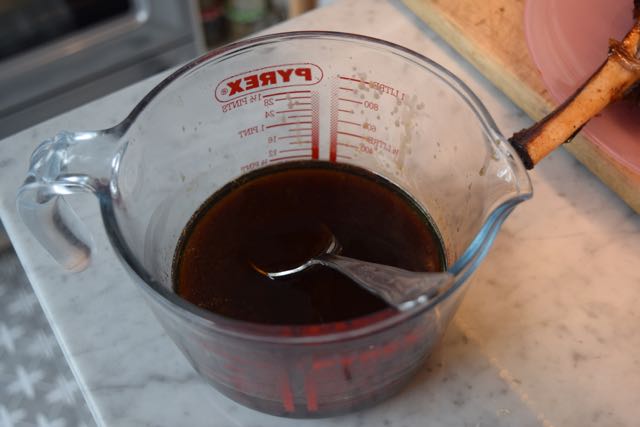 Fragrant, soft, tender, spiced; I swallowed a food bloggers dictionary as well as a good deal of this lamb. You don't even have to carve it, the meat just falls from the bone in a tumble of lamby deliciousness. We enjoyed our Sweet Chilli Lamb old stylie with roasties and cauliflower cheese.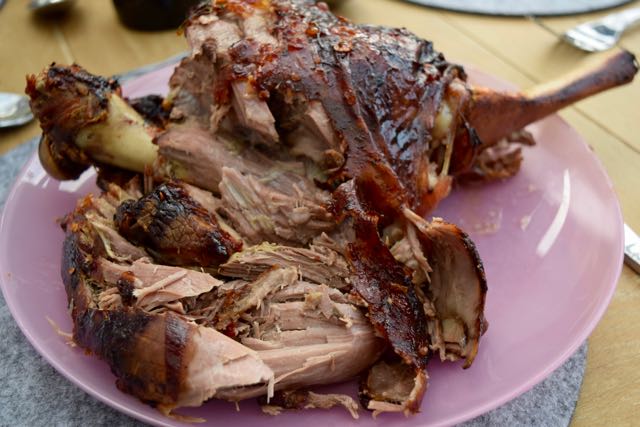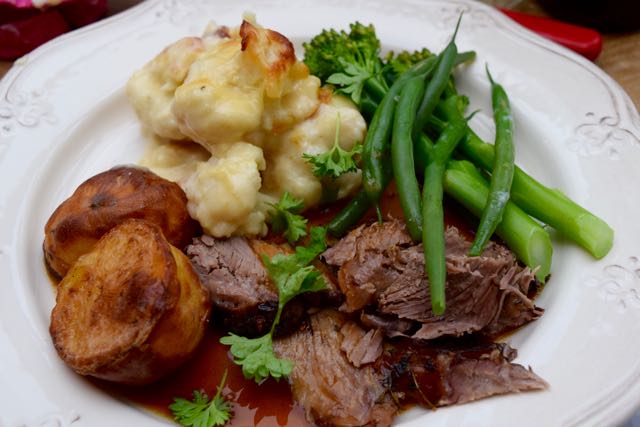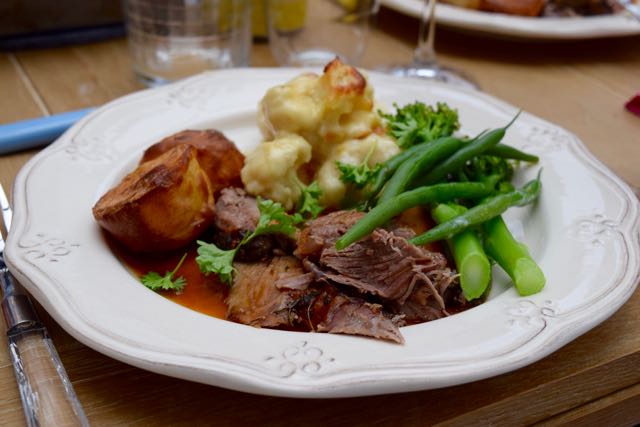 Who would have thought by pouring a bottle of sweet chilli sauce over lamb the results would be so stunning. This dish will grace any Easter table or lap or sandwich. It doesn't have airs and graces, it just has tons of class and flavour. Not unlike myself, tee hee.
Lucy x
Sweet Chilli Lamb Recipe
Serves a hungry family of around 6 people
2kg leg of lamb, a large shoulder is great here too
some sprigs fresh rosemary
salt and pepper
a splash olive oil
4 to 5 garlic cloves
a glass red wine, around 200ml
200 to 250ml bottled sweet chilli sauce, dependent on the size of your lamb
Serve with roast potatoes and greens or dauphinoise or with flat breads and yoghurt, you choose
Pre heat your oven to 120 to 140 degrees, fan assisted.
Take your lamb and place in a large baking tray, or if you have a casserole dish with a lid which will accommodate your lamb then use that. Make tiny cuts in the skin and poke in the sprigs of rosemary then season the whole piece of lamb with salt and pepper.  Drizzle with a little olive oil.
Pour the glass of red wine into the baking tin or casserole dish then throw in the garlic cloves, whole. Cover the roasting tin, tightly, in foil or place the lid on. Put in the pre heated oven for 3 hours. There's no need to baste this, just leave to cook.
When the time is up, remove the lid or foil and pick the rosemary sprigs off the top of the lamb. Pour over the sweet chilli sauce, ensuring all the meat is covered.
Put back in the oven for another hour and a half, although it may need an extra half an hour on top of that to crisp up fully. Let it sit, covered in foil to rest, while you prepare the pan juices.
Pour these into a jug through a fine sieve and leave to settle before spooning off most of the fat from the top. Re heat if necessary. Serve the lamb as you wish, drizzled with the rich pan juices. It's more concentrated than gravy so you will only need a drizzle. Any leftover lamb makes a divine sandwich with mango chutney and watercress.