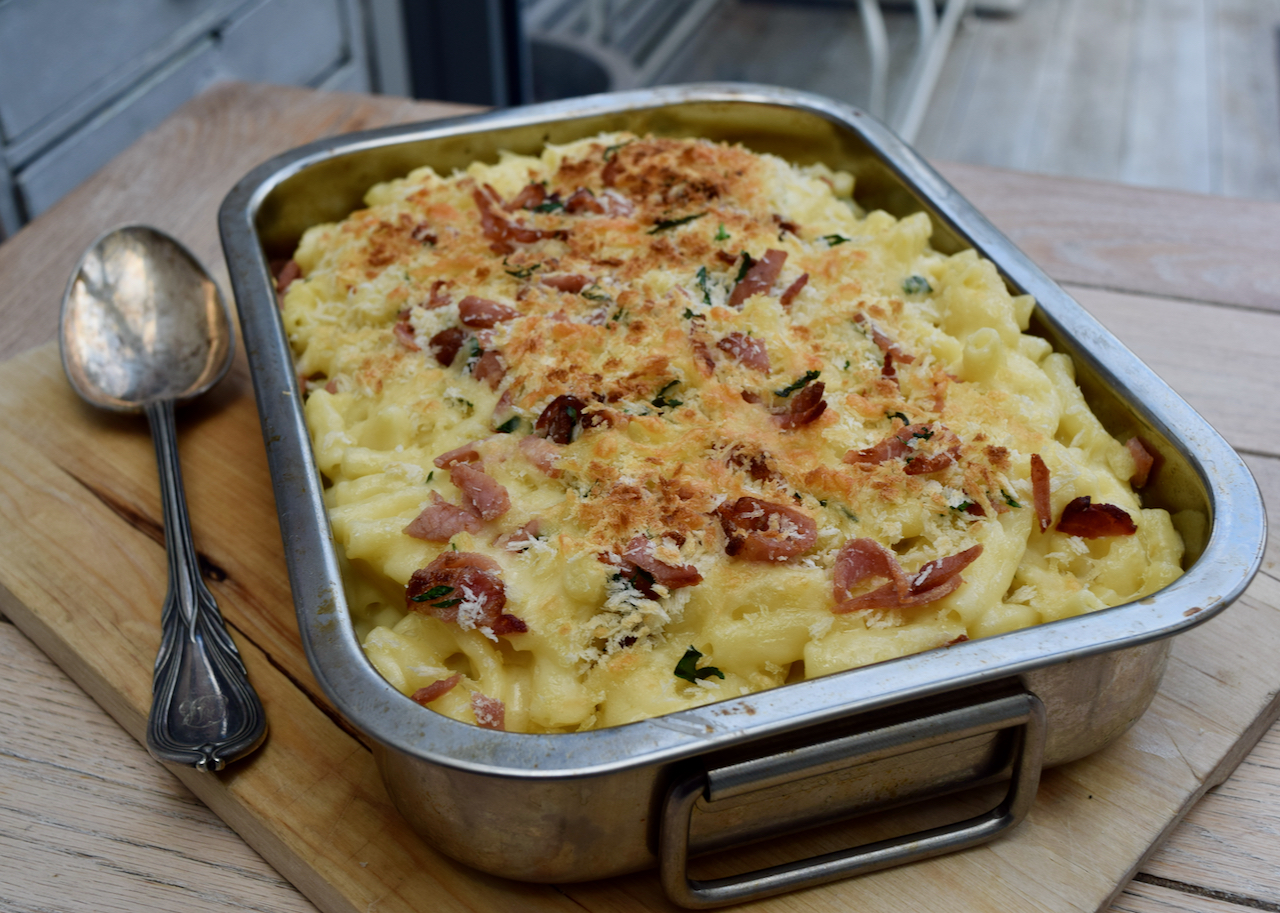 Wild Garlic Mac and Cheese recipe
Given the prices of quite literally EVERYTHING are going through the roof, a recipe featuring mainly pasta, cheese and something you've foraged from the woods is perfectly timed. I love a forage, and finding wild garlic in dark, damp areas whilst on a dog walk is so satisfying. Since my lovely Aunt gave me some plants to put in my garden, I now have my own tiny supply; so please feel spoilt that I used it in this Wild Garlic Mac and Cheese to share just with you.
This recipe features my beloved Instant Pot which I use at least twice a week; it fully justifies its place on work surface. I still haven't got an Instant Pot, I hear you cry! Don't panic, feel free to use this recipe for the base of your dish. But if you do have an Instant Pot then this Wild Garlic Mac and Cheese recipe is the one for you. The pasta element takes 4 minutes in the IP, plus coming up to pressure and the steam releasing, and some minor stirring. A handful of wild garlic, turns this basic supper into something really quite special; so much so I have actually served it to dinner guests to a ripple of applause. It's topped with bacon spiked crumbs with more of the leaves, extra cheese and a bit of black pepper to add a fragrant bit of crunch to the proceedings.
This bloody great big dish of Wild Garlic Mac and Cheese is frugal food at it's finest. Unless you can't find any growing wild garlic, that is, and have to pay £3 for a bunch in the supermarket.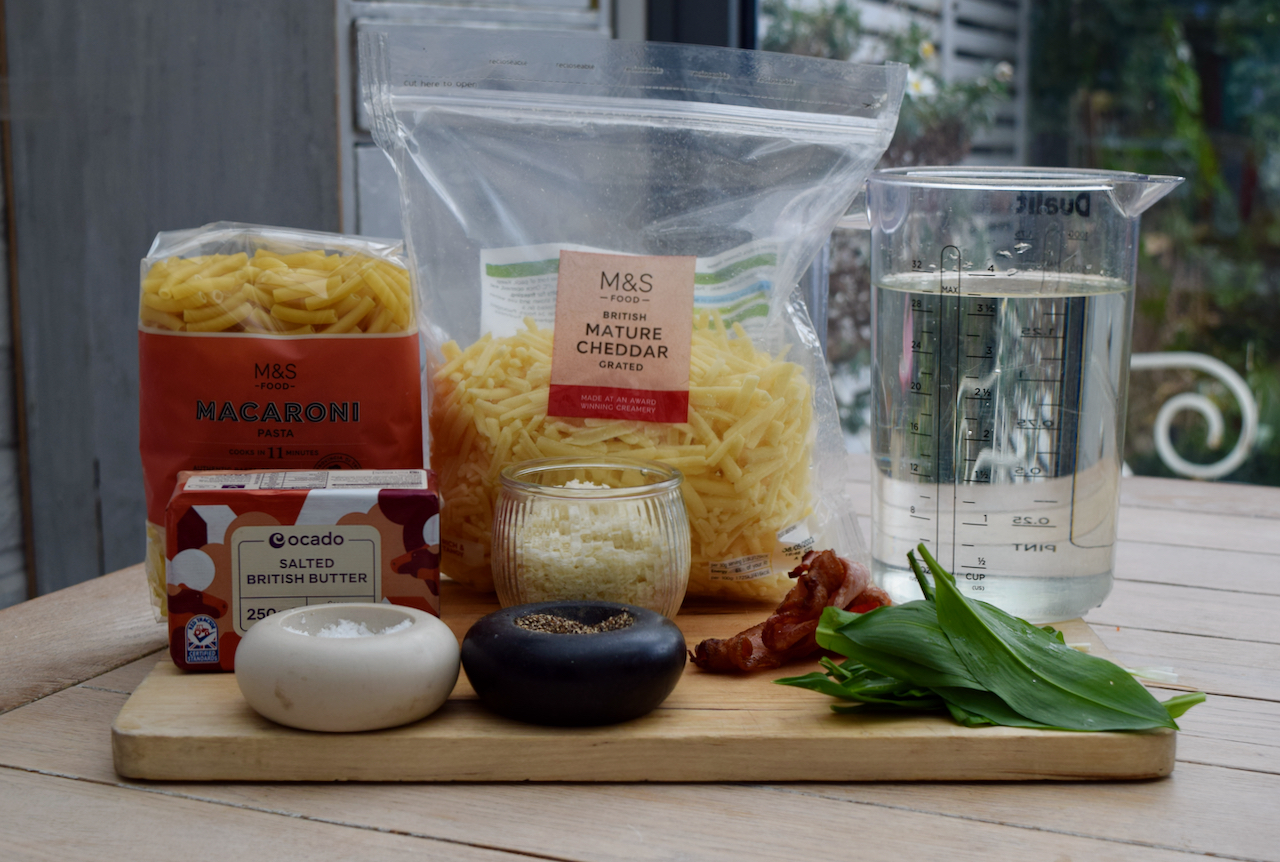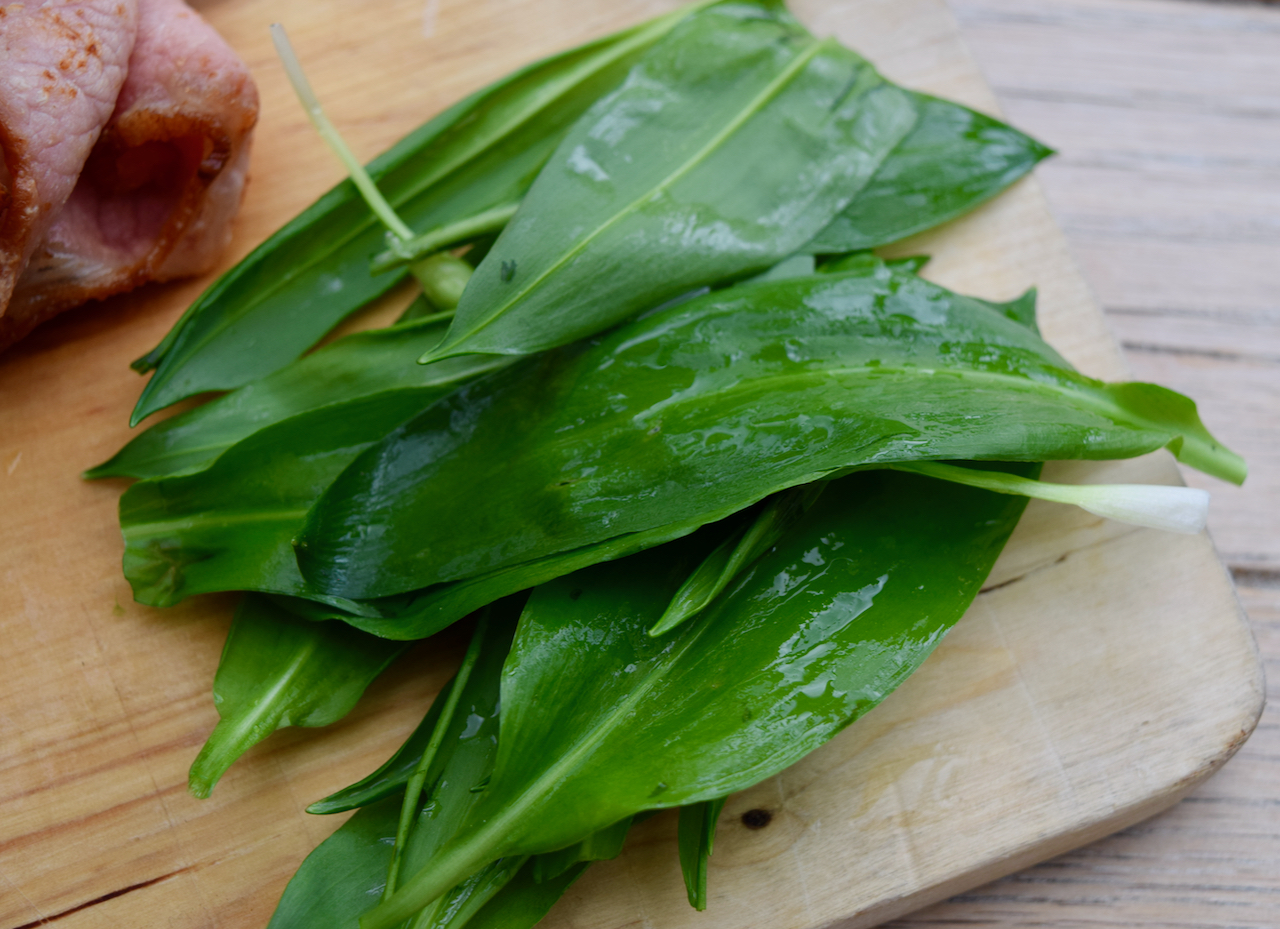 There's the wild garlic from my garden; it's a thing of beauty, has a mild but tangy garlic flavour and it really does elevate the mac and cheese. The crispy bacon is a salty addition to the crumb topping, but obvs leave out for vegetarians. Just a note on the pre-grated cheese; it's not frugal but does ensure your mac and cheese thickens perfectly, but do grate your own for better value for money.
A great place to start is with the mac and cheese base. Take the bowl of your Instant Pot and tip in the macaroni. Next pour on 900ml of cold water. Stir in a teaspoon of salt then add the cubes of butter.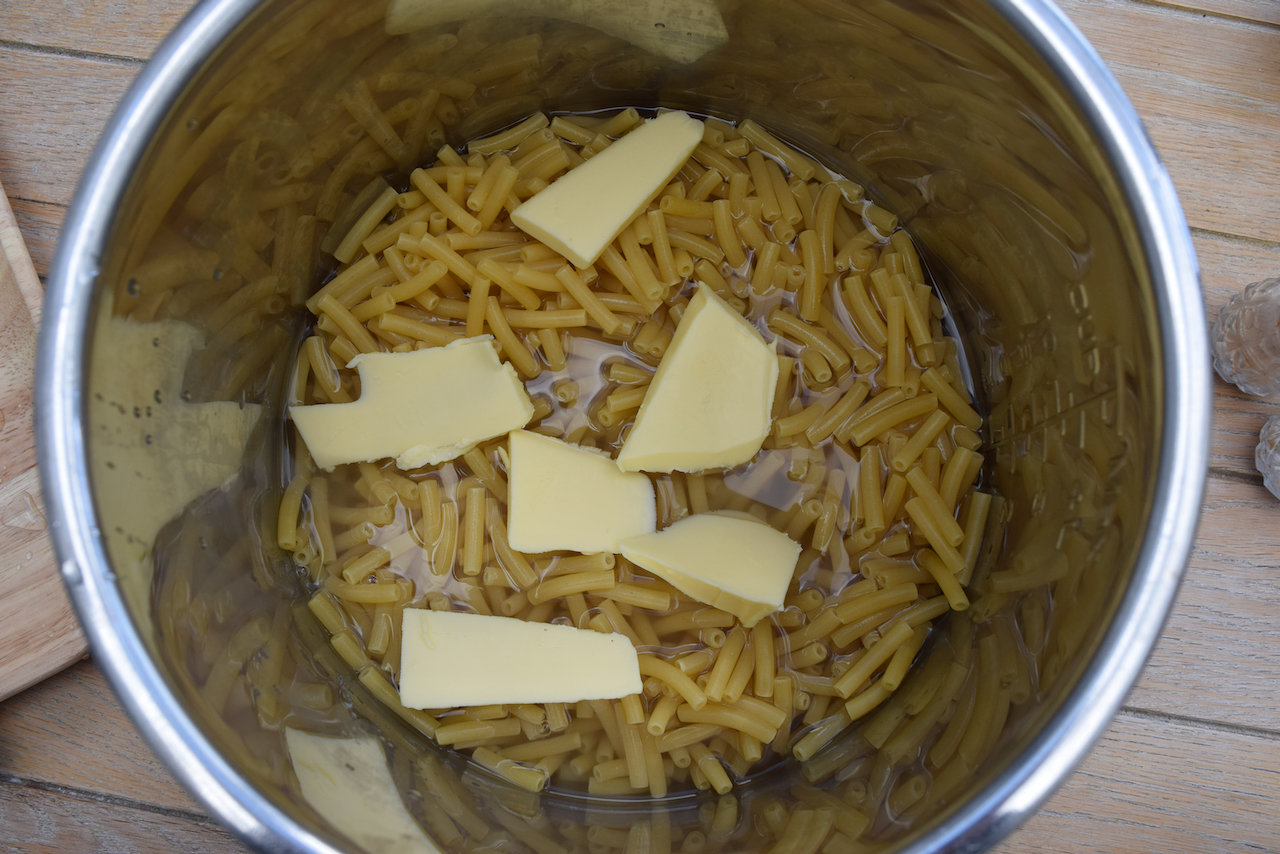 Pop the bowl into your Instant Pot, put the lid on and make sure the seal nozzle is in the correct position. Set to manual for 4 minutes then leave it to come up to pressure.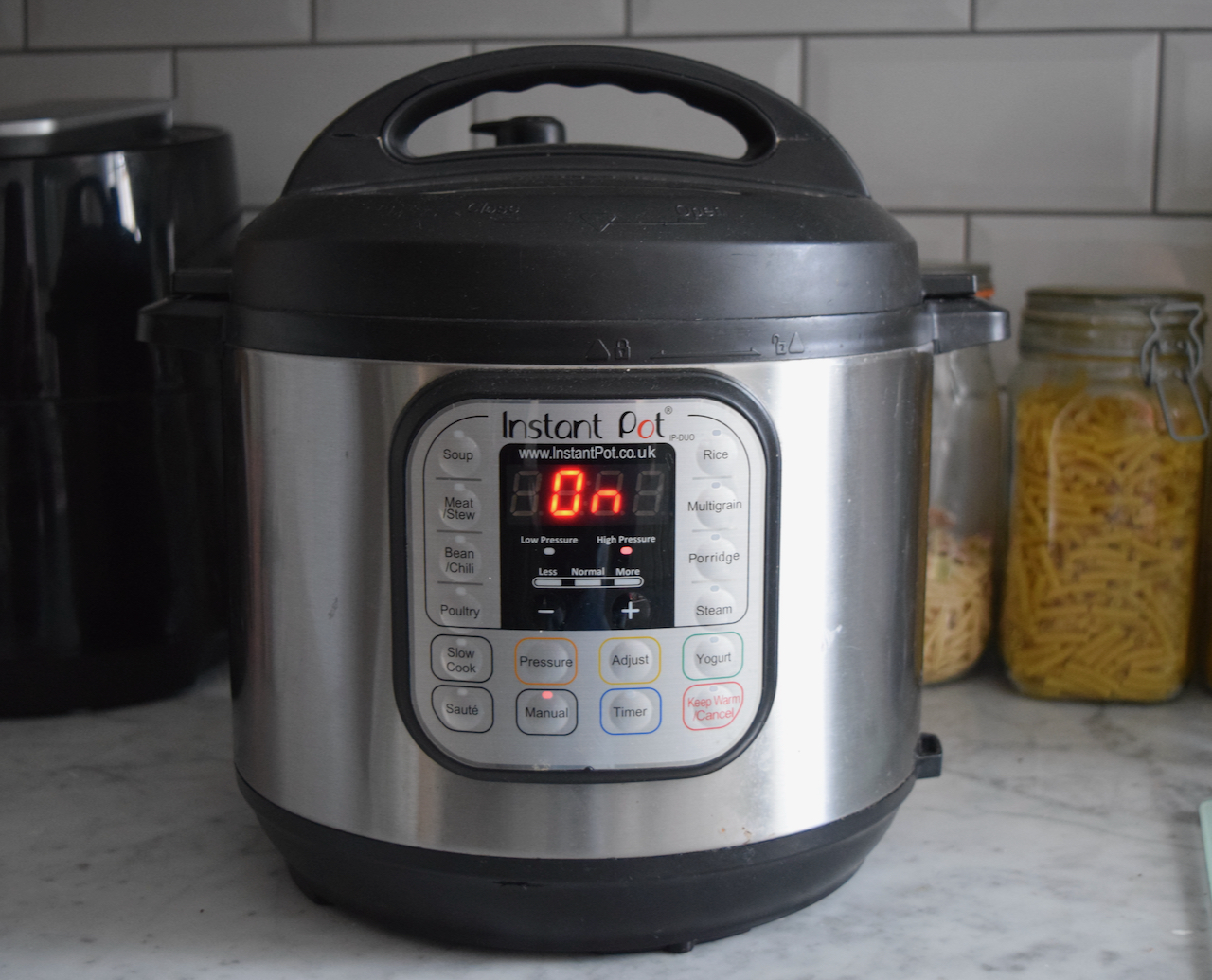 Once the time's up, release the steam manually then remove the lid. Stir the macaroni to break it up a little.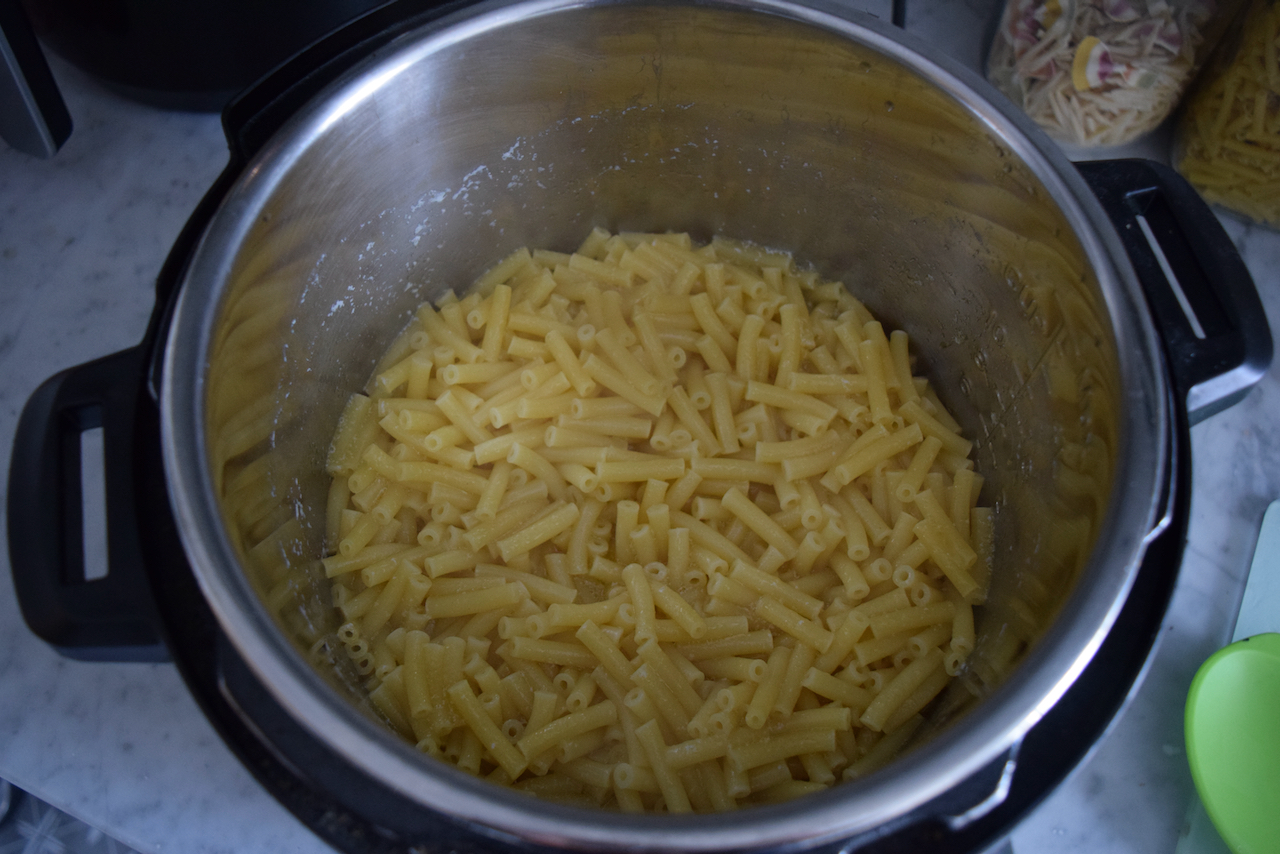 Add in the pre grated cheese, reserving 3 tablespoons for your crumb topping, until it's melted then add roughly 100ml of milk to loosen the sauce. You may need a little more or a little less, so add a splash at a time.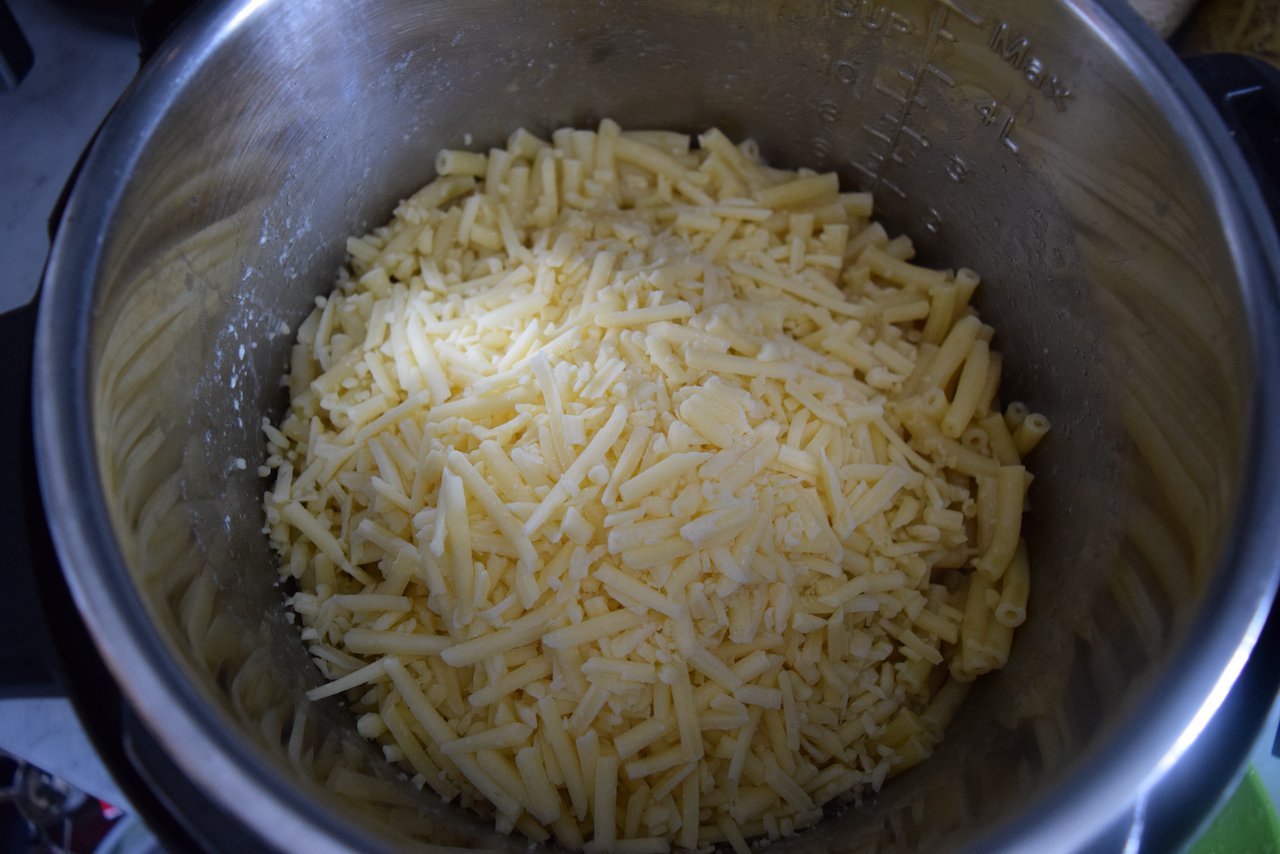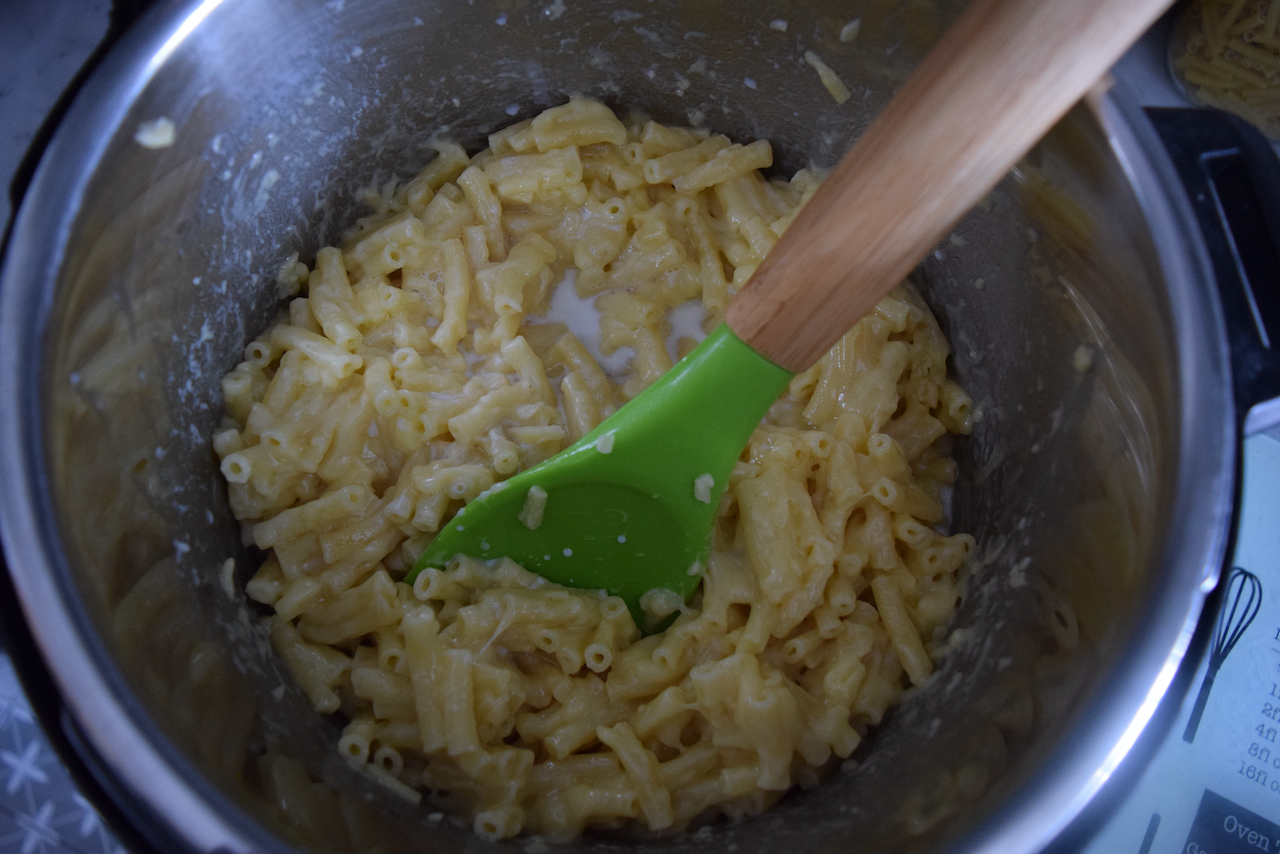 The pasta should be well coated and saucy. Season with pepper and a little more salt, if needed. Roll up your leaves of wild garlic and slice into thin strips, or roughly chop if you like. Fold them into your saucy mac and cheese.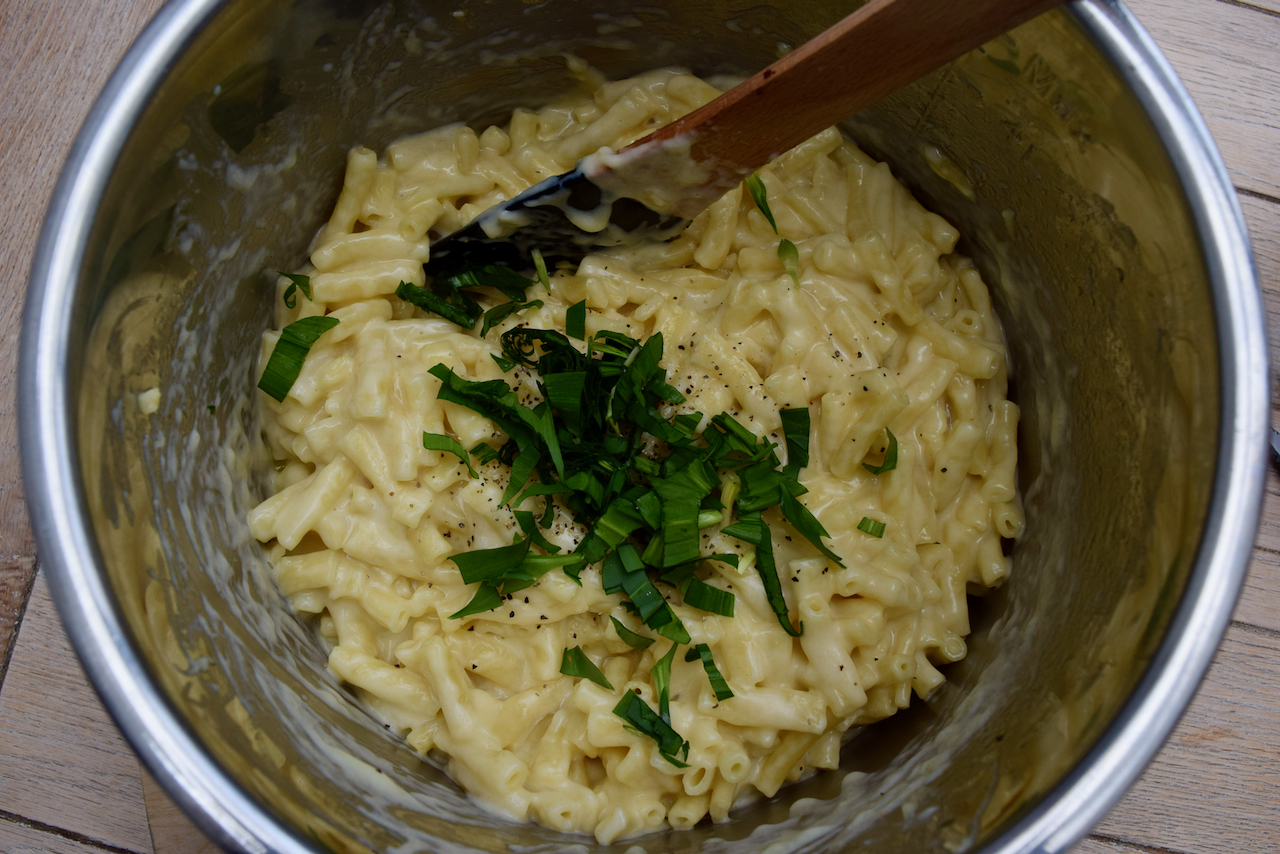 Stir well and pop to one side while you make the crumbs. Pre heat your grill to medium high, or your oven to 170 degrees fan assisted ready for finishing the dish. In a small bowl mix the breadcrumbs with the reserved cheese, roughly chopped remaining wild garlic, chopped crispy bacon and a pinch of black pepper.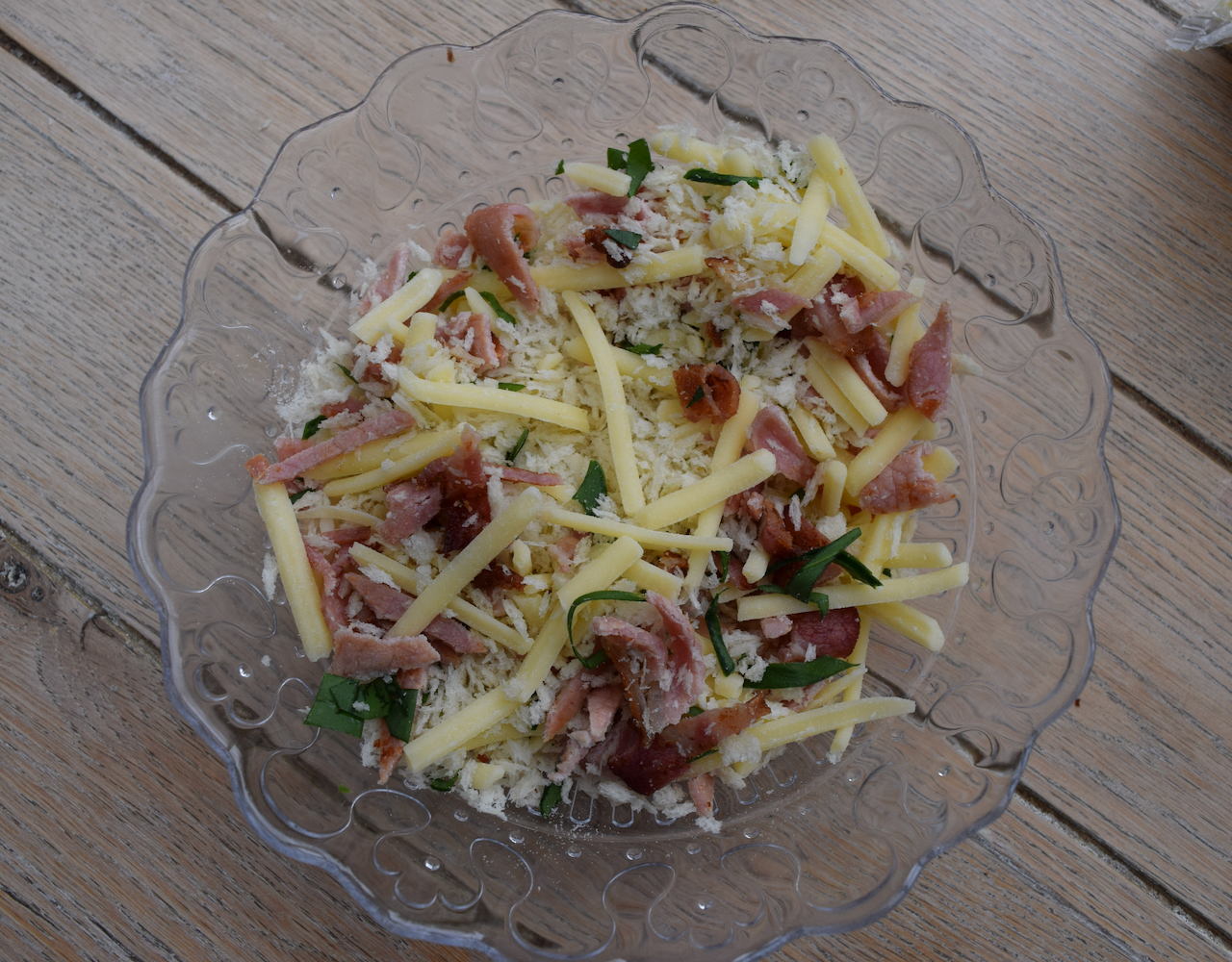 Pour the whole delicious batch of mac and cheese into a large baking dish. Larger than mine as it turns out, then sprinkle on the crumbs.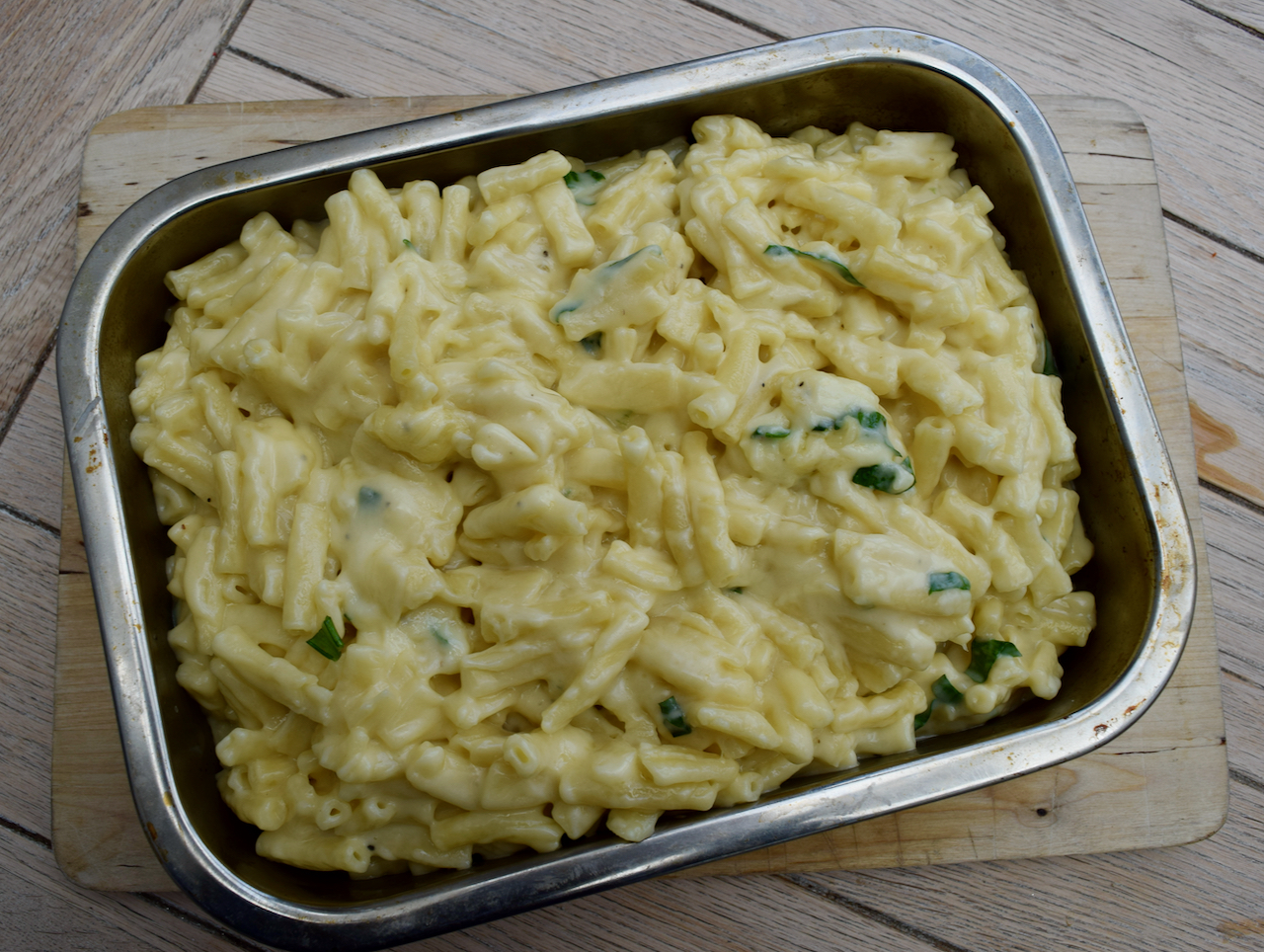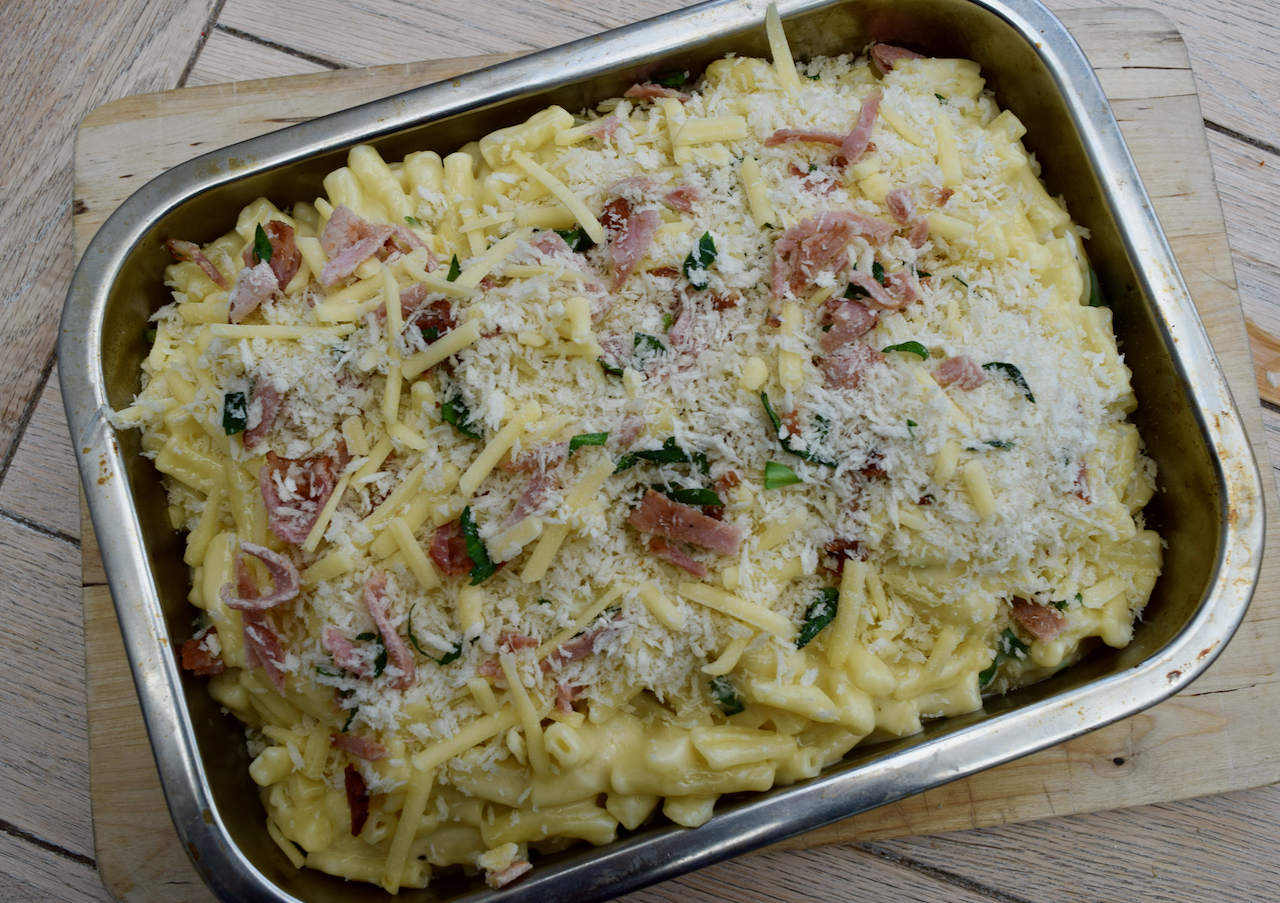 Now you can either pop this under the grill for a few minutes to toast the crumbs, or if the mac's gone cold, pop in the oven for 10 minutes to ensure everything's piping hot and toasty. Serve in giant portions as a main dish or as a side. Large spoon for shovelling it into your mouth essential.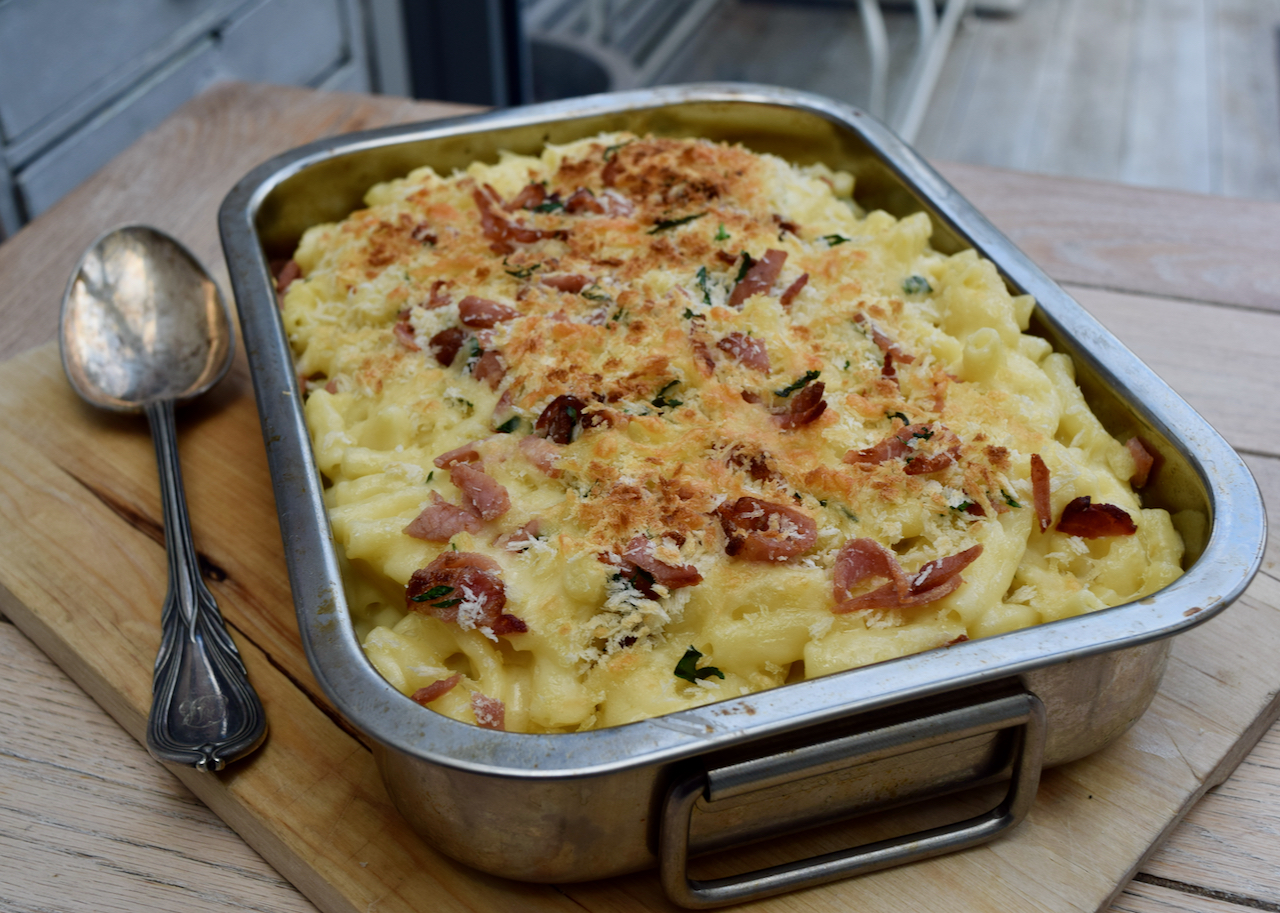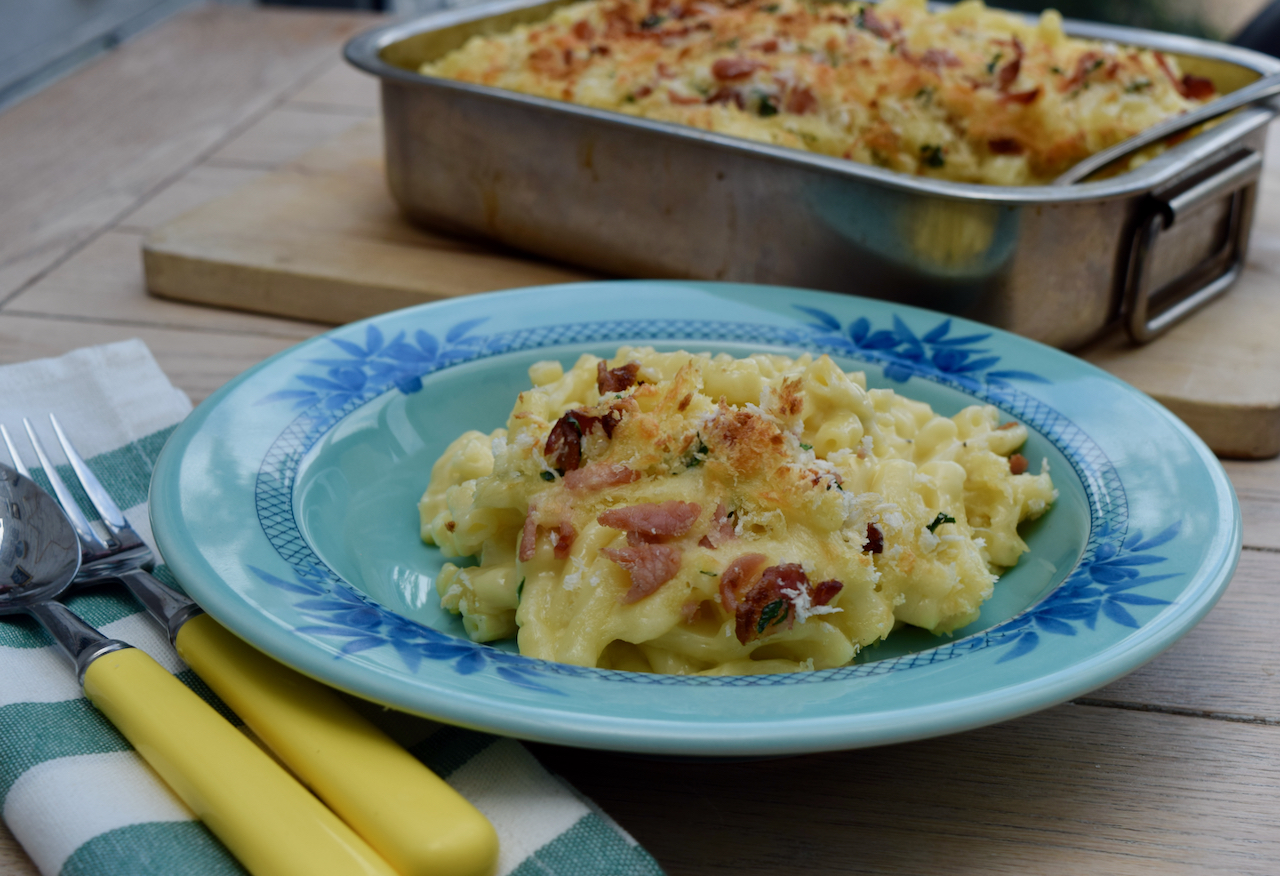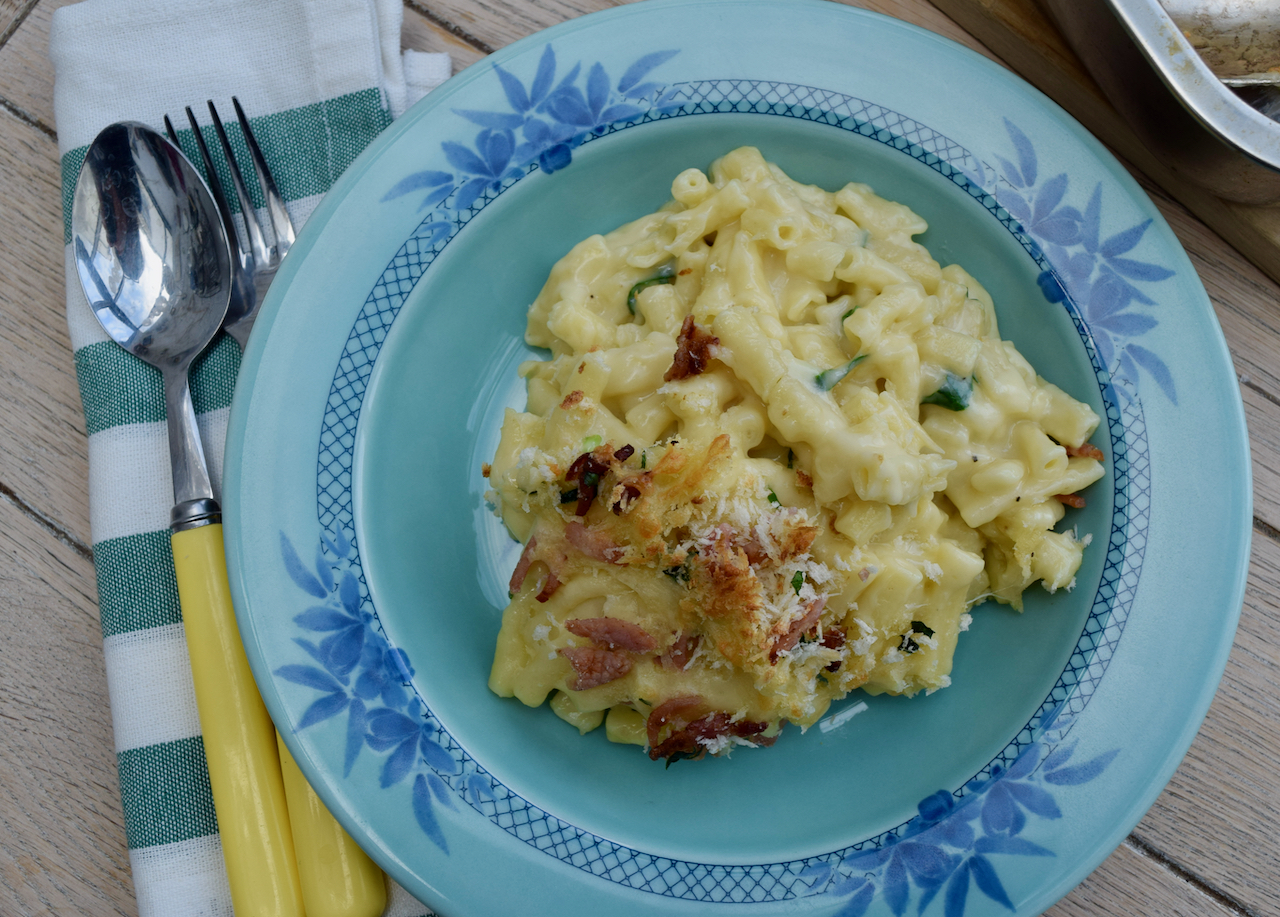 Due to the fleeting nature of wild garlic, I'd make this mac and cheese a quickly as you can. Neither the garlic or the mac and cheese will last long.
Lucy x
This post contains an affiliate link to Amazon. Should you choose to buy via this link Lucy Loves will get a tiny commission at no extra cost to you. Thank you x
Wild Garlic Mac and Cheese recipe
Serves 4 to 6 generously, even by my standards
You will need an Instant Pot and a baking dish for this recipe if you don't have an Instant Pot feel free to use this Mac and Cheese recipe instead
Instant Pot Mac and Cheese
500g macaroni
900ml water
1 teaspoon salt
60g butter, cut into squares
500g grated cheese, I think the pre grated variety is best here as it contains a bit of cornflour so slightly thickens the mixture (reserve 3 tablespoons for the crumbs)
100ml milk, you may need a splash more
Salt and pepper to taste
A handful of wild garlic leaves, foraged or bought, washed and dried if foraged
Crumb topping
4 tablespoons panko breadcrumbs, or blitz a slice of bread into crumbs
3 tablespoons strong cheddar, grated
2 rashers crispy bacon, chopped, optional, omit for vegetarians and add a little more cheese
2 to 3 wild garlic leaves, snipped or chopped
Pepper, to taste
Serve as a delicious main or side dish
For the Instant Pot mac and cheese tip the macaroni into the metal bowl of your IP. Pour on 900ml cold water, stir in a teaspoon of salt then add the butter. Put the lid on your Instant Pot, turn the dial to seal then set to manual for 4 minutes.
Once the time is up, release the steam via the quick release action. Stir the cooked macaroni to break it up then add the grated cheese, reserving a handful for the top. Loosen the sauce with roughly 100ml of milk, you may need a little more or a little less, until the macaroni is well coated. Season with salt and pepper, to taste, then stir in the chopped or snipped wild garlic leaves.
For topping, add the crumbs to a bowl and mix with the crispy bacon, reserved cheese and wild garlic. Season with black pepper. Scrape your mac and cheese into a large baking dish and top with the crumbs. Either grill until golden and bubbling, or pop into a hot oven for 10 minutes to finish and ensure it's piping hot.
Serve, garnished with extra wild garlic if you have it, in large cheesy portions.