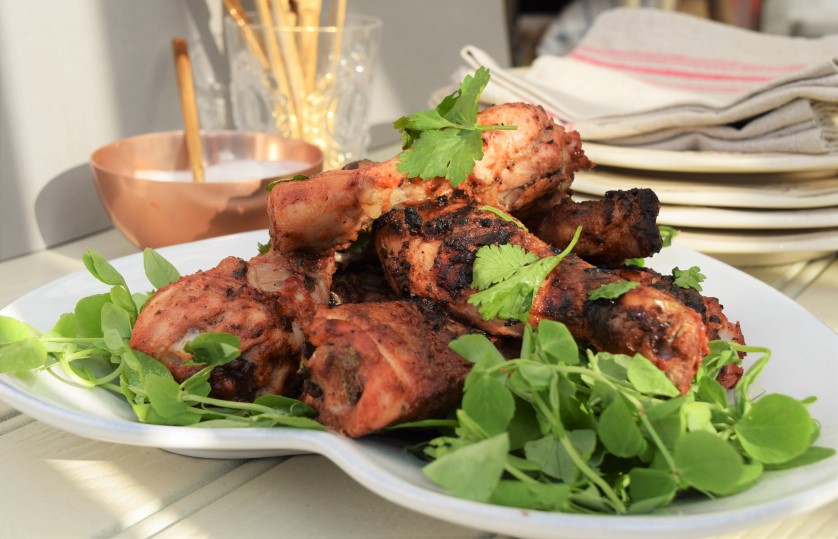 Tikka Spiced Chicken Recipe
It's definitely barbecue season and I love it. I am not a huge fan of burnt meat in the garden, as we fondly refer to barbecuing, but what I do love is the smell wafting around the neighbourhood on a warm evening. The minute the sun comes out, so do the barbecue enthusiasts. Twice a week I go for an evening jog with a friend and the fragrant meaty scents as we run are pure torture.
Prior to having a gas barbecue, Clyde would enjoy nothing more than cremating the beautiful meat and fish I had spent hours marinating. However, with the advent of the gas barbecue, he is nipping in and out of the garden only lightly charring my creations in quite chef like fashion. So, at last, I have started putting in some leg work finding some recipes which won't now get burnt to death by Clyde. Hence this weeks creation, my Tikka Spiced Chicken.
You don't have to barbecue this, you can just put it in a regular oven, but this wonderful spiced chicken really does come into it's own when cooked over coals. The combination of ginger, garam masala, garlic and paprika flavour the chicken beautifully and the yoghurt adds a great *eeek* moistness. This recipe comes via the jauntily titled Lisa's Lemony Kitchen, thank you, Lisa.
This is a great, simple recipe. Leave overnight to marinate for the best results, but even an hour will hit the spot. Once cooked, serve with breads or salads or as part of a lovely picnic spread. It's brilliant drizzled with my simple Yoghurt Mint Dressing, or just devour it, hot from the coals. Although it is quite tricky eating a drumstick whilst holding an umbrella to shelter from the predictable rain shower which accompanies most barbecue plans.
I was feeling too lazy even to crush garlic so used my jar of garlic for speed and lack of energy expenditure. I also added the optional red food colouring, because I thought it would add comedy value to our supper. However, my choice of Christmas Red, at best, turned the chicken a rather mediocre pale pink, so it's up to you.
Planning in advance, take a large ziplock bag and add the yoghurt and the ground ginger.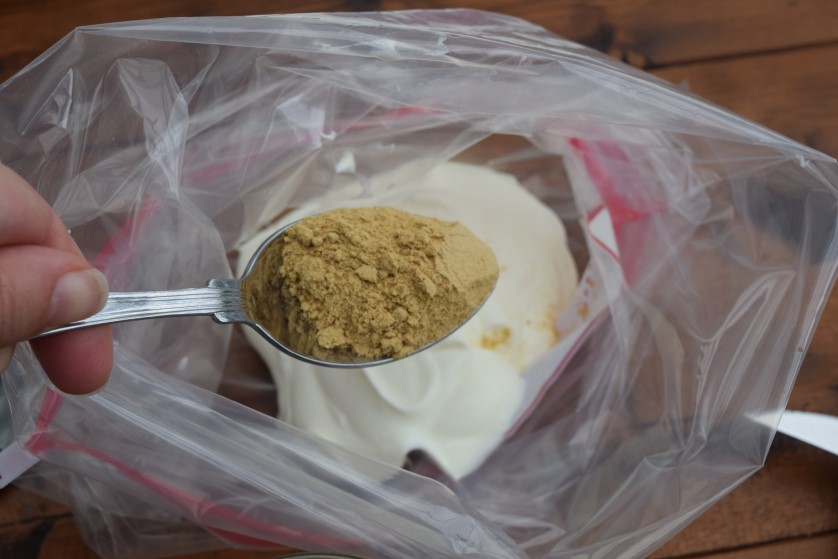 Follow in with the flavoursome garam marsala, smoked paprika and lemon juice.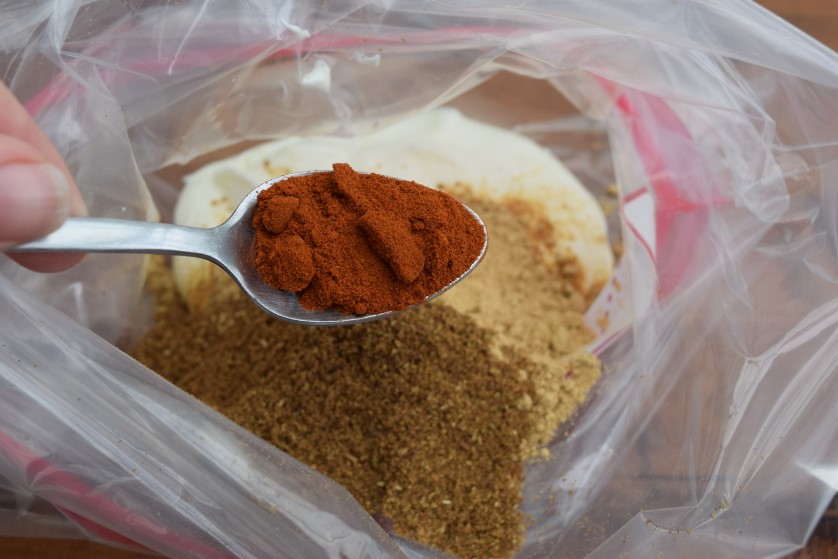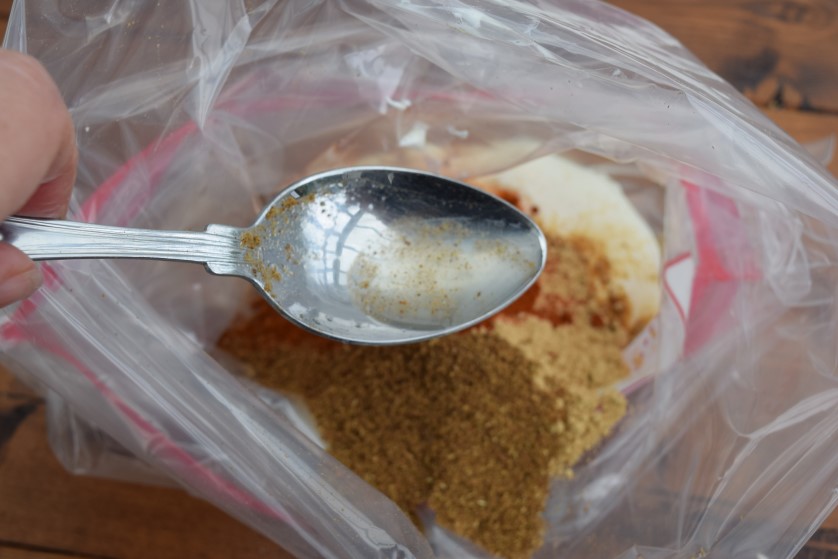 Next into the bag is garlic and fresh coriander and optional red food colouring. Give it all a good squidge around to ensure it's well mixed together.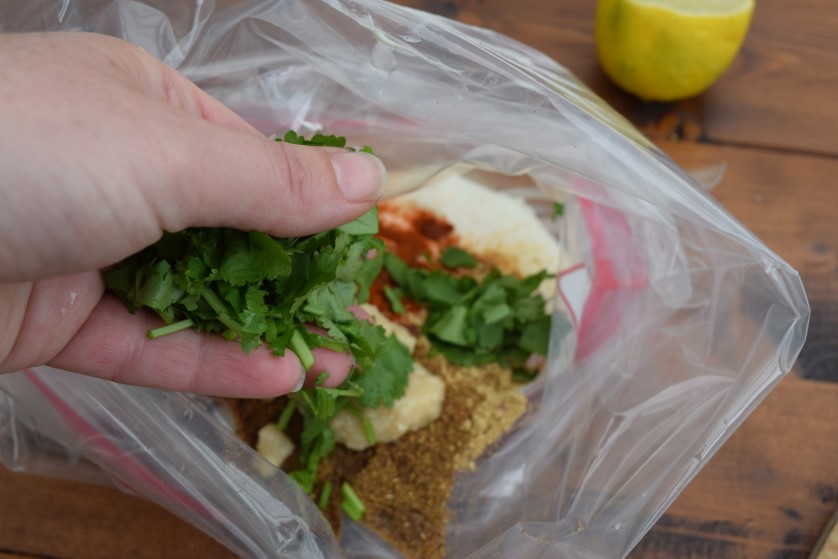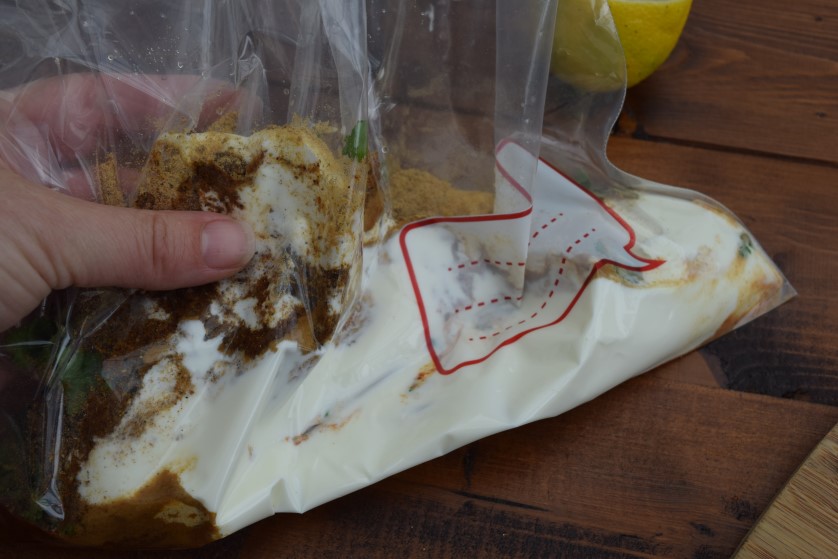 Place your chicken pieces into the pink/red yoghurt mixture and squidge again to ensure all the chicken is well covered.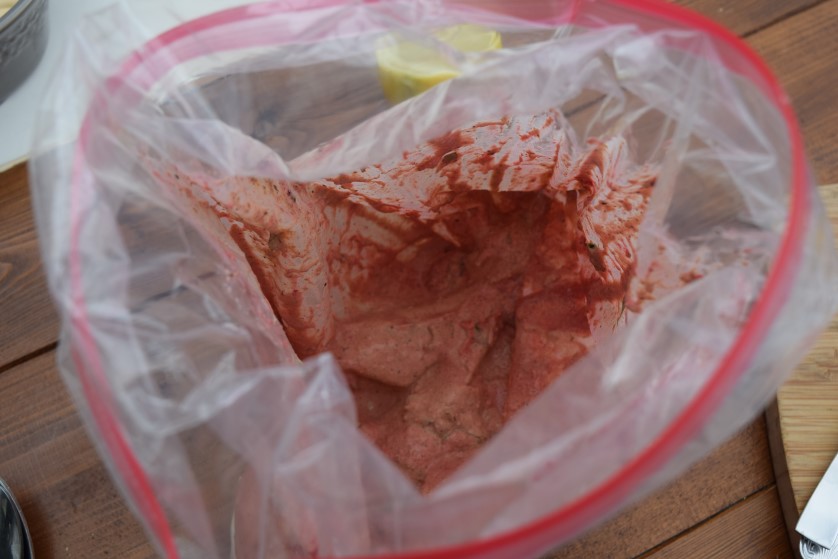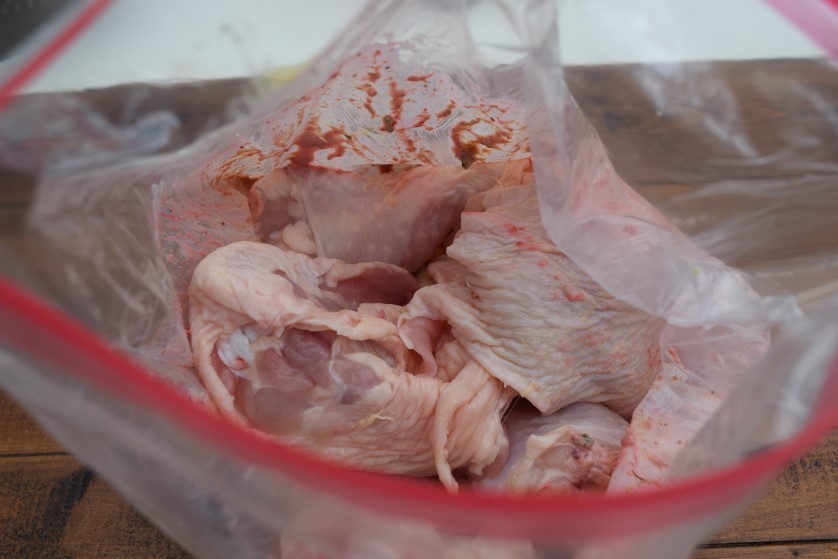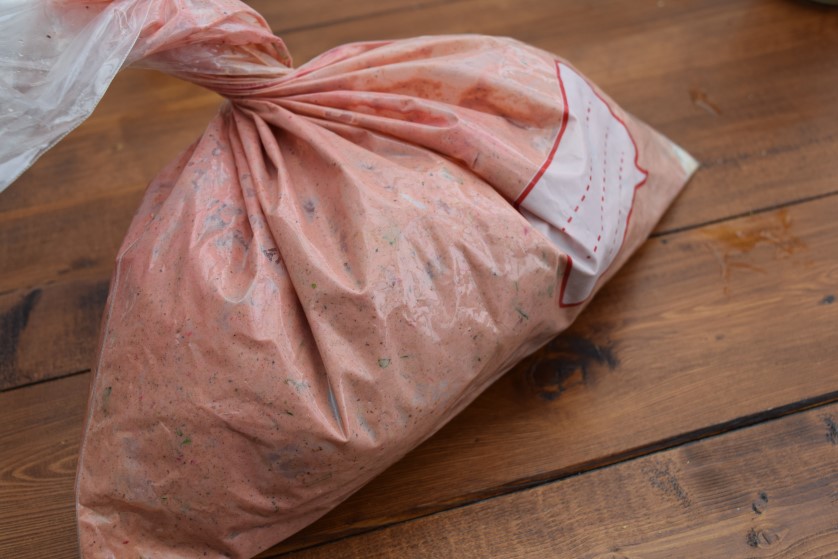 Pop your bag of tricks into the fridge and leave from 1 hour to overnight to marinate, dependent on how well prepared you are. I left mine for 4 hours and it was just delicious.
When you are ready to rumble, remove the chicken from the bag, shaking off any excess yoghurt then place on an oiled baking tray.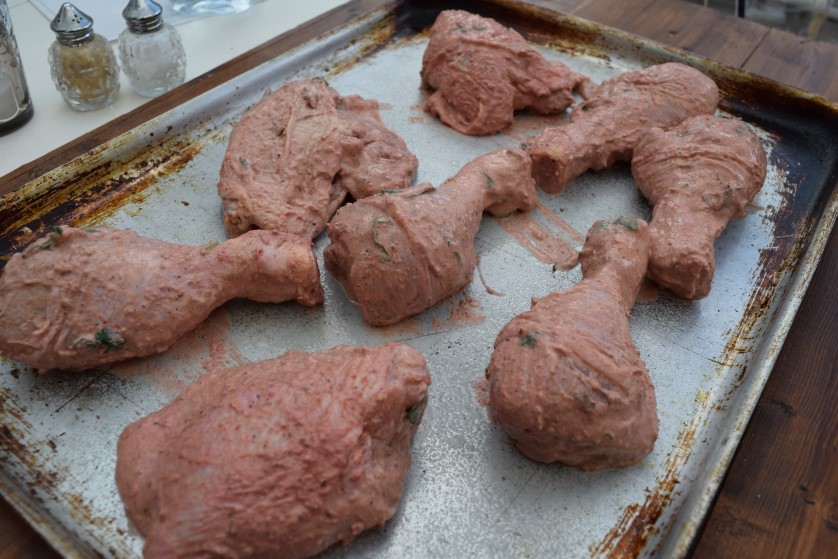 Season with salt and pepper then pop in the oven for around 25 minutes. I am quite cautious when cooking chicken on a barbecue so gave it a stint in the regular oven first then a final 15 minutes on the grill. If you are more proficient than me, by all means cook on the barbecue for the whole cooking time, or likewise, if you are crap at barbecuing, just cook for 45 minutes at 160 degrees in your normal oven.
Here's the Tikka Spiced Chicken after it's first oven spell.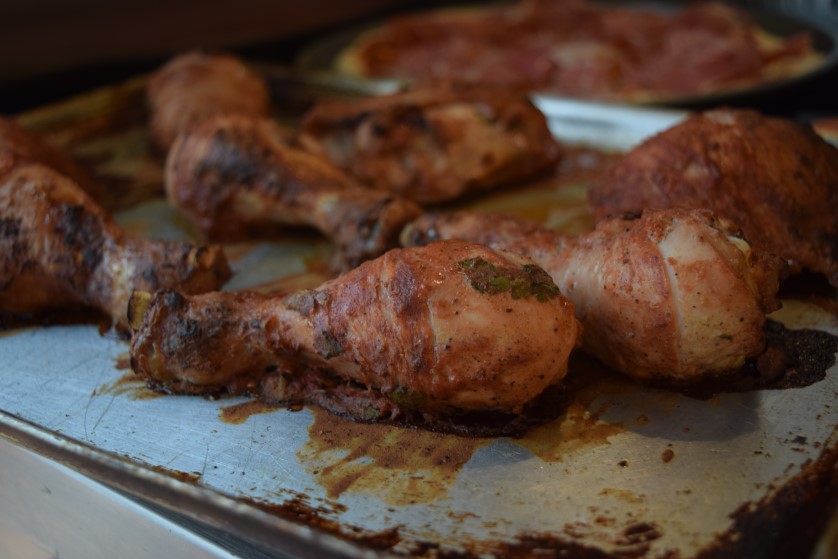 And post a little singe on the barbecue.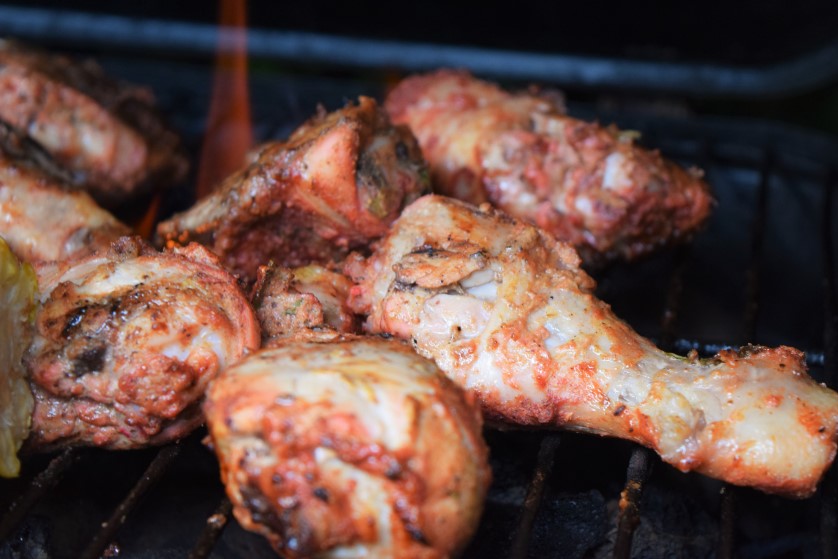 If you fancy serving this mouthwatering spiced chicken with a Minty Yoghurt dressing just stir 4 tablespoons of Greek yoghurt together with some jarred mint sauce then dip or drizzle accordingly. Or just serve with salads or breads, cutlery not necessarily needed, just pick it up and devour.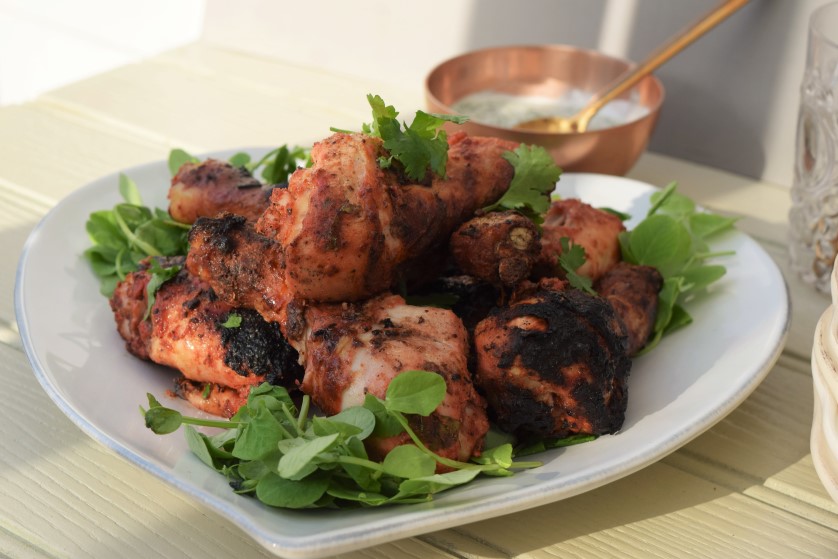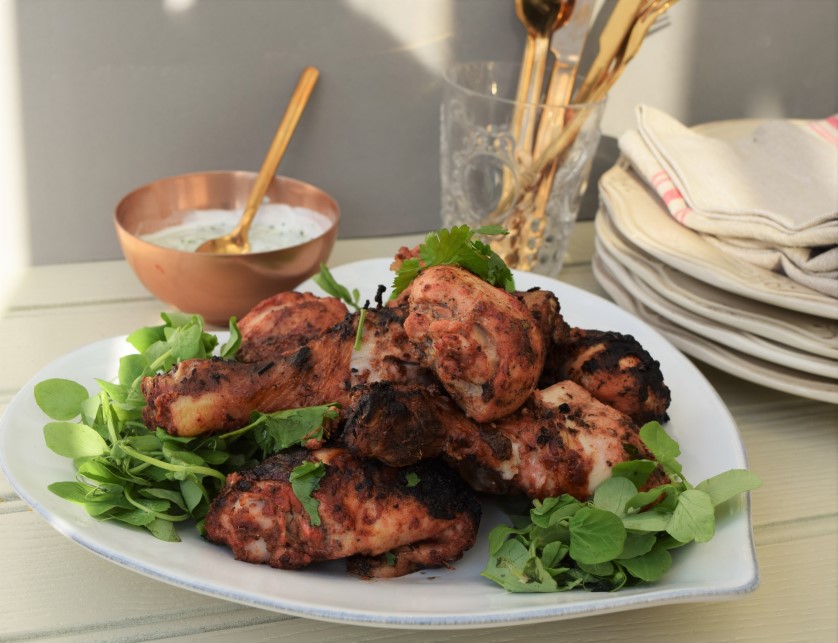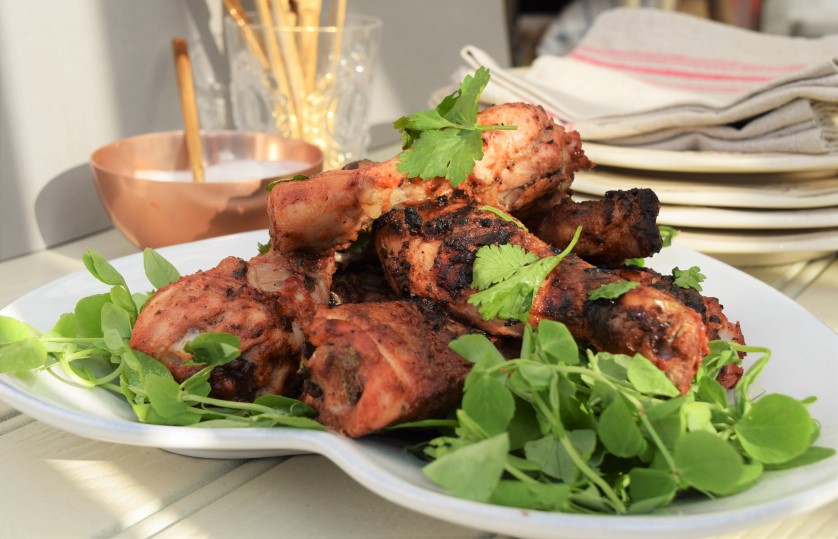 The sun shines on the righteous, and evidently, my Tikka Spiced Chicken. This is a super tasty, easy dish, loved by all my family. Pop it on the barbecue or if rain stops play the oven will do just nicely.
Lucy x
Tikka Spiced Chicken Recipe
Serves 4
1kg chicken pieces, a mix of thighs and drumsticks
200ml yoghurt, I used Greek
2 tablespoons ground ginger
2 tablespoons garam masala
1 teaspoon smoked paprika
3 tablespoons lemon juice
4 cloves garlic, crushed, or 2 teaspoons from a jar
Optional drops/squirt red food colouring
Handful fresh coriander leaves
Salt and pepper
Minted Yoghurt Dressing
4 tablespoons yoghurt, Greek again here is good
1 teaspoon mint sauce from a jar
Leaves, breads, rice to serve
Take a large ziplock or freezer bag and add the yoghurt. Follow in with the ground ginger, garam masala, smoked paprika, lemon juice and crushed garlic. Add the red food colouring if using then squidge the bag around to mix all the spices with the yoghurt. Drop in the chicken pieces and ensure it's well covered in the spiced yoghurt. Leave to marinate for at least an hour, or overnight if possible.
To make the dressing if using, mix the yoghurt and mint sauce together and put in a small bowl. Refrigerate until needed.
When you are ready to serve, pre heat your oven to 170 degrees fan assisted. Remove the chicken from the marinade shaking off any excess spiced yoghurt. Place on baking sheet, season, then roast for 45 minutes, depending on the size of your chicken pieces. Check they are cooked through before serving with the Minted Yoghurt Dressing, salad, rice, breads or as part of a wonderful picnic spread.