Summer Sangria Recipe
How could I return from the Balearic Islands and not provide you with a Spanish-ish Sangria recipe for this weeks Friday Cocktail? You're right, I couldn't. Clyde and I, as always, have no shame when it comes to alcoholic beverages. We don't favour drinks because they're fashionable (remember we love Malibu) we simply drink them because they're delicious. And with that philosophical rambling over, I give you my Summer Sangria recipe.
This is a smooth, tasty, drinkable, traditional style Sangria. It's based on a recipe given to me by my Mallorcean relative and has a tasty citrus flavour with an overtone of my favourite light Spanish Brandy, 103. Needless to say, we did sunk a few litres of Sangria on our holidays, but this didn't stop us seeing off this whole batch when I made it shortly after our return. This doesn't make us alcoholics, I see it as testimony to my delicious Summer Sangria recipe and my commitment to Lucy Loves. *boozers*.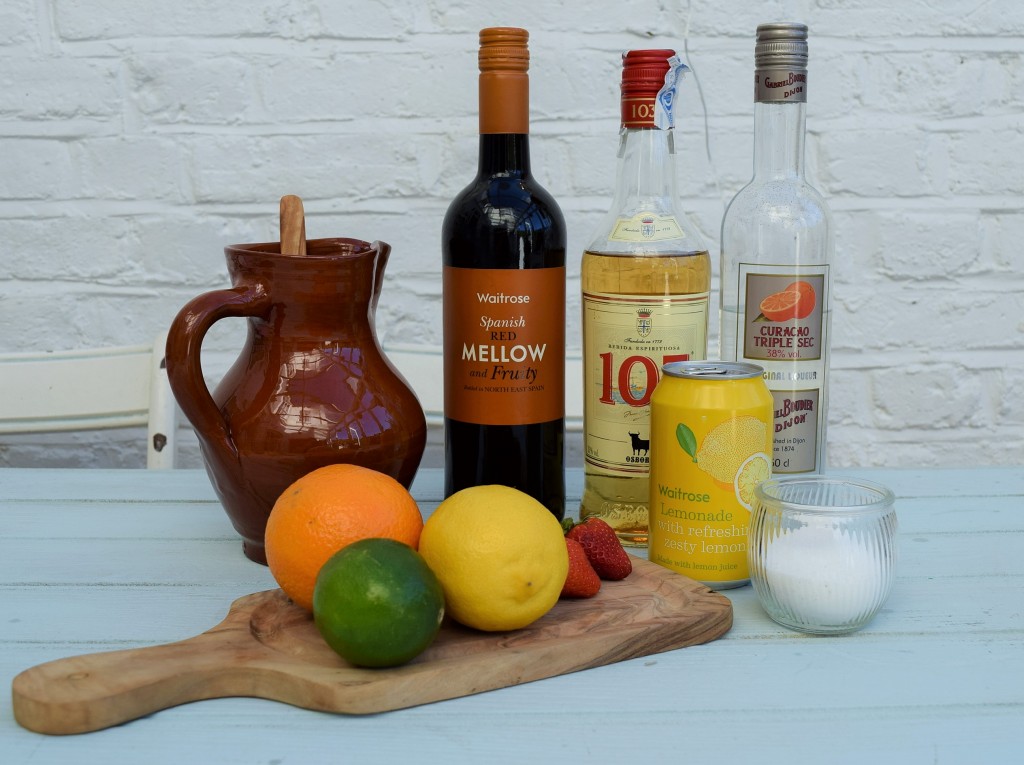 Look at that picturesque ingredients shot. And there's my lovely new jug which amazingly made it home in my suitcase in one piece. To be fair, it was well cushioned in the vast amount of clothes I took with me but didn't wear. Don't feel you have to fly to Mallorca to get the 103 Brandy, any delicious Brandy would do here. And use any orange liqueur you have to hand, I still had some Orange Curacao from previous recipes.
So, making a start, take a large jug and add the caster sugar. Pour on the whole bottle of red wine and stir well. I used a cheap red, drinkable, but it doesn't need to be too fancy.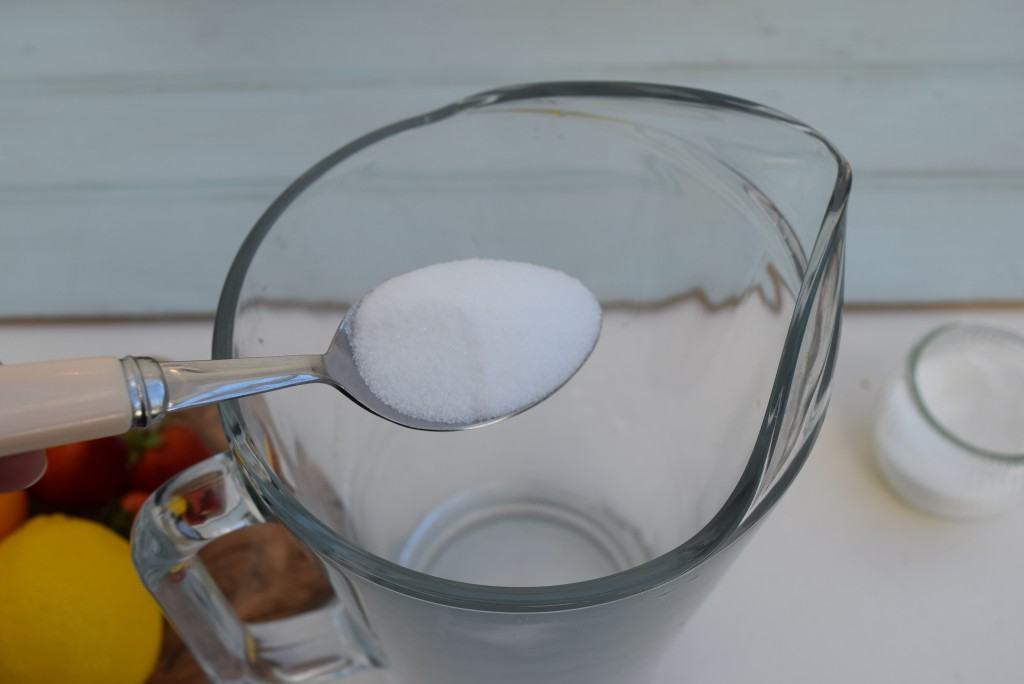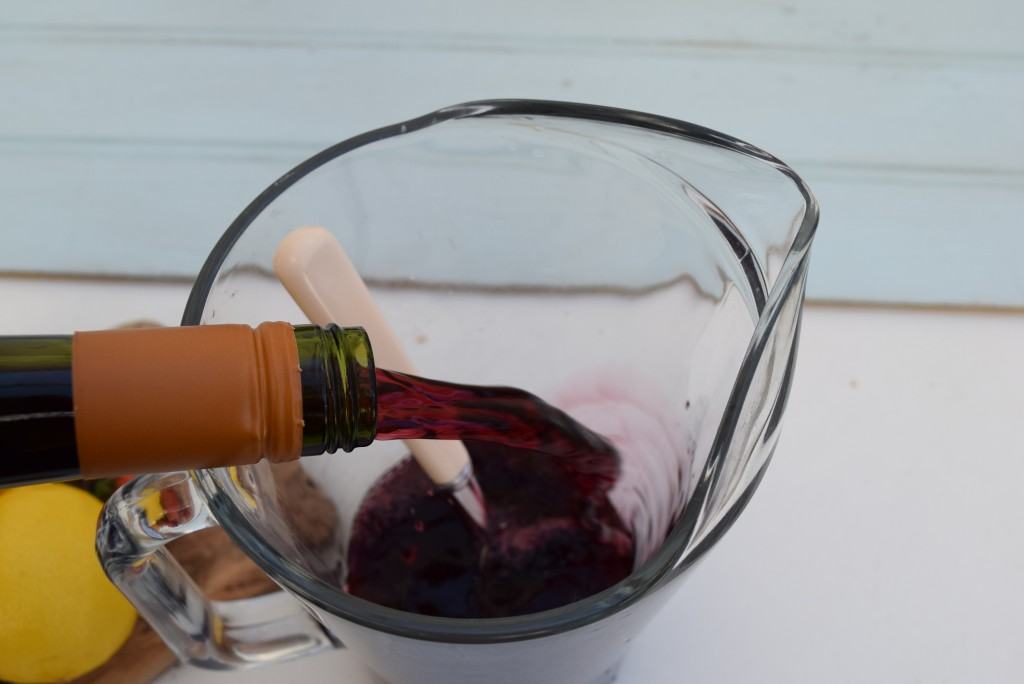 Next in goes the citrus Orange Curacao and the Brandy. Then give it all another stir.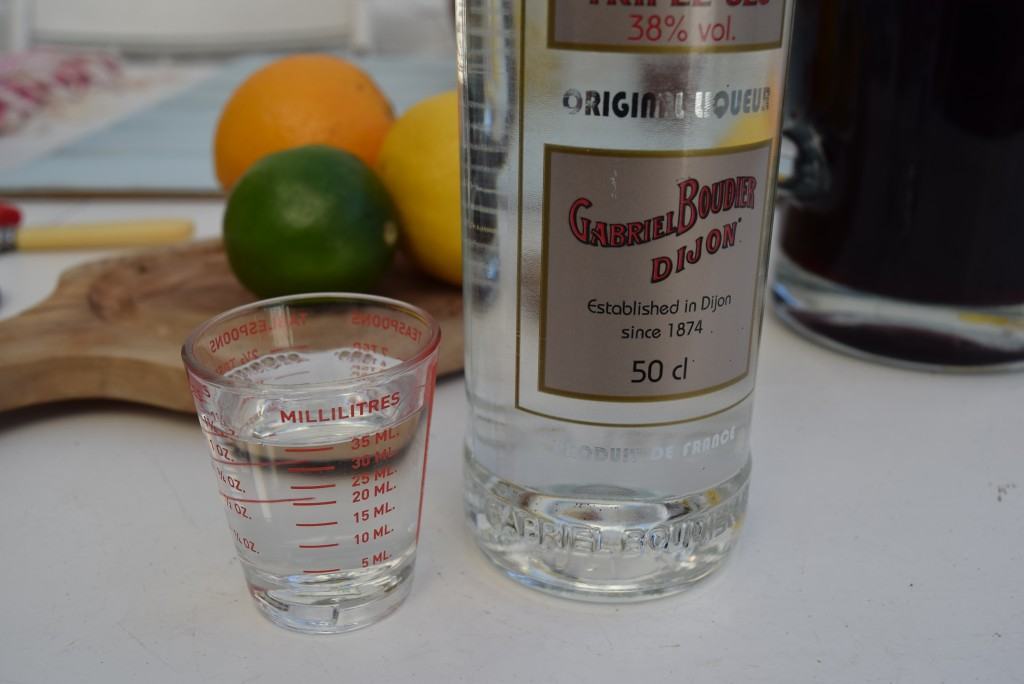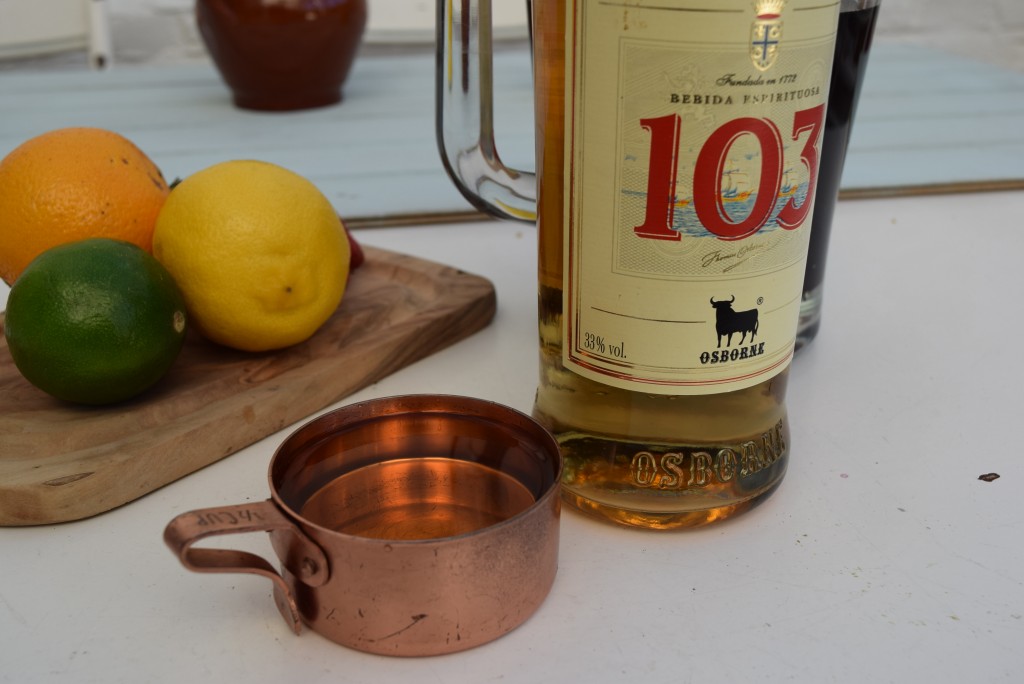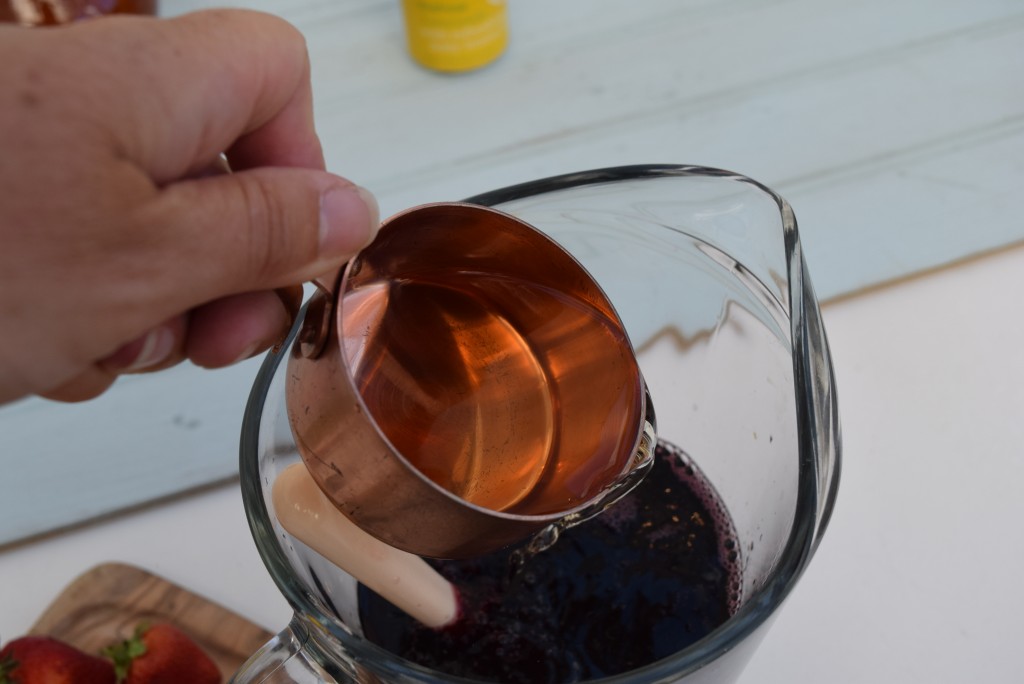 Ooh, look at my tanned hands, it's fading fast.
Next, for flavour and for garnish purposes, thinly slice your chosen fruits. I went for strawberries as I had some on the turn, with lemon, orange and lime for a traditional citrus hint.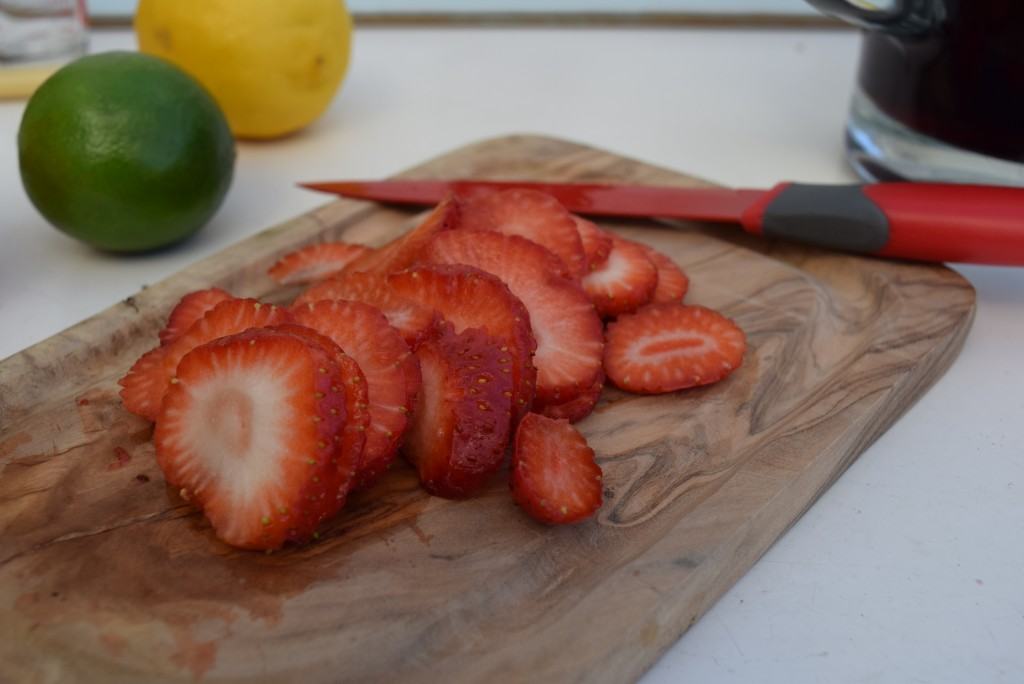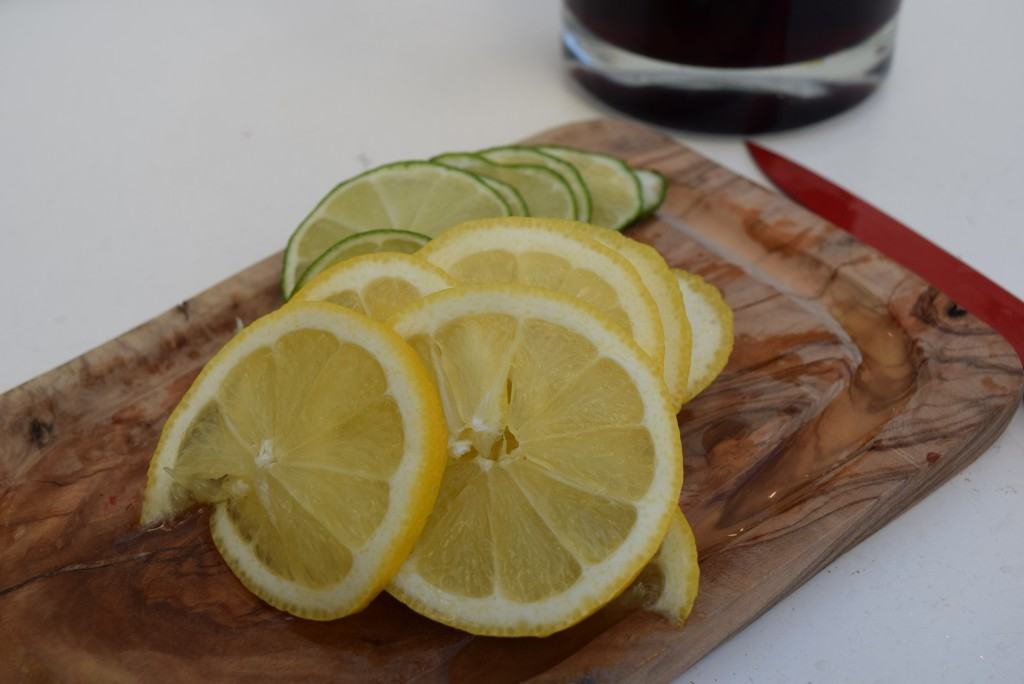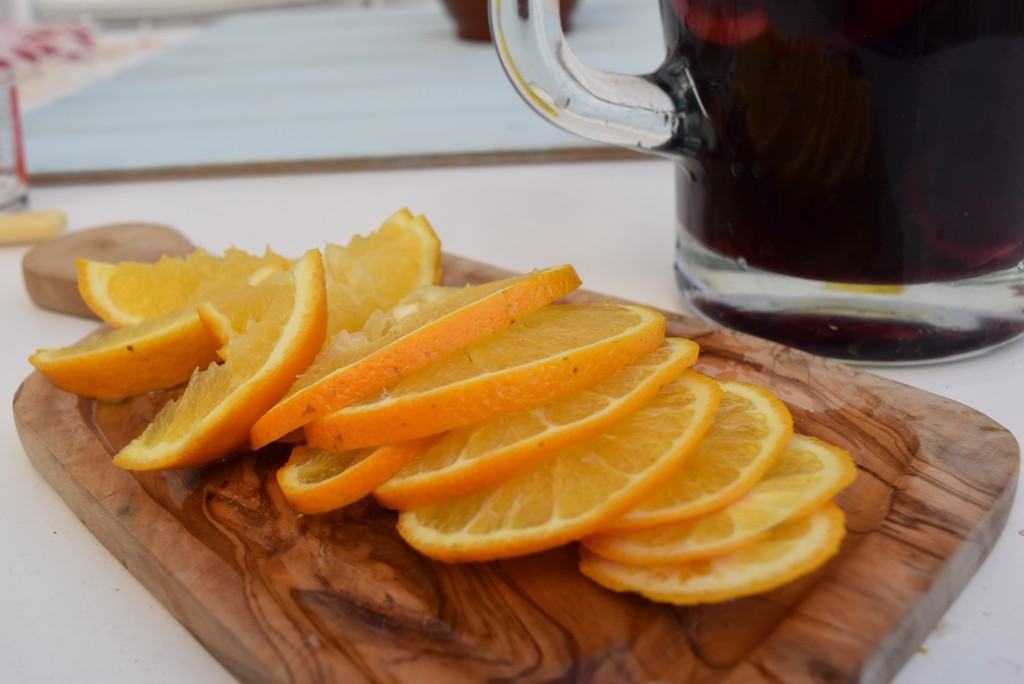 Tip your fruit into the red wine base and give it all another stir. Leave to sit for at least an hour or up to 24 hours, covered, in a cool place.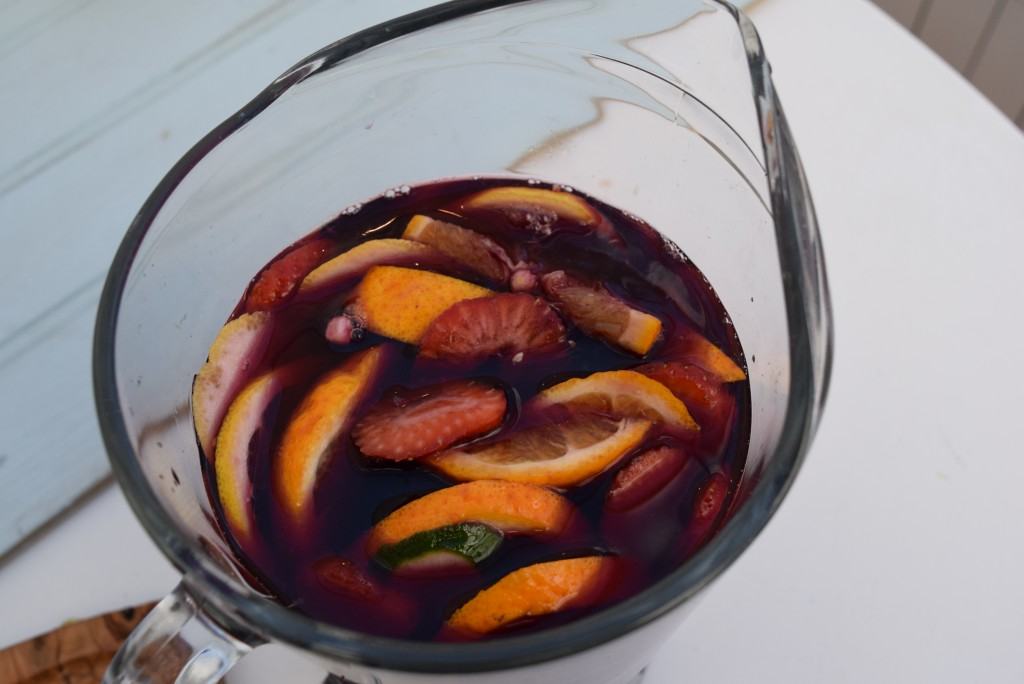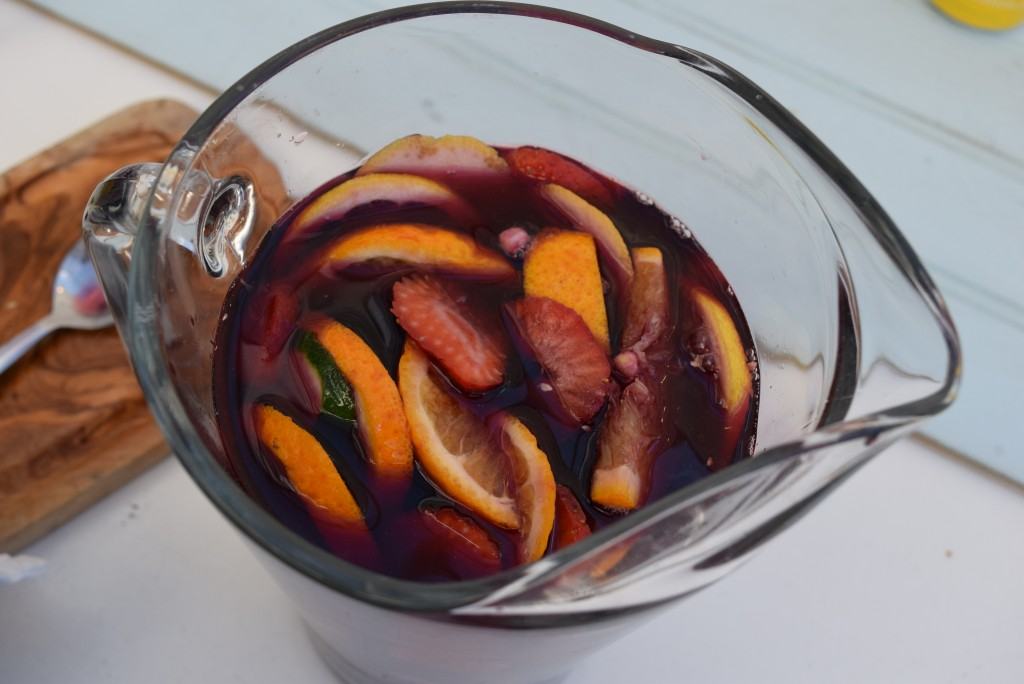 When you are ready to serve this wonderful drink, add a good handful of ice to the jug and top up with a can of lemonade. You'll notice I decanted mine into my fancy new jug, just because I could.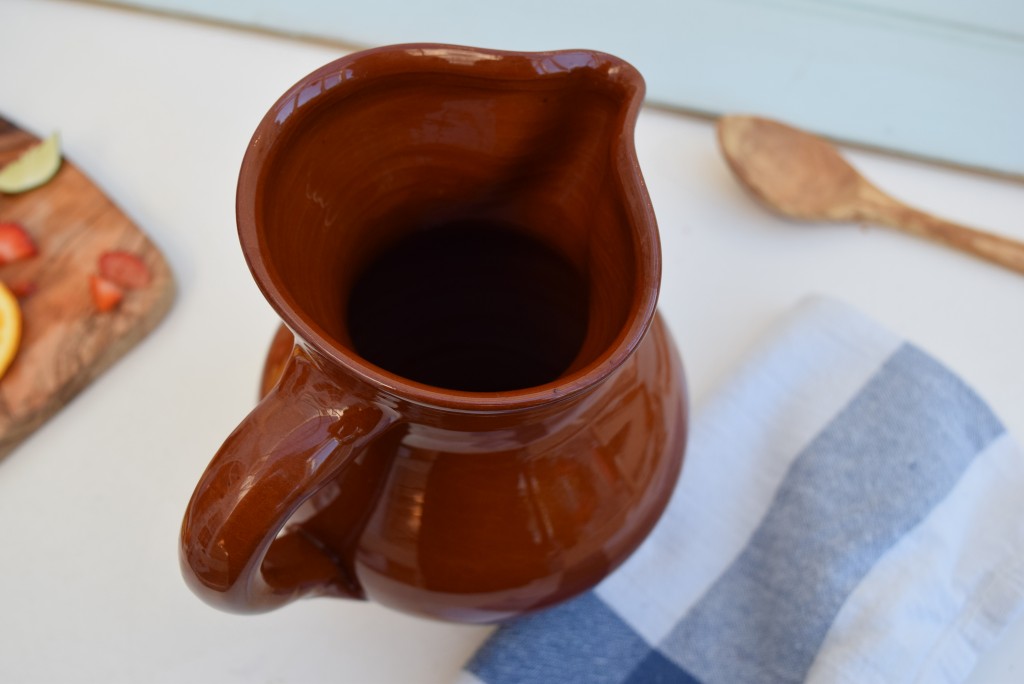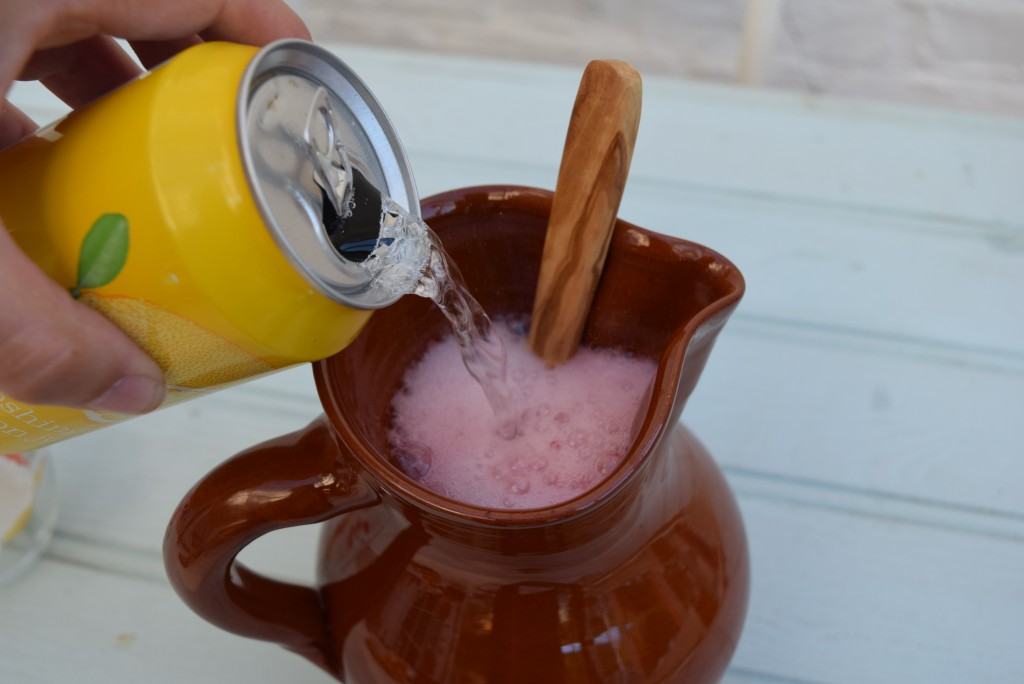 Add some ice to your glasses with some fresh fruit garnish and serve away.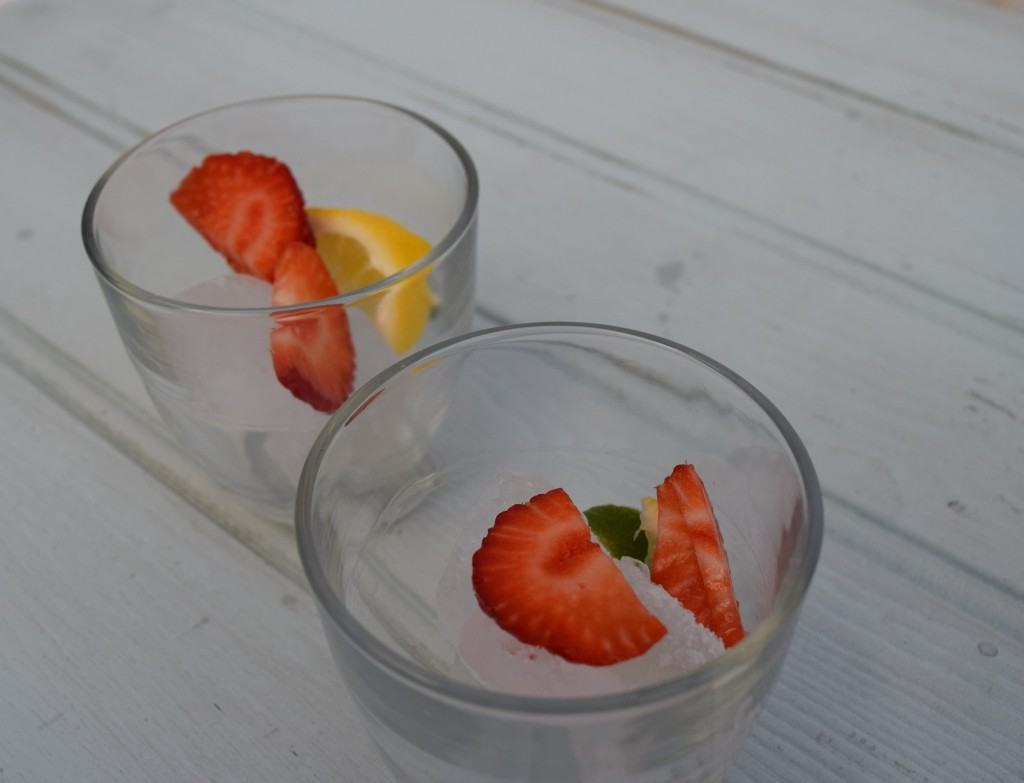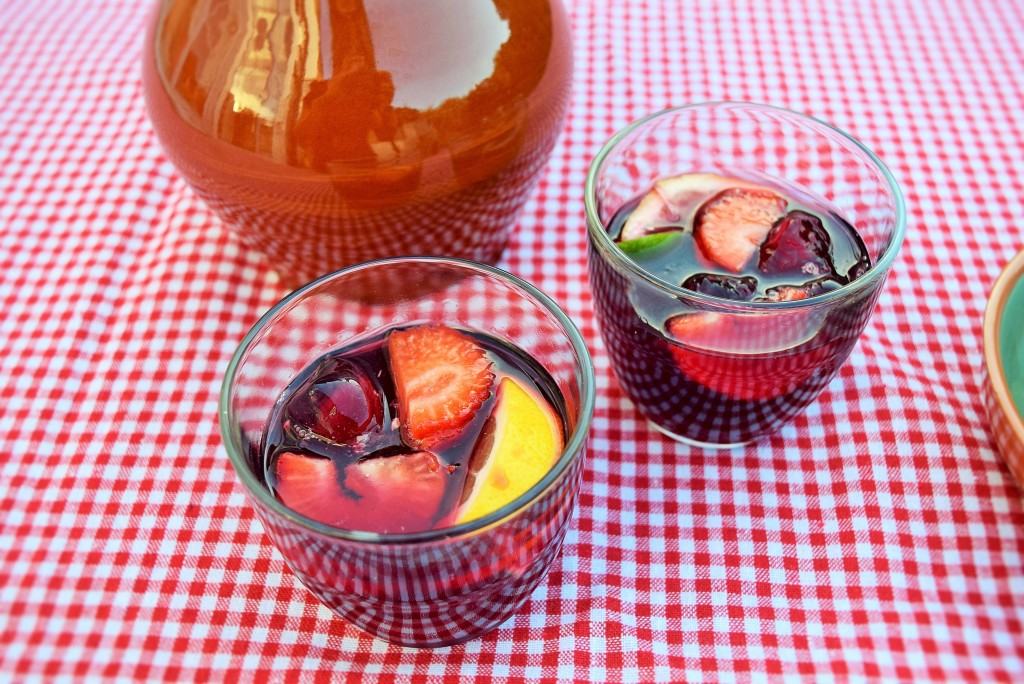 Glug away, drifting off to warmer climes *my back garden*.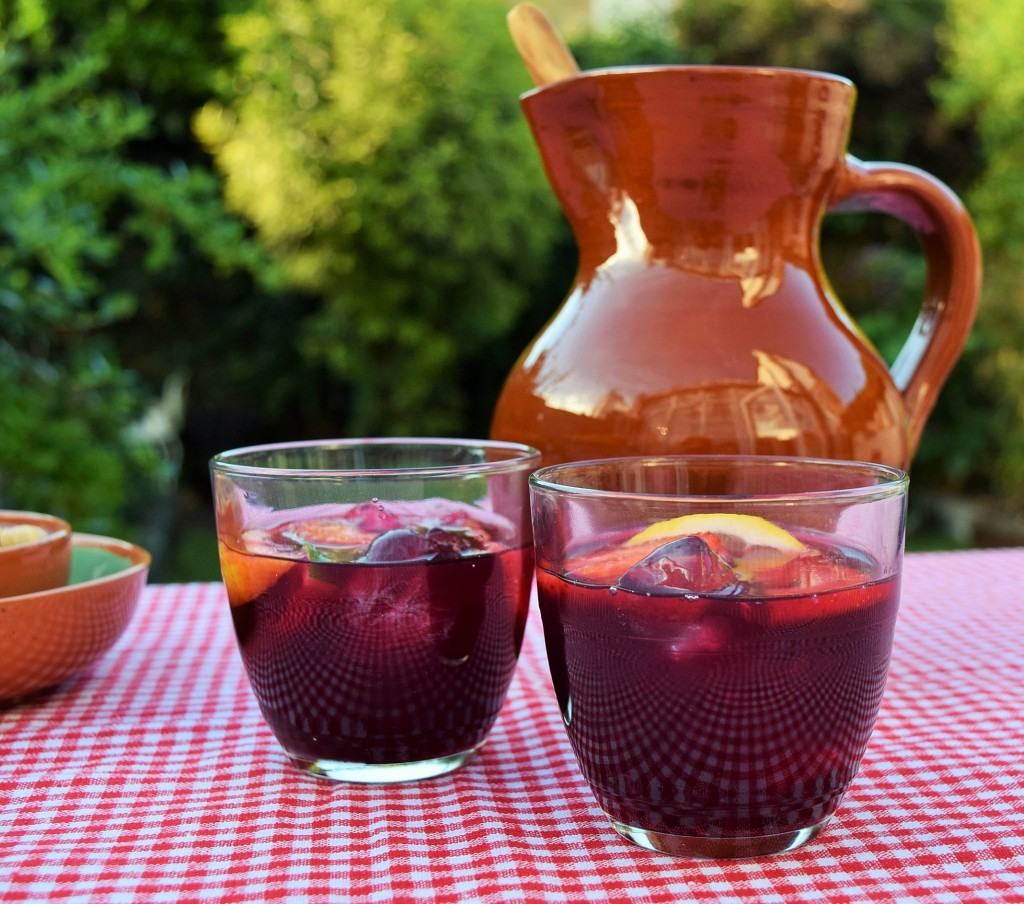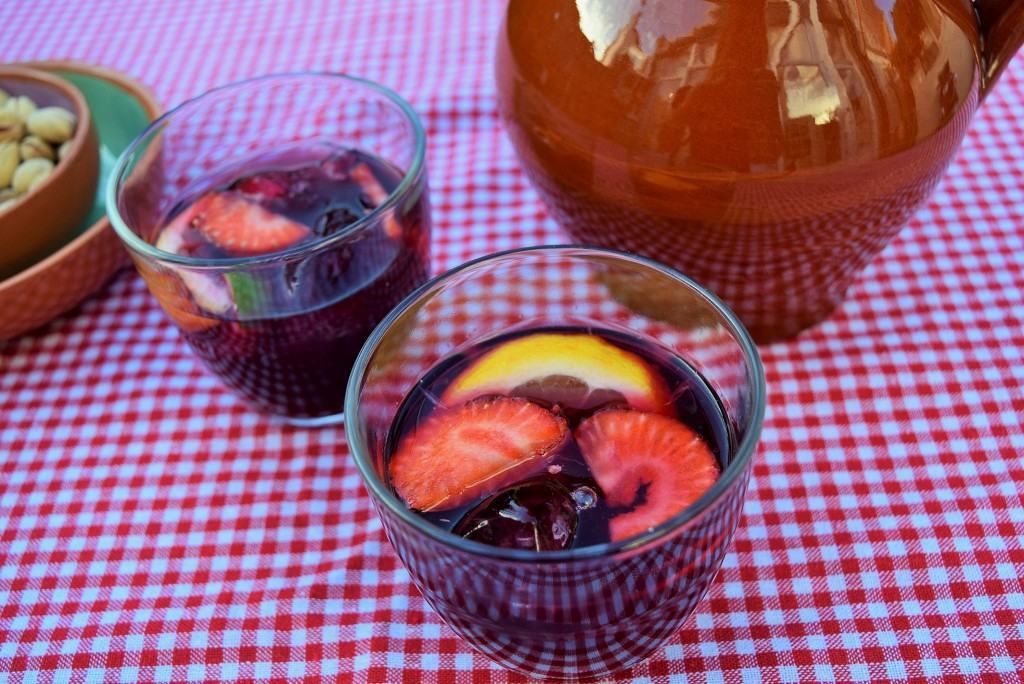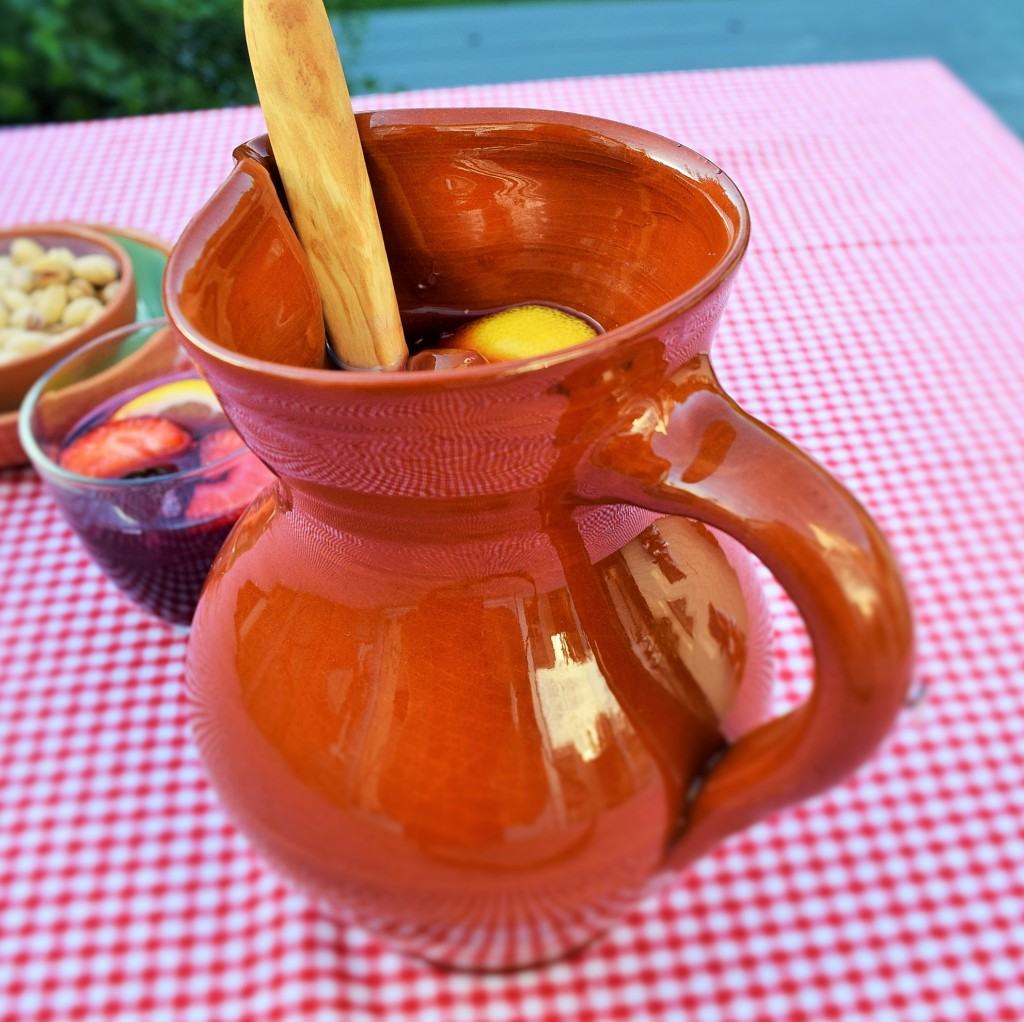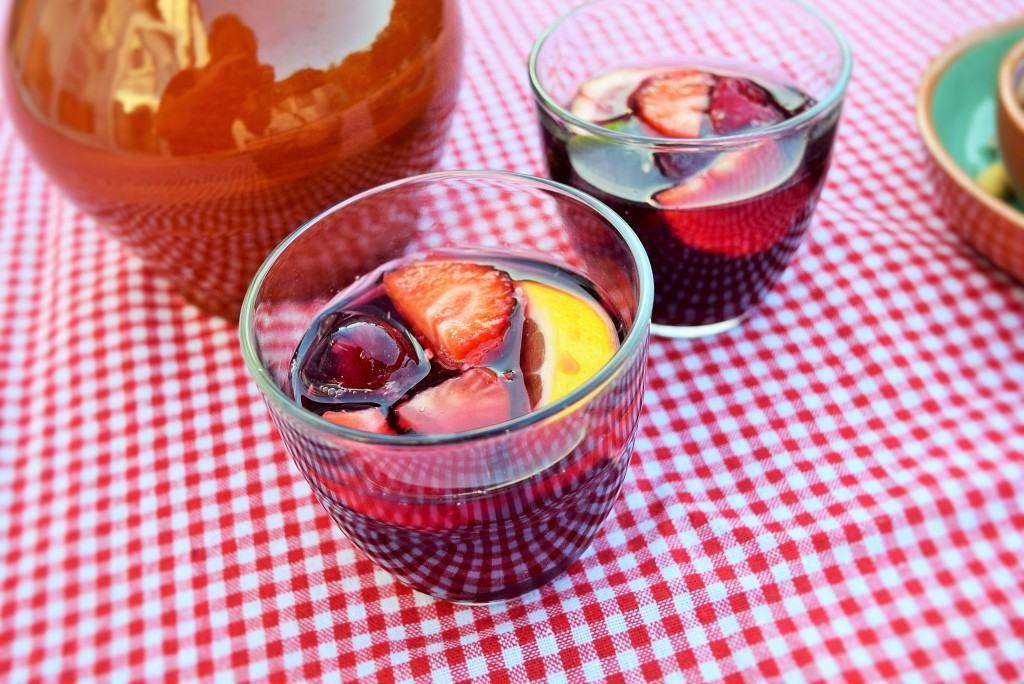 The forecast is good this weekend, so put any sense of good taste to one side and make a huge jug of this Summer Sangria. It will taste as good sitting in your garden as it did sitting by the pool.
Happy Summer Cocktail Friday.
Lucy x
Summer Sangria Recipe
Makes a big jug full – serves 2 to 6 people depending on how thirsty they are
1 bottle red wine – I used something cheap-ish and Spanish but it's up to you – light and fruity is best
3 tablespoons caster sugar
40ml orange liqueur
125ml brandy
1 x can lemonade
Ice and fruit to garnish, try strawberries, lemons, limes, oranges, one recipe even suggested rocket leaves……..
Take a large jug and add 3 tablespoons of caster sugar. Pour in the whole bottle of red wine and stir until the sugar dissolves. Add the orange liqueur and brandy and stir again. Cut up your fruit choices, I chose strawberries, lemon, orange and lime slices, and add to the jug. Give it all another really good stir and leave to sit for an hour, or up to 24 hours, covered, somewhere cool.
When it's time to serve, top up the Sangria base with a can of lemonade and add a good handful of ice, stir again. Fill your serving glasses with ice and some fresh fruit garnish, pour, and enjoy in the sunshine.