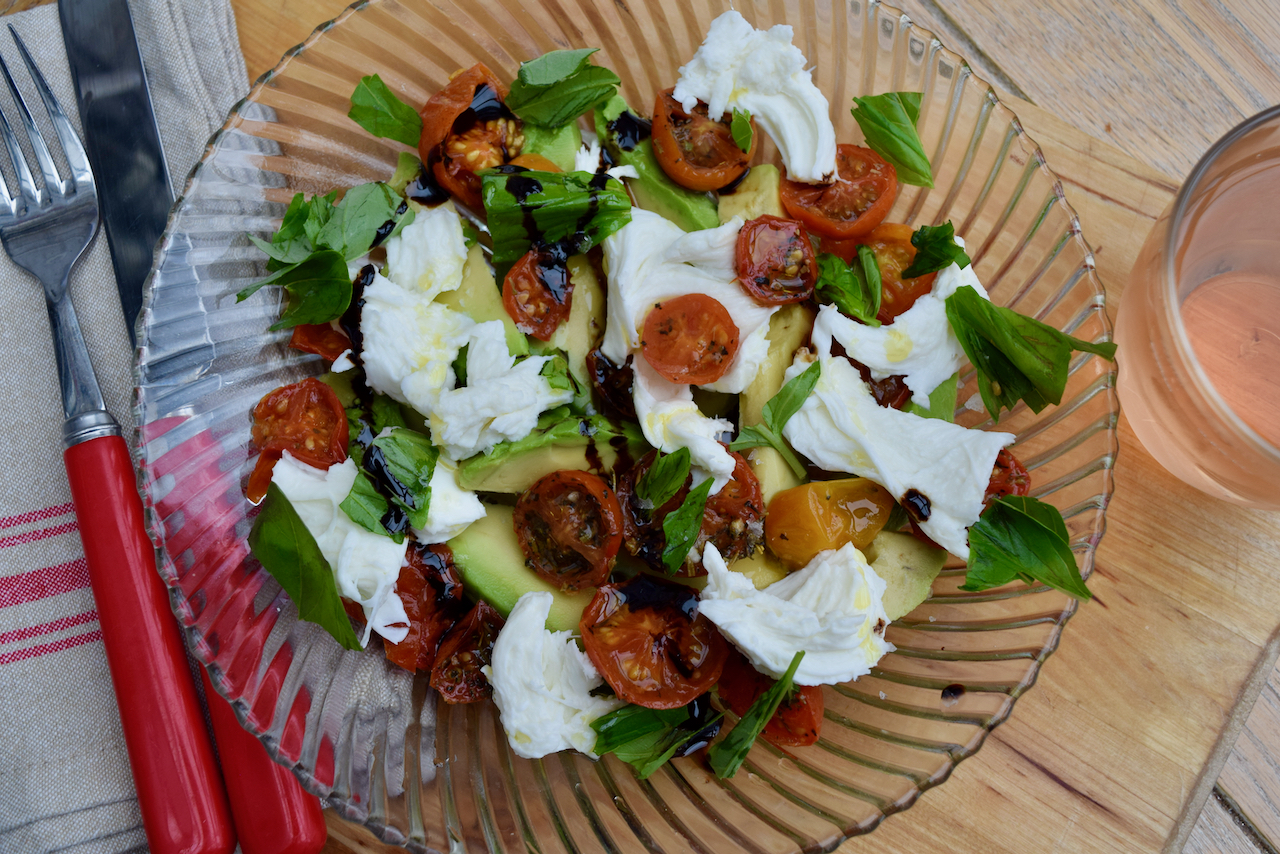 Moonblush Tomato Caprese Salad recipe
I love cooking seasonal offerings for Lucy Loves. Especially when I have a glut of something, I feel virtuous, frugal and wholemeal in equal measures. This week I was faced with a fridge full of tomatoes so what better way to get them out of the fridge and onto a plate than by turning them into Moonblush Tomatoes and then in turn, fashioning them into a Caprese Salad. Oh and don't forget the rosé from Wine at Heart, it's a summer salad must-have.
I have never been a huge fan of sun dried tomatoes; I find them leathery and spooky in equal measures. Not so the Moonblush Tomato. These get their name from a night time spell in a once hot oven, which gives them just a hint of concentrated sweetness and flavour. After that you can do what you like with them. Add them to pasta with nothing more than a splash of olive oil, garlic and parmesan, top a crisp bruschetta with a sprig of basil, or, like me, dot them onto some ripe avocado and torn mozzarella for my all time favourite Caprese Salad. This recipe is not taxing, it's positively lazy, which is right up my unmotivated, disillusioned, rosé soaked self at the moment. It is with utter adoration that I thank Nigella for this recipe.
If you, like me, are in a tomato coming out of your ears type of situation, then Moonblushing is the way forward. You can quite literally do these in your sleep.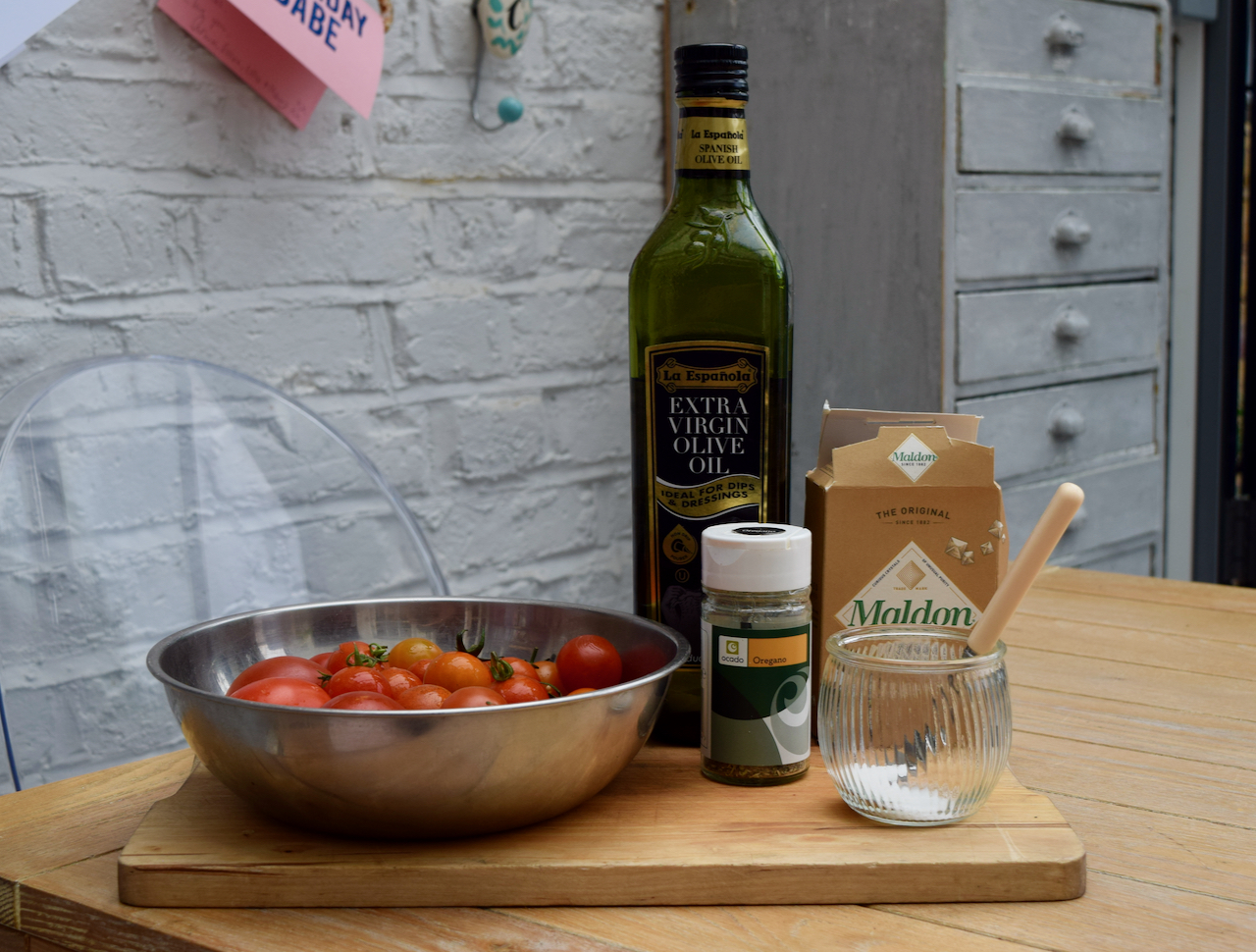 I know there's no sign of the Caprese part of this recipe here, but I'll be honest, when I photographed the tomato side of things, I hadn't really decided what I would do with them. And you certainly don't have to turn them into a salad. We had them at a dinner party on Saturday night just as a wonderful side dish with a handful of toasted pine nuts.
Start by pre heating your oven to 200 degrees fan assisted. For the cherry tomatoes, cut them in half and lay cut side up in a large roasting tin. I had mostly cherry tomatoes but also a few large ones on the vine, so I quartered these and slung them in too for luck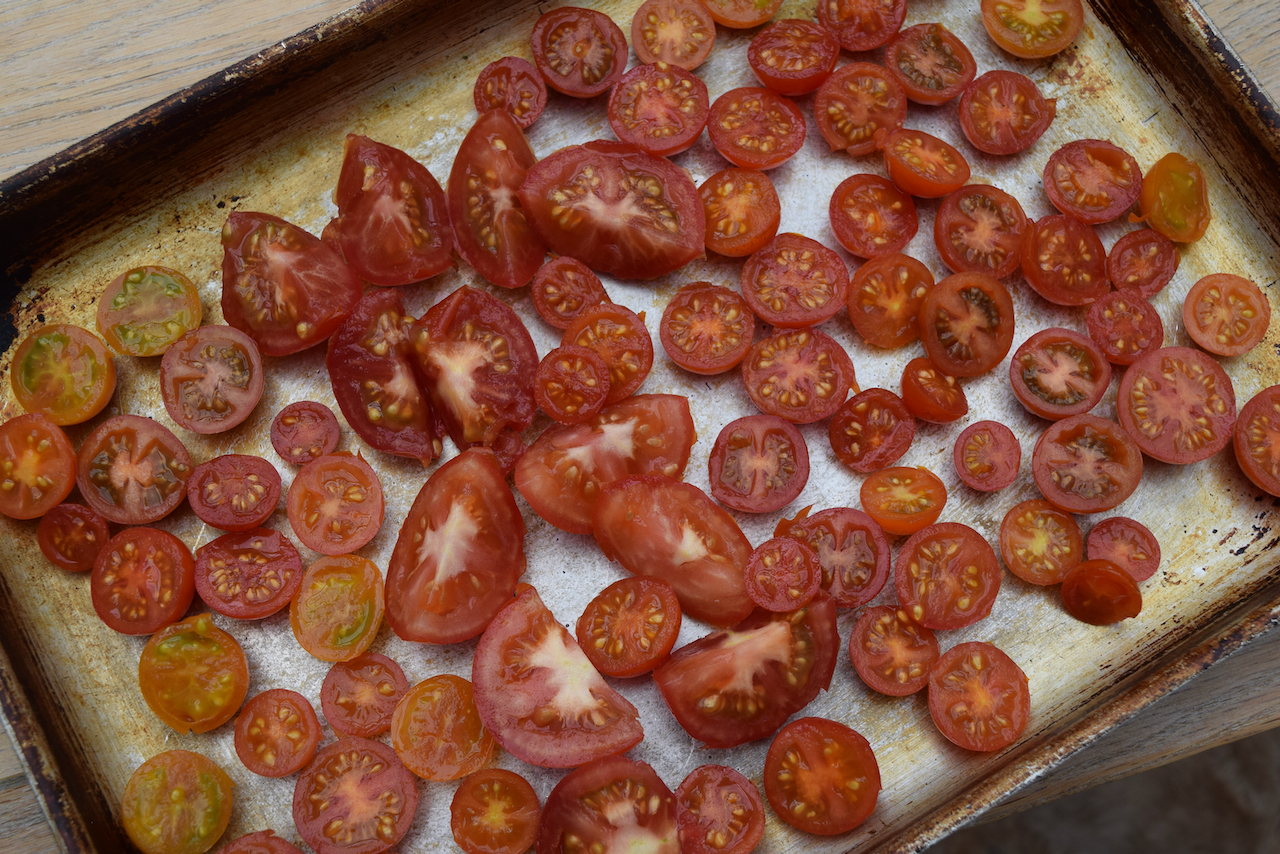 Sprinkle on the salt, sugar, dried thyme or oregano. Then drizzle over the olive oil.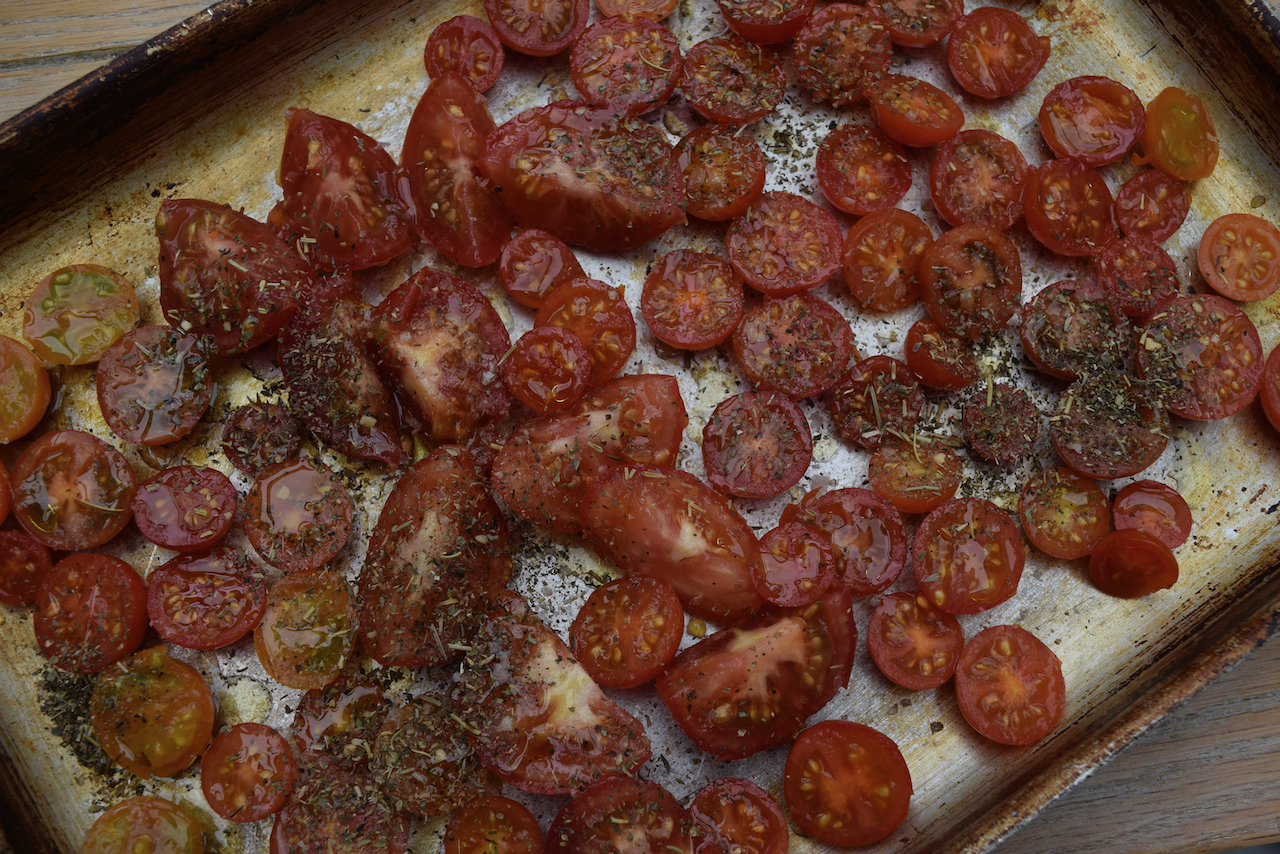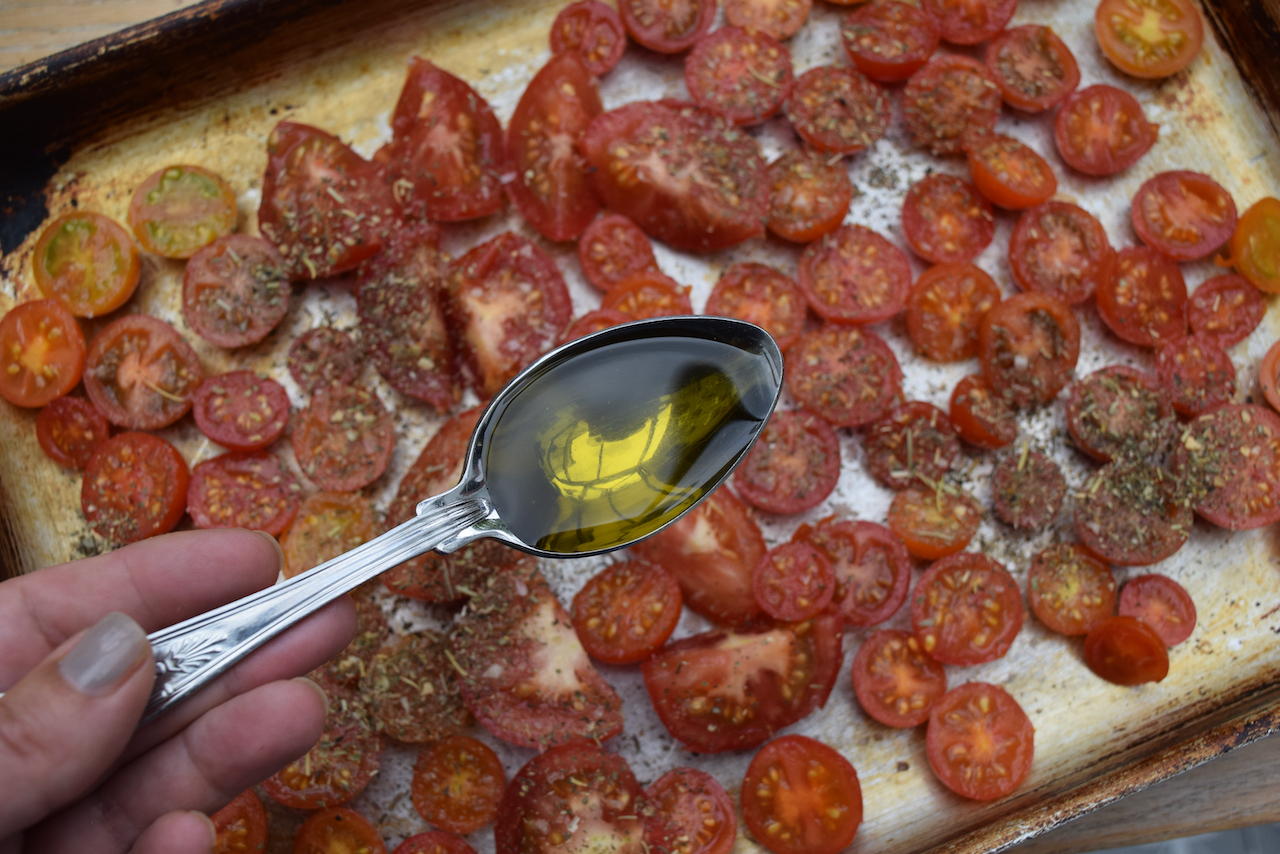 Put the tray of tomatoes into your hot oven and turn the oven off. Leave them overnight with the door closed, undisturbed.
While you sleep, the Moonblush Tomatoes lightly cook, intensify in flavour but still retain their sweetness and softness. Remove them from the oven the following morning and pop into a bowl where they can happily spend 5 days, covered, while you decide how to eat them.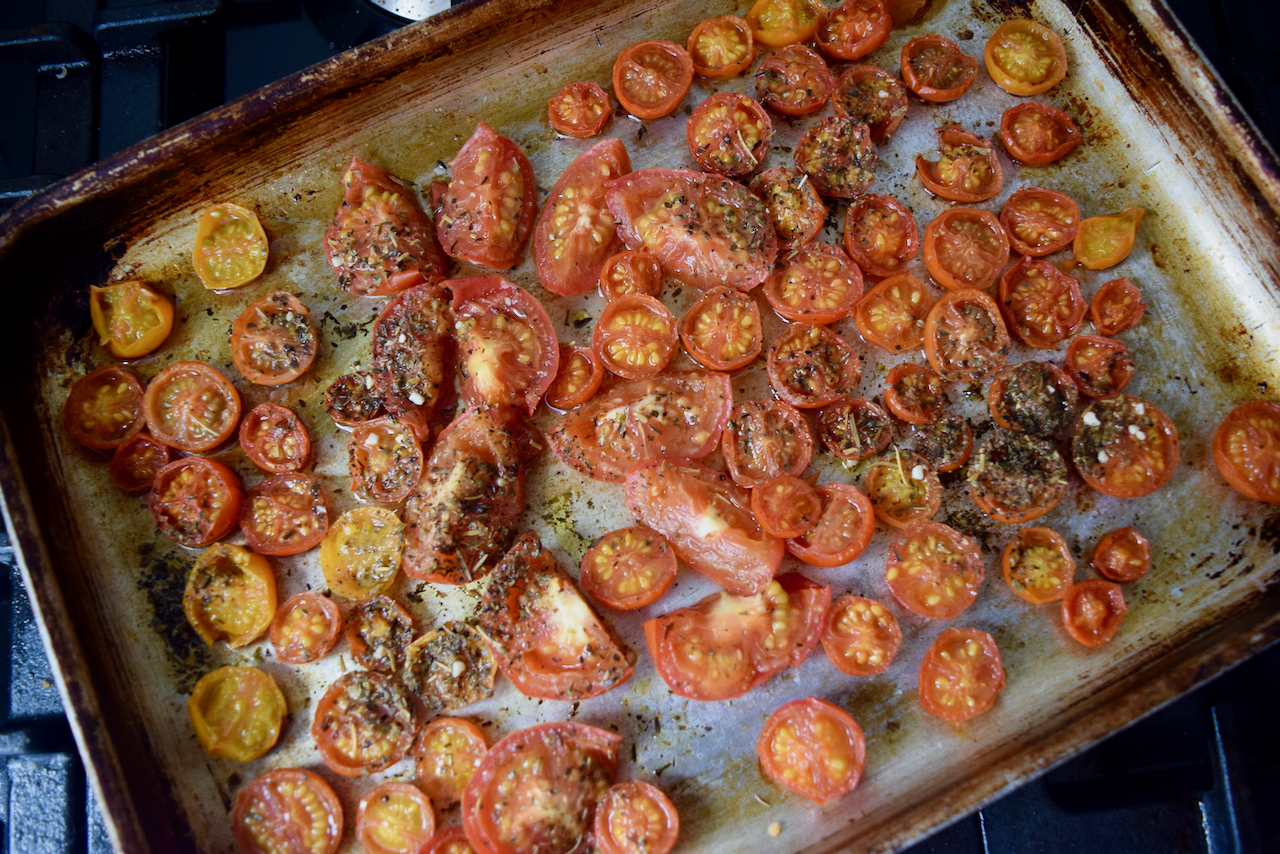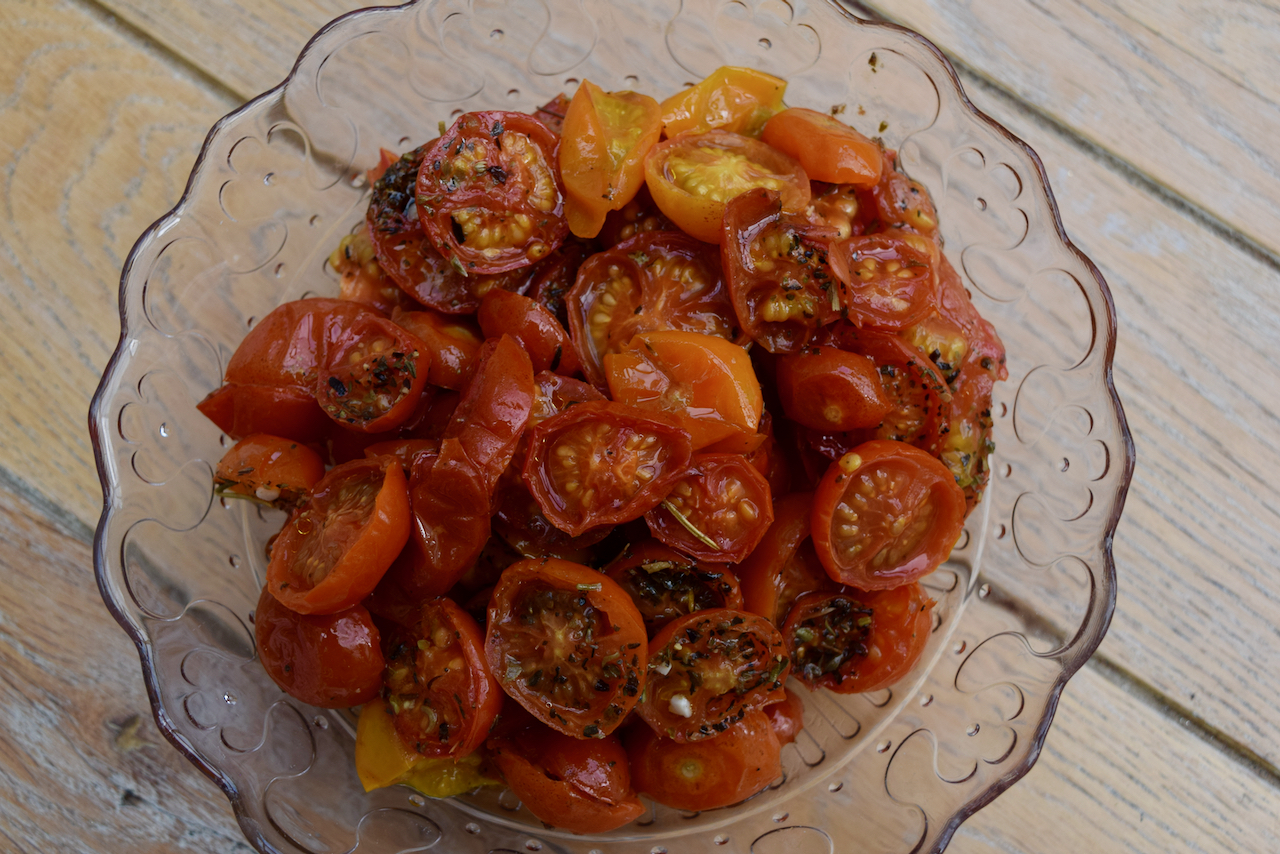 You can use your imagination with these. Pop into any pasta dish, on toast for brunch or as a canapé on crisp French bread with the melted cheese of your choice. For my Moonblush Caprese mix your tomatoes with ripe avo, good mozzarella and torn basil. Add a generous glug of both olive oil and balsamic, and of course, pair with some beautiful rosé.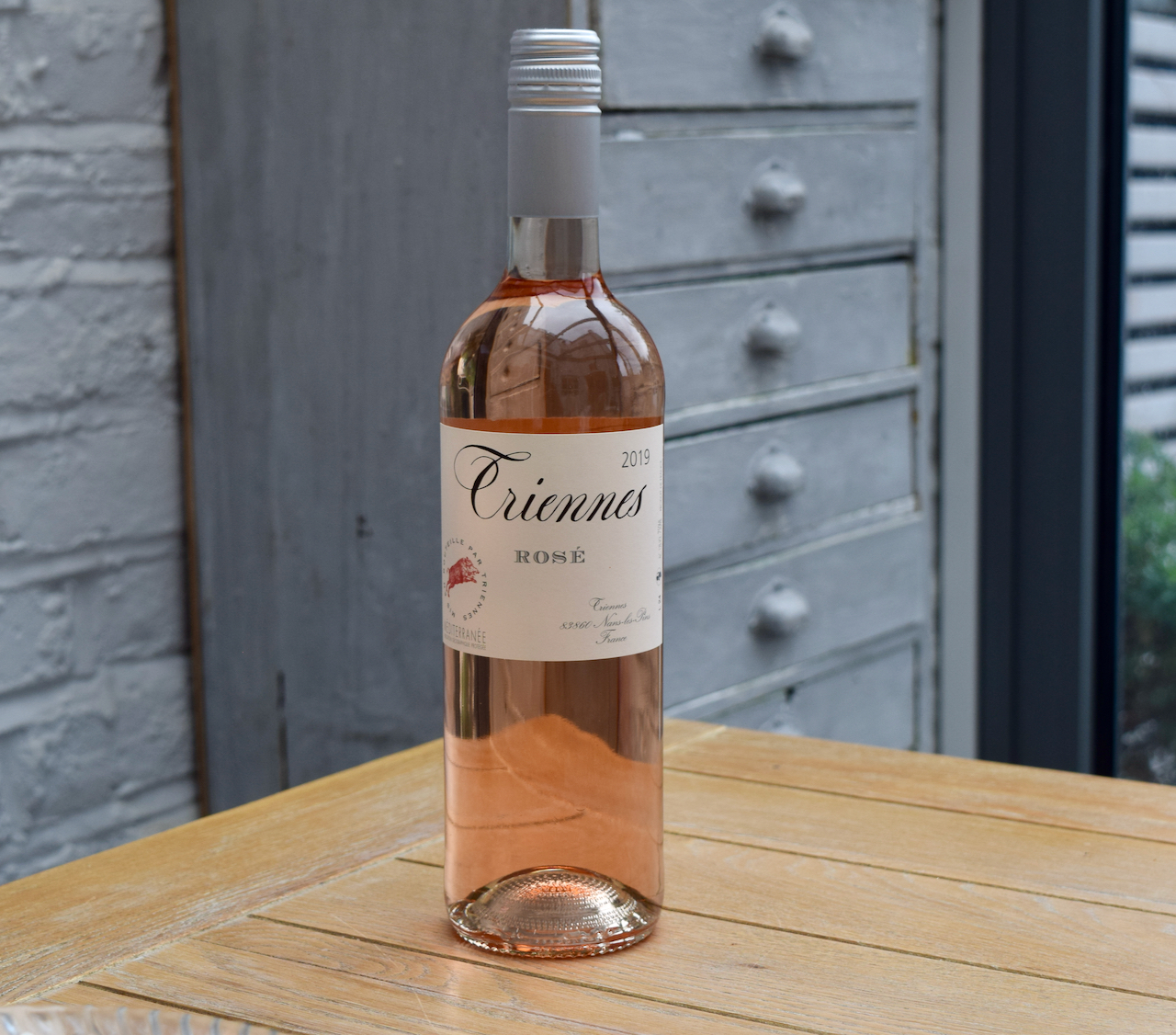 What could be more perfect for such a summer dish than a glass of Wine at Heart's Triennes house rosé. It's pale, elegant and fresh with hints of red fruit and marshmallow. And, you know I love a bargain, it's currently on offer; head to Wine at Heart to toast the summer in style.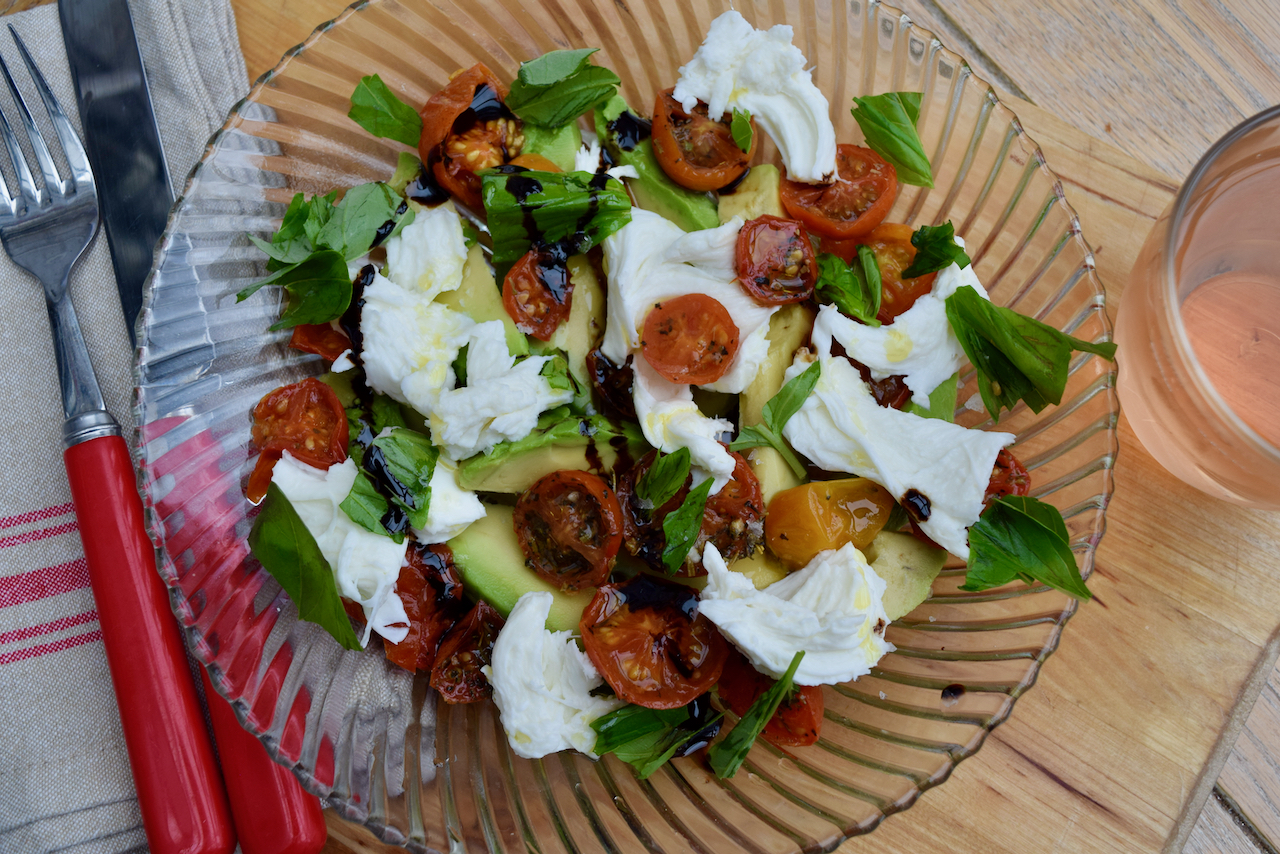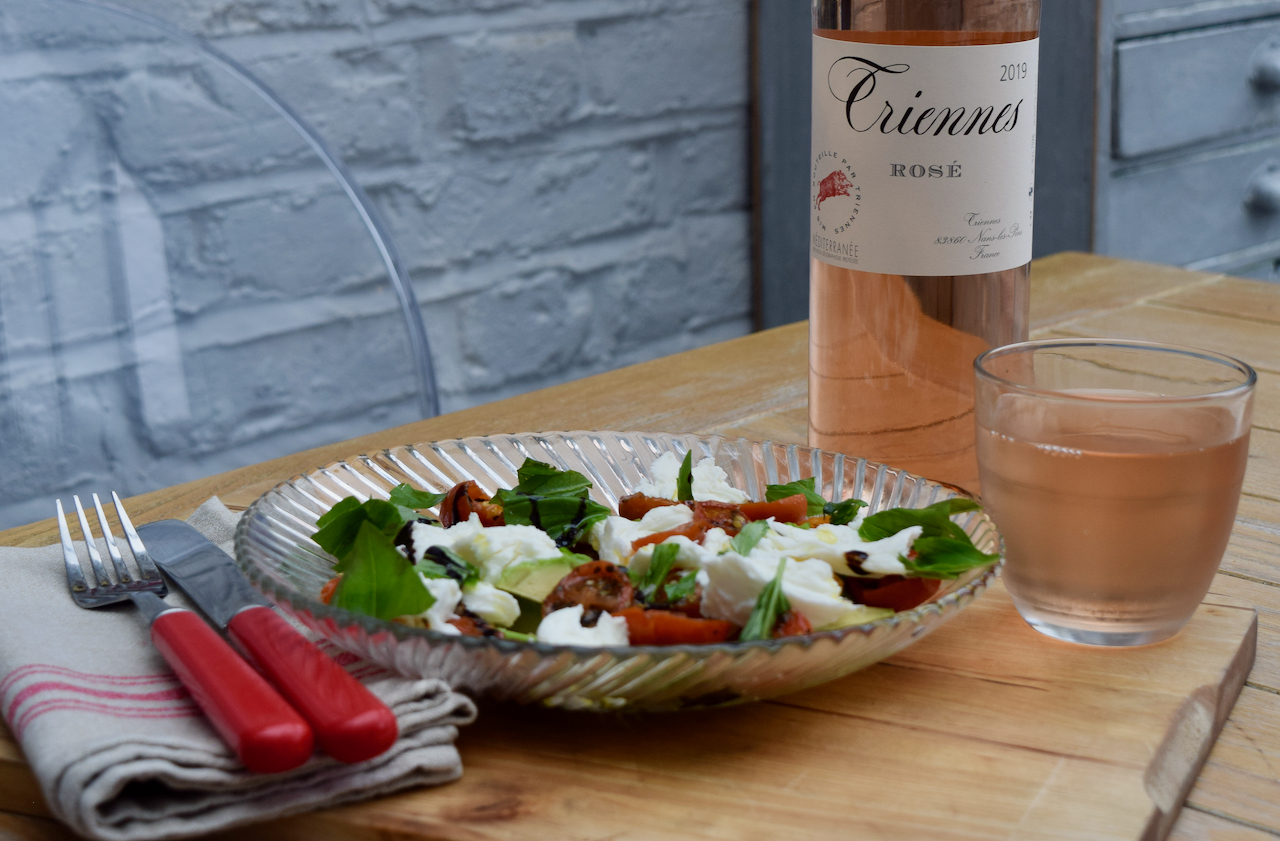 It's starting to feel just a tiny touch autumnal. But, summer's not over yet, there's still time to enjoy all it has to offer. Tomatoes, basil and a bottle, or two, of rosé.
Lucy x
Wine at Heart kindly gave me their wine to try, however, as always, all opinions and ramblings are my own.
Moonblush Tomato Caprese Salad recipe
Makes enough tomatoes for the salad with plenty of leftovers for adding to pasta, etc
Moonblush Tomatoes
500g cherry tomatoes, cherry are best, but I had a couple of larger vine ones I quartered
2 teaspoons Maldon salt, or 1 of regular salt
1/4 teaspoon caster sugar
1 teaspoon dried thyme or oregano
2 tablespoon olive oil
Caprese Salad
Serves 2
1 ripe avocado, peeled and sliced
1 ball mozzarella, torn into bite sized pieces
Fresh basil leaves, torn
Olive oil and balsamic vinegar for drizzling
Sea salt and black pepper
Pre heat your oven to 200 degrees fan assisted and take a large roasting tin.
Halve your cherry tomatoes and add, cut side up, to the roasting tin. Sprinkle with the salt, sugar and the dried herb of your choice.
Drizzle over the olive oil then place the tin into the pre heated oven. Turn the oven off now and leave the tomatoes, undisturbed, over night, with the oven door closed.
In the morning, remove the tray from the oven and scoop the tomatoes out into a bowl. Cover and store in the fridge for up to 5 days.
For the salad, peel and slice the ripe avocado and place onto a plate. Tear the mozzarella into pieces and add to the plate with a generous amount of your Moonblush tomatoes. Scatter over a handful of torn basil leaves then drizzle the whole lot with good olive oil and balsamic vinegar. Season well then devour, with some crusty bread if you like.