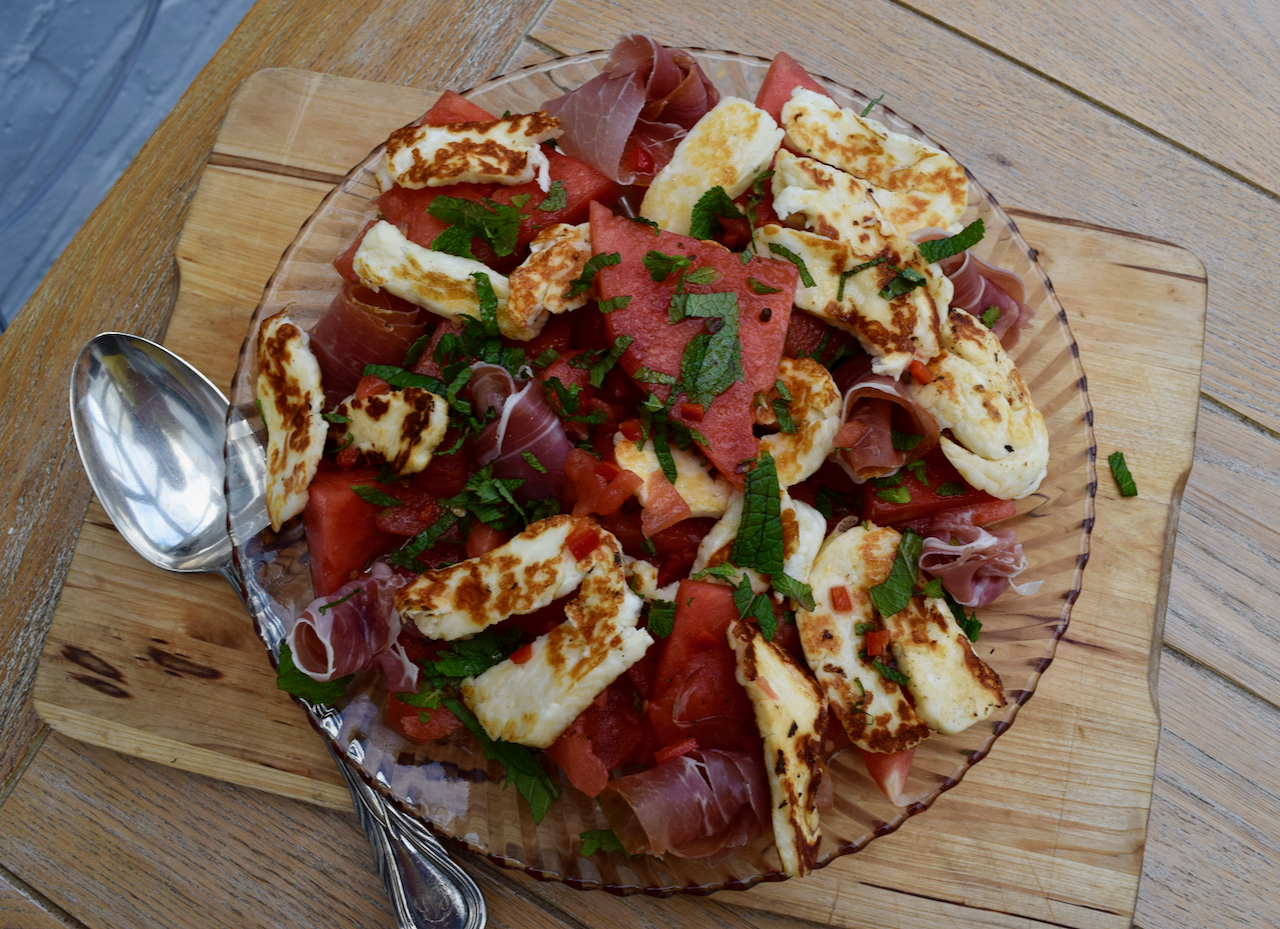 Watermelon, Halloumi and Mint Salad recipe
This has been such a strange, strange year, I'm trying to drag the summer out for as long as possible. There's a nip in the air, the lights are going on earlier and earlier, but I'm refusing to put the heating on just yet. This Watermelon, Halloumi and Mint Salad is making me feel as if it's still June and it's also helping me cut down on the carbs this week as it's finally time to address my lockdown spare tyre.
Watermelon always reminds me of being on holiday. It's so sweet and juicy and refreshing and pairs wonderfully with salty, fried halloumi. I sneaked in some Parma ham for added saltiness but you can leave this out if you want the salad to be meat free. The dressing is beyond easy and has a hint of fresh chilli to add heat. A liberal sprinkling of fresh mint is the final flourish. We had this whole plateful for lunch, with Clyde going back for seconds and thirds, which is rare for him in a salad based scenario. You could serve this as a first course or as a side with a barbecue, it will brighten any grey autumnal day. Thank you to Olive Magazine for the inspiration for this.
We are a family of squeaky cheese fans. It's the only way I can get anyone to eat salad; I basically use Halloumi as a cheese based bribery tool.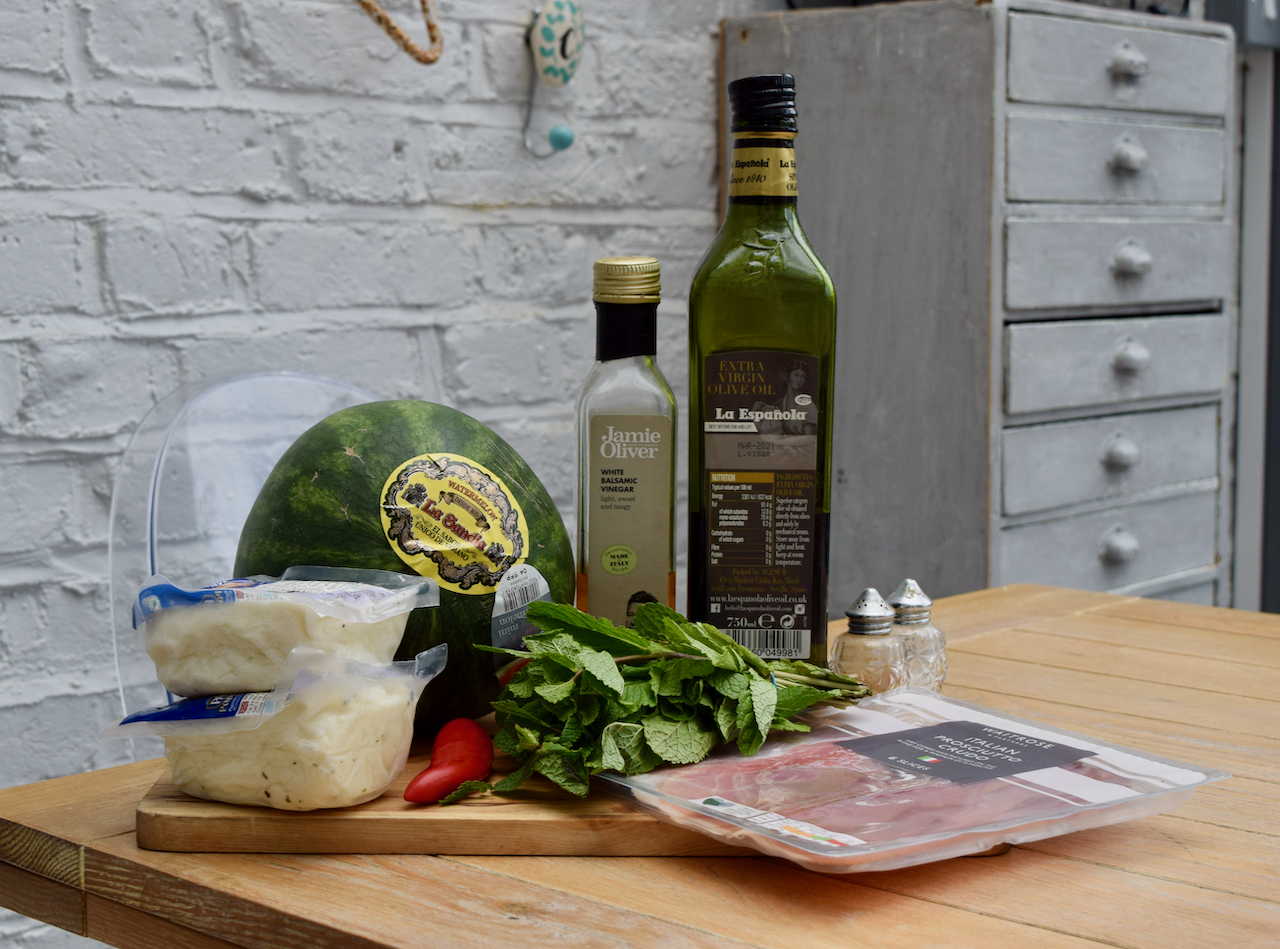 I got a mini watermelon from Waitrose and I'm glad I did. It was sweet, perfectly ripe and not woody like some of the bigger ones can be. Ignore the fact I have two halloumi's in the photo; one went further than I thought, so I saved the second one for another day. The Parma ham is optional, just leave it out for a meat free option.
Start with the beautiful melon based star of the show. Remove the skin then slice into thin wedges and add to a large bowl.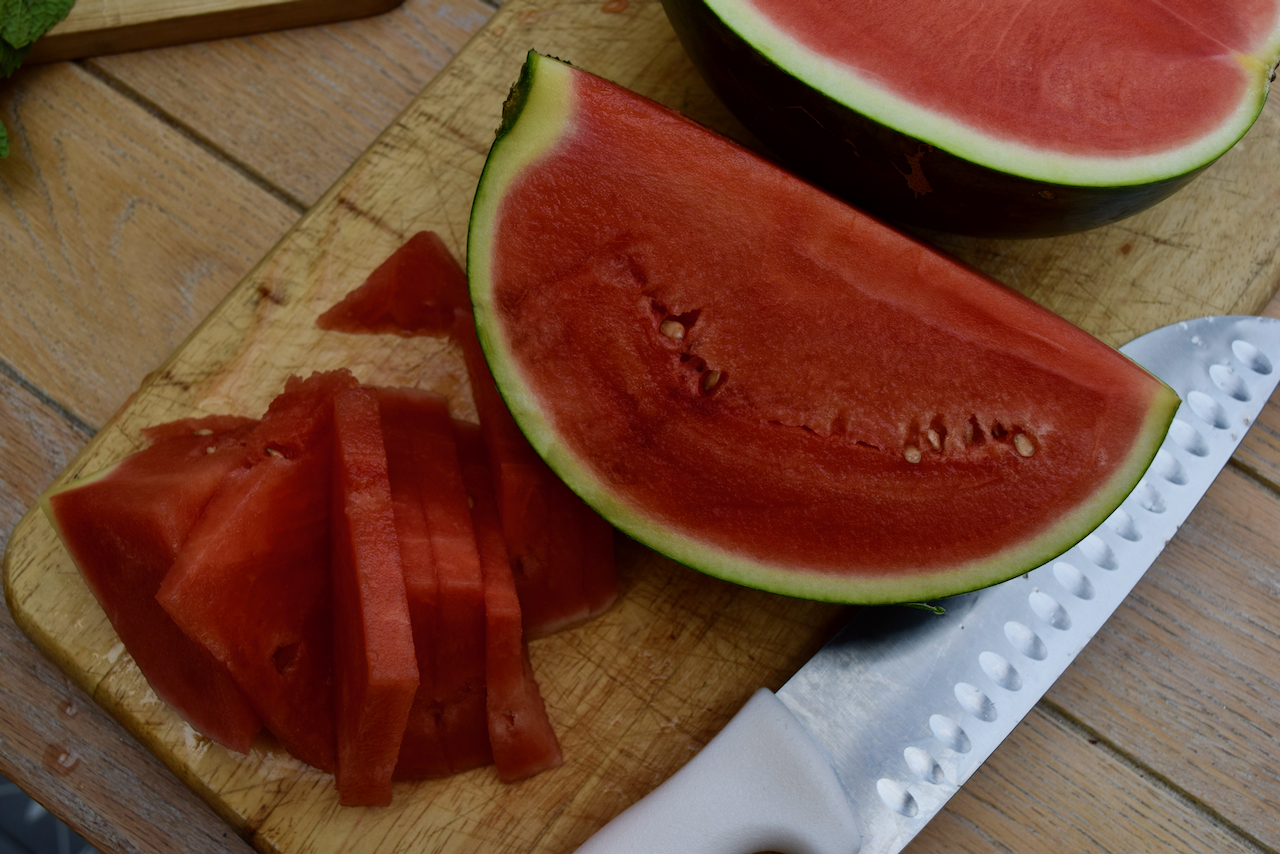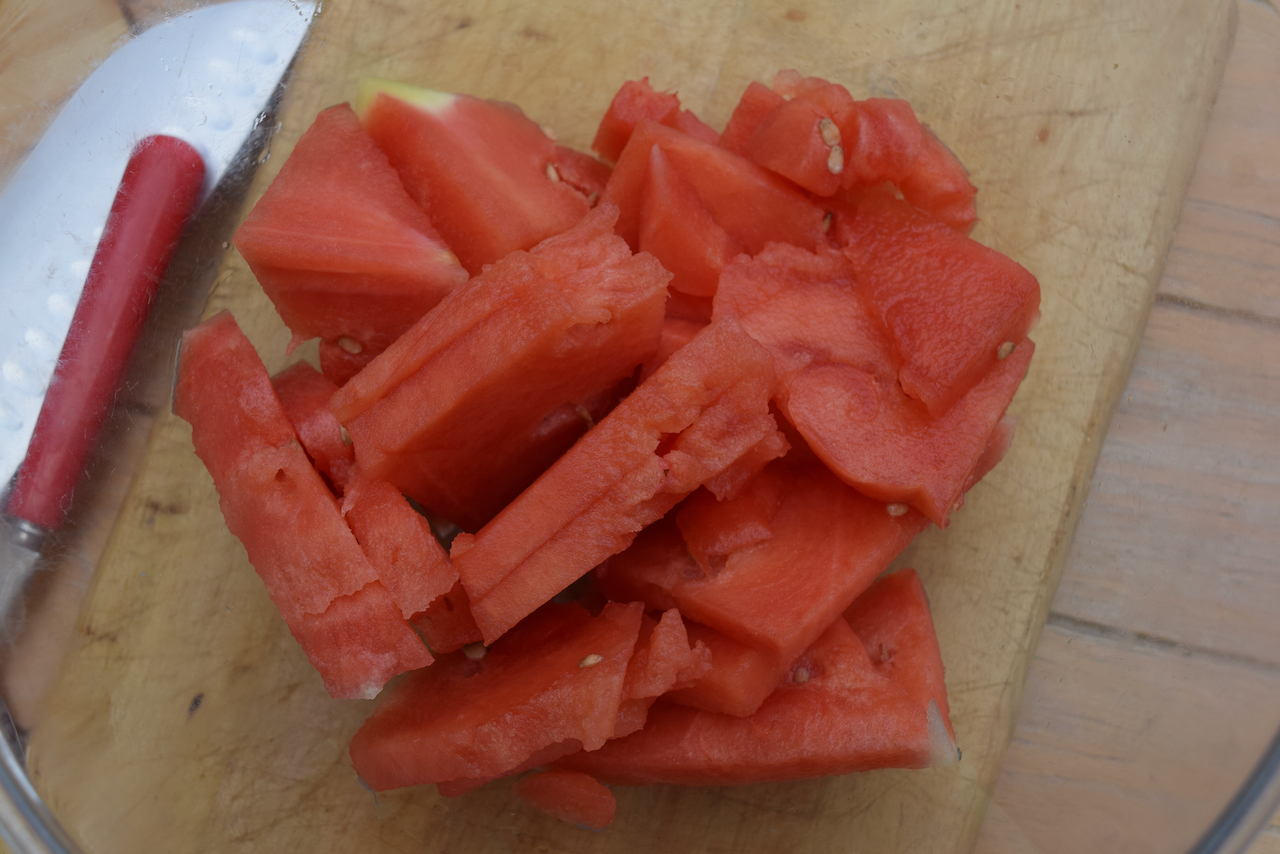 Next make the dressing. De-seed then finely chop half a red chilli. In a small jug add the white balsamic or white wine vinegar, olive oil with a pinch of salt and whisk. Then add the chopped red chilli.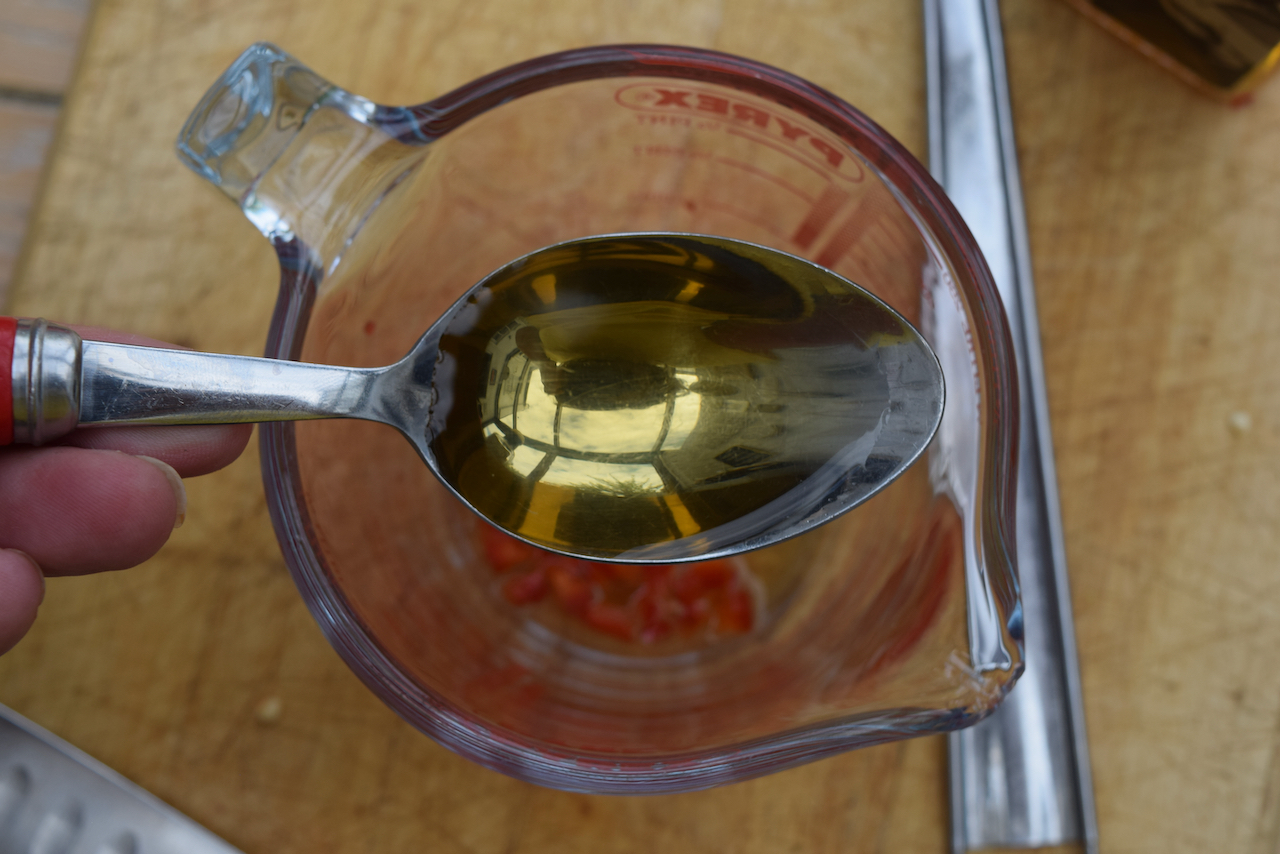 Pour the dressing over the melon and stir well. Leave to marinade for around 15 minutes.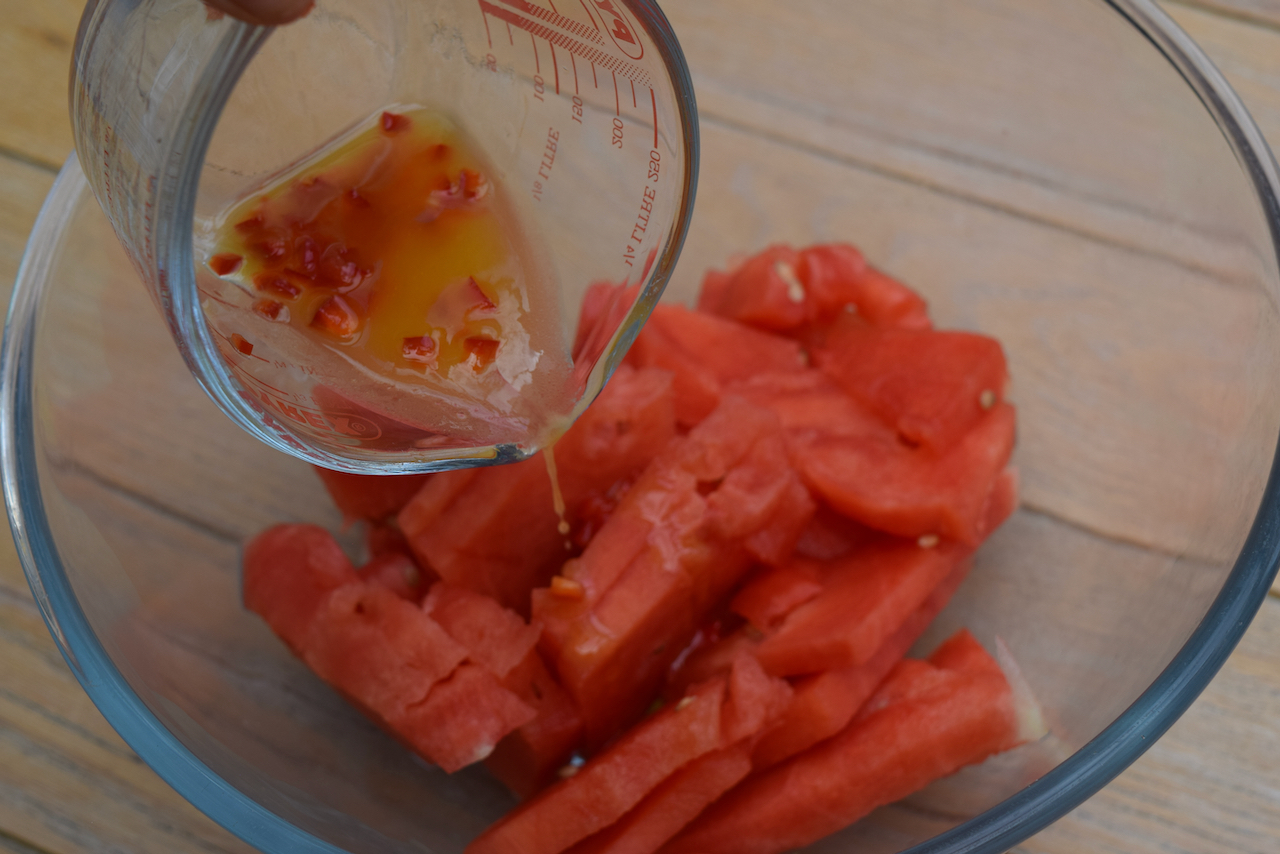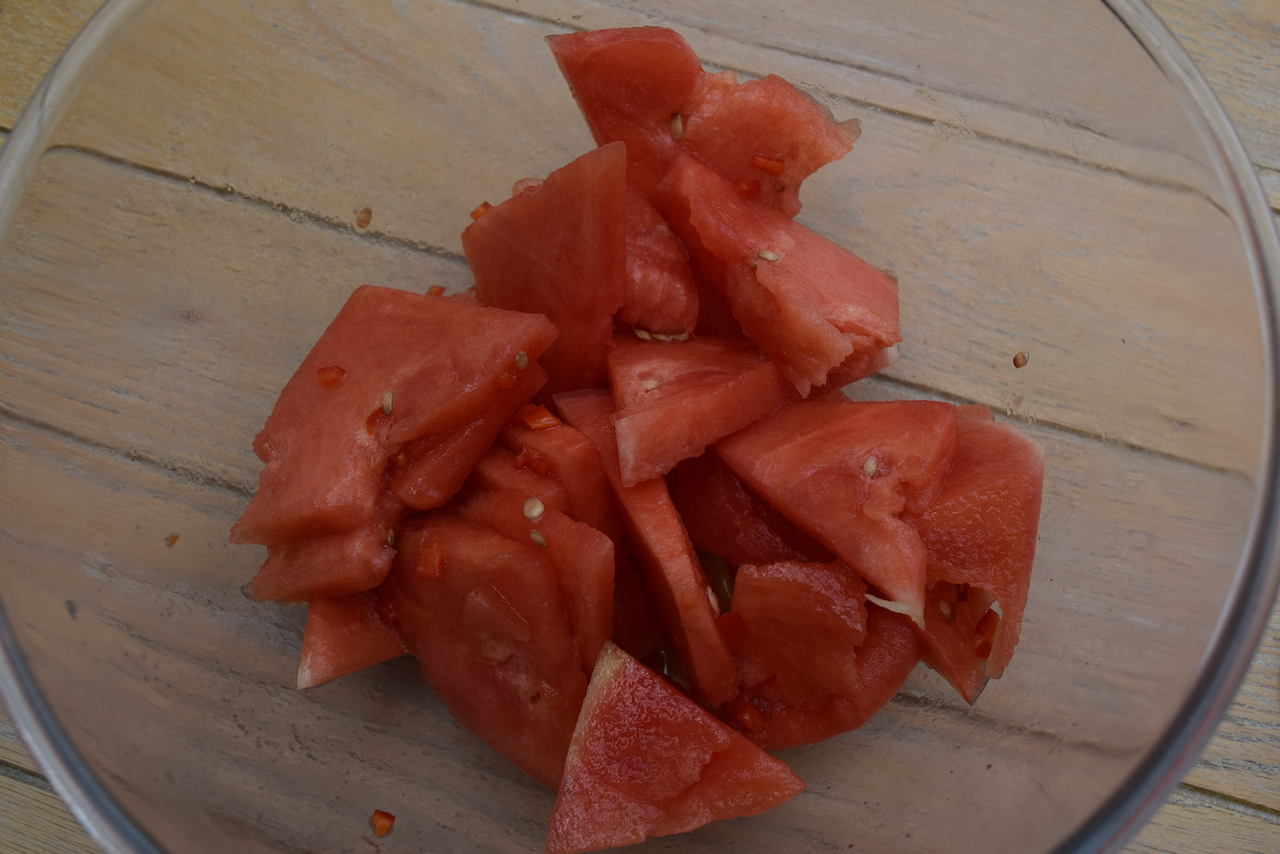 While the melon does its thing, thinly slice the halloumi. Heat a dry frying pan and fry the cheese until golden on both sides. This will only take a couple of minutes on each side.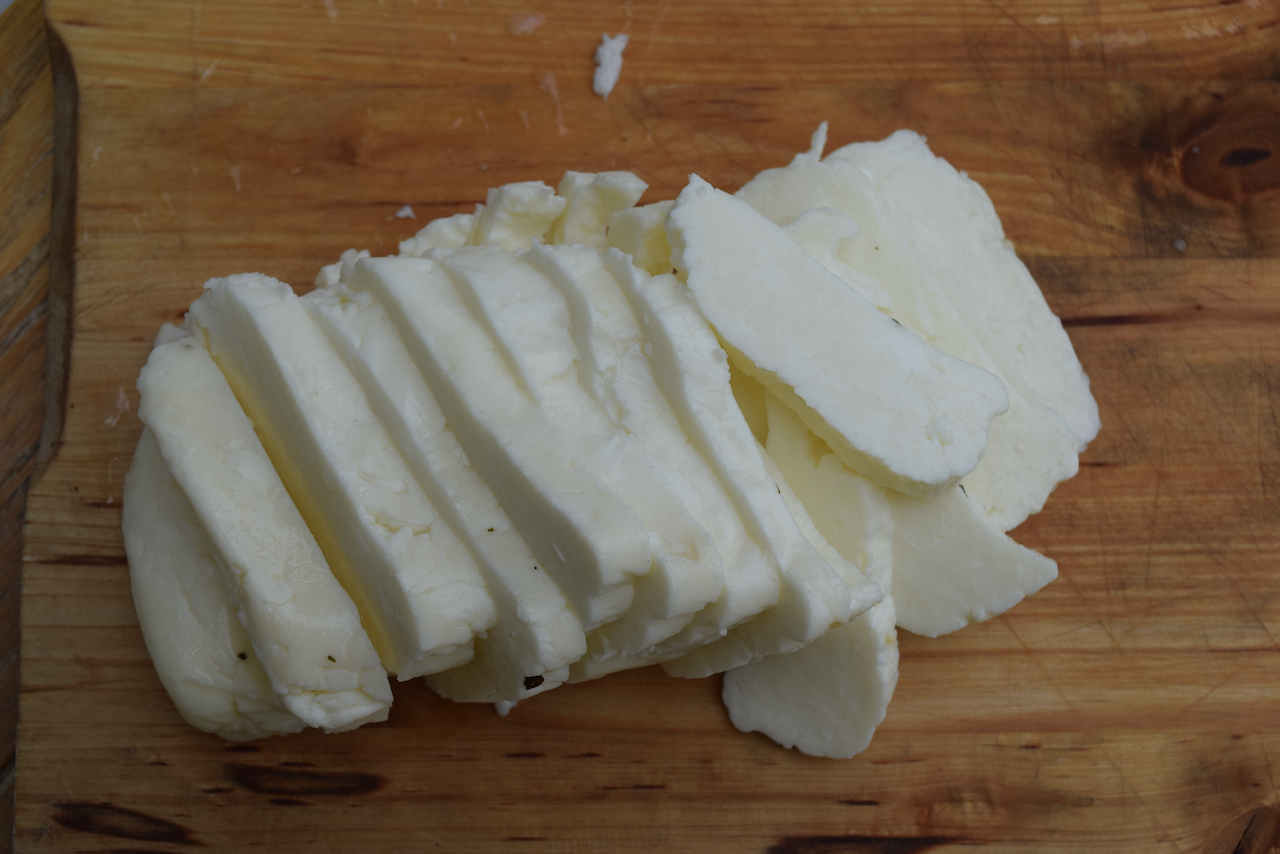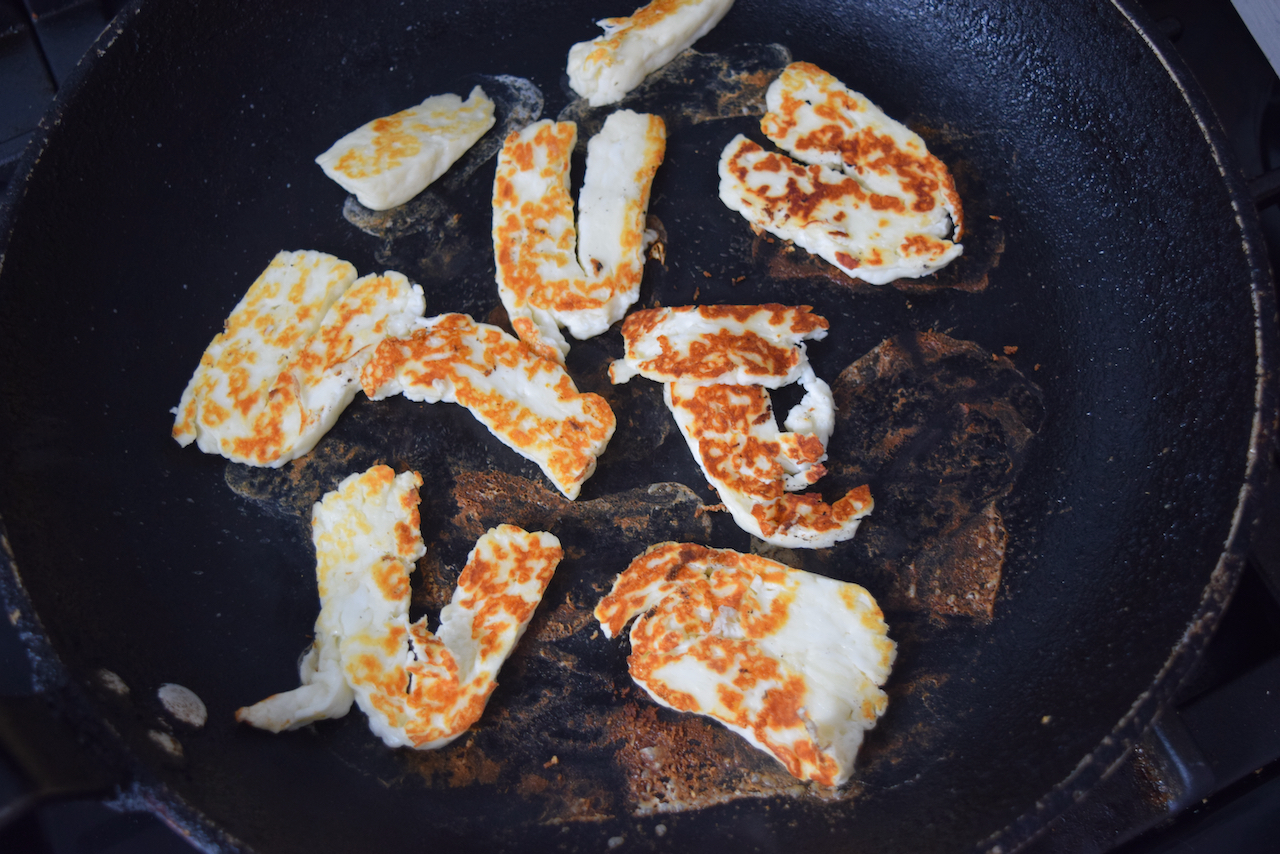 When you're ready to assemble your salad, place the marinated watermelon onto a plate, reserving the dressing.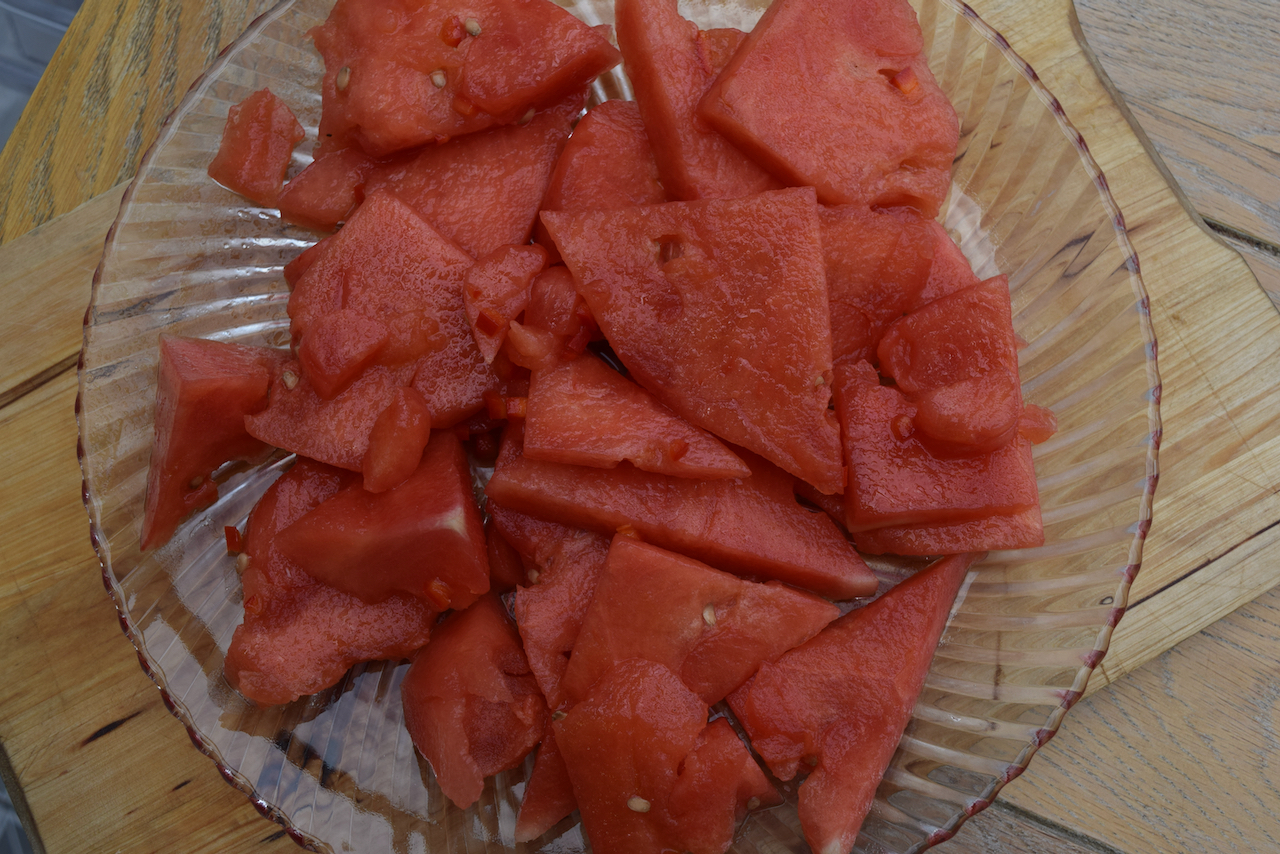 Scatter a good handful of chopped fresh mint and tuck the Parma ham in around the melon.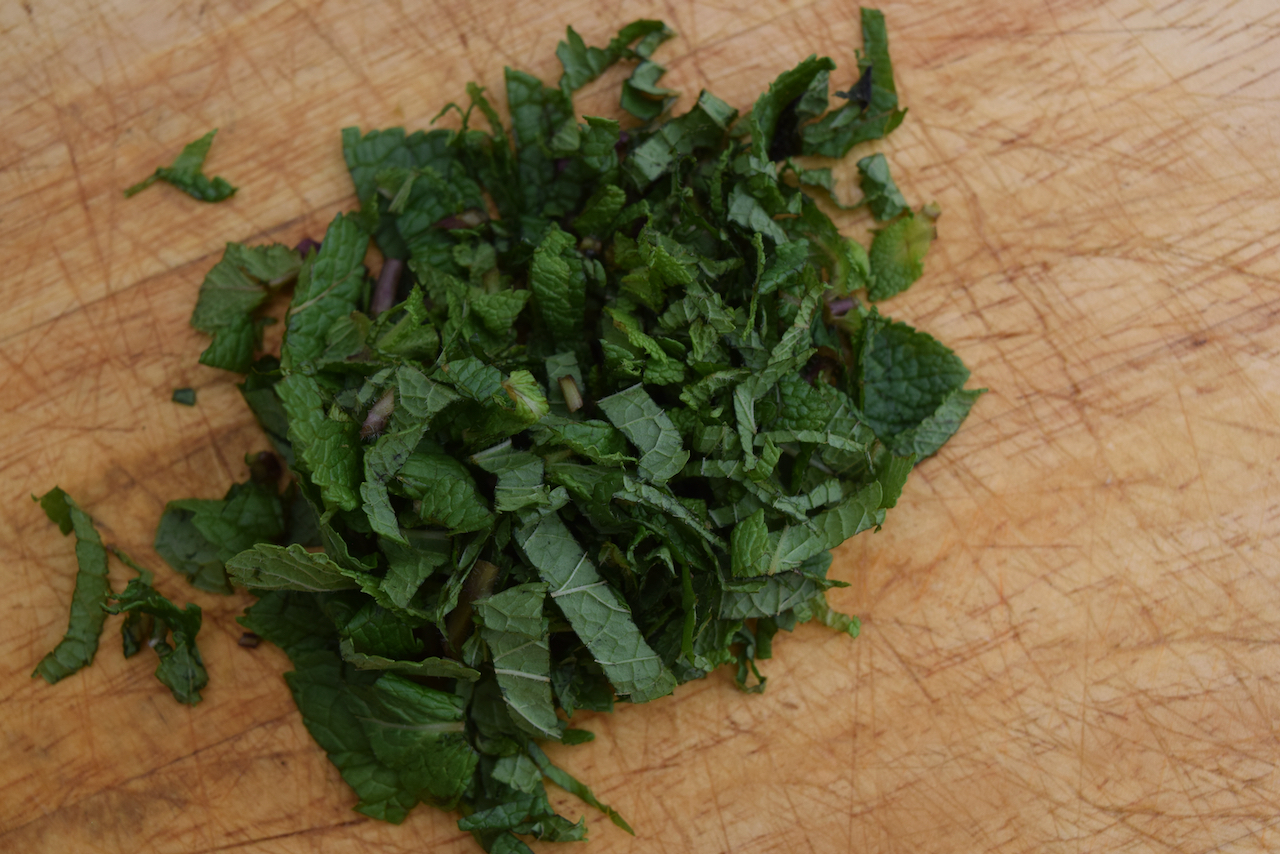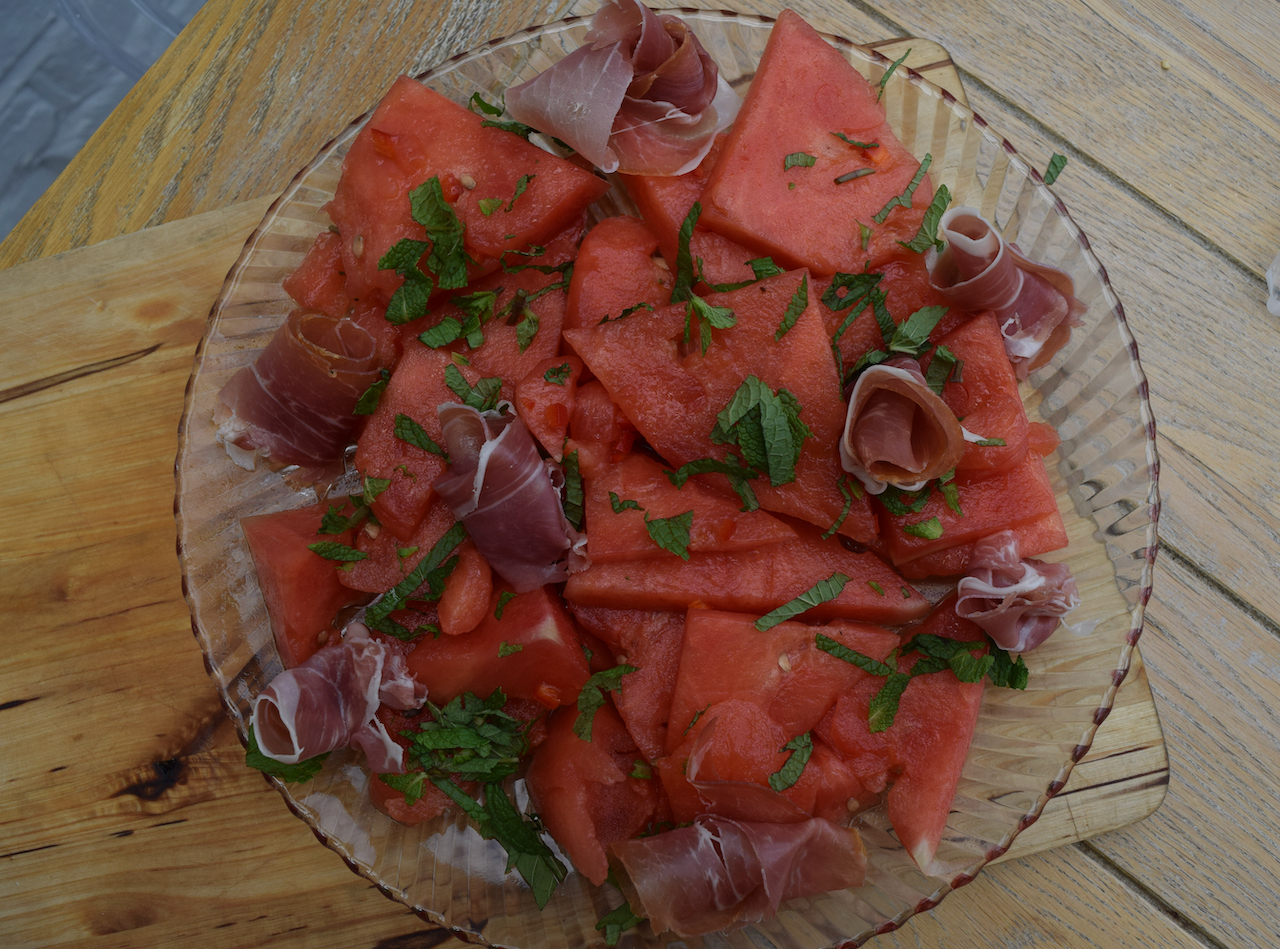 Lay the golden halloumi on top of the salad, spoon on some of the reserved dressing and a touch more mint.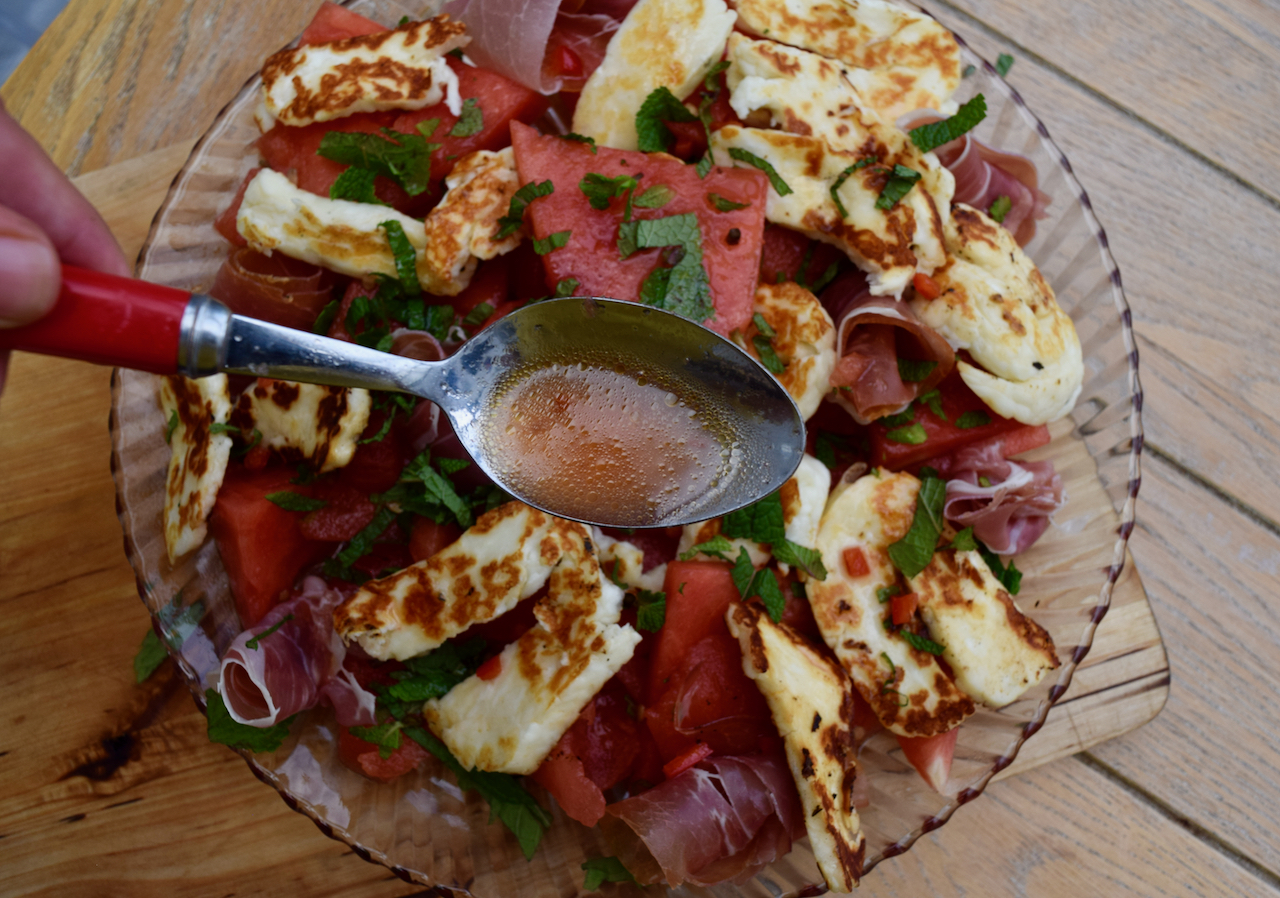 Then you're good to go. Serve in elegant portions as a first course or just hoof in with a giant spoon and eat it all yourself.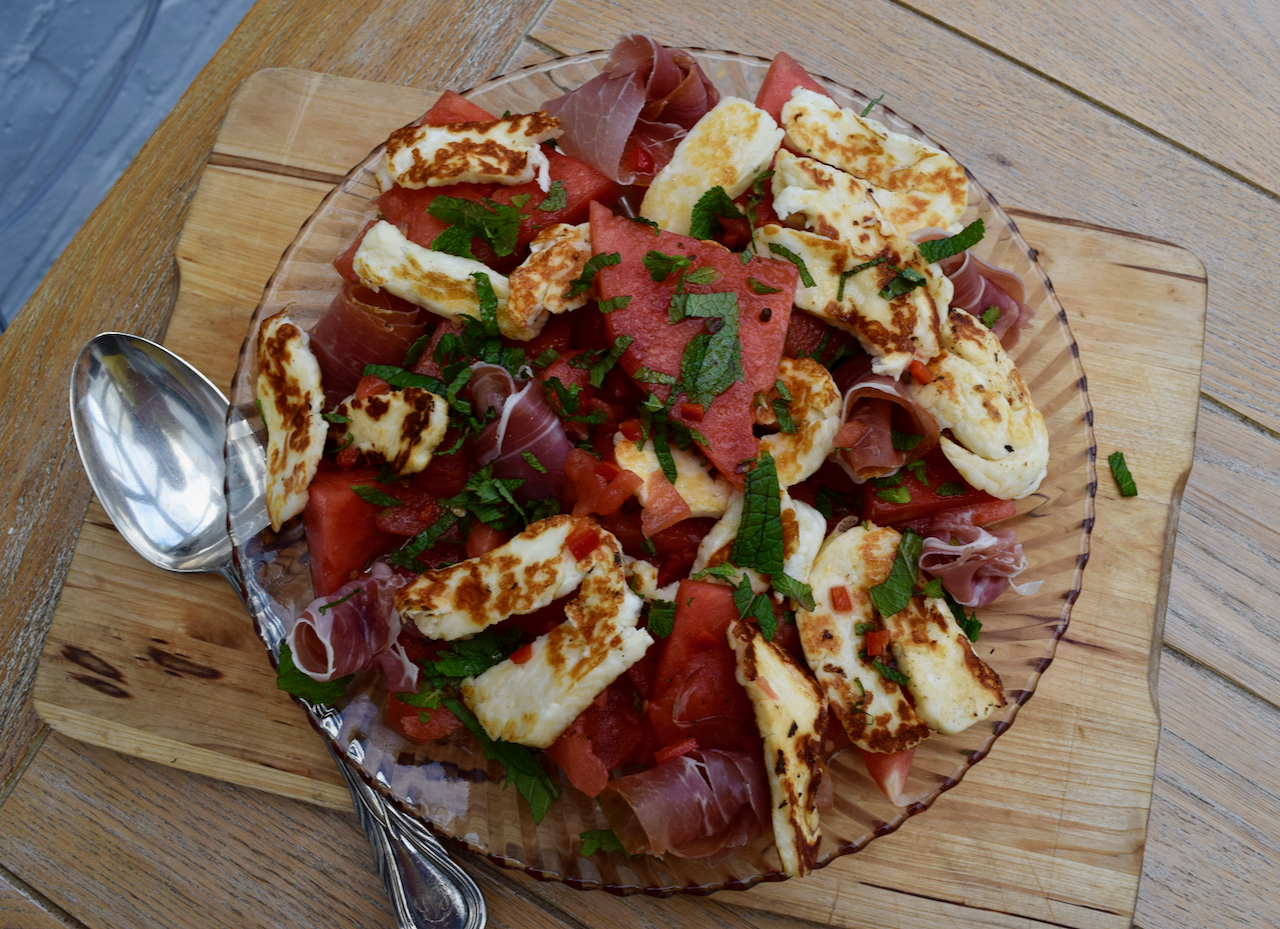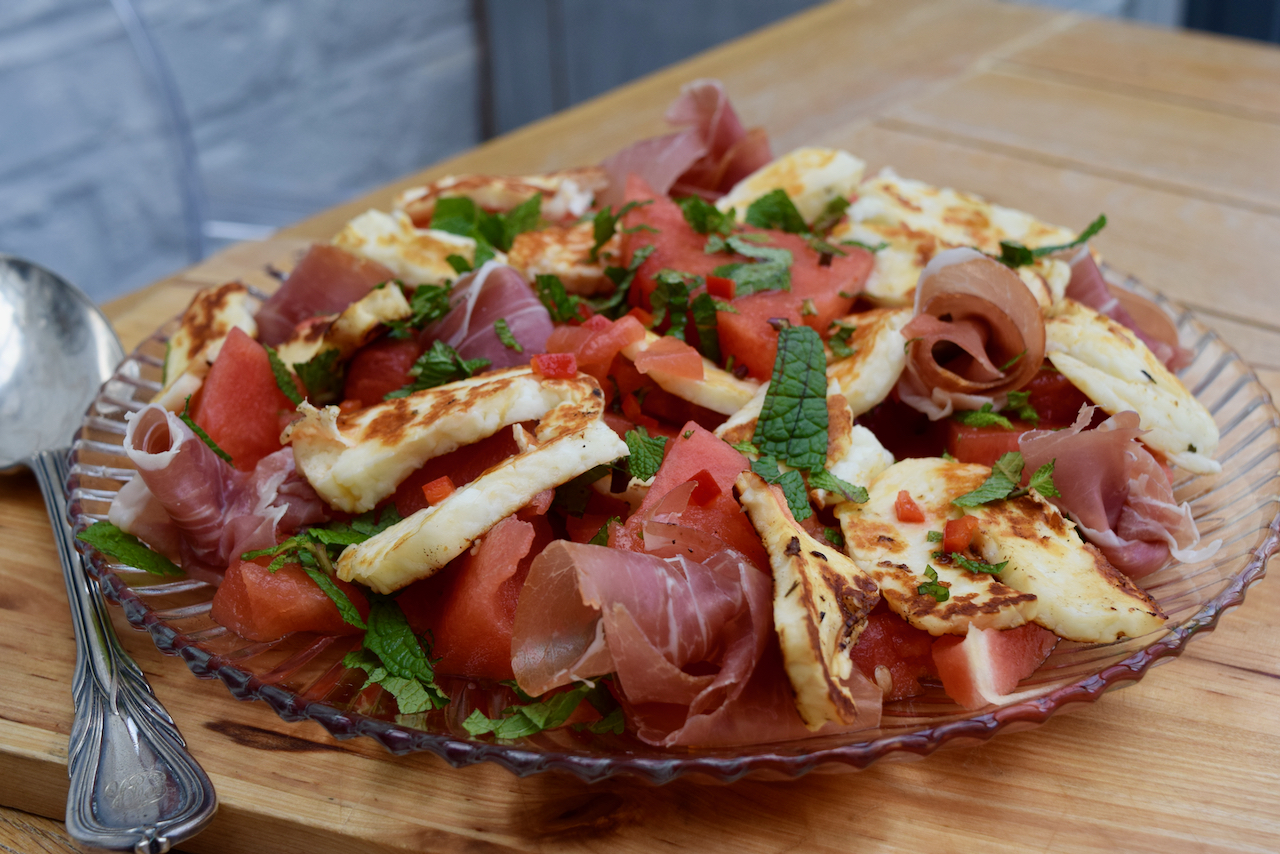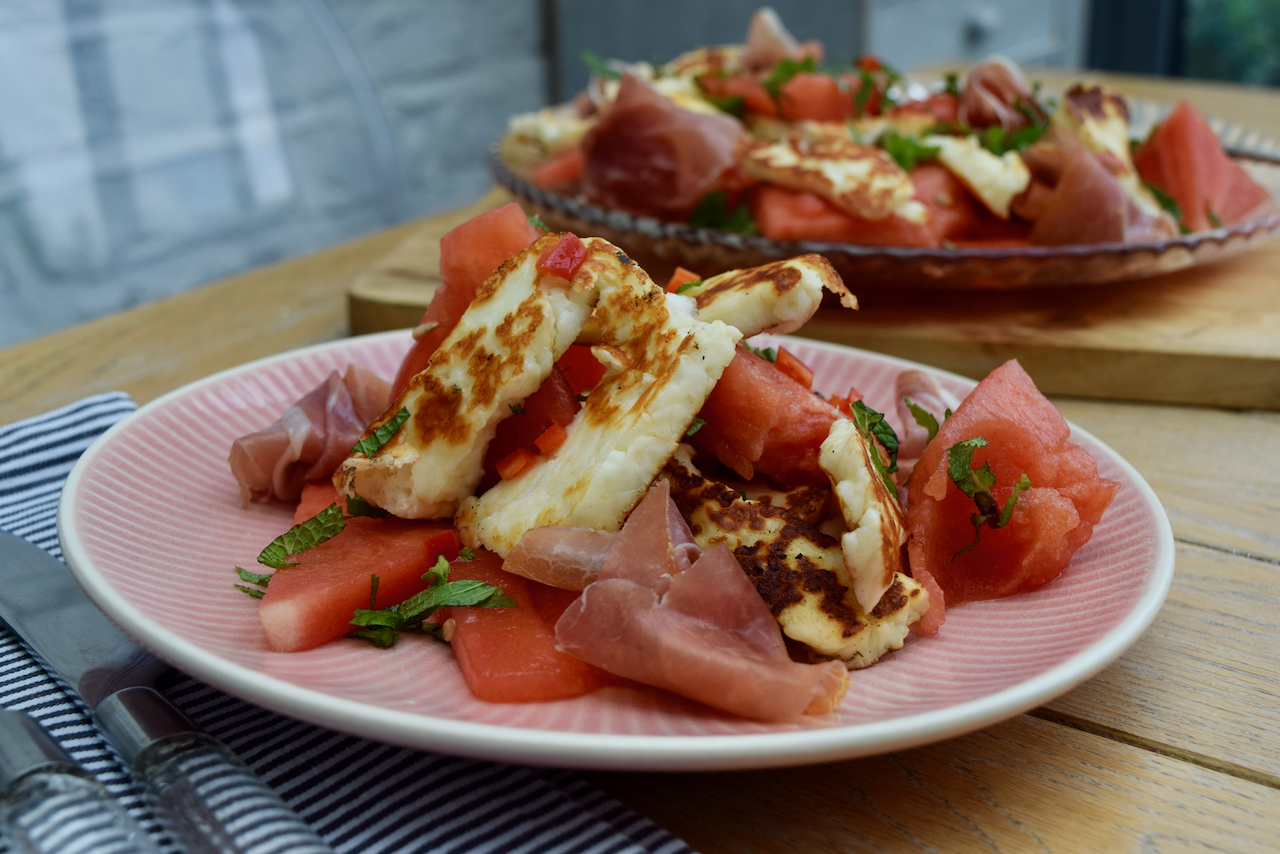 September is usually quite a positive month for me. This year though, who bloody knows what's going to happen. I'm just going to eat this salad whilst not watching the news and float into autumn in blissful ignorance. You may want to join me.
Lucy x
Watermelon, Halloumi and Mint Salad recipe
Serves 2 to 3 for lunch or 4 as a first course or side
You will just needs bowls and a serving plate for this
Half a small watermelon, about 500g, I had a mini one, it was so sweet
Half red chilli, deseeded and finely chopped
2 tablespoons white balsamic vinegar or white wine vinegar
2 tablespoons extra virgin olive oil
A good pinch salt
1 x 250g pack halloumi
6 to 8 slices Parma ham or prosciutto, optional, leave this out for a vegetarian version
Handful fresh mint leaves, chopped
Take your watermelon and remove the skin. Chop into thin wedges then add to a large bowl.
For the dressing whisk together the vinegar and olive oil with the salt then stir in the chopped chilli. Pour this over the watermelon and leave for 15 minutes to marinate.
Cut the halloumi into slices then fry in a dry frying pan until golden on both sides. Pop on a plate.
When you're ready to serve, spoon the watermelon onto a presentation plate, keeping some of the dressing back. Scatter over a handful of chopped fresh mint then lay on the parma ham or prosciutto. Top with the warm halloumi then spoon on some of the reserved dressing.
Add a final flourish of mint then you're ready to serve. This is best served straight away at room temp.