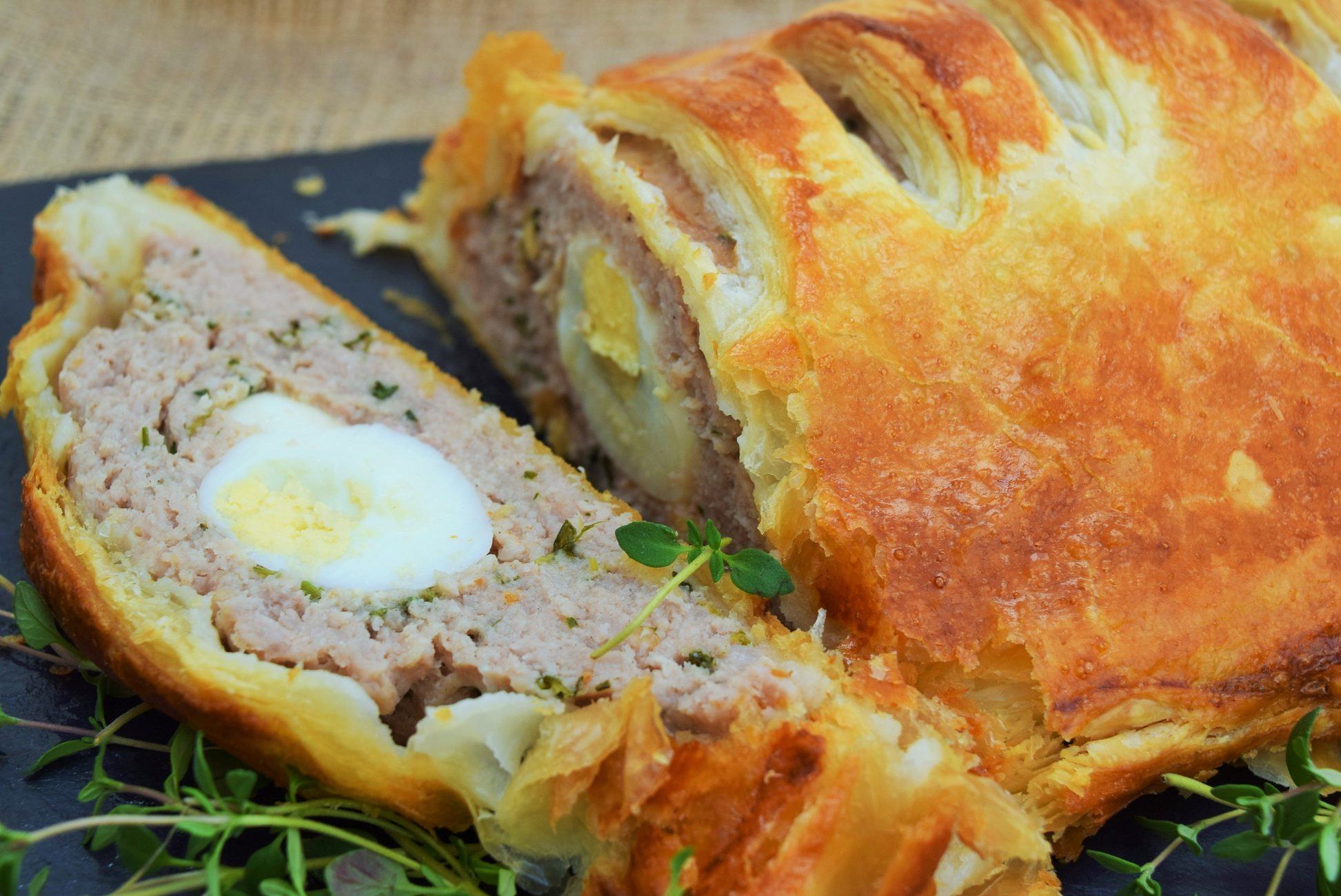 Sausage and Egg Pie recipe
I love pastry, love sausages and love eggs. I could leave this post here and just show you the photos because this Sausage and Egg Pie speaks for itself. But, I can't resist a good ramble so here's a bit of chat. This is completely irresistible and perfect for sharing now the summer's here.
It's picnic time and this pie is portable nosebag at it's finest. Wrap it in greaseproof paper and pop in your basket with some piccalilli and prepare to wow your blanket based diners. I have spent years reminding my poor Mother about her less than impressive picnic on the beach offerings (failing to mention all the other phenomenal meals she cooked us) from our childhood. Cheese sandwiches, an egg with sand on it, ready salted crisps and fruit were standard issue. If only she'd had this recipe then. Sadly the inspirational Great British Chefs website was not available in 1976, but thank goodness it is now and thank you to them for this idea.
This is also brilliant not long from the oven, with a salad, for a summer lunch or supper. I even put a huge slab in George's lunch box, and he said his class mates were super jealous. This classic combination of seasoned pork, sage, parsley and thyme, soft boiled eggs and crisp buttery pastry would not fail to impress your guests be they sat at your dinner table, on a blanket in the park or in the garden with a glass of wine.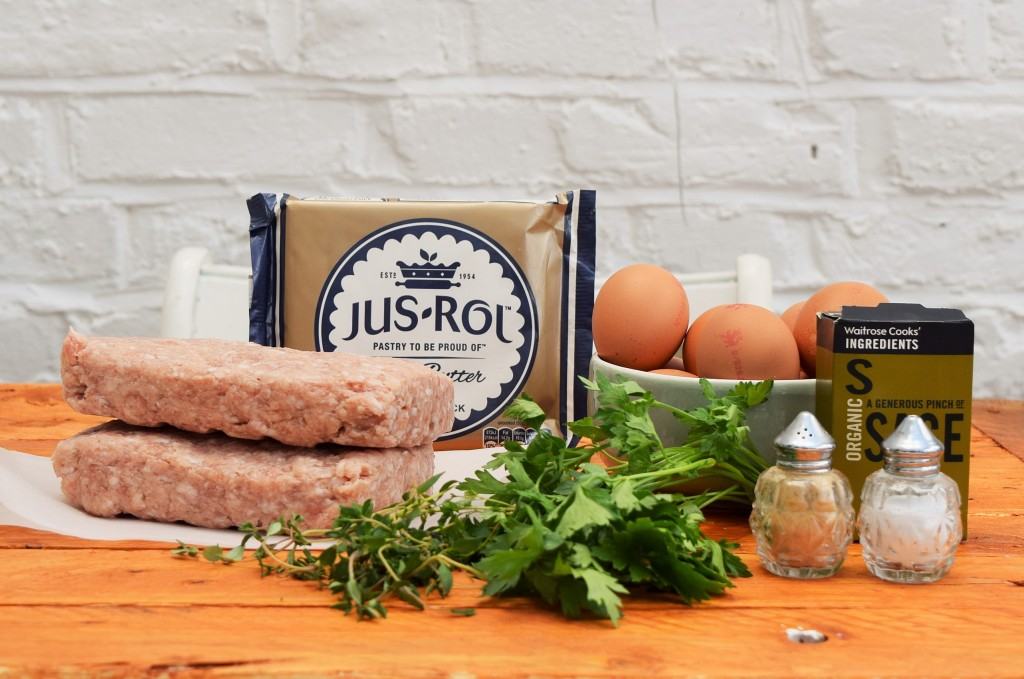 Here's the line up and in a miraculous turn of events, I don't think I forgot to include anything this week. I used a good all butter bought puff pastry but do feel free to make your own *don't bloody bother* or use short crust pastry if you prefer.
Make a start on this super easy, super tasty Sausage and Egg Pie by putting 6 eggs in a pan of cold water and bringing them to the boil. Cook for 5 to 6 minutes then immediately drench in cold water and leave to cool before peeling.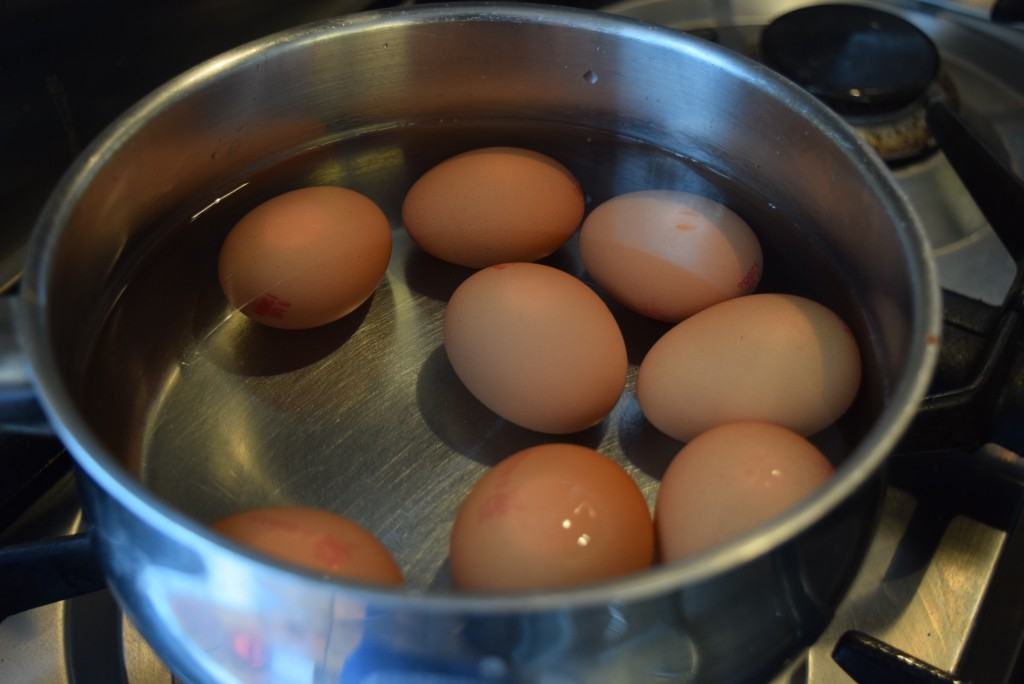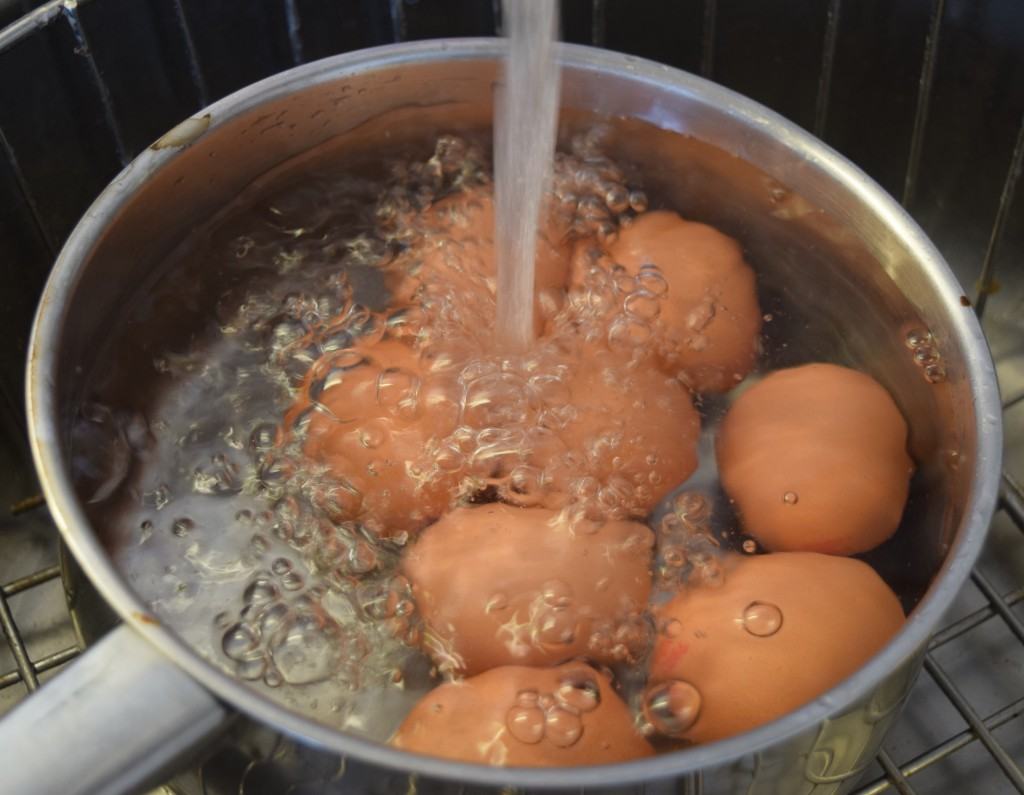 The eagle-eyed amongst you will notice I cooked 8 eggs, the recipe called for 8 but then I could only fit 6 in my pie. I ate the other 2, of course.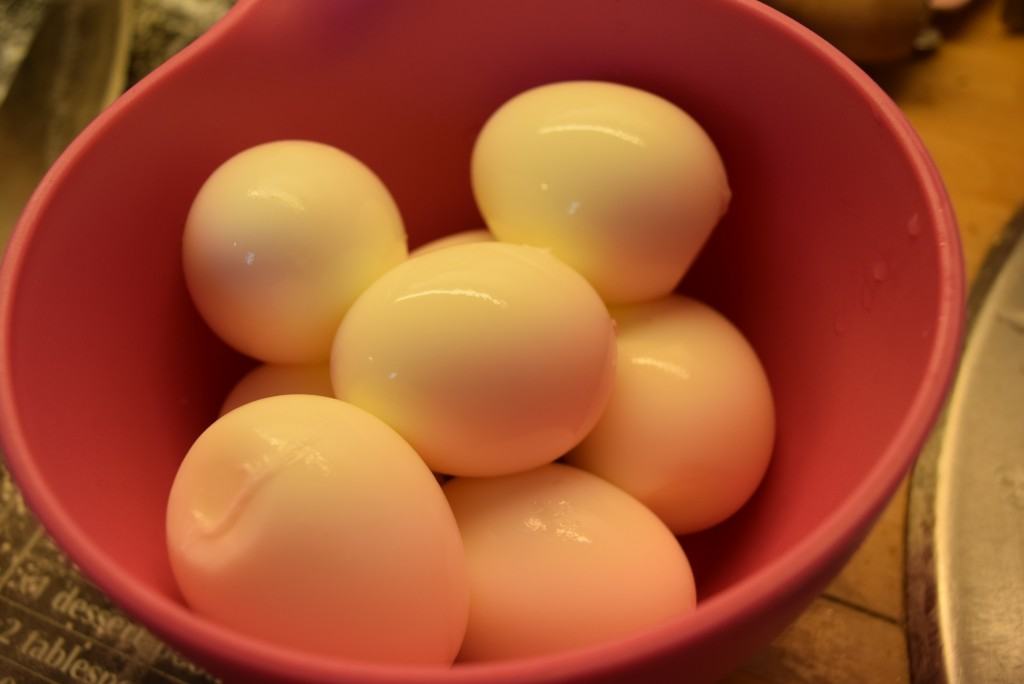 Pop the eggs to one side then take a large bowl and add the sausage meat. Chop the fresh herbs, I had a mix of parsley and thyme, and used my special 'scissors in a glass' method of chopping passed down from my Grandmother.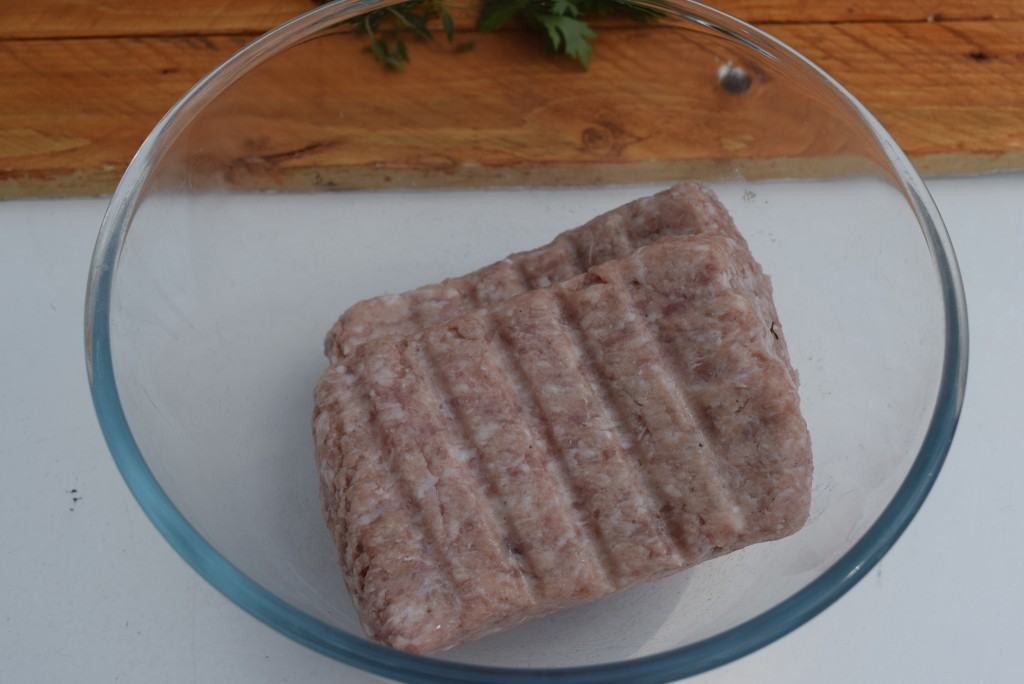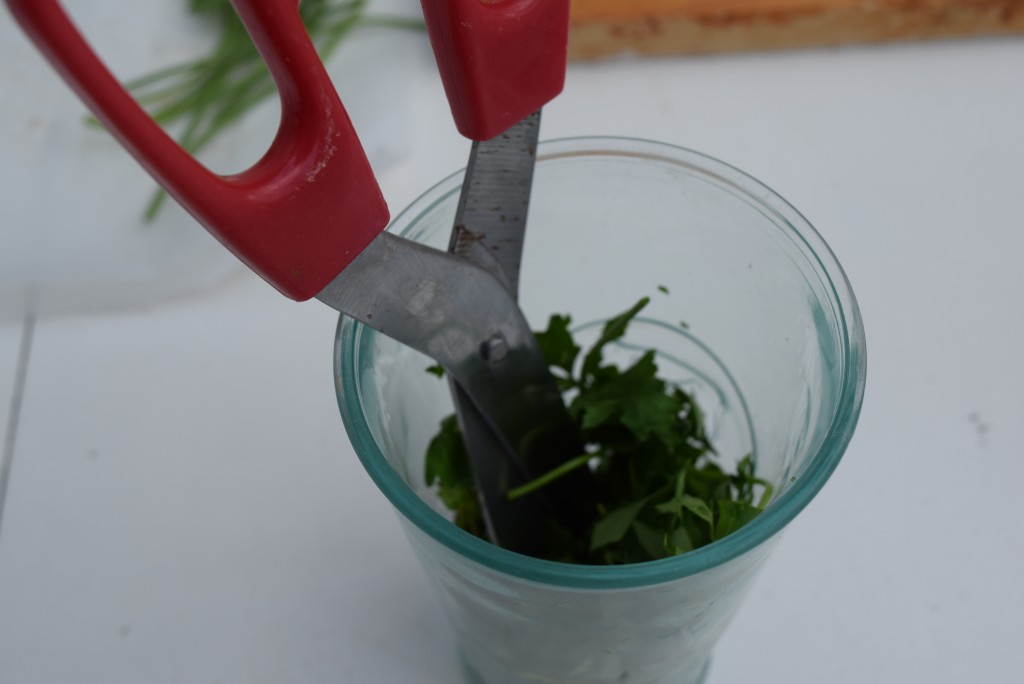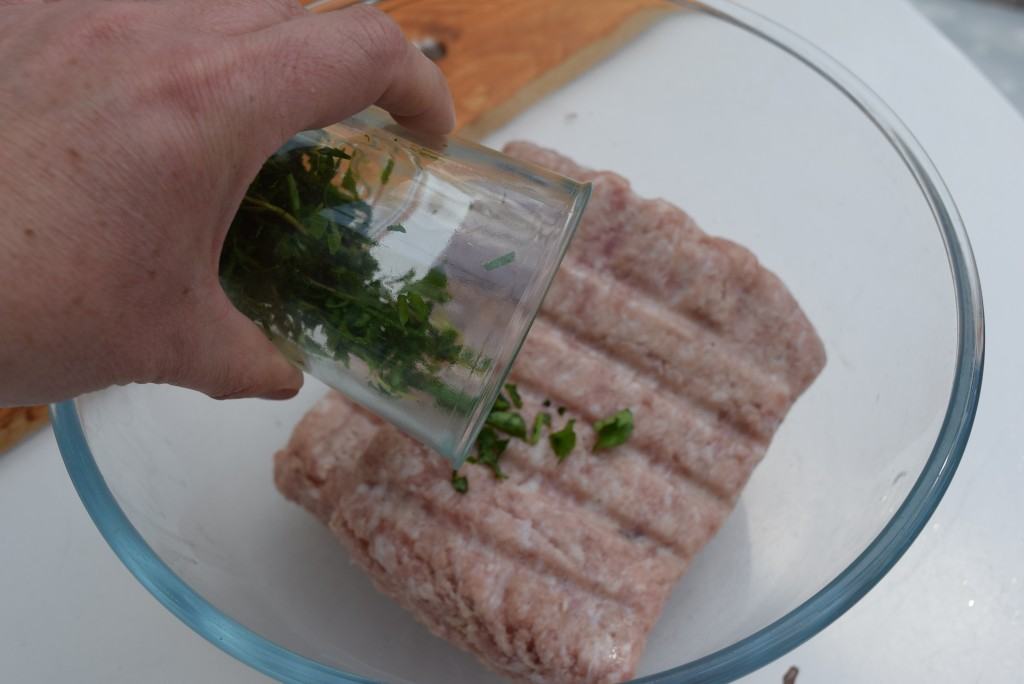 Oh dear, is it my hand or is it the sausage meat?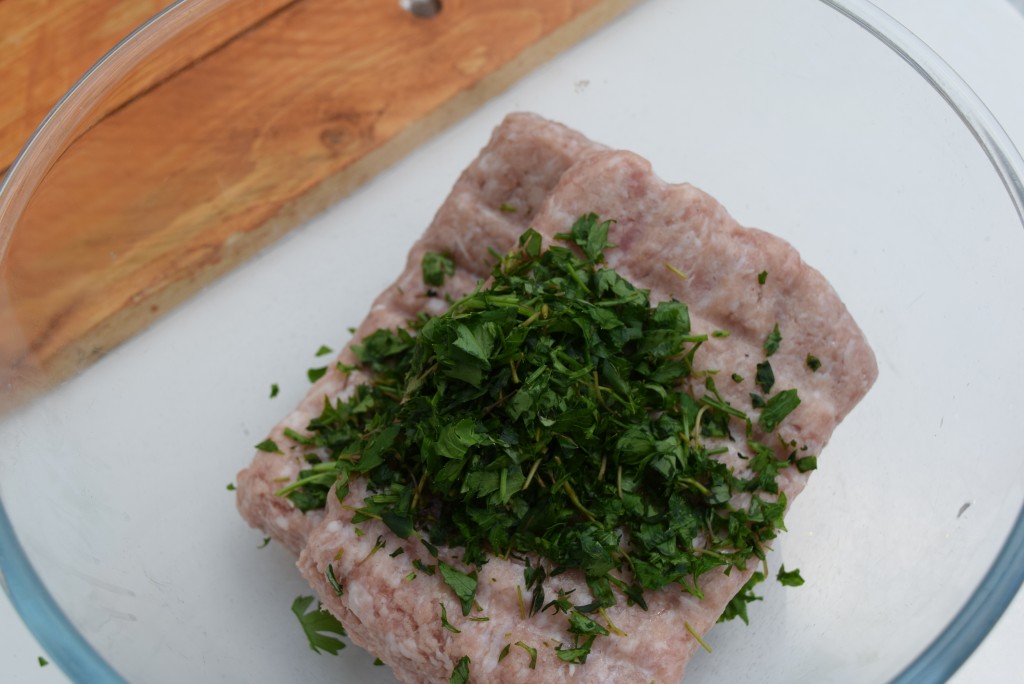 Next, add a teaspoon of dried sage or thyme and a good pinch/grind of salt and pepper and then go in with a spoon or wrists deep to give these wonderful ingredients a good mix. Roughly divide this mixture into two even-ish pieces.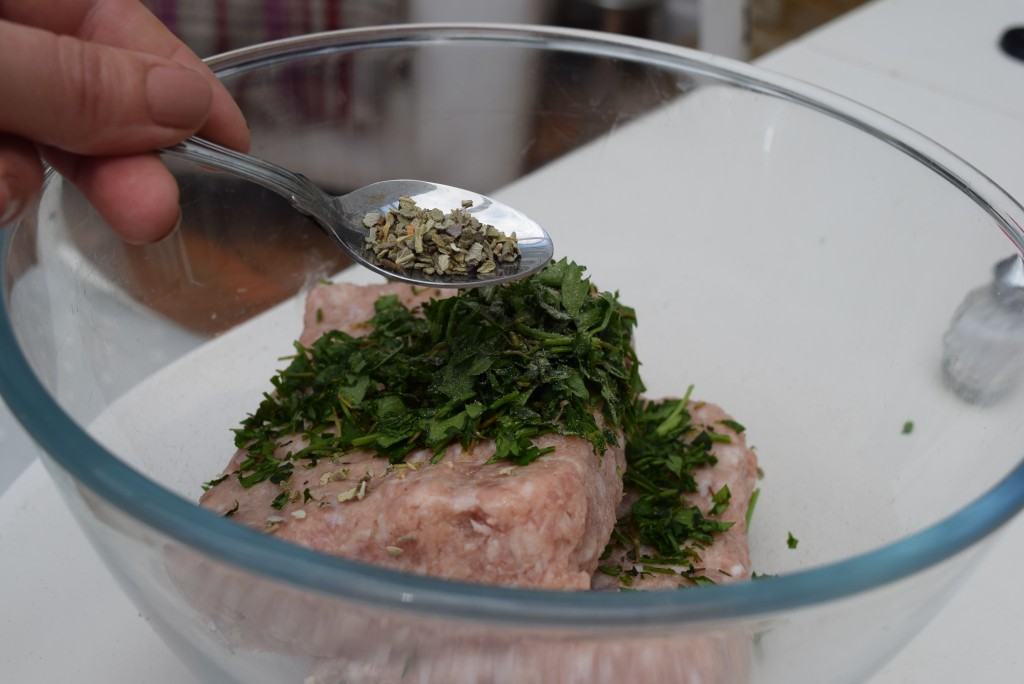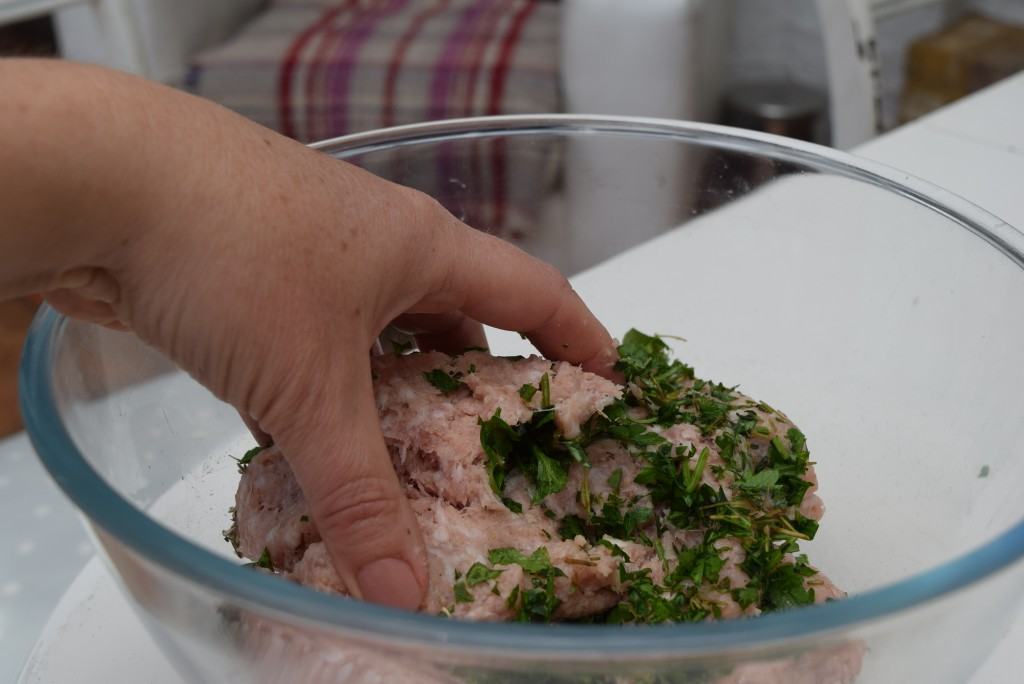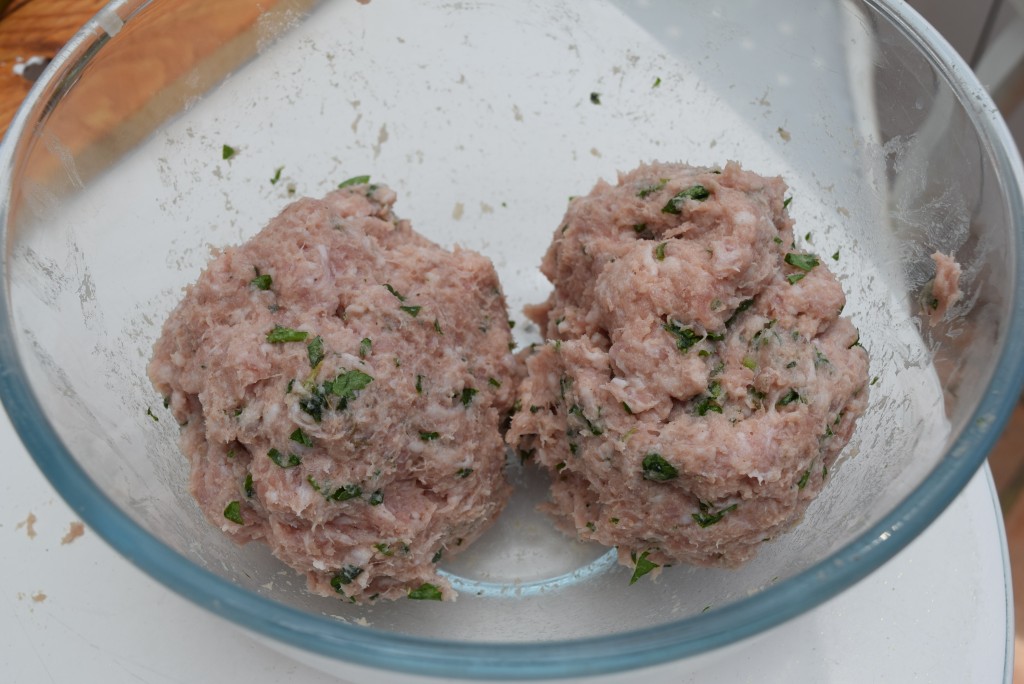 Now it's the pastry's turn to shine. Divide the pre bought slab or your homemade offering into two equal-ish pieces. Roll the first piece out into a rough rectangle slightly smaller than your baking tray. Place it carefully onto your lined tray. Press the first portion of herby sausage onto the pastry, leaving about an inch border around the edge.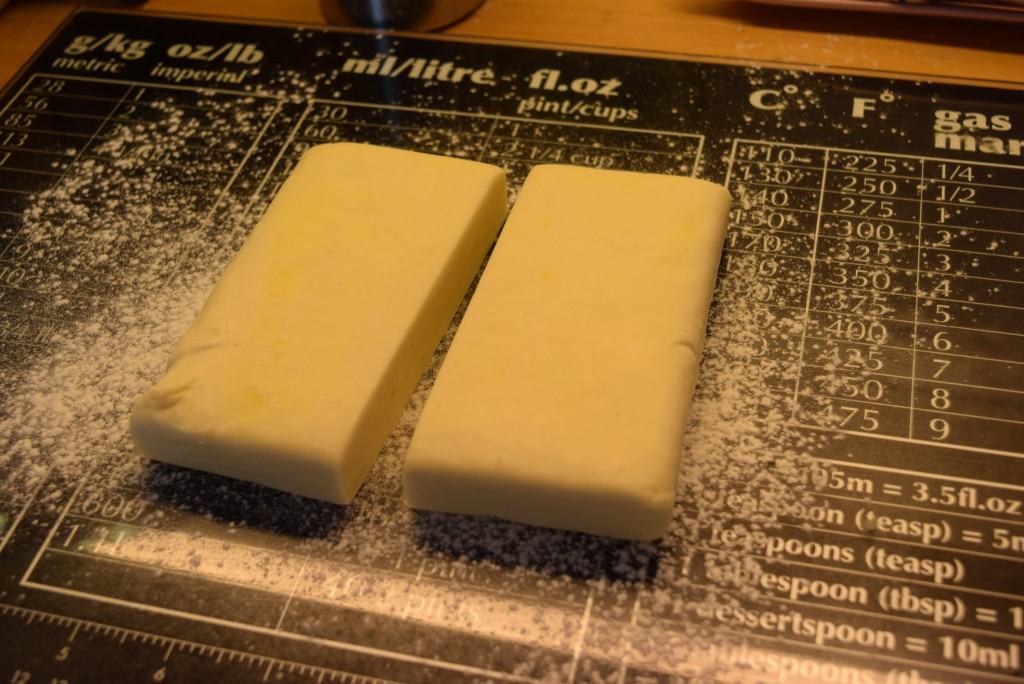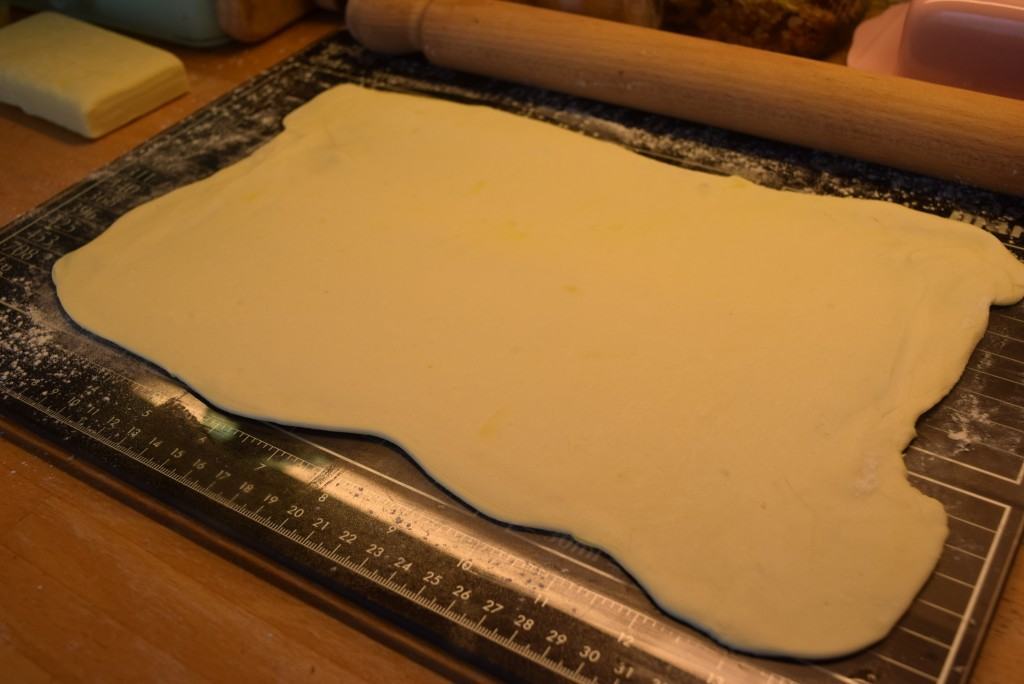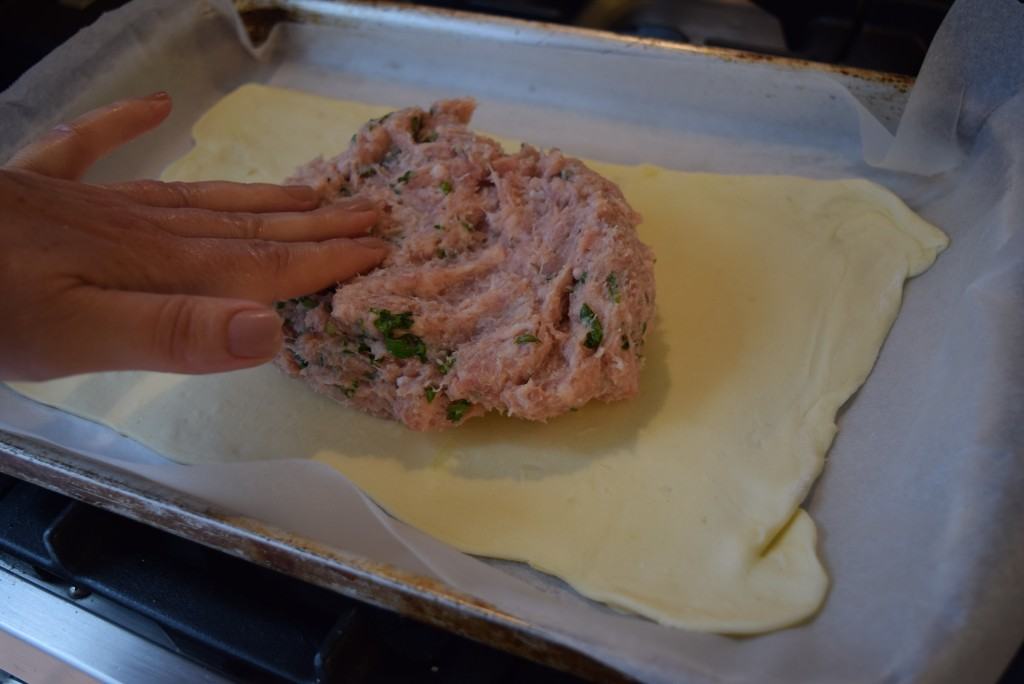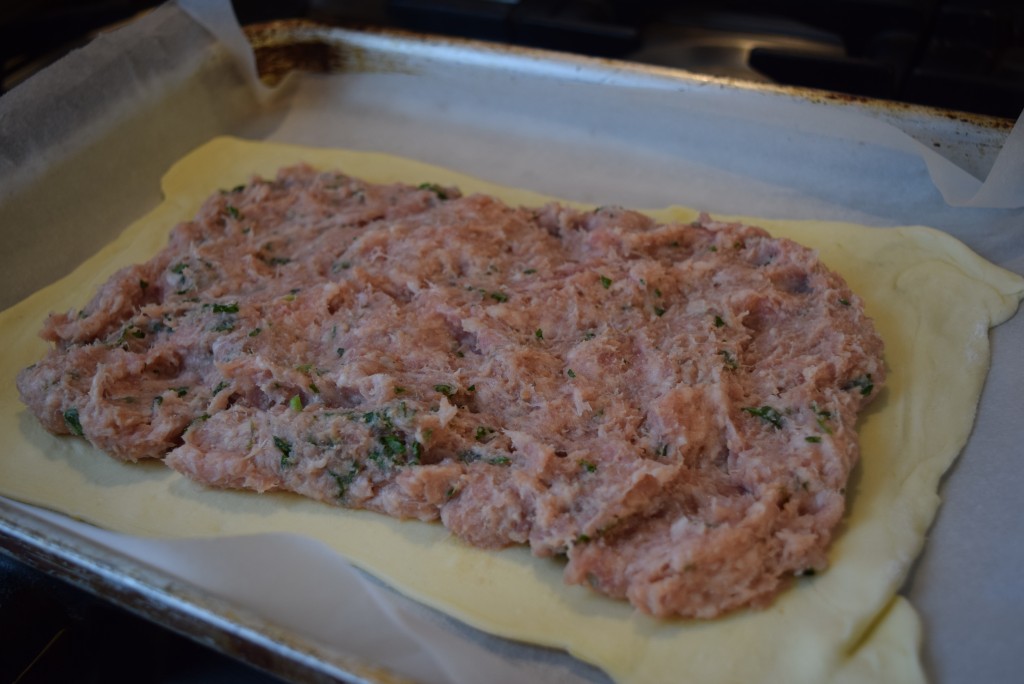 Make a channel down the middle of the sausage meat rectangle and nestle the eggs in that trough.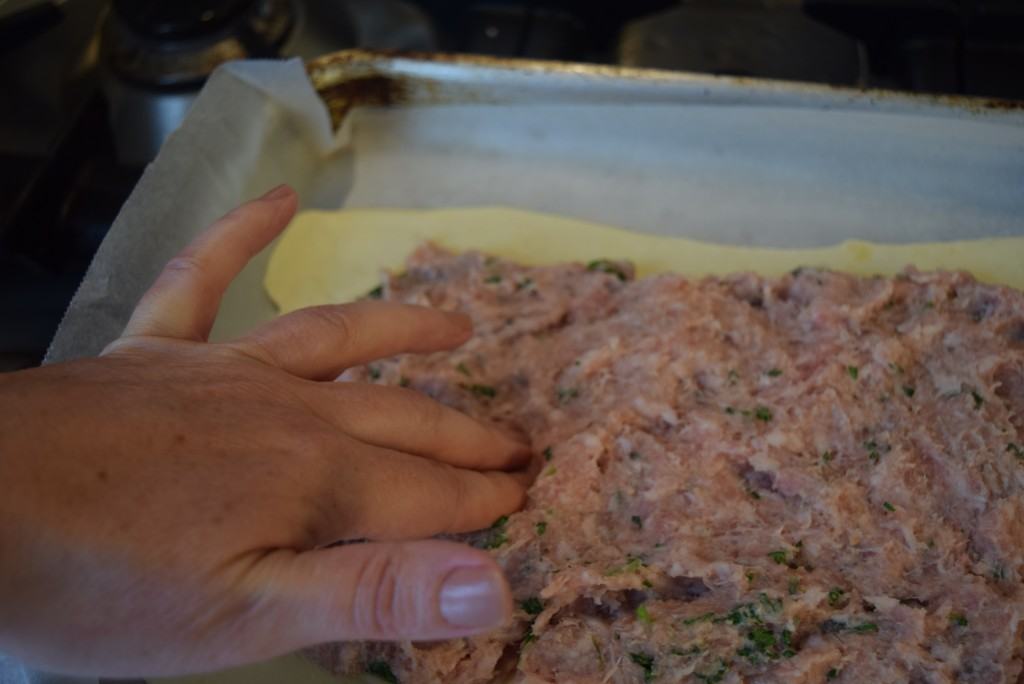 I had room for 6 eggs placed quite closely together.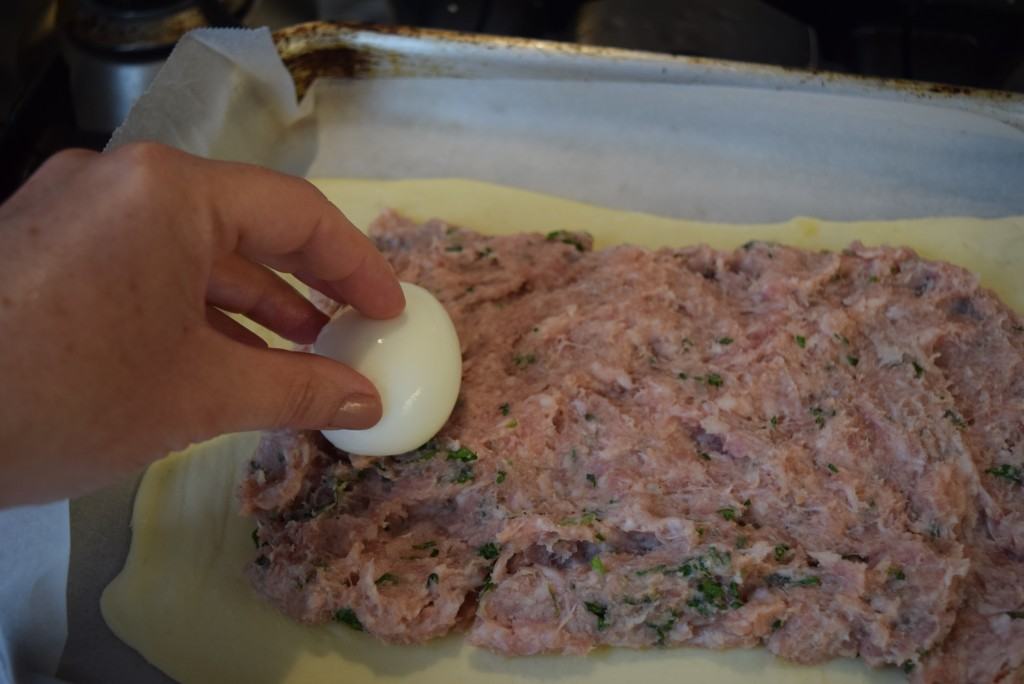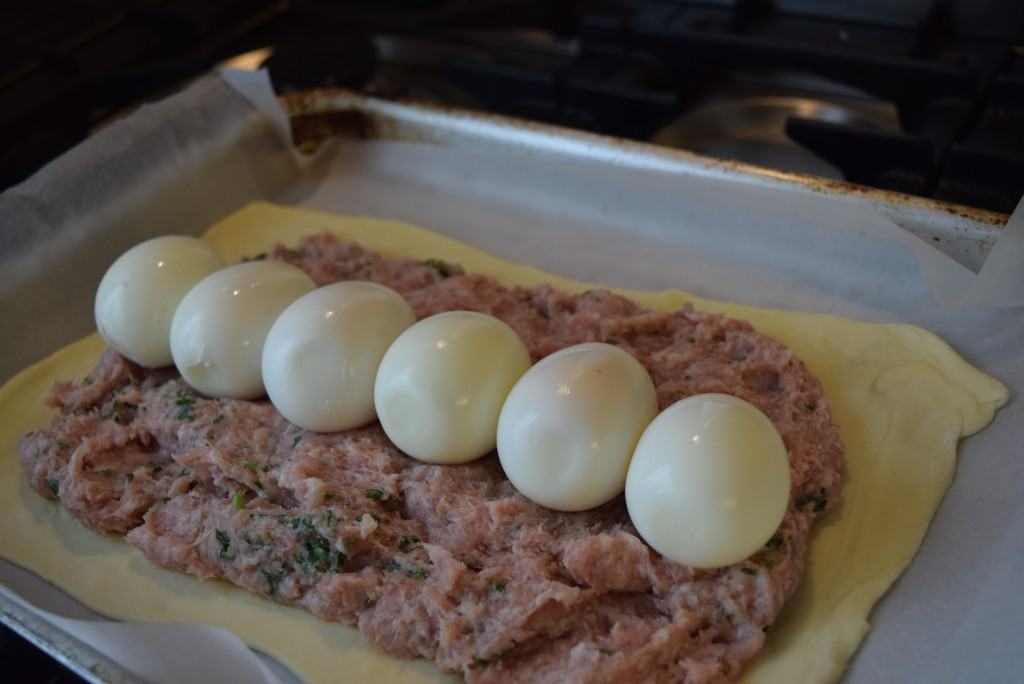 Continue with your assembly by covering the eggs with the second portion of sausage meat. You will need to patch and mould this around the eggs to make sure they are well covered.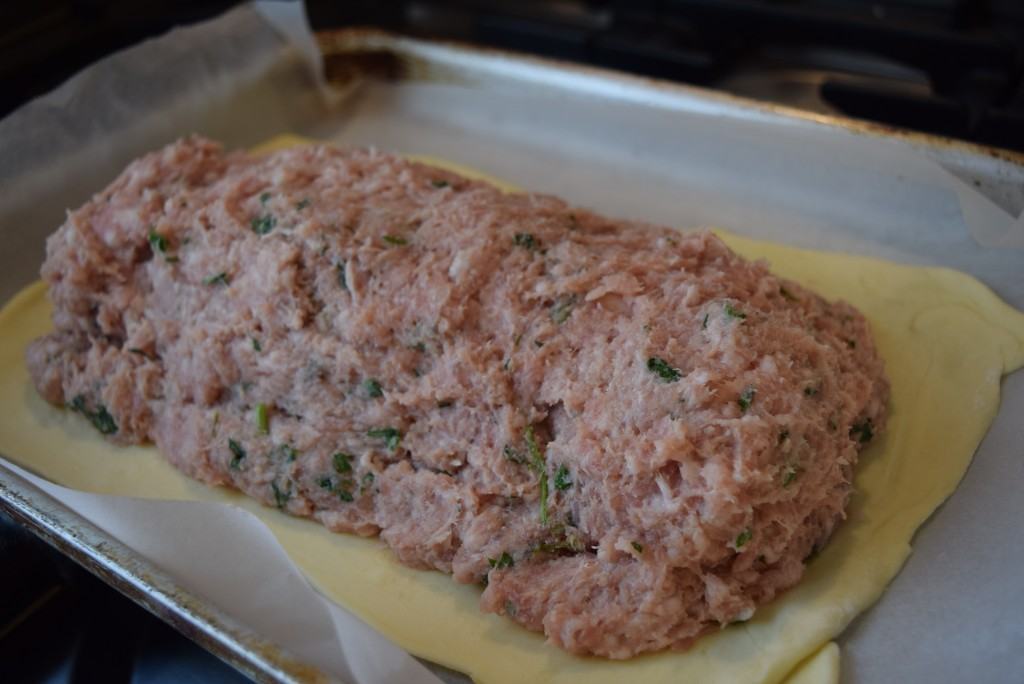 Roll out the second slab of pastry and lay it over the egg and sausage. Unlike me who forgot, brush the  pastry border with some egg wash to seal it, prior to putting the pastry lid on.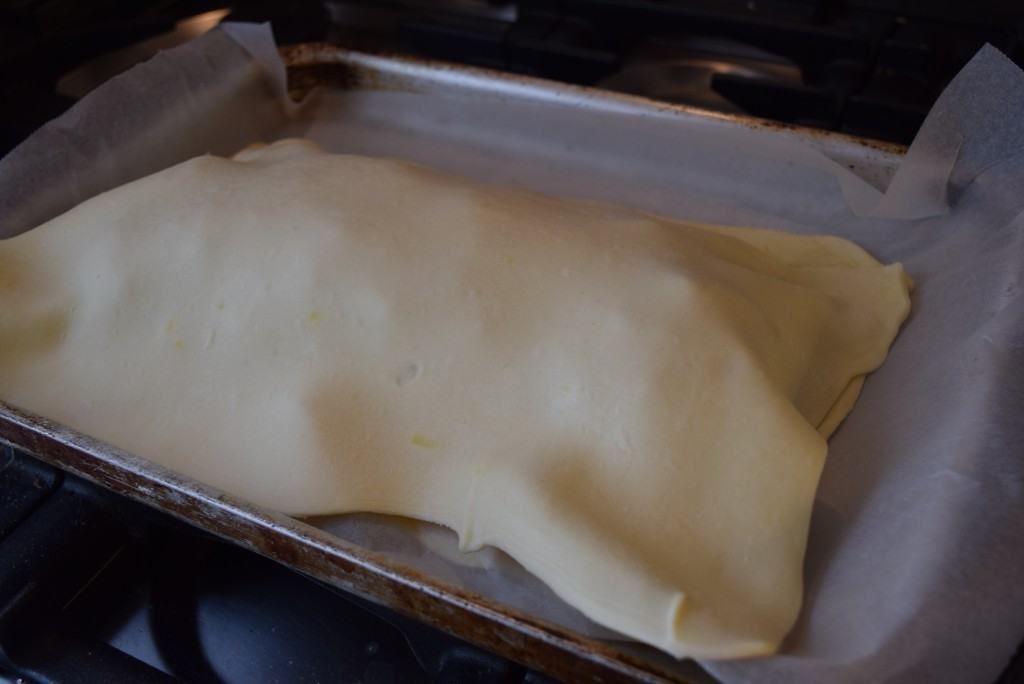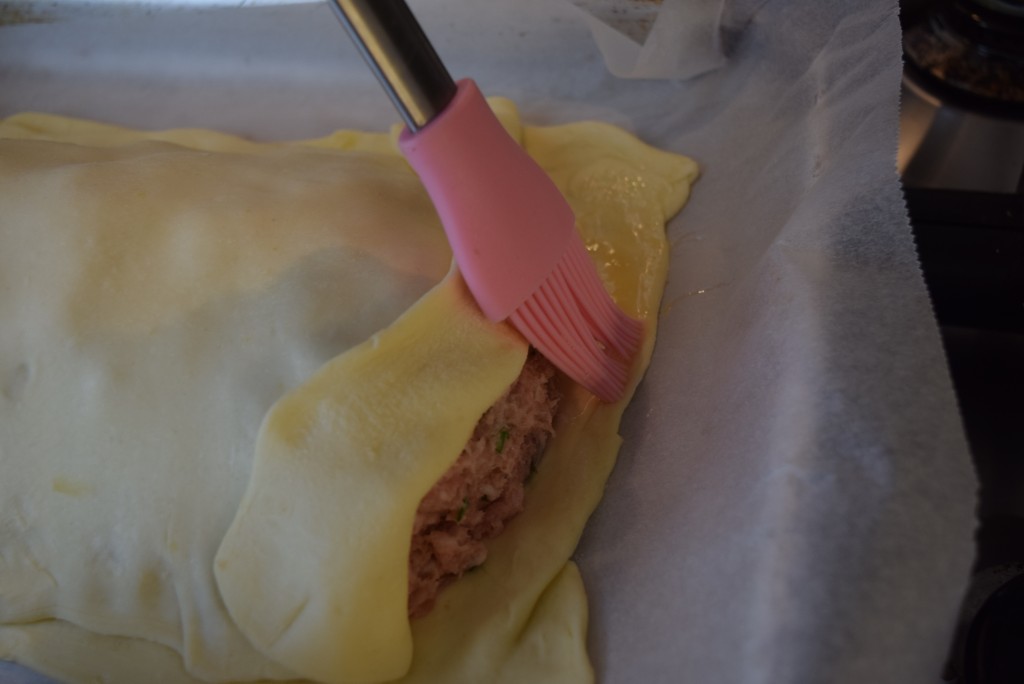 Then crimp the edges together to seal this wonderful, flavour filled parcel. Make a couple of slashes in the top of the pie to allow steam to escape, then brush the whole thing with the rest of the beaten egg. Pop in the hot oven for 35 to 45 minutes until the pastry is golden and crisp and the sausage is piping hot and cooked through.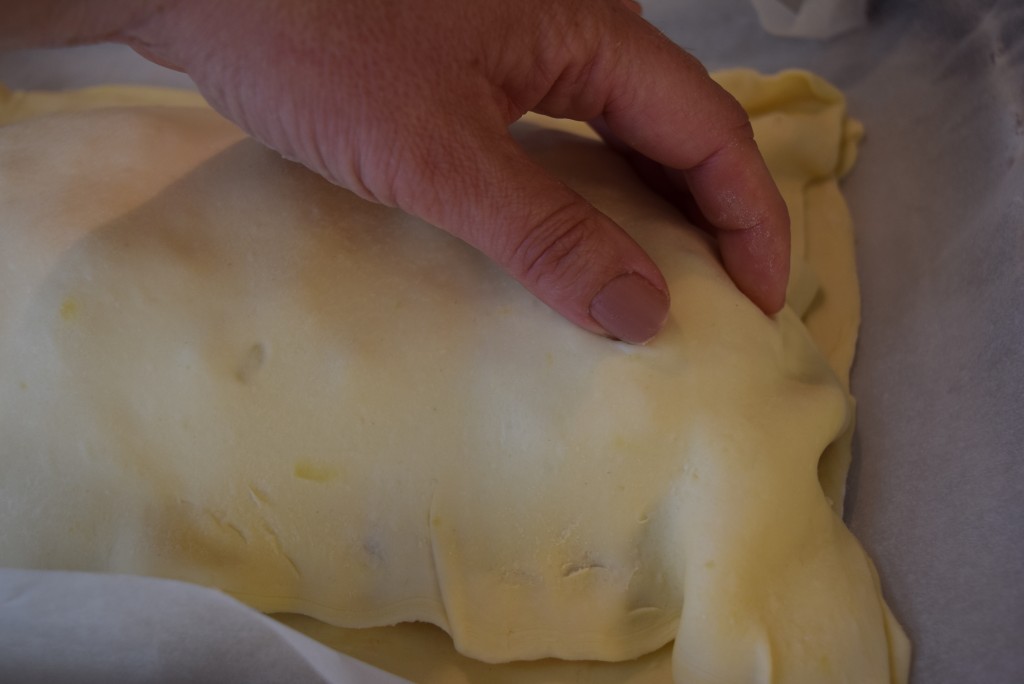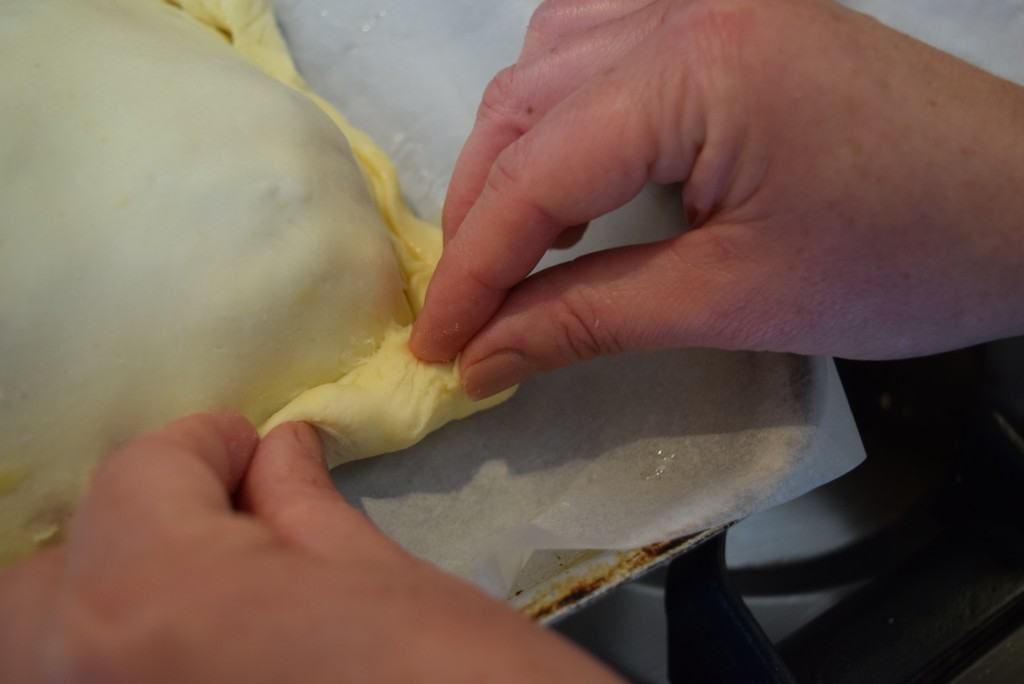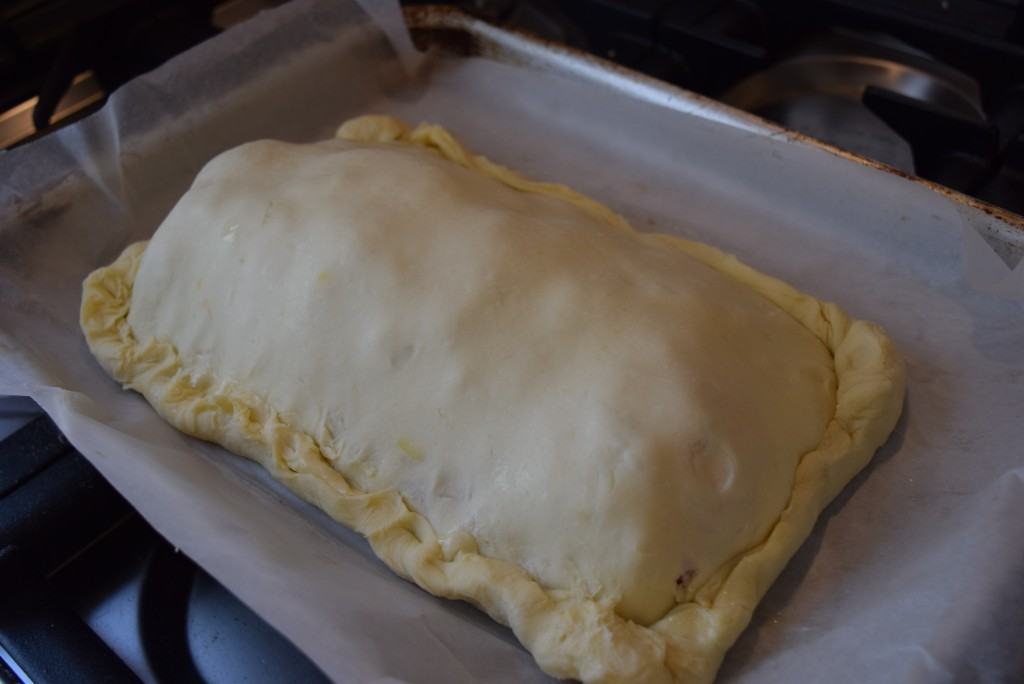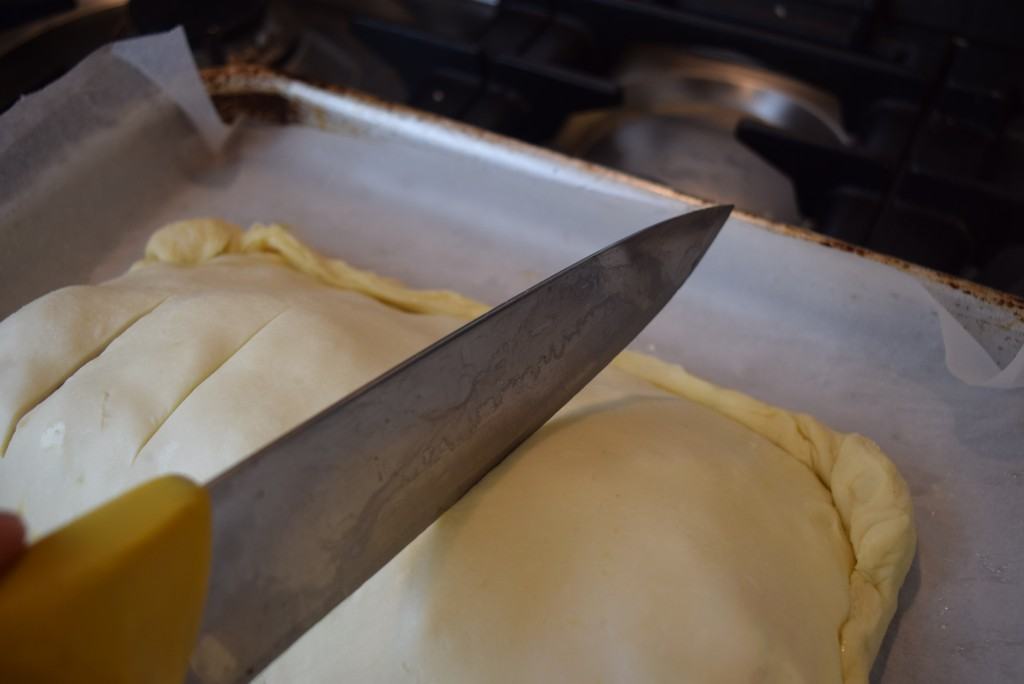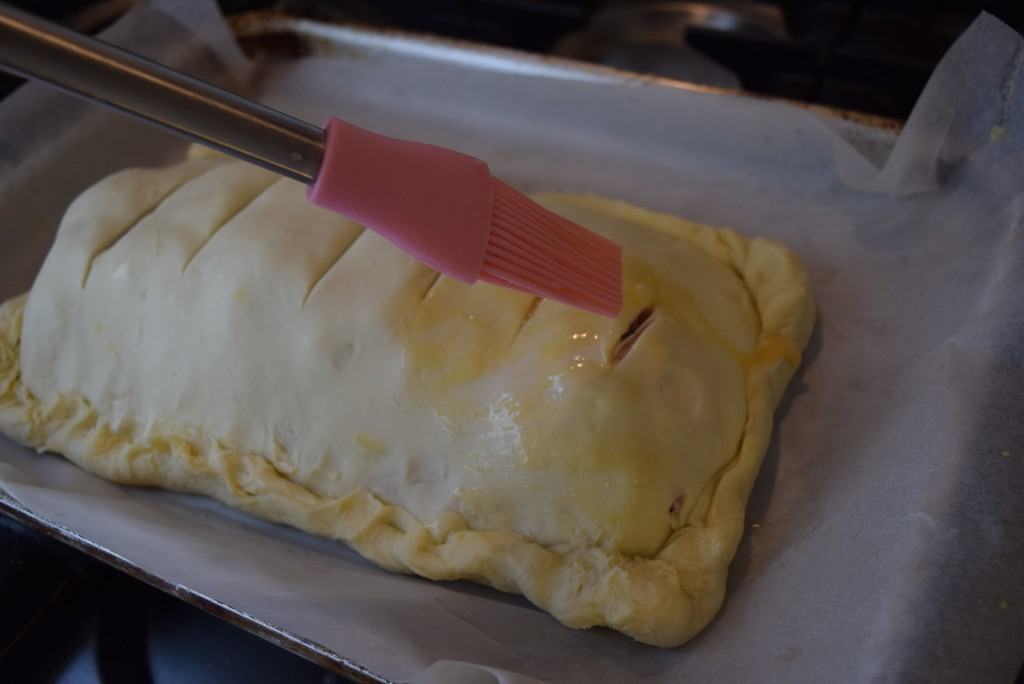 And here is the Sausage and Egg Pie in all it's golden glory. The herby sausage smell will be overwhelming by now, but do wait until it has cooled down a touch before tucking in.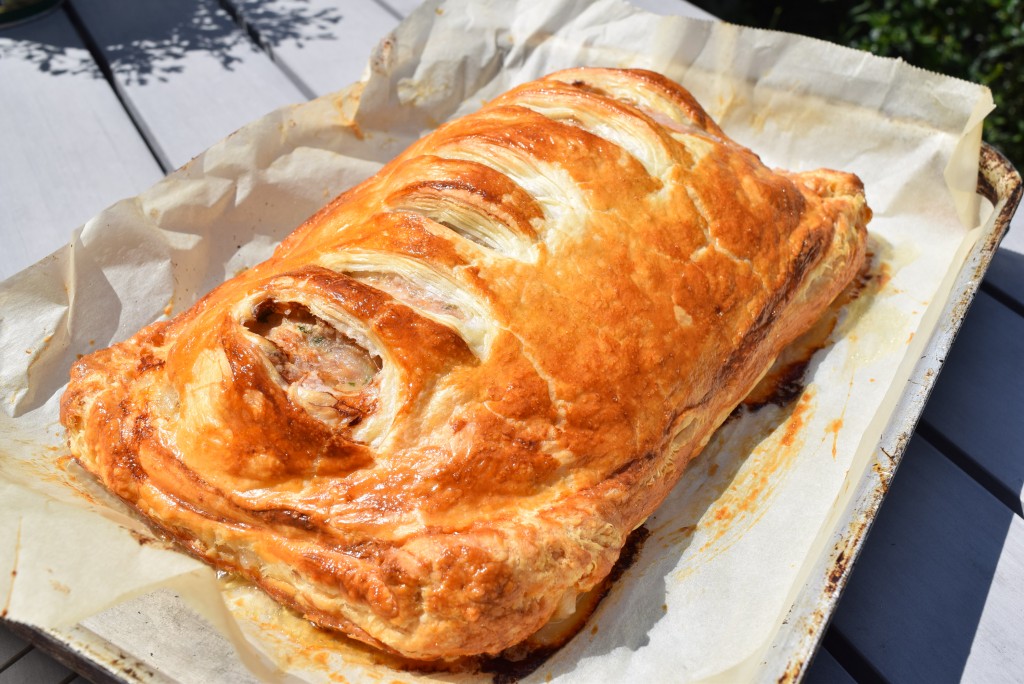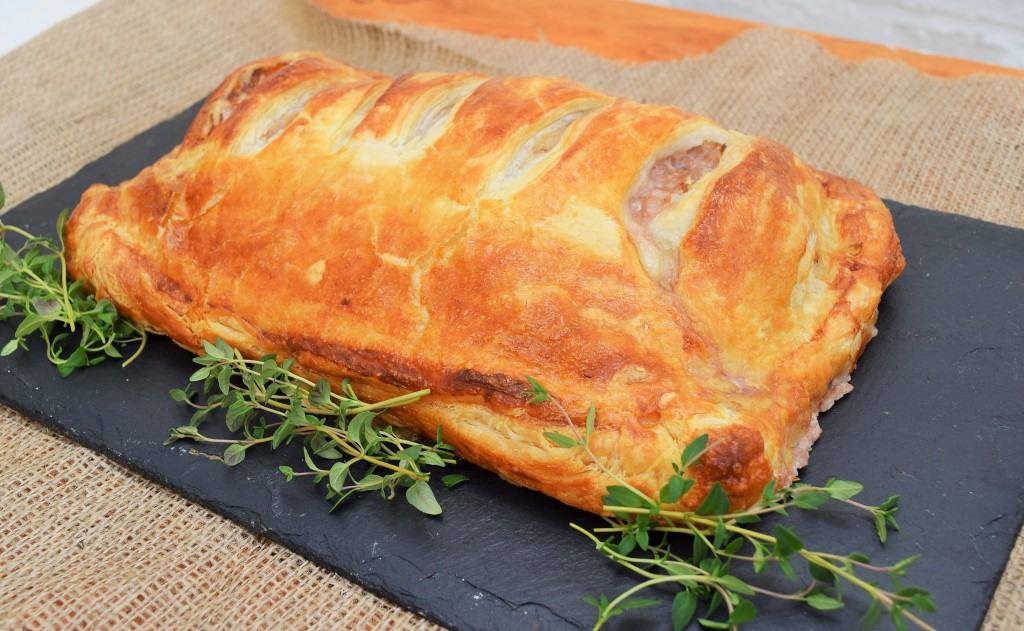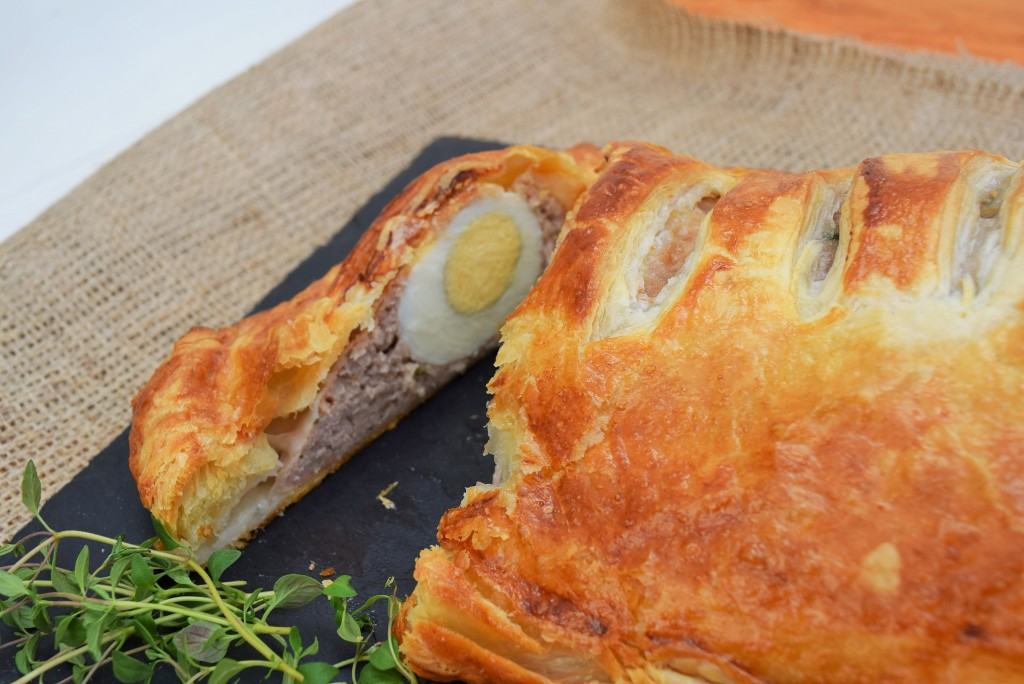 Hot herby pork, wrapped in crisp buttery pastry with wonderful egg in every slice. Food heaven.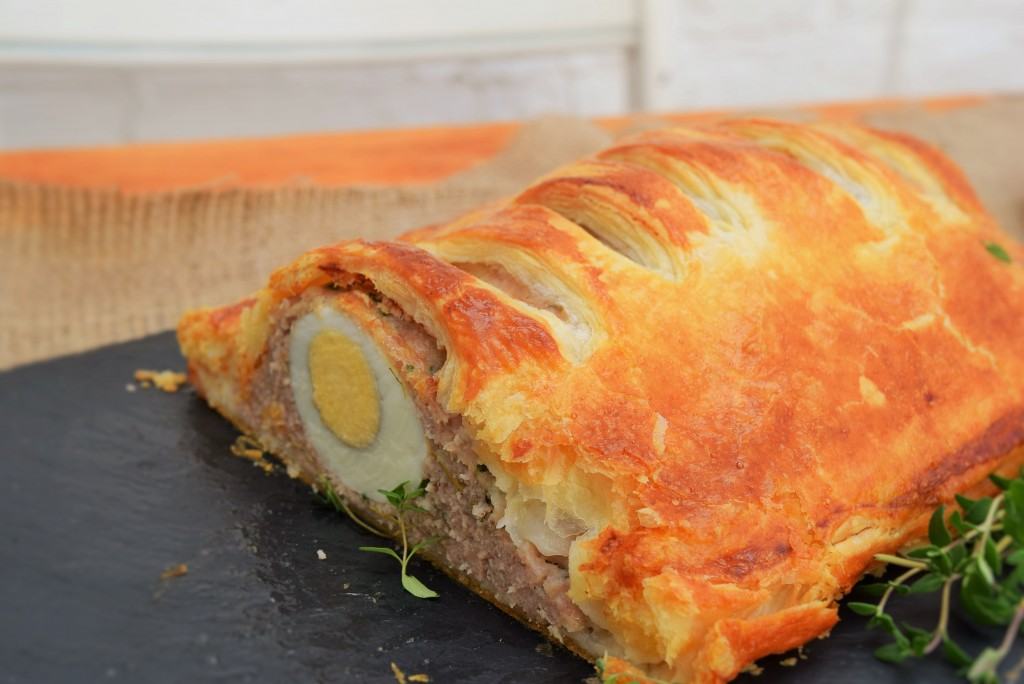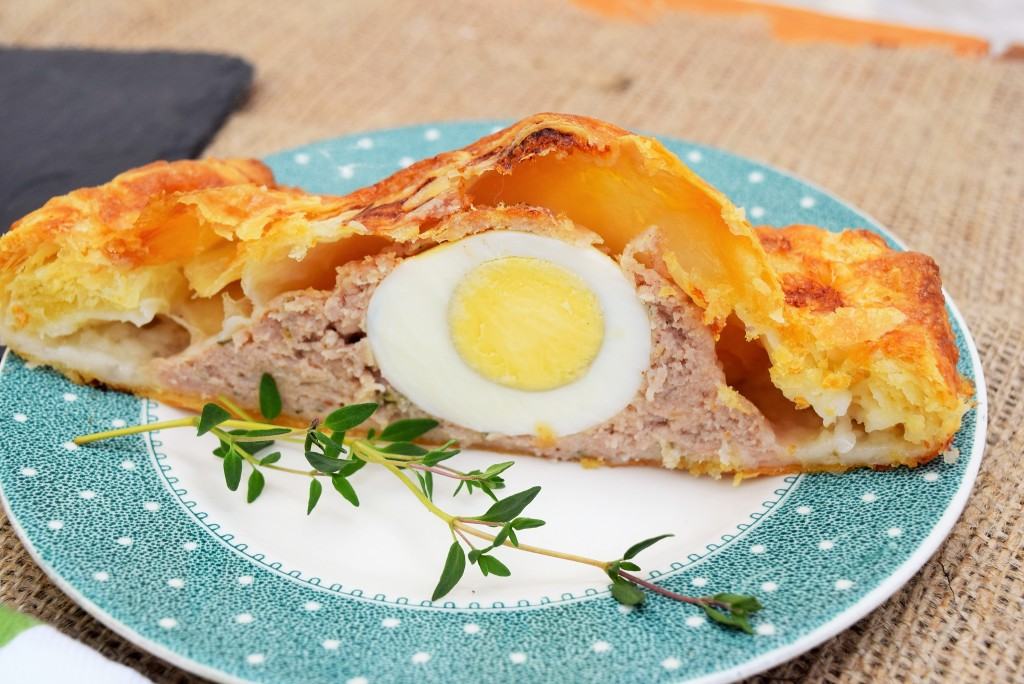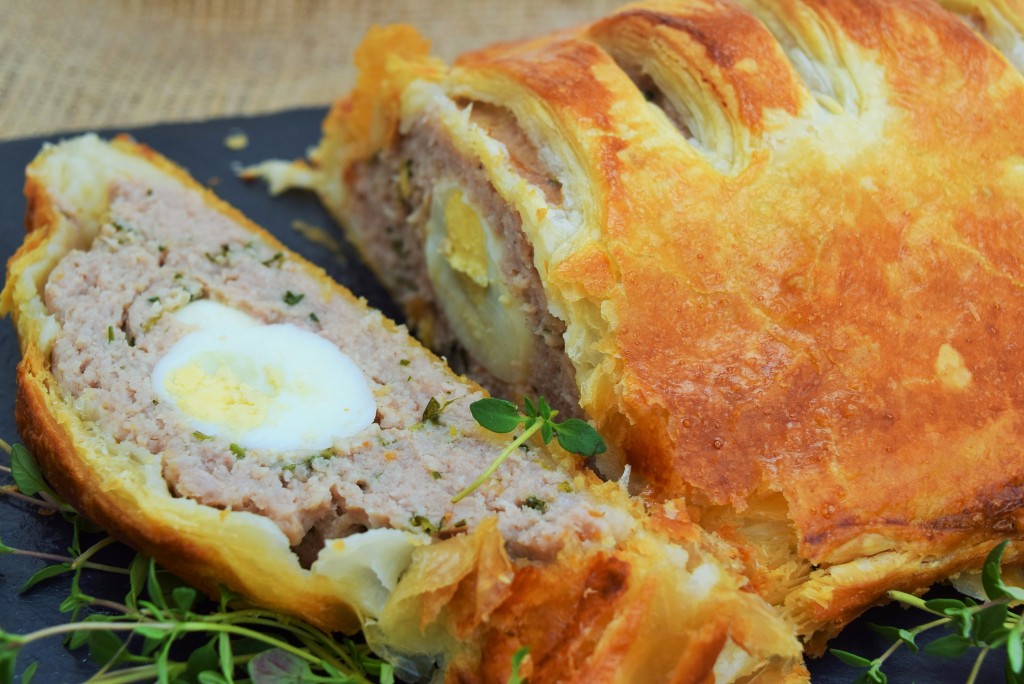 This pie has a touch of vintage charm, it reminds me of a Gala Pie of yester year which you used to be able to buy by the slice. Just one slice of this pie would never be enough. Luckily this makes at least 8 big slabs. I hope you enjoy this Sausage and Egg Pie, at home, on the beach or laying on a blanket in the park this summer.
Lucy x
Sausage and Egg Pie
Serves at least 6 people for a light lunch or picnic
You will need a lined baking sheet and rolling pin
500g puff pastry, or make your own, ha ha
800g to 900g sausage meat or de-skinned sausages (I had 2 x packets of sausage meat weighing 454g each)
7 eggs (6 to soft boil and one to beat for egg wash for glazing and sealing the pastry)
a handful fresh parsley or thyme or a mixture of both
1 teaspoon dried sage or thyme
salt and pepper
Pre heat the oven to 180 degrees fan assisted
Put the six eggs on to boil for 6 minutes, starting your timer once they are simmering. As soon as the time's up, run the eggs under cold water and leave to cool before peeling and putting to one side.
Put your sausage meat into a large bowl, then add your fresh and dried herbs.  Season with salt and pepper then roughly divide into two balls. Divide your pastry into two evenly-ish sized pieces then roll the first one out to a rough rectangle, a similar shape to your baking tray, around 8 inches by 12 inches. Carefully lay the pastry onto your lined baking sheet. Press the first piece of sausage meat onto the rectangle of pastry, leaving about an inch border of pastry around the edge. Make a channel down the centre of the sausage meat to lay the six soft boiled eggs. Cover the eggs with the second ball of sausage meat, ensuring all the eggs are hidden. Brush the border around the edge of the pastry with beaten egg.  Roll the second rectangle of pastry out and lay it over the sausage and eggs. Then crimp the two pastry edges together to seal the whole parcel.
Slash the top of the pastry with a sharp knife to allow steam to escape then cover the whole pie in beaten egg. Bake for 35 to 45 minutes or until the pastry is crisp and the sausage is cooked through. Serve hot, warm or cold. Refrigerate any leftovers for 2 to 3 days in the fridge.