Beetroot Devilled Eggs Recipe
I know it's Easter and egg recipe are a bit of a cliché, but I have loved this recipe for a while now. My first introduction to a pickled egg was when I used to work in a pub so many years ago which sold them on the bar. They were quite rough and pickled in feisty brown malt vinegar, but I still loved them. This Beetroot Devilled Eggs recipe is a very different story, however. Today's egg recipe features so many of my favourite qualities, to begin with it pairs eggs and beetroot, what a union. And they are my favourite colour, no wonder it was love at first sight. I made these as a nibble years ago then promptly forgot about them, how could I be so forgetful? Now devilled eggs are all the rage again I have revisited my love for them and subsequently can't stop making these Beetroot Devilled Eggs.
The only thing you will need for these treats is time. Start your preparation at least 24 hours before you want to serve them as the beetroot pink will be more pronounced the longer you leave them. These pretty nibbles are simply left to marinate in the contents of a jar of beetroot which has been pepped up with a few extra flavours. Brown sugar, peppercorns and salt pep up the eggs which are, once soft boiled, submerged into the pink bath for a lengthy soak. Anywhere from 12 hours to 3 days before they can emerge, triumphant. The yolks are them simply mashed with some mayonnaise, mustard, curry powder and some of the marinade to create a full flavoured filling. The ever amazing Kitchn, provided me with the inspiration for this colourful dish.
I would love nothing more than to be presented with a plate of these as a pre dinner nibble or as part of a lunchtime spread. And yes, this is a huge hint to anyone thinking of inviting me round over Easter.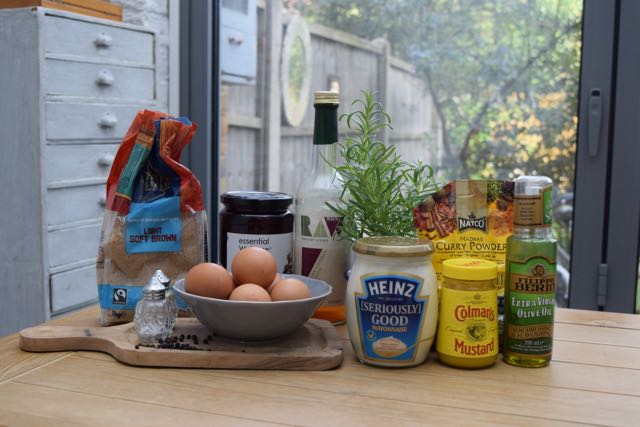 Here's the eggy line up for today's recipe. And, in a first for Lucy Loves, it includes an ingredient NOT included instead of me forgetting something. Just to point out my inadequacies, you will not be needing olive oil in this recipe.
You will, however, be needing a lot of beetroot and quite a few eggs. Take a good sized saucepan and add 6 eggs. I actually used 8. This was as a precaution to cover for any cock ups made by me along the way. Fill the pan with cold water and put on the stove.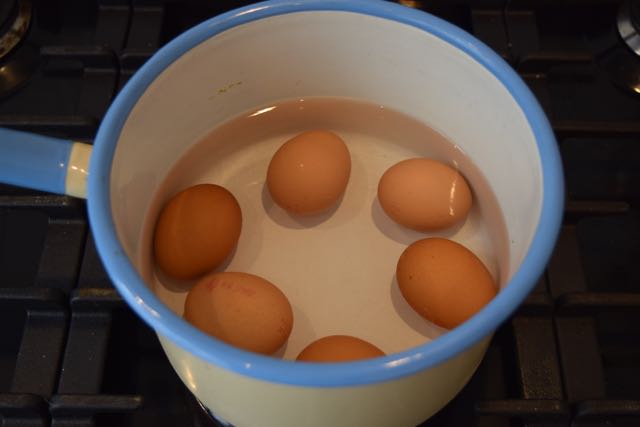 Bring up to the simmer then set a timer for 6 minutes. Once the time is up, immediately remove the pan from the stove and run the eggs under the cold tap then leave to cool completely.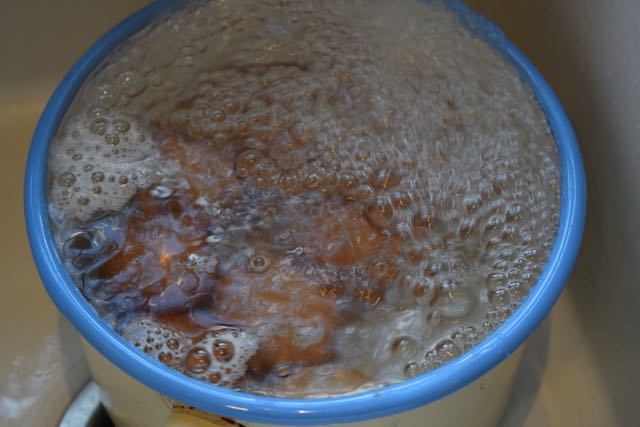 While these cool, take a large plastic container or jar and pour in the contents of your large jar of beetroot.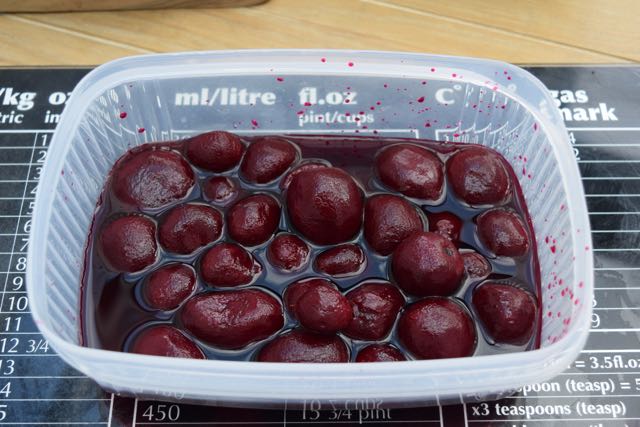 You'll notice I did not do this anywhere near our brand new and slightly porous white marble work surface.
Now for the extra flavourings. Pour in the cider vinegar, brown sugar, peppercorns and salt and give it all a good stir.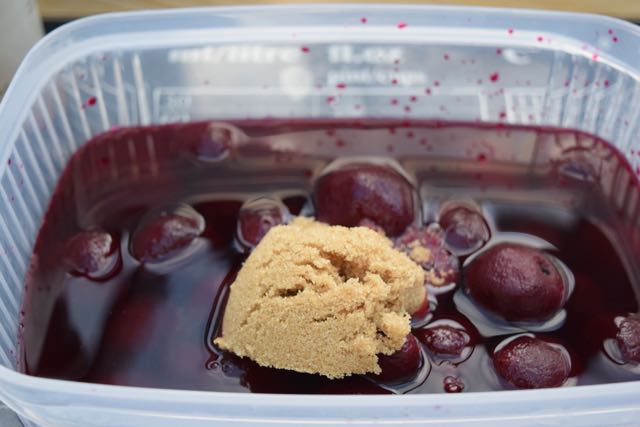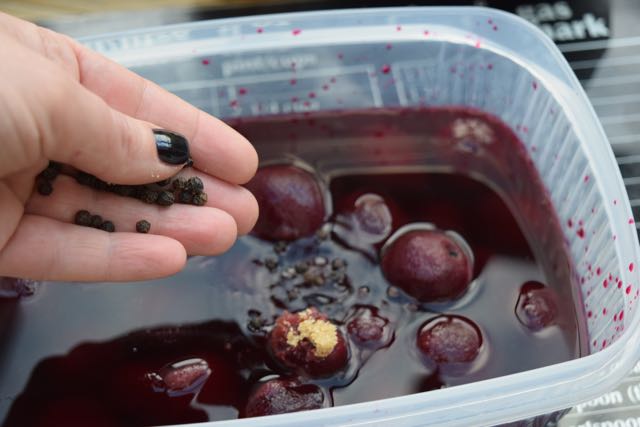 Now, carefully peel the cooled eggs and drop, well don't drop or they'll be pink vinegar everywhere, them into the marinading liquid.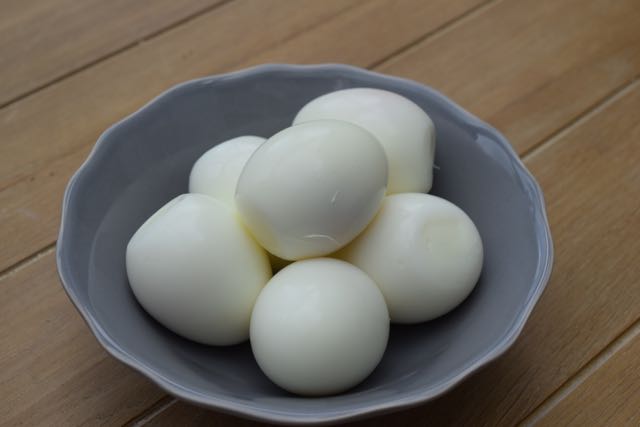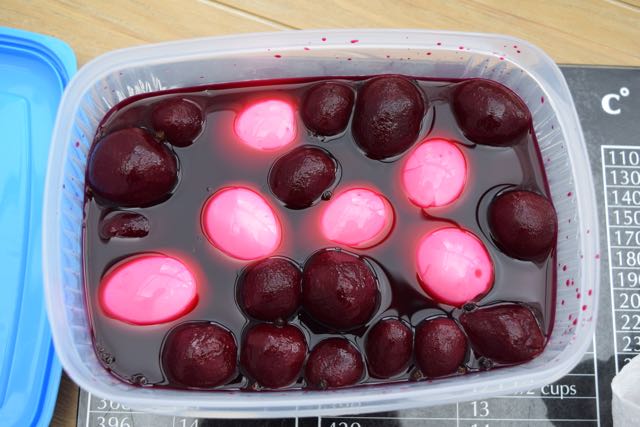 Dunk the eggs down under the vinegar to ensure even pinkage once they are left to marinate. Cover with a lid and leave in the fridge for anywhere from 12 hours to 3 days.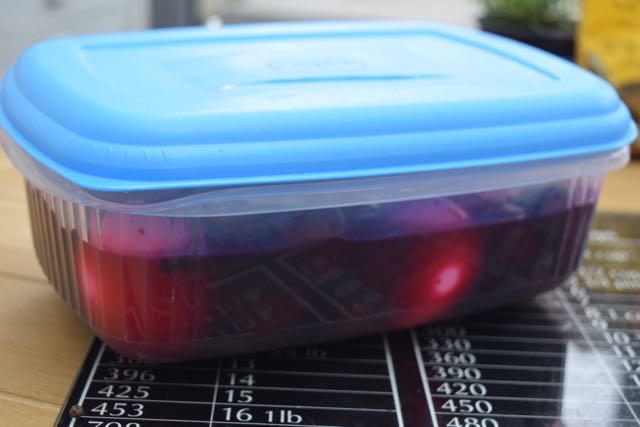 I left mine for 24 hours and they were just perfect, even if I do say so myself. When you ready for the off, remove the eggs from the  fridge and take the eggs out of the vinegar. Cut them in half using a sharp knife, wiping it in-between eggs.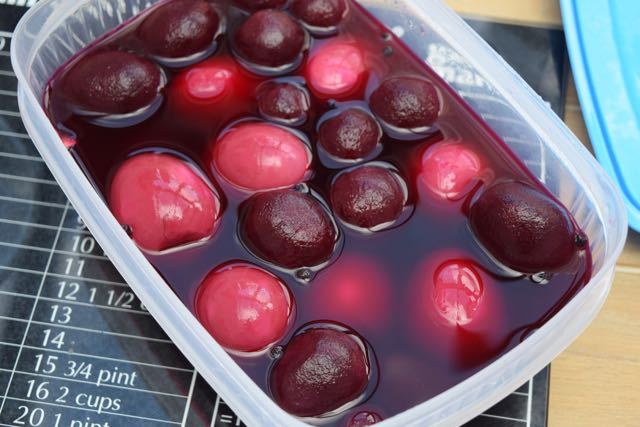 On a side note, the original recipe doesn't mention if you can keep the beetroot afterwards. I am so frugal I kept mine and have been eating them since and they taste just delicious, but it's up to you.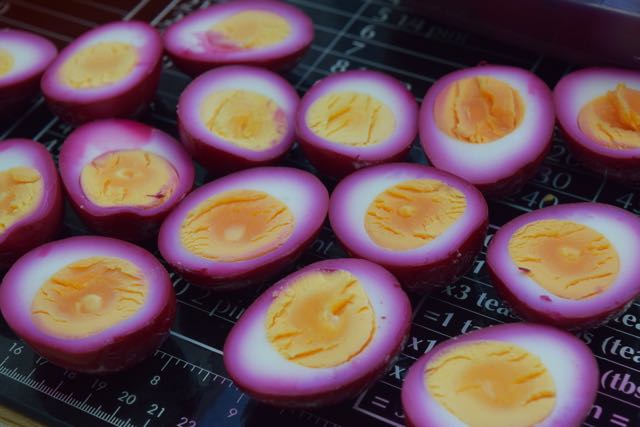 These are so pretty, who could resist wanting to eat one. Not me, I saw off the spares without so much as a backward glance.
Carefully remove the yolks using a small knife and put them into a small bowl. Keep the whites whole, putting them out of harms way while you prepare the filling.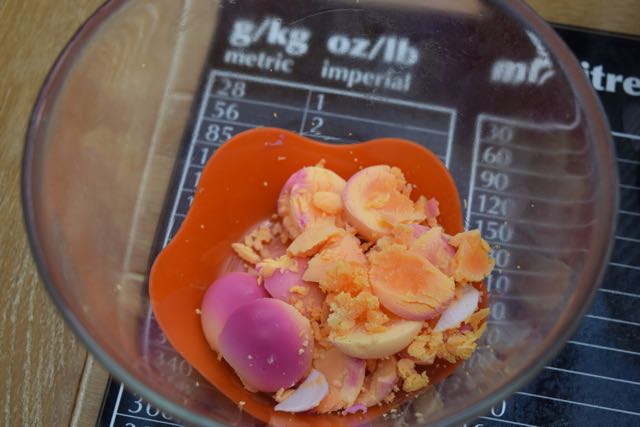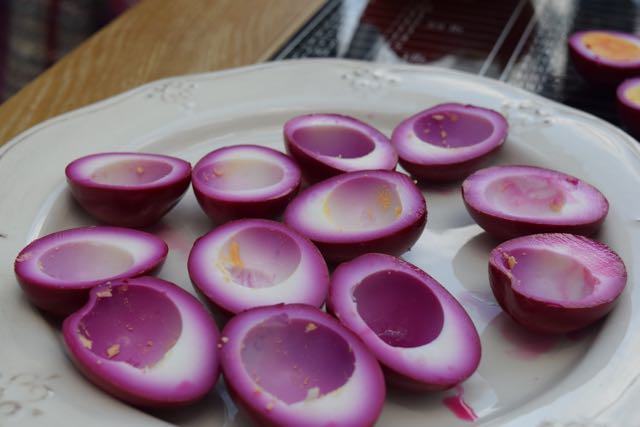 Spoon in the mustard, mayo, curry powder and a tablespoon of the marinading vinegar.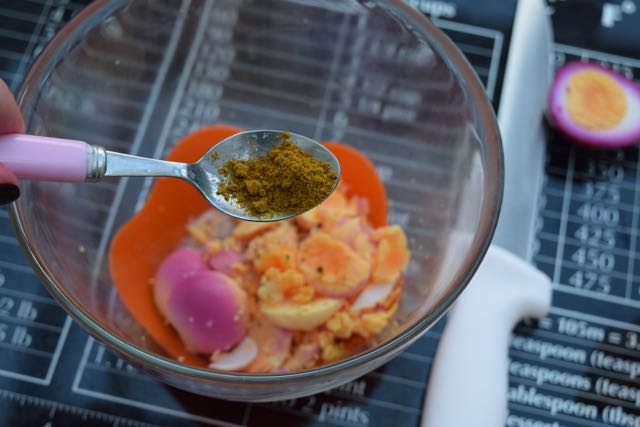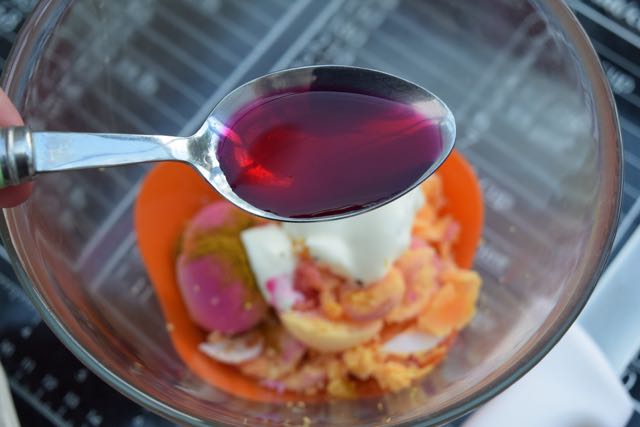 Mash it all together and season after having a little taste to check for seasoning. Spoon the yolky mix into a tiny piping bag or food bag with the corner cut off, ready for filling.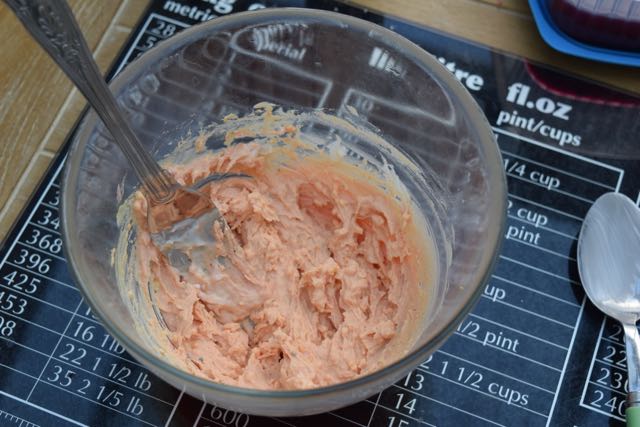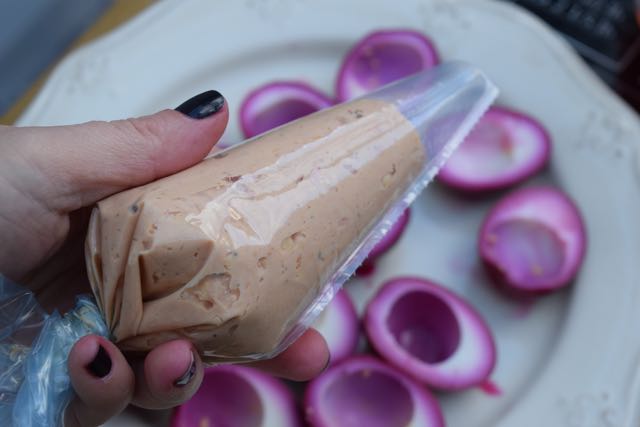 Look at my attractive, beetroot stained podgy fingers.
Carefully pipe the mixture into the empty eggs whites, you can be quite generous here, fill each egg well.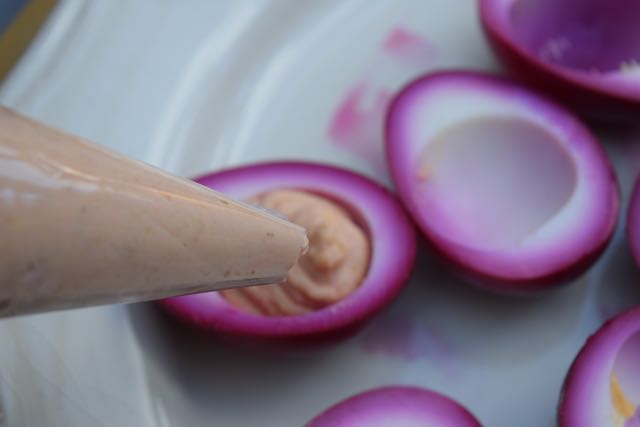 Once you have used all the mixture, decorate the eggs with herbs, salad leaves or micro herbs, which is pretty much a posh word for cress. Enjoy every little pastel pink mouthful. Try to leave at least one egg for other diners.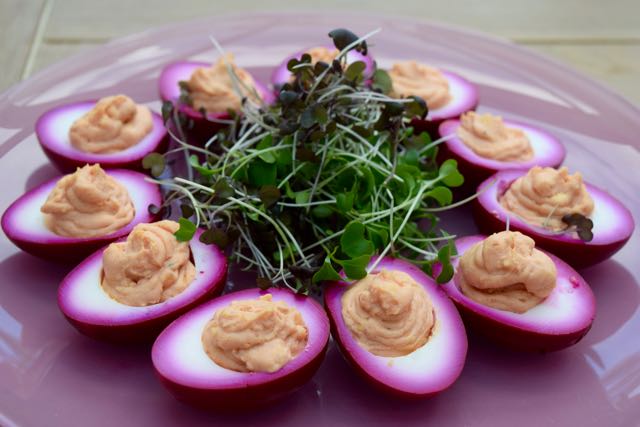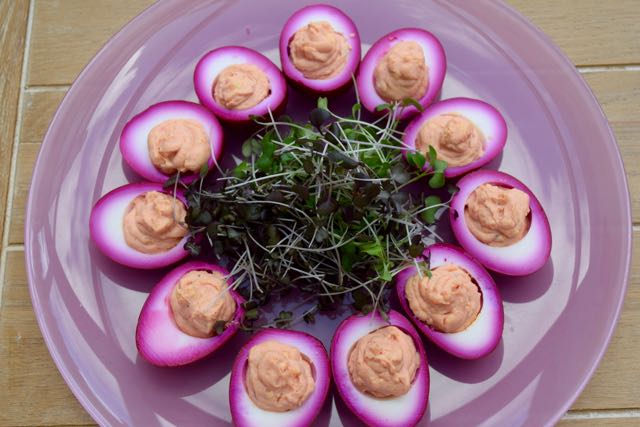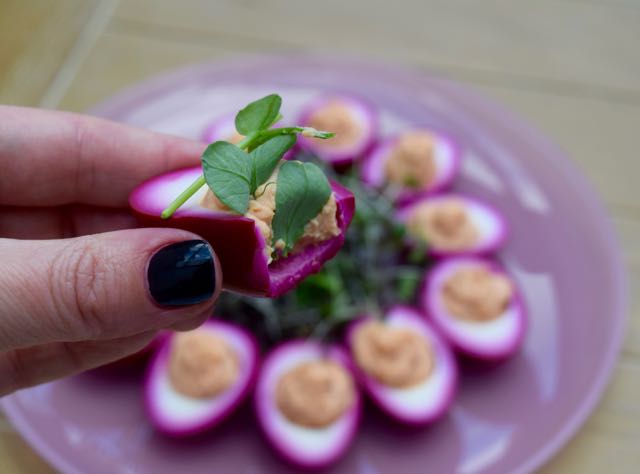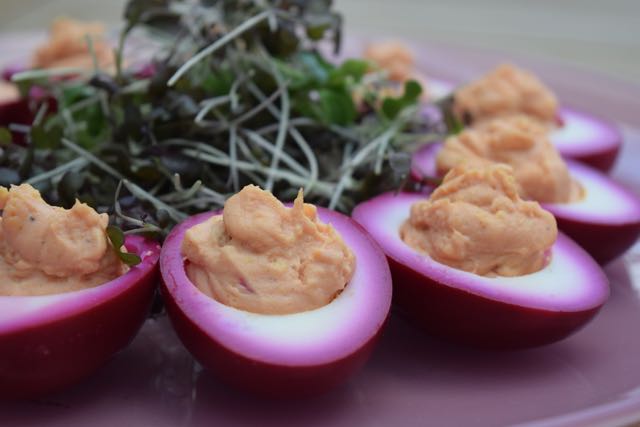 This recipe promotes pickled eggs from a humble bar snack to something worthy of the most elegant of dining tables. Beetroot Devilled Eggs are my kind of Easter Eggs, you can keep your cheap chocolate affairs, I'll have a plate of these please.
Lucy x
Beetroot Devilled Eggs Recipe
Makes 12 halves, start the recipe at least 16 hours before you want to serve them
Marinade
large jar of pickled beetroot, mine was 710g
250ml cider or white wine vinegar
65g soft brown sugar
1 tablespoon black peppercorns
1 teaspoon salt
Eggs
6 eggs
1/2 teaspoon English mustard
2 tablespoons mayonnaise
salt and pepper
1/2 teaspoon curry powder
1 tablespoon of the beetroot vinegar marinade
Place the 6 eggs in a saucepan full of cold water and place on the stove. Bring up to the boil then simmer for 6 minutes. Once the timer goes off, immediately run under cold water and leave to cool.
Take a large jar or plastic container and tip in the jar of beetroot and its contents. Pour in the vinegar, brown sugar, peppercorns and salt and give it all a good stir.
Peel the cooled eggs then drop them into the beetroot marinade. Make sure they are all submerged then put the lid on the container and leave the eggs to marinate for at least 12 hours or up to 3 days. The colour and flavour will intensify depending on how long you leave them.
When you are ready to prepare the eggs, remove them from the marinade and cut in half using a sharp knife. Remove the yolks and add them to a small bowl. Keep the whites whole and place on a plate.
Add the mustard, mayonnaise, curry powder and marinading vinegar to the yolks and mash with a fork. Season accordingly with salt and pepper, tasting to check. Place the yolk mixture into a tiny piping bag or food bag with the corner cut off and pipe into the eggs whites.
Garnish with some herbs, salad leaves or micro greens. Any left overs can be refrigerated, well covered, for a couple of days.