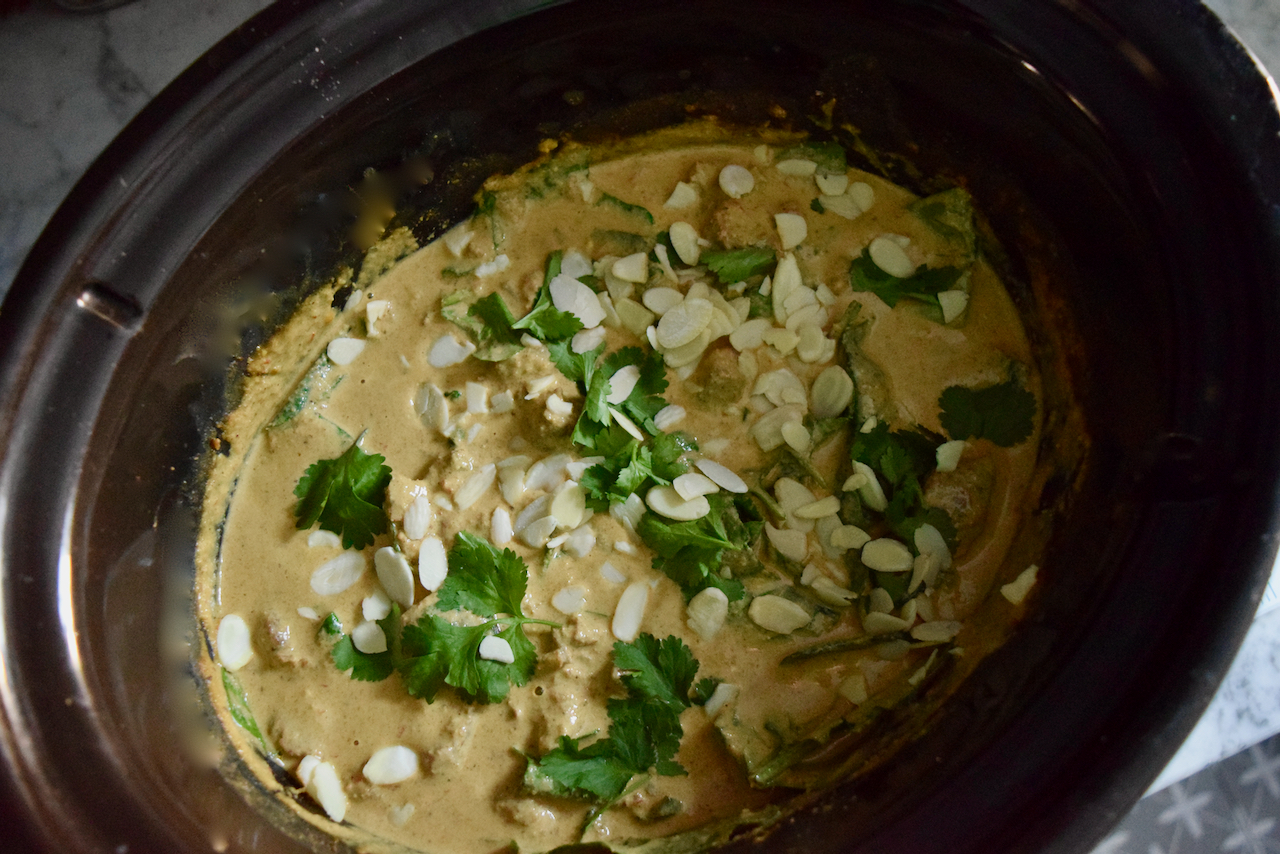 Slow Cooker Lamb Pasanda Recipe
We are a huge family of curry eaters. A huge family who love a huge curry. It features on the menu at least once a week; it's simple, comforting and so warming when it's sub zero outside, as it is at the moment. Christmas cooking doesn't necessarily scream curry, but it's a busy time for everyone and a simple Slow Cooker Lamb Pasanda can be a supper based life saver. And if you're in full festive mode, you could always replace the lamb with turkey.
A Pasanda has long been my curry of choice when we go to an Indian restaurant. It's rich, creamy, nutty and not overpoweringly spicy. The whole dish comes together in a matter of minutes. The almonds, tomatoes, onions, garlic, ginger and spices are blitzed in your blender or food processor to make a super fragrant paste. Stir this through your lamb and then leave the curry to slowly cook itself. Lamb is pricey, so I found the best option for my curry was lamb leg steaks which I cubed myself; you could use beef or chicken if you'd prefer, but the lamb works so well, it's worth putting some in the freezer when it's on offer. You don't have to use a slow cooker for this recipe, I've included the hob instructions too, if you're waiting for Father Christmas to bring you one. Huge thanks to Super Golden Bakes for this faultless recipe.
I love this Pasanda, I could have eaten the whole batch myself. And would have done if it hadn't been for my huge, curry hungry family.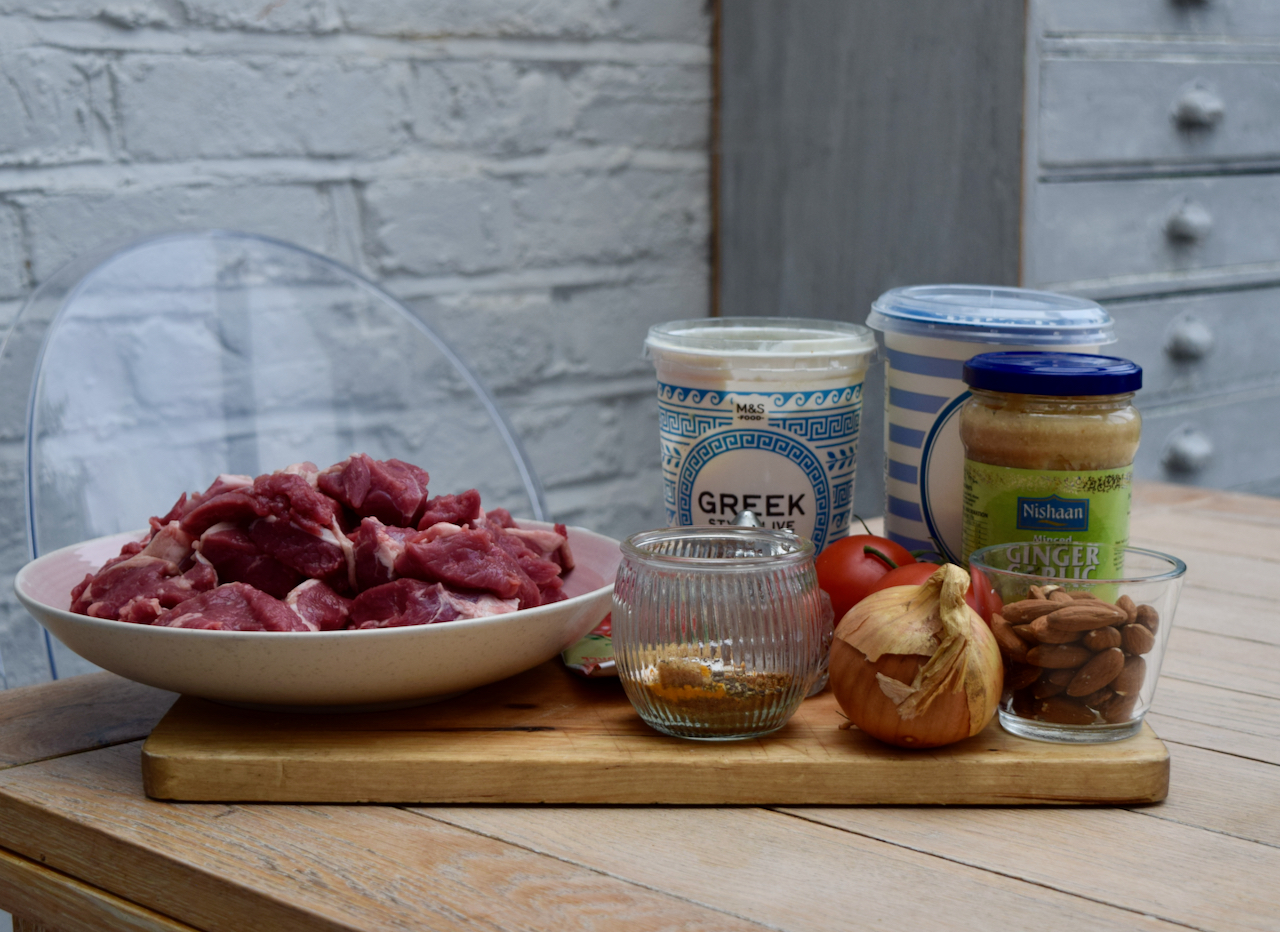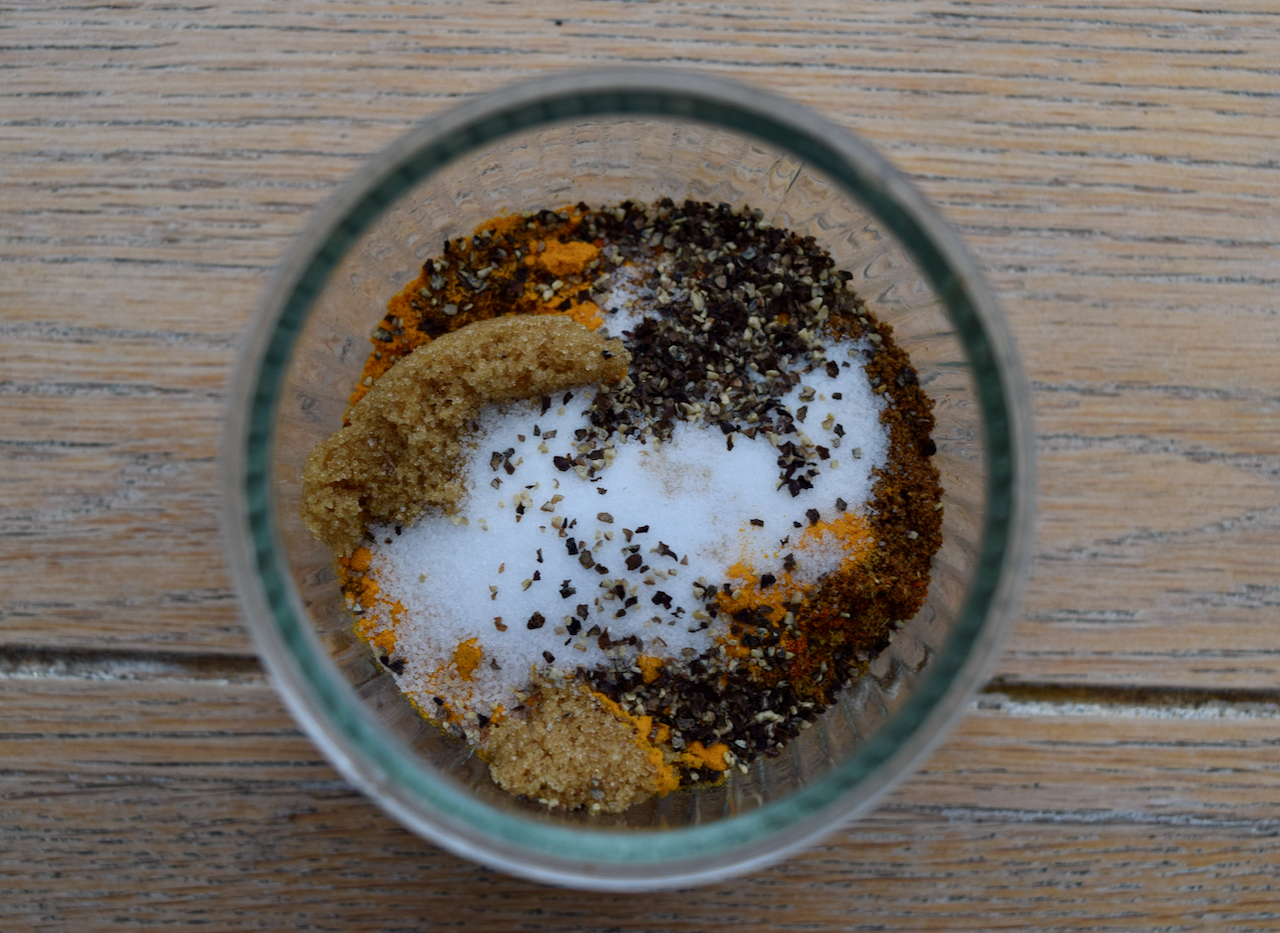 Nothing puts me off a recipe more than a bloody great long list of ingredients. The spices for this Pasanda are standard store cupboard favourites; cumin, coriander, chilli powder, garam masala and turmeric. My garlic and ginger were of the lazy jar variety, these are great for curries, especially when you're in a hurry.
Make a start with your slow cooker, I always pop mine on low while I'm getting the recipe prepped. Now for the paste. Add the ground almonds (or grind almonds in your blender or coffee grinder if you haven't got ground almonds), all the spices, garlic and ginger to the a blender or food processor.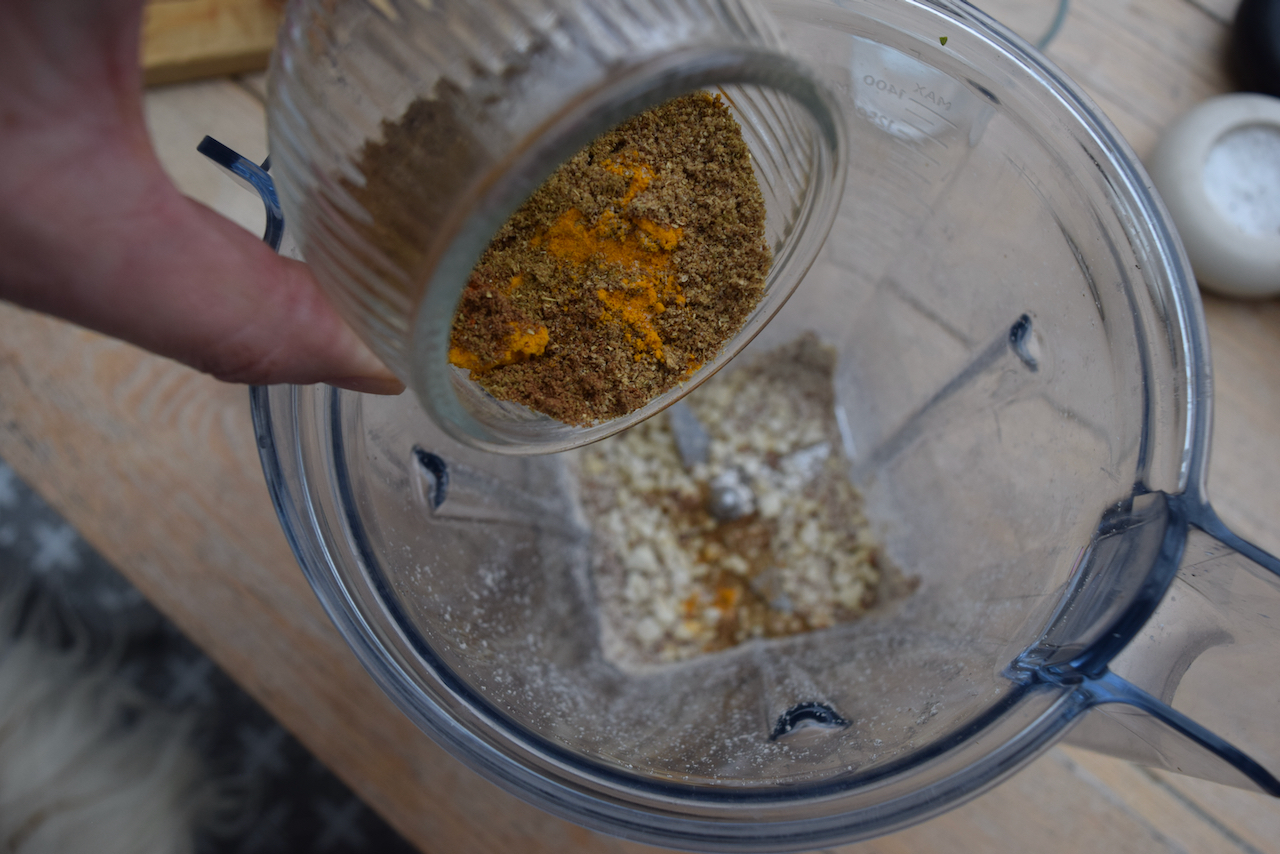 Add the roughly chopped tomatoes and onions to the mix with the salt, pepper and brown sugar.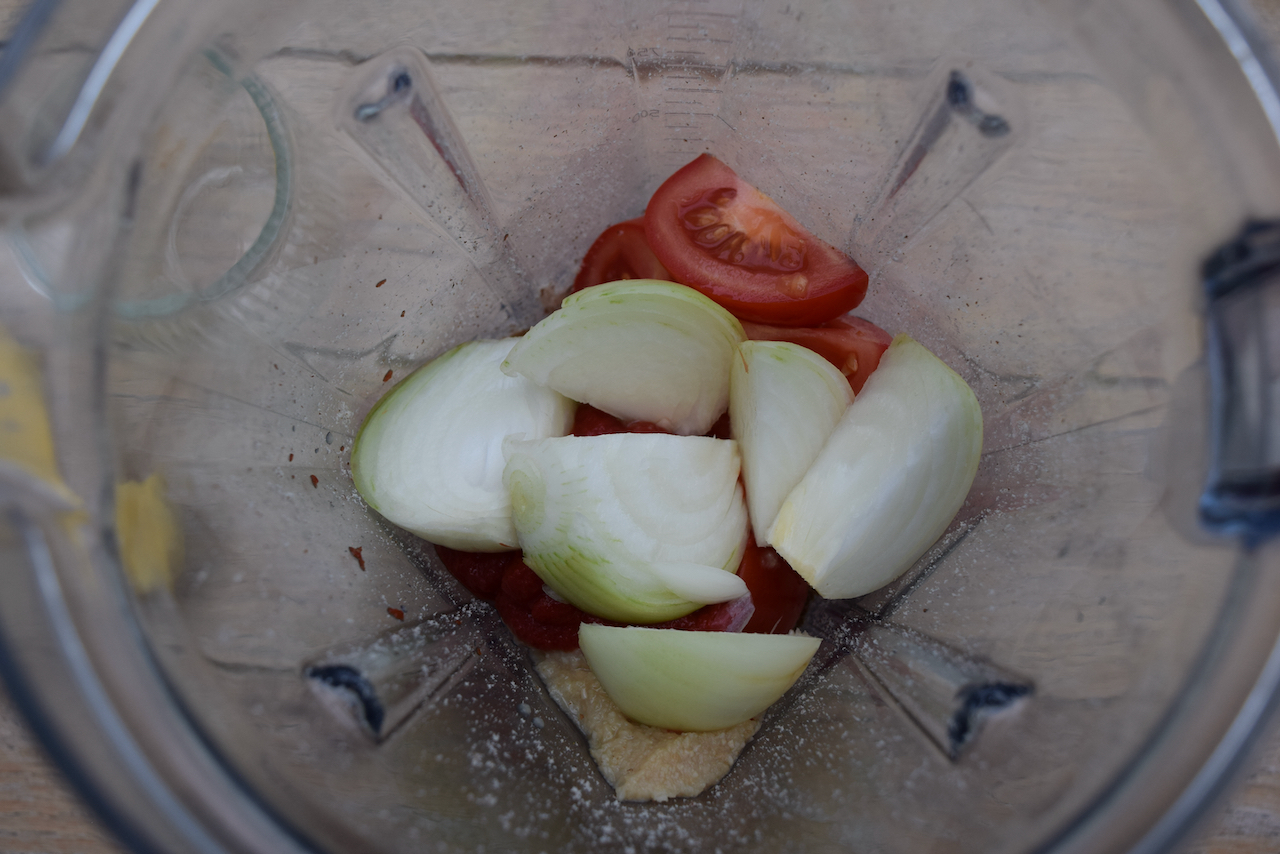 Process or blend the mixture until you have a chunky paste which will be smelling fresh and amazing.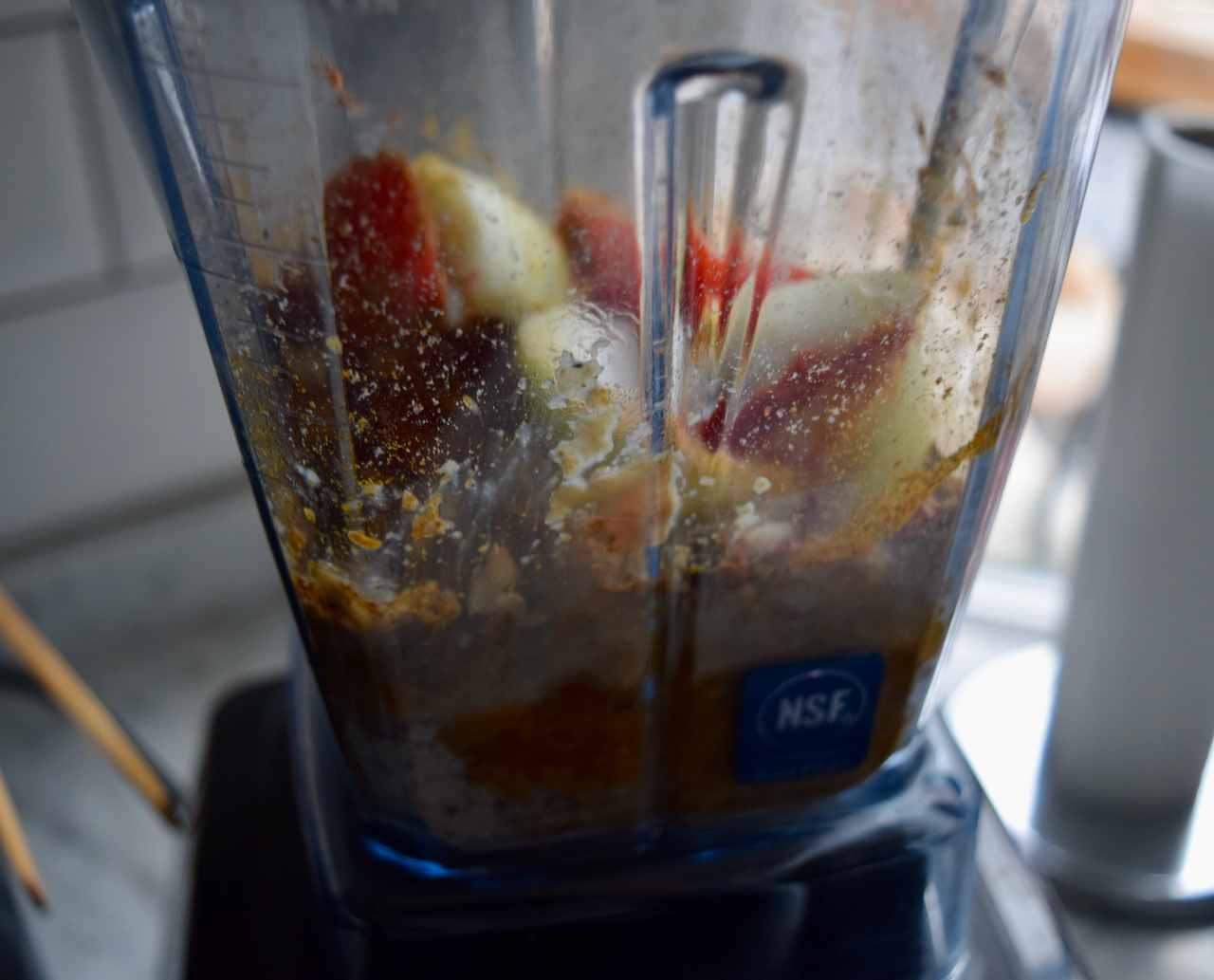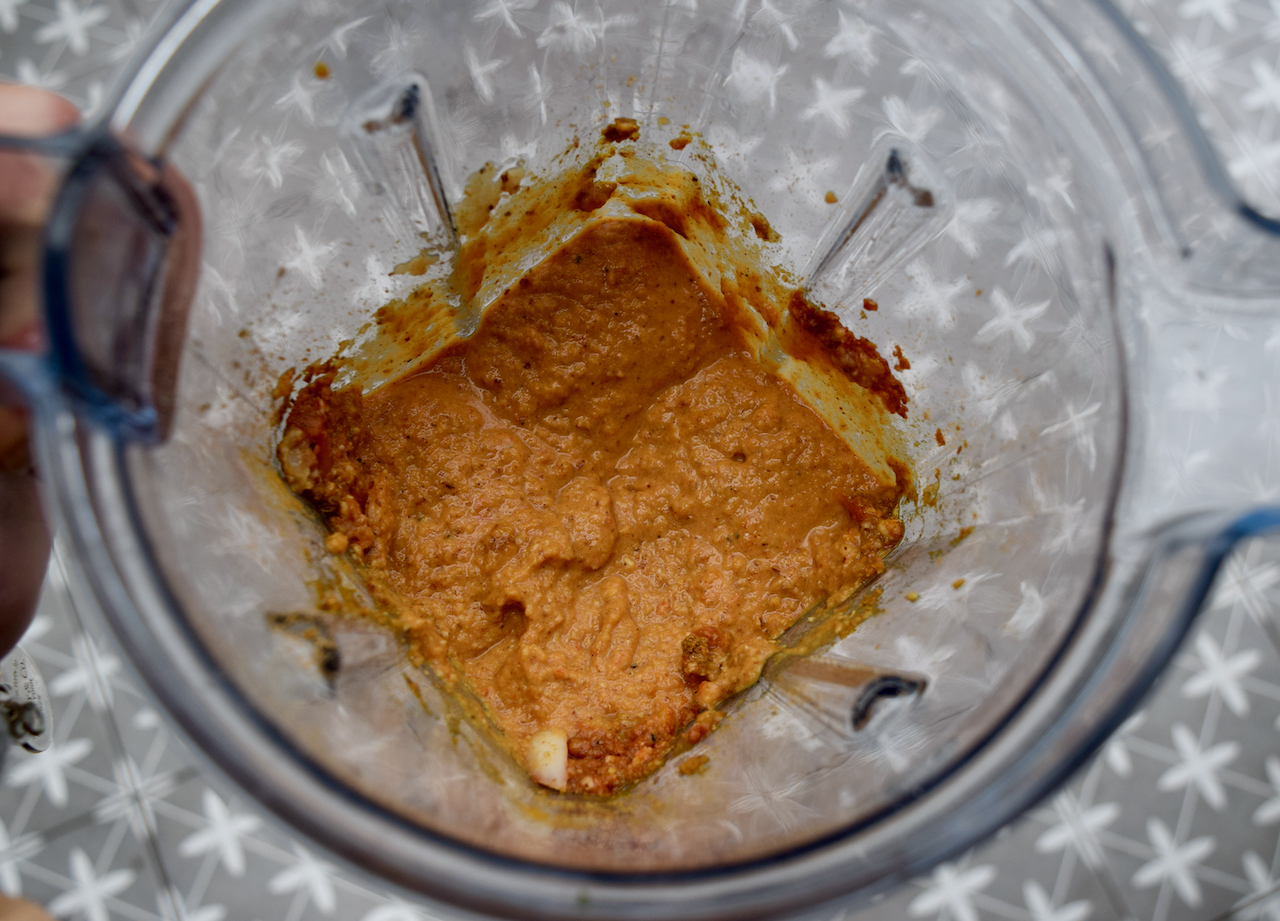 Tip this into the bowl of your slow cooker then stir through your cubed lamb, ensuring it's well coated.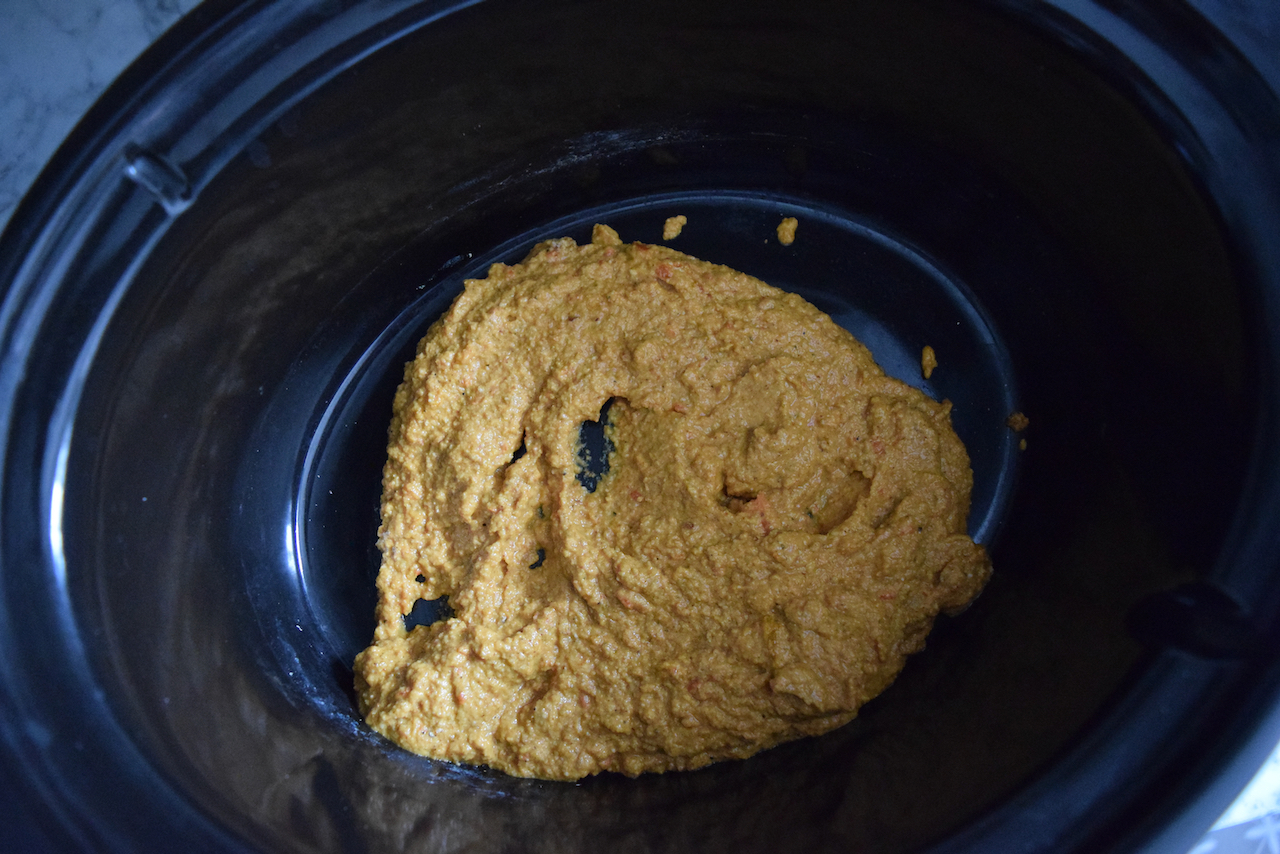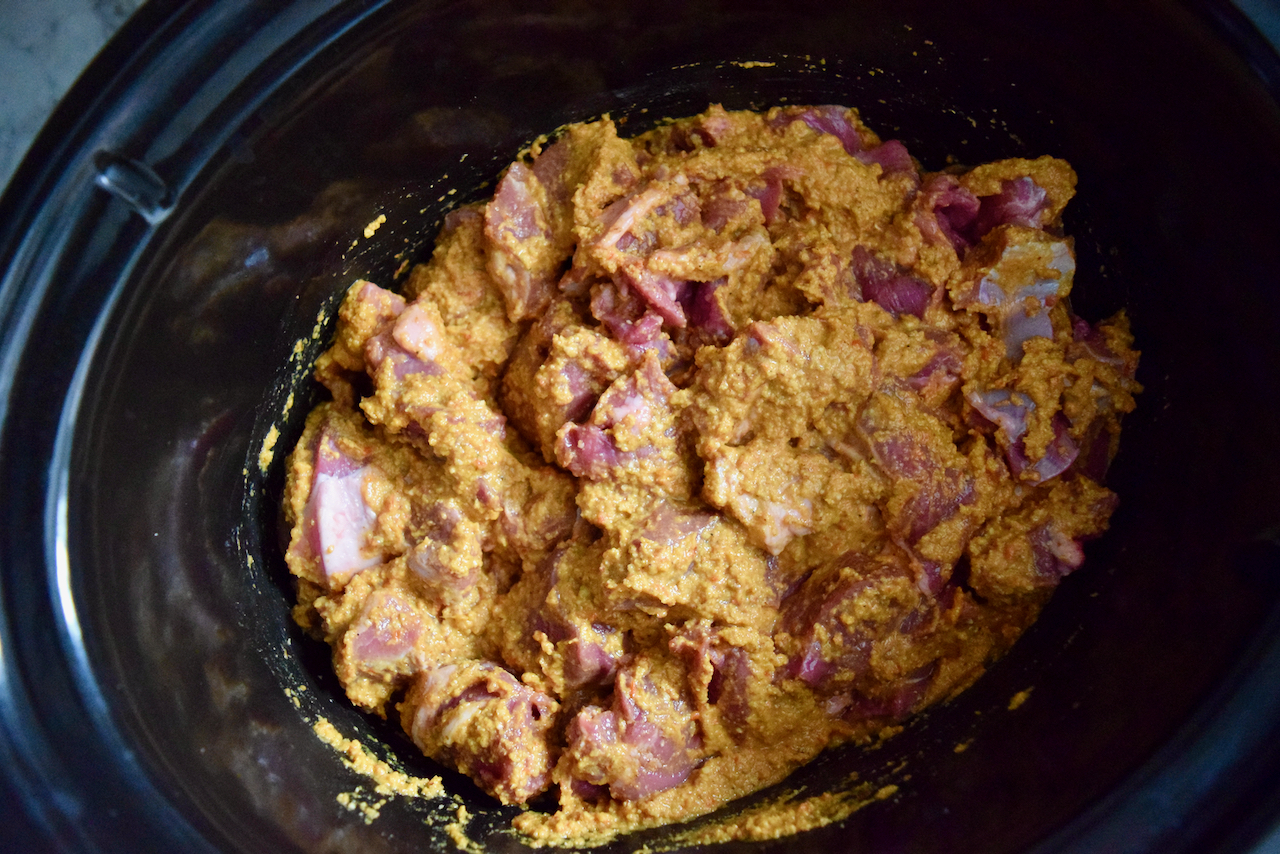 Pop on the lid and leave to cook slowly, in your slow cooker.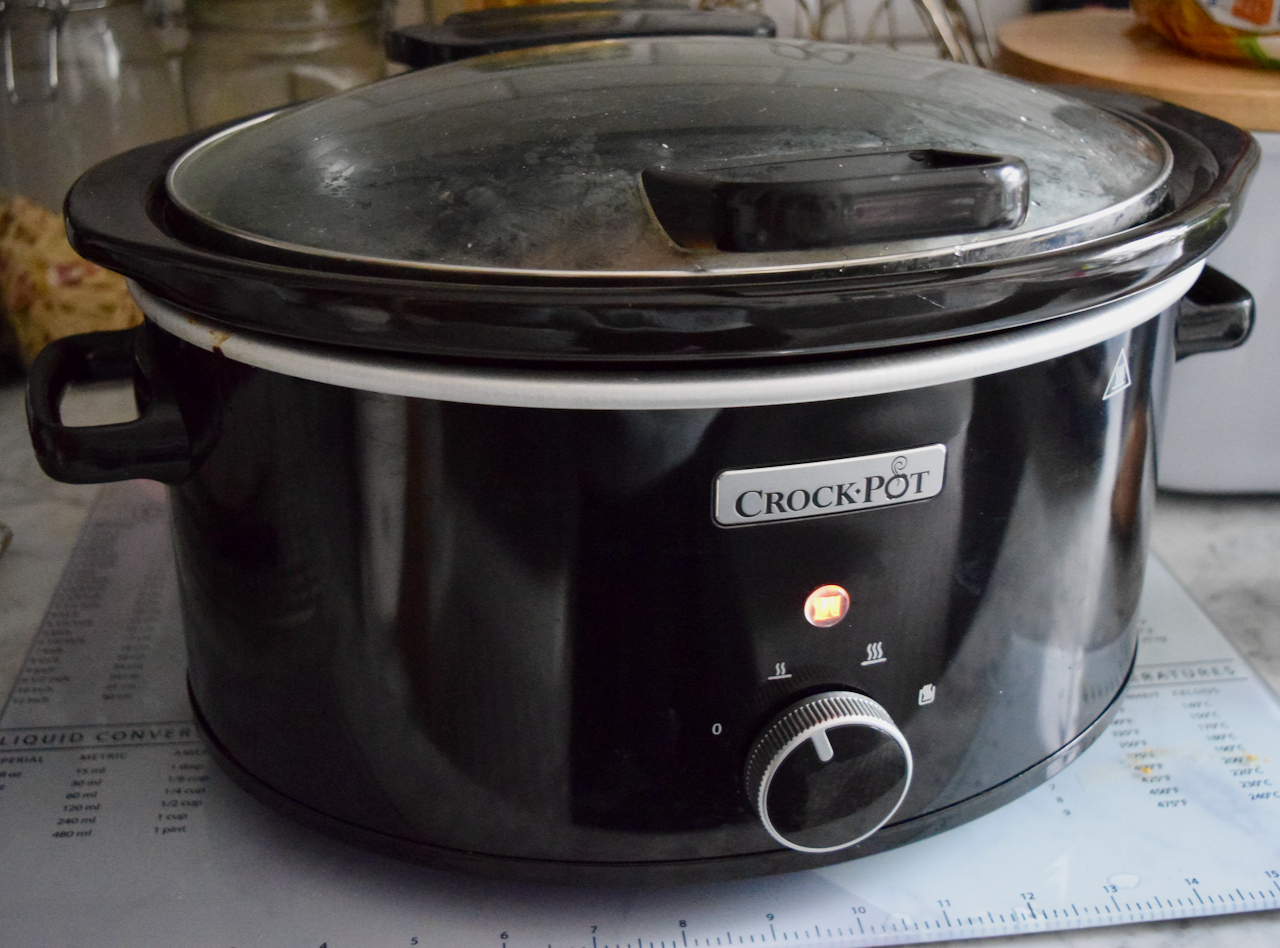 I cooked mine on low for 5 hours, but my slow cooker is quite feisty. The original recipe called for 8 hours, so keep an eye on your curry, it will be ready when the sauce tastes divine and the meat is tender. Now, for added richness, stir through the yoghurt and double cream, and a couple of handfuls of fresh spinach if you like.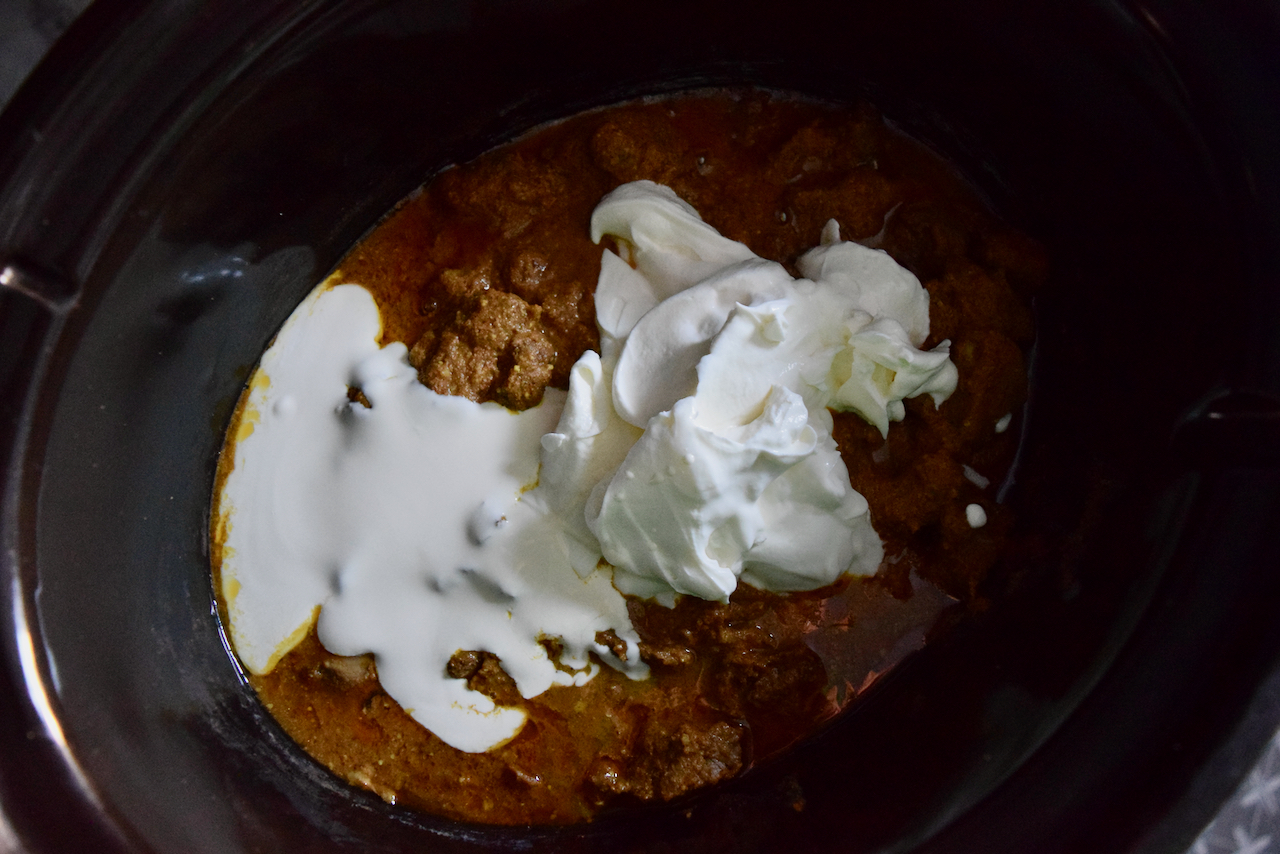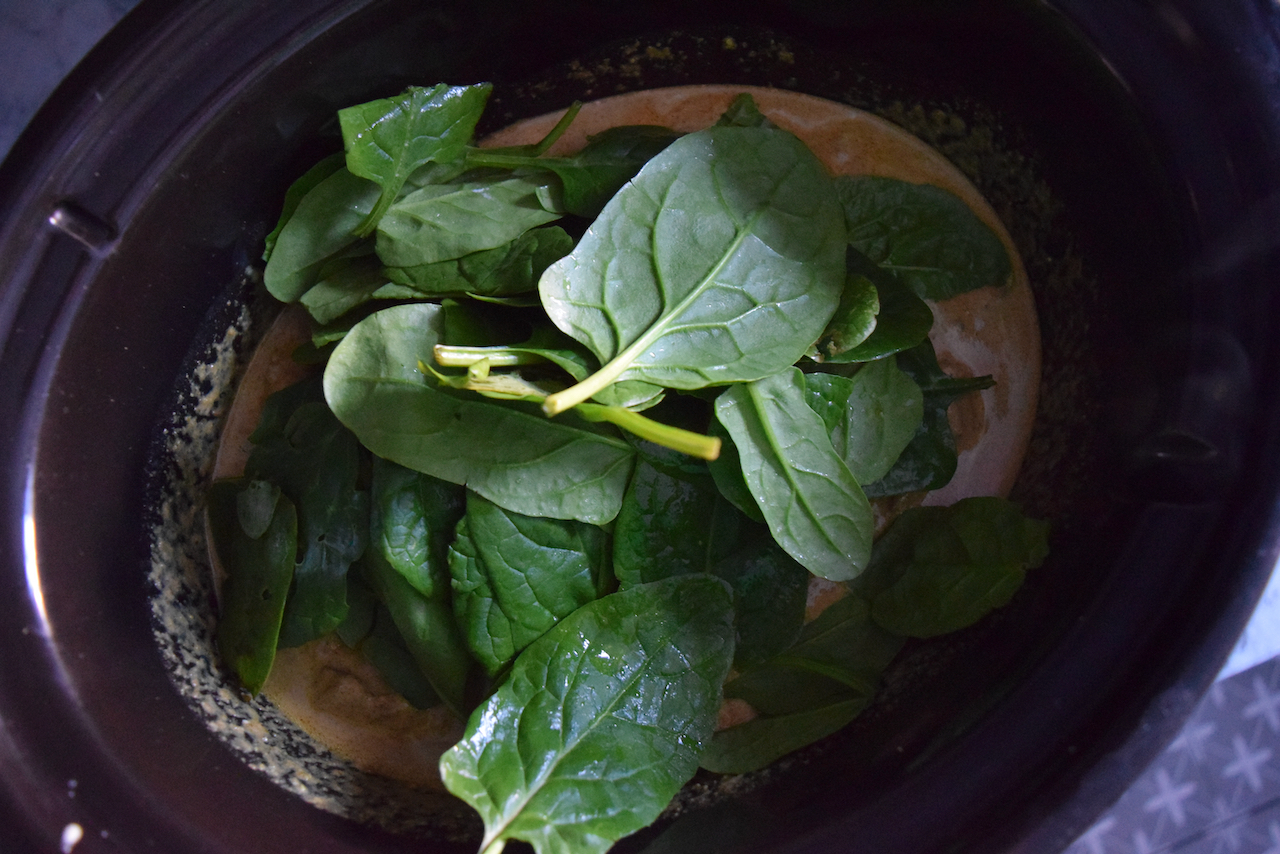 Turn the slow cooker up to high and pop the lid back on until the sauce is bubbling and the spinach wilted, about another 30 minutes. Taste to see if it needs any additional seasoning then garnish with some fresh coriander and flaked almonds, for crunch and colour.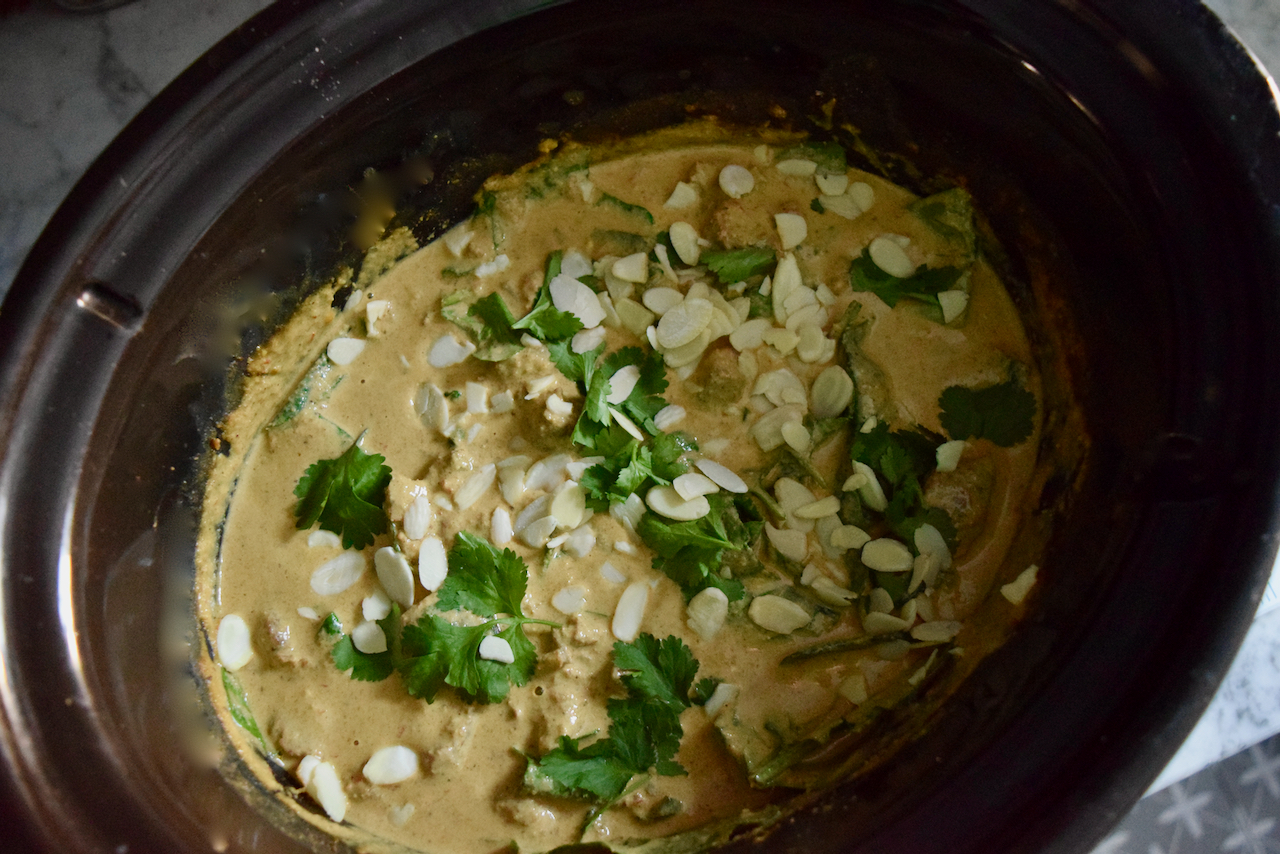 And that's it. Tuck in with plenty of rice and a bloody great big spoon. I just found the naan breads I brought to go with my Pasanda in the bread bin, so well done me for forgetting those.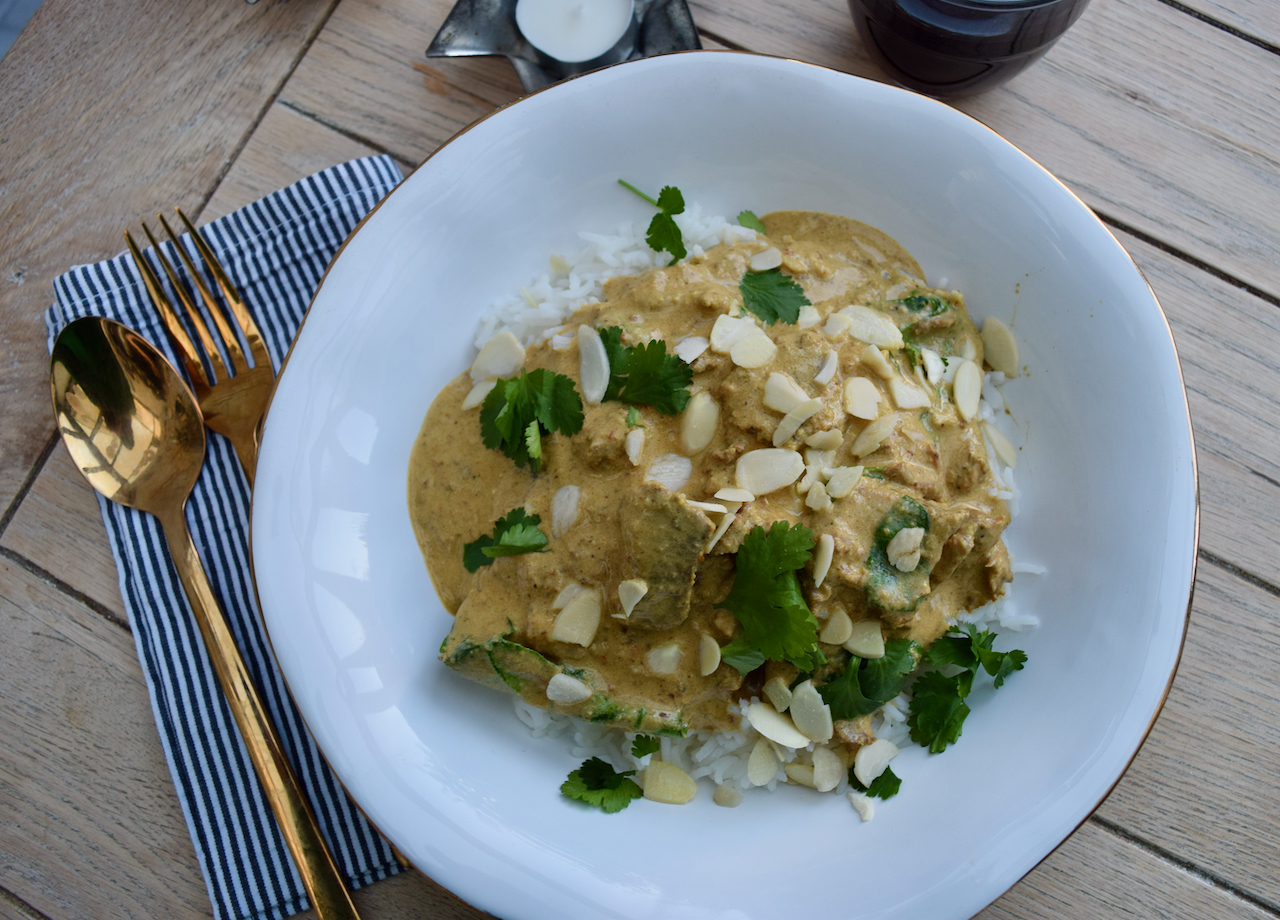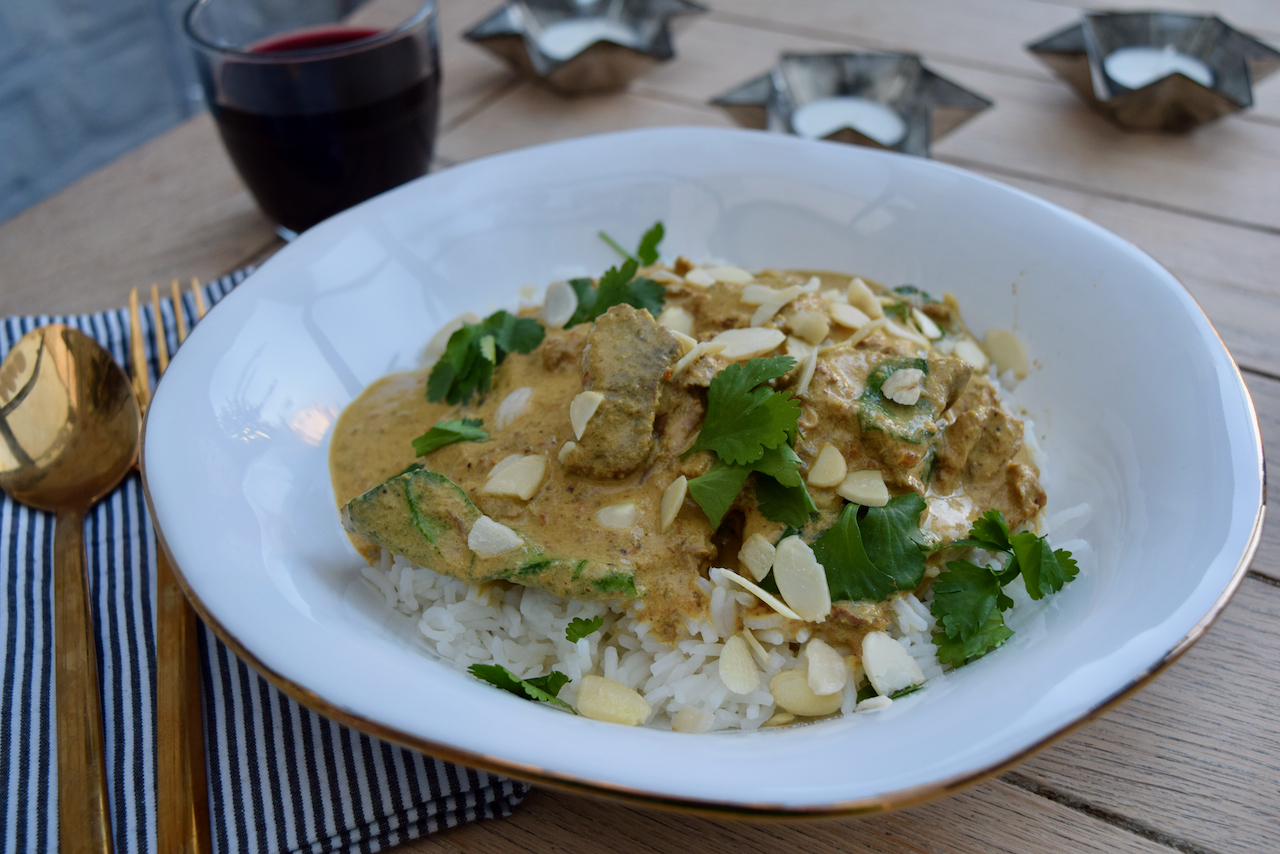 As always with a curry, this is as good, if not better the day after. But bloody good luck to you not eating this Lamb Pasanda in one sitting.
Lucy x
Slow Cooker Lamb Pasanda Recipe
Serves 4, generously
You will need a slow cooker for this recipe, or the hob instructions are also included
Pasanda Paste
1 onion, peeled and quartered
2 tomatoes, quartered
1 tablespoon tomato puree
50g ground almonds or use 50g almonds, you can grind them in a blender
3 cloves garlic, or a heaped teaspoon garlic from a jar
2 inch piece ginger, peeled, or a tablespoon from a jar
1 teaspoon ground cumin
1 teaspoon ground coriander
2 teaspoons garam masala
1/2-1 teaspoon chilli powder, dependent on your love of spice
1/2 teaspoon ground turmeric
1 teaspoon salt
1 teaspoon ground pepper
1/2 teaspoon brown sugar
Curry
900g lamb, I used leg steaks, cut into chunks
250ml yoghurt, mine was Greek variety
4 tablespoons double cream
2 handfuls fresh spinach, optional
Fresh coriander and flaked almonds to serve
Pre heat your slow cooker on low.
For the curry paste add almonds, all the spices, onion and tomatoes, tomato paste, garlic, ginger and sugar to a blender, small chopper or food processor and blend until you have a smooth paste.
Pour the paste into your slow cooker then stir in your cubed lamb and coat in the paste. Cook on low for 5 to 6 hours (or high for 3 to 4 hours) or until the meat is tender.
Stir in the yoghurt, cream and spinach if using, mix well and cook on high for another 15 minutes or until piping hot. Check for any salt and pepper needs, then serve, scattered with fresh coriander and flaked almonds. Any leftovers are amazing reheated the next day.
Hob version
Make the spice paste as in the recipe above.
Add 2 tablespoons oil to a high sided pan with a lid and heat over a high heat. Brown the lamb briefly then stir in the curry paste. Pour on 480ml chicken or lamb stock, bring up to the simmer then turn the heat down, put a lid on and cook until the lamb is tender. Stir through the yoghurt, cream and spinach, bring back up to the simmer. Season accordingly then serve, as above.