Mango and Red Pepper Chicken Recipe
Fruit and meat – quite a trip back to the 70's, eh? My father hates fruit with meat so my mother could only make her signature pork chops with apricots when he was out. This isn't quite a 70's classic, but it does feature mango and chicken, and it is completely delicious. This dish also has a healthy side, being low in fat and full of vitamins.
I found this treasure at Le Creme de la Crumb  and what a find it is. It's a colourful and fragrant supper and is now a regular friday night feature for Clyde and I. In real life this could probably feed at least 3 if not four people, and could easily be scaled up for a larger crowd. It's super quick to make too, so more time to ignore your friends doing dry January and to pour yourself a glass of wine.
Do take a step back in time and give this a try, because I think fruit and meat is going to be so 2015.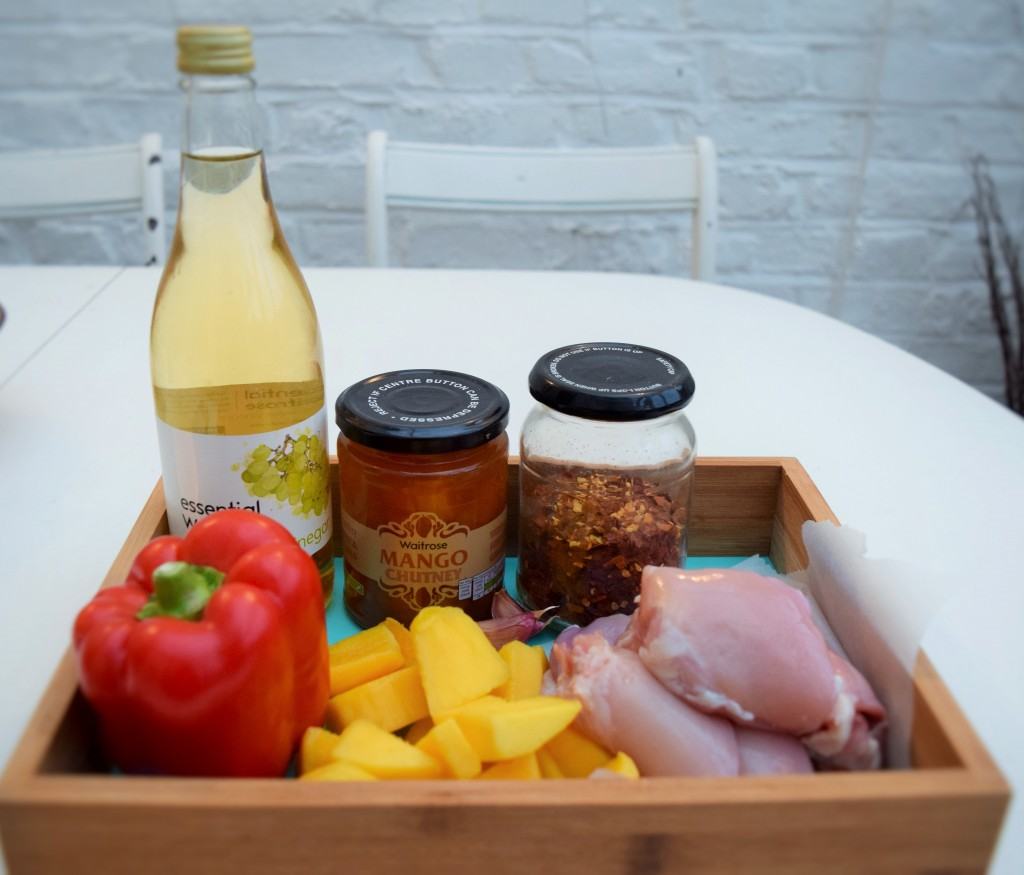 This is the ingredient line up. Good and small and all fresh and delicious. I bought pre prepared mango because it was on offer, but do wrestle with fresh mango if you've got one to hand.
Take a large frying pan and heat a splash of flavoured Wok oil or any oil you have to hand. Chop the chicken, either boneless thighs or breasts, into bite sized pieces. Season with salt and pepper. Add these to the pan and cook until starting to brown.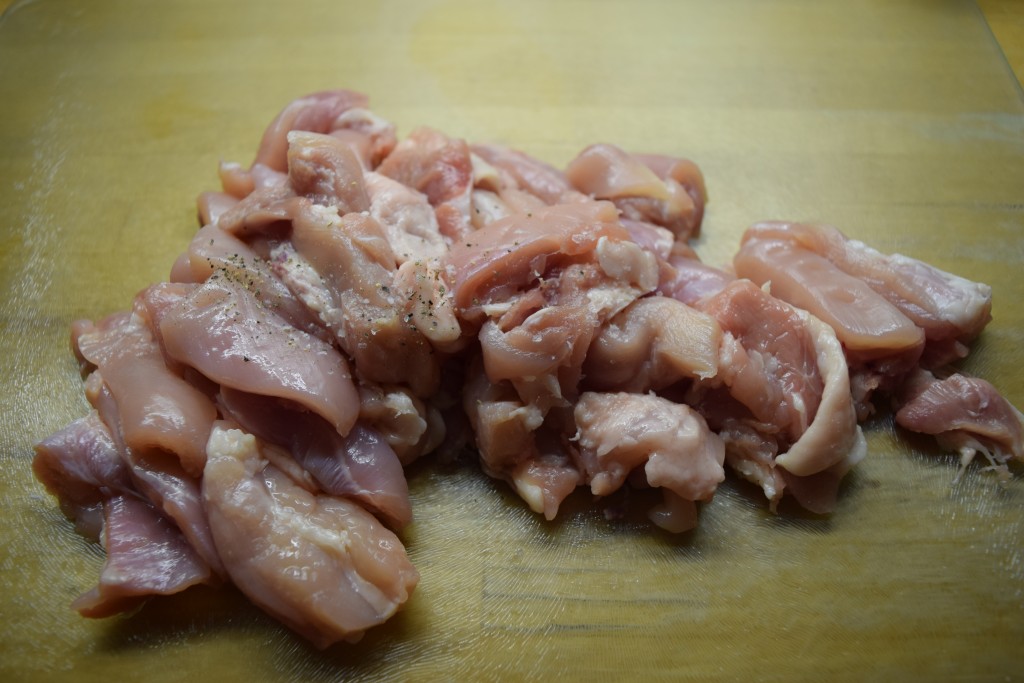 Cut the red pepper into strips and finely chop the garlic. Add this to the browning chicken and cook until softening.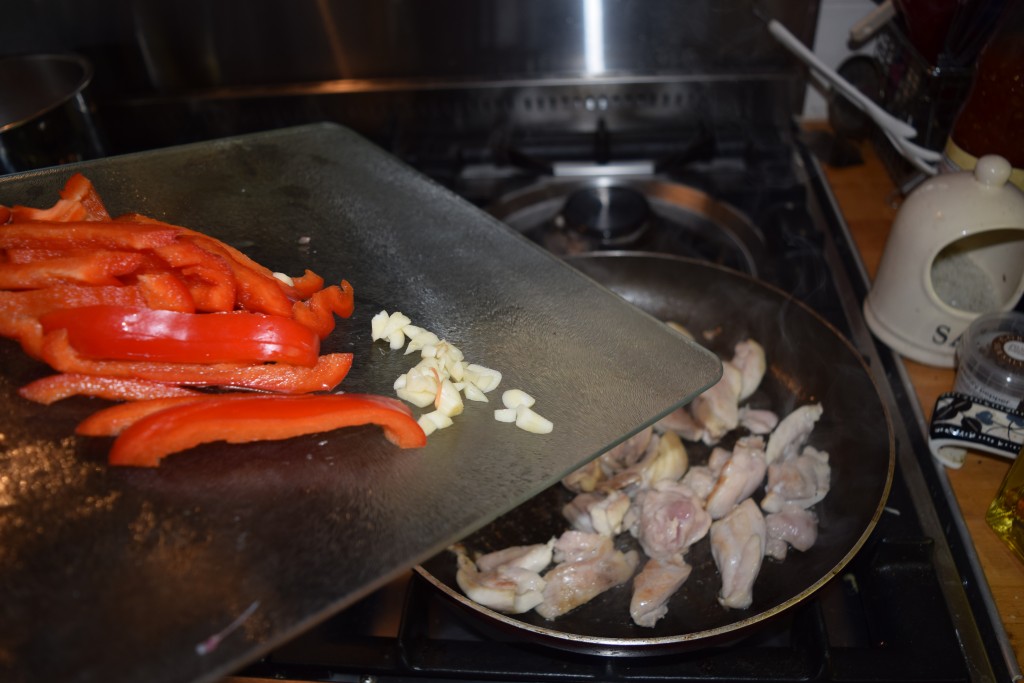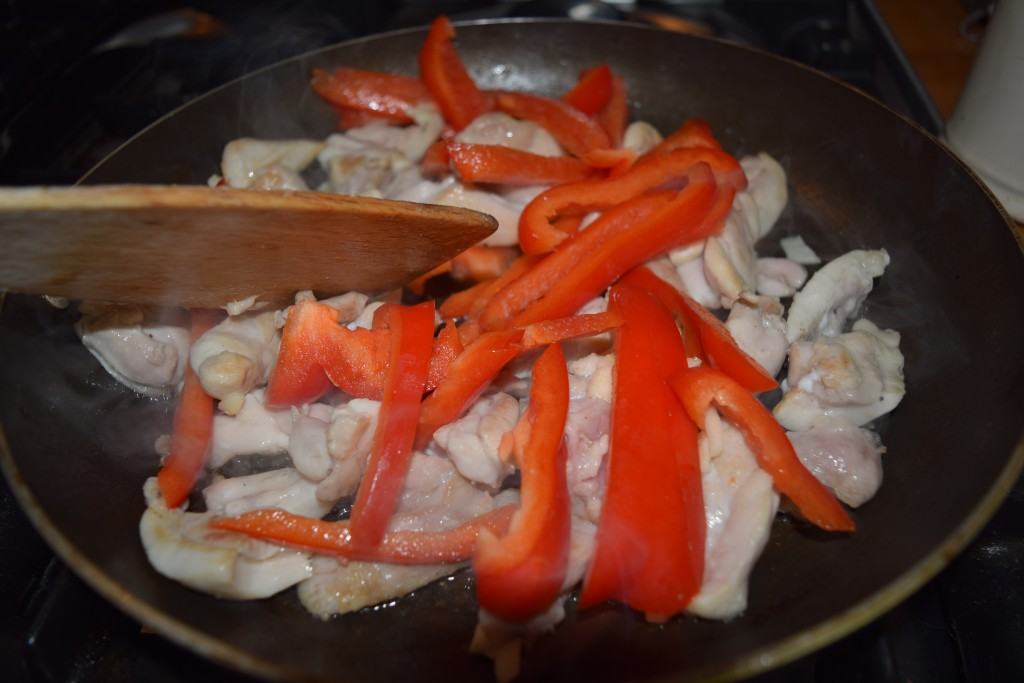 Stir through your juicy chopped mango, adding colour and fragrance to the dish.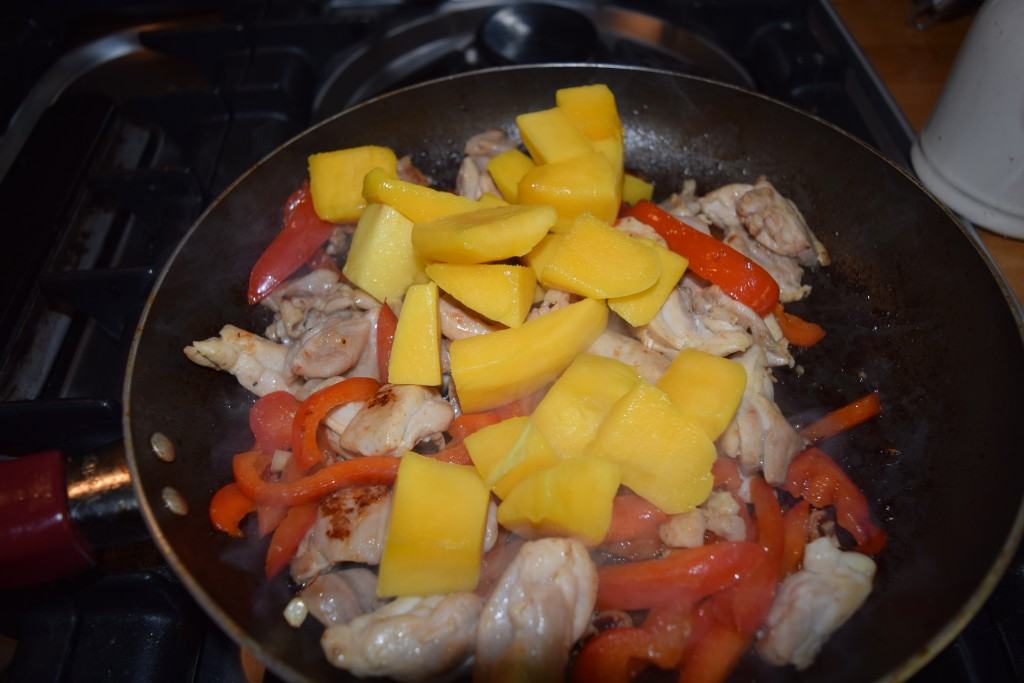 Add the half a jar of mango chutney, two teaspoons of vinegar and dried chilli flakes for extra warmth. Give this all a lovely stir to coat the chicken, peppers and mango. I then add a couple of tablespoons of water here to loosen the sauce.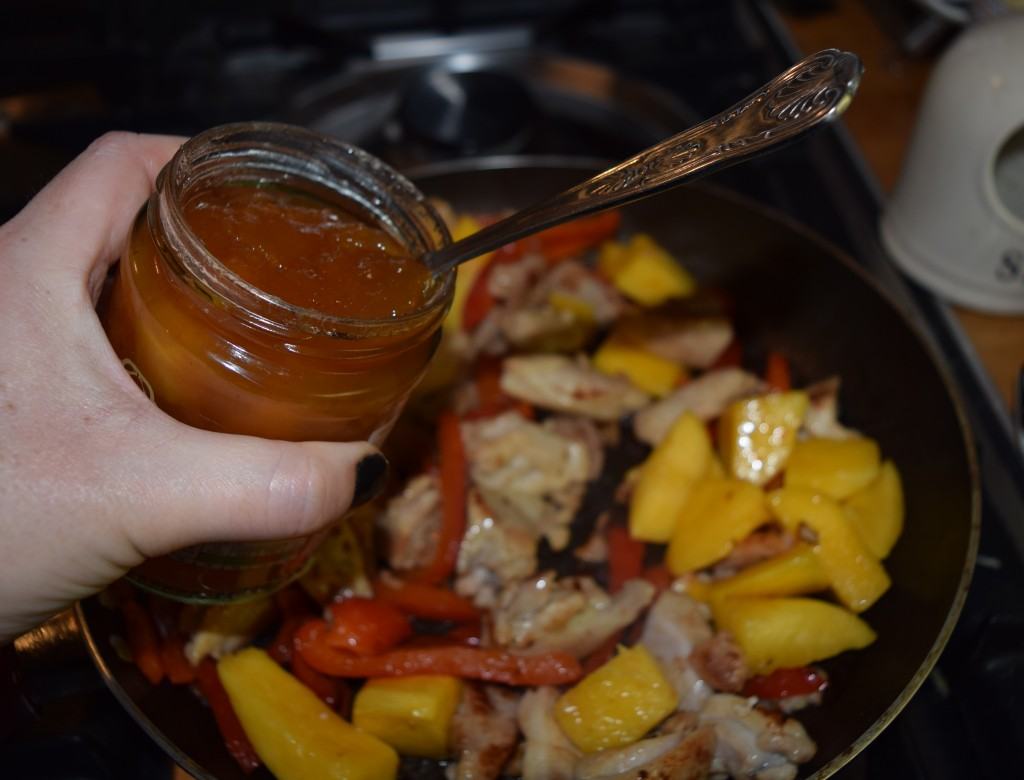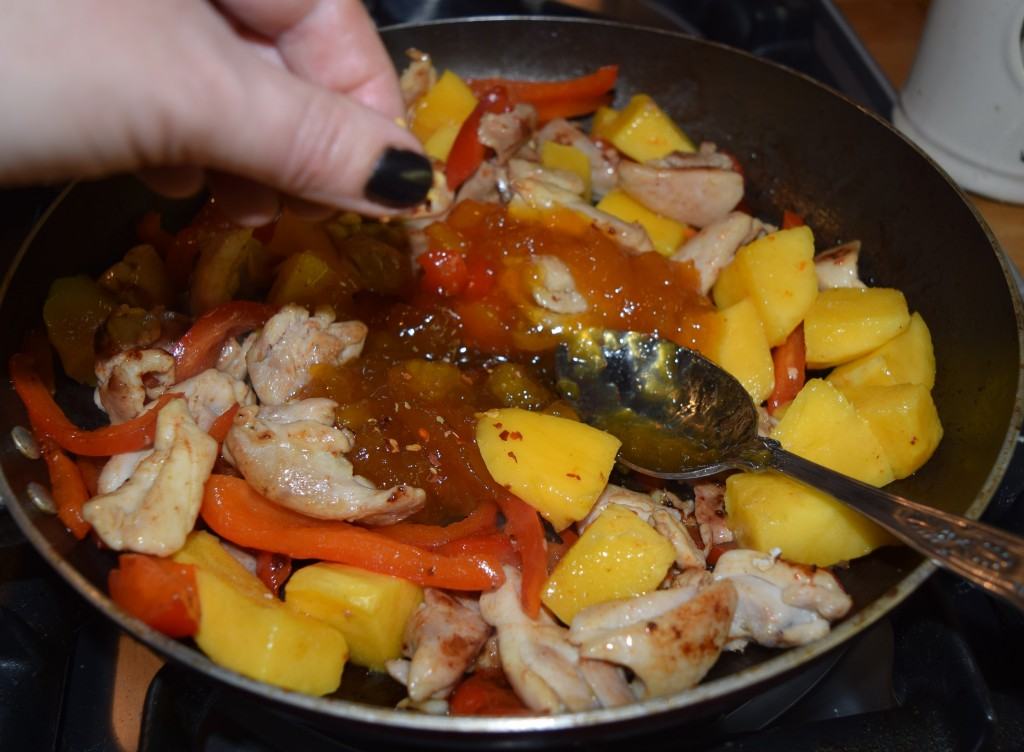 Taste this appetising dish to check for seasoning, adding salt and pepper where necessary. Let the dish simmer for a couple more minutes to ensure everything is piping hot and cooked through, then serve with rice, brown, white, sticky jasmine, it's your call.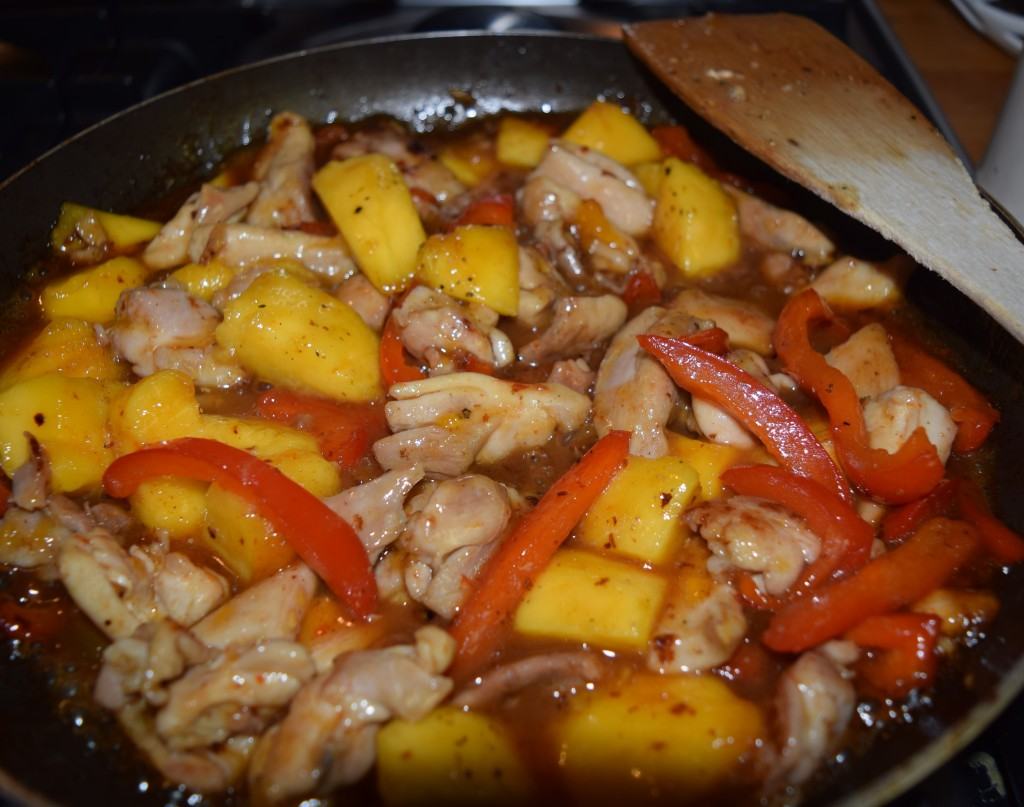 Sorry about the unimaginative final dish shots. We were so desperate to eat this wonderful supper I didn't take enough pictures and we didn't even have the obligatory green vegetable accompaniment. Shame on me.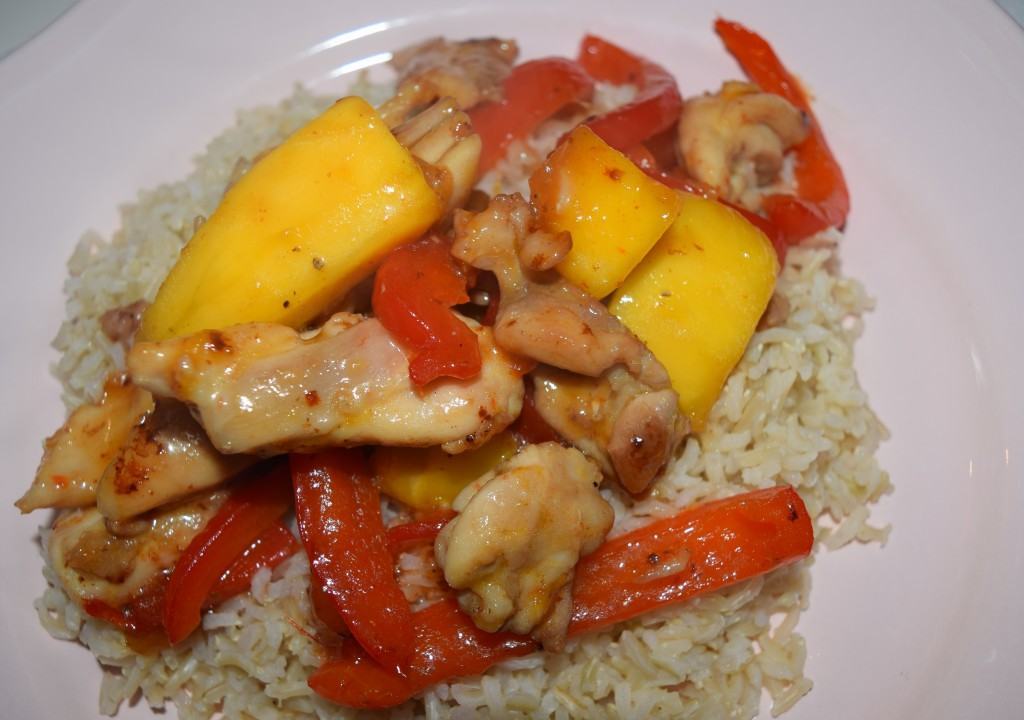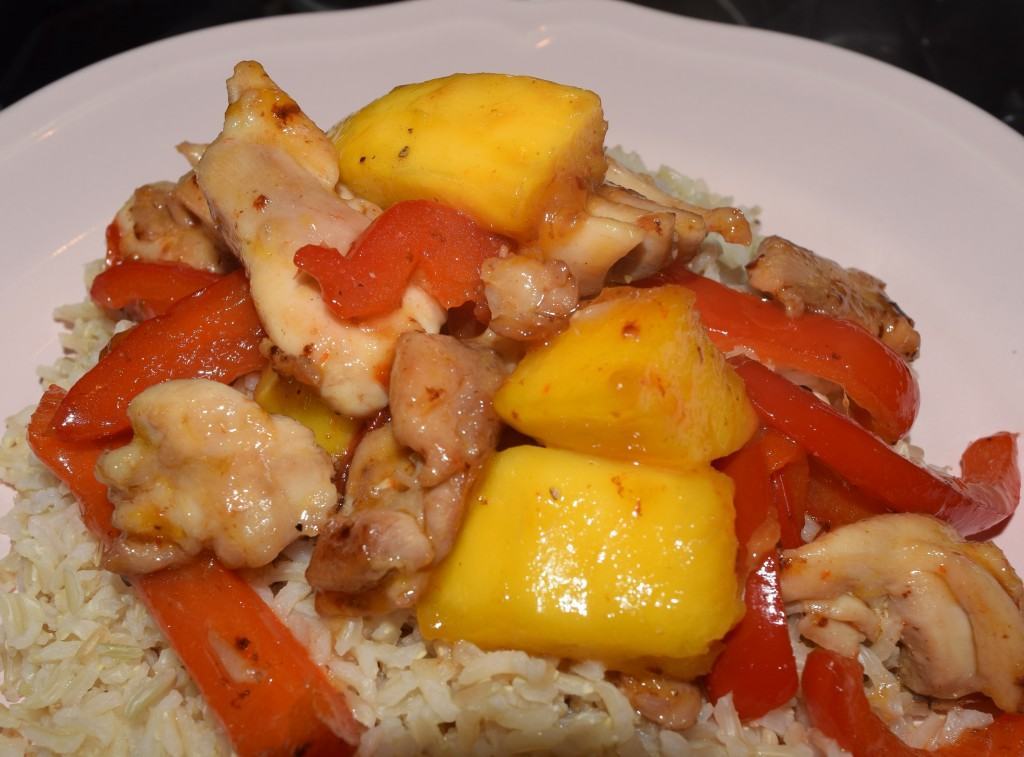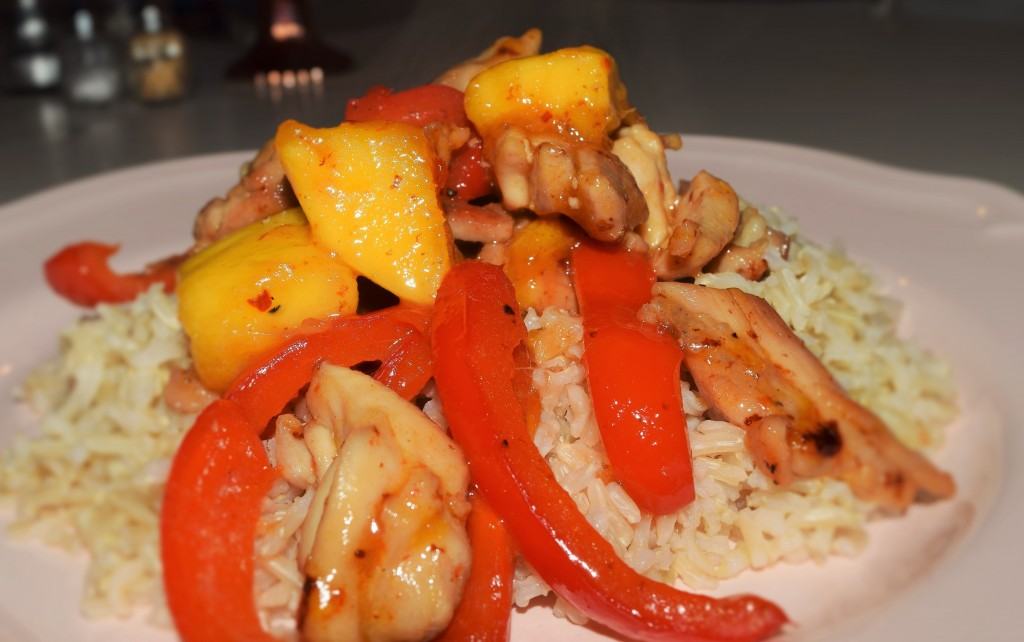 Put your fruit with meat prejudices to one side and try this flavourful dish. It puts the 70's into the shade and is so 2015.
Lucy x
Mango and Red Pepper Chicken Recipe
Serves 2 hogs or 4 less hog like eaters
You will need a big frying pan or wok
A splash of Wok oil or your usual oil
500g boneless chicken thighs or breasts
2 cloves garlic
1 red pepper
200g to 300g fresh mango (mine was pre prepared but I can imagine the fruit from a whole mango would be enough)
175g (or a good half a jar) of Mango Chutney
2 teaspoons vinegar – white wine, cider, whatever you have to hand
1/2 to 1 teaspoon dried chilli flakes, depending on how spicy you like things
approx 2 tablespoons water
Generous amounts of salt and pepper for seasoning
Rice and a green vegetable to serve
Heat a large frying pan or wok and add the oil. Cut the chicken of your choice into bite sized pieces then add this to the pan. Cook off for around 3 to 5 minutes until starting to brown. Cut the red pepper into strips and then finely chop the garlic. Add this to the pan to soften, without adding too much colour. Stir in the fresh mango then mix through the half a jar of mango chutney, dried chilli, vinegar and water. Give it all another good stir then simmer for a moment more. Check for seasoning, ensure the chicken is cooked through, then serve with freshly cooked rice, brown if you like. Devour immediately, in such haste, like me, you may well forget to add a green vegetable side dish.