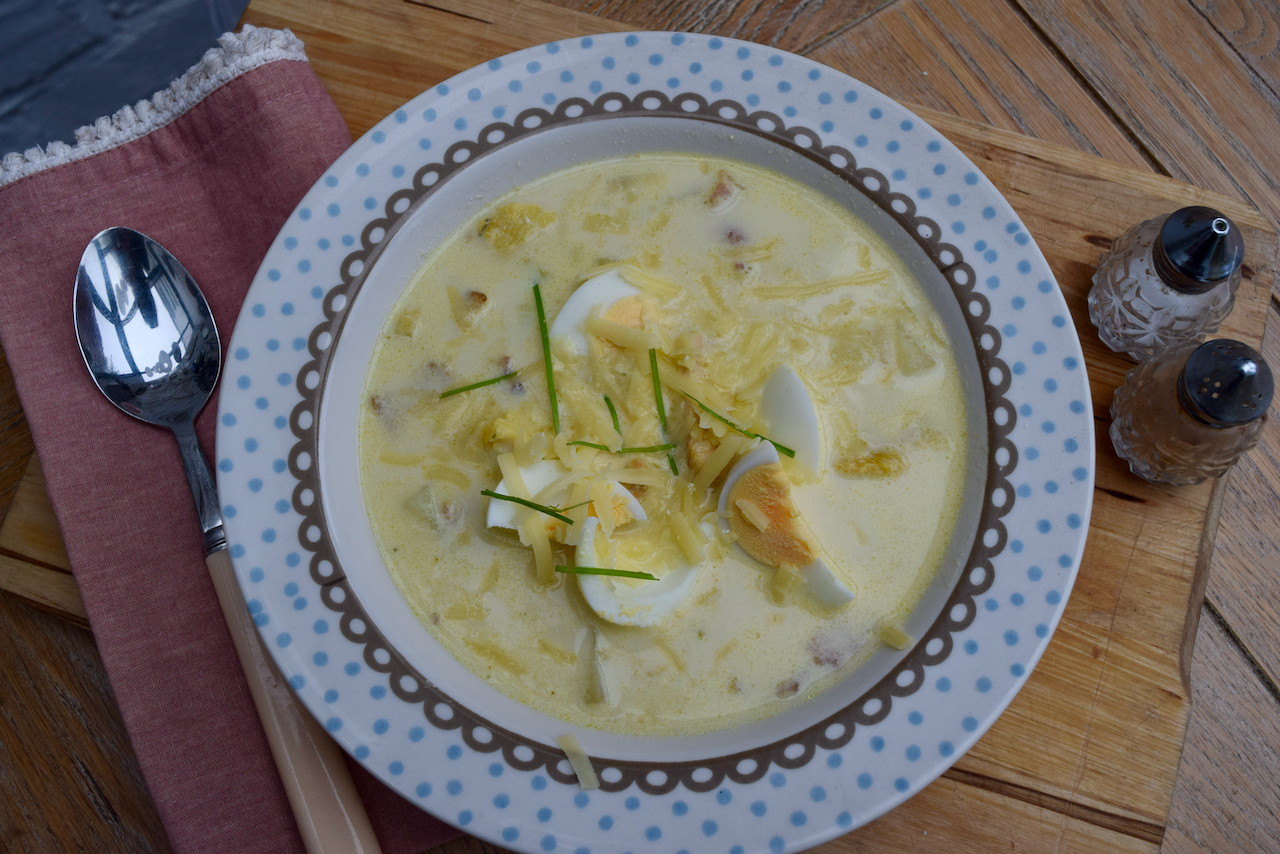 Fish Pie Chowder recipe
I love a fish pie as much as the next person but really have to be in the mood to make it. It's not difficult, it's just time consuming with the cheese sauce, mashed potato, fish to poach blah blah. I know we all have a bit more time on our hands at the moment what with there being bugger all else to do, however, I draw the line at a mid week fish pie. My Fish Pie Chowder, however, has all the bits of a fish pie you love, without the bits you don't.
My family are often a bit sniffy about soup. They feel it's more of a snack than a main course. This Fish Pie Soup is oh so much more than a snack. It's rich, filling and I top it with some cheese and chopped egg for the full fish pie experience. The fish part is, geniously, a bag of frozen fish pie mix I had buried beneath 65 overripe bananas I am keeping for a lot of banana bread. This gets added, at the last minute, to a rich mixture of leeks, bacon, potatoes and cream. You can drop in some prawns too, if you're feeling particularly swanky, leave out the bacon for pescatarians or add corn or spinach if you're feeling vitamin deficient.
It's cold, it's grey and pubs are still shut; chowder is the way forward. Comfort in a bowl, which you haven't had to lose your sense of humour making. Who needs the pub? Me, I'm afraid.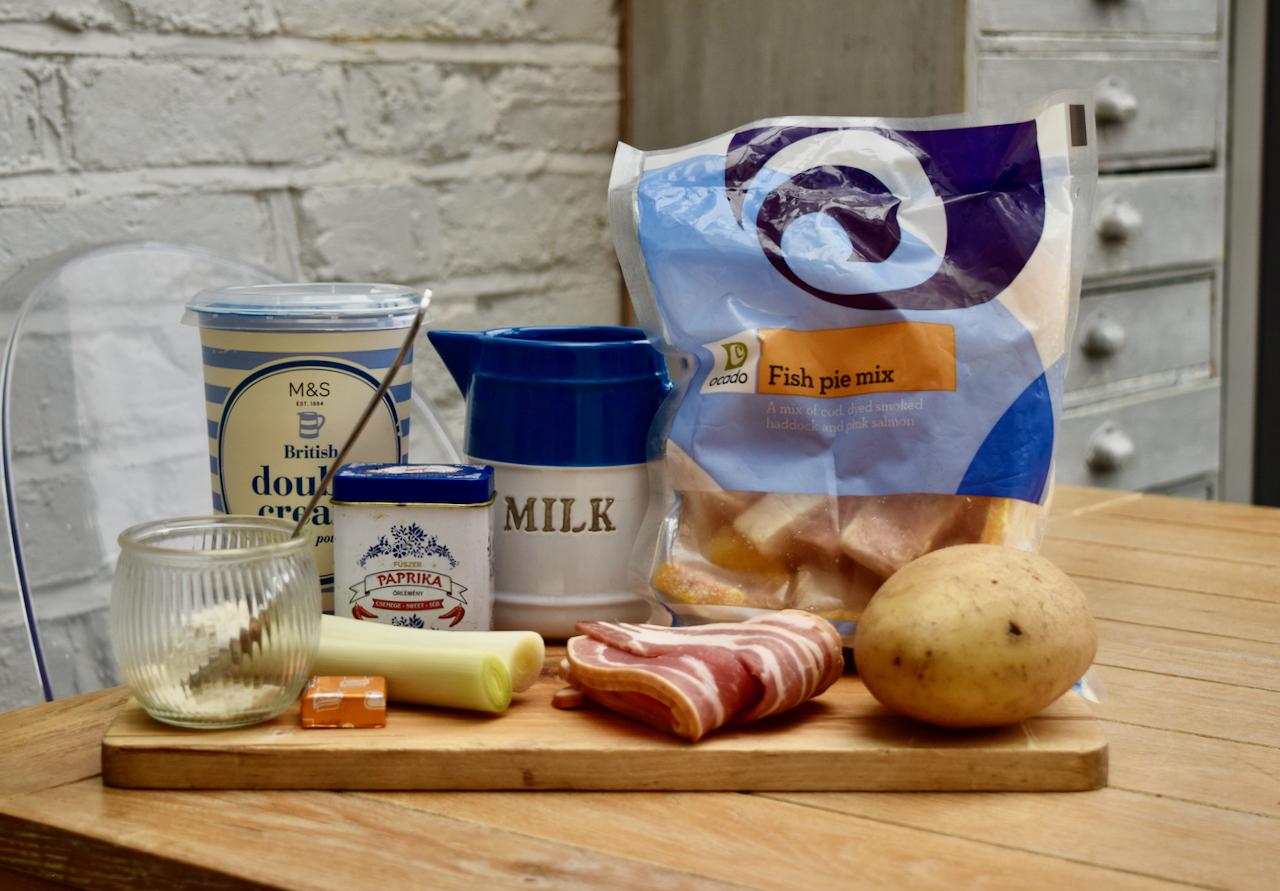 This recipe is literally the result of a freezer forage, my love of fish pie plus a helping of lethargy. Pretend the stock cube is a fish one, it's not, I only had chicken but it didn't seem to matter. Likewise, I had a couple of leeks to use up, but an onion would suffice.
This recipe, unlike its namesake, is ready in about 30 minutes (35 if you're slow), including prep, so start making this hungry. Get a couple of eggs on to boil (I cook mine for 7 minutes once they come up to the boil), run under cold water then leave to cool and peel for the garnish later. Next take a large pan, heat a tablespoon of oil then add the chopped leek or onion with the bacon and cook for about 5 minutes or until soft.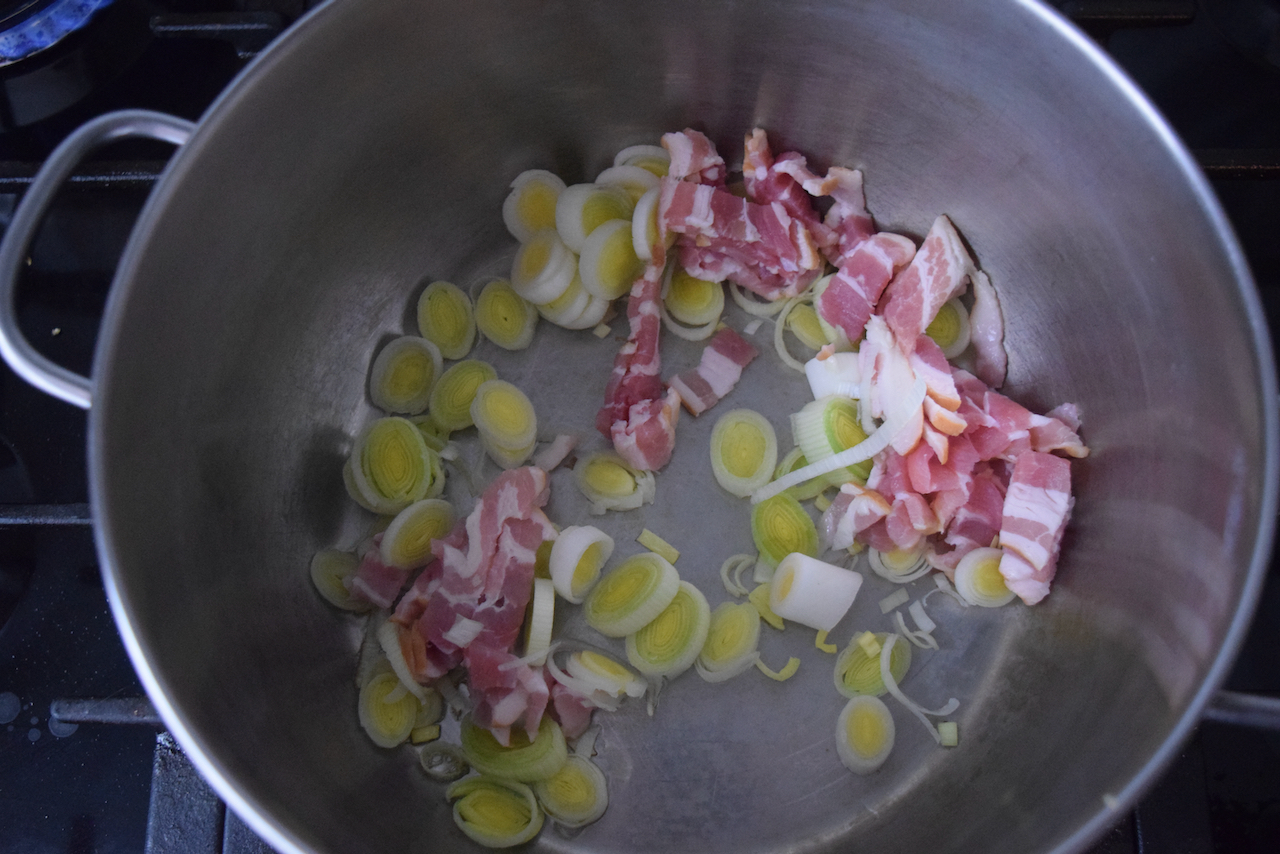 You don't want any colour, don't think crispy here. Next, stir in the tablespoon of plain flour and cook for a minute.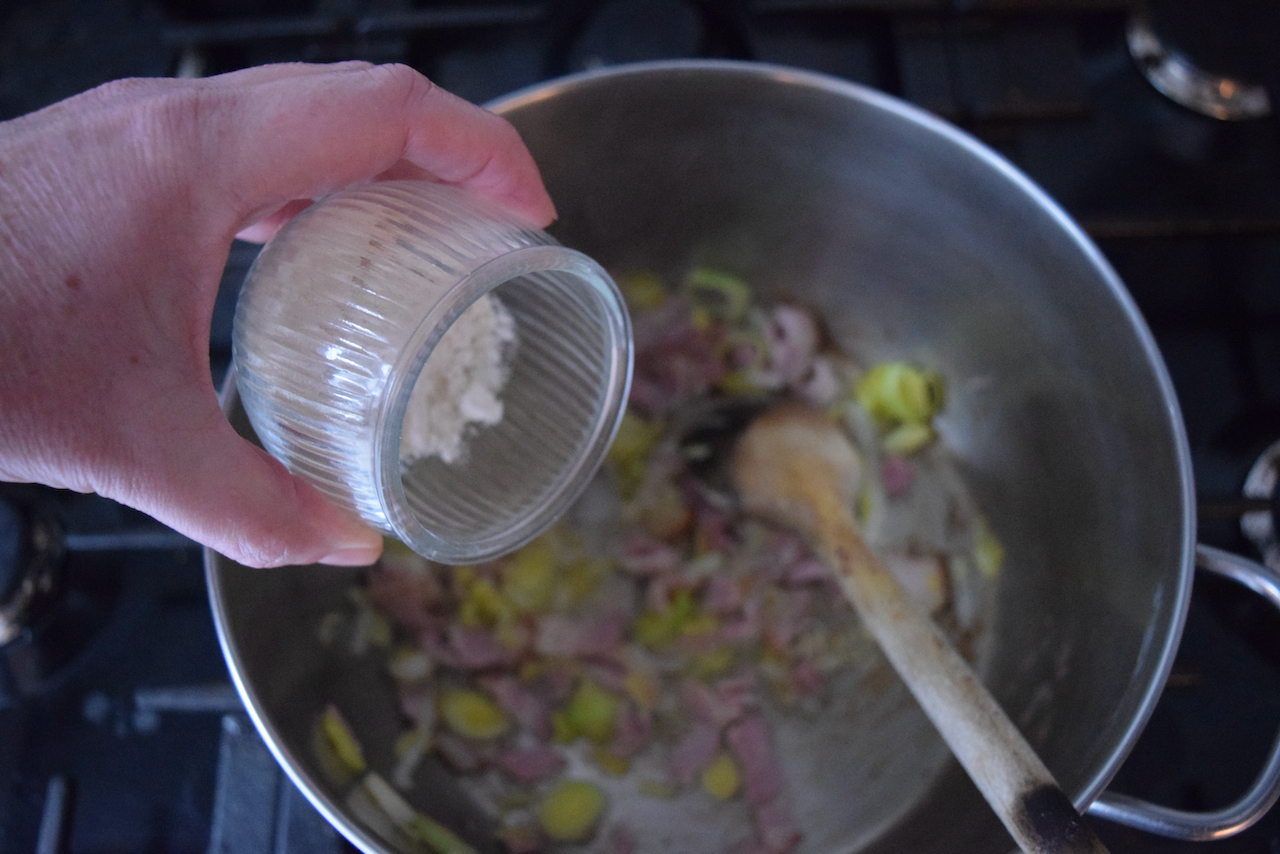 Now pour in your stock (chicken in my case, although fish or vegetable probably best), stir well until smooth. Add your peeled and cubed potatoes then bring up to the simmer.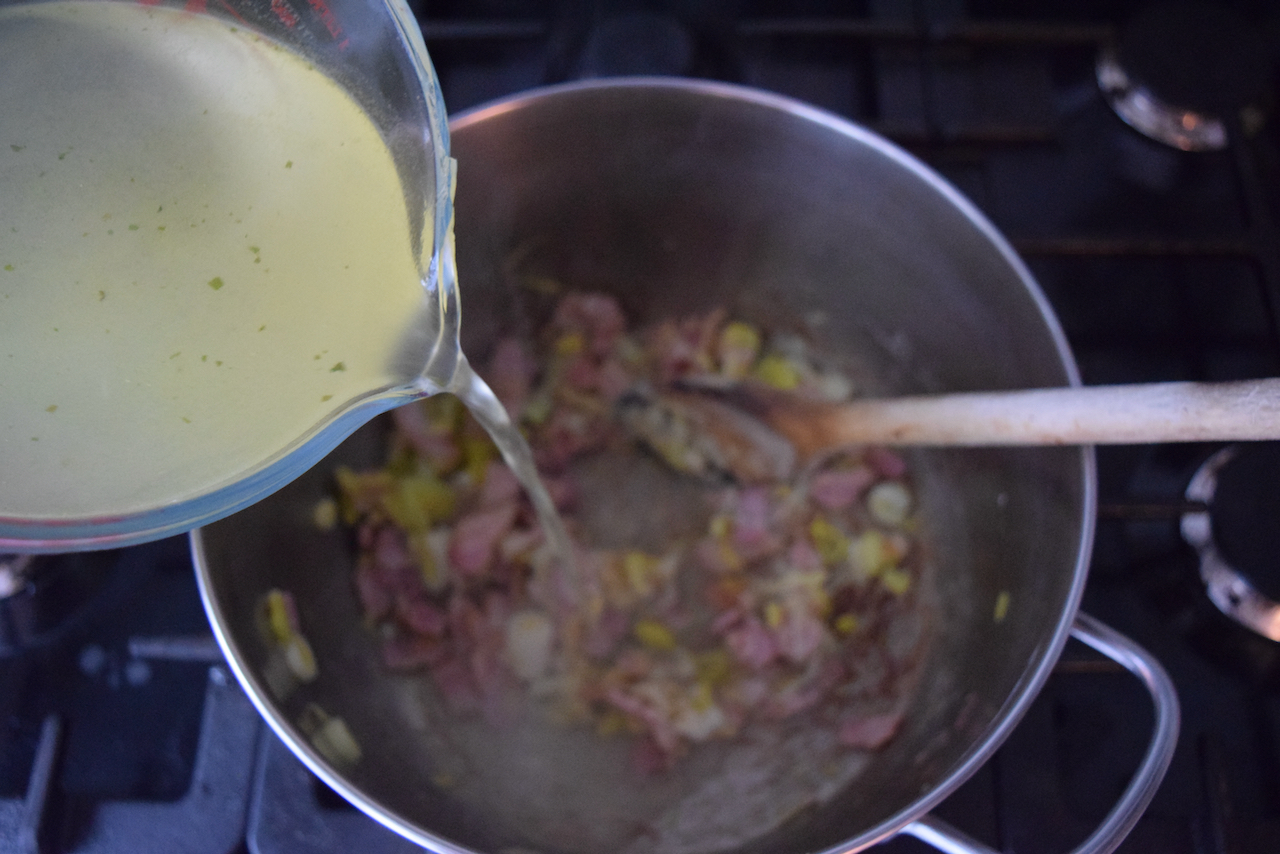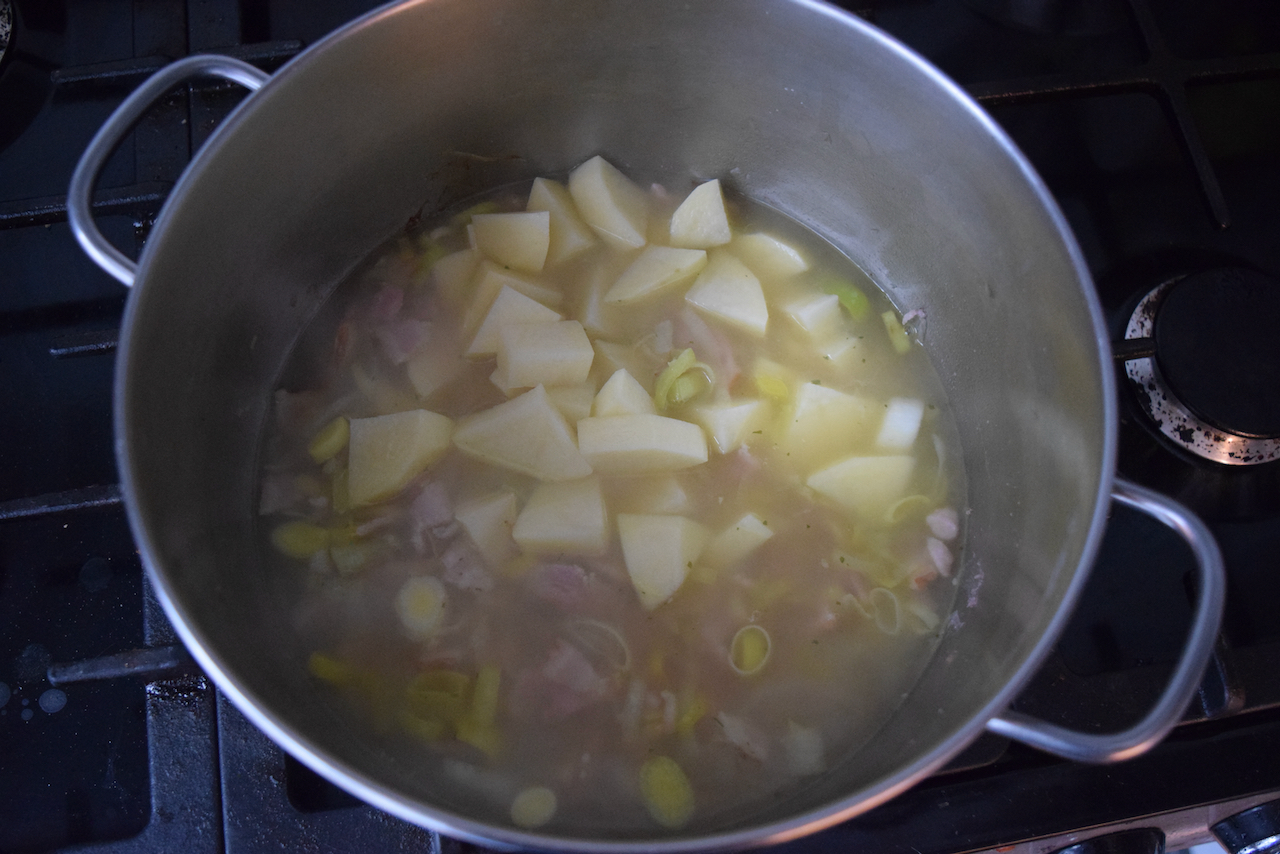 Add the pinch of paprika or cayenne, stir, then pop a lid on for around 10 minutes until the potatoes are just cooked.
After 10 minutes pour in the milk then add the fish and stir.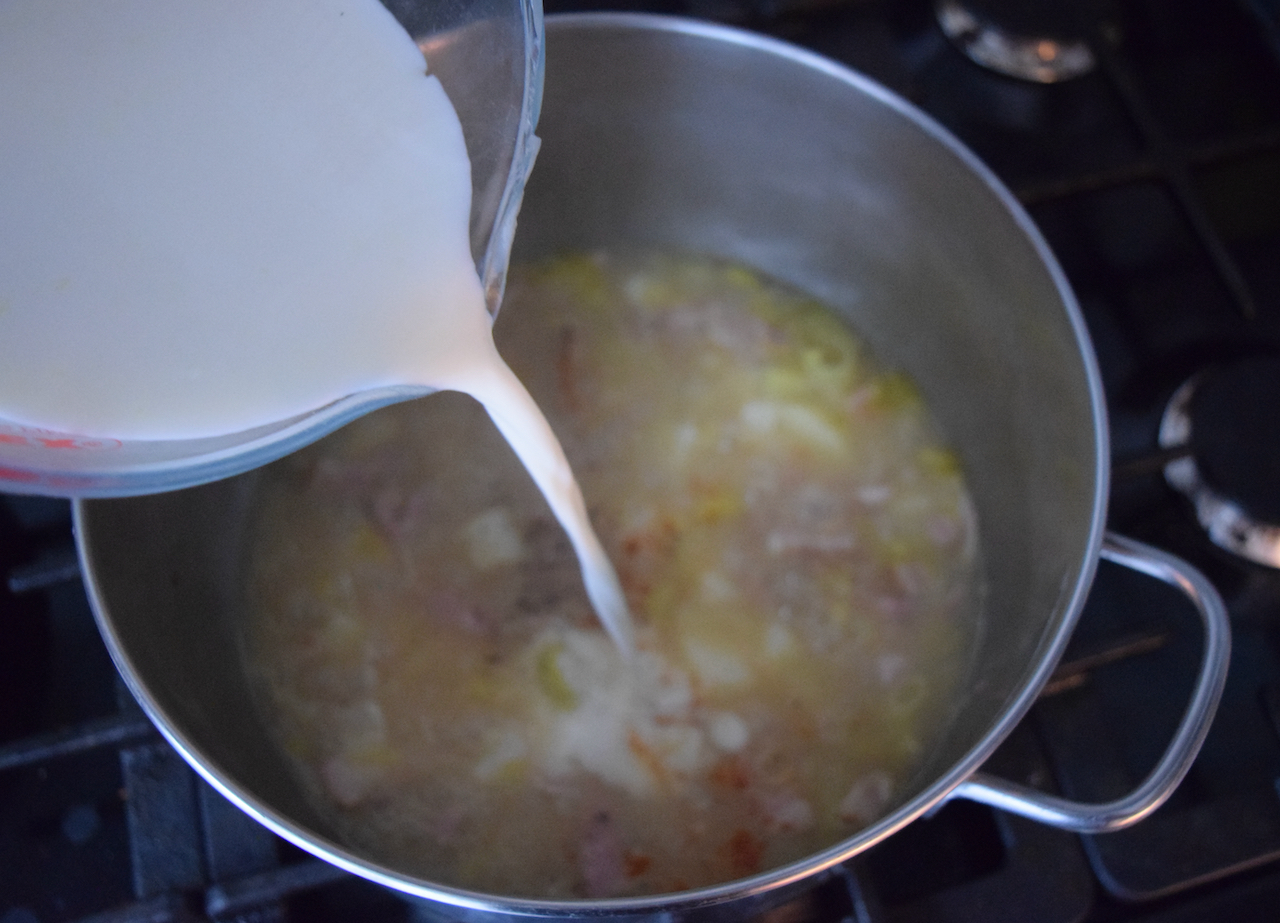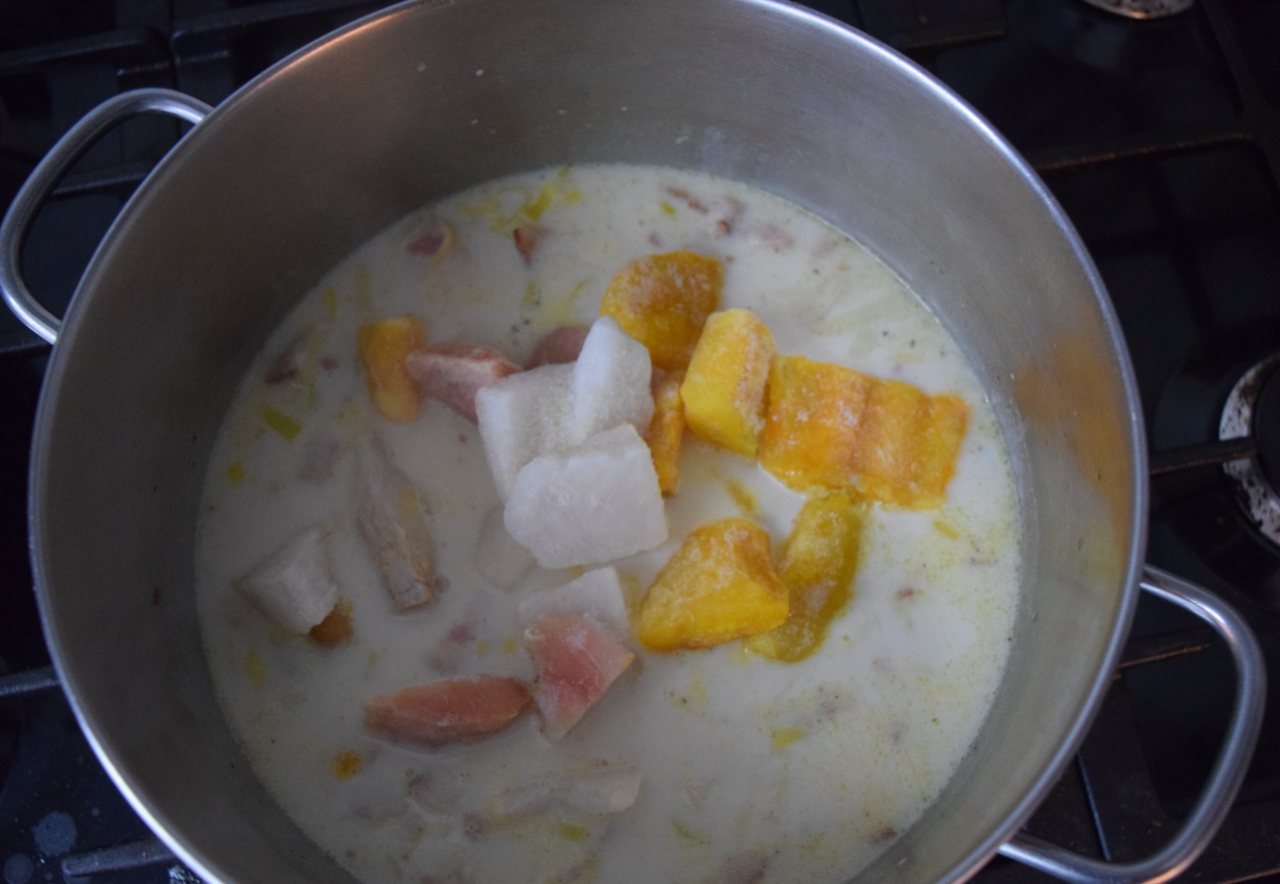 Simmer for about 4 minutes until the fish is just cooked. My fish was frozen, if yours is fresh, just cook for 2 minutes.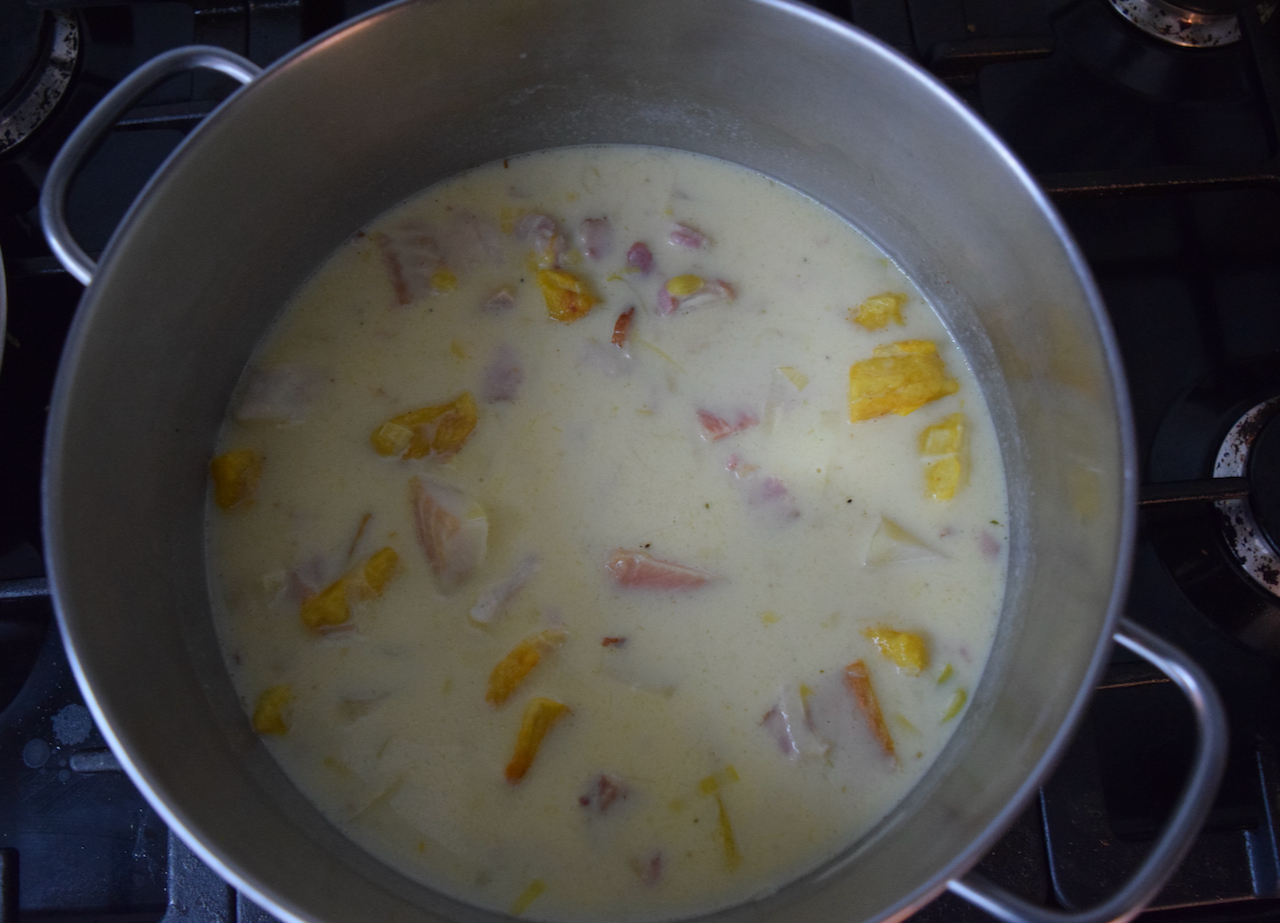 Finally stir through 4 tablespoons of double cream and bring back up to a gentle simmer. Taste a huge mouthful then season with plenty of black pepper, and just a touch of salt.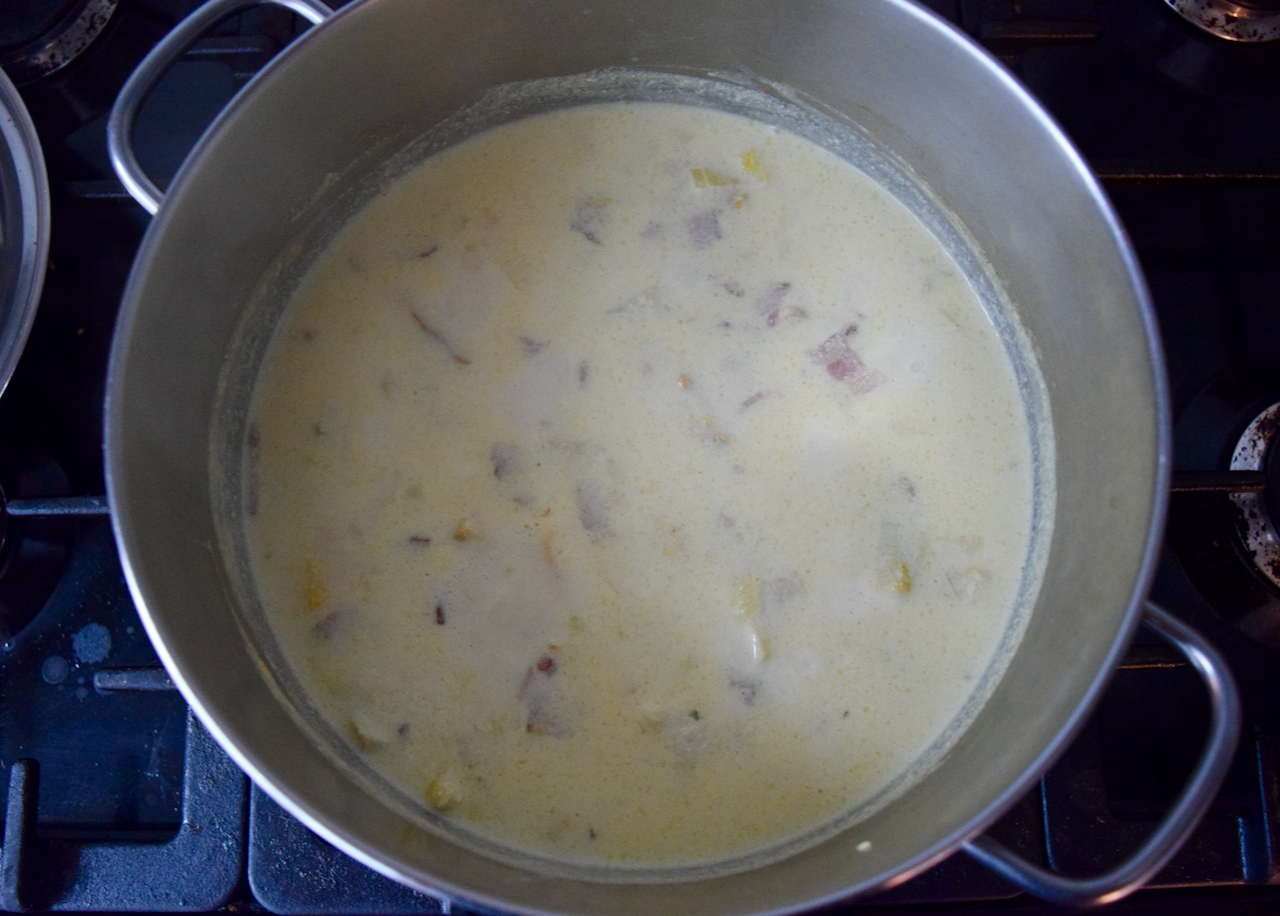 All that's left to do now is ladle generously into a bowl and top with plenty of grated cheese and your chopped hard boiled egg.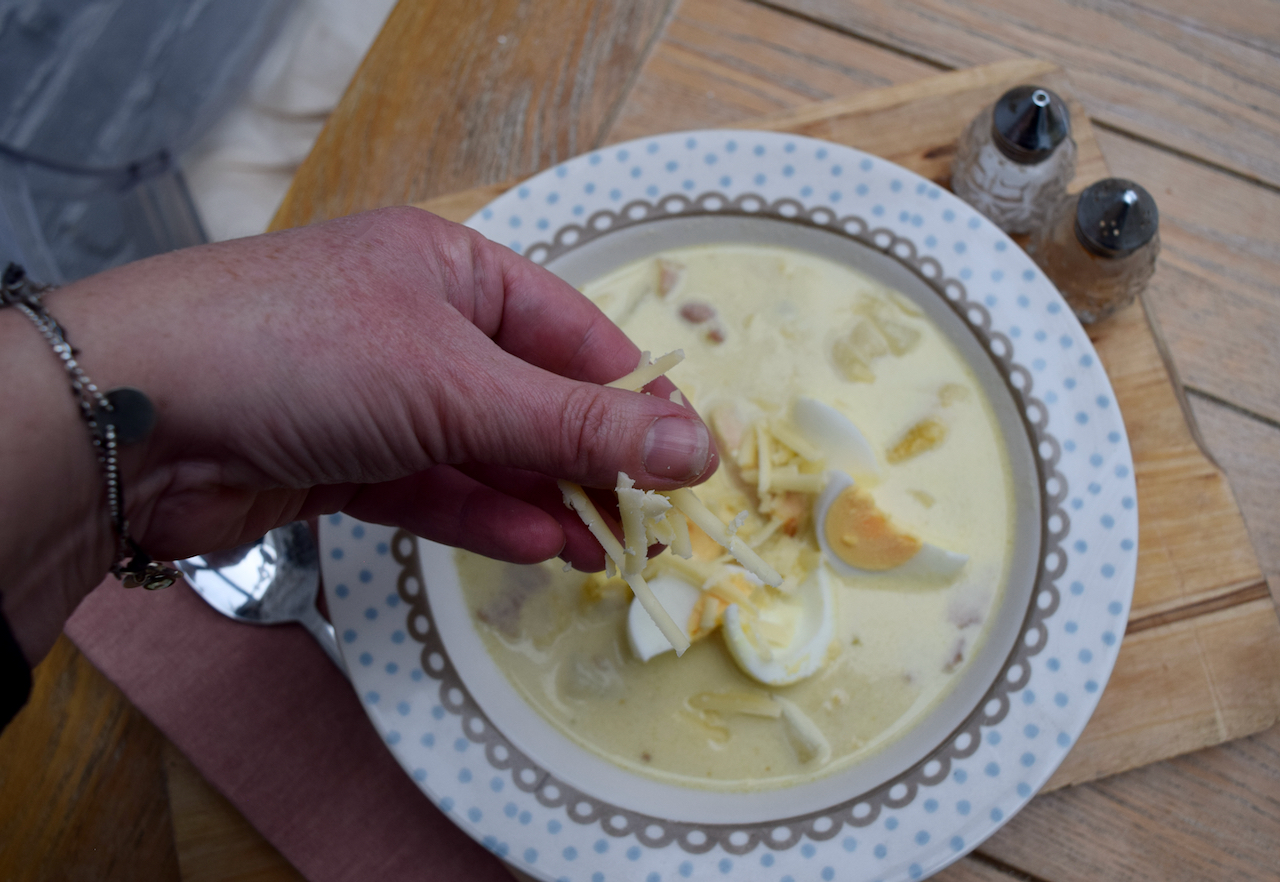 A touch of parsley if you have any, or 2 sad chives from my rain soaked herb garden make a smashing garnish.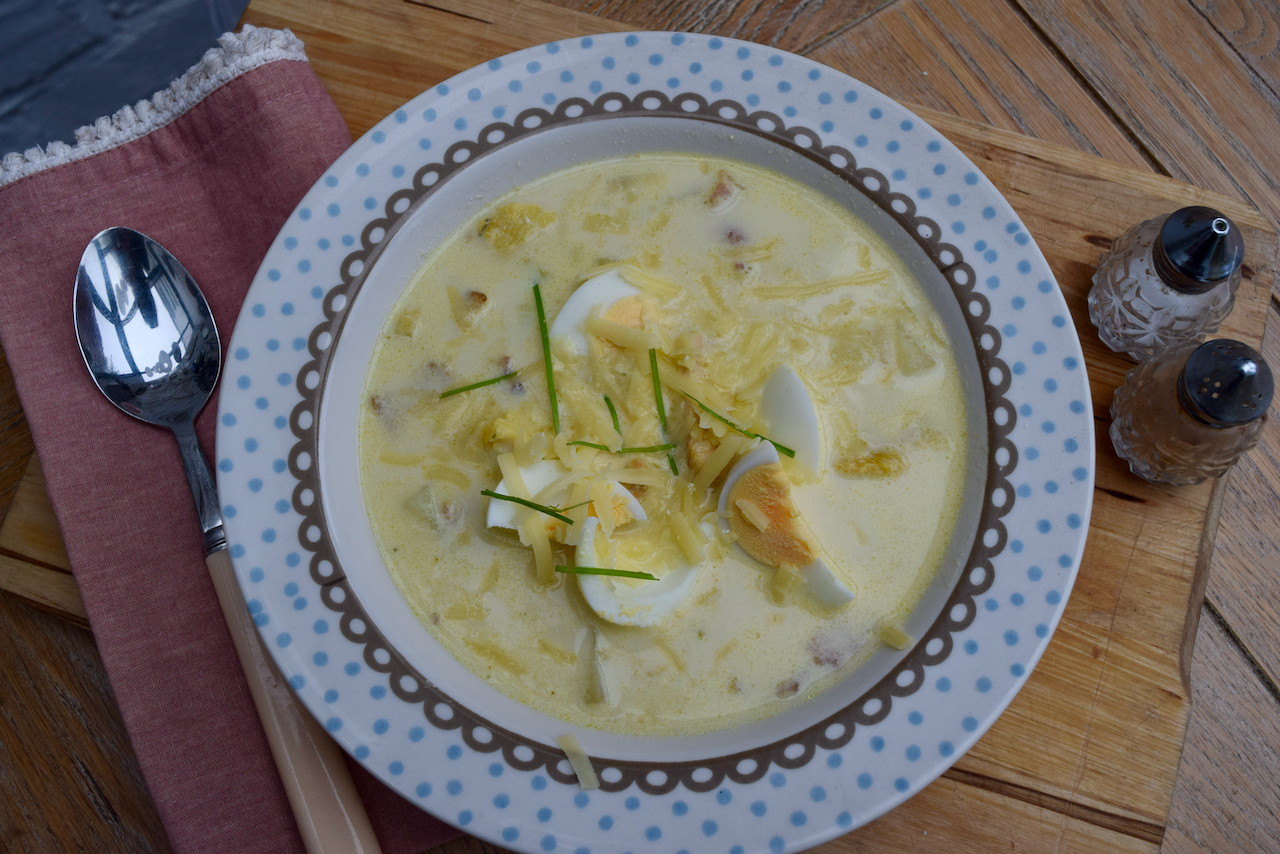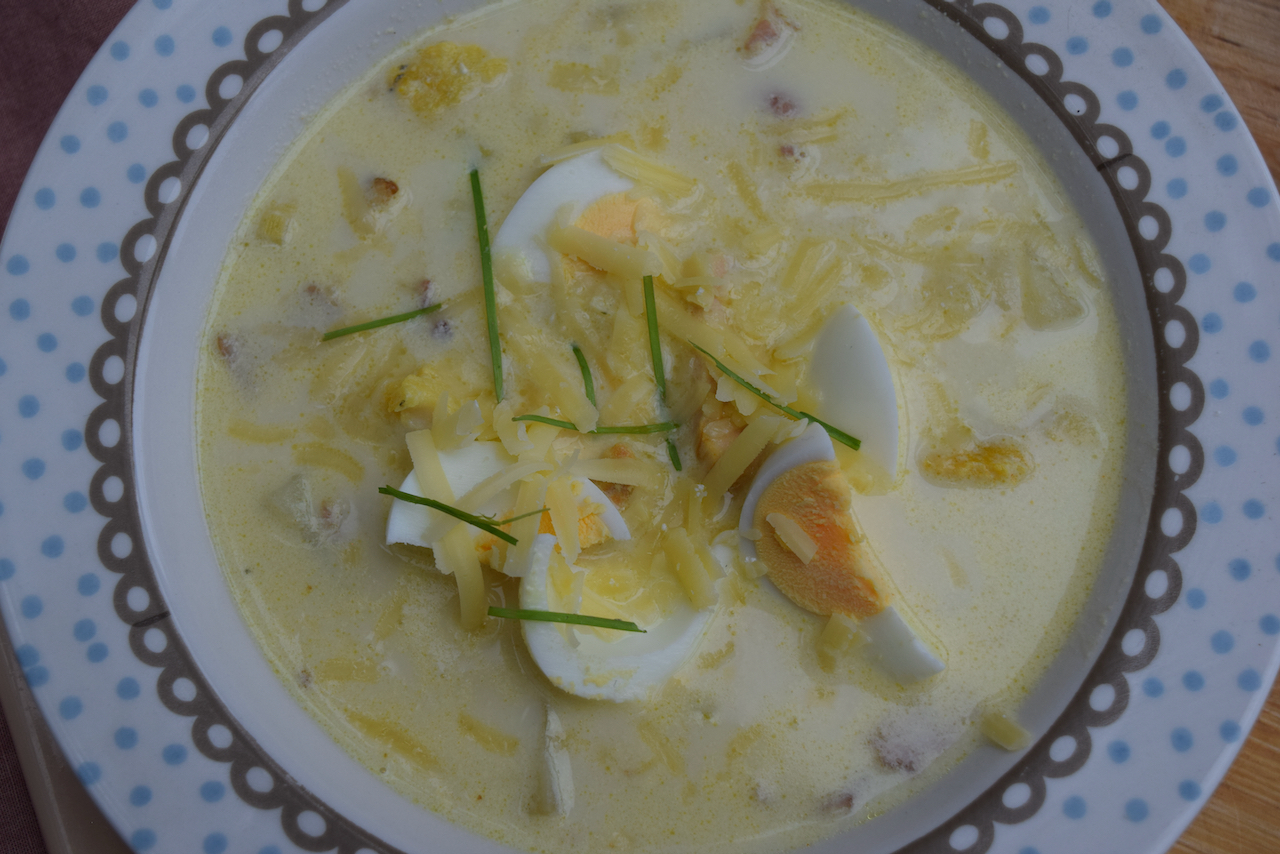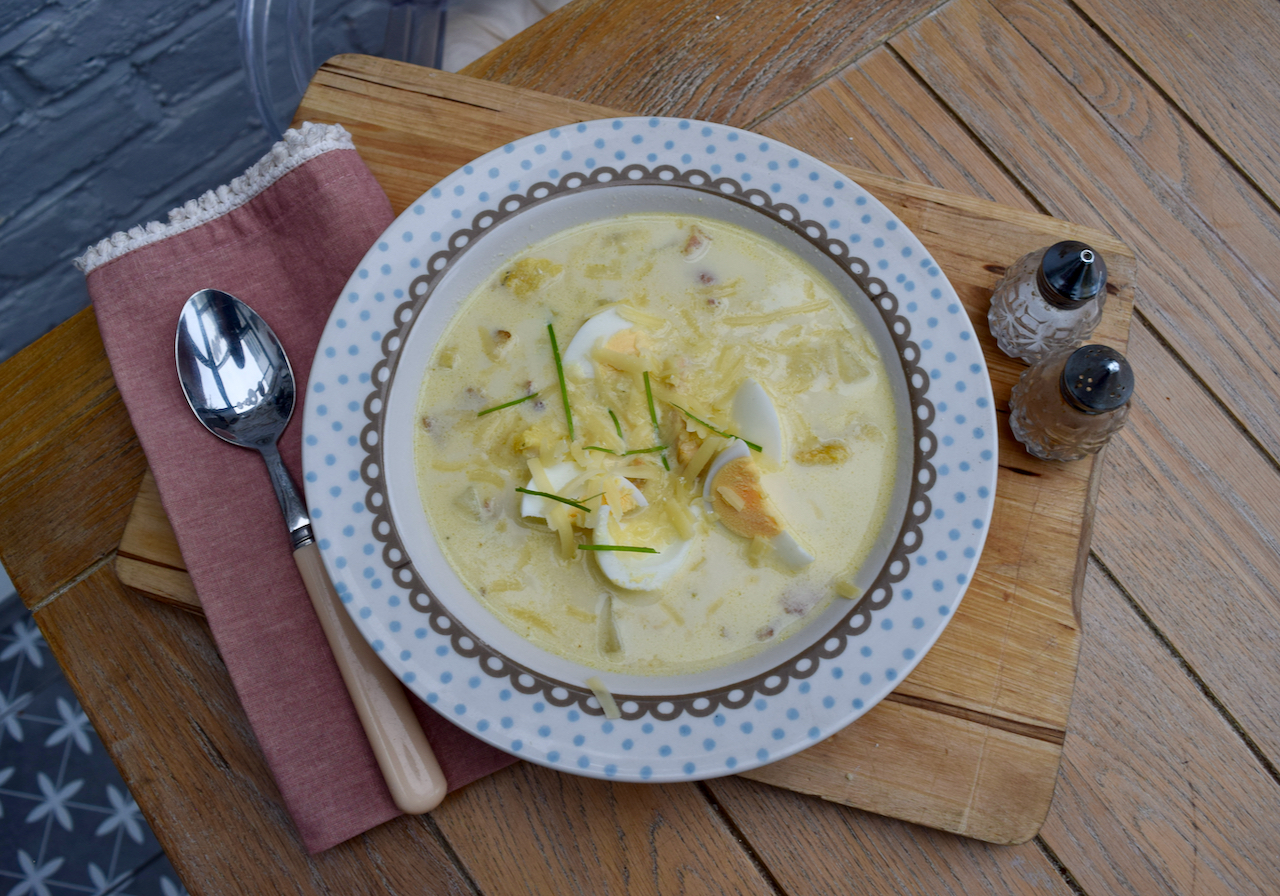 This recipe came to me after a rubbish nights sleep when I should have been doing a Zoom exercise class. My lack of fitness motivation is your gain. You're very welcome.
Lucy x
Fish Pie Chowder recipe
Serves a good 4 people
You will just need a large saucepan for this
1 tablespoon oil
1 leek, or a small onion, peeled and chopped
100g bacon, I used streaky, chopped
1 tablespoon plain flour
600ml fish or vegetable stock, chicken at a push
250g potato, peeled and cubed
a pinch paprika or cayenne
300ml milk
400g fish pie mix, mine was frozen, fresh would be fine
4 tablespoon double cream
Salt and black pepper, to taste
Grated strong cheese, chopped boiled egg and parsley or chives, to garnish
If you're going to top your chowder with some chopped eggs then get a couple on to boil for 7 minutes then run under cold water to cool, then peel.
Take a large saucepan and add the tablespoon of oil. Heat over a medium flame then add the chopped leeks or onion with the bacon. Cook for around 5 minutes until the leek/onion is soft and the bacon just cooked.
Stir in the tablespoon of flour, cook for a minute then gradually pour in the stock and stir well until smooth. Tip in the cubed potatoes, add the pinch of paprika or cayenne then bring up to the simmer then put a lid on and cook for around 10 minutes until the potato is just cooked.
Take the lid off, pour in the milk and add the fish (I added mine straight from the freezer) and simmer for around 4 to 5 minutes. If your fish is fresh, cook for 2 to 3 minutes.
Stir in the cream, check for salt and pepper needs then bring up to a gentle simmer. Garnish the piping hot soup with a generous sprinkle of grated cheese and the chopped hard boiled egg. A leaf or two of chopped parsley or some chives would be lovely too.