Simple Pizza Dough Recipe
This is a versatile and simple pizza dough recipe. A great one to have in the bank and it will undoubtedly make you look like mother, or father, husband, or wife, of the year when you rock up with this for supper on a week night.
Toppings are frankly your call. My family are predominantly meat lovers, so I topped mine with sausage, chorizo, bacon and oregano. But these are really a matter up for discussion. I prefer a spinach and egg type affair, but I rarely get a look in and just end up eating George's crusts. So just top as you wish, but I would recommend a simple tomato sauce for the base, either from a jar of passata or a tomato and basil style pasta sauce or homemade if you are an overachiever, but nothing too fancy and not too much of it or the base will be soggy.
Speaking of bases, I have, since making the pizza in this post, read an article about using terracotta saucers (the type used for under plant pots) as pans to cook pizza's on. These are to be used in your domestic oven to ensure well cooked bottoms. Am scuttling off to Homebase as I type, so will keep you posted. *newspaper reports oven exploding in the SW14 vicinity*
This recipe makes one large and one smaller pizza. I would say enough for four hungry children, or two children and two adults or two teenagers or one teenager, you know your family's appetite better than I do.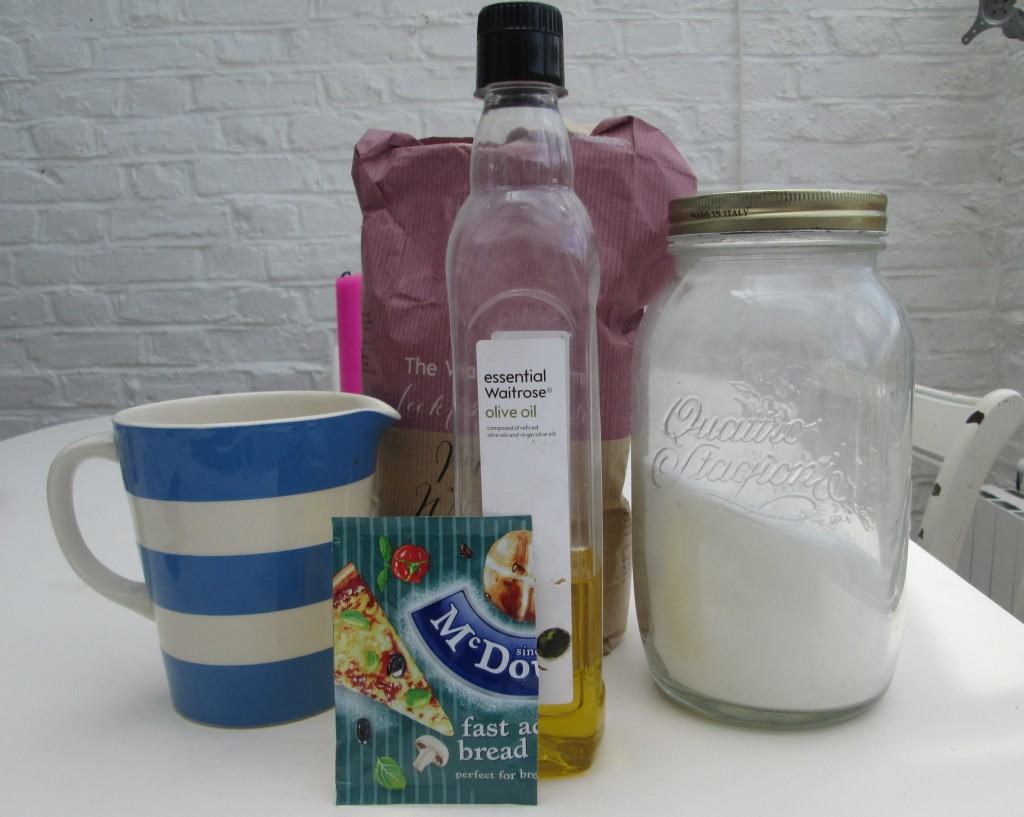 Its a fairly standard issue line up, nothing too alarming to see here. The yeast to use is the one in the sachets that you don't need to add to water first. I just used plain flour, as this is what I had in the cupboard, but do feel free to use strong white bread flour if you have it.
Add the flour, yeast, salt and sugar to your stand mixer or bowl. I used the Kitchen Aid here as it comes into its own for bread and pizza with its lovely dough hook.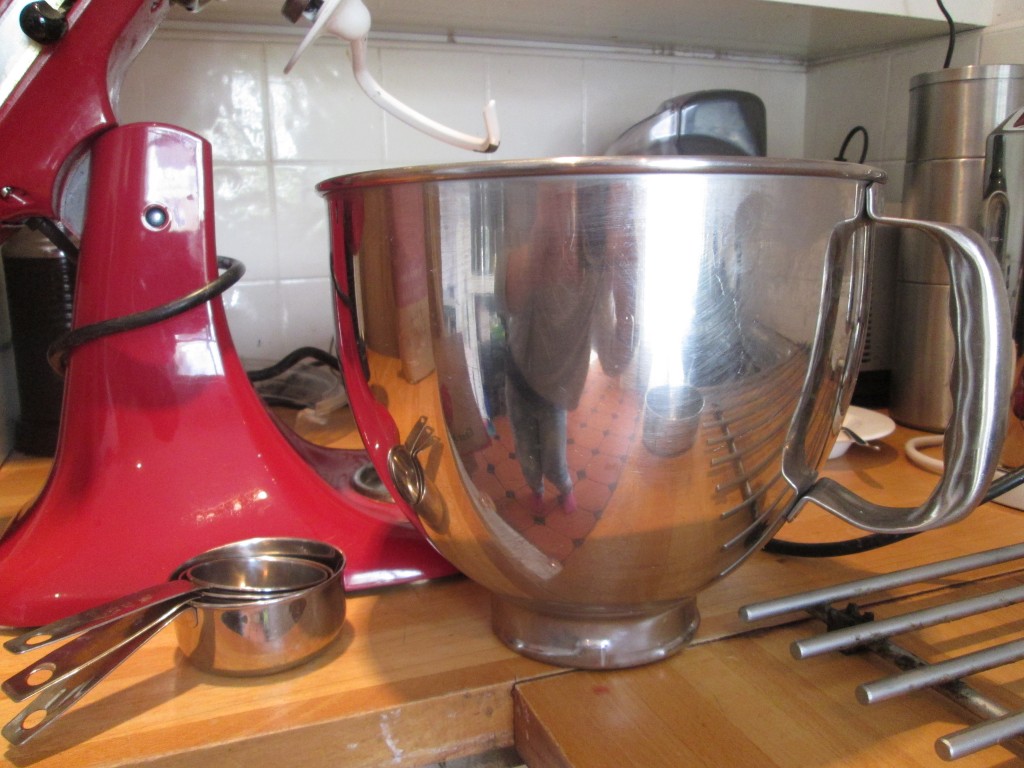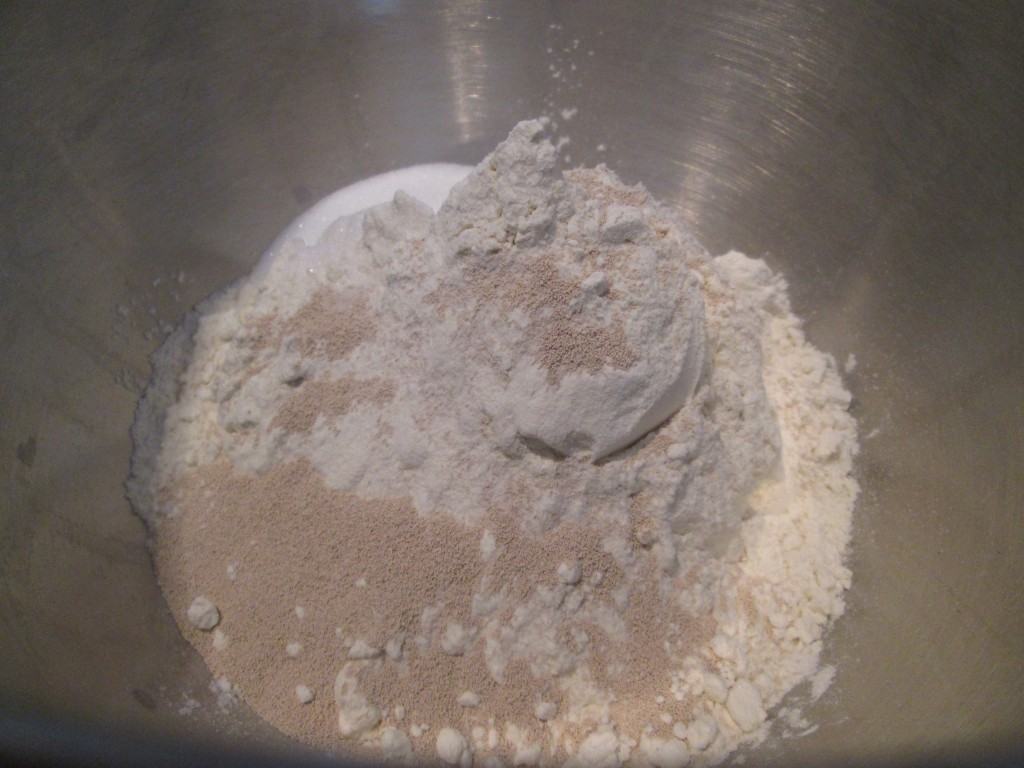 Mix these together then measure out your hot water (tap hot is fine) and add the 2 tablespoons of olive oil, then slowly add this to the flour and yeast mixture. I did this with my dough hook, but you can mix this with your hands and then knead manually with no real drama or exertion.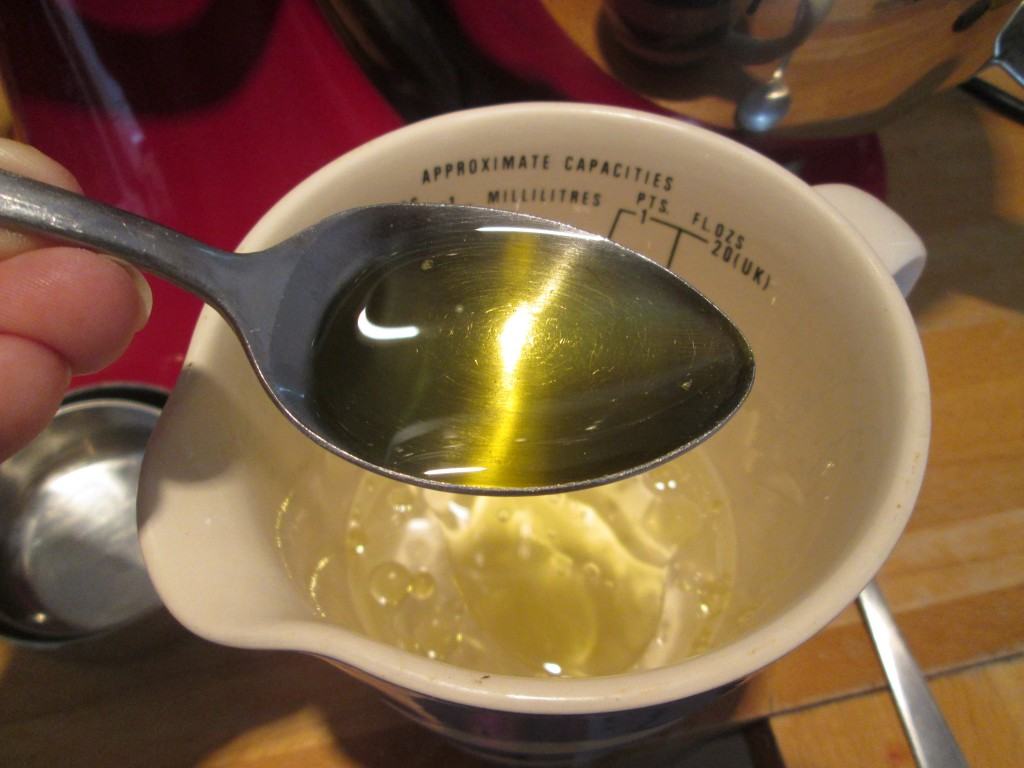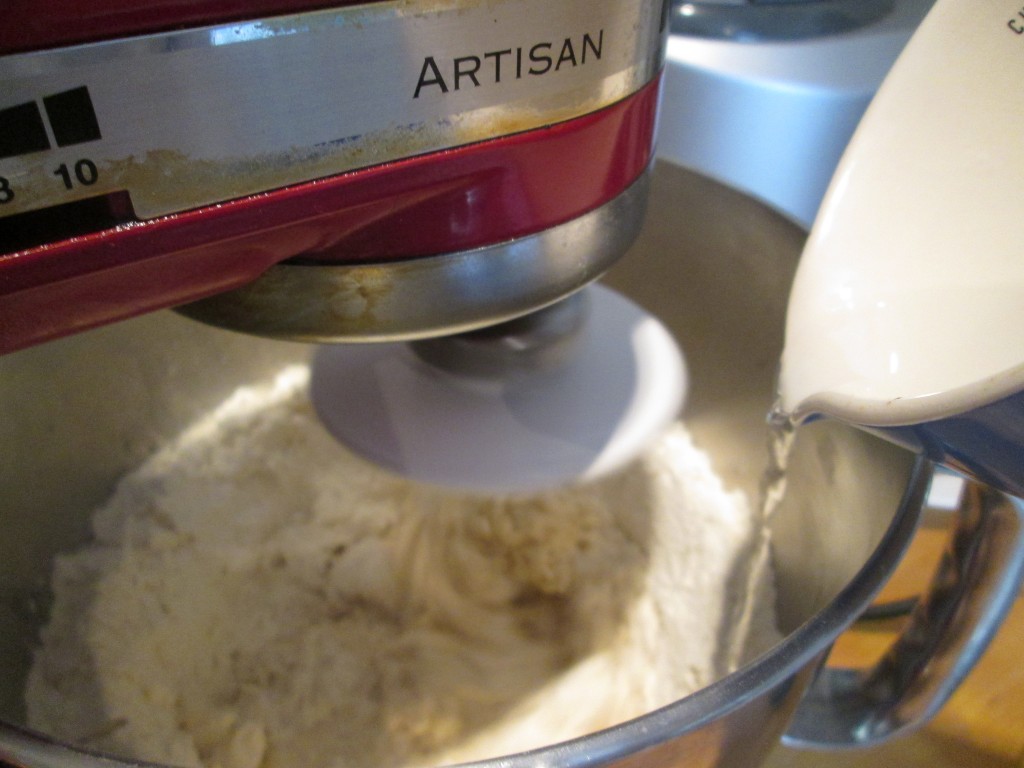 Bring the ingredients together so they form a soft dough. The softer the better so add a drop or two more warm water if the mixture is too dry.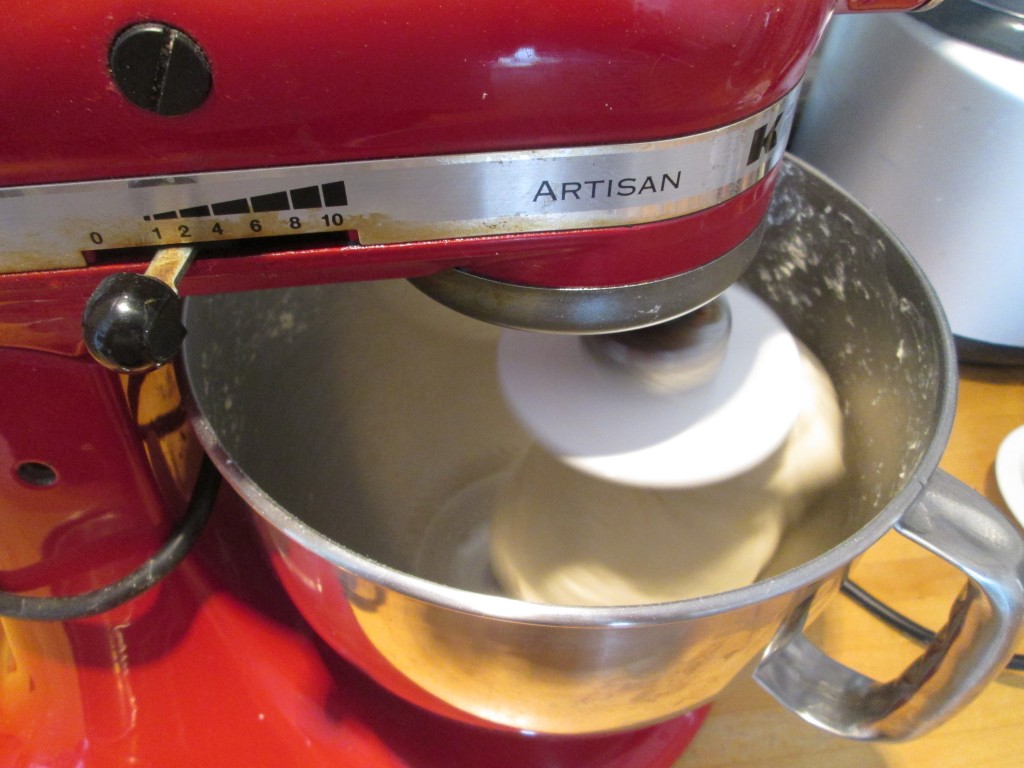 Then knead this in the machine for around 5 minutes or for the same time by hand. The resulting dough should be smooth and soft, but not sticky. Add a little olive oil to the mixing bowl and use this to coat your finished dough so it doesn't stick during the rising time.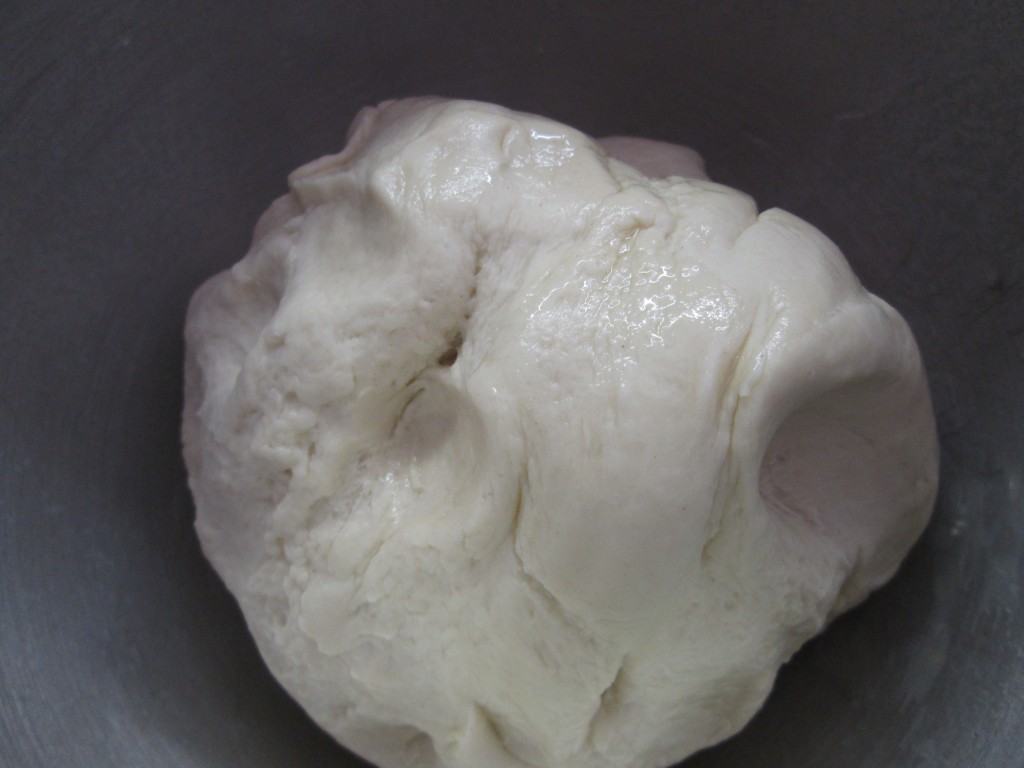 Then put your bowl, covered with a rather festive commemorative tea towel, in a draft free warm-ish place to rise. The dough should double in size and this will take at least an hour. I make this before work then leave it to rise all day and this seems to do the dough no harm. So, in short, leave it for at least an hour, or anytime thereafter.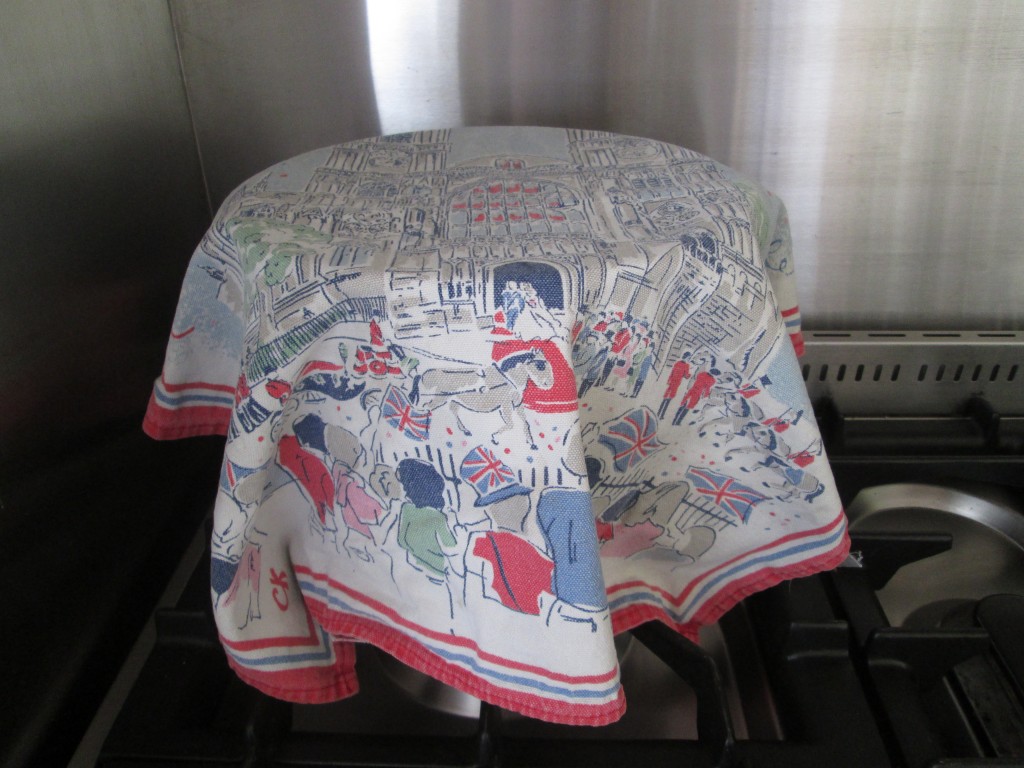 Once you are ready to bake the pizza, take the dough from under the festive towel and give it a good knead on a floured surface.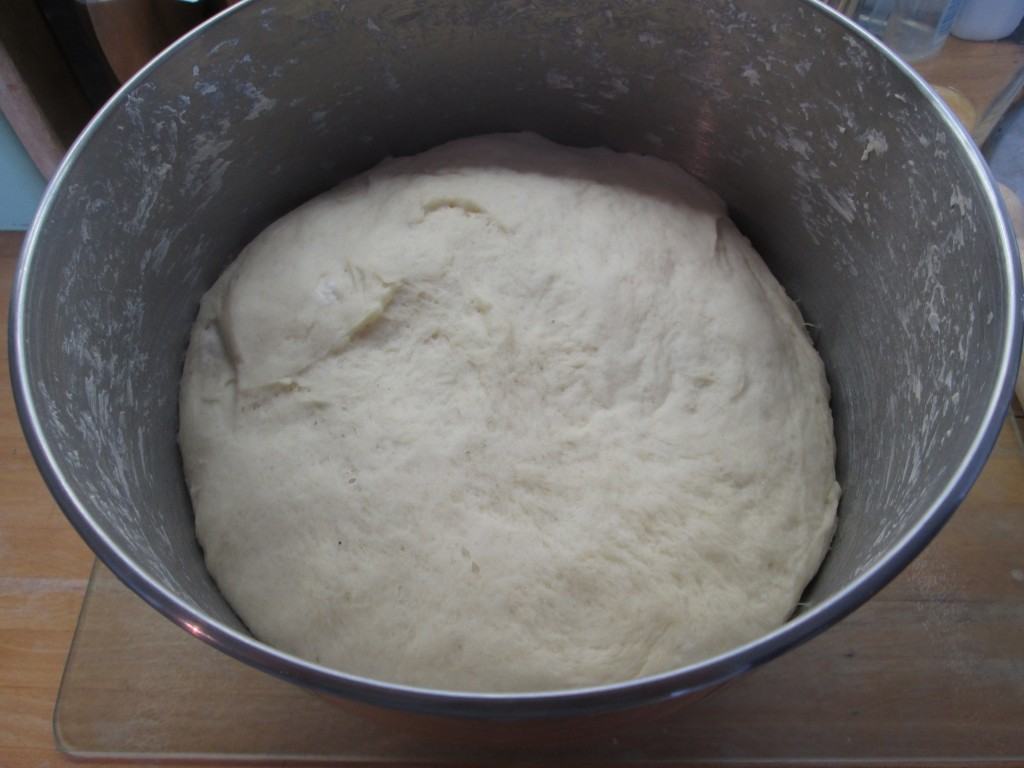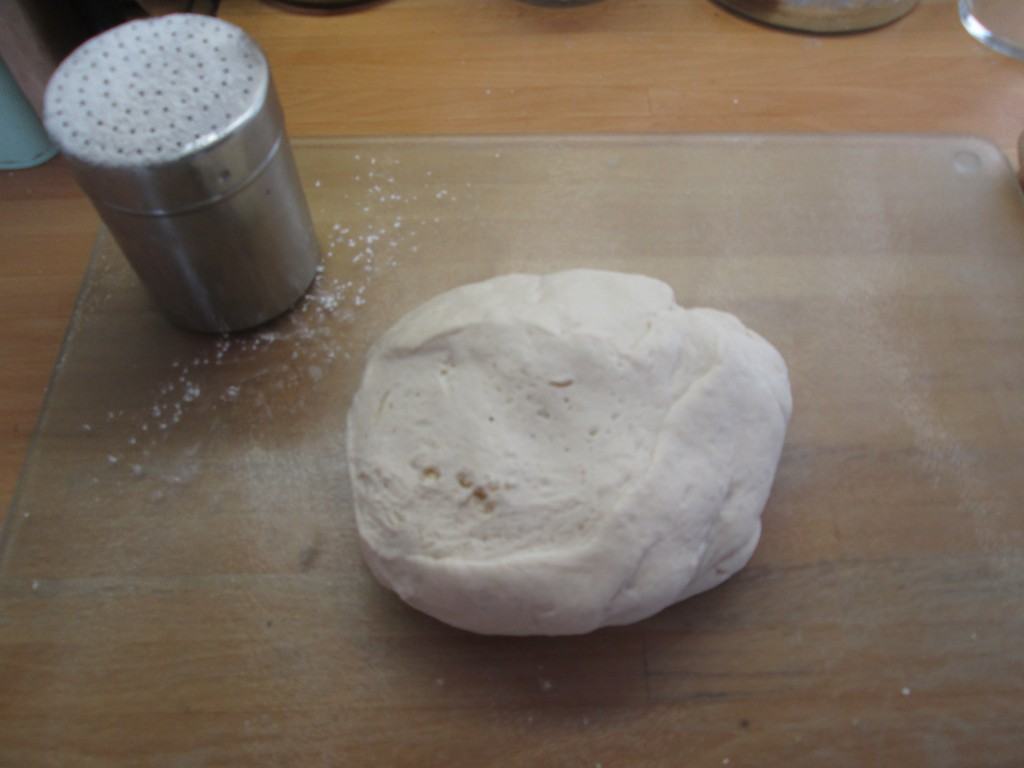 Grease the baking trays you plan to use and put the oven on to 180 degrees fan to pre heat. Stretch the dough into roughly the shape of your trays then roll it out as thinly as you can before carefully putting it onto the baking tray.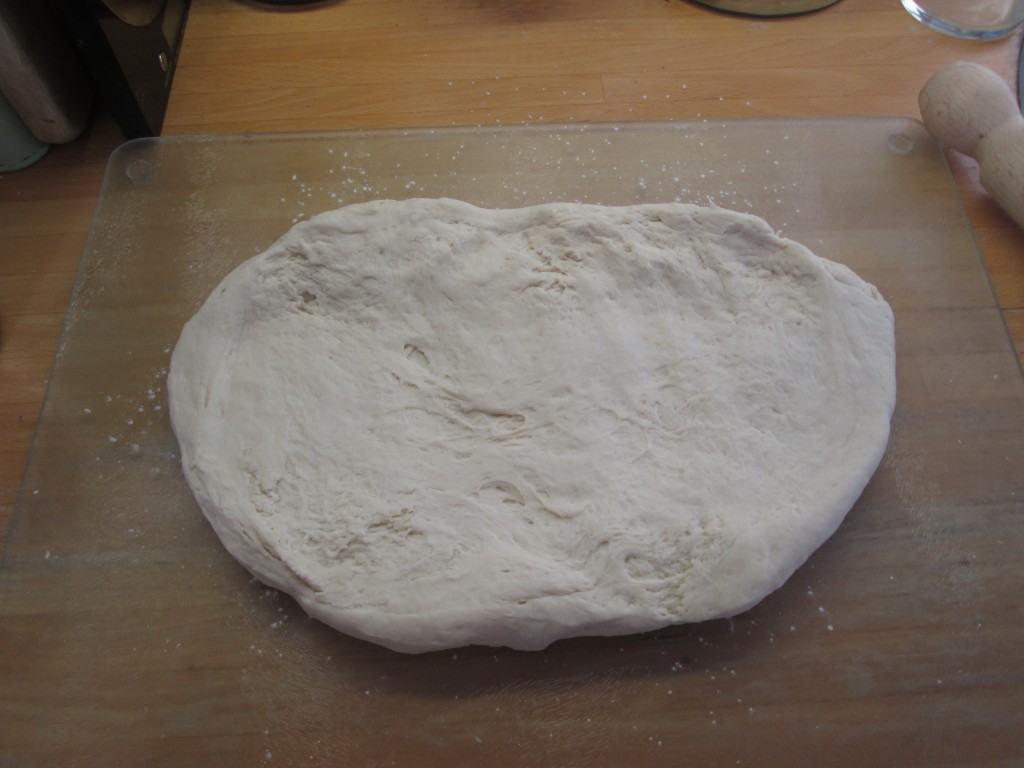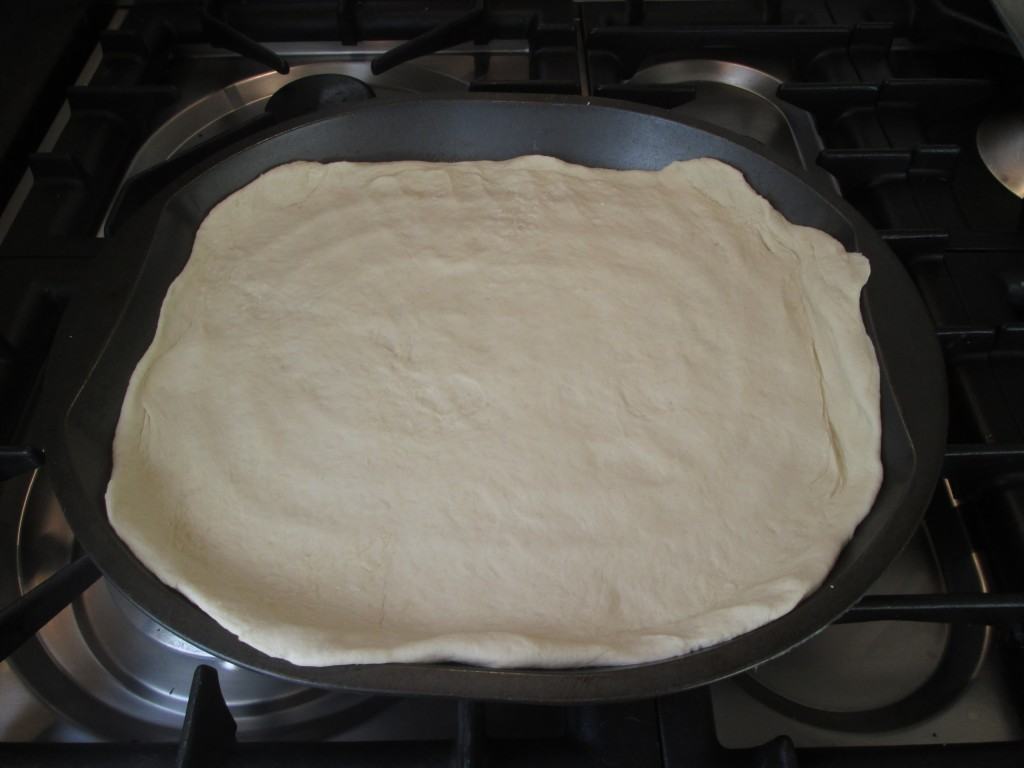 Then its over to you for the toppings. I would recommend drizzling the dough with a little olive oil then cover the base, lightly, with a tomato passata or sauce.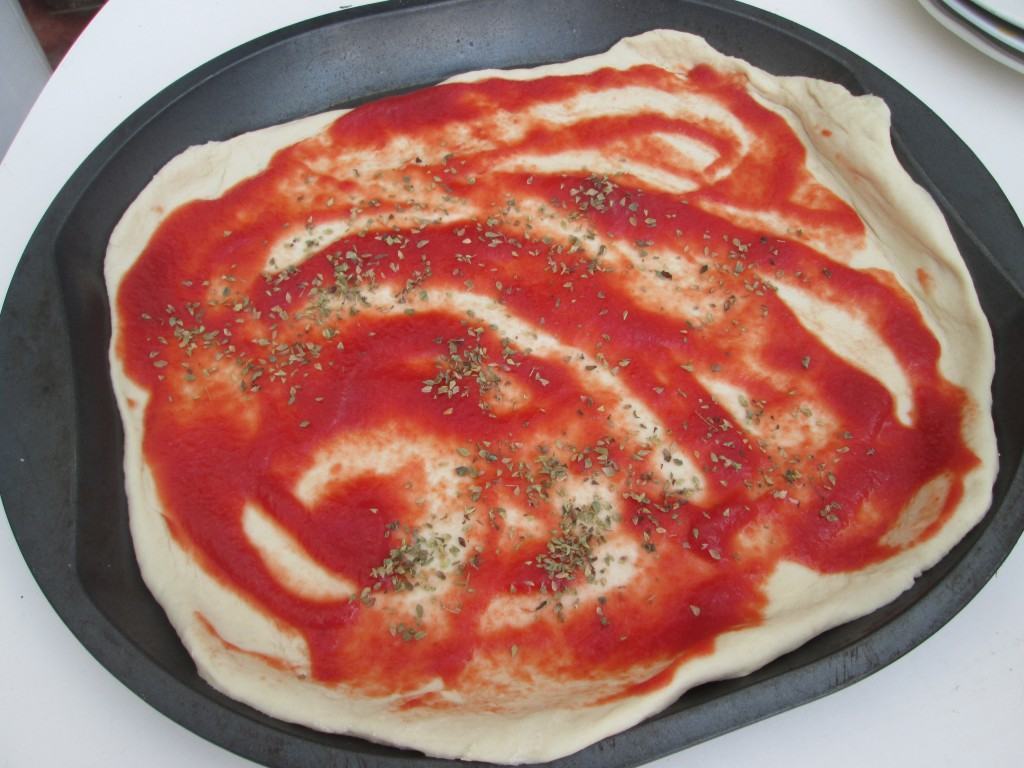 I also like quite a bit of dried oregano to add the authentic Italian flavour, so feel free to add liberally. For our meat feast style pizza fry off half a packet of good pork sausages (skinned) and some streaky bacon. Once just cooked through, take off the heat and leave these to cool for a moment.
Then add some sliced chorizo – I did say this was a meat-a-thon.
Add the cooled and cooked sausages and bacon and liberal amounts of mozarella and extra grated cheese. I only had Red Leicester, so apologies for the total lack of Italian authenticity and slight naffness of this.
A final sprinkle of oregano and drizzle of olive oil and then its ready for the oven.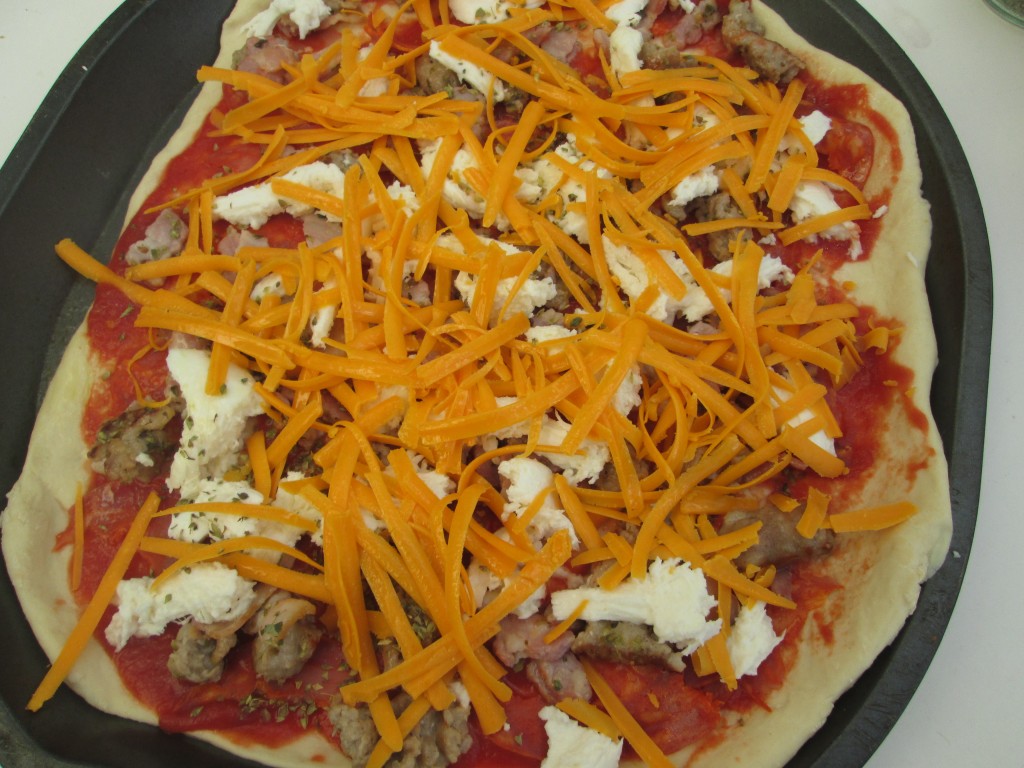 Bake in your pre heated oven for 15 to 20 minutes or until everything is golden and the cheese is bubbling.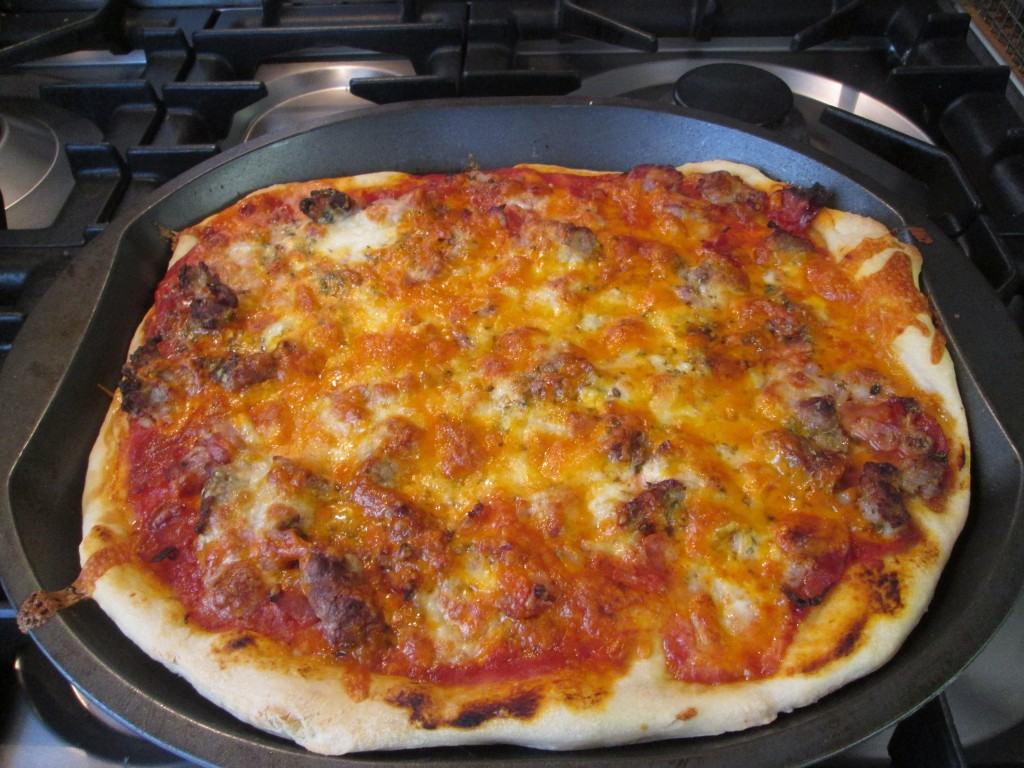 Leave it to settle for a moment before cutting into succulent wedges and serving to the waiting carnivores.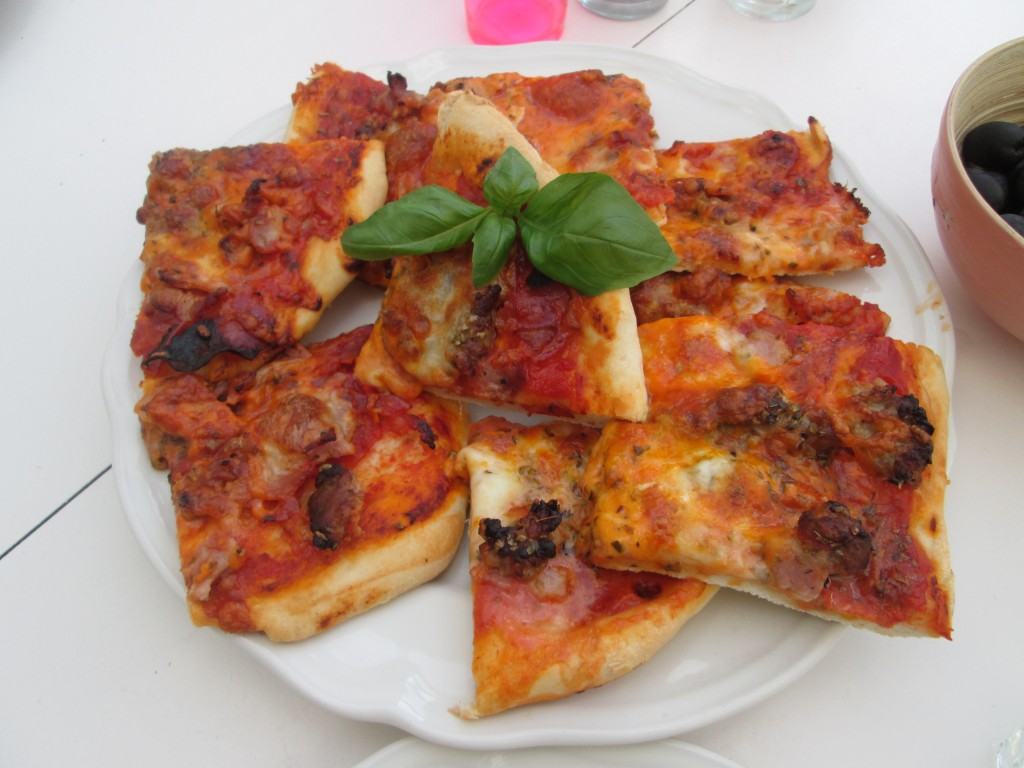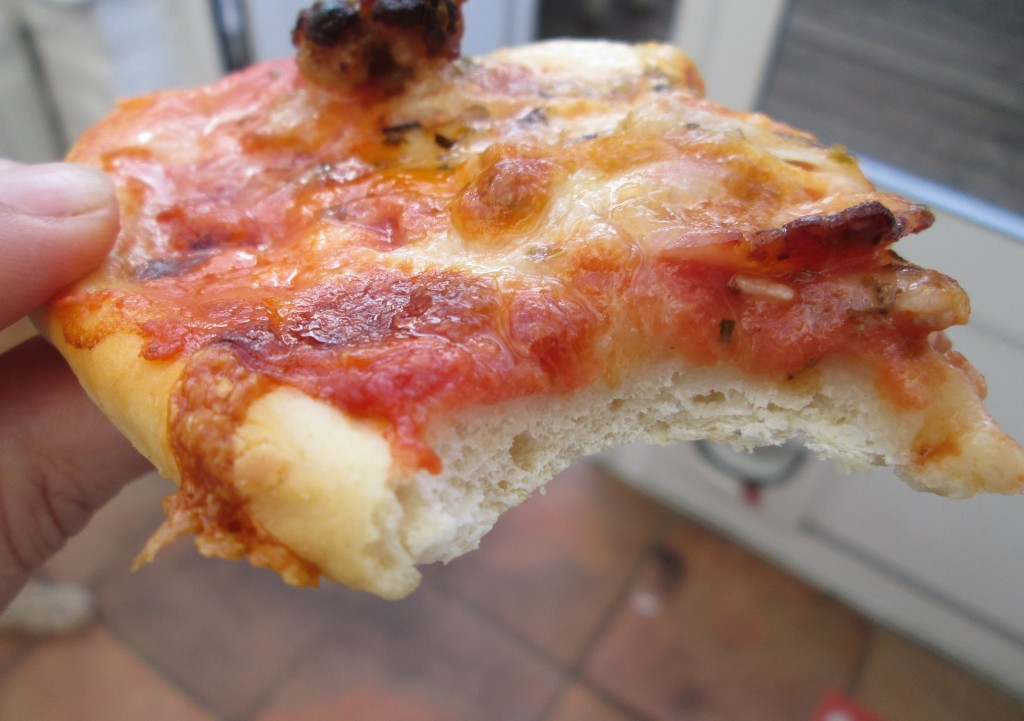 The pizza has a delicious, flavoursome crust and soft base. Its a great canvas for your toppings and I hope you enjoy creating your own pizza masterpieces.
Lucy x
Simple Pizza Recipe
400g plain or strong bread making flour, plus some for dusting
1 sachet (its roughy 2 teaspoons) Fast action dried yeast
1 teaspoon salt
1 tablespoon caster sugar
300ml hand hot water
2 tablespoons olive oil, plus some to oil your bowl
Once the dough has risen, pre heat your oven to 180 degrees fan and grease the pans for your pizza
In a bowl or stand mixer combine your flour, yeast, salt and sugar. Measure tap hot water and olive oil and slowly add to the flour and yeast mixture. Use your mixer or hands to combine the ingredients into a soft, slightly sticky, dough. Knead for 5 minutes until smooth.
Add a few drops of oil to the dough and roll it around so it doesn't stick to the bowl while it rises. Cover the bowl with a tea towel or cling film and leave to rise for at least one hour, or all day if need be.
When you are ready to cook the pizza, oil the baking tray and pre heat the oven to 180 degrees. Tip the dough out of the bowl and knead for a minute on a floured work surface. Shape the ball into roughly the same shape as your baking tray then use a rolling pin to roll the dough as thinly as possible.
Transfer to your baking tray and top with your favourite toppings. I used roughly 250ml passata for the bases, half a packet of skinned pork sausages, 200g chopped streaky bacon, 100g sliced chorizo for the the meat contingent and mozarella and grated cheese to finish. Drizzle with olive oil and strew with dried oregano before you put it in the oven.
The pizza will take around 20 minutes to cook and is ready when the crusts are golden and cheese bubbling nicely. Leave to rest for a couple of minutes for slicing into delicious wedges. The pizza is still delicious, I am told by the boys, cold from the fridge the next day.