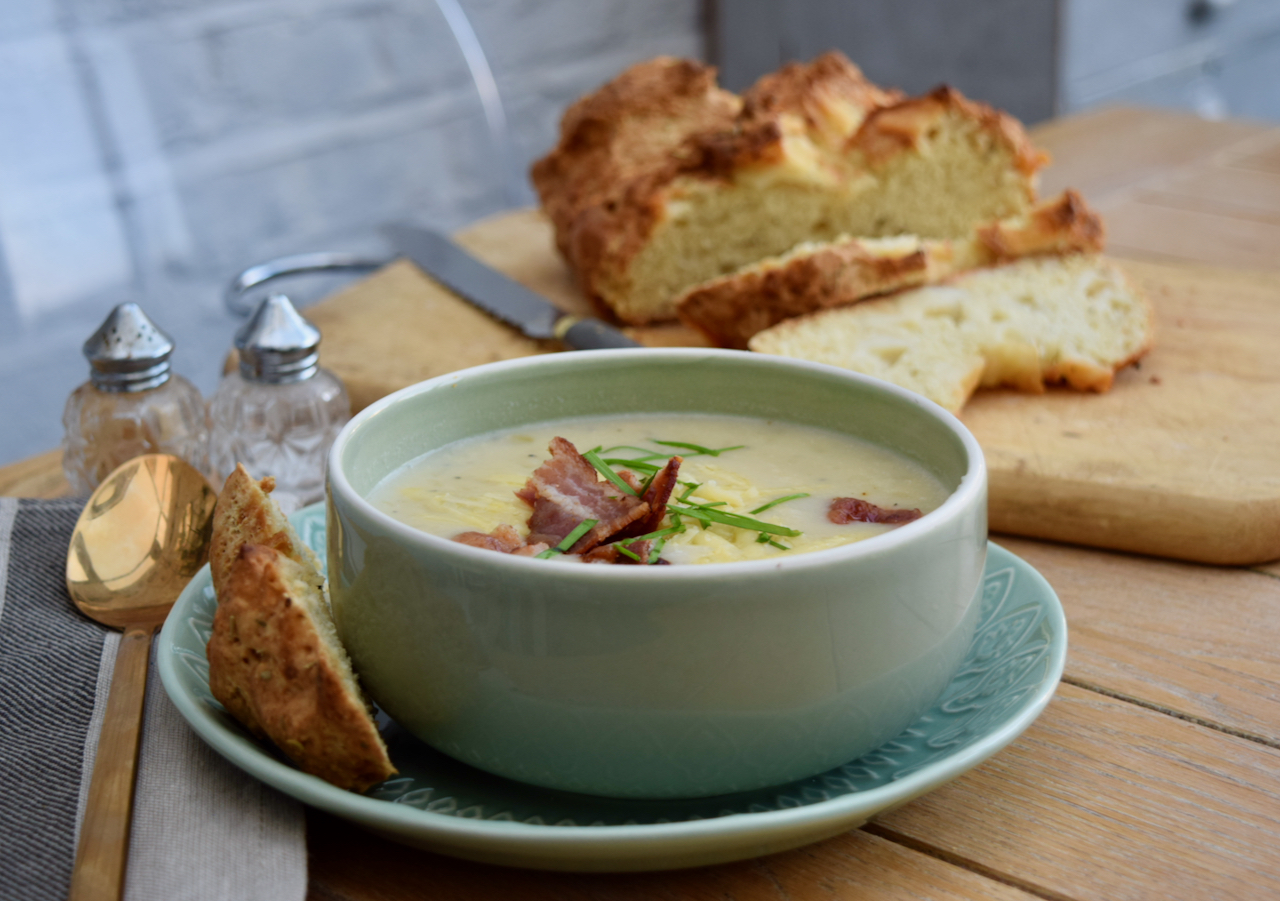 Loaded Potato Soup recipe
Things I miss in Lockdown a) spending quality time with my family and friends *apart from the buggers I'm stuck at home with* b) a pub Aperol Spritz c) wearing something other than joggers and d) dinners out. I bloody love cooking but I am sick to death of forking up meals night after night after night. I was excited, however, to stumble on this Loaded Potato Soup recipe, so much so, I've made it twice in a week. Not only is it easy, it's so comforting, you feel as though you're eating it in your slippers and dressing gown.
I love soup; it's easy to make and even easier to eat. And what could be more comforting than a bowl full of something which tastes akin to a loaded baked potato. The key to such wonderful flavour is frying the bacon off first to ensure you have lots of lovely bacon fat to sauté the vegetables. The creaminess comes from milk and plenty of cream cheese and the whole affair is then topped with a mound of good strong cheddar and the pre fried crispy bacon. The joyful Kitchn inspired this wonderful recipe.
To confirm there is also a list of things I like about Lockdown. a) I don't have to wash my hair every other day b) wearing joggers every day and c) no need for belly concealing big knickers because no one's seeing my belly. Trying to stay positive where possible.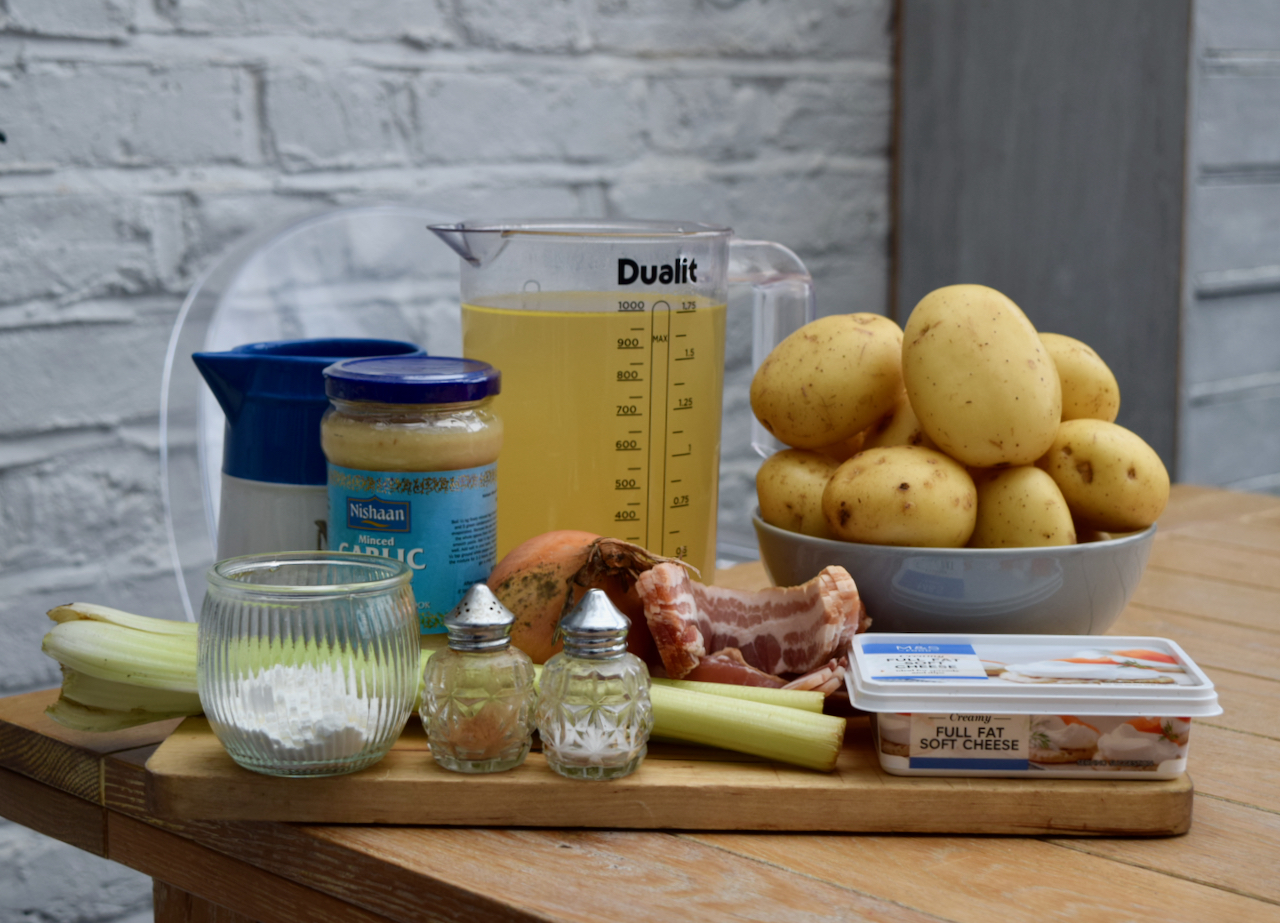 Such a wholesome line up for a comforting bowl of soup. Potato soup in itself doesn't sound too exciting but this is so flavourful, creamy and filling. I had a huge bowl for my lunch then couldn't manage any supper, so not only is it simple, it's a money saving affair too.
Make a start with the bacon. Heat a large pan over a medium high heat then add your bacon rashers. Cook until golden and crispy on both sides.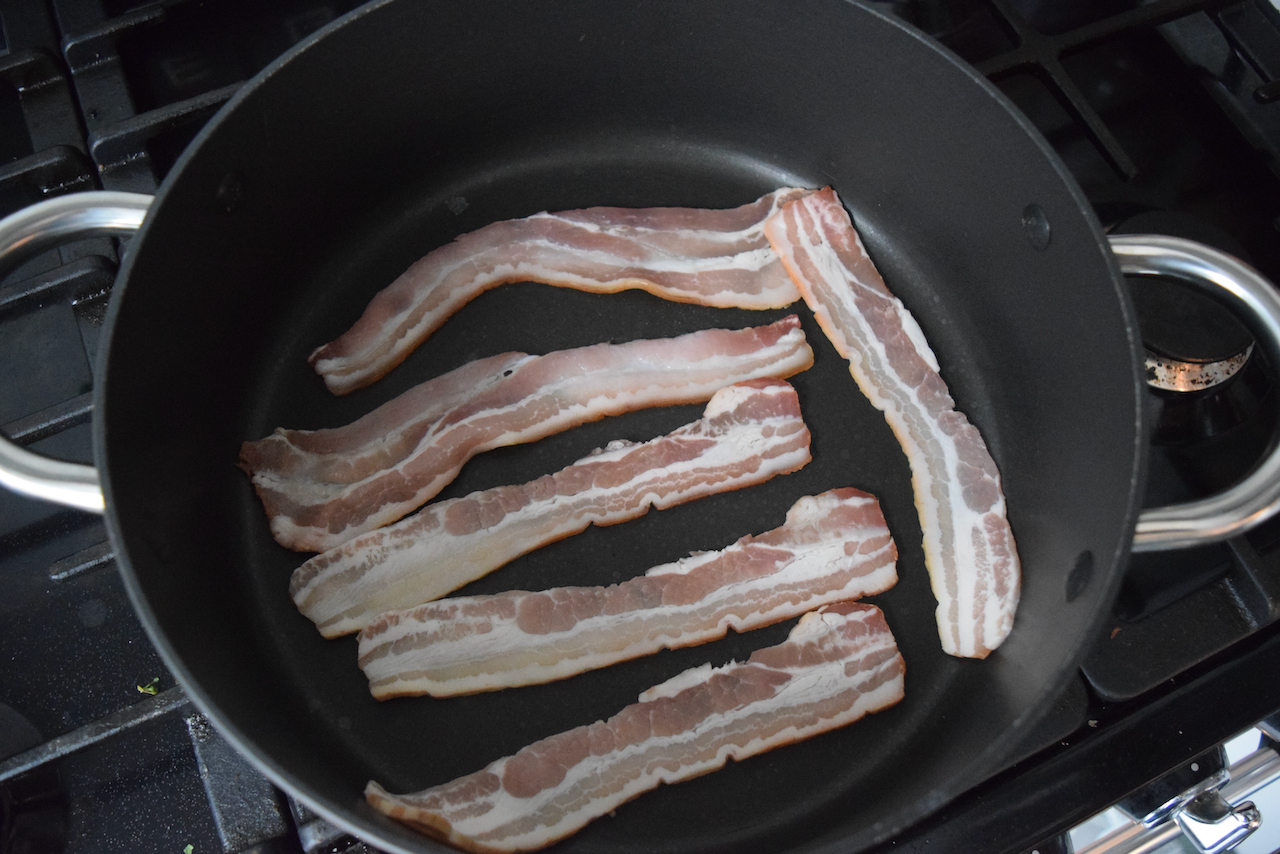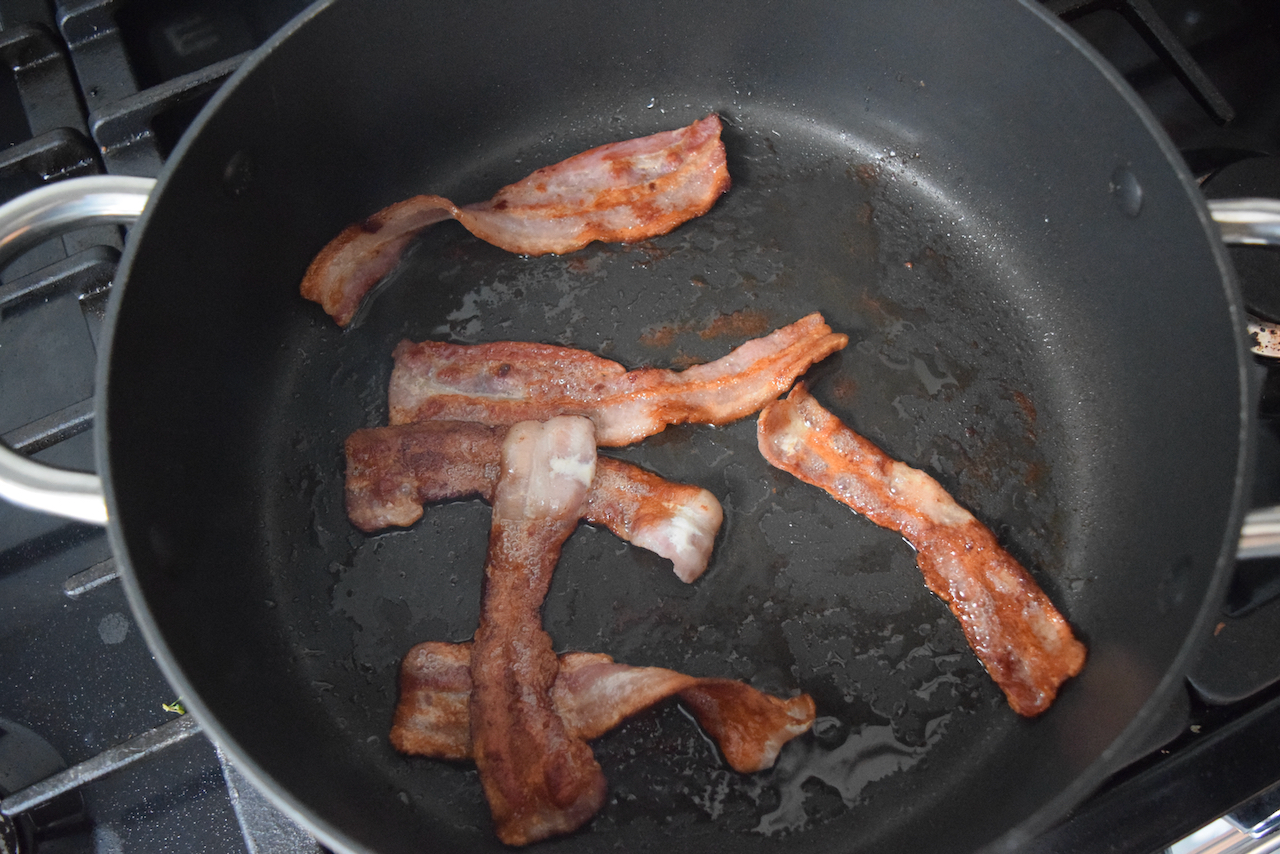 Remove from the pan onto a kitchen towel lined plate to drain. Leave the bacon fat in the pan and turn down the heat. Once the crispy bacon has cooled, crumble/break into pieces and pop to one side until later. Finely chop the celery and onion and add to the bacon fat with the chopped or lazy garlic from a jar.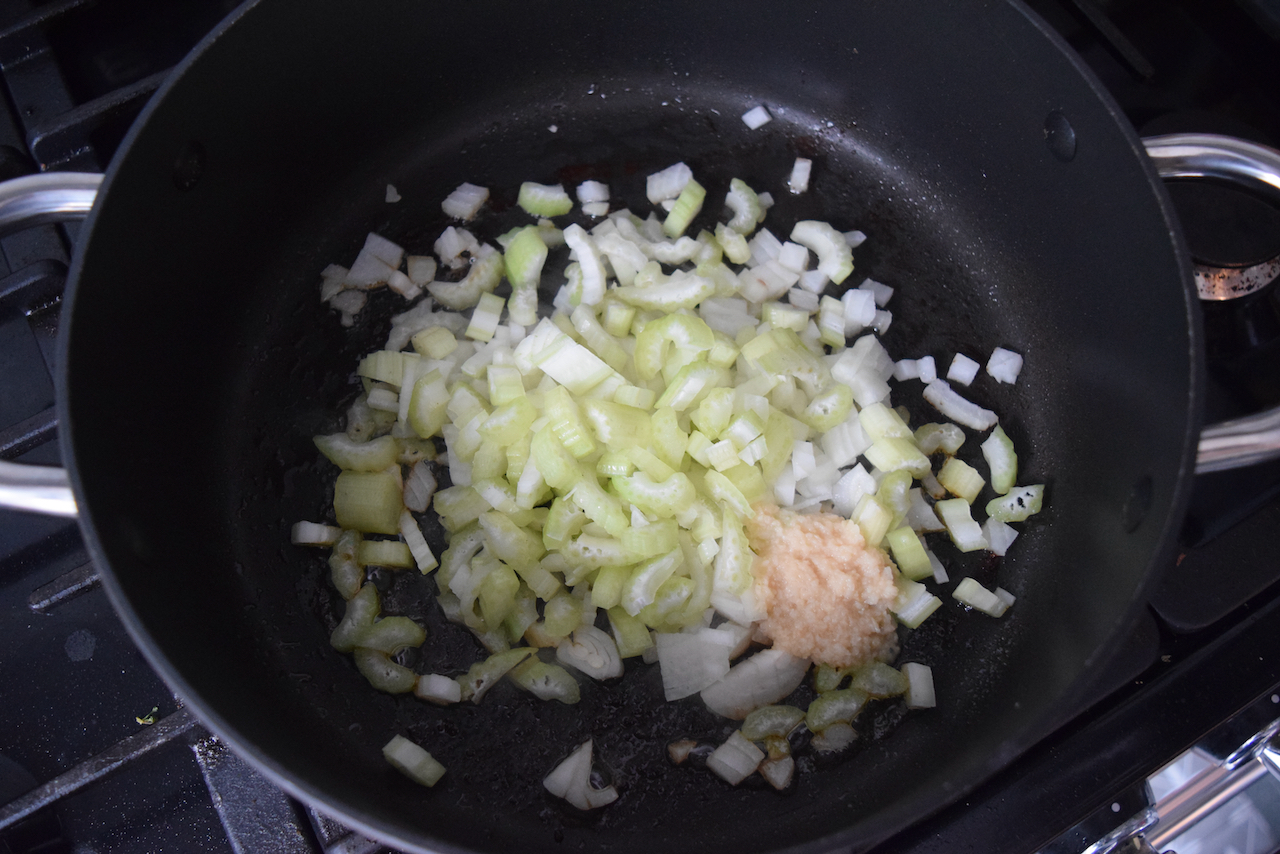 Stir in the salt and pepper then cook for around 5 minutes until softened and just starting to turn golden.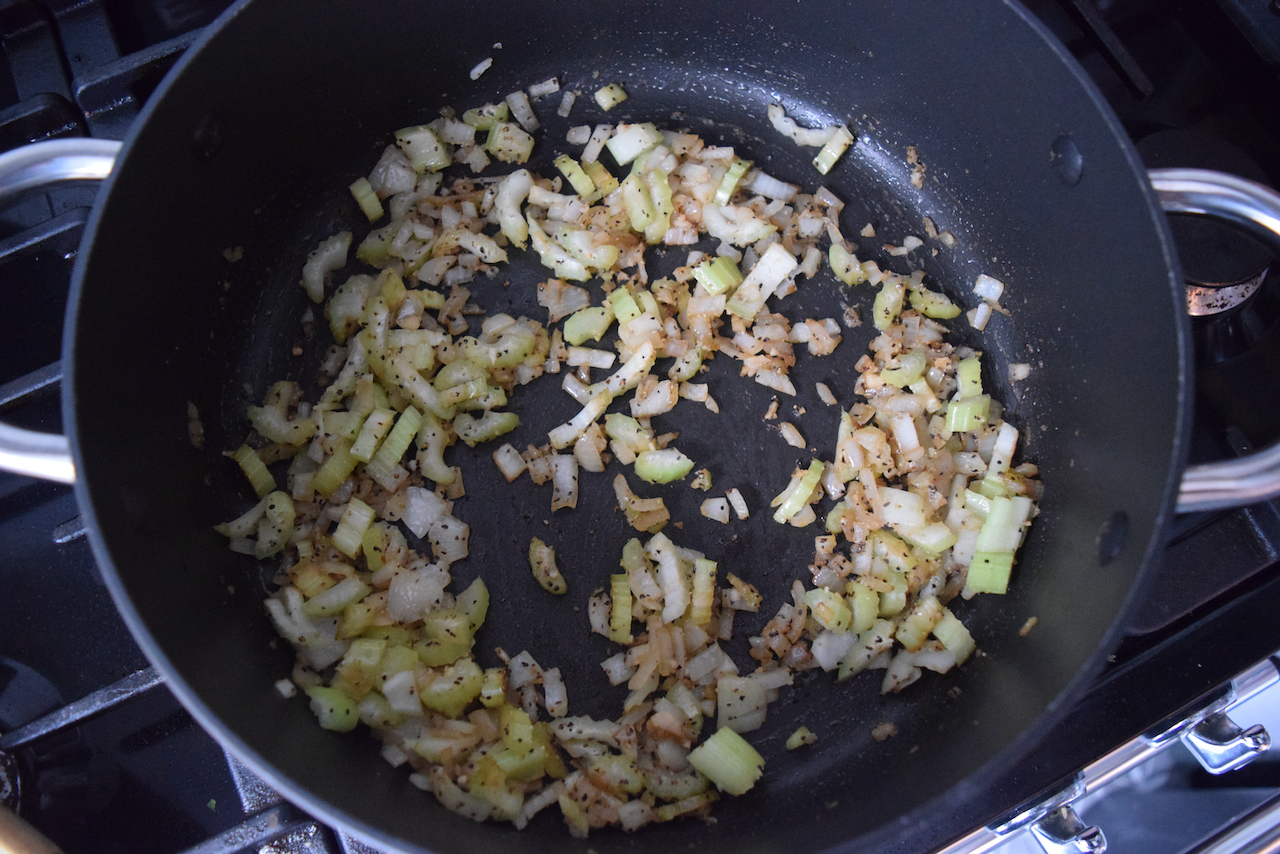 Peel and chop the potatoes, which for me was the most arduous part of the recipe as my potatoes were all annoyingly small.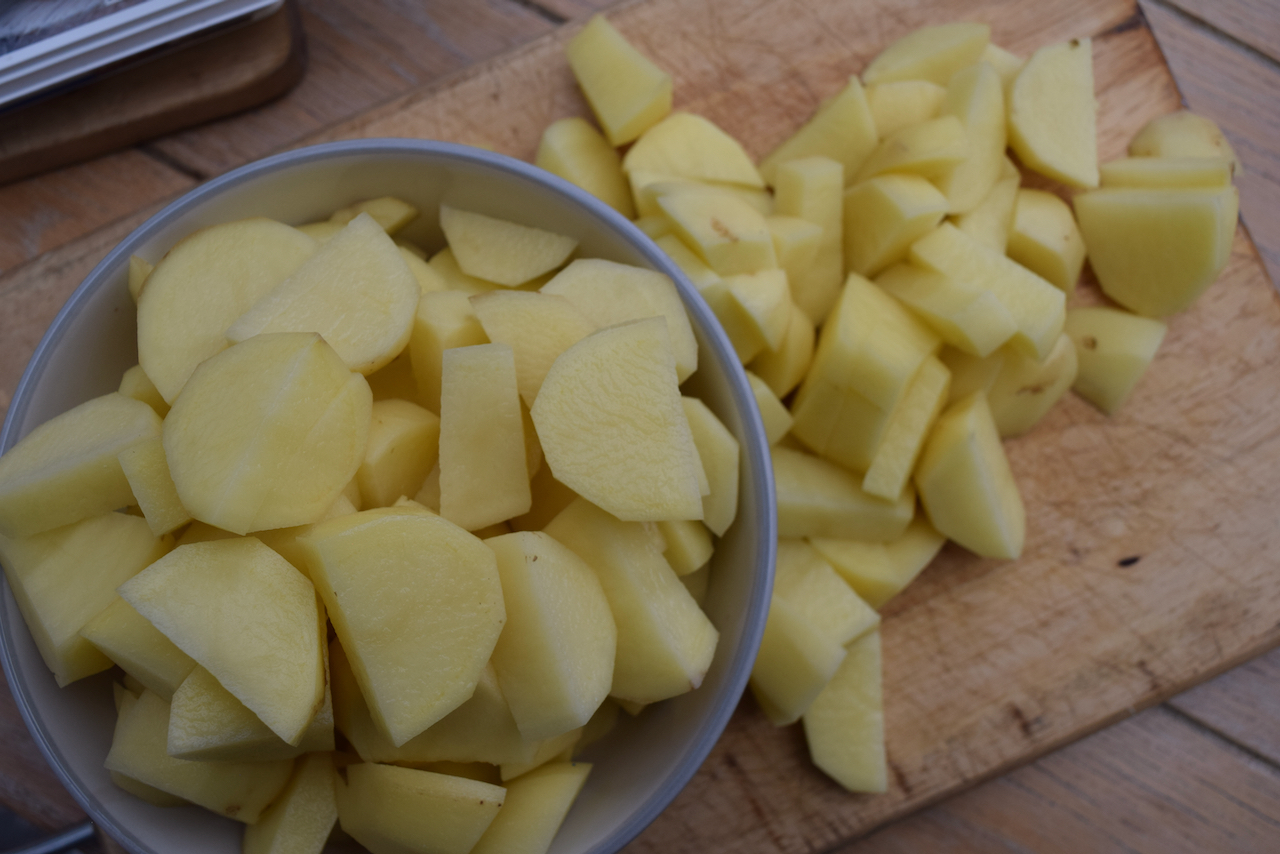 Stir these into the softened vegetables then pour on the chicken stock.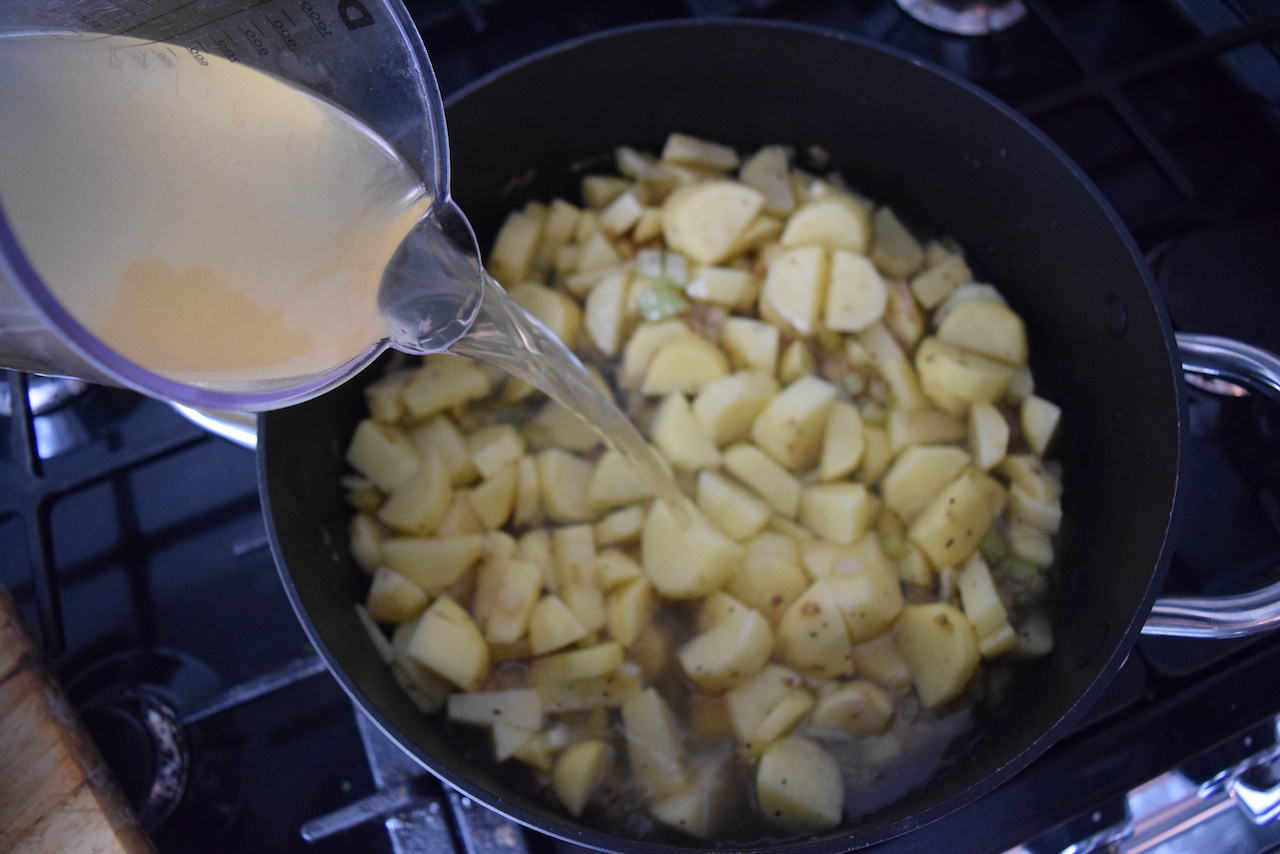 Bring up to the simmer, turn the heat down, then pop a lid on and cook for around 20 minutes or until the potatoes have softened.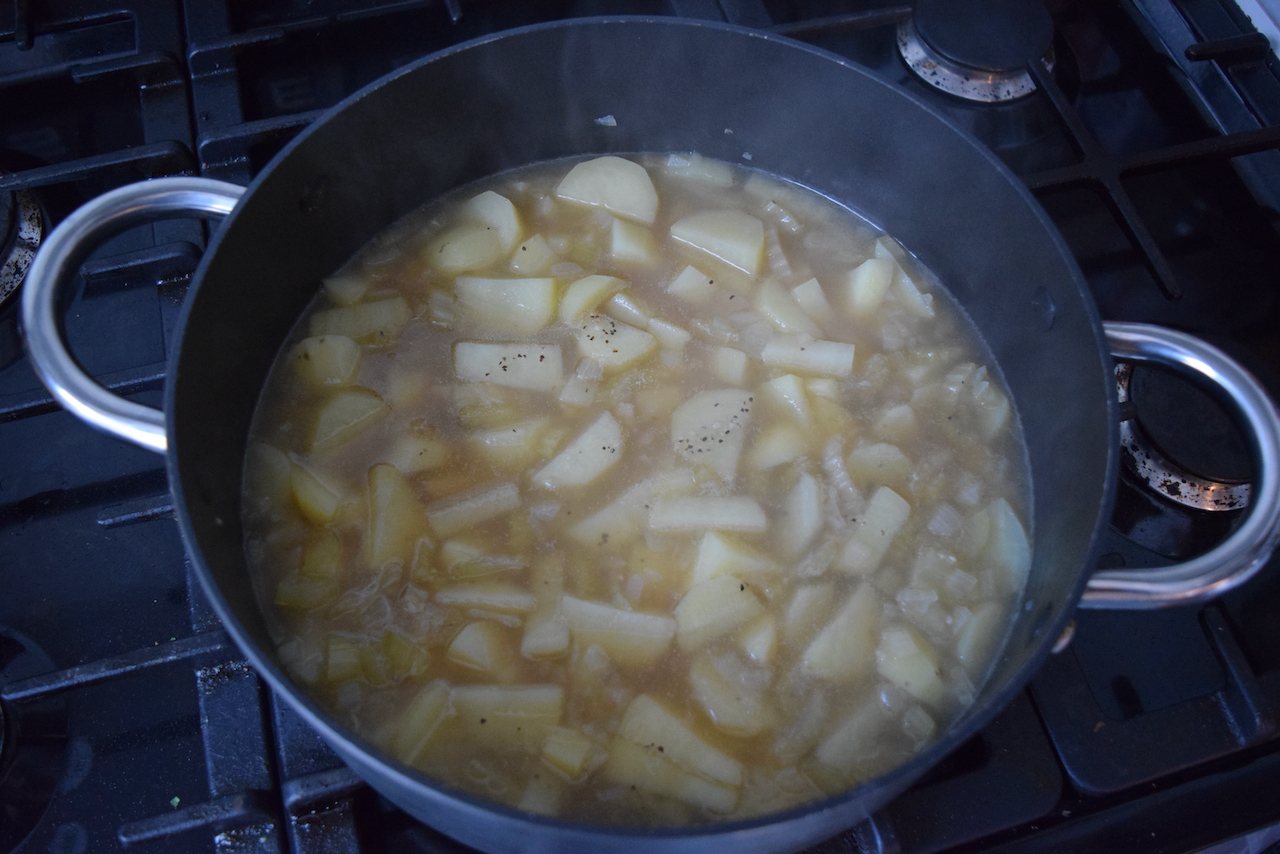 Now, take your potato masher to the pan. You don't want to puree the whole business, leave a bit of texture to your soup. Whisk the two tablespoons of cornflour into the milk then pour this into the soup, whisking as you go. This will thicken the soup and add creaminess.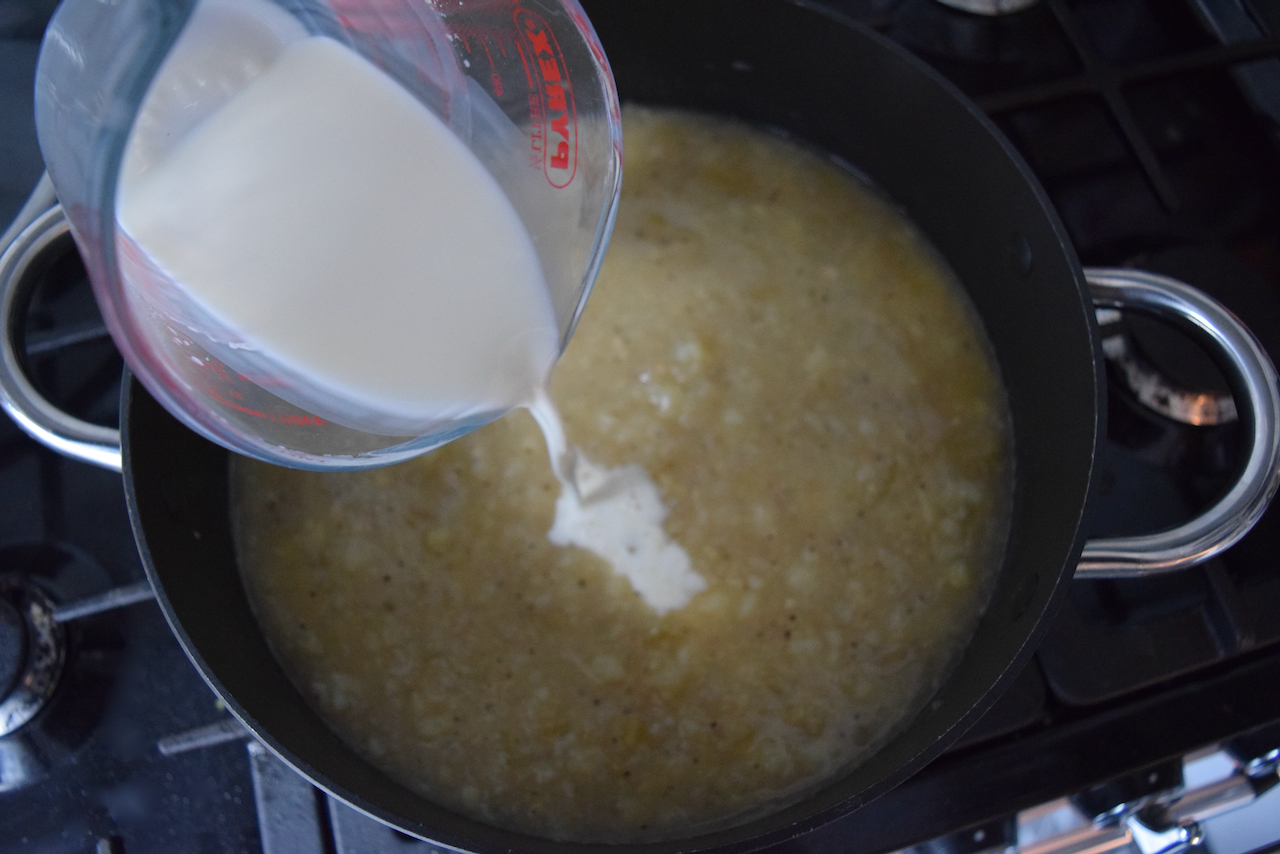 A teaspoon at a time, drop the cream cheese into the pan and whisk again.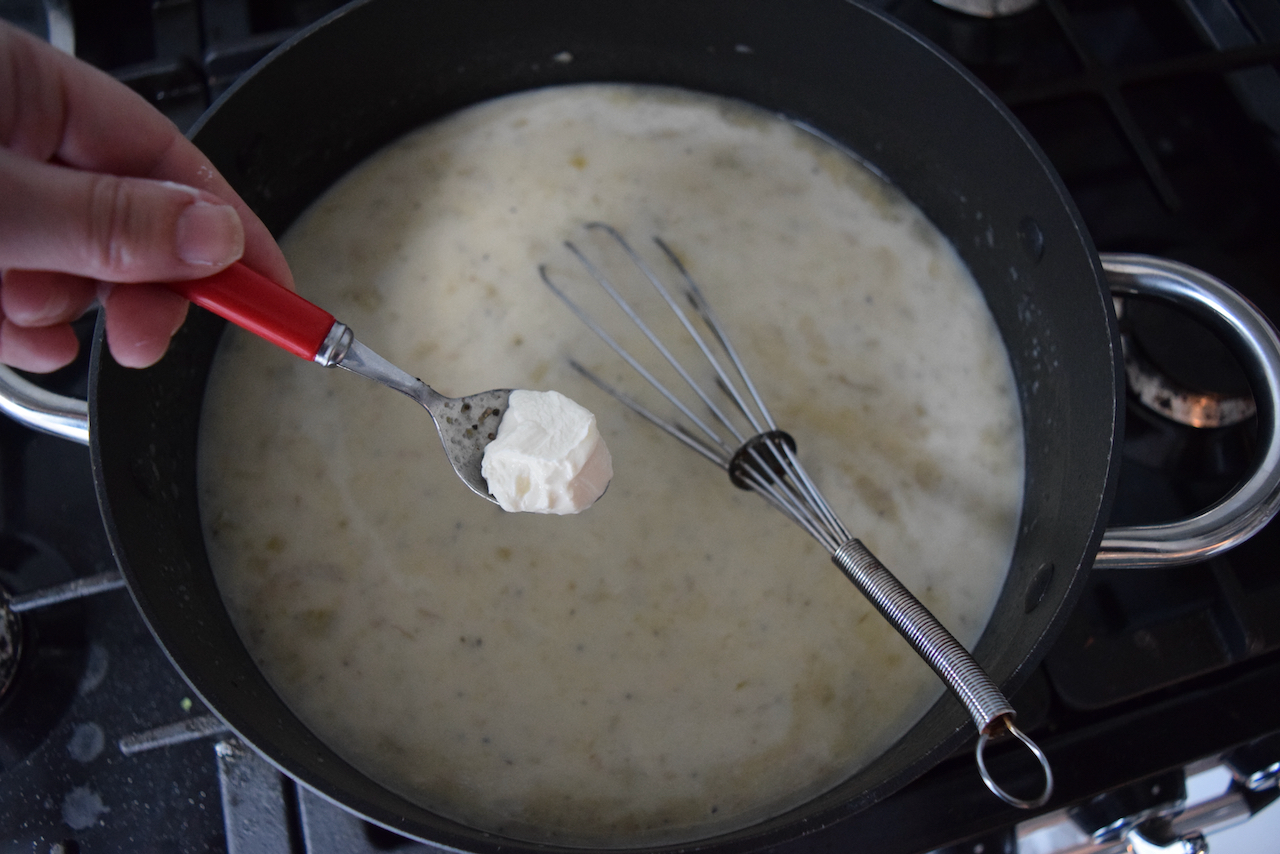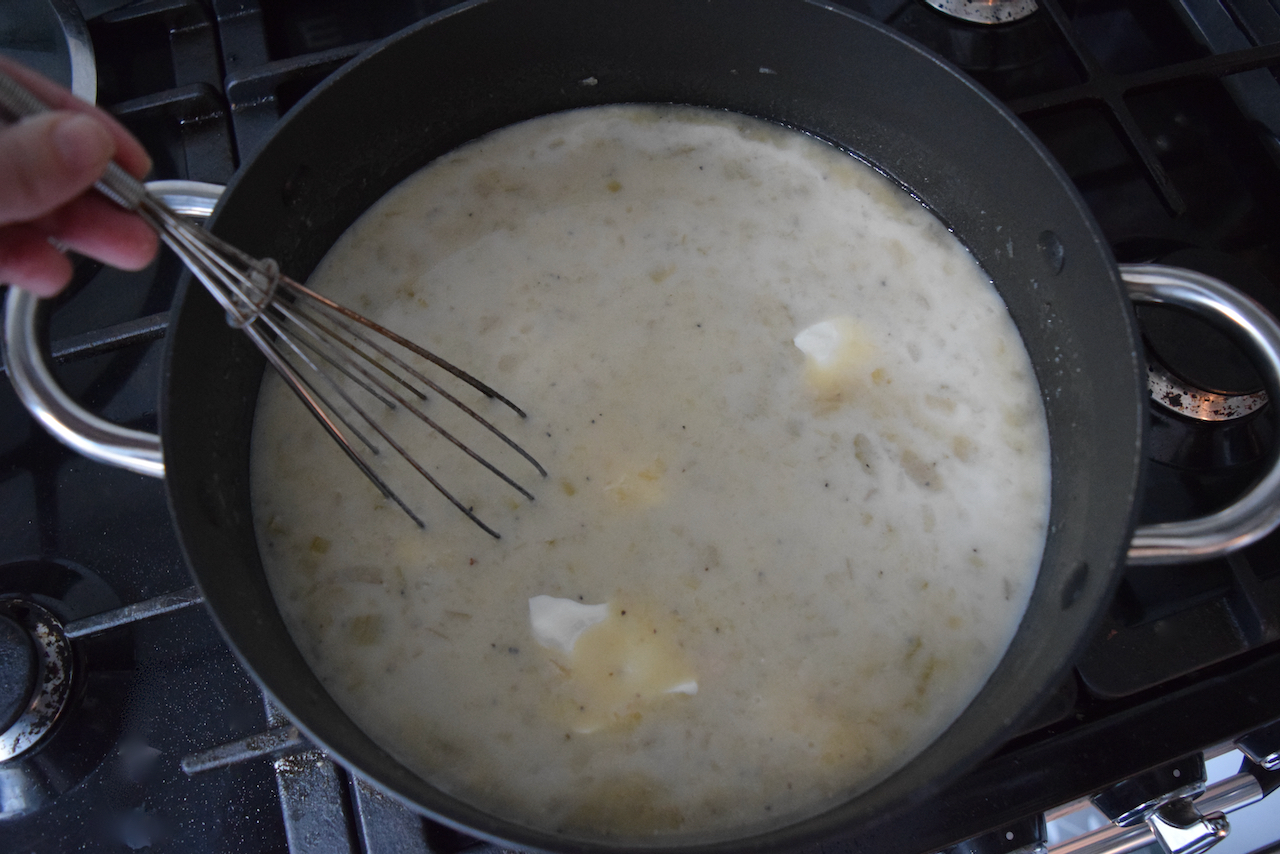 Simmer for another 5 minutes to thicken then you're ready to serve, piping hot, and loaded with the crispy bacon and plenty of good strong cheese. Chopped chives add a flash of green if you have them.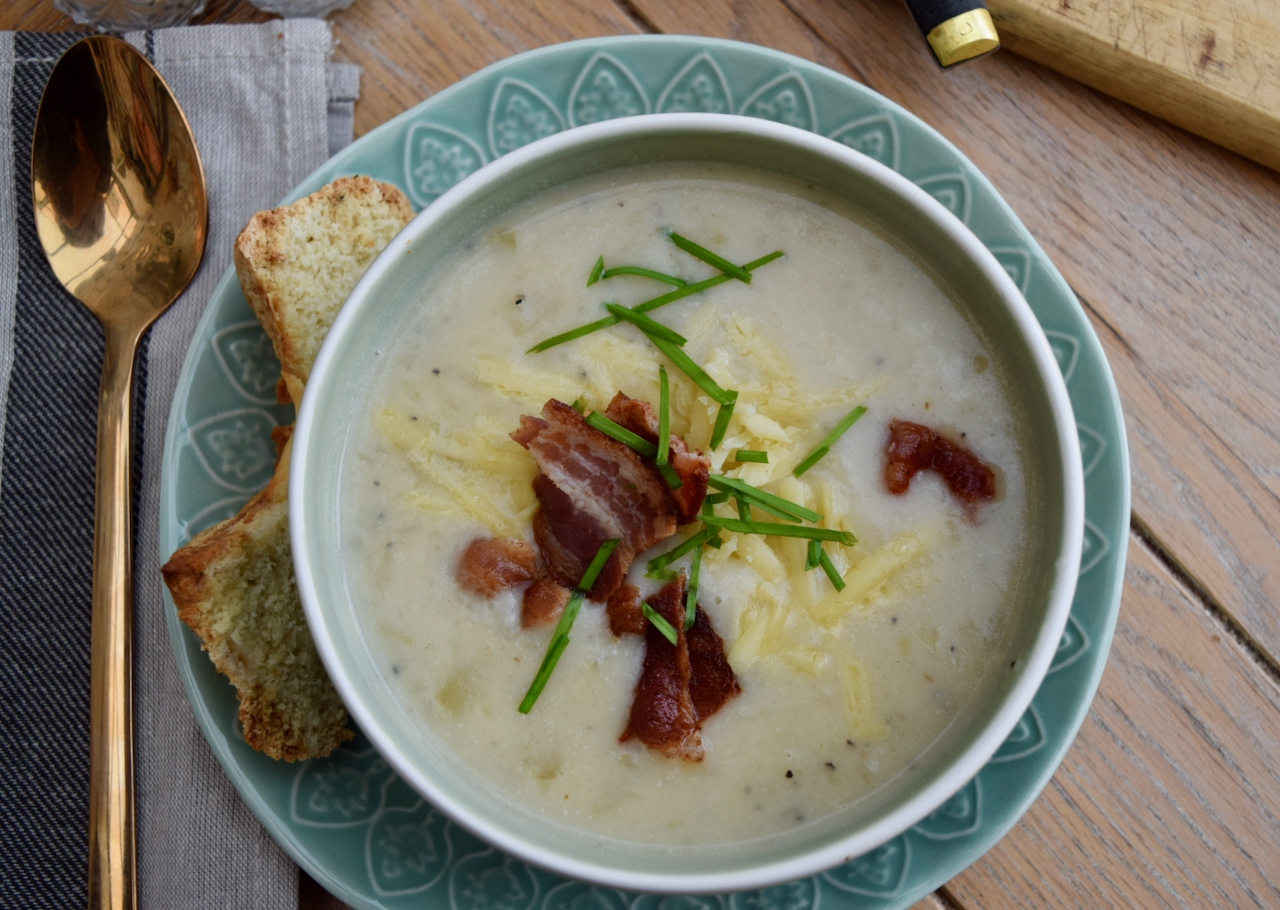 I served mine with my soda bread, packed with some manchego which had seen better days.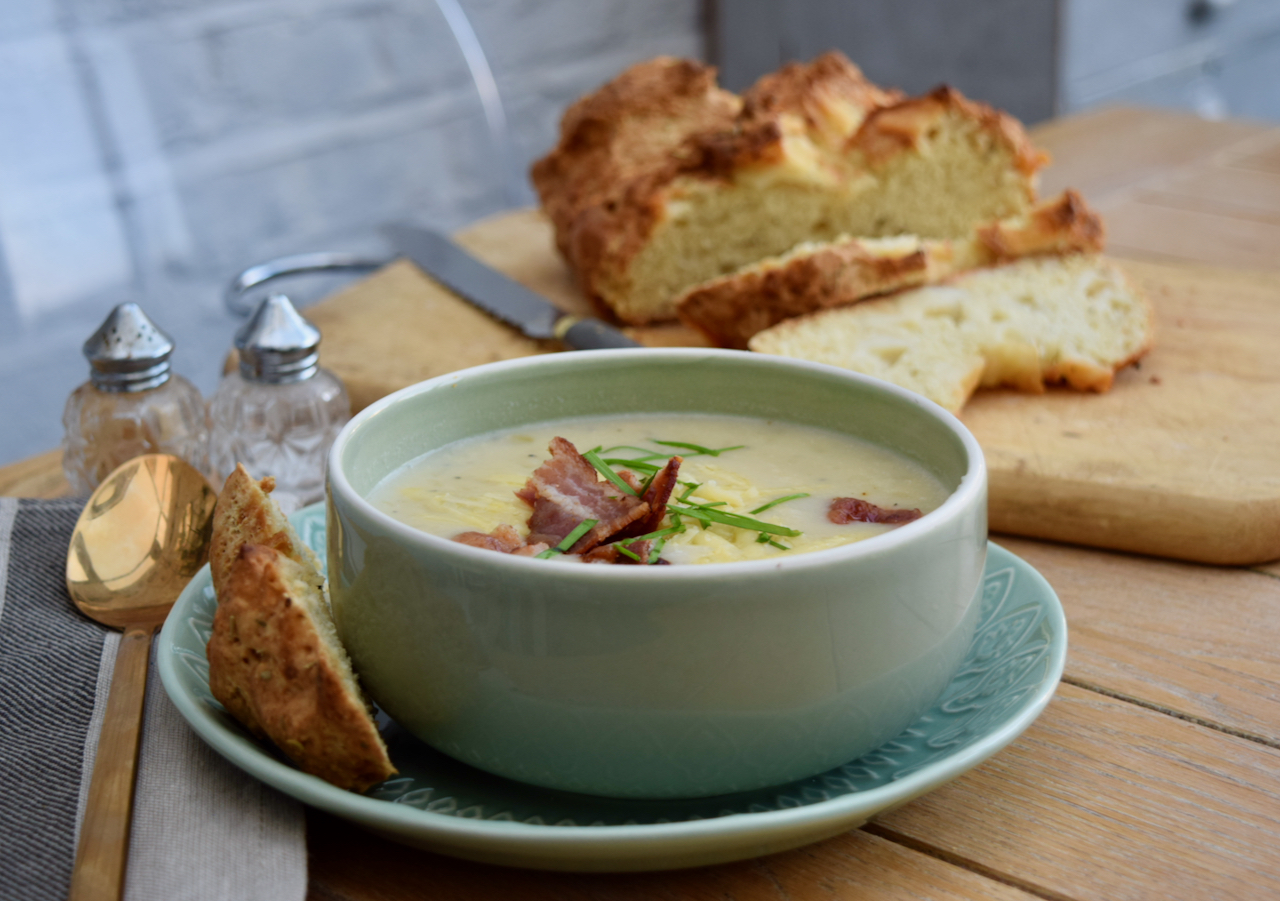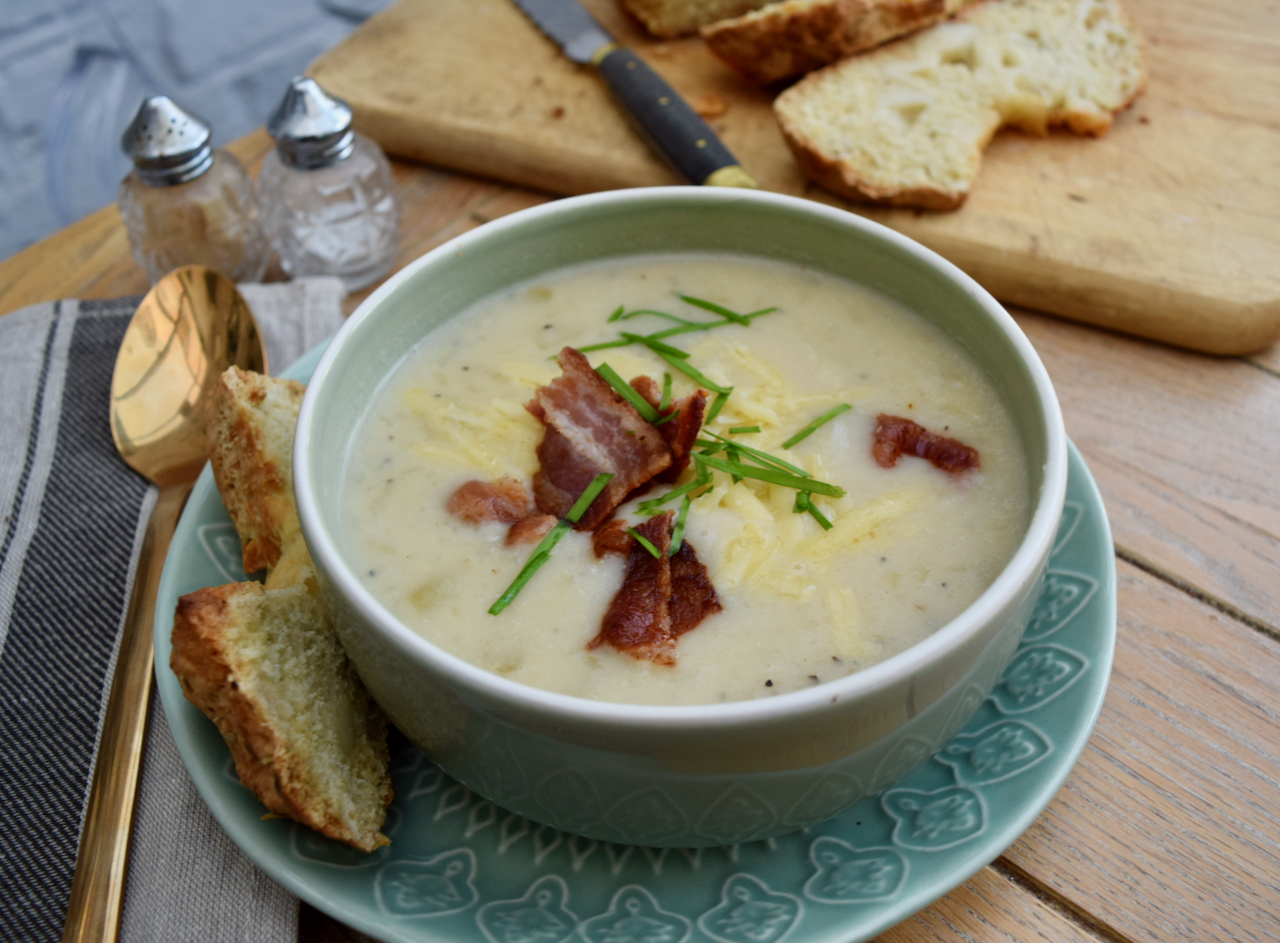 This Loaded Potato Soup can't let you see your family, it won't take you to the pub but it is best eaten in your joggers. The elasticated waist will mean you can have a second bowl.
Lucy x
Loaded Potato Soup recipe
Serves 4 to 6, bowl size dependent
You will just need a pan for this, although for Instant Pot procedure, click on the original recipe link
100g streaky bacon, about 6 thin rashers
2 stalks celery, chopped
1 onion, finely chopped
2 cloves garlic, crushed, or a teaspoon lazy garlic from a jar
1 1/2 teaspoon salt
1/4 teaspoon ground black pepper
1kg potatoes, peeled and chopped into small squares
1 litre chicken stock
250ml milk
2 tablespoons cornflour
100g full fat cream cheese
Approx 100g grated cheese, something sharp and strong, and chopped chives to serve
Take a large frying and heat over a medium high heat. Lay the rashers of bacon into the hot pan and cook on both sides until browned and crispy. This will take 3 to 4 minutes. Remove to a plate lined with kitchen paper to drain. Once cool enough to handle, crumble the bacon into pieces and save for serving later. Leave the bacon fat in the pan.
Turn the heat down to low, and add the chopped celery, onion and garlic to the bacon fat. Stir through the salt and pepper then cook until the vegetables have softened, around 5 minutes. Peel and chop the potatoes into small squares then add to the softened vegetables. Pour in the chicken stock, stir, then bring up to the simmer. Turn down the heat and cook, with a lid on, for around 20 minutes, or until the potatoes are soft.
Mash the soup briefly with a potato masher, leaving some texture, you don't want a puree here. Take your milk and whisk in the two tablespoons of cornflour until smooth. Whisk the milk mixture into the soup then, a teaspoon at a time, whisk in the 100g of cream cheese until combined. Bring back up to the simmer and cook for a further 5 minutes until thickened and piping hot.
Serve in big bowlfuls, sprinkled with generous amounts of grated cheese, the crispy, crumbled bacon and some chopped chives.
Any leftovers will keep for a couple of days in the fridge. You may need to thin it down on reheating, with a little milk, as it does tend to thicken up.