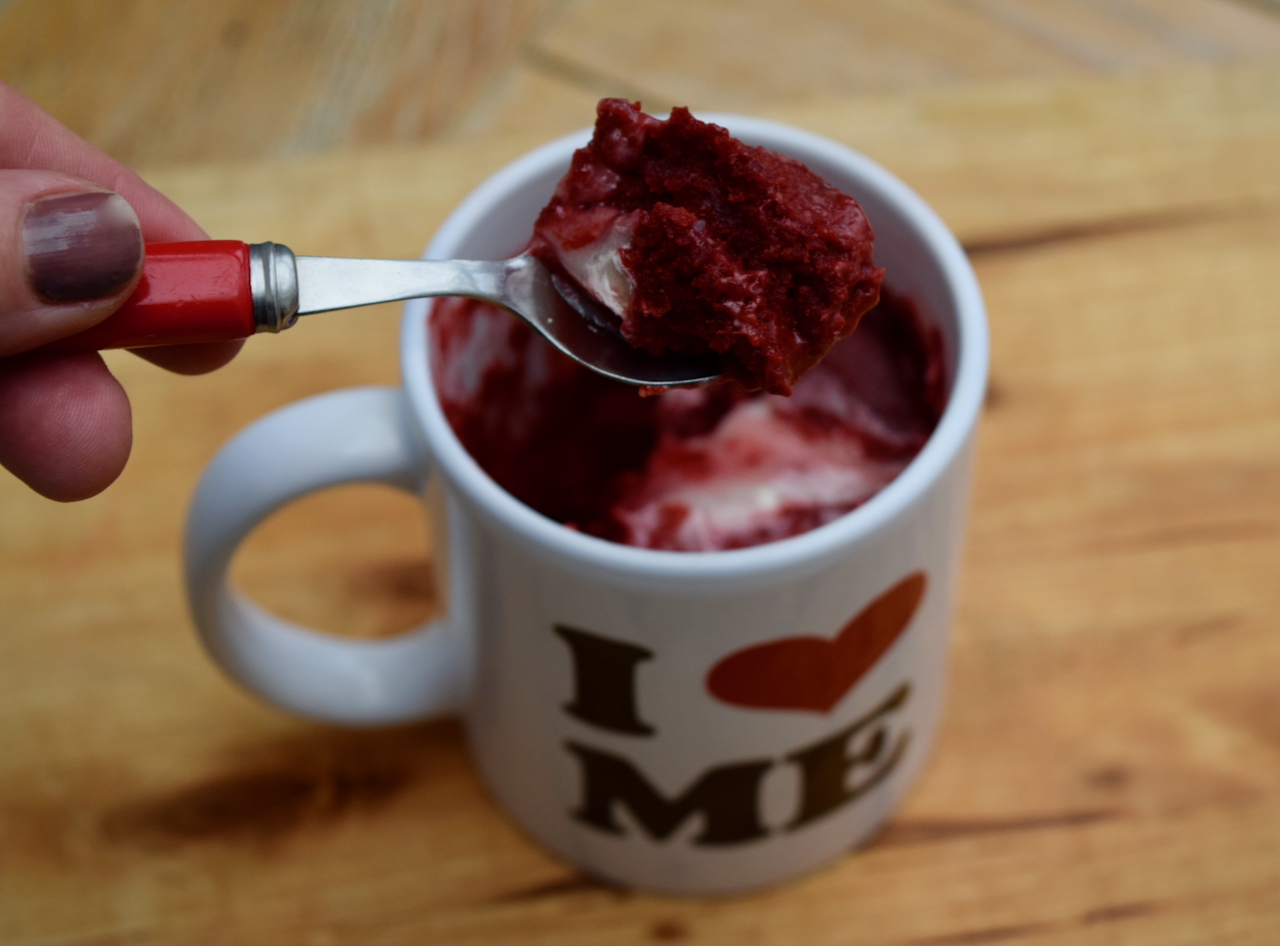 Red Velvet Mug Cake recipe
I have never been a Valentine's Day kind of girl. Not since Clyde bought me 9 red roses for the 9 weeks we'd been together in 1986 then dumped me. 35 years later, I'm not bearing a grudge *much* but just feel Valentine's is all a bit shit. This year it will be even worse as any sort of celebration is so limited so I've decided to celebrate with this Red Velvet Mug Cake. For one; this can be the one you love, or for you, as you bloody deserve it.
I make a lot of cupcakes and Red Velvet is, by far, the most popular choice. It's not just a red cake, the texture is smooth and the flavour rich and divine. A mug cake does require a microwave, for speed and ease, however, you could probably make this is a small ovenproof bowl and bake for about 15 minutes if you don't have Nigella's new favourite appliance to hand. All the ingredients are mixed in the mug, apart from the cream cheese and icing sugar which is marbled through the red velvet mixture at the end. This creates a sort of imbedded icing affair to make this already delicious cake, even more wonderful. Huge thanks to Good Housekeeping for the inspiration.
There's no need for lavish gifts and treats this Valentine's Day; just treat yourself to this vibrant mug cake, you deserve a bit of love and a lot of cake.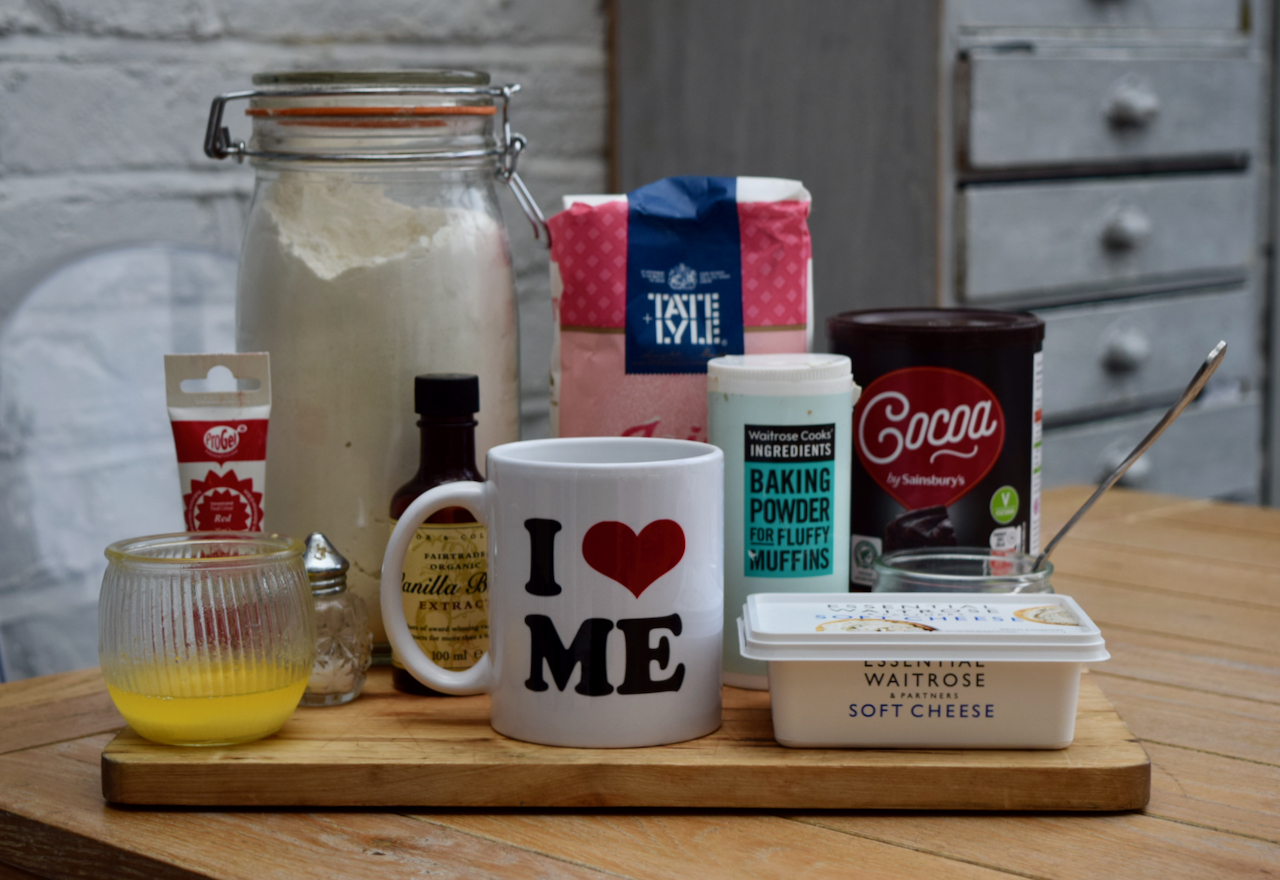 Don't panic, this does look like a lot of ingredients for one simple mug cake. You'll have most of them in your cupboard, ready to make this at the drop of a hat. After extensive research *eating a lot of red velvet cake* I can confirm this Progel red colouring is by far the best. You'll only need a tiny squirt for maximum impact, so it's good value.
Make a start with your mug. I bought this one especially for you; I am not an I Love Me kind of person, but it seems perfect for this mug cake for one *me*. Measure in the plain flour and caster sugar.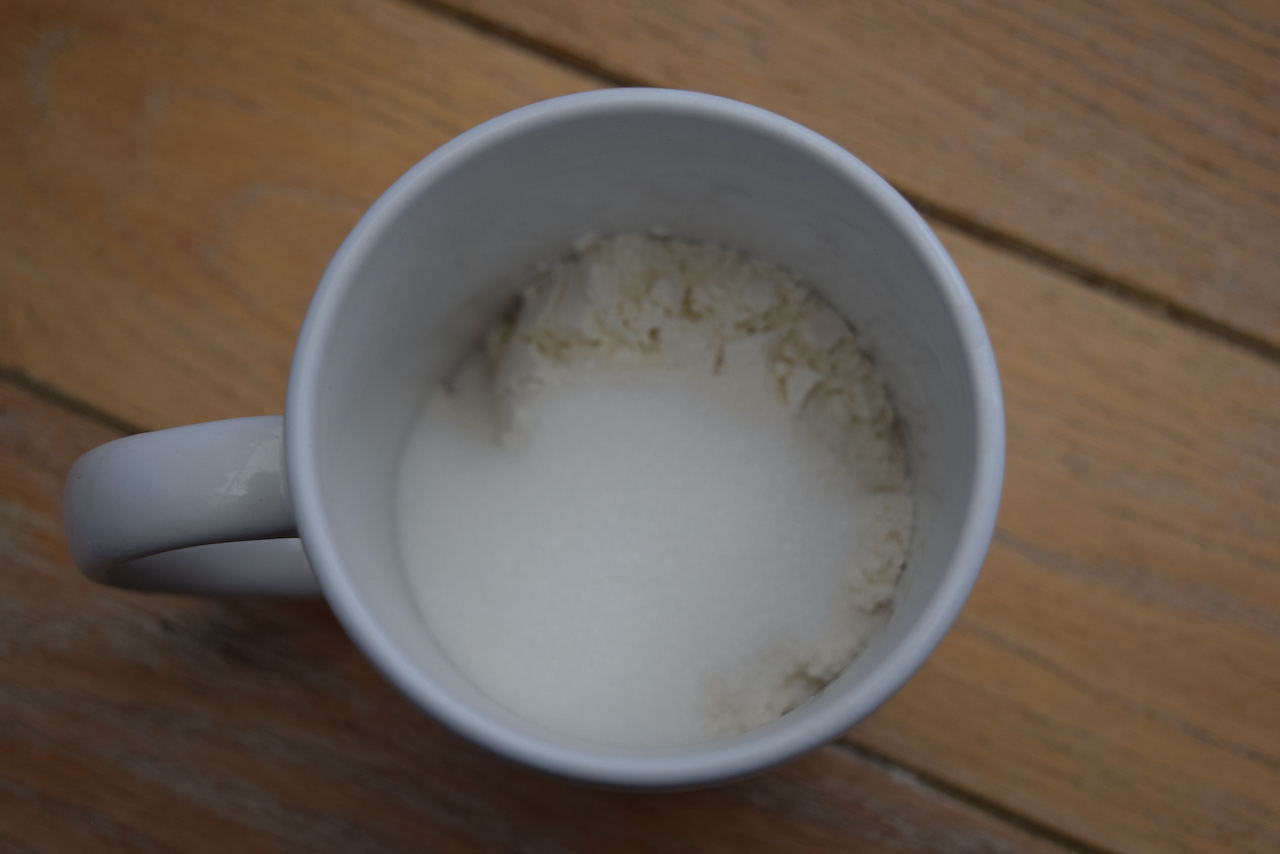 Now add the cocoa, baking powder and pinch of salt and give the whole lot a little whisk to combine.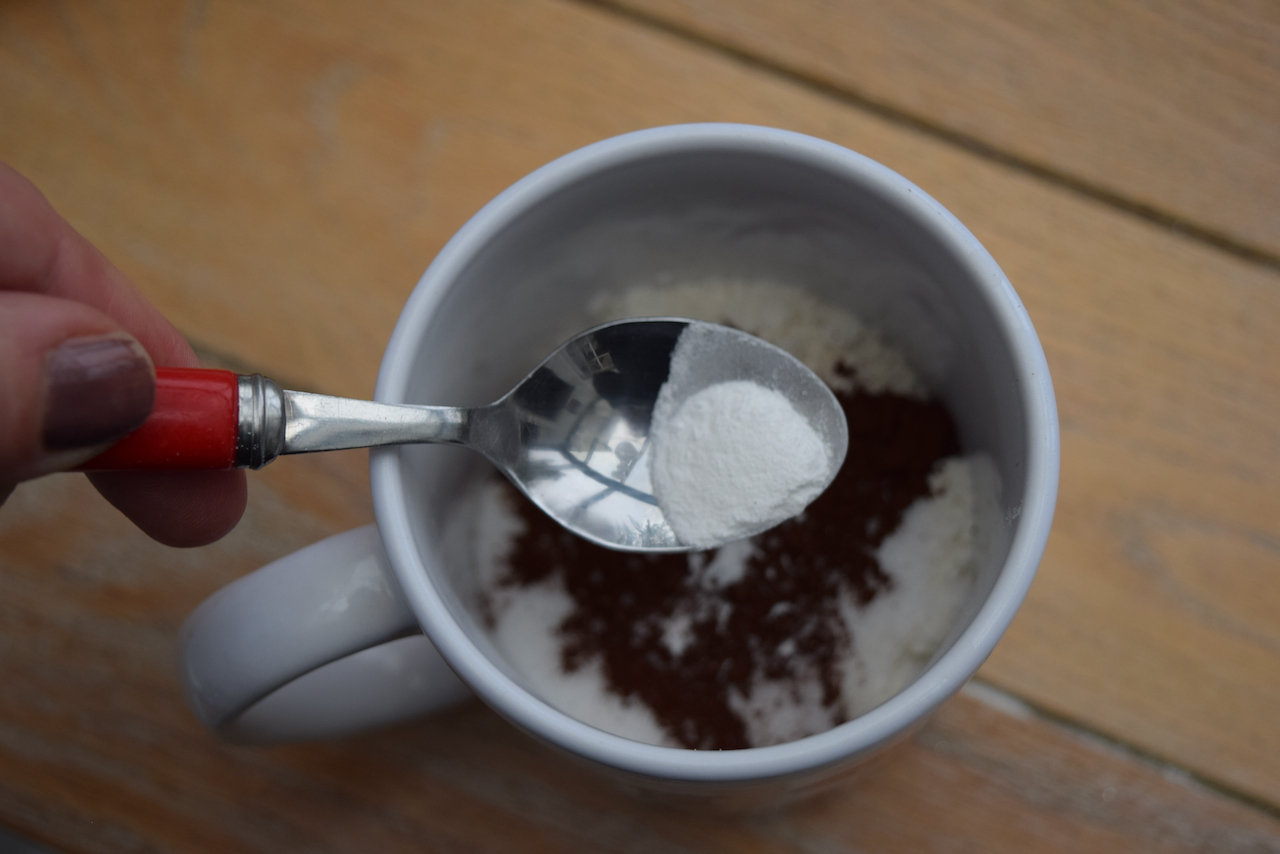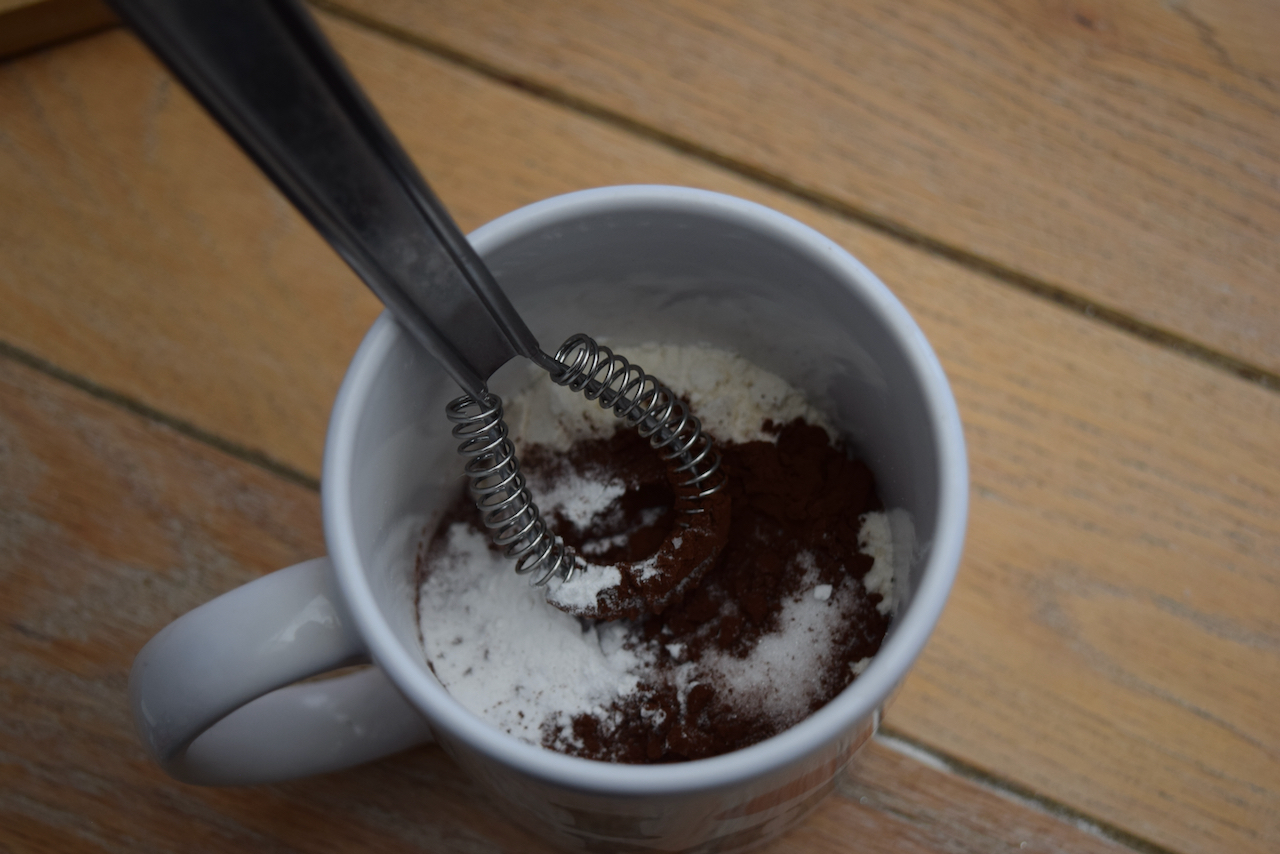 Melt the butter. In a small jug mix the milk with the vanilla and the red colouring of your choice until you have a deep red colour. Then mix with the melted butter.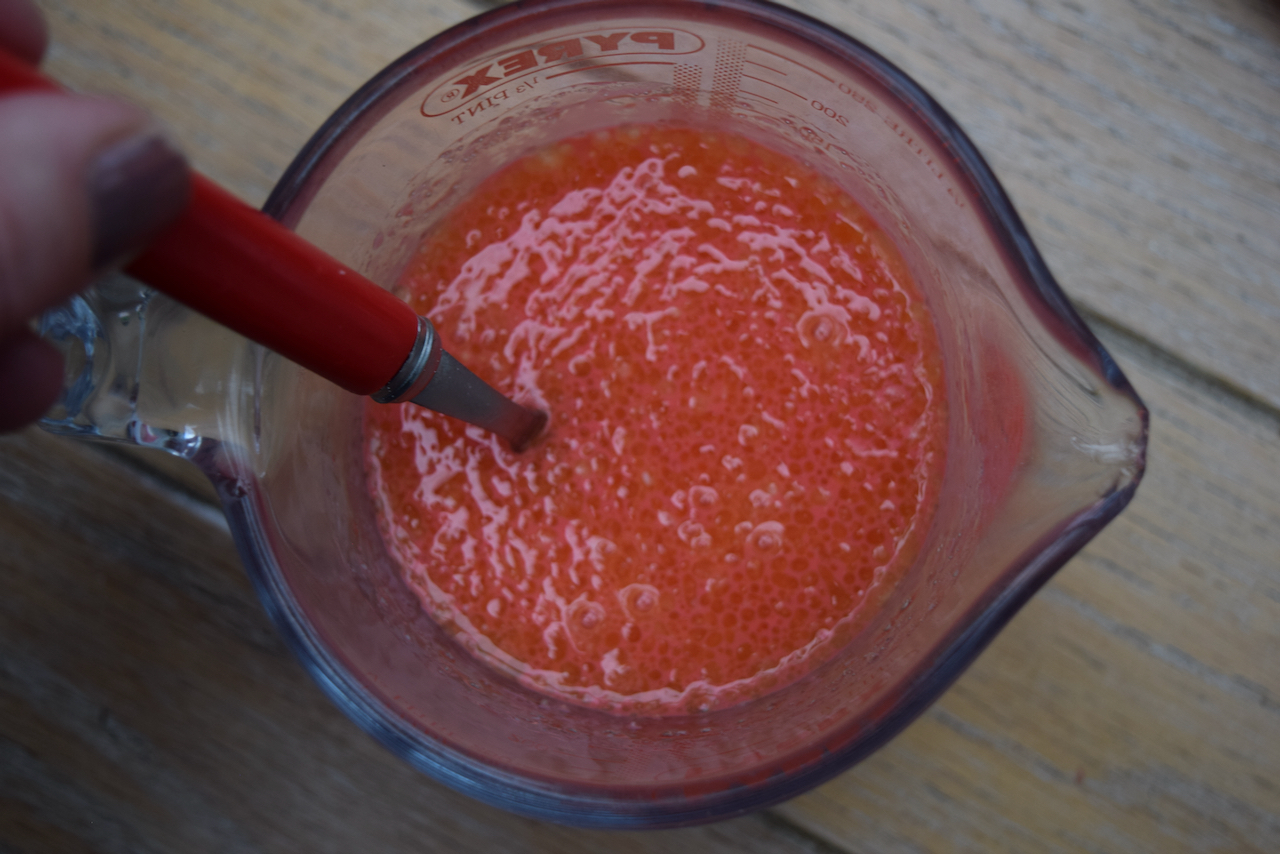 Don't panic if it looks lumpy and unpromising. Mix this into the flour and sugar mixture and whisk until smooth. Make sure you don't have any floury bits left at the bottom of the mug.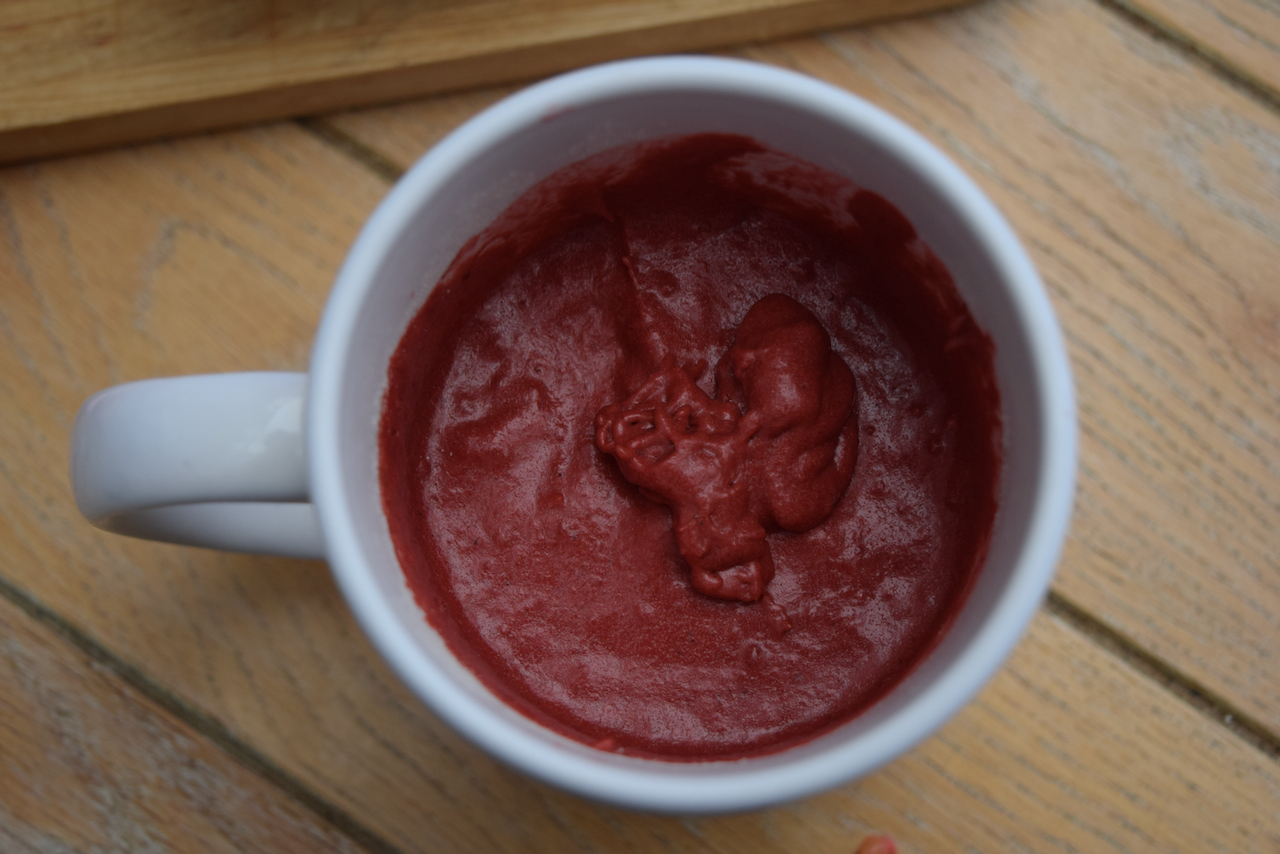 In a final flourish, mix the icing sugar and cream cheese until smooth. Then swirl the cream cheese icing into the red velvet cake mixture.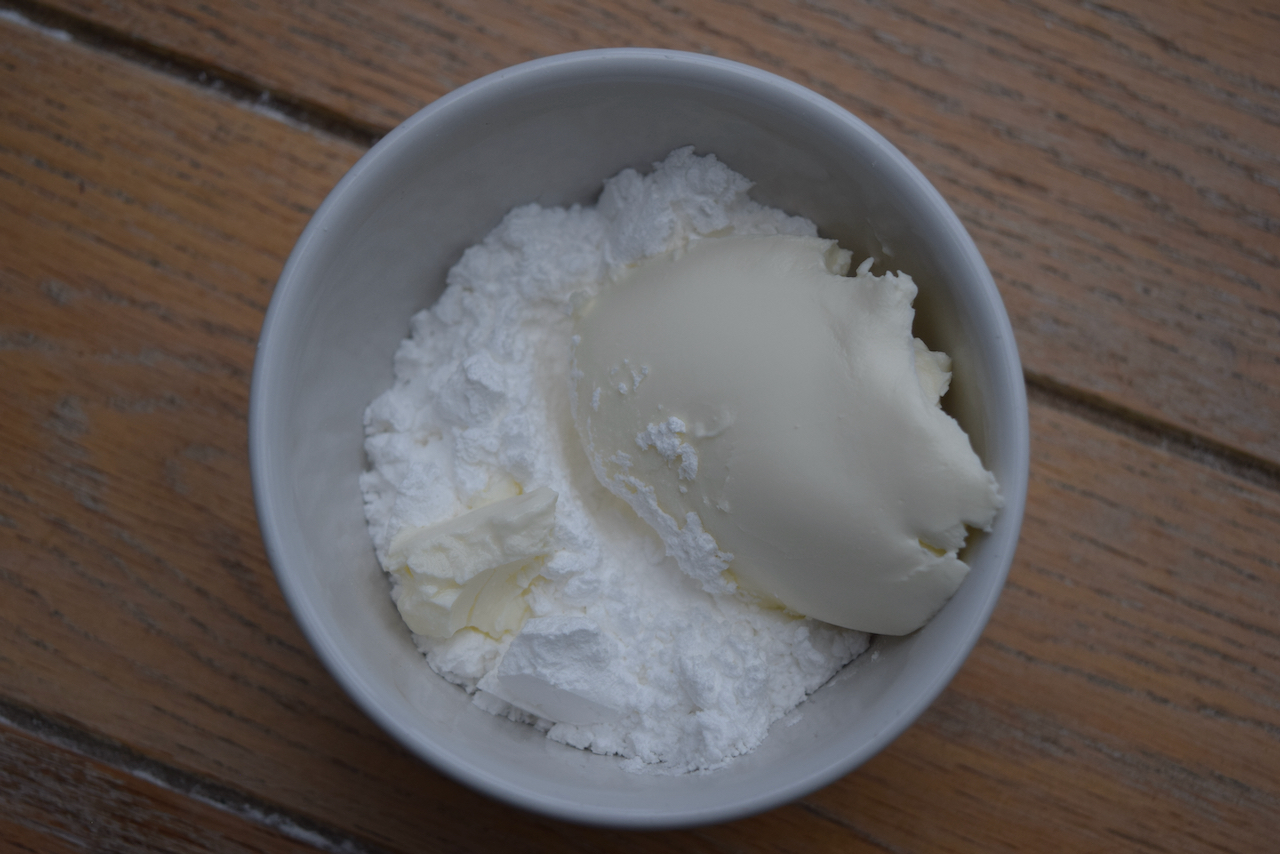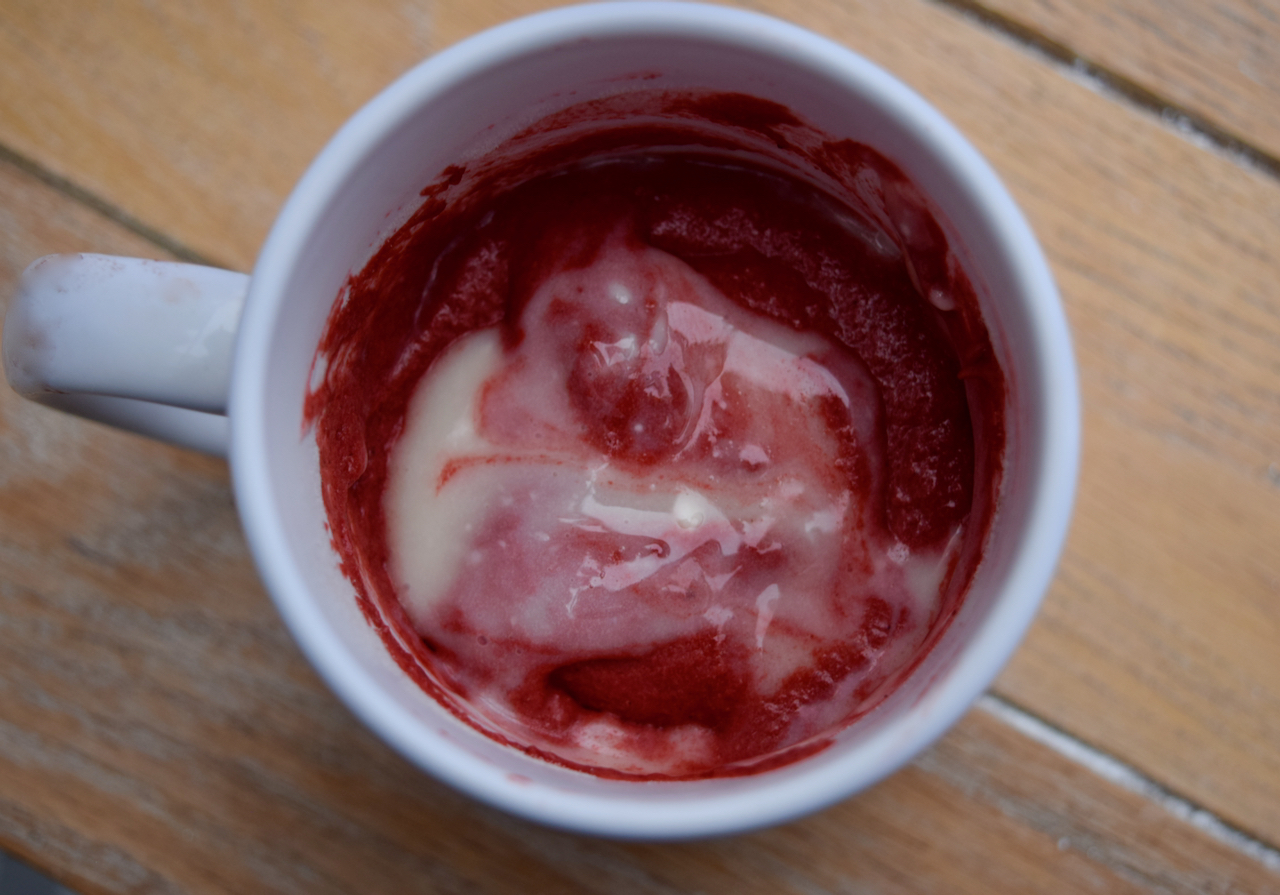 Now it's time for a brief spell in the microwave; around 90 seconds to 2 minutes should ensure the cake is well risen, firm to the touch and cooked through.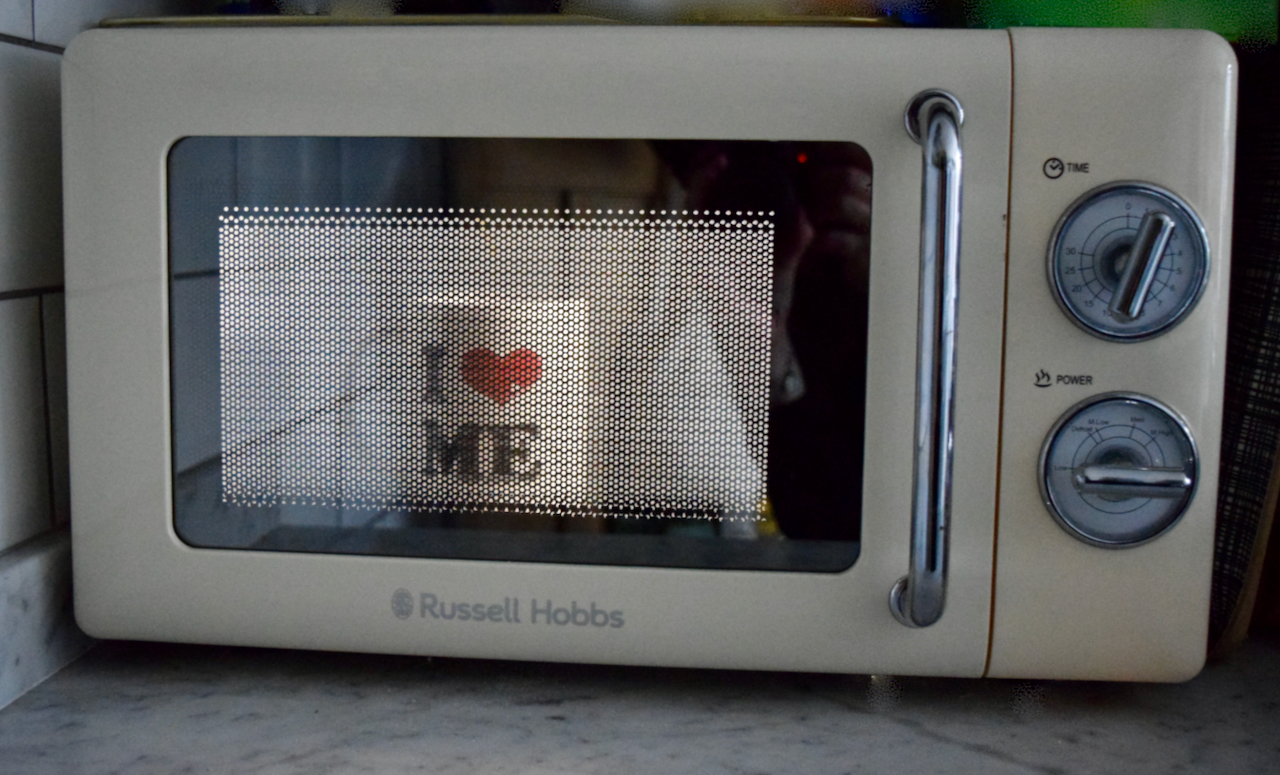 Please feel free to admire my new, and slightly less unattractive than my last, microwave.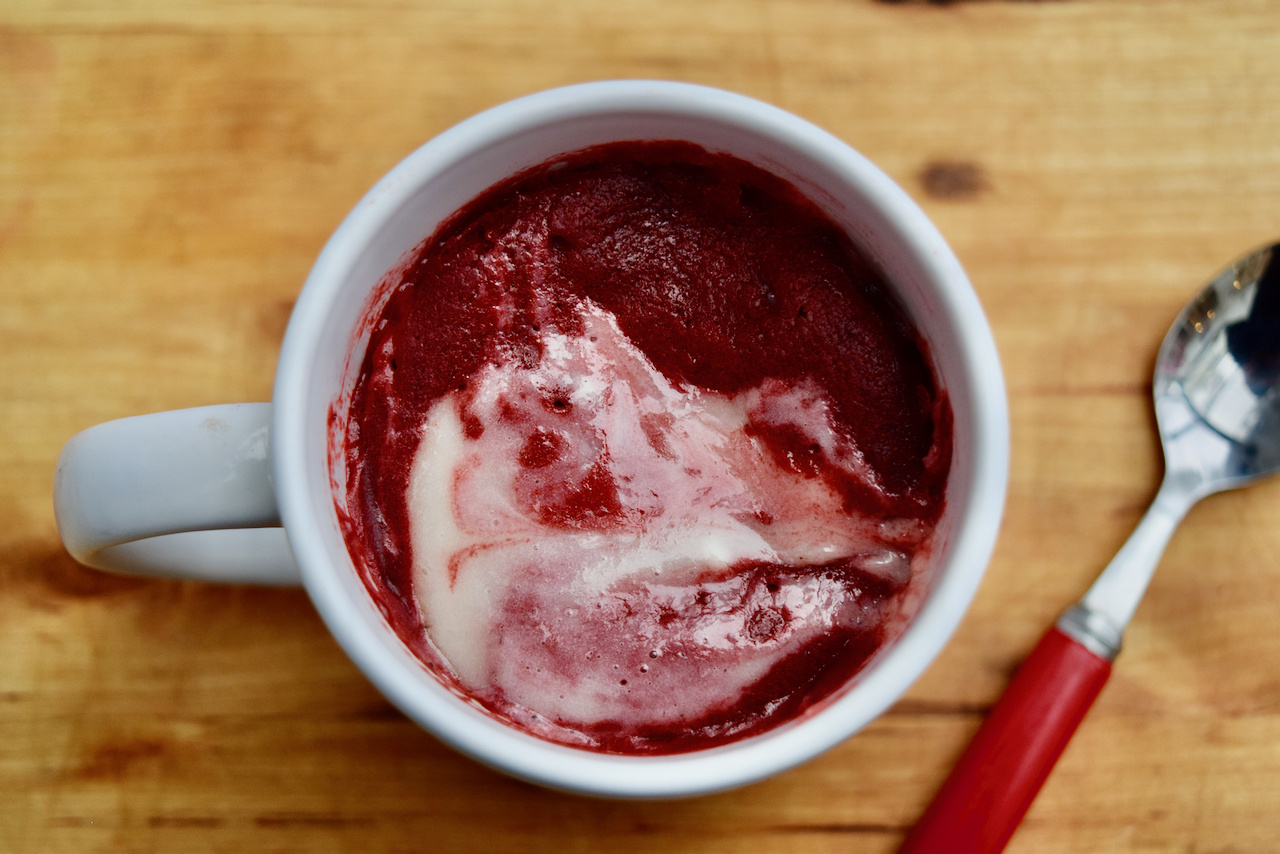 Now dig in and enjoy a bit of Valentine's self care, which is just another excuse to eat cake and not care.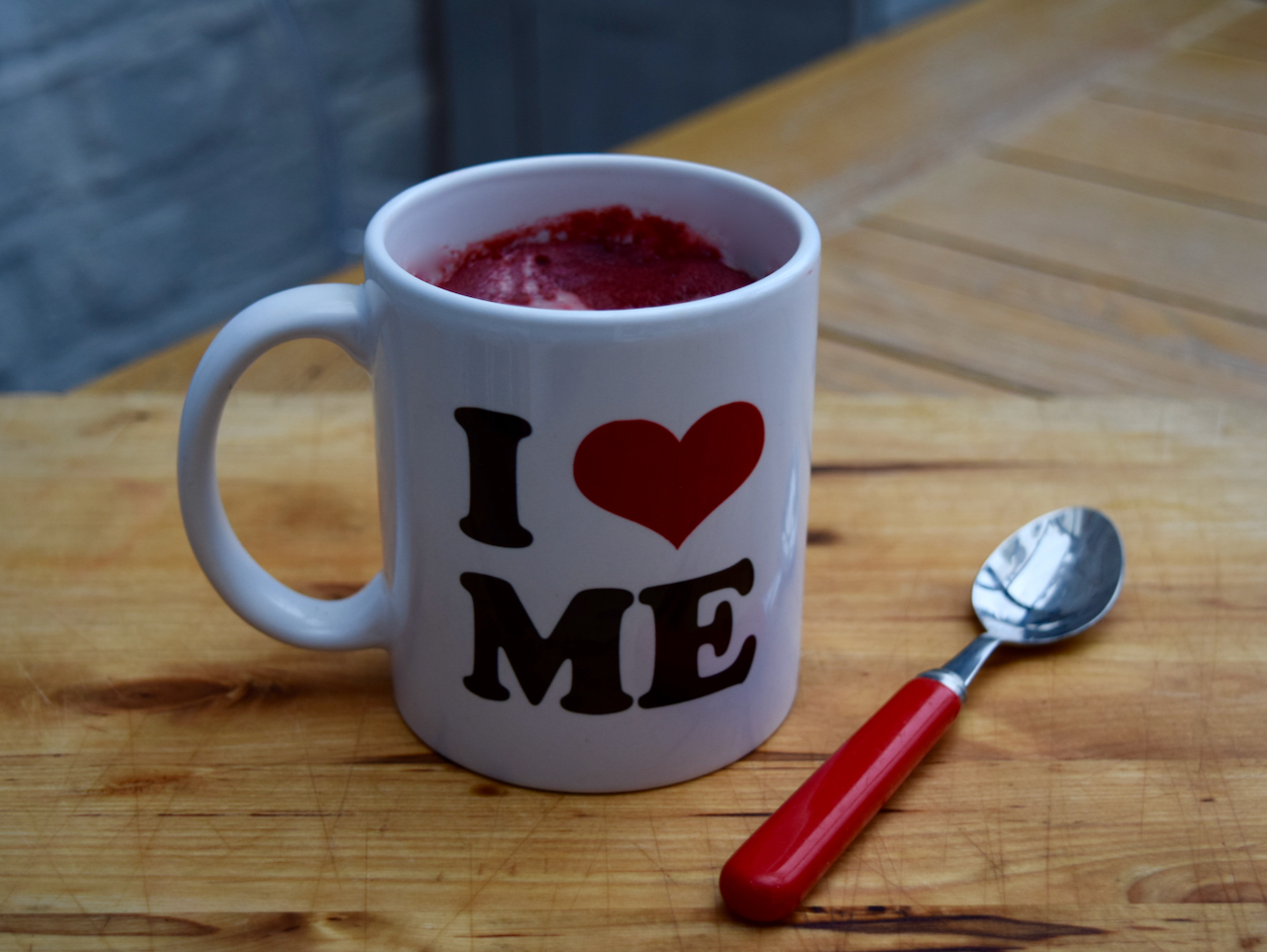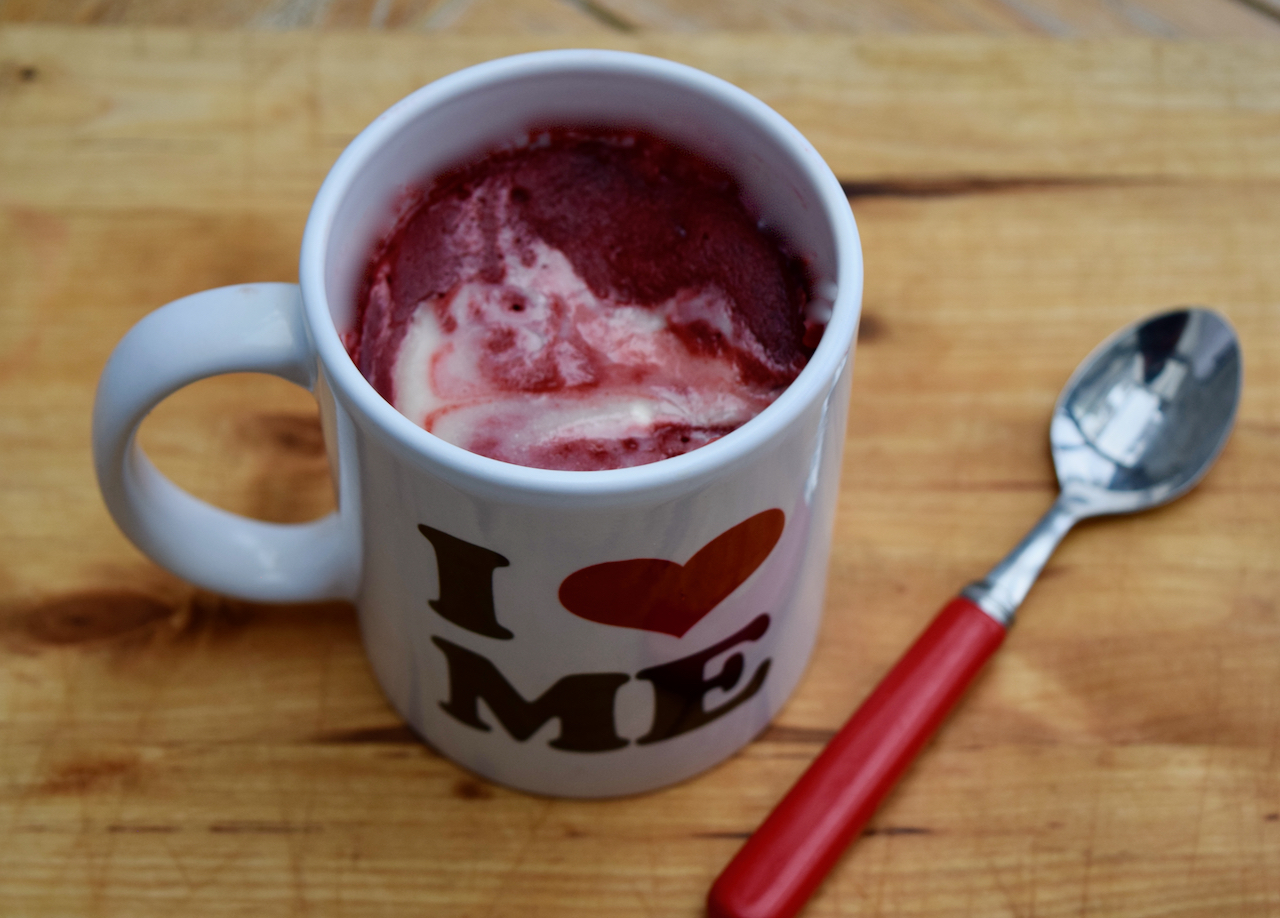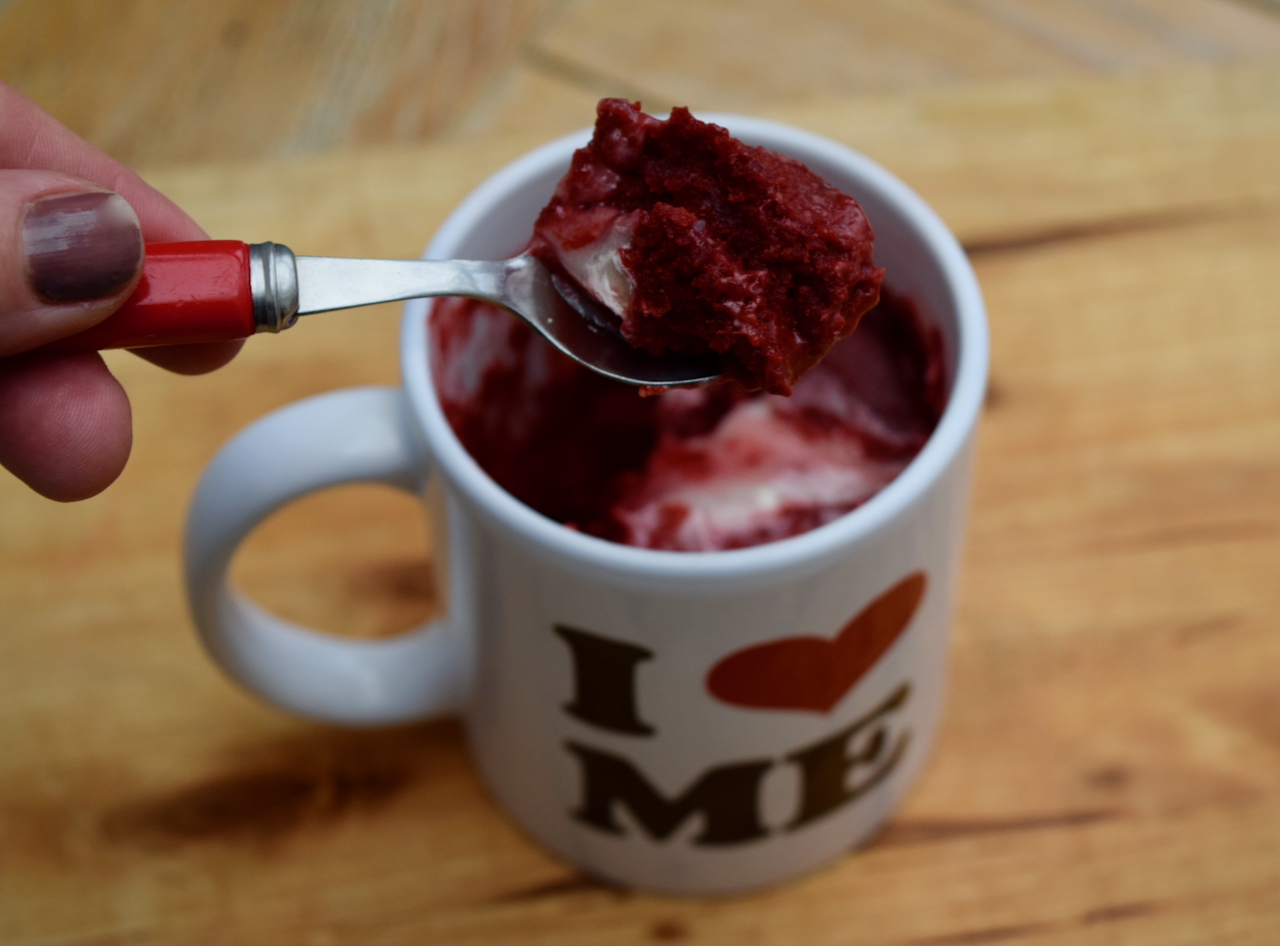 Let's face it, love really isn't in the air. If you're anything like me you've spent more than enough time with the ones we love in the last year. This Valentine's it's all about you. And your Red Velvet Mug Cake.
Lucy x
Red Velvet Mug Cake recipe
Makes 1
You will just a need a big mug, around 300ml capacity
6 tablespoons plain flour
2 tablespoons caster sugar
1 teaspoon cocoa powder
1/4 teaspoon baking powder
A pinch of salt
80ml milk, whole is best
2 tablespoons butter, melted
1 teaspoon vanilla extract
Red food colouring, this will depend on your brand, add enough to make a rich red colour
3 tablespoons icing sugar
1 tablespoon cream cheese
Take your mug and measure in the flour, sugar, cocoa, baking powder and salt and give it a little stir.
Melt the butter then in a small jug mix together the milk, vanilla and the red food colouring and whisk until combined. Mix the butter in with the red milk then pour the whole lot into the mug and whisk until you have a smooth batter.
In a small bowl beat the cream cheese and icing sugar until smooth. Swirl this into the red velvet cake mixture.
Microwave on high until your cake is firm to the touch and cooked through. Dependent on your microwaves power this will take between 90 seconds to 2 minutes.
Tuck in with a spoon and devour all to yourself.