Chocolate Hazelnut Mousse Recipe
I spend quite a good deal of time researching chocolate mousse. 'Get out more' I hear you cry, but it's quite the labour of love and not really a hardship. Mousse is such a great dinner party or family dessert, I love finding new recipes and perfecting old ones. When my Mother handed me a couple of pages torn from the Times Magazine, I knew with this Chocolate Hazelnut Mousse, I had found a new best mousse based friend.
Not only are mousses super tasty, they are super easy. This particular Chocolate Hazelnut affair is no different. It only has 4 ingredients, it's made in one bowl and barely needs any chilling time. And it tastes so good. I only like Nutella straight from the jar, I can't abide it on toast, but this mousse is the most brilliant vehicle for your chocolate hazelnut spread. Add some mascarpone for richness, cream for, well, creaminess and just a touch of espresso powder to make this pud just a tiny bit more grown up. It's thick, not too sweet, only a hint of coffee and a good hit of chocolate. There's nothing complicated in the making of this pud; just whisking and scraping, simple. I chose to serve mine with some chocolate macaroons, nutty and simple, and I'll share the recipe with you when I have a mo. Any nibbly biscuit would go well though, bought or homemade, no pressure.
This is a mousse for all seasons. One for friends, family or not for sharing at all, if you have a selfish/greedy streak. No one's judging here.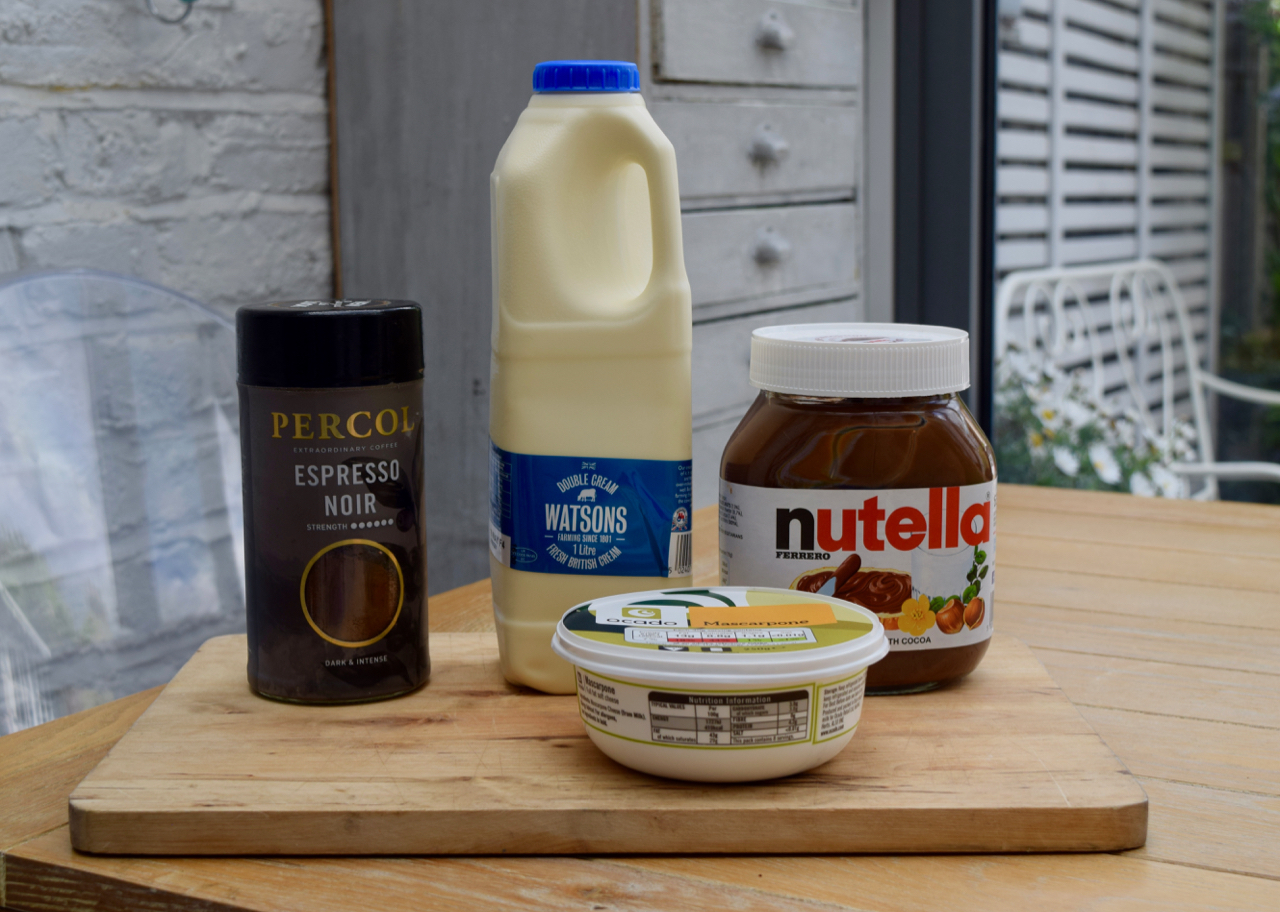 Four ingredients for this genius mousse, what could be more simple. I was quite pleased to use up the 4 open jars we had of Nutella in our house where George seems incapable of finishing one before opening another.
Make a start with either a bowl and a hand whisk or your hand mixer. Add the cream and instant espresso powder and whisk to soft peaks.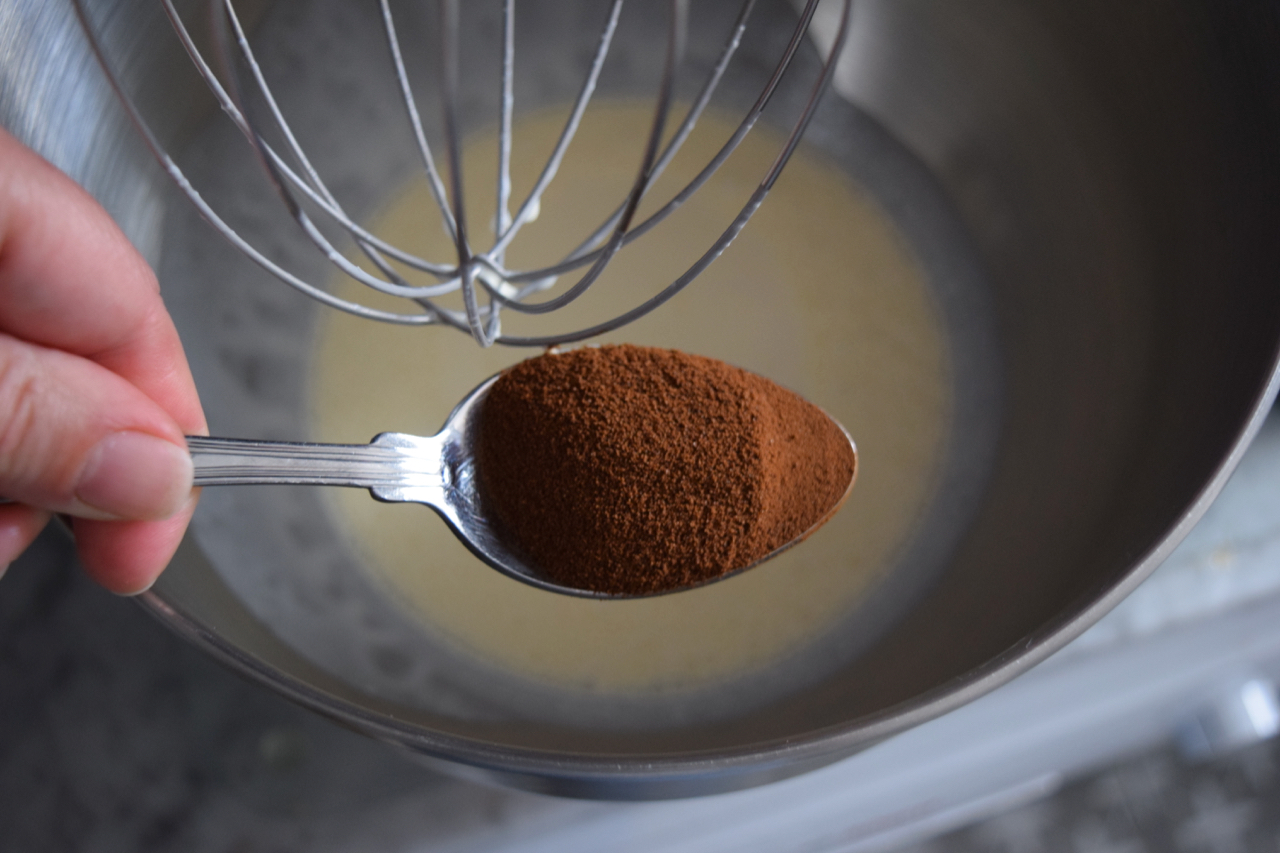 Next scoop in the tub of mascarpone and the giant blobs of Nutella or whatever Chocolate Hazelnut spread you have in your cupboard.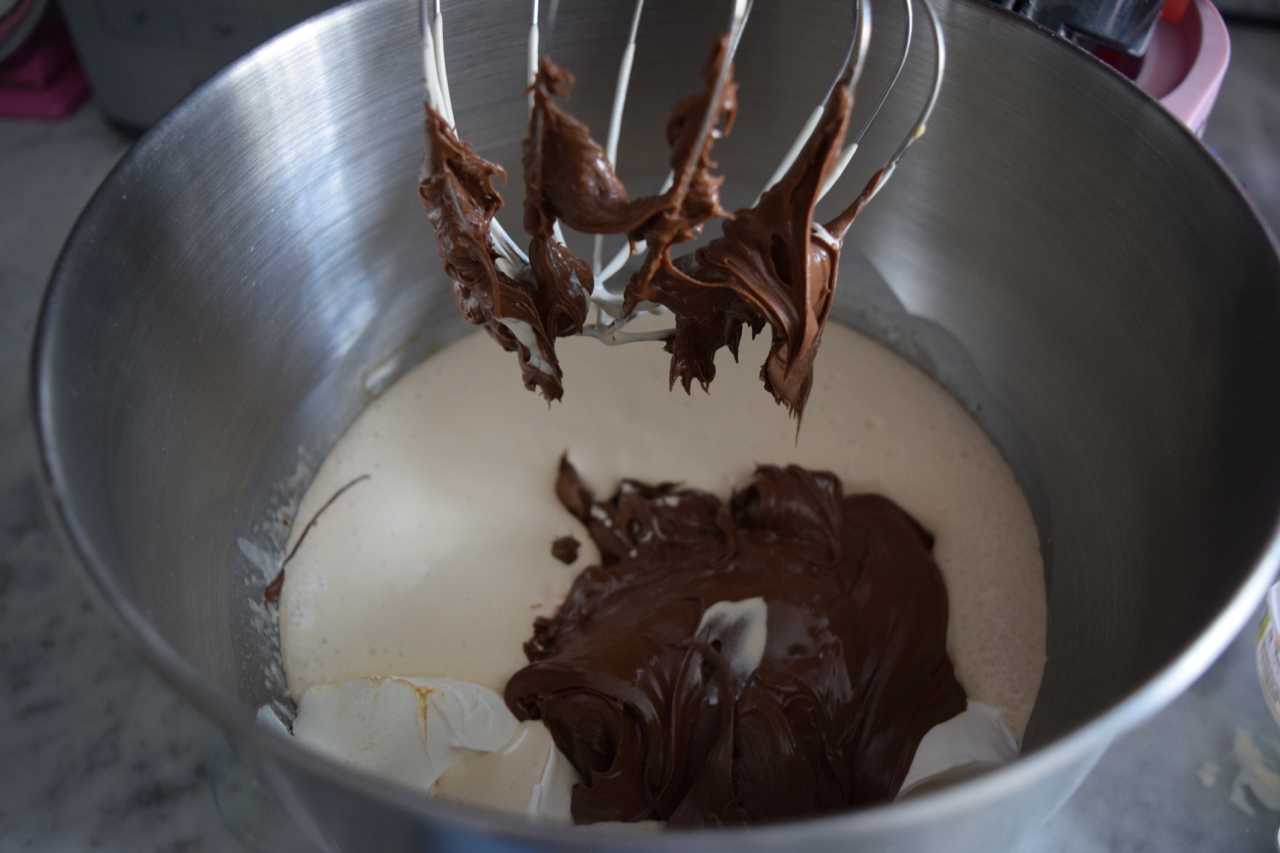 Give this divine mixture a brief further whisk. It won't need long as mine thickened up quite quickly. You want it to be thick but don't over whisk. You can always finish of the mixing with a spatula.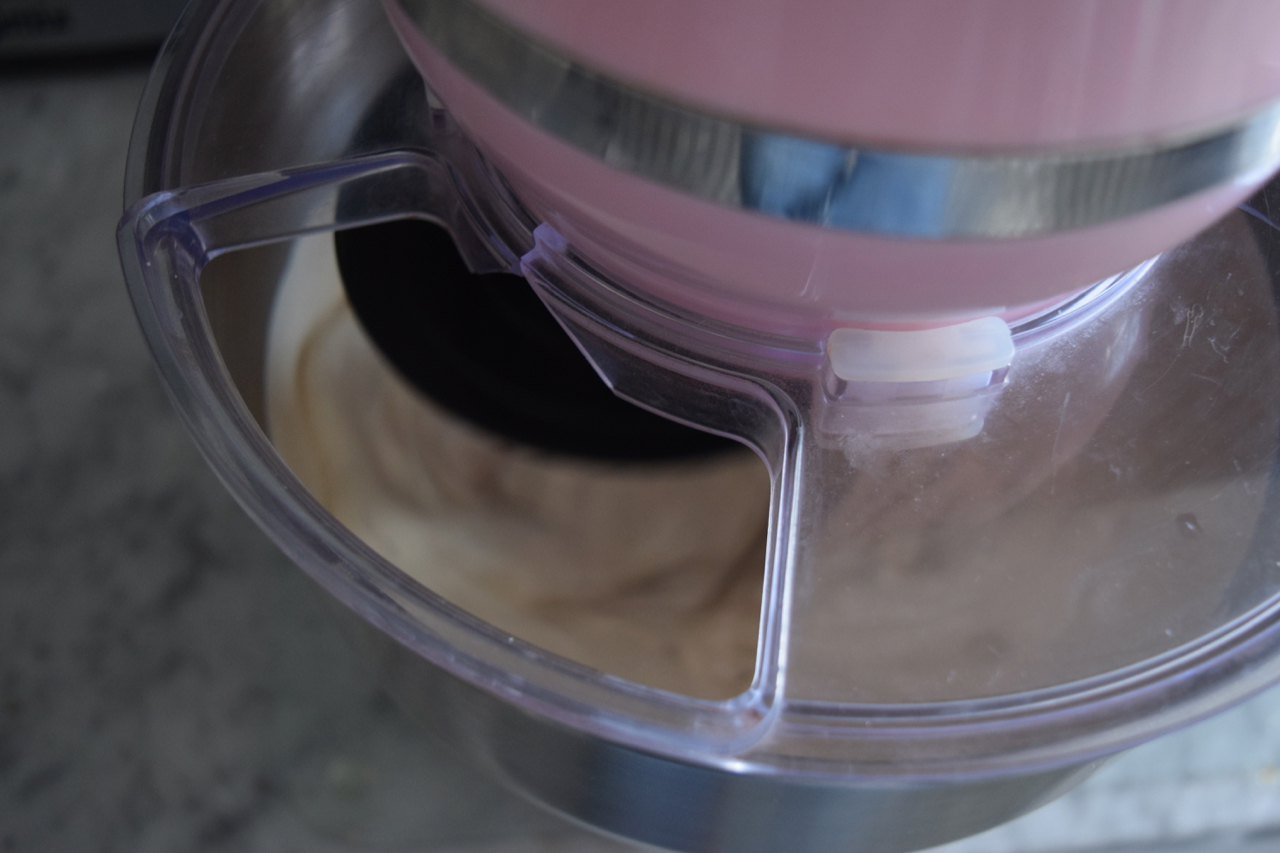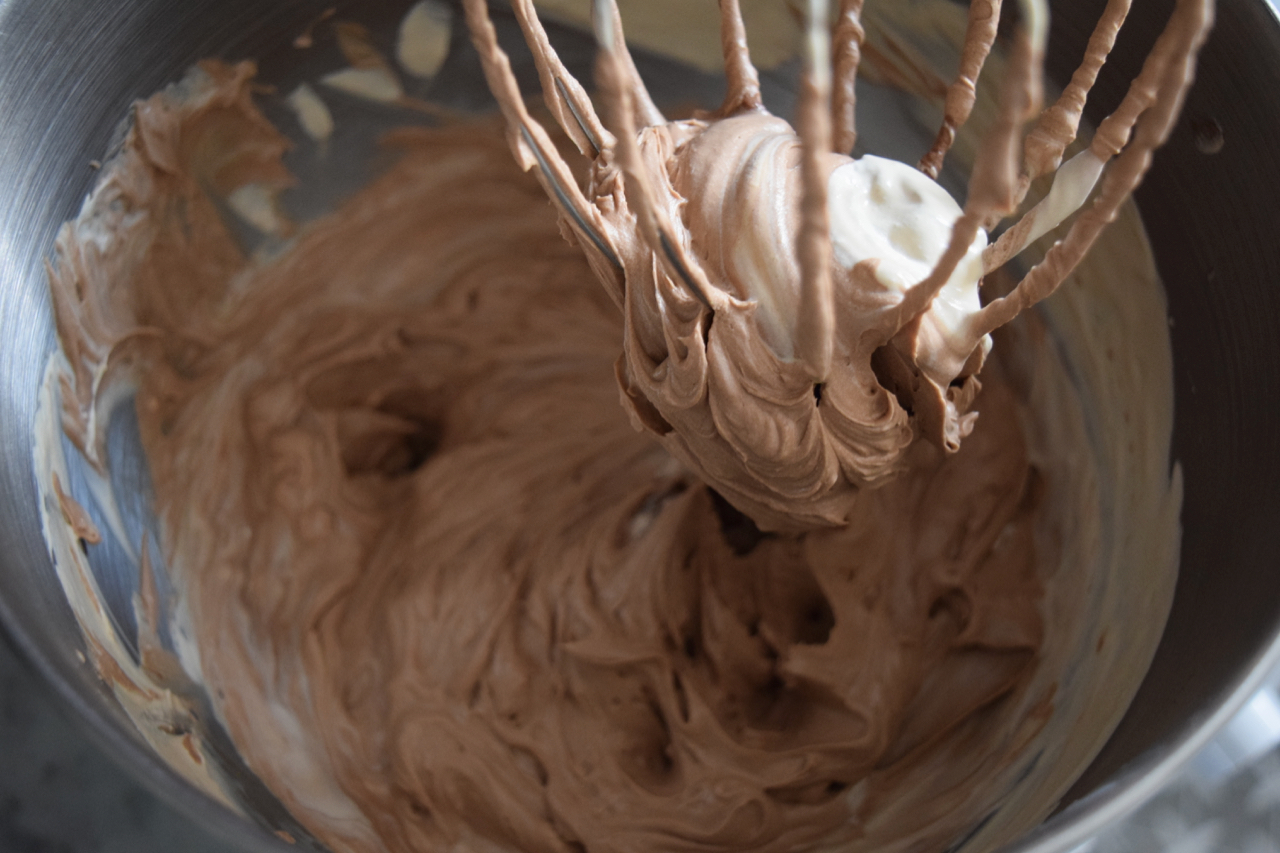 Scrape the mixture into your serving bowl, or serve in individual cups or dishes. Then chill until needed. It's set sufficiently to serve straight away but does benefit from a spell in the fridge so it's super chilled before eating.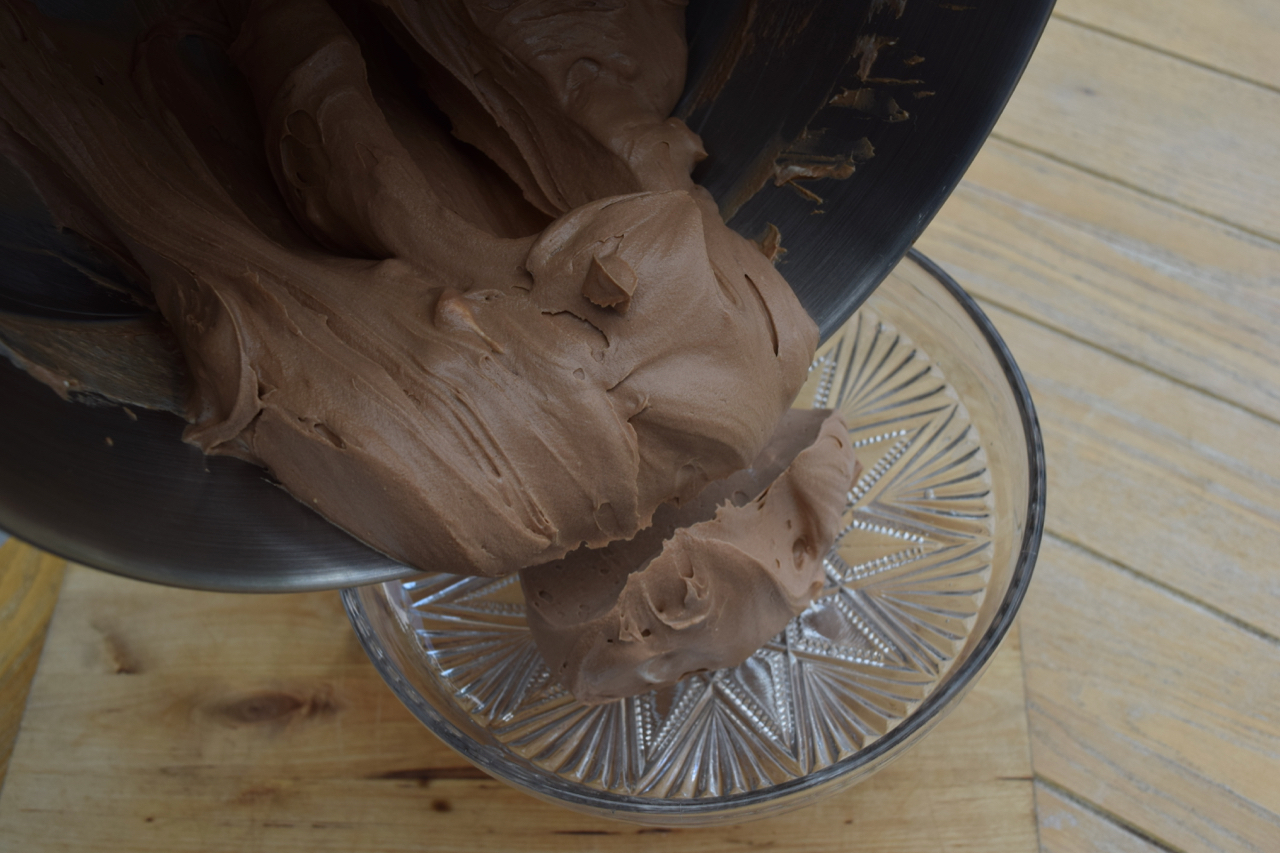 Dust with a little cocoa before serving, if you like.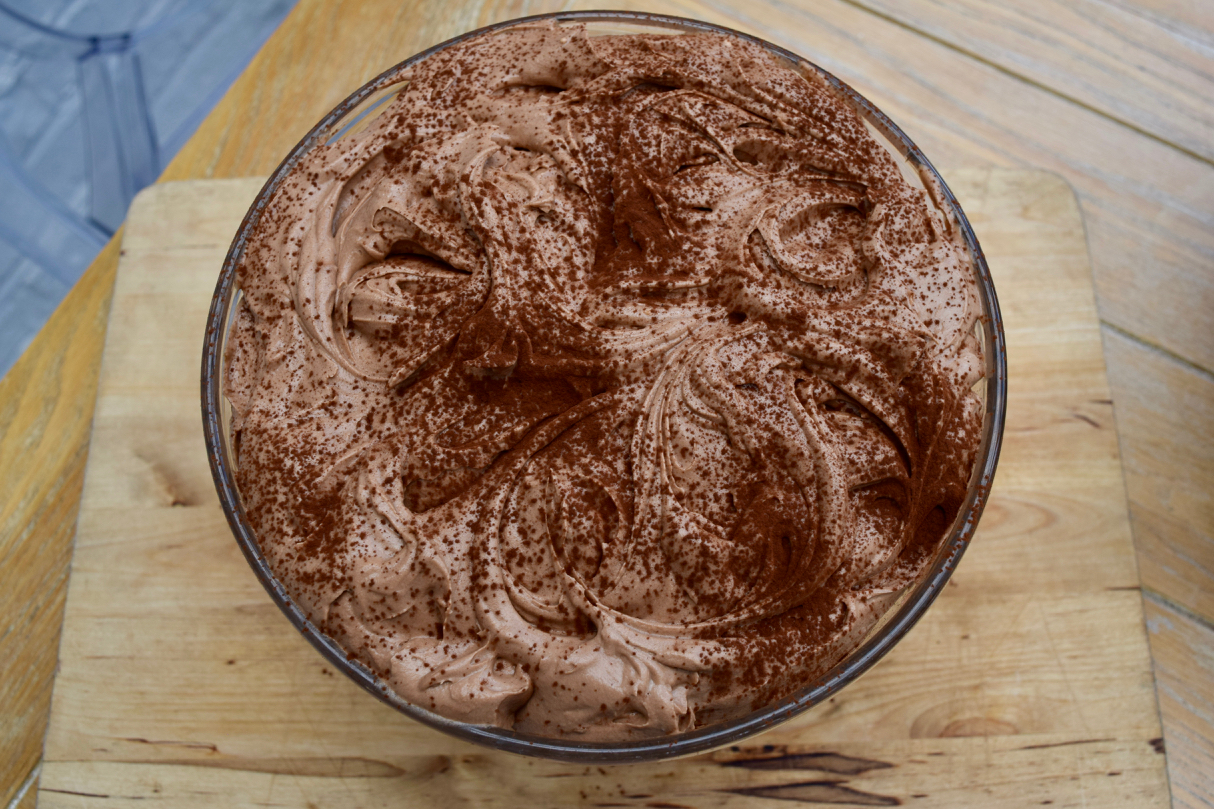 Then dive right in. These chocolate macaroons went so well with it, they were chewy, almondy and perfect for scooping.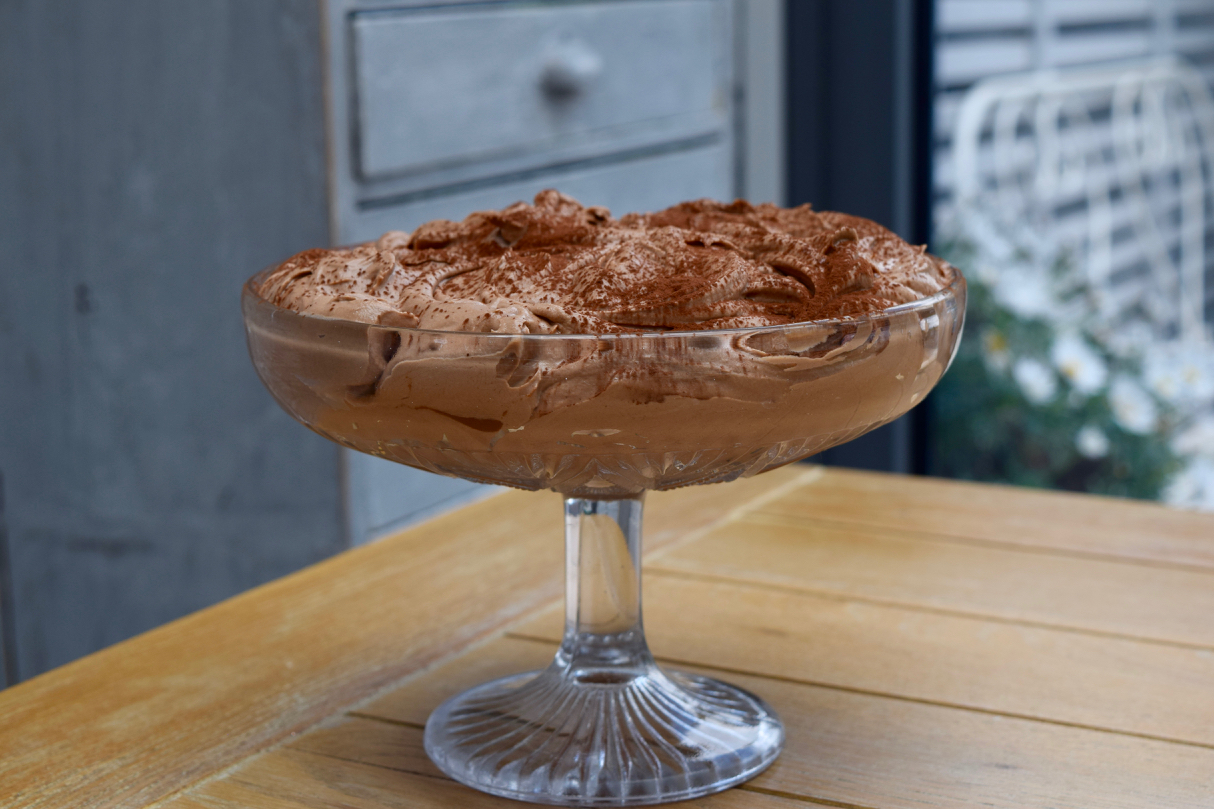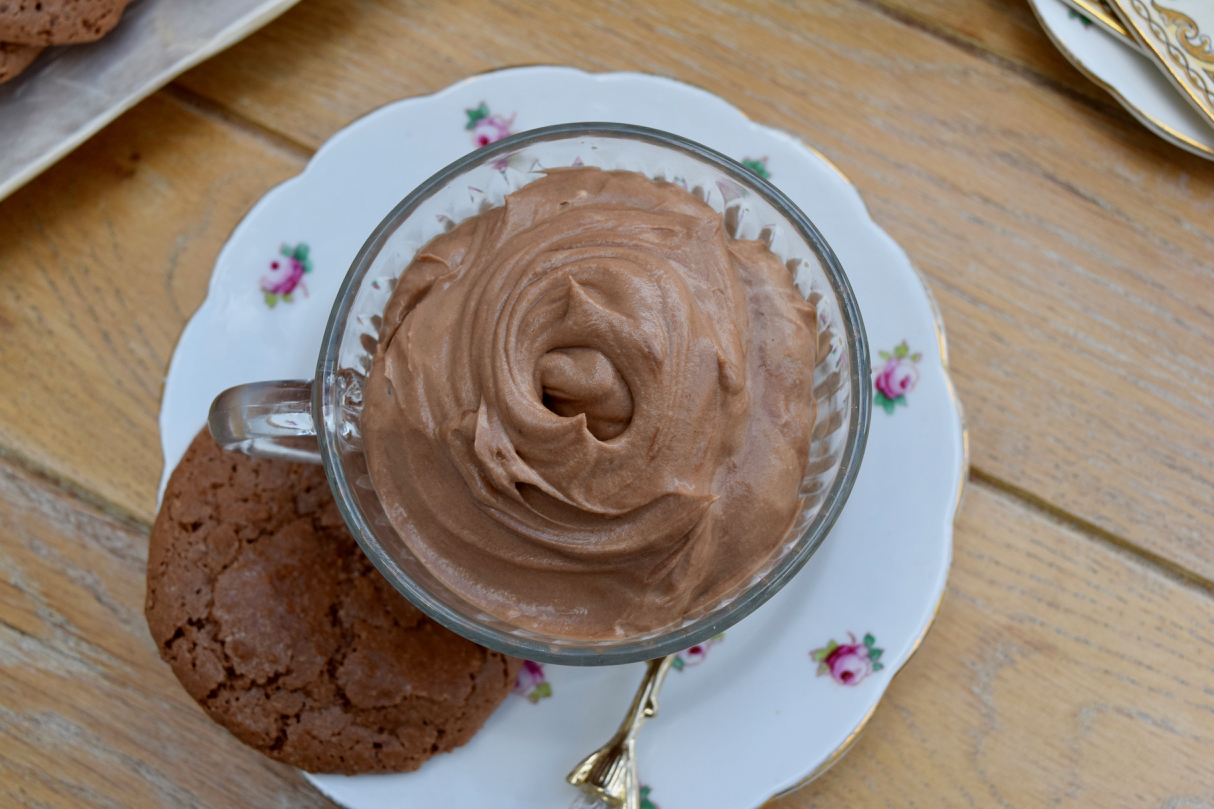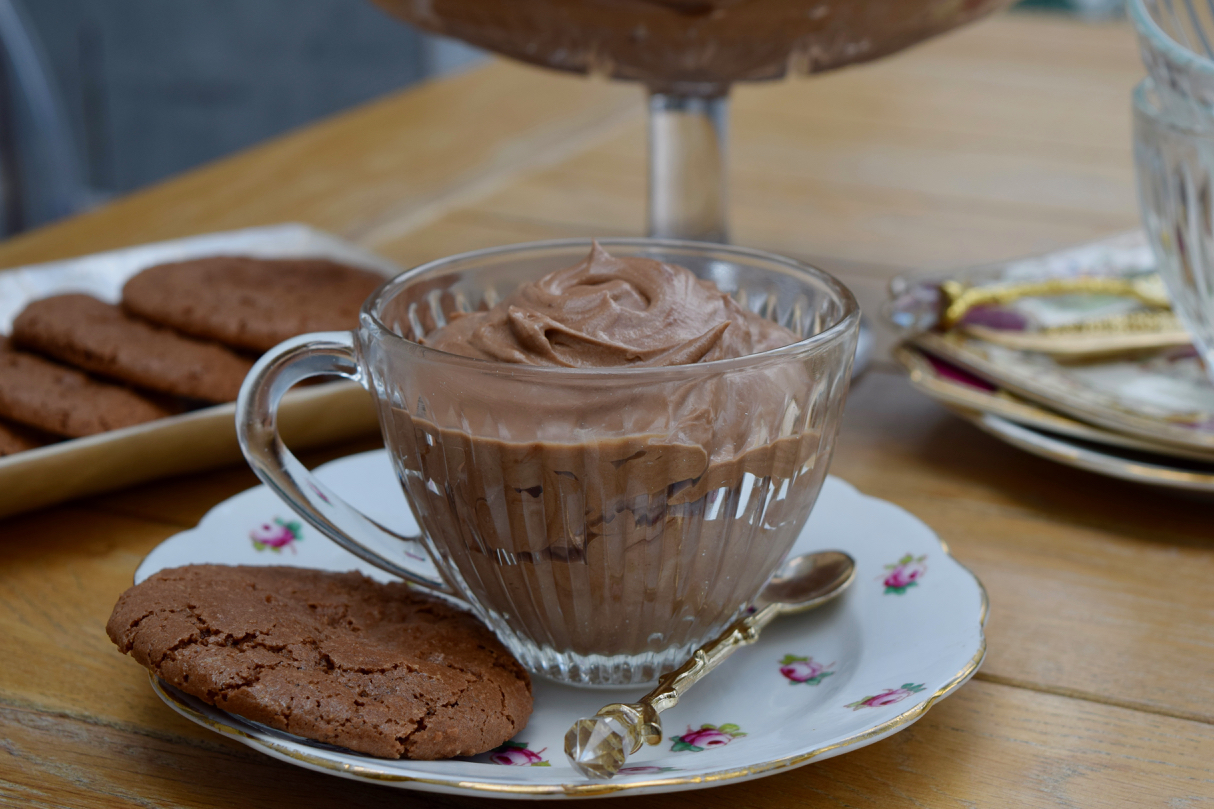 This is rich, I won't lie to you, but not sickly. The coffee adds interest without making it a all about the coffee. What I'm trying to say is I ate tons of this and it didn't make me feel sick. That's quite a classy testimony right there, I think you'll agree.
Lucy x
Chocolate Hazelnut Mousse Recipe
Serves 4 to 6, portion size dependent
You will need a stand or hand mixer
250g mascarpone
330g Nutella or any chocolate nut style spread
1 tablespoon instant espresso powder
375ml double cream
A dusting of cocoa to finish, a biscuit of some nature to serve
Take a bowl and your hand mixer or your stand mixer and add the double cream and espresso powder. Whisk until you have soft peaks.
Add the mascarpone and Nutella and slowly whisk again until just starting to thicken. Give the mix a final fold with a spatula then scrape into your serving bowl or bowls/glasses/cups.
Leave to chill until serving. Serve with some biscuits, cookies, macaroons, biscotti, it's up to you.