Pea and Chickpea Falafel Recipe
Like a grumpy old wedding DJ, I don't usually do requests. However, my sister and I were on a road trip last week and she mentioned she would like a reliable Falafel recipe. A random choice, but considering I ignored her last recipe request for a child friendly fish supper, I thought I had better oblige on this occasion. I am still dwelling on the fish recipe, by the way, leave it with me.
I had, by complete coincidence, saved this Pea and Chickpea Falafel recipe on Pinterest only a couple of weeks ago, via the most innovative and wonderful the Kitchn website. So thank you to them for this beyond tasty recipe. I had never made my own Falafel before, more out of lethargy than any particular fear. I had always thought they were tasty, just never been arsed with making them. Now, I will be making them at the drop of a hat, who knew they were quite as simple, and so incredibly delicious. The addition of peas add a fresh sweetness and I meddled with a dip style dressing recipe with yoghurt, tahini and lemon juice to compliment every mouthful.
I can happily report these Pea and Chickpea Falafel are perfect in every way. In the line of duty as a committed food blogger I tried these with baked pitta chips as a first course, topped with a dollop *brilliant word* of dressing and herbs as a nibble and just hot from the pan as a super tasty vegetarian dish. They work on all levels, so thank you to Kate for her special Falafel recipe request, top inspiration skills.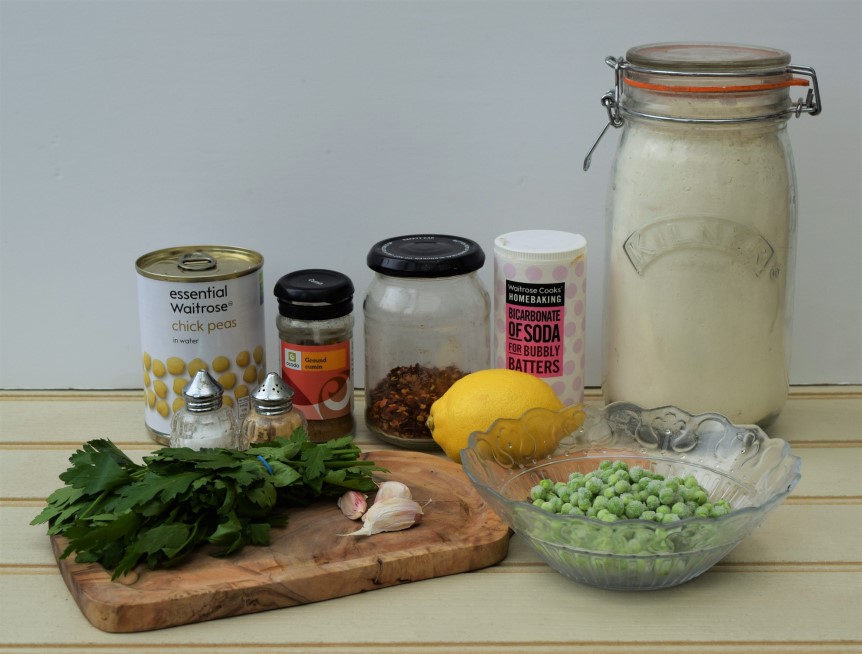 Elegant line up for these Pea and Chickpea Falafel. I used frozen peas, why wouldn't you, and made a start on this dish by defrosting them by dousing these in a kettle of boiling water.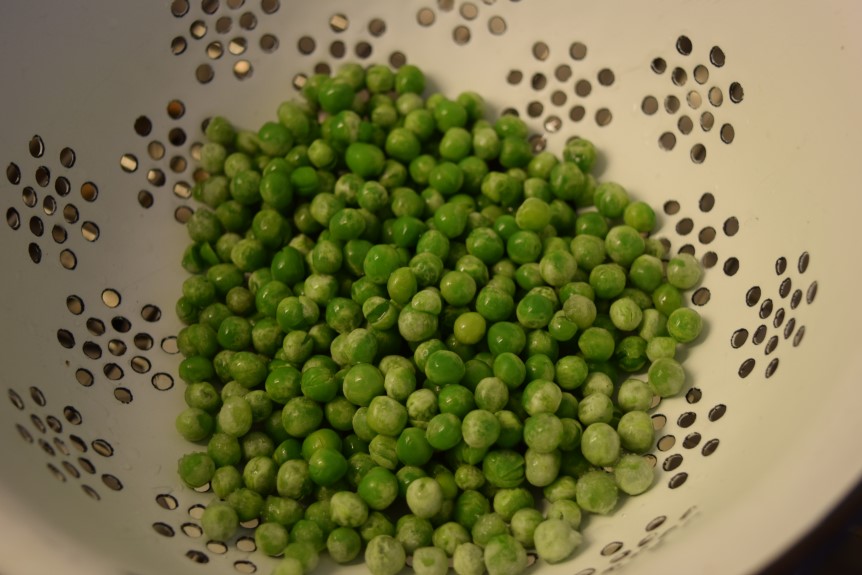 Leave these to drain in the colander and pop your oven on low to keep the cooked falafel warm later.
Now, in an embarrassingly simple method, pop all the ingredients into your food processor and blitz. You could do this by hand, I can imagine mulching everything together with your hands would work best.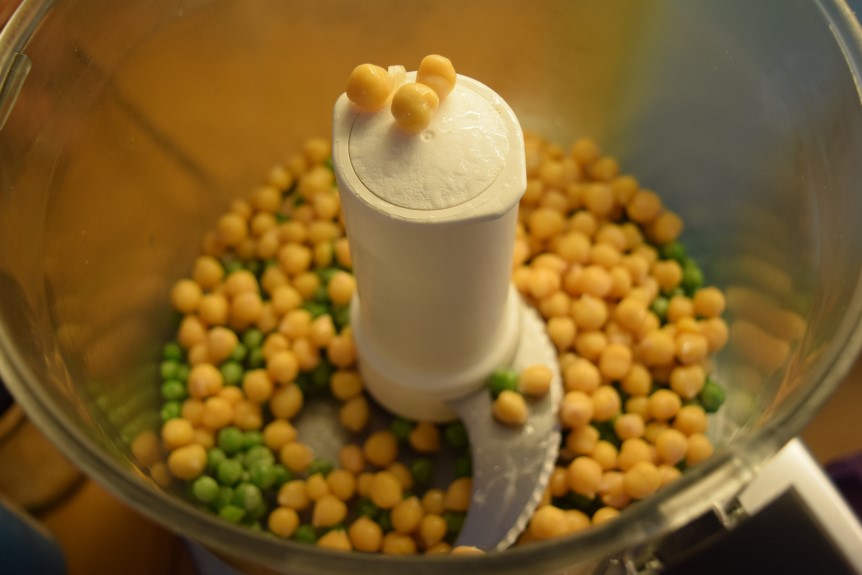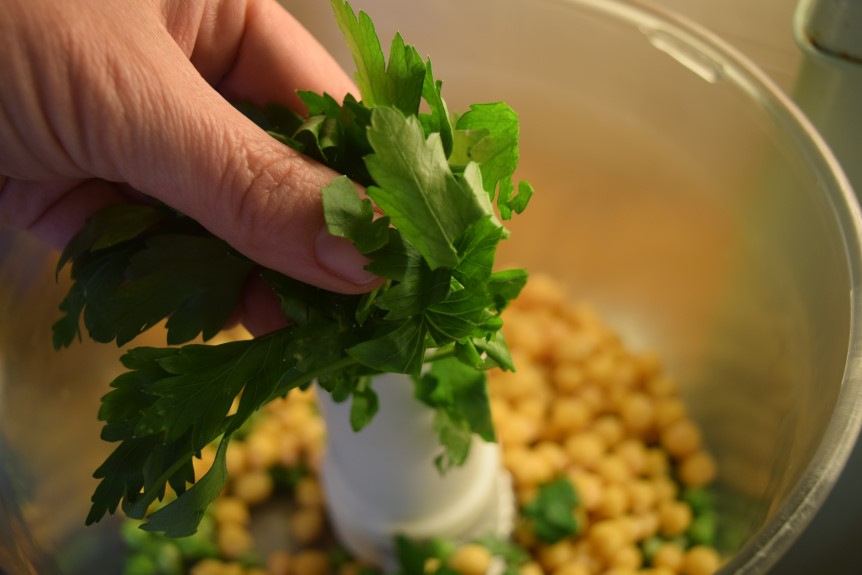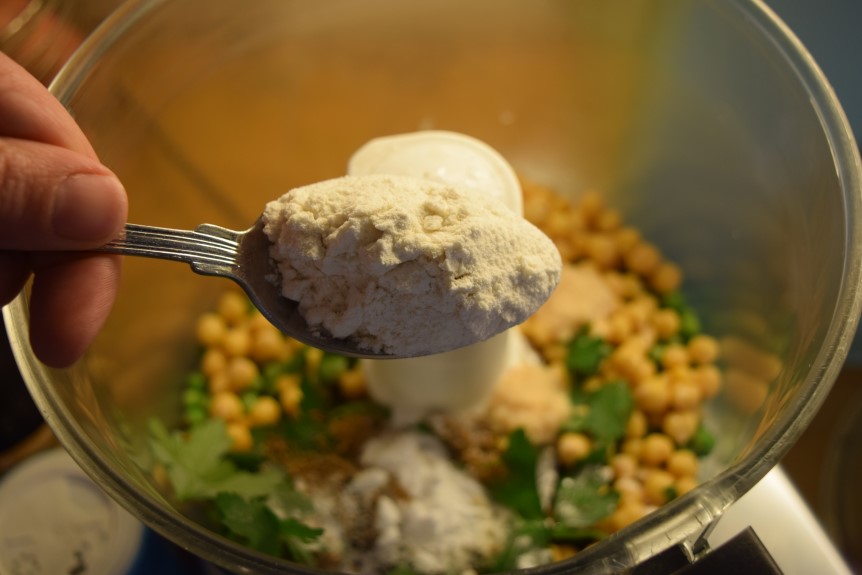 Process this fragrant mixture until it is a good chunky texture, you are not looking for a smooth puree here.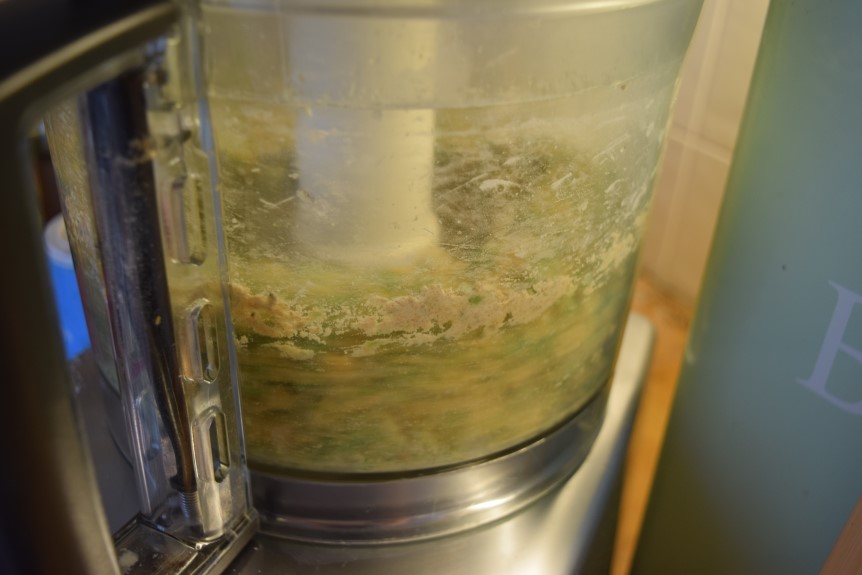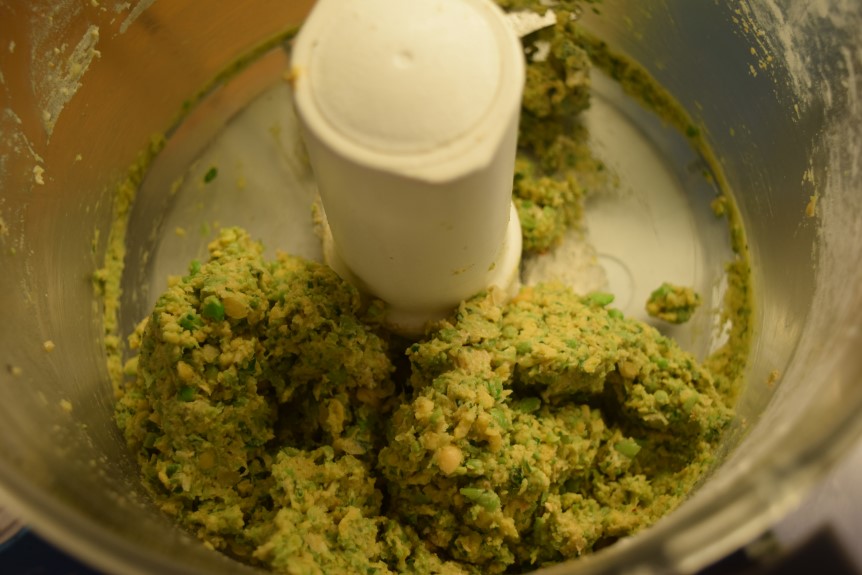 Now, to fashion this pastel green mush into falafel. With damp hands, form the mix into walnut sized balls and flatten slightly. Place these onto a lined baking sheet.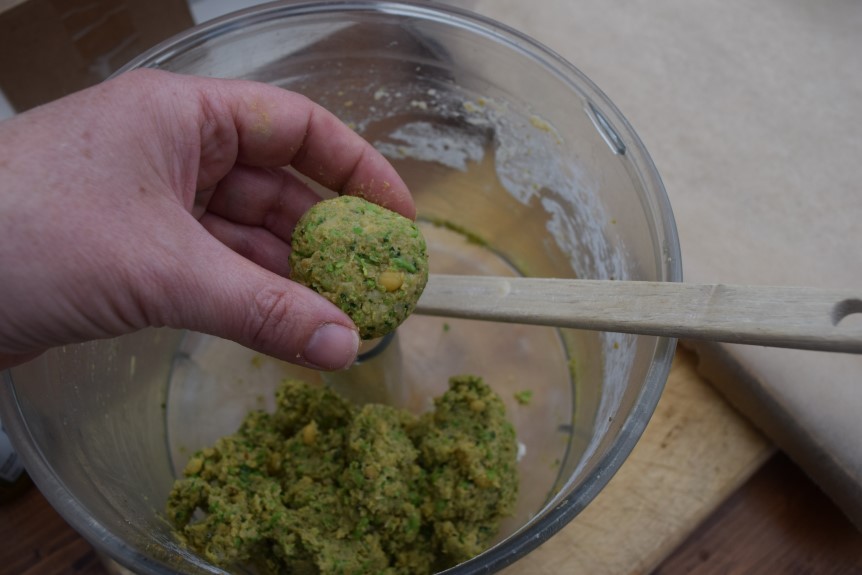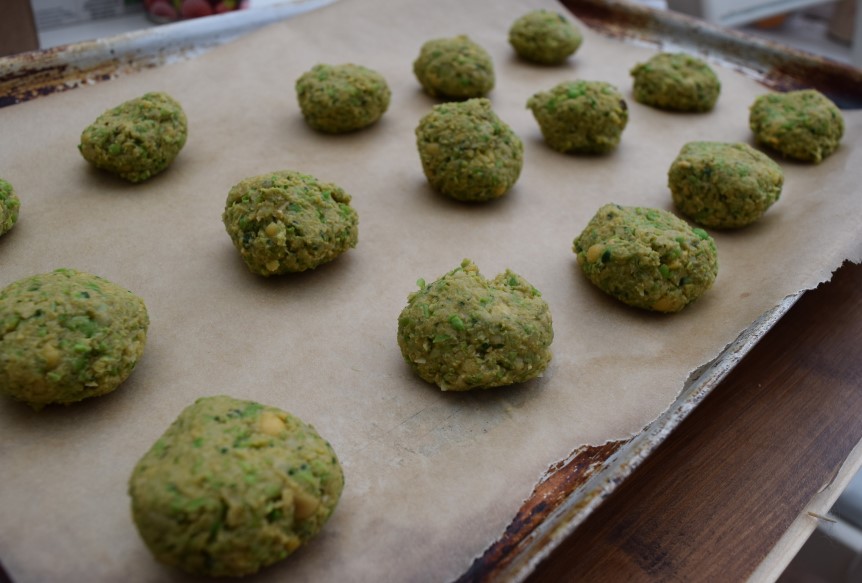 Heat a scant inch or so of vegetable oil in a shallow frying pan over a medium heat. Once shimmering pop your falafel in to cook for around 2 minutes on each side.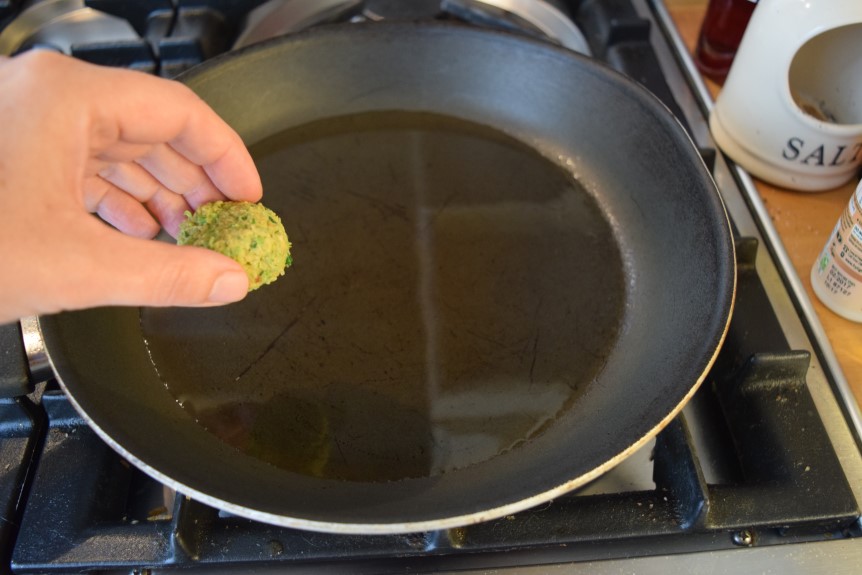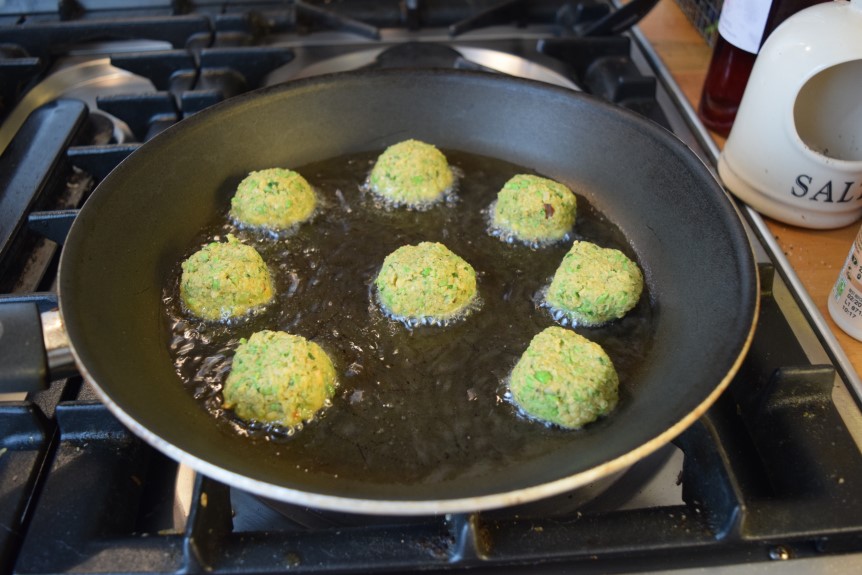 Keep an eye on them as they do brown up super quickly. Turn them over and cook for another couple of minutes or until golden brown and piping hot.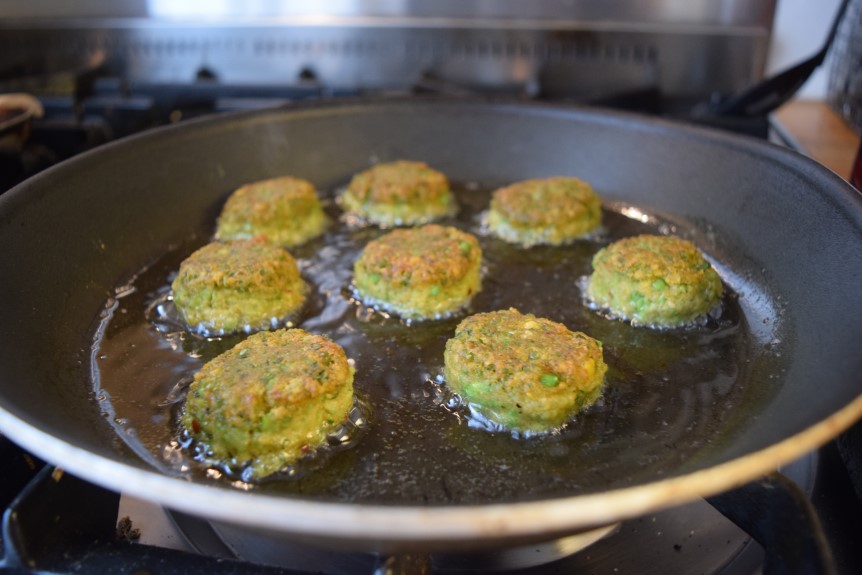 Pop the cooked falafel back onto the lined baking sheet and keep warm in the oven while you finish shallow frying the rest of the batch.
While the falafel are keeping warm, quickly make the Tahini Yoghurt Dressing. Pop the Greek yoghurt into a bowl and stir through tahini and lemon juice.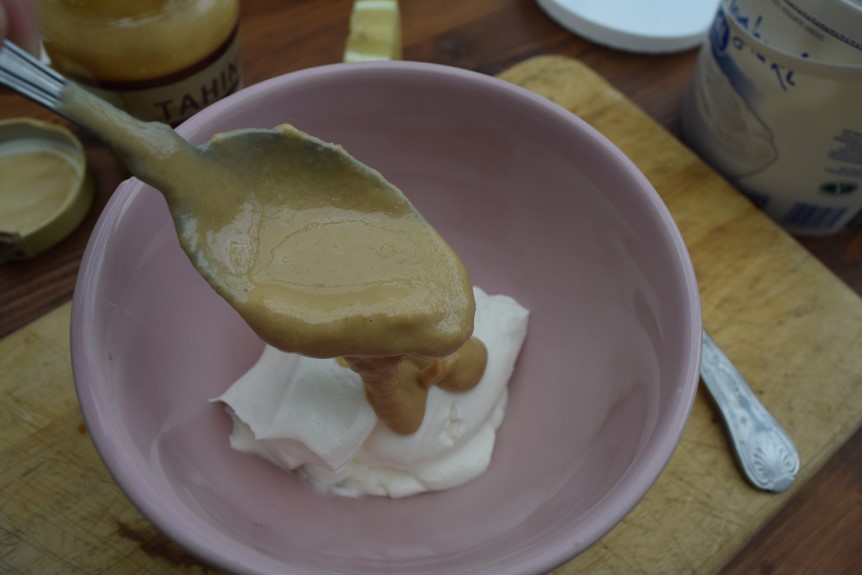 Season to taste, and I did taste a good couple of mouthfuls, this is super delicious and creamy. If you want to serve your falafel alongside some pitta chips, just cut 3 pitta breads into triangles, drizzle with olive oil, sprinkle with garlic powder and bake for 10 to 15 minutes in a hot oven.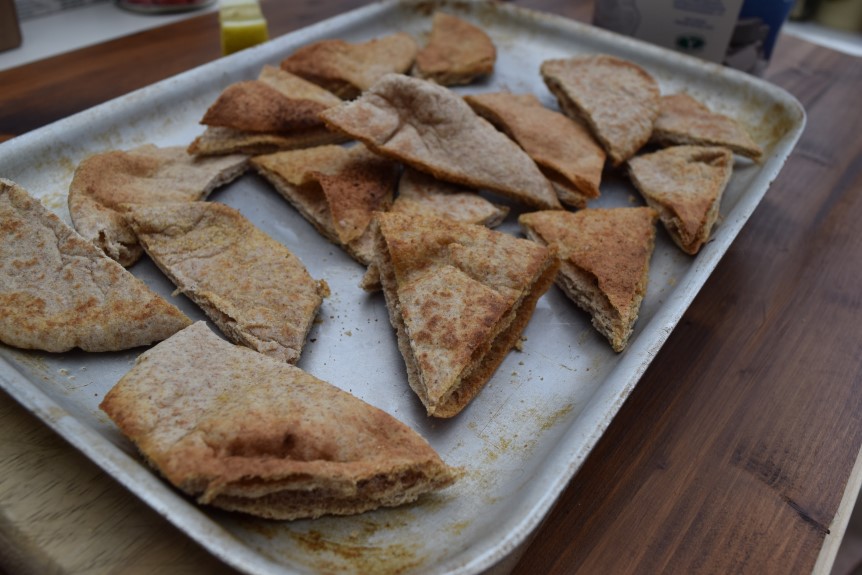 And now it's time to choose how you eat these wonderful Pea and Chickpea Falafel. Start your evening with these as a nibble or first course, or serve as a fragrant light lunch with bread and leaves. Or, like me, snaffle at least 5 hot from the oven, scalding the roof of your mouth in the process.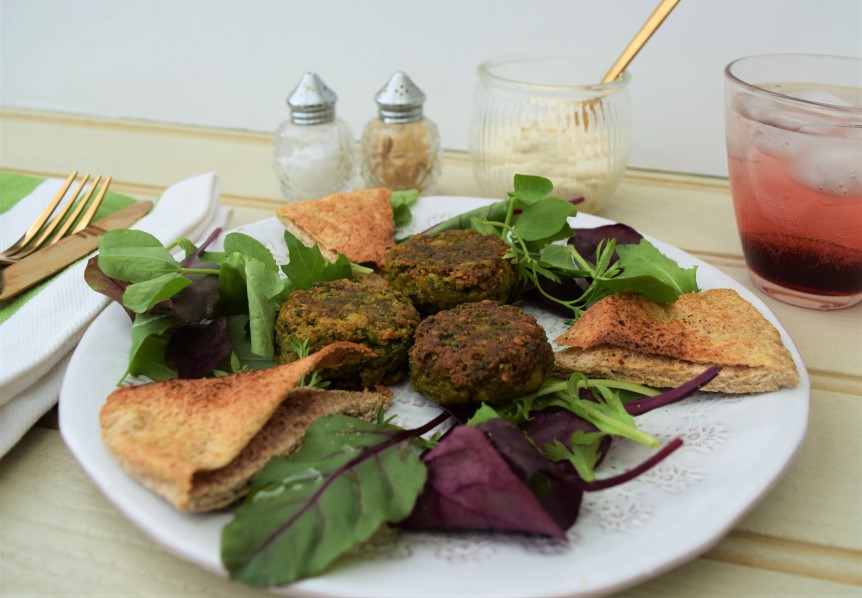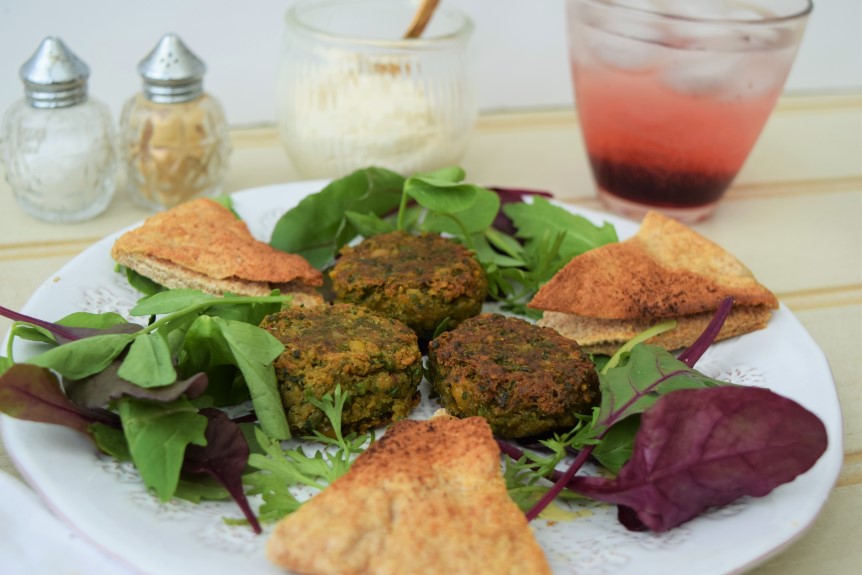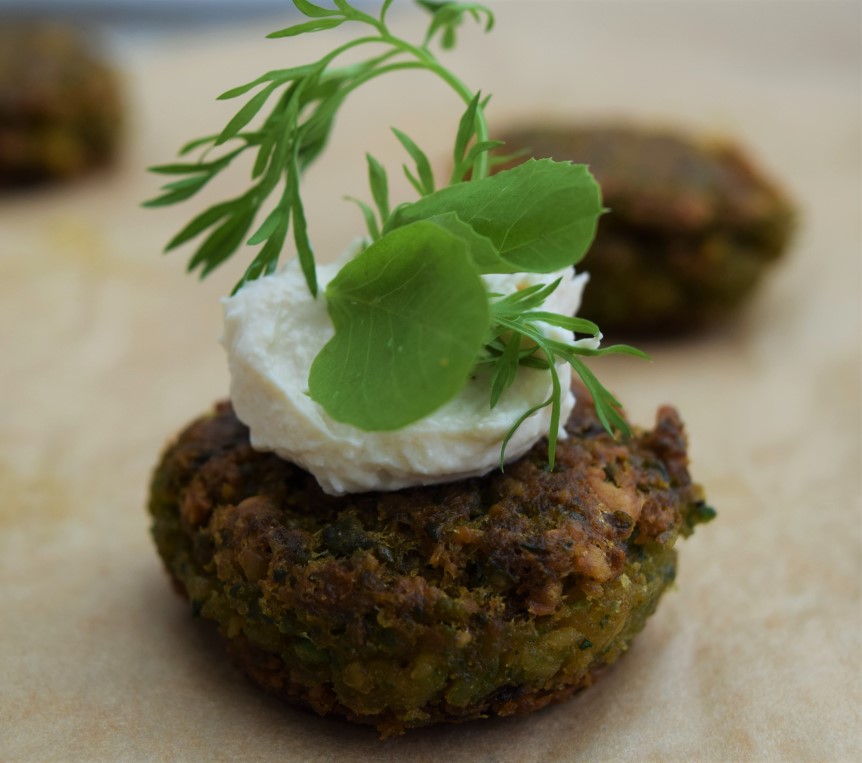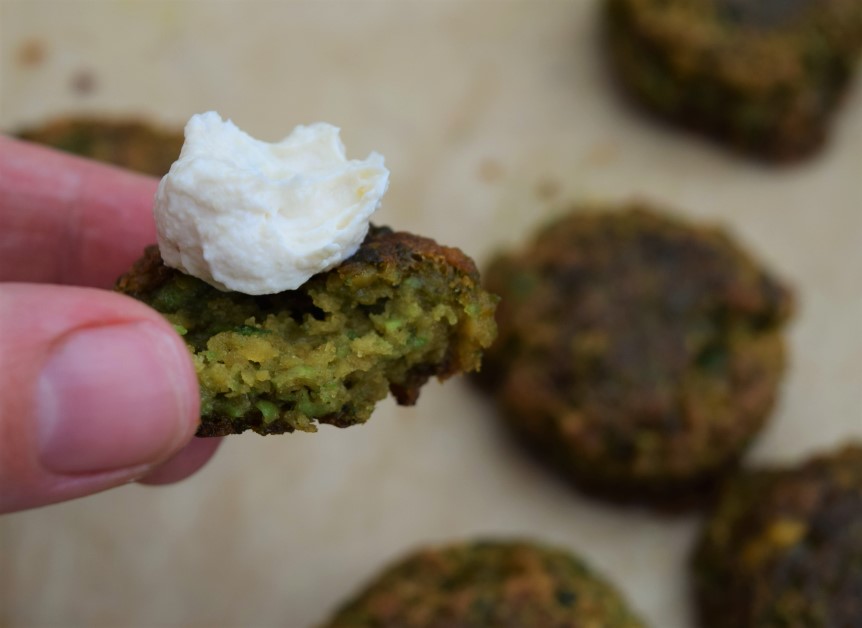 Such a simple recipe makes such an elegant little treat. And it's a brilliant one for any meat free occasions you may have on the cards. Of course, if it ever stops raining, these would also be a fab addition to your picnic basket.
Lucy x
Pea and Chickpea Falafel Recipe
Makes around 15 small pieces
200g chickpeas, I used tinned but feel free to soak the dried ones and cook accordingly
120g peas, fresh or frozen
2 cloves garlic, crushed
1 tablespoon lemon juice
a small handful fresh parsley
1 and 1/2 teaspoons ground cumin
a pinch of chilli flakes
1 teaspoon salt
1/2 teaspoon ground black pepper
1 teaspoon bicarbonate of soda
2 tablespoons plain flour
Vegetable oil for frying
Tahini Yoghurt Dressing
5 tablespoons Greek yoghurt
2 tablespoons tahini, or smooth peanut butter would also work
2 tablespoons lemon juice
salt and pepper
Pre heat your oven to around 100 degrees fan assisted to keep the cooked falafel warm later.
If your peas are frozen make a start by putting them in a colander and pouring a kettle of boiling water over them to defrost, then leave to drain.
Put the chickpeas, defrosted peas, garlic, lemon juice, parsley, cumin, chilli flakes, salt and pepper, bicarbonate of soda and flour in the food processor and pulse until well mixed, but not completely pureed. You could do this by hand, just make sure all the ingredients are thoroughly blended.
Using damp hands, fashion the mixture into small balls and flatten slightly. Place these on a lined baking tray.
Heat up a scant inch of vegetable oil over a medium heat in a shallow frying pan and place your shaped falafel in the oil once hot. Cook for around 2 minutes on each side, turning to ensure even browning. Transfer the cooked falafel back onto the lined baking sheet and then place in your warm oven while you finish cooking the rest of the batch.
For the dressing, put the yoghurt into a small bowl and stir through the tahini paste. Follow in with the lemon juice and seasoning to taste then serve, alongside the hot falafel. These can be a first course with toasted pitta chips, stuffed into warm pittas with leaves and the tahini dressing or as a tiny nibble topped with the dressing and some fresh parsley, mint or coriander.