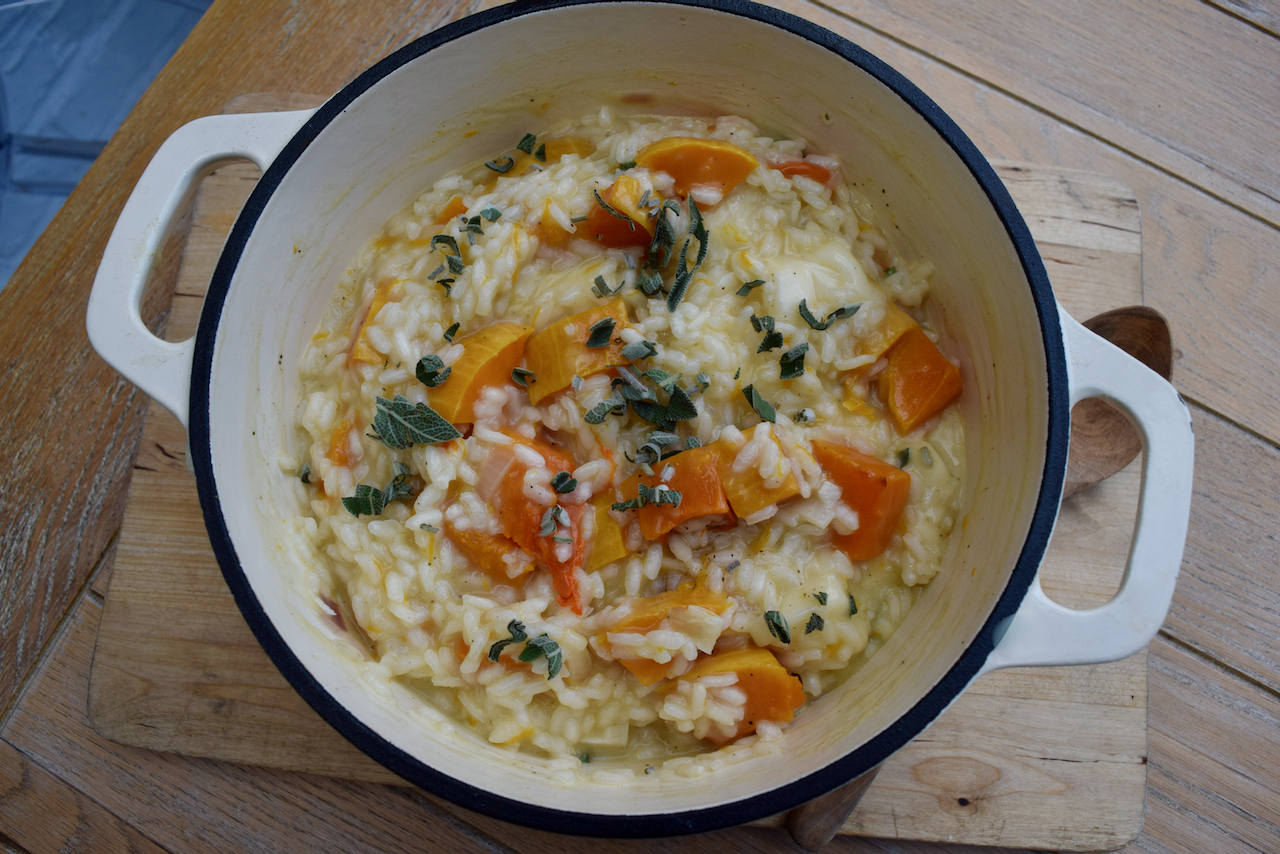 Roast Butternut and Taleggio Risotto Recipe
Risotto is the ultimate comfort food. It was one of the first dishes I used to make when Clyde and I moved in together 100 years ago. His favourite variety involved the addition of quite a good deal of sausages, that least traditional of Italian ingredients. In a move to eat less meat, the sausage has been binned off and been replaced by some seasonal Roast Butternut and Taleggio and what a lovely combo it is too.
Risotto has the air of being tricky to make. It's not tricky, it just takes time, something most people are often quite short of. But when you do have time, making a risotto can almost be therapeutic and certainly burns off some calories with the stirring. And it's the stirring and gradual addition of hot stock that's the key to a wonderful, creamy, almost soupy, risotto. Once you've mastered it, you can add pretty much anything you like to your arborio rice, onion, garlic and stock combo. Try pancetta and peas, spinach and parmesan or mushroom and mascarpone or all of the above. Add whatever you have foraged from the fridge and it will still be delicious.
This Roast Butternut and Taleggio Risotto is so worth the hour of your time it will take to make. It's so comforting and colourful, this is a dish to get you through January, the year's longest month.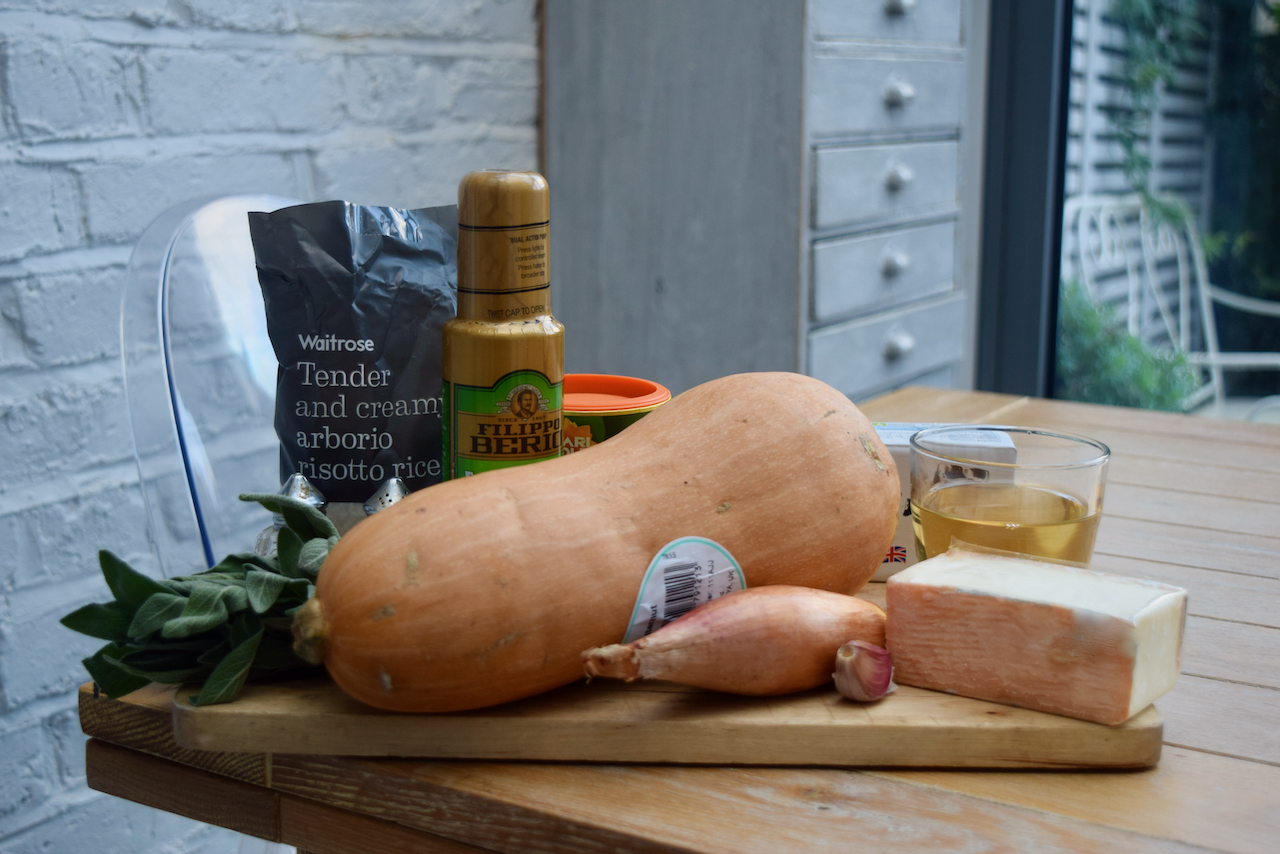 I used a lovely golden butternut squash for my risotto and some taleggio which was reduced in Waitrose. I do, as you know, like a bargain, and I hate the thought of something going to waste.
Make a start on the squash. Pre heat your oven to 170 degrees then peel the butternut and chop it into chunks. I only used three quarters of mine as it was pretty big. Season with salt and pepper and drizzle with a couple of tablespoons of olive oil.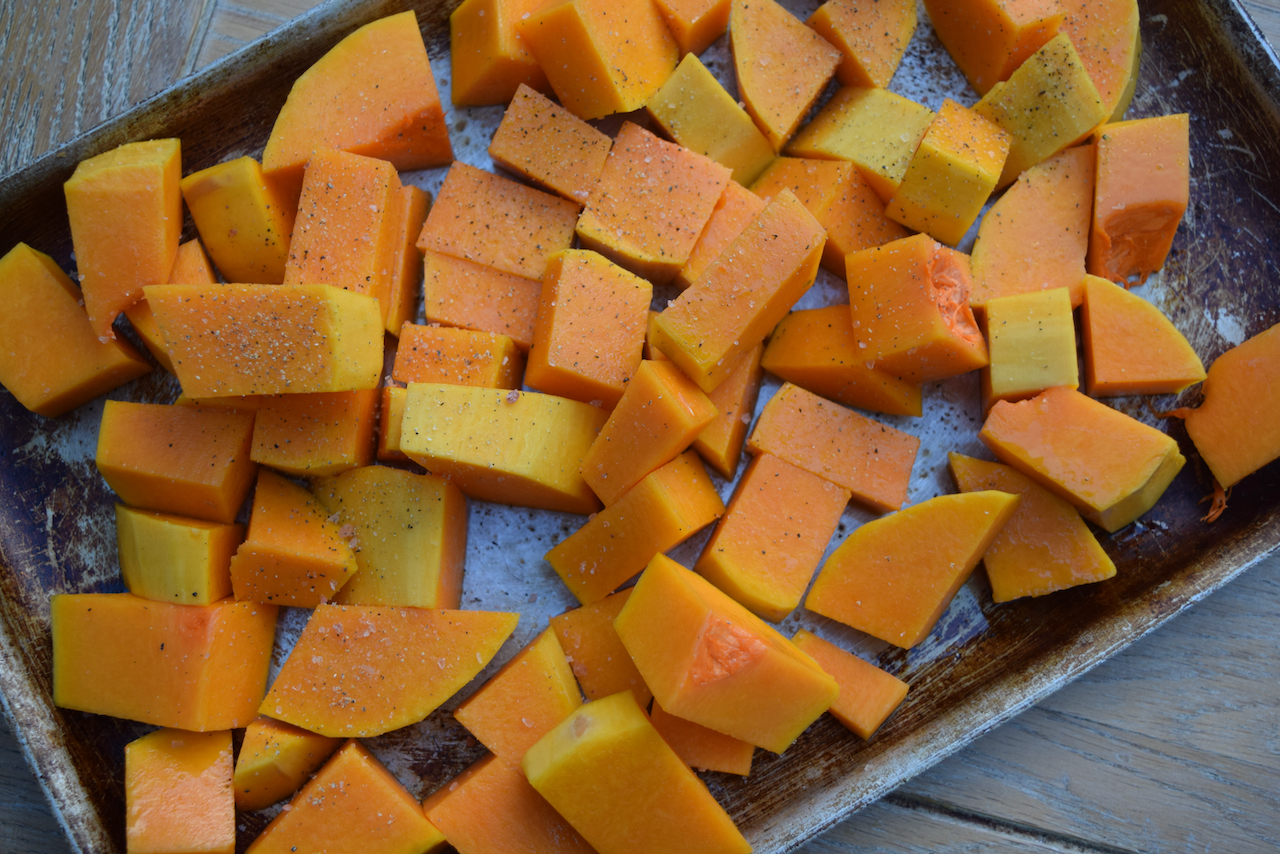 Bake it for 25 to 30 minutes or until softening and just starting to turn golden. Remove from the oven and leave to one side for the moment.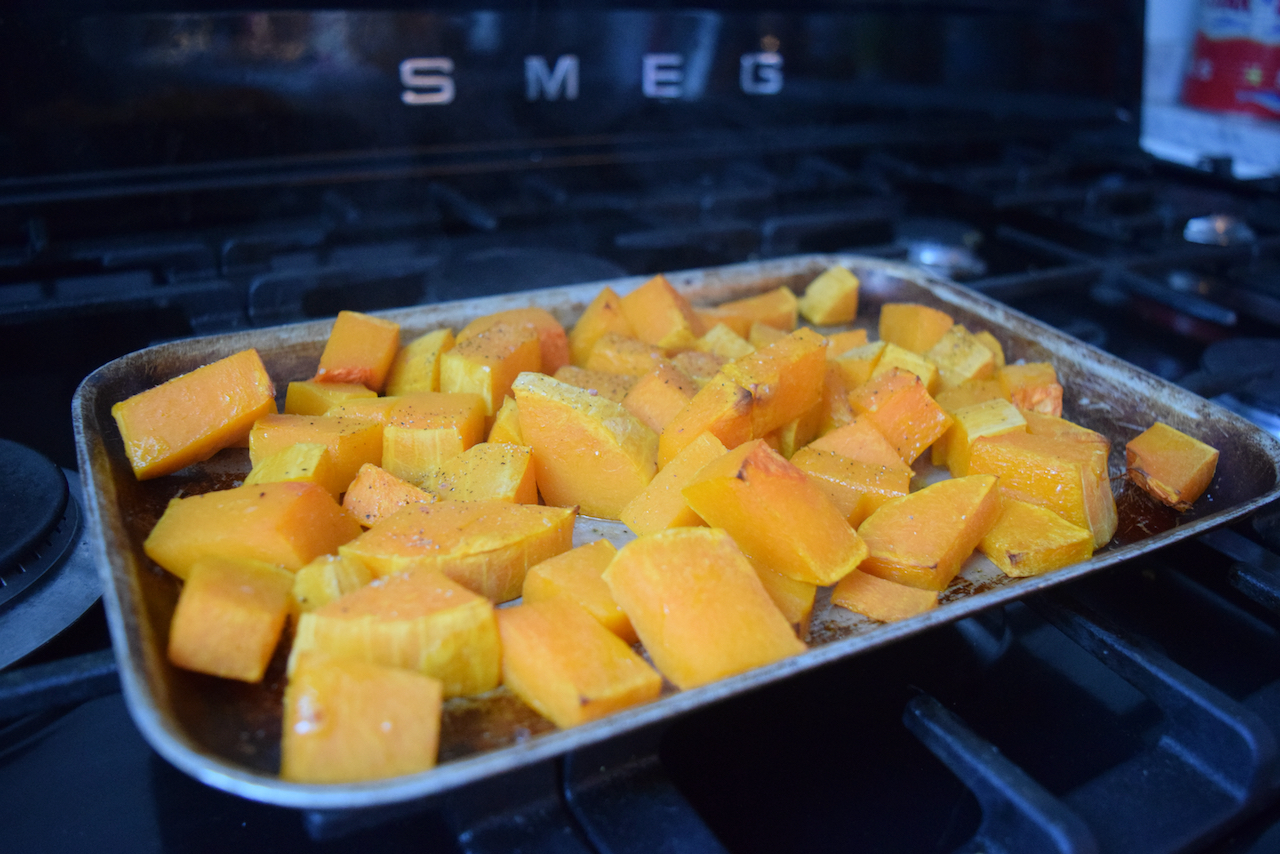 While the squash bakes, get on with the risotto. Melt the butter in a heavy based pan with a touch of olive oil to stop it burning. Chop the onion or shallot and add this to the pan with the garlic.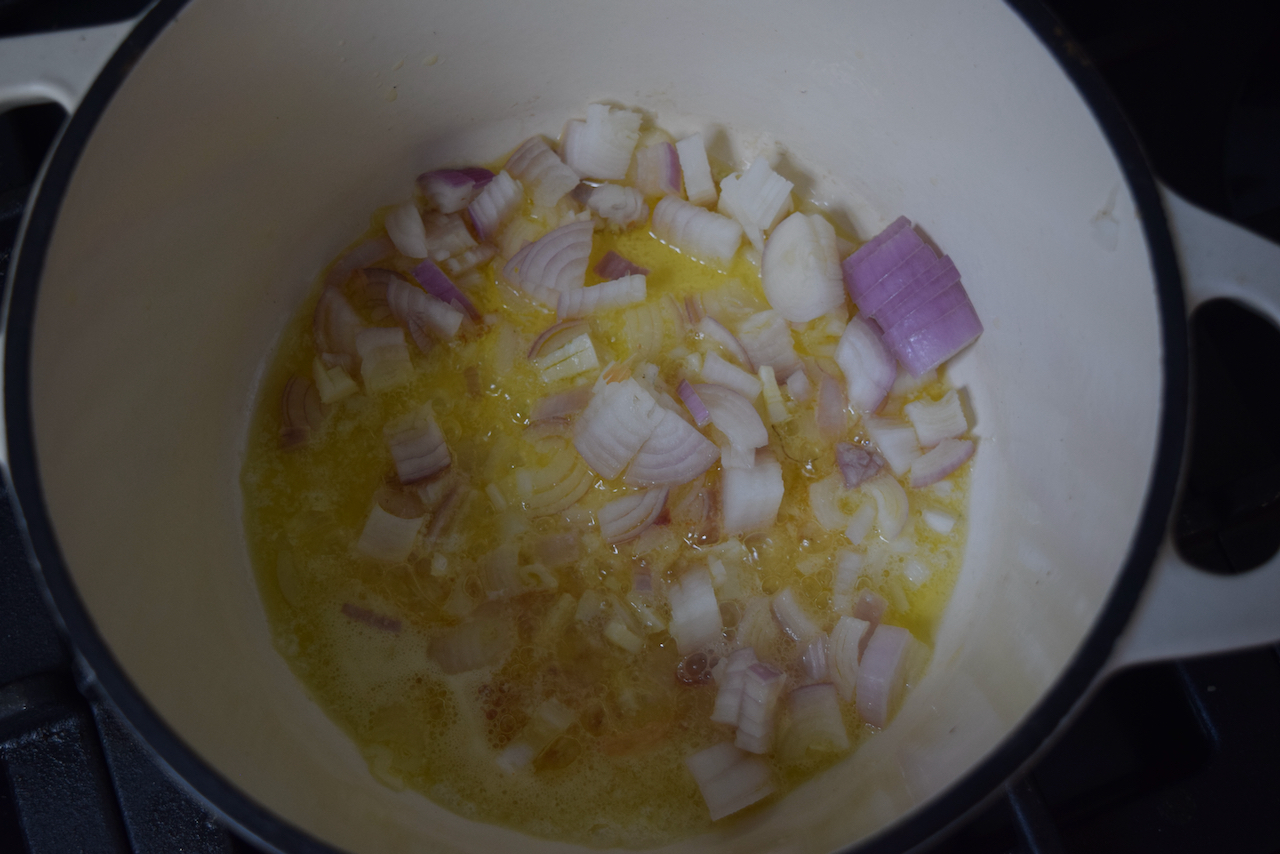 Cook for around 5 minutes or until softened and smelling amazing. At this point put the stock in a saucepan and bring up to the boil. Turn down and leave to simmer.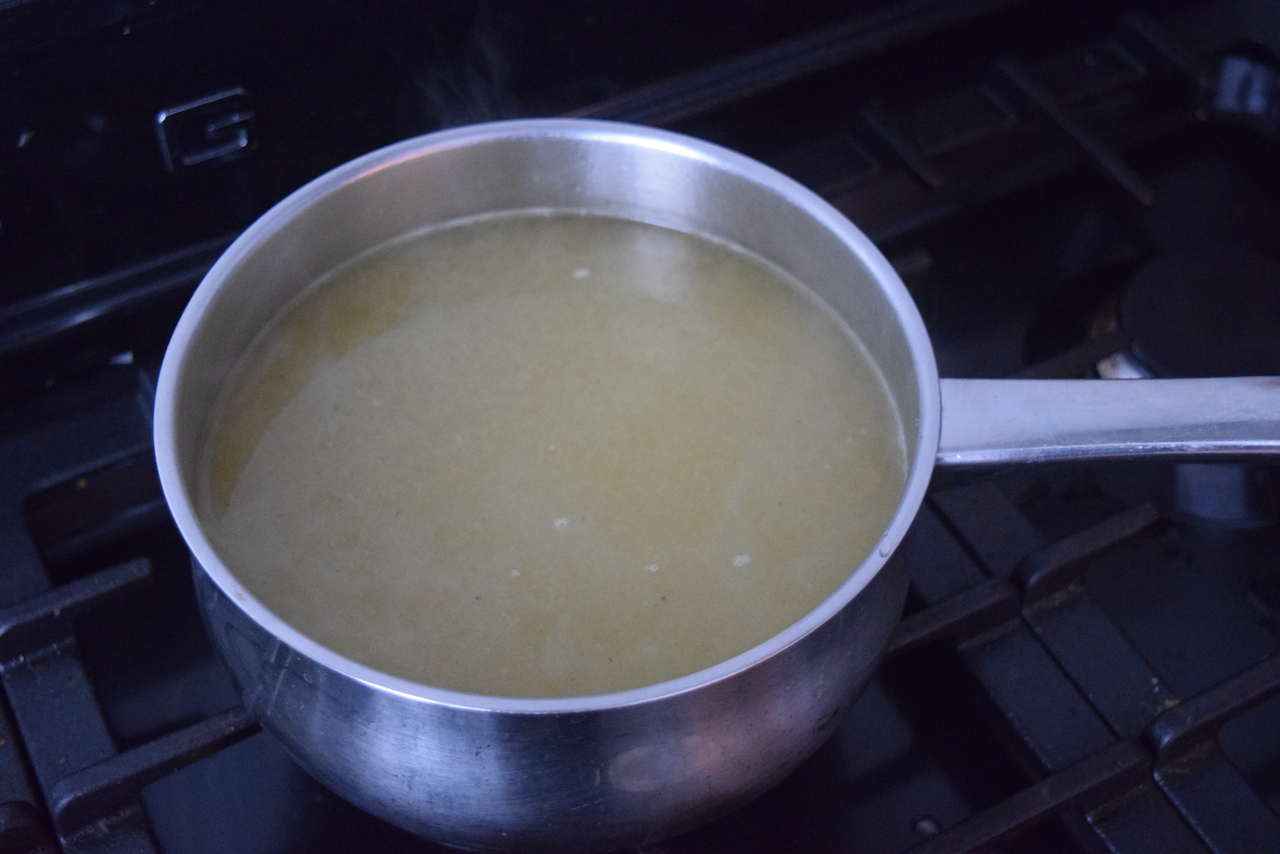 Once the onions have turned translucent, tip in the arborio rice and stir well to coat the grains with the butter and garlic.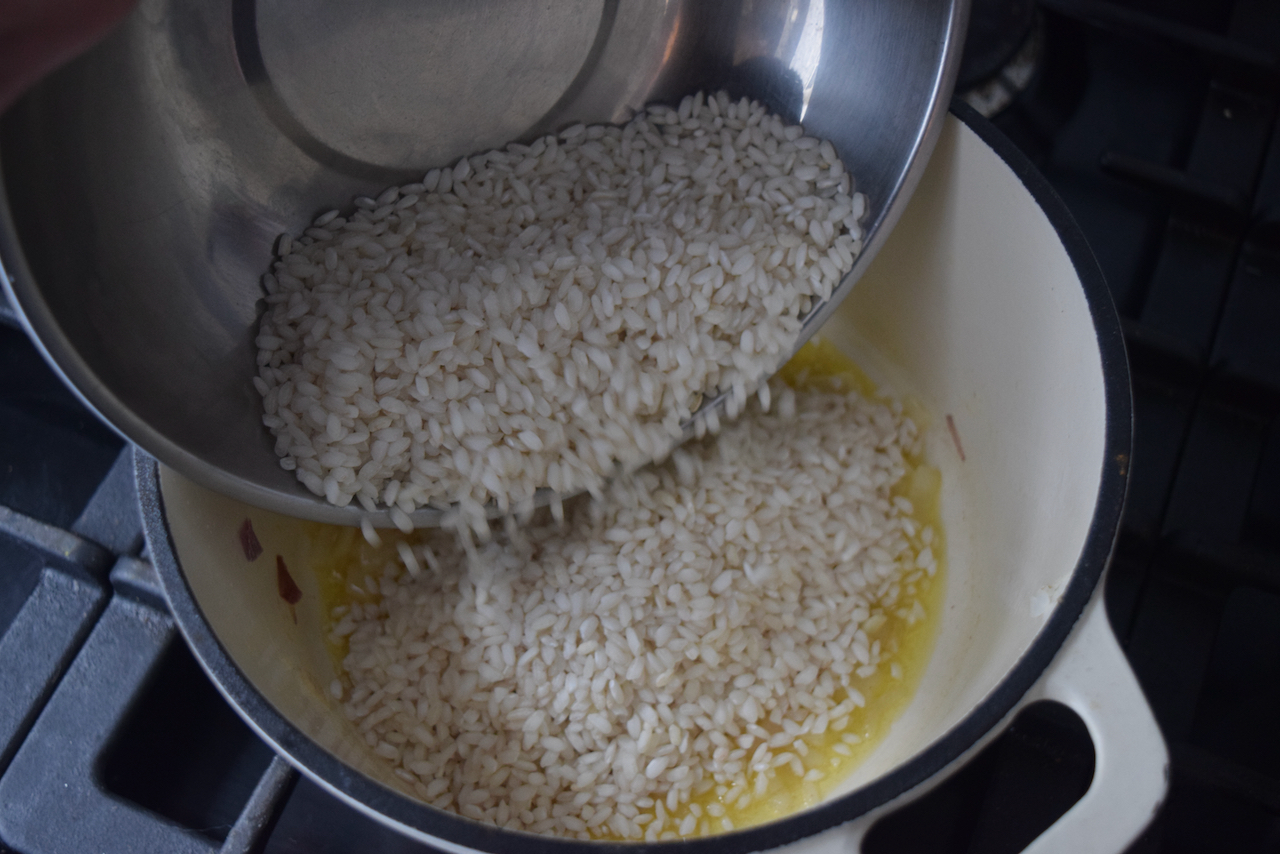 Cook for a minute then pour in the glass of white wine. Let it bubble away until the rice has absorbed the liquid.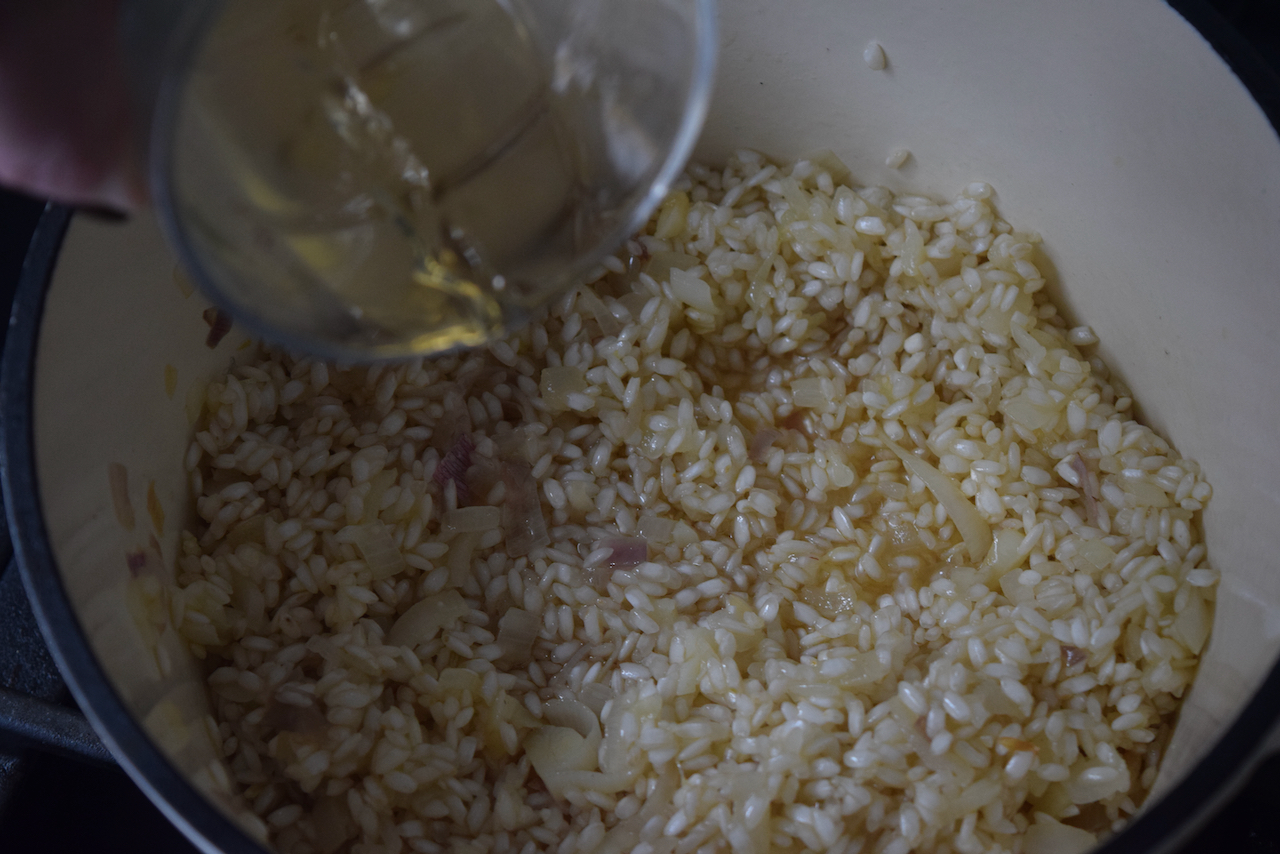 Now, adding a ladleful at a time, start to add the hot vegetable stock. Stir well between each addition as this will ensure a wonderful creamy risotto.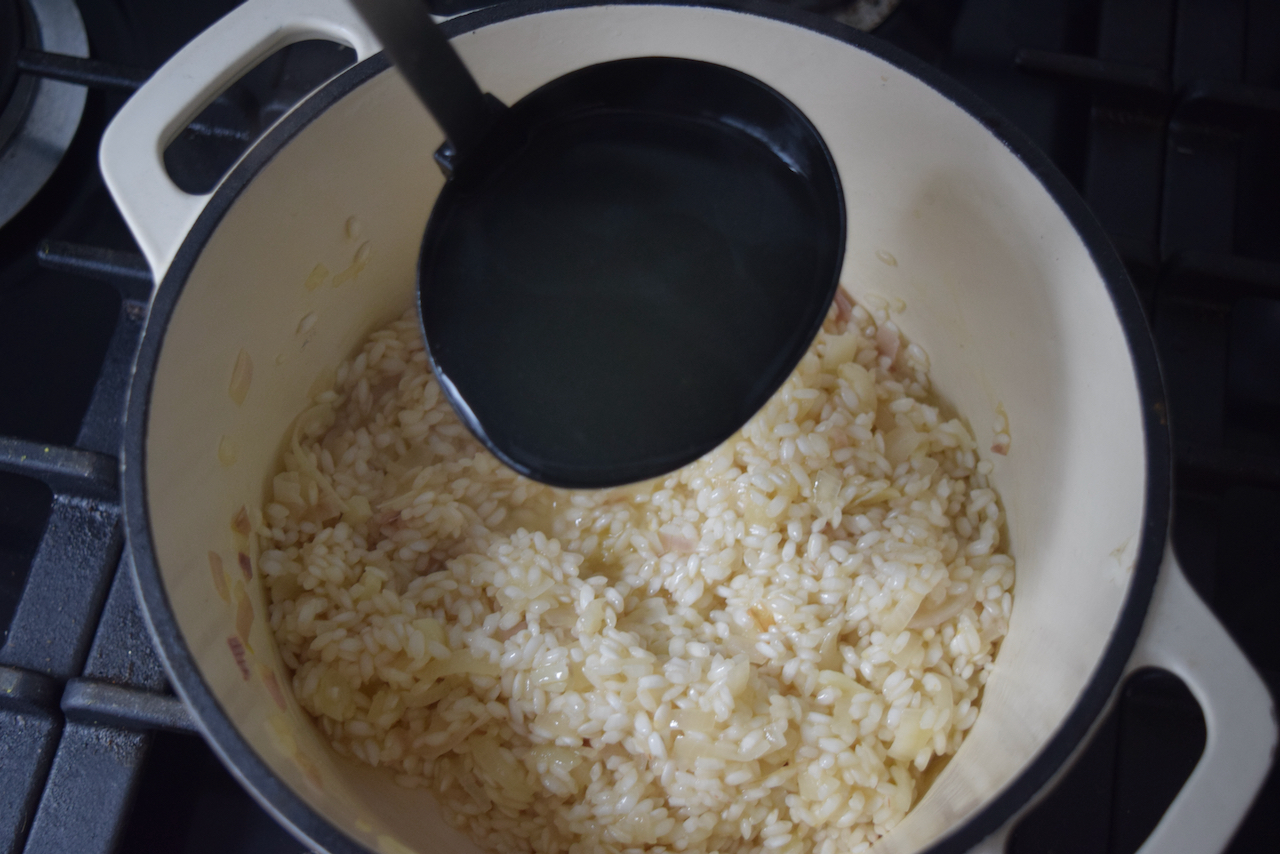 Make sure most of each ladleful of stock has been absorbed before you add another one.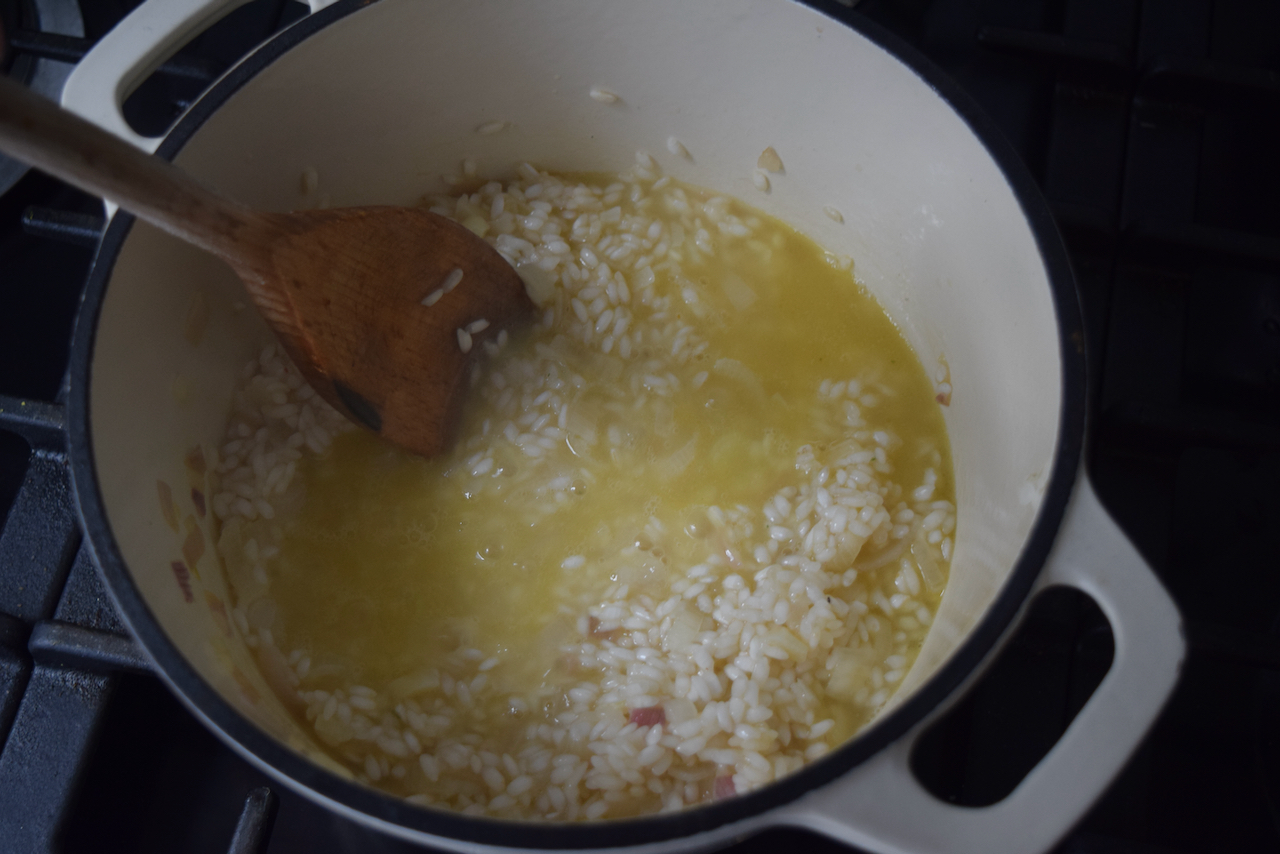 You may not need all the stock, stop adding when the rice still has a touch of bite and the risotto has a creamy, slightly soupy consistency.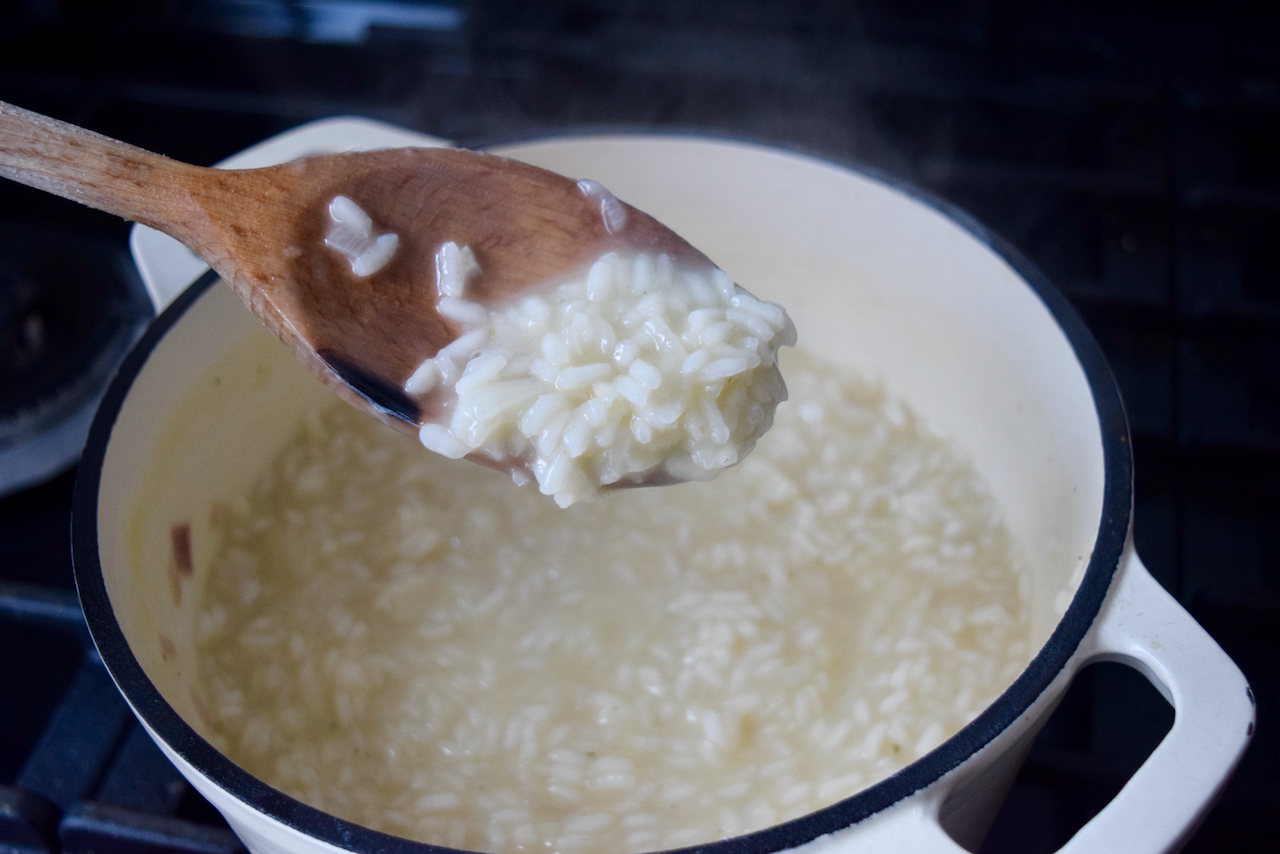 Add this point, add the cooked butternut squash and the chopped fresh sage and mix to combine.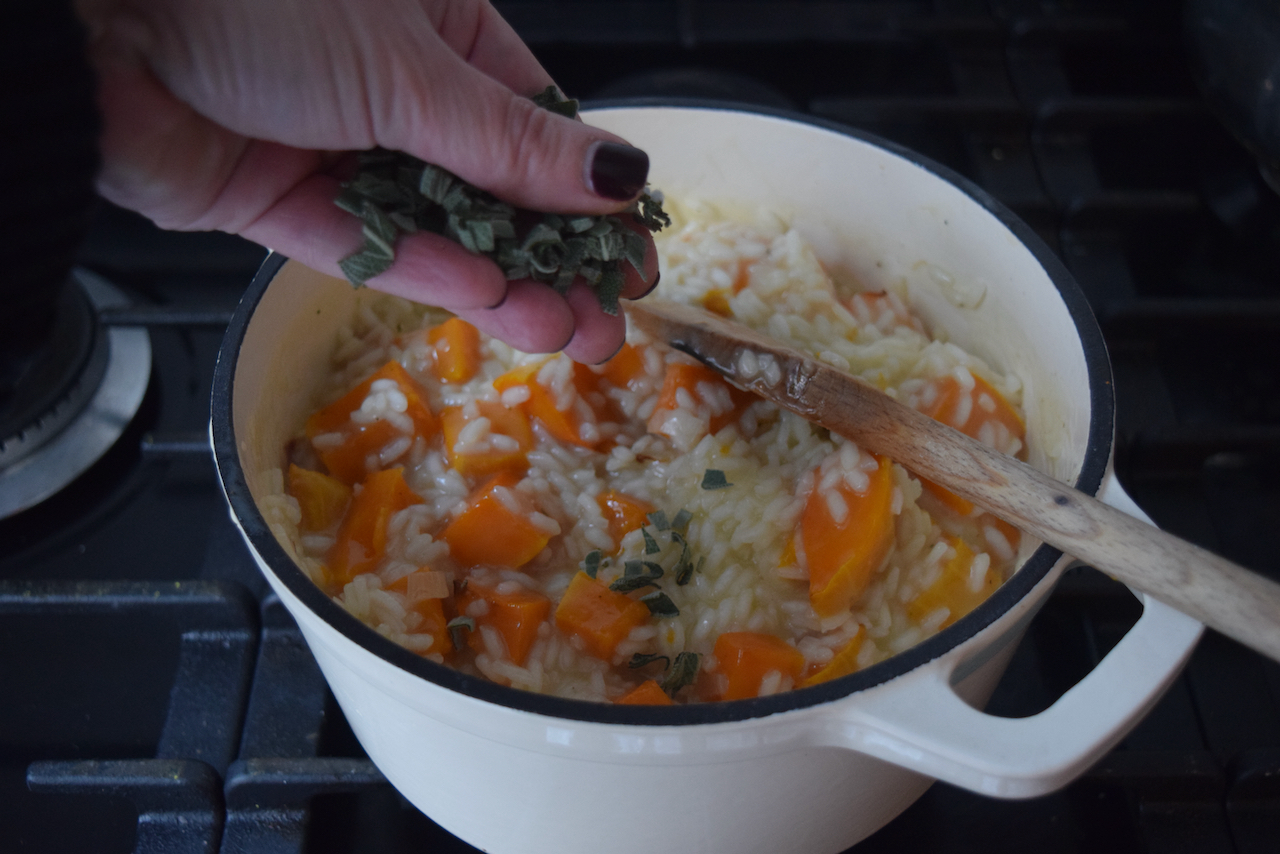 Turn off the heat, then, in a final flourish, stir through the chopped taleggio cheese.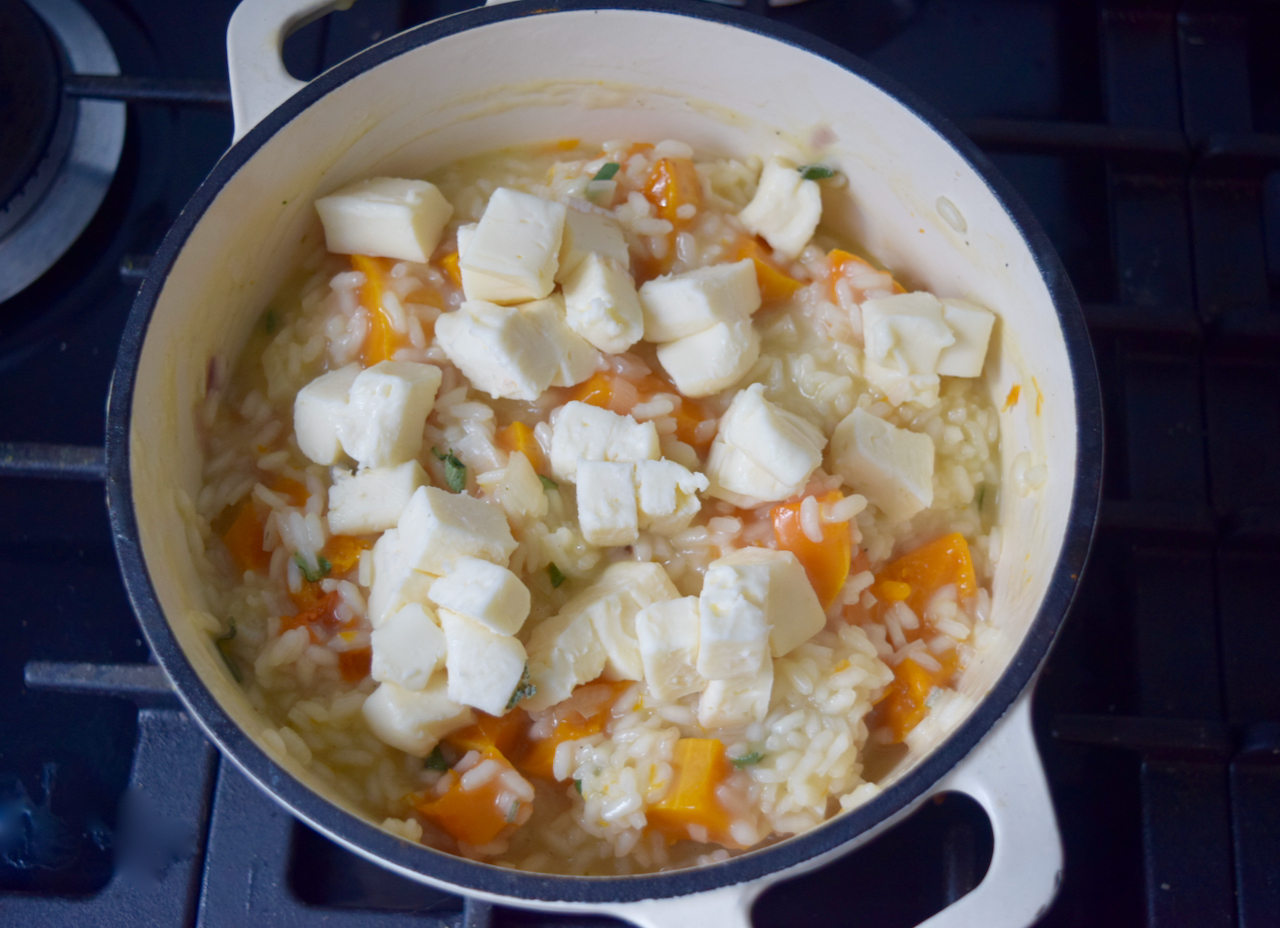 Have a big mouthful to check and see if the risotto needs any salt and pepper, then serve, with another sprinkling of chopped fresh sage. Devour in big, warm, comforting bowlfuls.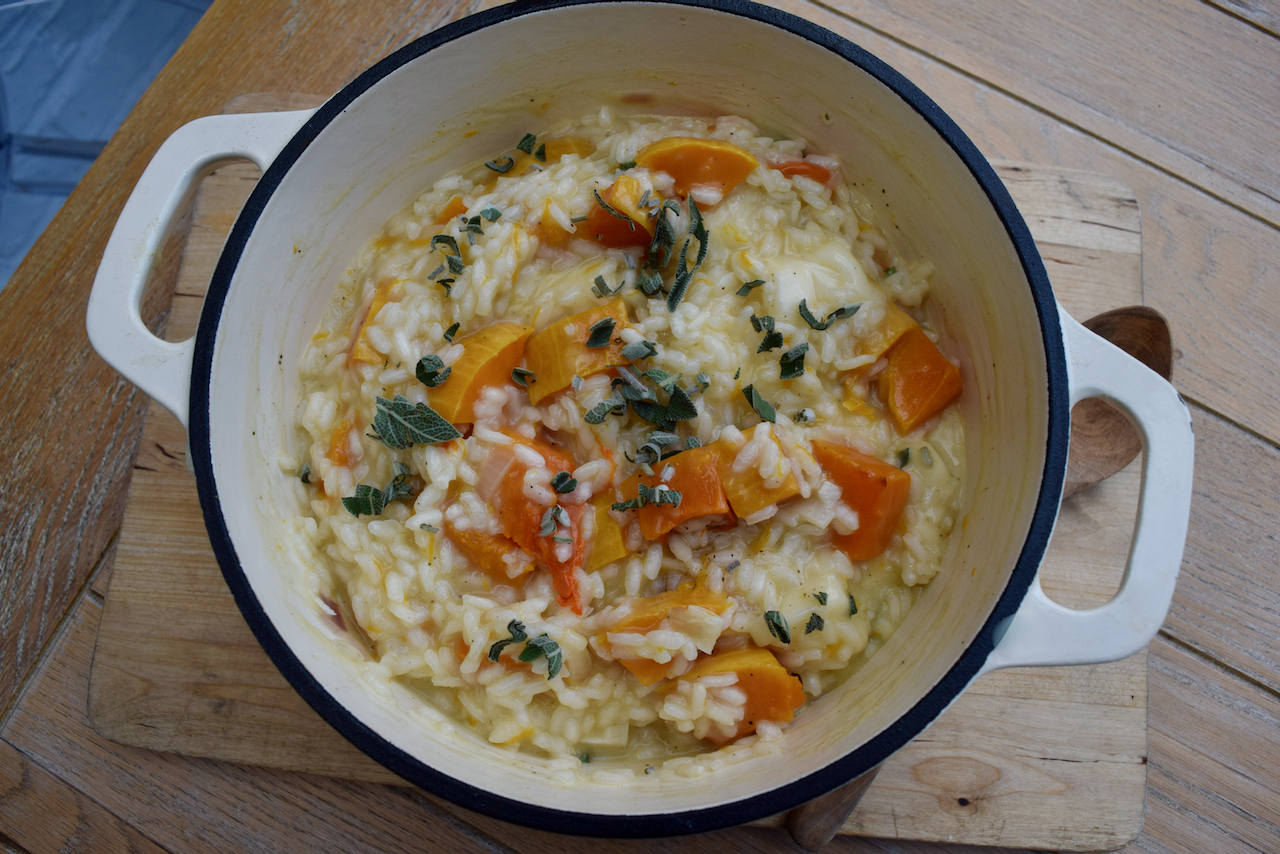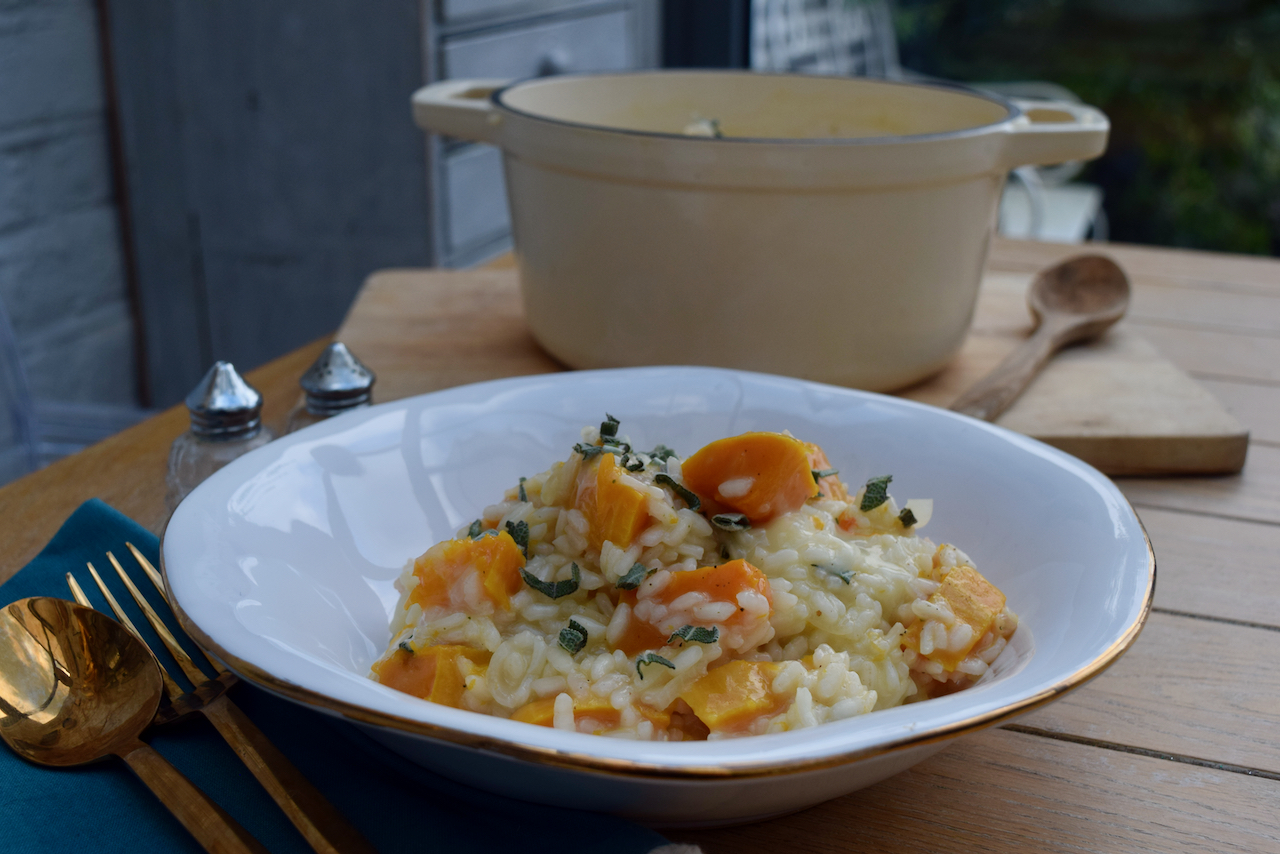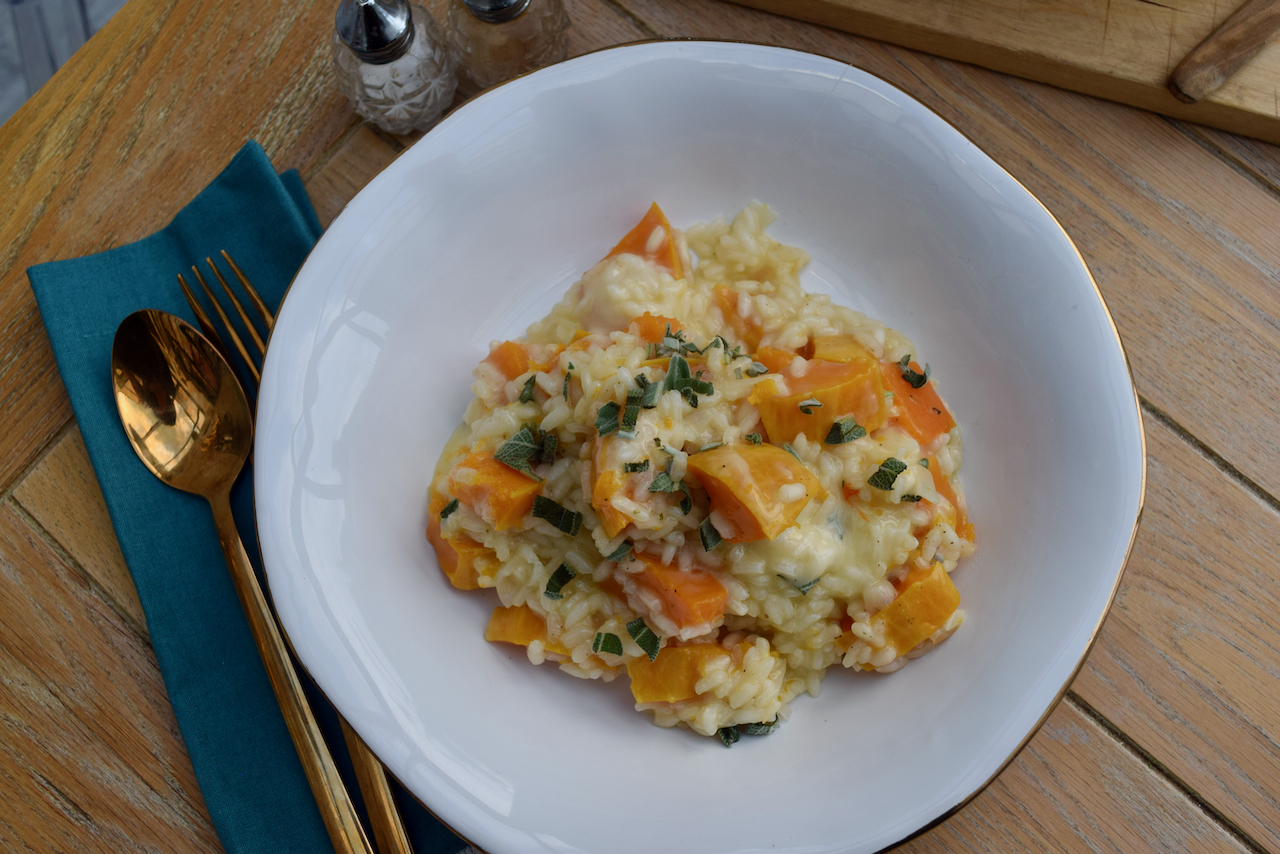 This is cozy food, but smart enough to serve as a first or main course for guests. That said, you could also enjoy this from a big bowl with a spoon in your joggers and no one would judge you.
Lucy x
Roast Butternut and Taleggio Risotto Recipe
You will just need pots and pans for this recipe
1 butternut squash, I had a golden butternut which was lovely, peeled and chopped into chunks, I just used 3/4
2 tablespoon olive oil
Salt and pepper
40g butter
Splash olive oil
1 small onion or shallot, finely chopped
l large, or 2 small, garlic cloves, peeled and chopped
300g Arborio rice
200ml white wine
1.25-1.5 litres vegetable stock
2 tablespoons-ish chopped fresh sage
150g Taleggio cheese, chopped into small cubes
Salt and pepper
Extra freshly chopped sage to garnish
Pre heat your oven to 170 degrees fan assisted and add two tablespoons of olive oil to a large baking tray. Peel and chop the butternut squash into bite sized chunks. Add to the baking tray, toss in the oil and season well with salt and pepper. Bake for 25 to 30 minutes or until soft and just turning golden.
While the squash bakes, get on with the risotto. Add your vegetable stock to a large saucepan and bring to the simmer over a low heat. Take a large heavy bottomed pan and melt the butter and a splash of olive oil over a low heat. Add the chopped shallot or onion and garlic and cook for around 5 minutes or until it's softened and turned translucent.
Stir through the Arborio rice, coating the grains in the butter, for around a minute. Pour in the 200ml of white wine and cook until it's been absorbed by the rice. Add a ladle full of the hot stock and stir through, again, cooking until it's been absorbed. Continue adding one ladle full of stock at a time, stirring well, until the rice is soft, but still with a bit of bite and the risotto has a creamy, slightly liquid, consistency. You may not need all the stock.
Add the roasted squash and chopped fresh sage, stir through, then take off the heat. Add the cube Taleggio, stir again, and let it melt into the rice. Check for any additional seasoning needs, adding salt and pepper where necessary.
Serve immediately, whilst piping hot, garnished with some extra fresh sage.