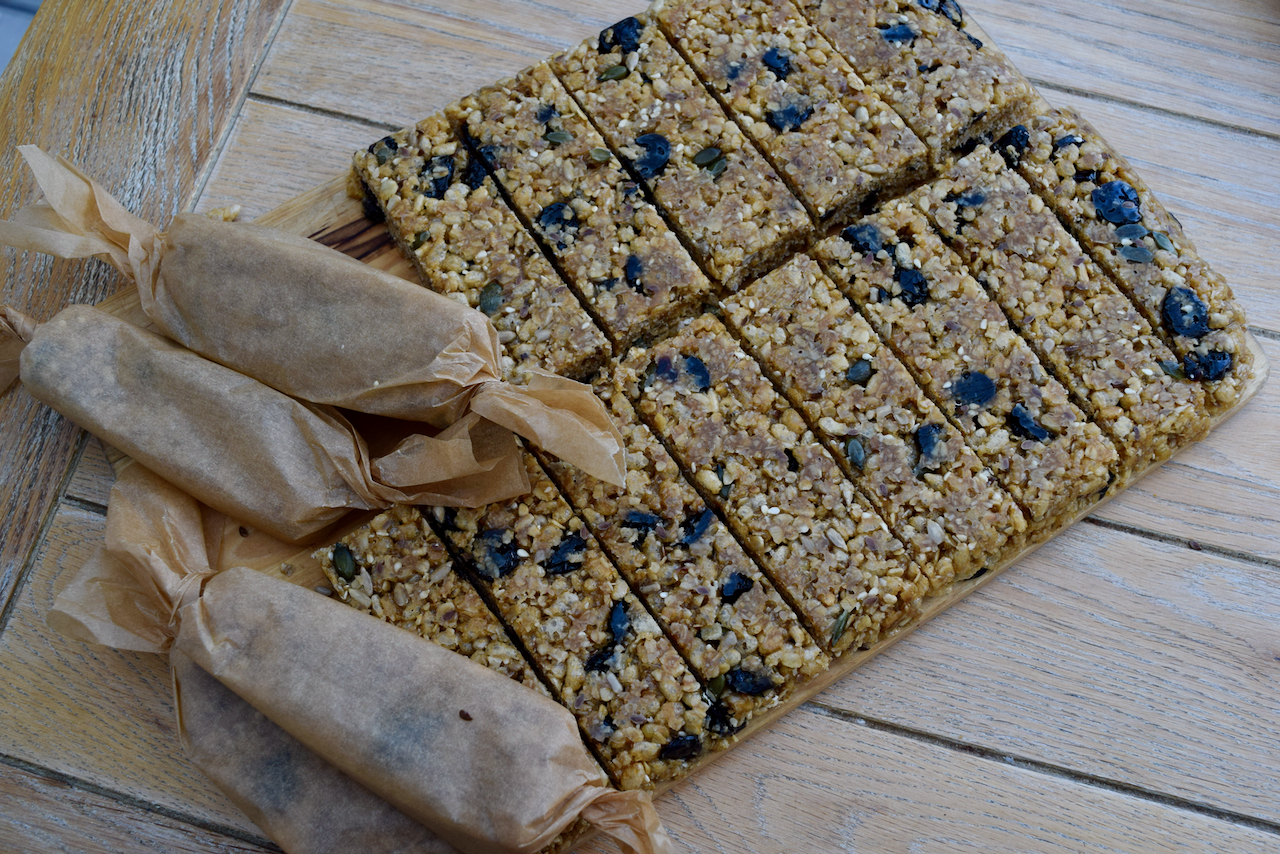 Cherry Coconut Cereal Bars recipe
This week, London is a stifling place to live and work. It's the sort of hot that makes you want to stand with your feet in a bucket of cold water and to carry your hair straighteners with you at all times. The last thing you want to do is put the oven on. With these Cherry Coconut Cereal Bars there's no need as they're no bake. Don't be fooled by their name either, these aren't really that healthy which makes me love them just that little bit more.
I decided to feature these cereal bars this week as a sort of end of term, get the children involved type of situation. This then made me feel a bit teary because, as of today, I don't have a child at school anymore; my boys are grown up and now men, but that didn't seem to stop George inhaling half a batch of these tasty bars. These aren't remotely sugar or dairy free, they're laden with butter, brown sugar and syrup but on the plus side, oats, seeds and dried sour cherries half negate the above. They're chewy and crisp, sweet and sour and hellishly more-ish. Lucky for you this recipe makes a whopper 18 bars, which should be plenty to keep your home-for-the-summer squad happy for at least a week *optimistic*. An enormous thank you to her ladyship Mary Berry, for the inspiration.
Switch the oven off, stir a few things together in a pan then settle yourself in the garden with a Cherry Coconut Cereal Bar and a good book. Quickly though, it's going to pour with rain all bloody weekend.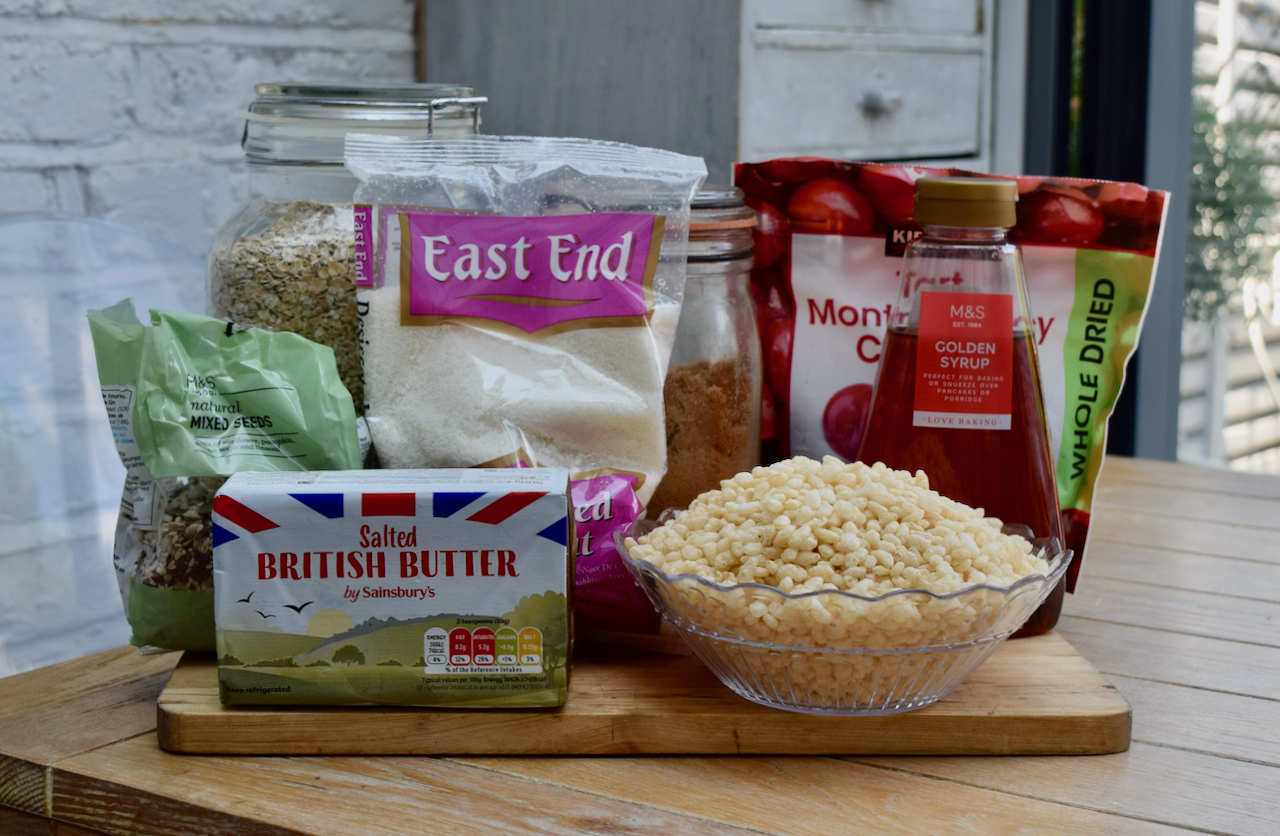 I am borderline dried cherry and coconut dependent, hence my total love for this recipe. The cherries add much needed sourness, but dried cranberries would also be so good. Likewise, I had mixed seeds but you can add your favourites or ones you have hiding at the back of your cupboard if you'd rather.
Make a start by not turning your oven on and lining a 23 x 30 rectangular baking tray with cling film or baking paper. Next, take a large saucepan and add the butter, soft brown sugar and golden syrup; a strong start in my opinion. Melt gently over a medium heat until the butter has melted and the sugar dissolved.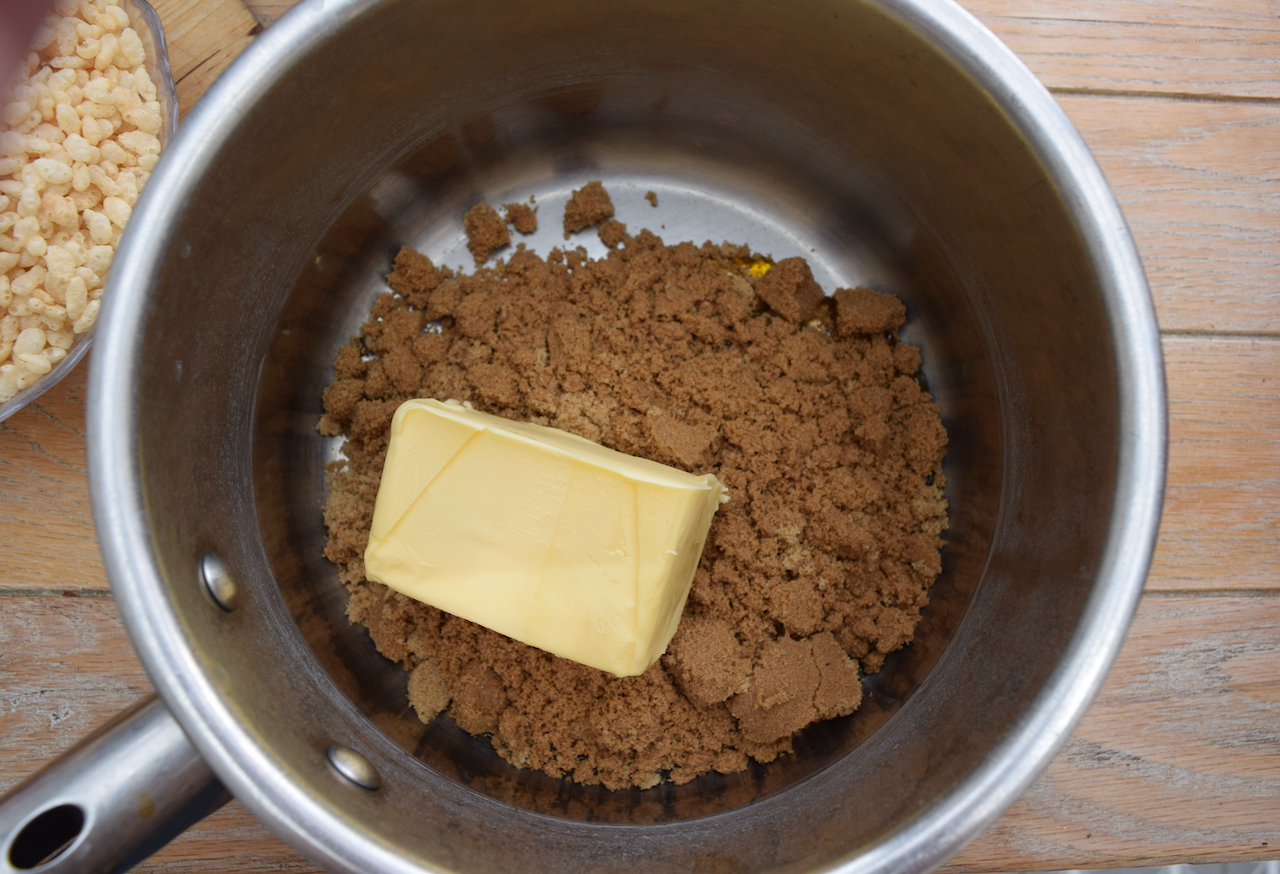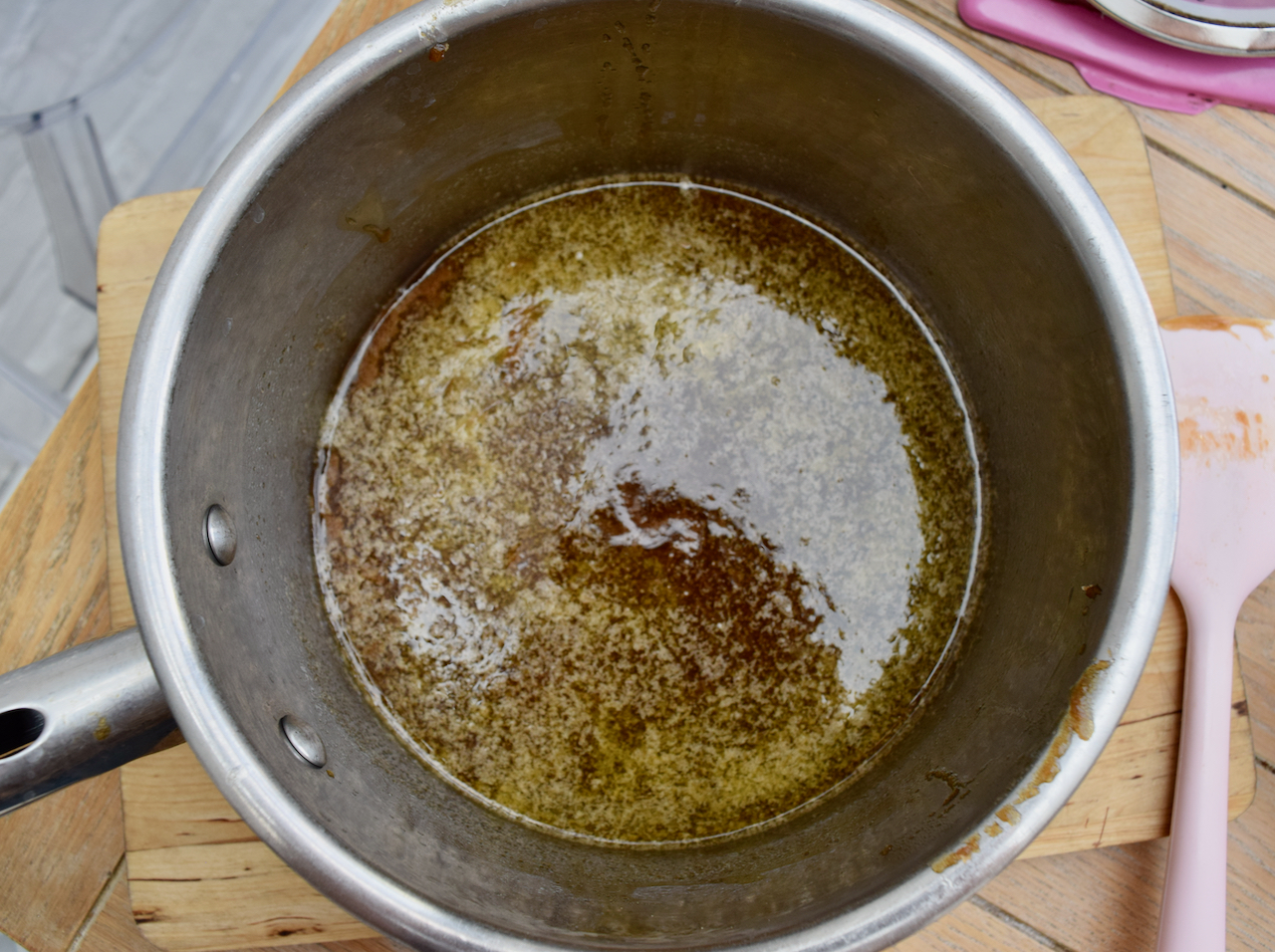 Tip in the coconut, seeds, oats, cherries and rice krispie cereal.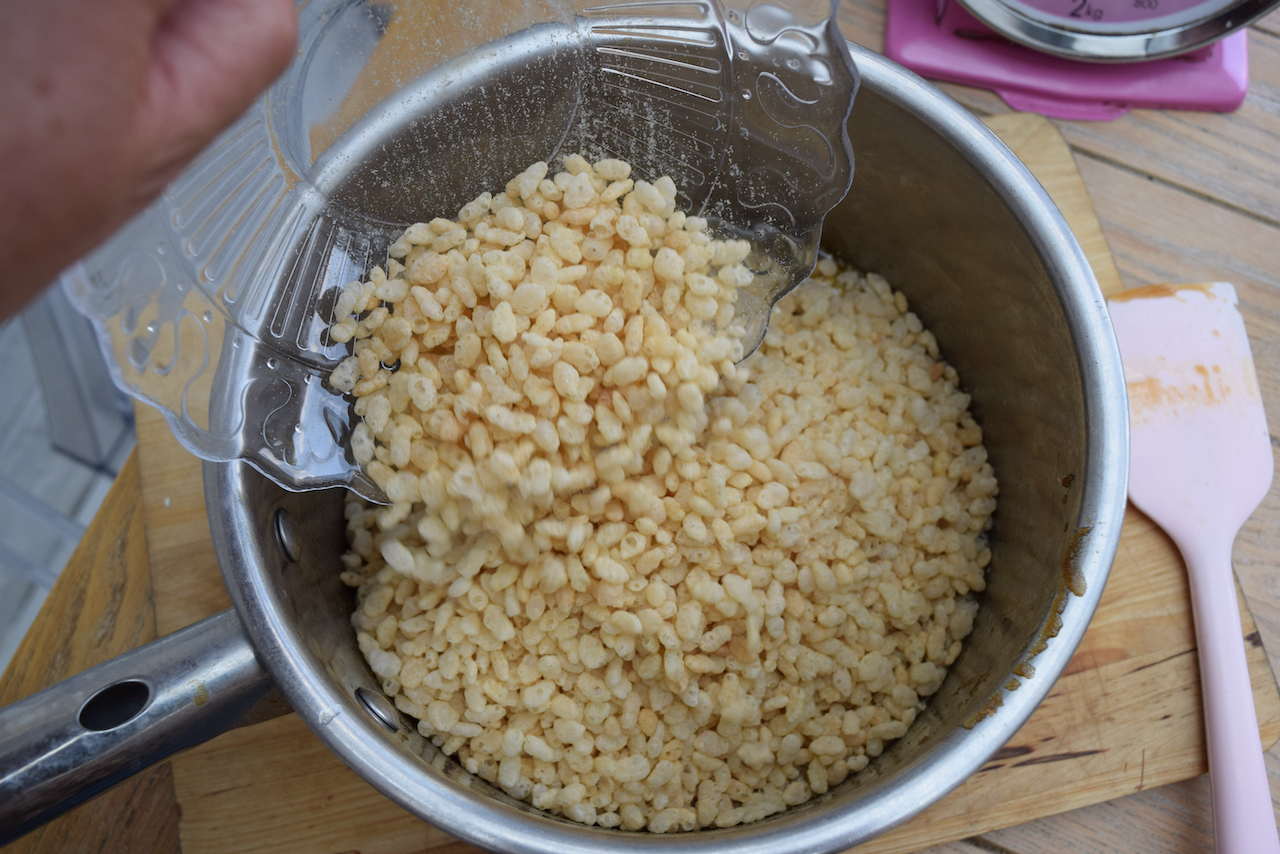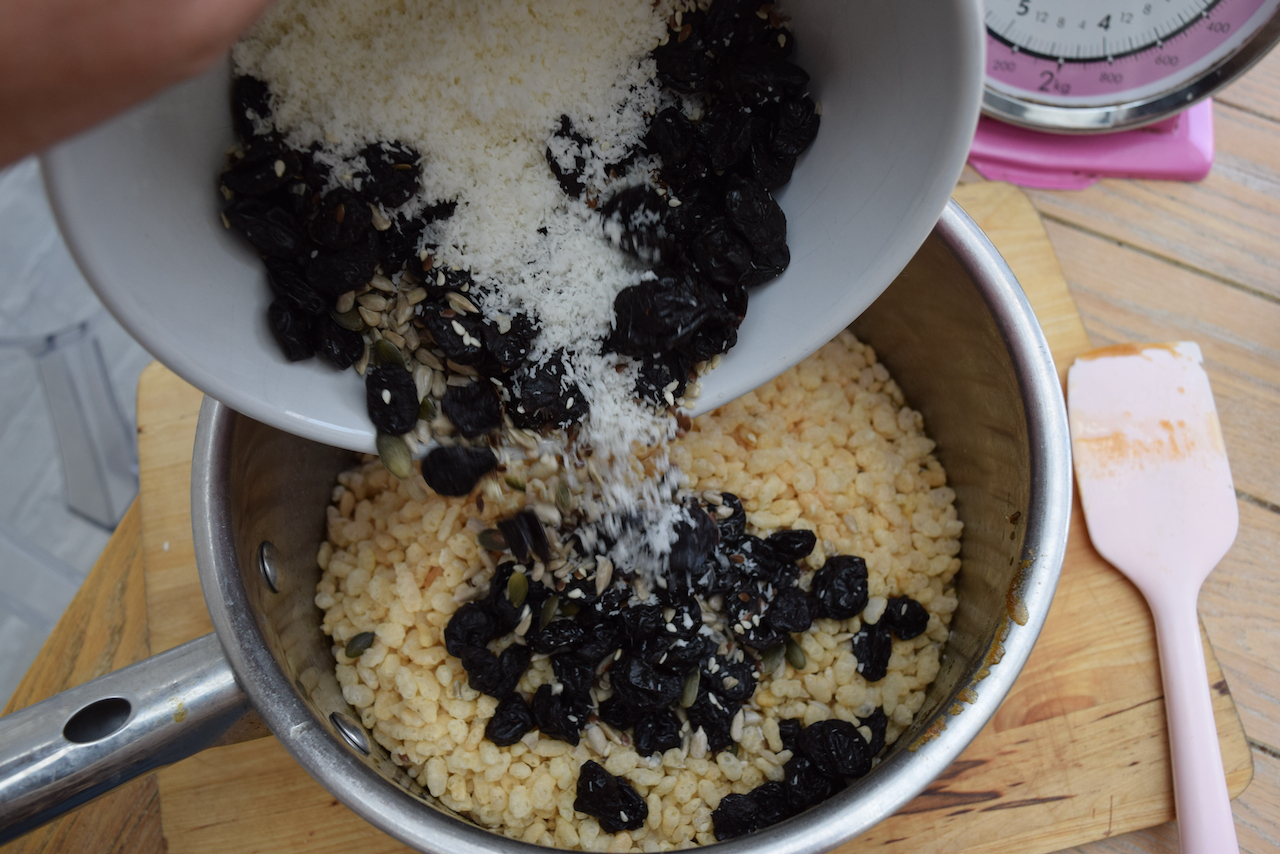 Give the whole lot a bloody good stir, making sure everything's coated and there's no little bits of dry oats at the bottom of the pan.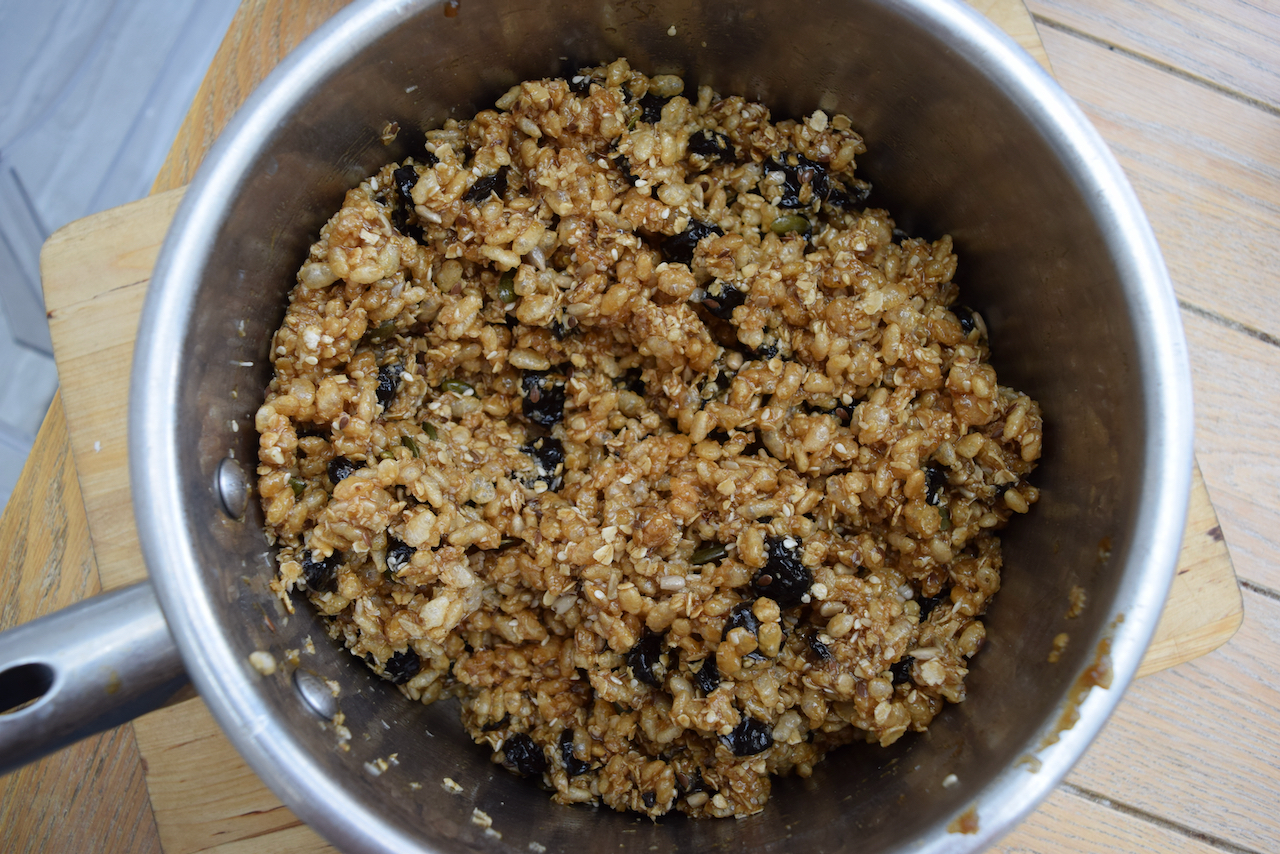 I could just tuck right in out of the pan, but for the sake of good manners, tip the mixture into your lined tray and press into an even-ish layer. I used the bottom of a measuring cup for this which worked nicely.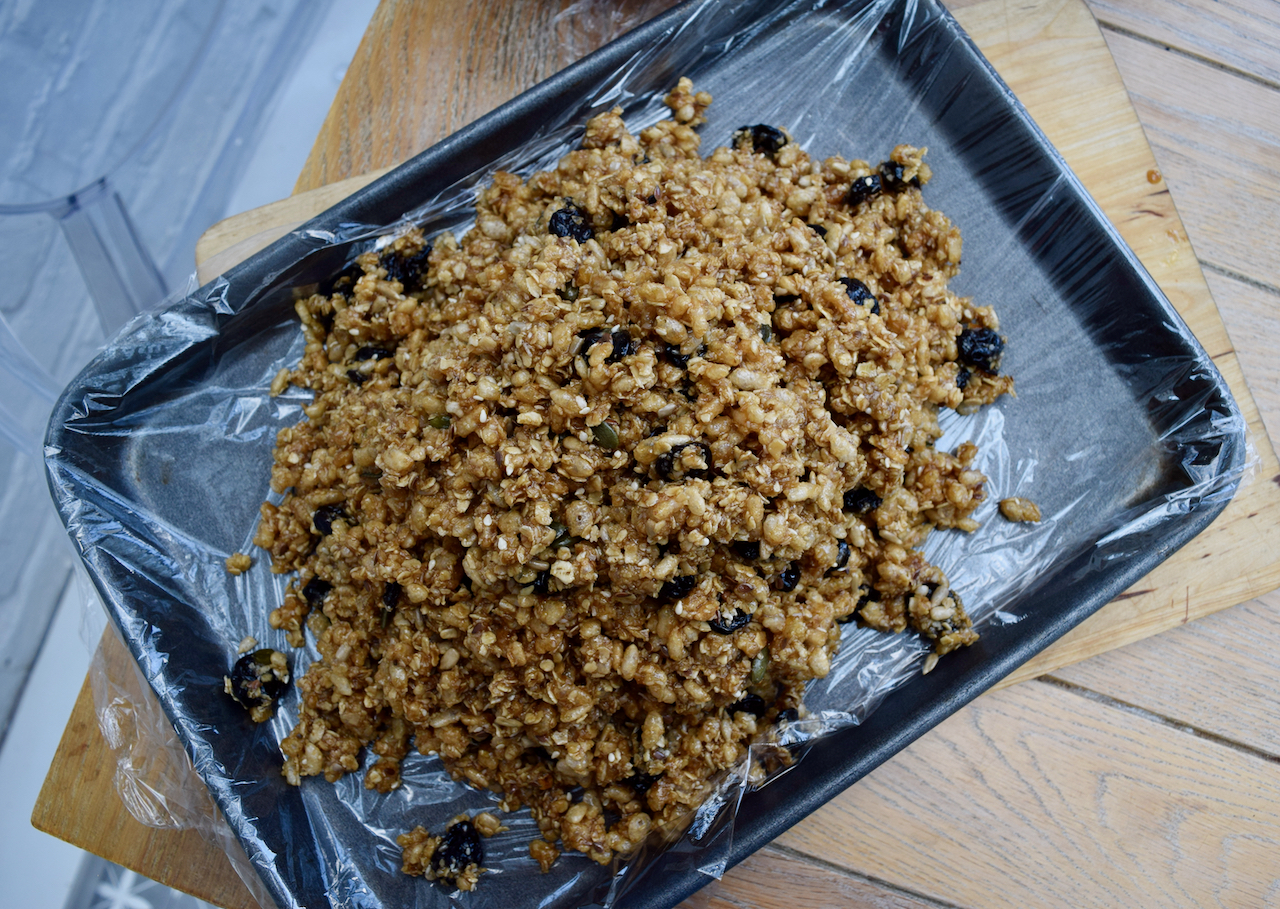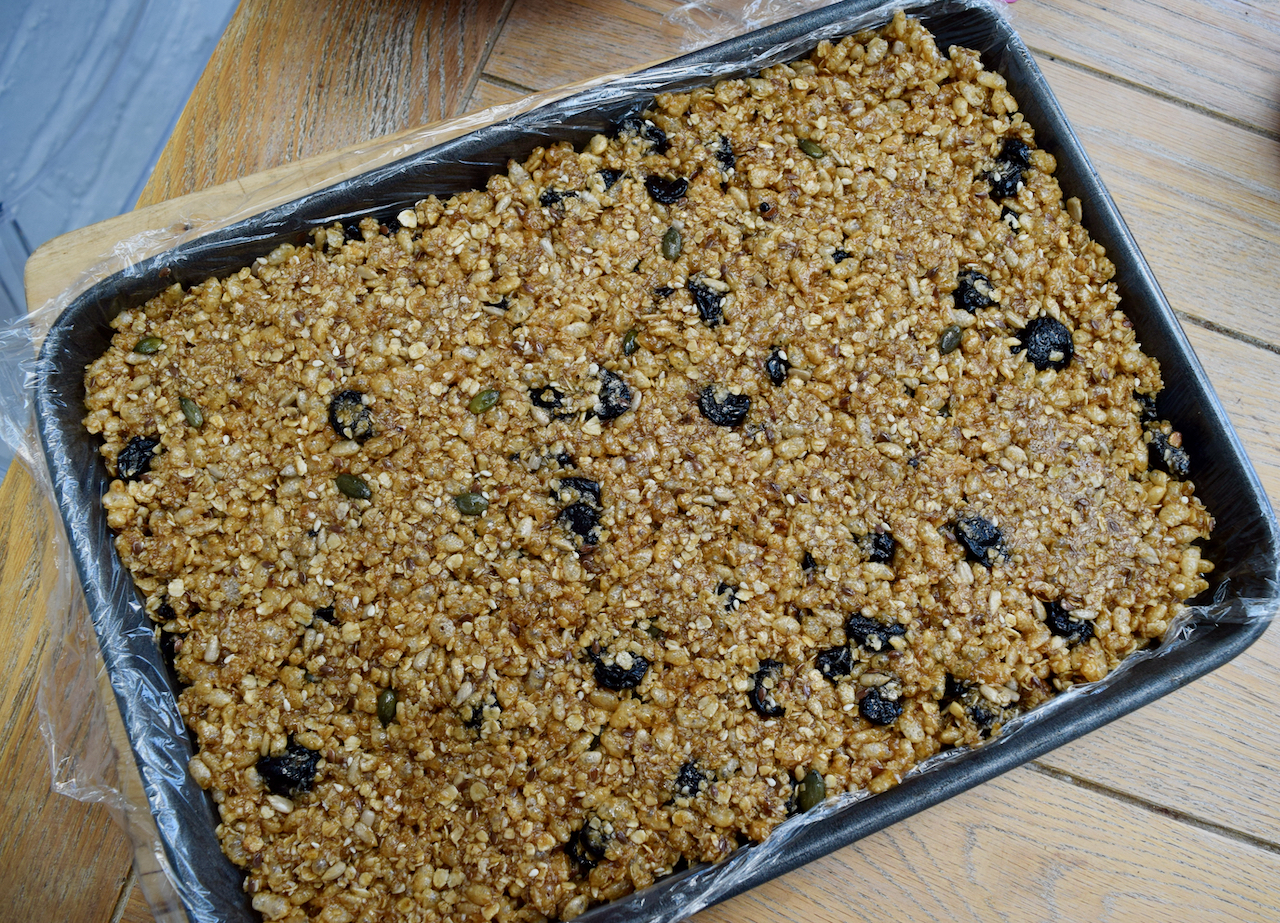 Tuck this into the fridge for a couple of hours to chill and firm up. Once set, remove from the tin and peel off the cling or paper.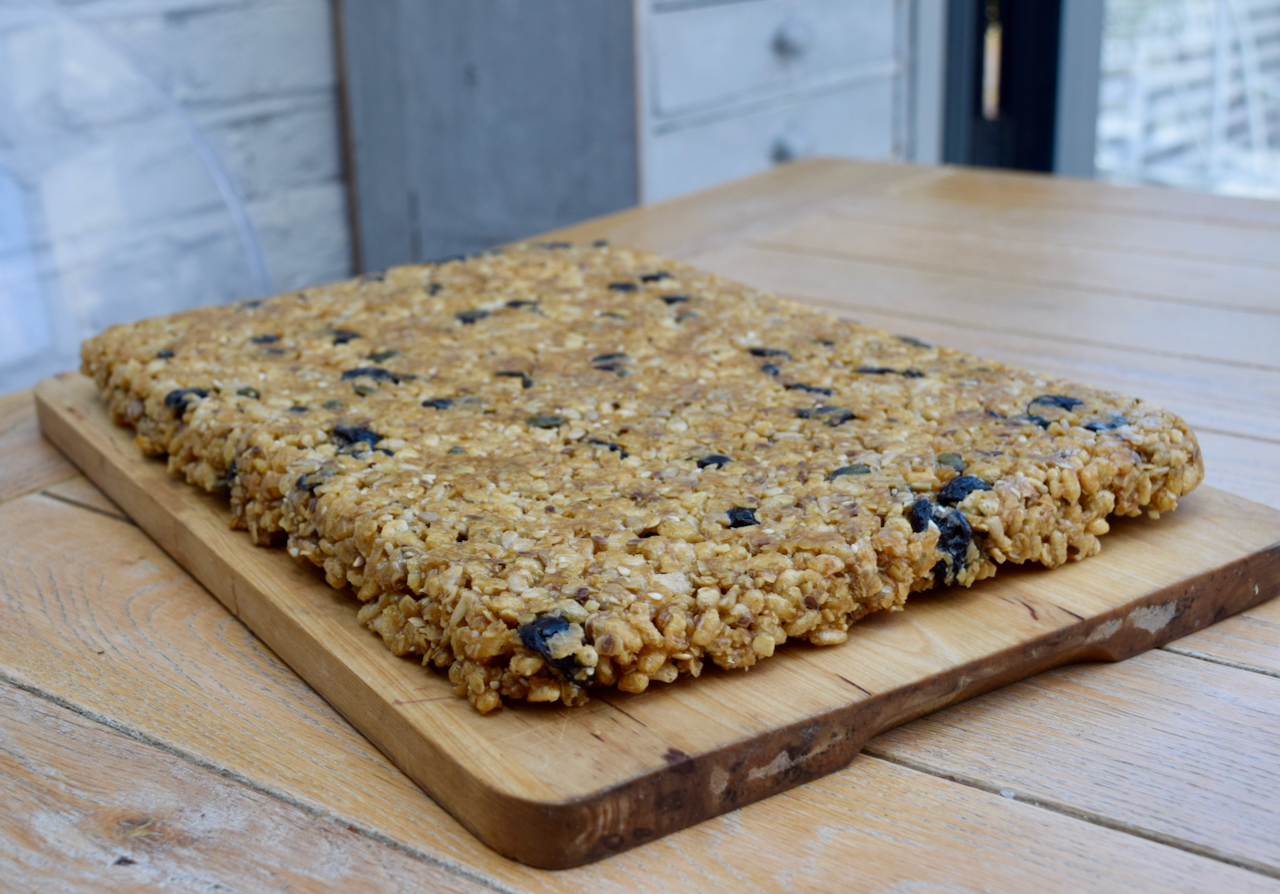 Cut the slab into 18 bars and wrap in greaseproof paper, if you want to show off. If not, just pack them into a tin and store in the fridge for future inhaling.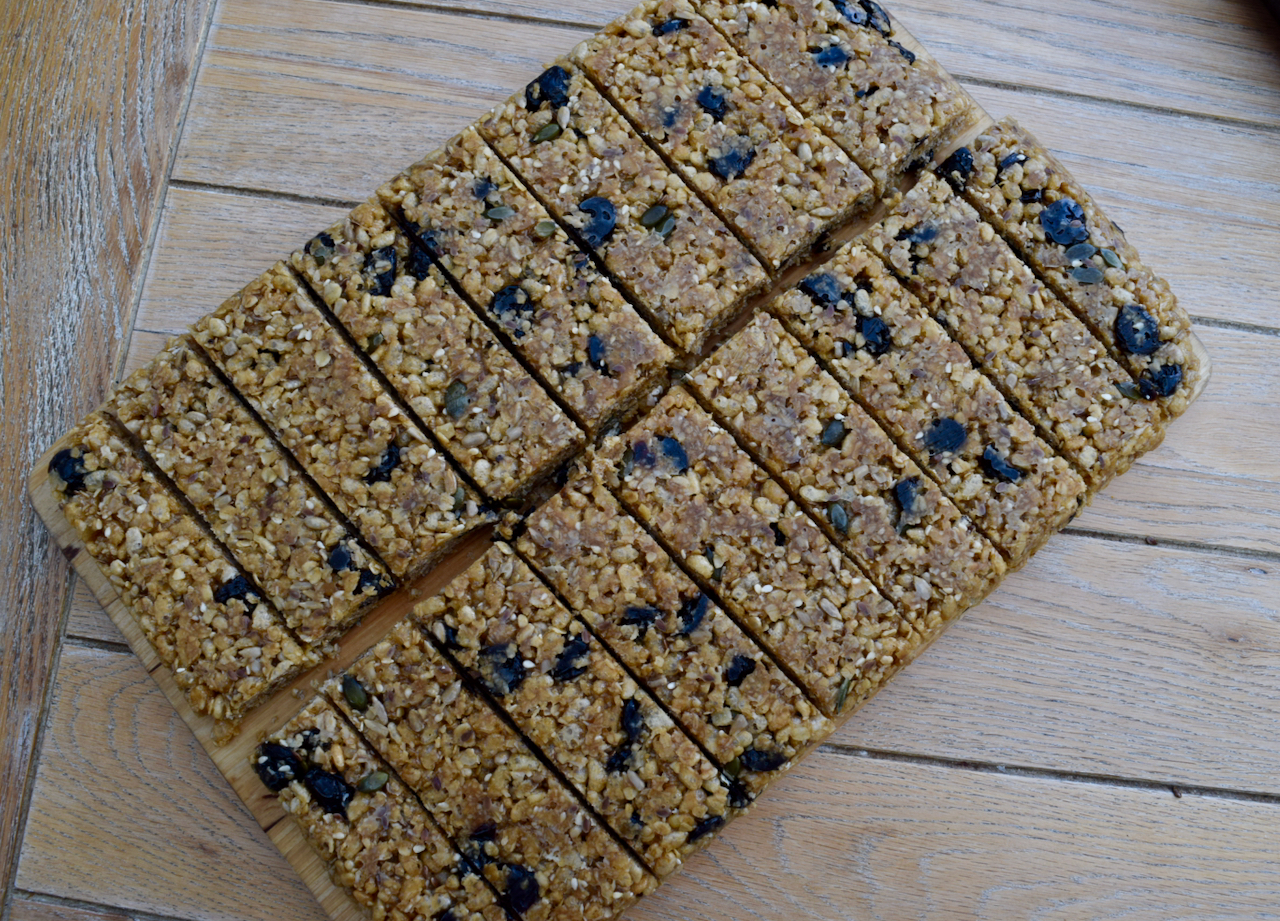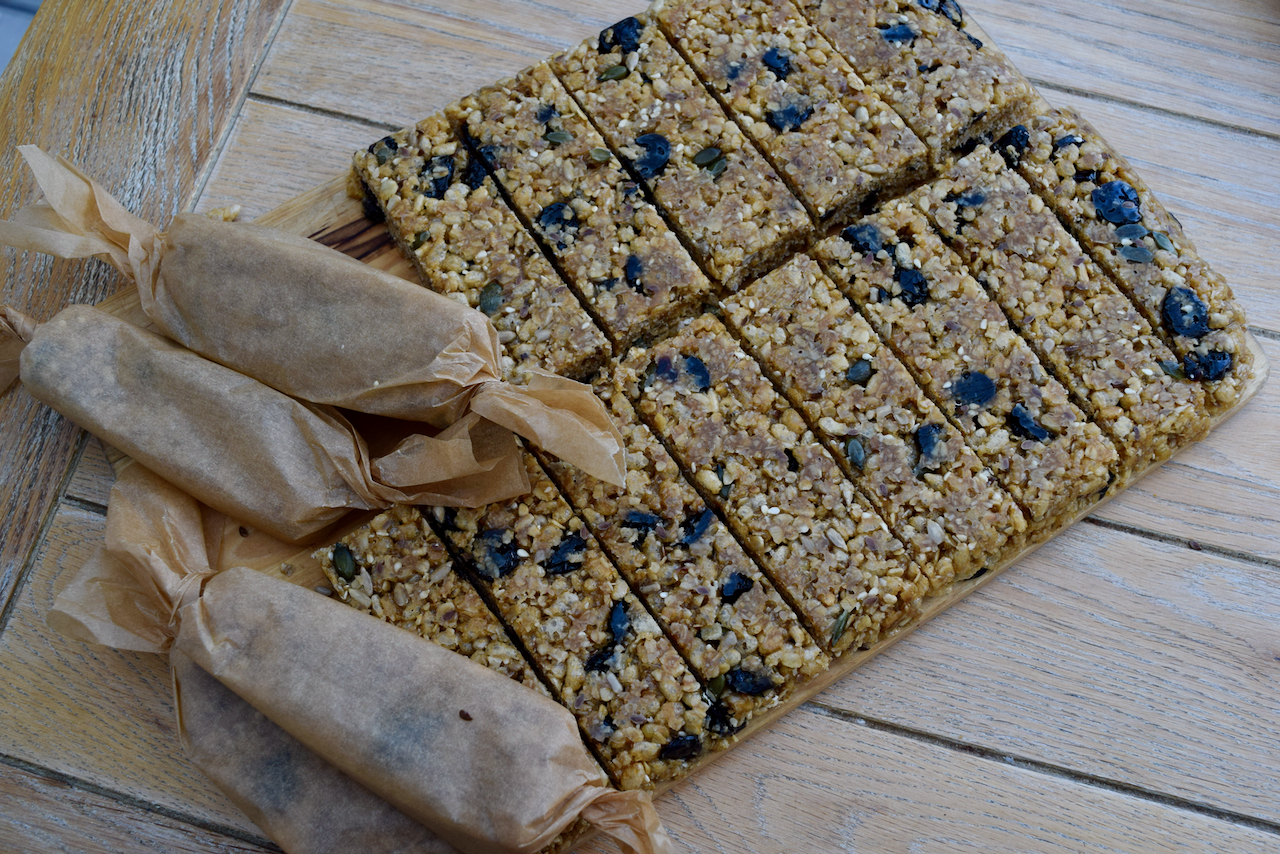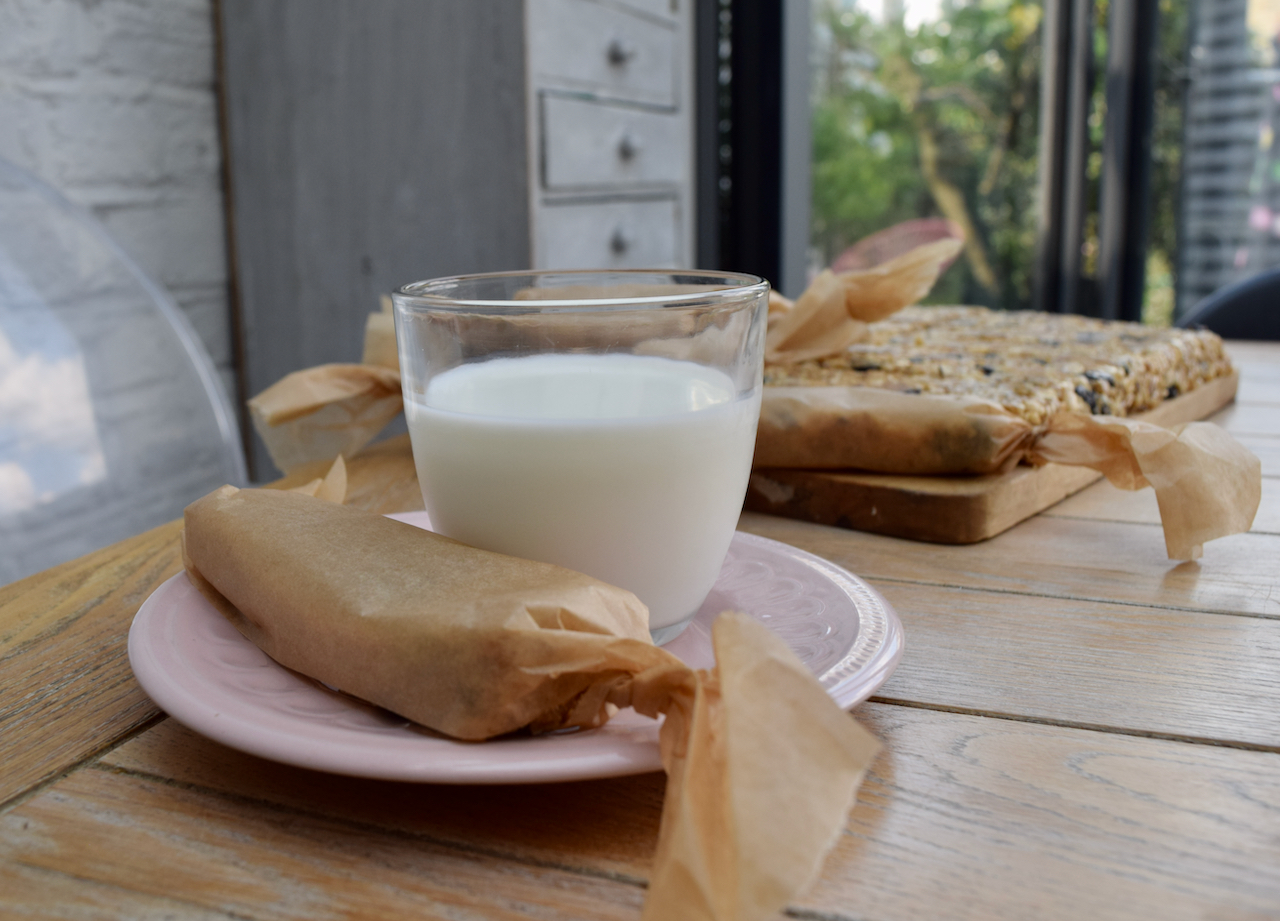 These Cherry Coconut Cereal Bars are your ticket to being parent/wife/husband/person of the year in your house. They'll keep you going through the long school holidays/days at work/limited foreign travel days ahead. These and several litres of rosé, that is.
Lucy x
Cherry Coconut Cereal Bars recipe
Makes a lot, about 18 good sized bars
You will just need a saucepan and a large Swiss roll sized lined baking tray
200g butter
200g light brown sugar
100g golden syrup
50g seeds, I used a mixture or just use sunflower or whichever you have to hand
150g dried sour cherries, or cranberries if you'd rather, chopped if large
50g desiccated coconut
100g rice Krispie style cereal
150g oats, not jumbo, just normal porridge oats
Line your 23cm by 30cm baking tray with cling film or baking paper.
Take a large saucepan and measure in the butter, light brown sugar and golden syrup. Heat gently until the butter has melted and the sugar dissolved, stirring as you go. Take off the heat and stir in the seeds, coconut, cherries, oats and rice cereal. Mix really well until everything is coated then tip into your lined tin.
Press down really well, I used the bottom of a measuring cup to pack the mixture well into the tray. Put the tray into the fridge for a good 2 to 3 hours until chilled and set.
Remove from the tray and cut into 18 generous bars. Wrap in baking paper, if you like, and keep stored in the fridge for around a week.