Eggnog Recipe
Eggnog is one of those lovely, almost legendary drinks, spoken about in American tv shows and books, but never really known or enjoyed in this country. The closest I had ever got to Eggnog up until now was a Snowball, however, this is a very different beast to the wonders of homemade Eggnog. And what better place to share my new found love of all things festive and American than on the last Cocktail Friday before Christmas.
My lovely friends at Aldi sent me a feast of booze recently and I specifically pin pointed the fragrant Clarks Honey Bourbon for my Eggnog-a-thon. The Bourbon is so warming and the touch of honey in it adds so much to my Eggnog recipe. My recipe, of course, had to come from an American website so I head to the Kitchn for the best possible inspiration. I had felt squeamish about using raw eggs in a cocktail but I am so ok with this now, especially if you use the best eggs you can afford. The combination of good eggs, cream, milk and full flavoured Clarks Honey Bourbon creates a soft, delicious drink that makes you realise the Americans have been right all these years about these tasty ingredients.
Now I have discovered the joys of Eggnog, this is going to be a new traditional drink for our family Christmas.  This makes a wonderful, bloody great big jug to share, or not, it's up to you. I wouldn't share, just saying.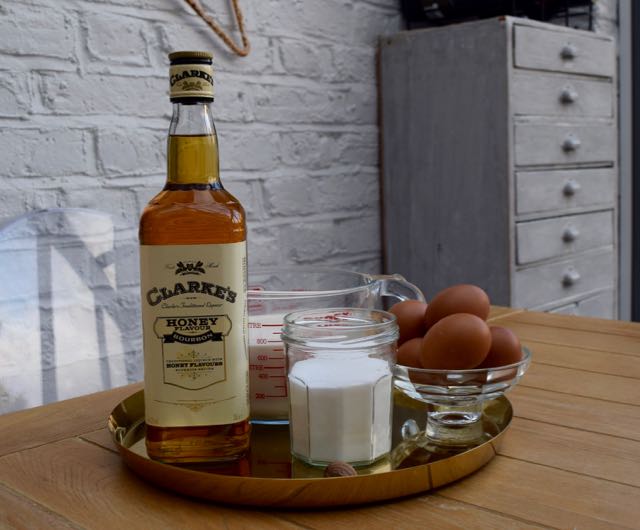 Such wonderful , fresh ingredients with the inclusion of Aldi's divine Honey Bourbon which adds so much to this seasonal drink. There's still time to nip to your local Aldi to stock up on your festive booze for this and other wonderful festive spirits for your friends and family.
Make a start on my Christmassy Eggnog by separating the whites and the yolks from your 6 eggs. Keep the whites, covered, in a bowl in the fridge while you whisk the yolks and caster sugar until lighter in colour and texture in your stand mixer or a bowl with a whisk.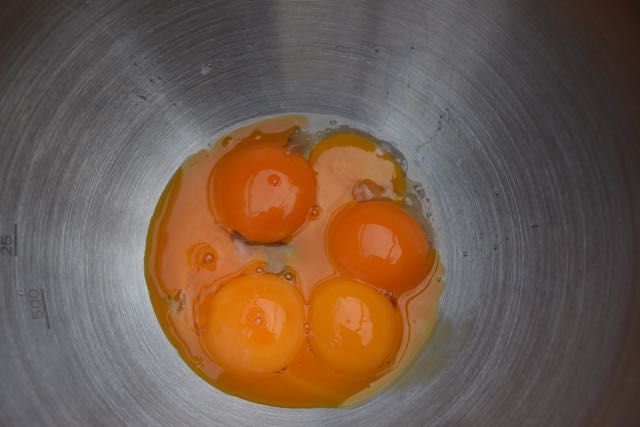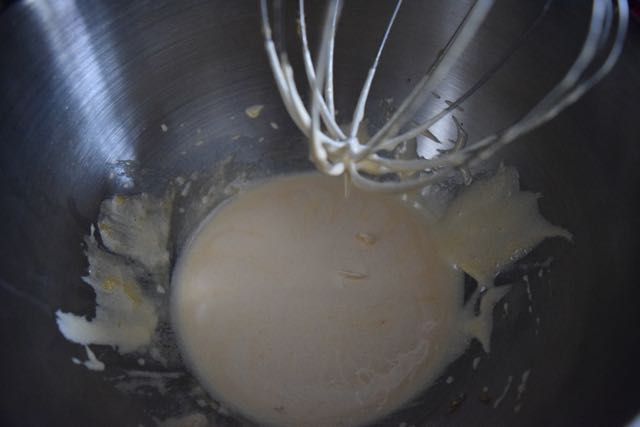 Next, measure out your milk and cream then pour into the yolk and sugar mixture and beat until smooth.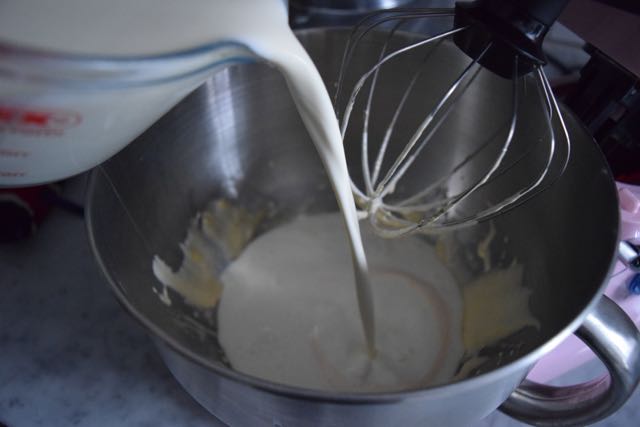 Now, pour in the golden Bourbon, whisk again until well blended then pour into your jug, cover and chill until you are ready to serve this Christmas-in-a-glass drink.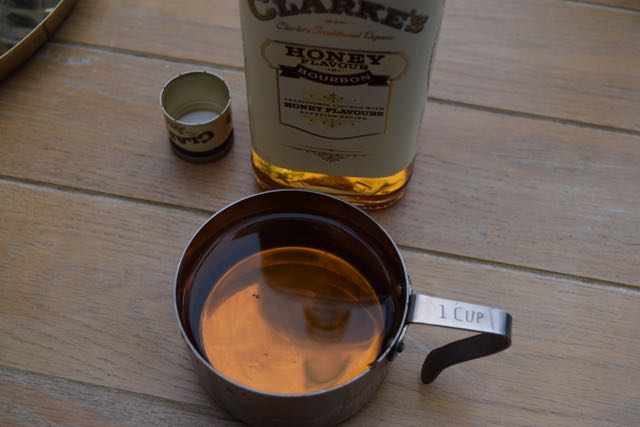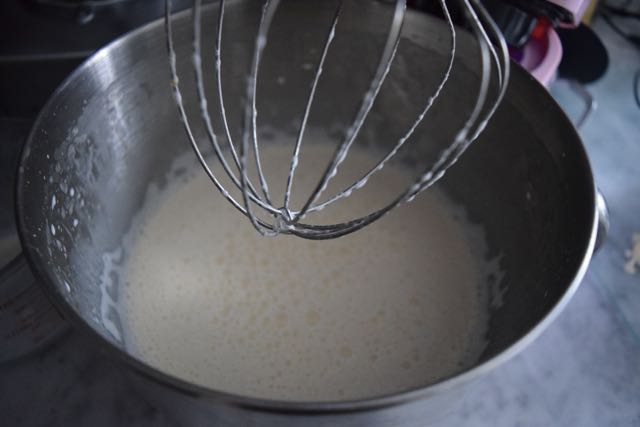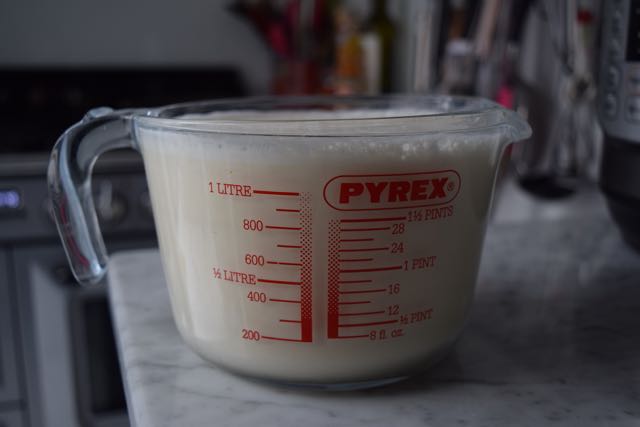 This can be comfortably left over night, or even for another day, then when you are ready to serve, beat your reserved egg whites until they hold stiff peaks. Transfer your eggnog to a larger receptacle for mixing with the egg whites.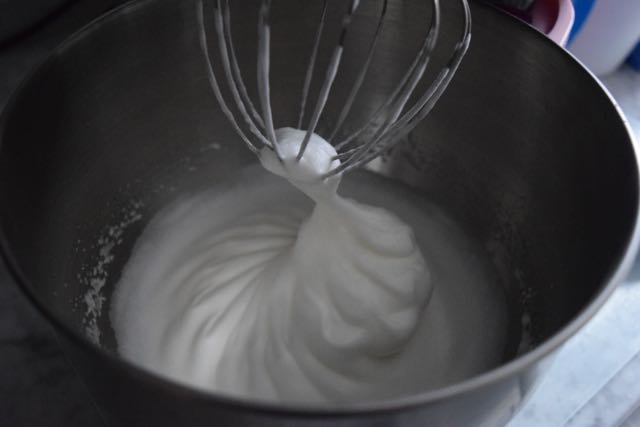 Gently fold these beaten egg whites to your bowl of eggnog base, creating a sort of froth to your cocktail.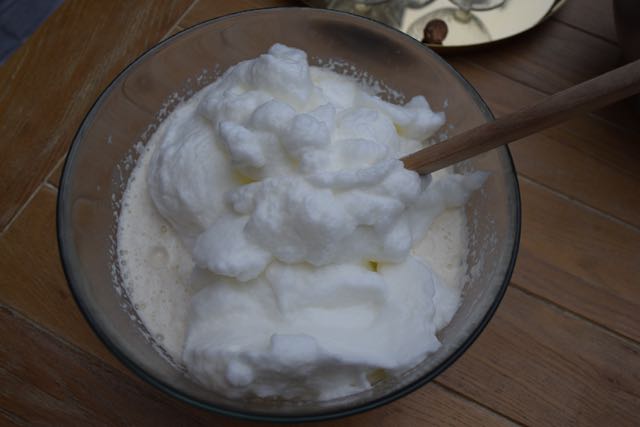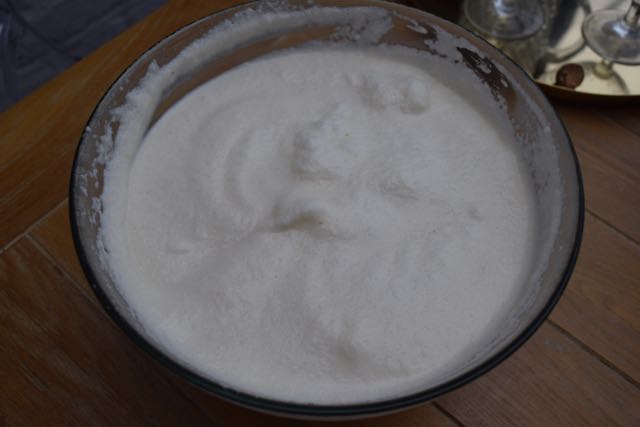 Pour this into a jug, ready to serve to your waiting guests in it's chilled frothy glory.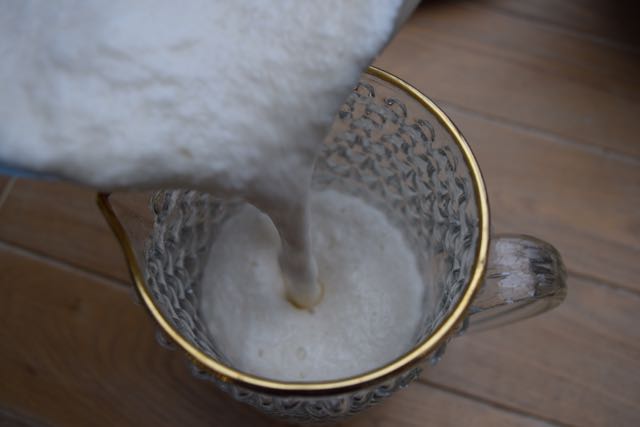 Just a tiny shaving of nutmeg to add then your Eggnog is ready for sipping/glugging. This is a creamy, warming dream of a drink.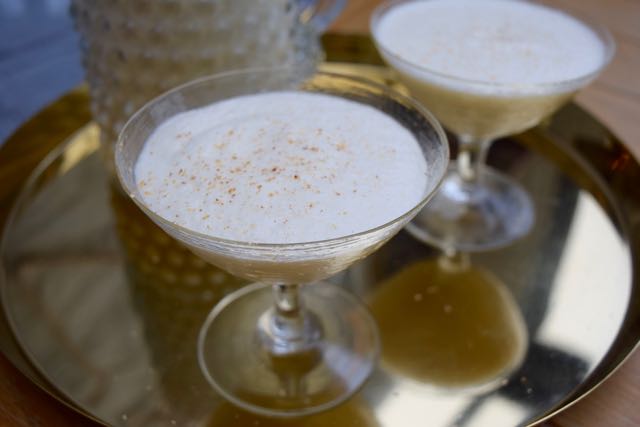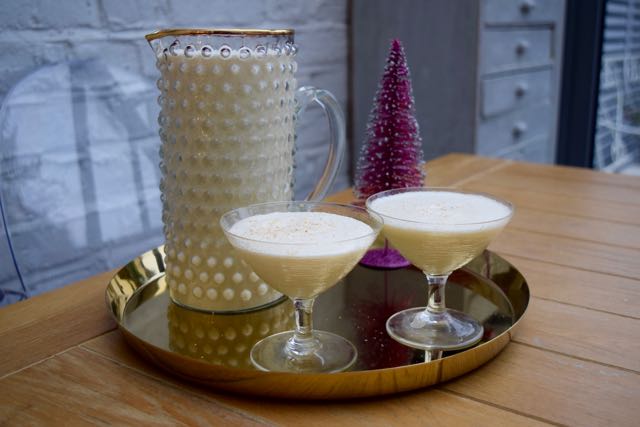 I feel cheated I haven't made Eggnog before. I really tried to just sip it, but gosh, this is not a sipping drink. It's a sort of boozey smoothie/milkshake and has an air of being good for you. It probably isn't, but it's legitimately Christmas now, so let's not worry about such things until 2018 now.
Tons of love and Merry Christmas to you and yours from me and mine.
Lucy x
Aldi kindly donated the booze for this post however my opinions and ramblings are, as always, my own.
Eggnog Recipe
Makes a big jug, serving at least 6
You will need a stand mixer or bowl with a whisk and serving jug and glasses
6 eggs, super fresh ones would be best as they are raw in this recipe
225g caster sugar
500ml full fat milk
250ml double cream
250ml to 325ml Clarks Honey Bourbon
Freshly grated nutmeg, to serve
Take the eggs and separate the yolks from the whites. Keep the whites, covered in a small bowl or jug, in the fridge overnight, or until you are ready to serve the eggnog. Place the yolks in the bowl of your stand mixer or large bowl and add the caster sugar. Beat until lighter in both colour and texture then pour in the milk and cream and beat again.
Finally pour in the honey Bourbon, mix again then pour into a large bowl or jug and refrigerate overnight.
When you are ready to serve, take the egg whites out of the fridge and whisk into stiff peaks. Carefully, fold these into your Bourbon and cream mixture. They will create a sort of frothy head on the eggnog.
Serve in pretty glasses, garnished with some freshly grated nutmeg. This will keep in the fridge for around 2 days.
SaveSave
SaveSave
SaveSave
SaveSave
SaveSave