ABC Winter Slaw with Citrus Dressing Recipe
I am fed up with winter food. I'm in that sort of mood, can you tell. It's all so stodgy, I feel like a right dollop and am craving something which isn't beige. I have the same desk lunches most days, scrambled egg, soup, a sandwich and I've had enough. When I read an article about Trader Joe's ABC Slaw last week, I decided to recreate it to bring some colour into my life. If you haven't been to America, Trader Joe's is my favourite food shop in the whole world. It's like Whole Foods meets Waitrose and sells the most delicious things ever. So my version of their salad, this ABC Winter Slaw with Citrus Dressing is fresh, tangy and full of much needed colour.
This recipe is super simple to make, especially if, unlike me, you can find the grater attachment of your food processor. The dressing is zesty and the slaw is sweet and earthy. I had some lovely pink lady Apples, candy Beetroots and baby chantenay Carrots. Hence the ABC. The colours are mood enhancing as are their antioxidant and vitamin based qualities. I topped my salad with some baby kale and seeds for greenery and crunch but you can tart this brilliant slaw up however you choose. Take this to work in a jar and have on it's own or take along some chicken or fried halloumi to go alongside. This would also make a brilliant accompaniment to a chicken escalope or burgers. Salad doesn't usually scream exciting but this one genuinely is, so a huge thanks to Trader Joes for the inspiration for my dish.
This is just the sort of salad I need to lift my 'is it still bloody January' spirits. And, fingers crossed, it may kick start some sort of long awaited healthy eating programme. It's only 28 days into the New Year for goodness sake.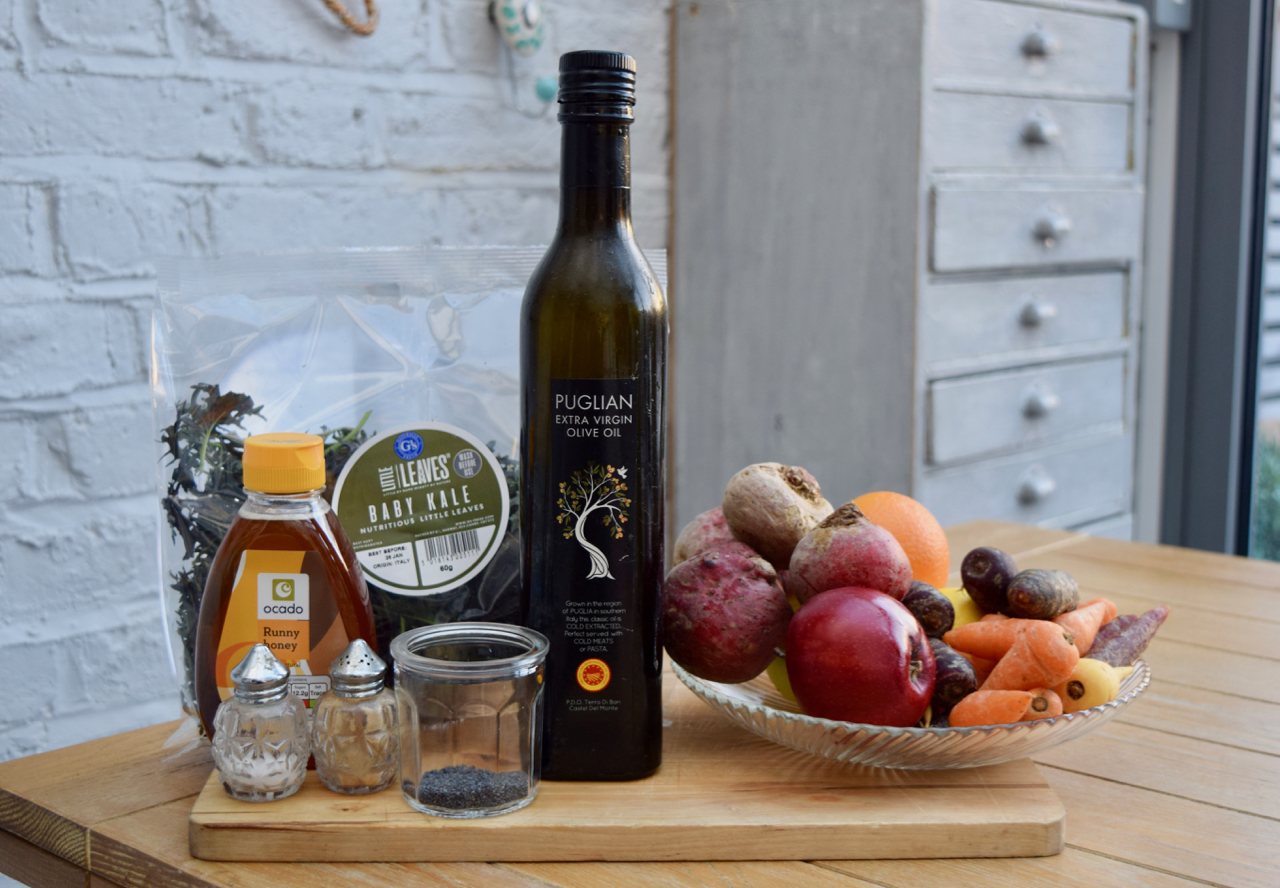 Just looking at this line up lifts my sprits. So colourful and I went all out on my ingredients. The multi coloured Chantenay carrots and the candy beetroots, which have a lovely stripy centre, were both perfect and, of course, on offer. You can use regular raw beetroots and 2 large standard carrots; just use what you have to hand.
Start on this dish with the dressing. Take a jug and add the zest of the lemon and orange.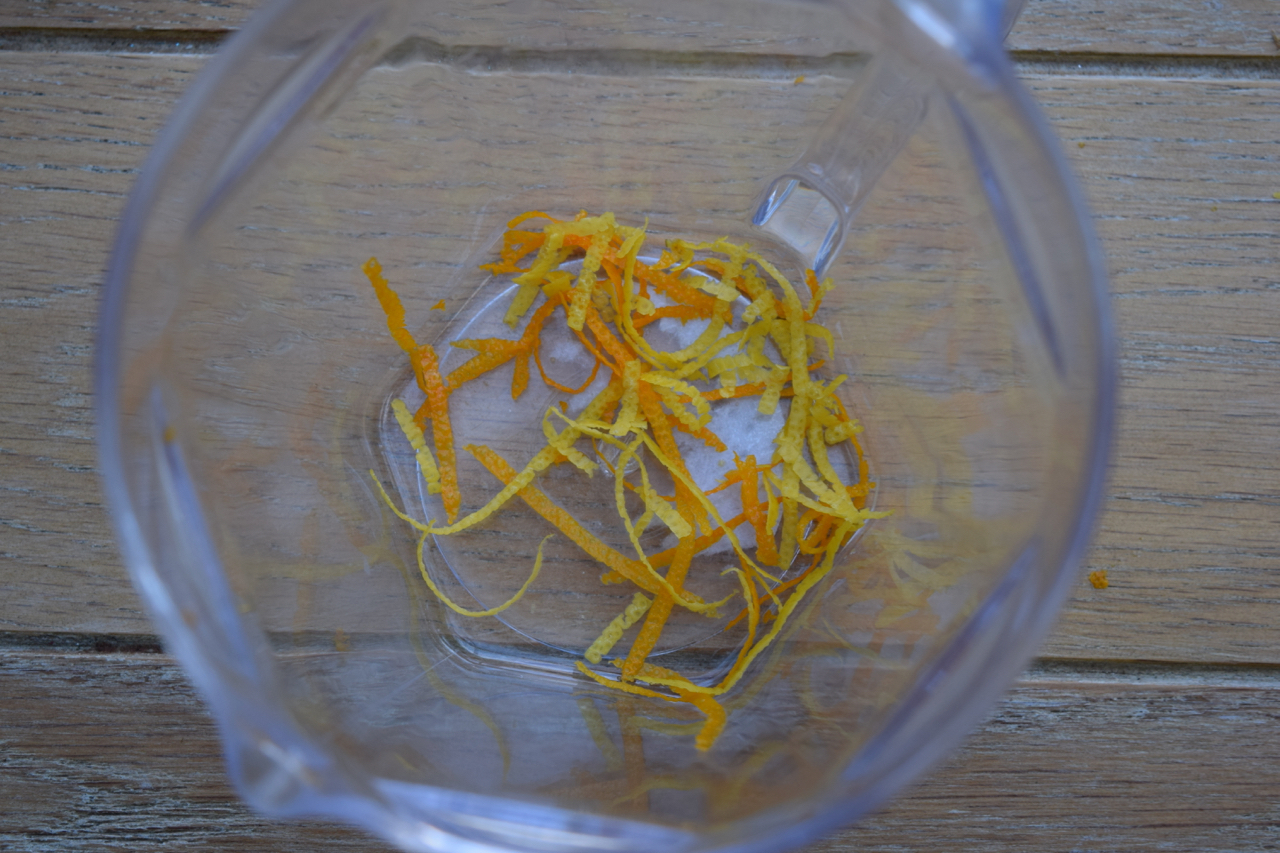 Juice the aforementioned citrus fruits and pour into the jug, along with the honey and olive oil.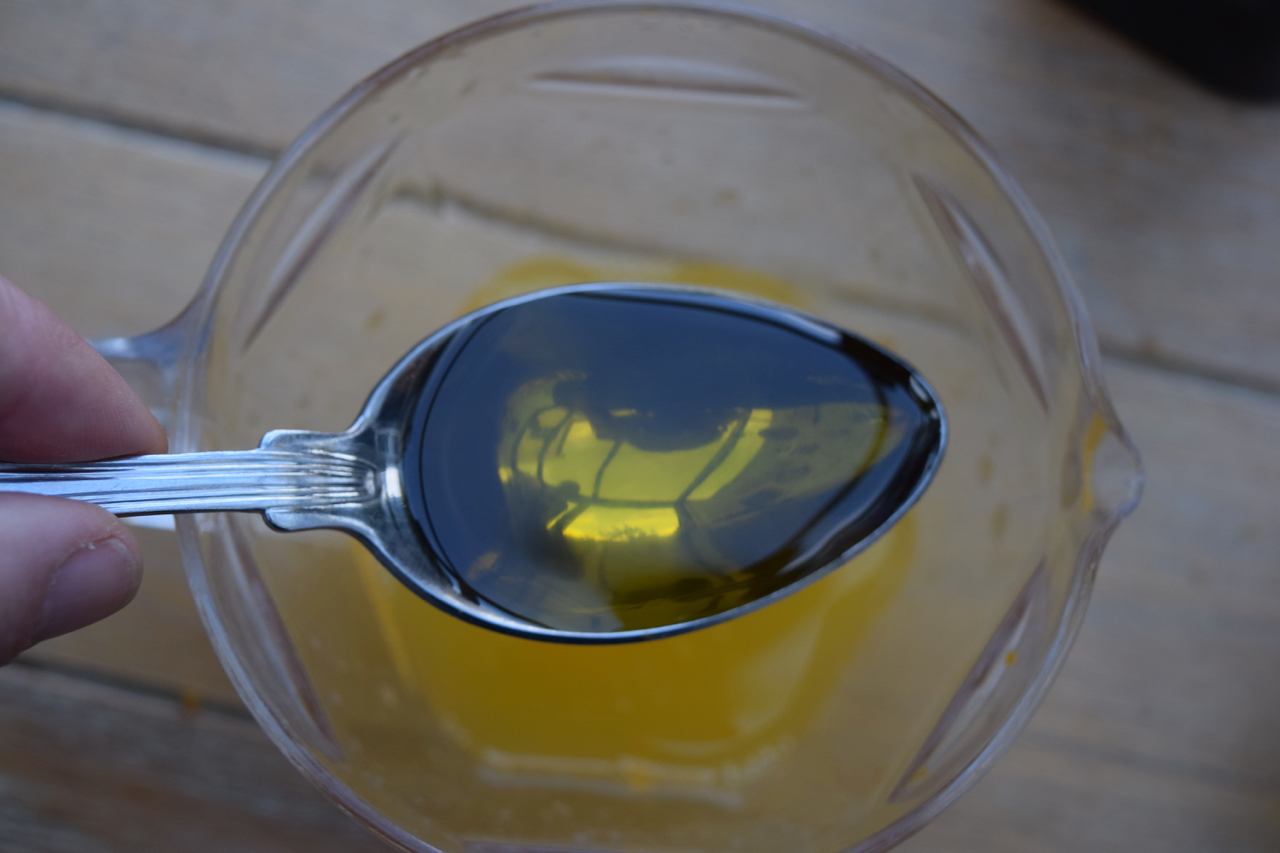 Season well with salt and pepper, give it a little whisk then stir in the poppy seeds.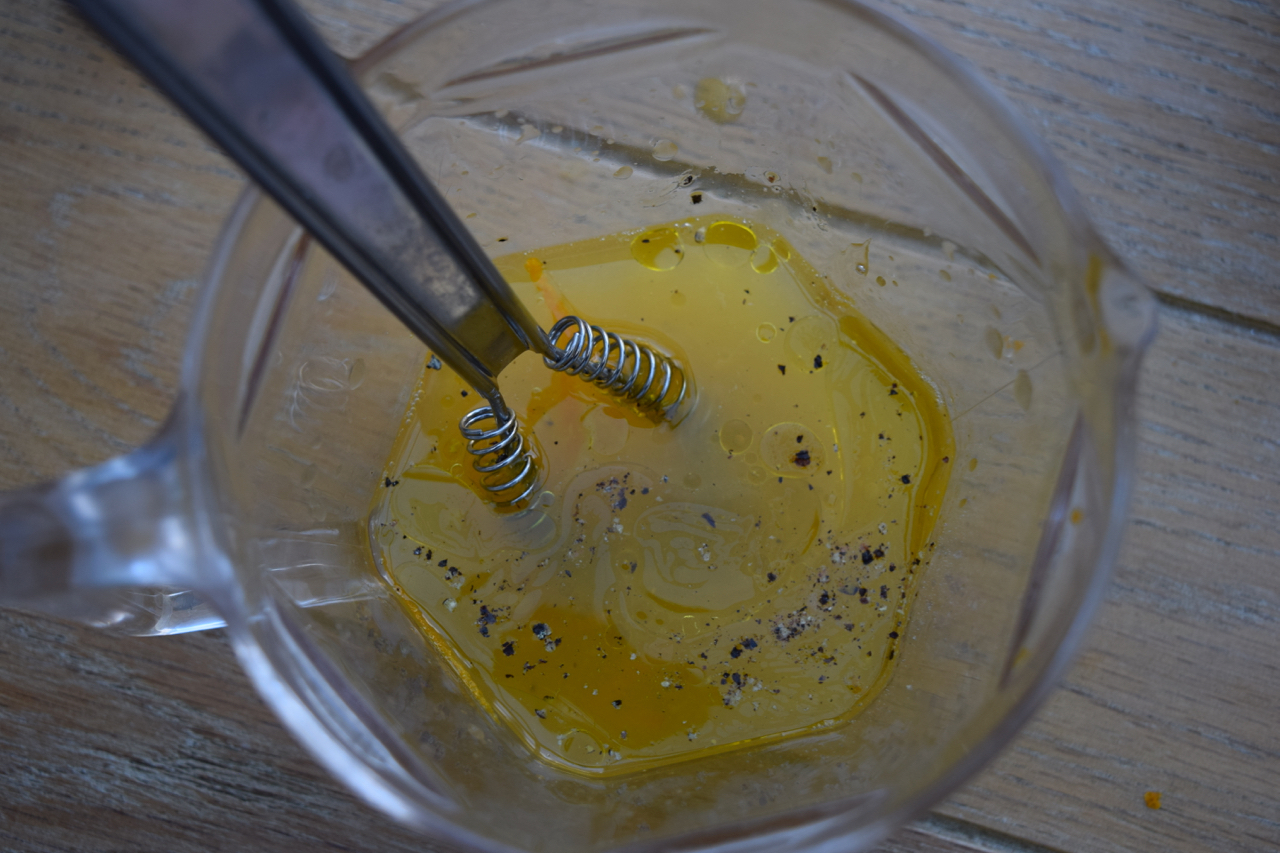 Pop this to one side while you start the grating marathon.
I am lazy and was making this in a hurry so I just washed my apples and carrots, rather than peeling them. Life's just too short sometimes and I don't find peel offensive in a salad. Do, however, core the apples and top and tail the carrots.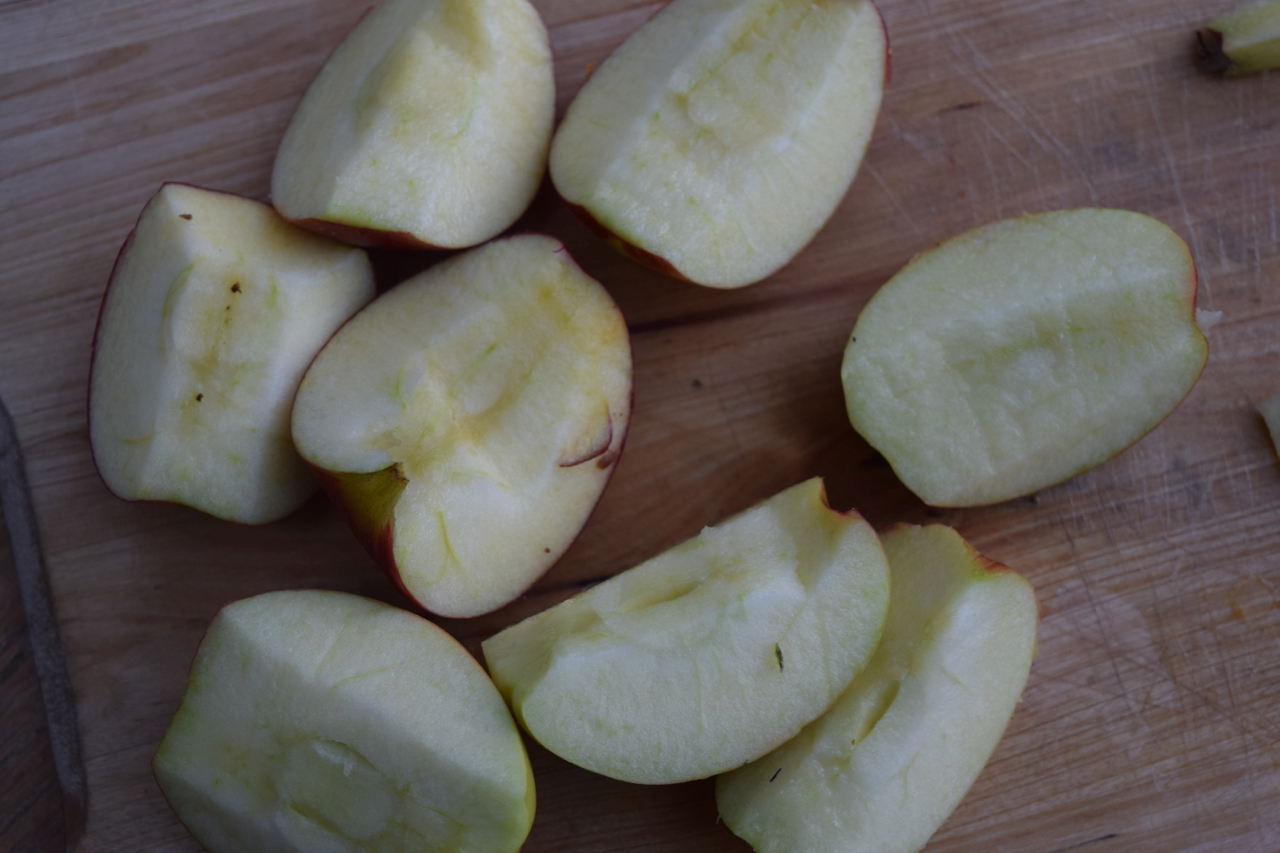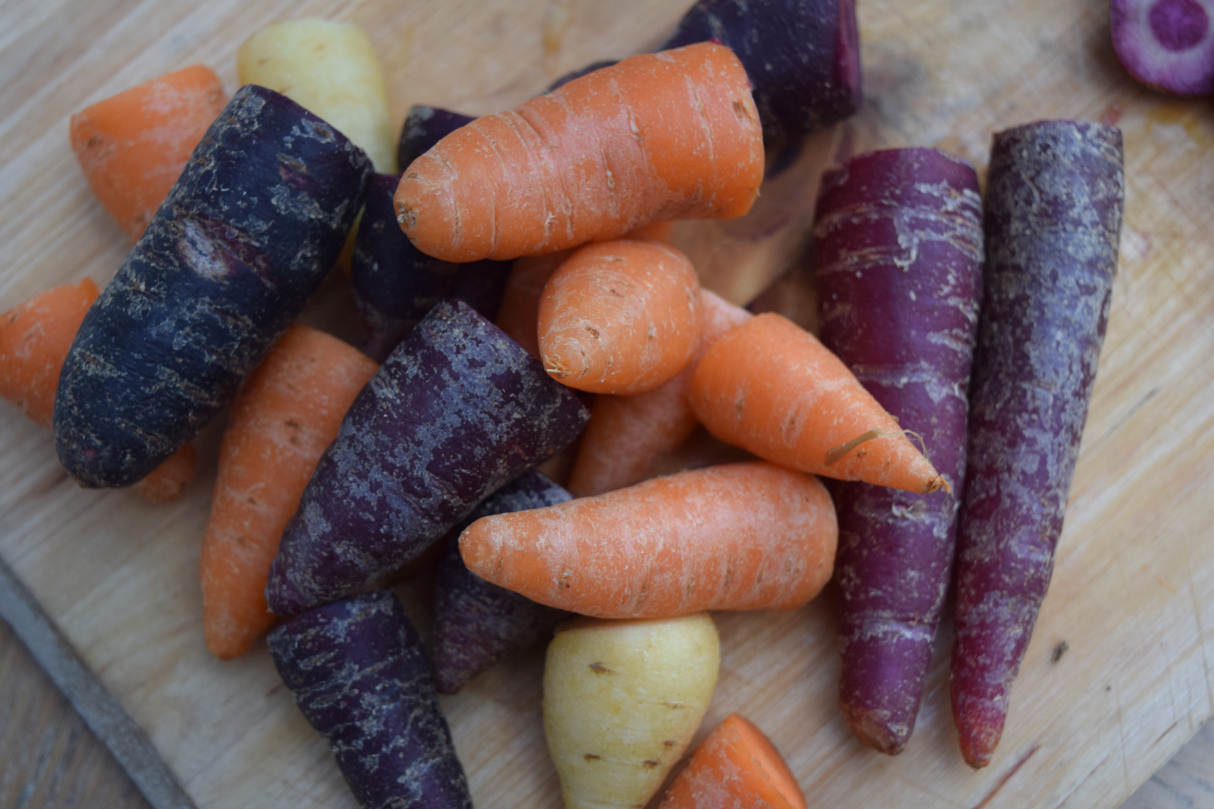 Now, do try and find the grater blade for your food processor which I couldn't or you will have to grate by hand with your box grater like I did. I felt quite buff afterwards from the work out. Start with the apples then grate your small Chantenays or two larger carrots.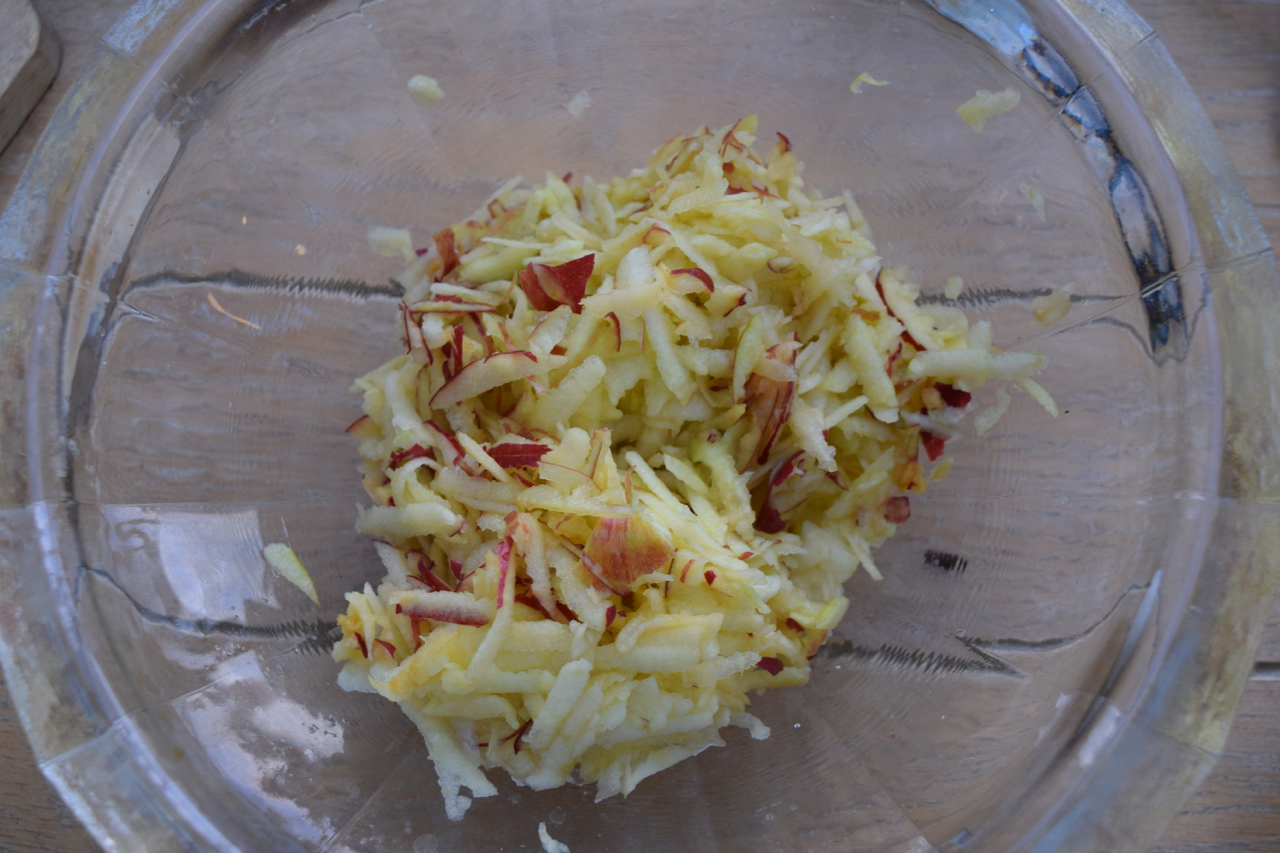 Squeeze some extra lemon juice on the apples to stop them browning then give them a mix.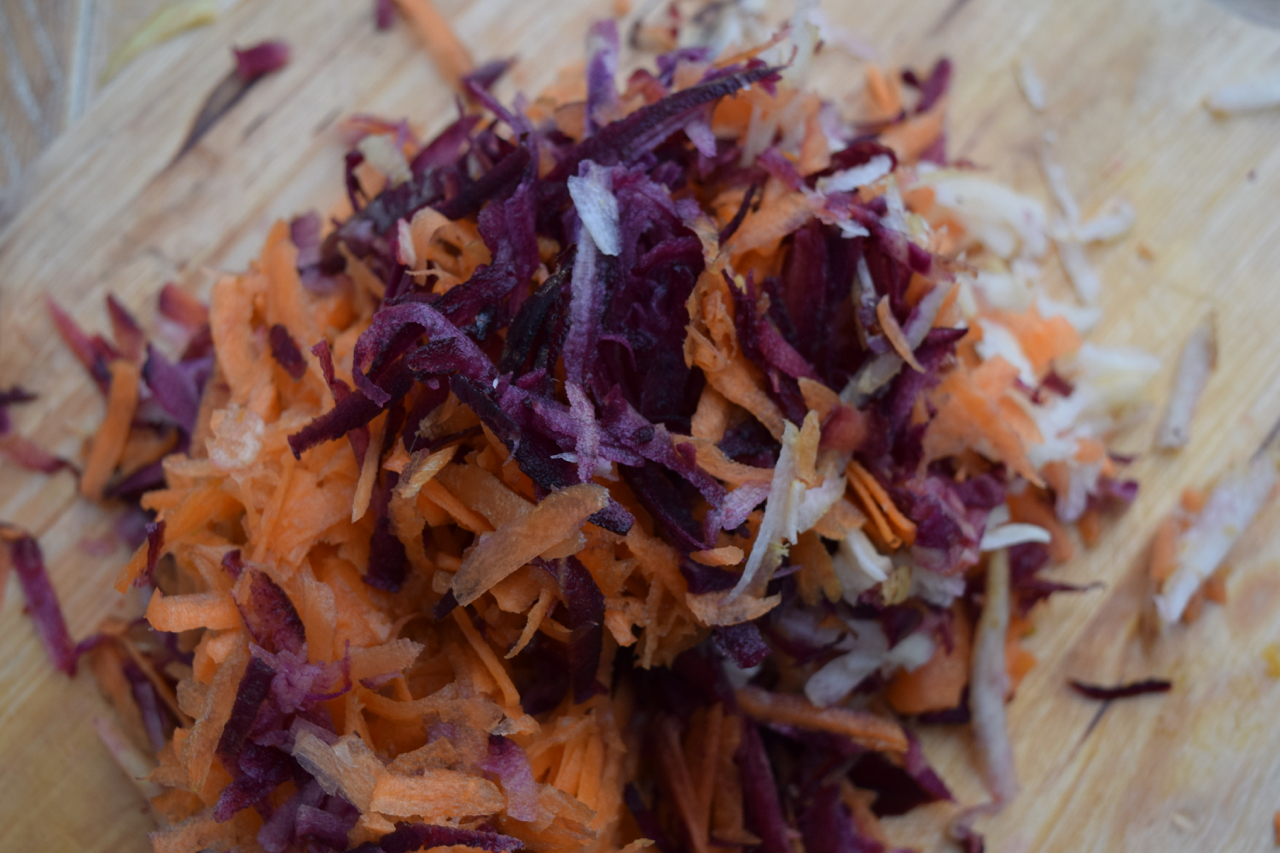 Now please feel free to grate your peeled beetroot, but mine were so pretty, I decided to use my dangerous mandolin to thinly slice them. Please note, I didn't lose a single finger during the making of this salad, so well done me. On a side note, if you are using regular raw beetroot, it may be a thought to wear some gloves or you'll have pink fingers for days.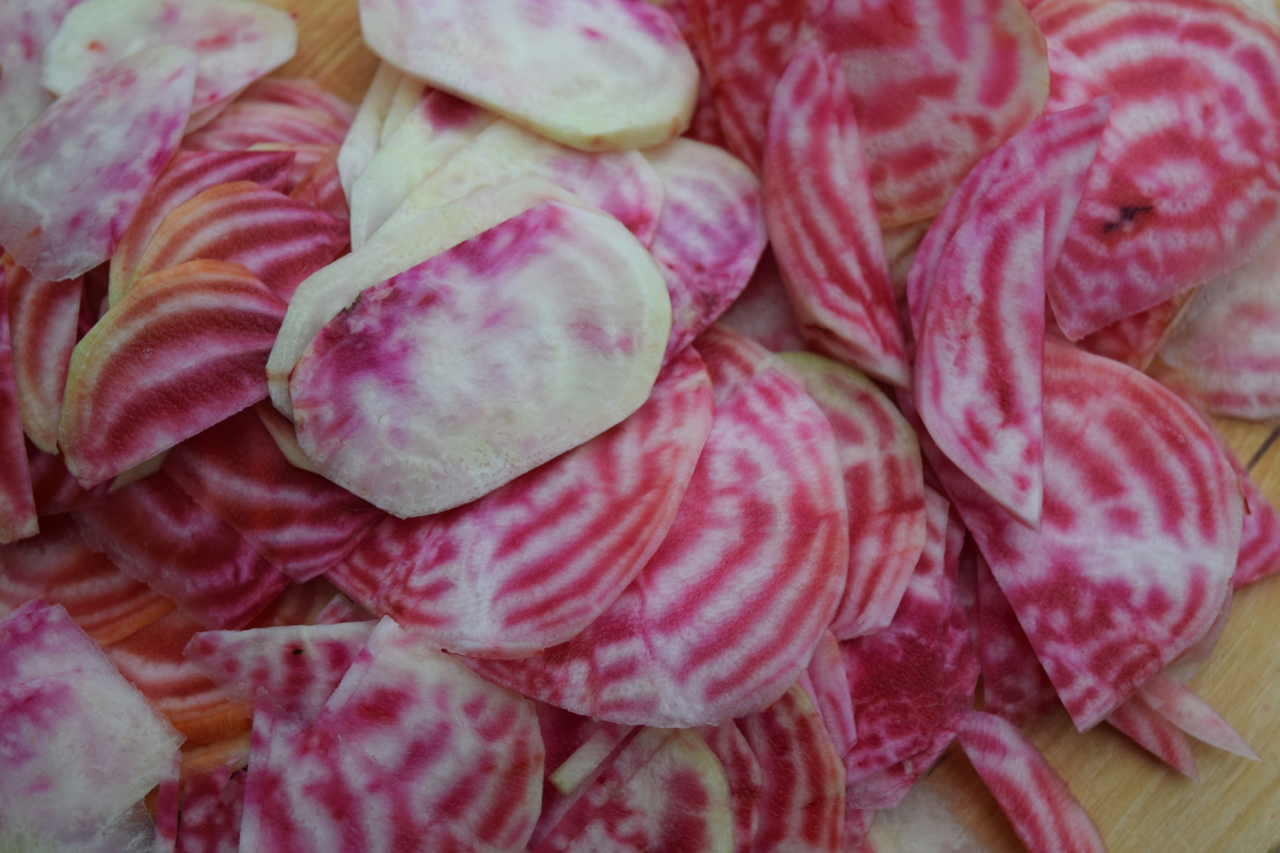 Mix all the grated/sliced vegetables together in a large bowl then pour on the citrus dressing. Then give the whole lot a huge toss.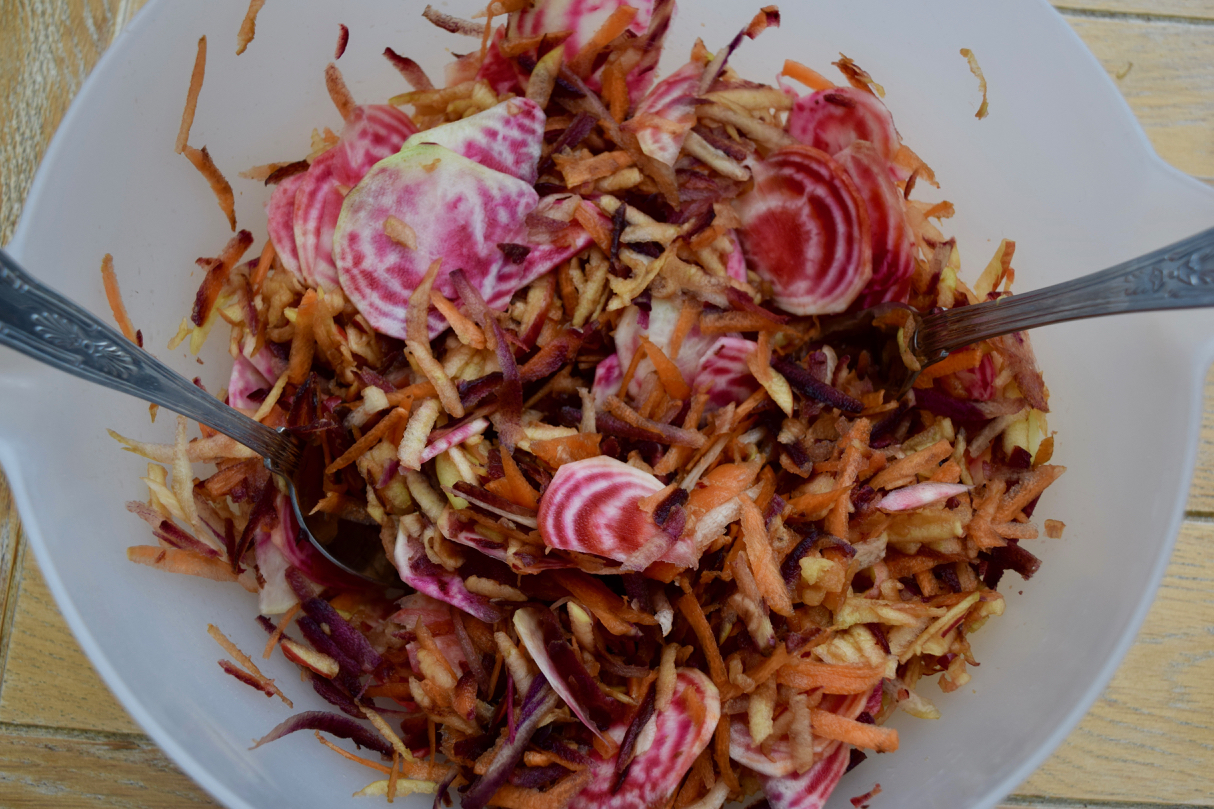 This is a pretty mess of a salad. So bright and so bloody tasty. You can, at this stage decant this into a lovely glass bowl and serve as part of a spread or pack into jars with lids ready to take to work. Once plated up, top this ABC Slaw with a handful of baby kale, pea shoots, spinach or watercress or you leafy green of choice. I went for a handful of seeds too for super crunch. And they looked good.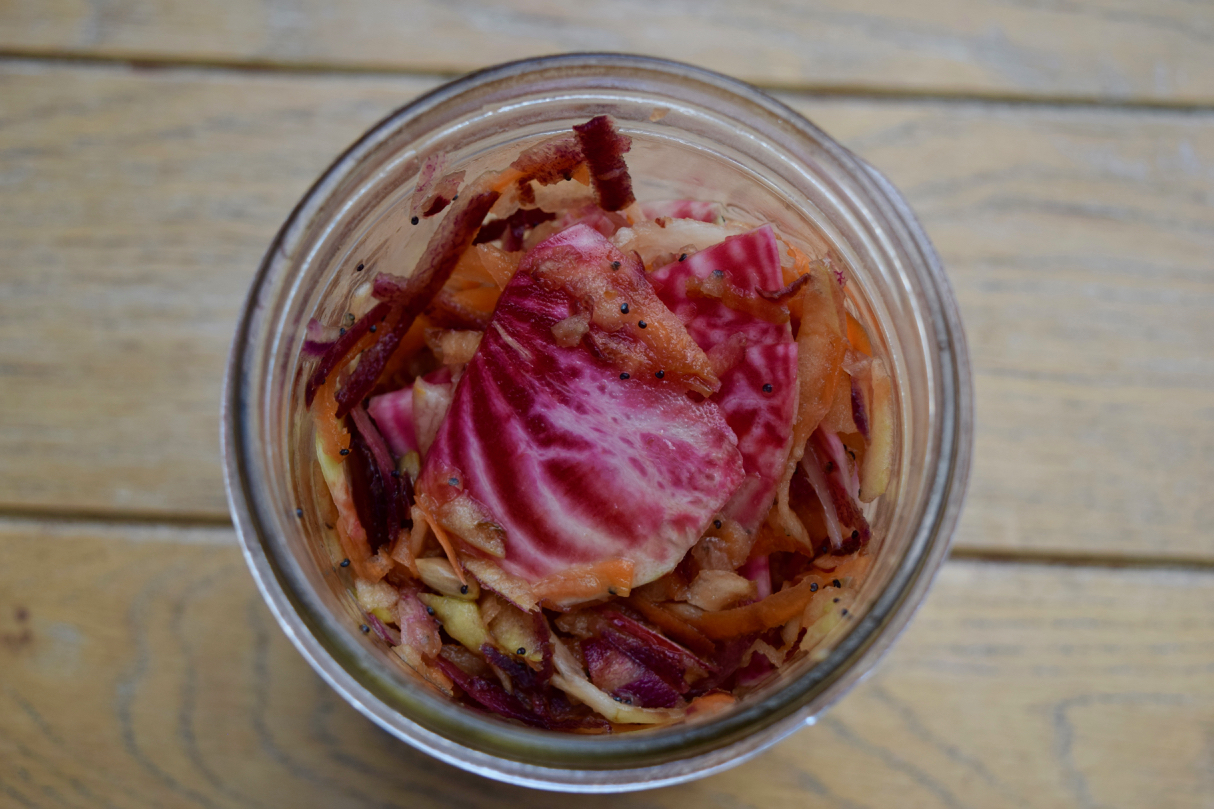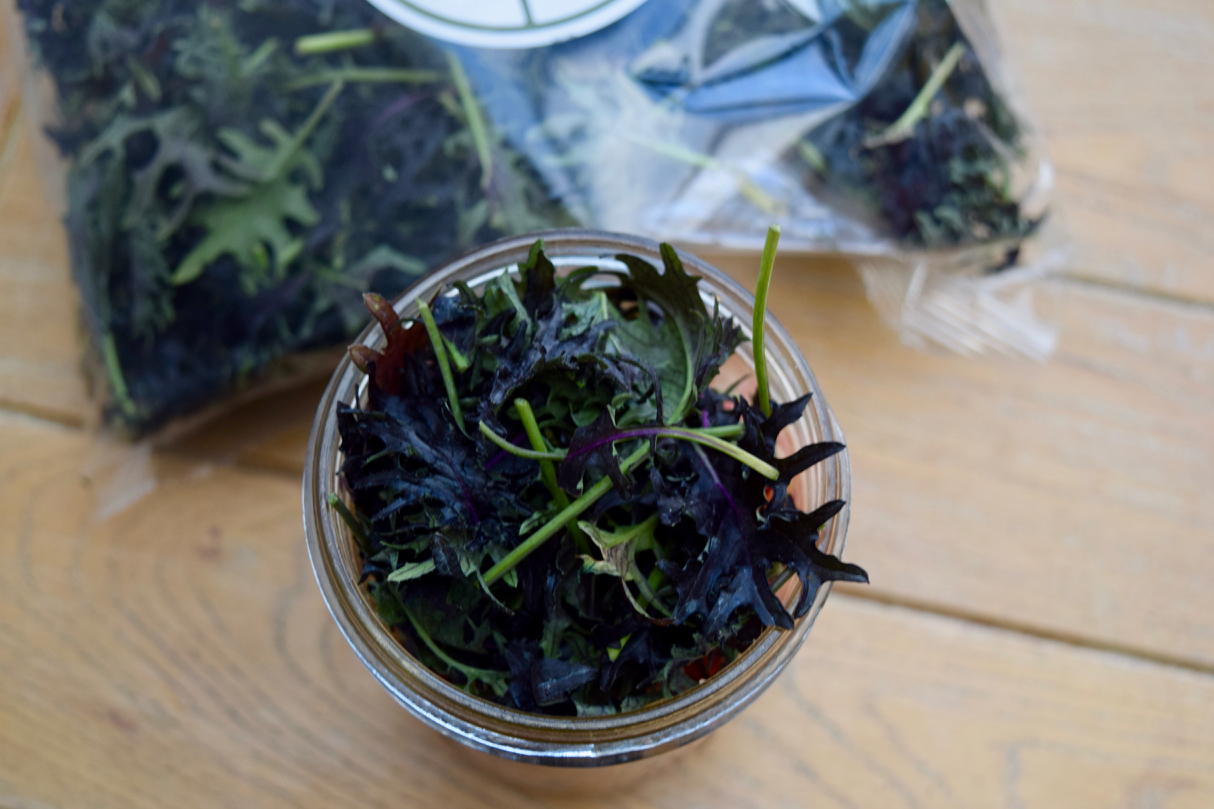 I pan fried some halloumi slices to serve alongside my slaw but this is great on it's own,  or with some cooked chicken or fish. Tuck in.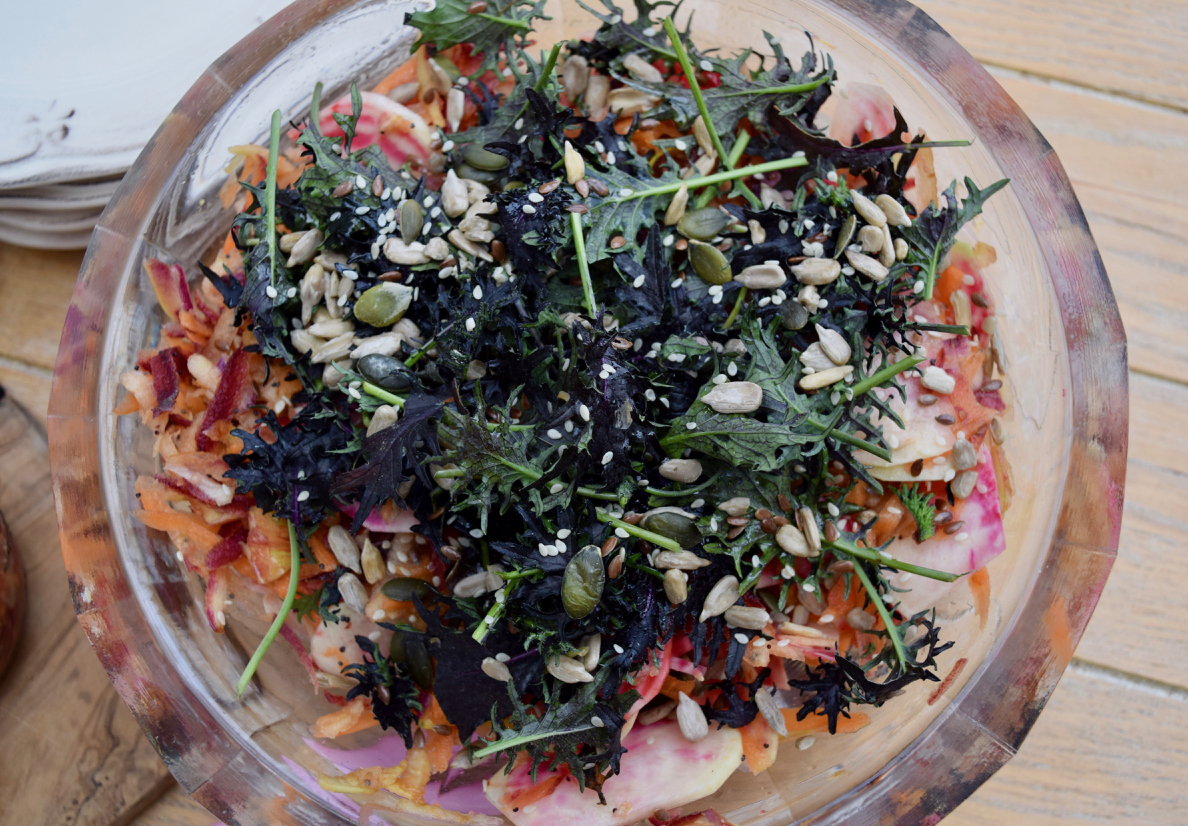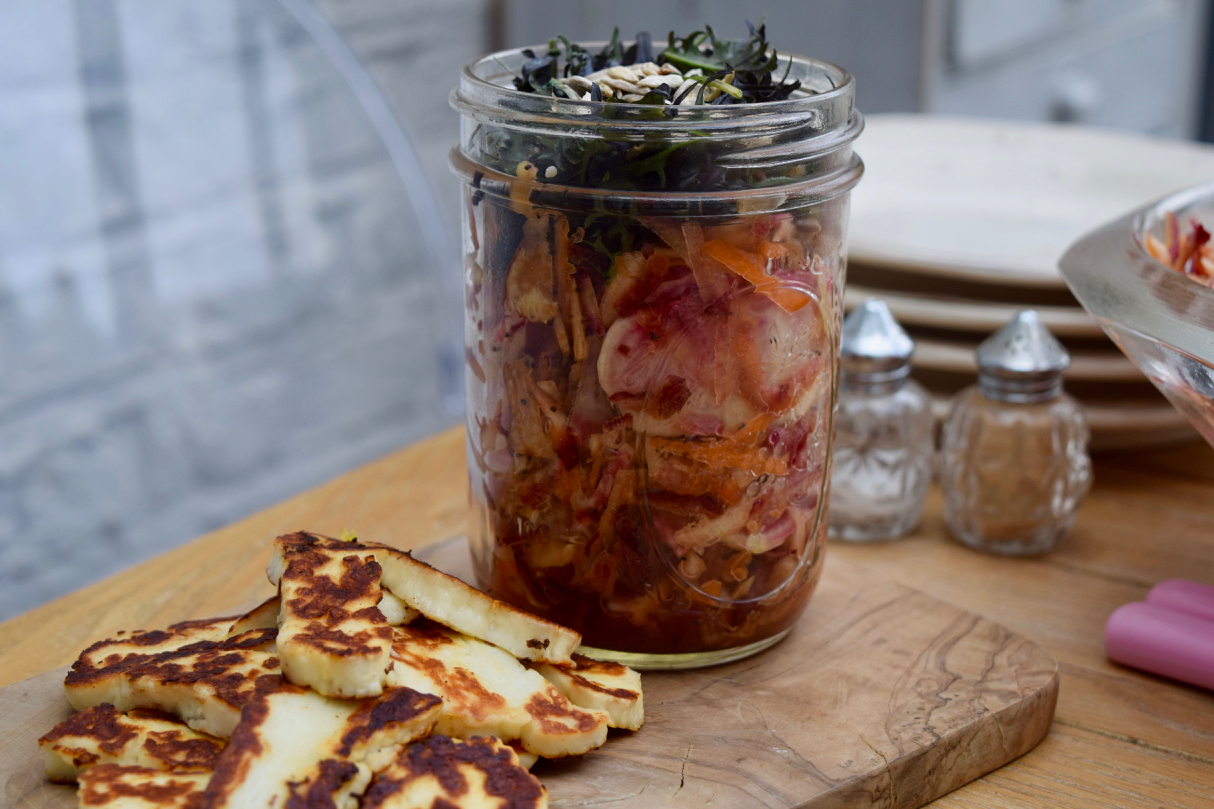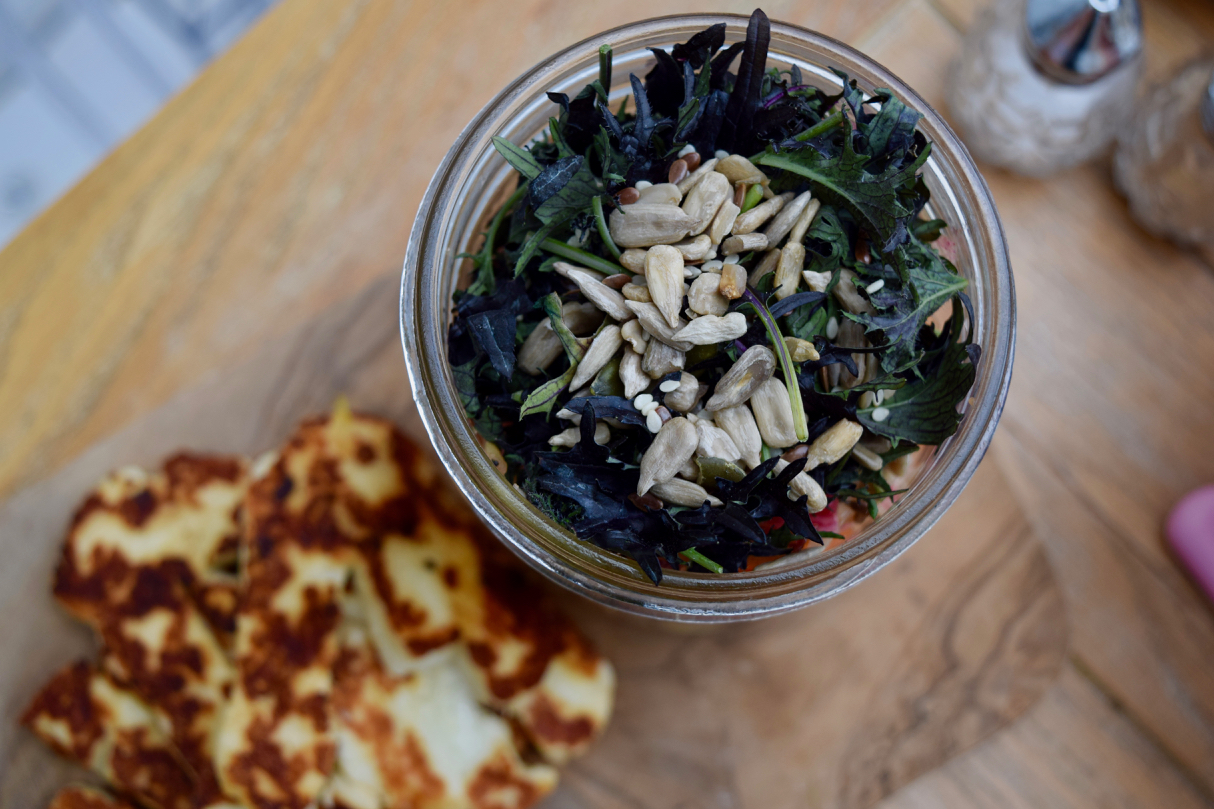 This is sweet, earthy, filling and so fresh tasting. If, like me, you are fed up with beige stodge, this ABC Slaw with Citrus Dressing is the lunchtime livener for you.
Lucy x
ABC Winter Slaw with Citrus Dressing Recipe
Serves a generous 4
You will need a box grater or your food processor with its grater attachment and a bowl or jars to serve/store the slaw in
Slaw
400g raw beetroot, peeled
200g carrots, topped and tailed, and peeled if you like
2 apples, cored
60g baby kale, or other salad leaves
Mixed seeds to garnish
Dressing
1 lemon, zest and juice
1 orange, zest and juice
1 tablespoon olive oil
1/2 tablespoon honey
1 tablespoon poppy seeds
salt and pepper
Fried halloumi, cooked chicken, or a protein of your choice to serve, if you wish
Make a start with the dressing. Zest the lemon and orange then add that and the juice of both to a jug. Whisk in a tablespoon of olive oil and the honey then season with salt and pepper to taste. Stir in the poppy seeds then pop to one side.
For the salad, using a box grater or with the grater blade on your food processor, grate the apples. Add them to a bowl with a large squeeze of lemon juice to stop them going brown. Grate the carrots then add these to the bowl too. Grate the beetroot or slice them on a mandolin then mix them into the slaw. It may be a thought to use gloves if grating these by hadn't to stop any staining.
Pour on the dressing, stir well, then pack into jars with lids or into a lovely serving bowl. Top with your baby kale or other leaves then sprinkle with seeds to add a bit of crunch.
This will keep for 2 or 3 days in the fridge.