Chocolate Chip Cookie Recipe
I have searched far and wide for a chocolate chip cookie recipe I was happy with. I am not ordinarily fussy about biscuits, I will happily eat unbranded custard creams or bourbons by the handful, but when I comes to American style cookies, the rules change. For me these cookies have to be soft, slightly under cooked, not too fat not too thin and not crispy, apart from maybe a tiny bit around the edge. High maintenance? On this occasion, yes.
Previous attempts at making the perfect cookie had failed, with results varying from flat crispy cookies that had all merged into one huge cookie to small cake-like bullets. I had almost given up hope of finding the perfect recipe when I found this fab one on Cooking Classy. I have adapted it slightly, making them slightly bigger and I made mine with delicious butterscotch chips I found on Ocado (they are out of stock at the moment, but have other flavours available). However the basic dough would be amazing loaded with any number of bits and bobs. White, milk or dark chocolate works well or maybe try a nod towards health by adding nuts or dried fruit. Fill your boots. I have also made the dough slightly firmer so it holds its shape, and kept the cookies on the small side. That way you don't feel so bad when you eat five or six in one sitting.
The dough keeps in the fridge for a week or two so you can bake off as little or as many cookies as you like. With the children going back to school this week, I love having something in the jar to offer them when they get home, and mine always wolf these down.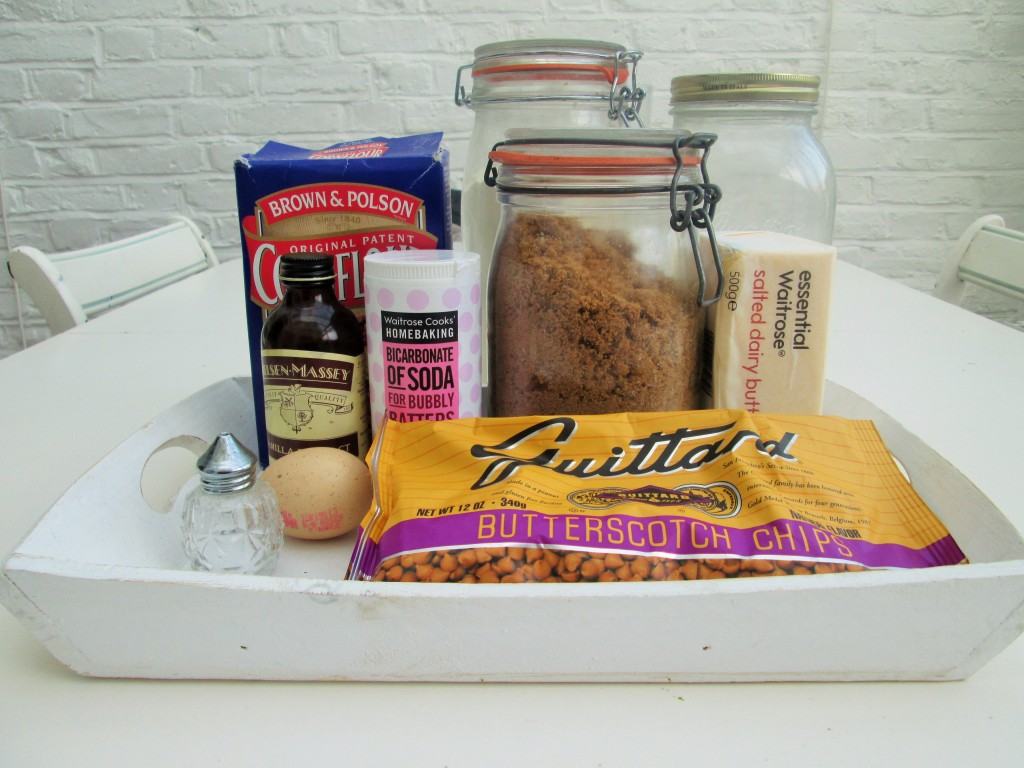 All sorts of yumminess here. And those are the butterscotch chips I mentioned earlier. Hope you can find some, as they really are tasty. They have a hint of butterscotch Angel Delight to them.
Start by weighing the butter and melting it in the microwave or over a pan of simmering water.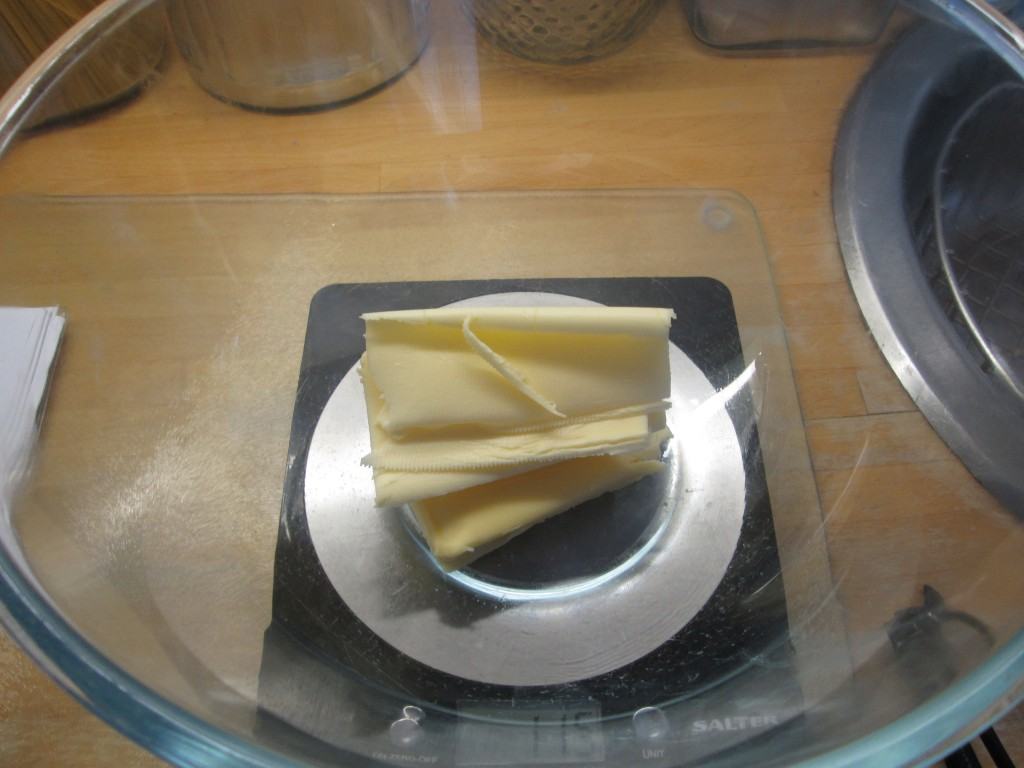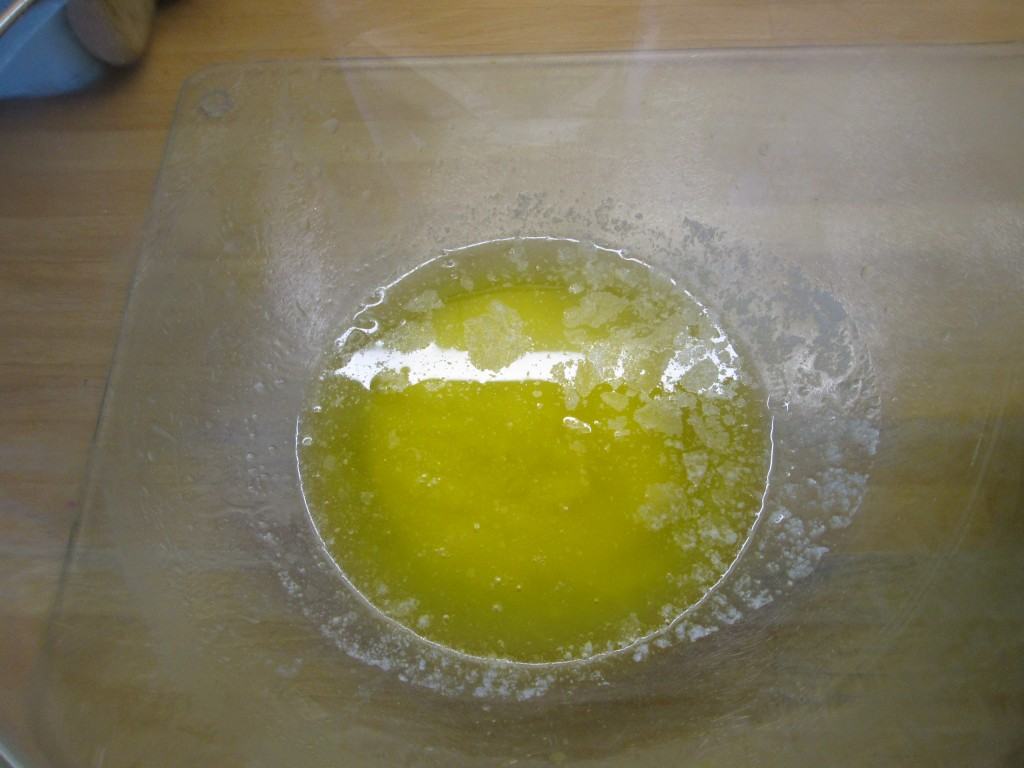 Then add both soft brown and caster sugars and give it all a good whisk. It will smell all warm and caramelly.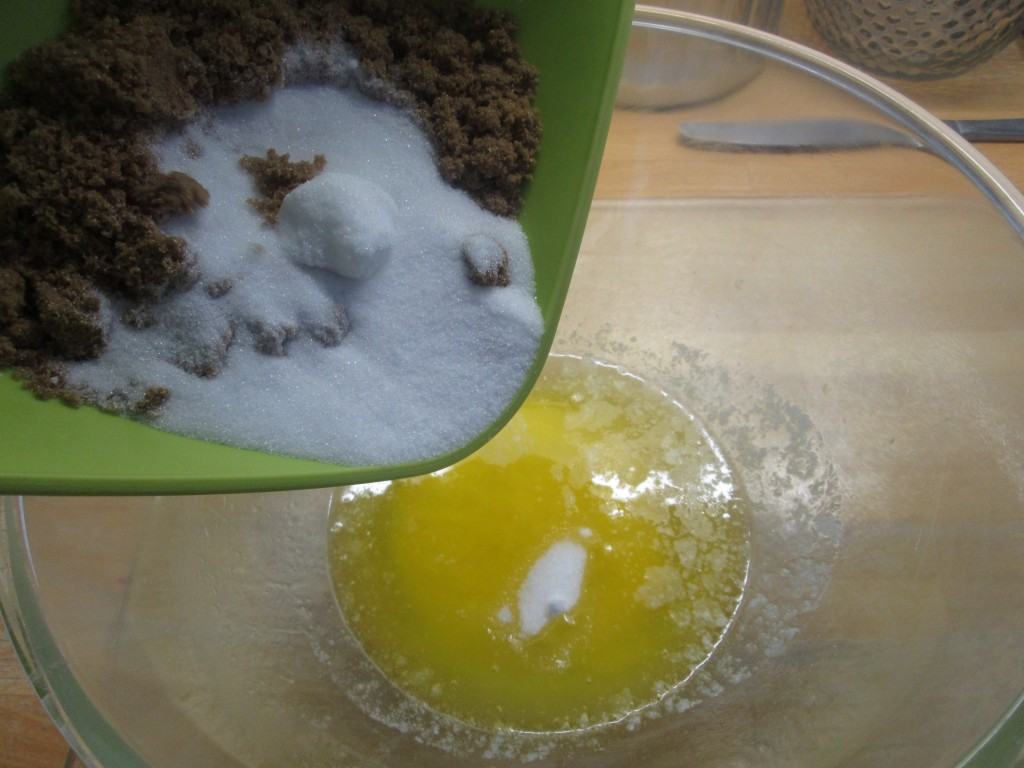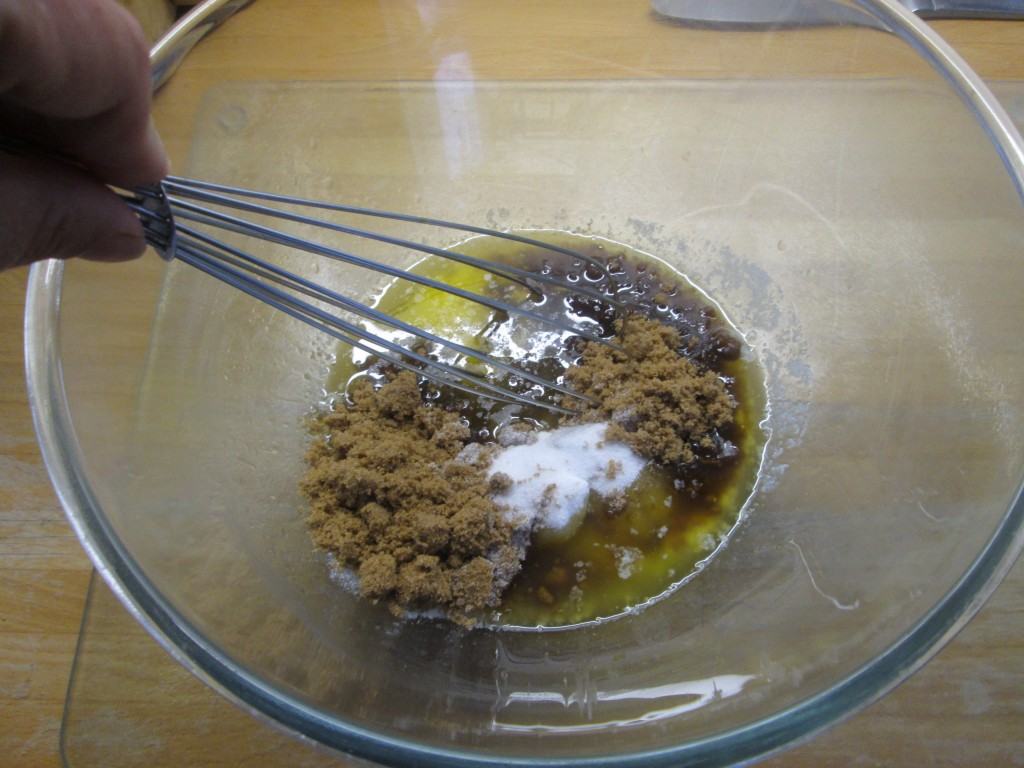 Then drop in your egg and vanilla and whisk again.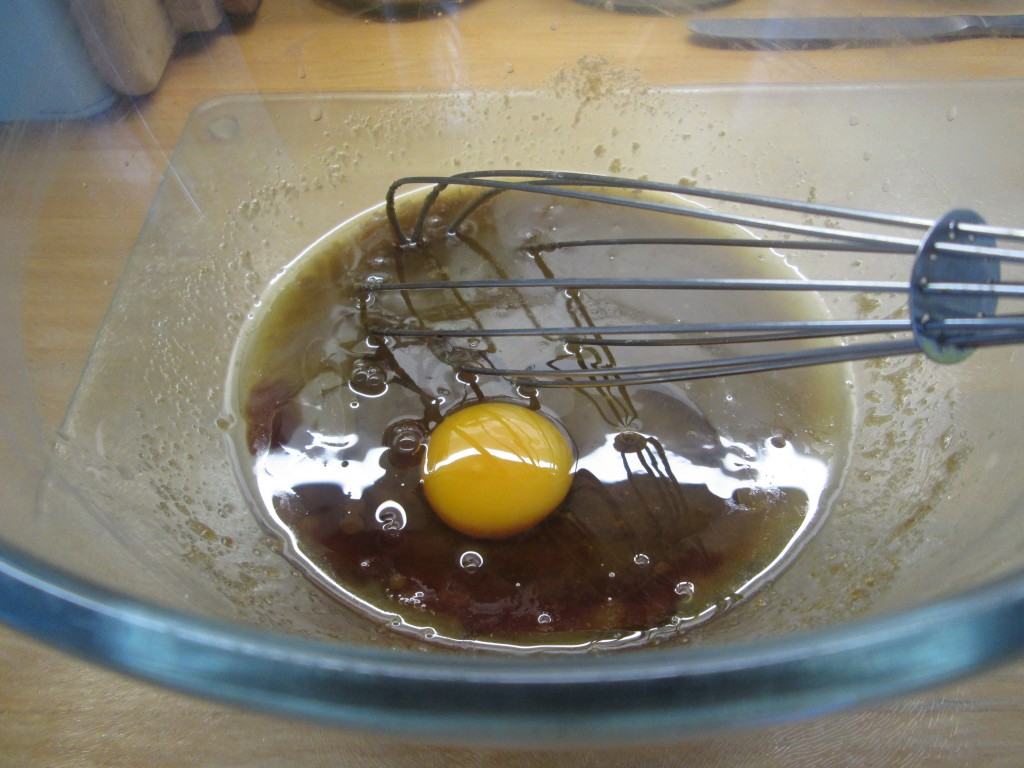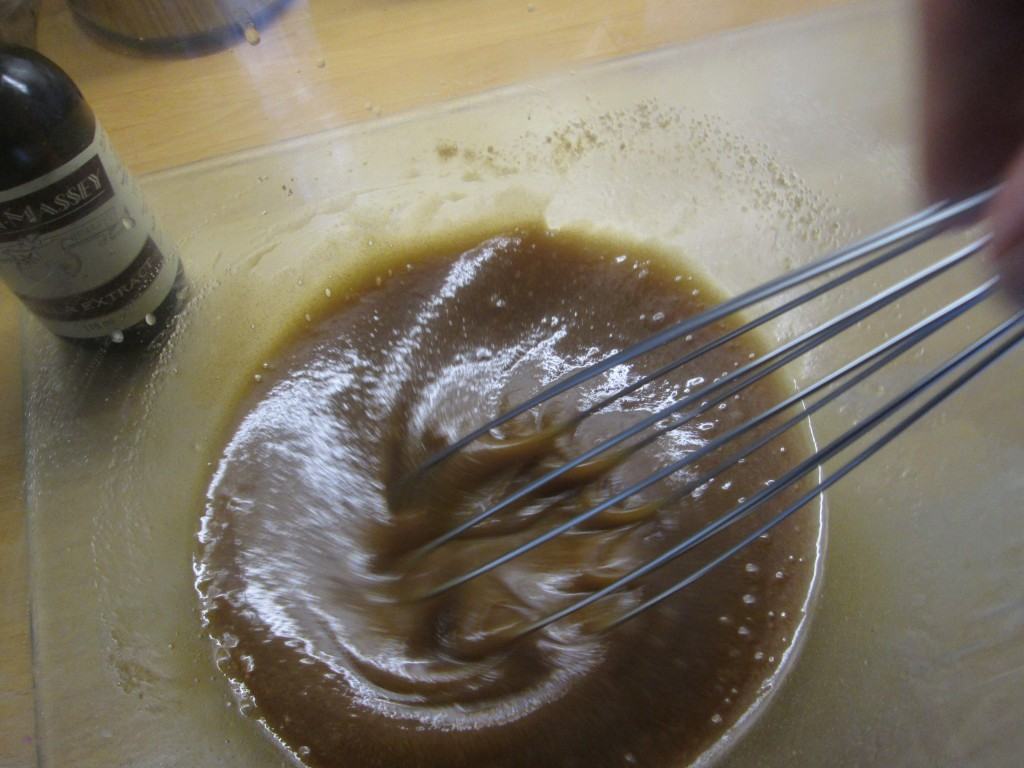 Weigh out the flour, then measure the bicarb and salt and stir together. Fold this into the buttery sugary business, until you have a soft but stable dough.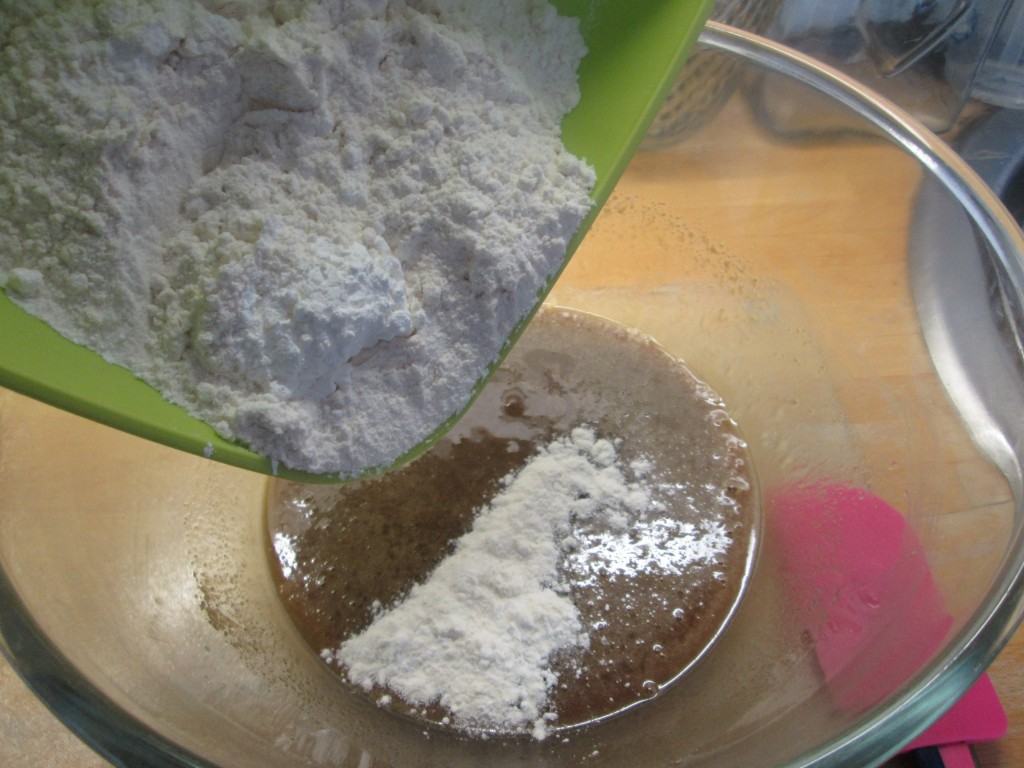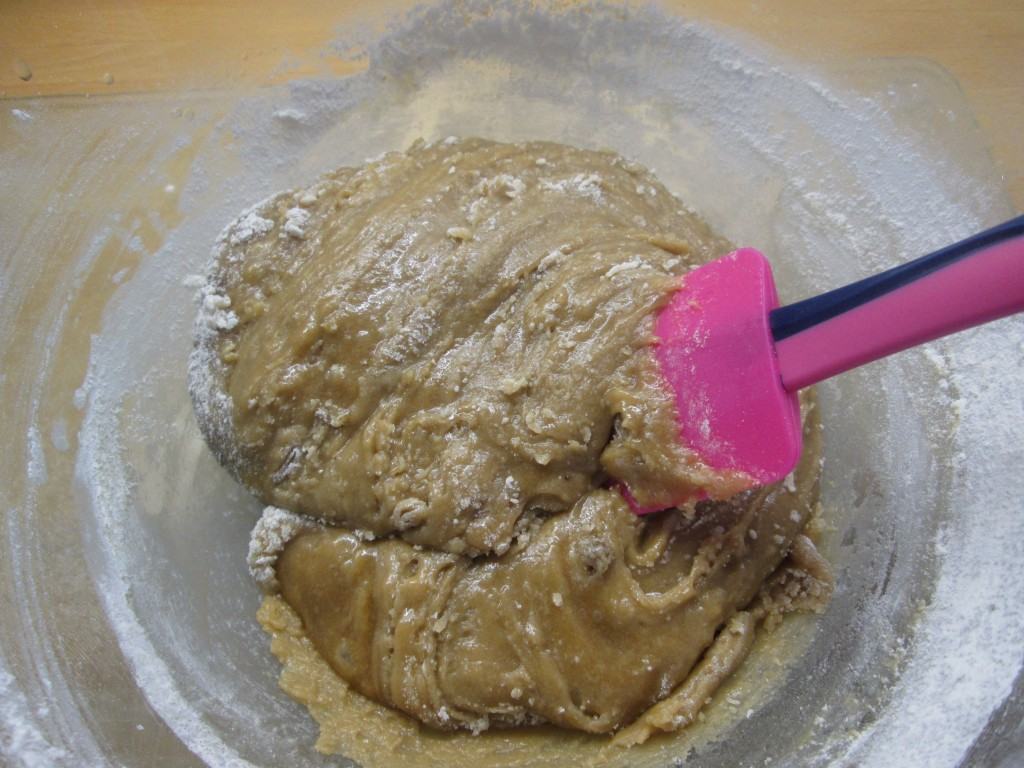 It will seem quite soft, but once you have chilled the dough it will firm right up.
It's now ready for the addition of chocolate. I added the butterscotch chips, but chopped chocolate or regular chocolate chips are also amazing.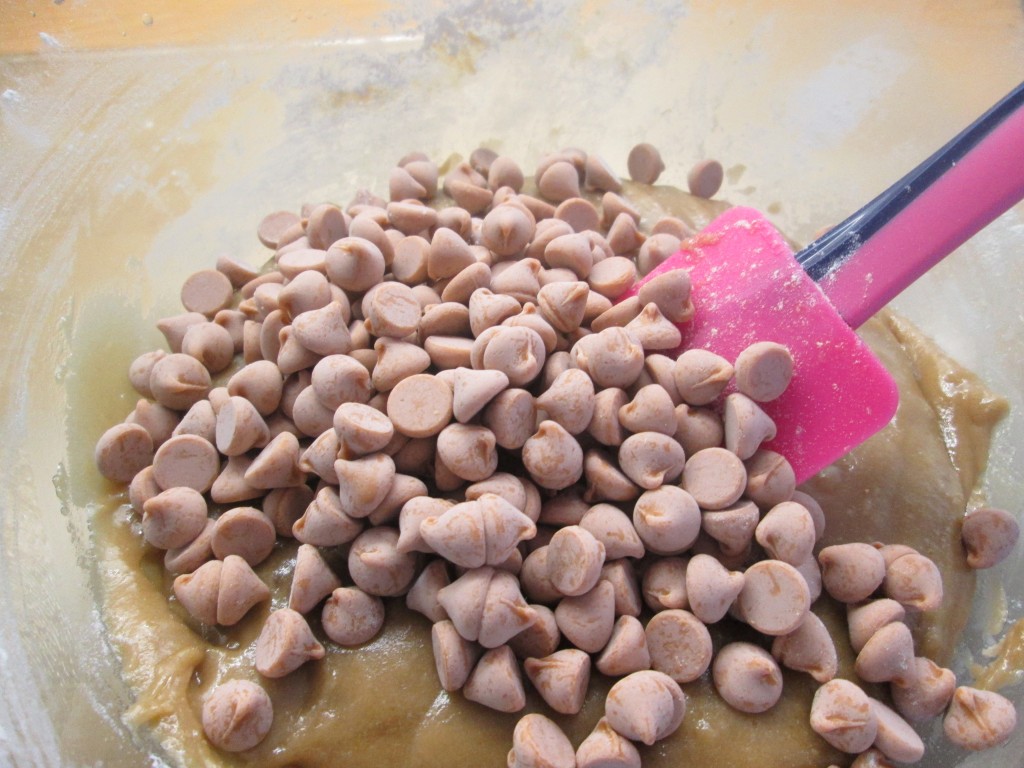 Felt a bit sick at this stage, as obviously had to QC the dough and the butterscotch chips. I can vouch for the fact it is all beyond delicious.
Once you have folded in the chocolate, wrap the dough in cling and pop in the fridge for at least an hour, or until you are ready to bake the cookies. If you are short of time, pop it in the freezer to firm up for around half an hour.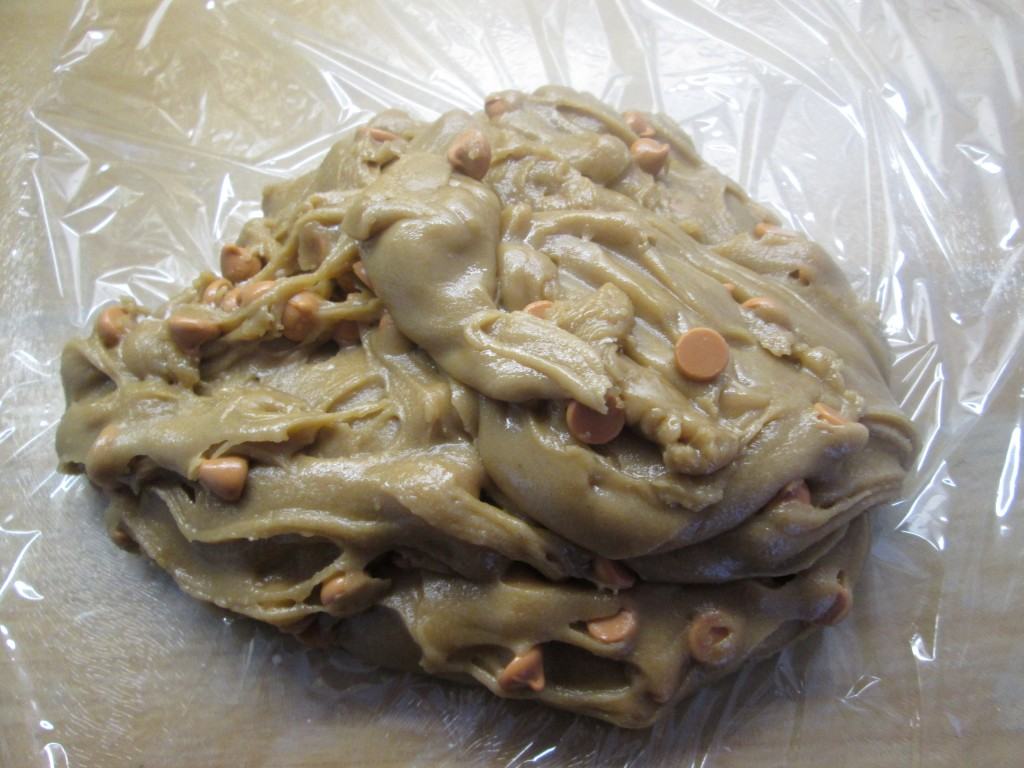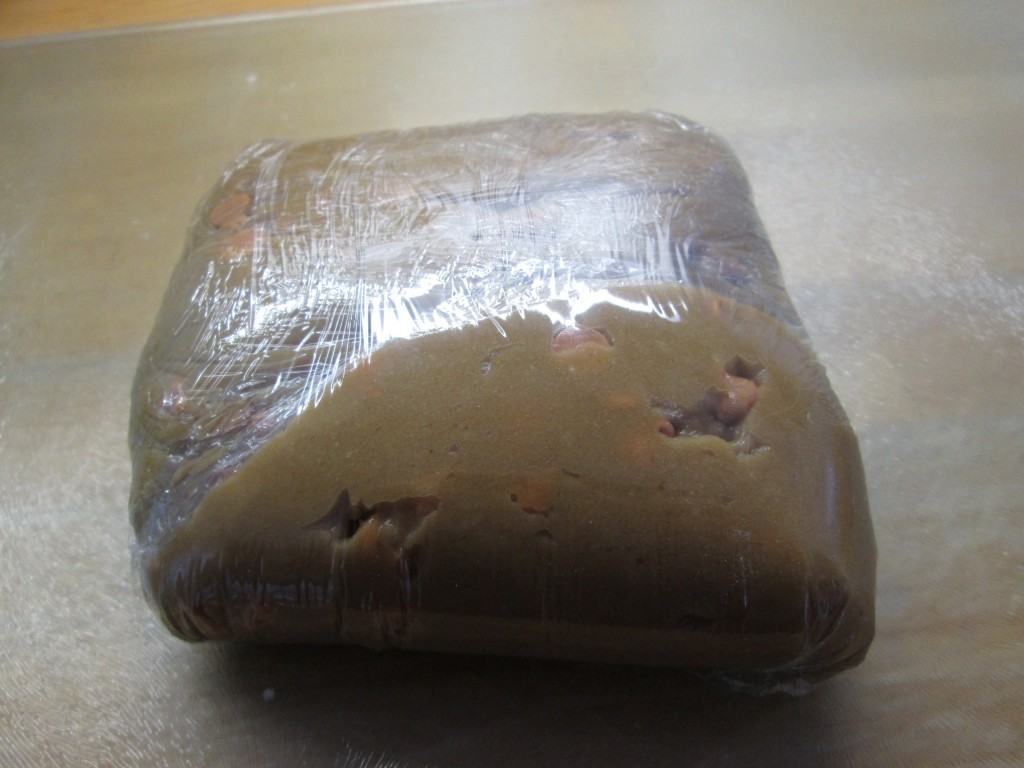 Once the dough is all good and firm, take teaspoonfuls and roll into small balls. If you have extra chocolate, add a couple of chips to the top of the balls as this makes sure the finished cookie is good and chocolate laden.
Pop these on a baking tray and then bake for between 8 and 1o minutes, dependent on how fierce your oven is. Be careful not to over cook them – they should just be starting to colour at the edges.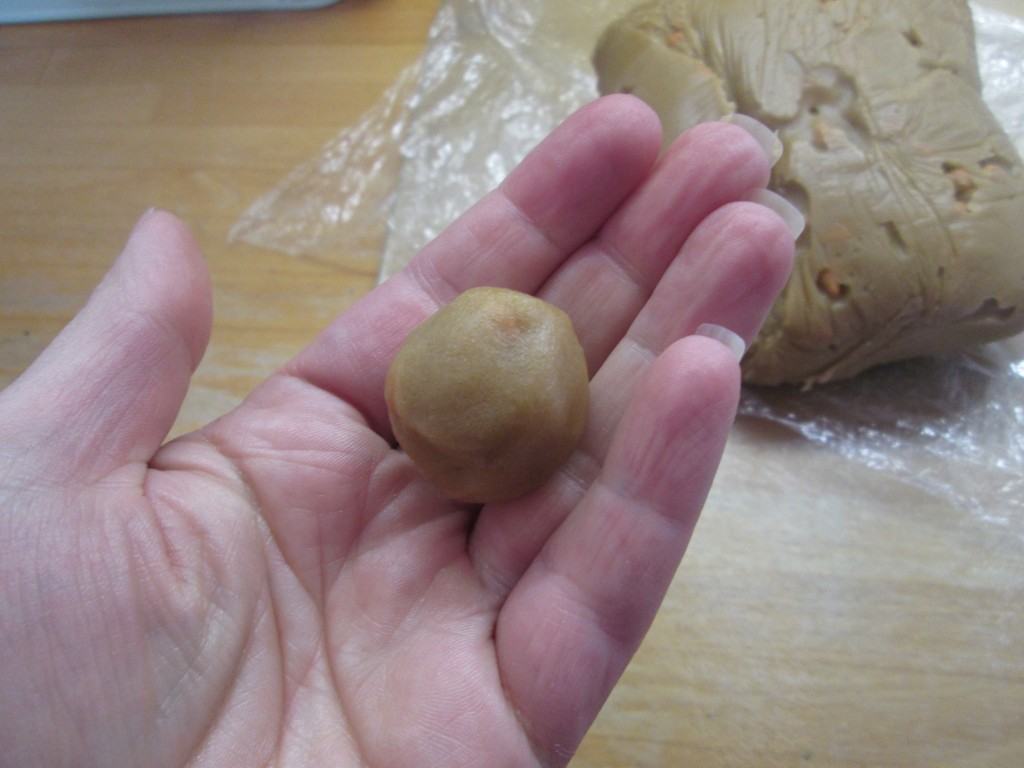 Agghh, a whole hand, sorry.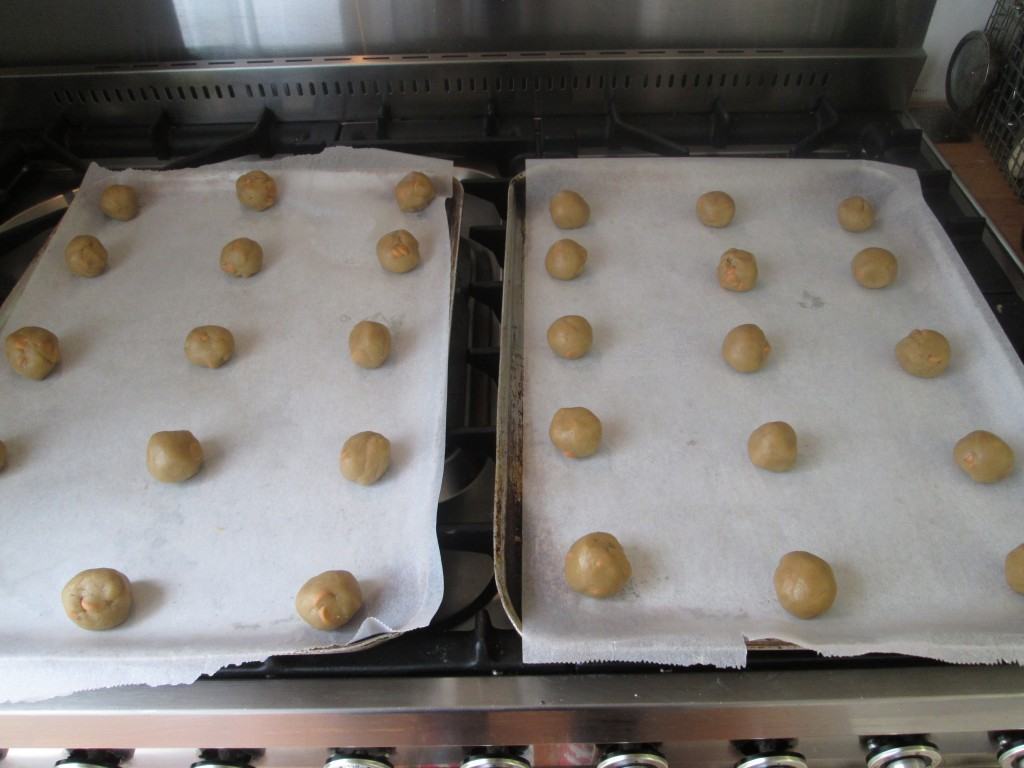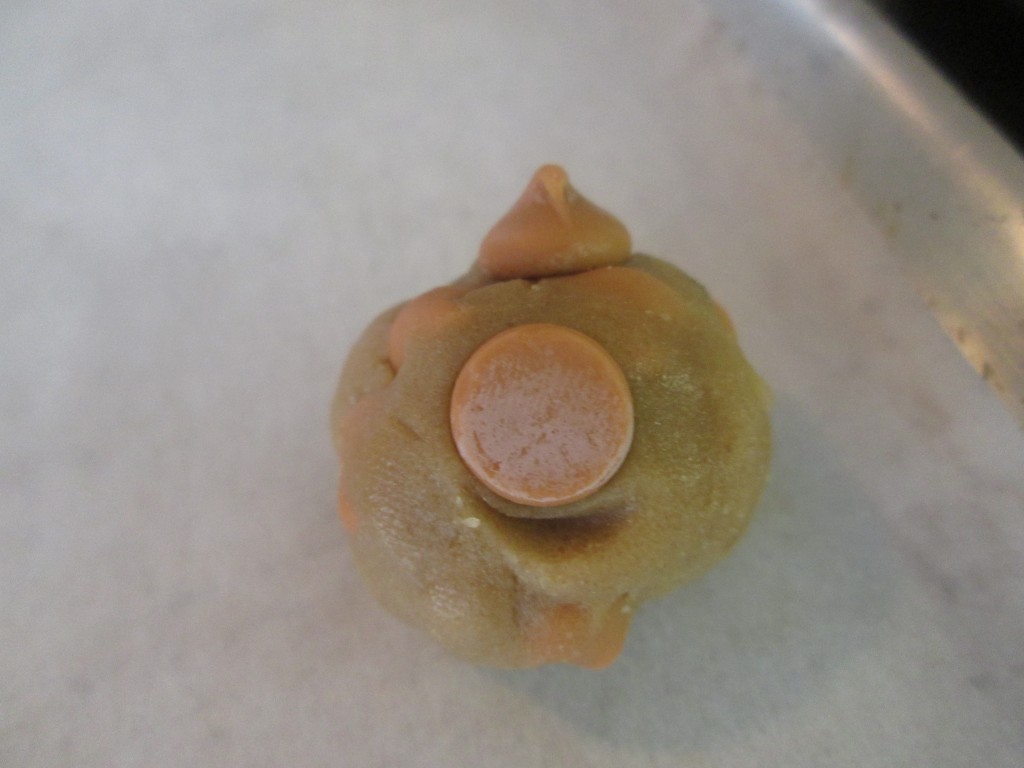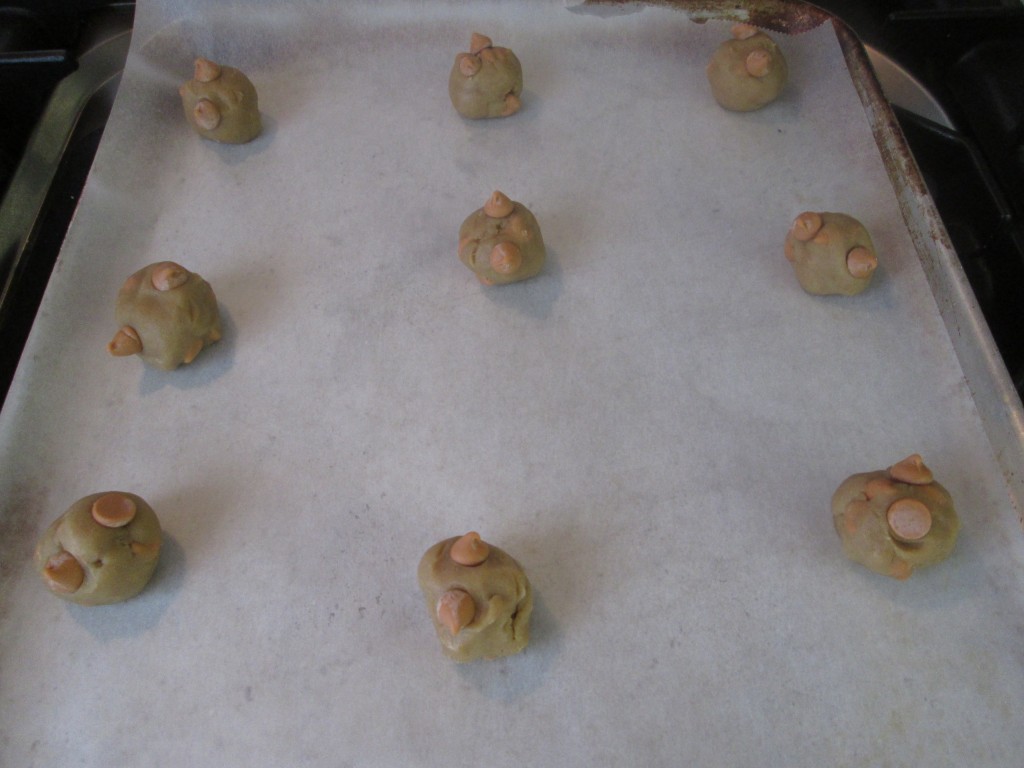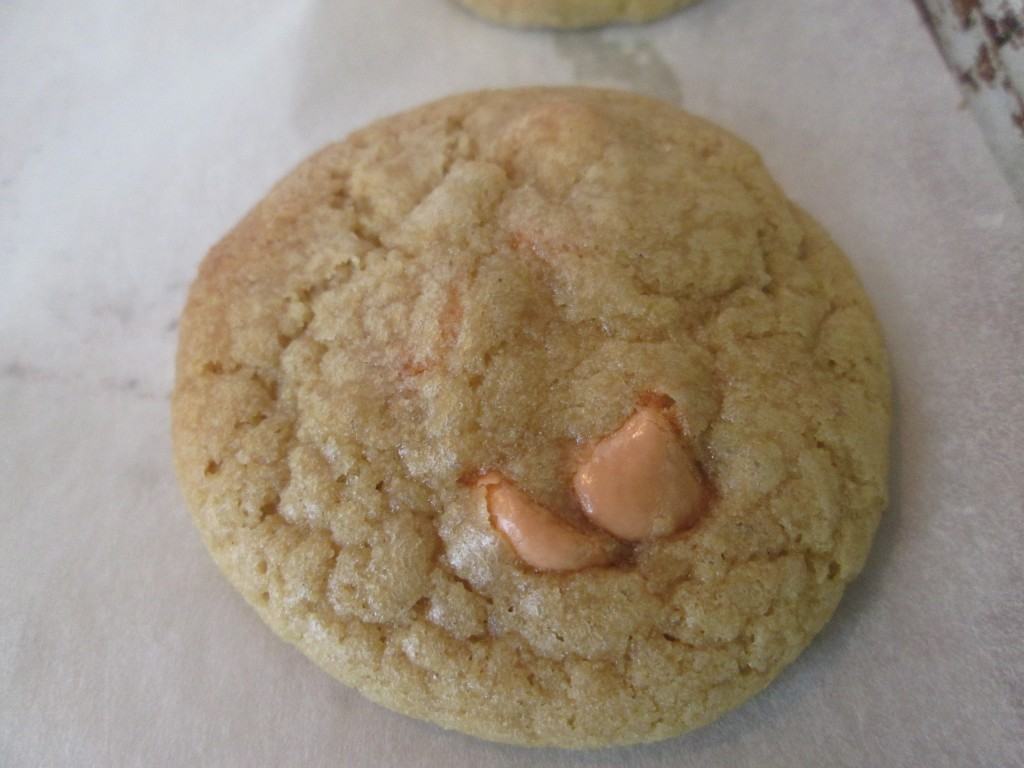 The finished cookies are soft, sweet with just a touch of crunch. They are the perfect cookie for me, and are eaten straight from the tray in our house, unless hands are smacked away in time for me to get them into a jar.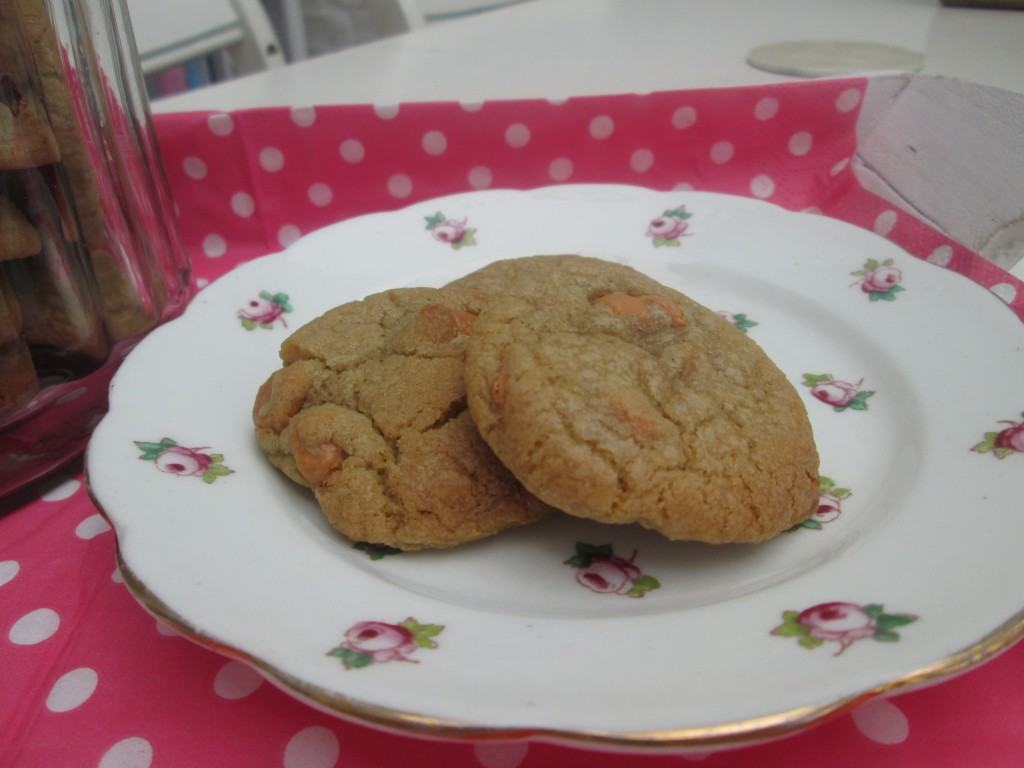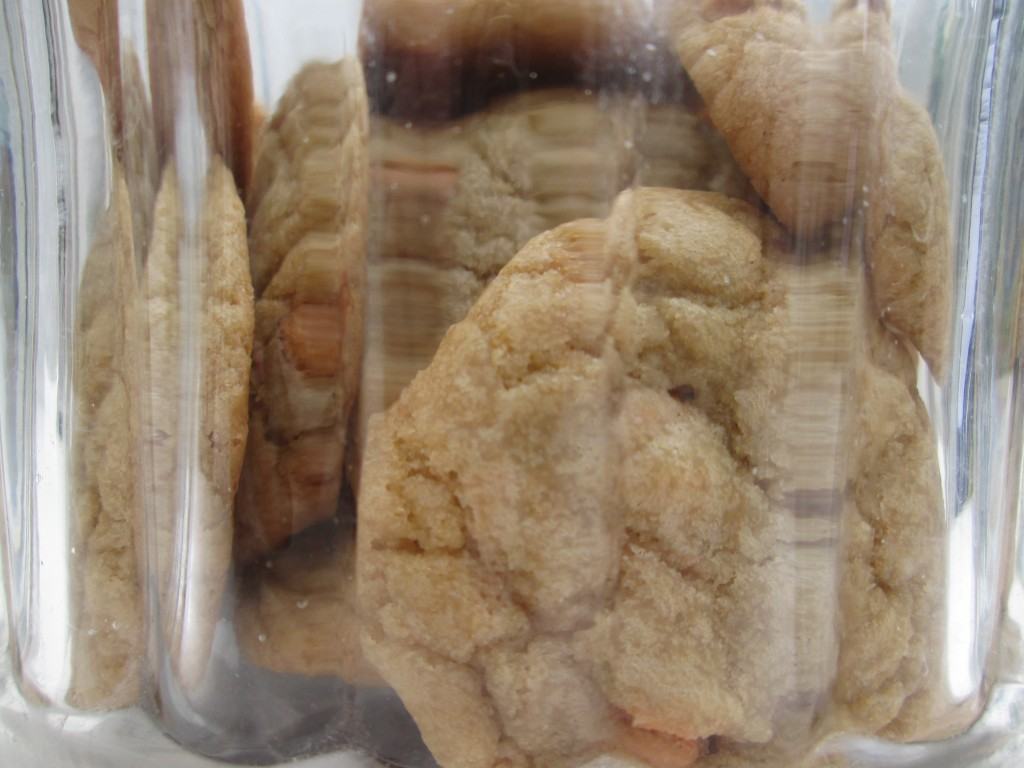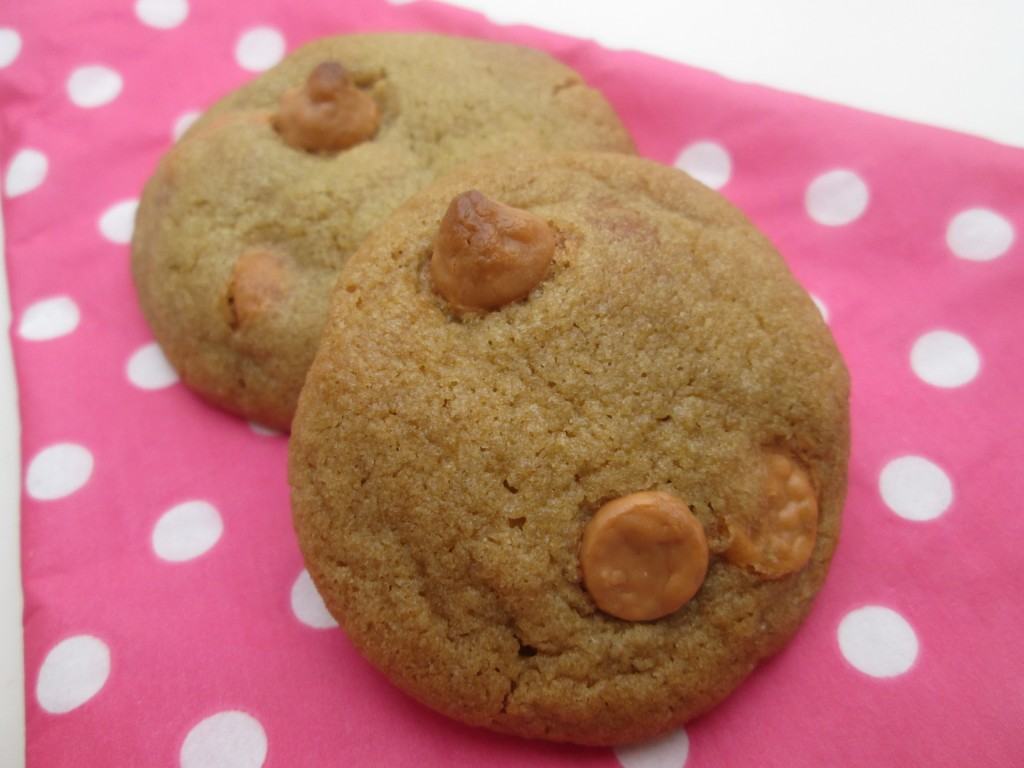 These should be well received by your returning heroes, be they coming home from school, work or just popping in for a cup of tea.
Lucy x
Chocolate Chip Cookie Recipe
Line a baking sheet with greaseproof paper and set the oven to 170 degrees, once the dough has chilled
Makes around 45 small cookies
110g butter
100g soft light brown sugar
60g caster sugar
1 egg
1 and a half teaspoons vanilla extract
200g plain flour
2 teaspoons cornflour
1/4 teaspoon bicarbonate of soda
1/4 teaspoon salt
125g chocolate chips or chopped chocolate (plus a few extra chips to add to the top of the balls before baking)
In a large bowl in the microwave or over a pan of water, melt the butter until just melted. Whisk in the soft brown and the caster sugars until combined. Add the egg and vanilla extract until the mixture is smooth. Weigh out the flour then mix in the bicarbonate of soda and salt. Fold this into the butter and sugar mixture until you have a soft but firm dough. Stir in the chopped chocolate or chocolate chips. Wrap the dough in cling film and chill in the fridge for about an hour, or until you are ready to bake it. If you are short of time you could chill in the freezer for half the time.
When you ready to cook your cookies, roll teaspoons of dough into small balls and put on a baking tray. If you have extra chocolate, add a piece or two to the top of the cookies so they are chocolatey and look nice when baked. Put the trays of cookie balls into the oven for between 8 and 10 minutes, dependent on your oven. Keep an eye on them as they should just be browning when you take them out. Leave to cool then store in a jar or tin. The dough will keep well wrapped in the fridge for about 10 days, or you can freeze and defrost as and when needed.