Egg and Bacon Ramen Noodles Recipe
I feel I have pretty much spent the last 10 days in the kitchen. This is usually my chosen place in the house to inhabit/hide, however, when I am forced to be there, I enjoy it much less. I am fed up with cling filming leftovers and carrying chutney and sauces between my house and my sisters, so it's definitely time to finish up the Quality Street and move on. In that post Christmas and New Year haze cooking feels like a total chore, so this week, let's just fork up a wonderful bowl of Egg and Bacon Ramen Noodles.
If you ask George what his favourite food is, he will say Two Minute Noodles. Which is frankly, embarrassing, given the fact his mother writes a food blog and cooks most meals from scratch. However, every Saturday George cooks his own ramen noodles and he loves them more than any other meal. Even though they are filled with salt and other nastiness I am often jealous of their instant nature. So with my Egg and Bacon Ramen noodles I have fashioned something quick, but less filled with nasties which still tastes bloody lovely. My local oriental supermarket, as well as Ocado, sells ramen noodles without the sachets of doom, but if you can't find these just use the normal ramen noodles but discard the flavourings. The rest is really up to you. I loved the idea of bacon and eggs in my noods, however you could add cooked chicken or prawns instead. I had left over sprout tops from Christmas so sautéed these off and added them to my dish for additional and much needed vitamins. This is a rich tasting broth with tasty noodles, crisp bacon and greens all topped with a soft boiled egg. What a post christmas treat, perfect to enjoy before the tedium of any sort of detox begins. Many thanks to How Sweet Eats for the inspiration for this dish.
It is slightly shameful that George loves instant noodles, however, if you tart them up with stylish additions, there really is nothing to be embarrassed about. This is simply a wholesome dish of warming joy, not quite ready in 2 minutes, but near enough, and hardly a left over in sight.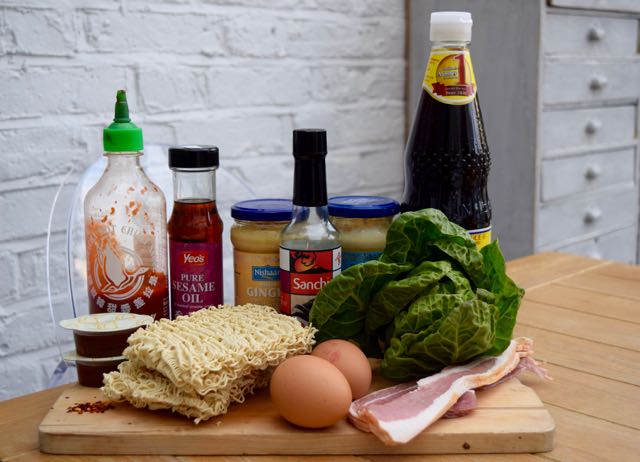 These Egg and Bacon Ramen Noodles are simplicity personified and so photogenic. I do think, if you add a soft boiled egg to a dish it instantly becomes more attractive. And of course, bacon. It's salty crispiness brings joy wherever it goes.
Make a start on this simple dish by soft boiling the eggs. I allowed 1 egg per person and knew Clyde was hungry so this batch was never going to feed more than two people. In the real world where smaller appetites exist, this could feed three to four I am sure. For my eggs, I placed them in a pan of cold water, brought them up to the boil before cooking them for five minutes.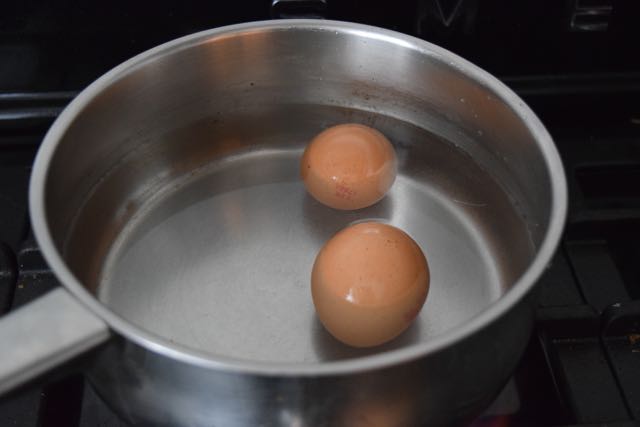 Once the time is up, place the eggs in cold water until cool enough to peel, then pop to one side.
Now take a large high sided frying pan and add a tablespoon of oil and heat over a high flame. Add the chopped bacon and cook until crisp and brown. Then remove to a lined bowl to absorb any excess oil and leave while you crack on with the greenery.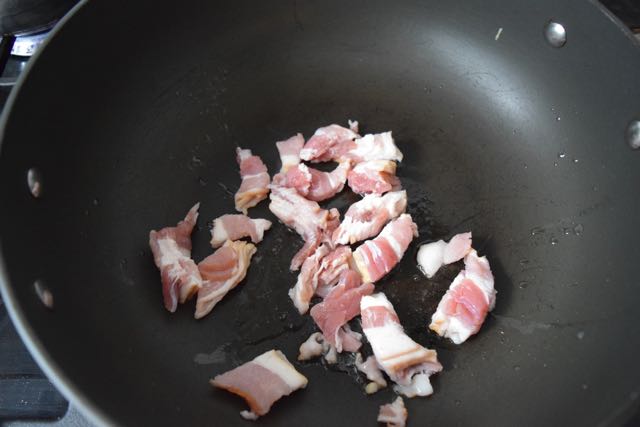 In the remaining bacon fat stir fry your chosen greens. I had leftover *oh lord* sprout tops, so I roughly chopped these and sautéed them for a couple of minutes until just starting to brown. Pop them to one side while you cook the soup base and noodles.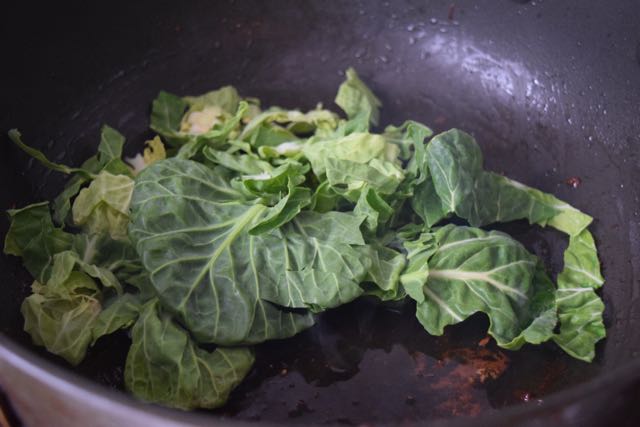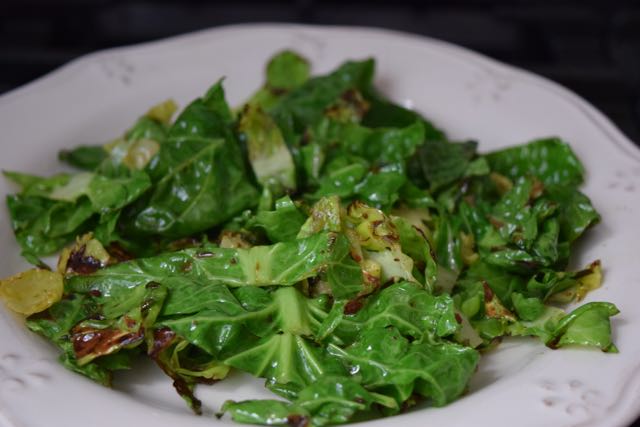 Add another tablespoon of oil to the pan, turn the heat down and then cook off the ginger and garlic for a minute or two.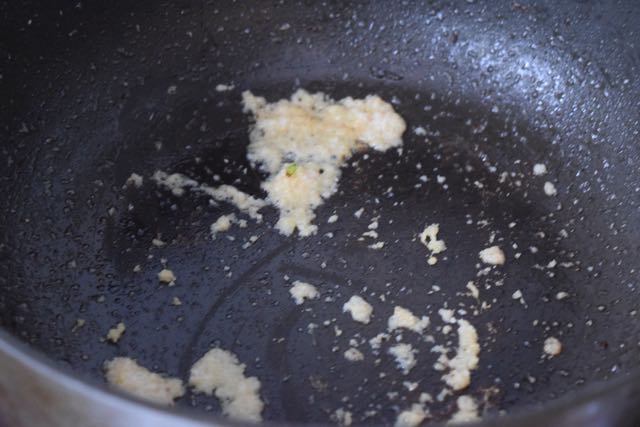 Pour in the stock, bring up to the simmer then drop in your ramen noodles. Cook these for as long as the instructions on the packet say, mine took around 3 minutes.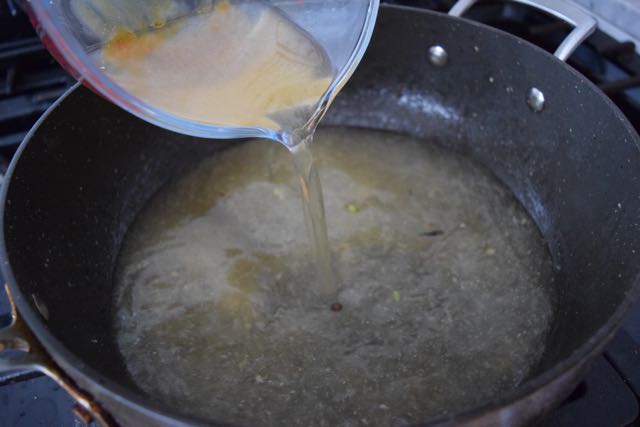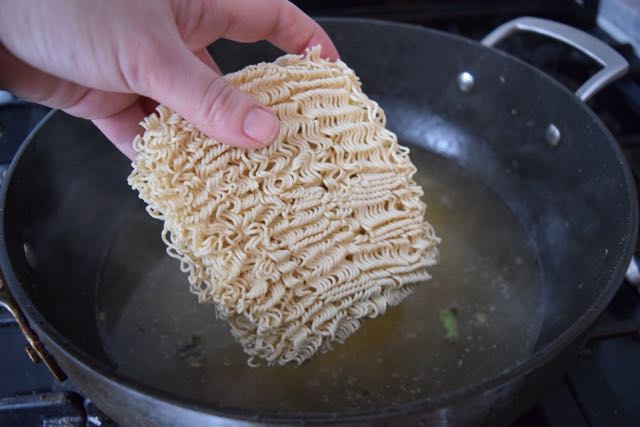 Once the noodles are cooked through and the broth delicious, season with a teaspoon of sesame oil and a splash of soy sauce if needed. Ladle some noodles and soup into a bowl.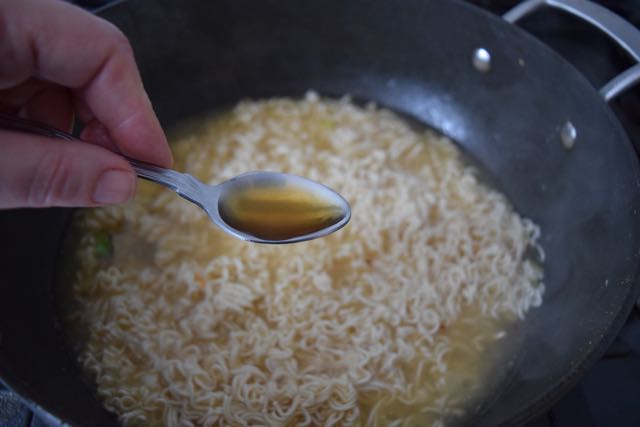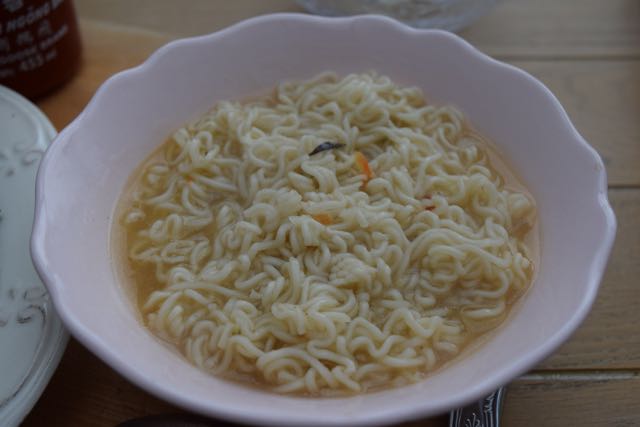 Adorn your lovely dish of simple noodles with your sautéed greens, crispy bacon and then a halved soft boiled egg. Garnish with some sesame seeds or Furikake seasoning if you have it then a splash of Sriracha chilli sauce if you like it spicy.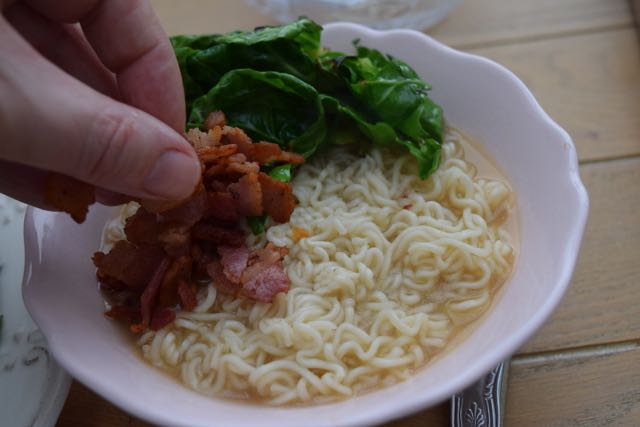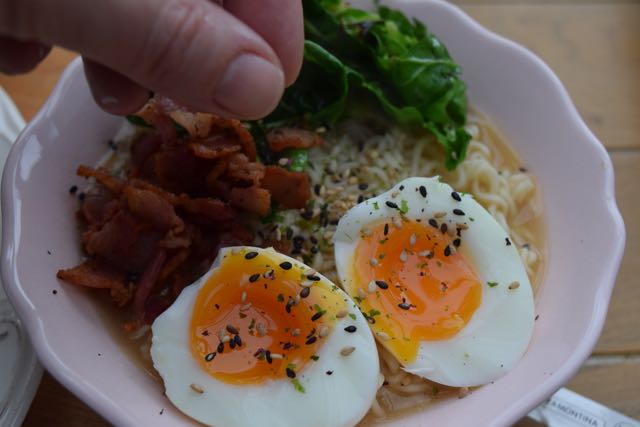 Devour these noodles by the bowlful whilst they're piping hot.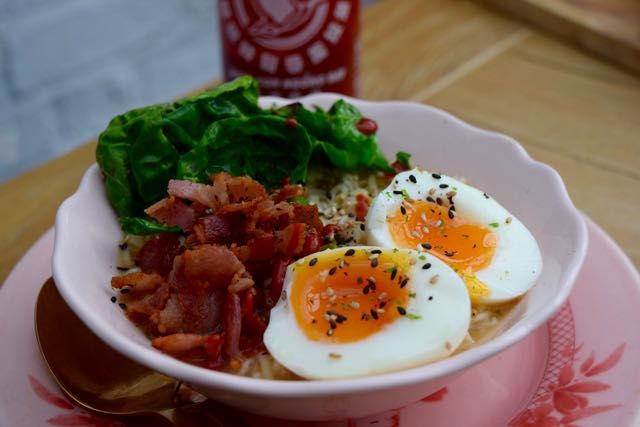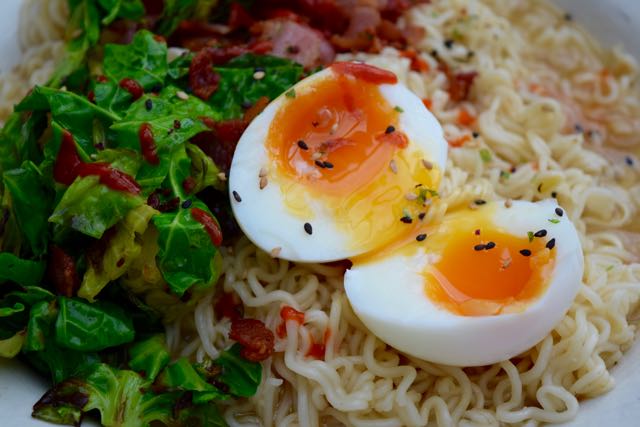 Simple but so full of flavours, textures and so bloody quick. Happy New year to you with this speedy dish to see you through that rubbish first week back at work. Keep your spirits up with warm noodles and bacon and, at a push, a small glass of wine.
Lucy x
Egg and Bacon Ramen Noodles Recipe
Serves 2 to 3, appetite dependent
You won't need any challenging equipment
2 to 3 eggs, allow 1 per person, soft boiled for around 5 minutes
2 tablespoons oil, I used flavoured wok oil
150g streaky bacon, chopped
a handful chopped greens, cabbage, spinach, sprout tops
2 cloves garlic, crushed or a teaspoon of lazy garlic from a jar
1 teaspoon fresh or lazy ginger from a jar
A generous pinch dried chilli flakes
1 litre chicken stock
2 slabs ramen noodles
1 teaspoon sesame oil
Optional soy to season, then sesame seeds or Furikake seasoning and Sriracha to serve
Take your eggs, allowing one per person and soft boil for around 5 minutes from simmering. Once cooked then plunge into cold water and peel once cold enough to handle then put to one side.
In a large deep sided frying pan add a tablespoon of oil heat over a high flame then add the chopped bacon and cook until browning and crisp. Remove to a bowl lined with kitchen paper to drain while you continue with the soup base.
Take your chosen green vegetable and stir fry this briefly in the same pan using the remaining bacon fat. Once browned slightly and starting to soften, put this to one side.
Now, add another tablespoon of oil to the pan and turn the heat down, add the ginger and garlic and brown briefly. Pour in the chicken stock and chilli flakes then bring up to the simmer before adding the ramen noodles. Cook according to the instructions, I cooked mine for around 3 minutes. Add the teaspoon of sesame oil then any soy sauce, as needed, to taste.
Take a large bowl for serving and add a ladleful of noodles and broth. Add some of the stir fried greens, some of the crispy bacon and a halved egg to each serving. Garnish with a pinch of sesame seeds or furikake seasoning and a drizzle of Sriracha. Devour whilst piping hot.
SaveSave
SaveSave
SaveSave
SaveSave
SaveSave