Chocolate Salame Recipe
I am starting to obsess over Christmas food and it's only the first week of December. I don't have a single mince pie or sausage roll  in the freezer yet and this may start to keep me awake at night. I am meeting my sister for a drink this week so we can fashion a shopping plan for Christmas Day and Boxing Day so nothing gets missed. If my Father doesn't have his jar of pickled walnuts to go with the cold meats, frankly there will be Hell to pay. However, I do have to get a slight grip on myself, as I do every year, by reminding myself that it is just a very big roast and the shops will only really be closed for a maximum of two days. With festive nosebag in mind, I have always wanted to make a Chocolate Salame before, not least because the thought of it has always seemed bizarre, but the taste of it is in actual fact, divine and oh so festive.
My Chocolate Salame is based on the Goddess herself's recipe, Nigella Lawson. I have meddled with the recipe, of course, to include ingredients a) I had in my cupboard and b) I knew we would all like to eat. My Chocolate Salame has, a potentially sacrilegious, inclusion of dried fruit. This Italian fridge cake type of creation probably has years worth of traditions, which I have just ruined by adding some sour cherries. But sod it, it's my Salame and I'll add what I bloody well like. Likewise, I went with a rich tea biscuit crumb for my recipe, but do feel free to include crunchy amaretti biscuits if you'd rather. Bless Nigella, she did imply the tying up of this Chocolate Salame was easy, but even having read the instructions 4 times, I still couldn't get my head round the looping. Do feel free to click on Nigella's link to see if you want to have a go at it. I just winged my string work, and even though it looked a bit shit, it did the trick. If crafting is your thing then this is right up your street.
The Chocolate Salame is a dessert/after dinner treat, served on a wooden board with a knife for guests to cut elegant slices for themselves. Not so my cutting, I rather hacked into mine, serving it in huge slabs, rather than wafer thin affairs. Do serve it fridge cold for ease of cutting however, or it will be more of Chocolate fondue than salame. You can freeze this beauty if you do want to get ahead of yourself, and if you are doing this, please make two and drop one in for me?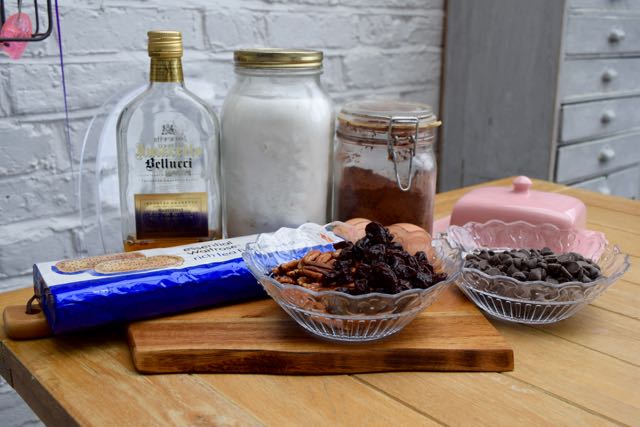 Nothing bad is made from these ingredients in my mind. I used sour cherries, pistachios and pecans for my salame, but if you have other nuts or fruits, feel free to use your selection. Or leave the fruits out completely, up to you.
Start by melting your chocolate by whichever method suits you best. I melted mine in the microwave for speed and ease.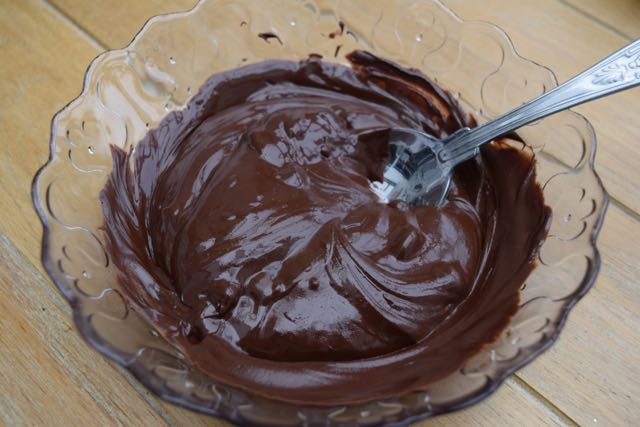 Pop this to one side whilst you prepare your add-ins. Crush your biccies in a bag with a rolling pin and chop the nuts and fruits, roughly, which is frankly the only way I know how to chop. Don't annihilate the biscuits, think rubble rather than dust.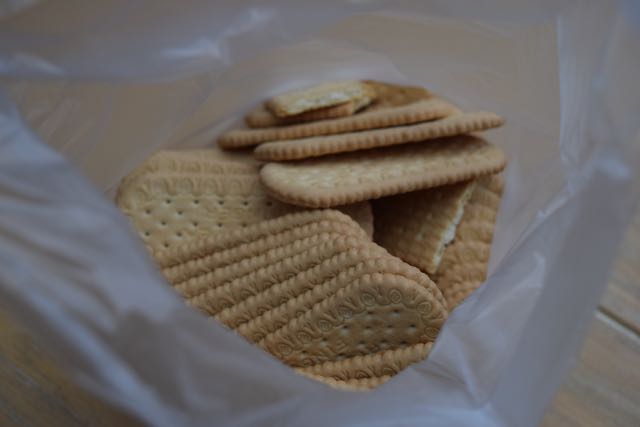 I do love a Rich Tea finger, simple and so underrated.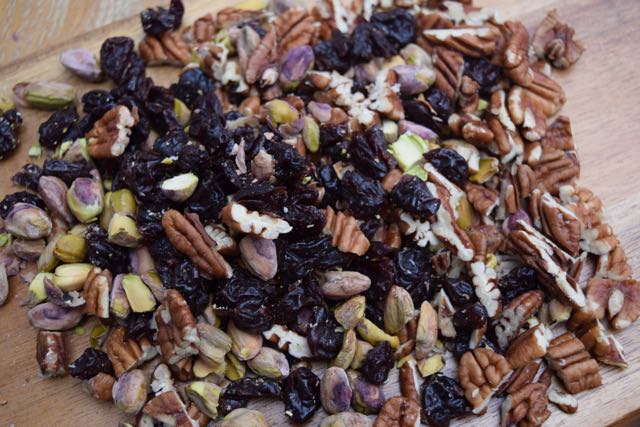 Keep these both to one side for the moment. Now for the soft butter and sugar, beat them until lighter in colour and texture, either in your stand mixer or in a bowl by hand.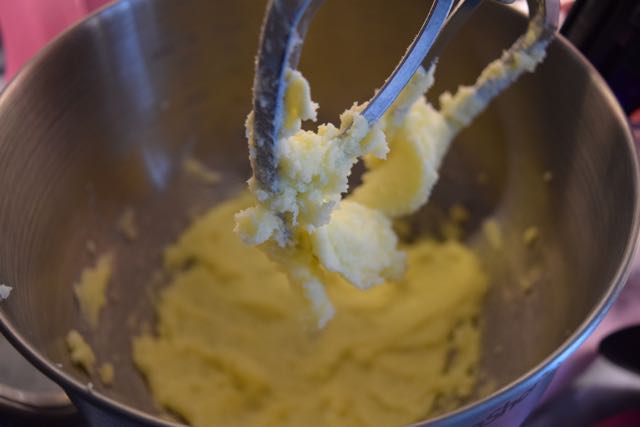 Beat in the eggs, one at a time, then measure in the two tablespoons of Amaretto liqueur and beat again.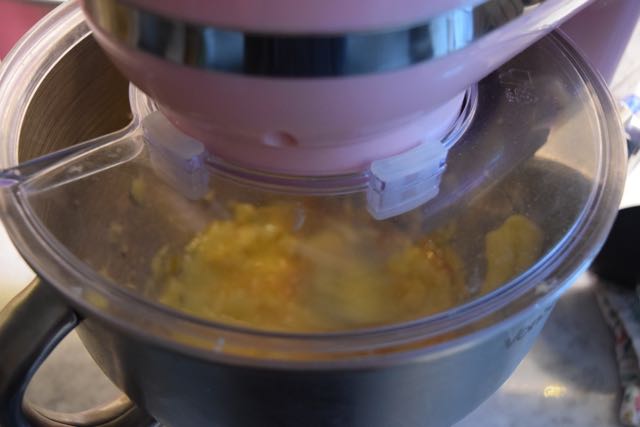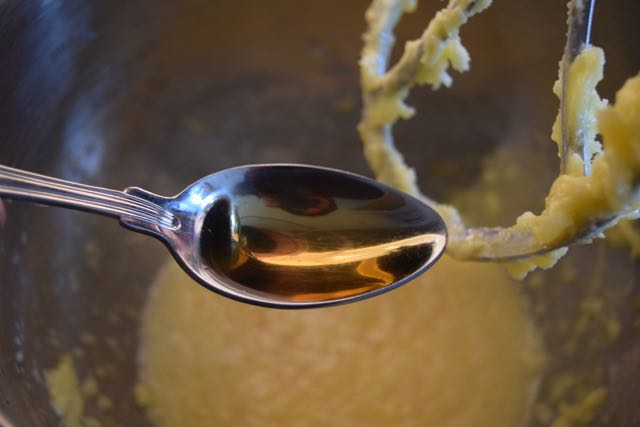 Using a tea strainer, sift 2 tablespoons of cocoa powder into your melted chocolate then fold this into the egg and butter business until smooth and well mixed.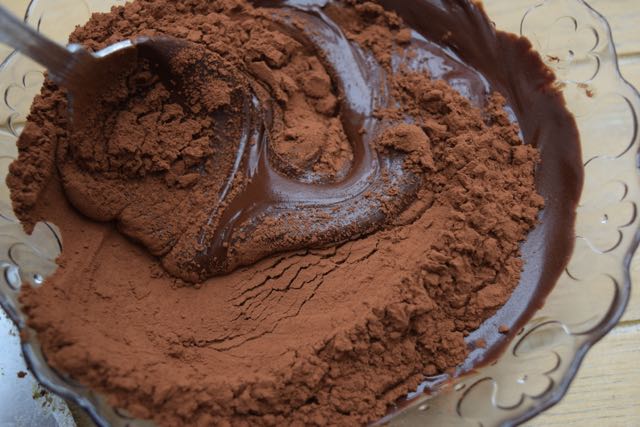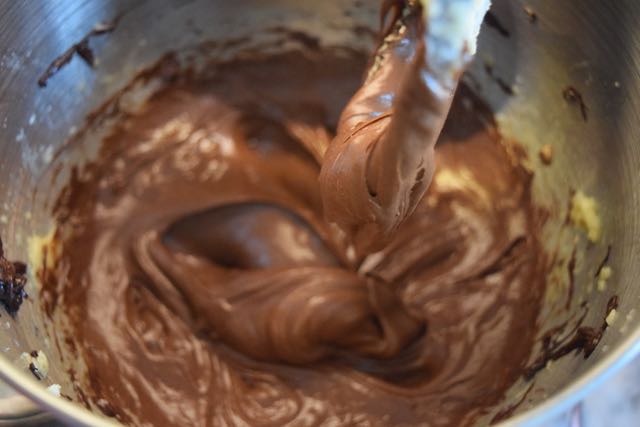 In a final flourish fold in the chopped nuts and fruit and the crushed biscuits. Make sure everything is well covered in the chocolate mixture.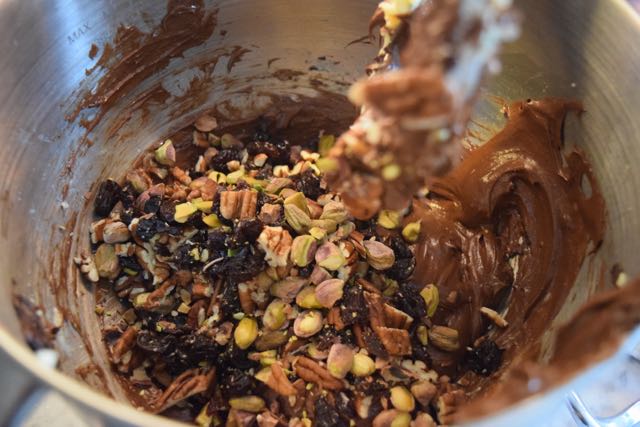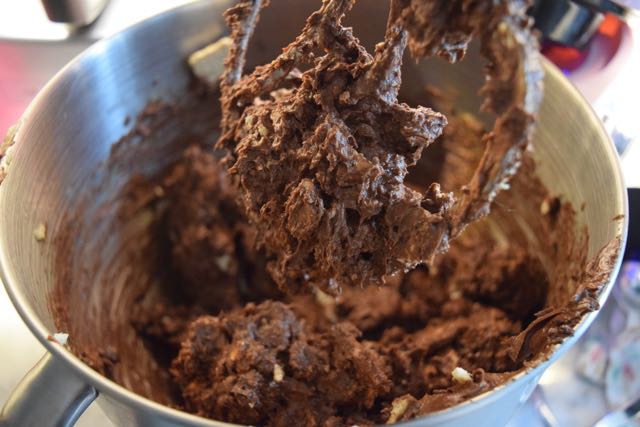 Put the whole bowl into the fridge for around 15 minutes to chill before the rolling. Once that time is up, lay two large pieces of cling film side by side, overlapping in the centre. Plonk the whole Chocolate Salame mix into the centre of the cling and fashion into a log shape using your hands. Mucky, but delicious.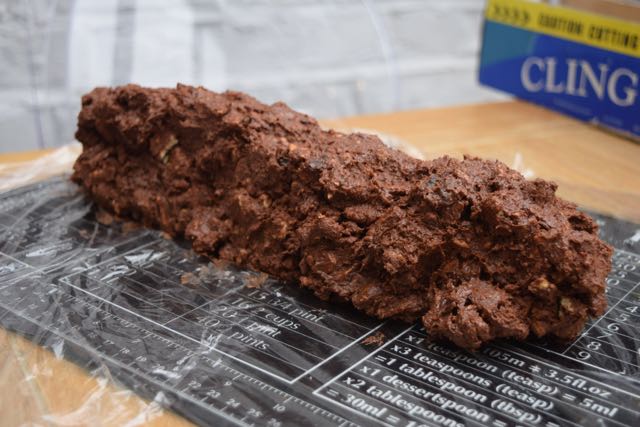 Wrap the mix up in the cling then roll backwards and forwards to create a cylinder. Secure the ends of the clingfilm and make sure the log is well wrapped.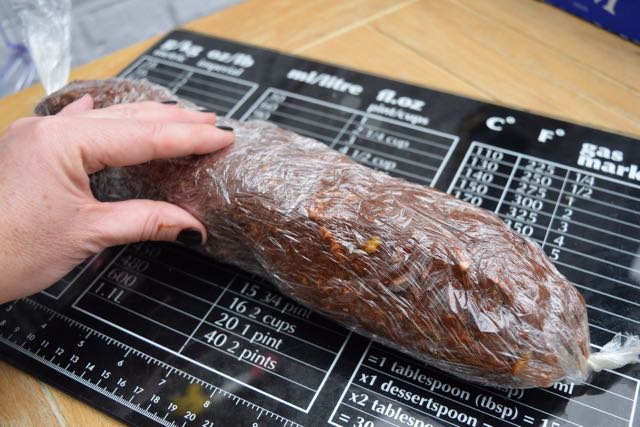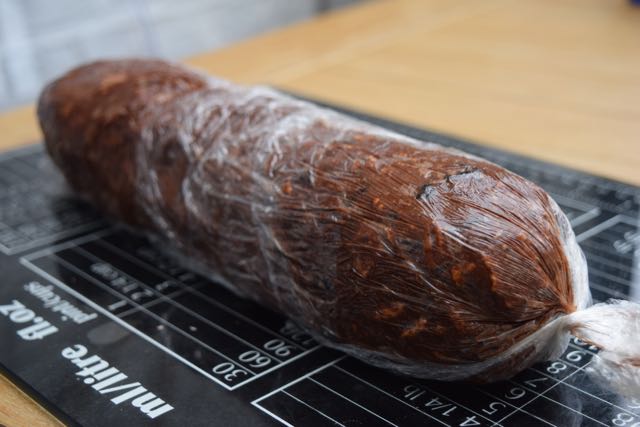 This will need to be chilled in the fridge for at least 6 hours, if not overnight. I was, of course, in a hurry so froze mine for 2 and a half hours and it was fine.
When the chilling time is up, take a large sheet of baking paper and sprinkle on two tablespoons of icing sugar. Remove the cling film and quickly rub and dust the Chocolate Salame to make it look authentically salame-esque. If you are going to tie the salame up like Nigella does, leave the ends of cling film attached so you have something to tie the string onto. If you are going to wing it like me, don't bother leaving any clingfilm attached.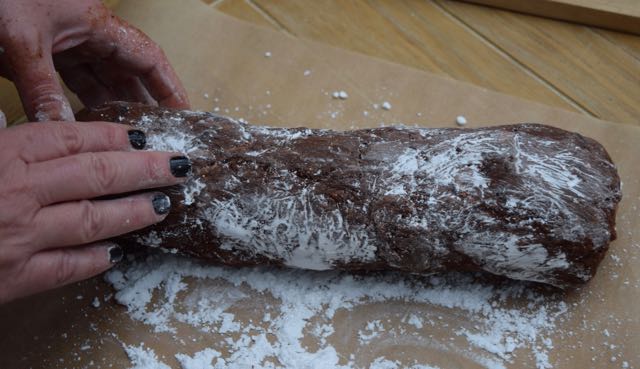 Oh dear, ugly hand spoiler alert.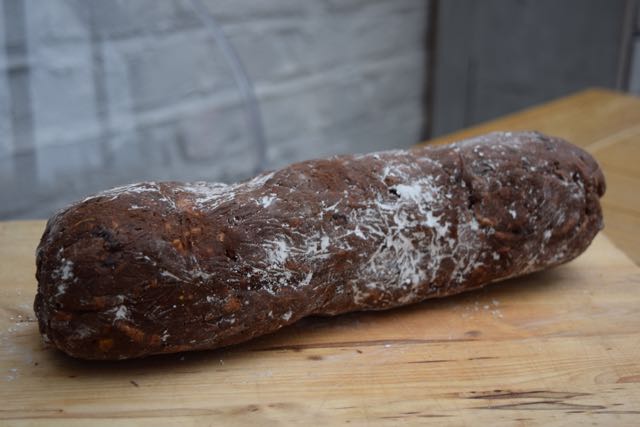 Keep in the fridge until you are ready to serve as you want this to be firmer than firm. Serve this Italian festive treat as an afternoon tea item or after dinner as part of a dessert. Add the string if you like before serving on a board with a knife for slicing.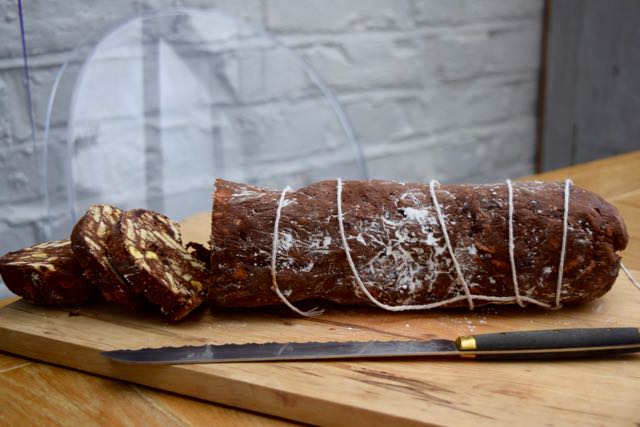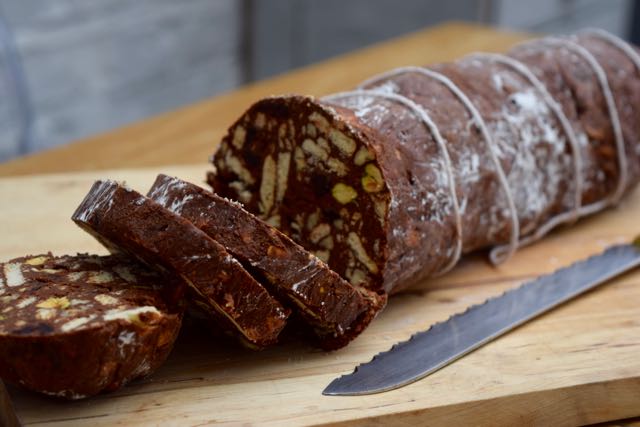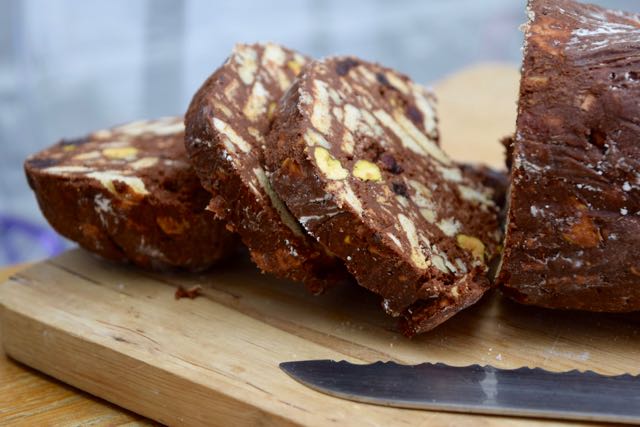 This Italian festive treat is a new one on me, but rest assured, now I've tasted it, this will become as necessary as Christmas cake on the festive baking menu.
Lucy x
Chocolate Salame Recipe
Makes a huge salami, serving at least 10 to 12
This recipe contains raw eggs, for those who shouldn't be eating them
250g dark chocolate, between 50 and 70% cocoa solids
250g biscuits, I used Rich Tea but the original recipe called for crunchy Amaretti biscuits, you choose
100g soft butter
150g caster sugar
3 eggs, organic if you can as the eggs will not be cooked
2 tablespoons Amaretto or other almond liqueur
2 tablespoons cocoa
50g pistachios, shelled
75g pecans
75g dried sour cherries or cranberries
2 tablespoons icing sugar
String to decorate
Take your dark chocolate and melt in the microwave or over a pan of simmering water. Once melted, pop to one side to cool until needed. Add your chosen biscuits to food bag and crush to a rubble like texture, but not crumbs, with a rolling pin. Roughly chop the nuts and dried fruit.
In a stand mixer or in a large bowl with a hand mixer or a wooden spoon, cream together the soft butter and caster sugar until lighter in colour and texture. Beat in the eggs, one at a time, then measure in the almond liqueur. Don't worry if it looks curdled, you will bring it back when you add the other ingredients.
Sift the two tablespoons of cocoa powder, using a tea strainer or tiny sieve, into the melted chocolate and stir in well. Add this to the butter and sugar mixture and beat until smooth. Finally fold in the biscuits, nuts and fruit and ensure everything is really well coated. Put the mixture in the fridge for around 15 minutes to set slightly.
Lay two long pieces of cling film side by side and tip out your chilled salame mixture into the middle of the sheets. Use your hands to fashion the mix into a log like shape, then roll up in the cling film, twisting the ends to secure the log. Leave in the fridge for at least 6 hours, or overnight, until the Chocolate Salame has set firm. I was short of time so put mine in the freezer for 2 and a half hours.
When your salame is set firm, lay out a sheet of baking paper with two tablespoons of icing sugar on it. Remove the clingfilm and dust the whole thing, making it look authentically like salame. Wrap with string for extra authenticity, a la Nigellas instructions, if you like.
Serve in thinnish slices on a board, leaving the knife so your Christmas guests can help themselves to more. The Chocolate Salame will keep in the fridge for up to 4 days or freeze and use within 2 days of defrosting.
SaveSave
SaveSave
SaveSave
SaveSave
SaveSave