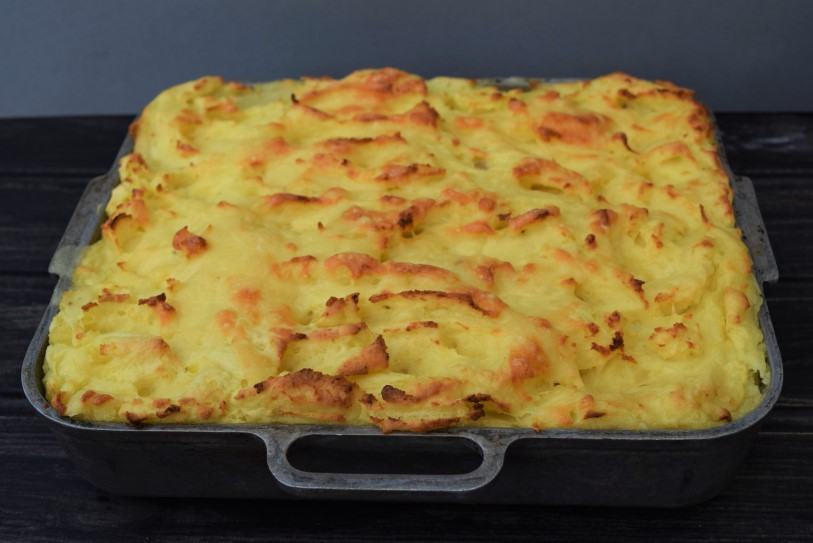 Fish Pie Recipe
Hooray, it's nearly Easter, in fact, I am wishing the week away, such is my longing for the four day weekend. I am shattered. We have had a run of social engagements *I have been drinking too much* and the boys have been busy with sporting events and studying so we are all on our knees. We are off, with the full family squad of 10, to the Isle of Wight this weekend for some much needed rest and crab sandwiches. So, with Good Friday nearly upon us, the prospect of a family lunch looming and being in the right place for the freshest sea fayre, my Fish Pie immediately springs to mind.
I grew up loving my Mother's Fish Pie and have always recreated her recipe for my family. I have never actually used a recipe before, though, so this production today comes to you on a wing and a prayer. This is amazingly a dish enjoyed by everyone at the table, although George does pick out the prawns and my sister doesn't like hers with egg, so tailor your add-ins to suit all your families needs. I like to include a bit of smoked haddock in with my fish selection but if you prefer something less full flavoured go with all white fish or add a bit of salmon. The fish is then enveloped in a slightly cheesy sauce, flecked with parsley, unless you're Ben, who picks the parsley out. But if you'd prefer, you can add the cheese to the mash potato topping instead of the sauce. Fish pie should be a family favourite so make this your way.
This is a lovely wholesome dish, full of flavour and a traditional Easter favourite. It can be made the day before too and reheated in time for lunch, giving you all the more time to sit and eat chocolate.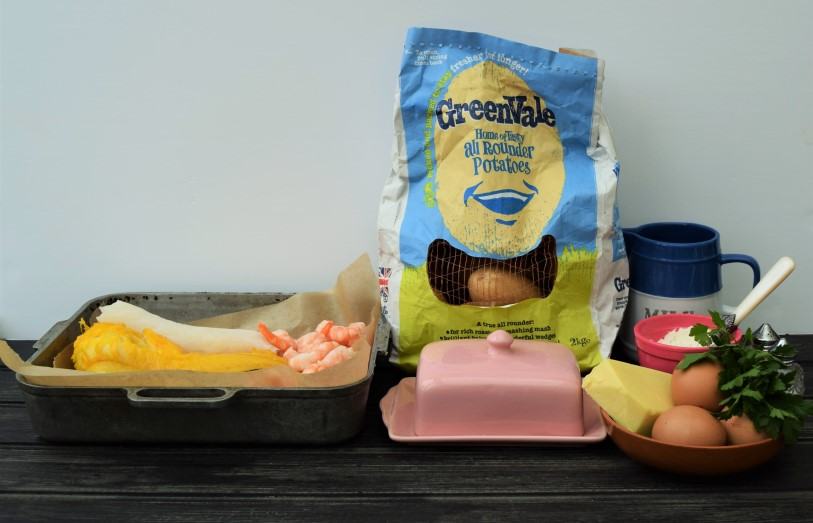 Here are the wonderful Fish pie ingredients. All rather wedged into the line up today. I think I remembered everything, so well done me. The fish I used was a generous selection of cod and smoked haddock and as you can see from the lurid colour, there were no natural colourings used in the making of this dish. The cooked tiger prawns were on offer, so I threw those in too.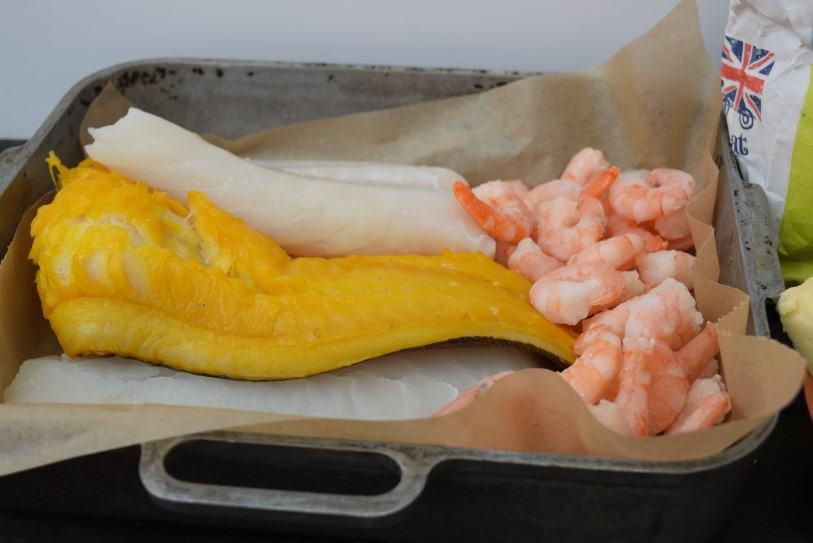 Make a start in this three step programme by preparing the fish. Remove any skin from your fillets then place in a large frying pan along with the bay leaves, parsley and salt and pepper.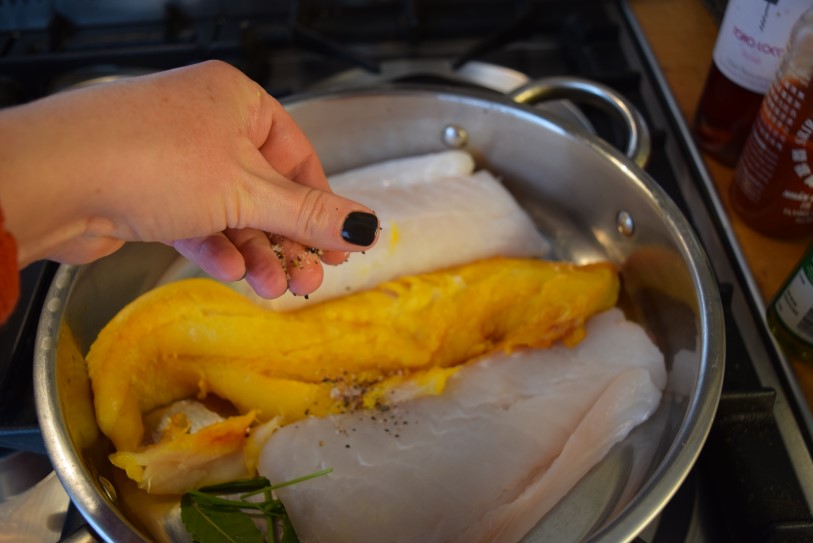 Nice manicure me.
Pour on the milk then slowly bring to the simmer. Pop a lid on and cook for 5 minutes then turn off the heat and leave to infuse for around 30 minutes.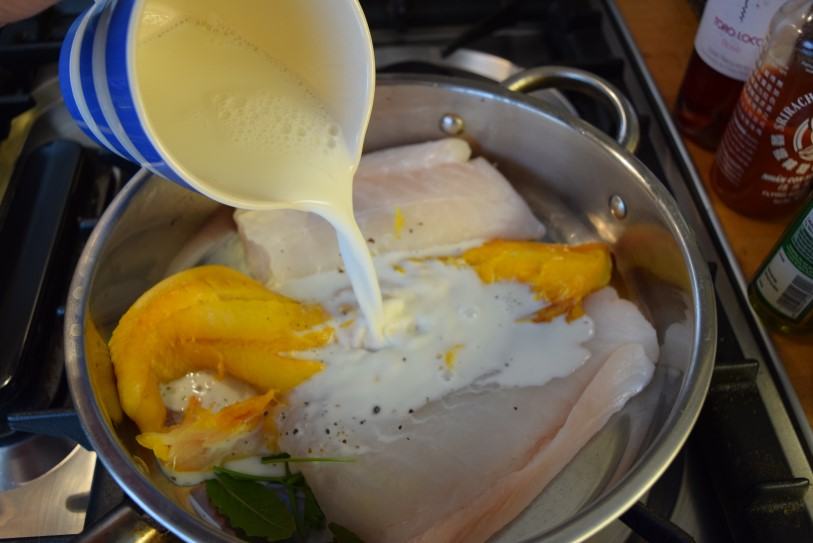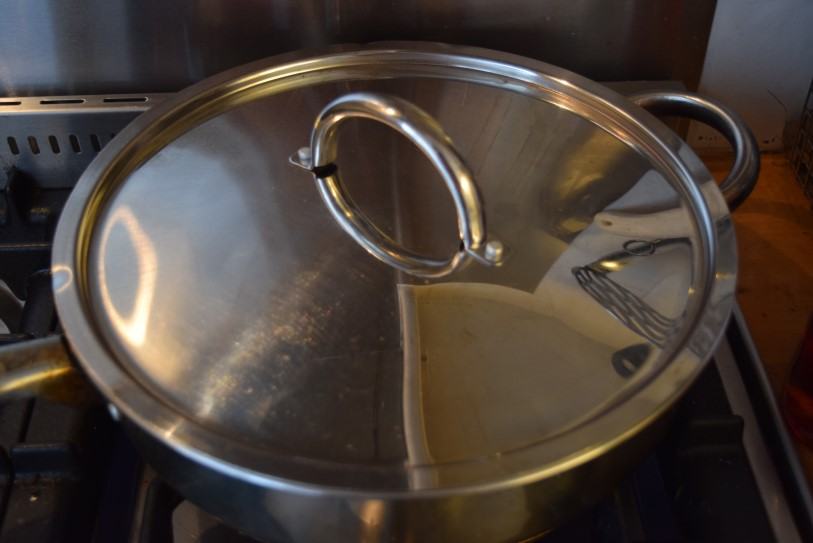 While this is all going on quietly by itself, put four eggs into a small pan with cold water and bring these to the boil. Simmer for 6 minutes once they come to the boil.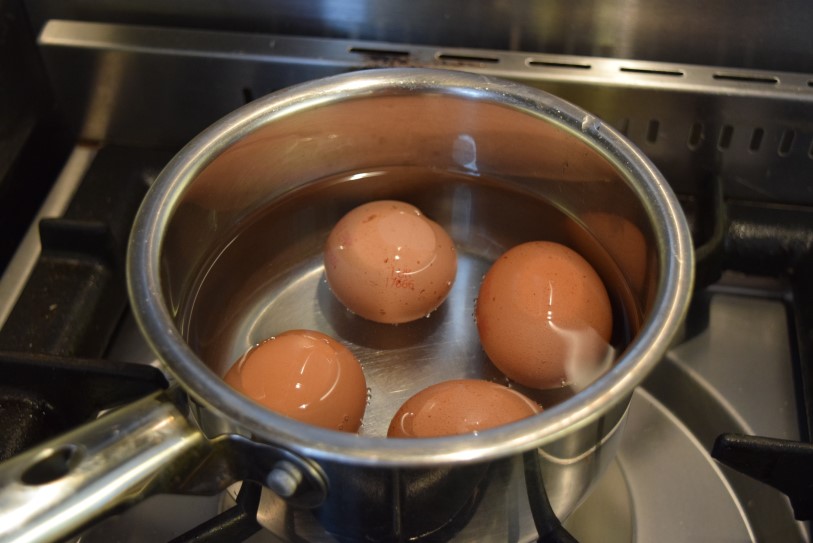 When the time's up, run the eggs under cold water and leave to cool. Peel and pop to one side.
When the fish cooking time is up, remove the fish from the milk and strain the milk into a jug then pop to one side. Remove any bones from the fish.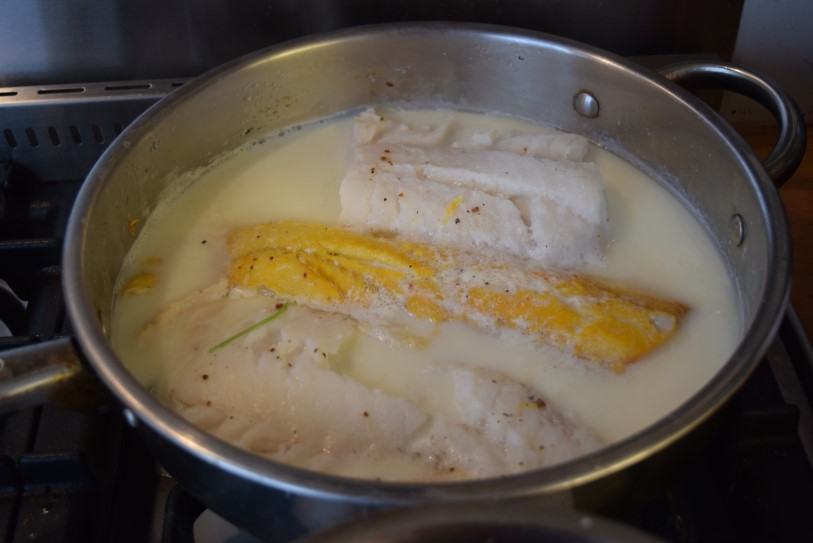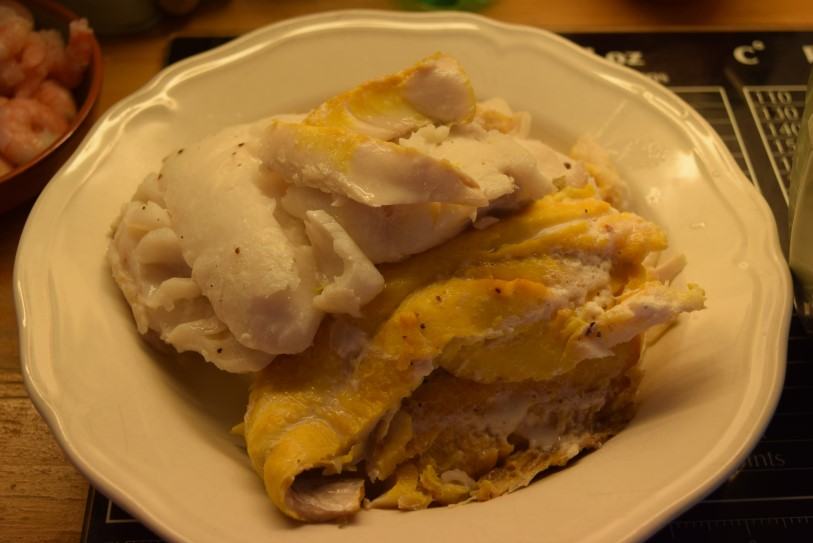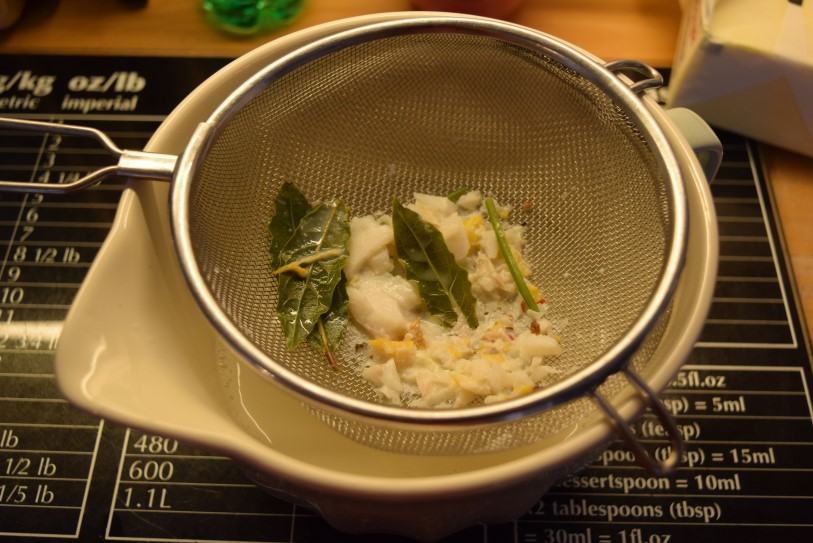 Now, for step two, make the sauce. In a medium sized saucepan, melt the butter then stir in the flour. I use a wooden fork for my sauce making, it seems to help to keep lumpy sauces at bay.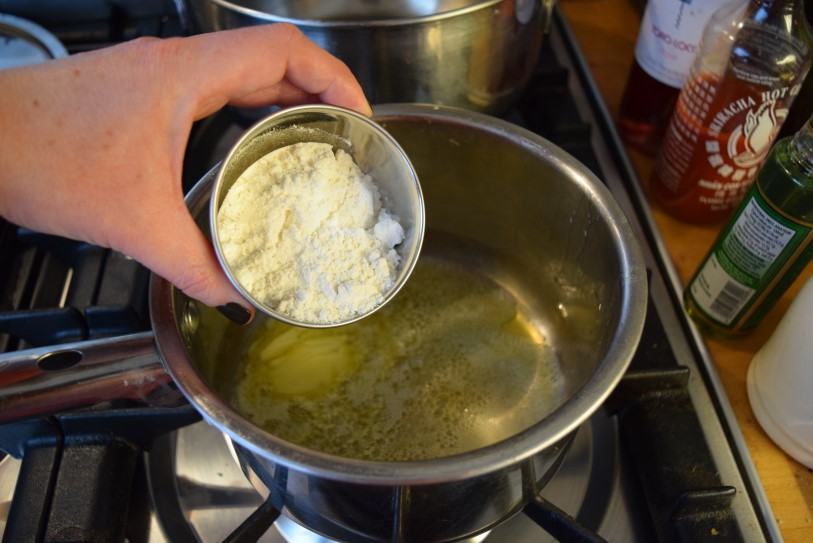 Cook the flour and butter for a minute or two then pour in the wonderful bay and parsley infused milk. Add it gradually, stirring well between additions.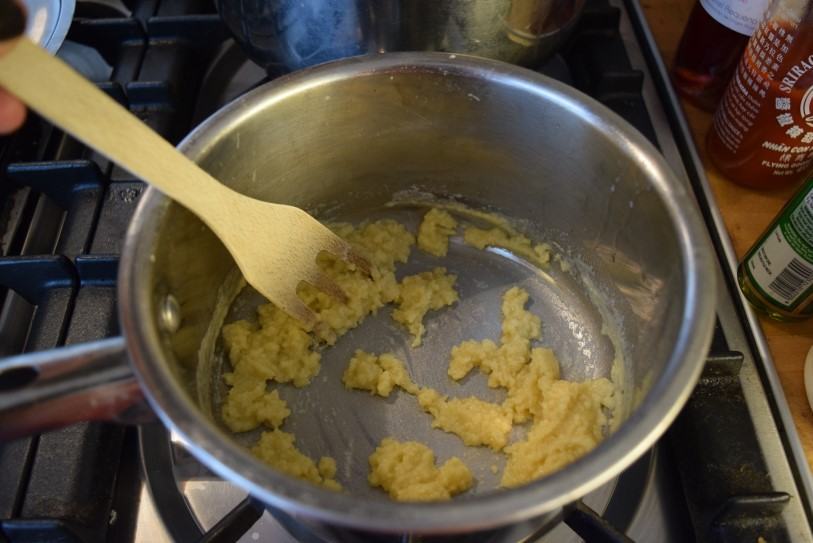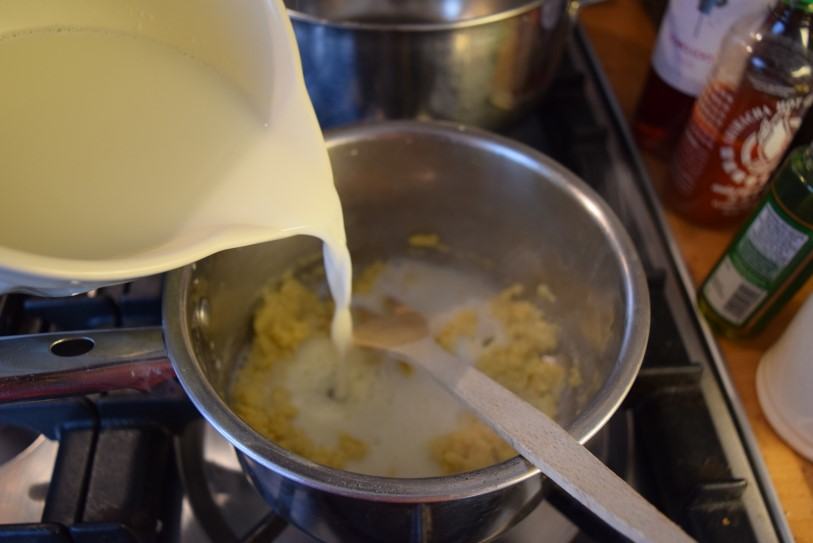 Once you have added all the milk you should have a smooth, lump free sauce. Cook this for a minute to thicken then add your grated cheese and chopped fresh parsley.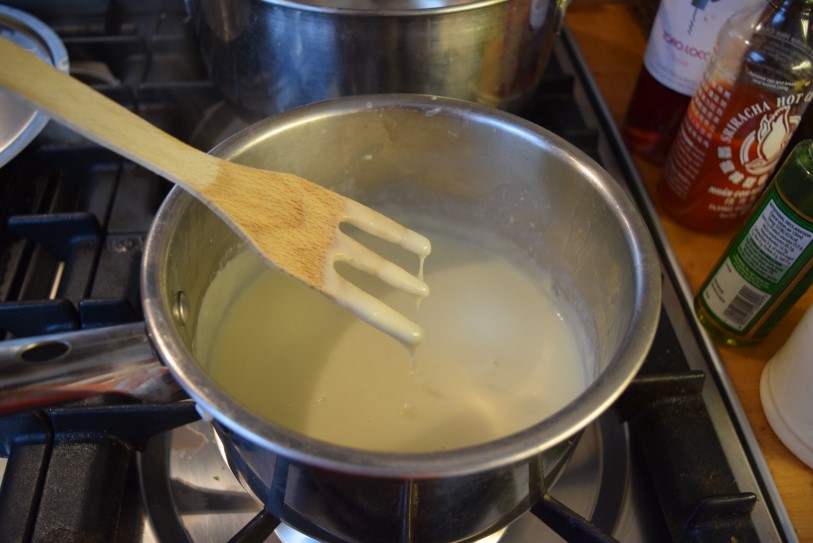 Stir well, then pop the sauce to one side while you assemble the pie base. Add your fish to your baking dish. Fork the fish up, but not too much, you want to retain some lovely firm flakes. Add to this the plump prawns and quartered soft boiled eggs.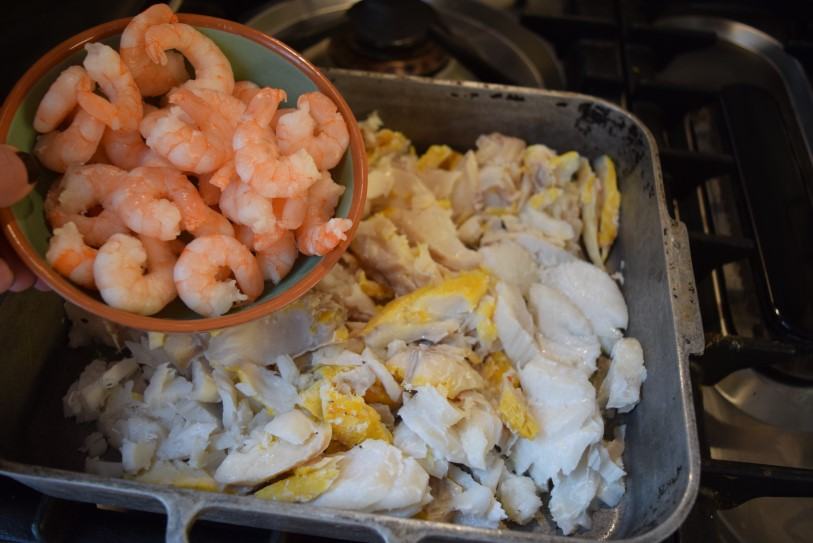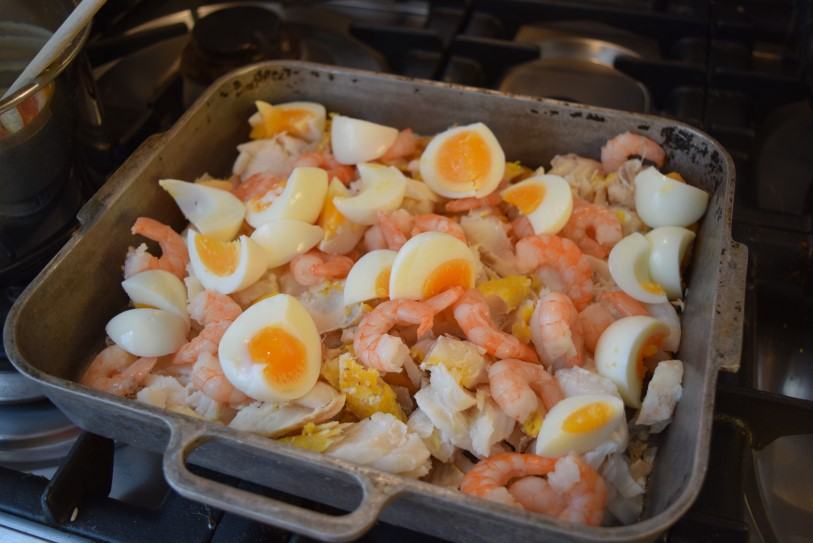 Fold in the parsley speckled cheese sauce, carefully, as you don't want the fish and eggs turning into mush.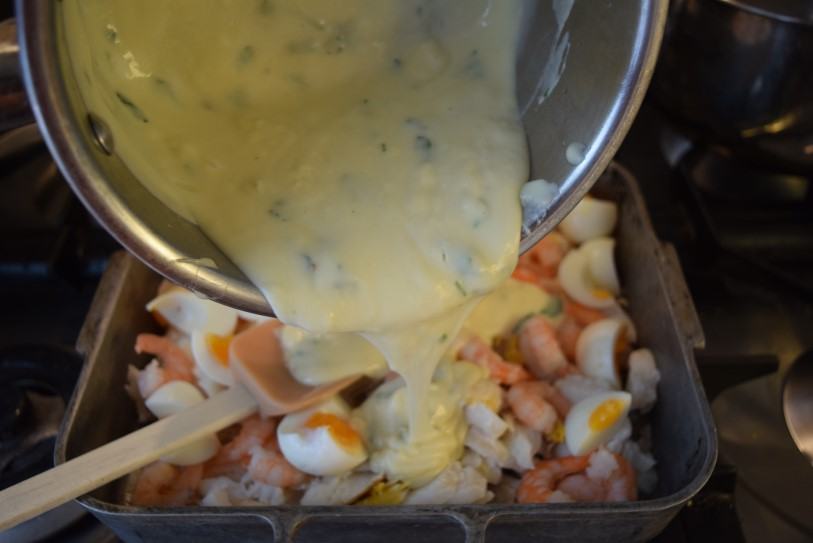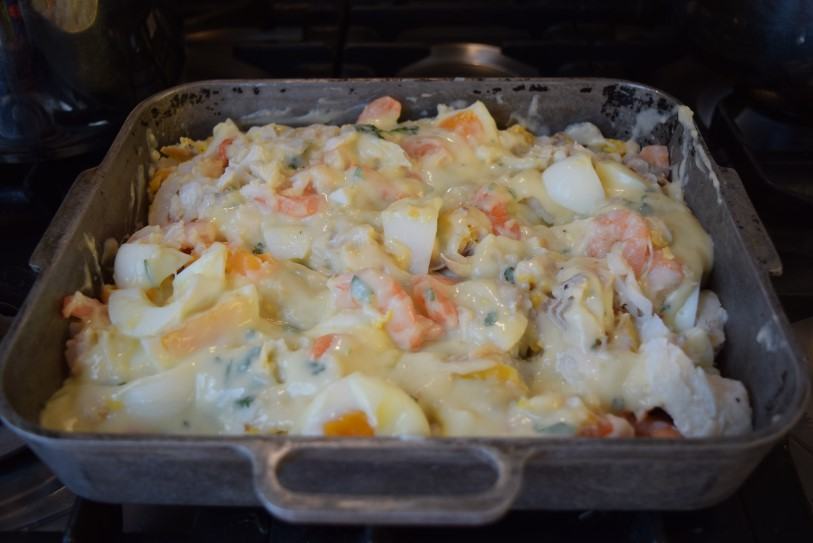 Pop this to one side trying not to quality control too much of the pie base *I did*. Now, crack on with stage three, the mash topping.
Peel and chop your potatoes, a tedious but necessary task, then bring to the boil in a pan of salted water. Cook for 20 minutes with a lid on, until the potatoes are tender, then drain.
Mash well, then add the butter and a good splash of milk, then mash again until lump free.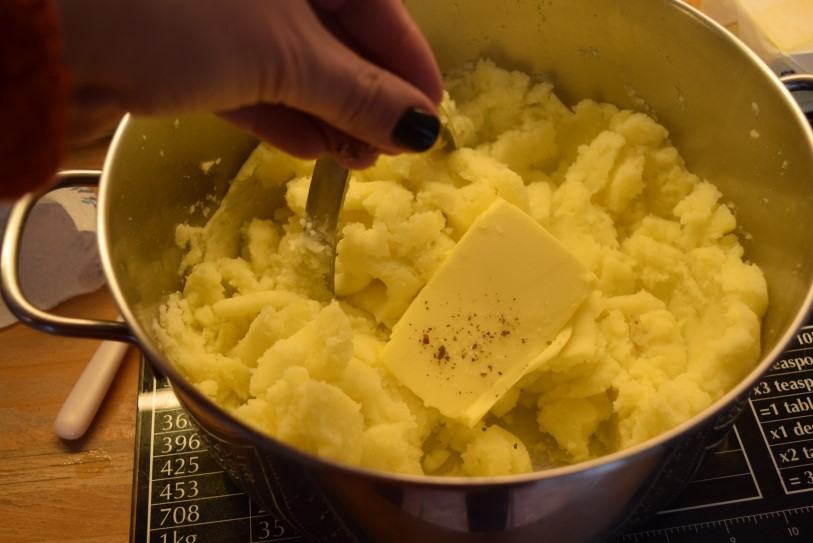 Take your baking dish of pie base and start to add the mash potatoes. Fashion a border of potato first then fill in the middle afterwards. Rough up the top so you get lovely crispy bits, then add a good handful of grated cheese.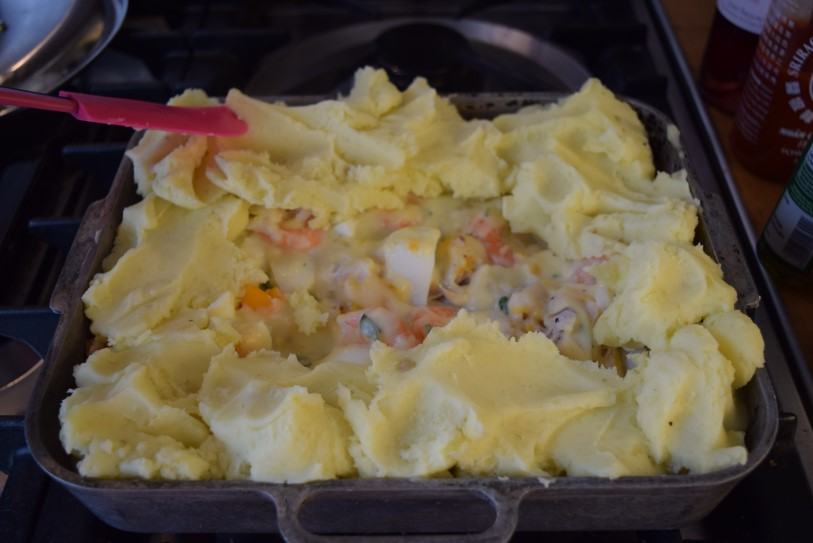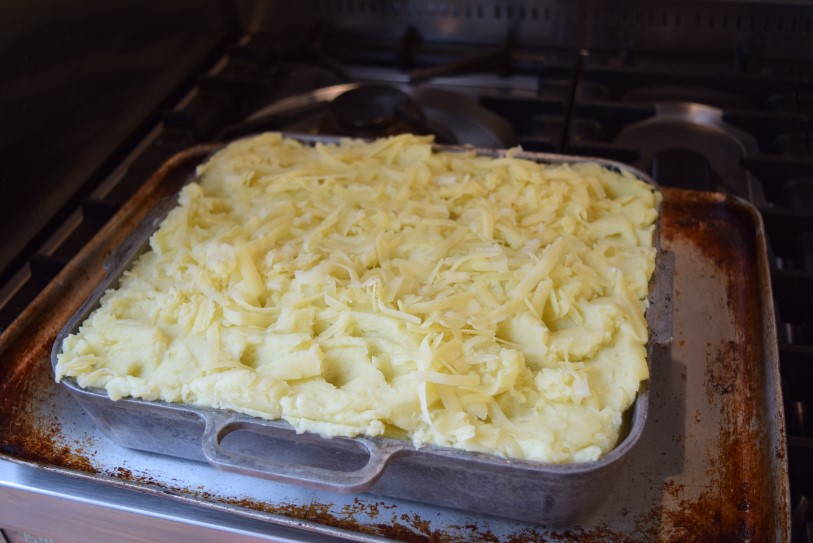 Bake this delicious dish for around 30 to 35 minutes until piping hot, bubbling and golden brown. Let this sit for 5 minutes while you simmer a big pan of peas, or broccoli if George is dining with you.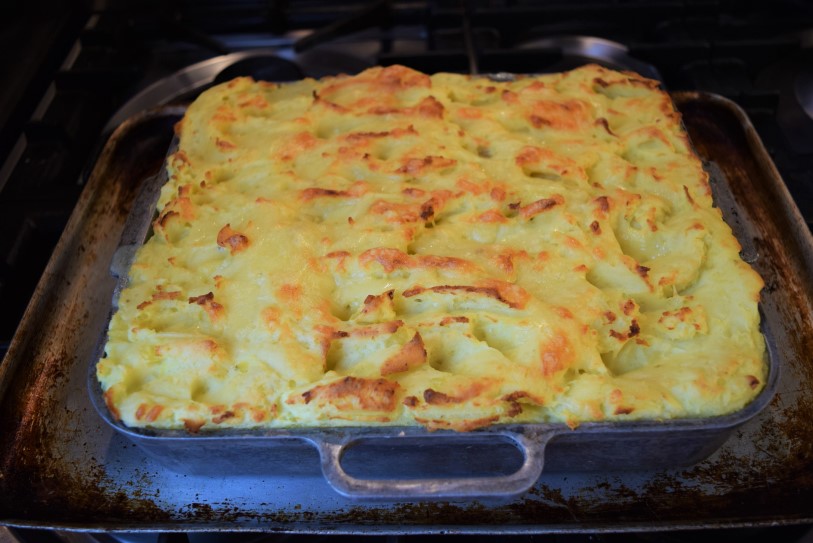 Serve this warming, comforting pie with a 70's parsley garnish, in large portions and devour, barely stopping to draw breath.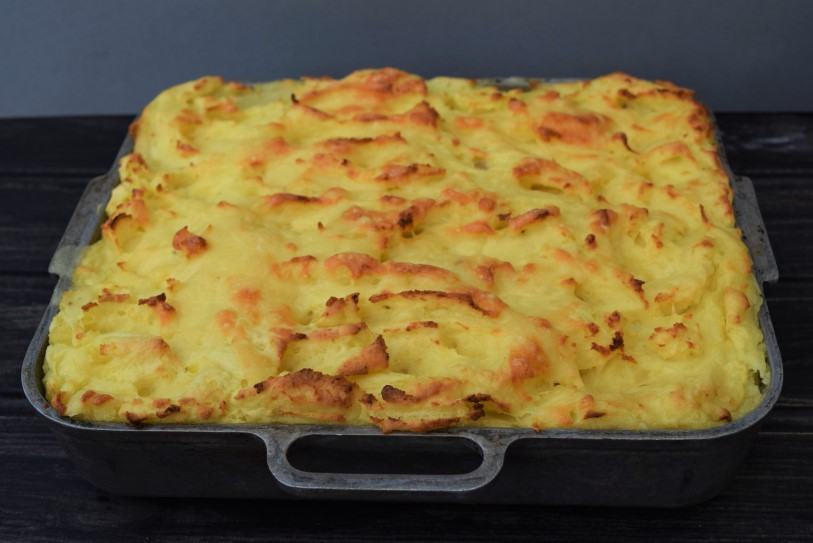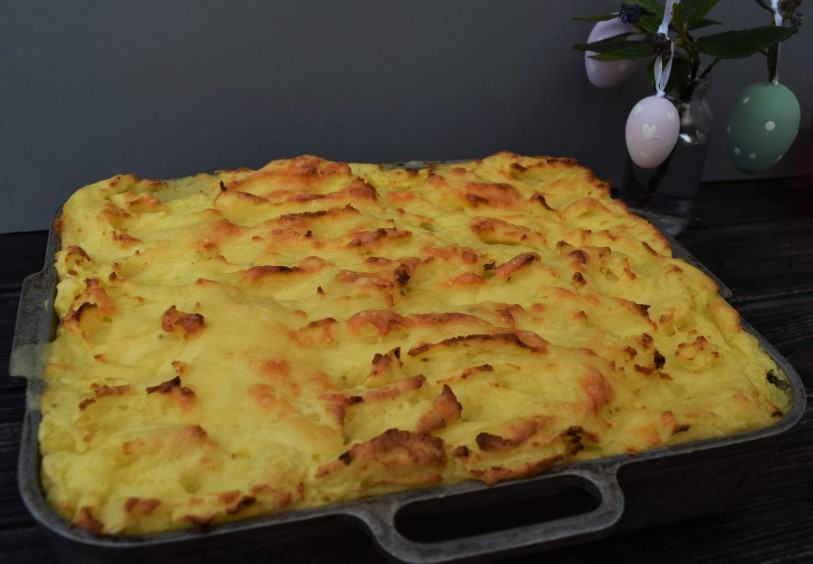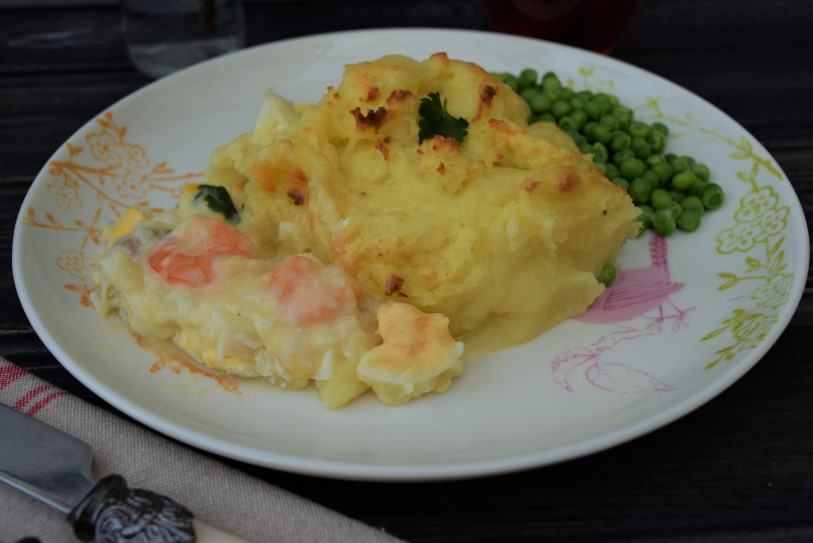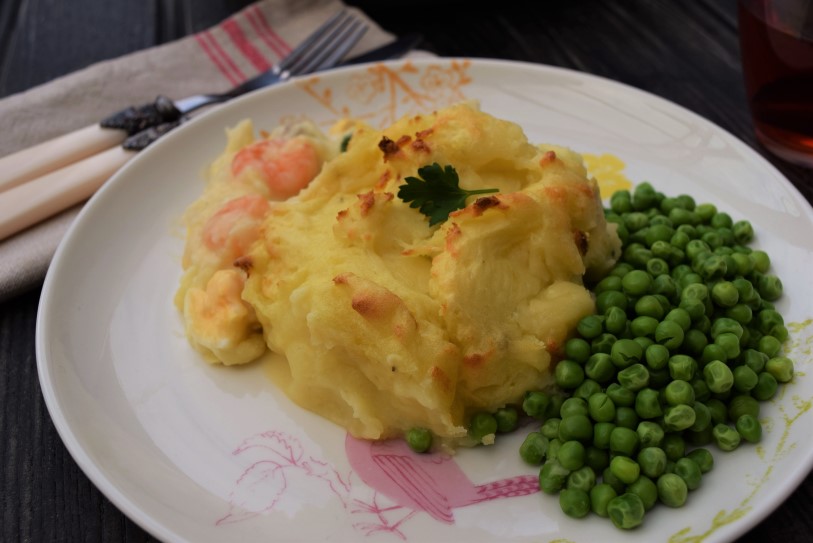 This Easter, Fish Pie is such a great family dish to serve. It's a comfort food crowd pleaser, whether you love yours with prawns, eggs, parsley or not. This serves a generous 6 guests or maybe even 8 smaller appetites, although I would always allow for the inevitable requests for seconds.
Lucy x
Fish Pie Recipe
Serves at least 6 people
You will not need any exciting equipment, just a large baking dish or tin
For the filling
750g to 1000g fish, I used a mixture of cod and smoked haddock, but you decide
3 bay leaves
Some parsley sprigs with stalks
salt and pepper
300ml milk
approx 150g prawns, I defrosted some cooked, frozen tiger prawns
4 eggs, soft boiled
For the sauce
50g butter
50g plain flour
125g strong cheese, grated
2 tablespoons chopped, fresh parsley
For the topping
1.5kg potatoes
50g butter
50ml milk
50g strong cheese, grated
Salt and pepper
More fresh parsley to garnish and a green vegetable to serve
Pre heat your oven to 160 degrees fan assisted.
Start with your fish. Take a large frying pan with a lid and add your fish, removing any skin beforehand. Add the bay leaves and the parsley stalks with some salt and pepper then pour on the 300ml of milk. Bring to the simmer, cook for five minutes, then turn off, put a lid on and leave to infuse for 30 minutes.
Put 4 eggs into a medium sized saucepan and fill with cold water. Bring to the boil then cook for 6 minutes. When the time's up, run the eggs under cold water and leave to cool.
When the infusing time is up, remove the fish from the milk and put to one side on a plate. Strain the milk into a jug and keep to hand. For the sauce, melt the butter in another medium sized saucepan. Stir in the flour and cook for a minute. Add the infused milk gradually, stirring well between additions to avoid lumps. When all the milk has been added, stir well then cook for a further minute or two until starting to bubble and thicken. Stir in the grated cheese and chopped fresh parsley and check for seasoning. Leave this for a moment while you prepare your filling.
Place you cooked fish into your baking dish and flake, but not too much as you want to retain the flakey fish texture. Add in the rinsed and defrosted prawns and your peeled and quartered eggs. Pour on your cheese sauce and gently stir to coat the fish, prawns and eggs, but don't be too heavy handed, you don't want it to turn to mush.
For the topping, peel and chop the potatoes then simmer in boiling salted water for 20 minutes or until your potatoes are cooked through. Drain then mash. Add the butter, milk and seasoning and mash again until smooth. Top the fish pie mixture with the mash then add the additional grated cheese and put in your pre heated oven for 30 to 35 minutes or until bubbling and the top is crisp and golden. Serve piping hot with a green veg of your choice.