Granola Bar Recipe
A Granola Bar to me screams healthy. Ok, not screams, maybe it mutters healthy, or at a push they whisper it. But with the standard inclusion of oats and a dried fruit of some nature I do try and convince myself they have my well-being in mind.
I am lucky enough to have a trans-Atlantic boss (he'll be very surprised to hear me say 'lucky') who brings me back all sorts of wonderful American confectionary. My faves being Reeses Peanut Butter Chips. They are fantastic in my Granola Bars, adding nuttiness and sweetness at the same time. However, white, milk or dark chocolate chips or chunks are as appealing and more readily available. When it comes to the addition of dried fruit – again – fill your boots. I adore a Craisin, although, I do think the name lets them down. Sultanas are fab too or chopped dried apricots. Basically, feel free to add or subtract to your heart's and storecupboard's content. But do include the fruit otherwise you can't justify eating four in one sitting. With the fruit you can say it was one of your five a day, without, you are just being a pig. I won't be judging either way, I am not that person.
So, get your pan out, as this is a mixer free recipe, only a couple of items were dirtied in the making of this blog post.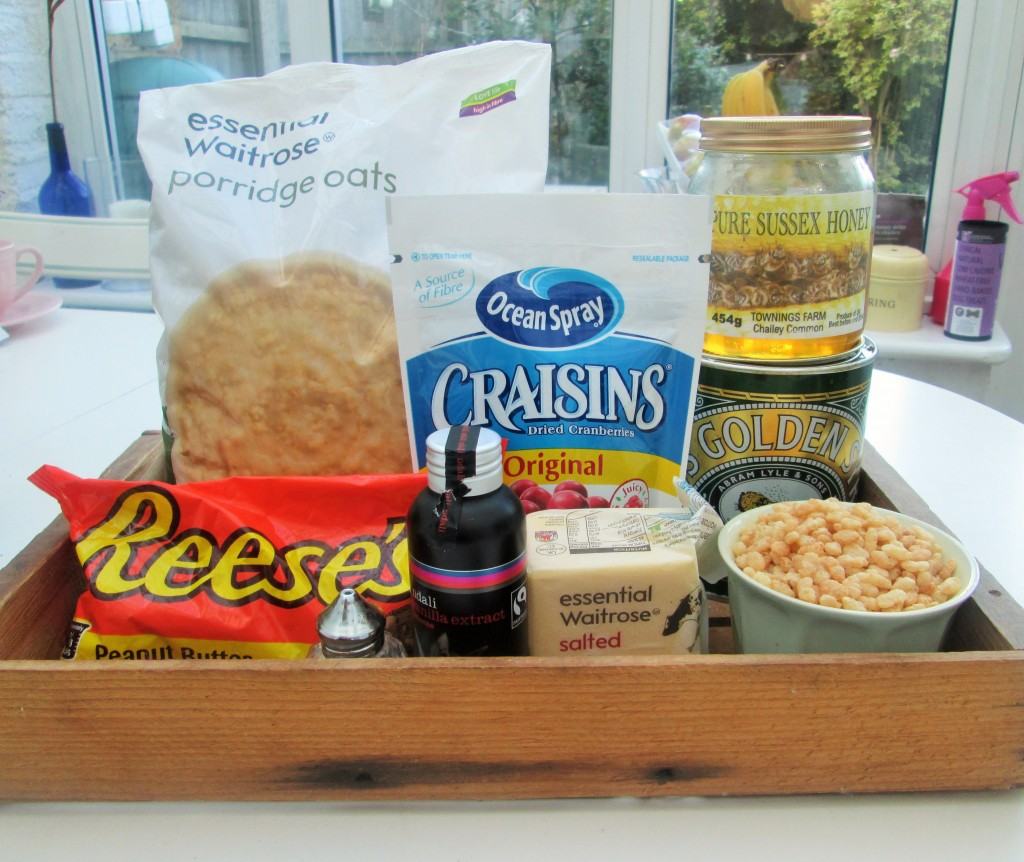 Here's your *ahem* health conscious line up. Mine with the super tasty Reese's Peanut Butter Chips which you can buy on Amazon or in the American section of your supermarket. But do feel free to include any other type of chocolate chips or cut up chocolate bars. Or swerve the chocolate completely and add nuts or seeds, now you really will be earning your healthy stripes with those.
Weigh your butter, honey and syrup and melt in a bowl or saucepan until just combined. I love the fact my scales weigh in grams, ounces and millilitres, as there's nothing worse than having to weigh sticky ingredients and scrape them into a pan. I invariably end up wearing most of the honey or syrup. I'm drifting now, sorry about that. Leave these golden, sticky things to cool for a moment, then stir in the teaspoon of vanilla extract.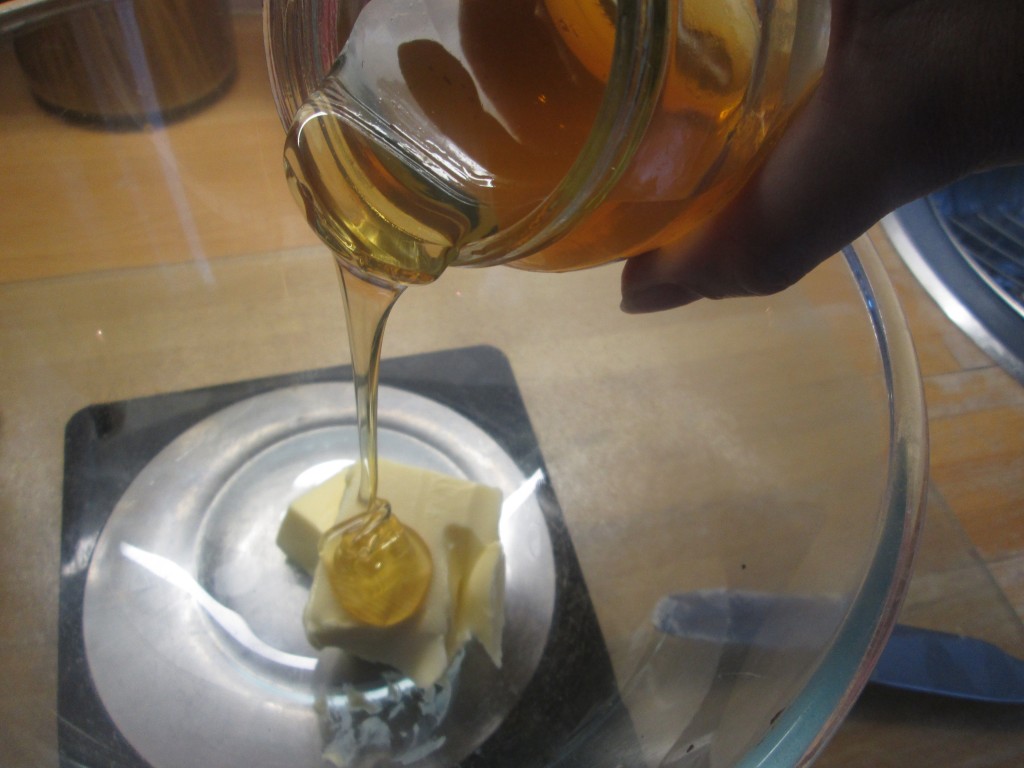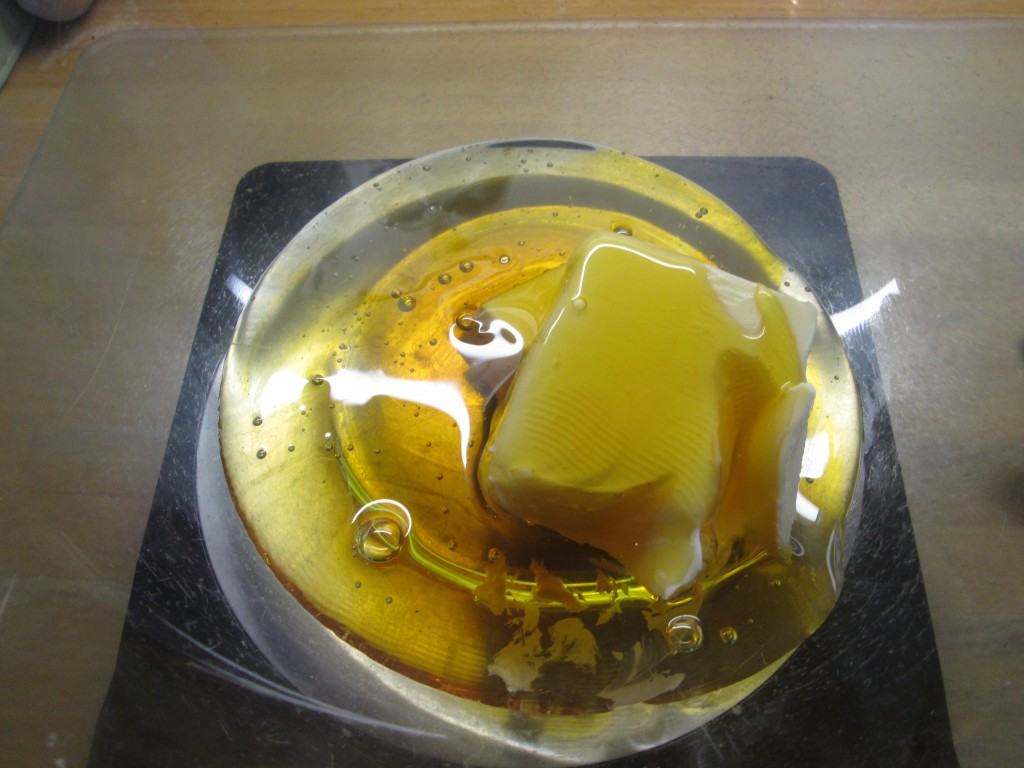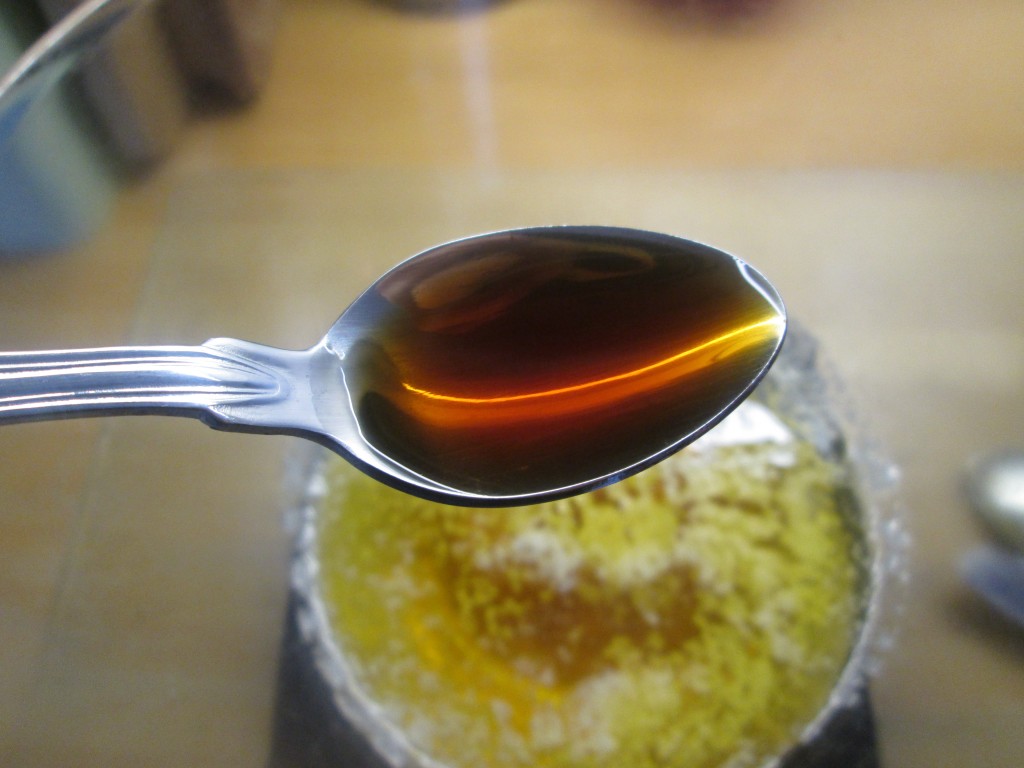 Add the oats, cereal, salt, fruit and chocolate then mix well so everything is covered in the sweet, honey coating.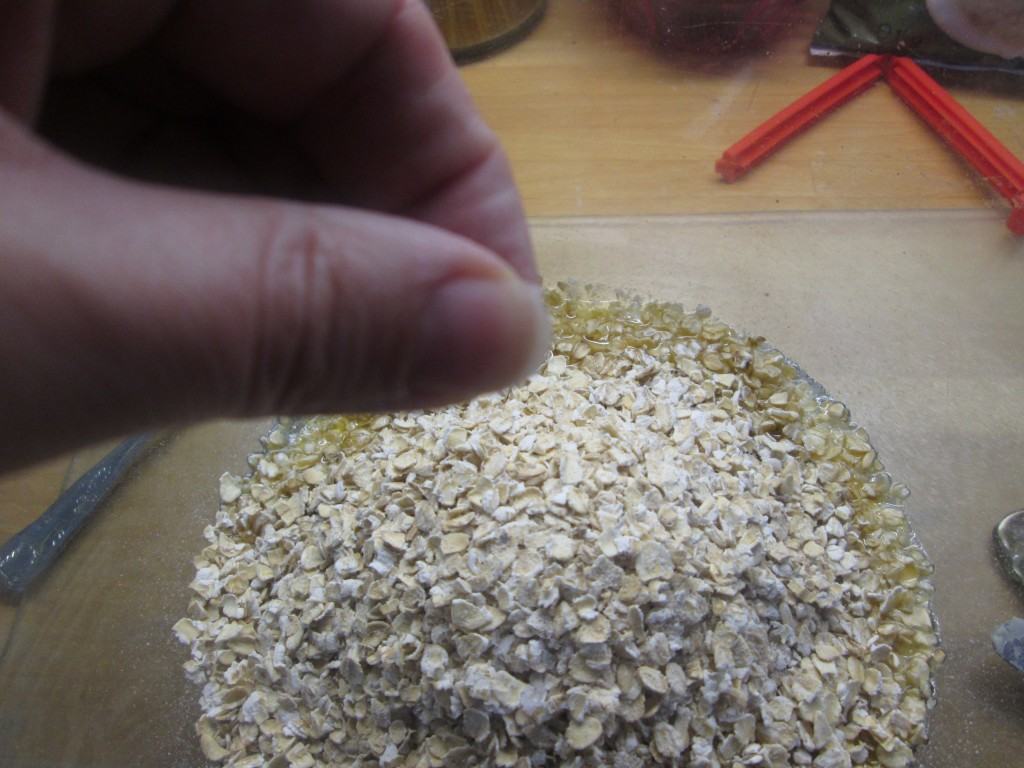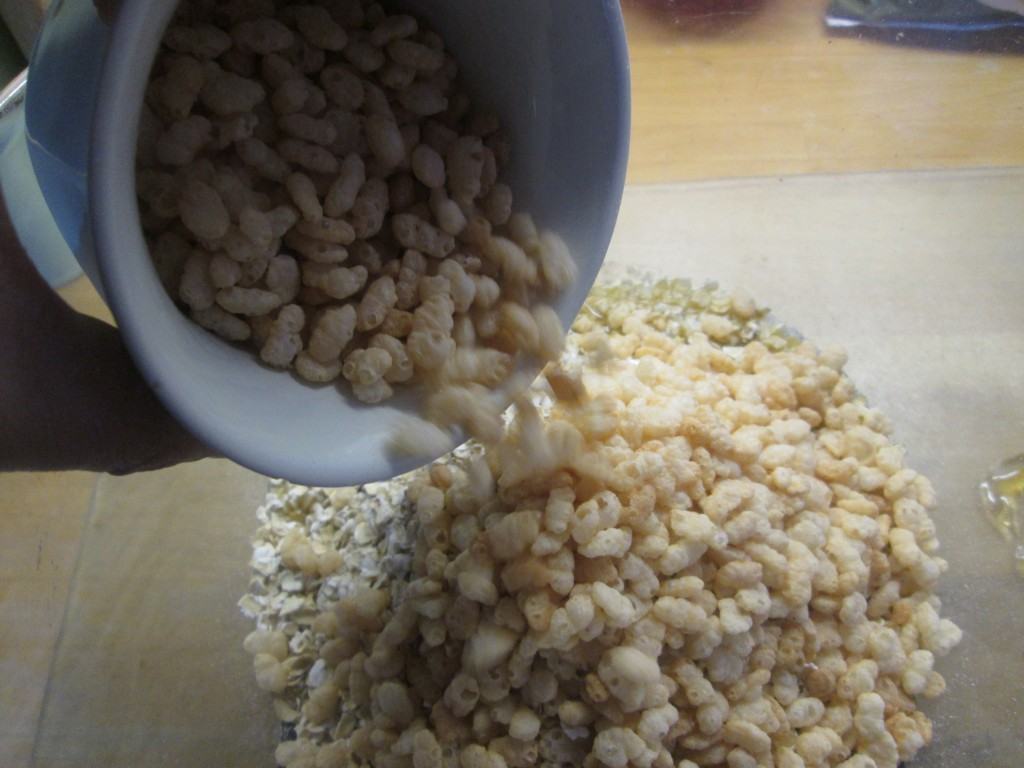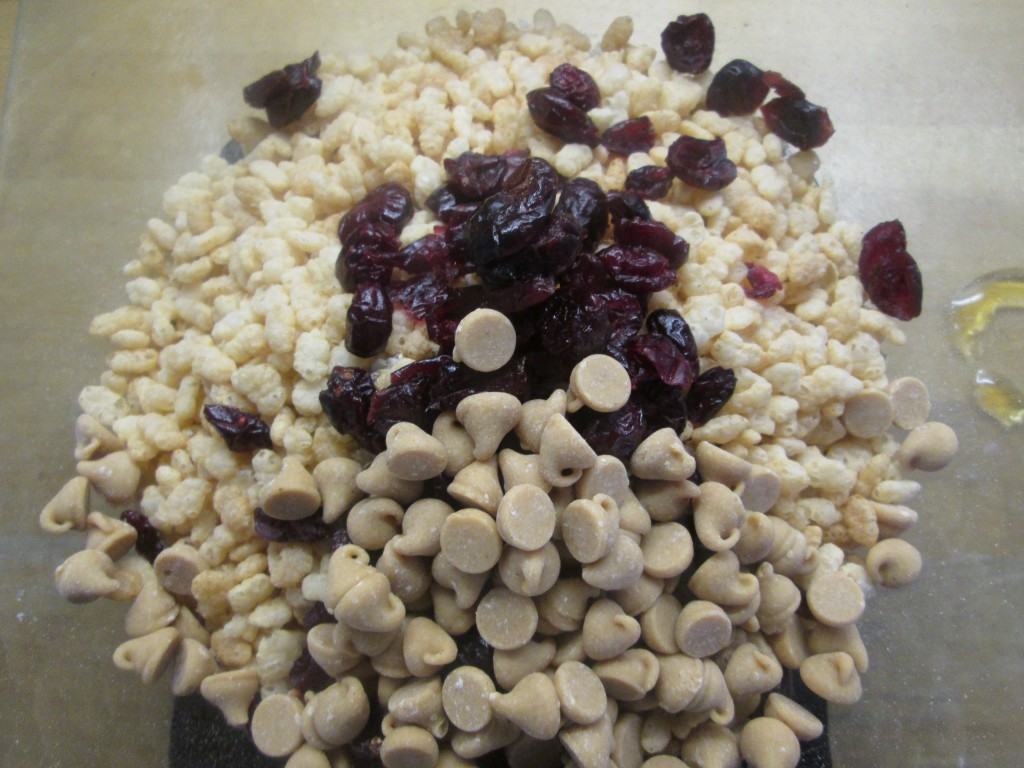 Yummmmm, move along now, nothing to see here.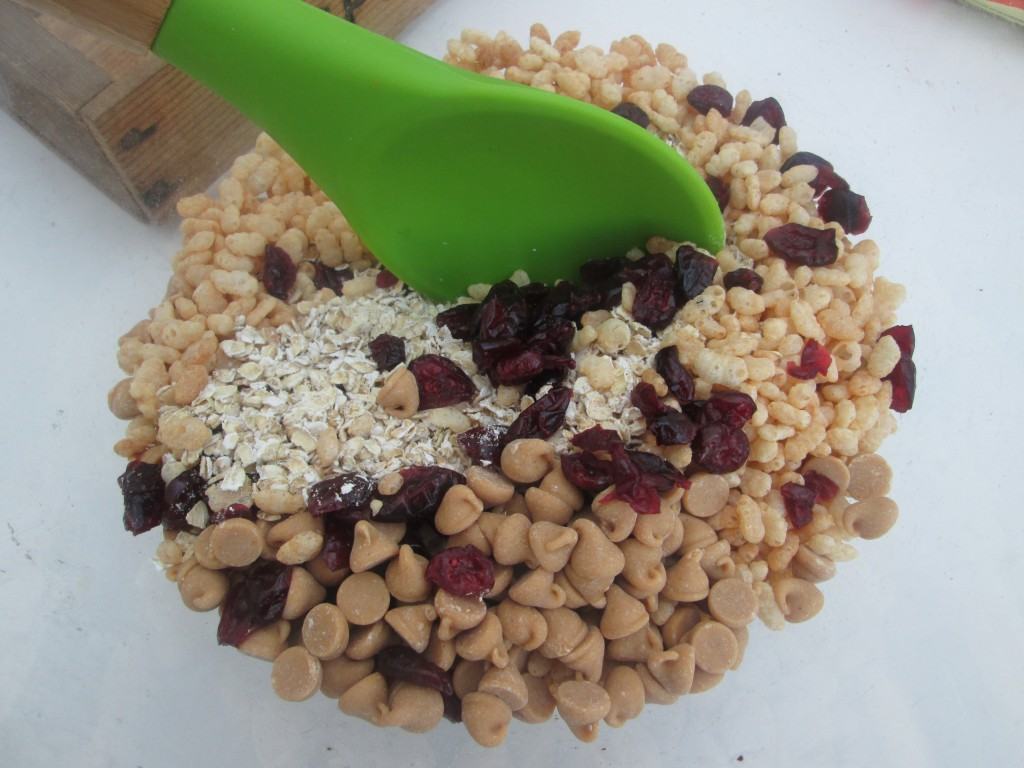 Press the mixture into a lined square dish or tin and level the top. Pop this into your preheated oven for around 20 to 25 minutes or until firm and browned all over.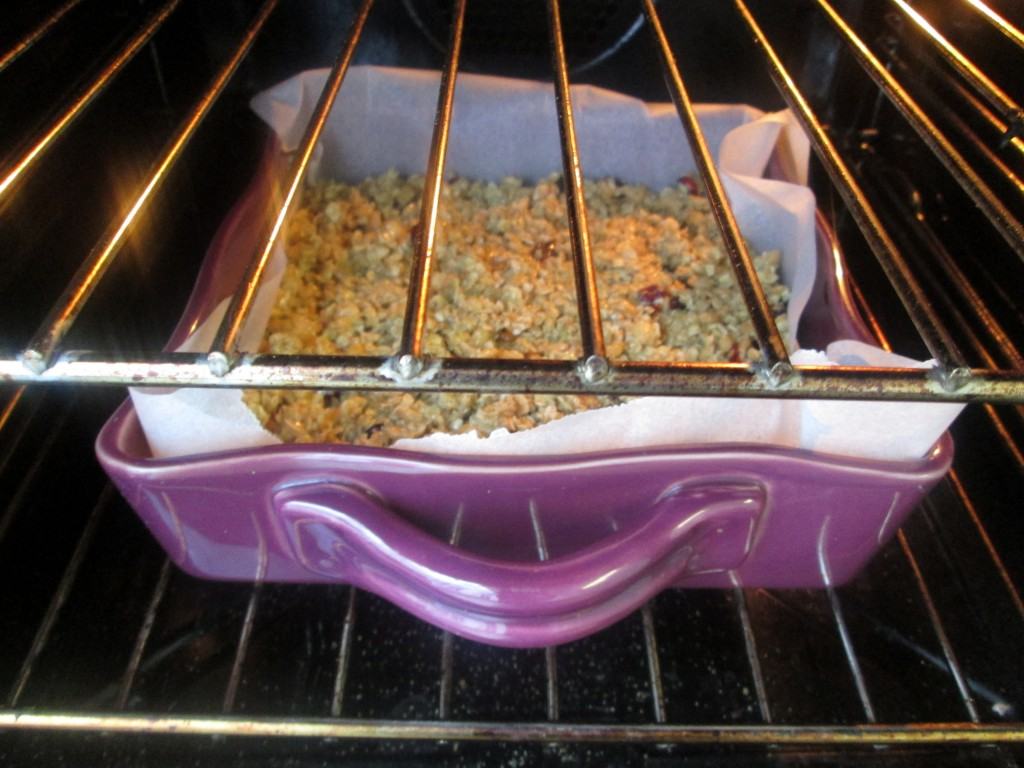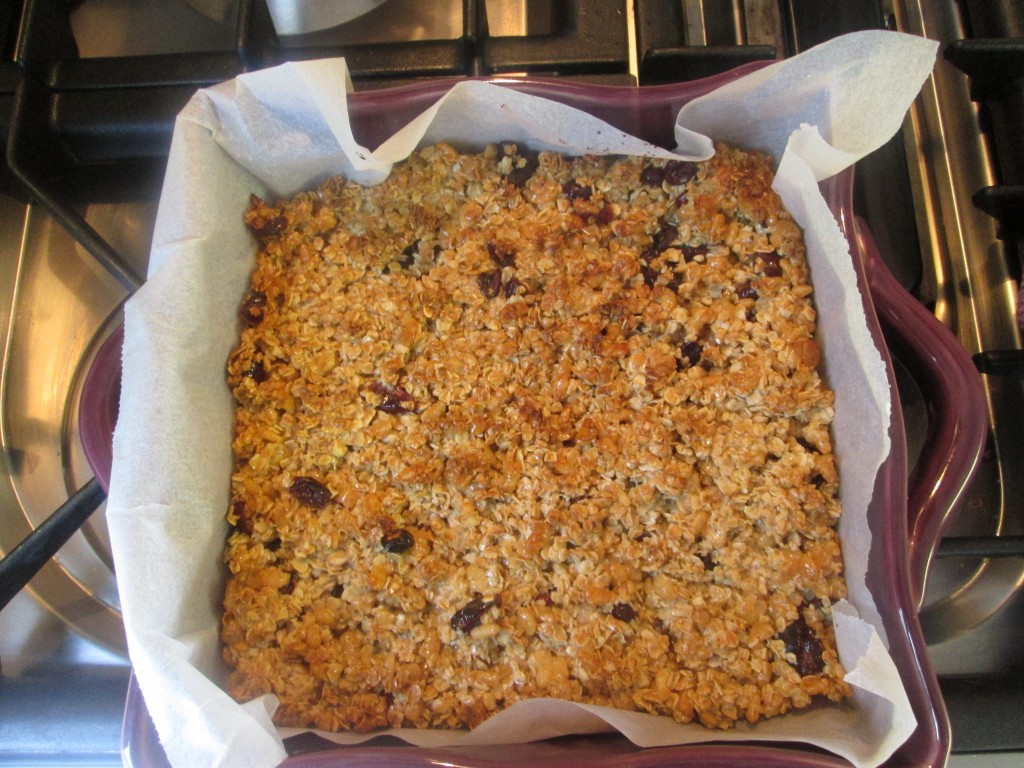 Remove from the oven and leave to cool for around 15 minutes. Then, whilst still in the tin, cut the granola into 16 squares, and leave to cool completely.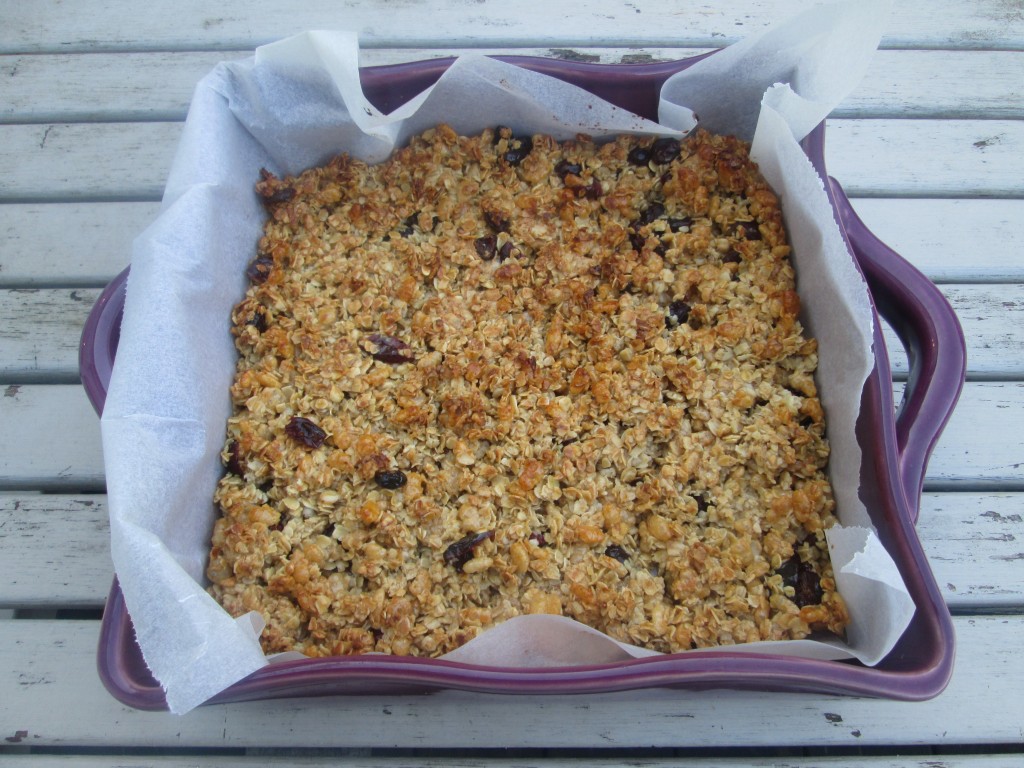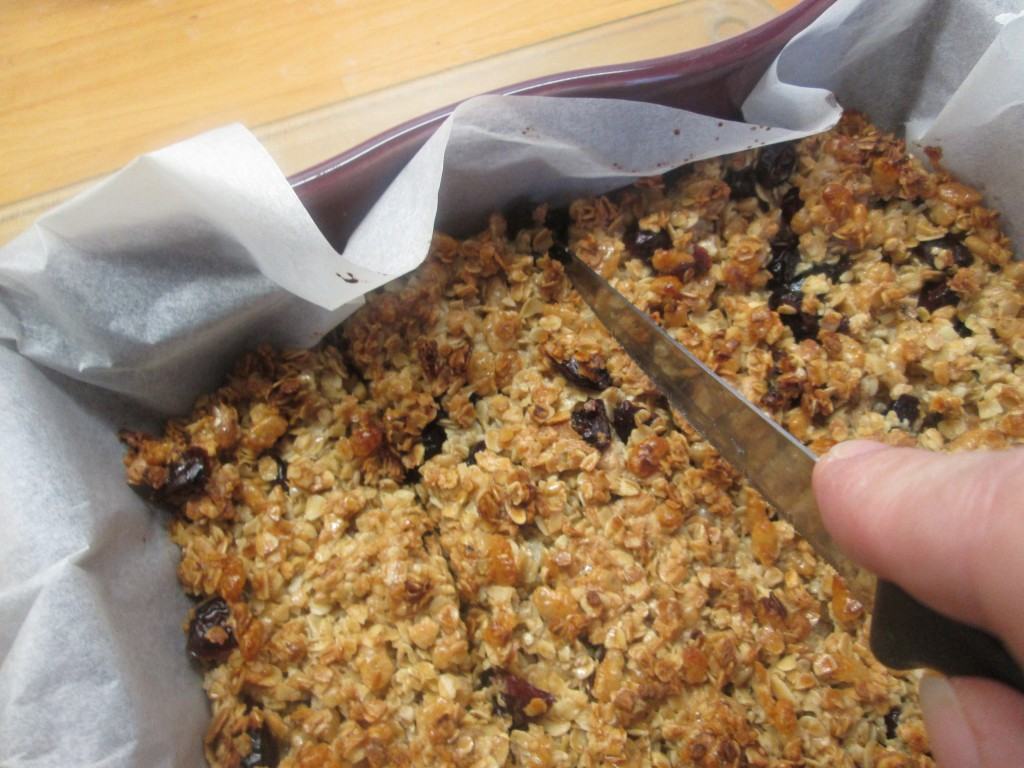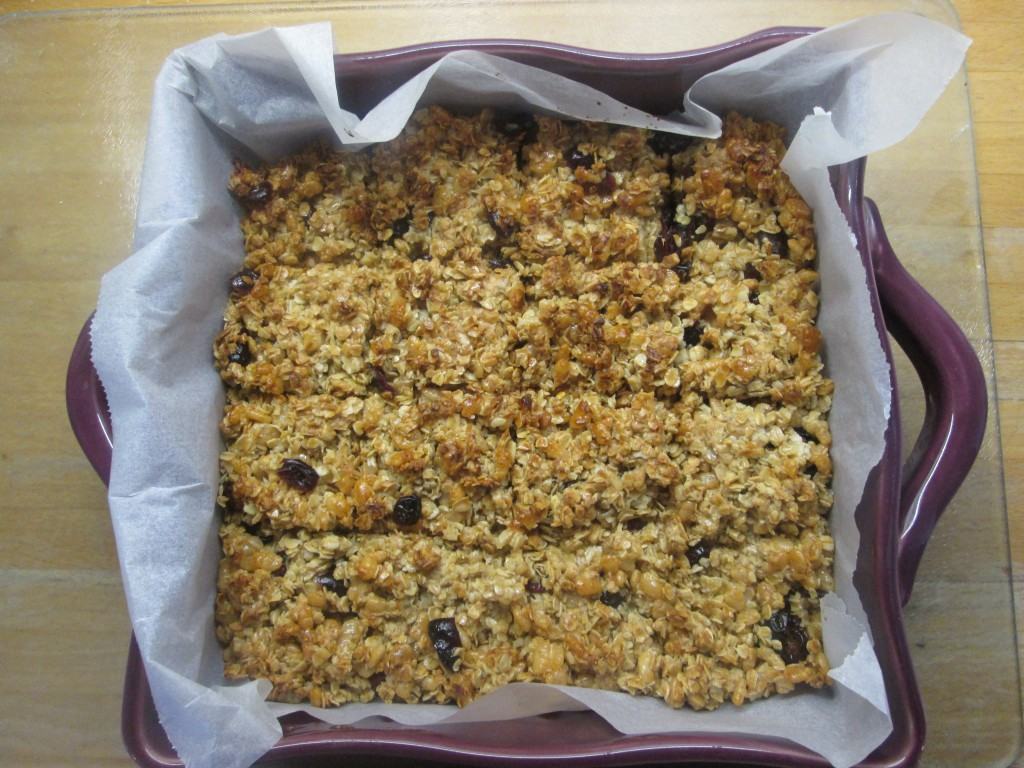 Store these sumptuous Granola squares in a tin or jar for up to a week, but that's optimistic, as they don't usually see a second day in our house.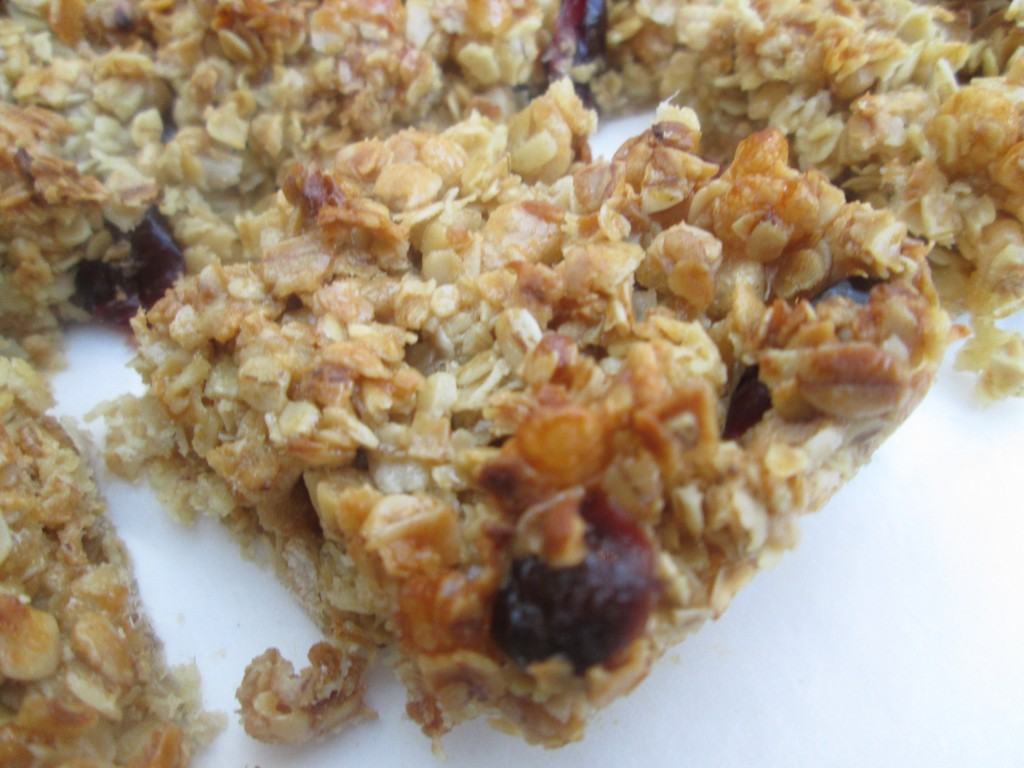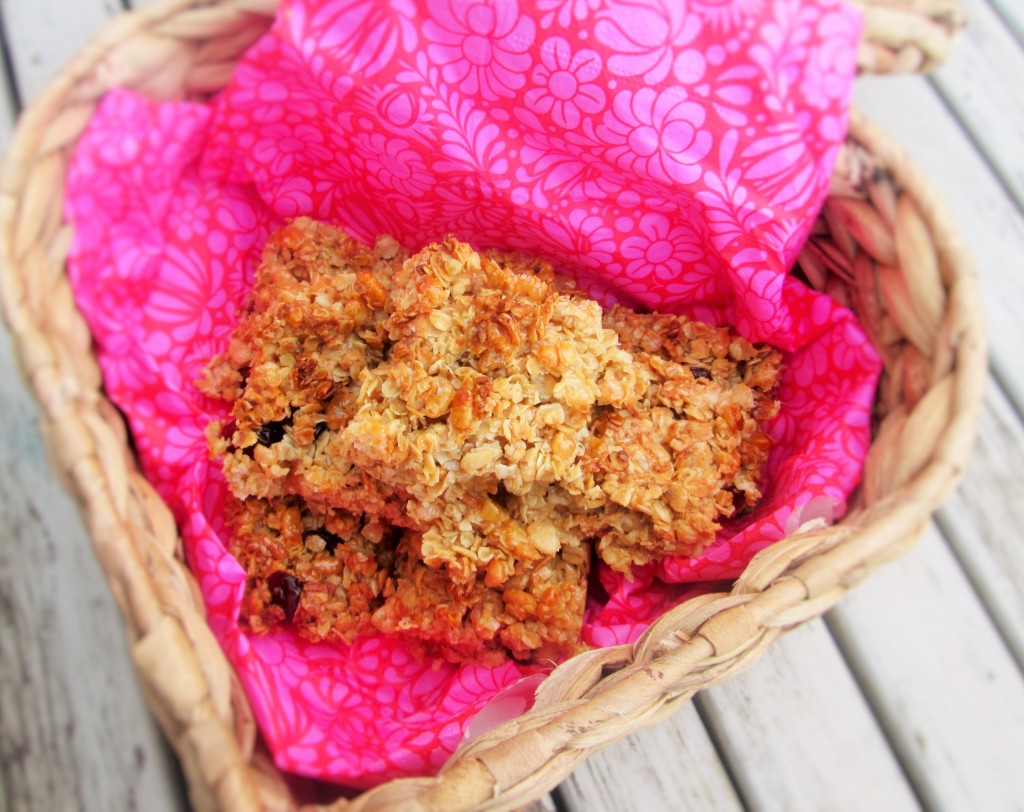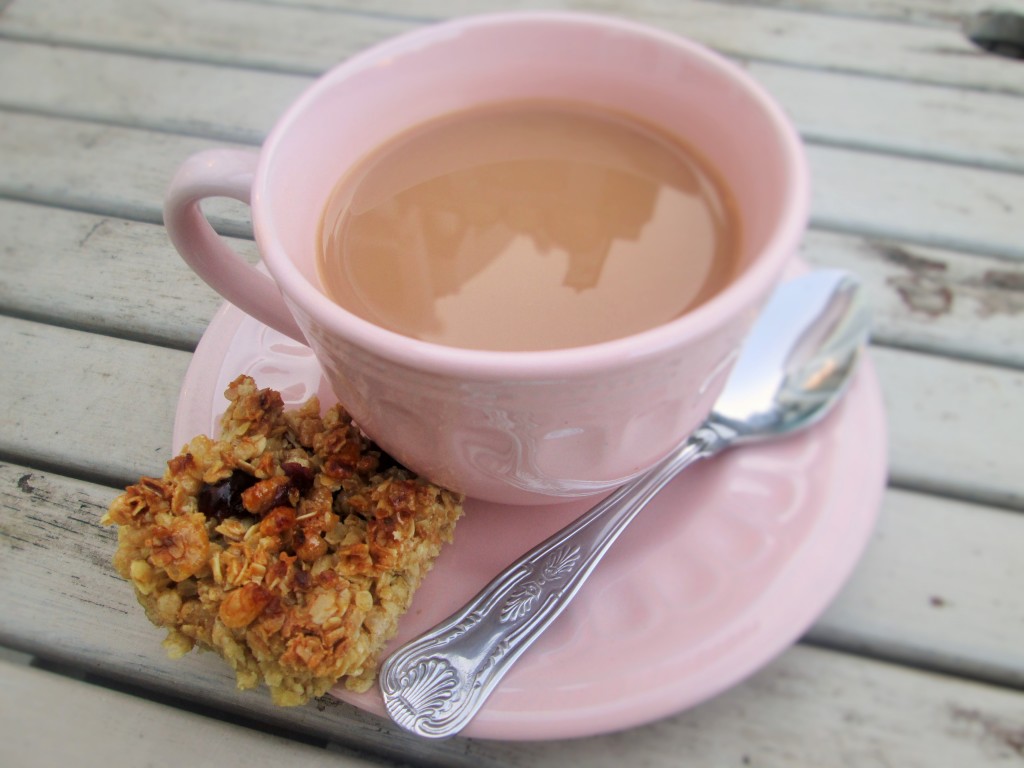 These are wonderful, sticky, almost healthy and can be laden with all your favourite things. Put them in a lunch box, have with a cup of tea or eat one from the tin every time you pass it, or is that just me?
Lucy x
Granola Bar Recipe
You will need a 8 x 8 inch (20 x 20cm) square dish or tin, lined. Makes 16 squares
Set oven to 170 degrees
55g butter
80ml honey
80ml golden syrup
1 teaspoon vanilla extract
190g porridge oats
20g Rice Krispies or Corn Flakes
1/4 teaspoon salt
40g dried cranberries, raisins, sultanas or any other dried fruit you fancy
40g chocolate chips, chopped chocolate or nuts
But do feel free to mix up any combination of the last three ingredients to suit your tastes or your store cupboard contents
Take a microwaveable bowl or saucepan and add the butter, honey and golden syrup. Heat until everything has just melted together then leave to cool for a moment. Stir in the teaspoon of vanilla. Weigh out the oats, salt, cereal, fruit and chocolate of your choice then add these to your melted ingredients. Give everything a good stir, until coated in the syrup/honey.
Press the mixture into your lined square tin and bake for around 20 to 25 minutes until golden and starting to crisp. Leave to cool in the tin for 15 minutes then, while still in the tin, cut into 16 squares. Leave until completely cool and set, then store in a tin or jar for up to a week.