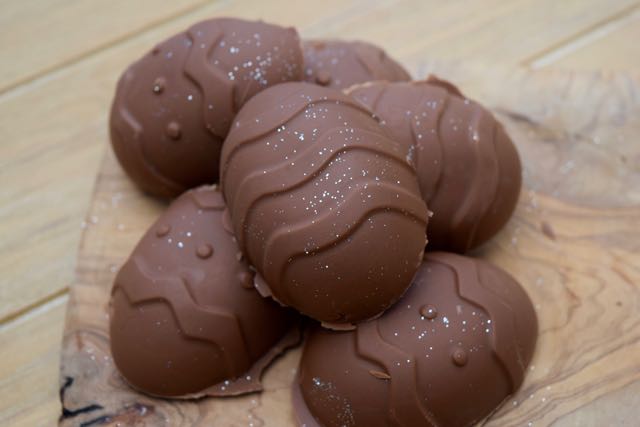 Chocolate Peanut Butter Eggs Recipe
Oh come on, it's Easter, when else can I flog yet another recipe containing the ultimate salty sweet combo of chocolate and peanut butter. They are just such perfect bed fellows and they're shaped like an egg. If I eat nothing else this Easter in the chocolate department, it will be these Chocolate Peanut Butter Eggs. They are based on the popular American peanut butter cups I frequently spend a fortune on for the boys *and by boys, you all know I mean me*. As I am trying to limit my intake of all things sugary and chocolatey at the moment, creating this post was pure torture. I fell right off the diet wagon with a bump during the making of these treats, but I will confess, it was so bloody worth it.
I will admit this recipe is not kerfuffle free. I was never very good at craft and messy play with the boys when they were toddlers. This sort of elbow deep in stickiness was reserved for when they were at nursery. However, it's worth getting melted chocolate in your hair for the sake of the end result which is a rich chocolate egg filled with soft, salty sweet peanut joy. This recipe doesn't even involve cooking, just some melting, spooning and stirring. Oh and some moulding and some eating of huge mouthfuls of the mixture to ensure it is of good quality. Which I, and my hips, can confirm it is. This super tasty recipe comes via the helpful Creative Savings website, with thanks.
If you are slightly phobic about getting messy in the kitchen this is a great recipe to get your children or family involved in. Small hands are perfect for spooning chocolate into moulds but do keep an eye on how much they are eating, you don't want them muscling in on your share of the goodies.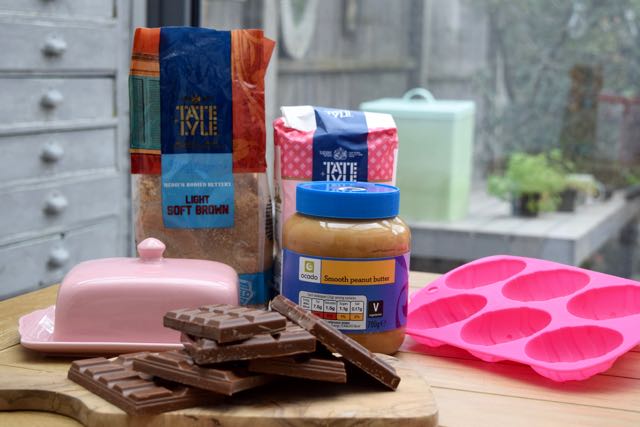 What a decadent selection of ingredients for these Easter treats. All minus the salt, which I am hoping to convince you is hidden behind that pile of chocolate. Which of course it is.
Make a start by taking your chosen moulds. I got these from Amazon and they are fab and totally non-stick, which is helpful. If you don't have these, a muffin tin would also work. Butter, oil or spray coat these to stop them sticking.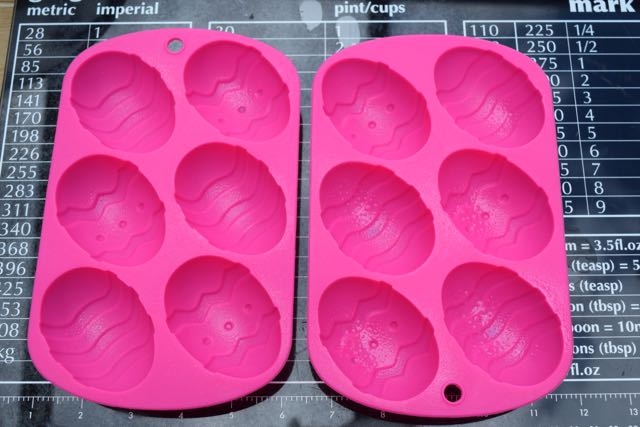 I, of course, chose the bright pink ones in my house of all things grey and boyish. 
Now take a large glass bowl and melt the chocolate and the 30g butter in short bursts in the microwave or over a pan of simmering water until just melding together. Once fully melted, stir until glossy and smooth.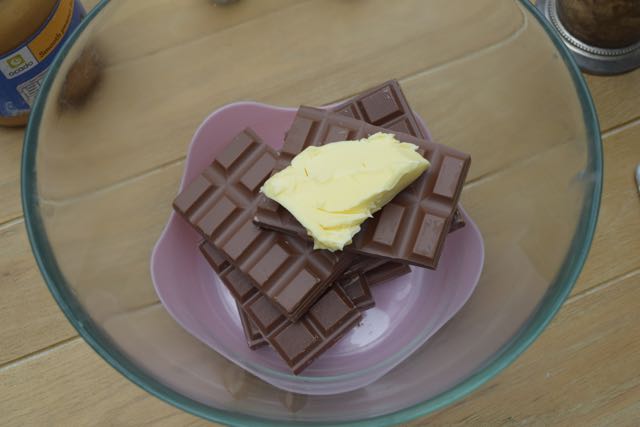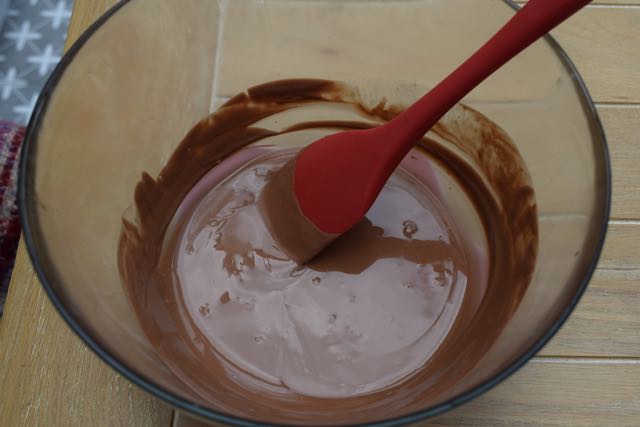 Carefully spoon the melted chocolate into your chosen moulds. This is where it can get messy if you are quite crap at this sort of thing *me*. Ensure the bottom is well covered and there is a layer of chocolate up the sides of your moulds.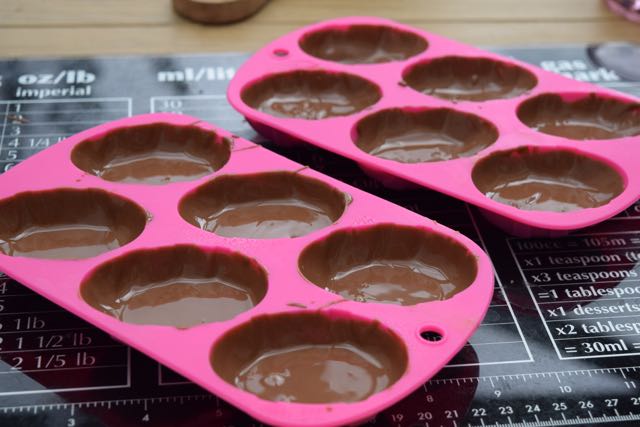 Pop these in the fridge to set for around an hour while you crack on with the filling.
In a saucepan, or microwaveable bowl, add the peanut butter, 60g butter and brown sugar and place over a low heat or microwave in short bursts to melt.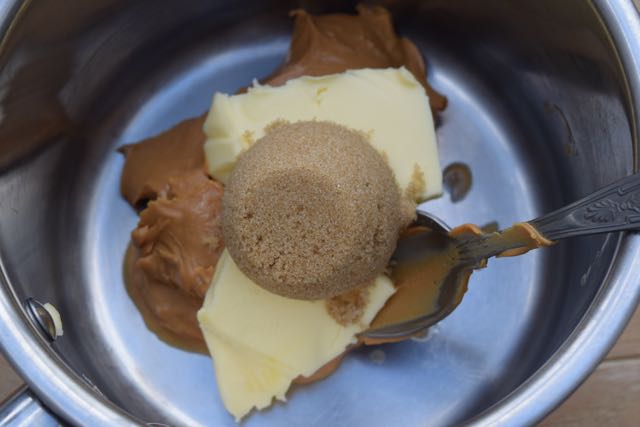 Once melted, gradually sift in the icing sugar, a third at a time. I never usually bother sifting, but you don't need any big lumps of unmixed in icing sugar here. Add a pinch of salt then beat this warm pan of amazingness until smooth.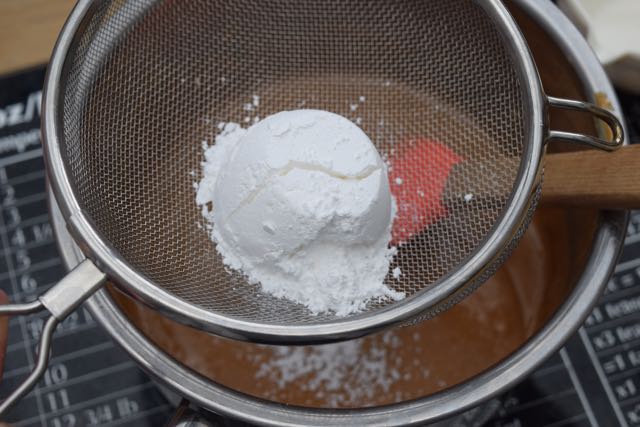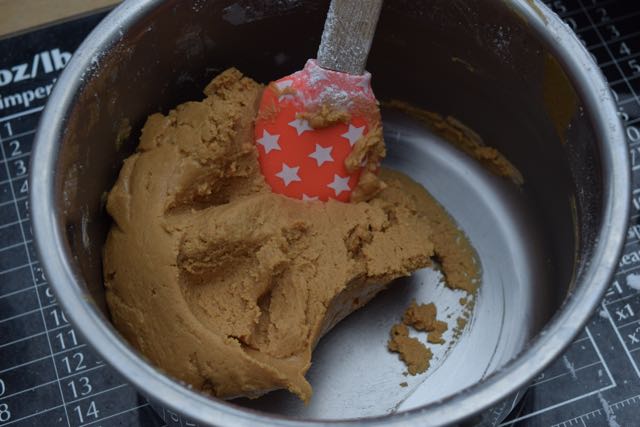 Leave to cool completely, trying desperately not to eat the whole damn panful.
When your chocolate moulds are set, remove them from the fridge and fill with spoonfuls of the now cool peanut business.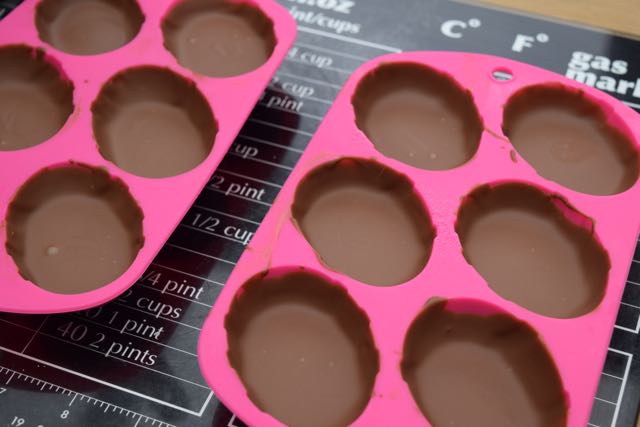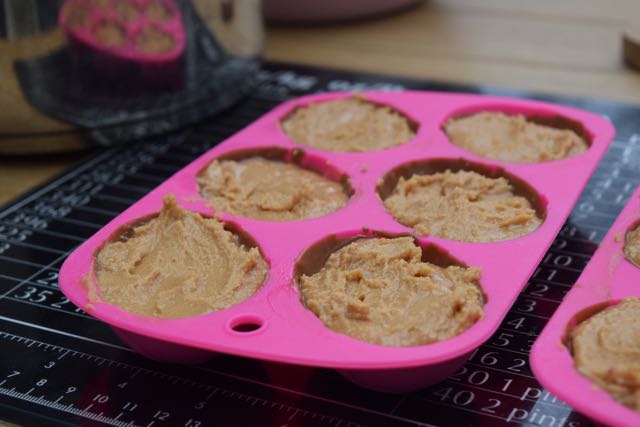 I rather over filled mine in a bid to get value for money from my Chocolate Peanut Butter Eggs, err on the under-filled side to ensure you have enough room to top them with chocolate. Next, top the peanut butter mixture filled recesses with the last of the melted chocolate.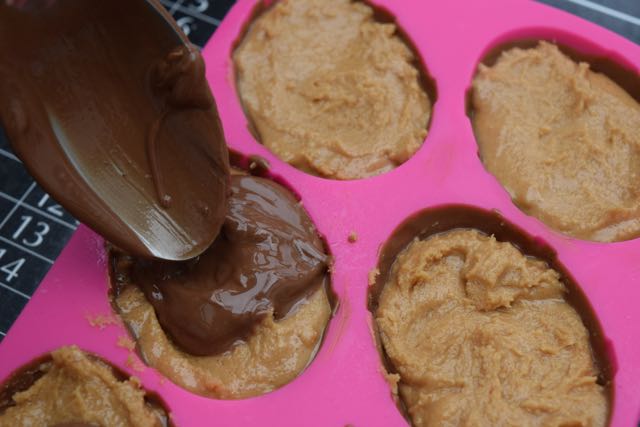 Pop these rough diamond *messy* creations back into the fridge for another hour to set fully.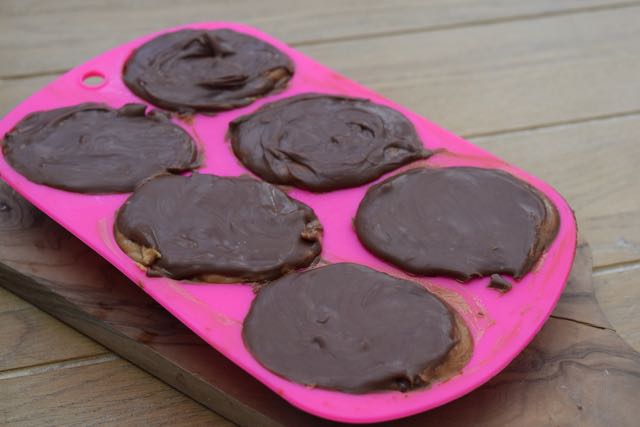 At this point I thought – these are going straight in the bin *shovelled into my mouth* before anyone sees what a balls-up they are. But lo and behold, once they are popped out of the moulds my Chocolate Peanut Butter Eggs looked pretty good/passable once fully edible glittered up.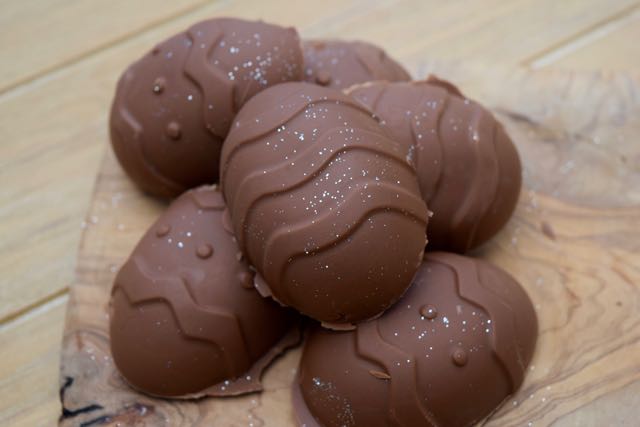 Pop a decorative chick beside them for extra Easter festive cheer.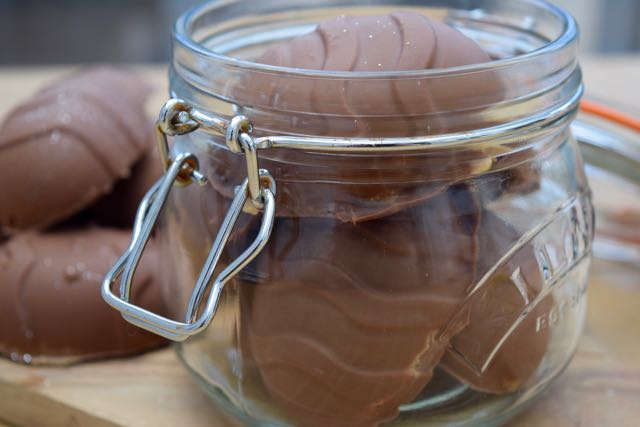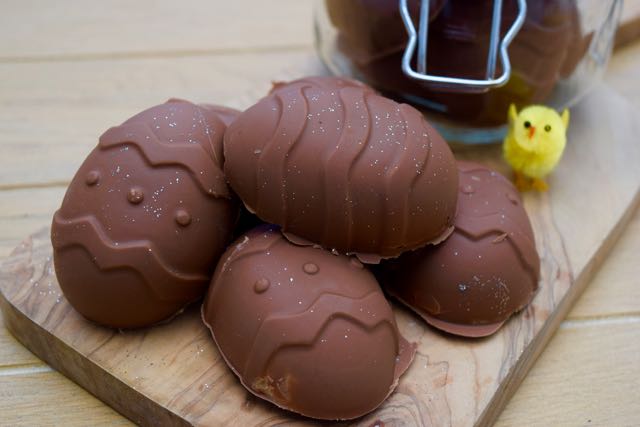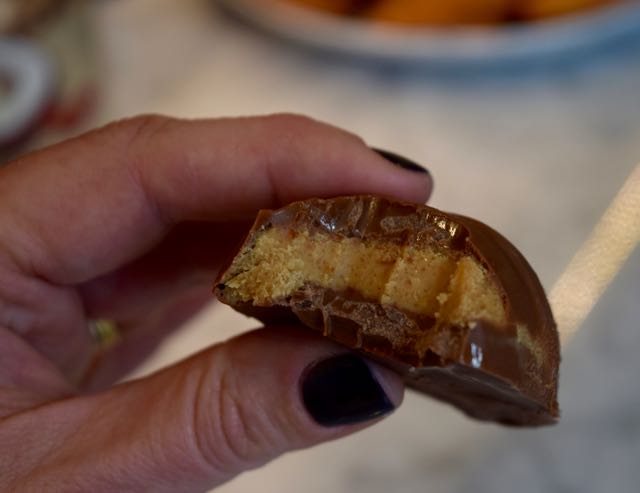 These Chocolate Peanut Butter Eggs are divine. Rich, smooth, salty, sweet, huge and chocolatey, everything I adore in a once-in-a-while treat. They give the popular American peanutty chocolate goodies a run for their money and what a bonus *dangerous* to be able to make your own rather than have to trek to the shops to buy them.
Lucy x
This post contains an affiliate link to Amazon. If you buy the moulds through this link, Lucy Loves, at no extra cost to you, will receive a tiny commission to help fund my blog.
Chocolate Peanut Butter Eggs Recipe
You will need some silicone egg moulds or muffin tins
Makes 12 halves
400g chocolate, milk, dark or a mixture of both
30g butter
250g peanut butter
60g butter
50g soft brown sugar
160g icing sugar, sifted
a pinch salt
Take your silicone egg moulds or muffin cups and butter, oil or spray release very well.
Melt the chocolate and 30g butter in a heatproof bowl either in the microwave or over a pan of simmering water.  Spoon the melted chocolate into the eggs or muffin tins and coat the sides and bottom with the melted chocolate. Be generous here, you need a good coating. Put these in the fridge to set for at least an hour.
Take a saucepan and add the peanut butter and brown sugar. Stir well and bring up to the simmer briefly until the sugar has just dissolved. Fold in the sifted icing sugar, a little at time, along with a pinch of salt. Beat the mixture until smooth and firm-ish then leave to cool completely.
Once the chocolate shells have set, remove from the fridge and spoon in a generous amount of the peanut butter mixture. Press down with your fingers until the top is level. Leave space for a final layer of chocolate.
Using the rest of the melted chocolate, cover the tops of the eggs with the final layer of chocolate. Put back in the fridge for at least another hour to set completely. Chomp through the whole dozen or they will keep in the fridge for at least a week.