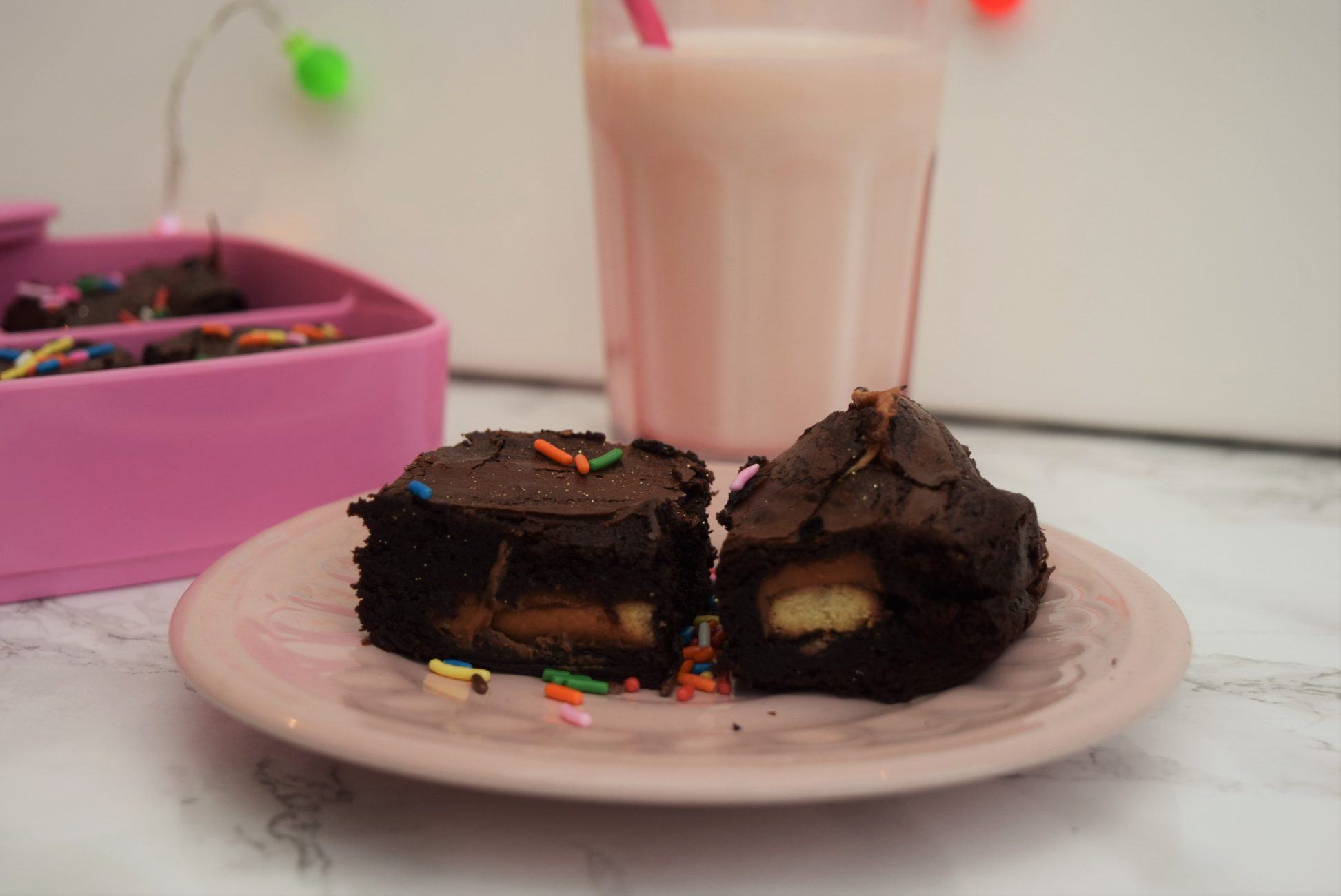 Chocolate Stuffed Brownies Recipe
Oh no, not another Brownie recipe I hear you cry? Or am I so hysterically overtired I'm now hearing strange voices in my head. I don't think you can ever have too many brownie recipes, in answer to the voices in my head. And this Chocolate Stuffed Brownie recipe is really just a brilliant way to use up any left over Halloween chocolate bars.
George hoards his stash of trick or treating loot for weeks. Days after 31st October he can be seen sitting in a pool of sweetie wrappers, so I do try and relieve him of quite a large amount of the confectionary for fear he will lose every single tooth in his mouth. Rather than stuff my face with his pilfered chocolates, I decided to try an idea I'd seen on Pinterest last year. This idea is to simply make your favourite brownie recipe then layer fun sized chocolate bars in between the batter. I used the brownie base from my Salted Caramel Brownies because it's easy and super delicious. Then all I did was lay some mini Mars, Bounty, Twix and Milky Way into the mixture. What could be more brilliant, quick and downright useful on the getting rid of leftover chocolate front. I can't bear waste, so this recipe really appeals to me, not that chocolate would ever really go to waste in our house. But I do feel by hiding them in a Brownie recipe, I might not end up eating them all myself.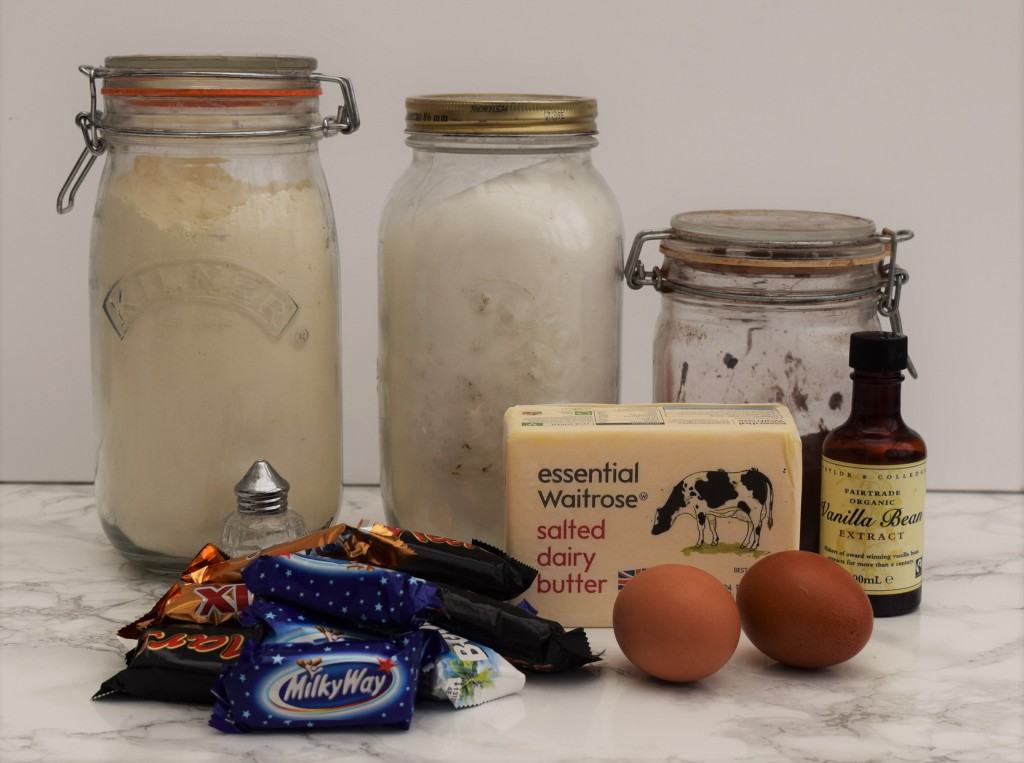 Here's the drill for these Halloween left overs Brownies. All wonderfully simple and made in one bowl, my favourite recipes are light on washing up.
Make a start on these sweet treats by pre heating the oven to 160 degrees fan assisted and lining a 20cm by 20cm square baking pan. Then put the butter, sugar, cocoa and salt in a heat proof bowl.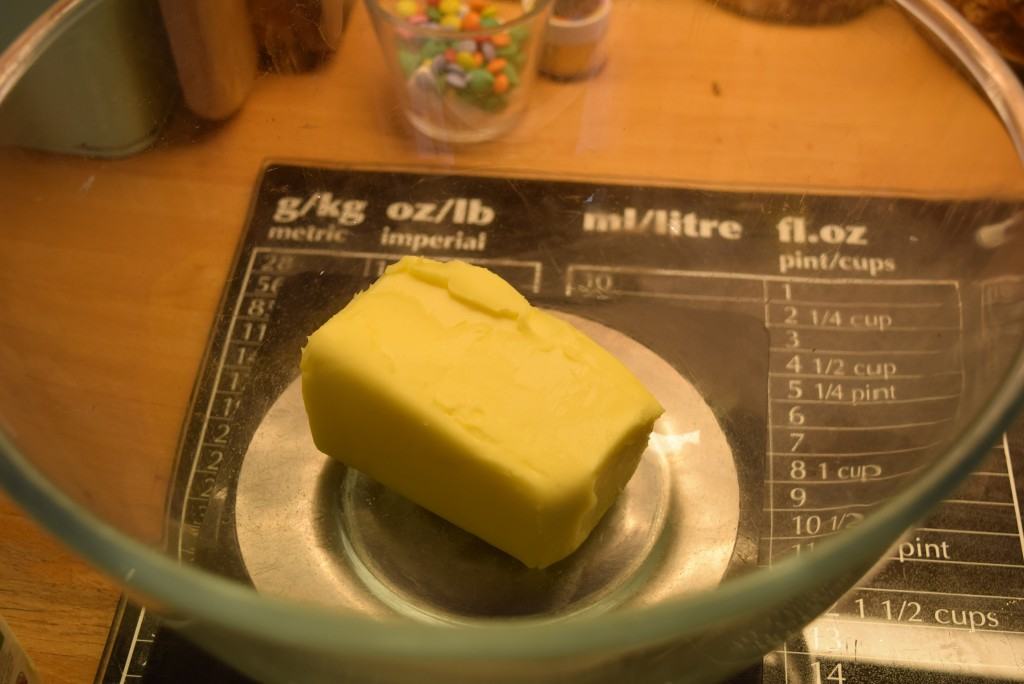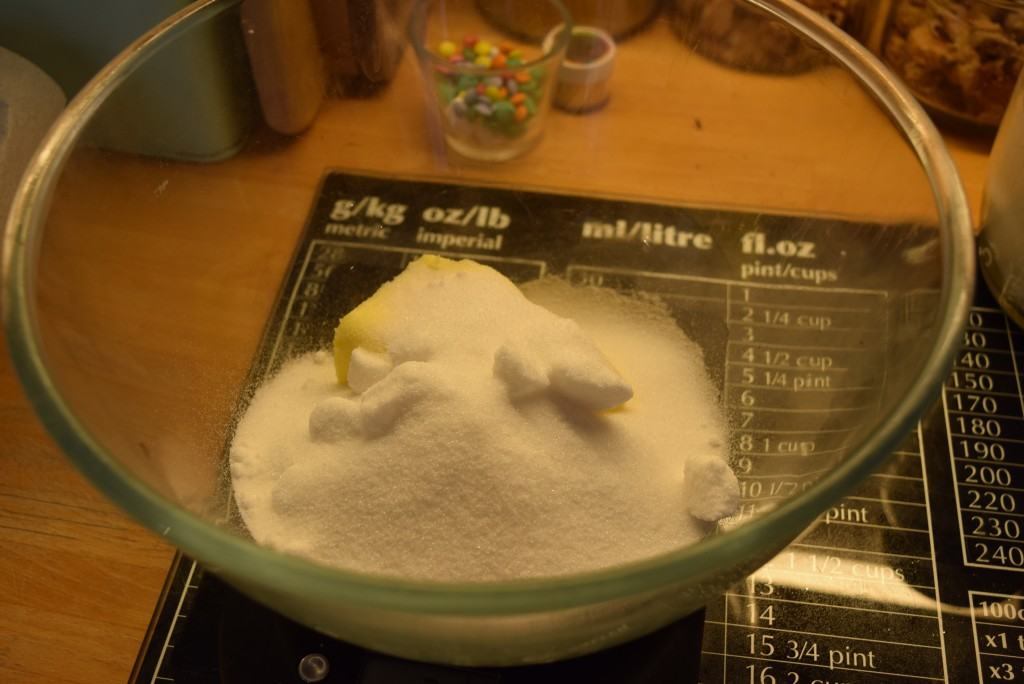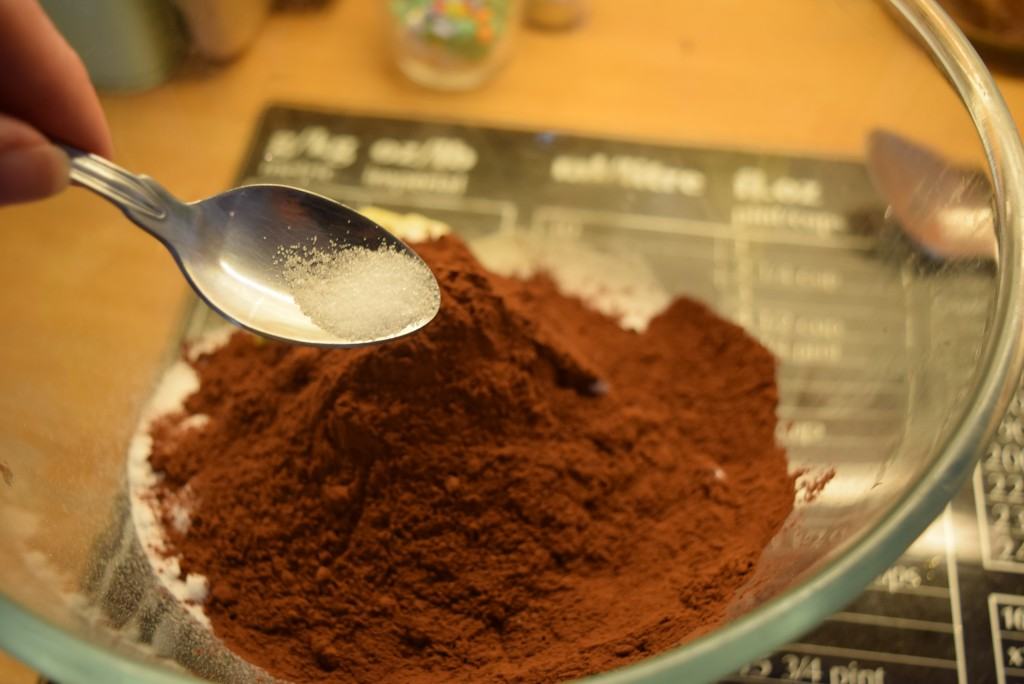 Pop this lovely combination into the microwave for about a minute and a half or in my case, as my microwave had died right in the middle of making this recipe, place the bowl over a pan of simmering water. Once the butter has melted, take the bowl from the pan of water or out of the microwave and stir so the ingredients are well mixed.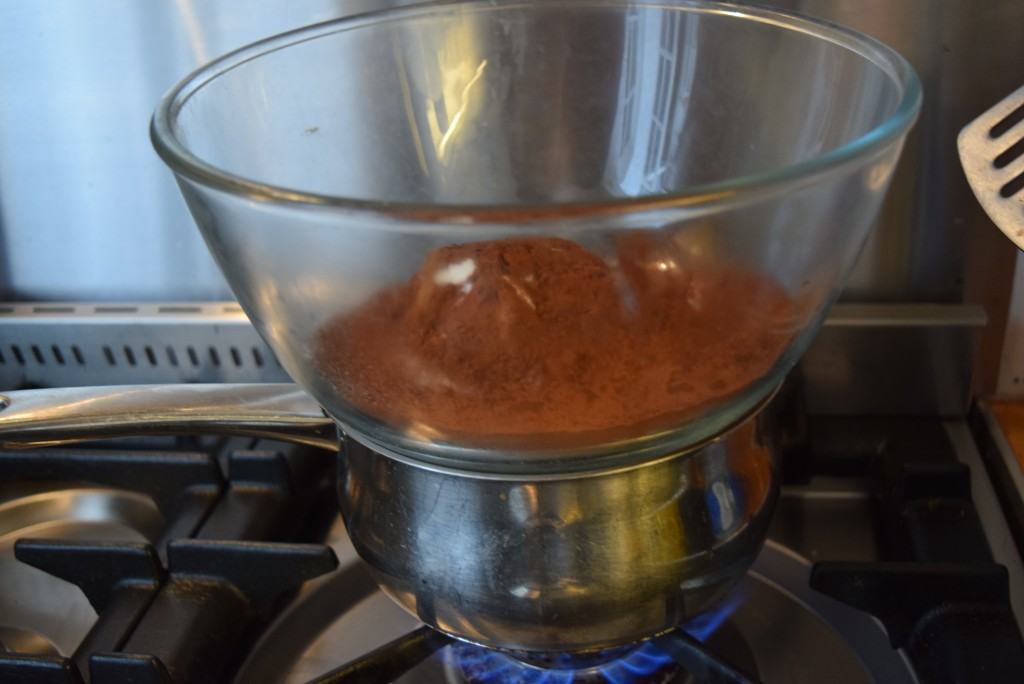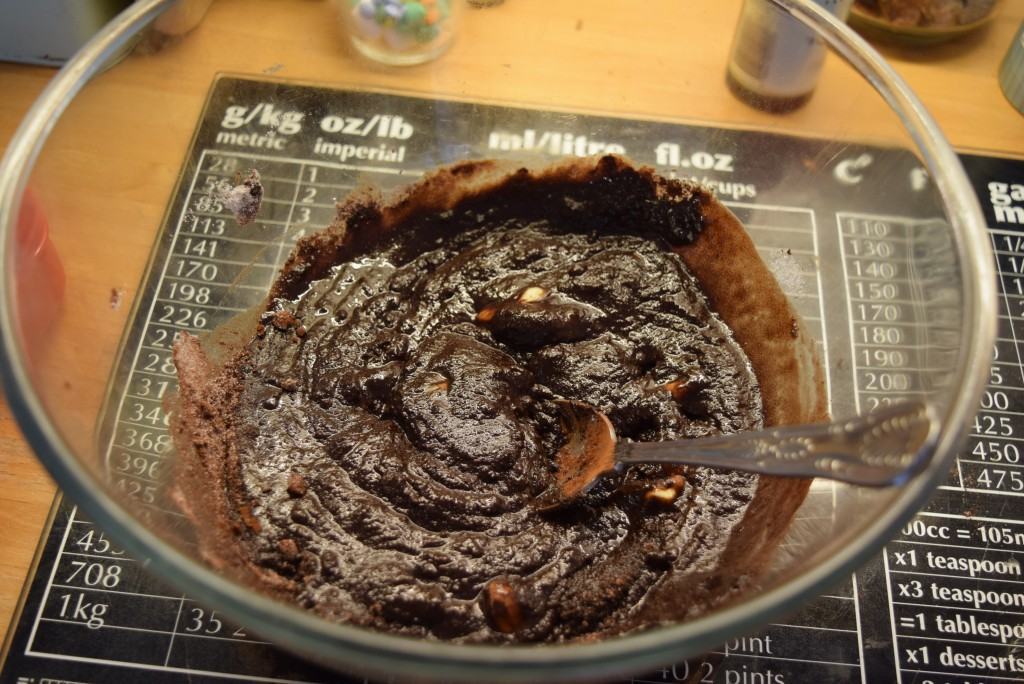 Not terribly tasty looking as yet, but don't lose heart.
Next, flavour your Brownie batter with vanilla extract then pour in the two beaten eggs, one at a time, and give this all a good beat until you have a smooth shiny batter.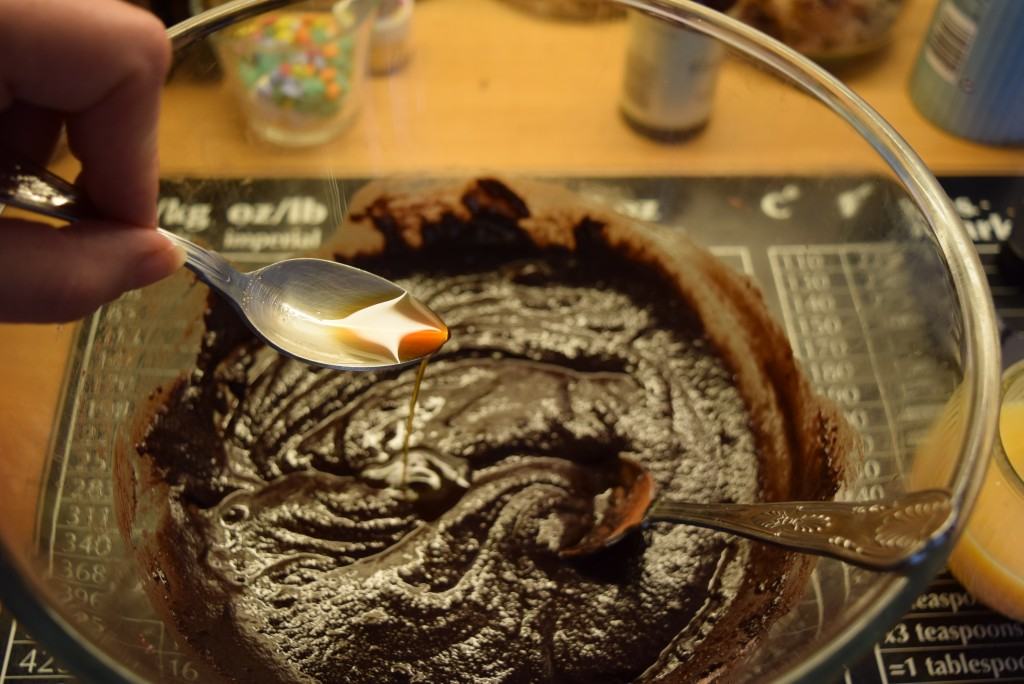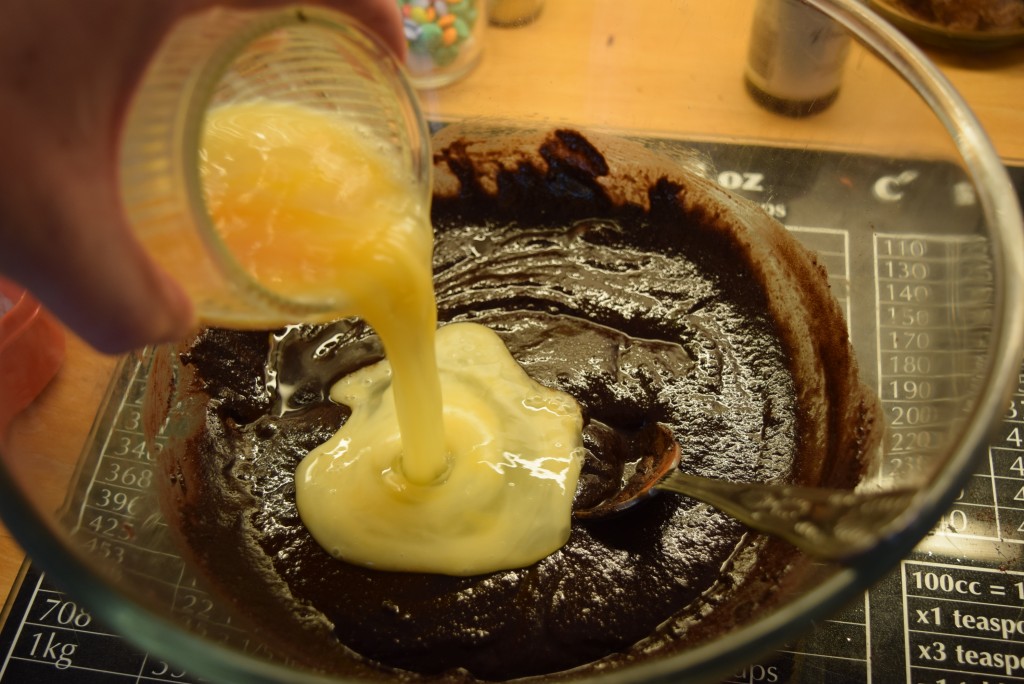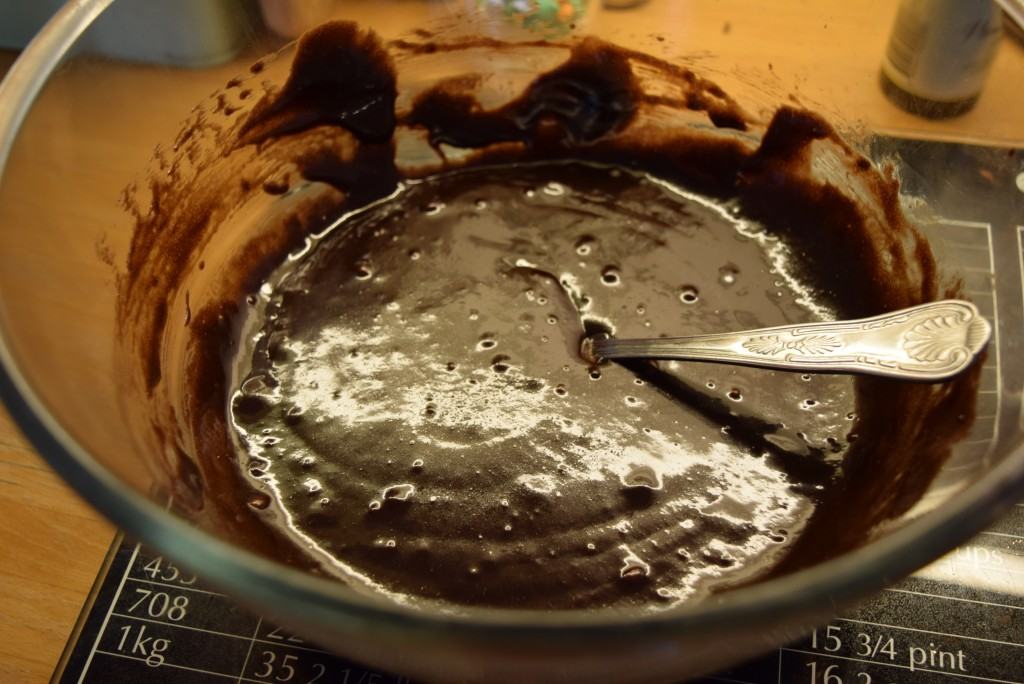 Lastly, fold in the flour and salt and give it a final beating then you are ready to layer up your Brownies.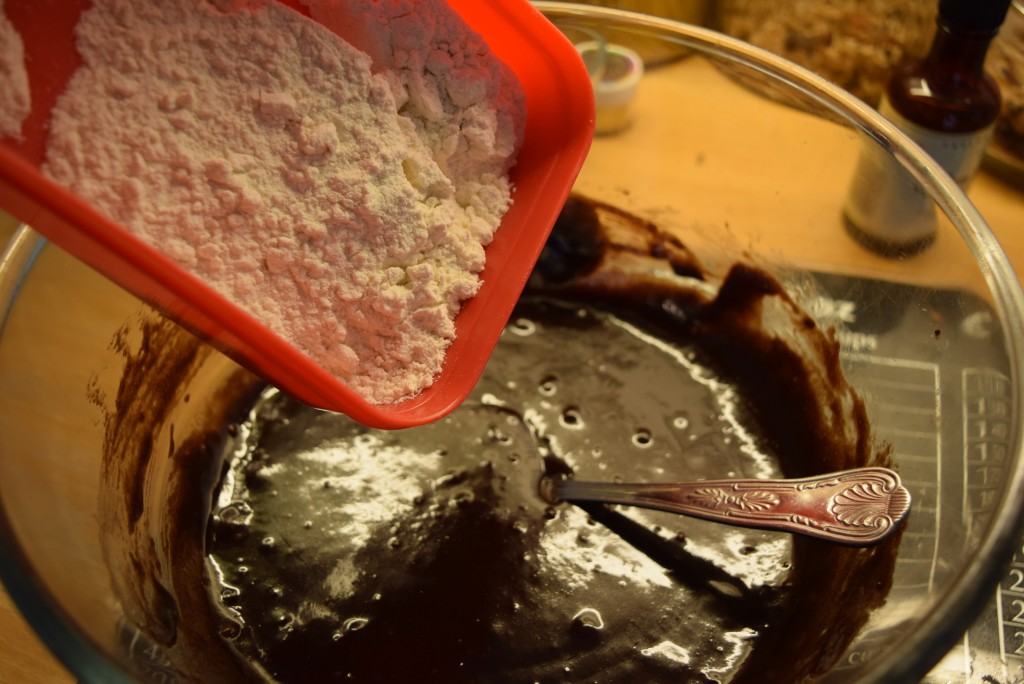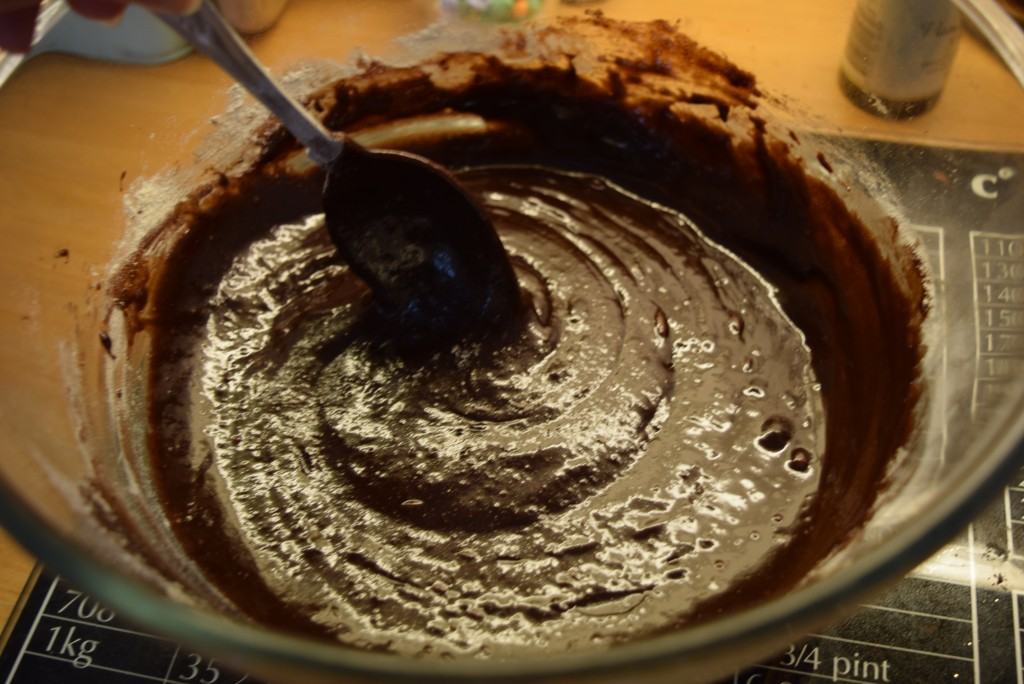 Pour half the batter into the bottom of your lined square tin, then drop in your unwrapped chocolate bars. I  used about 10 *ate about 4*.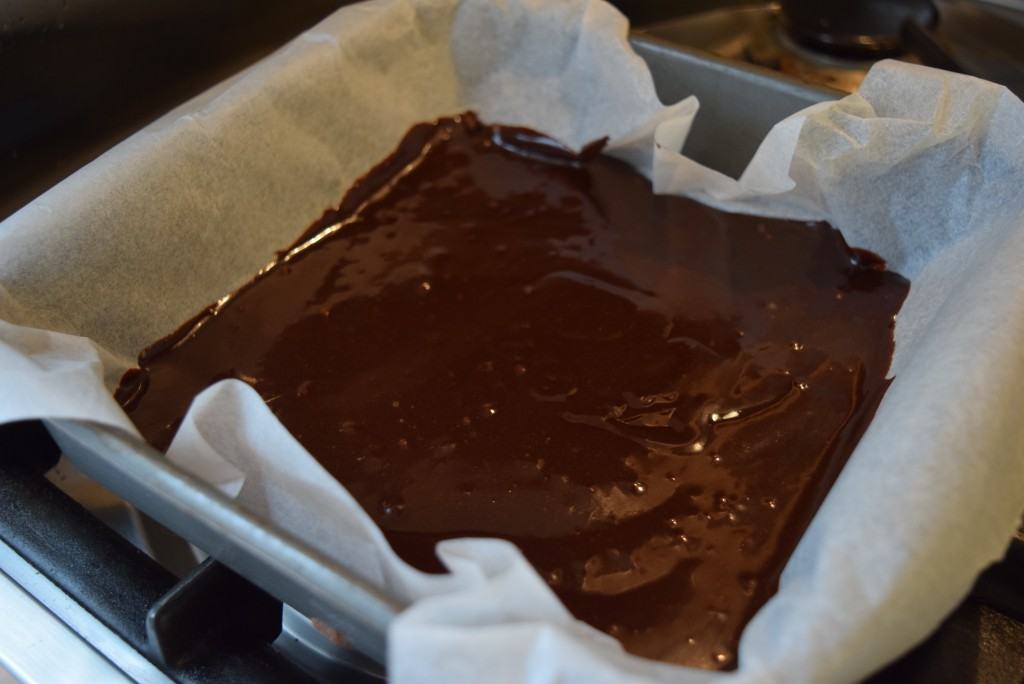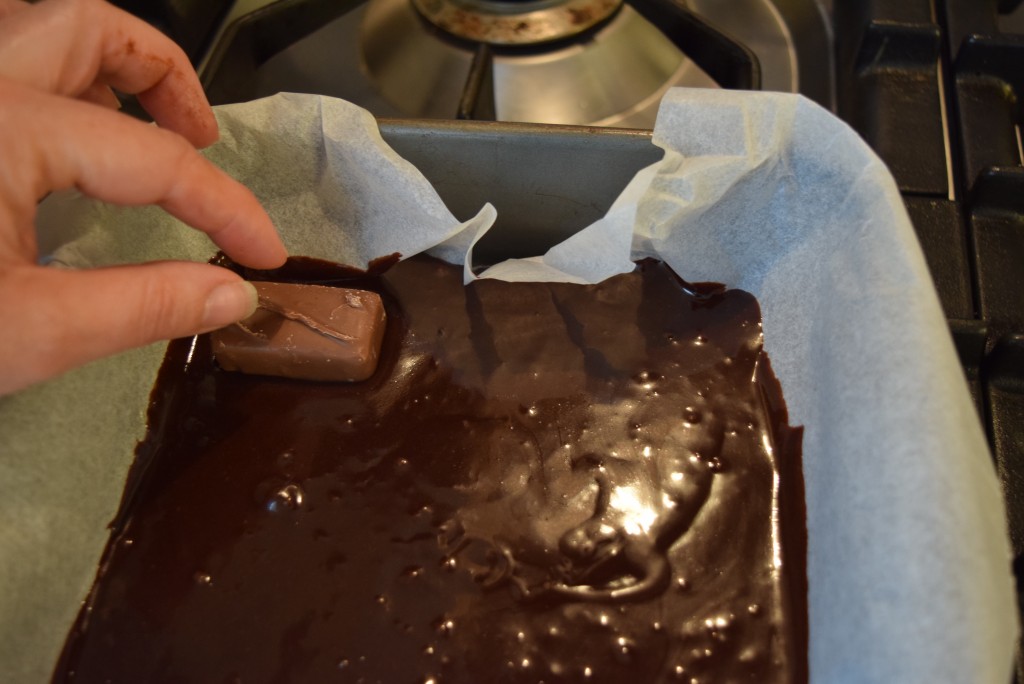 Mucky pup.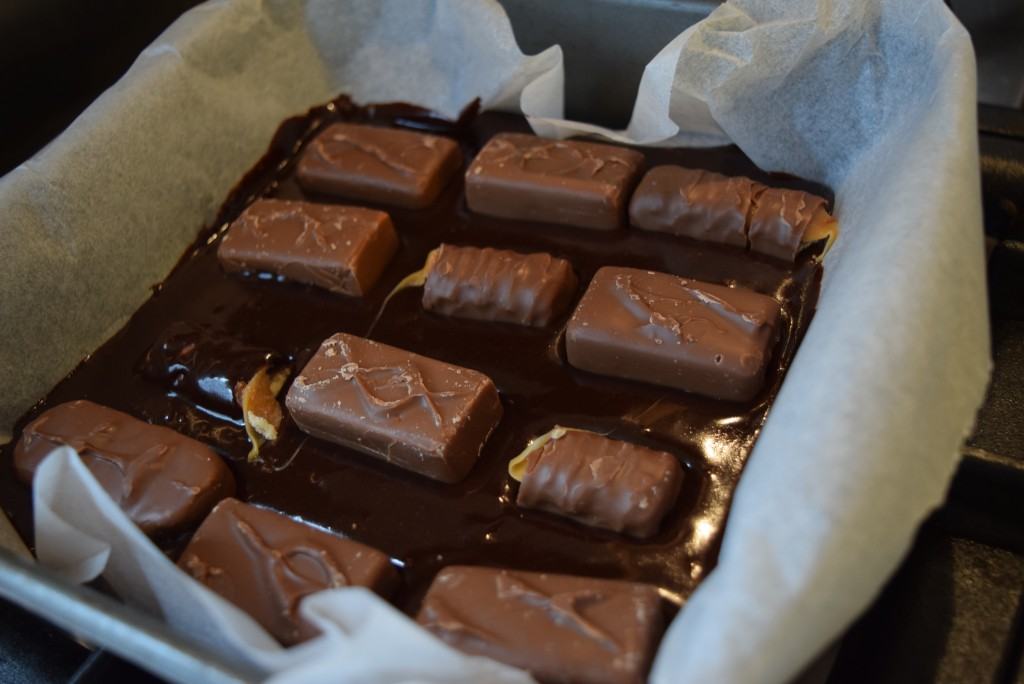 Once your batter is choc full of chocolates, pour on the remaining batter and smooth the top to cover the now hidden treats.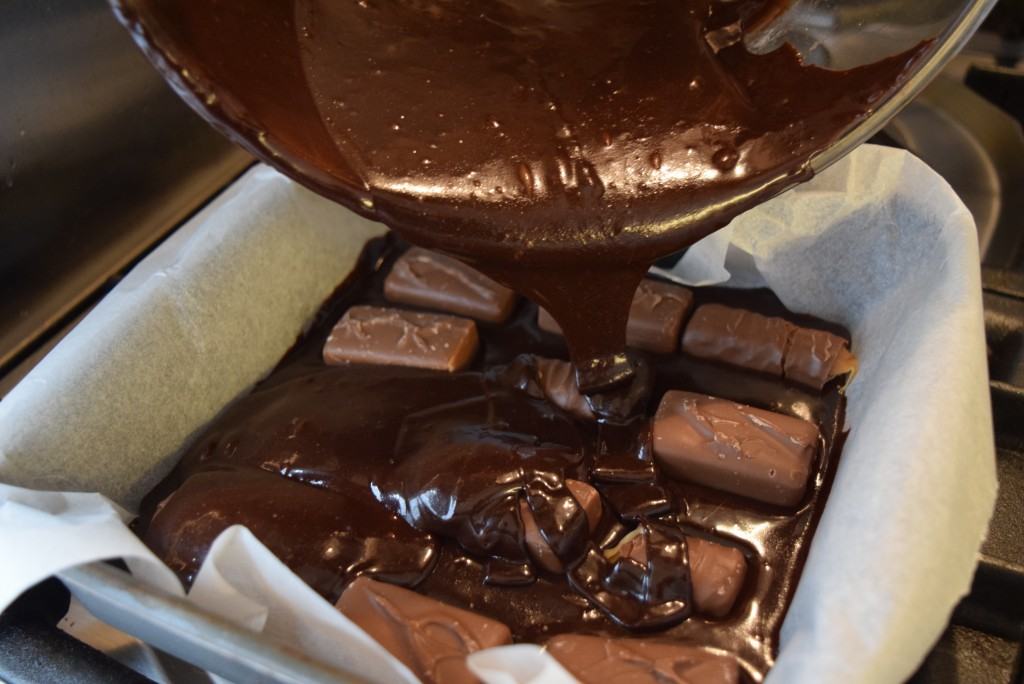 Brownie porn.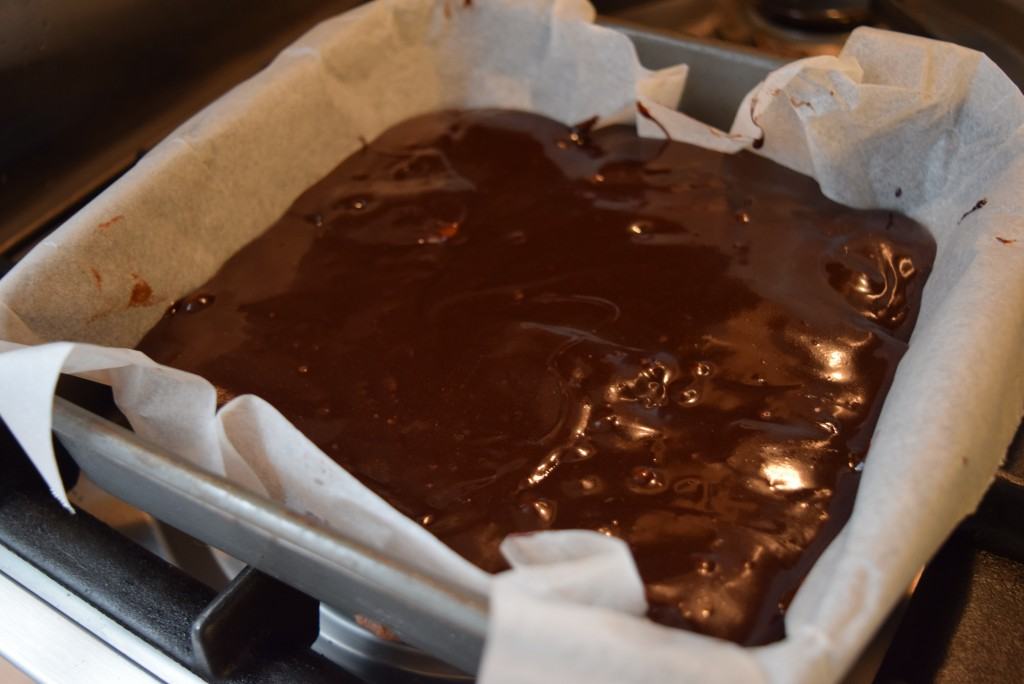 Pop this tray of loveliness into the pre heated oven for 20 to 25 minutes. You may need a little longer dependent on your oven. These Chocolate Stuffed Brownies are cooked when they are firm to the touch and starting to brown.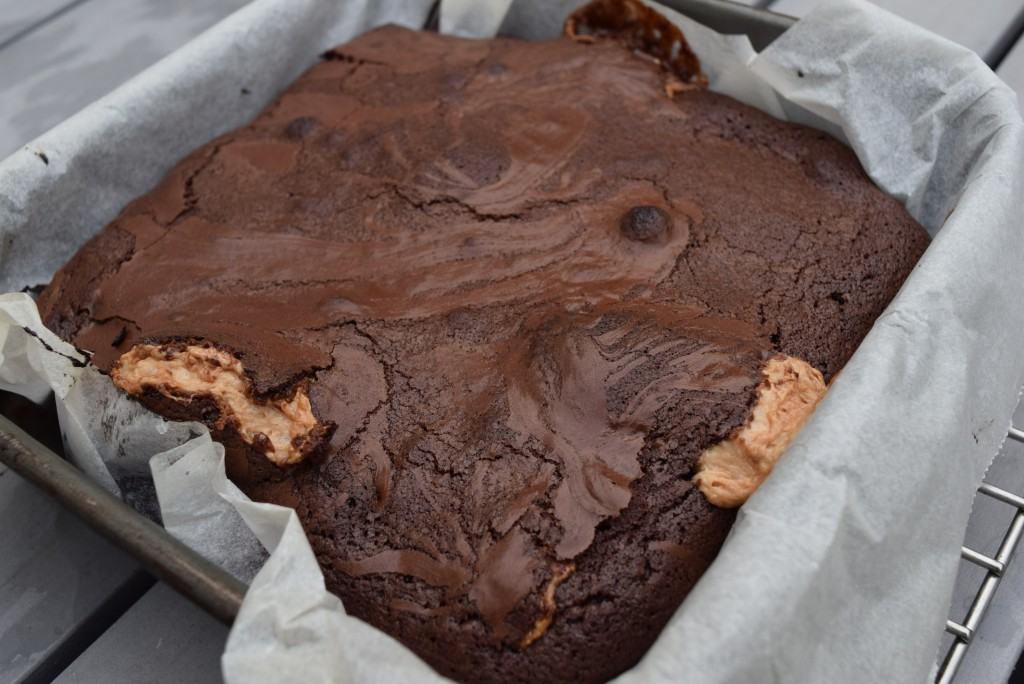 Look how a couple of Milky Ways had tried to make a break for the border.
Leave this filled slab to cool before cutting into meagre niblets or super generous squares.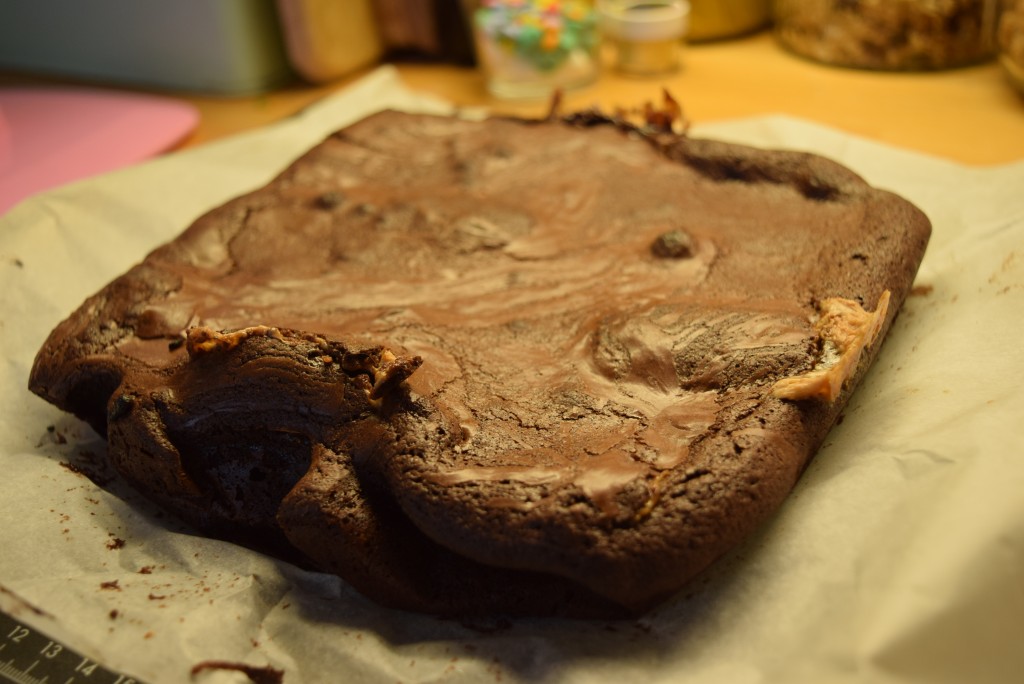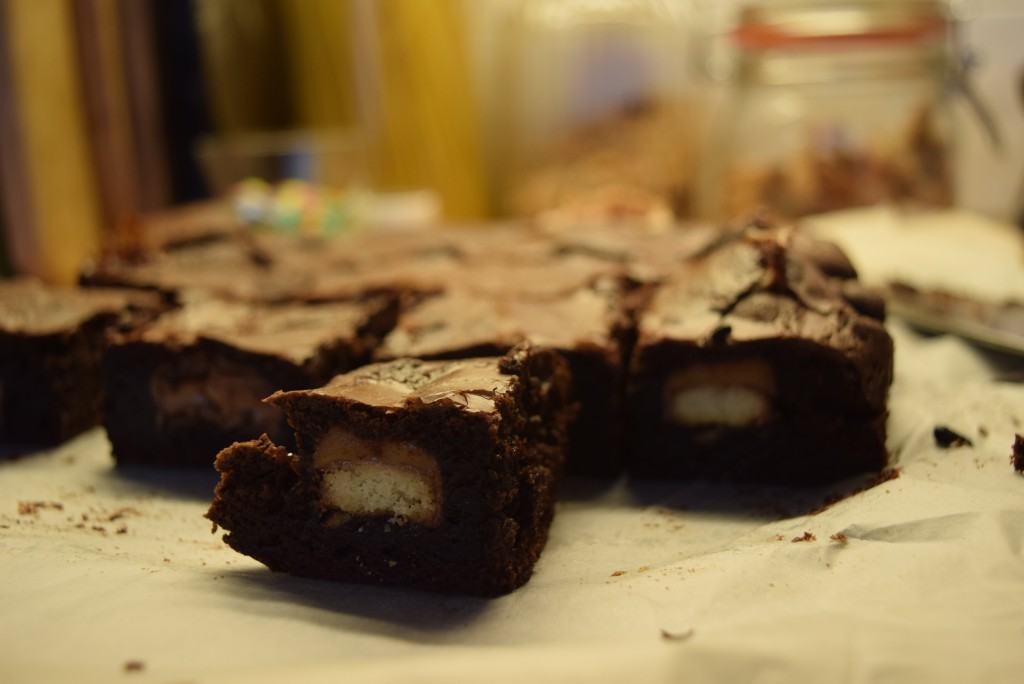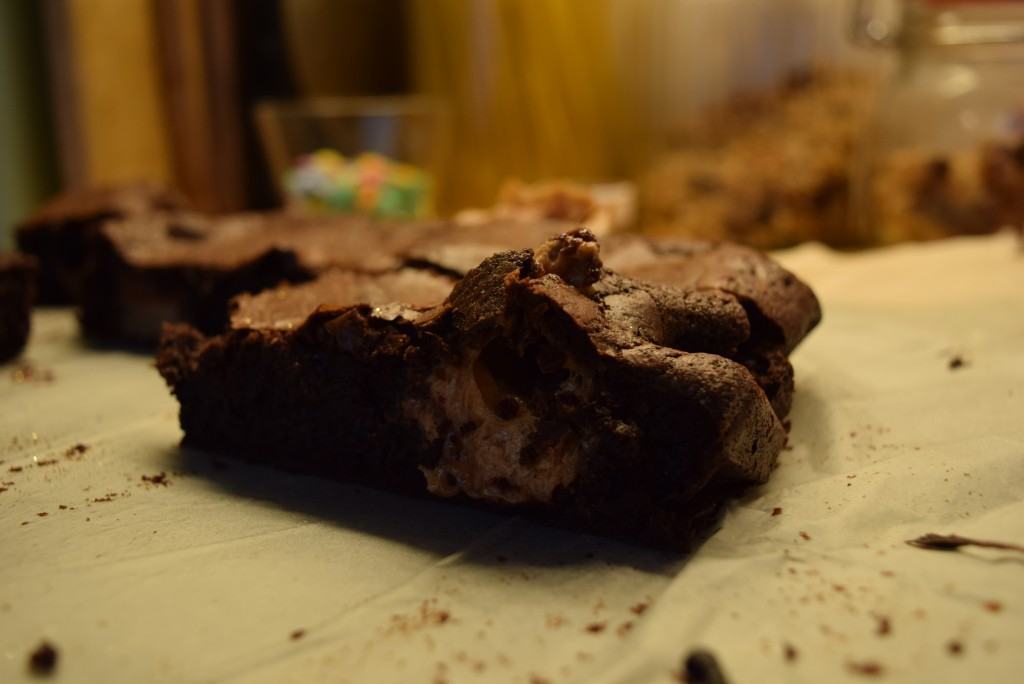 These are such tasty and exciting Brownies, I can't bear it when people call food 'fun' but I have to say these are quite amusing as each bite contains a mystery chocolate bar. For extra fun add edible glitter and sprinkles.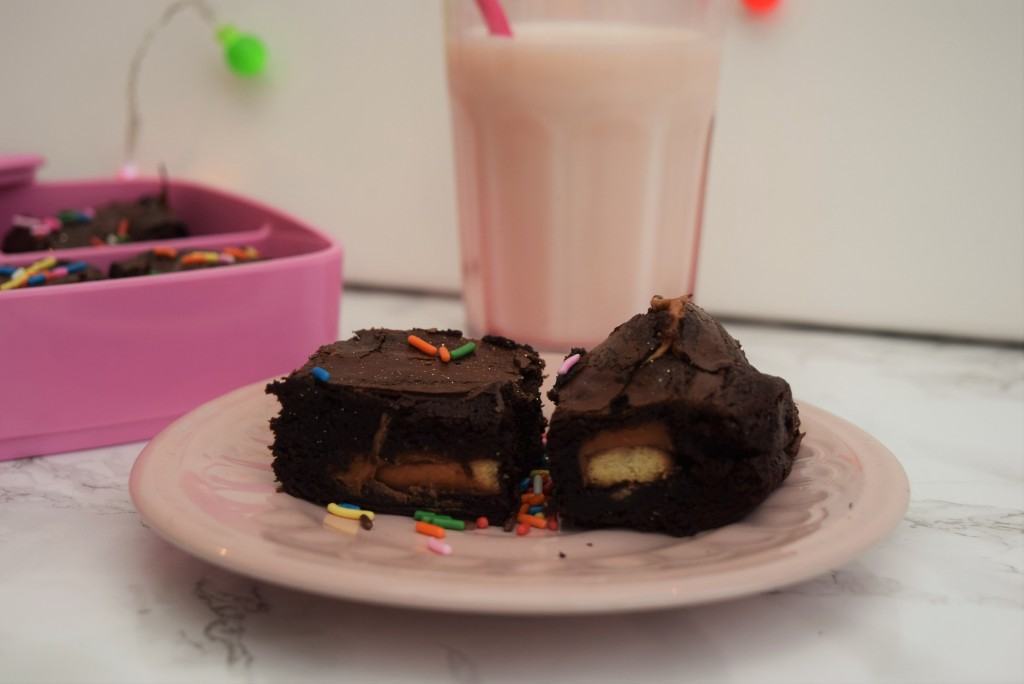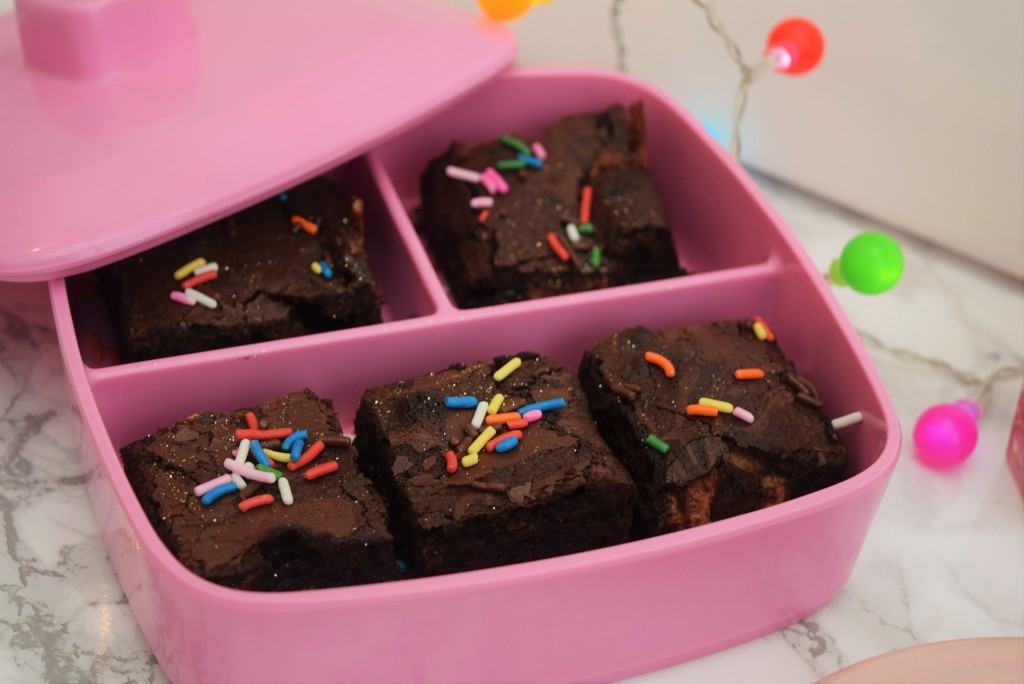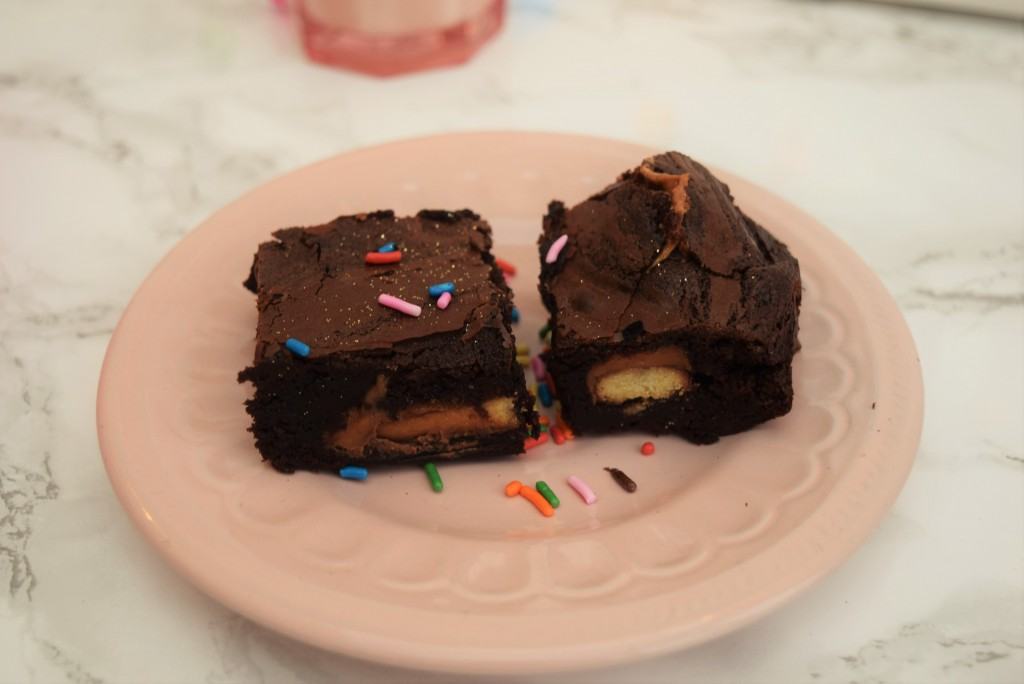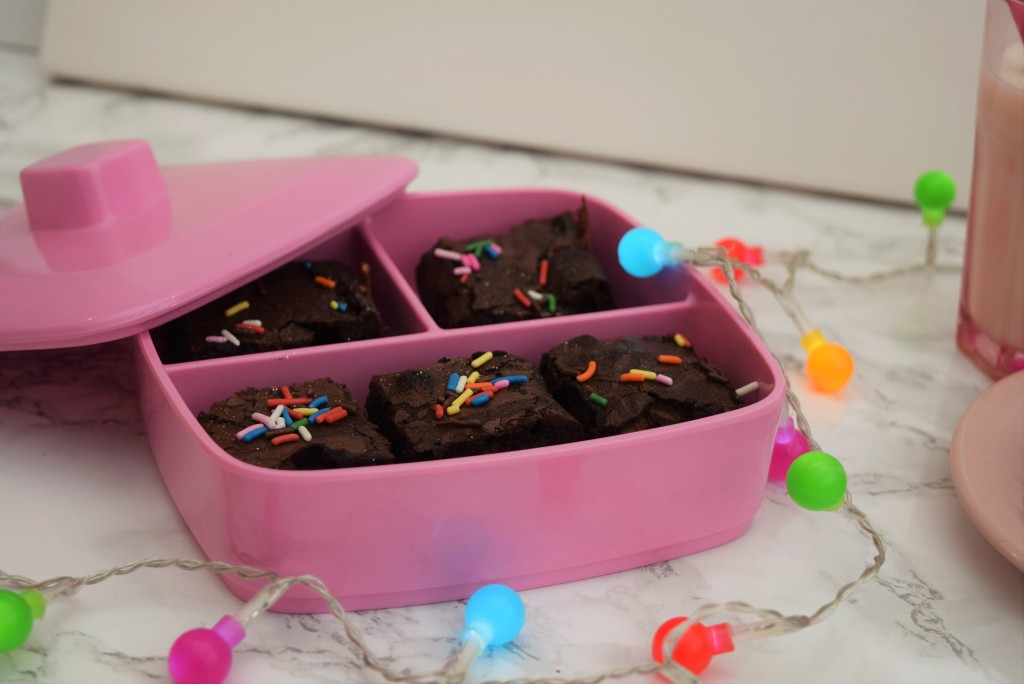 I love these, they really do tart up a standard Brownie and turn them into something super special. And they use up left over chocolates, so they are in a sense recycled. This then makes them good for you, surely? Anyone? No, just me then.
Lucy x
Chocolate Stuffed Brownies Recipe
Makes 16 to 20 squares
You will need an 20cm x 20cm square tin and a big bowl
150g Butter
250g caster sugar
60g cocoa powder
1/4 teaspoon table salt
1 teaspoon vanilla extract
2 eggs
65g plain flour
8 to 10 fun sized chocolate bars or chocolate sweet treats
Line a 20cm x 20cm tin with baking paper and pre heat the oven to 160 degrees fan assisted
Take a heat proof bowl and add the butter, sugar, cocoa and table salt. Heat in the microwave for around a minute and a half or over a pan of simmering water until the butter has melted. Stir so all these ingredients meld together. Add the vanilla extract then whisk in the beaten eggs one at a time. Fold the flour into the mix then give it a quick beat to ensure everything is well mixed.
Pour half the brownie mixture into a thin layer in the bottom of your lined tin then unwrap your fun sized chocolate bars. Pop these treats into the layer of brownie batter then cover the top with the rest of the brownie mixture. Smooth over the top to ensure the bars are covered then put the tin in the oven for 20 to 25 minutes. The brownie should be set and firm but still slightly soft in the middle, so they may need an extra 5 minutes dependent on your oven.
Leave to cool then cut into generous squares. Keep these in an airtight tin for up to a week *unlikely*.