Roasted Fillet of Pork with Pomegranate Molasses Recipe
I thought long and hard about which main course to serve at my Nectar Luxury Christmas Dinner Party. I wanted show stopping without bank breaking. I chose this wonderful outdoor reared pork for several reasons. Pork is a brilliant choice as it's a great value meat but still has an air of class. Pork loin is a lower fat choice too, if you gloss over the packet of streaky bacon it's wrapped in. And finally, I chose pork for this dish because it's tastes amazing and with this presentation it gives the impression of luxury and elegance. And to add to the sense of style, I brought this stylish wooden and marble board from Sainsbury's to serve my main event on.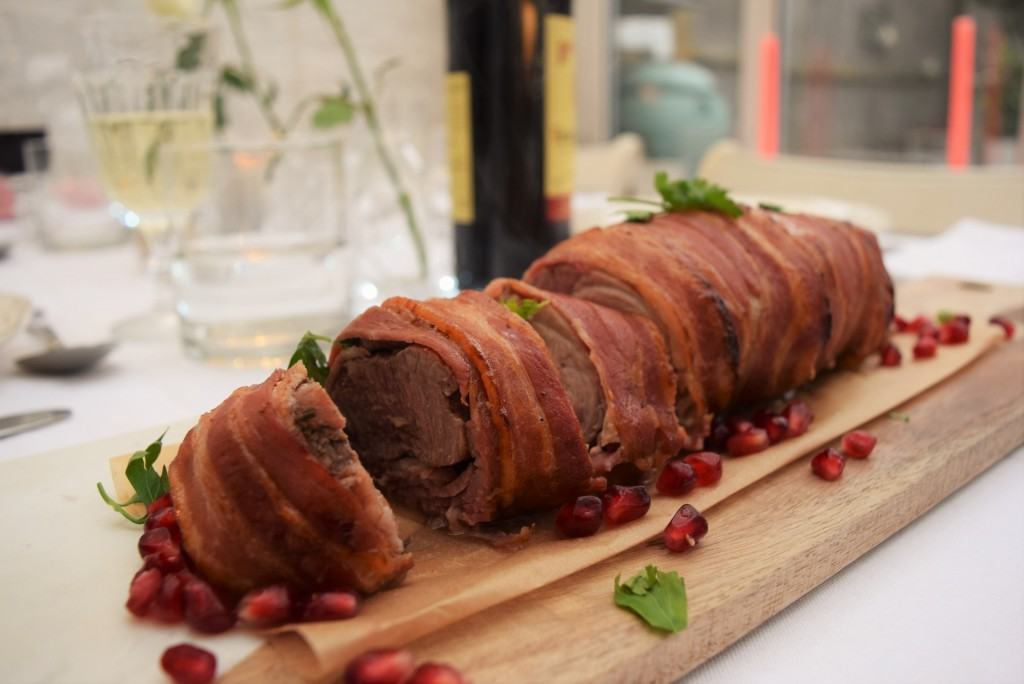 And this wonderful Atlantis Cutlery from Argos with which to devour the dish.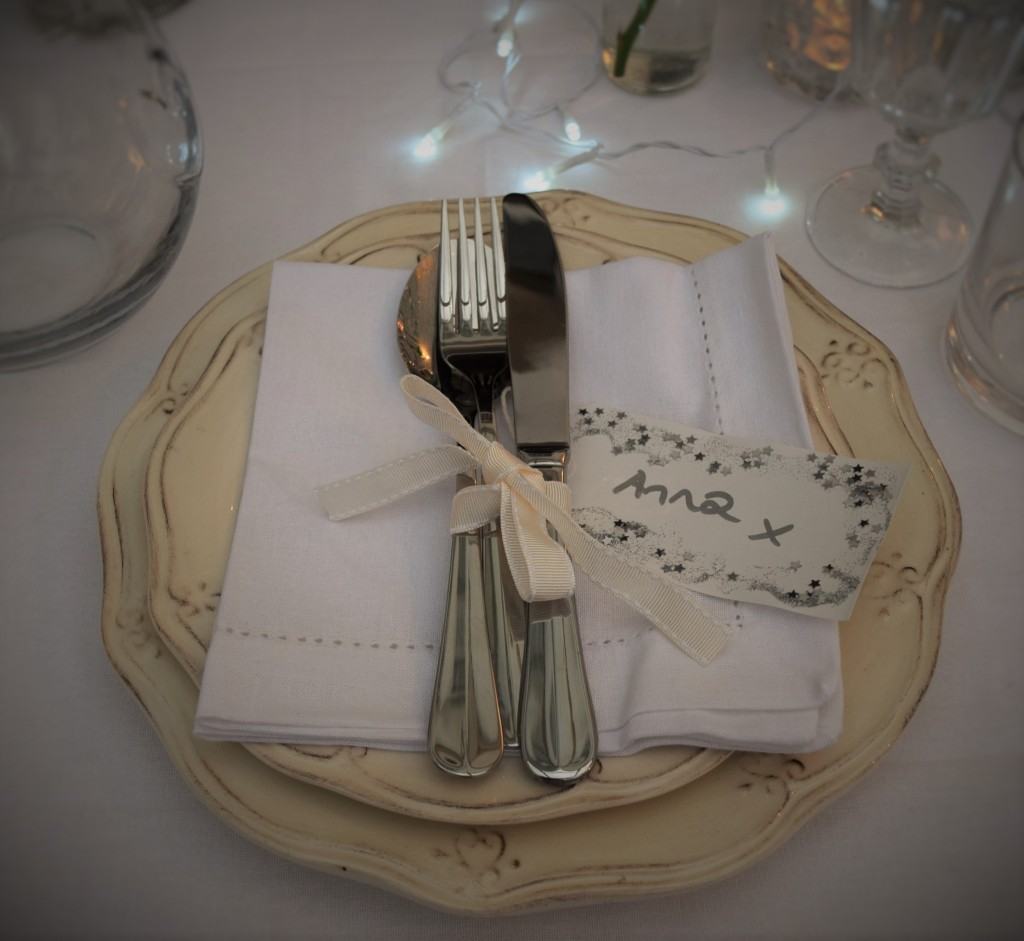 Having worked for a party organiser for longer than I care to mention, you do tend to pick up tips on hosting a fabulous dinner. One of the most important being it's a great idea to ask, in advance, if your guests have any dietary requirements. There's nothing worse than finding out, on the night, one of your diners is vegan or allergic to peas, for example. So it may be worth sending a quick email around to check, thus avoiding any pea confusion on the night. Also, have a lovely long table cloth, floor length if poss, no one wants to see a short cloth hanging around like ill fitting trousers. And white linen is timelessly elegant. I could go on, but I don't want to become a party hosting bore.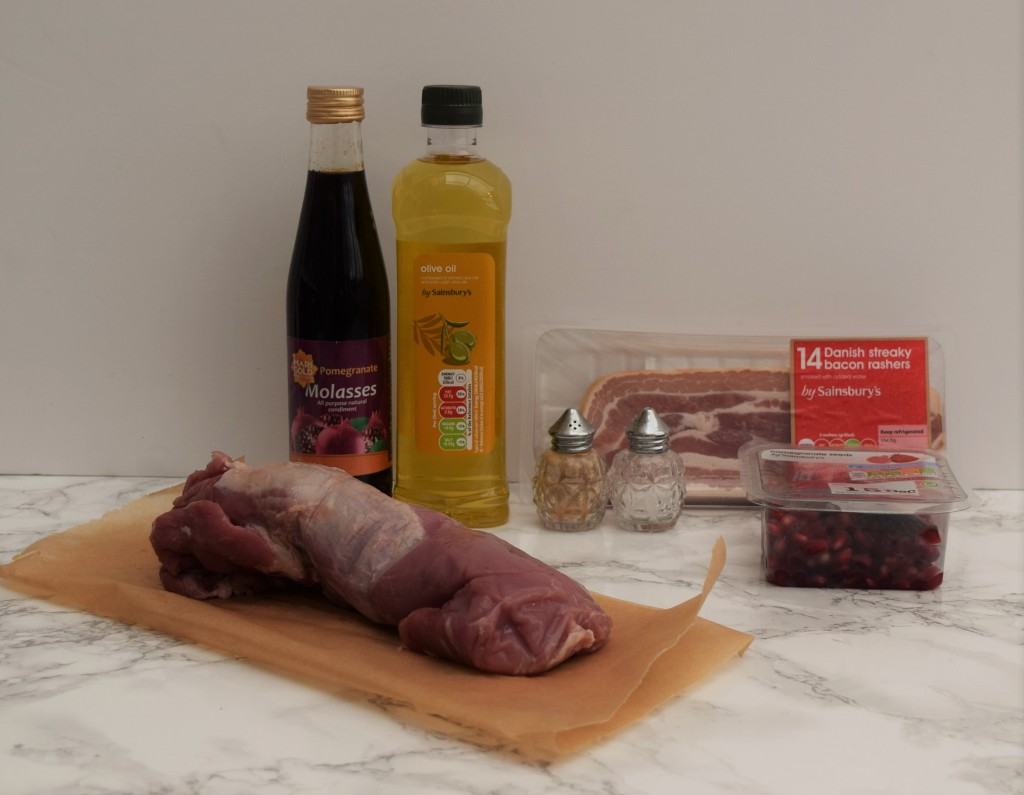 Rambling aside, lets make a start on this glamourous dinner party main course.  So few ingredients, yet so much taste and flavour. Thanks to my Nectar points, I treated my lucky guests to this piece of British out door reared Hampshire pork, which was amazing value at just £6.60 and was easily enough for six people even though four of us inhaled it. I based my recipe on a brilliant idea from Recipe Tin Eats, with thanks to them.
Pre heat your oven to 170 degrees fan assisted. Take the pork and season with plenty of salt and pepper. Heat a large heavy frying pan with two tablespoons of olive oil then pop it in to brown.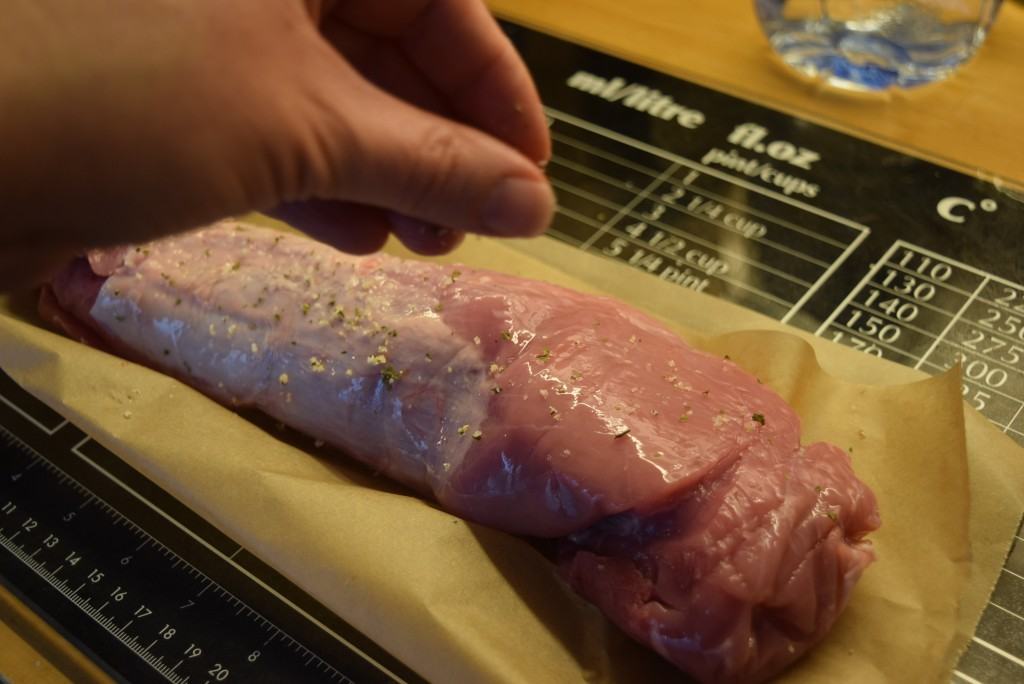 If there's a thinner end of your pork, just tuck this under to create a more regular shaped piece of meat.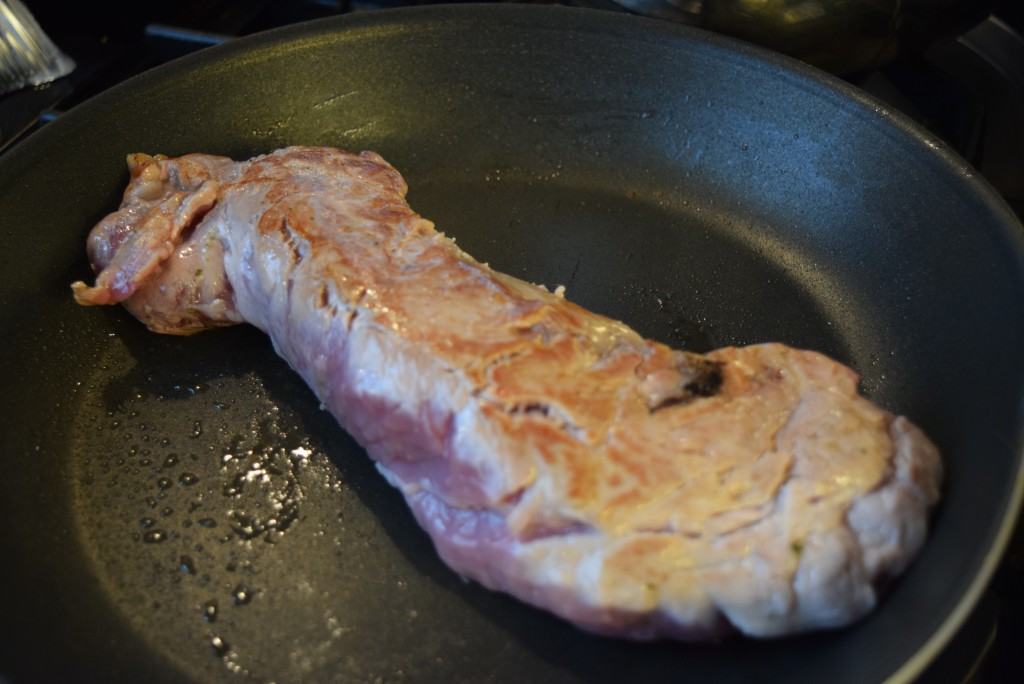 Turn the pork onto it's side in the frying pan to ensure it's browned all over. While the magic is happening, lay out your streaky bacon, so you are ready to roll once the pork is ready.
Lay the now browned pork loin onto the streaky rashers and carefully roll it up in the bacon, tucking in any loose ends. Don't feel you need any sort to surgeons precision for this, just do your best and ensure you end up with the join on the underside of the meaty parcel.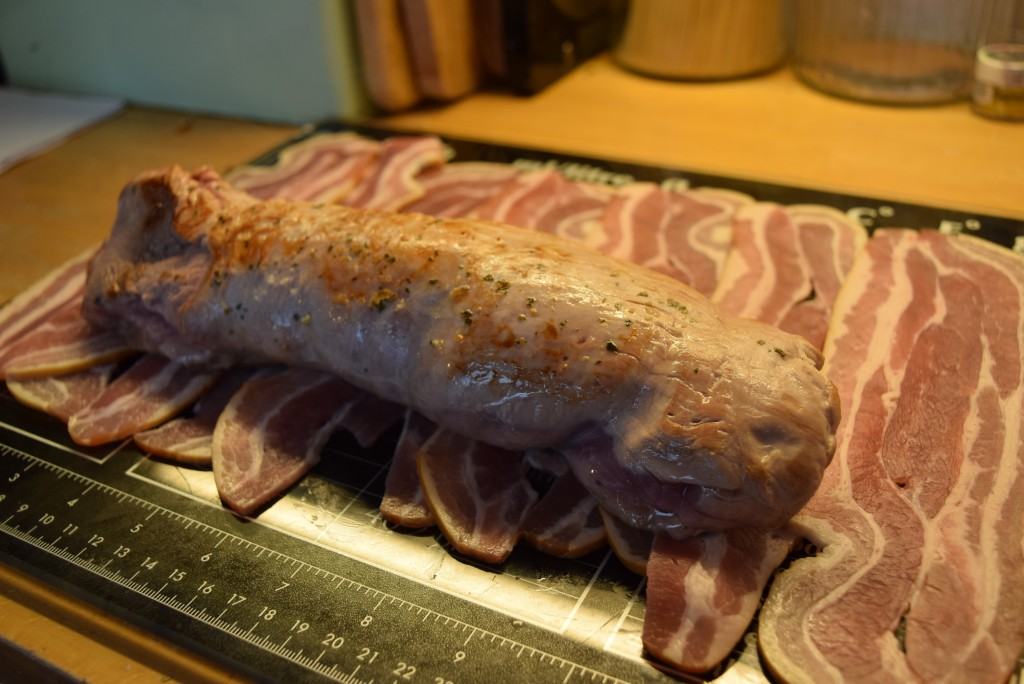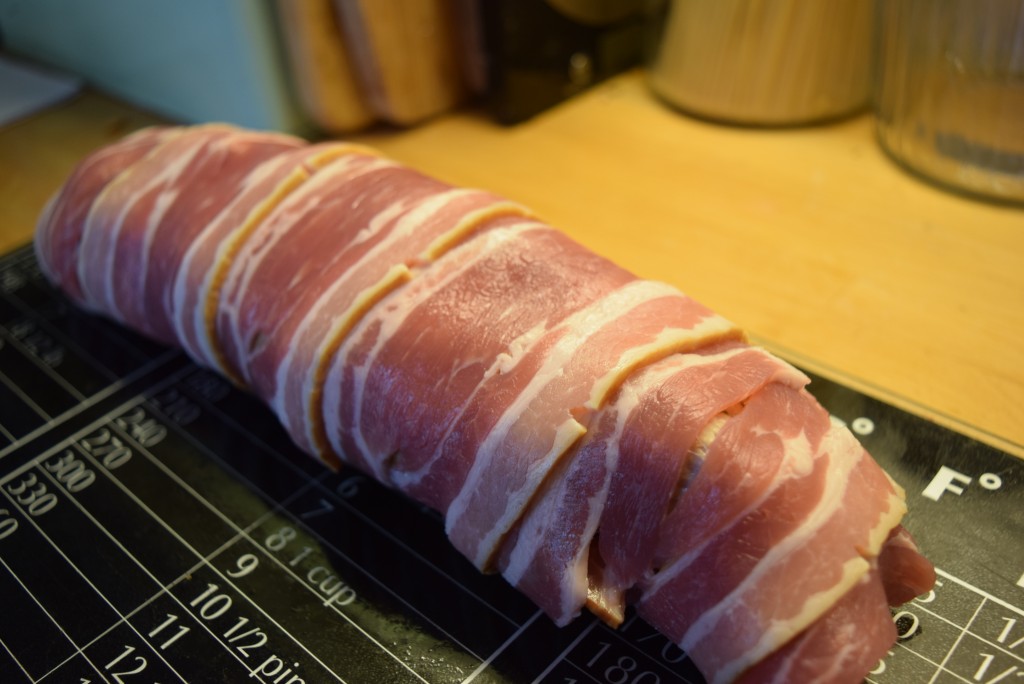 This can sit for a moment while you crack on with your Seasonally Flavoured Potato Gratin to luxuriously accompany your pork.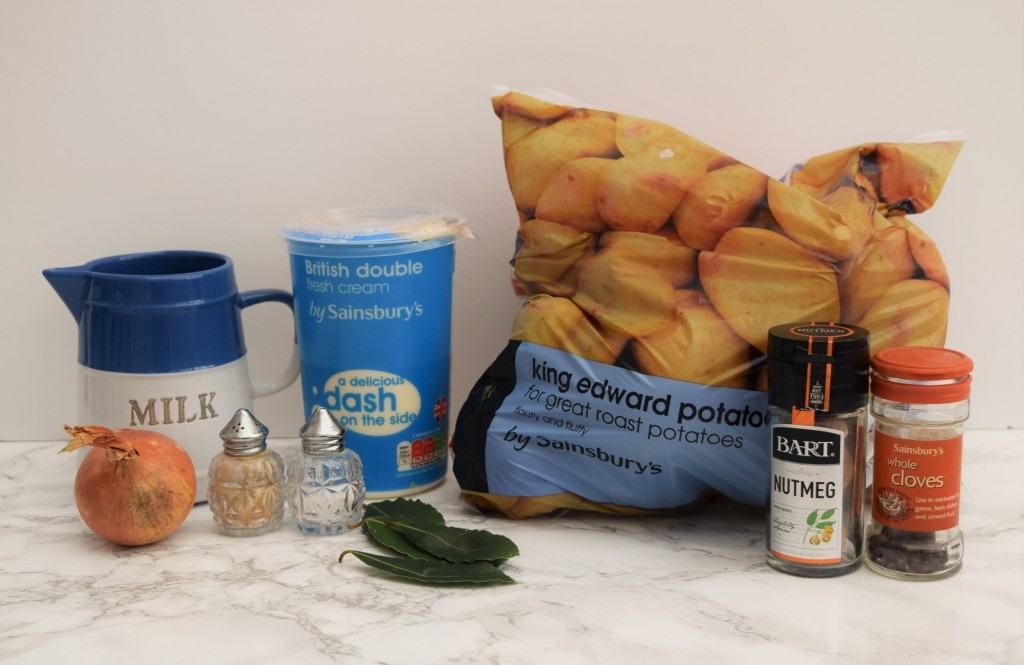 Here's the line up for this festive potato dish. It originates from the Queen of Glamour herself, Nigella Lawson, so I feel it's well suited to accompany this elegant pork. The flavours herald from those used to fragrance bread sauce. This festive trio of bay leaves, cloves and nutmeg suit this gratin so well.
Take the cream and milk and add the infusing flavours above and an onion you have studded with the cloves.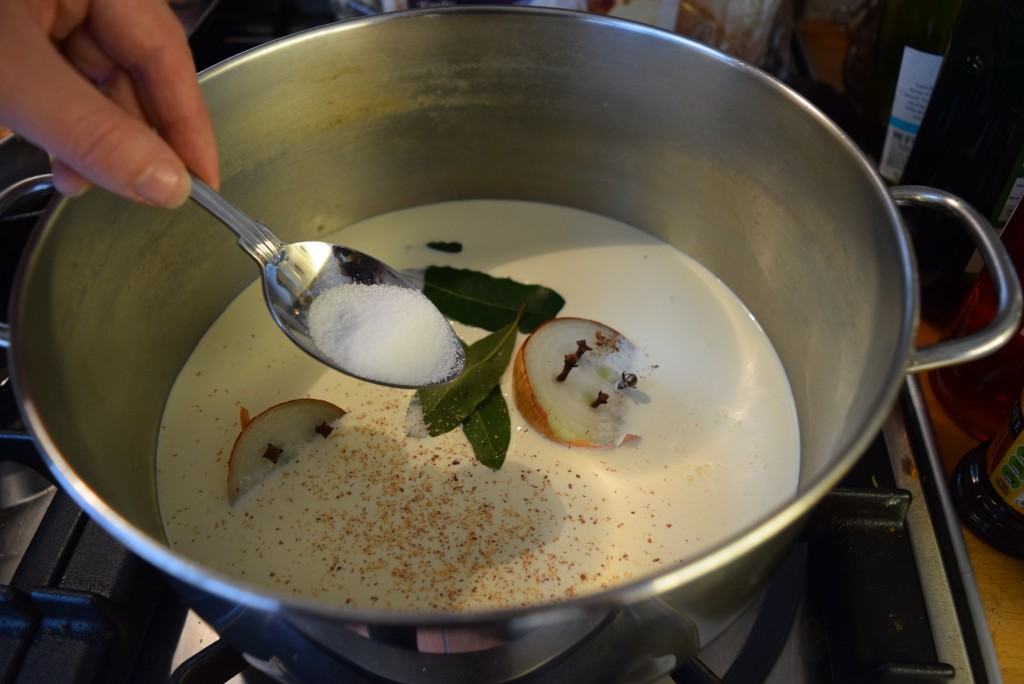 Let this just come up to the boil then turn off and leave to infuse for around 30 minutes with a lid on. Peel the EU potato mountain that is 2 kilos of potatoes (this will serve 8, so do halve or freeze the leftovers) then thinly slice using the slicing blade on your food processor, a mandolin or some very impressive knife skills.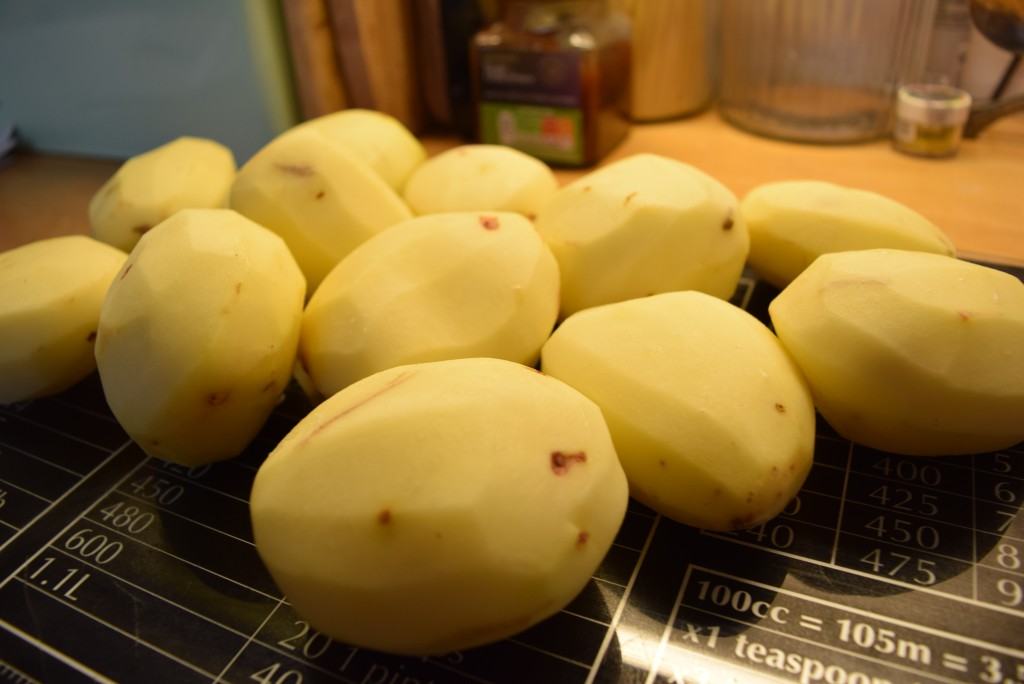 Pop the sliced potatoes back into the infused milk and bring it back up to the boil with the lid on. Do this slowly so the cream doesn't burn or catch on the bottom of the pan. Once the mixture is simmering, turn the heat down and cook for around 15 minutes or until the slices have softened but are not mushy.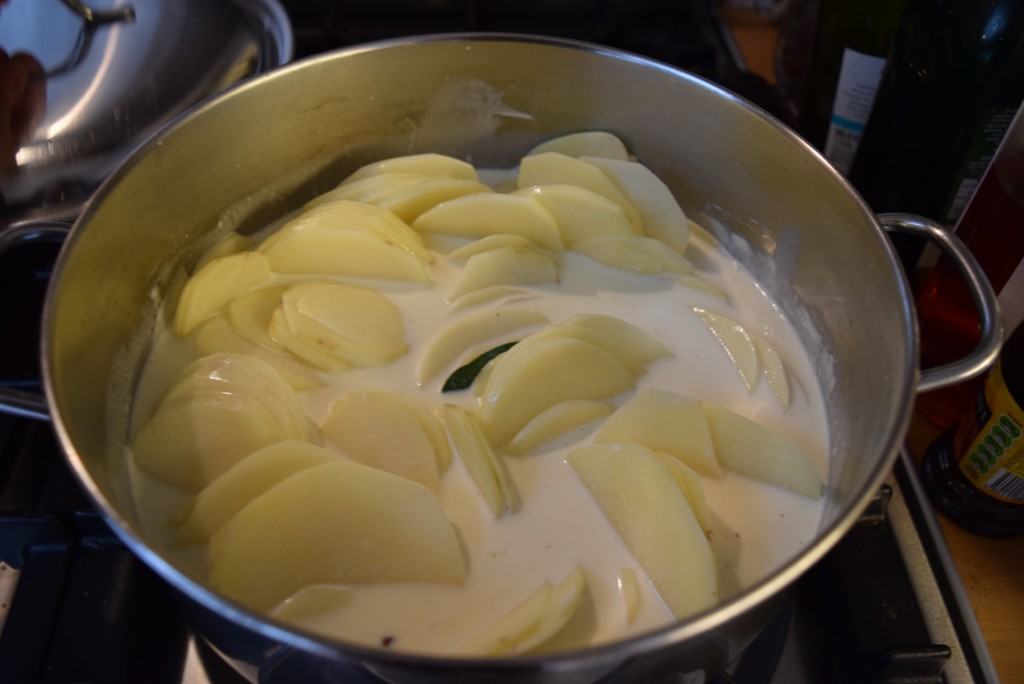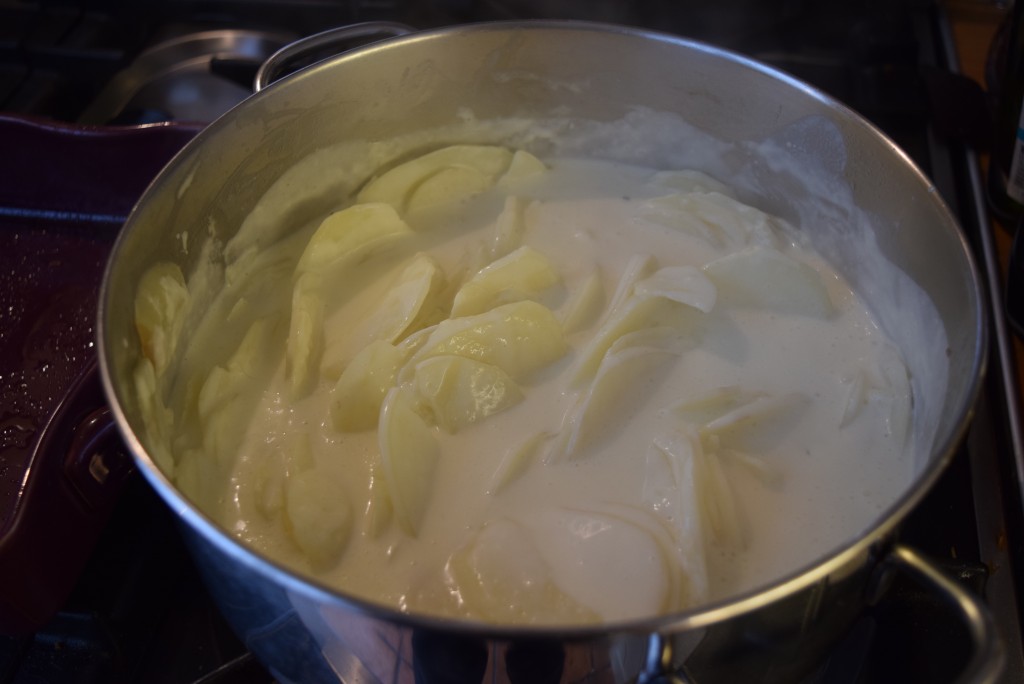 Pour this wonderfully decadent mixture into a buttered baking dish and bake in a pre heated oven for 15 to 20 minutes. The dish is cooked when bubbling and starting to brown.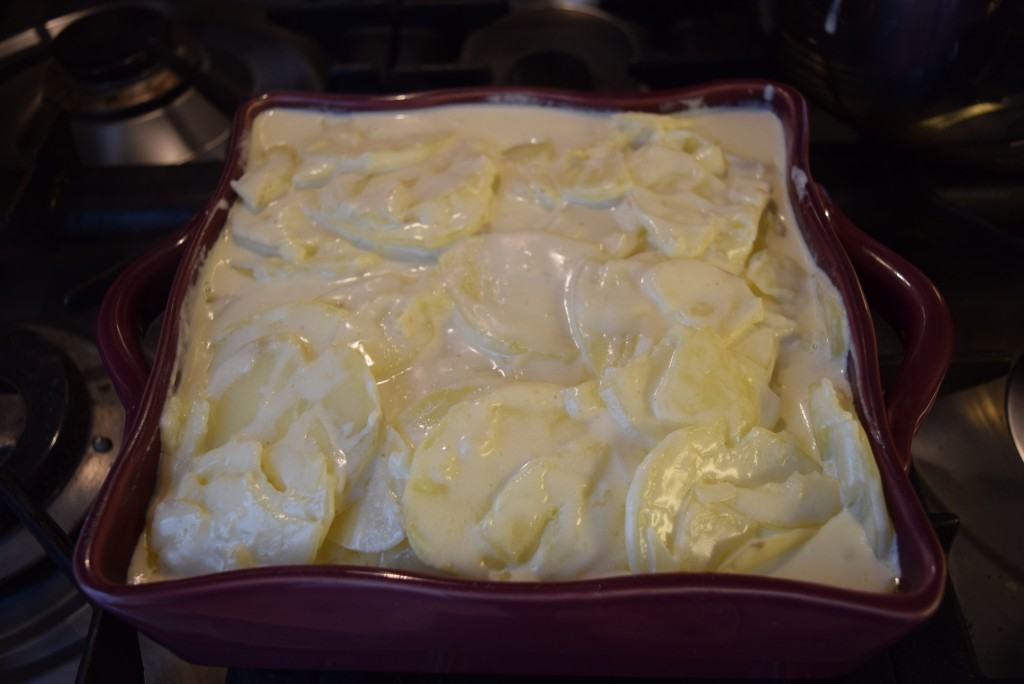 Approximately 25 minutes before you put your potatoes in, brush your bacon wrapped pork in 3 to 4 tablespoons of the sweet and sour flavoured pomegranate molasses. This glazes the dish beautifully and add a distinctive sweetness. If you can't get pomegranate molasses this also works with honey or maple syrup.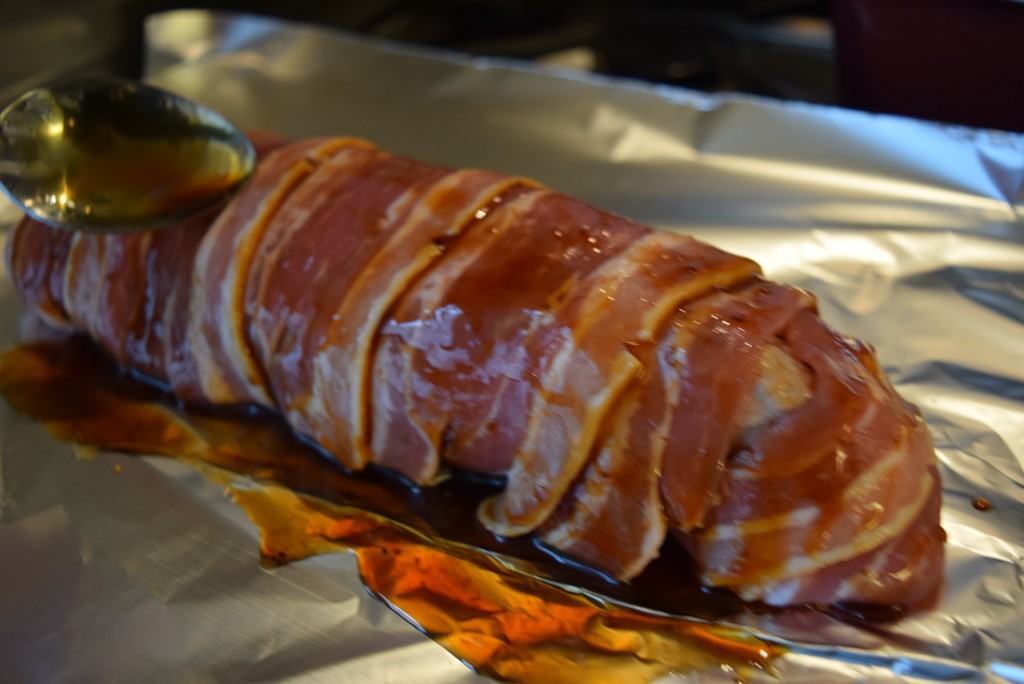 Pop this in your toasty hot oven for around 40 to 45 minutes. Baste at least once if not twice during the cooking time to maximise flavour. The bacon should be crisp and when the pork is cooked through, the juices will run clear. Leave to rest for 5 minutes before serving.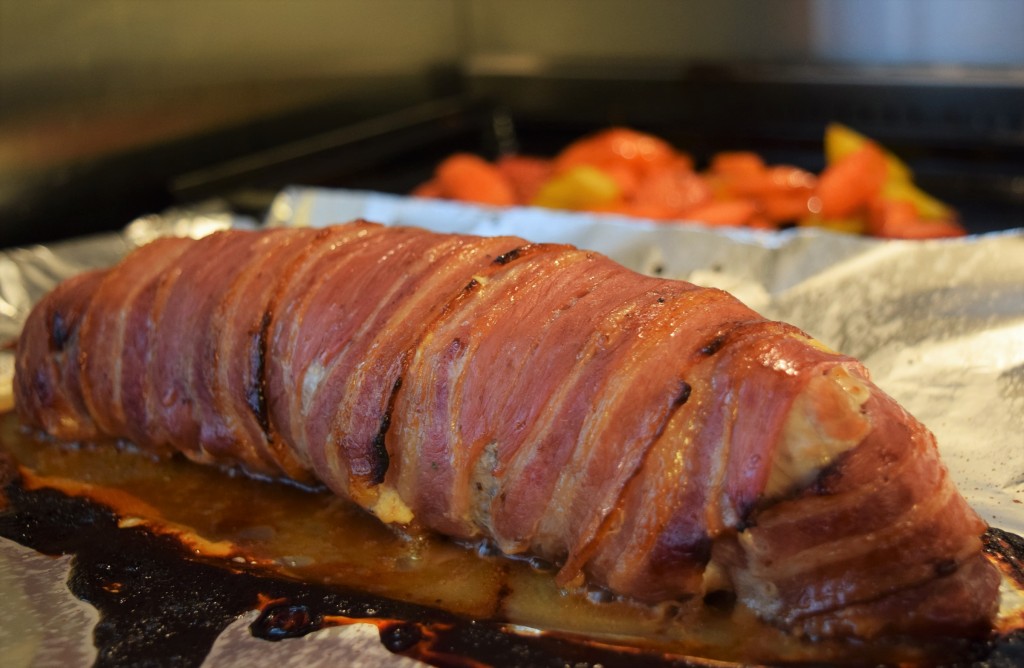 Sainsbury's had some such pretty looking Rainbow Carrots, which I roasted with some olive oil, fresh thyme and just a drizzle of maple syrup for the same time as the pork, at the same temperature. This is super helpful when utilising oven space and co-ordinating your dishes to all be ready together.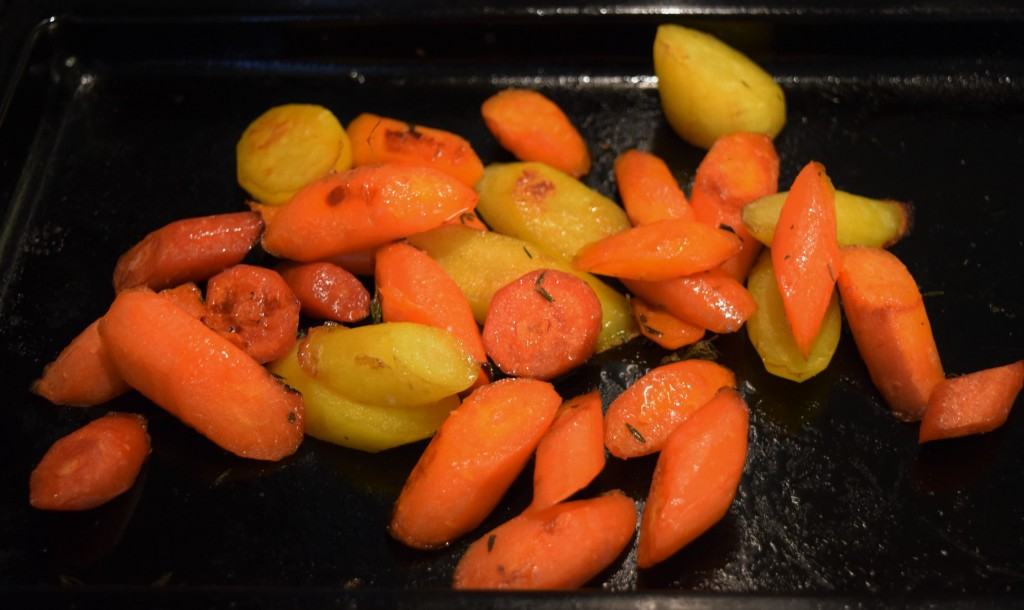 With some buttered spinach your plate is colourful, as well as flavourful.
Serve this wonderful pork centre piece on a board to carve at the table or at least waft around and show off how elegant it looks before slicing back in the kitchen. Garnish with fresh pomegranate and some parsley, of course.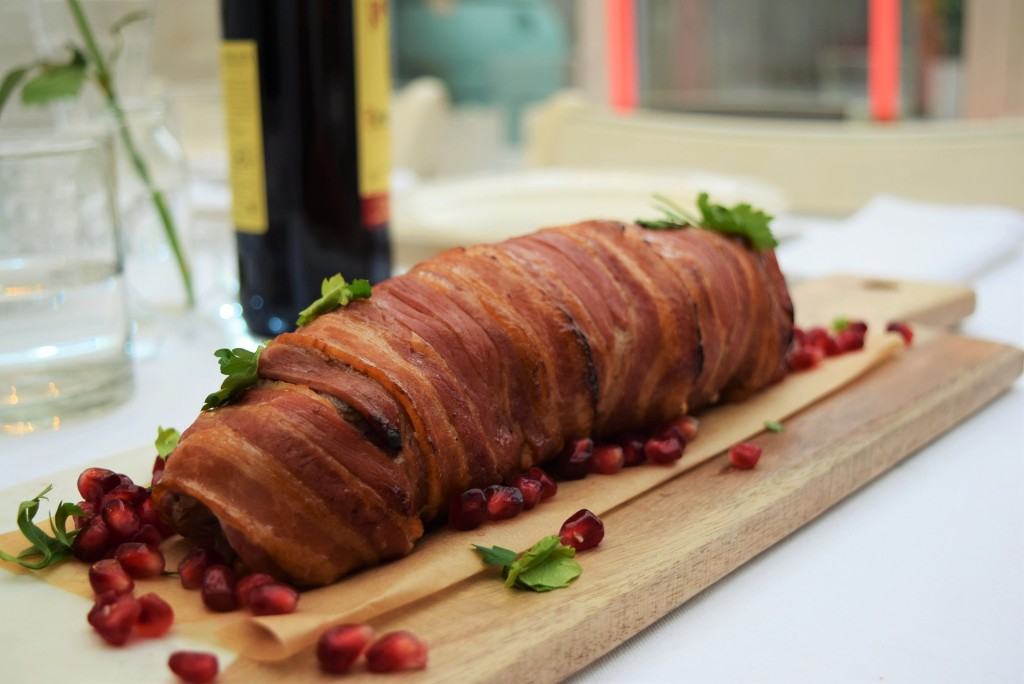 My lucky, lucky dinner guests, oh how Nectar, and of course, Lucy Loves, spoiled them.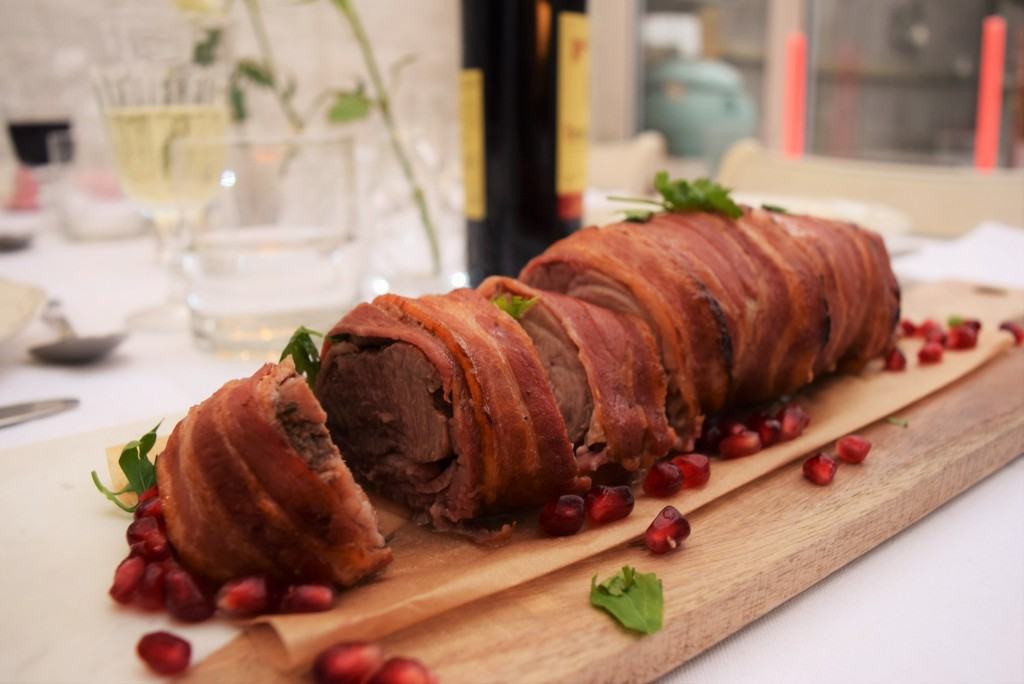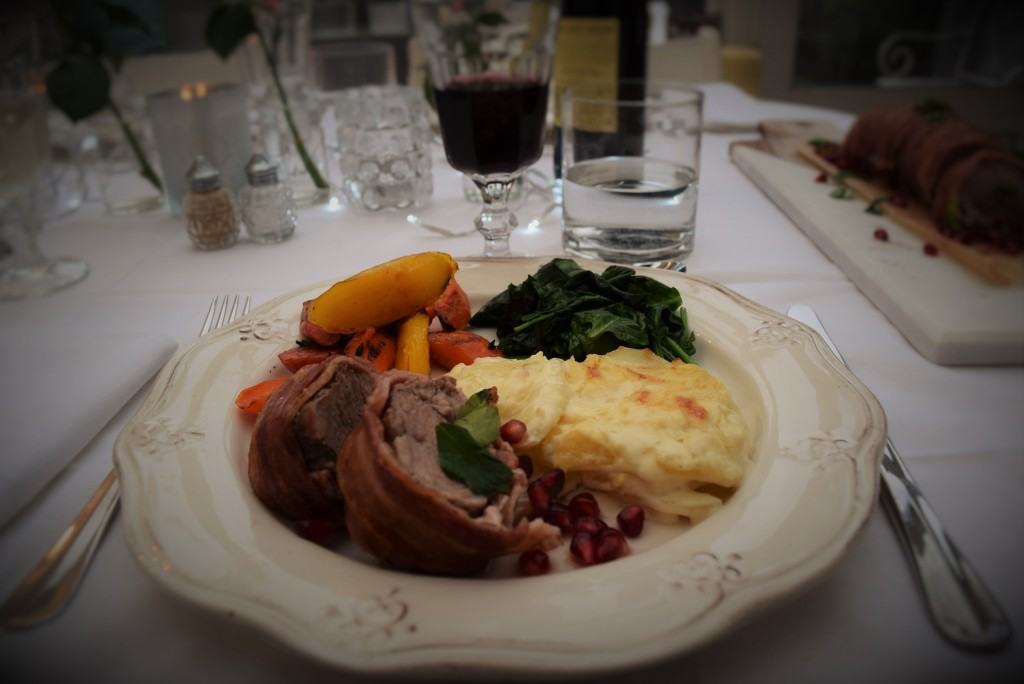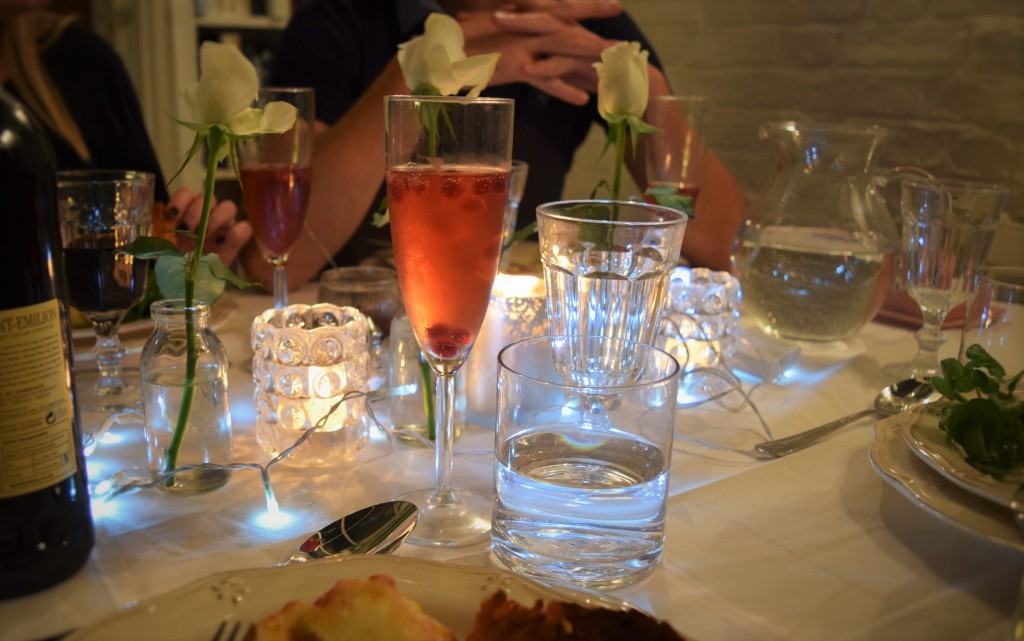 My elegant Christmas dinner party certainly had a feeling of luxury, with not even a hint of the 'for less'. It is amazing what can be created on a budget, albeit provided by those generous types at Nectar. This is an opulent menu, simply created and beautifully presented. And you haven't even seen what I served for dessert yet.
Lucy x
Nectar kindly gave me £120 worth of Nectar points to pay for my luxury dinner party. However, all ramblings and opinions are, as always, my own.
Roasted Fillet of Pork with Pomegranate Molasses Recipe
Serves up to 6 guests
800g pork loin
14 rashers streaky bacon
3 to 4 tablespoons pomegranate molasses, honey or maple syrup would also work here
2 tablespoons olive oil
Salt and pepper
Pre heat oven to 180 degrees, fan assisted.
Heat a large frying pan on the hob with the 2 tablespoons of oil. Season your pork loin and tuck the thinner end bits underneath so you have an even ended shaped cylinder.
Place the pork into the hot pan and sear until browned on all sides. While this is happening lay out your streaky bacon ready to wrap the pork. Place the pork loin on the bacon and wrap ensuring the meat is well covered. Finish with the bacon seam side down. Put into a lined roasting tray and drizzle and brush with the pomegranate molasses. Put into hot oven for 40 to 45 minutes, basting a couple of times with the juices. Check the pork is cooked through then leave to rest for 5 minutes, covered in foil, before serving in thick slices.
Seasonally Flavoured Potato Gratin
Serves 6 to 8 people, can be easily halved
500ml double cream
500ml milk
One onion
10 cloves
Good grating of nutmeg
4 bay leaves
1 tablespoon Maldon Salt or half a tablespoon of table salt and a good grind of pepper
2kg potatoes, peeled and sliced super thin, I used a mandolin
Heat oven to 170 degrees fan assisted and butter a big baking dish
Heat milk and cream to a simmer in large saucepan with onion studded with cloves, nutmeg, salt and bay leaves. Turn off and leave for half an hour or so to infuse with a lid on. Peel and slice the pototatoes, I used a mandolin but just slice as thin as you can.
Remove the onion and bay leaves then add the sliced potatoes to the pan of cream and milk and slowly bring back up to the boil with the lid on. Leave to simmer until potatoes are cooked but not mushy, keep an eye on this as the cream may burn if your heat it too high. Pour into buttered baking dish and bake for 15 to 20 minutes until bubbling and golden brown. Leave to settle for 5 minutes before serving, garnished with chopped parsley.