Toffee Apple Cake Recipe
The most tiresome part of being on a diet is the total and utter lack of cake. I managed quite well over Easter, I avoided most of the chocolate and didn't really feel that bitter about it. However, where my Simnel Cake was concerned, I literally felt murderous sharing it with my family without managing to devour big slices of it myself. I did, however, bugger the diet on several occasions by eating quite a few of the marzipan balls/apostles because I just couldn't help myself. So imagine my disappointment when I discovered this Toffee Apple Cake and tasted it only to find it's even more delicious than Simnel Cake and almost as addictive.
I love nothing more than apple in a cake. My Bramley Apple Cake recipe is still one of my most popular and simplest, however, this new Toffee Apple Cake will be snapping at its heels. It's a rich dark cake, laced with sour apples. The toffees melt into the cake batter and form a sweet dark layer of toffee on the bottom of the sponge. The whole cake is them slathered in vanilla buttercream and as a final flourish of decadence, if you like, swirled through with some caramel sauce. It doesn't need it if you don't have any, but if you do, it makes a divine cake, even more bloody divine. This recipe is all thanks to Olive Magazine, with huge appreciation. It can't be all bad, it's got apple in it so you can tick this off as one of your five a day.
I am such a fair weather dieter. When I am in the zone, I am focused and frankly, pious, around food. When faced with something as sweet and tasty at this Toffee Apple Cake, I am absolutely shit. How is anyone meant to resist something as wholesome, comforting and fruity as this? Someone with tons more will power than me I'm afraid.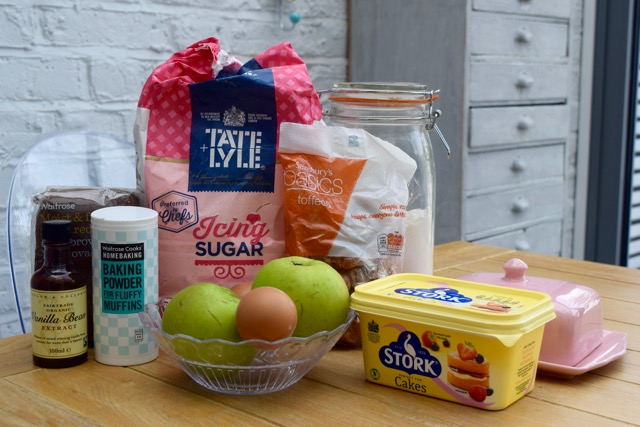 What a super looking line up for this wonderful cake. I only had hard toffees which I use for melting to hand, apparently soft toffees would be better but these were perfect in the end result.
Make a start by lining your 20cm square baking tin and pre heating the oven to around 160 degrees fan assisted. Next peel, core and chop the apples and pop to one side. Squeeze with a spritz of lemon juice if you are going to leave them sitting around for any length of time or they will go brown.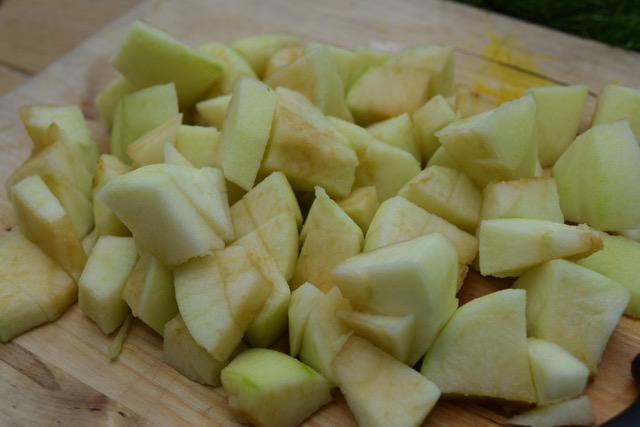 For the toffees, if you have soft ones, you should be able to chop by hand. Mine were hard toffees so I used the food processor, like so.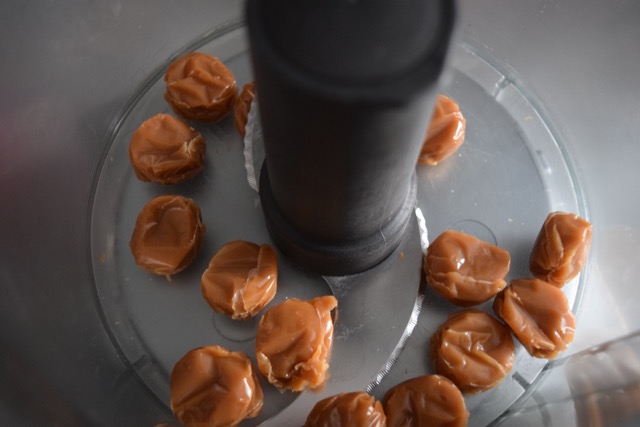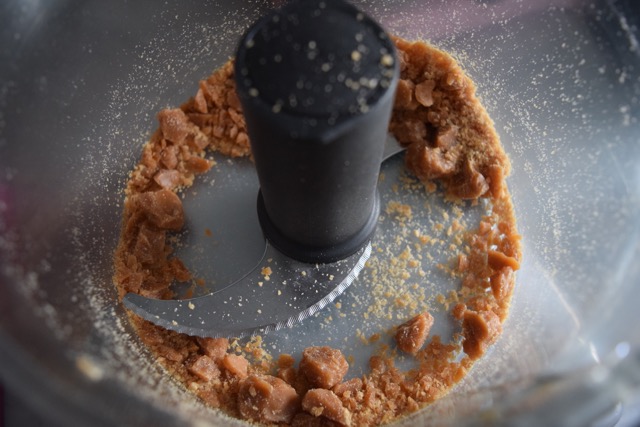 It's like toffee rubble, rather than crumbs or even pieces.  Now, tip the toffee bits into a bowl, put aside for the moment then get started on the actual cake. Without bothering to wash the mixer, process the Stork *still no sign of sponsorship* or soft butter with the dark brown sugar until lighter and creamy.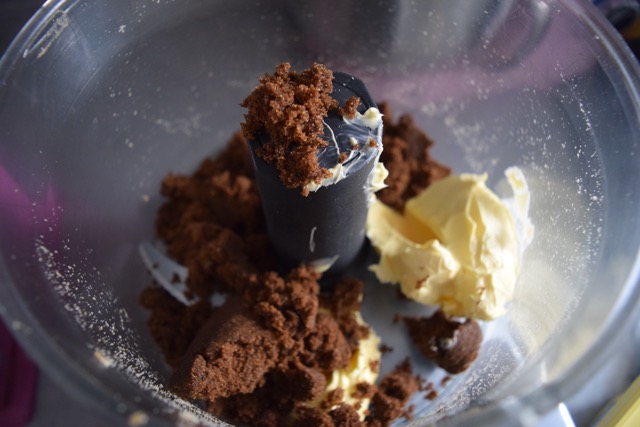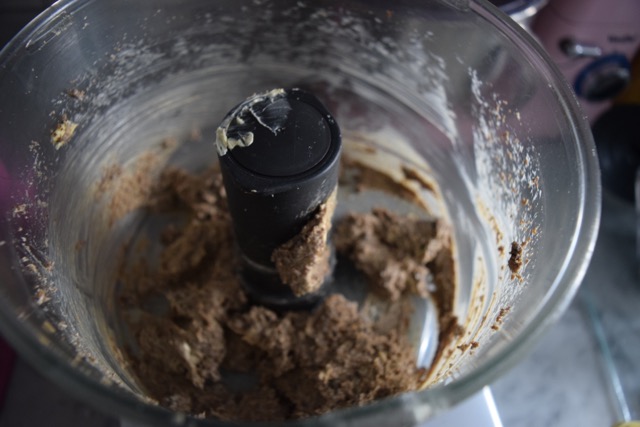 Next, crack in the two eggs and process until smoother.
Weigh out the flour and baking powder then mix into the sugar and egg mixture until well incorporated.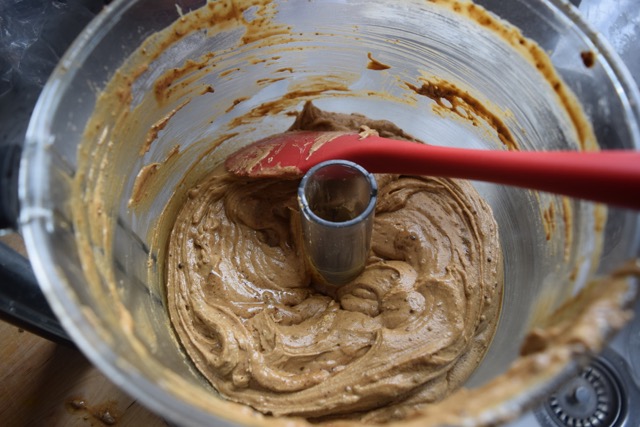 Now, mix in the apples and the toffee pieces/crumbs. Just a good fold, don't over mix here.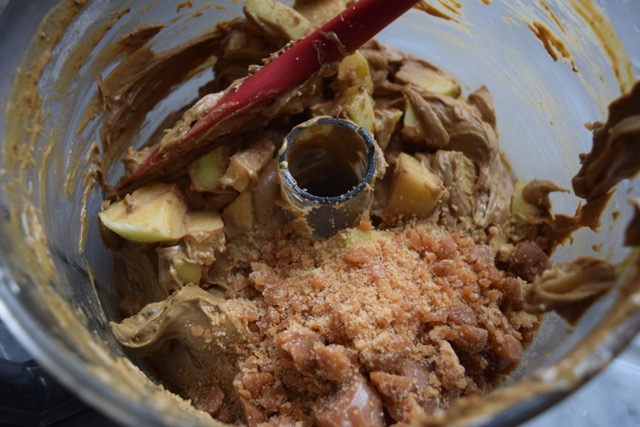 Just try not to eat too much of the super tasty cake mixture, I didn't of course, with my steely diet based will power *lying face*. Scrape the batter into your lined tin and smooth the top.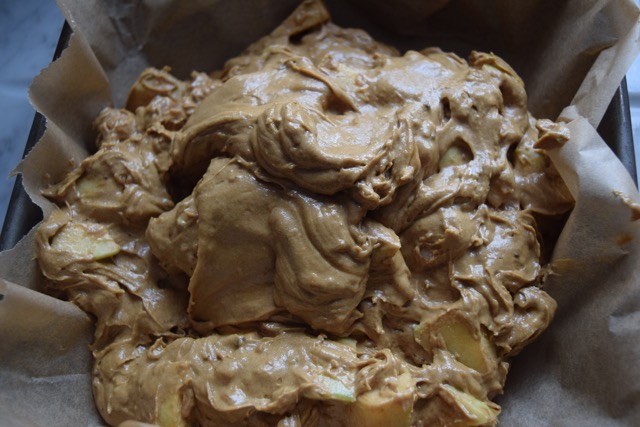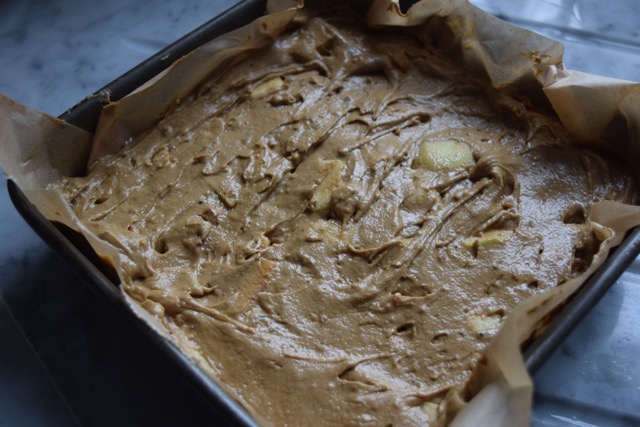 Pop it in the oven for between 50 minutes and an hour or until golden brown, firm to the touch and a skewer comes out clean when poked in the middle.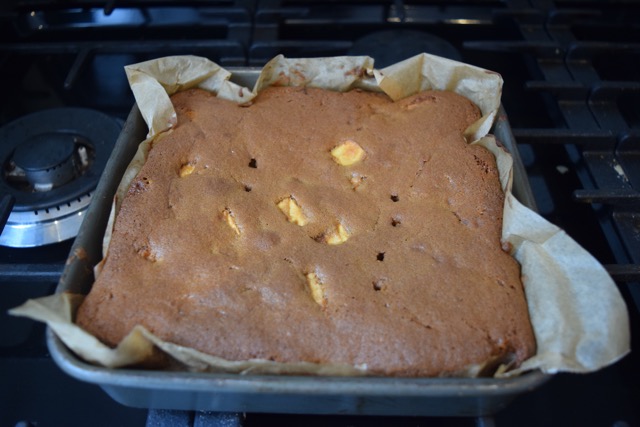 While your wonderful cake cools, crack on with vanilla buttercream. Beat the soft butter, no Stork here please, icing sugar and vanilla until smooth and whipped.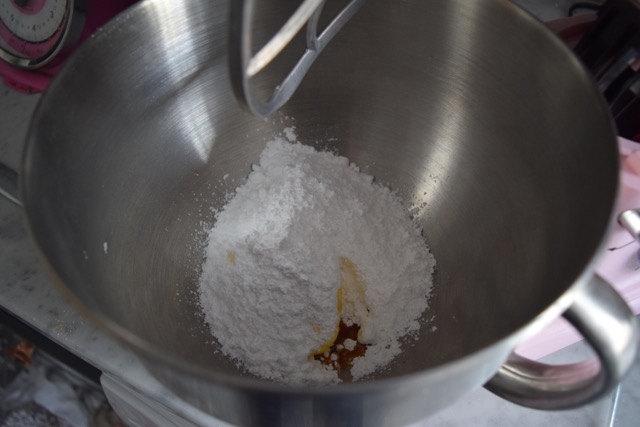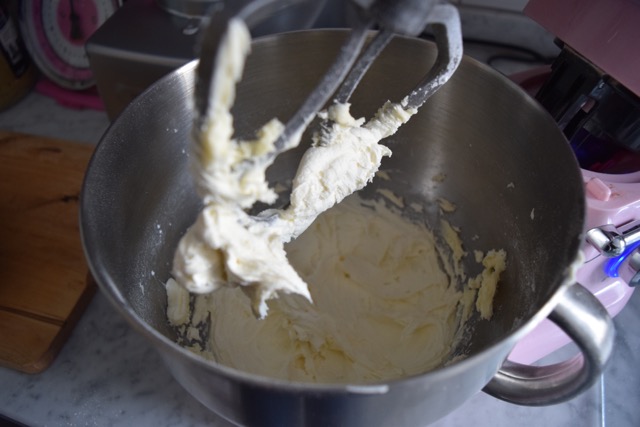 Take your now cooled cake and slather on the top in a random, not terribly smooth way *like mine*. Just call it rustic or artisan.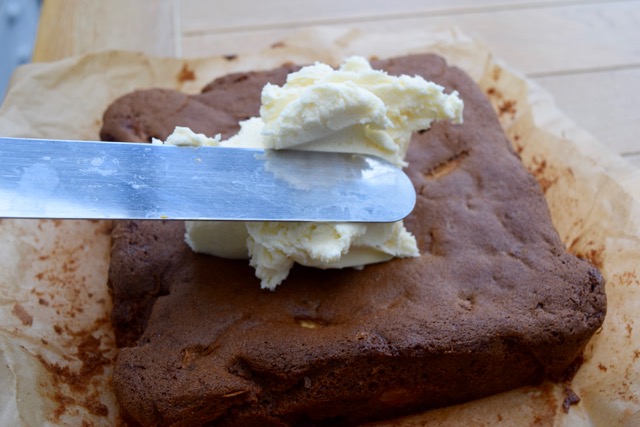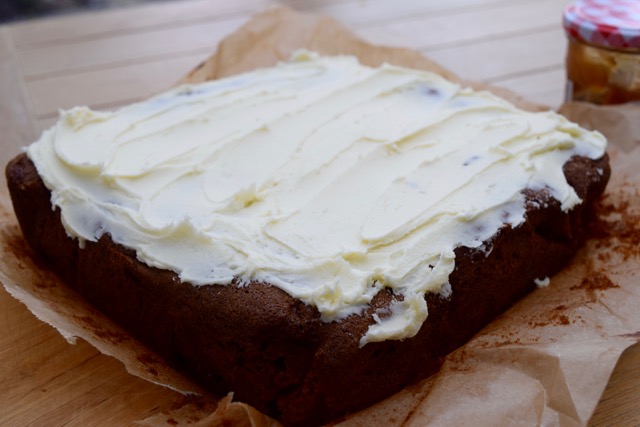 Now, if you are a total hog, like me, drizzle on a little caramel sauce or dulce de leche and fashion into an artistic *crap* pattern with the buttercream.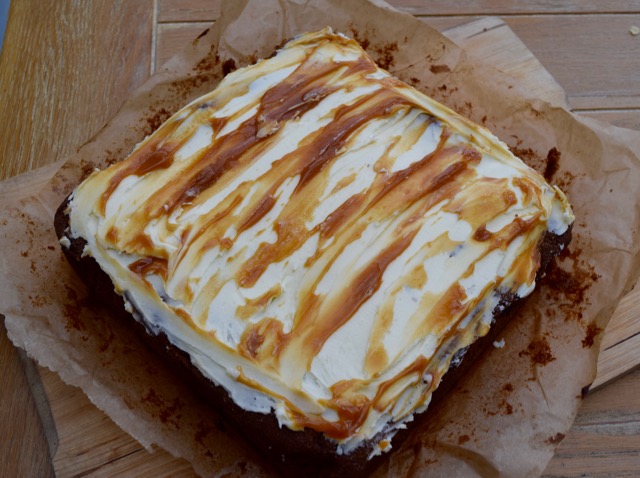 I am drooling even writing this in a totally immodest way. Serve this beyond tasty cake in large decadent squares and then have another one.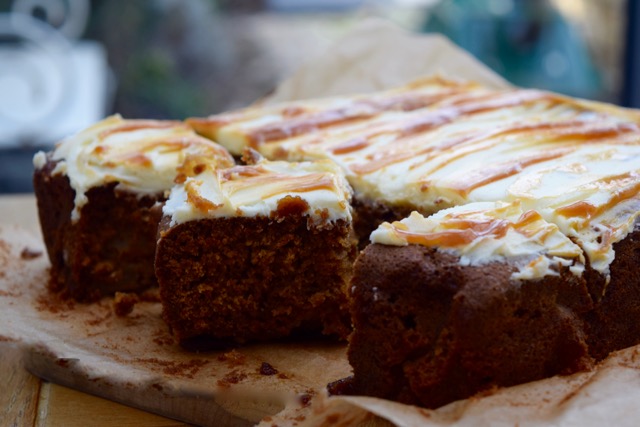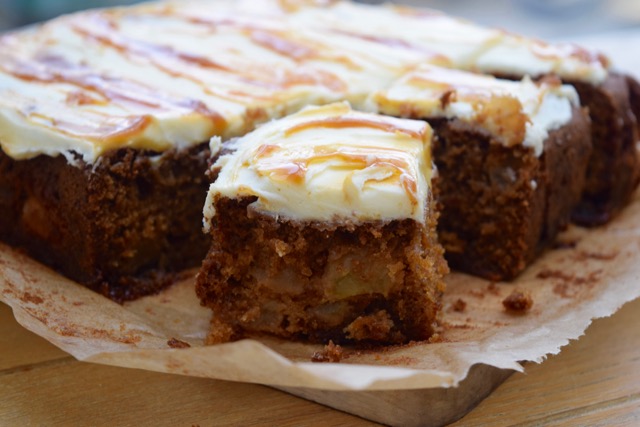 It's not often I deny myself something delicious. So why start now? I don't think this Toffee Apple Cake comes with a Weight Watchers seal of approval, but sod it, there was no way I wasn't devouring a huge hunk of this cake. And as there are no WW points in fruit or eggs, only half of this cake actually counted so it's practically a salad.
Lucy x
Toffee Apple Cake Recipe
Serves a generous 9, more if you are not so generous
You will need a stand mixer/food processor or hand mixer and large bowl
Cake
125g soft butter or Stork
225g dark Muscovado sugar
2 eggs
225g plain flour
2 teaspoons baking powder
3 medium sized cooking apples, peeled, cored and chopped, you need around 200g
100g soft toffees, chopped, I only had hard ones and they were fine
Icing
100g soft butter
200g icing sugar
1 teaspoon vanilla extra
Dulce de leche or toffee sauce for drizzling
Pre heat your oven to 160 degrees fan assisted and line a 20cm x 20cm square tin.
Peel and chop the apples into small cubes and chop the toffees either by hand or in the food processor. Pop both to one side, spritz the apples with lemon juice if you are leaving them for too long or they will go brown.
Make a start on your cake in either a food processor or a large bowl with a wooden spoon. Cream together the soft butter or Stork with the dark brown sugar.  Beat well until lighter in both colour and texture.
Next, mix in the two eggs until the mixture is smooth then fold in the flour and baking powder. Finally, mix in the chopped apples and toffee pieces until just incorporated.
Scrape into the lined tin, levelling the top, then place in the oven for around 50 minutes to an hour or until browned and firm to the touch with a skewer coming out clean when poked in the middle. Leave to cool while you make the vanilla icing.
In a bowl with a wooden spoon or in a stand mixer beat the soft butter with the icing sugar and the vanilla extract until smooth and light. Spread in a even-ish layer over the cooled cake then marble/drizzle on some dulce de leche or caramel sauce if you like. This wonderfully *eeek* moist apple cake will keep, covered, in a cool tin for around 3 days.
SaveSave
SaveSave
SaveSave
SaveSave