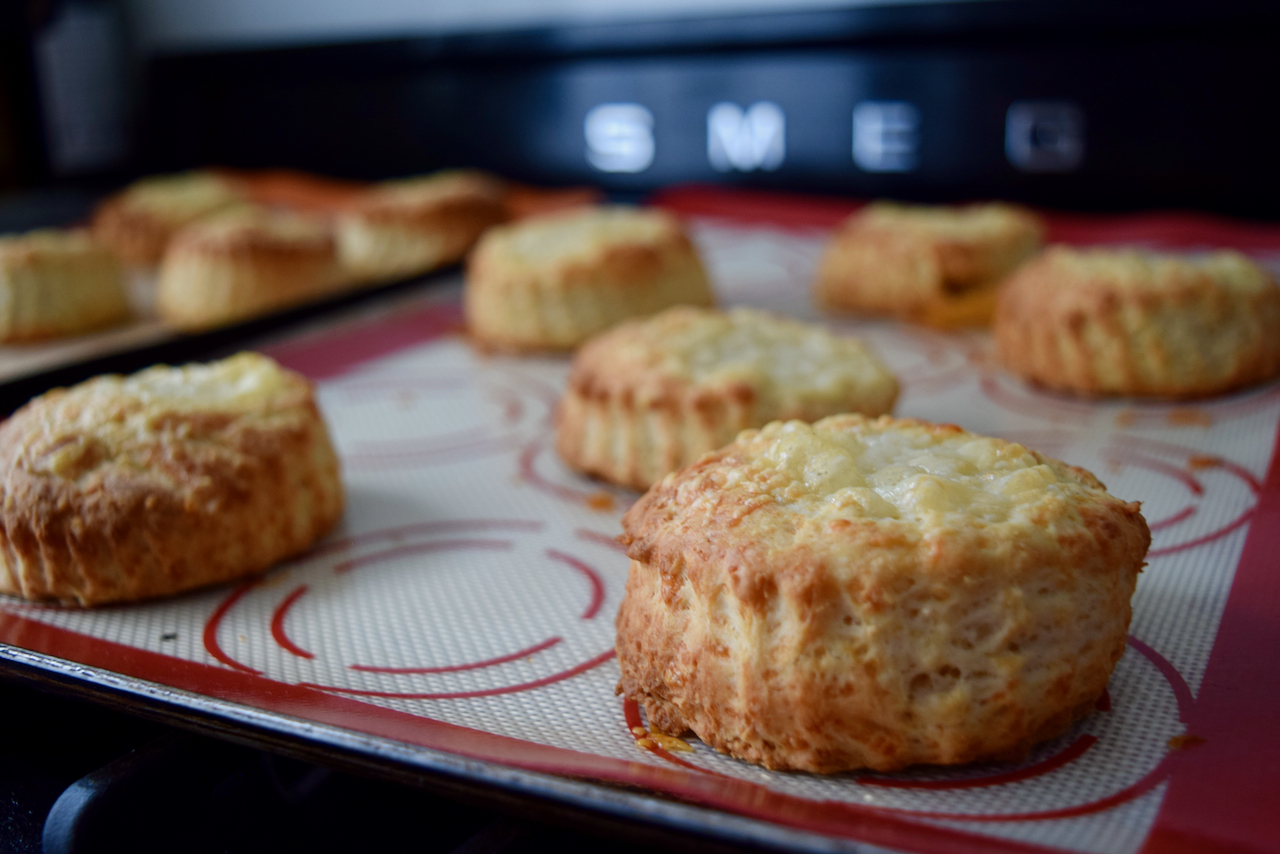 Cheese Scones Recipe
This Friday marks the 75th Anniversary of VE Day. We love an excuse to eat an afternoon tea or picnic style spread in our house so we will be joining my sister and her family, in a socially distant way, for a VE Day celebration. Cheese Scones are such a wonderful traditional, comforting recipe, I can think of no better, or more delicious way, to mark this historic occasion.
I love a scone in any incarnation. Cheesy, studded with fruit or just plain with the biggest dollop of clotted cream and jam. Any bloody scone is amazing. These Cheese Scones are soft, light, oh so cheesy and by God they're easy. Just a bit of rubbing, grating and rolling and a scant 15 minutes in the oven before you are devouring these hot from the oven with a slice of cold butter. The recipe makes 12 so if you are having a socially distant VE Day tea party, then there's plenty to share. Just don't forget the ration busting amount of cold butter to go with. Thank you to the Guardian for the guidance with this recipe.
Picnics under lockdown could mean a blanket on the living room floor, sitting in your front garden or via FaceTime or Zoom. However, you spend this special Bank Holiday Friday make sure these warm Cheese Scones are on the menu. At least if you're having a virtual celebration you won't be able to share them.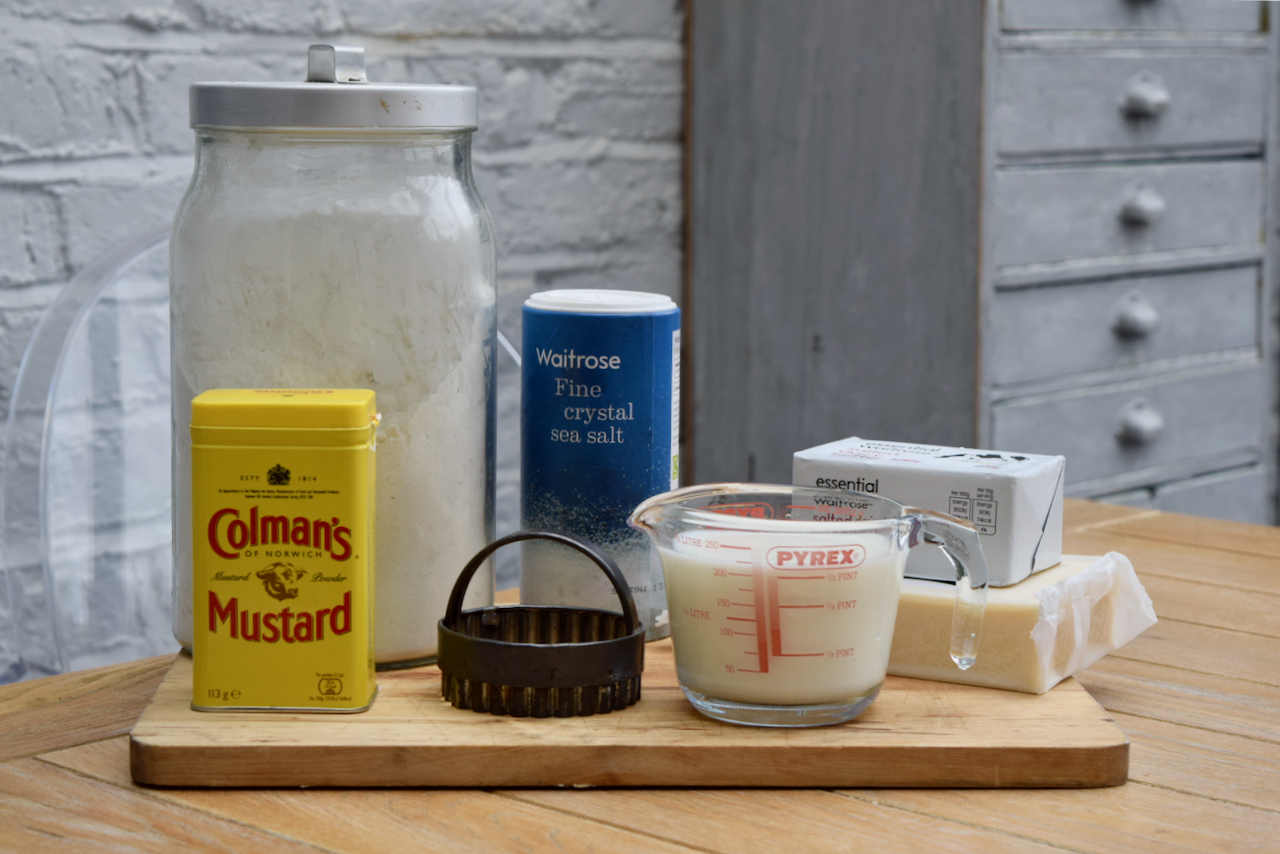 Traditional old school ingredients for this stalwart of a recipe. I love adding mustard powder to cheesy things, it adds a lovely bit of bite. I used self raising flour as I have more of it, but if you have excess plain flour, add 6 teaspoons of baking powder.
Make a start by pre heating your oven to a hot 200 degrees fan assisted and by lining 2 large baking trays. Next measure in the flour, salt and mustard and optional baking powder if your flour is plain. Give it all a little whisk.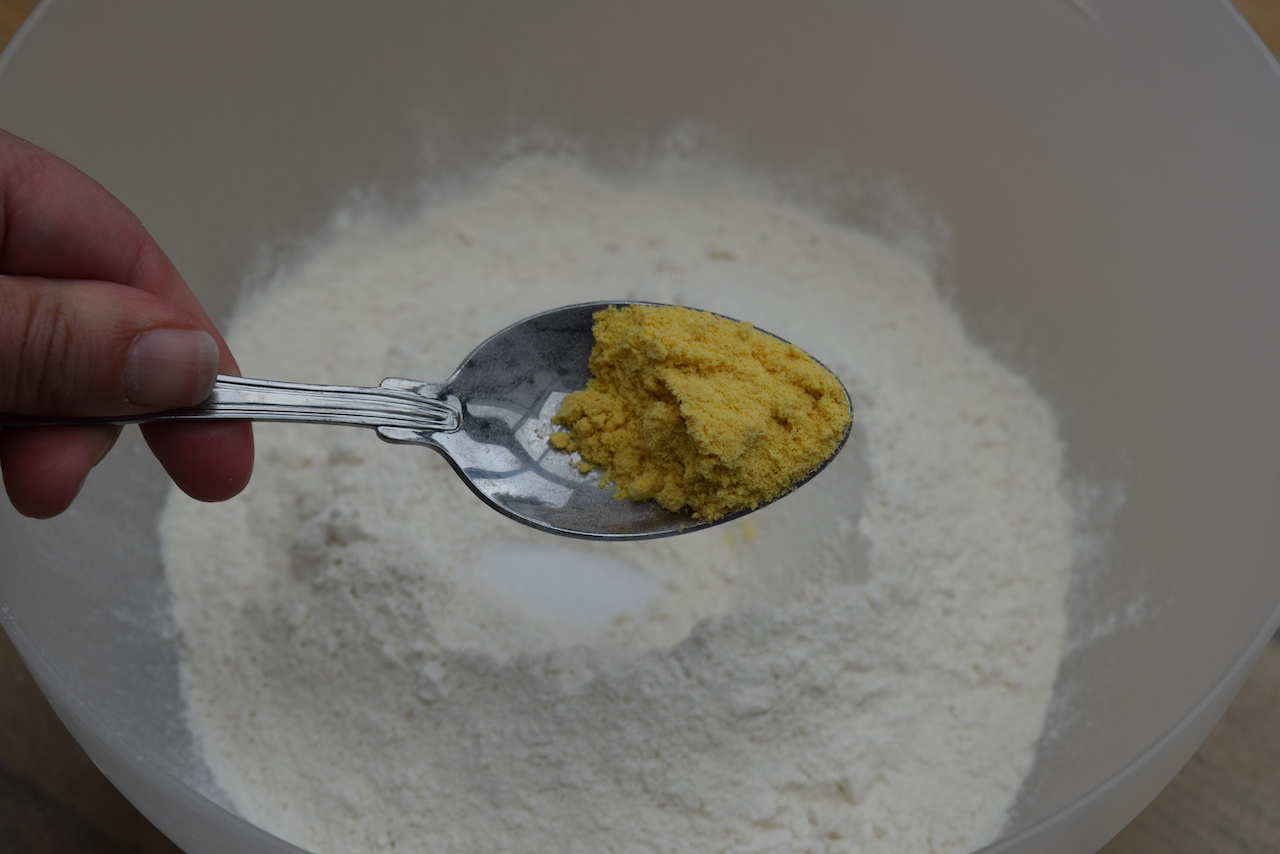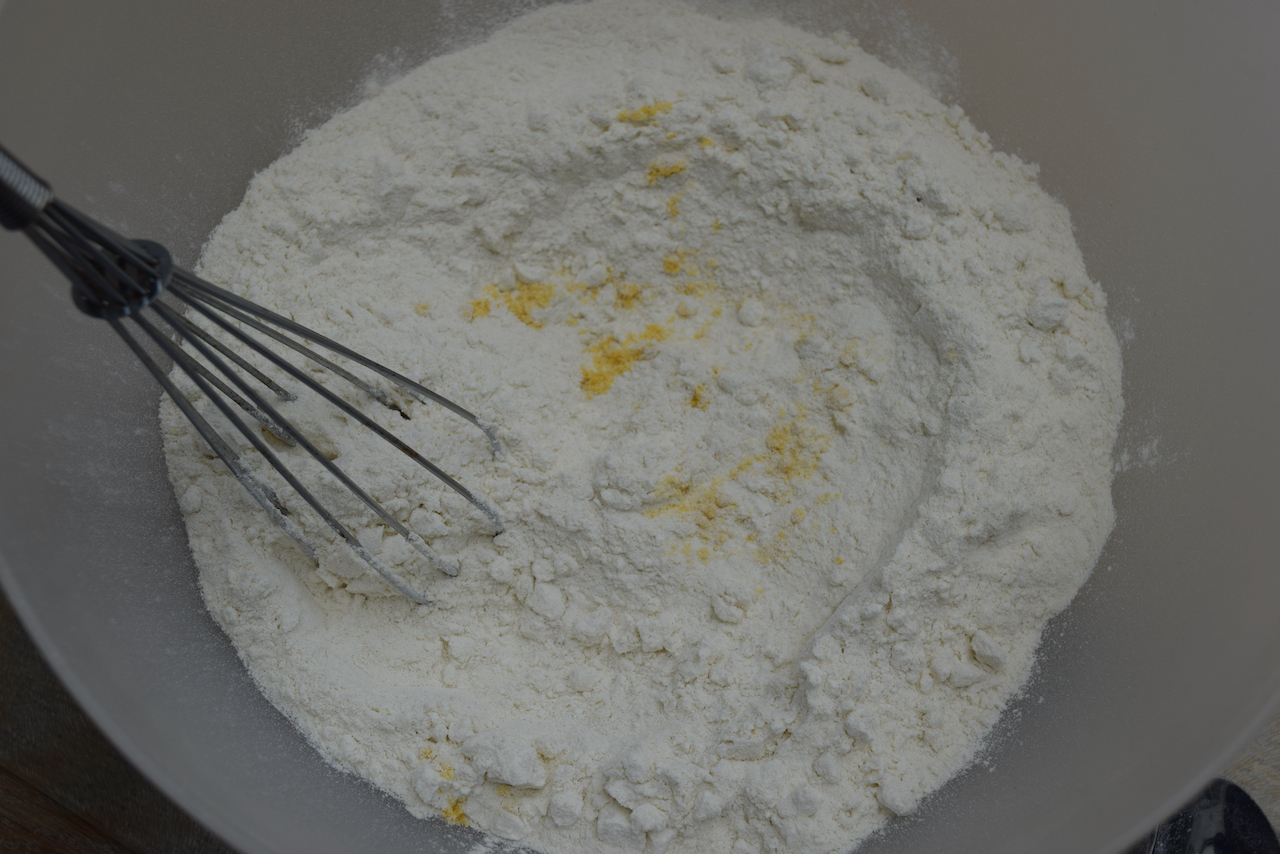 Grate your super cold butter into the flour mixture then rub it into the flour until the mixture resembles breadcrumbs.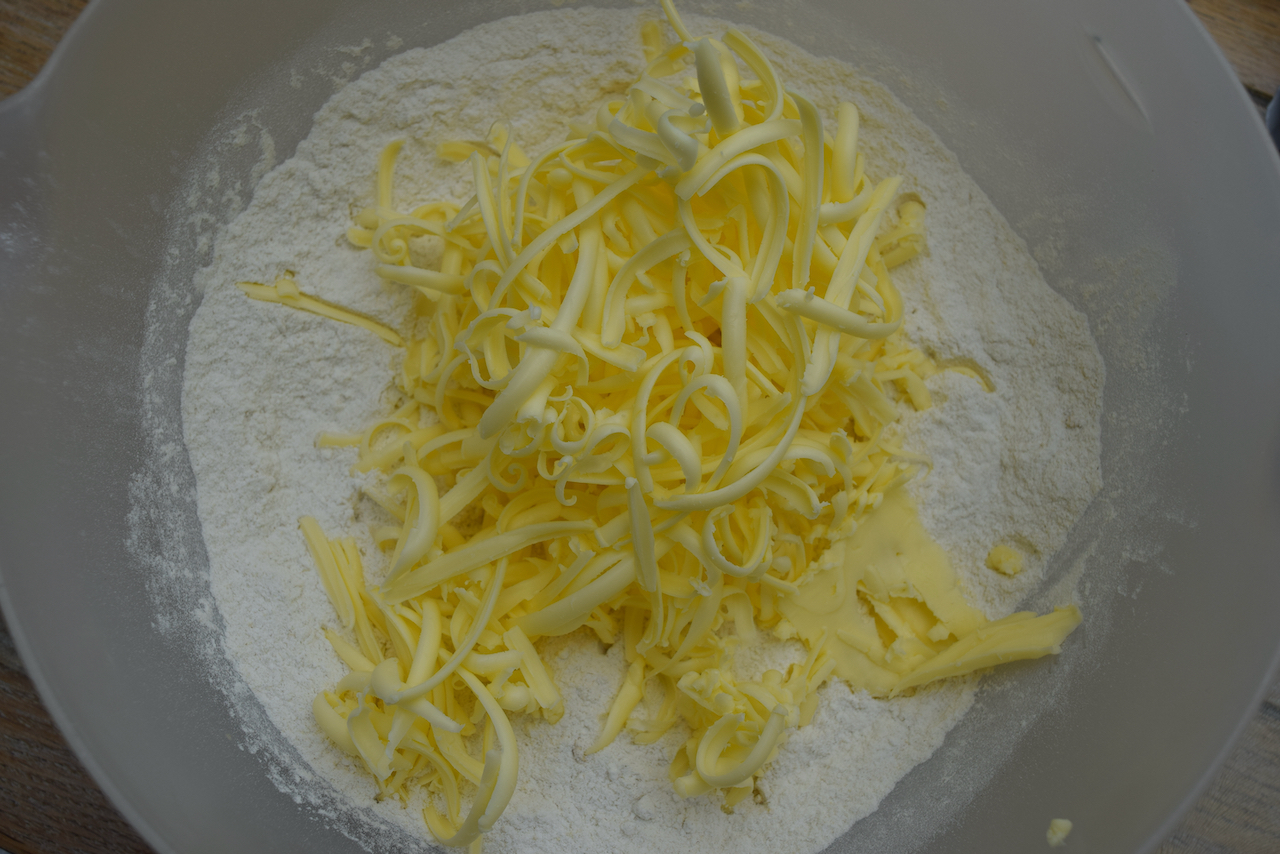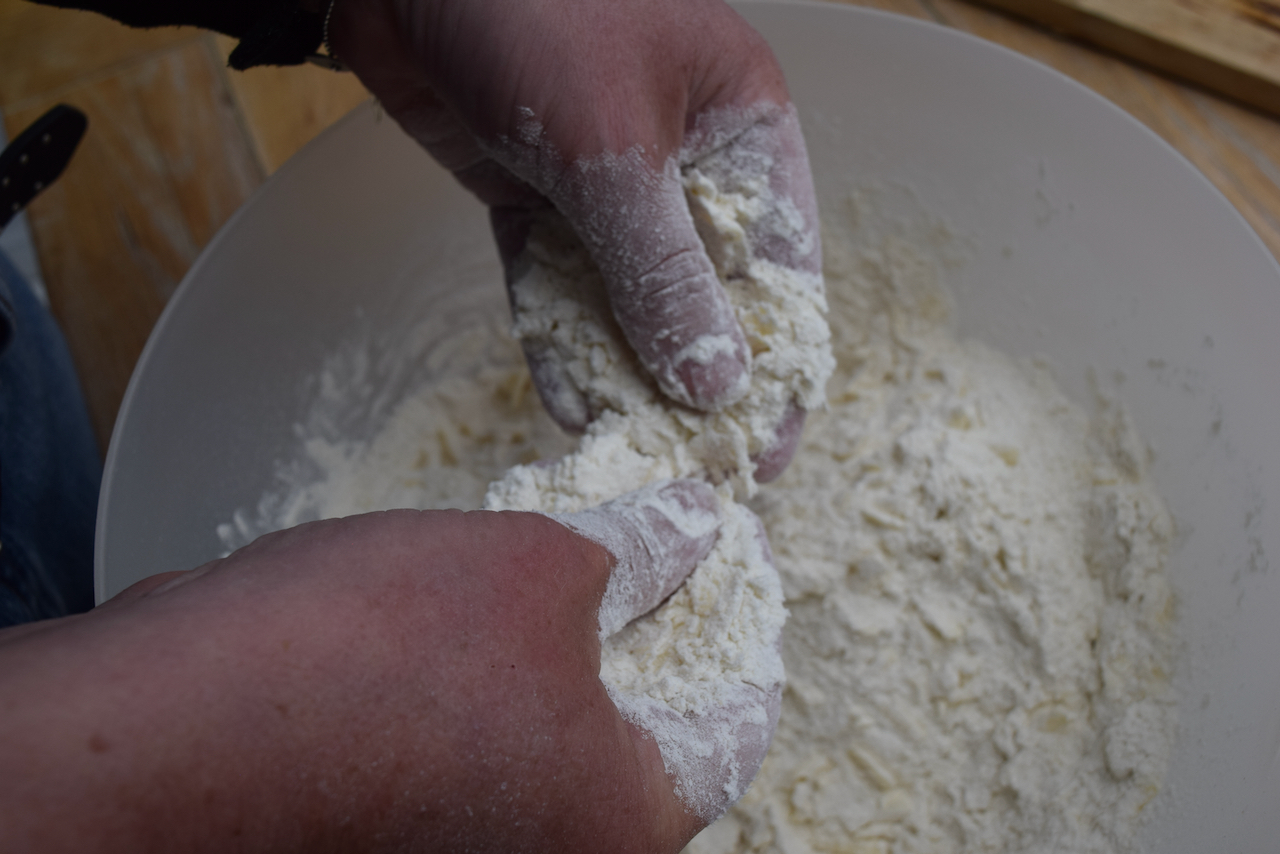 Good Lord, sorry about the reappearance of the ugly hands.
Next, finely grate the cheese, keep a handful back to top your scones, then stir this into the flour.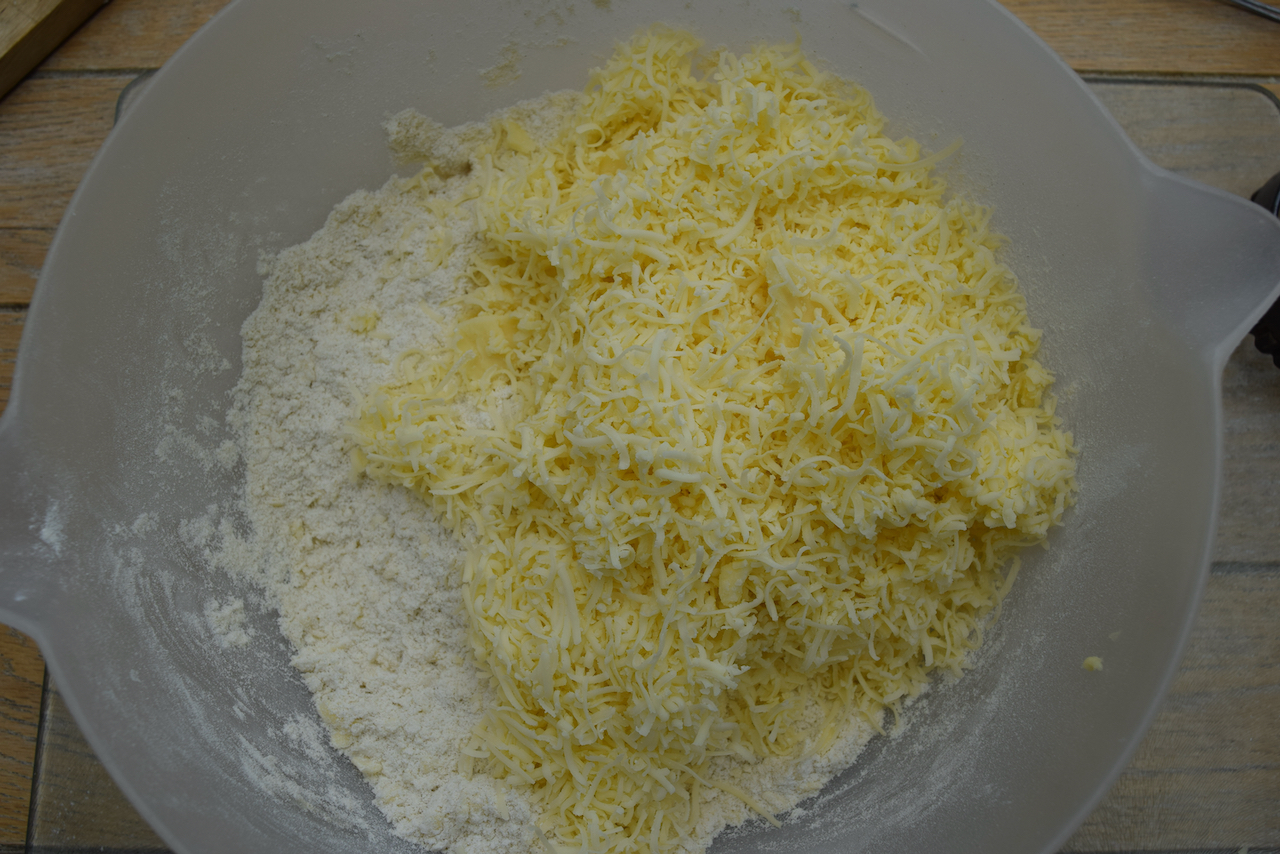 Pour in the milk and the water then mix until you have a sort of shaggy dough.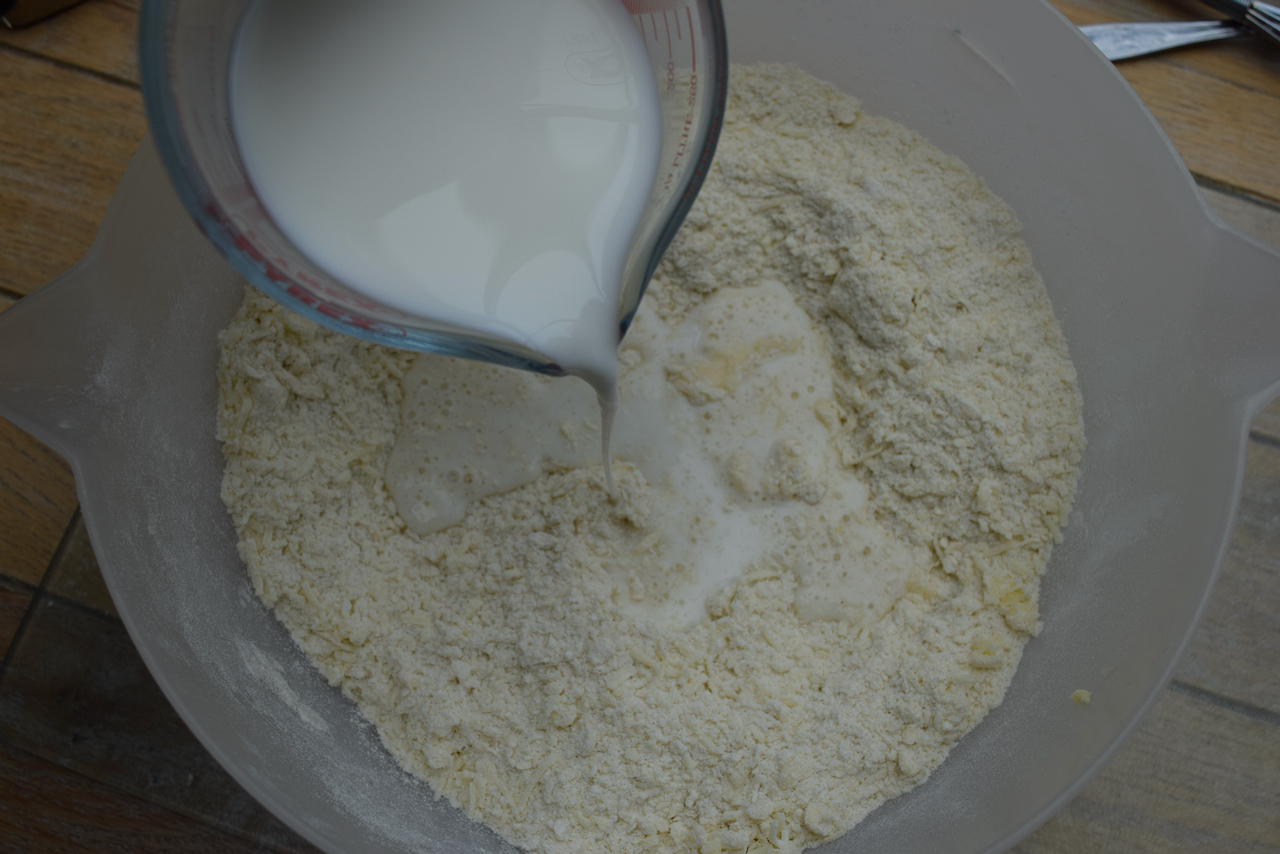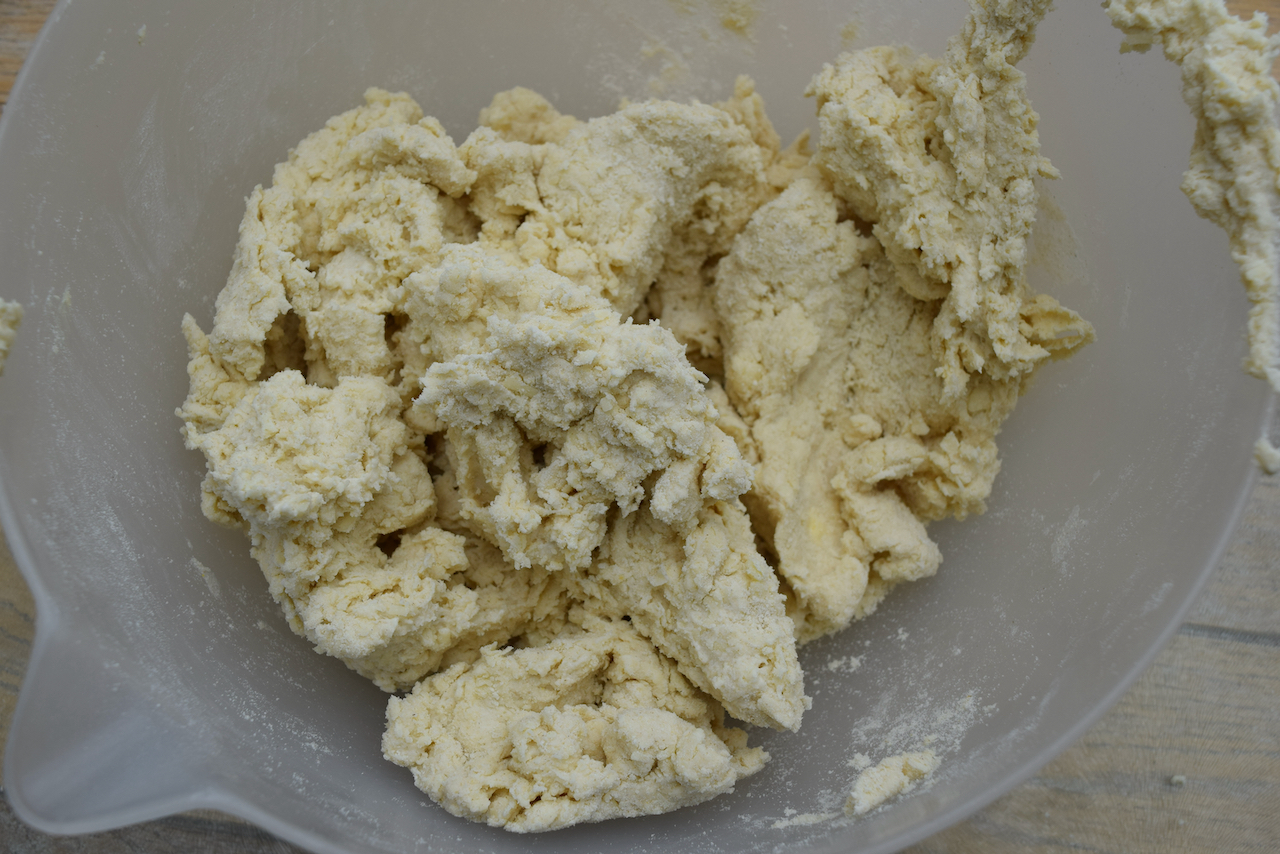 If the dough is too dry, add a splash more water. Tip it out onto a floured work surface then bring the dough together into a ball. Don't overwork it, less is more here. Roll or press it out to a thickness of around 2.5cm.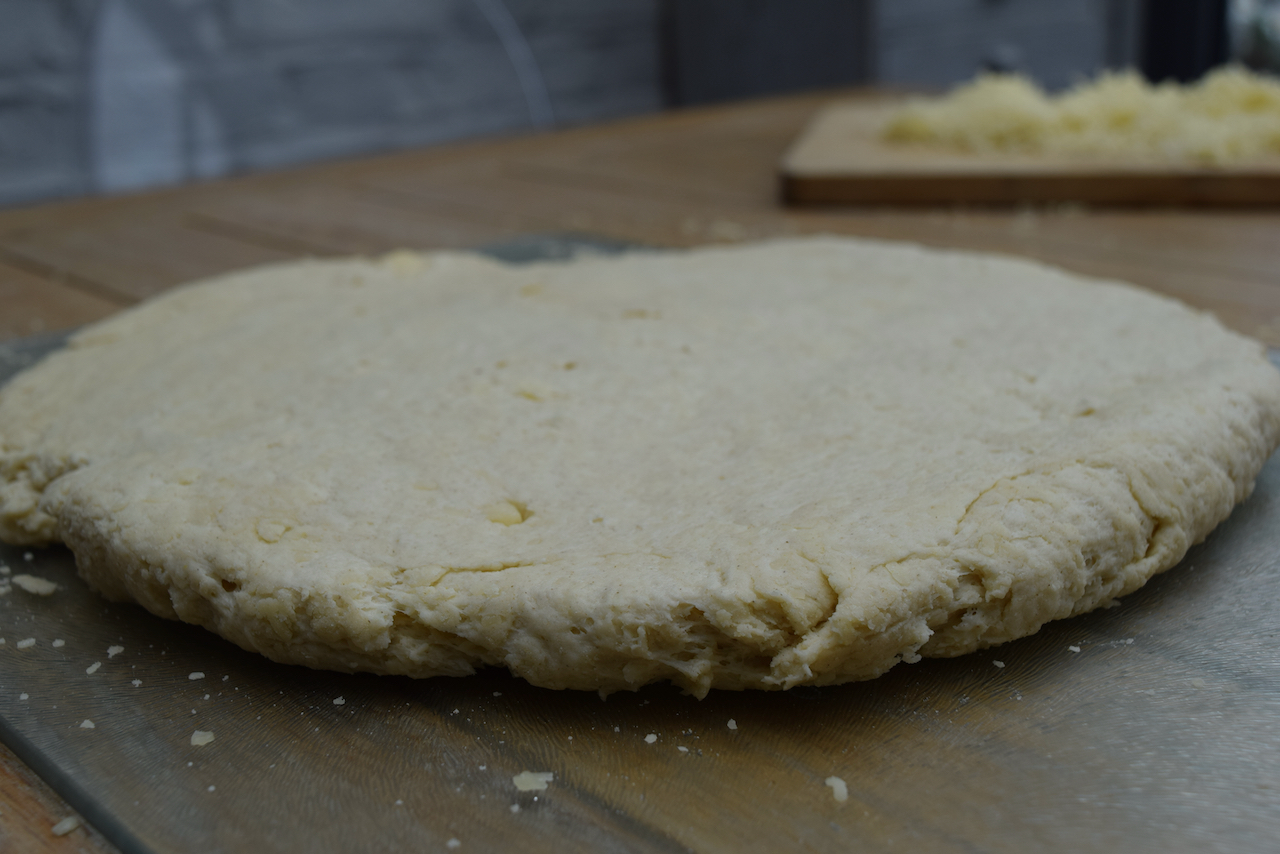 Using a 6cm cutter, cut out your scones and place onto your lined trays. Re-roll the dough until you have around 12 scones.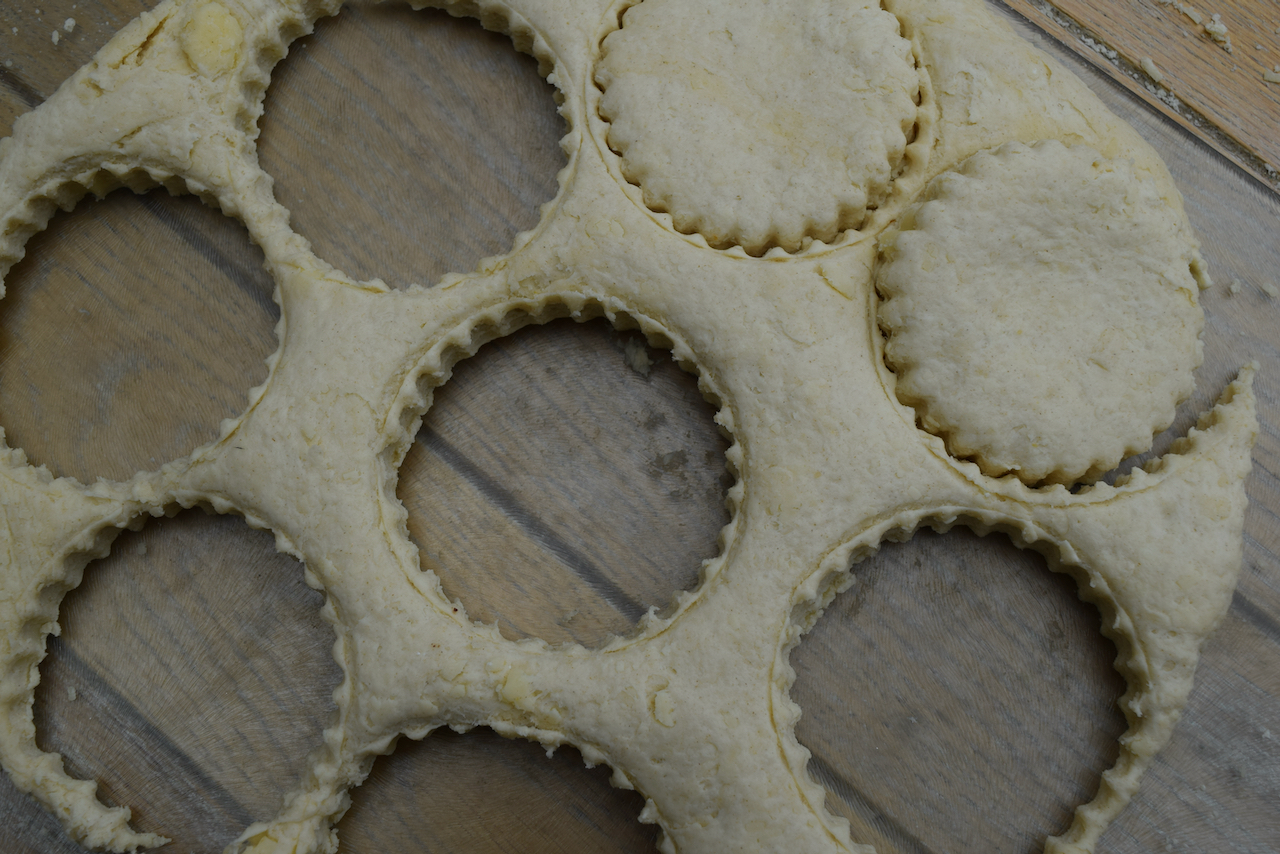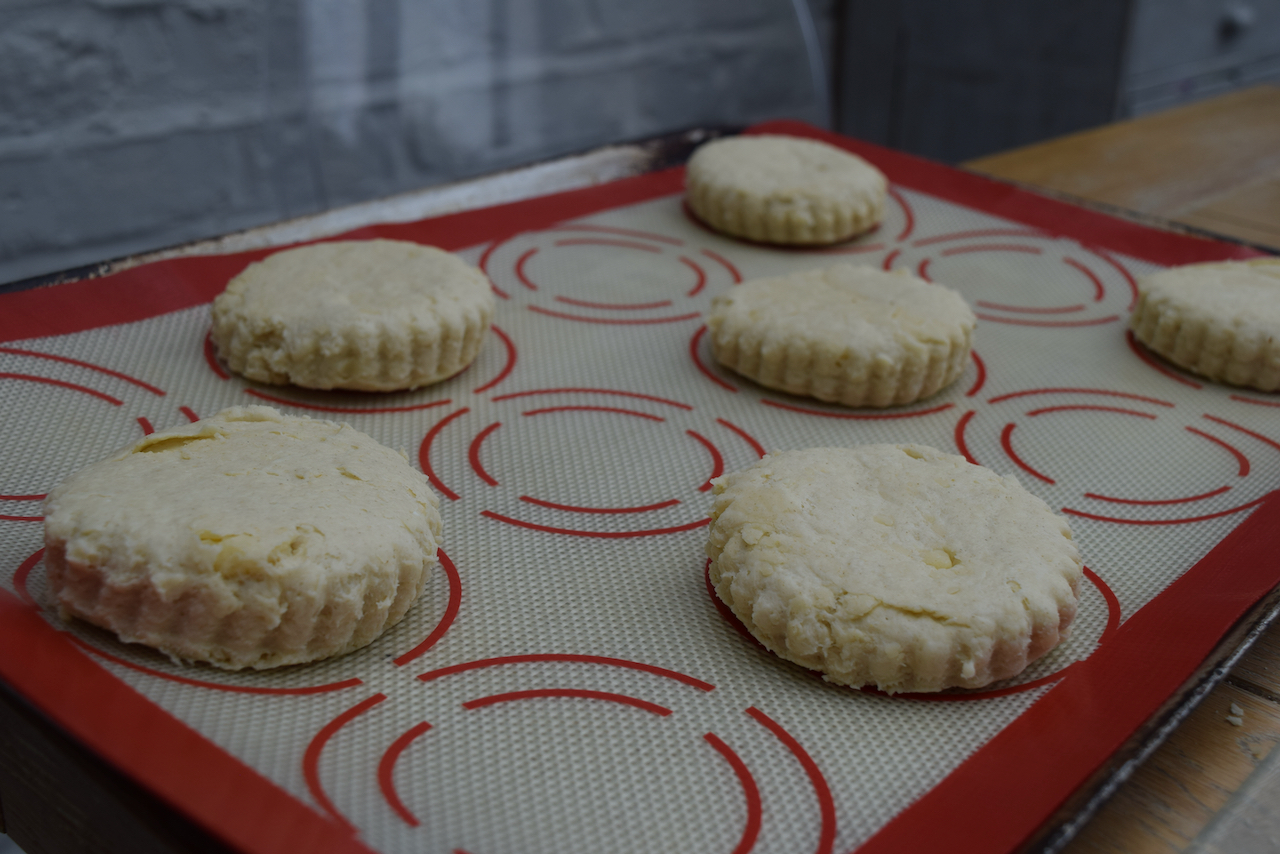 Top the scones with the reserved cheese then pop them into the hot oven for between 12 and 15 minutes.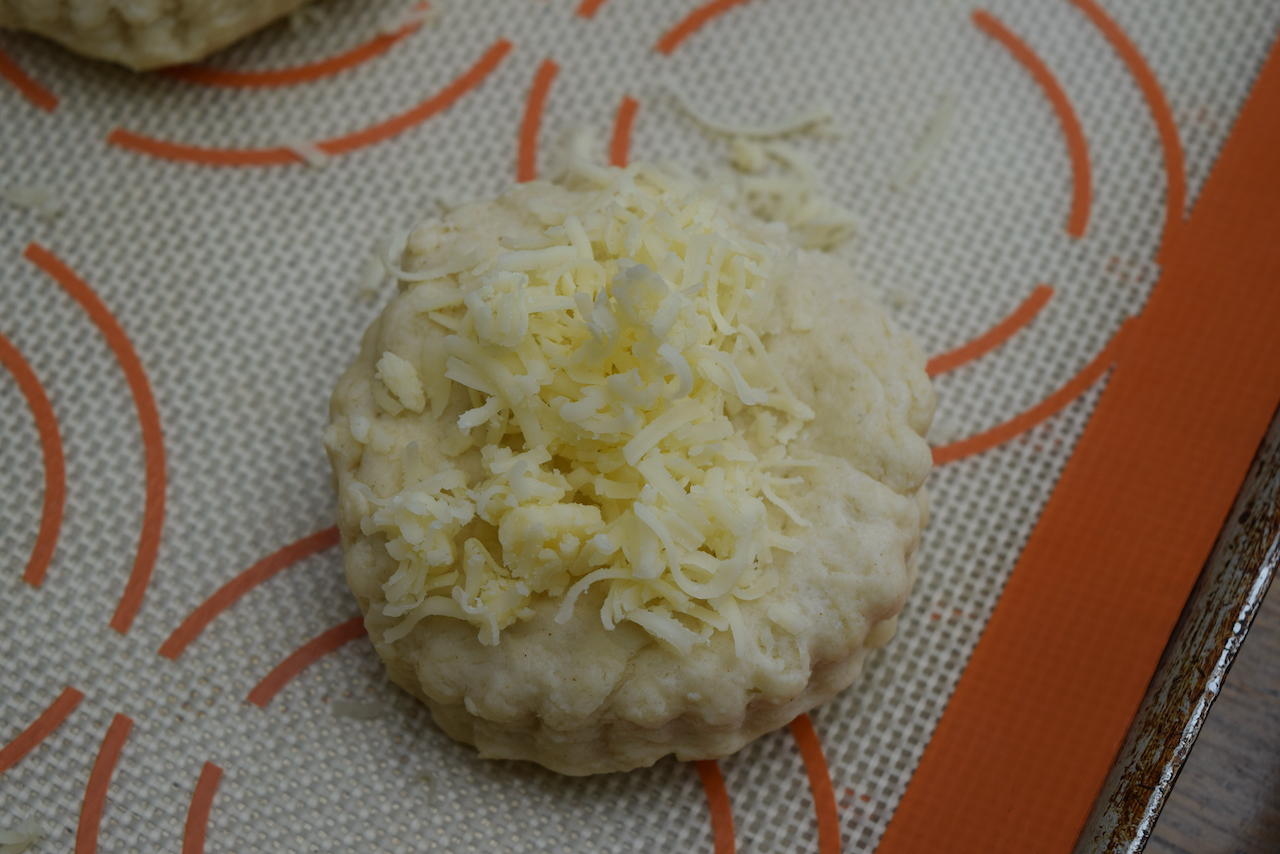 The Cheese Scones are cooked when they're golden, well risen and smelling so, so divine.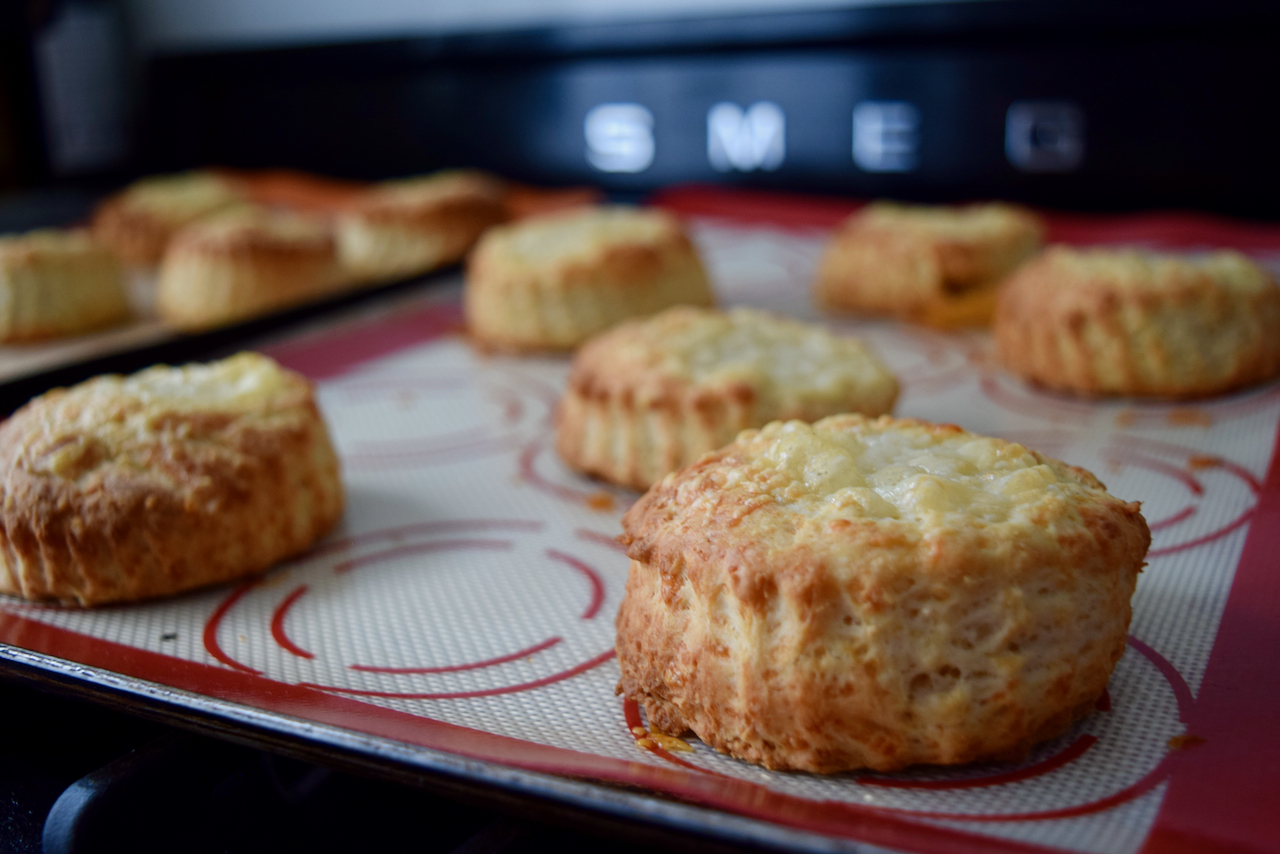 Wait an unbearable 5 to 10 minutes before devouring the scones split and slathered with cold butter.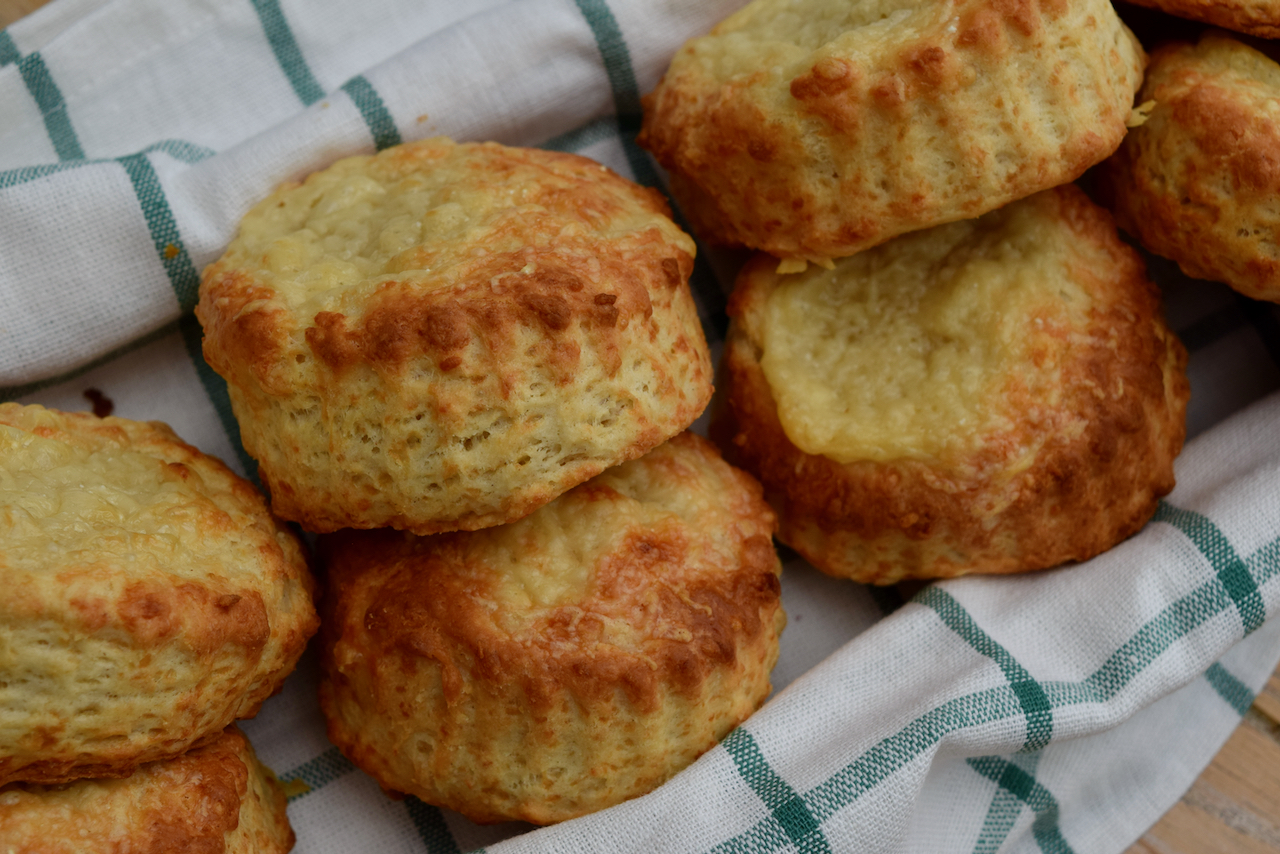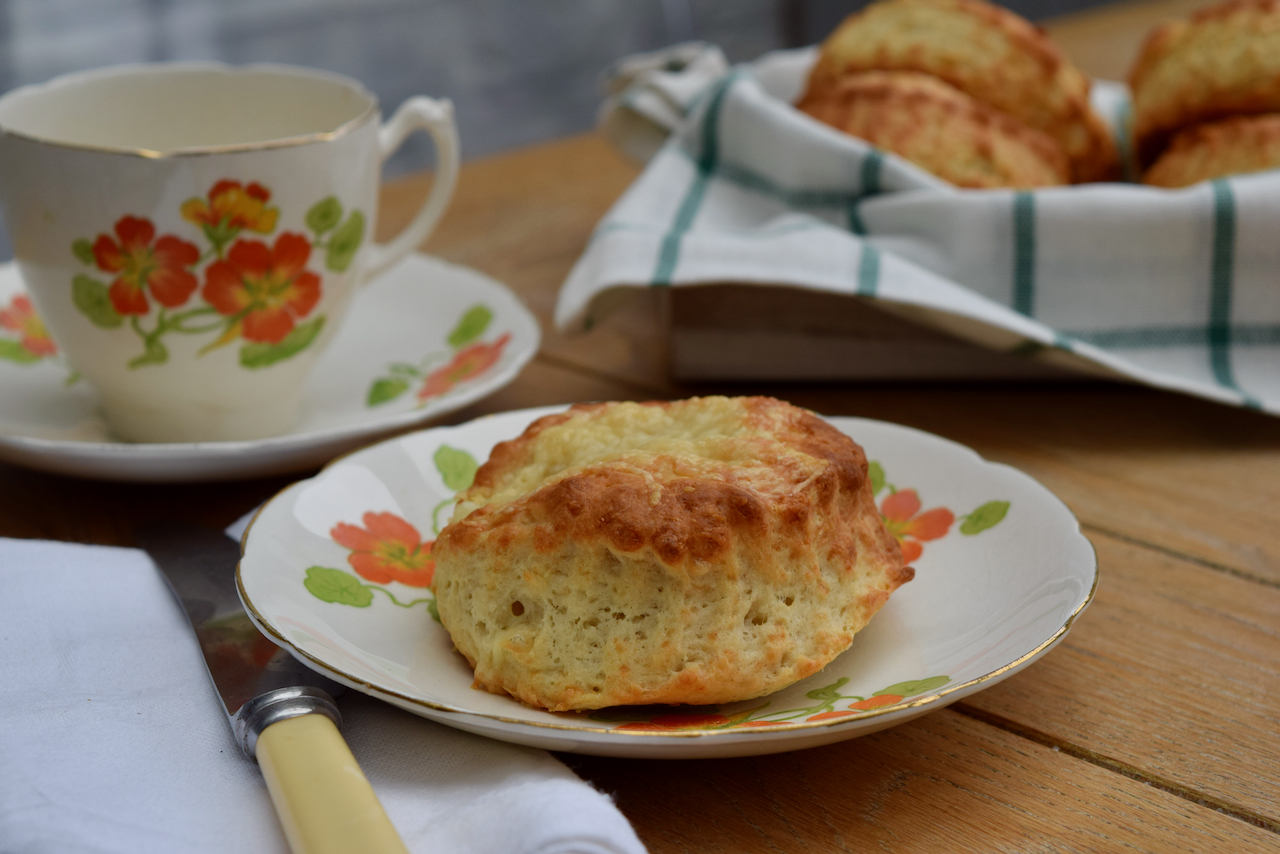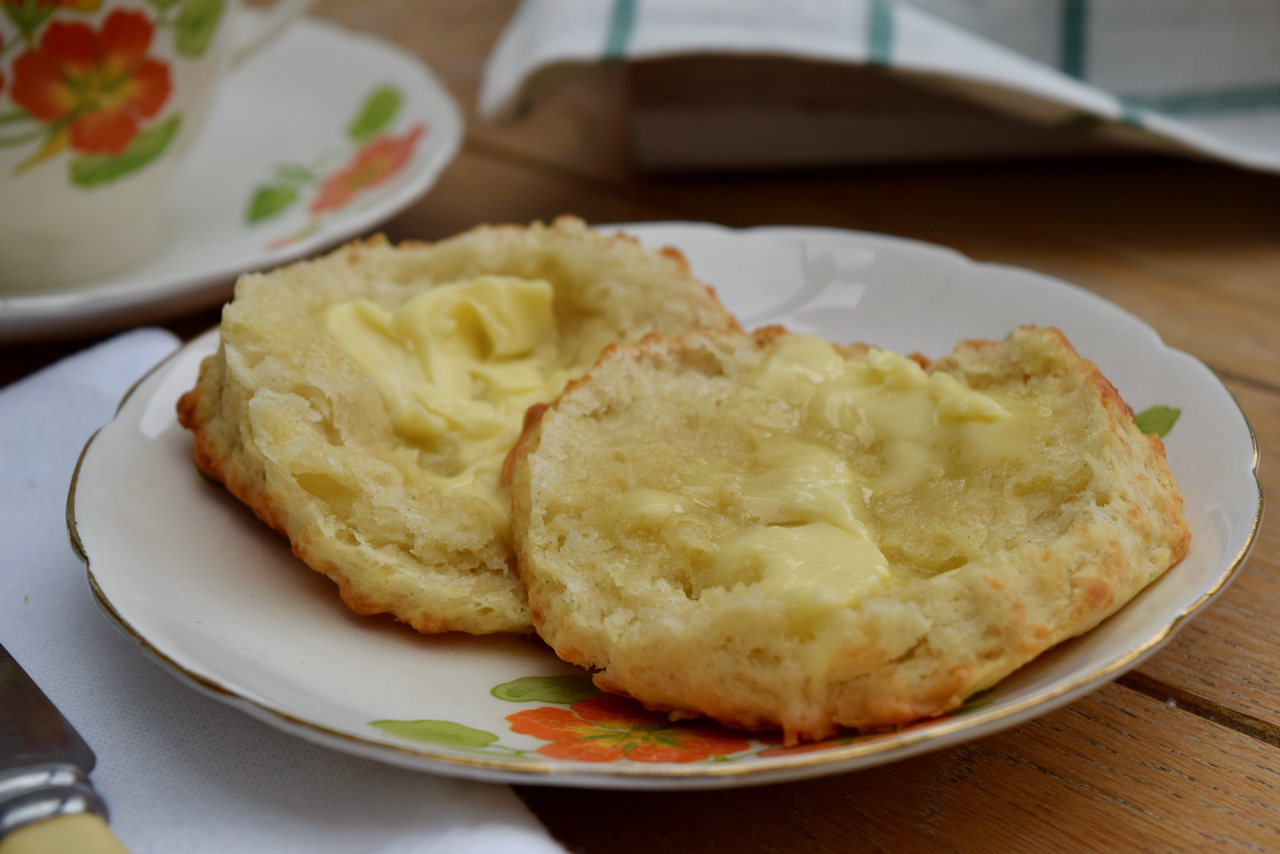 I ate two of these straight from the tray; they are irresistible. Super cheesy, light, soft, buttery, I could go on. Unfortunately, having hidden the leftovers from George he found them on one of his hourly lockdown visits to the kitchen. I will just have to make another batch and no sharing this time or a better hiding place.
Lucy x
Cheese Scones Recipe
Makes about 12, size dependent
You will just need bowls, a 6cm cutter and a rolling pin for this
450g self raising flour, or if you only have plain flour add 6 teaspoons of baking powder
1 teaspoon salt
1/2 tablespoon English mustard powder
100g cold butter, grated
275g strong cheese, cheddar or something similar, finely grated
120ml cold milk
120ml cold water
Plenty of cold butter to serve
Pre heat your oven to 200 degrees fan assisted and line two large baking trays.
In a large bowl measure in the flour. Add the salt and mustard powder, and baking powder if you only have plain flour, and whisk briefly to mix.
Grate the cold butter into the flour and then gently rub the butter into the flour until the mixture resembles breadcrumbs. Stir in most of the finely grated cheese, leaving a handful for topping the finished scones.
Pour in the water and milk and mix until you have a soft, shaggy dough. You may need a splash more water if your dough is too dry. Turn the mixture out onto a floured work surface and gently bring the dough together. Using a floured rolling pin roll the scone dough out to a thickness of around 2.5cm.
Using your 6cm cutter cut the scones and lay onto your lined baking sheets. Re-roll the mixture until you have rolled out around 12 scones. Top with the leftover cheese then place into your hot oven for around 12 to 15 minutes or until the scones are golden, well risen and smelling amazing.
Leave to cool briefly before splitting the cheese scones and slathering them in cold butter. Any leftover are super, warmed briefly, and enjoyed over the next 2 to 3 days.