Strawberry Panna Cotta Recipe
Last week I focused on children's holiday eating, but that's enough about them. This week I am treating us to some fresh summer dishes. Strawberries are still abundant, full of flavour and juicy. And cheap, there are more strawberry offers in the supermarket than you can shake a stick at. So today, let's enjoy a summer Strawberry Panna Cotta.
I love a new dinner party dessert idea. I often bore myself by making the same puds over and over and over again. So a new treaty option is like recipe gold for me, but then I do need to get out more. This Strawberry Panna Cotta is fresh tasting, creamy and could not be simpler. It utilises all those lovely cheap summer fruits and is made in next to no time, apart from the chilling time. It involves minimal kerfuffle and tastes absolutely wonderful. A Panna Cotta has a creamy elegance to it and has slightly spoiley connotations. I often choose one when I am at a restaurant, mainly based on the fact I couldn't be arsed to make it myself. Until now. This stylish pudding is only a blend, whisk and fold away from your table.
This is based on another beautiful recipe from the Great British Chefs website, with thanks to them. The set cream is swirled with an unsweetened strawberry puree and poured over more chopped strawberries. This is strawberry heaven, but if you prefer raspberries or later on in the season, plums, I could imagine this would be just as amazing.
If you feel like treating your dinner guests to something super seasonal and super tasty, look no further than this. They will feel you are treating them like actual princesses.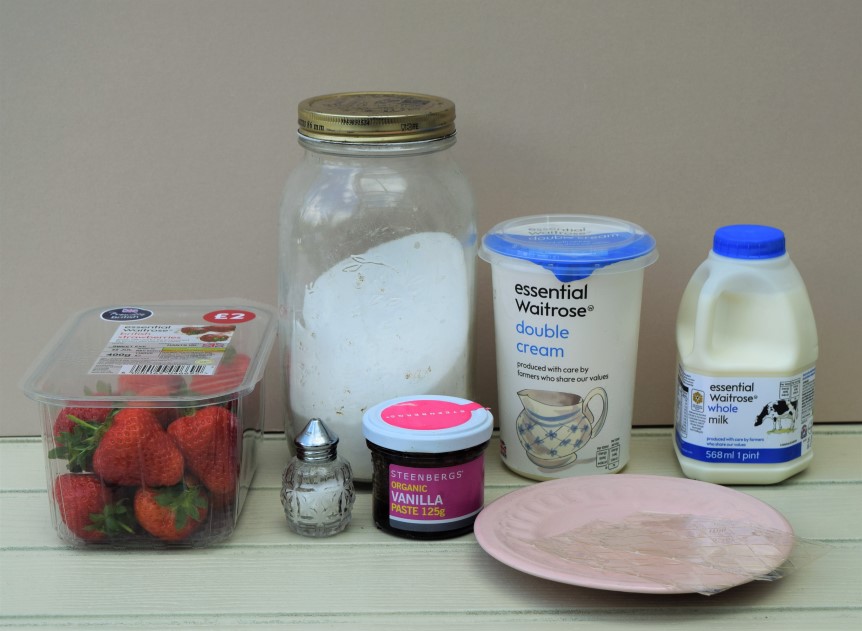 Nothing too stressful here for these elegant Strawberry Panna Cottas. I dug out my gelatine leaves which were unbelievably still within their sell by date. Don't ask why this recipe includes a pinch of salt, because I don't know. It just works, but if you know why, I'd be keen to learn the science behind it.
Make a start by making the colourful strawberry puree. You will need 200g-ish of strawberries for this. Cut off the stalks then roughly chop these beauties. Pop them in your blender and puree until smooth.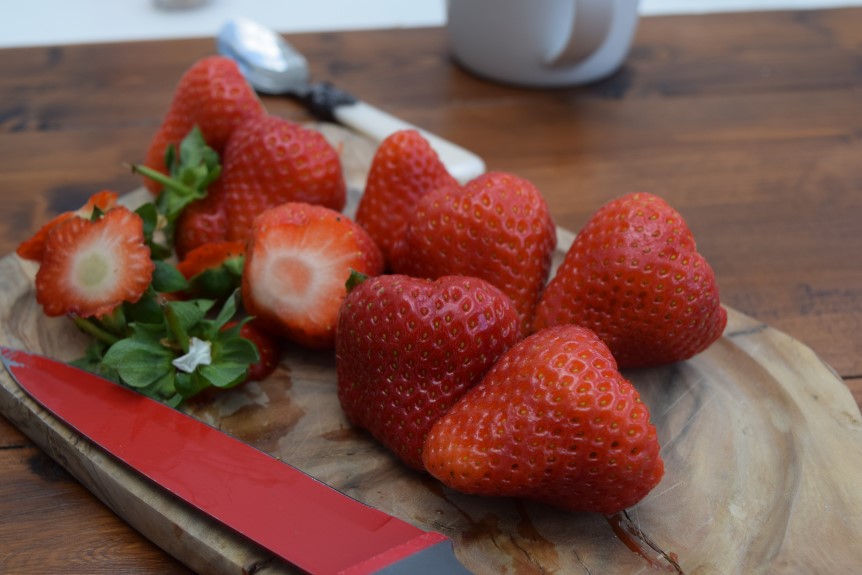 These had a whiff of summer perfume to them.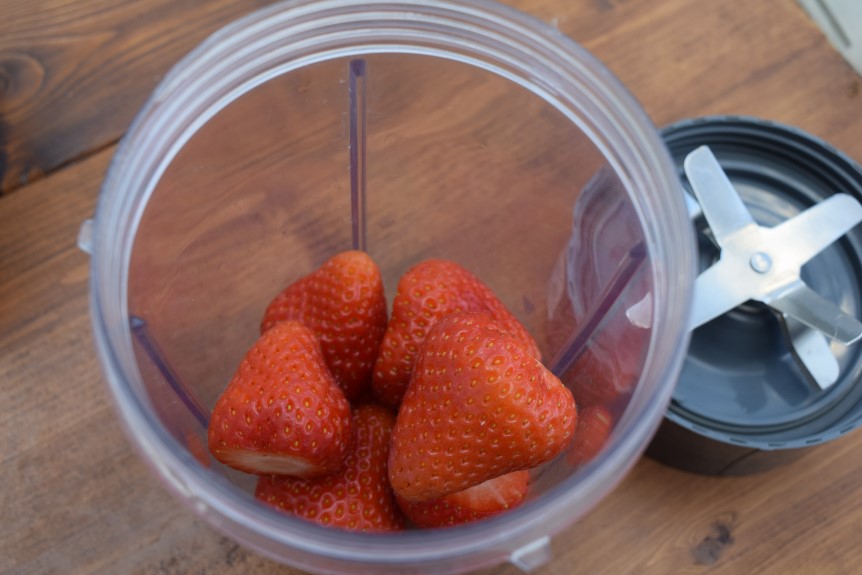 Pour the puree into a jug and pop in the fridge until later.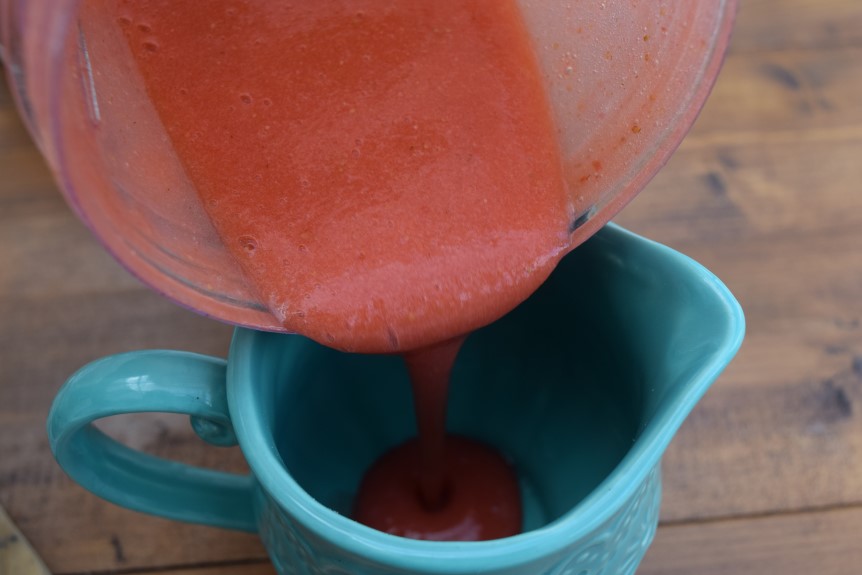 Now make a start on the rest of this stylish dessert. Place the two sheets of gelatine into cold water and leave to soak while you slice the rest of the strawberries and add most of them to the bottom of four glasses or cups. Reserve 2 slices of strawberry per cup for garnish. Sprinkle on half a teaspoon of sugar to the fruit then put to one side for the moment.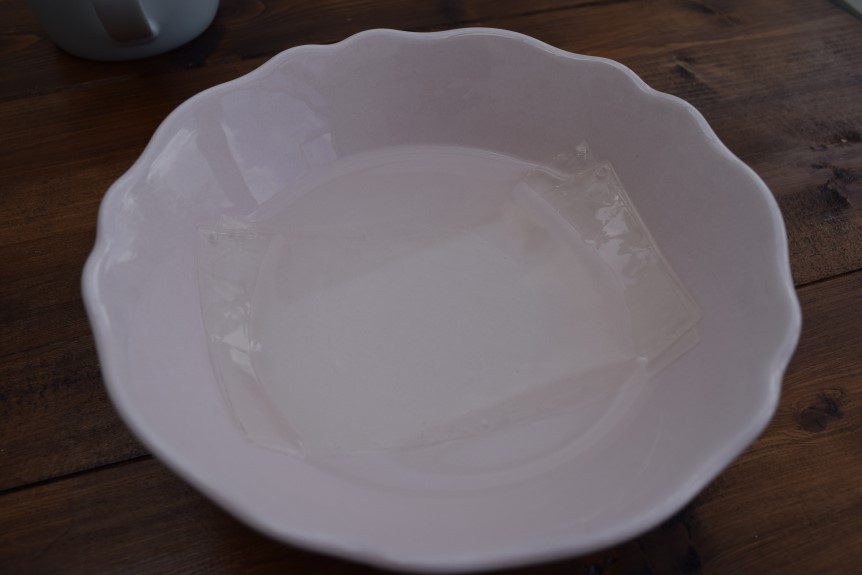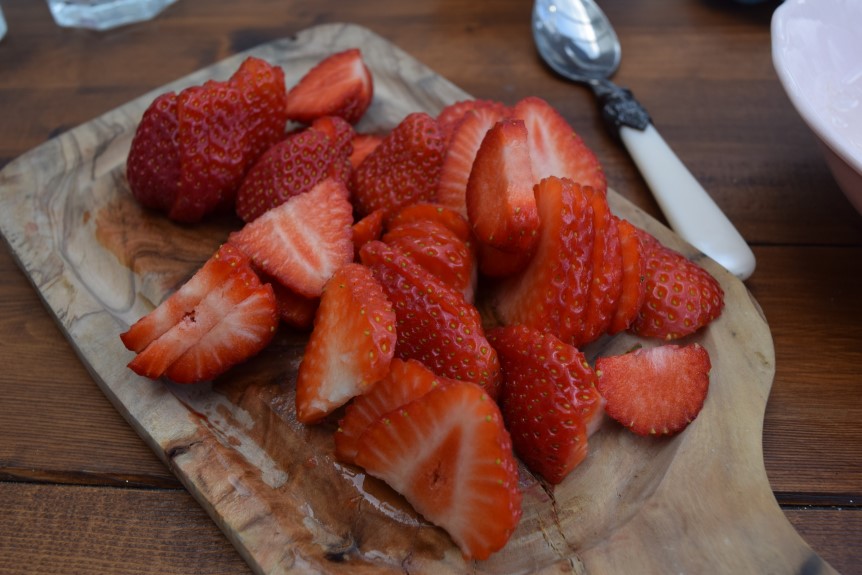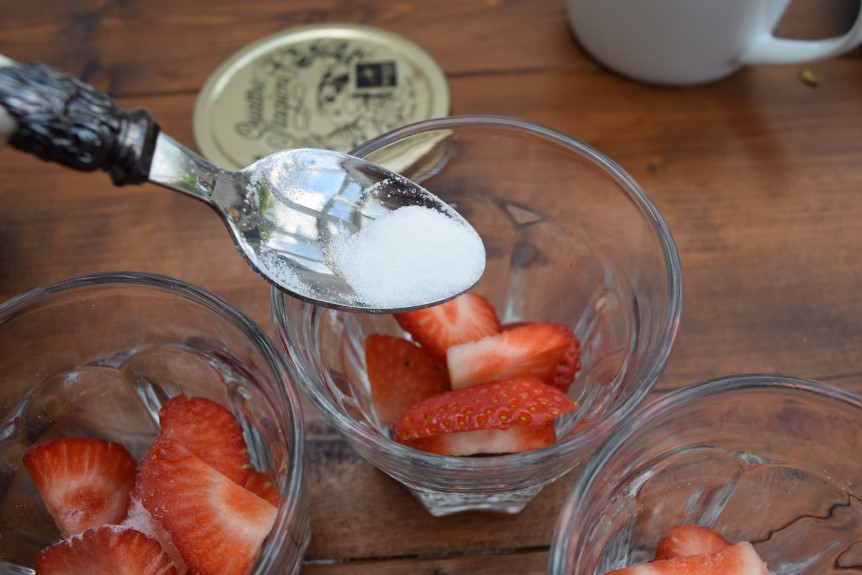 For the cooked cream, which I, in smart-arsed fashion am led to believe is what Panna Cotta means, place the cream, milk, sugar, vanilla and salt into a medium sized sauce pan.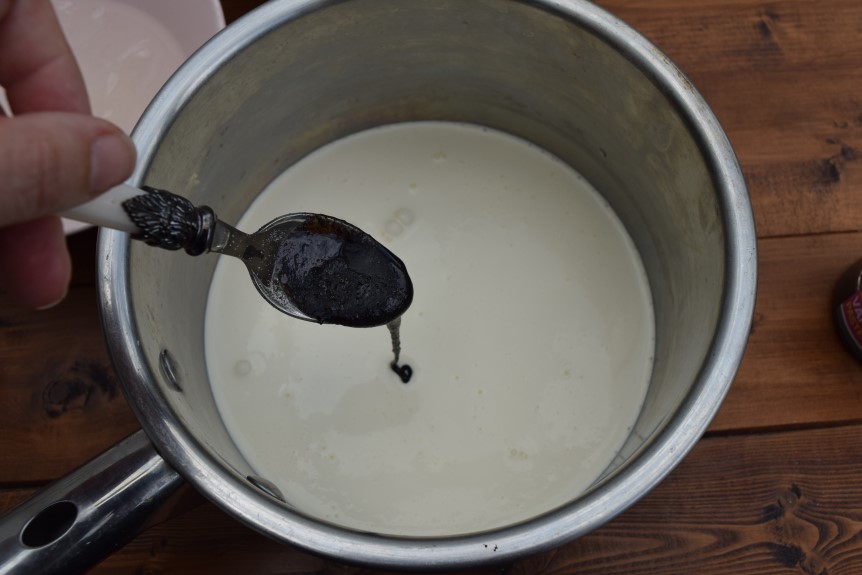 Slowly, bring this to the boil then whisk in your squeezed out sheets of gelatine. Do your best to squeeze out as much water as you can, but they will be quite slimy by now.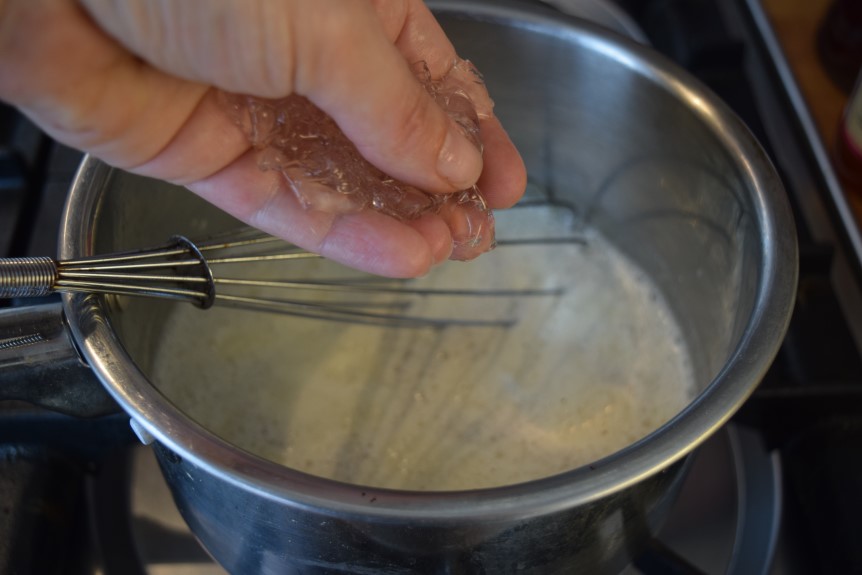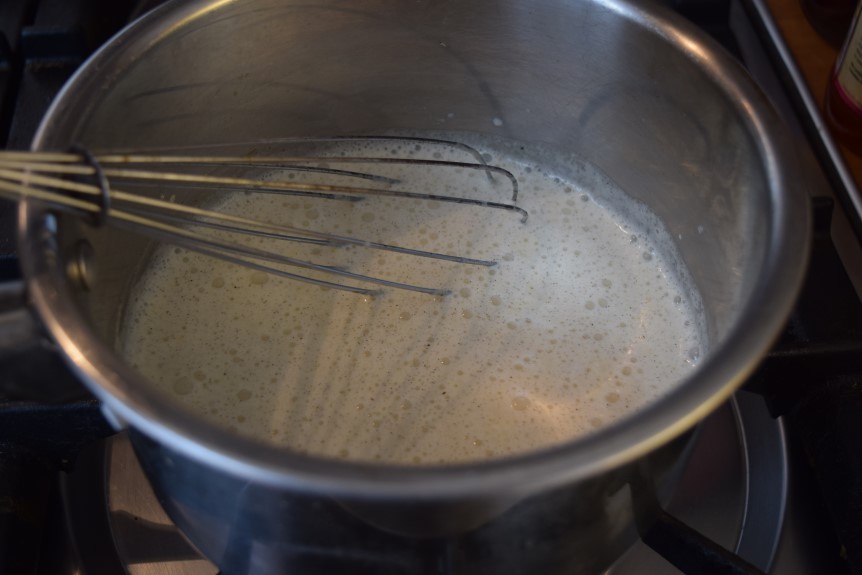 Remove this vanilla scented creamy loveliness from the stove then place the pan over a sink of very cold water. The recipe said iced water, but I never have enough ice, so I just ran the tap water for ages and it seemed cold enough. Whisk the cooked cream in the pan, with the bottom in the sink of cold water, so the mixture cools down and starts to thicken ever so slightly.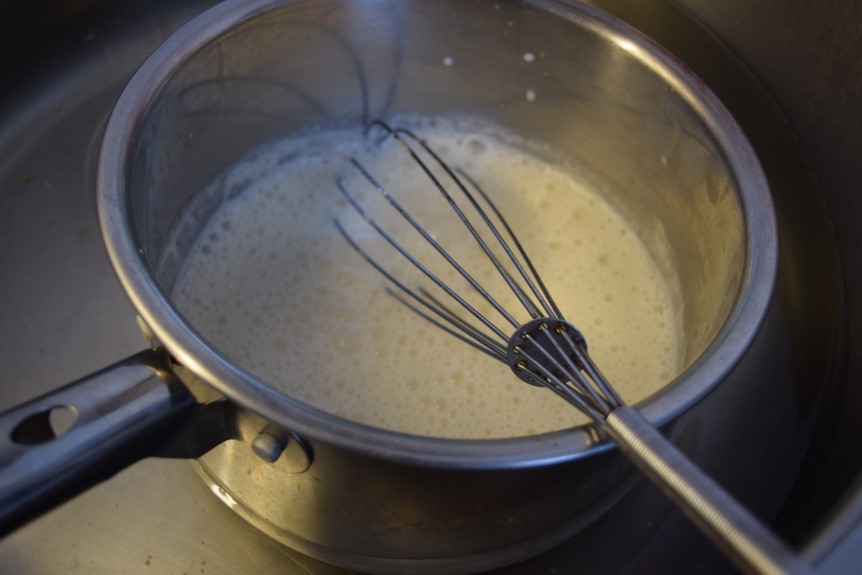 Finally, take your strawberry puree from the fridge and pour this into your cream mixture. Fold through only once or twice at the most, as you just want it marbled not mixed in completely.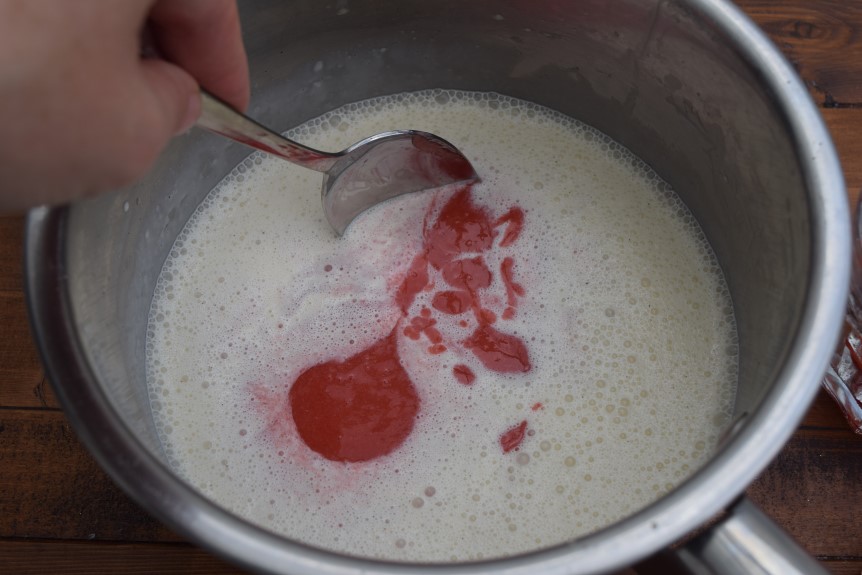 Pour this into your tiny cups, right to the top, then garnish with the reserved strawberry slices.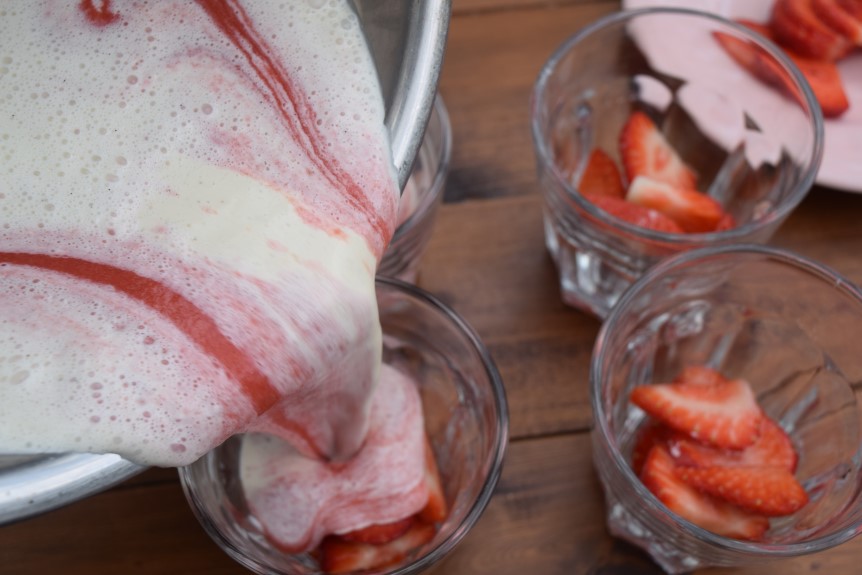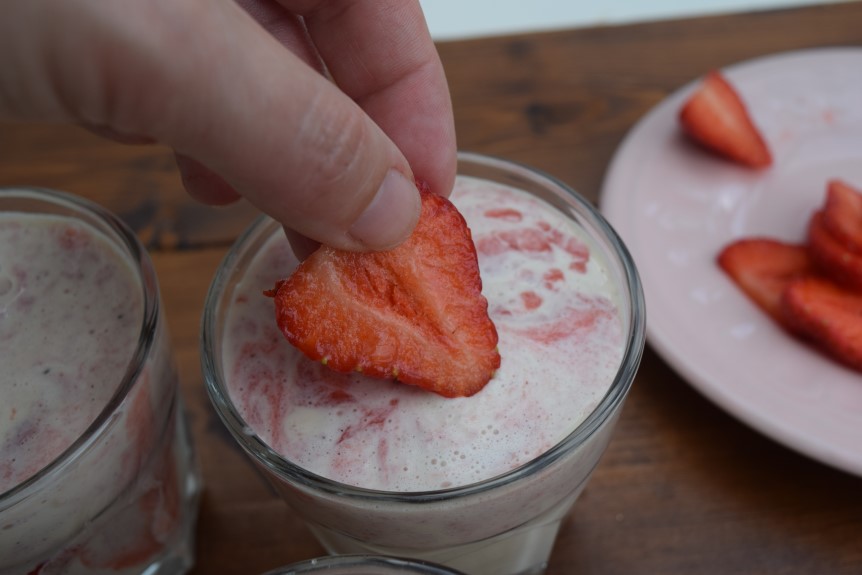 Place these works of art in the fridge for at least two or three hours to set before serving.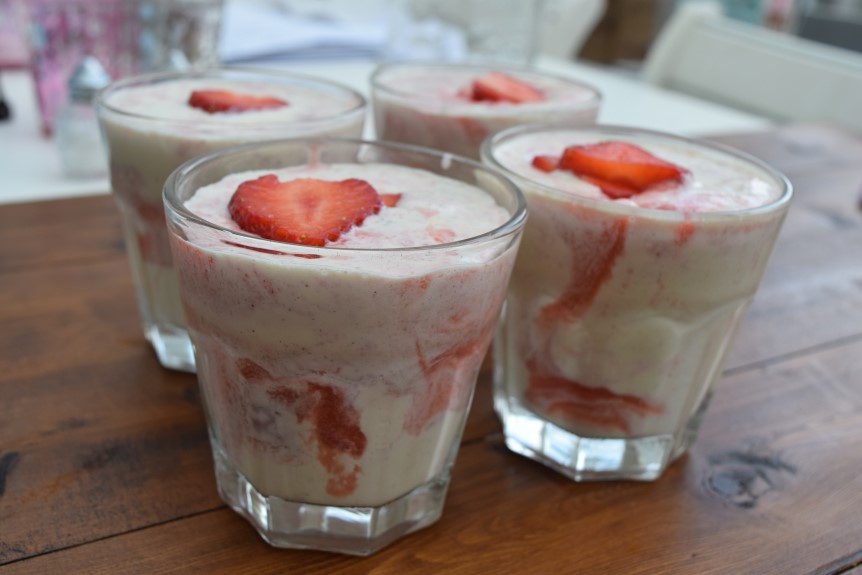 You could serve these alongside some shortbread fingers or biscotti, but I decided they needed nothing to distract from their beauty.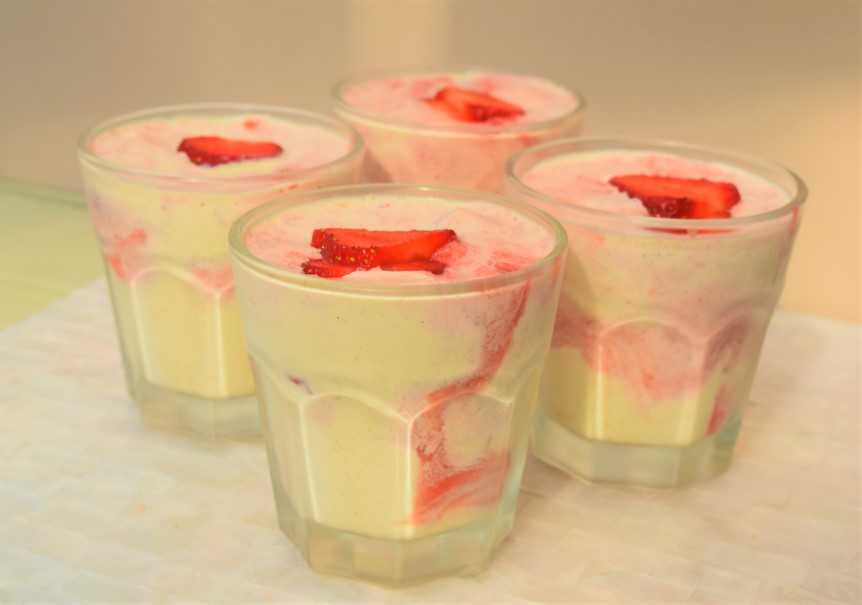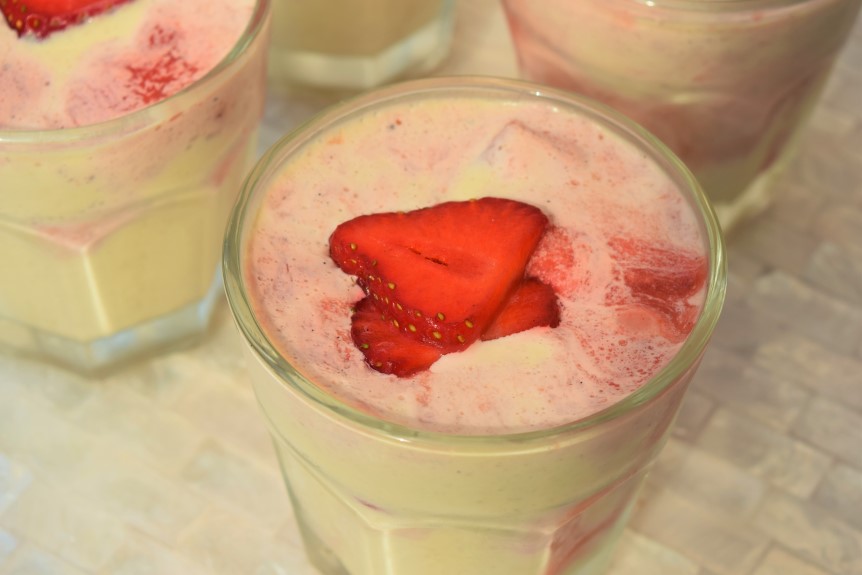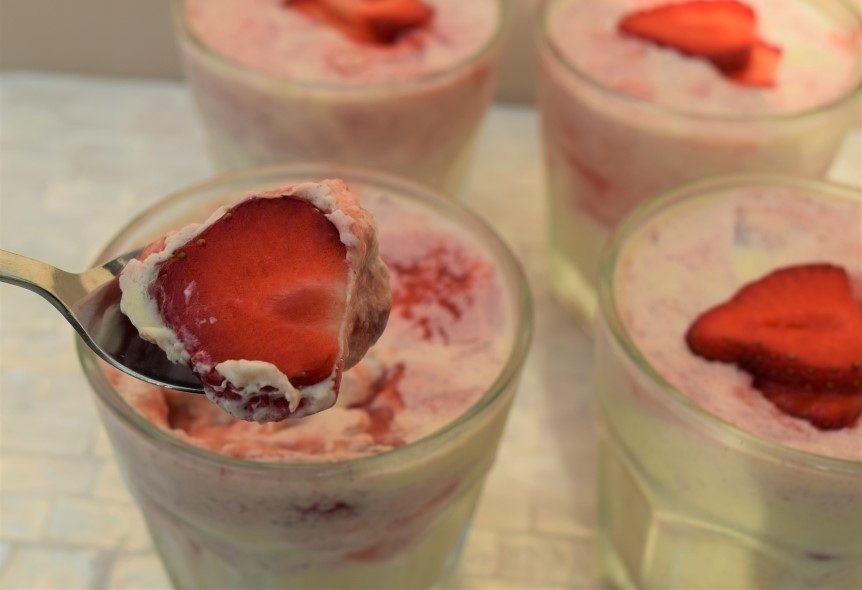 The sunshine came out when I served my Strawberry Panna Cottas and I hope it does for yours. This is such a fresh, fragrant dessert, full of summer promise. Enjoy these with the best seasonal strawberries while you can.
Lucy x
Strawberry Panna Cotta Recipe
Makes 4
You will need 4 little pots or cups to serve in
300g strawberries, divided into 200g and 100g, roughly
2 leaves gelatine
100ml milk, I used full fat for extra creaminess
300ml double cream
35g caster sugar, plus a little extra for sprinkling
1 teaspoon vanilla paste or extract
A pinch salt
Make a start with your strawberries. Cut off the stalks then roughly chop 200g of these.Put them into your blender or Nutri Bullet and puree. Sieve if you are averse to seeds, if not don't bother. Pour into a small jug and refrigerate until needed.
Take the rest of your strawberries and slice, reserving a couple of slices for garnish. Place these in the bottom of your serving cups, sprinkle each one with a half teaspoon of sugar, then pop to one side.
For the panna cotta, start by soaking the gelatine leaves in cold water for 5 minutes. Next, pour the cream, milk, sugar, vanilla and a pinch of salt and slowly bring to the boil. Wring out the gelatine to remove excess water then whisk into the hot cream mixture. Remove from the heat and whisk the mixture for a further minute or two with the bottom of the pan in the sink filled with cold water. This will cool the mixture and allow it to thicken slightly.
Pour the strawberry puree into the cream mixture and stir only once or twice to just marble with the cream mixture. Then pour this into each of your cups, filling almost to the top. Decorate each one with an additional strawberry slice or two then leave to set in the fridge for 2 to 3 hours. These could be made a day in advance and kept covered in the fridge and devoured when needed.