Beef Rib Ragu Recipe
This week is meant to be filled with love and romance. What a load of nonsense, everyday is filled with love at Lucy Loves. Love for food that is. My favourite way of showing my family love is with something comforting and nutritious, cooked with care and thought. They don't always get that to be fair, some days it's all about the pasta and fish finger sandwiches, but when I do have the time and inclination, this Beef Rib Ragu is the kind of lovingly prepared dish to woo your loved ones.
I have had my eye on beef ribs for ages. Not in a pervy way, in a 'they seem simple, not overly expensive and delicious' sort of way. And I'm so pleased we met; beef ribs are a wonderful ingredient. In this ragu, they are slowly cooked on the nob with tomatoes, herbs and wine. The beef is soft and tender, the sauce is rich and comforting and to add to the joy, this ragu is best served with some buttery mash or polenta for added cosiness. The inspiration for this dish came via the wonderful Waitrose website, with thanks; honestly, it's the least they could do the amount of times I visit our branch conveniently located at the end of our road. I got my beef ribs from their deli counter and they are great value as this recipe served a generous 6 and could go further if you have smaller appetites. It's perfect to cook at the weekend as I literally ignored it for 3 hours and was rewarded with melting beef in a rich sauce, crying out for a pile of mash.
Cast aside the roses, chuck out the chocolates, the way to your loved ones heart is via this Beef Rib Ragu. With the bonus of this dish cooking itself, you are left with more time to spend with the love of your life. I am hoping that's Lucy Loves, but if there is someone else in your life I won't be hugely offended *I will*.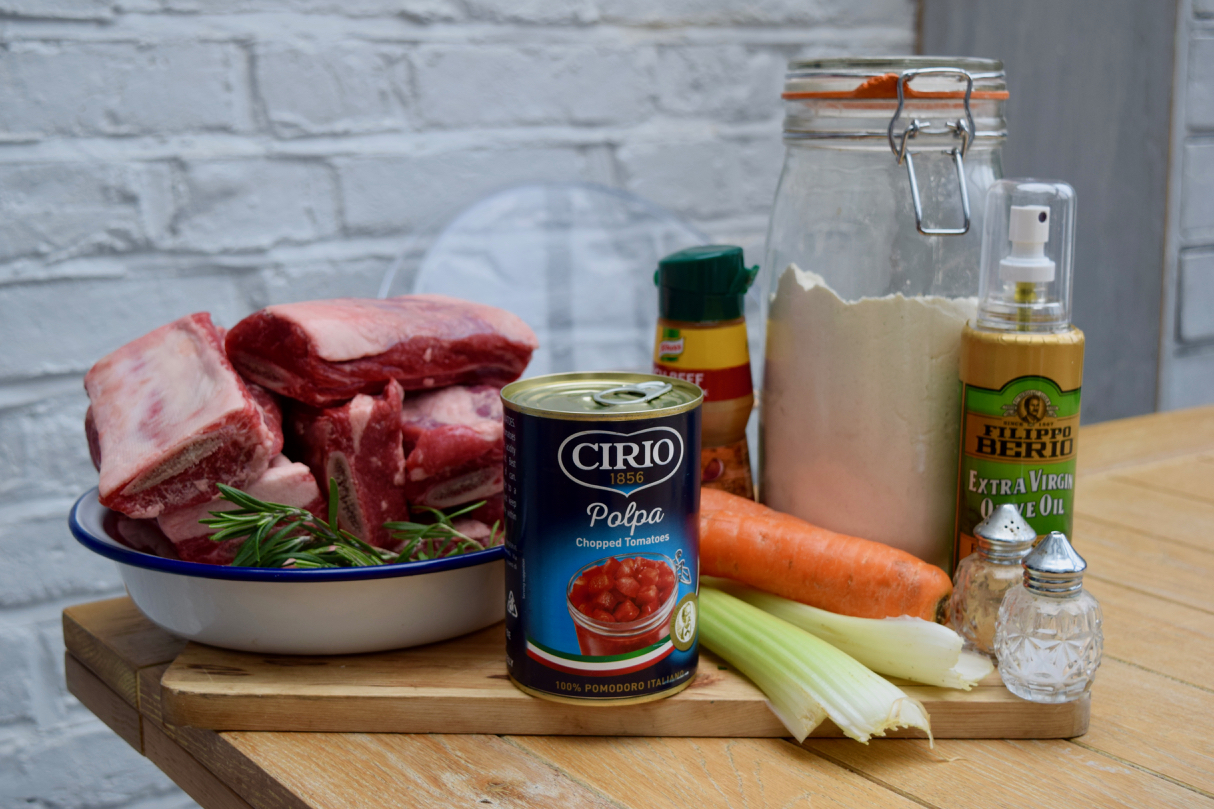 This is such a wholesome looking line up, featuring these beef ribs which really are photogenic. They impart such amazing flavour to the sauce and wonderful rich beef for the ragu.
Make a start on this by lightly coating your ribs in the seasoned flour. Next heat up a large casserole dish, over a high flame, with a tablespoon of oil.  Add the seasoned ribs and fry in two batches until they're browned on all sides.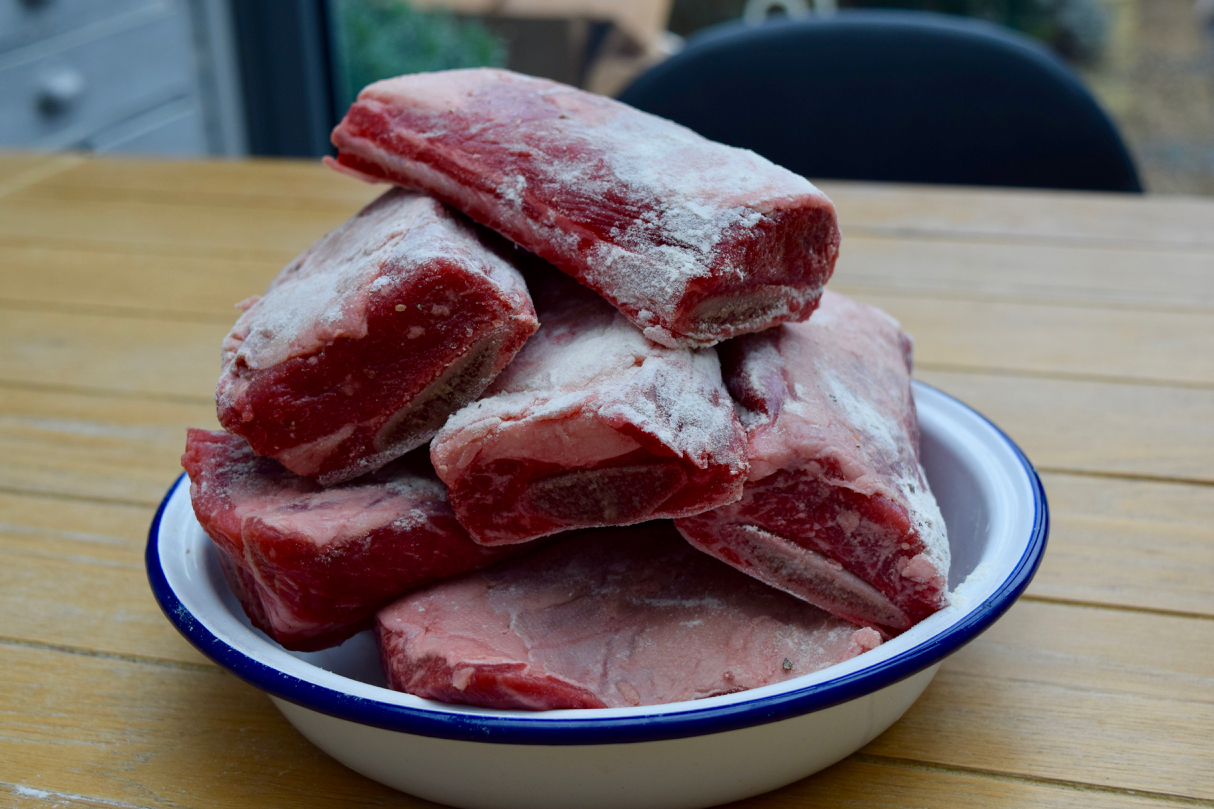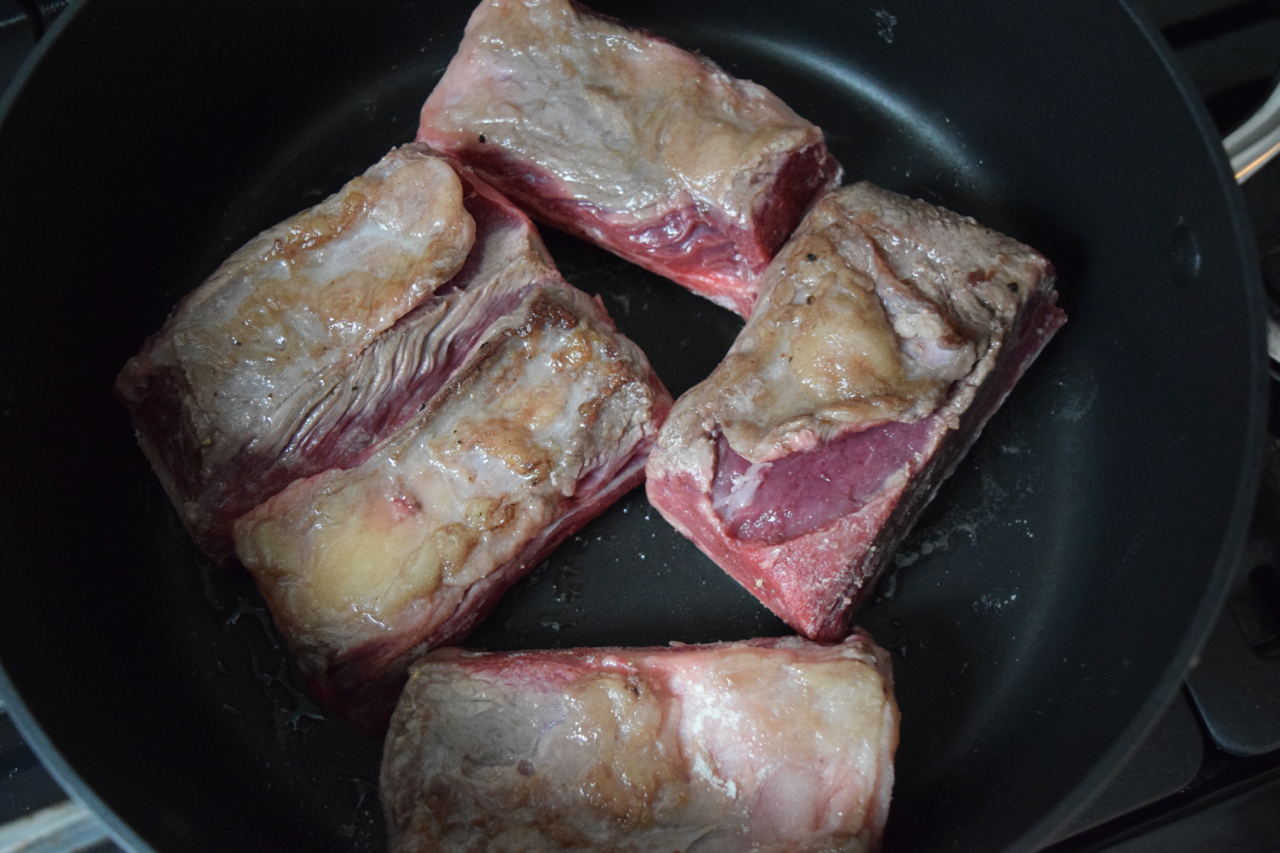 Pop the first batch on a plate while you cook the second batch of ribs, using a second tablespoon of oil if needed. Add those to the plate then pour in a third tablespoon of oil and cook the carrot, celery, onion and garlic for around 5 minutes or until starting to soft and brown a little.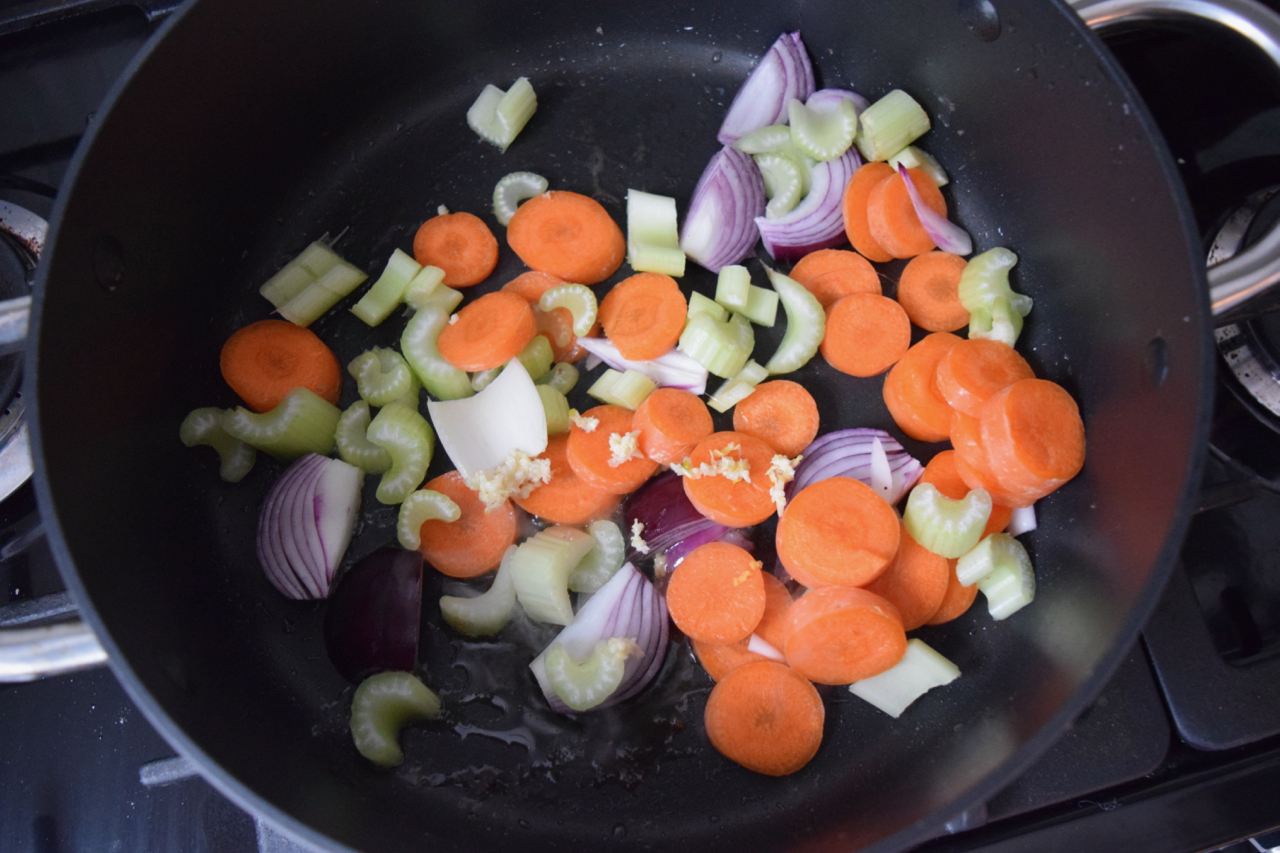 Add the sprigs of rosemary, bay leaf, browned ribs, wine, stock and the tin of tomatoes.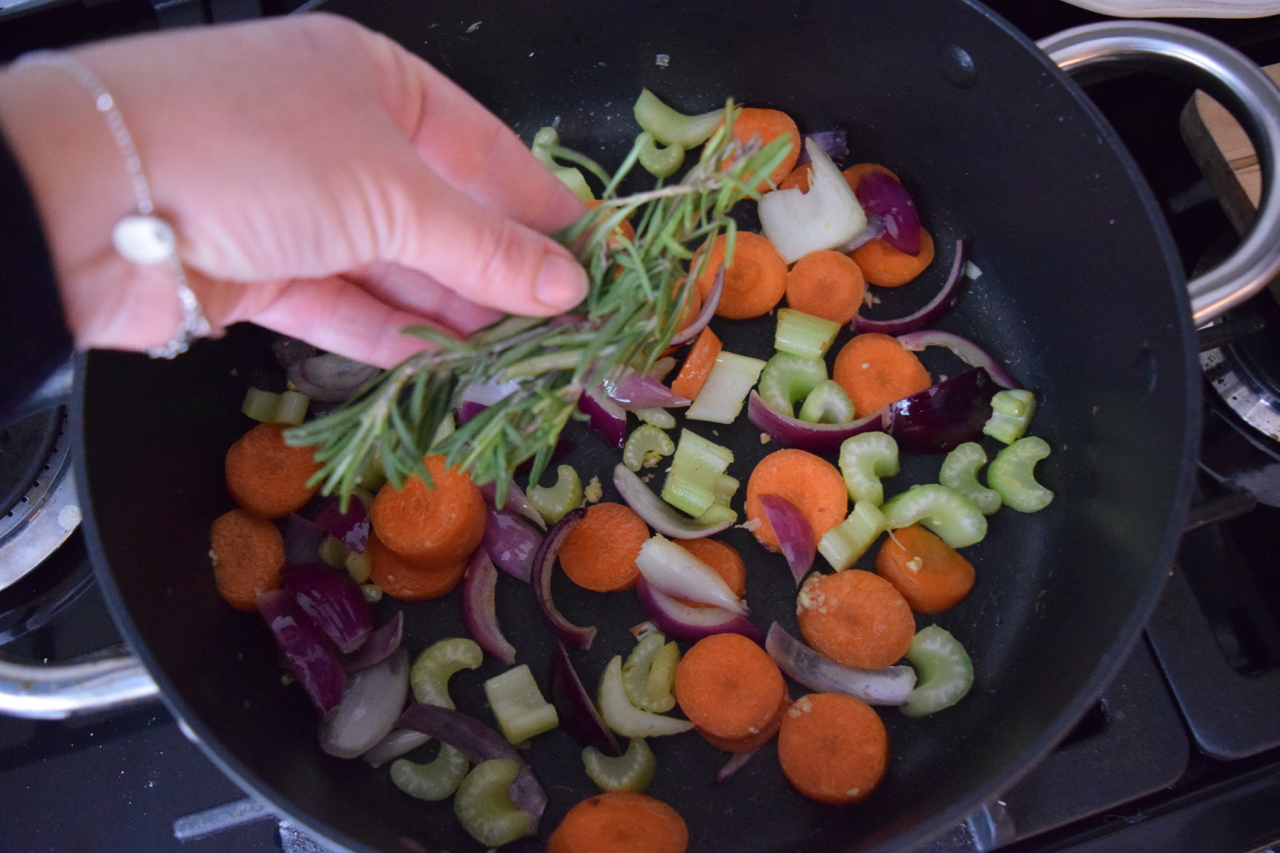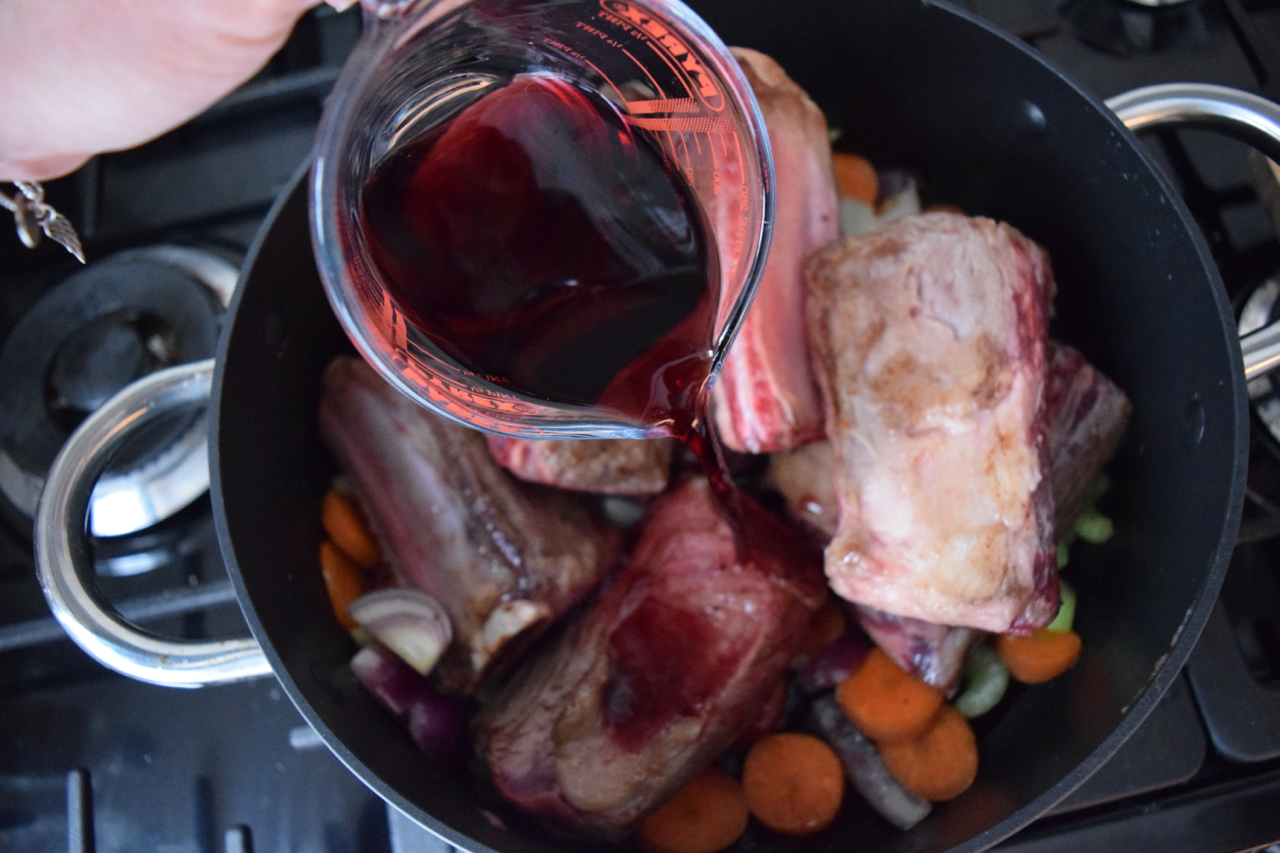 Half fill the tomato tin with water then pour this in too. Stir well and give it a good season with plenty of salt and black pepper.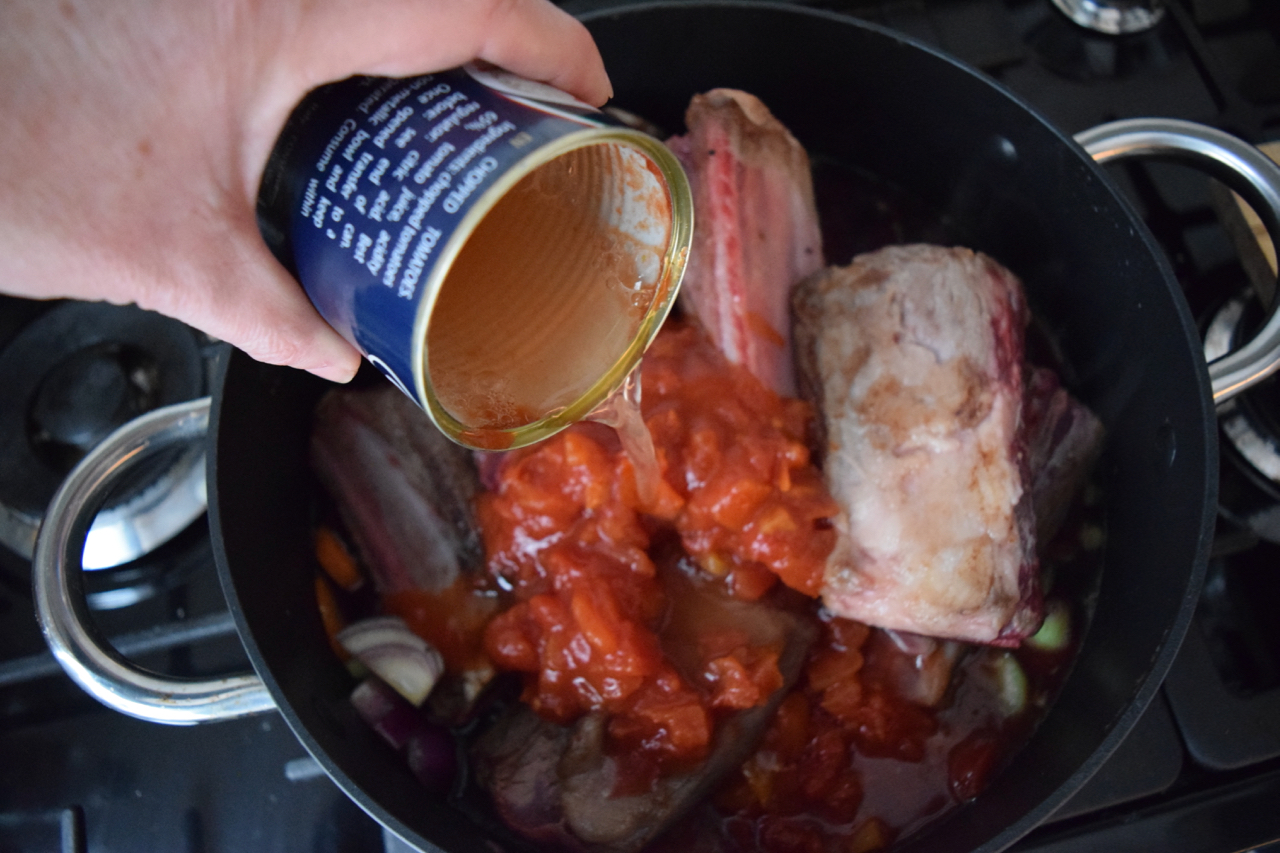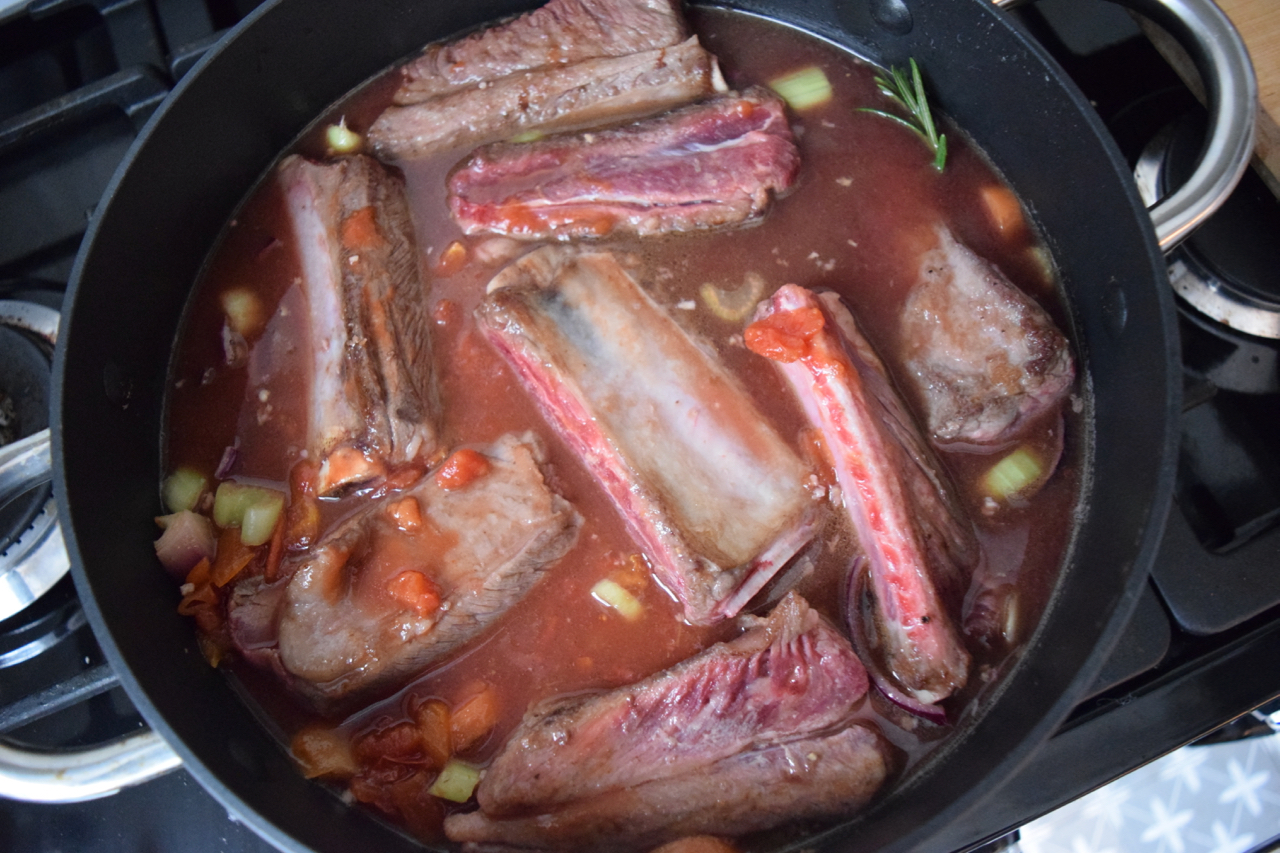 Bring this savoury pot of wonder up to the boil then turn down to the lowest heat to simmer. Scrunch up a square of baking paper and lay it over the ribs then place on a lid. Leave to simmer quietly for 3 hours.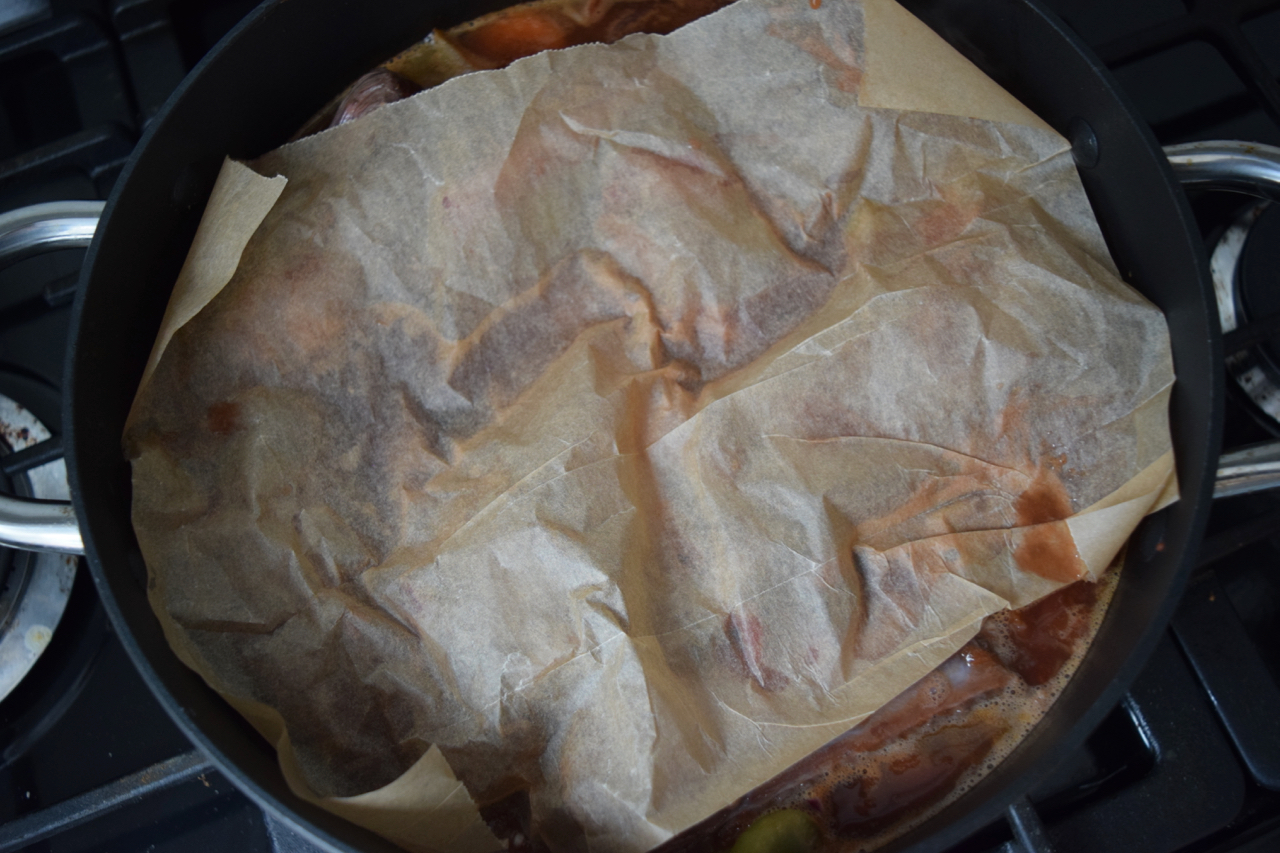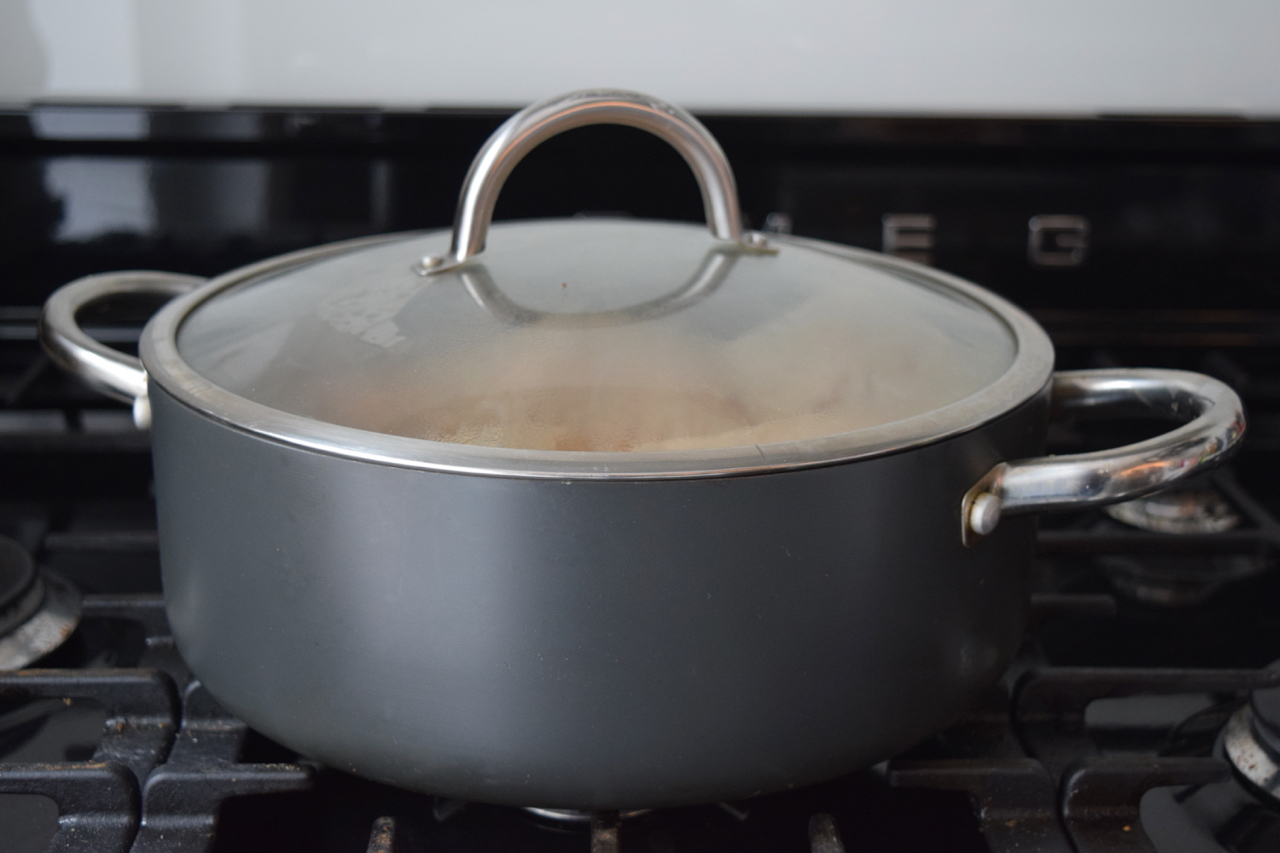 When your kitchen is smelling like heaven on earth, the meat is falling off the ribs and the sauce tastes amazing, you are nearly done.
Turn off the heat and remove the ribs from the sauce and place on a plate for the moment, covered in foil. Take out the herbs from the sauce then either with a hand blender or by pushing the sauce through a sieve, puree the vegetables and juices until smooth-ish. Turn the heat back up and simmer, lid off, until the sauce has thickened and reduced by over half. This will take about 30 or 40 minutes.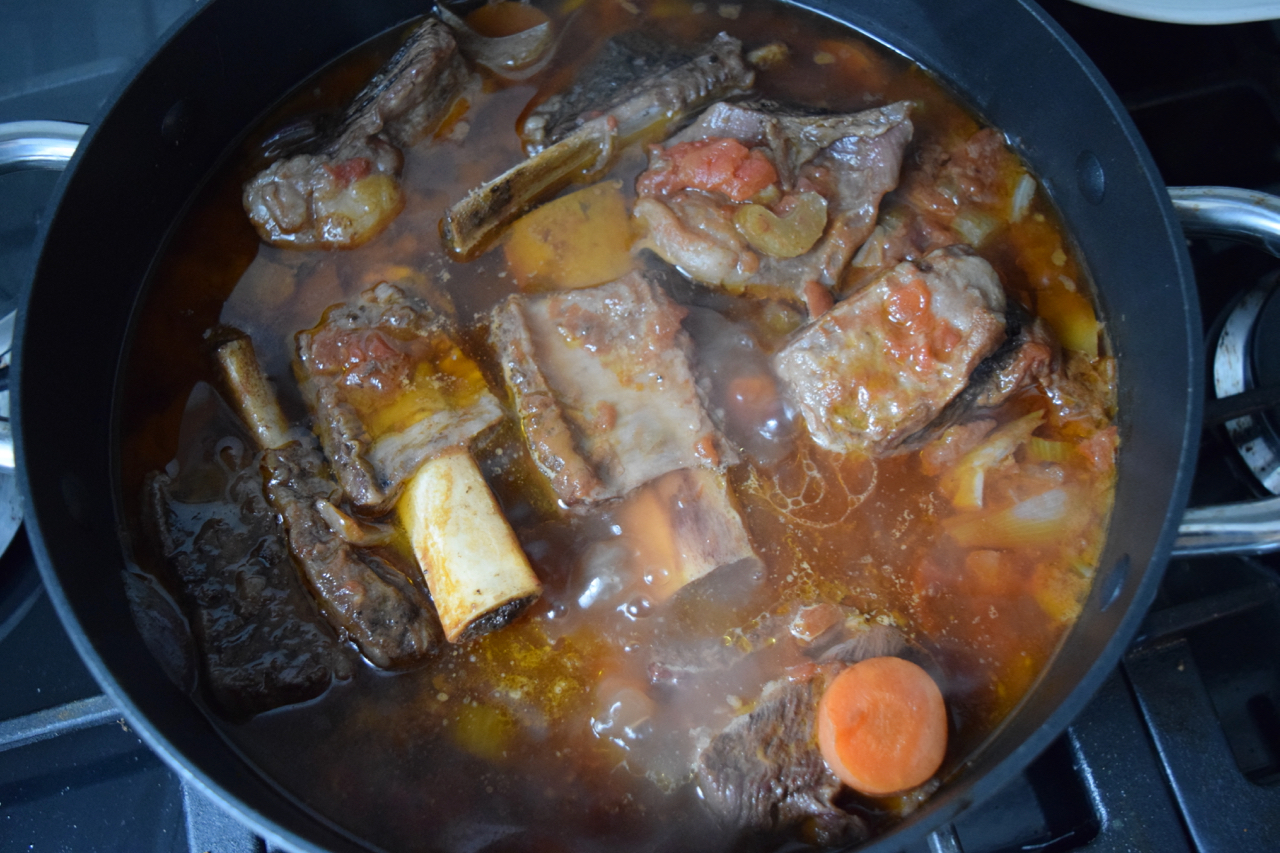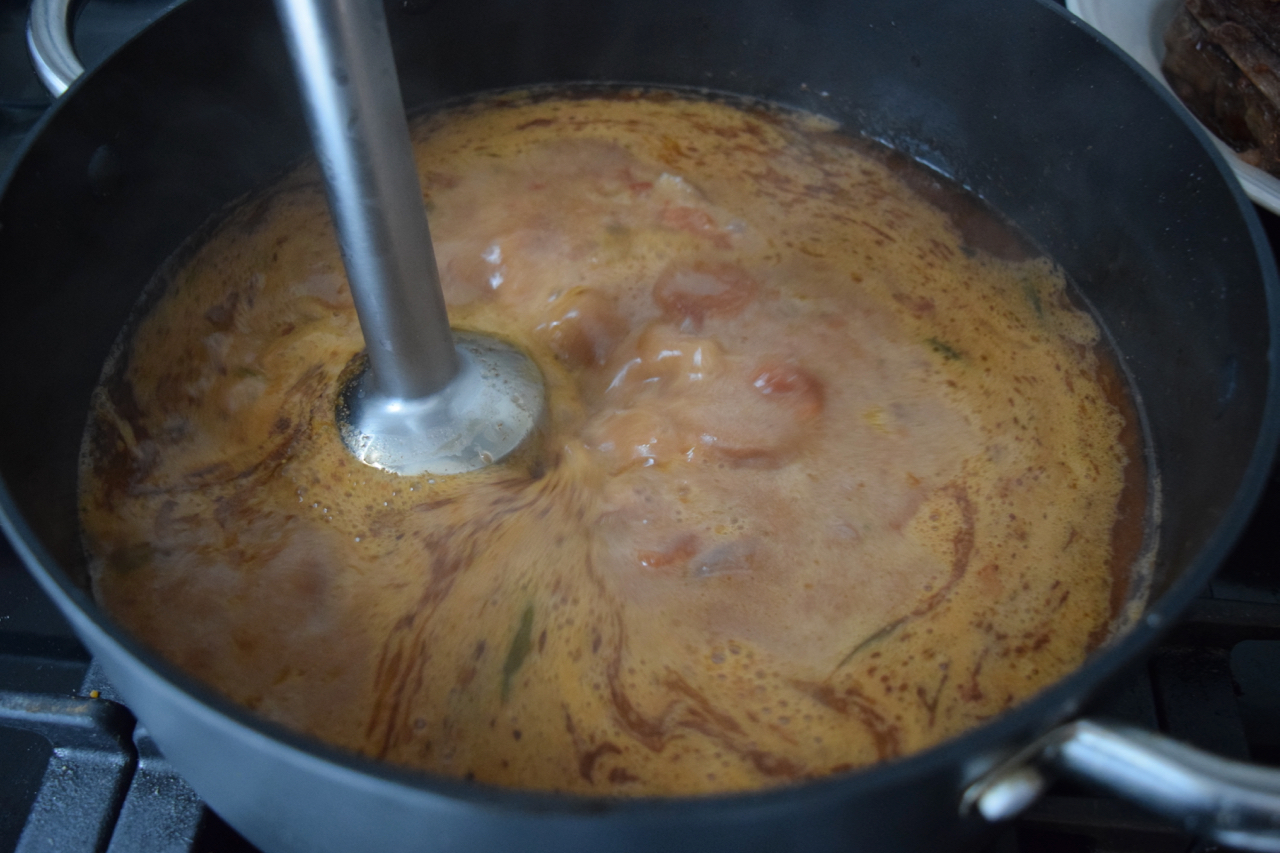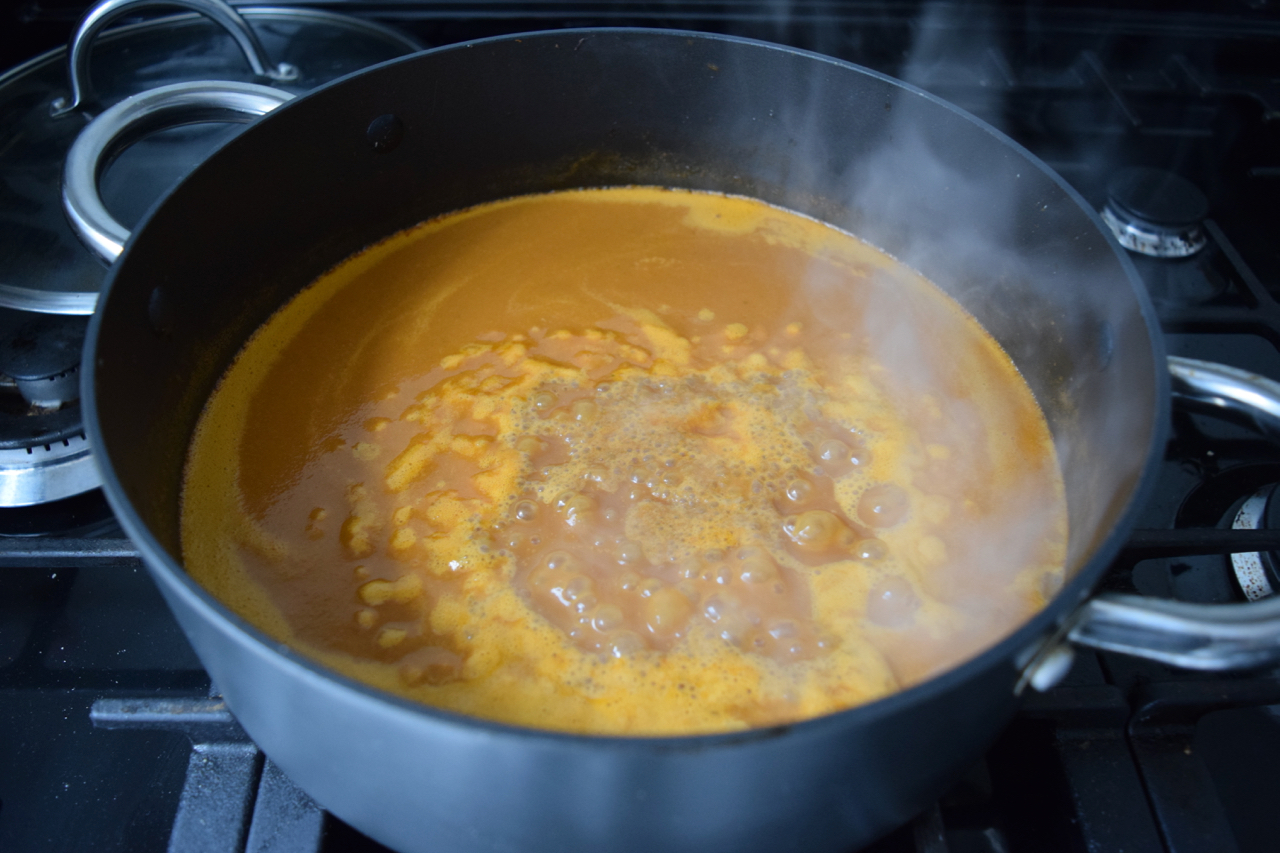 While this is simmering, remove the beef from the rib bones, throwing out any fatty or sinewy bits as you go. Shred the beef with two forks then re-cover until your sauce has reduced.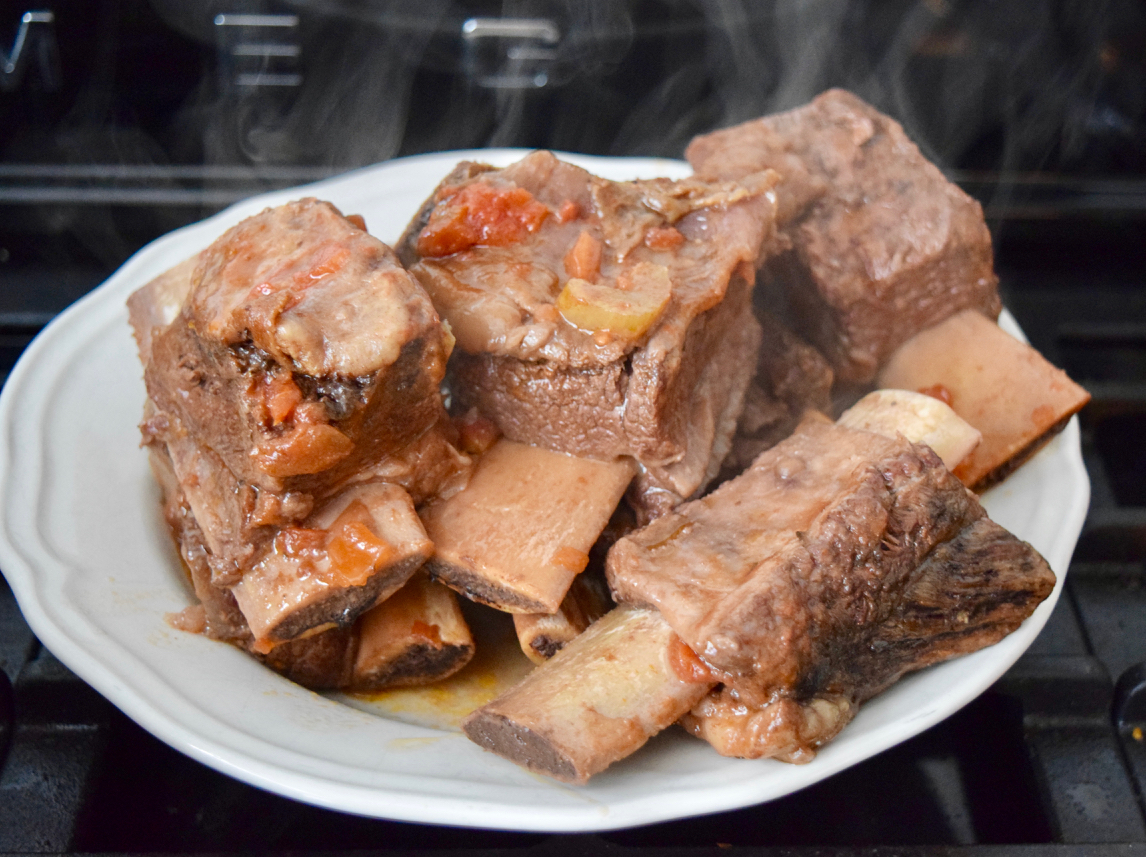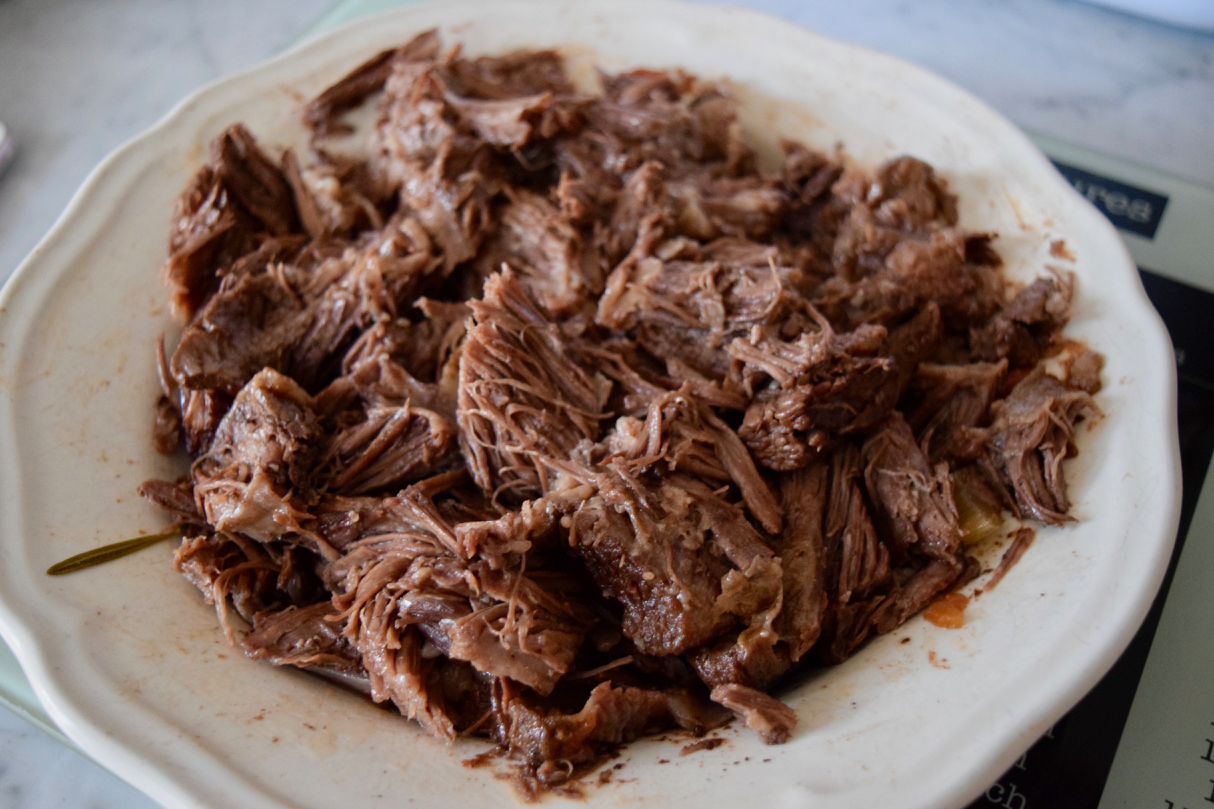 When you're ready, tip the beef and any residual juices back into the pan and stir well. Check for seasoning, then bring back up to the simmer then it's time to bury your face in a large bowl of ragu with cheesy mash, polenta or pasta. With a parsley garnish for fun.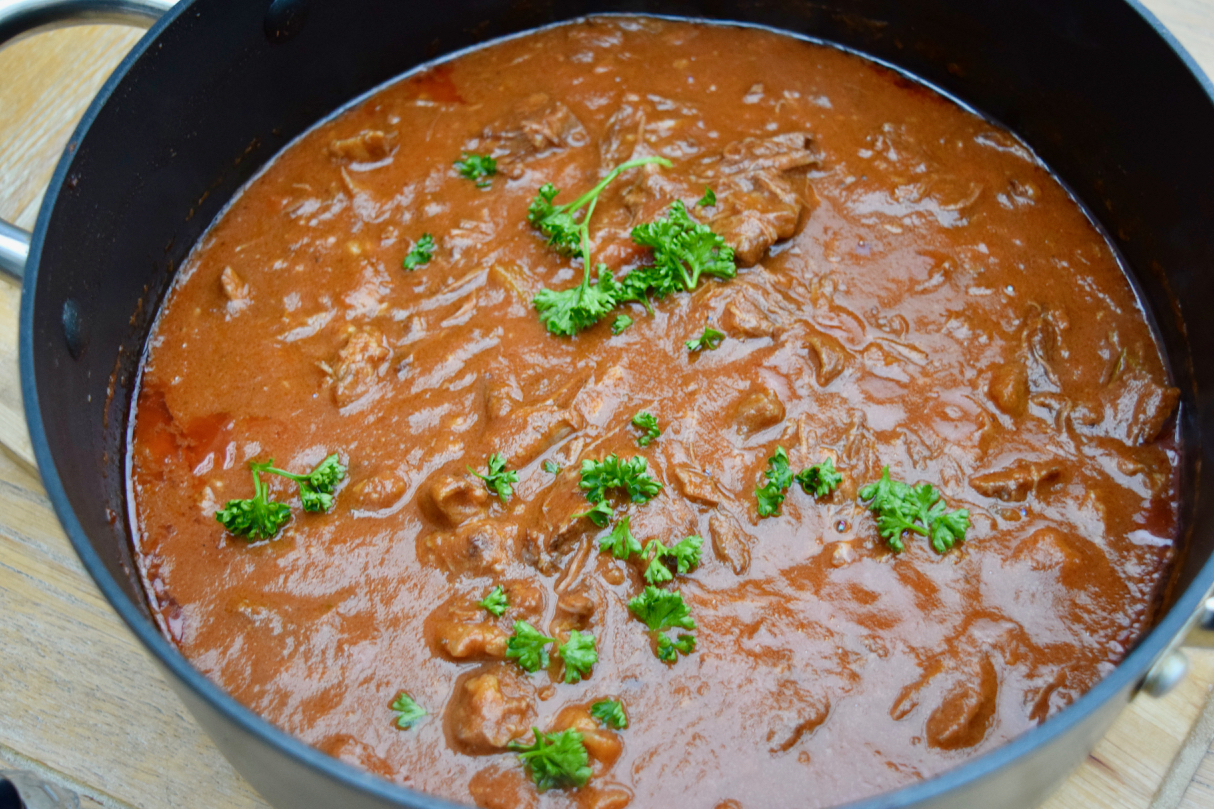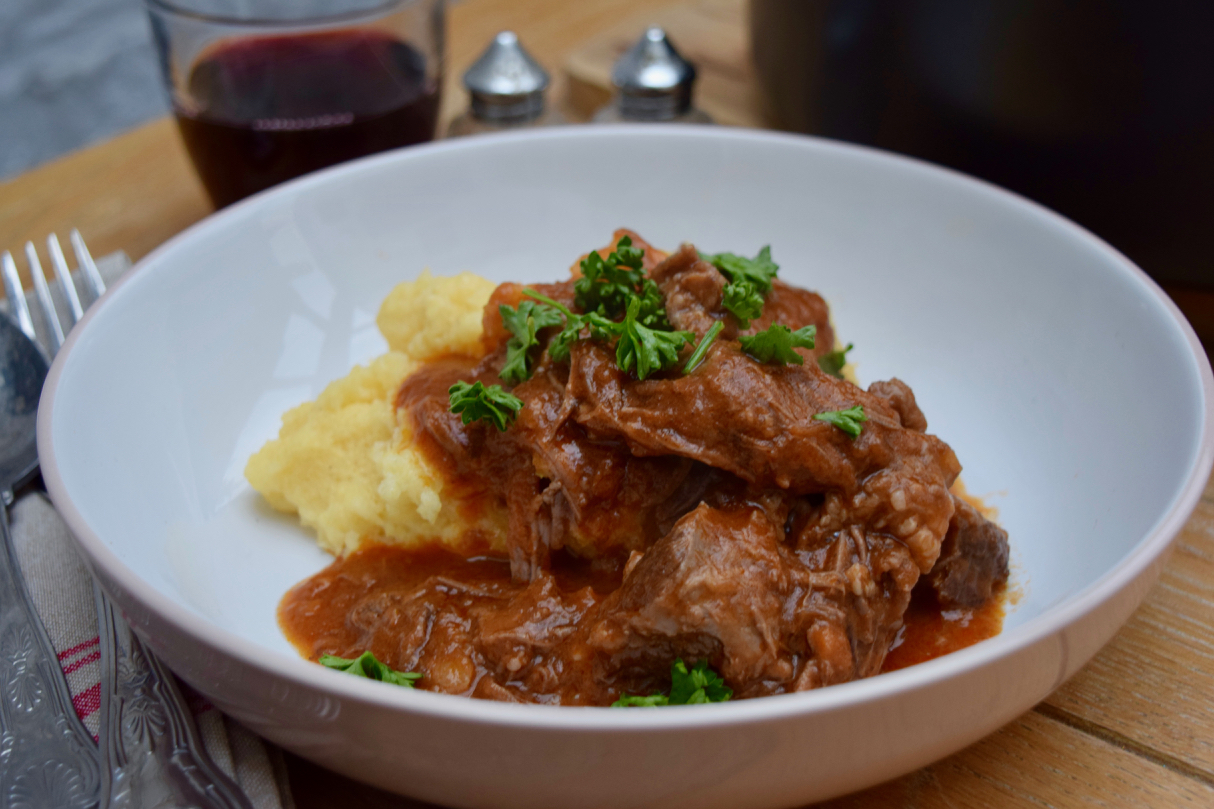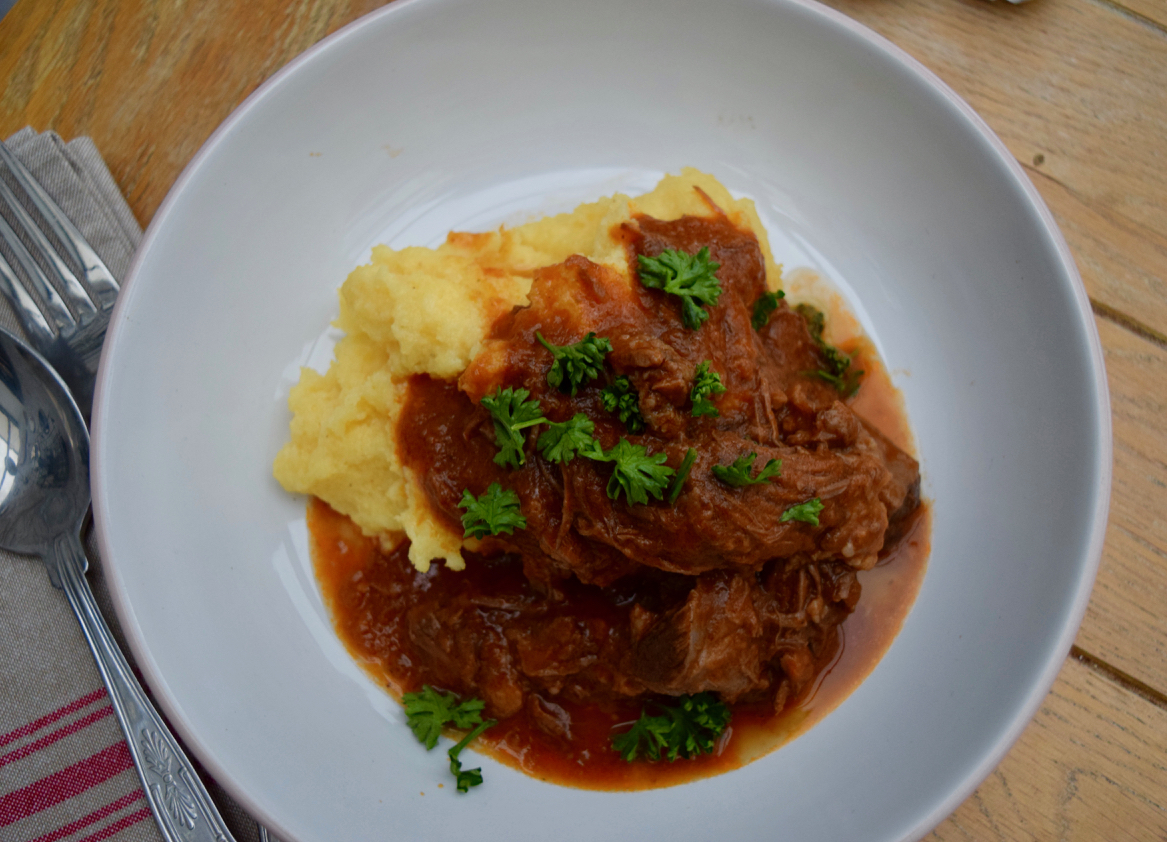 This is what Valentine's Day should be all about. No overpriced candle lit restaurants for us. Just a bloody great big bowl of Beef Rib Ragu with an obscene amount of cheesy mash. This is what love looks like to me. Although, I obviously wouldn't say no to a diamond ring, Clyde, if you're reading this.
Lucy x
Beef Rib Ragu Recipe
Served a generous 6
You will just need a large casserole dish or pan with a lid
2kg beef short ribs, dry with kitchen towel
4 tablespoons Plain Flour
Salt and pepper
3 tablespoons vegetable or olive oil
2 carrots, cut into chunks
2 sticks celery, cut into chunks
1 onion, cut into chunks
3 cloves garlic, crushed
A big sprig rosemary
1 bay leaf
400g tin plum tomatoes or chopped tomatoes
250ml red wine
250ml beef stock
Parsley to garnish and cheesy mash, polenta or pasta to serve
Take a plate and dust your ribs in the flour seasoned well with salt and pepper. Add a tablespoon of oil to a large casserole dish with a lid and heat over a high flame. Add the ribs and cook in two batches, until browed all over. Pop these onto a plate for the moment.
Add another tablespoon of oil to your casserole and add the carrots, celery, onion and garlic. Cook for 5 minutes or until starting to soften and take on a little colour. Add the rosemary and bay leaf then add the ribs back into the pan along with any juices on the plate. Tip in the wine, stock and tinned tomatoes. Half fill the tomato tin with water and add this to the pan too. Season, then bring up to the boil then turn down to the lowest heat setting on your hob. Place a crumpled up piece of baking paper over the top of the ribs then put the lid on and simmer for 3 hours.
Once the time is up the meat should be falling off the bones and the vegetables soft. Remove the ribs and bones from the pan and place onto a plate. Take out the bay leaf and rosemary sprig then either push the sauce through a sieve to puree the vegetables or use a hand blender to blitz the sauce in your pan. Stir well,then simmer the sauce to reduce by half, this should take around half an hour.
Remove the bones from the beef, along with any fatty or sinewy bits, then shred with two forks.
Once the sauce is rich and has thickened, check for seasoning, tip the shredded beef back to the pan and simmer until piping hot. Serve immediately with some mash, polenta or pasta, garnished with a little parsley, if you like.  Any leftovers will taste amazing over the next couple of days.