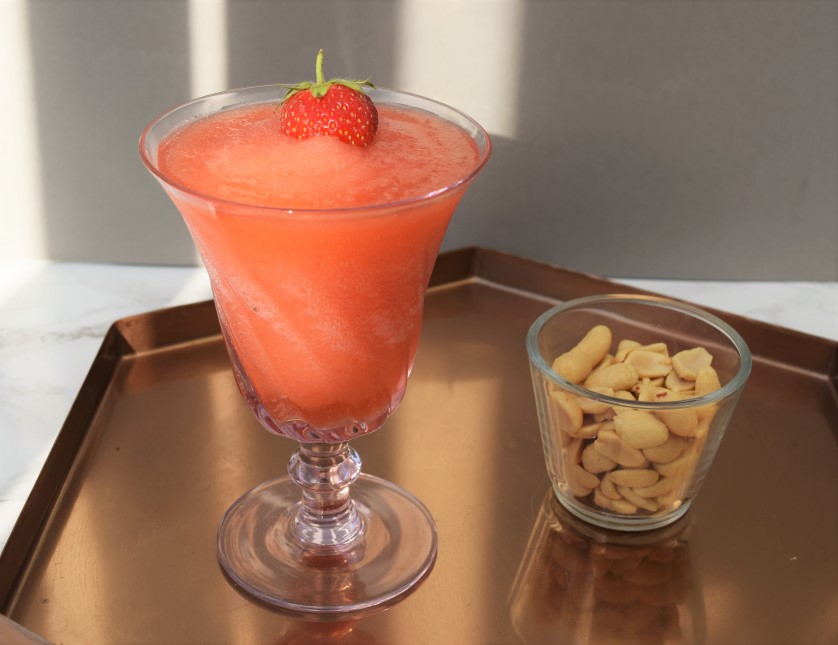 Strawberry Rosé Slushy Recipe
This Cocktail Friday I wasn't going to bang on about the terrible weather, but I can't serve a frozen cocktail without at least mentioning the forecast for the weekend. It does actually look slightly more acceptable with at least no mention of rain, so what better way to celebrate than with a Strawberry Rosé Slushy. This delicious frozen drink is reason itself to celebrate.
Frozen cocktails are all over my Pinterest feed at the moment. I try not to pay too much attention to food fads and trends but sometimes things are popular for a good reason and this wine based fruity slushy cocktail is a bloody marvelous invention. This particular recipe comes from Great British Chefs, thank you to them for the inspiration. I expect if you live in a country which actually has a summer you would be drinking these everyday, however, in crappy weathered Great Britain, this was the first time I had made one. The only slushy drinks I had known in the past were blue, came from the end of Eastbourne pier and had an odd faux raspberry flavour. This fabulous drink, however, consists of a fresh homemade strawberry syrup which is blitzed together with your frozen wine. It's light, refreshing and just perfect for sipping and serving as a lovely summer Friday Cocktail. If you have a supper or nibbles party this Strawberry Rosé Slushy is for you, or you and 3 others. If you can bear to share.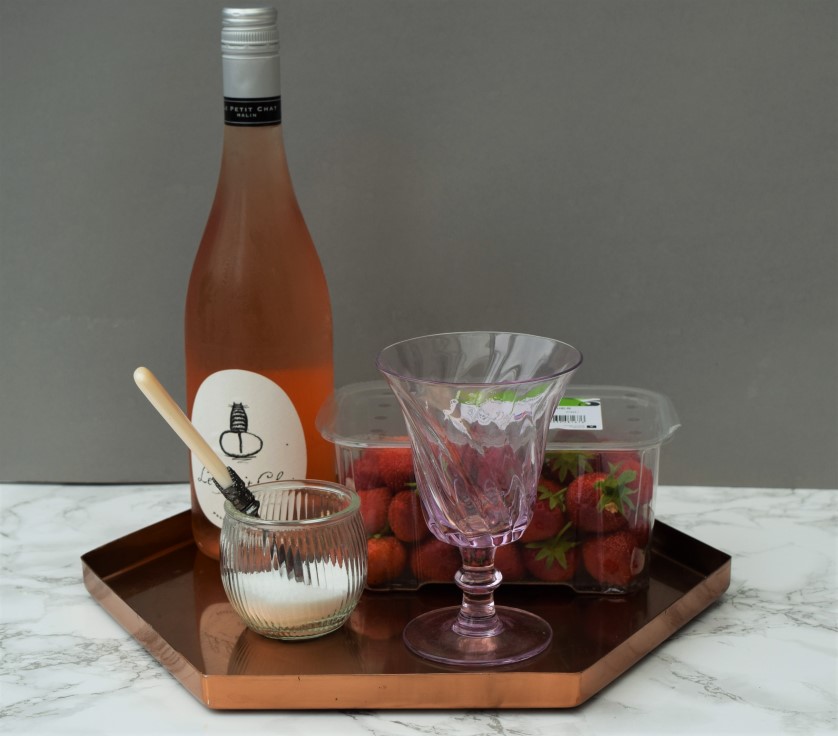 Such a summery line up and so simple to make. All you need is a little bit of forethought and this makes a delicious and festive cocktail.
Make a start on this by randomly pouring your whole bottle of half decent rosé into a large ziplock bag. Seal it carefully, I added an additional bag clip too as I didn't fancy rosé all over my freezer, then put in the freezer until frozen solid.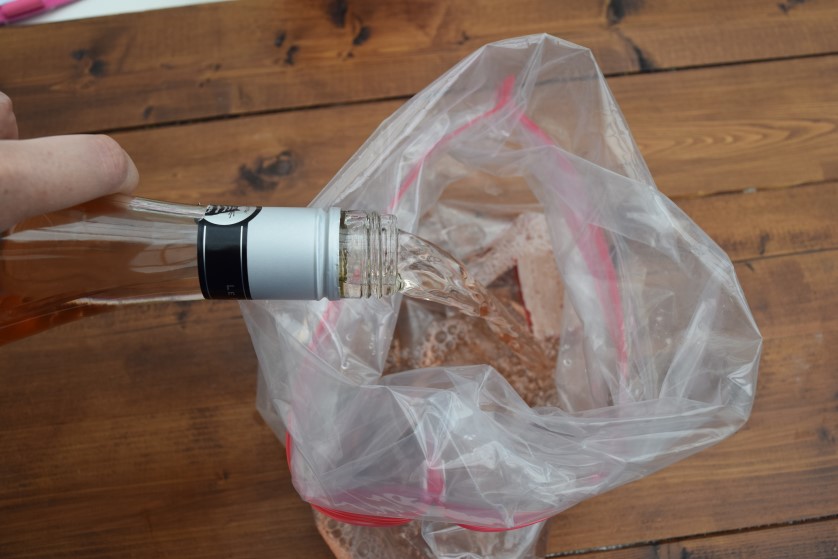 While the wine is freezing, crack on with the fragrant summer strawberry syrup. Take a heatproof bowl and add your prepared strawberries. Tip in the sugar then stir.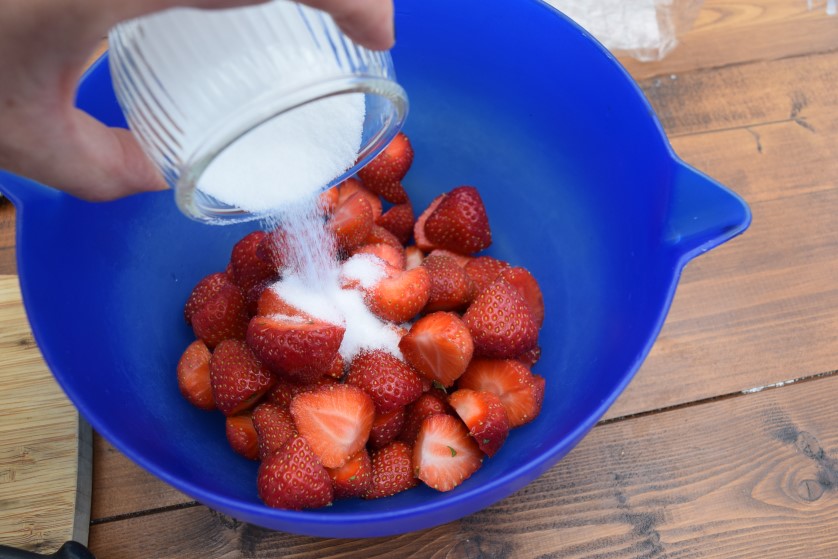 Cover the bowl in cling film then place this over a pan of simmering water. Make sure the bottom of the bowl doesn't touch the water in the pan and keep an eye the water doesn't boil dry.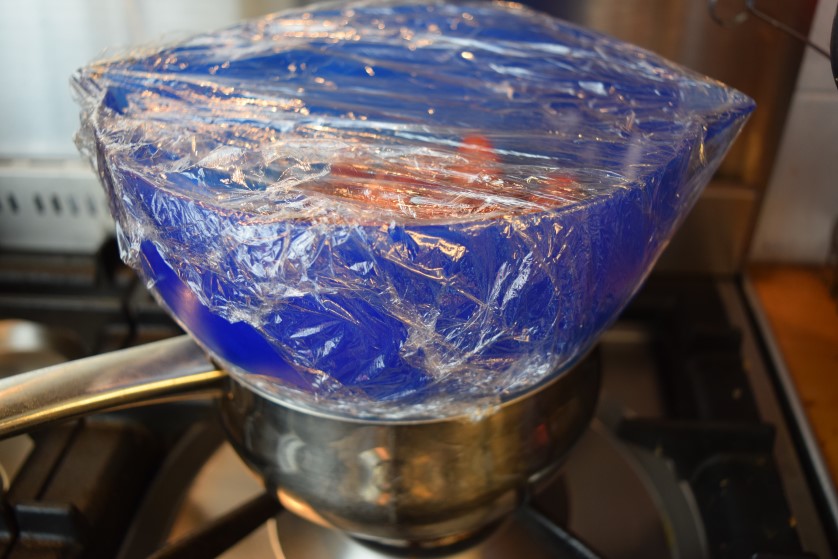 Simmer this bowl of summer fruits for an hour, after which time they will have released all their juices.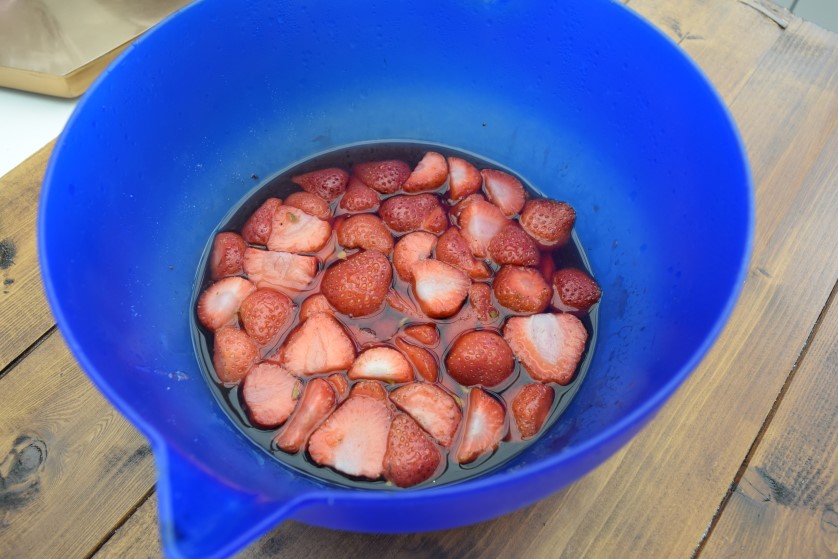 Strain the fruit and juice through a sieve, pressing all the last bits of flavour from the strawberries with the back of a spoon.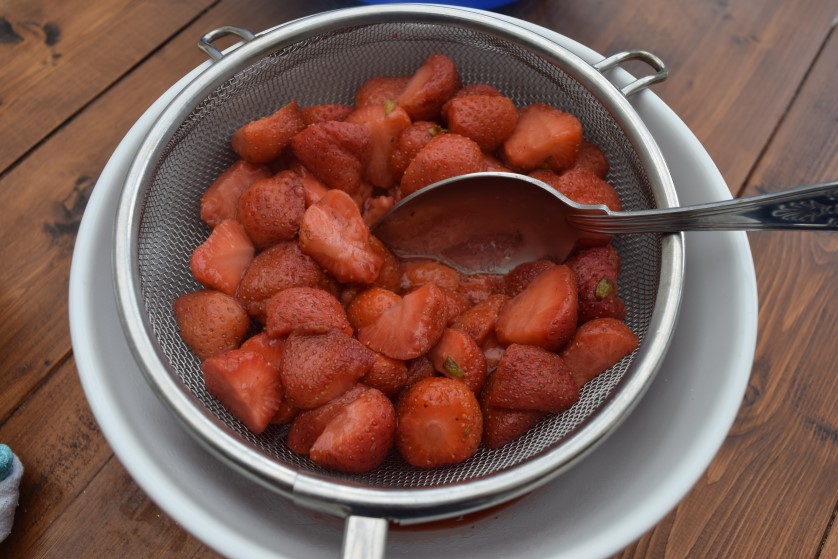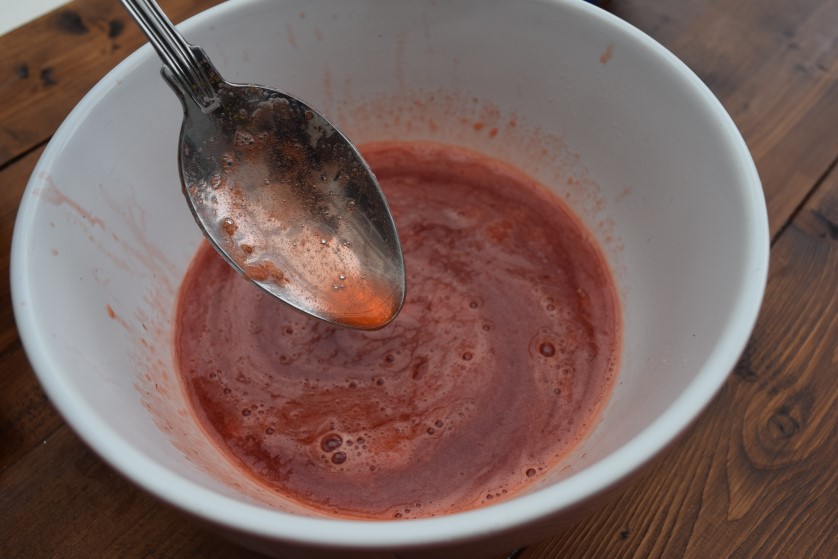 Leave this wonderful bowl of syrup to cool in the fridge until you are ready to make the cocktail.
Once fully frozen, remove your wine from the freezer and tip the slush into your blender. Pour in the syrup then blitz until you have a great wet snow-like consistency. You don't have to use all the mixture at once, you can divide the frozen wine and syrup in portions.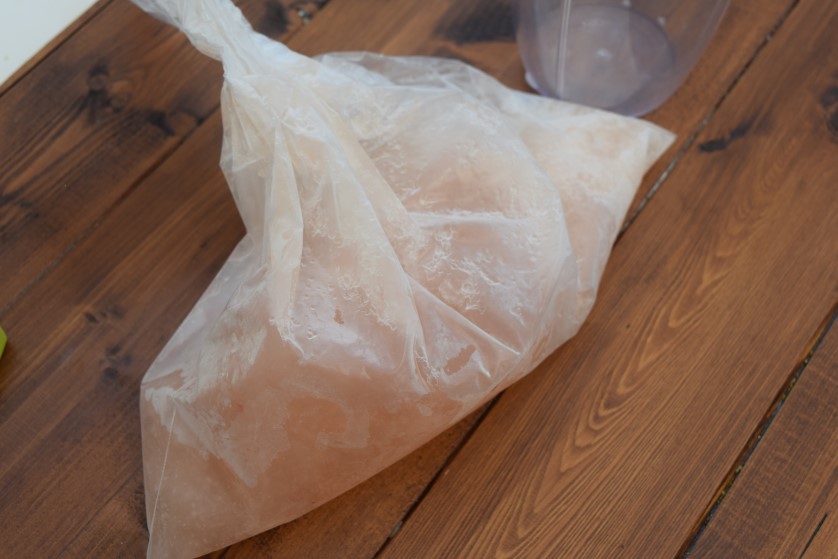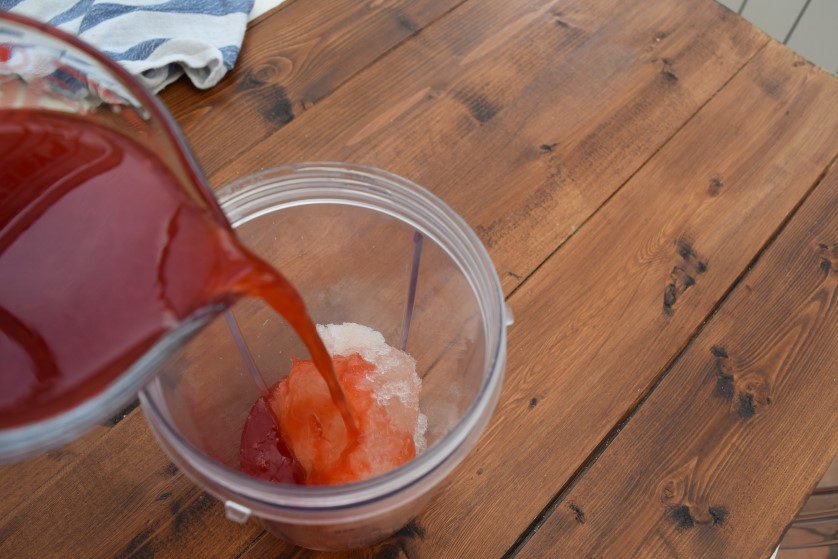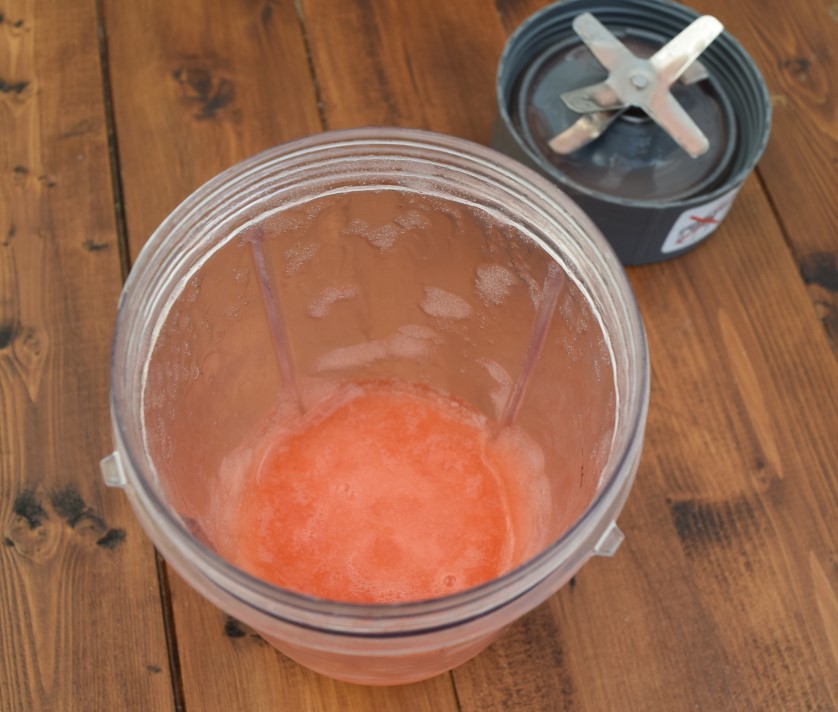 Serve this in a lovely glass with a big fat strawberry garnish. This really is pretty as a picture, and tastes just as good.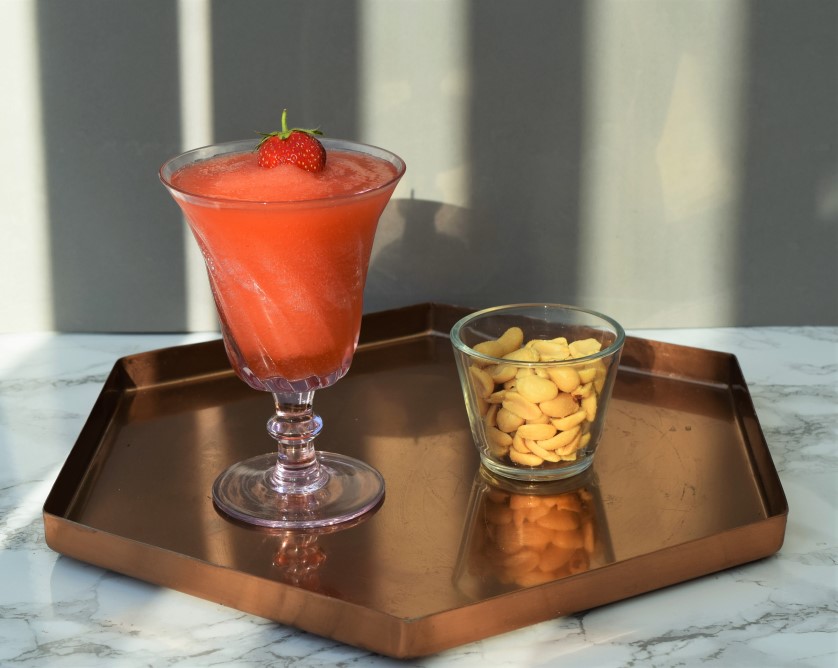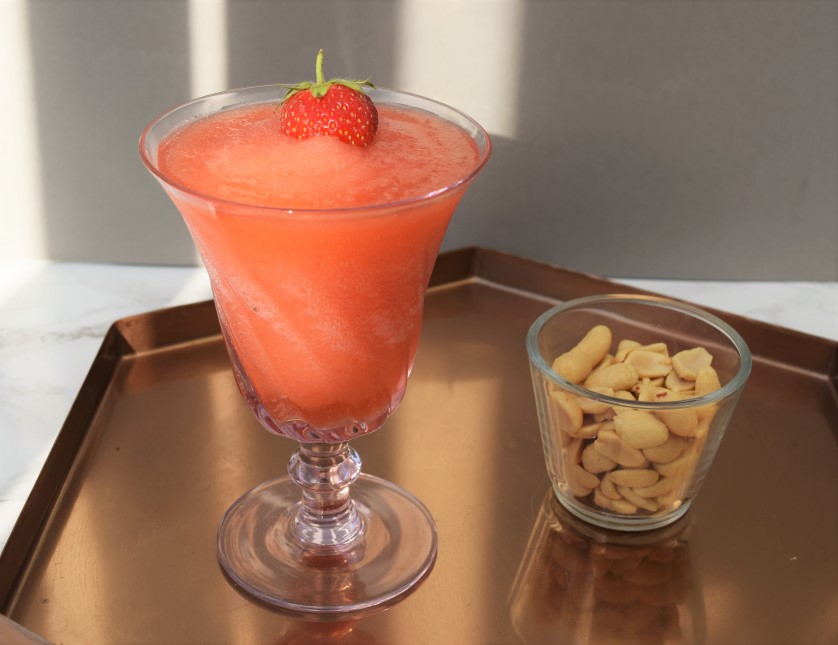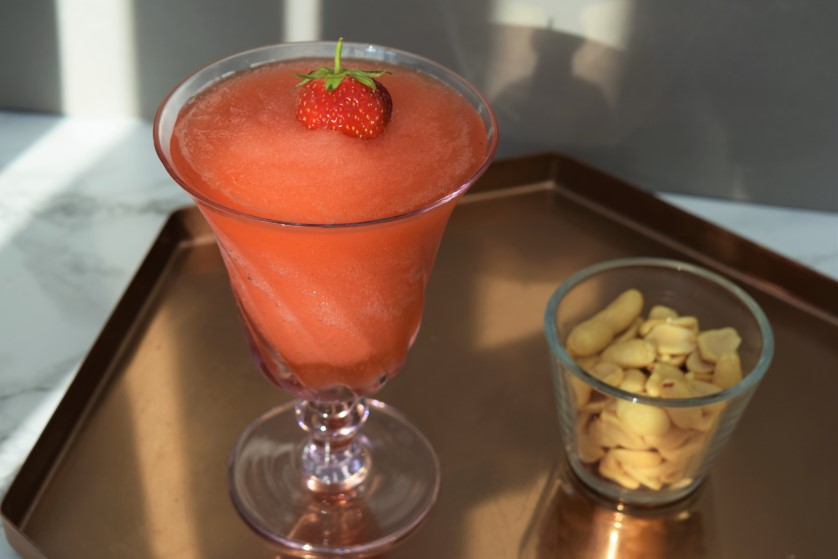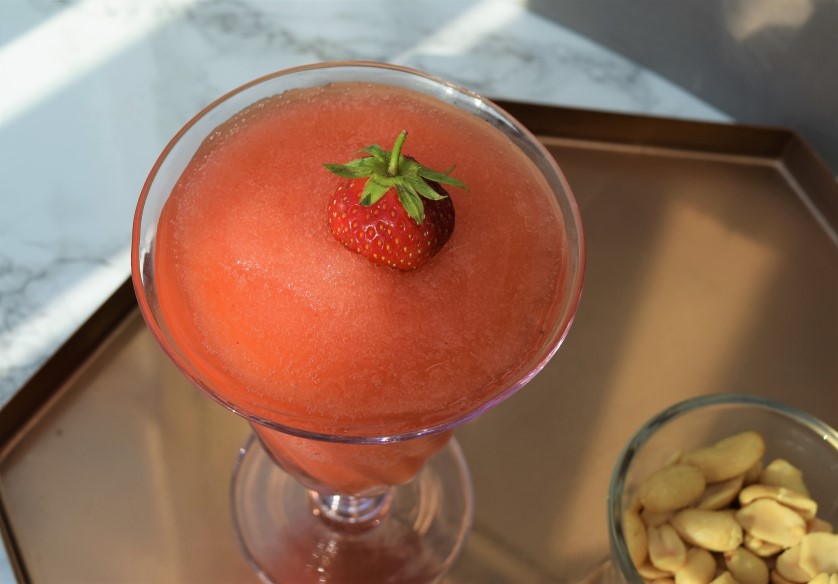 This is a sip from childhood, with a far more sophisticated feel. This slushy is super drinkable, light, fruity and definitely not one for the children. They can stick with the weird blue ones.
Lucy x
Strawberry Rosé Slushy Recipe
Makes approximately 4 glasses
1 Bottle of Rosé
400g strawberries, tops removed
50g caster sugar
A strawberry to garnish
Make a start on this by pouring your whole bottle of rosé into a large ziplock bag. Seal, and I added an extra clip for security, then pop in the freezer until frozen.
In the meantime, cut the tops off the strawberries then put them in a heatproof bowl. Cover the bowl with cling film then put the bowl over a pan of simmering water and leave for an hour. Make sure the bottom of the bowl doesn't touch the simmering water and keep an eye your water doesn't boil dry in the pan. Once the hour is up, sieve the strawberry juice into a jug, pressing as much out of the actual strawberries as you can. Leave to cool.
When you are ready to serve, take your frozen wine and add to the blender. Pour in the cooled strawberry syrup and blitz until it has a slushy consistency. You don't have to blitz this all at once, the syrup and frozen wine will keep in the fridge and freezer until needed.
Pour your frozen rosé slushy into a pretty glass, garnish with a strawberry and sip this refreshing icy drink.