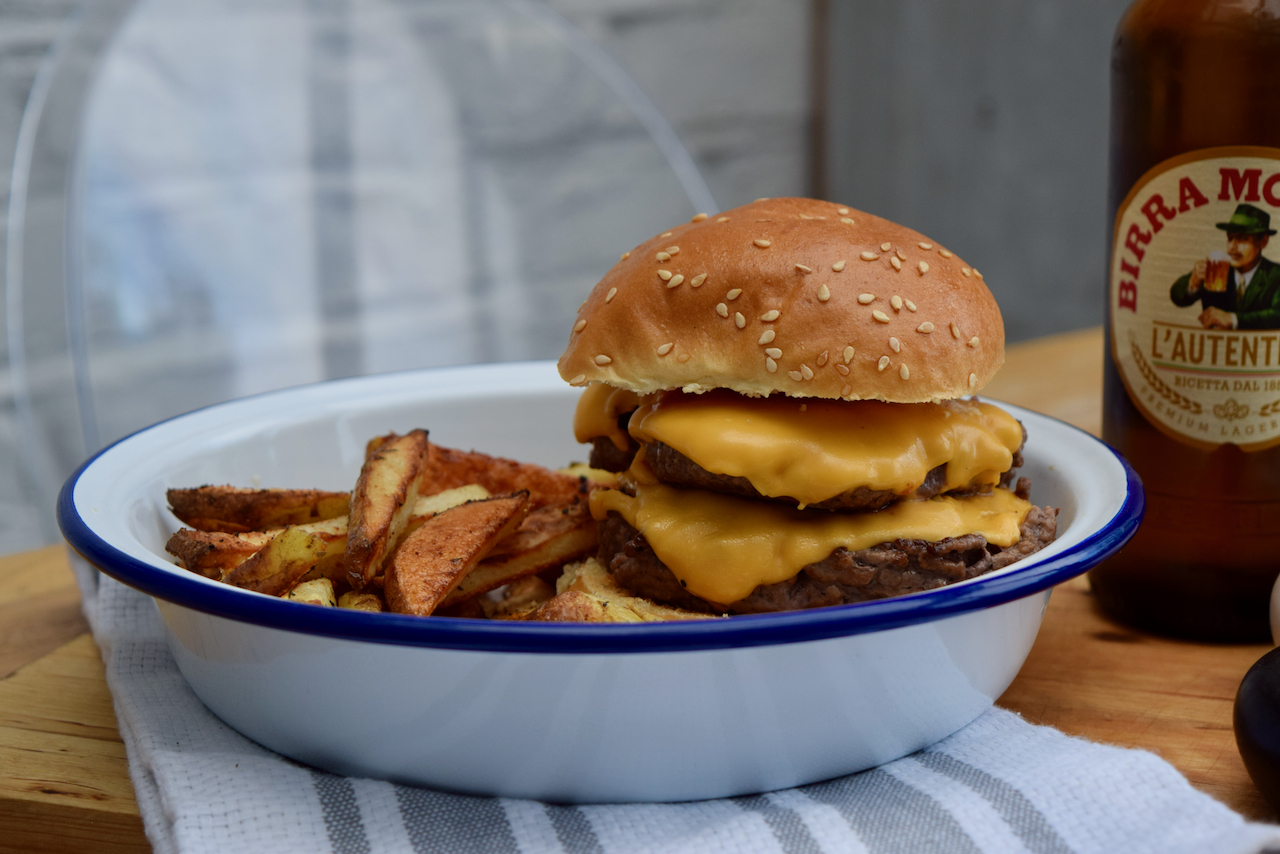 Double Cheese Smash Burgers recipe
It's not often my boys come up with inspirational recipes; mainly they fork up a lot of pasta, ramen noodles and toasties. However, and luckily for us, Ben spends a lot of time looking at those sort of lads foodie Instagram accounts. One of the videos made his mouth water so much he decided to treat his brother and both their girlfriends to a Double Cheese Smash Burger supper. These burgers got such an amazing reception, I decided to scrape in on their youthful culinary ways and today, I'm scraping you the hell in too.
A Smash burger is a thing, apparently. It pretty much self explanatory, but this recipe is simply good beef mince, seasoned, and smashed into a burger shape in a hot pan. I can usually take or leave a burger but I have to say, rather immodestly, these are bloody amazing. And so, so easy, given the fact the boys managed to make them without burning the house down. The meat is lightly portioned, but not pressed, into a ball then added to a hot griddle then, quite literally, smashed. They're then adorned with the sort of embarrassing cheese you have to hide in your shopping basket then two burgers are wedged into a brioche bun and devoured. Sauces and sides are up to you; I went ketchup, American mustard and gherkins, the classics.
If you're stuck at home in the rain with your family this half term, then a Double Cheese Smash Burger may just be your saving grace. It's as if you've opened a burger joint in your kitchen, without having to sign in on arrival or wear a mask when you go to the loo. Genius.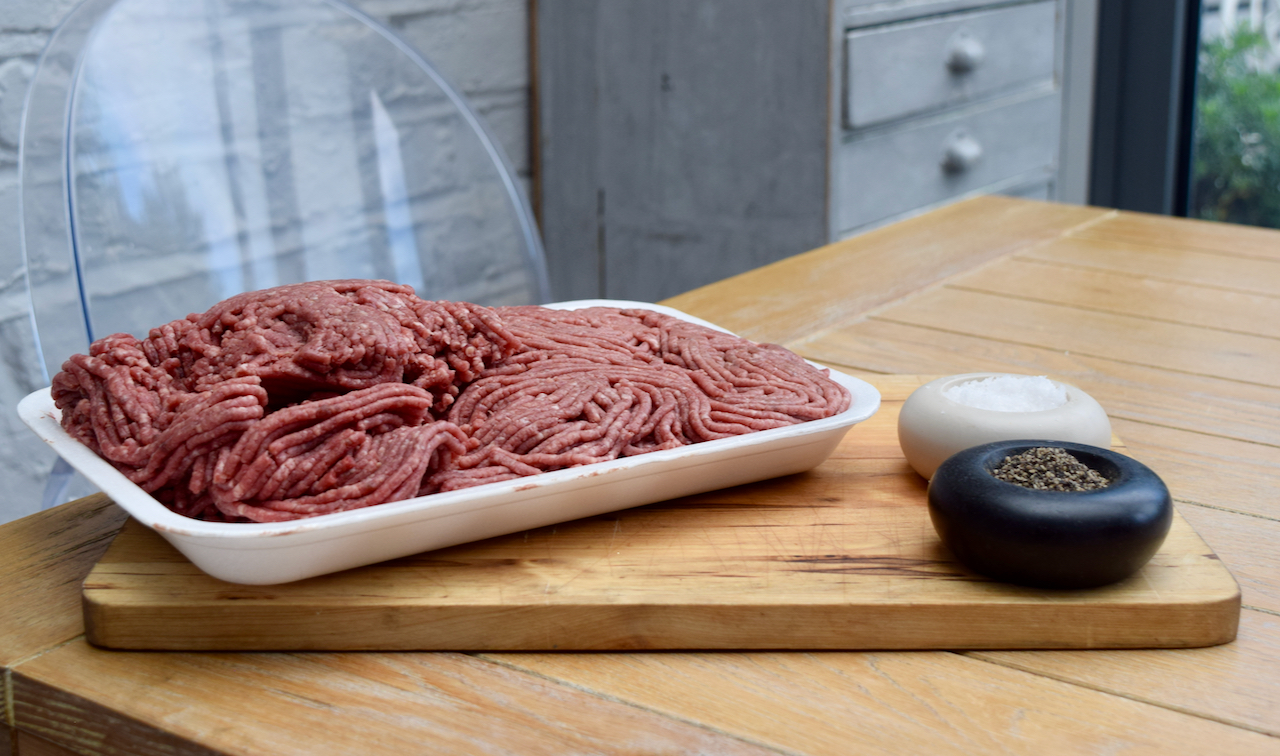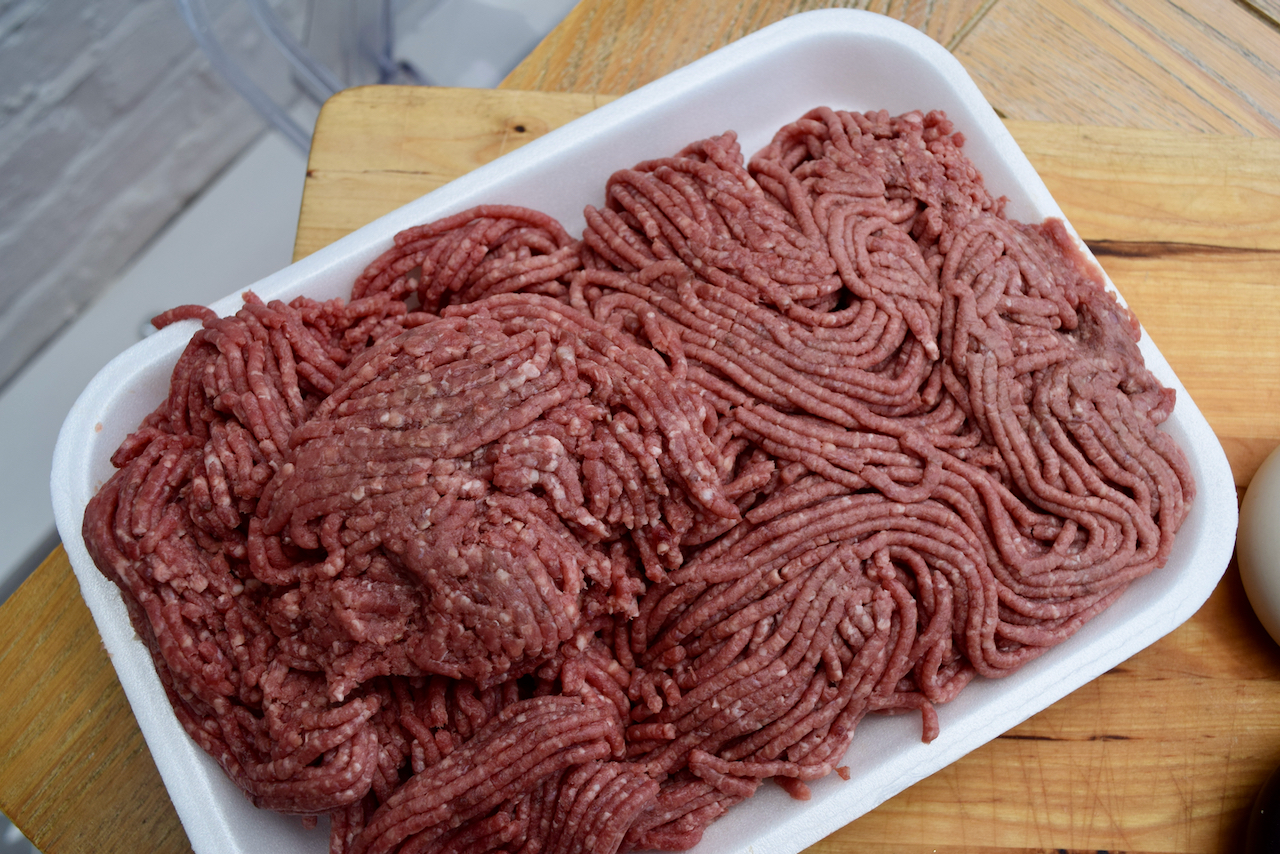 During lockdown, I became good friends with our local butcher, and I've continued to go to him ever since. His mince is perfect for Smash Burgers; it's not too lean and has tons of flavour. As I said, what you serve with these beauties is up to you.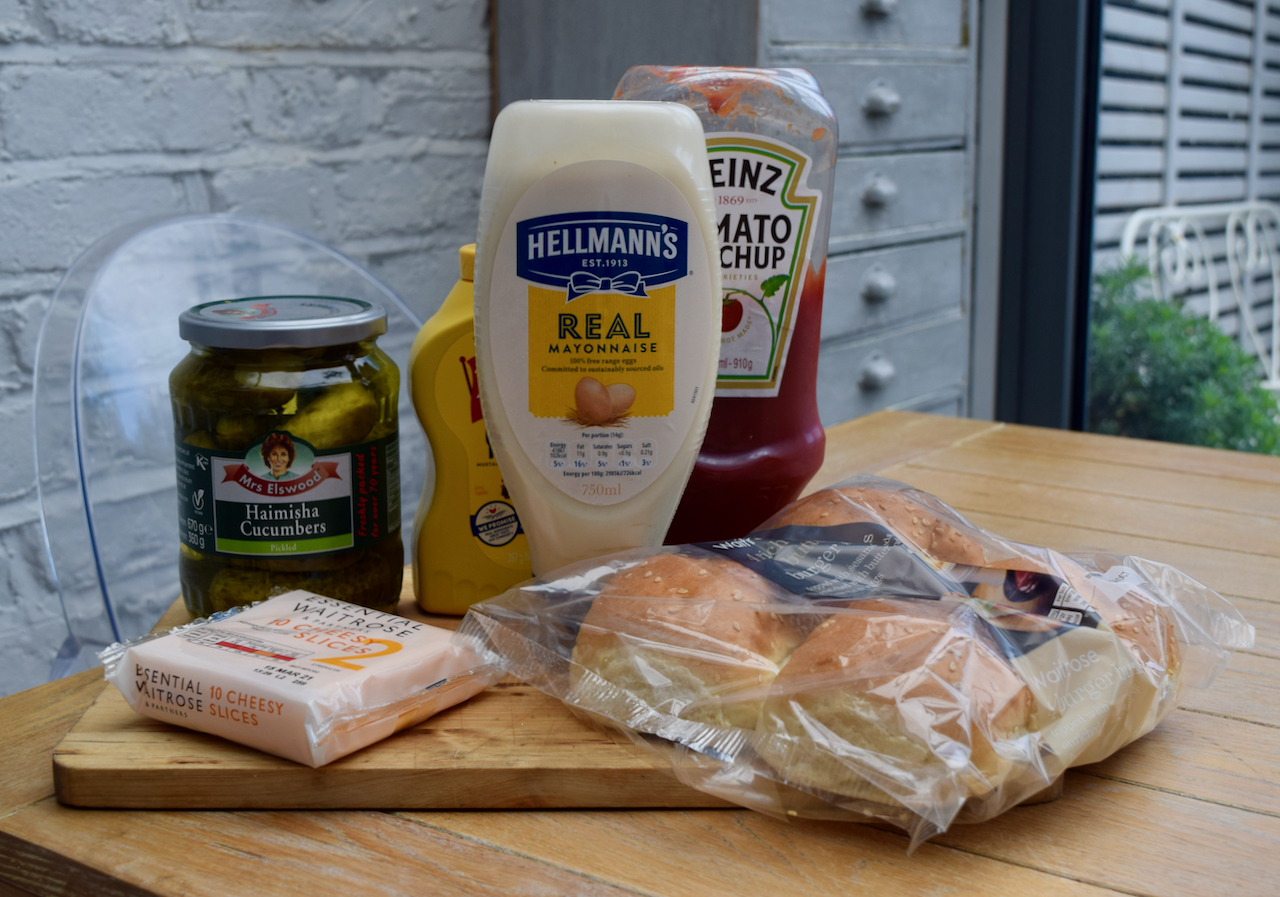 Don't judge me on the cheese, this is not the time for an aged Gruyere, the cheaper the better.
The Smash Burgers don't take long, so get your sides prepped and ready in advance. I got some homemade Cajun fries in the oven and toasted my brioche burger buns under the grill.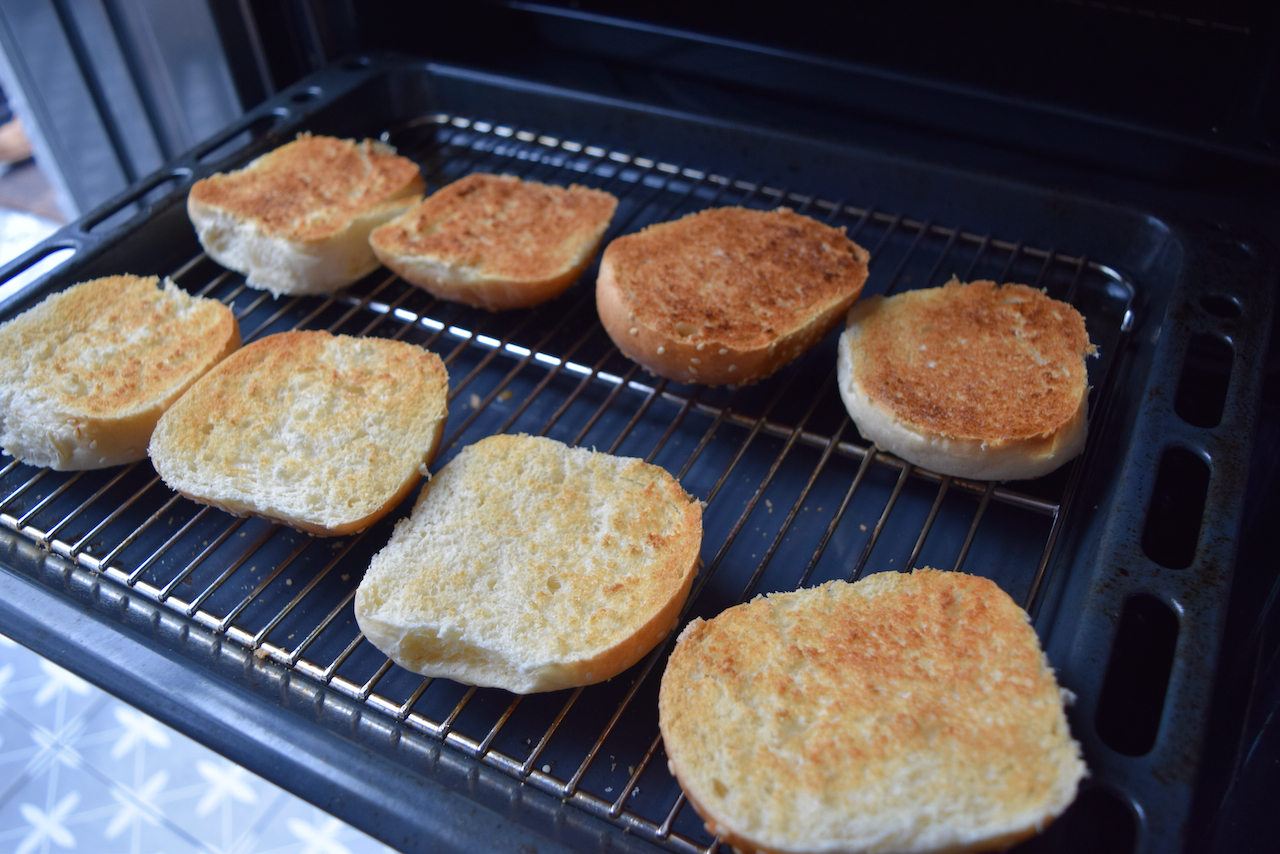 Now for a bit of beef. Take your kilo of mince and portion it into 8 equal-ish pieces. Form it into balls, but don't pack it down, just lightly fashion 8 balls of mince.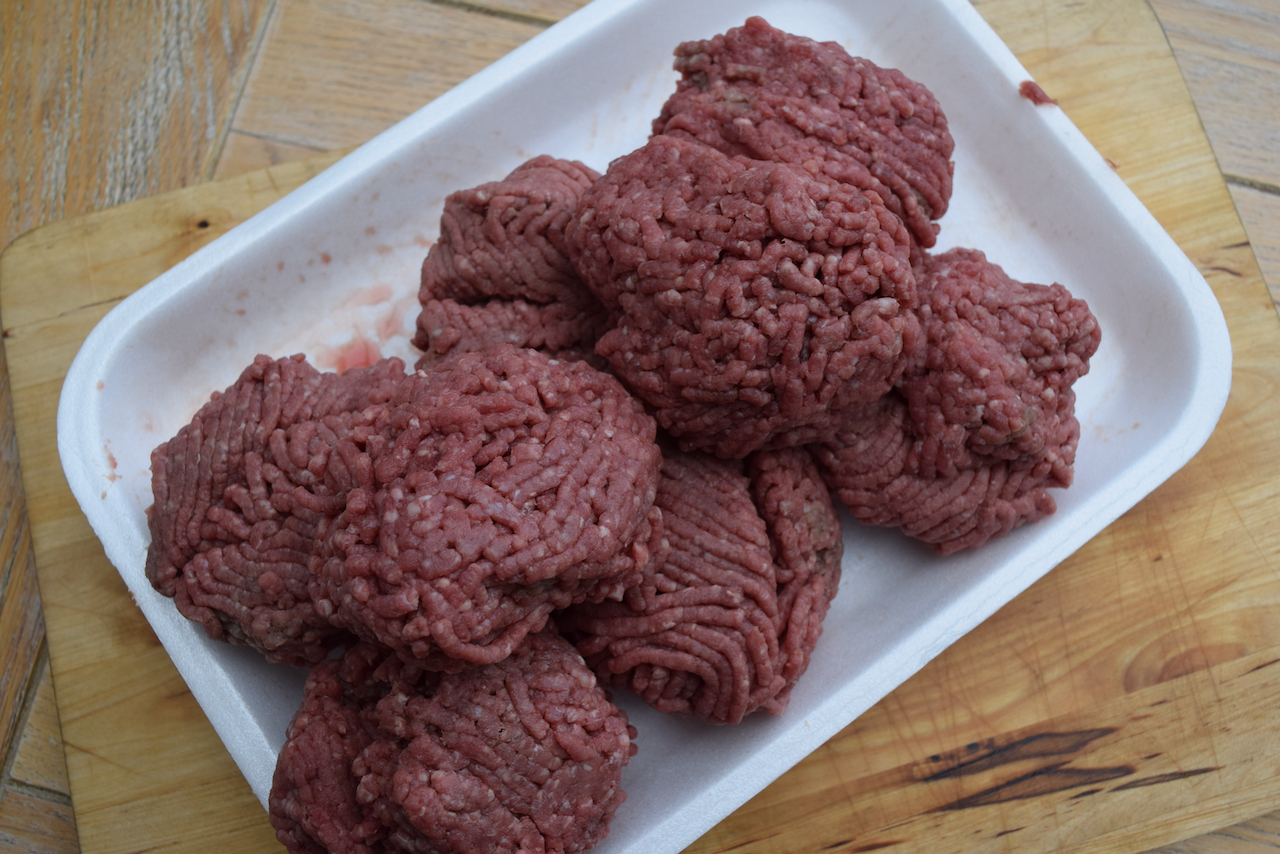 And that's it, nothing more to add to your lovely butchers beef. Heat a heavy bottomed frying pan or griddle with a splash of oil over a medium high heat. Once it's hot, place 4 of your burgers into the pan.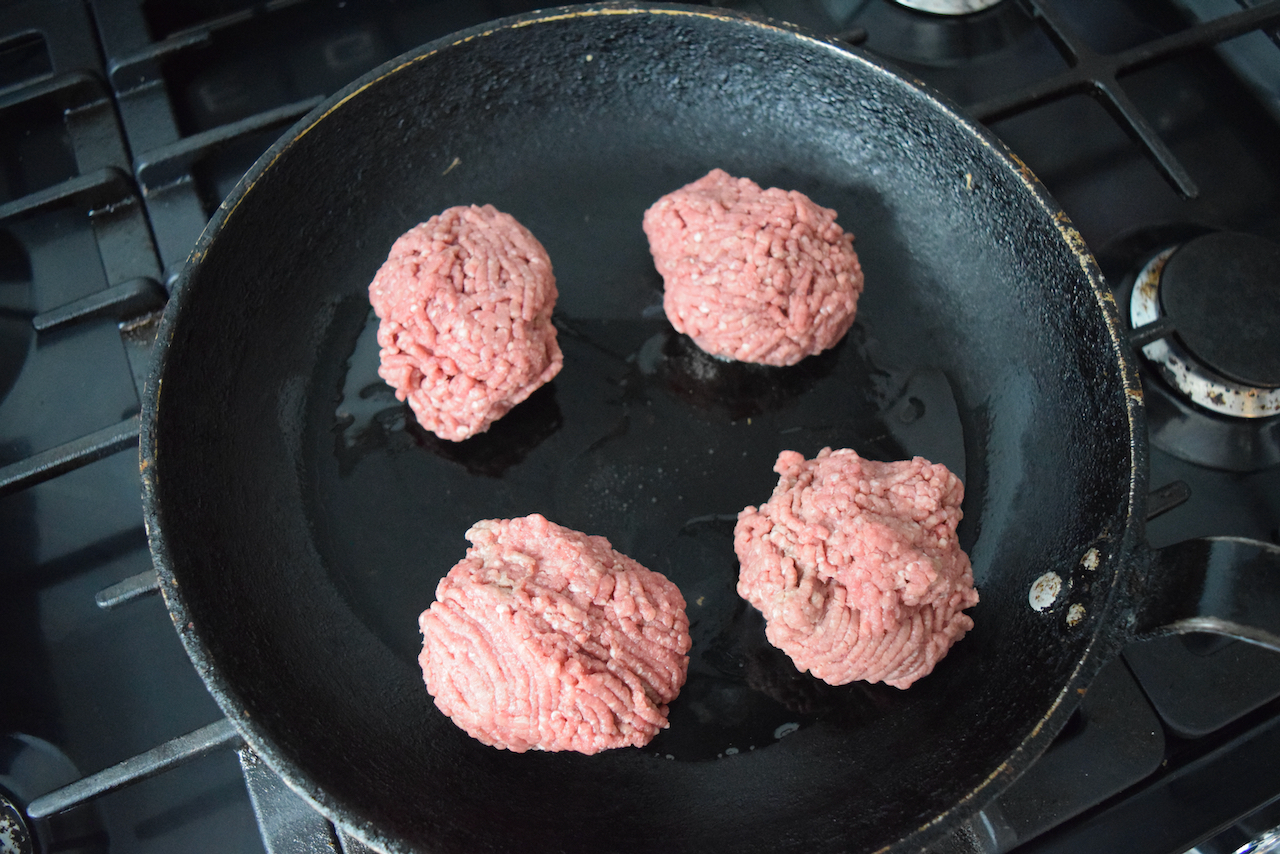 Press down, firmly, onto each burger with your spatula and quite literally, smash the burgers into a pattie shape. Don't worry if they're a little ragged looking, that's part of their charm. Season the tops generously with salt and pepper while the burgers cook for 2 to 3 minutes and are browned and have formed a crust on the bottom.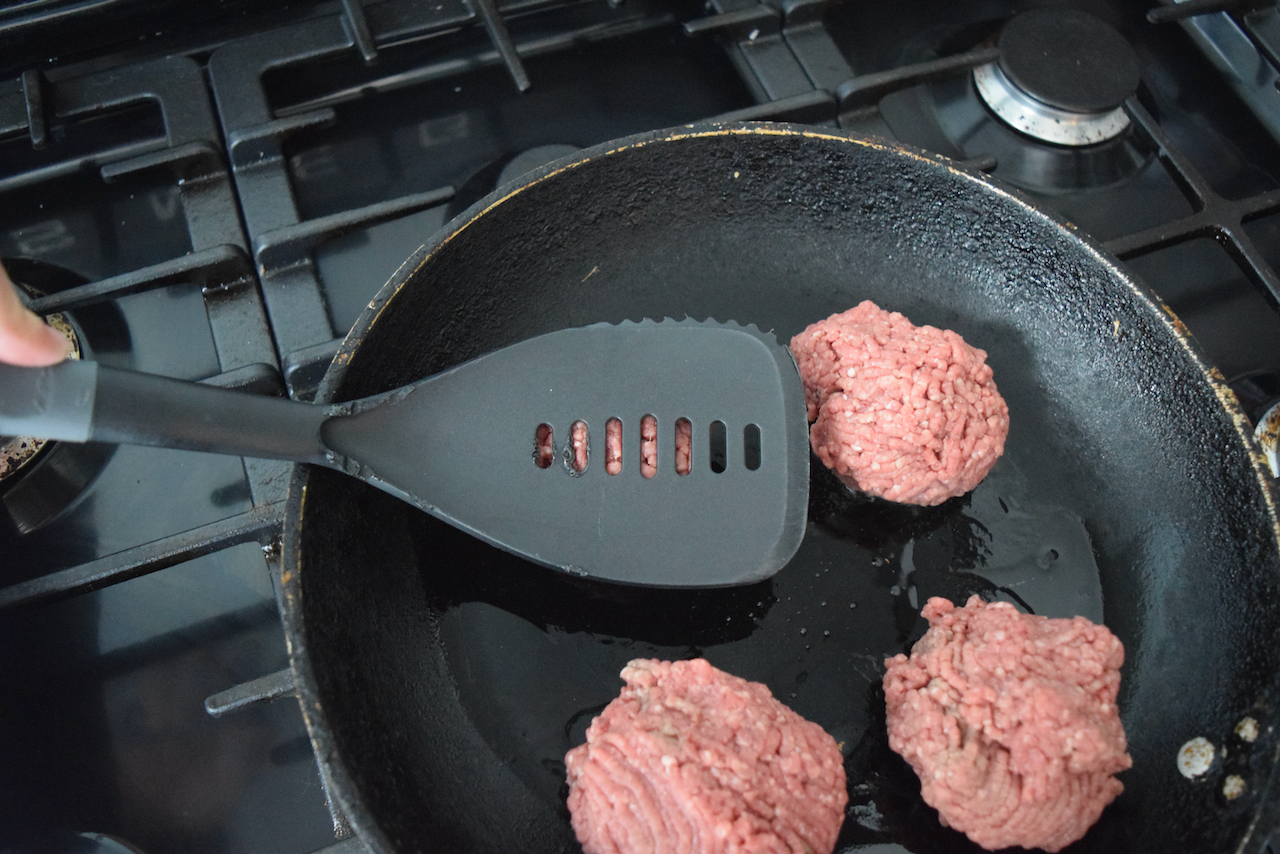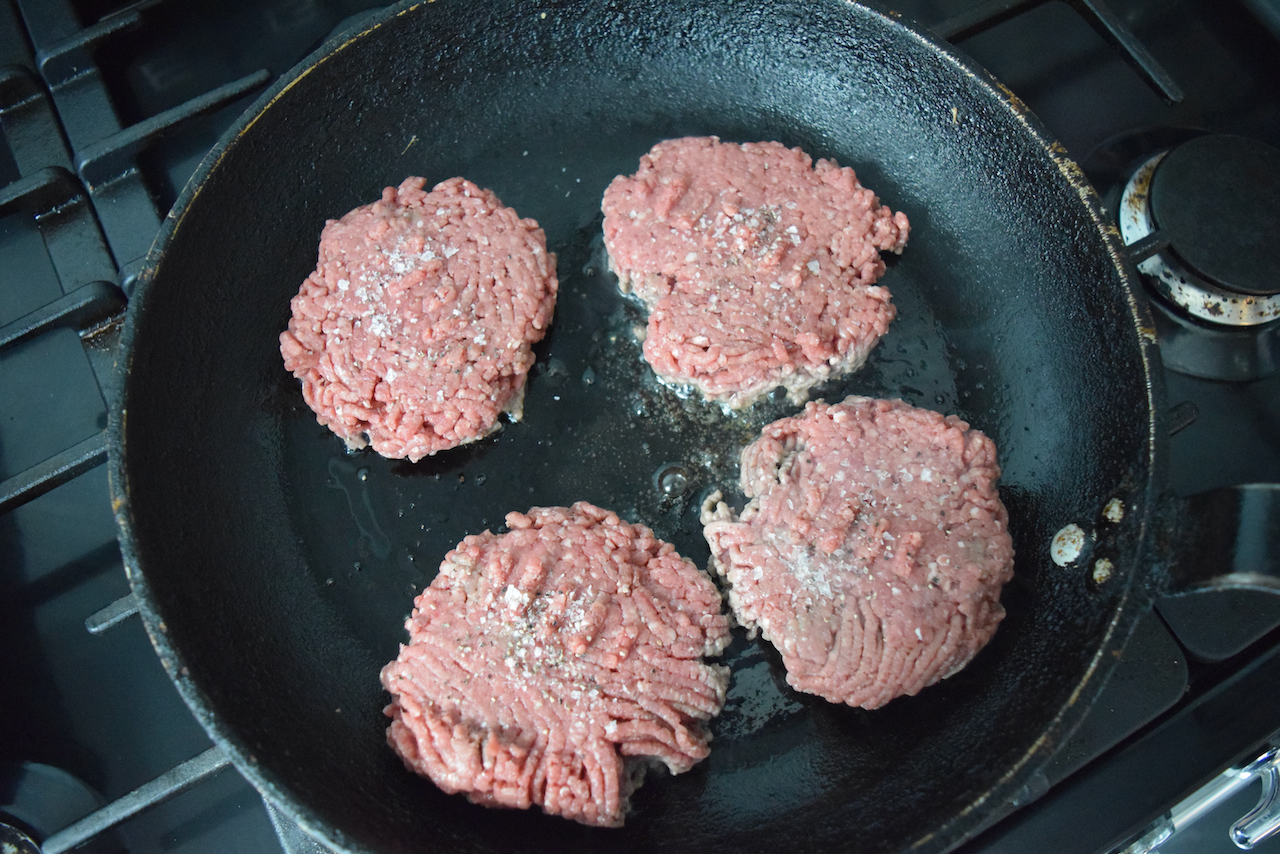 Once good and browned, flip the burgers and season the tops again. Then, top each burger with your cheaper than cheap pretend cheese.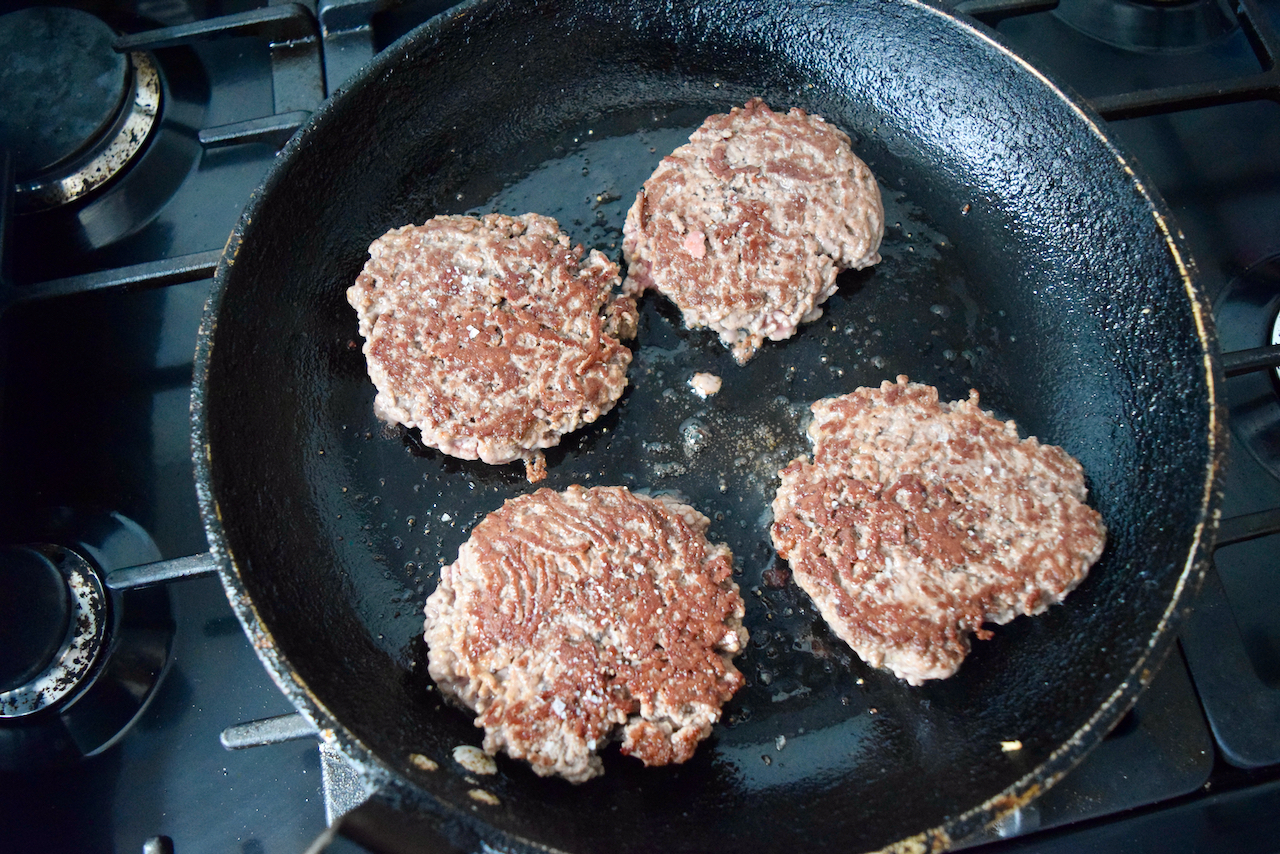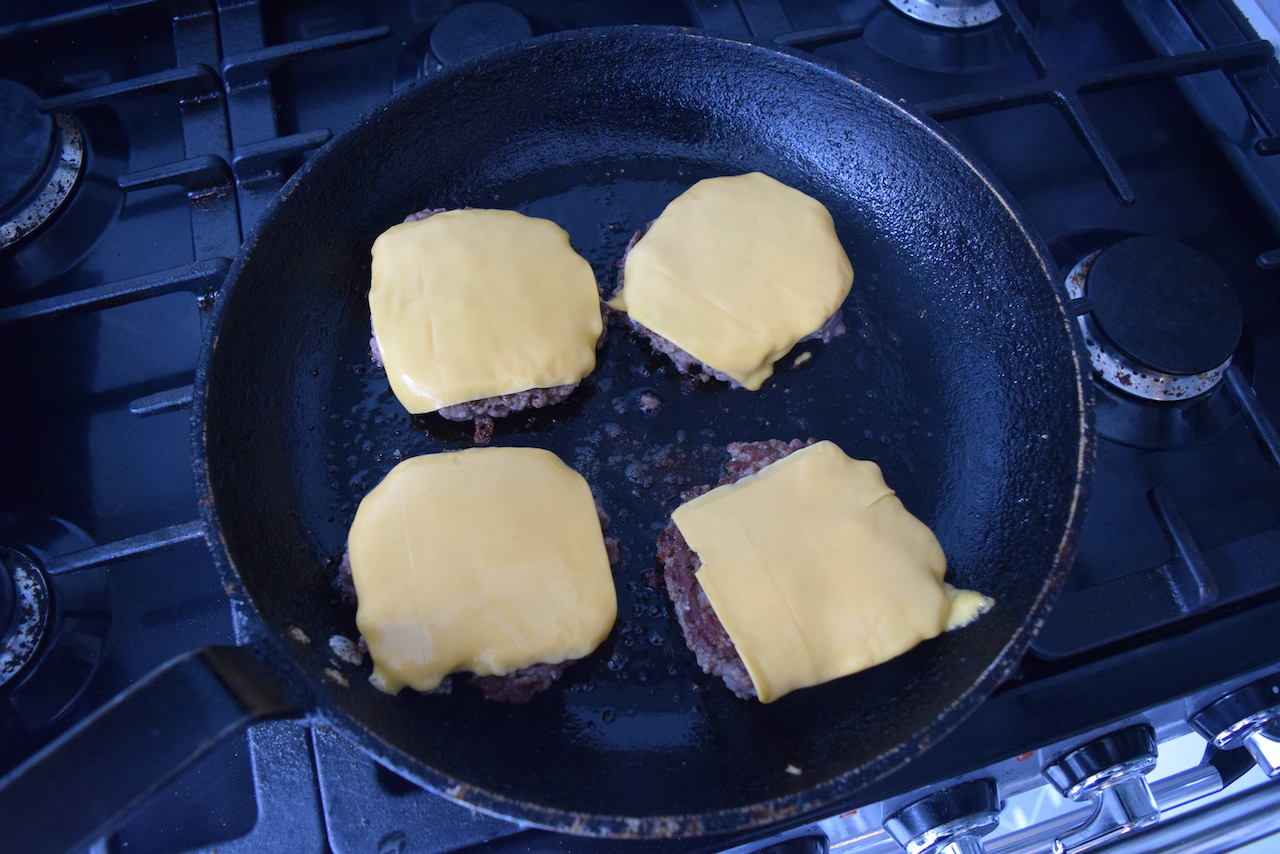 Pop a lid over the burgers to help melt the cheese and cook for another 2 to 3 minutes.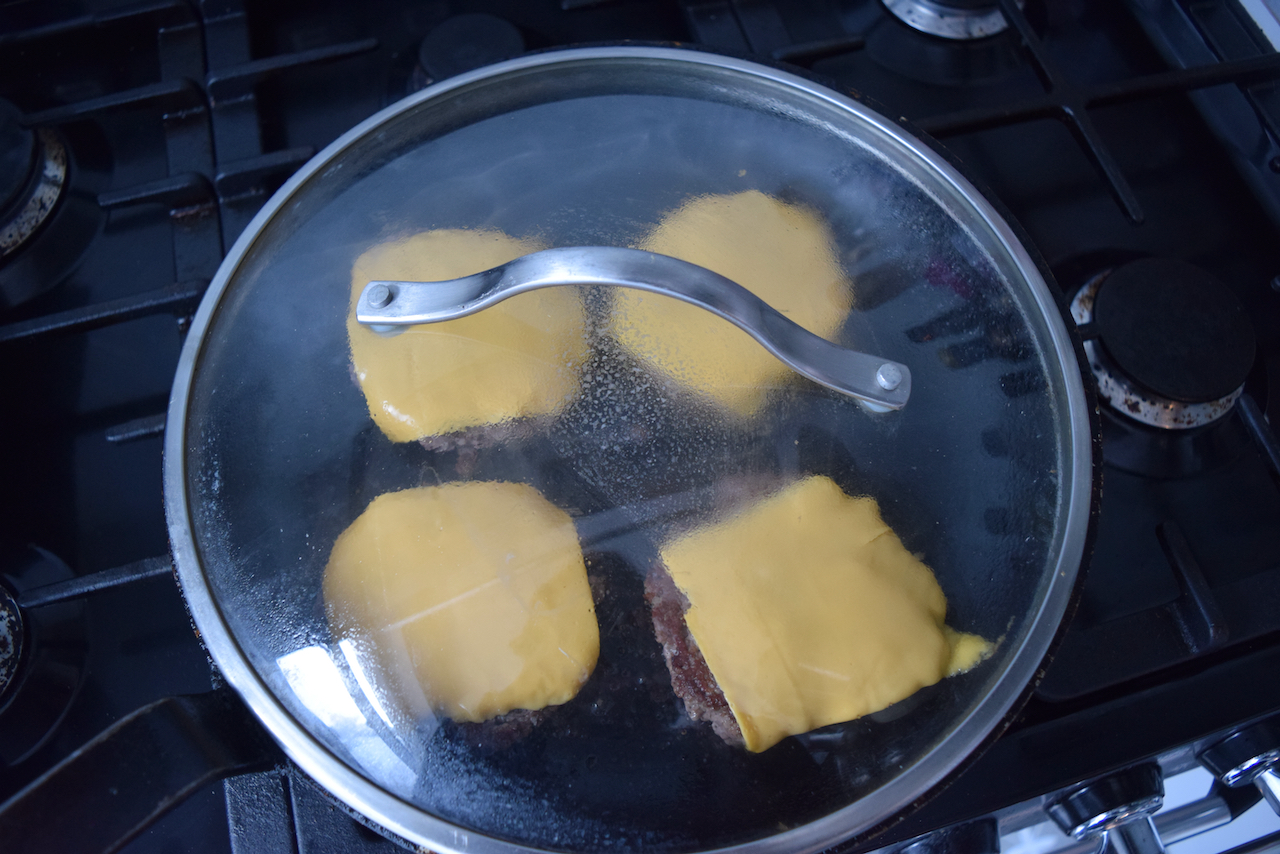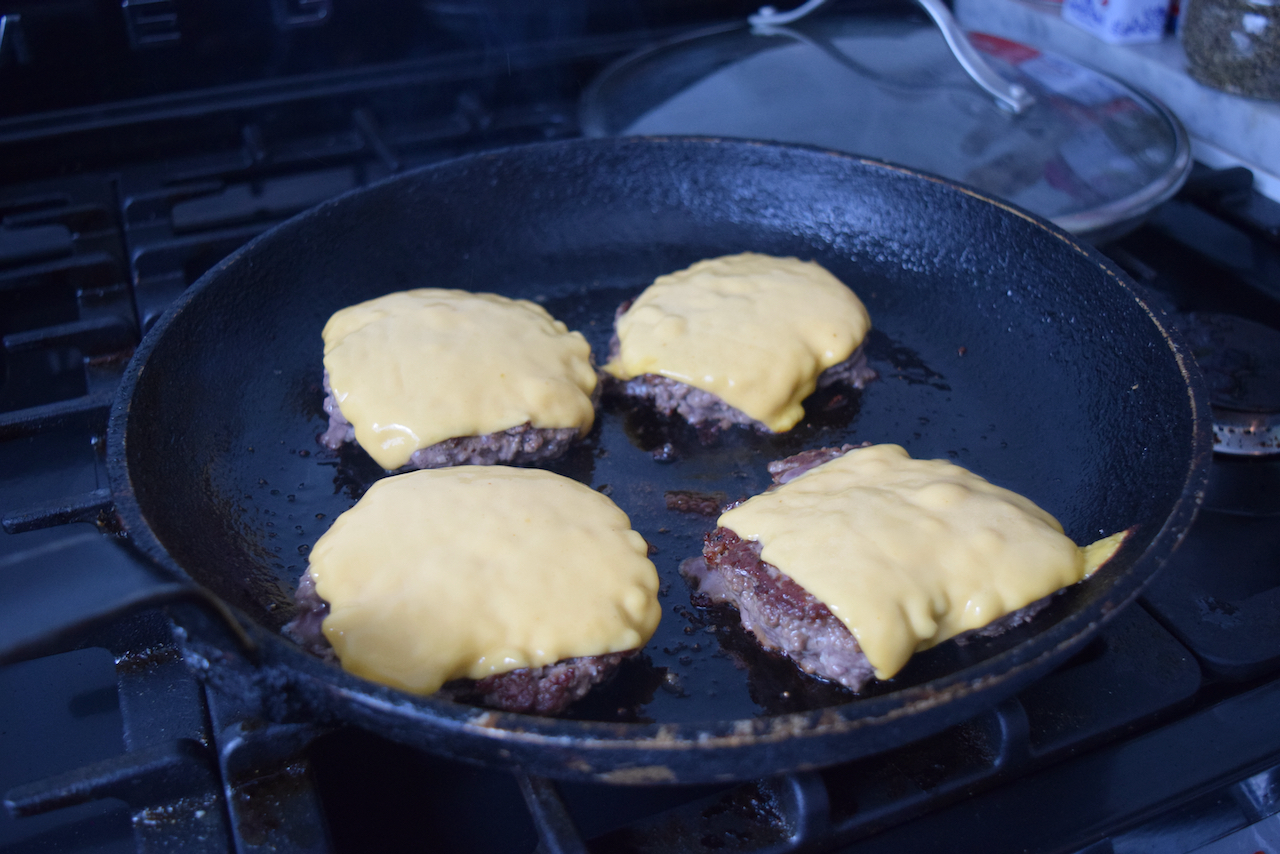 Pop these into a warm oven whilst you repeat with the other 4 burgers. Then that's it, you're ready to assemble. Two burgers in each bun then liberal squirts of your chosen sauces and for me, plenty of gherkins, always.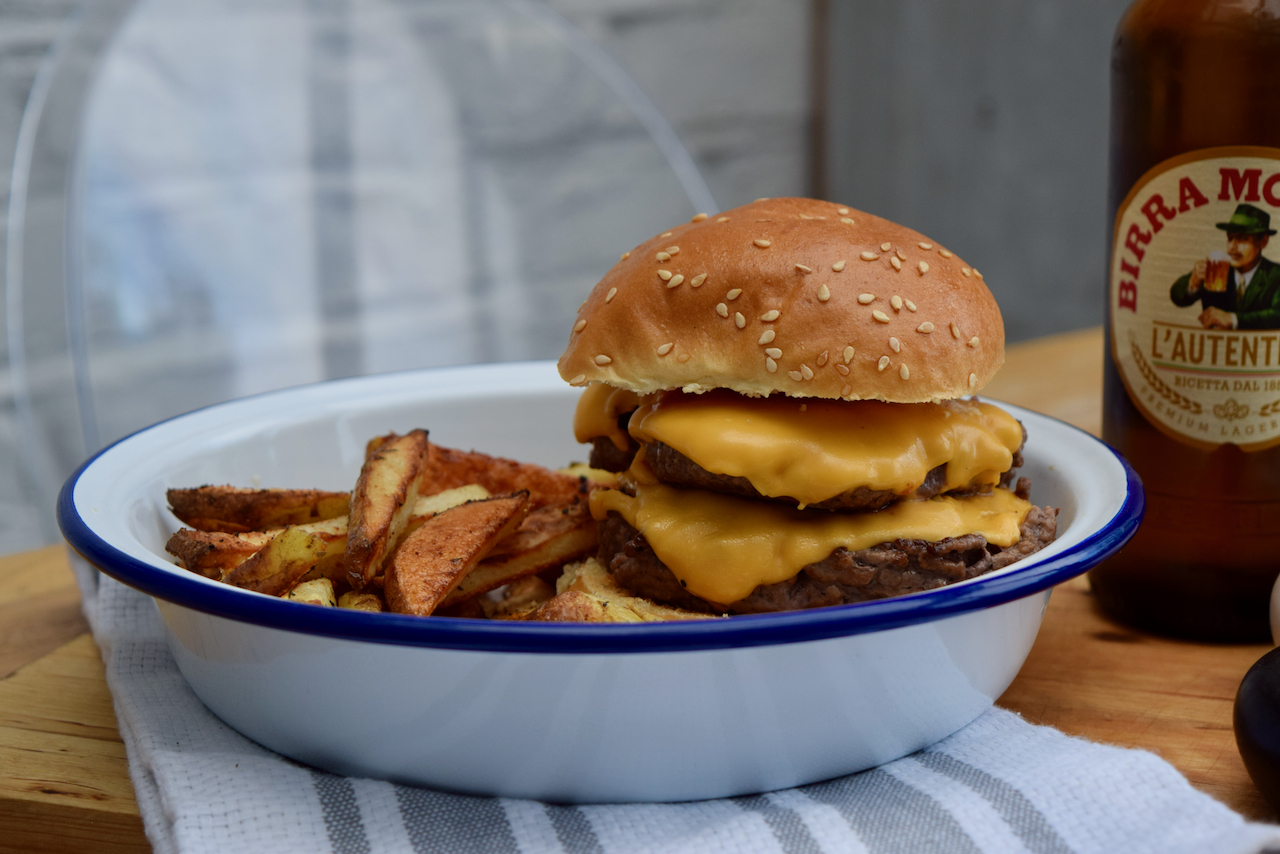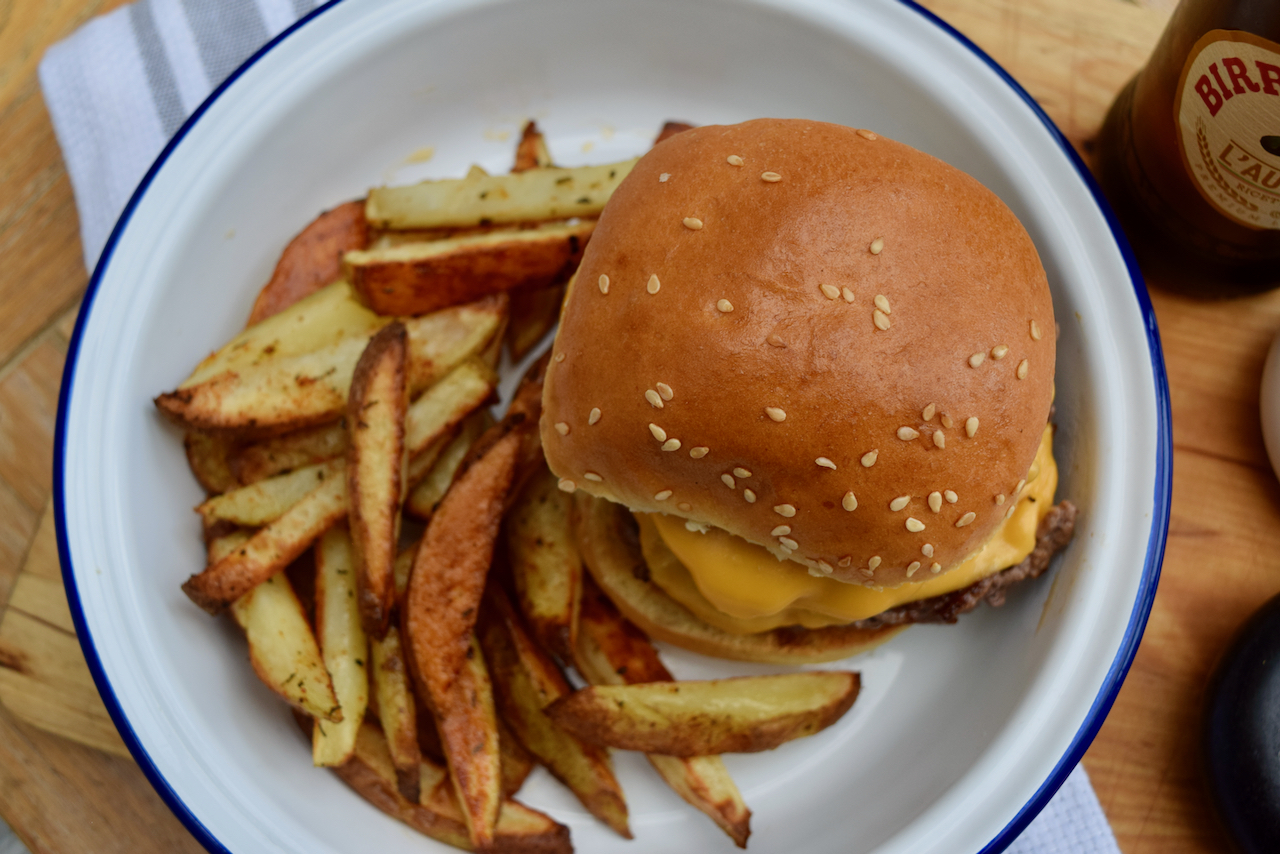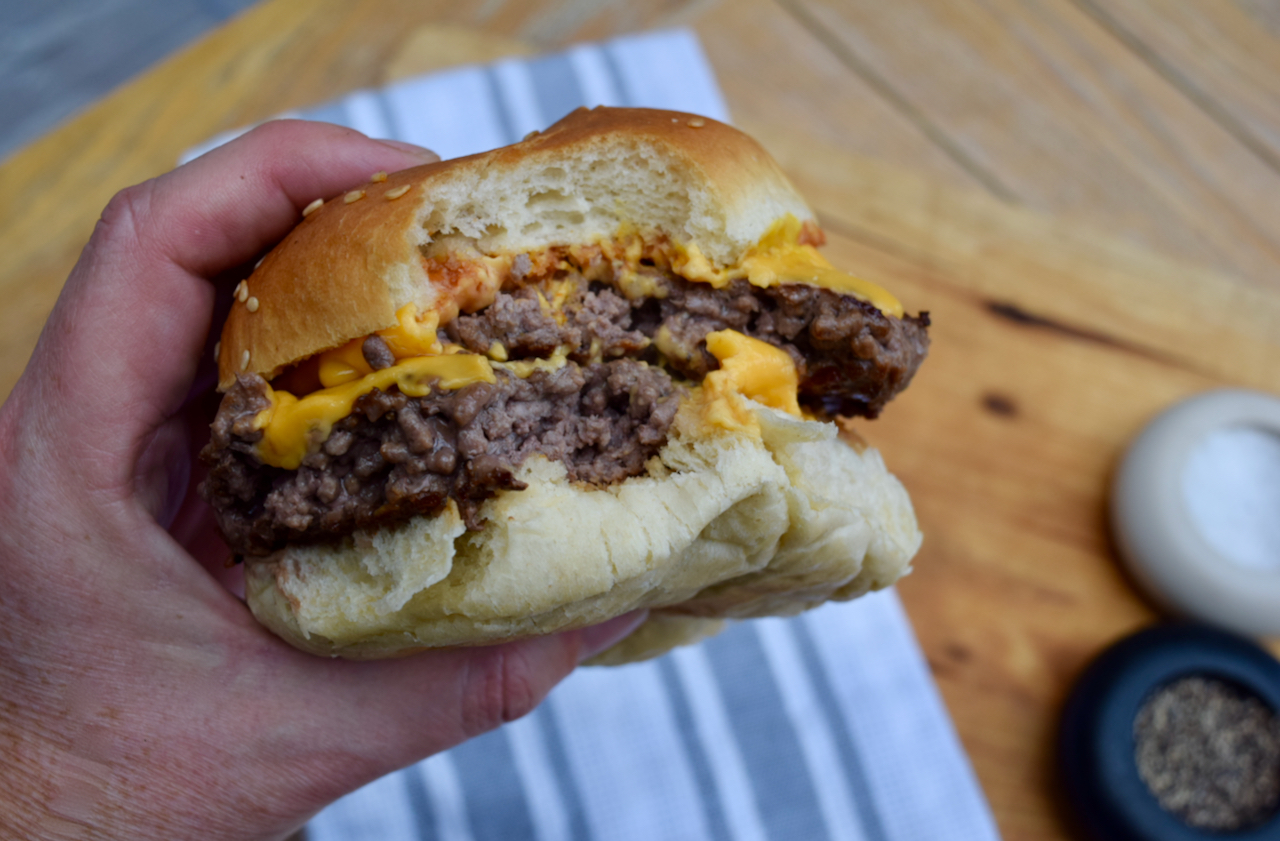 We're eating these on rotation at the moment, I am a total burger convert and I'm having to hide alarming amounts of cheap cheese slices in my fridge.
Lucy x
Double Cheese Smash Burgers recipe
Makes 4 double cheese burgers, halve for less voracious appetites
You will just need a heavy frying pan for this
1 kg good quality beef mince
Salt and pepper, generous amounts
Cheese slices, the type that come in a plastic sleeve, don't judge me
Toasted brioche rolls, sliced gherkins, mayo, American mustard, ketchup, lettuce, you decide, and fries on the side, of course
Get your chips in the oven as your burgers aren't going to take long. Also prepare your sides, toast the brioche buns and get your sauces at the ready.
Take a large heavy bottomed frying pan and heat a splash of oil over a high flame.
Take your mince and roughly divide into 8 equal sized portions. Gently form the mince into large balls; don't compact the mince, just fashion it into a ball.
Place 4 balls of beef into your hot frying pan and immediately press down firmly with a spatula. You want to flatten into patties, not worrying if they look a bit ragged. Season the tops of the burgers with plenty of salt and pepper. Cook for around 2 to 3 minutes or until the underside is crisp and browned.
Flip the burgers, press down, season the tops again then top with the cheese slices. Place a lid over the top of the pan and cook for another 2 minutes or until the cheese is melted and the bottom of the burgers are browned and they're cooked to medium rare, or to your liking.
Keep the burgers warm on an oven tray whilst you continue with the second batch. To serve, place two cheese topped burgers into a toasted brioche roll and pile on your sauces and sides.
Devour your smash burger with hot cheese on your chin.