Korean Steak Tacos with Pickled Cucumber Recipe
When I was growing up steak was really a special treat reserved mainly for Saturday nights only. Subsequently, it still feels quite spoiley when we have a steak based dinner. However, since, I discovered the joys of the super well priced but still tender and delicious feather and flank steaks, it's become quite the everyday occurrence on my menu. These cuts are great for stir fries and noodles and, as it turns out, these brilliant Korean Steak Tacos with Pickled Cucumber.
Korea is quite a la mode. As in fashionable, rather than served with ice cream. Korean boy bands, face masks and models are the height of fashion. Food wise, Korean barbecue is a big flavour and one that features in my quick and simple tacos. Don't panic, thinking you're going to have to start simmering herbs and spices for the sauce, this is just a simple mixture of good quality brought barbecue sauce and our family favourite – sriracha. The steak is griddled to a perfect medium rare, unless you are mad and like it well done, then sliced and stirred through the Korean barbecue sauce. This is served in warm flour tortillas or wraps alongside the worlds quickest, simplest Pickled Cucumber. These only have to sit for 3o minutes in the fridge so no need to leave the cucumber for months in a darkened room to infuse. This is such a quick, tasty dish and I have my favourite the Kitchn website to thank for the inspiration here.
I have never been one to follow food fashions particularly closely, I only care about what tastes amazing. But the trend for all things Korean is one to fall in love with, at least where these Steak Tacos are concerned. And I do think the paper face masks are helping with my terrible eye bags.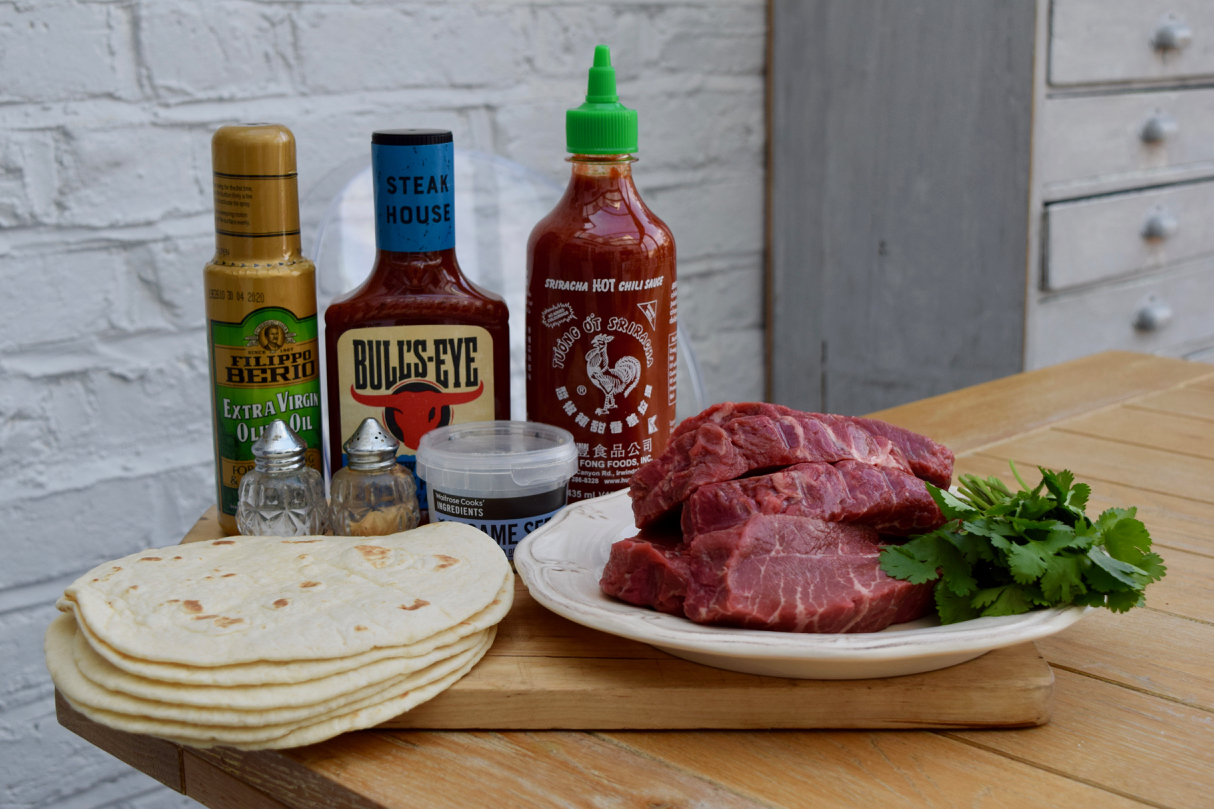 Here's the simple, but bloody delicious line up for my Korean Steak Tacos. If you can get feather steak it's well worth seeking out; Ocado do a lovely turn for me, but you could try your local supermarket meat counter.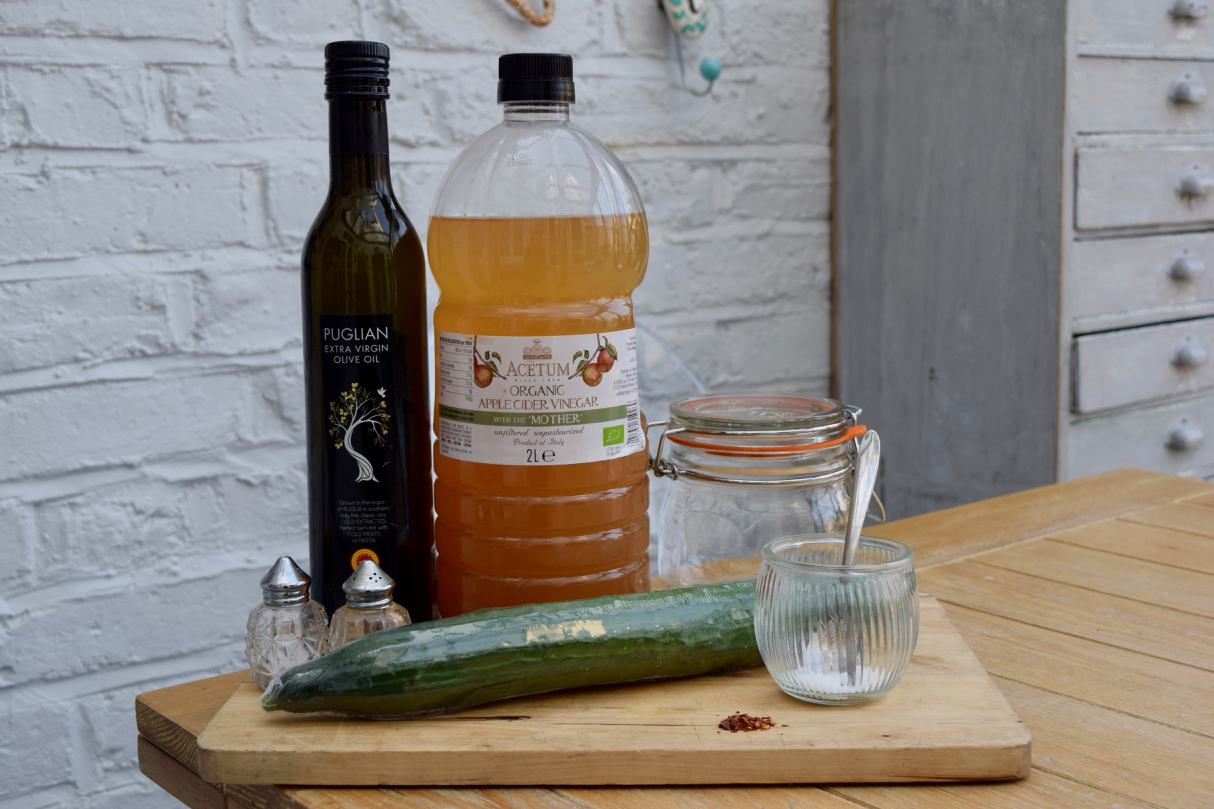 And here's the beauties involved in the Pickled Cucumber elements. Including my hoofing great big 2 litre bottle of apple cider vinegar from a recent trip to Costco. I could be enjoying this for the next few years.
Start with the simple pickled cucumber. Using a mandolin or a sharp knife and minding your fingers, as they won't add to the flavour of your pickles, cut the cucumber into thin slices. Then in a large bowl mix together the vinegar, olive oil, sugar, chilli flakes and some salt and pepper.
Tip in your thinly sliced cucumber and give it a really good stir, ensuring everything is well coated.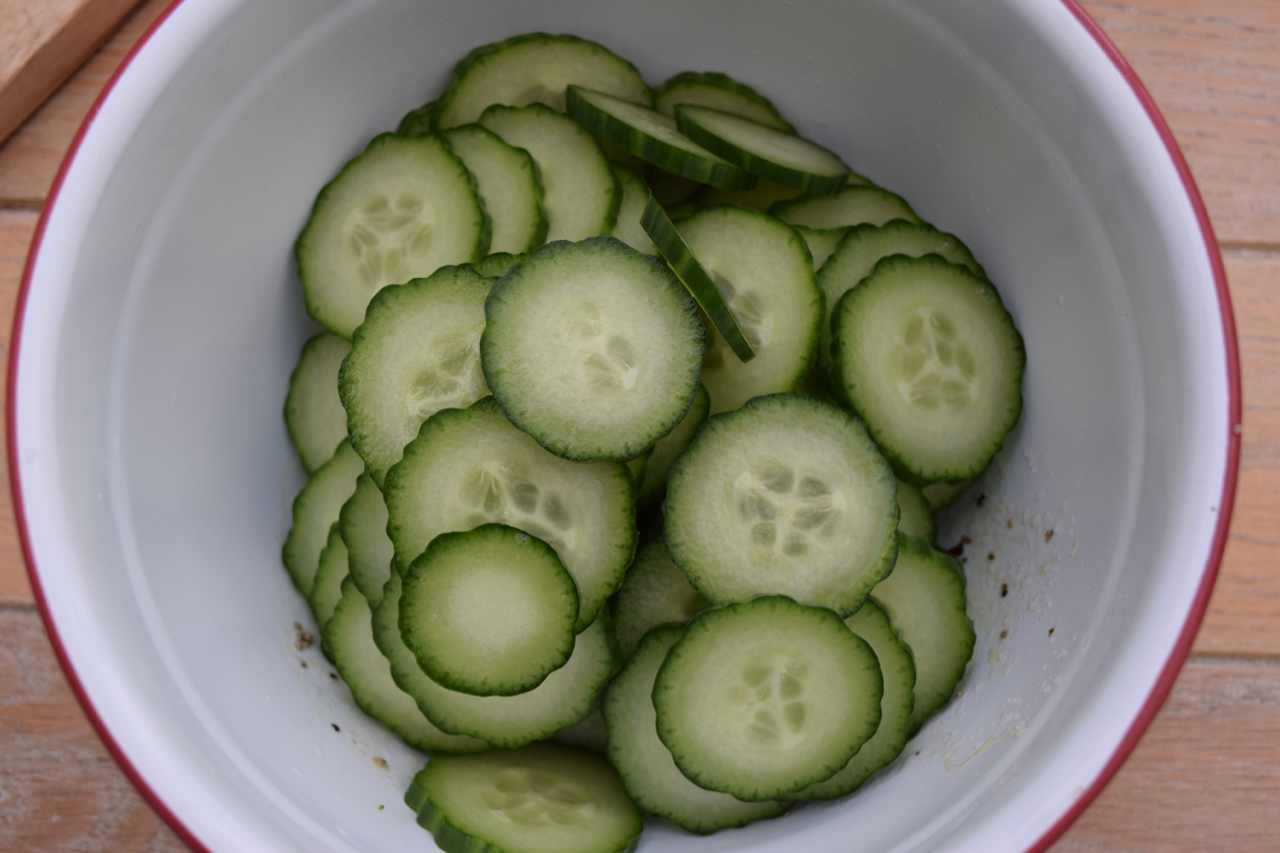 Tip these into a jar, seal, and pop into the fridge for at least half an hour or up to a week.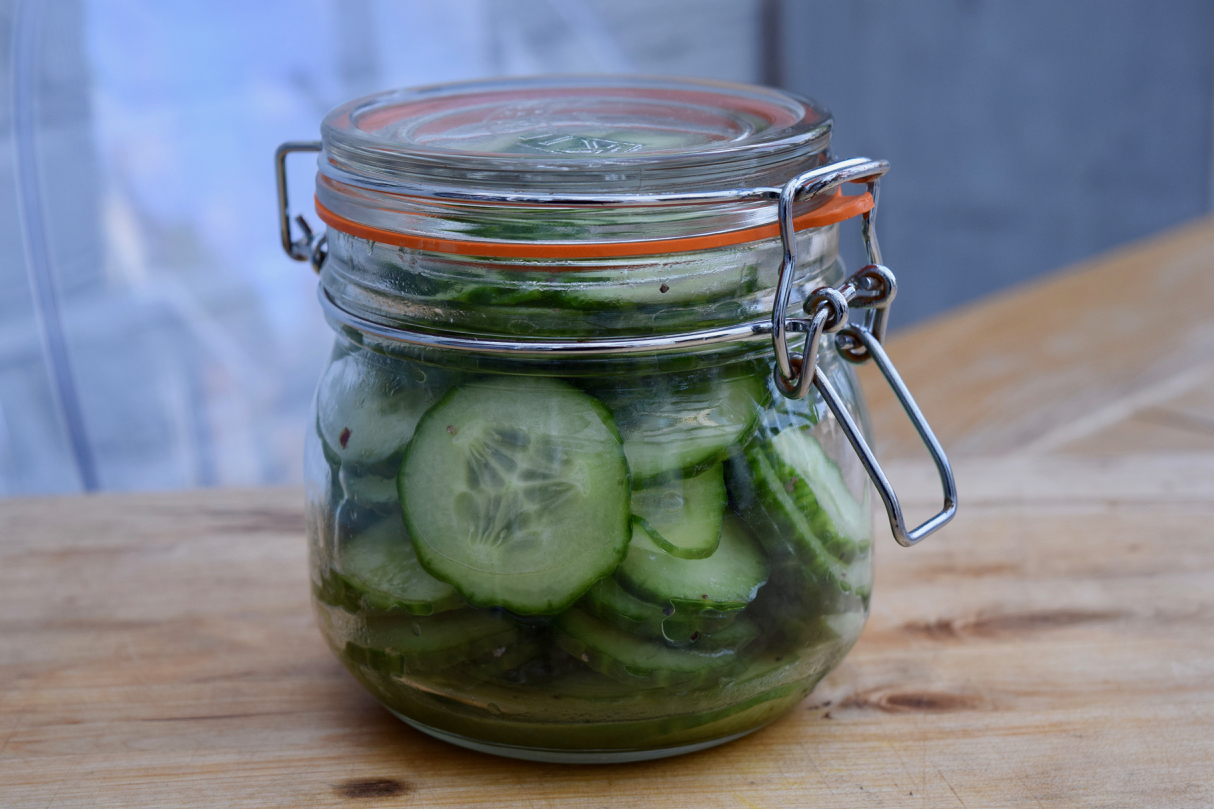 Now for the tacos. This literally takes less than 15 minutes, so have your knives and forks at the ready.
Heat your griddle or heavy frying pan over a high heat. Season your chosen steak with plenty of salt and pepper and drizzle with a little olive oil.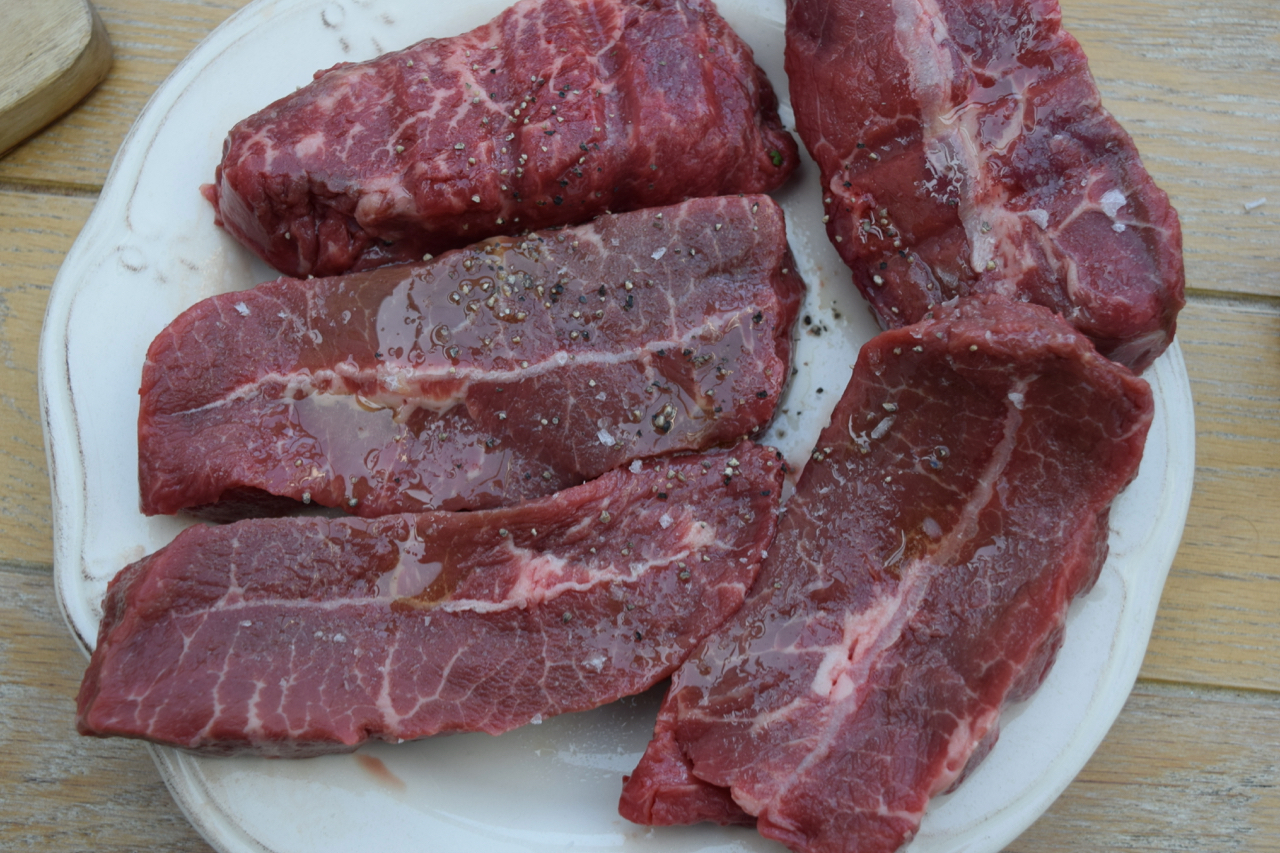 Place the steak into the hot pan and cook to your own taste. I like mine so a good vet can still bring it round, but that's just me.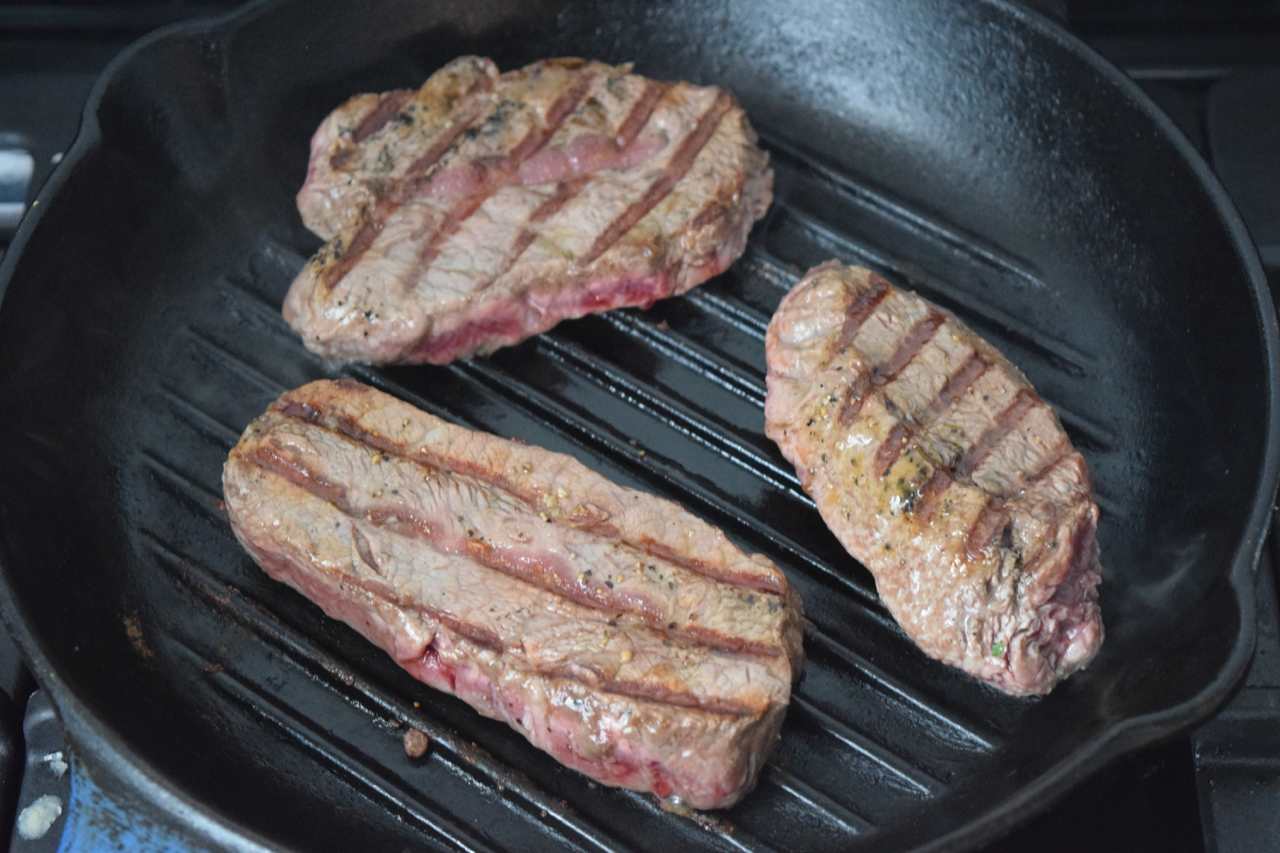 Once cooked, leave the steak to rest for a moment on a plate while you make the Korean barbecue sauce.
Add your shop bought barbecue sauce to a medium sized saucepan and measure in the sriracha, stir well.
Bring to the simmer over a low heat. Thinly slice your rested steak then stir this through your Korean style sauce.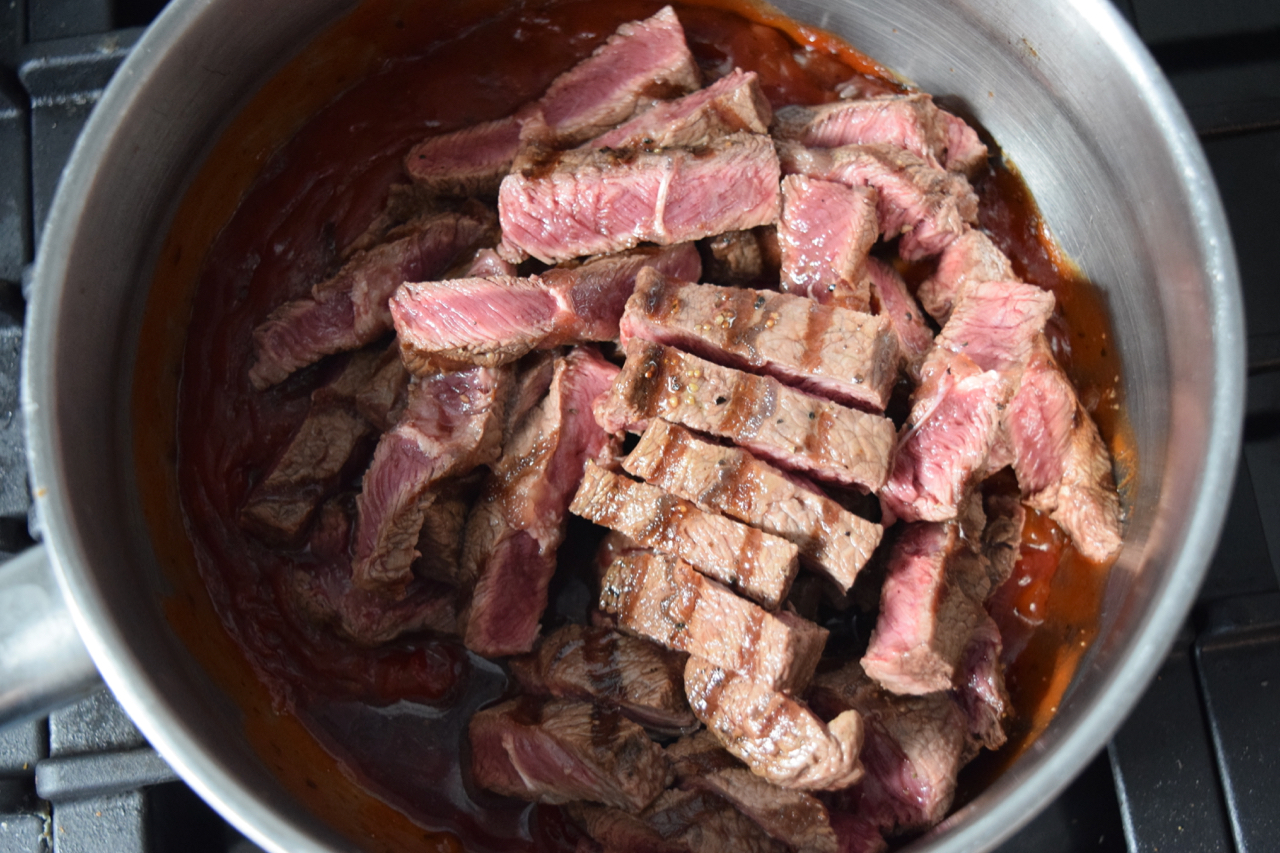 Heat the whole delicious panful until piping hot.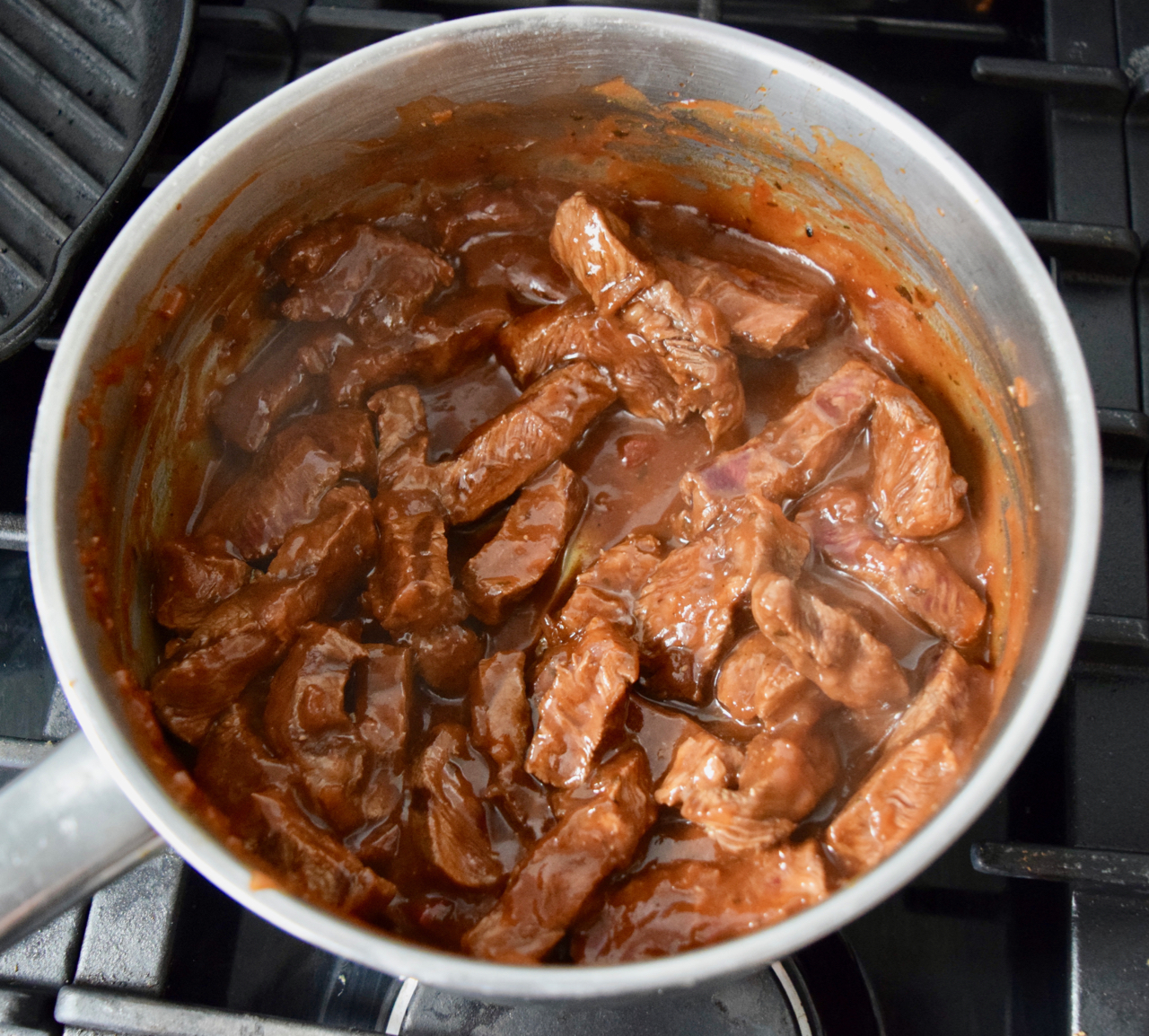 While this is heating, warm your flour tortillas or wraps in a hot, dry frying pan or on a plate in the microwave. Prepare some chopped fresh coriander and carrot ribbons to serve.
When you are ready to serve, take a warm tortilla and layer on your steak, some of the pickled cucumbers, carrot, coriander and a generous sprinkling of sesame seeds.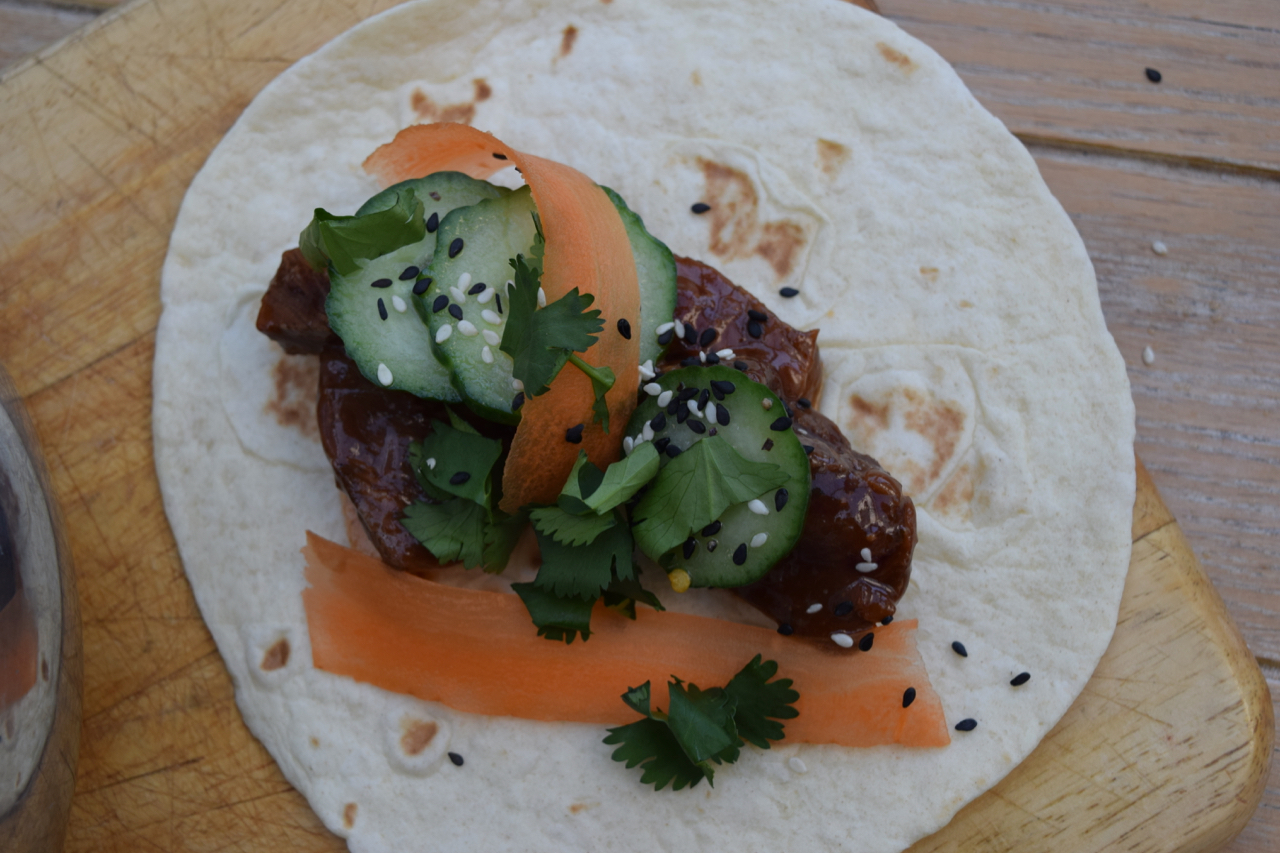 Fold, repeat, devour. Serve with extra pickled cucumber on the side, adding some crisp sweet and sour interest.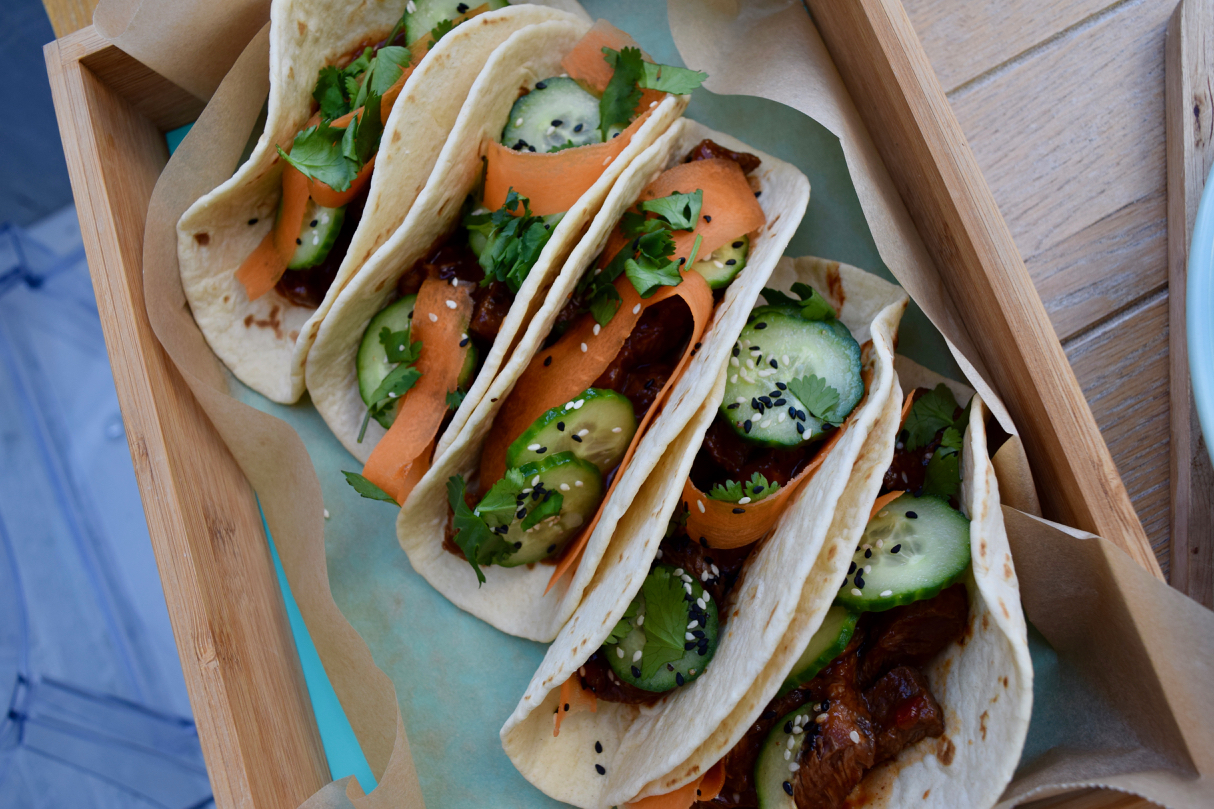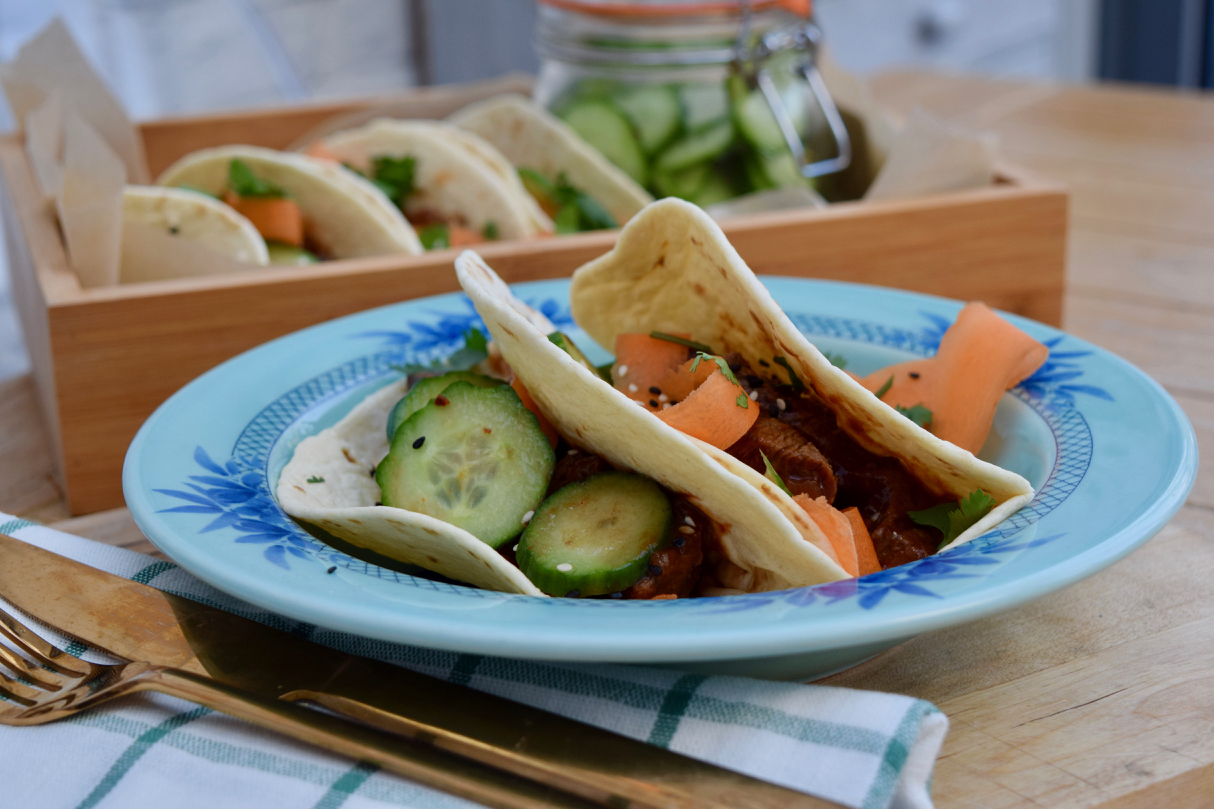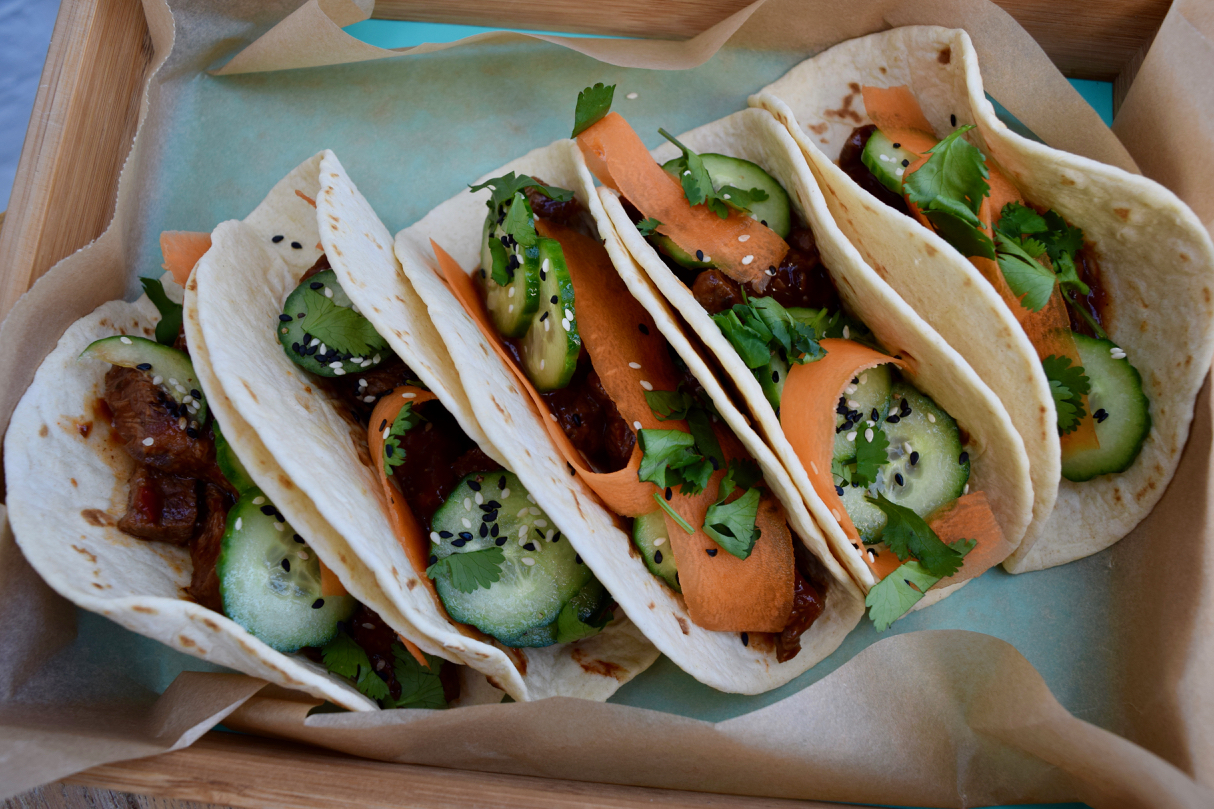 Quick, fragrant, spicy, fresh. No, I haven't swallowed a dictionary, I have just eaten these brilliant Korean Steak Tacos. They are a totally, tasty mouthful
Lucy x
Korean Steak Tacos with Pickled Cucumber Recipe
Serves 4, generously
You will not need any particularly exciting equipment
Tacos
600g steak, I used feather steak, but sirloin or rump would be good too
Olive oil
Salt and pepper
200ml barbecue sauce from a bottle or jar, buy a good quality brand
2 tablespoons sriracha
6 to 8 soft flour tortillas
Cucumber
1 cucumber, thinly sliced
30ml vinegar, I used apple cider variety
A small pinch chilli flakes
1 tablespoon olive oil
1 teaspoon sugar
salt and pepper
Carrot ribbons, sesame seeds, freshly chopped coriander to serve
Start by making the pickled cucumber as it will take a while to infuse. Thinly slice your cucumber using a mandolin or sharp knife, minding your fingers, then pop to one side for a moment.
In a medium sized bowl, stir the vinegar, chilli, olive oil, sugar and salt and pepper. Add the sliced cucumbers and stir well, coating them in the vinegar. Store them in the fridge in a sealed jar for at least an hour and up to a week.
For the tacos, heat your griddle pan or heavy frying pan until good and hot. Take your chosen steak and season well with salt and pepper then lightly drizzle with some olive oil. Cook the steak on the hot griddle until cooked to your particular preference. Leave to rest for a couple of minutes covered in foil.
For the sauce, pour the barbecue sauce and sriracha into a saucepan and heat until just simmering. Slice your rested steak into bite sized pieces and add to the barbecue sauce, along with any of the steak juices. Stir well so everything is coated in the spicy sauce.
Warm your flour tacos in a hot frying pan or briefly in the microwave then spoon some of the steak into the middle. Add some of your pickled cucumber slices, carrot ribbons, fresh coriander and sesame seeds. Fold then devour. Any left over steak reheats well for the next day.