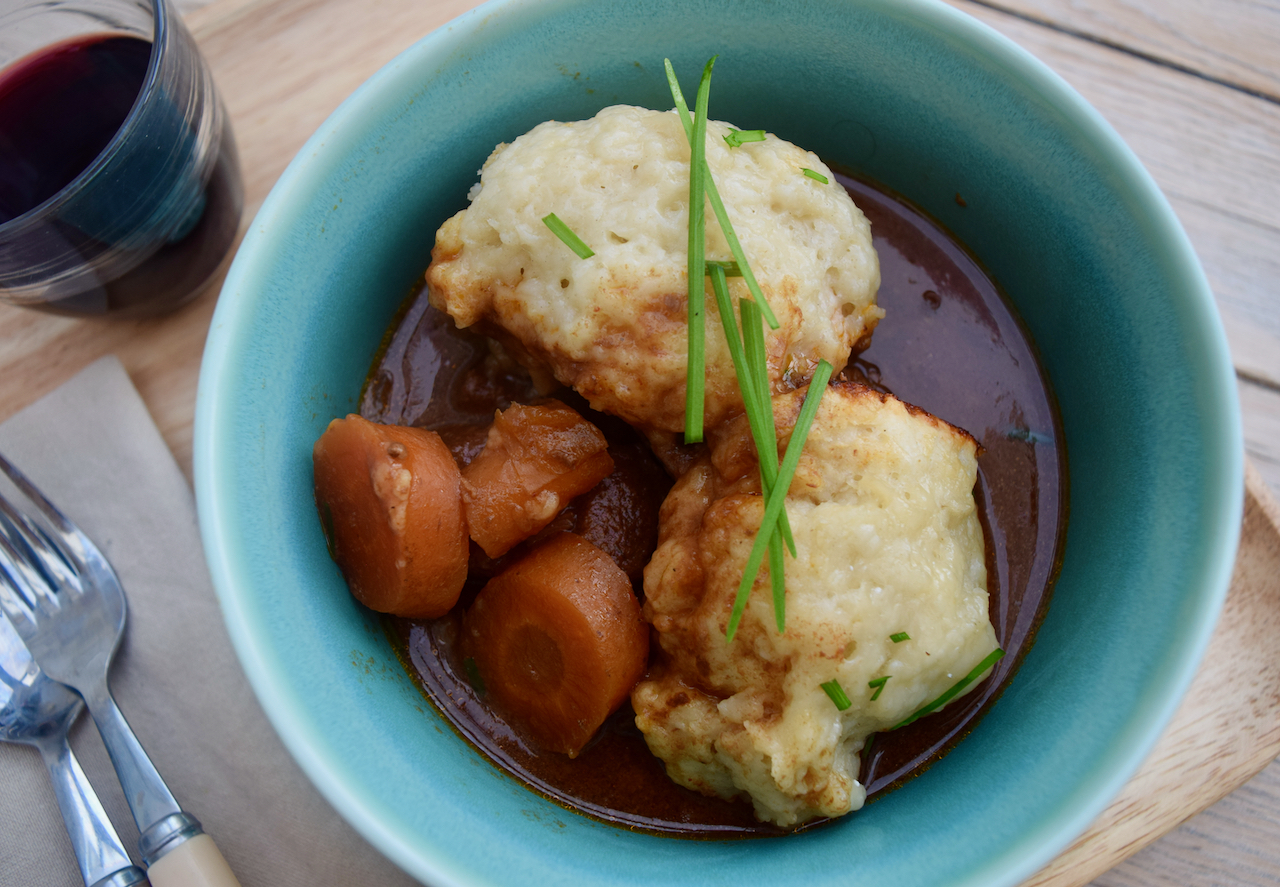 Slow Cooker Beef Casserole with Cheese Dumplings recipe
At this time of the year I always dust off the slow cooker and remember how much I love it. This year, especially, because my slow cooker will be my new best friend given the cost of turning the actual oven on is similar to a small mortgage payment. My ungrateful family don't love a casserole, but balls to them, because I really do and this Beef Casserole with Cheese Dumplings even had their mouths watering.
Now, I've read enough recipes saying you should brown off the meat first before putting it in the slow cooker, but suffice to say, I'm ignoring them and agreeing with Super Golden Bakes for this one. For me, the utter joy of a slow cooker is its one pot, kerfuffle free nature. Luckily, this casserole has plenty of other gubbins bringing flavour to the party; a touch of balsamic, beer, soy sauce and parmesan and horseradish in the pillow soft dumplings. A lovely 5 hours on high, or 8 on low, later and you're greeted by a comforting, rich beef casserole, huge on taste, tiny of effort.
Sadly this bloody delicious recipe was embraced by the family; such a shame as I was all set to eat this tasty, comforting casserole all by myself, from the pot with a ladle.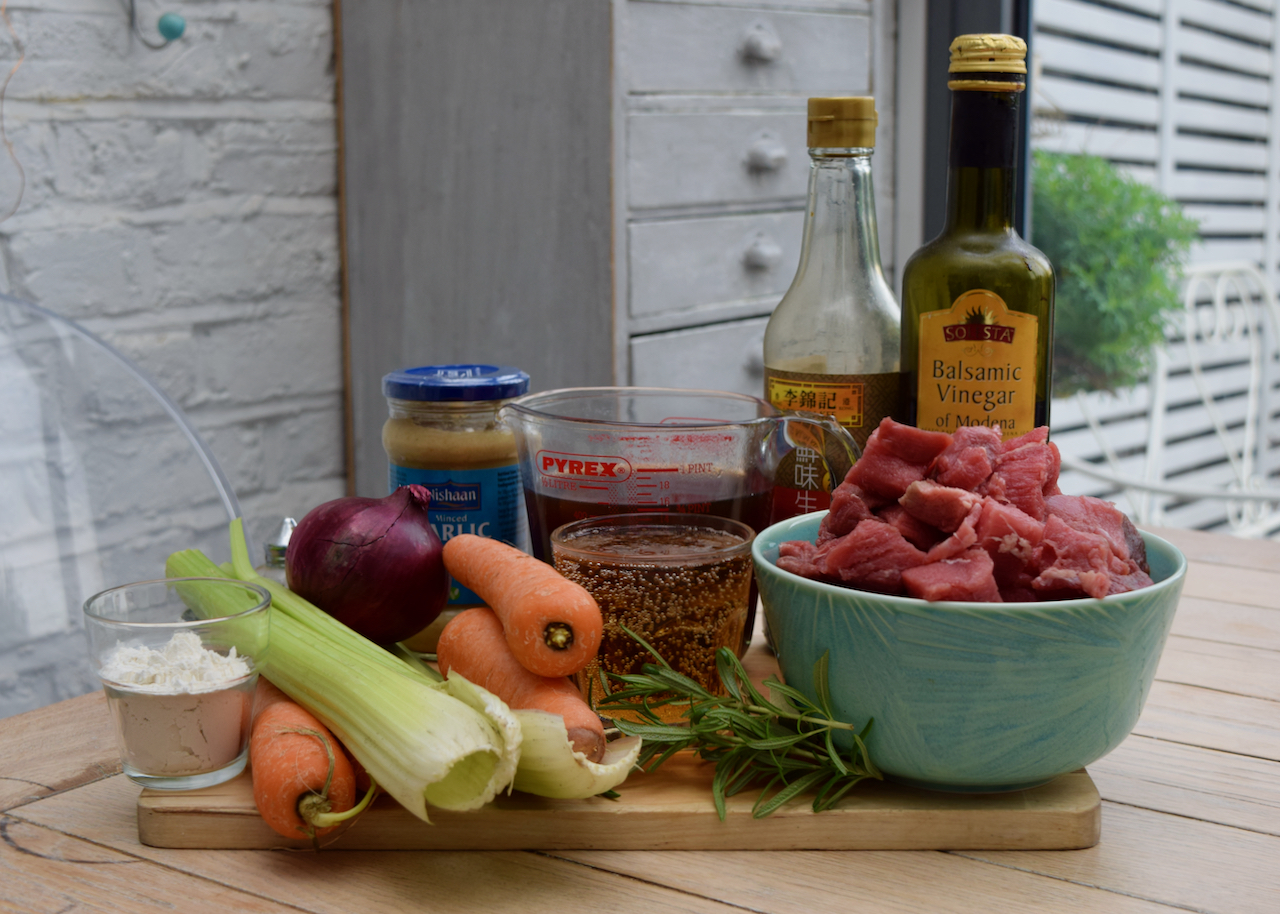 Here's the wonderful wholesome line up for this slower cooker, winter special. I chose carrots, onion and celery, but if you prefer a bit of bulk in yours add some potatoes, or parsnips would be lovely too.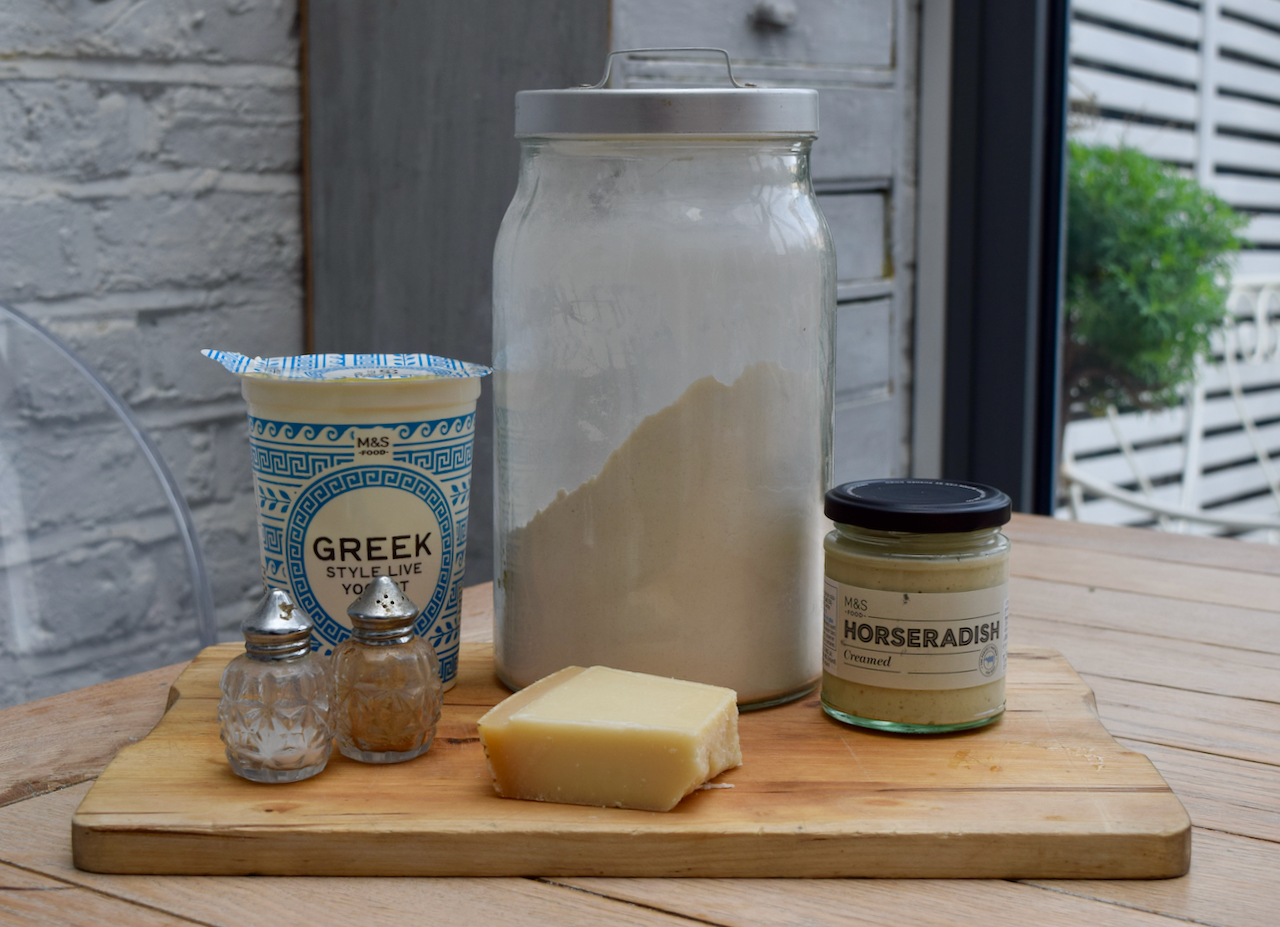 And here's the dumpling business. I went for Parmesan cheese for mine; it's full flavoured and ballsy and lovely with the horseradish. If you prefer, use some strong cheddar.
Now, as mentioned, I've totally skipped the beef browning for this casserole, but do feel free to, if you'd rather. Pre heat your slow cooker on high and pour in the beef stock, beer of your choice, tomato paste, balsamic, soy, garlic, salt and pepper. All these lovely additions will create a super flavoured gravy, making up for the lack of meat browning kerfuffle.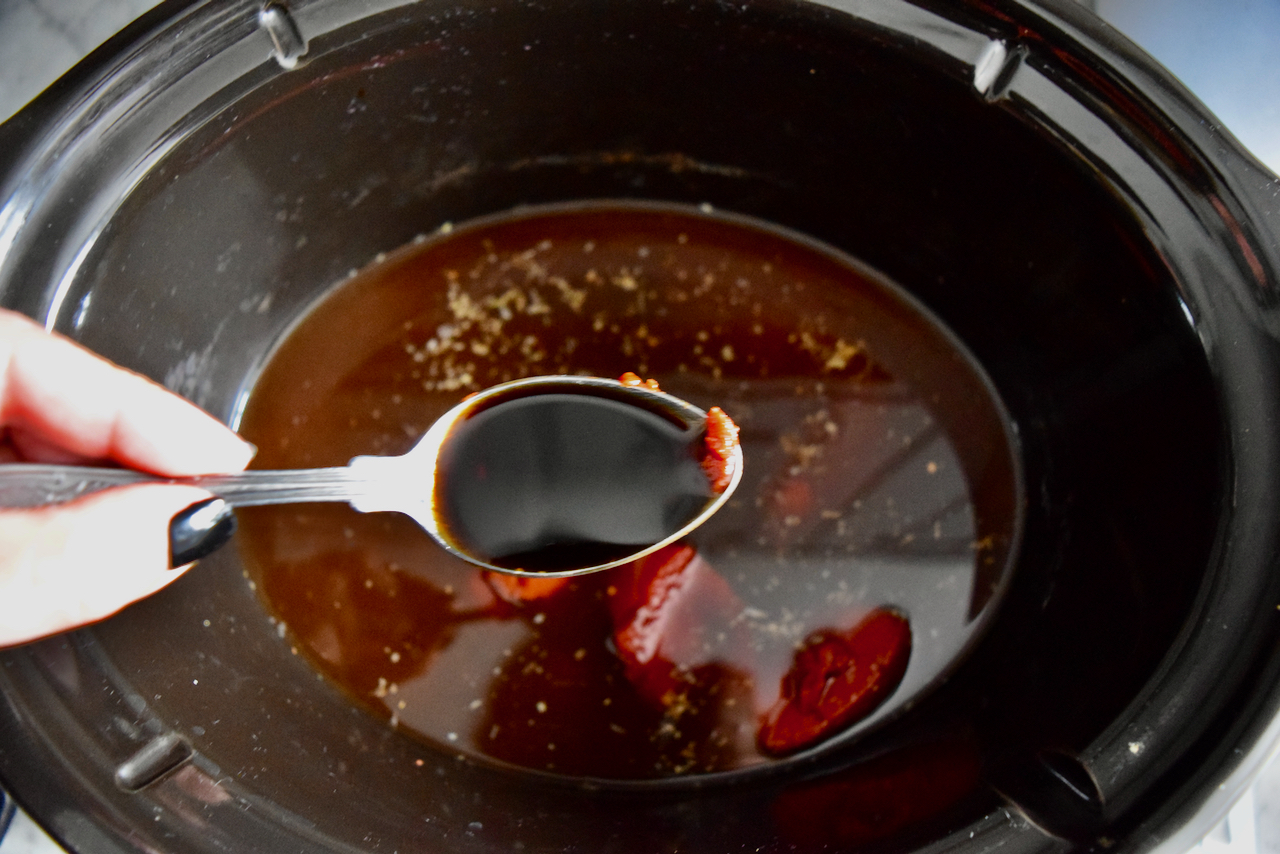 Give the mixture a whisk then, on a large plate *larger than mine* or bowl toss the beef cubes in the seasoned flour, coating well.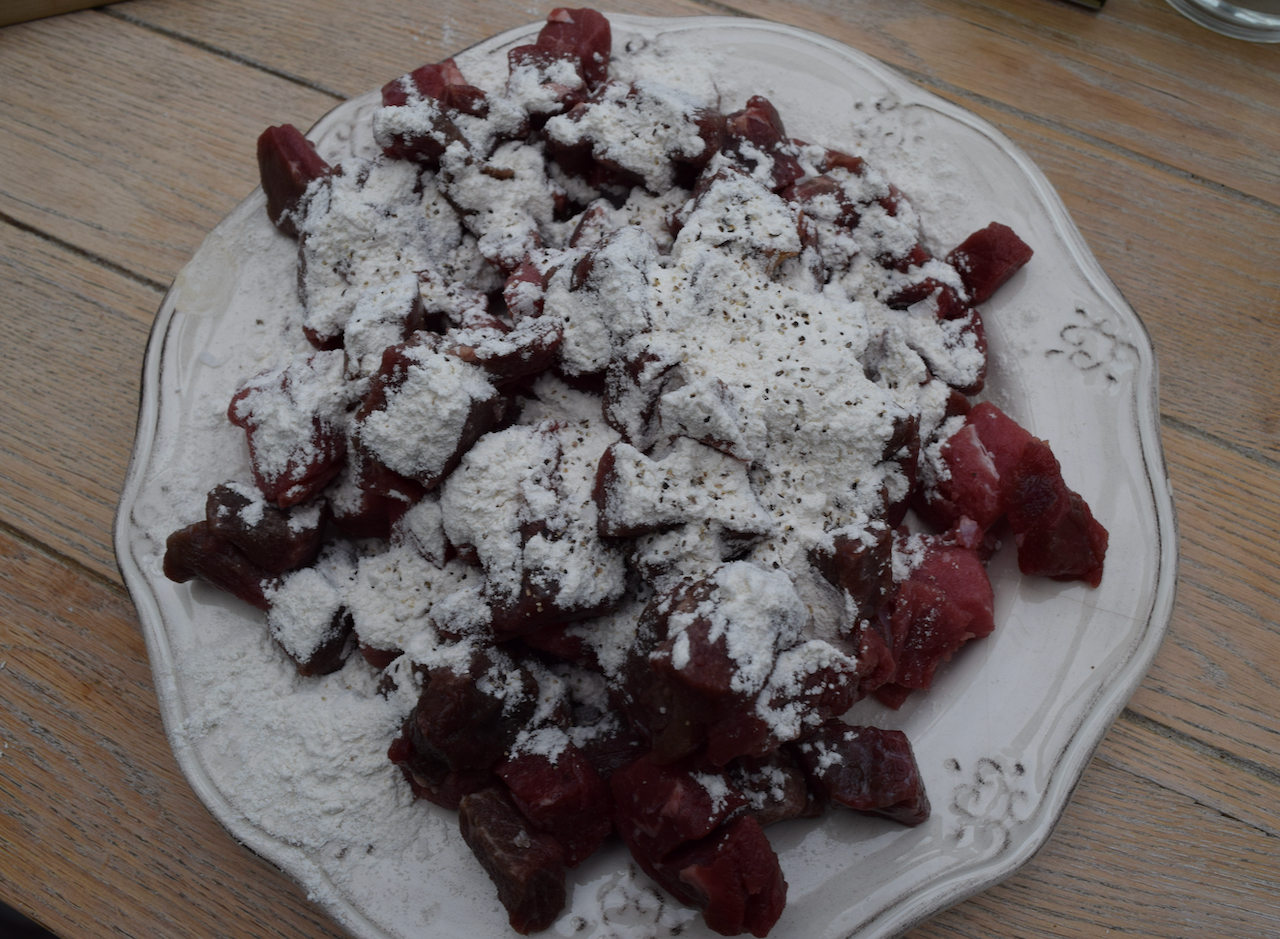 Tip in your chosen chunkily chopped vegetables, along with the coated beef, and give the whole lot a good stir.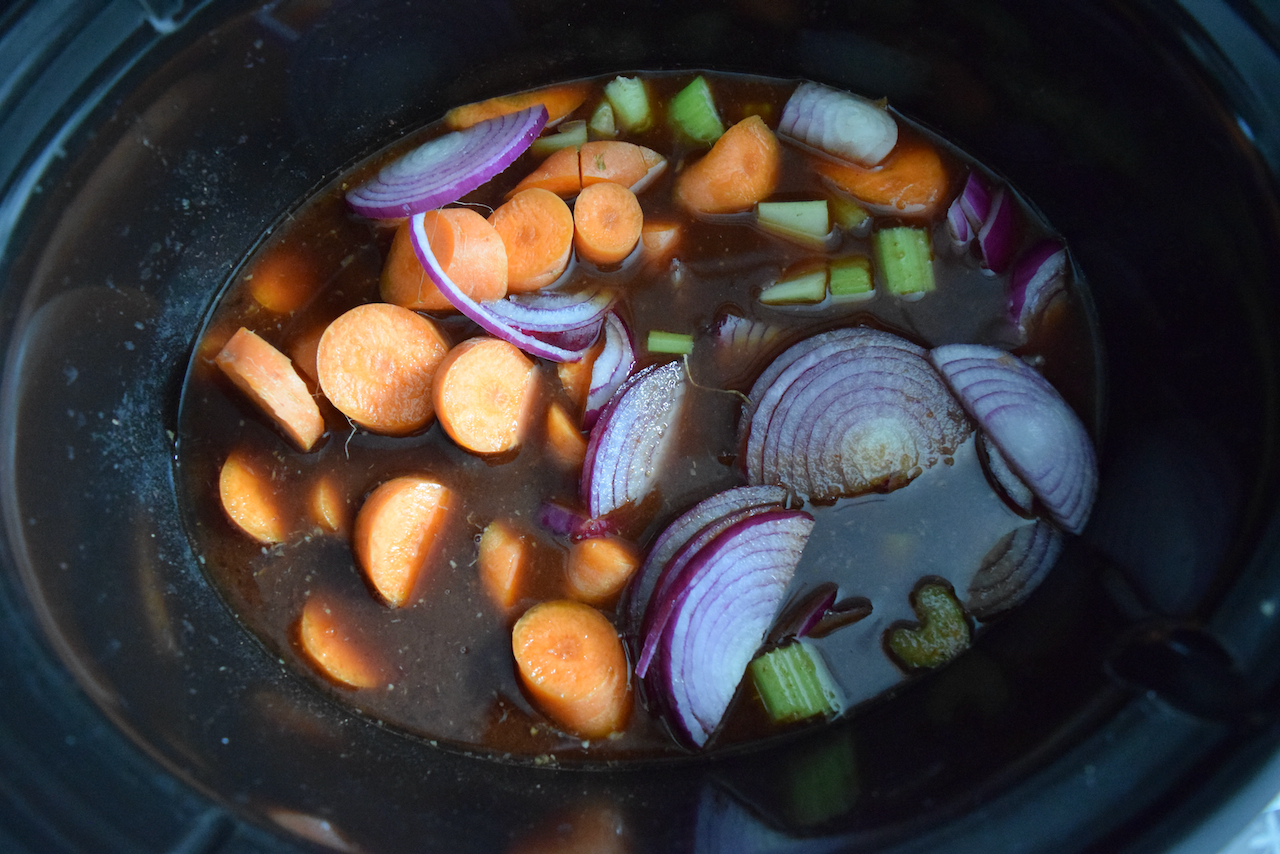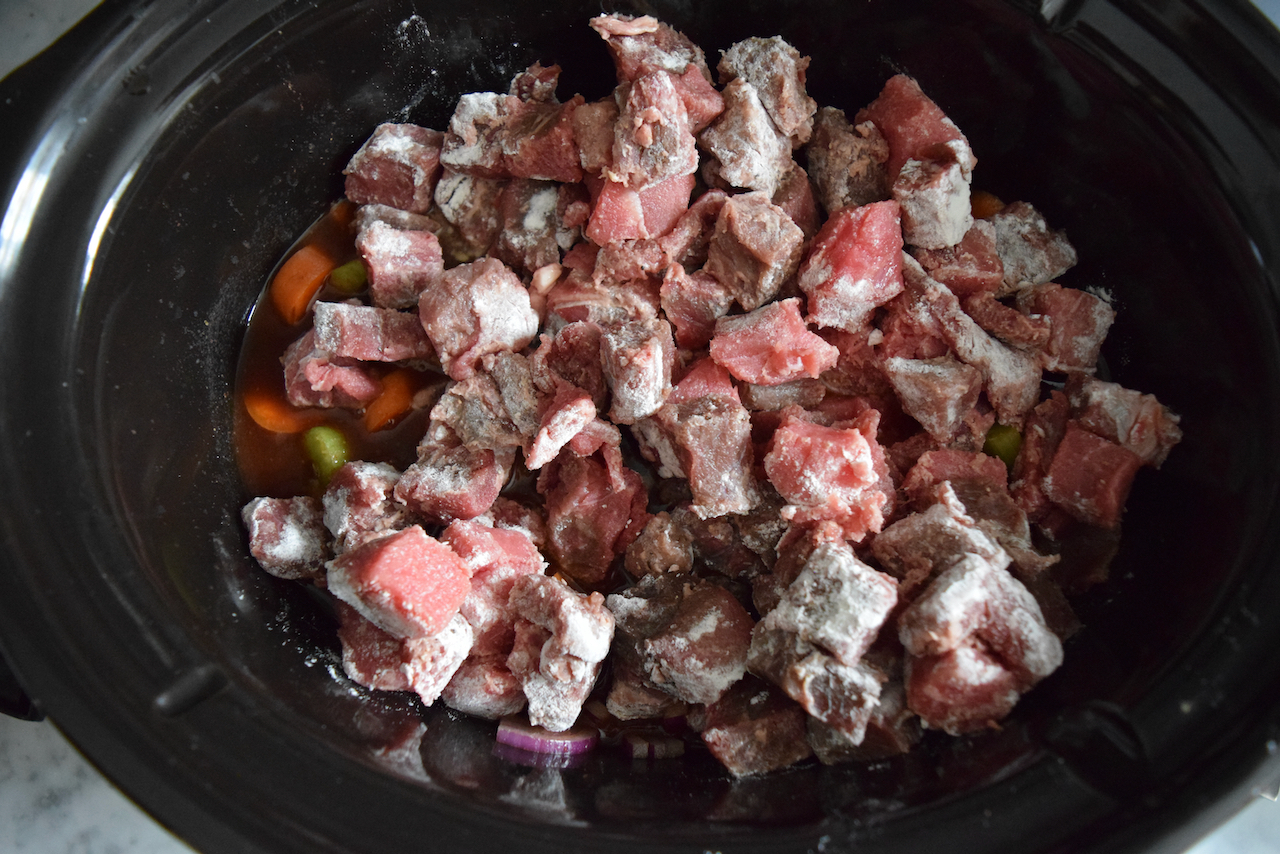 Tuck in the bay leaves and the rosemary sprig then put the lid on and cook on high for 5 hours or low for 8.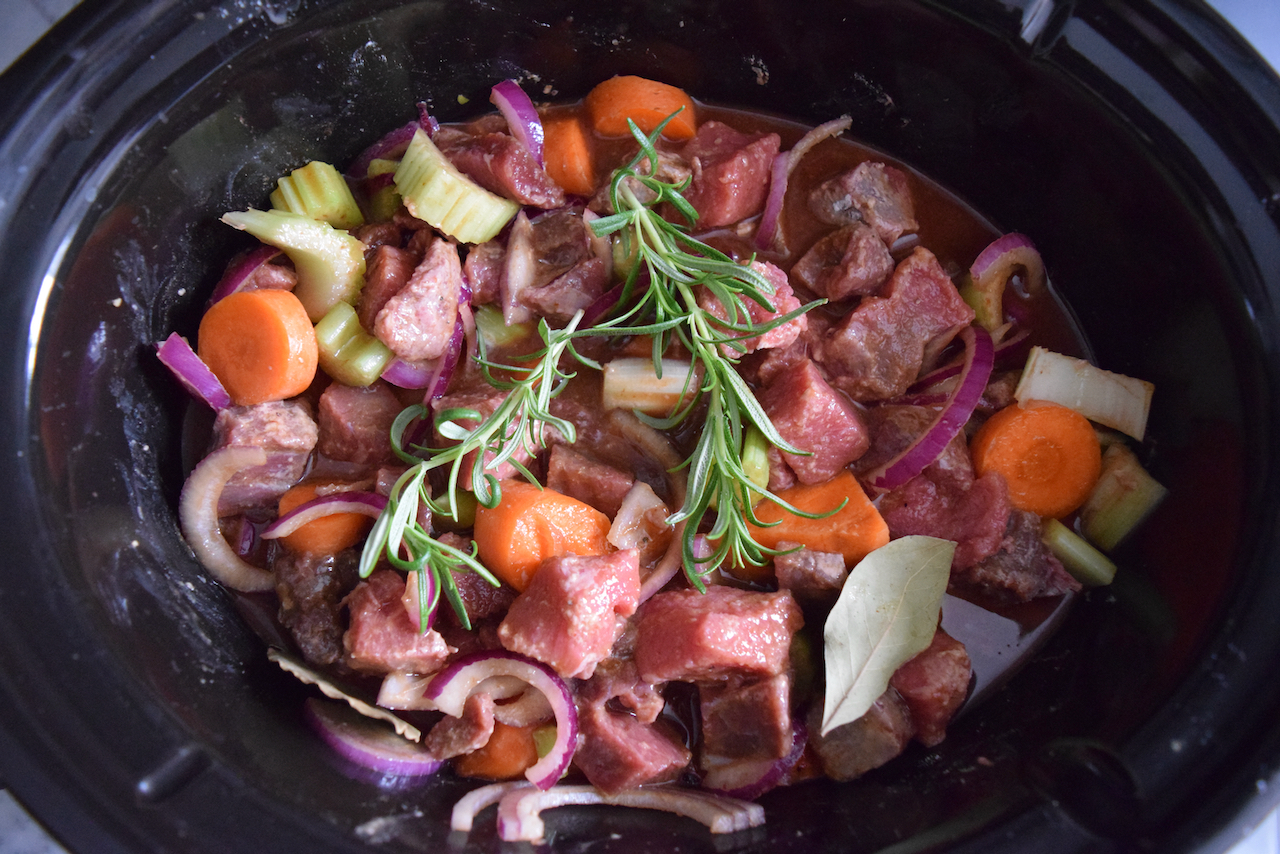 Not wanted to sound all school-teachery but don't be tempted to lift the lid too often, as it will reduce the temperature of the cooker.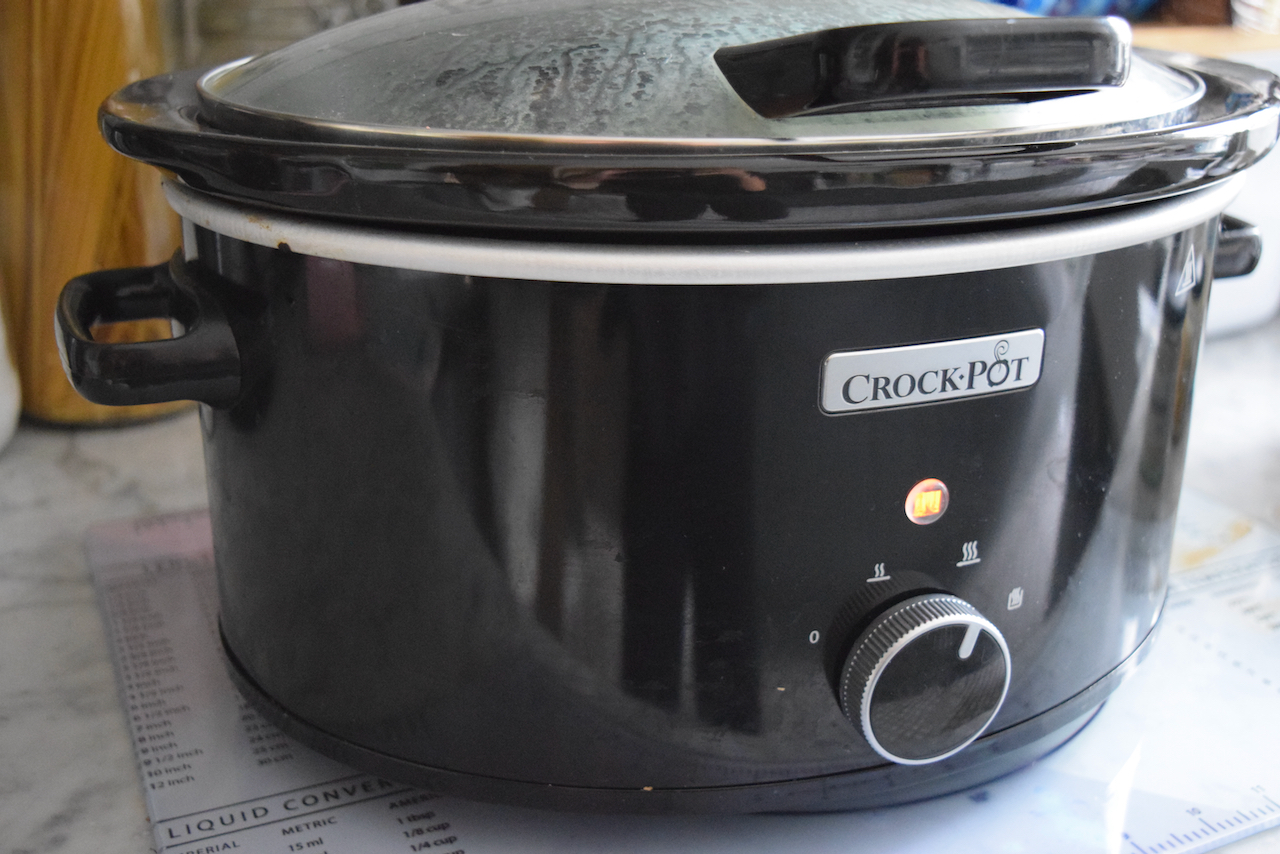 When the cooking time is nearly up, make your star of the show dumplings. Take a bowl and measure in the self raising flour, salt and parmesan (reserve a couple of tablespoons for the tops) and give it a little stir. Mix the yoghurt and horseradish then fold into the flour/cheese mixture until you have a soft, pillowy dough.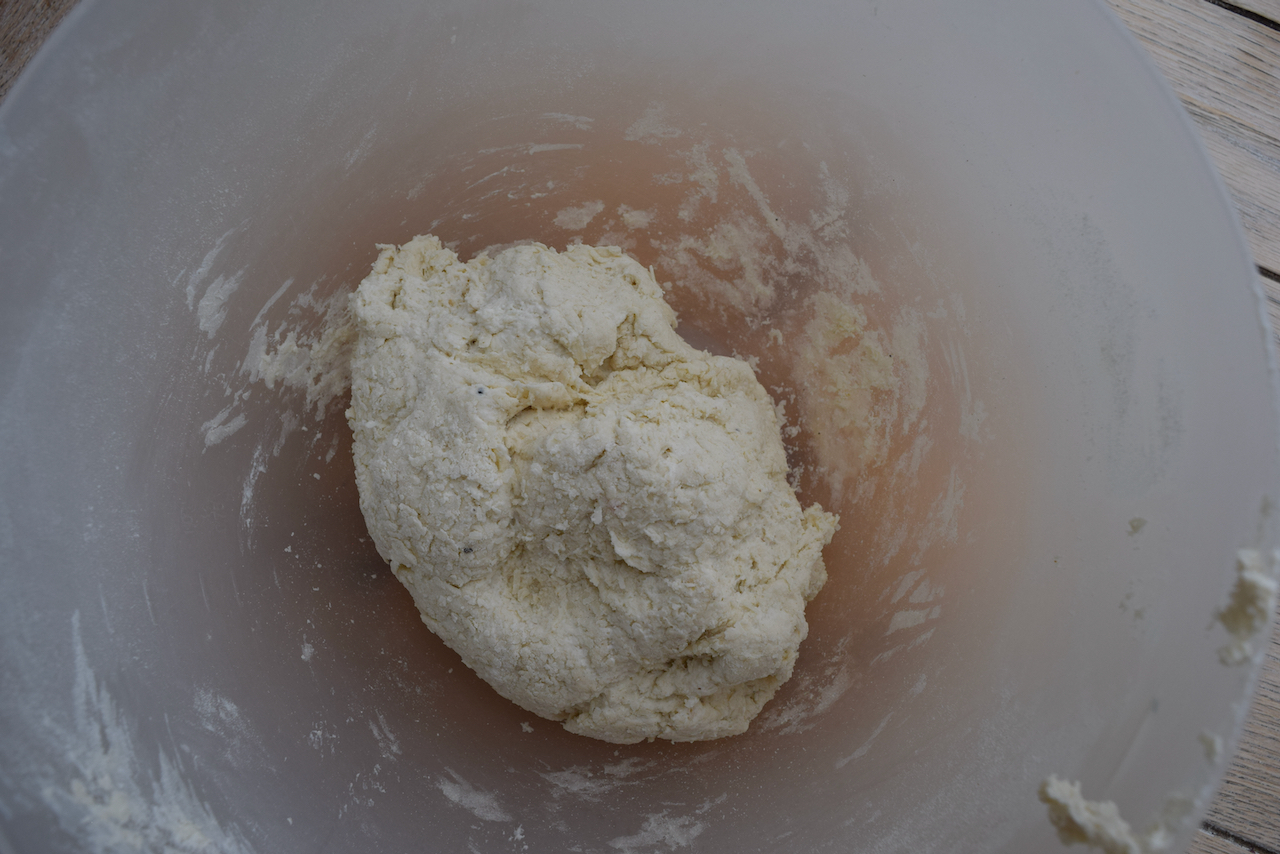 Divide into 8 portions and fashion into generous balls *titter*.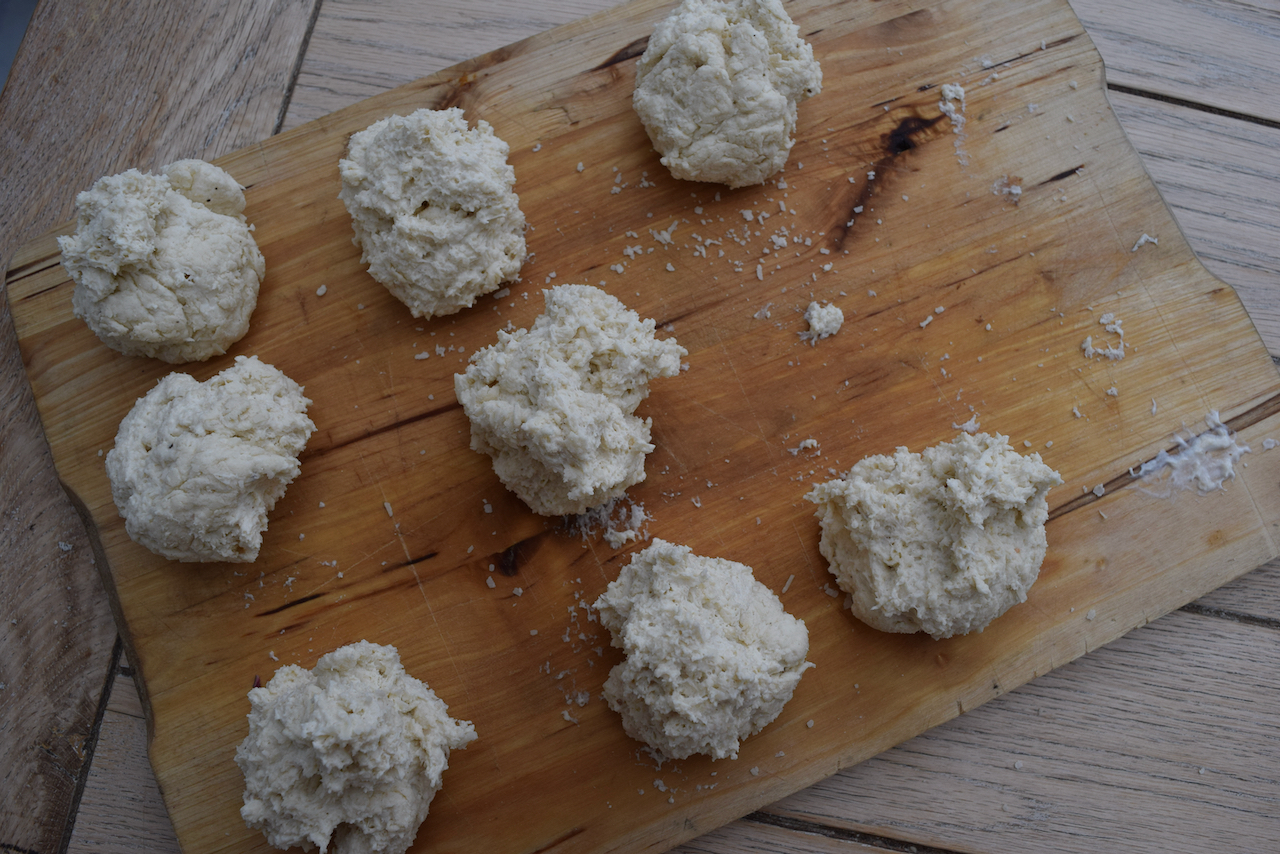 Notice from this rubbish photo how I can't count and initially made 9.
Open the lid of your slow cooker, stir the casserole and remove the bay leaves and rosemary sprig. Then plop in the dumplings, sprinkle the tops with the extra parmesan, and close the lid and cook on high for another hour.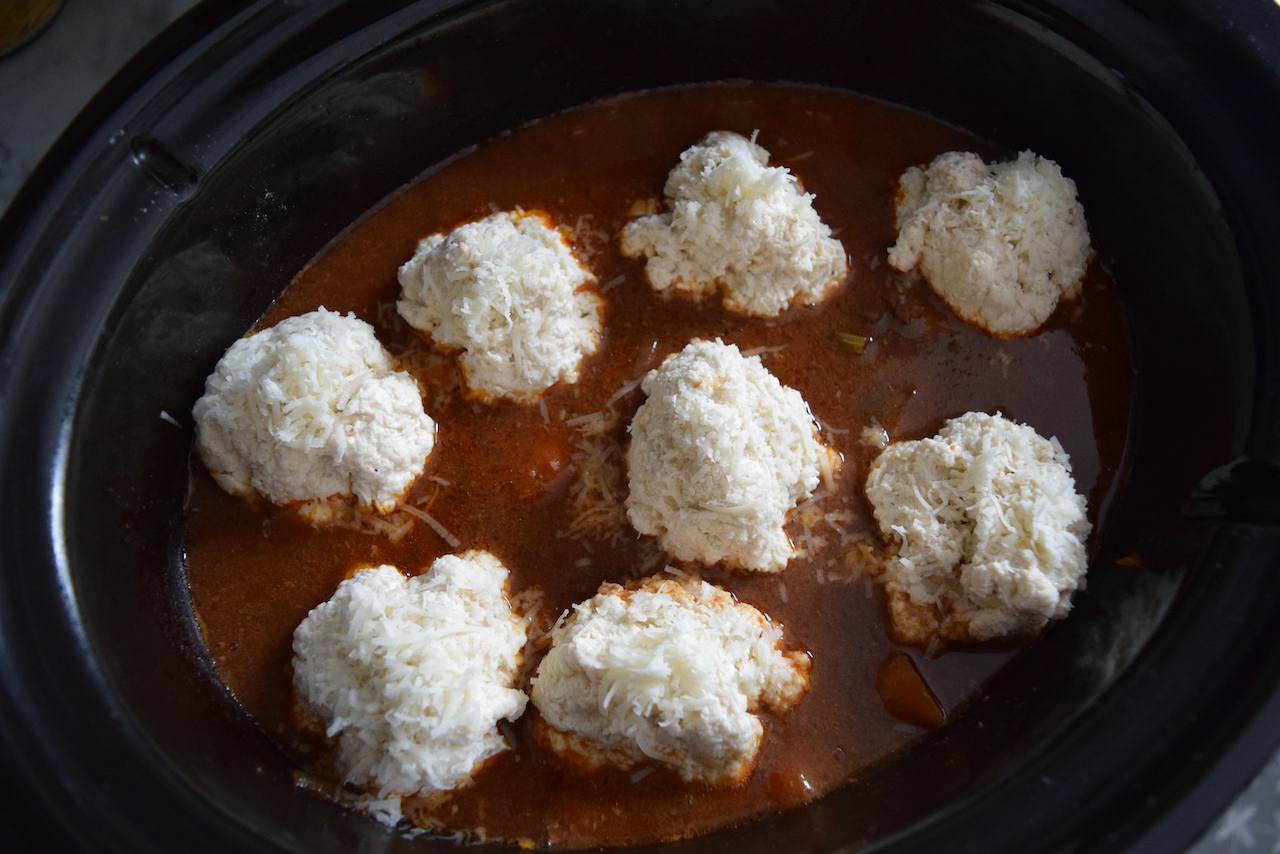 I'm a minimalist *couldn't be arsed* so opted out of serving with mash, so all the adornment this warming dish needed was a hint of fresh chives and a bloody great big spoon to eat it with. And maybe a drop of red wine.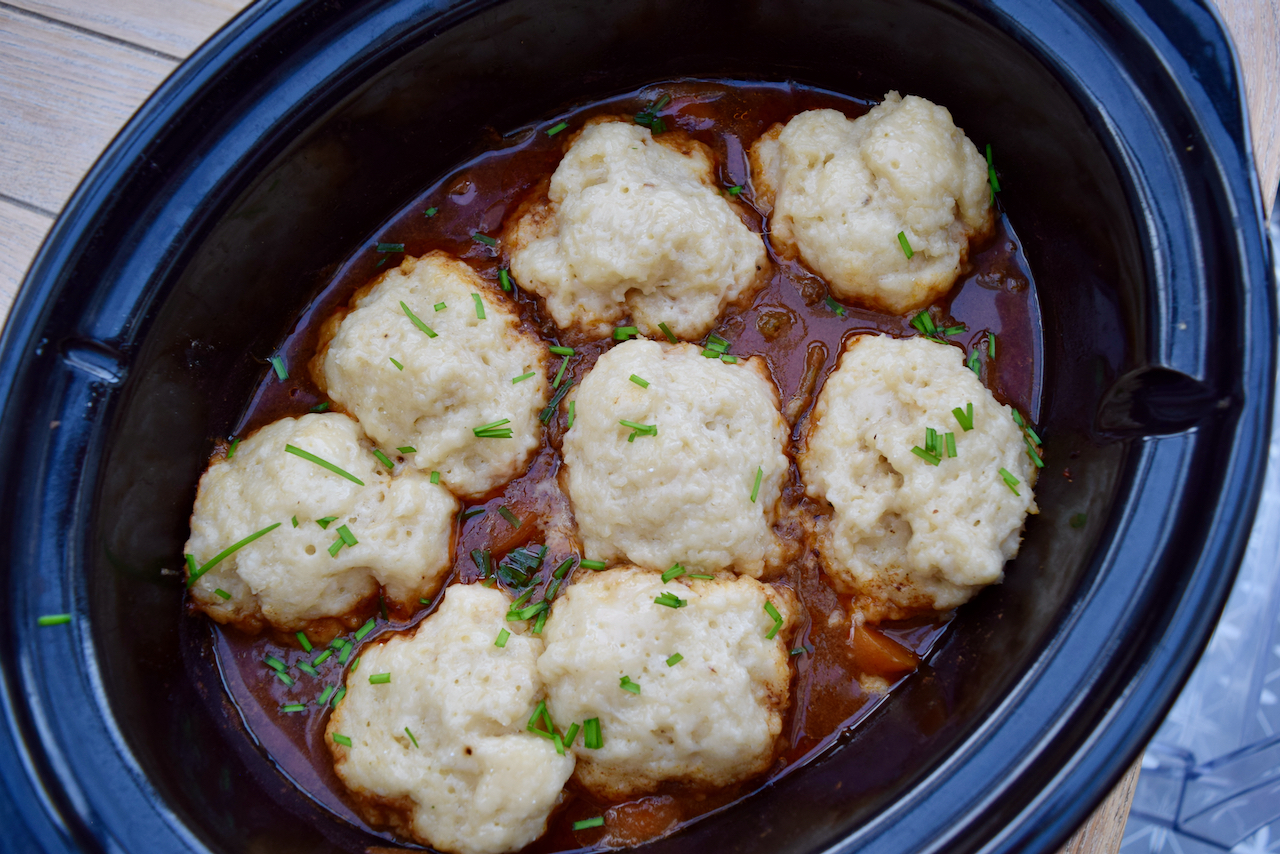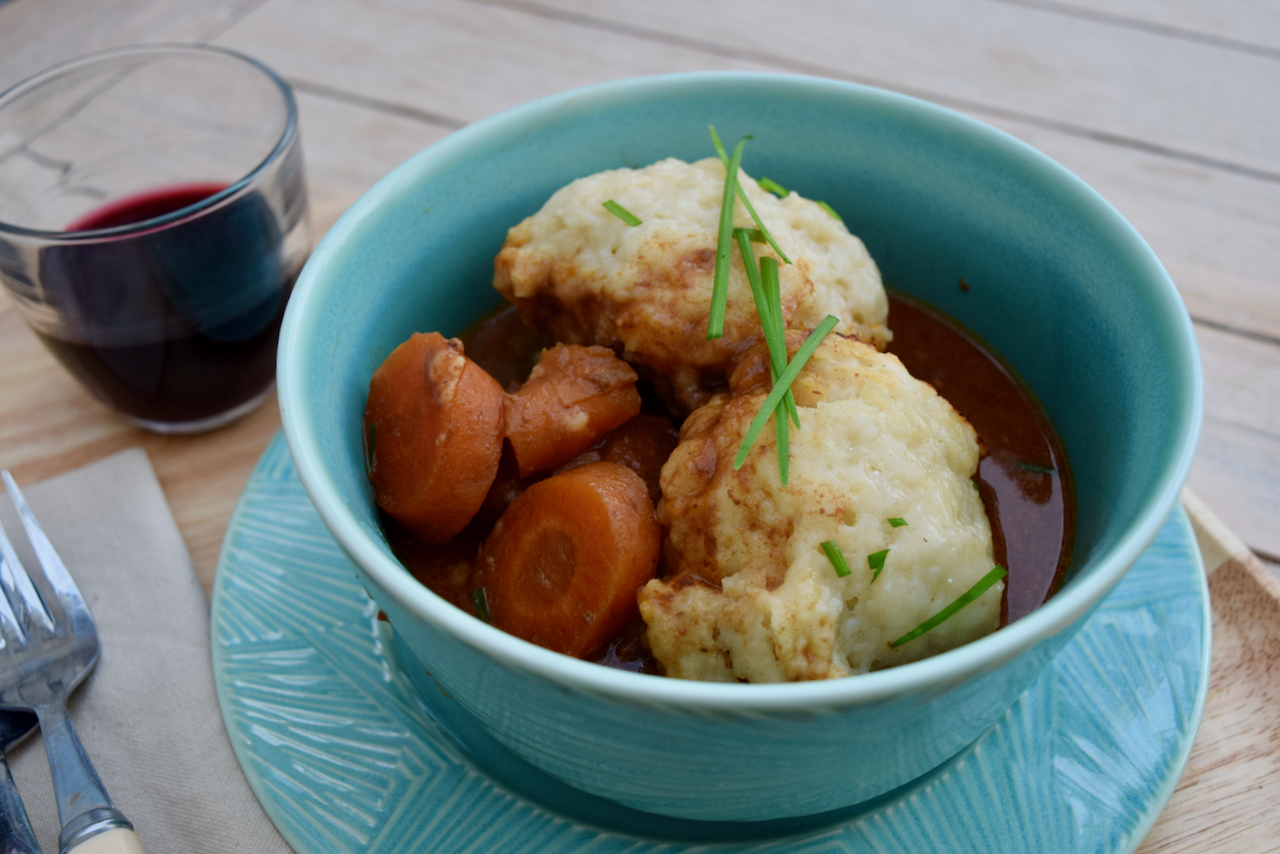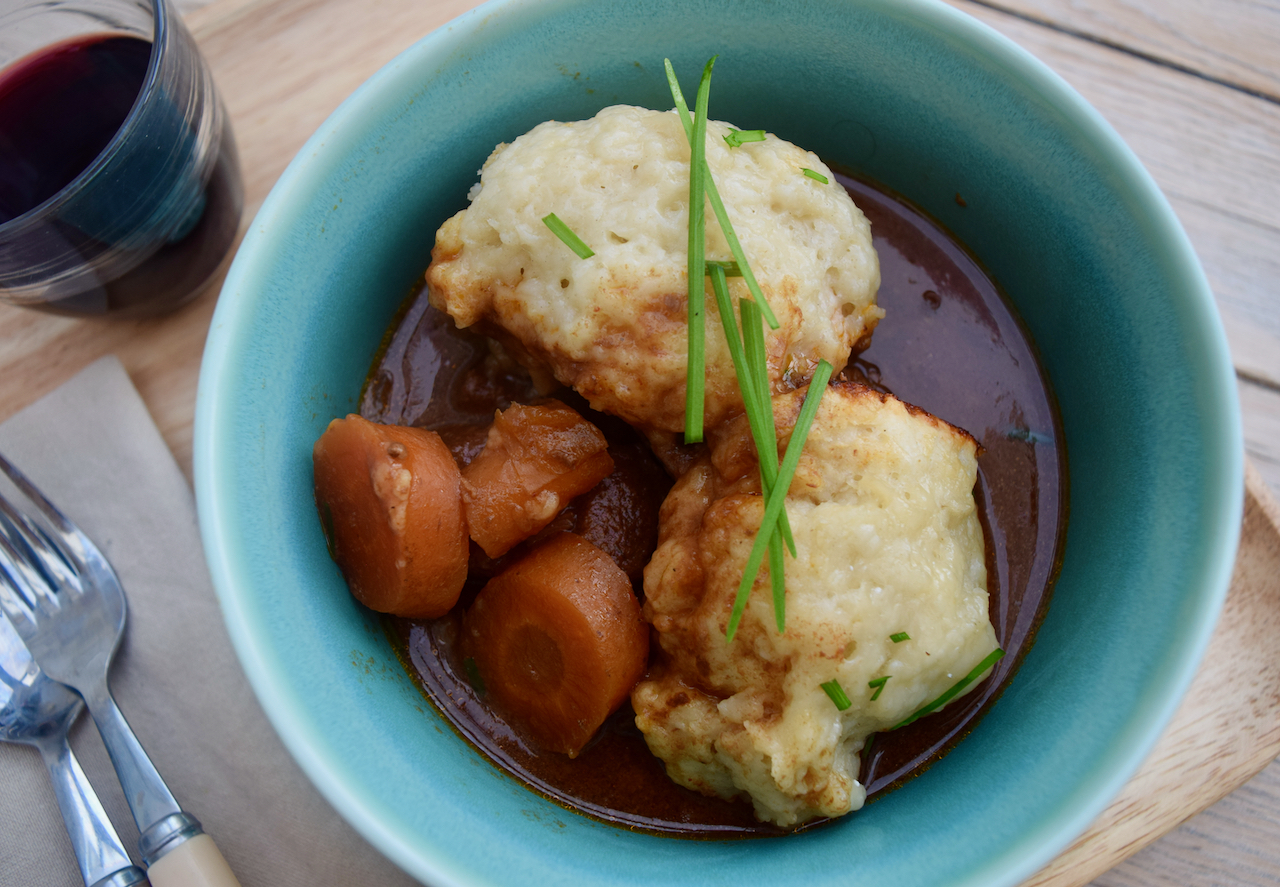 This is a huge bowl of tender beef, flavoursome vegetables and soft, fluffy cheesy dumplings. And if my casserole loathing family love it, then fingers crossed yours will too.
Lucy x
Slow Cooker Beef Casserole with Cheese Dumplings recipe
Serves 4 to 6, unless you're particularly greedy
You will need a slow cooker for this, the clue's in the name
1kg braising beef, cubed
2 tablespoons plain flour, seasoned with salt and pepper
400ml beef stock
200ml beer of your choice, I stole a can of Clydes lager
3 tablespoons tomato paste
2 tablespoons balsamic vinegar
3 tablespoons dark soy
2 cloves garlic, crushed, or a teaspoon lazy garlic
1 teaspoon salt
1/2 teaspoon black pepper
2 bay leaves
A sprig fresh rosemary
5 carrots, cut into chunky slices
3 celery stalks, cut into chunky slices
1 onion, thinly sliced
Dumplings
200g self raising flour
200g yoghurt, mine was full fat Greek
1/2 teaspoon salt
1/4 teaspoon black pepper
1 tablespoon horseradish sauce
50g parmesan, grated
Fresh herbs, to garnish
Pre heat your slow cooker on high. Cut your beef into chunks then dust in seasoned flour. Put to one side for the moment. Whisk the beef stock, beer, tomato paste, balsamic vinegar, soy, garlic and salt and pepper in the bowl of your pre heated slow cooker.
Add the floured beef and the chopped vegetables and stir well. Add the bay leaves and sprig of rosemary. Close the lid and cook for 5 hours on high or 8 on low.
Towards the end of the first cooking time, prepare the dumplings. Measure the flour into a bowl with the salt, pepper and parmesan (reserving a couple of tablespoons) and stir to mix. Fold in the yoghurt mixed with the horseradish to form a soft dough. Divide the mixture into 8 balls; stir your casserole then remove the bay leaves and rosemary sprig then plop the 8 dumplings into your casserole. Sprinkle the tops with the reserved parmesan then put the lid back on and cook for another hour on high.
Taste to check for seasoning then serve, scattered with some fresh herbs. Any leftover casserole is a joy reheated over the next couple of days.