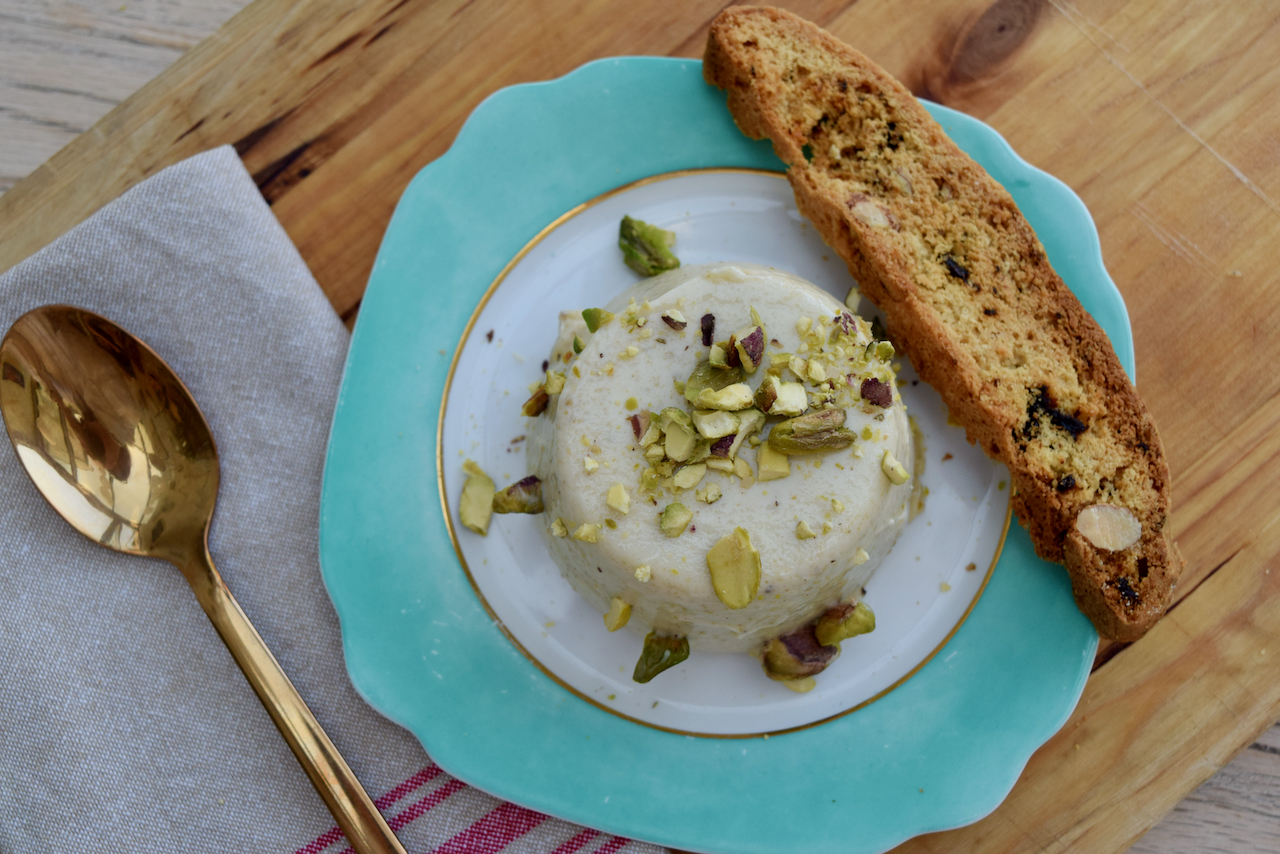 Pistachio Panna Cotta recipe
I bloody love anything pistachio flavoured; ice cream, pesto, cake and now Panna Cotta. These photogenic green nuts are sublime in flavour and add a sweet nuttiness to one of the easiest, and most delicious desserts in my repertoire.
This Pistachio Panna Cotta calls for pistachio butter/paste. I've made this dessert several times now, but only once making the nut paste myself. You have to blanch your pistachios for 3 minutes, rub off the skins, then blitz away in your ballsy blender or food processor until smooth. Now, this isn't really the end of the world, however, you can buy a lovely jar of pistachio butter, and save yourself at least 15 minutes work. The rest is simplicity itself; simmer cream, yoghurt and sugar until hot then whisk in your pre soaked gelatine and all the lovely flavours for this beautiful pale green dessert. Sprinkle with chopped pistachios, choose some sort of crunchy biscuit to accompany and that's it. Thank you to Monica Galetti and the Sainsbury's mag for the inspo.
This is such a pretty little dessert, simple, impressive but deceptively easy. You can be a right show off with this, by barely lifting a finger.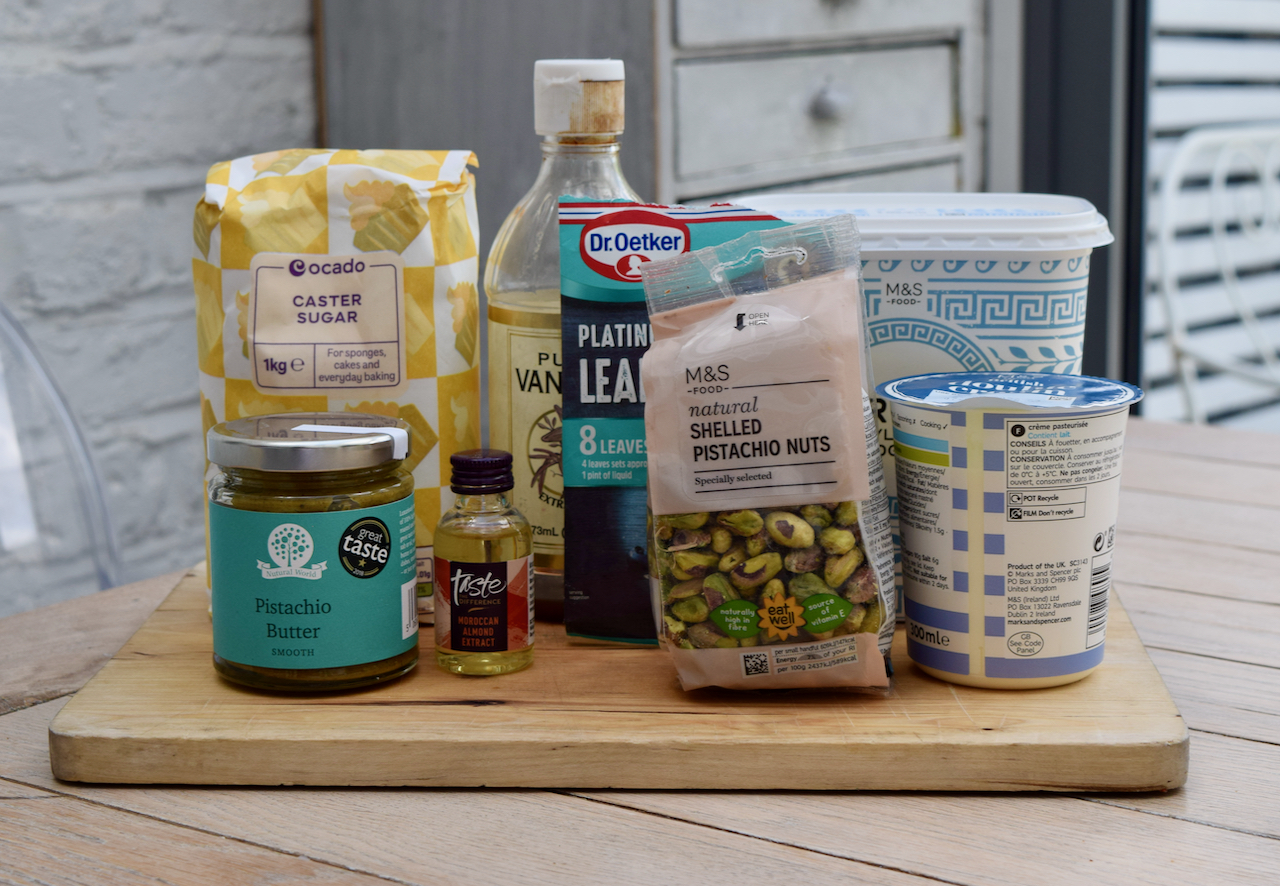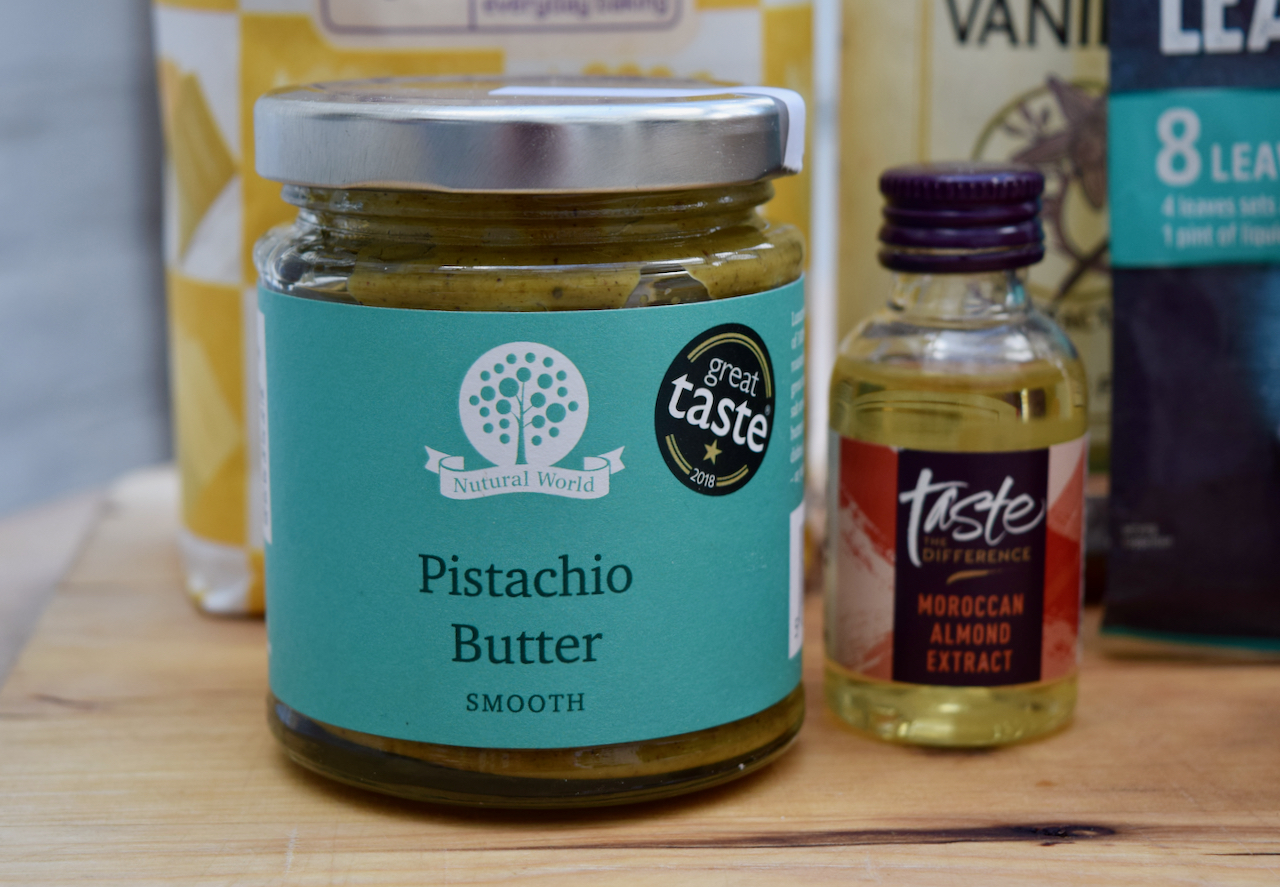 Such a tasty line up today, featuring my easy option pistachio butter. It's not cheap, but you get almost 18 panna cotta from one jar, so it's quite economical, especially as this is my current dinner party dessert of choice. The rest of the ingredients are standard issue; the yoghurt gives it a lovely tang and, in my mind, makes this almost healthy.
Start by buttering your pudding basins or serving cups. Next, soak your gelatine sheets in cold water until soft.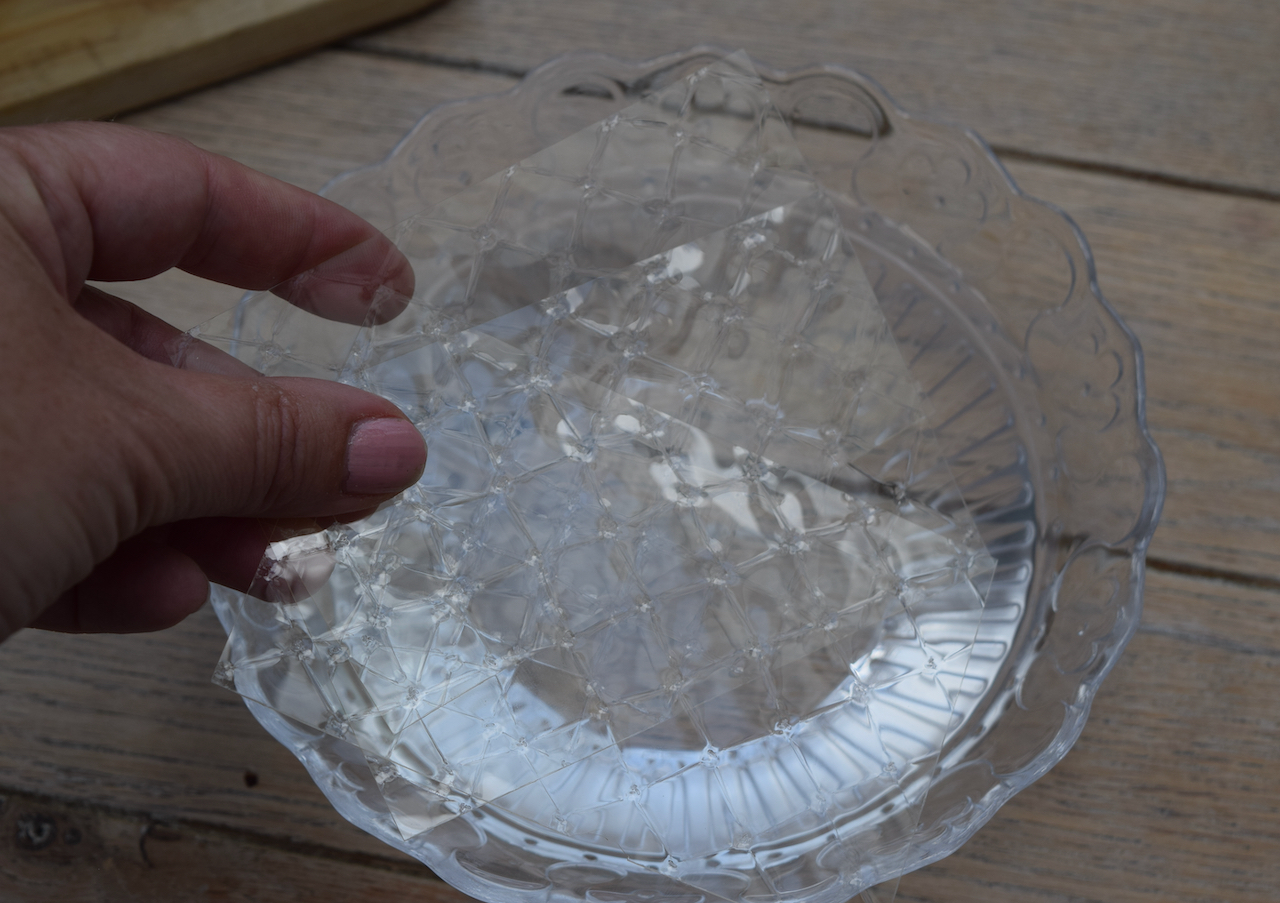 Now, in either a small pan on the hob or large jug in the microwave, heat the cream, caster sugar and yoghurt until just coming up to the boil.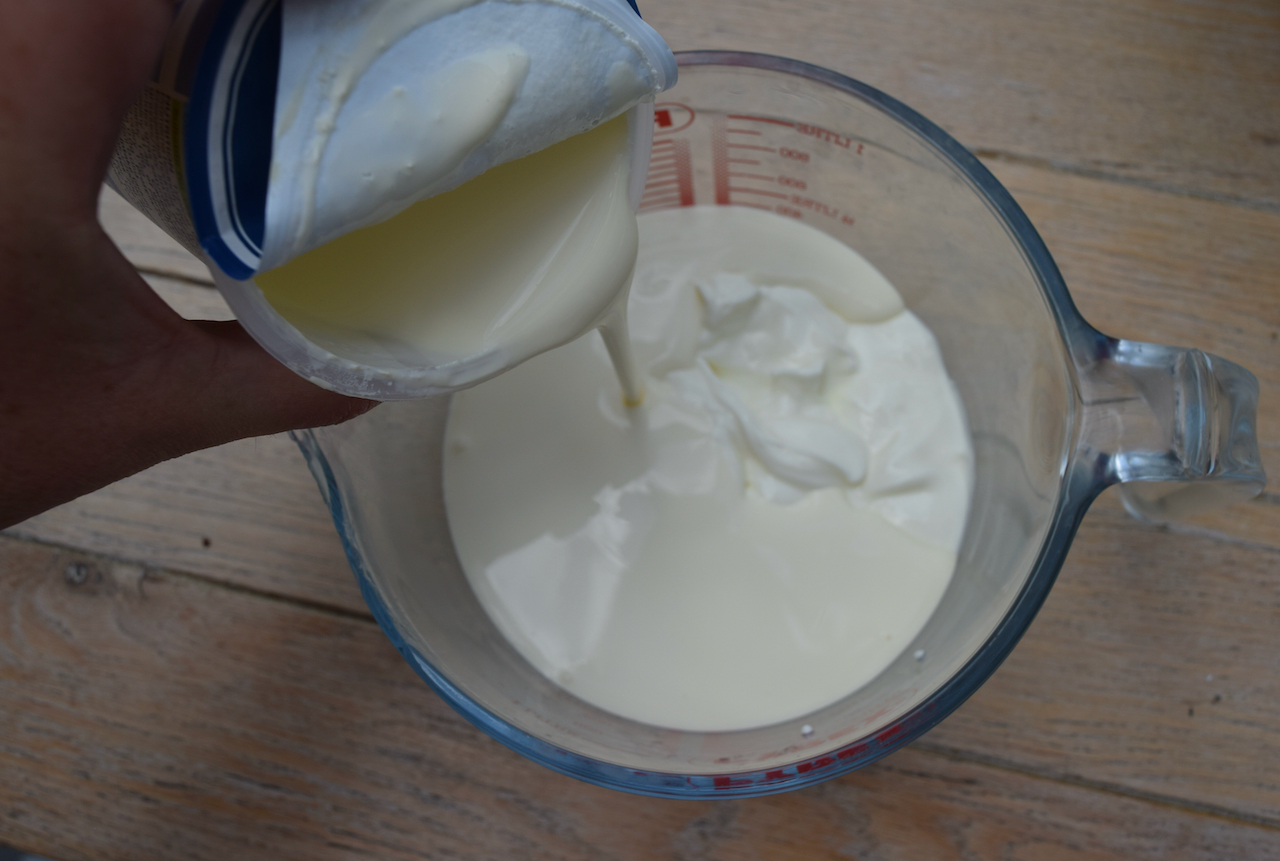 Then, once your gelatine has softened, squeeze out any excess water, drop into the hot cream mixture, and whisk until dissolved.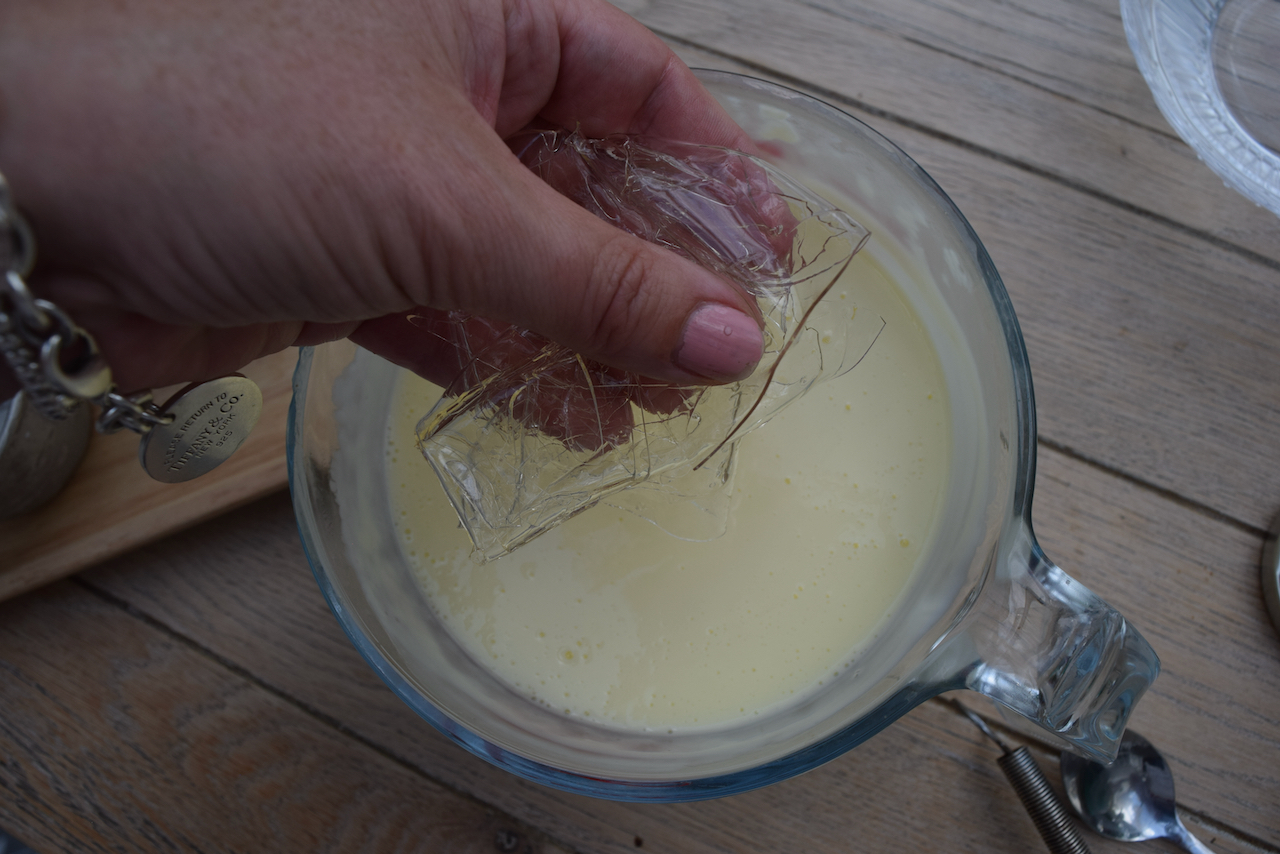 Sorry about the tatty manicure.
Now for the goodies. Whisk in the pistachio butter/paste alongside the vanilla and almond extracts for extra flavour, until smooth-ish.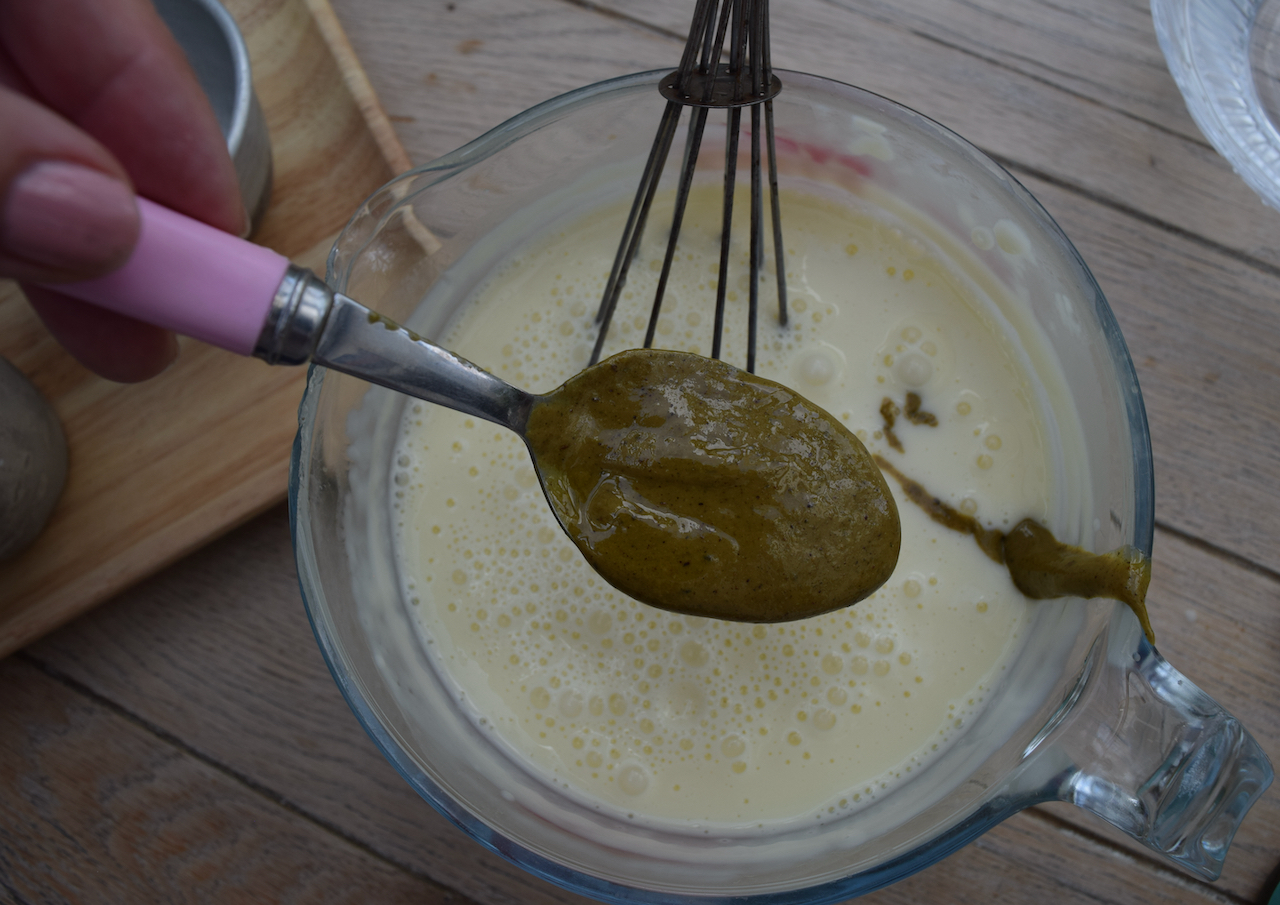 Try not to slop it all down the side of the jug like me.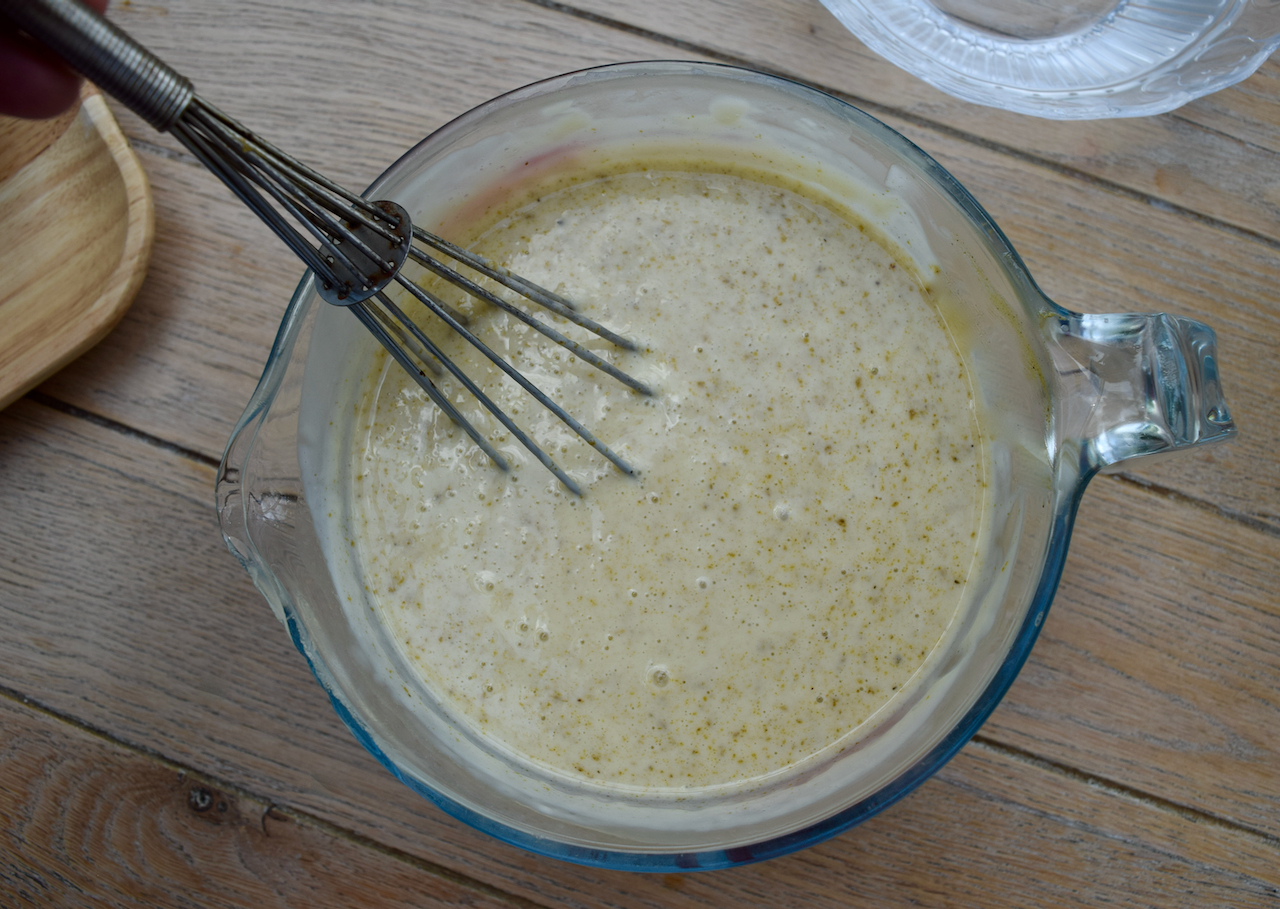 Pour this into your buttered cups, filling up to almost the top, then leave to cool before popping into the fridge until firm. This will take about 4 to 6 hours, or overnight if you're ahead of the game.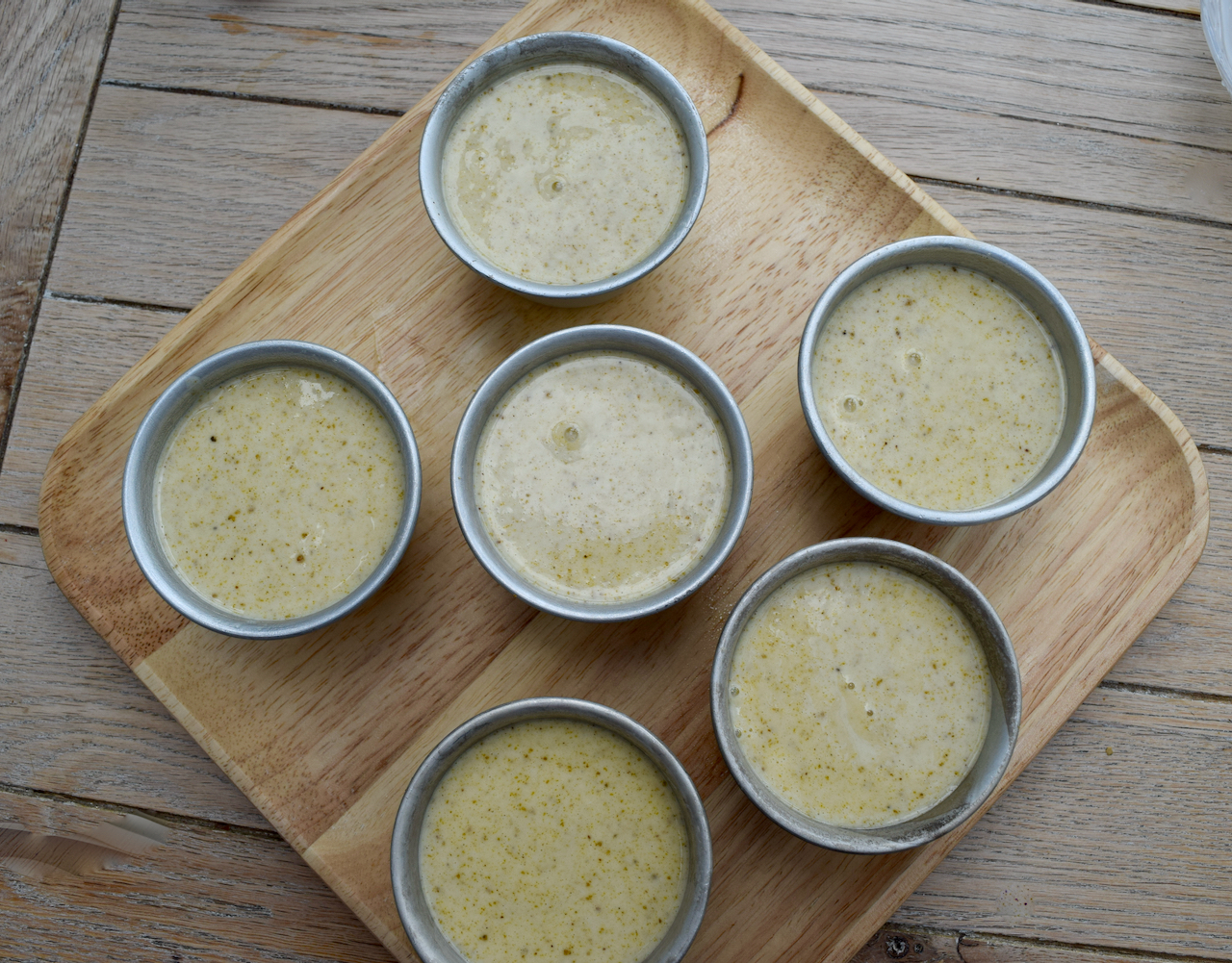 When they're firm and you're ready to serve, crush your pistachios then gently run a knife around the edge of each panna cotta and turn out onto a plate.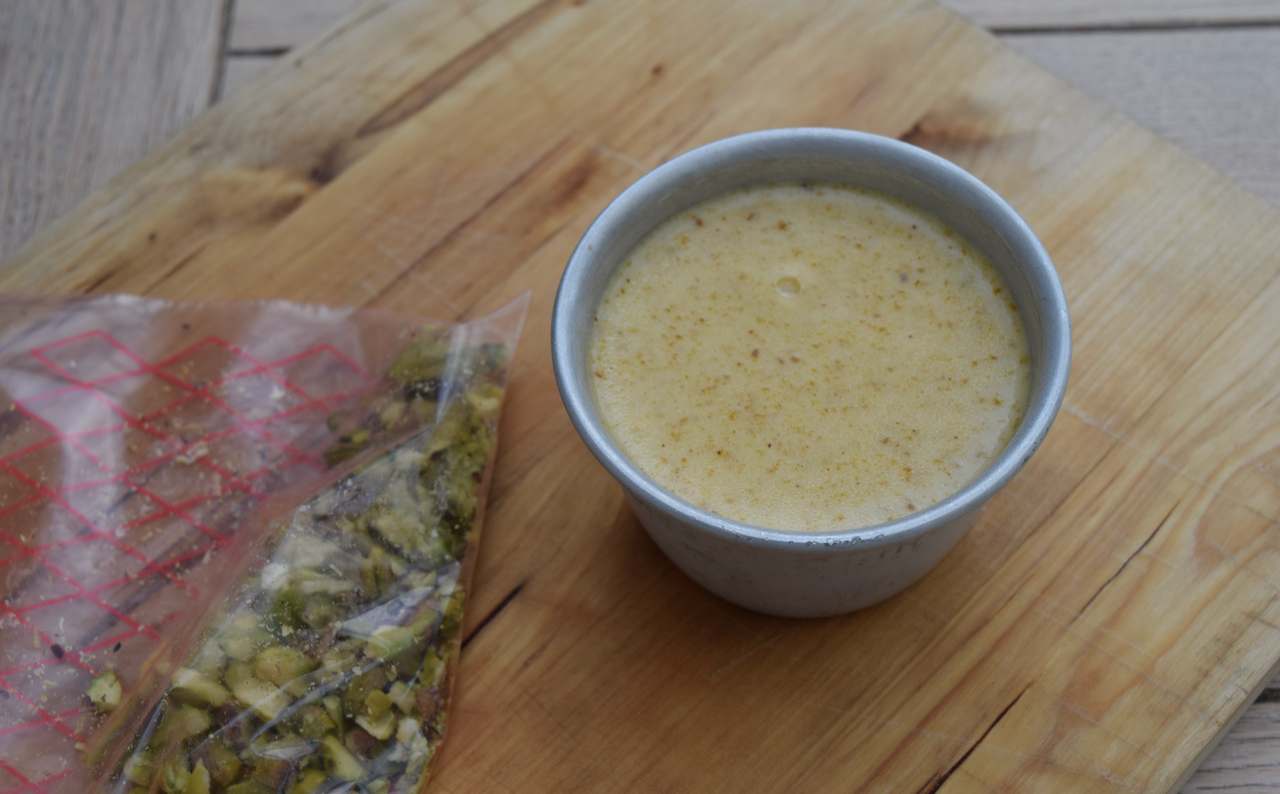 Scatter your chopped nuts and serve with a biscuit of your choice; mine were cherry almond biscotti *overachiever*. Then devour.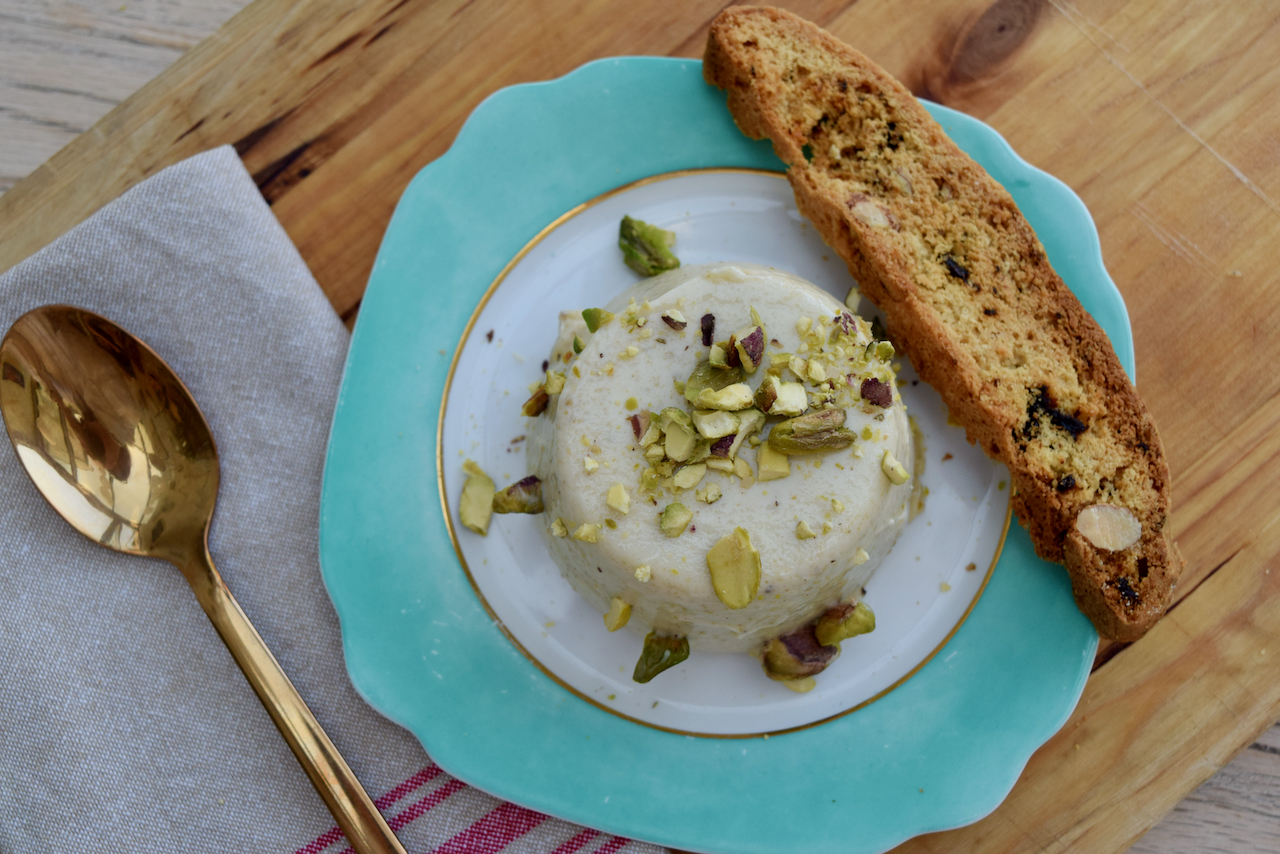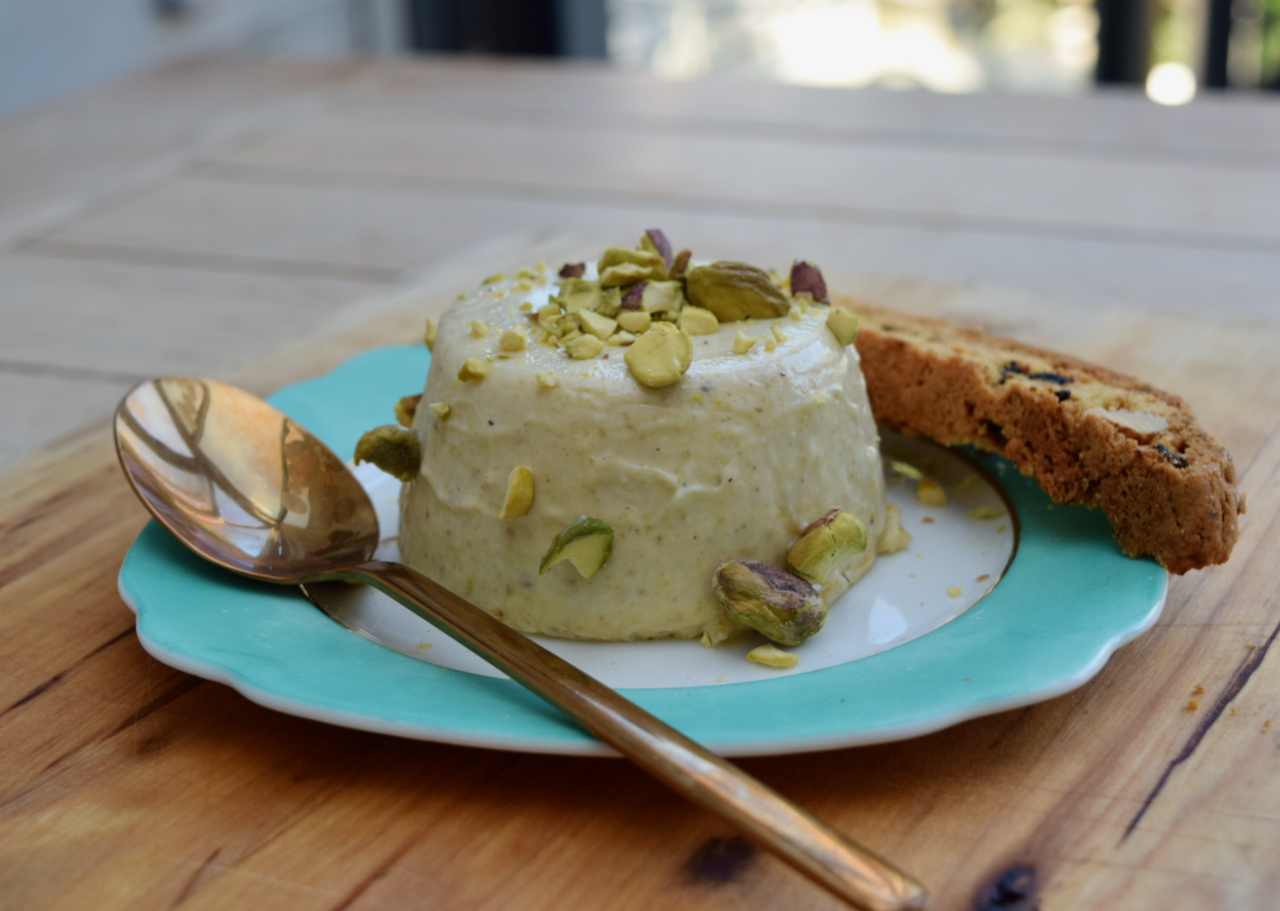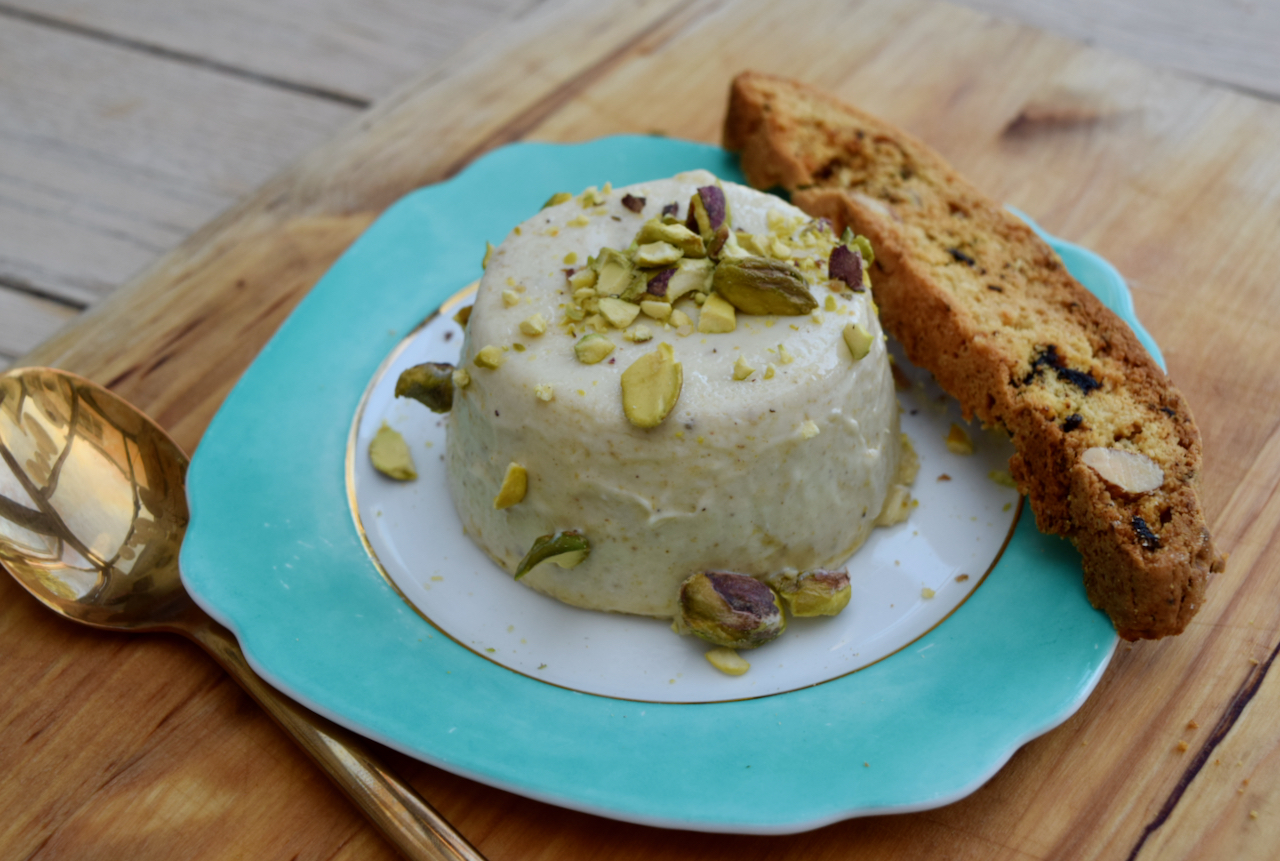 I can't tell you how delicious this pistachio panna cotta is, it's light, fresh and summery. But don't take my word for it, whip up a batch to devour yourself.
Lucy x
This post contains an affiliate link to Amazon. Should you choose to buy via this link, Lucy Loves will make a tiny commission at no extra cost to you. Thank you! X
Pistachio Panna Cotta recipe
Makes 6
You will just need bowls for this and 6 small pudding basins or cups
3 gelatine leaves
300ml double cream
190g caster sugar
300ml Greek yoghurt, I used full fat
1 teaspoon almond extract
1 teaspoon vanilla extract
60g pistachio butter, or you can make your own (see the original recipe link for details)
50g pistachios, chopped, to garnish
Biscotti, shortbread or any sort of biscuit, to serve
Place the gelatine leaves in cold water, submerge, and leave to sit for a couple of minutes or until soft.
In a small pan on the stove, or in a jug in the microwave, heat the cream, caster sugar and yoghurt until just coming up to the boil. Squeeze the excess water out of the gelatine leaves then whisk into the hot cream mixture until they have dissolved. Whisk in the pistachio paste and vanilla and almond extracts until smooth then pour into your chosen buttered cups.
Leave to cool slightly before putting into the fridge for around 6 hours, or until set firm.
To serve, turn the panna cotta out by running a knife around the edge of the pots, sprinkle with the chopped pistachios then add a biscuit of your choice, to accompany.
Your panna cotta will keep in the fridge for 2 to 3 days.