Golden Oreo Biscuit Recipe
Being terribly British, Oreo's are a relatively new biscuit addition to my baked goods world. They come in all different shapes and sizes including Double Stuffed, peanut butter and cool mint, if you please. The boys love them and I always bulk buy when they're on offer. I can take or leave the original chocolate variety, preferring an old school custard cream, but when I sampled the Golden Oreo variety, having made a purchase from the American food section at Bentalls, I was bowled over.
This homemade version of Golden Oreos are, quite immodestly, bloody delicious. These days, when I spend most of my life on some sort of faddy diet, sweet treats have to be pretty damn tasty for me to waste precious calories on. I can safely vouch for the fact these Golden Oreos are calories well spent. The soft, but still crisp biscuit is sandwiched together with a layer of vanilla buttercream. Nothing to dislike there. If you can't be arsed to make buttercream, the original recipe included a filling of rolled out fondant icing, which would be an easier option. Speaking of the original recipe, it came to me via Erren's Kitchen, thank you Erren.
I have made several batches of these and they are inhaled every time so I can assure you they are a popular addition to our biscuit tin. I am sure, for the brief time they will be in it, they will be welcome newcomer to your tin too.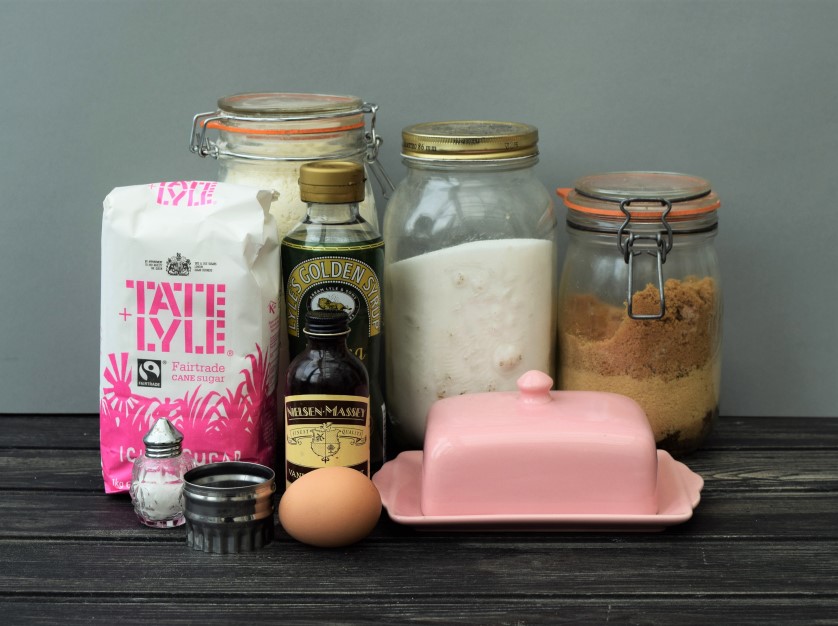 What a dream team of baking ingredients I see before me. I have to say the biscuit dough, pre-cooking, is quite irresistible so do make sure you accidentally on purpose have a big lump of it fall into your mouth.
Make a start on these Golden Oreo Biscuits by adding your softened butter to a large bowl or the bowl of your food processor. Pop in the two types of sugar, caster and soft brown, along with the salt and give it a brief mix.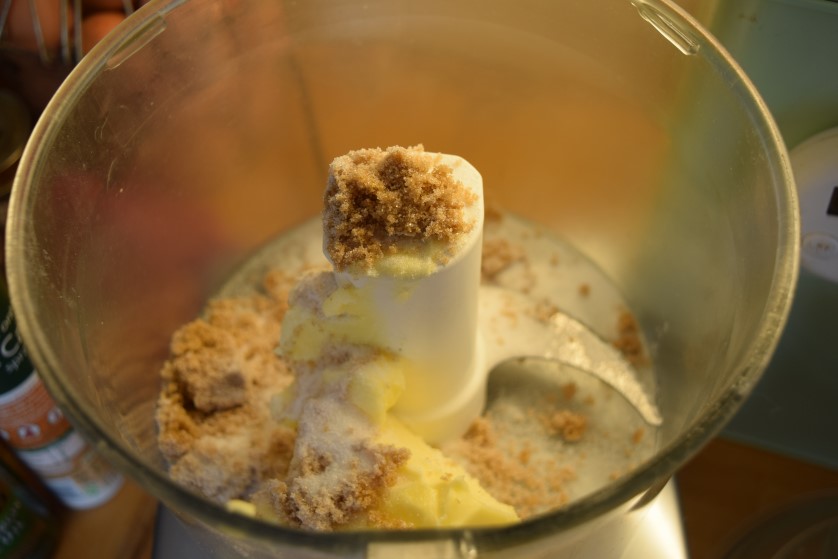 Spoon in the golden syrup, then mix again.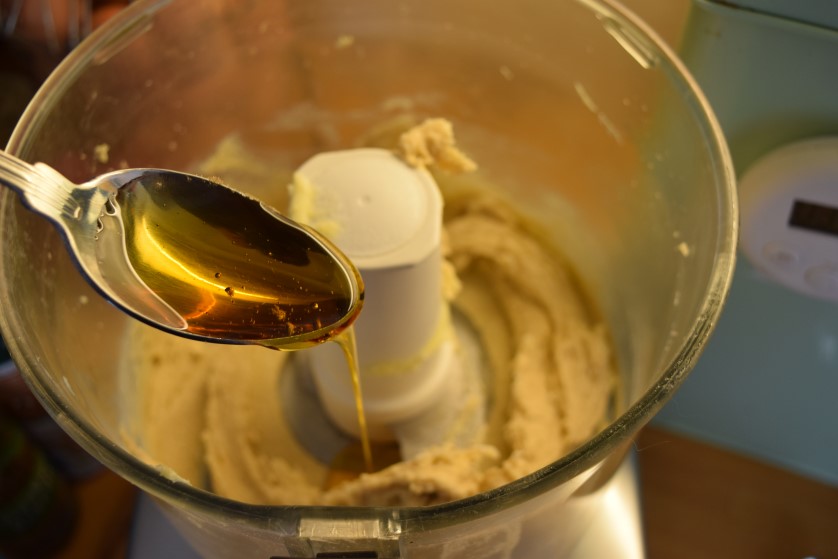 I adore golden syrup, look how it catches the light in quite poetic fashion. I am slightly obsessed, can you tell?
Next, beat in the egg and the vanilla extract.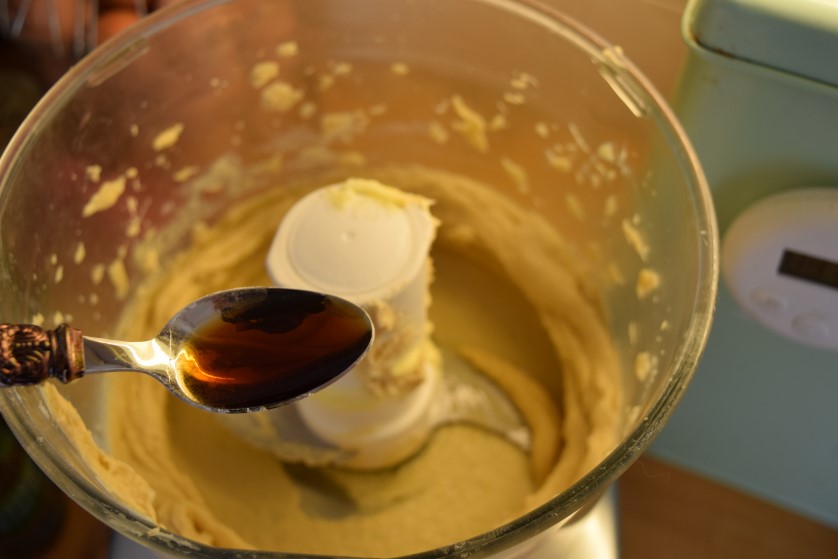 Then it's time for the flour, lightly and swiftly fold it in, until you have a soft dough.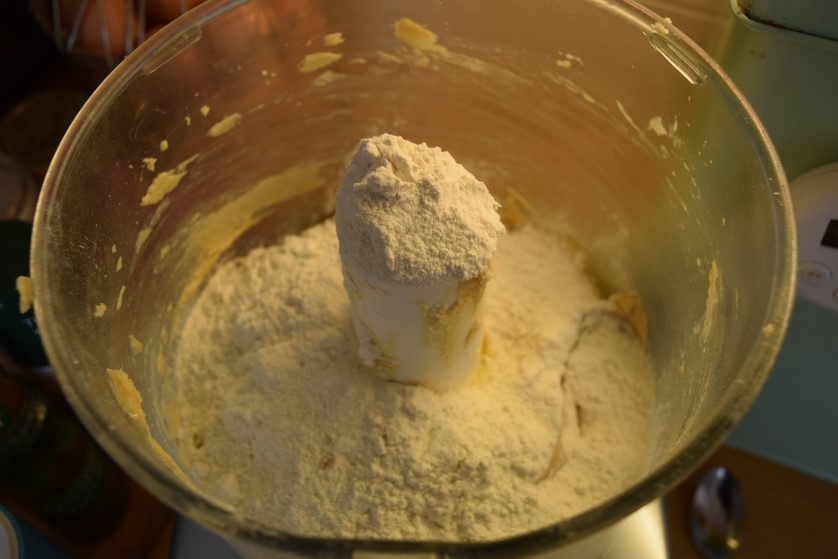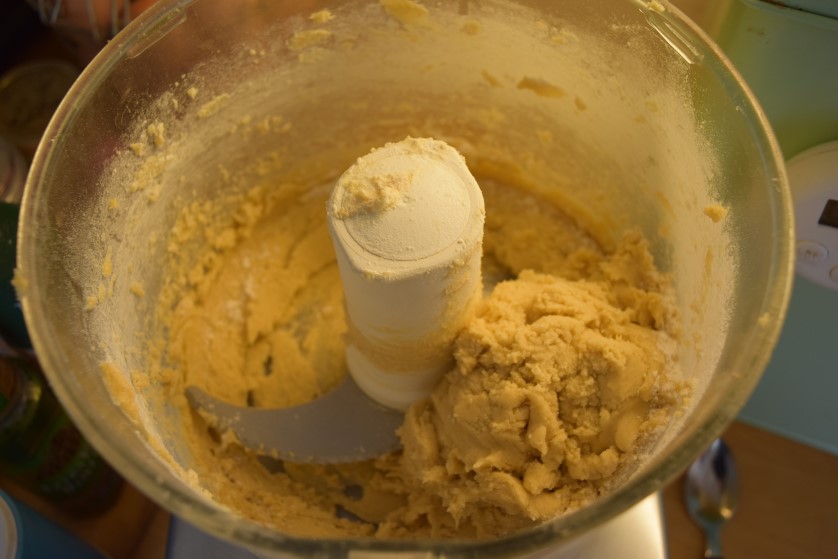 Now's the moment to quality control *gorge on* the dough.
Wrap whatever you haven't eaten in cling film then pop in the fridge for an hour or in the freezer for half an hour to chill and firm up.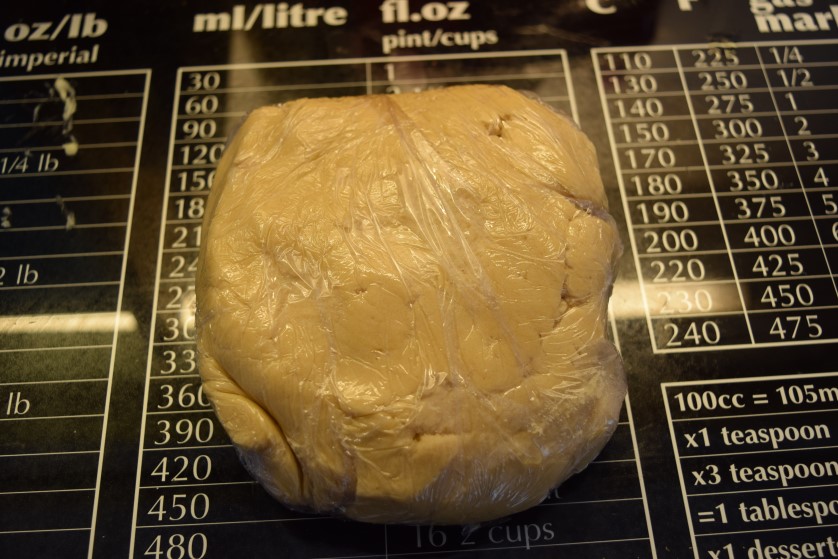 Whilst this is chilling, crack on with the buttercream if you are using and not rolling out fondant icing. This is simple, either beat all the ingredients in a large bowl or in your food processor until smooth.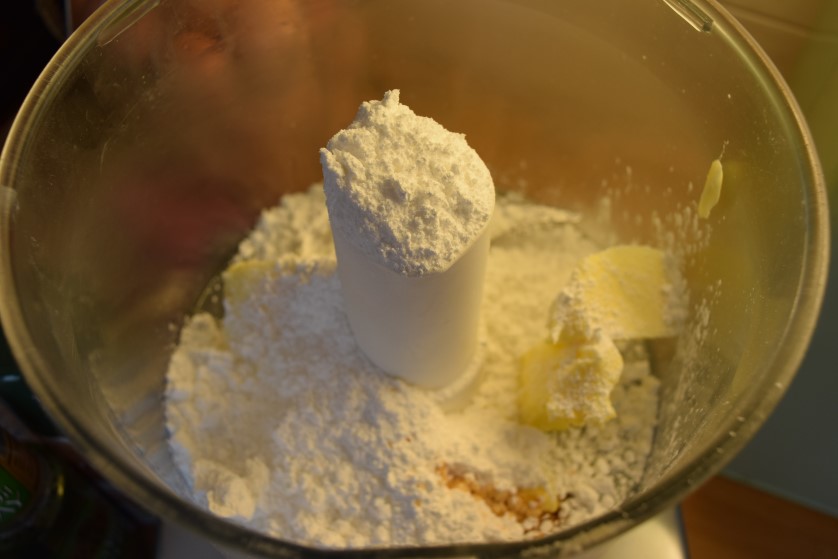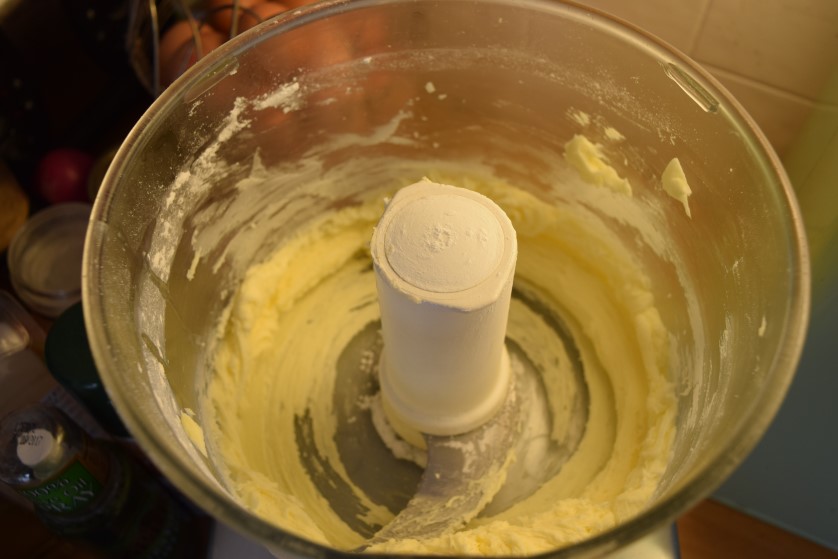 Scoop this wonderful vanilla flavoured buttercream into a small piping bag or a food bag with the corner cut off and pop it to one side while you make the biscuits.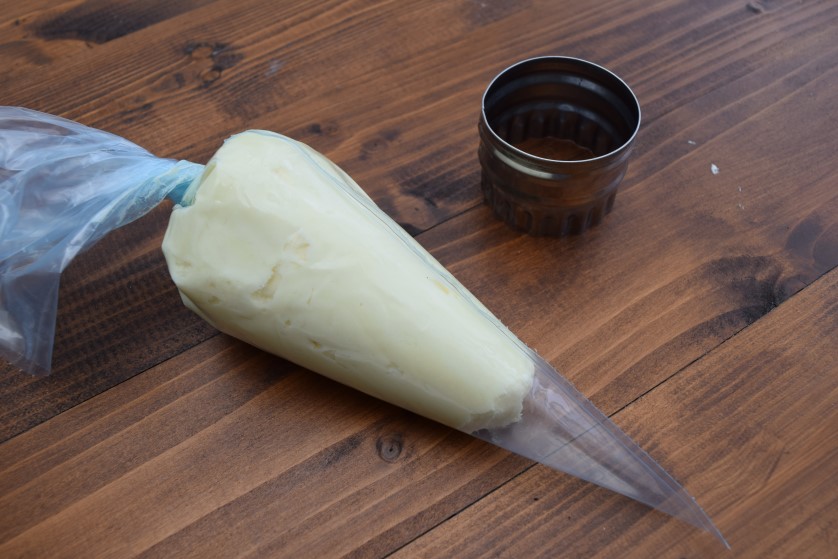 Once you and your dough are thoroughly chilled, remove the cling, and working with half the dough first, pop it onto a very well floured work surface.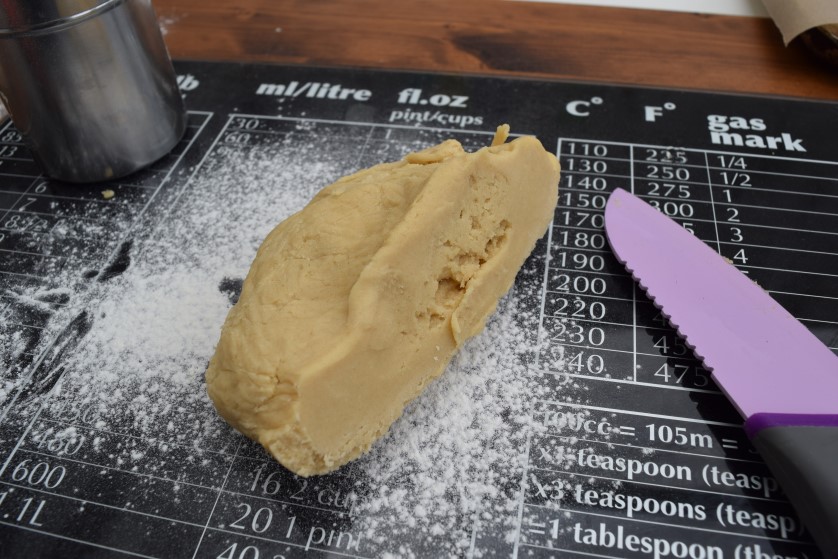 Don't scrimp on flour, this is a super soft dough and it will stick like Mr Sticky on his stickiest day unless well floured.
Roll out the dough to around 0.5cm thick-ish and use a small fluted cutter to stamp out the shapes.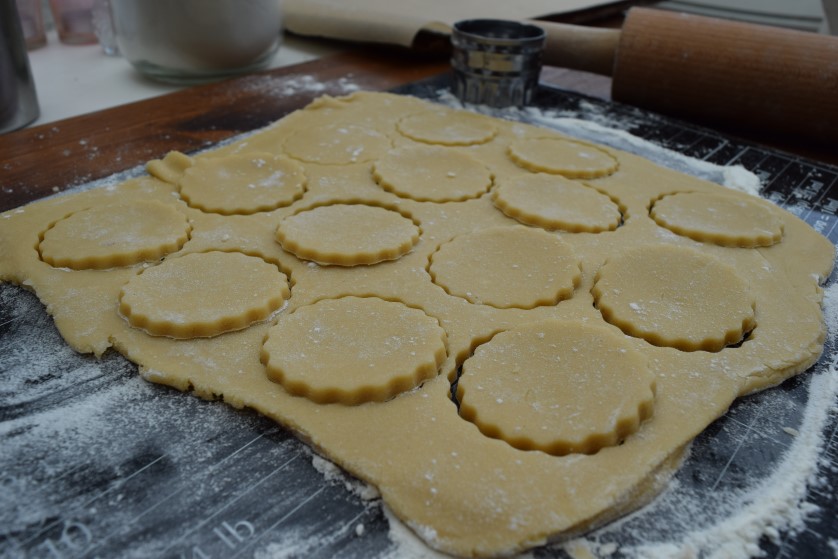 Place these on a lined baking sheet and continue to re-roll the dough, until you have used it all up.
Bake the Golden Oreos for 10 to 12 minutes or until just turning golden and firming up nicely. They will, of course, be smelling sweetly divine.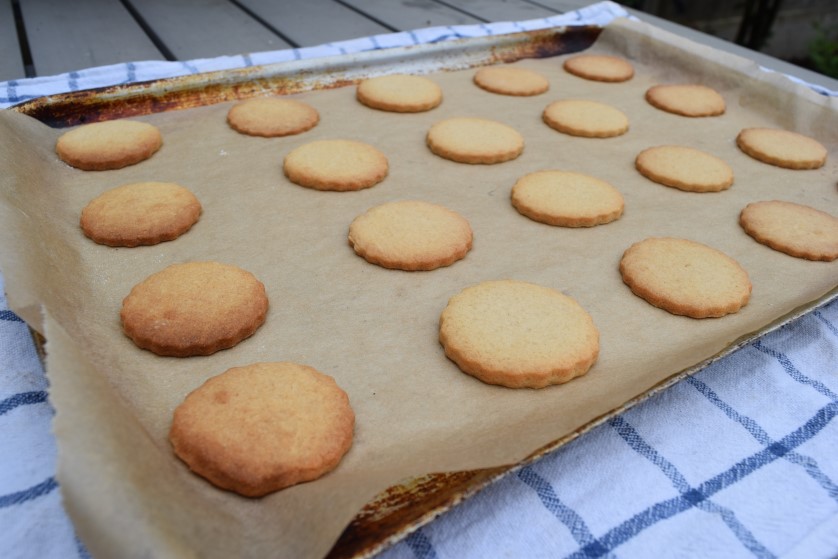 Leave these beauties to cool before turning half of them upside down. On the upturned side, pipe a big blob of buttercream then sandwich the two halves together.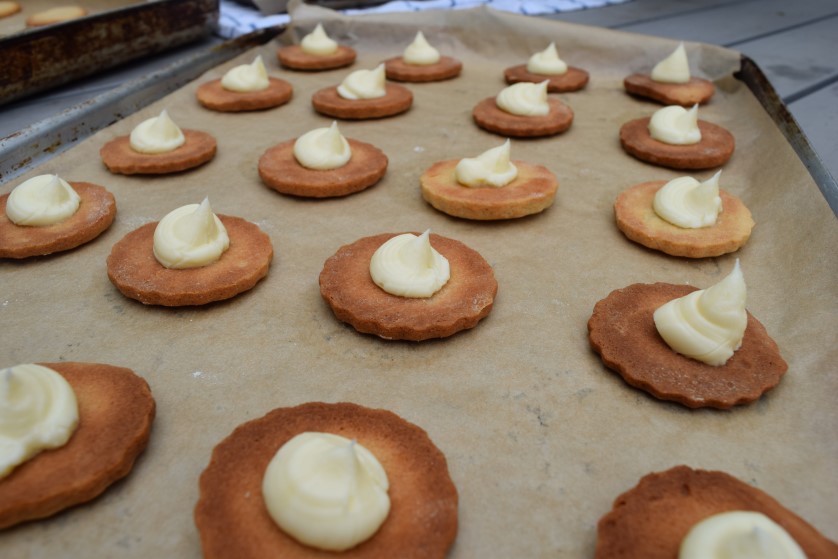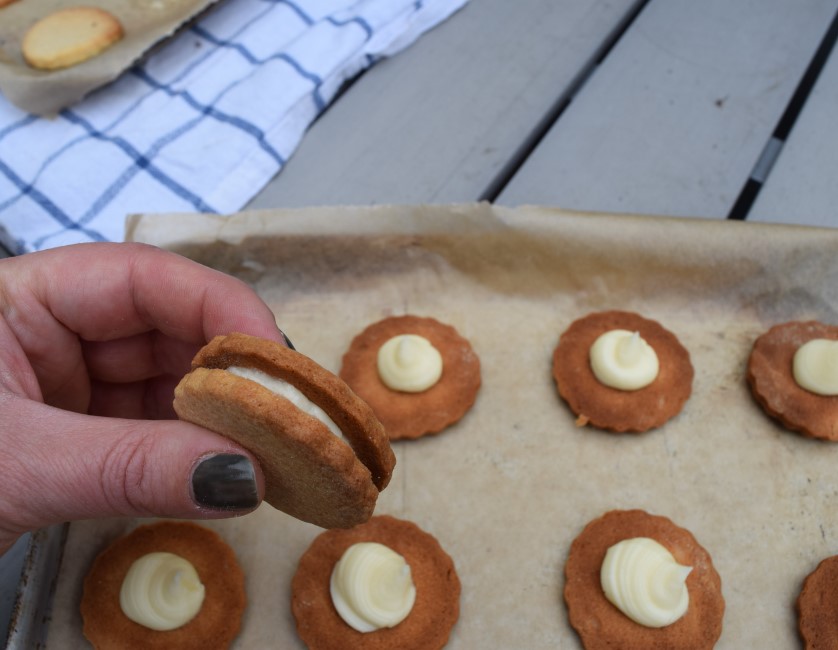 Don't let my ugly hand and rubbish nail varnish put you off, these are completely divine.
Pop them in a jar and hope they last longer than one day *good luck*.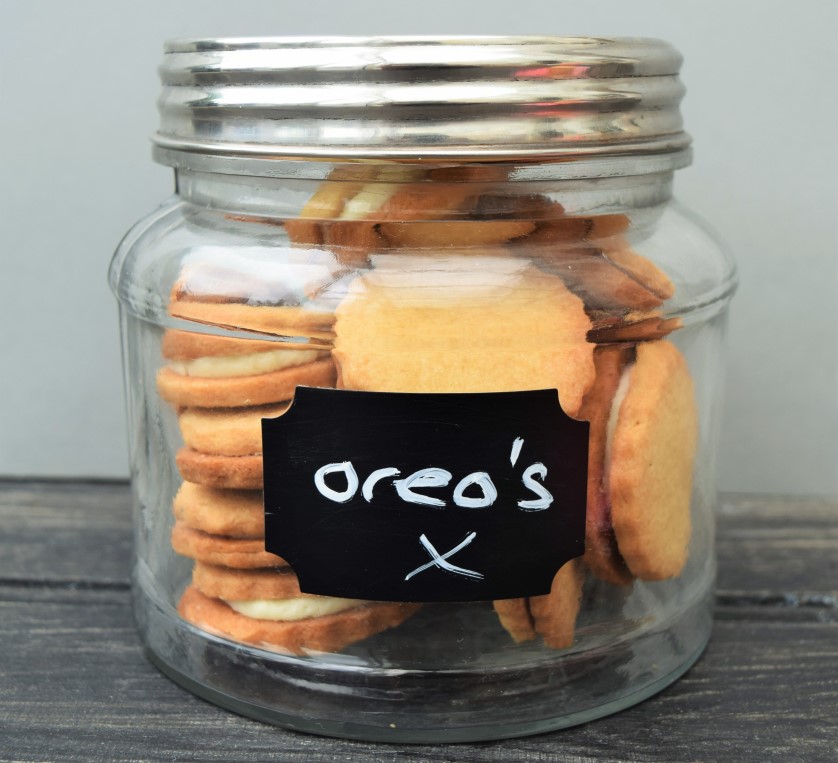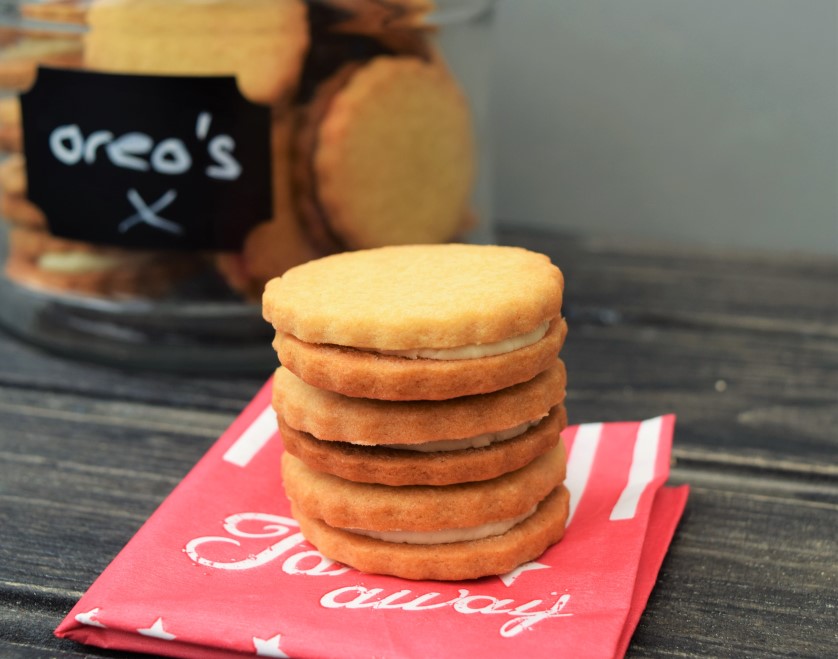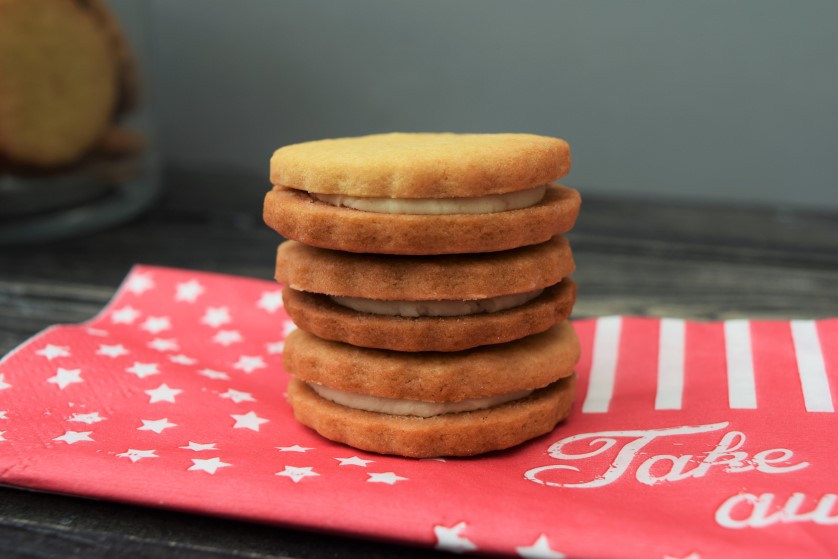 I love a brand new recipe for my baking cache. This one is a keeper, I can assure you. The dough is simple and speedy to make and you don't even have to make the buttercream, simplifying the recipe further. This post has been particularly painful to write as I have been cutting down on my sugar intake this week, so these Golden Oreos have been taunting me. Worry not, I have a couple in the kitchen I am saving as I treat at the weekend. They are well hidden from the rest of the family, or there would be no chance of them lasting until then.
Lucy x
Golden Oreo Biscuit Recipe
Makes 25-ish biscuits
You will need a food processor or a big bowl and a wooden spoon and a small round cutter
Oreos
150g soft butter
55g caster sugar
55g soft brown sugar
2 tablespoons golden syrup
1/4 teaspoon salt
1 egg
1 teaspoon vanilla extract
275g plain flour
Filling
75g soft butter
150g icing sugar
1 teaspoon vanilla extract
a tablespoon or 2 of milk
Or use rolled fondant icing, cut with the same cookie cutter as the biscuits
Once the dough is chilled, pre heat the oven to 160 degrees fan assisted.
Either in a large bowl or your food processor, mix together the soft butter, salt, both sugars and the syrup until lighter in colour and texture. Beat in the egg and the vanilla until smooth. Fold in the plain flour until a soft dough is formed. Don't overmix or your biscuits will be tough. Wrap the dough in cling film and leave in the fridge for an hour to chill for half an hour in the freezer.
While this is chilling, if you are using, make the vanilla butter cream filling. Cream the butter, icing sugar and vanilla until smooth then add a splash of milk or two to soften it up. Put into a small piping bag, or food bag with the corner cup off, for later.
Once the dough is chilled, dust your work surface and rolling pin with some flour. The dough is quite soft, so don't scrimp on flour here. Roll out the biscuit dough to around 0.5cm thick and cut into fluted circles using an approximately 5cm cutter. Place the biscuits onto a lined baking sheet and cook for 10 to 12 minutes or until just cooked and starting to turn golden brown. Leave to cool then turn half of the biscuits upside down and pipe a big blob of buttercream icing onto each biscuit. If you are using rolled fondant icing, roll it out and cut using the same cutter as the biscuits. Sandwich the iced biscuits together and keep in an airtight tin or jar for up to a week.