Slow Cooker Butter Chicken Curry Recipe
There's always time for a curry in our house. It's pretty much the one meal we can all sit down to together and enjoy, without me having to make something different for one of the three fussy buggers in our family. Even Clyde who is a bit of a spice blouse loves a curry, as long as I don't over load it with chilli. This Slow Cooker Butter Chicken Curry is, therefore, the most perfect recipe and it doesn't even involve switching on the oven.
I have missed my slow cooker over the summer. It has been sitting on top of the fridge looking a bit sad for a couple of months now, but no more neglect for my lovely Crockpot. It's back out with a vengeance and I am in love with it all over again. Curries and a slow cooker are the best of friends. The chicken melds into the spices and the sauce and creates something really rather wonderful. This Butter Chicken Curry is rich and mild and fragrant and practically cooks itself, so this also makes it my best friend. With the boys treating our house like a hotel, a slow cooked supper is a complete godsend. It's ready whenever they are and always receives great reviews on Tripadvisor.  Huge thanks to Food Republic for the inspiration for this dish.
To utilise all my kitchen appliances I even used my Instant Pot to make my accompanying rice. Thanks to this brilliant cooking guide, my brown basmati was cooked to total perfection. If you have an Instant Pot, definitely give this method a go. It's time to dust of the slow cooker and treat yourself to a night off from cooking; this curry is effort free, but huge on reward.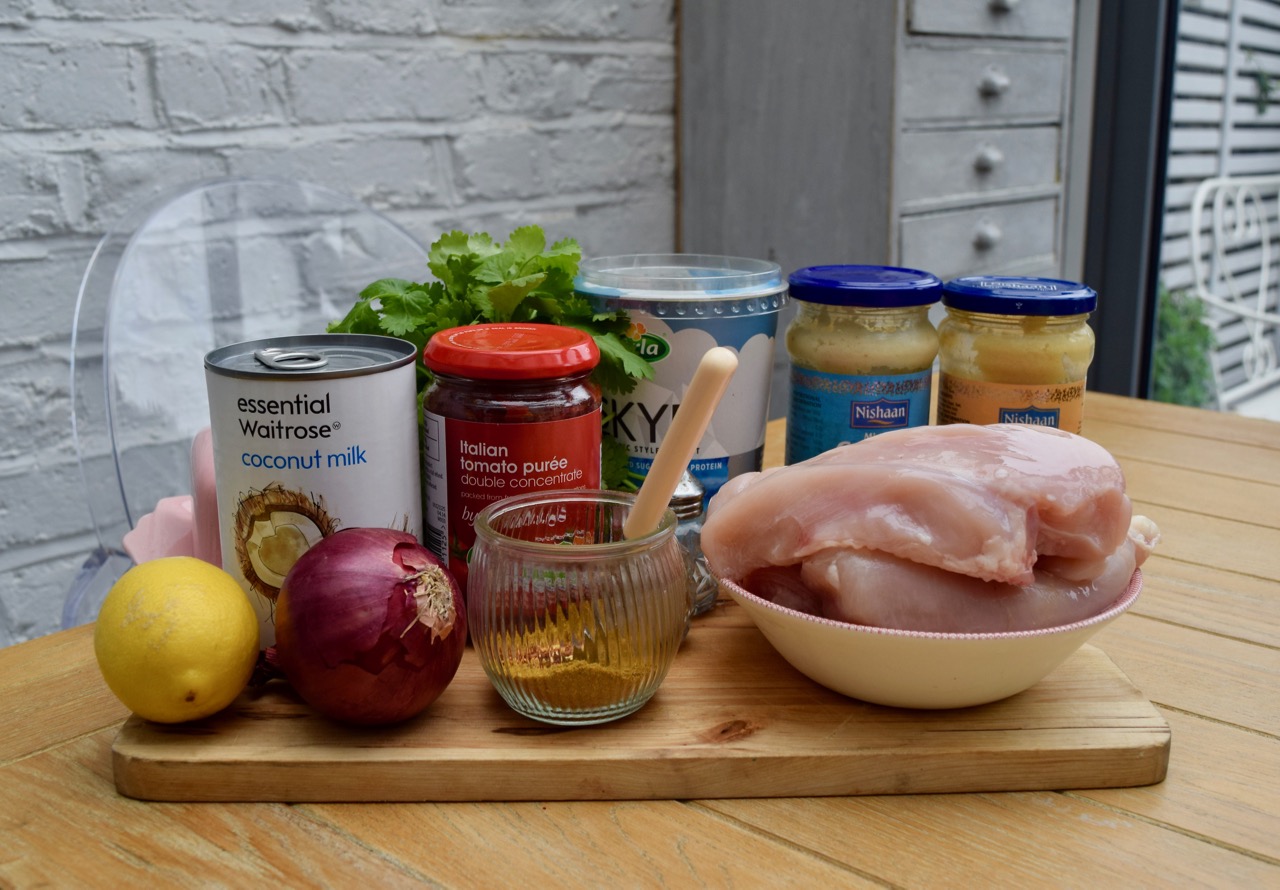 On the lazy front, I used garlic and ginger from a jar, but you don't have to adopt my bad habits. On the spice front, this Butter Chicken Curry is also brilliant as you don't need to dig around finding all sorts of different ones from the back of your cupboard. You only need curry powder, cinnamon and cumin for this and a good pinch of chilli flakes.
Dust off your slow cooker and add your chopped chicken. I had chicken breasts to hand but thigh fillets would be amazing too. Finely chop an onion and also add this to the pot.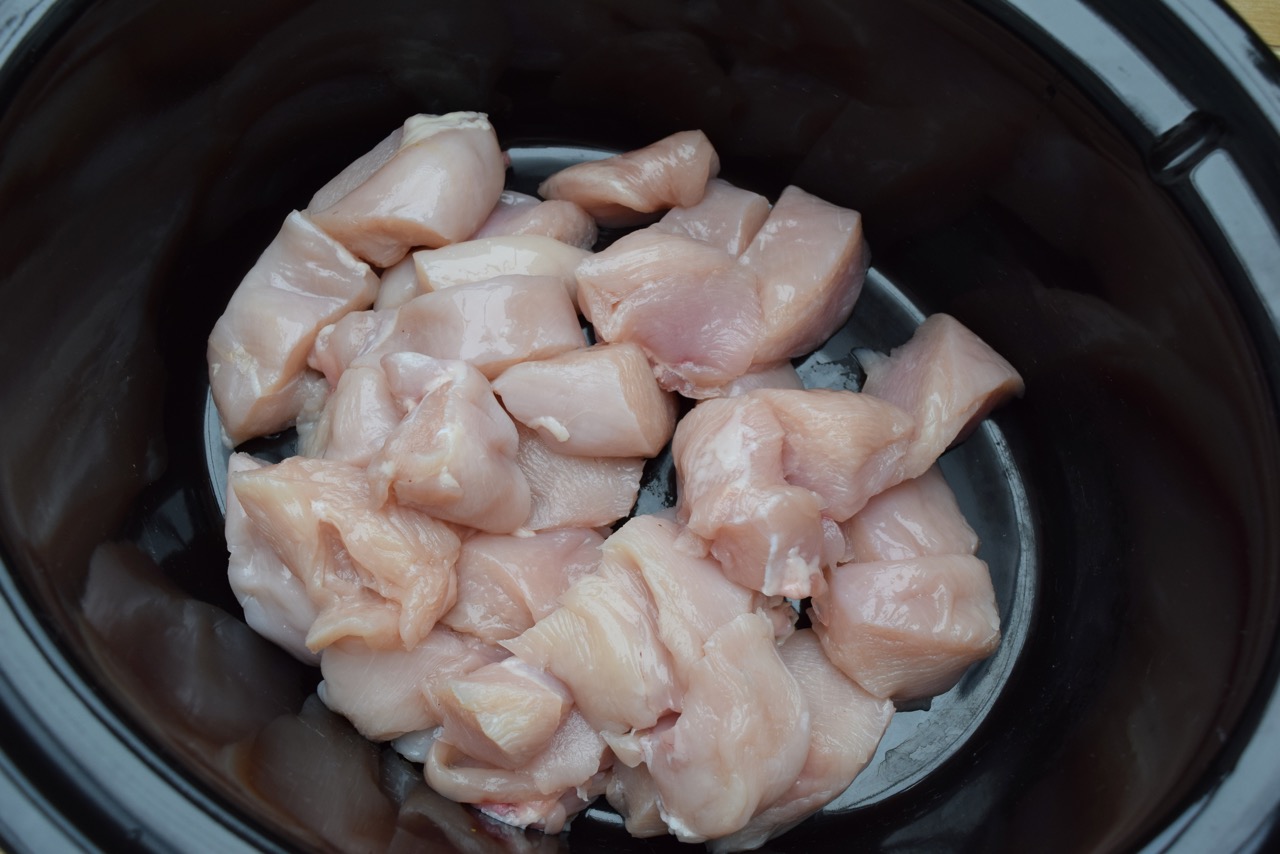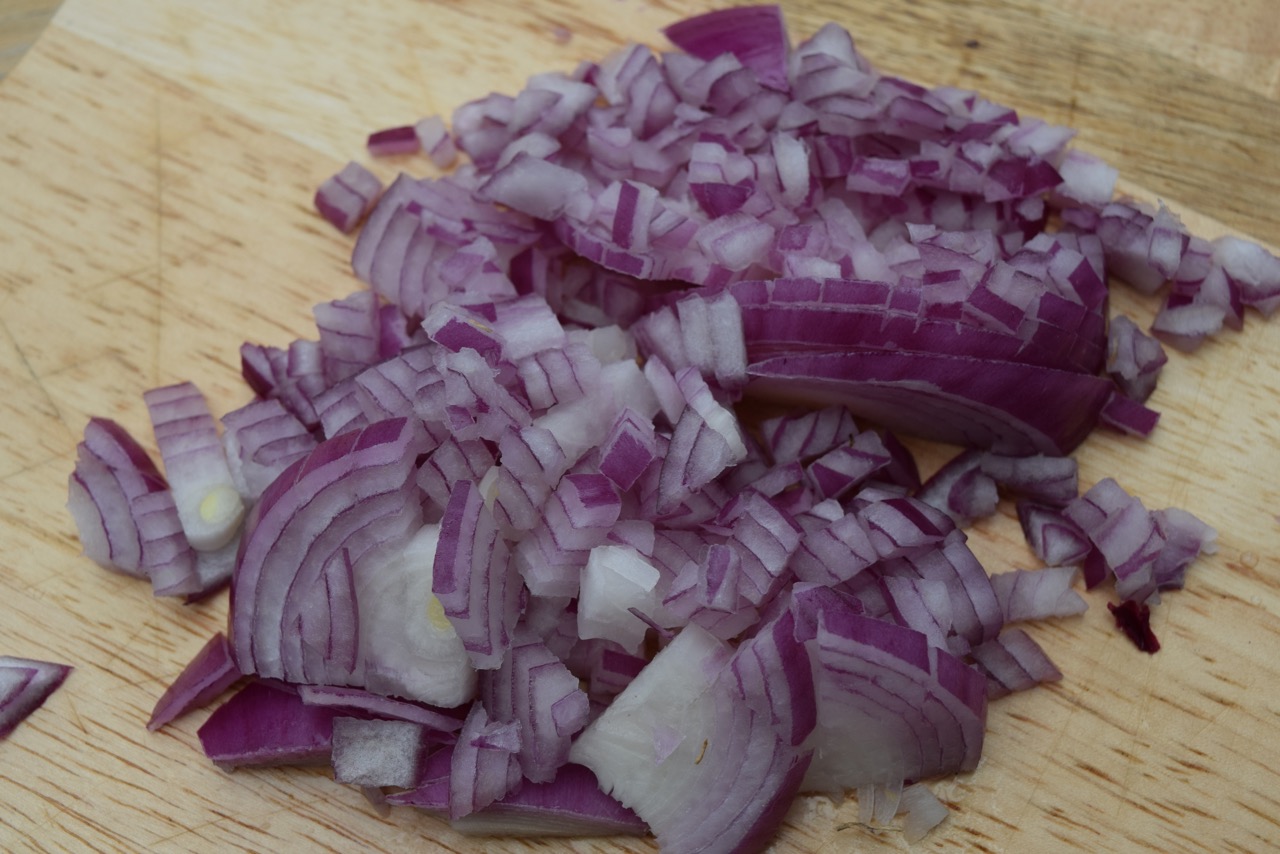 Tip in the salt, curry powder, cinnamon and cumin and a half teaspoon of dried chilli flakes. I upped the quantities from the original recipe, but's it's still not super spicy so don't worry. Add the tomato paste, garlic and ginger too.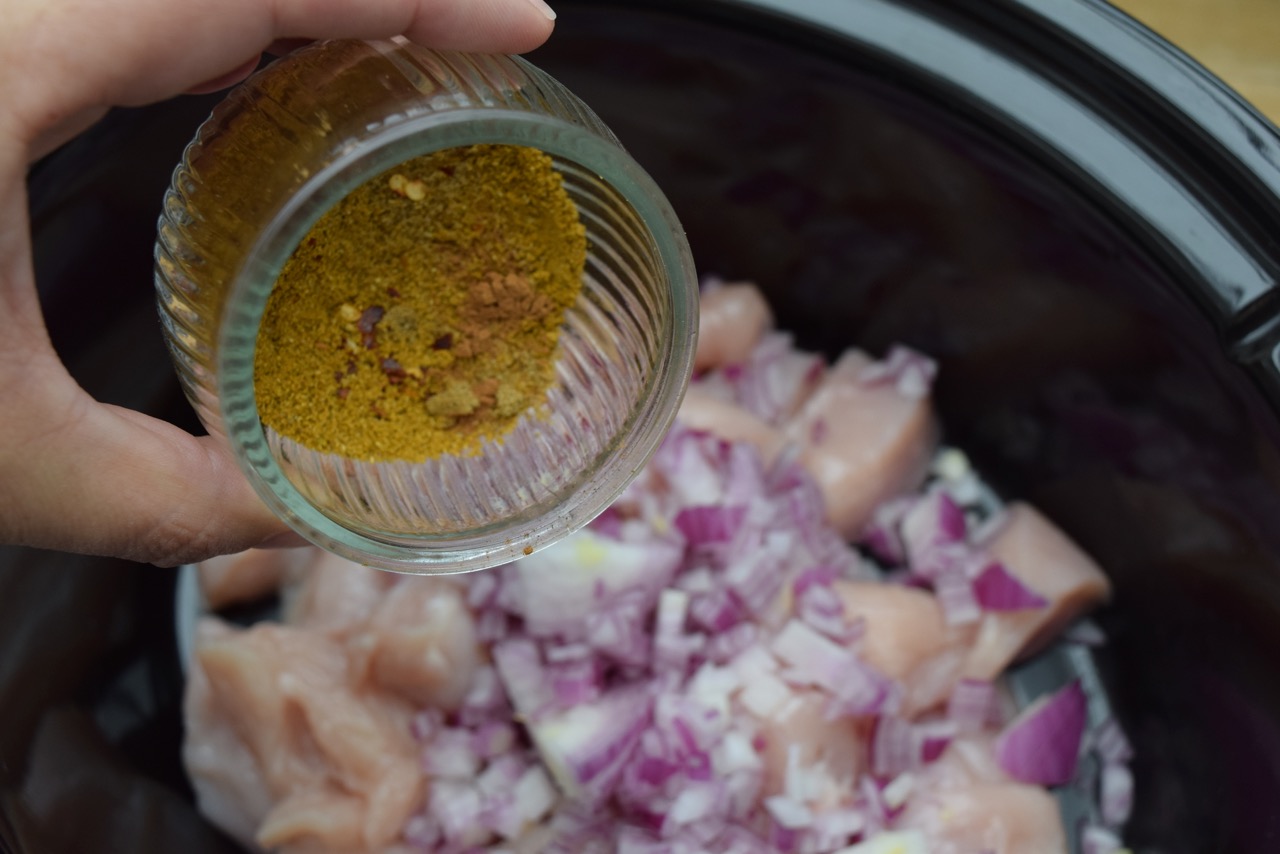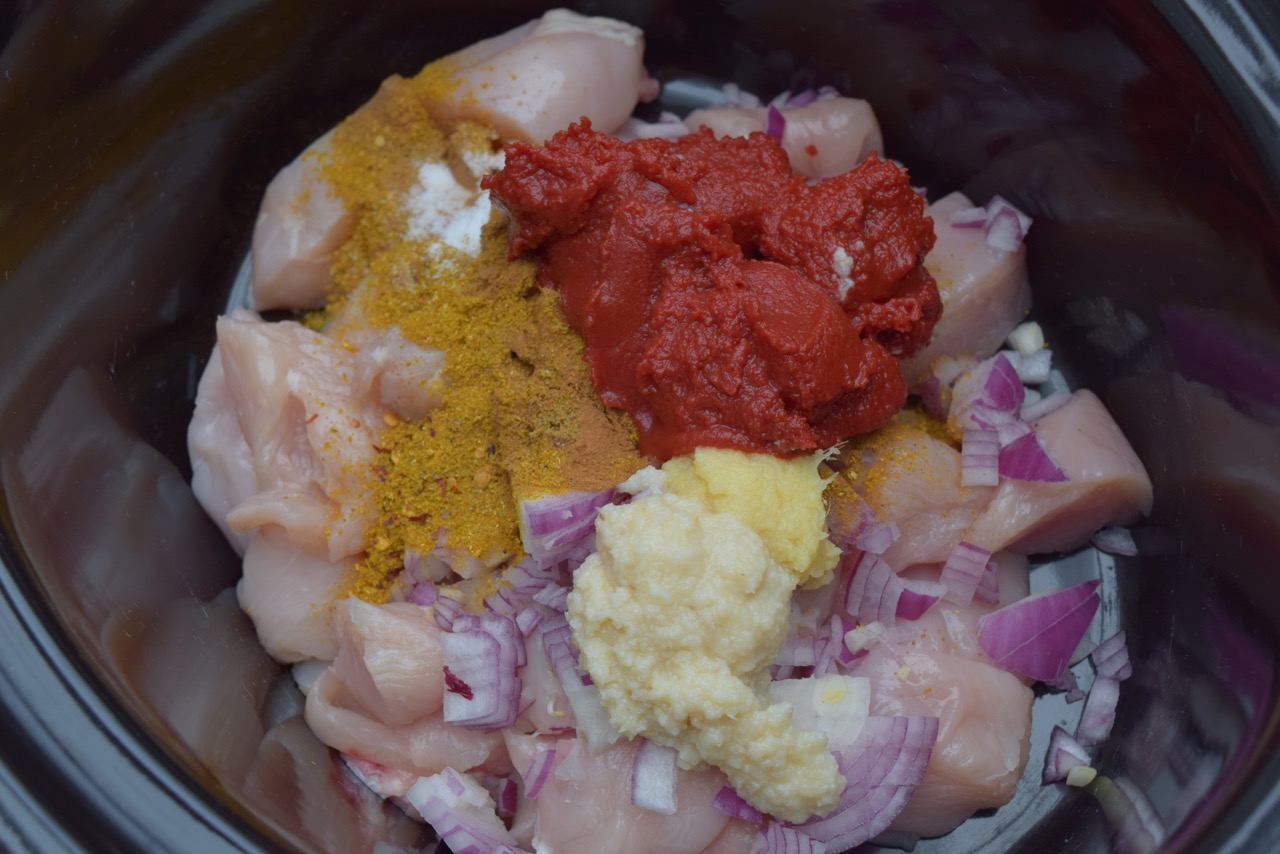 Add the butter and the coconut milk and give the whole business a great big stir to mix.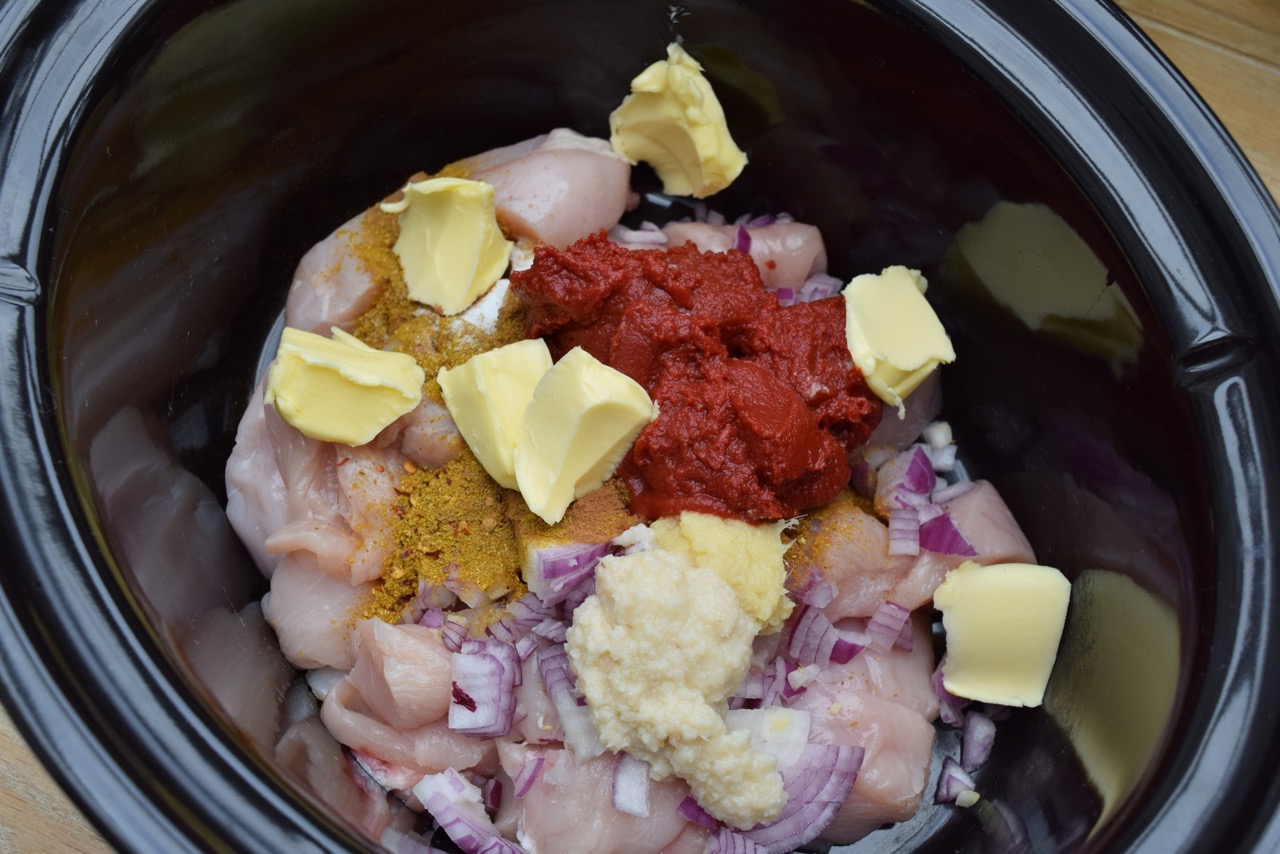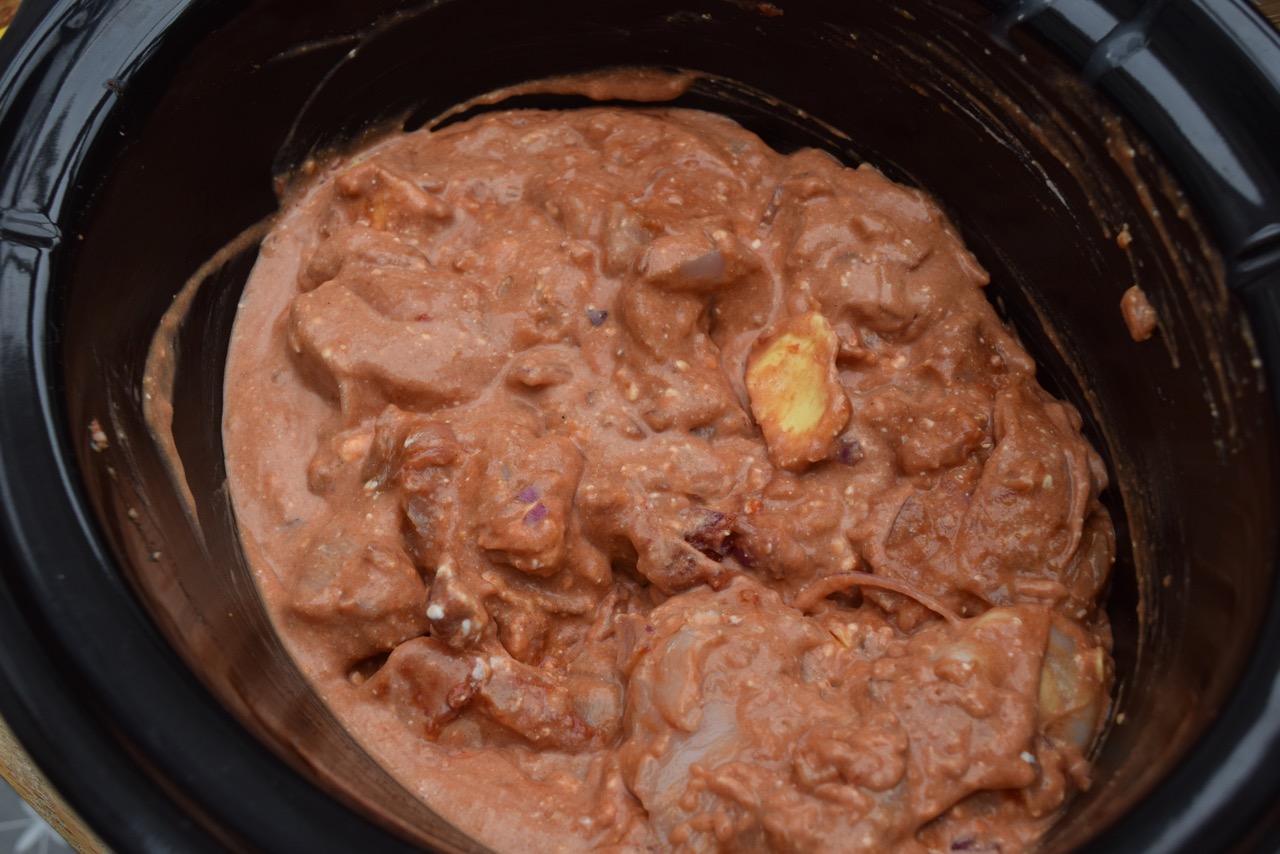 Put the curry on low for 6 to 8 hours and presumably you could cook it high too if time is tight, but check your instructions for how to adjust cooking times. The time ultimately depends on your slow cooker, but mine was just perfect after about 7 hours. Give it a stir occasionally, just as and when you're passing.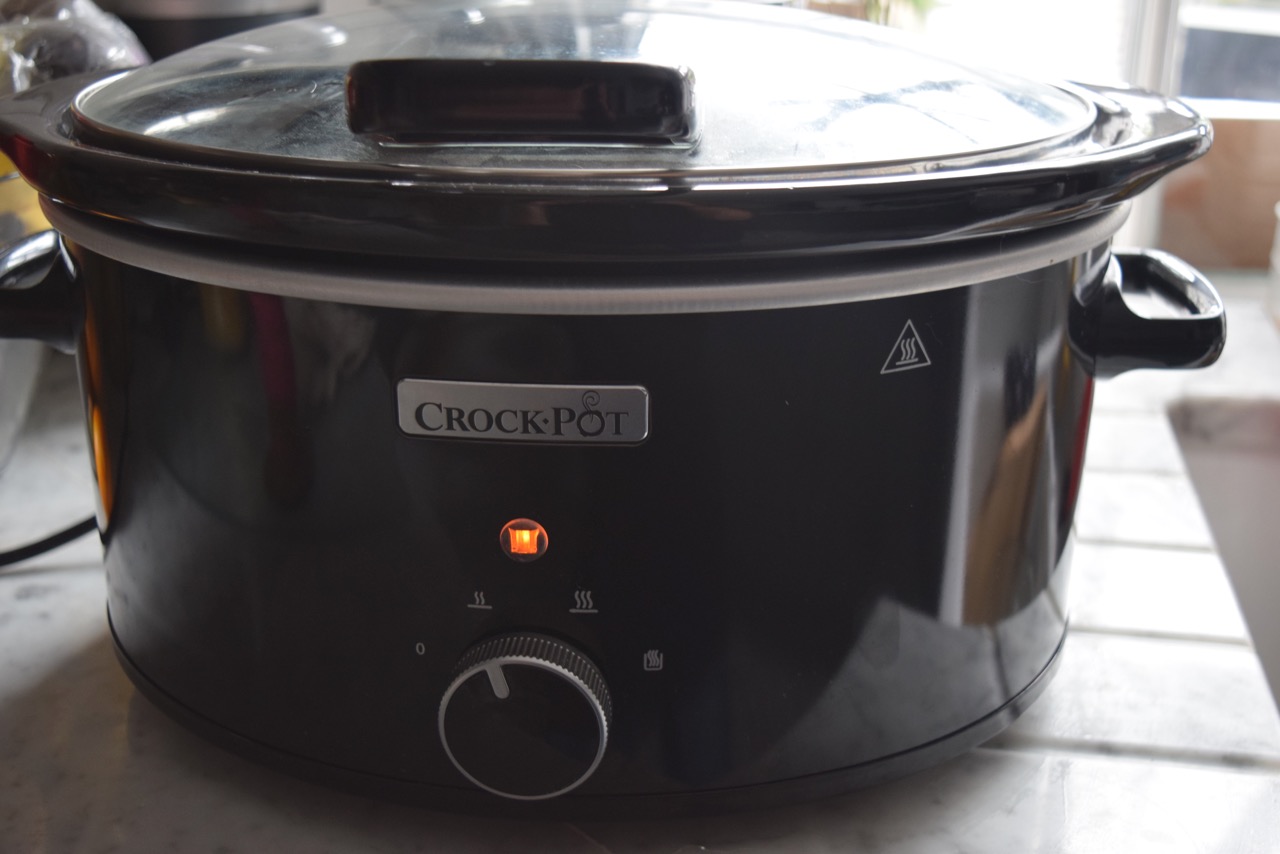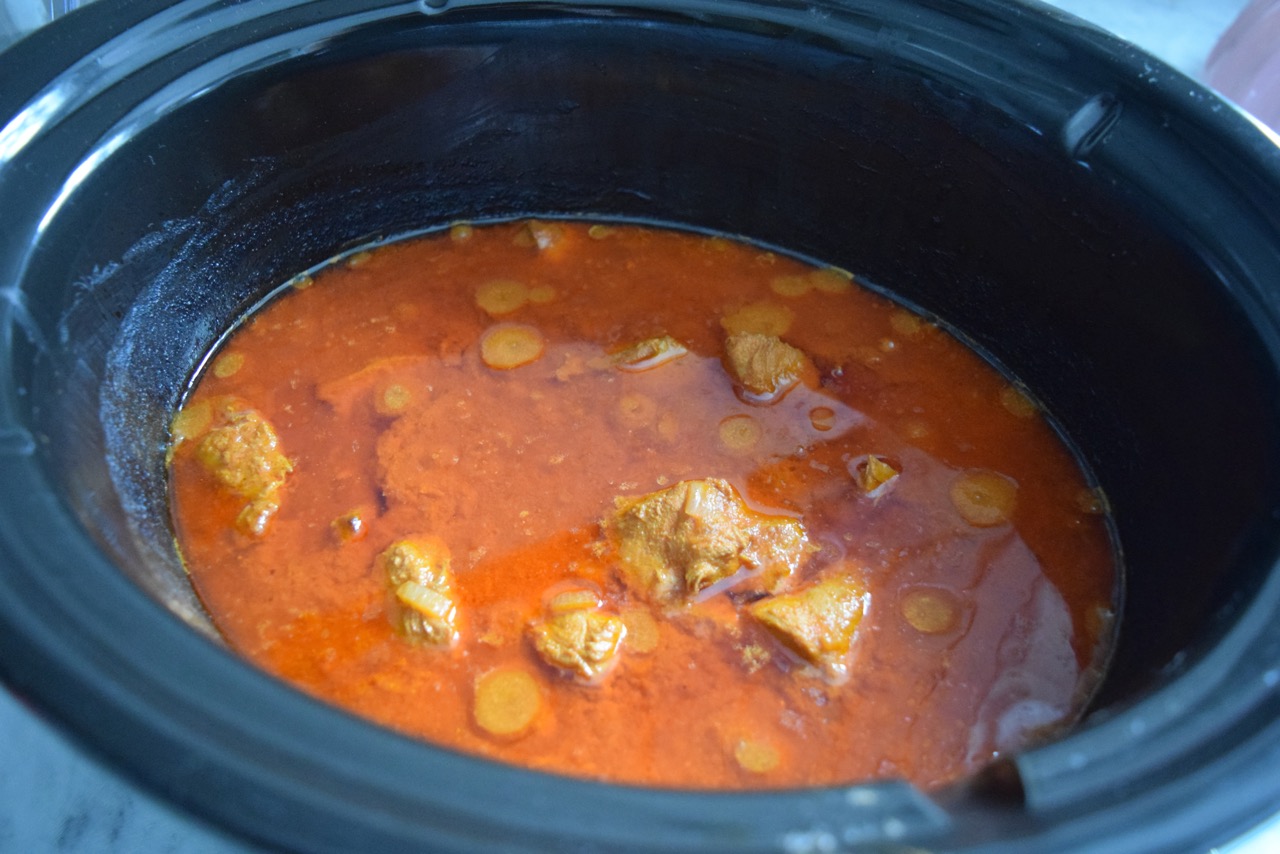 The divine wafts of curry will be drawing people into your kitchen from far and wide. Give it a stir then add the lemon juice and Greek yoghurt. Finish with a generous smattering of chopped fresh coriander.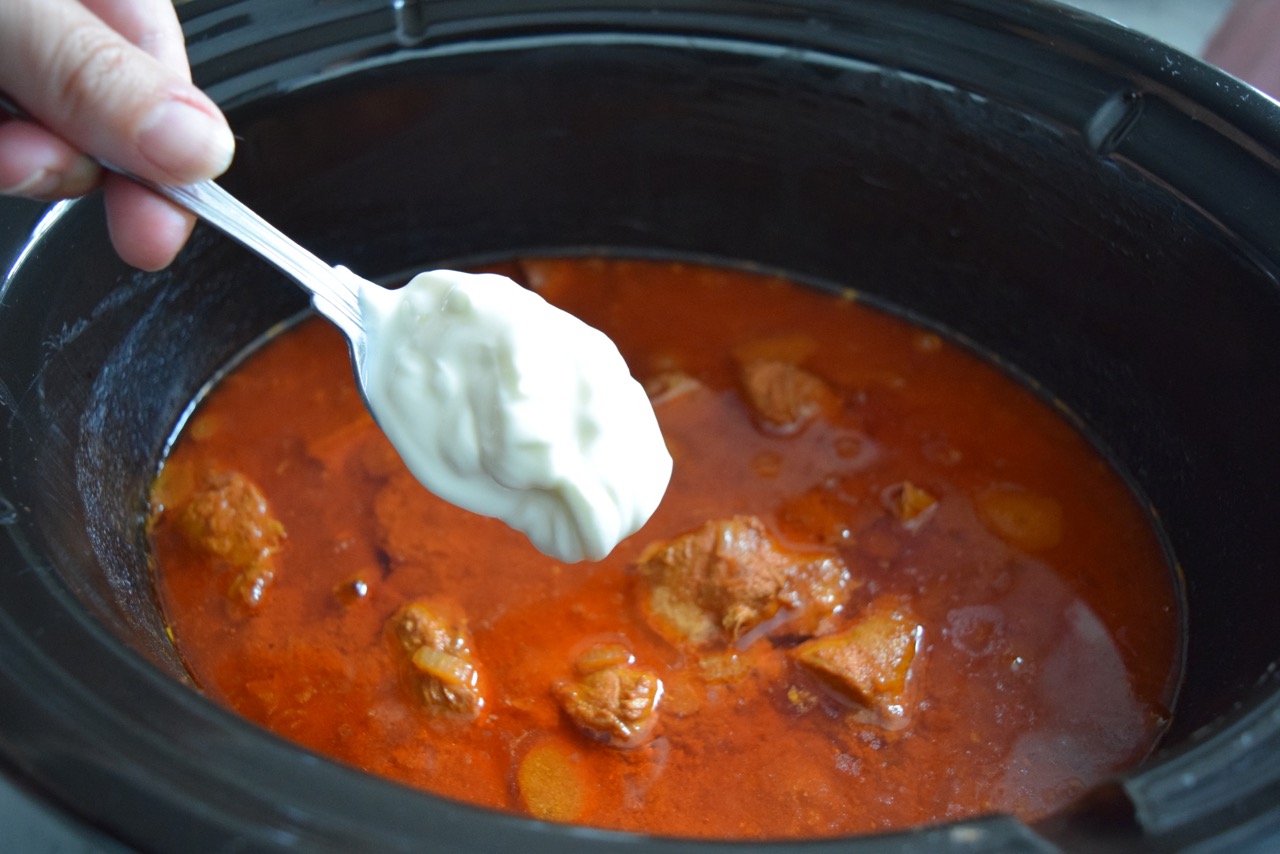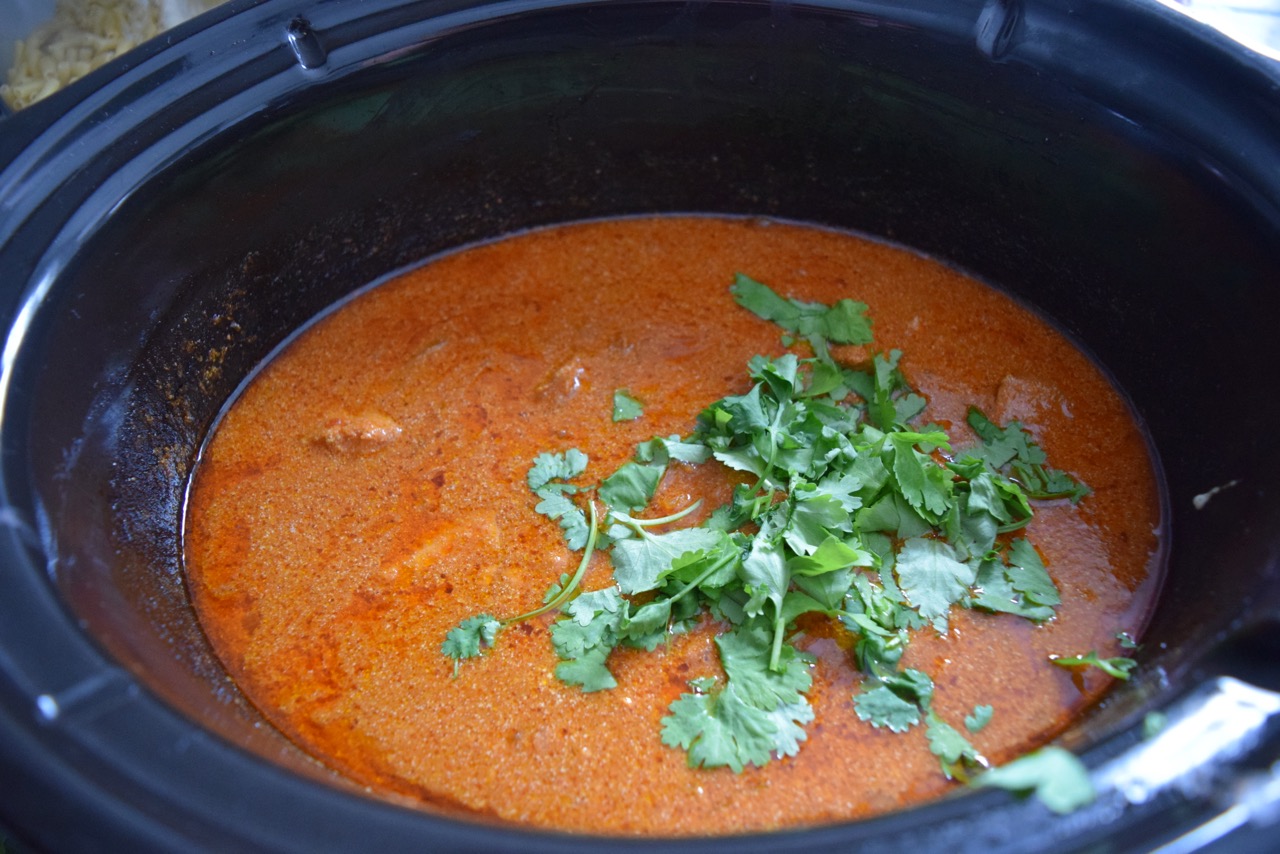 Serve this delicious dish with all your curry favourites. Plenty of steaming hot rice, naans and poddadoms. My poppadoms were out of shot *George had eaten them all*.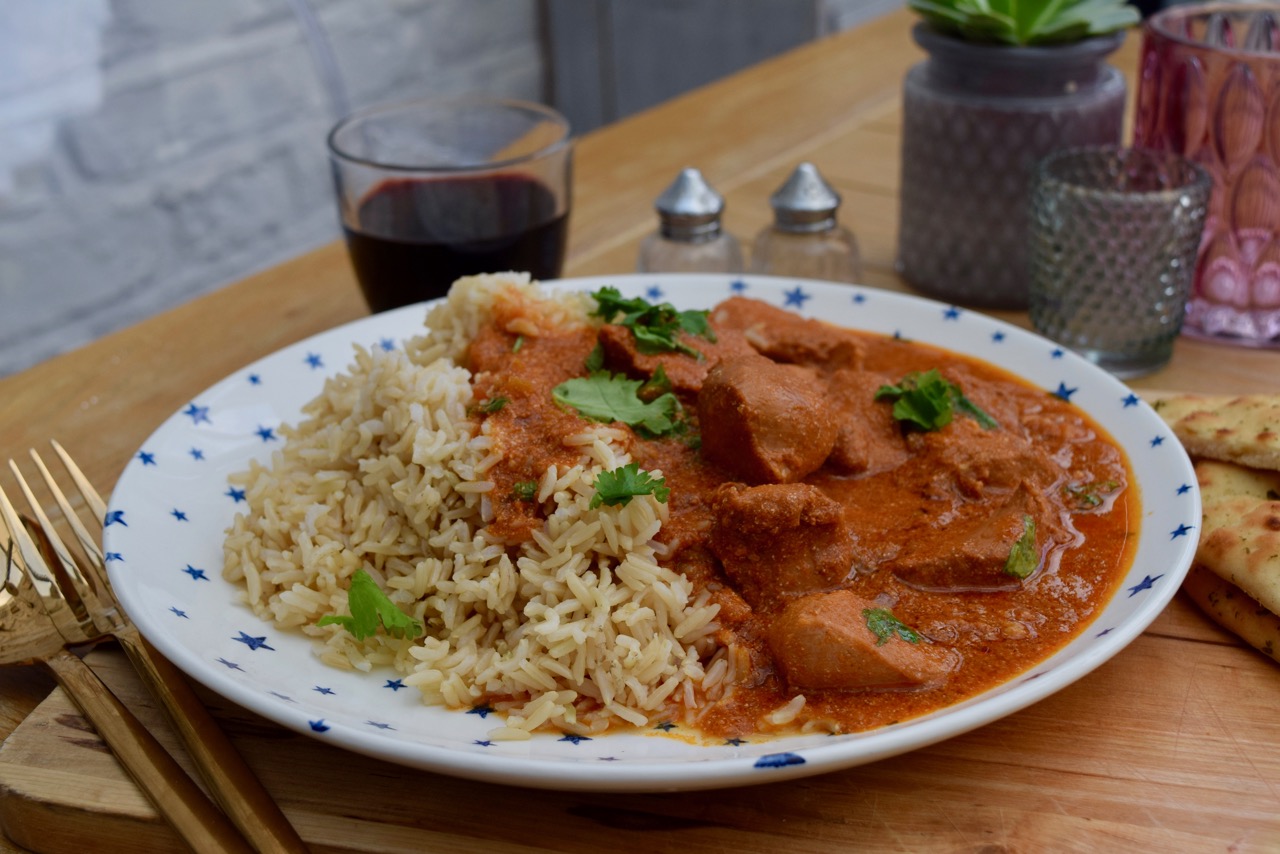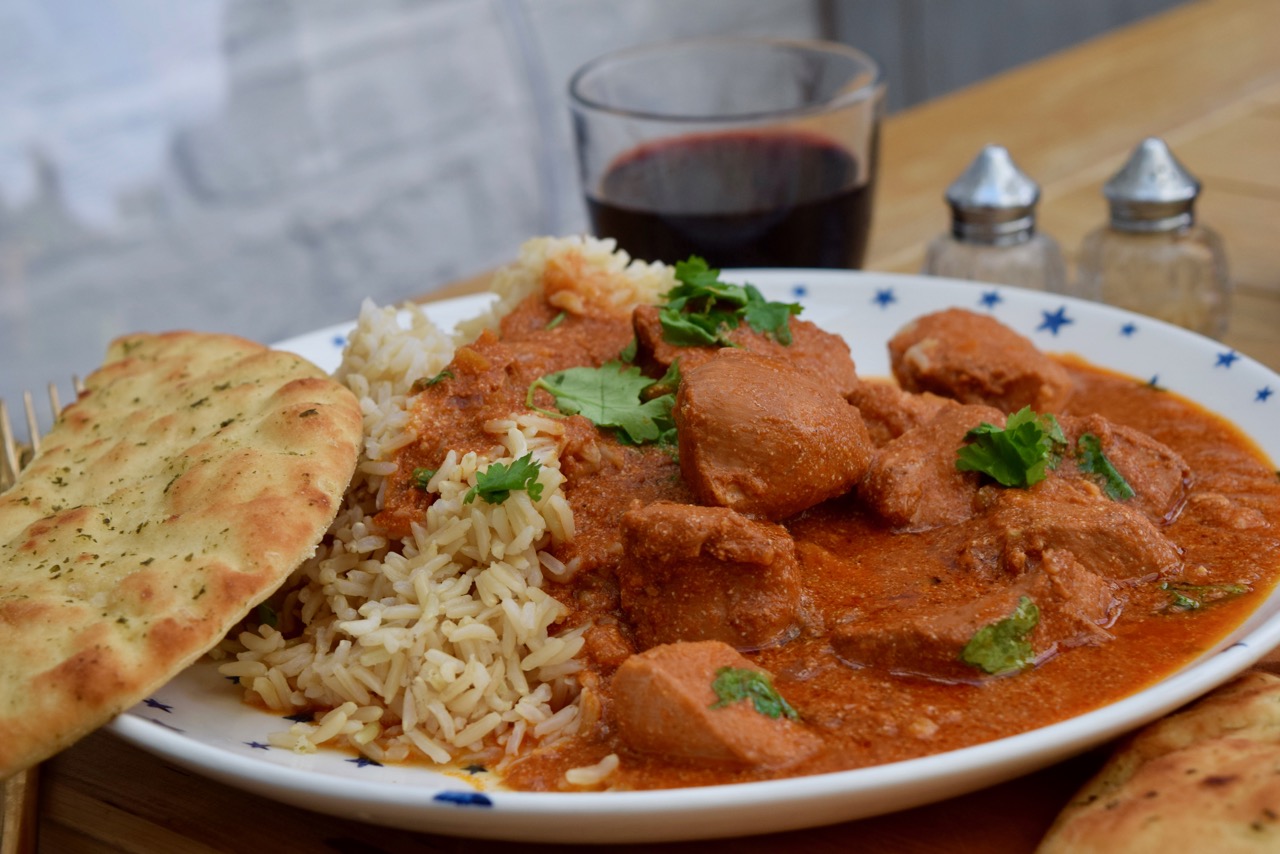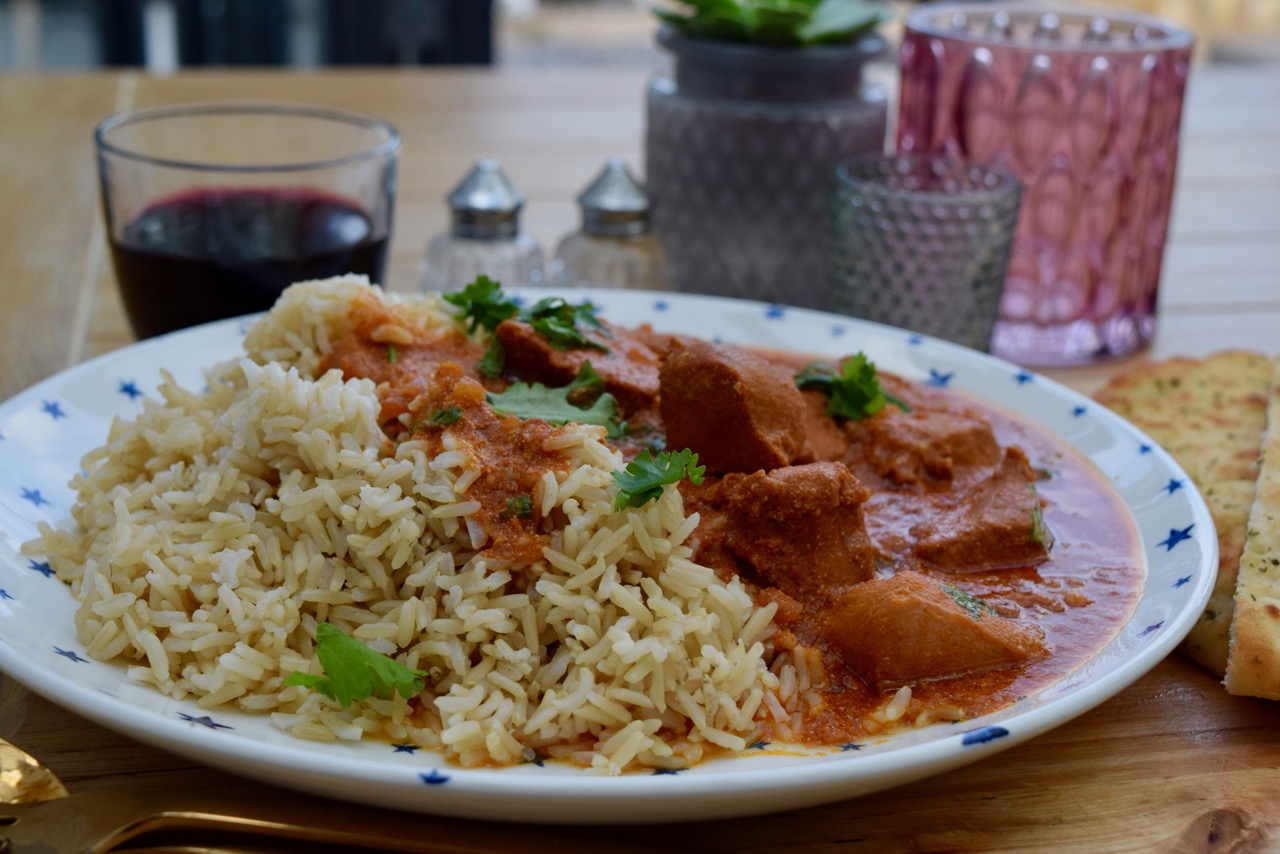 This recipe makes a generous batch which allows for the option of some tasty leftovers. As with most curries, this Slow Cooker Butter Chicken Curry tastes even better reheated the next day. That's if you can stop yourself/hungry hordes from eating it all in the first sitting.
Lucy x
This post contains an affiliate link to Amazon. Should you choose to buy via this link Lucy Loves will receive a tiny commission at no extra charge to you, to subsidise my love of food blogging. Thank you x
Slow Cooker Butter Chicken Curry Recipe
Serves 4 to 6, generously
You will need a slow cooker and nothing else too exciting
1kg chicken, boneless breasts or thighs work well here, chopped into bite sized pieces
1 onion, chopped
6 cloves garlic, finely chopped or a tablespoon of garlic from a jar
1 inch fresh ginger, peeling and finely chopped, or 1 tablespoon of ginger from a jar
3 teaspoons curry powder, I used Madras
2 teaspoons cumin
1 teaspoon cinnamon
1/2 teaspoon dried chilli flakes
1 teaspoon salt
60g butter, cut into pieces
175g tomato paste
1 x 400ml coconut milk
3 tablespoons full fat Greek yoghurt
2 tablespoons lemon juice
1/2 bunch fresh coriander, chopped plus some extra leaves for garnish
Rice, naan breads, poppadoms, to serve
Take your slow cooker and add the cubed chicken and the chopped onion. Spoon in the garlic and ginger or chop and add if using fresh. Follow in with the curry powder, cumin, cinnamon, dried chilli flakes and salt. Dot on the 60g of  butter then add the tomato paste and coconut milk.
Give the whole mixture a really good stir to combine all the spices. Switch your slow cooker onto low and cook for 6 to 8 hours. The chicken will be tender and the sauce will be rich and tasty. Stir through the yoghurt and lemon juice then add the chopped coriander.
Serve with rice, naan breads, poppadoms or any of your favourite curry sides. Any leftovers are amazing a couple of days later.