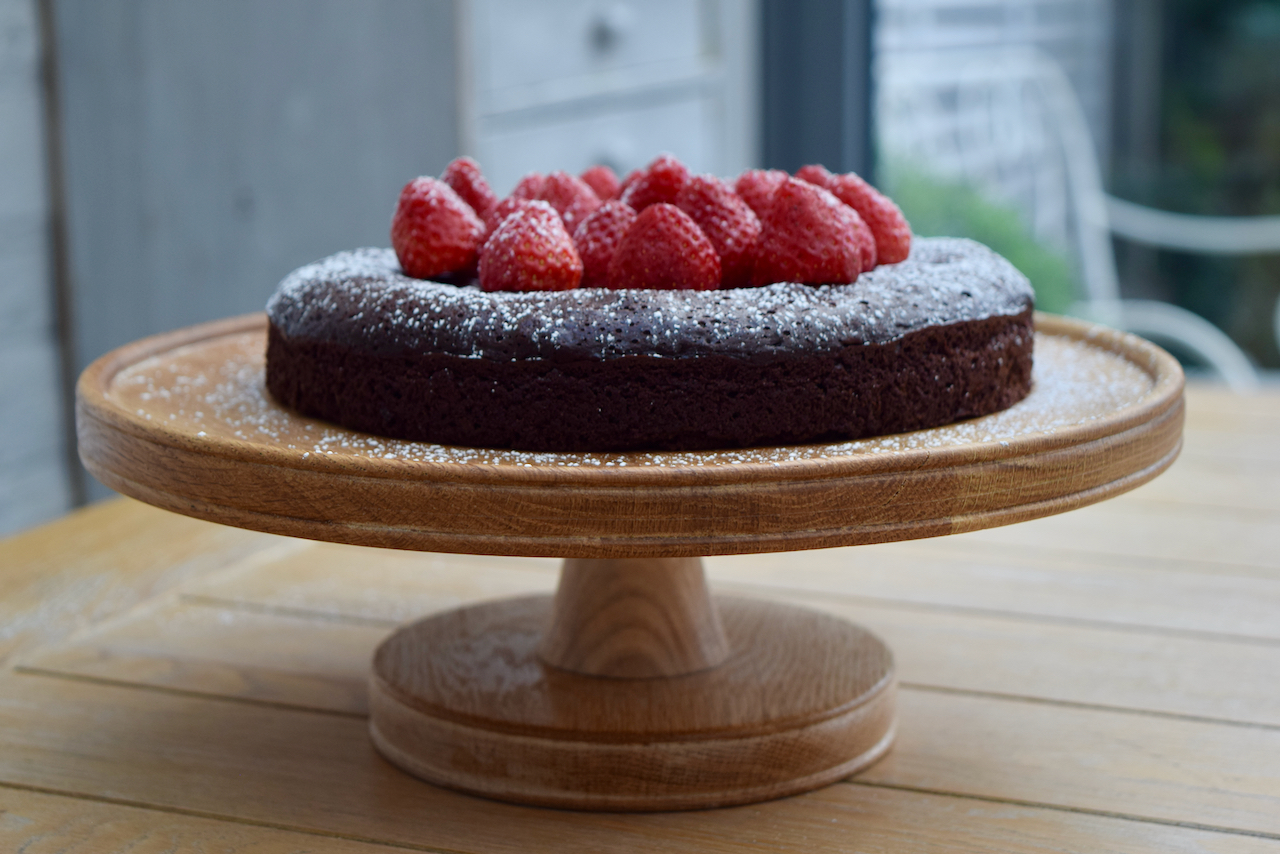 Rich Flourless Chocolate Cake recipe
Well, things change on a daily basis, but at the moment we're still allowed to entertain at home. And thank God, it's been a miserable bloody year and we need to have a bit of fun. We've had a few socially distant supper parties and it's been lovely; feels almost normal. This Rich Flourless Chocolate Cake has featured at least 3 times and it looked as though I'd really pushed the boat out. This post is about to dispel that myth; it's actually bloody easy.
Everyone should have an easy chocolate dessert in their repertoire, and this is that very dessert. And this one just happens to be gluten free and made in one bowl too. It's basically like a big, rich brownie style cake with just a tiny hit of coffee. It's *eek* moist and benefits from a bit of a steam bath in the oven during the cooking time. Don't panic this is basically just a kettle full of water in a roasting tin in the bottom of the oven whilst your cake bakes. Decorate your flourless chocolate cake with the last of the summer berries if you like and just a dusting of icing sugar. The rest is up to you; thick cream, ice cream, both, fill your boots. This is undeniably rich, there's no point in doing things by halves. Huge thanks to the lovely Sallys Baking Addiction for the recipe.
Those first post lockdown dinners were a bit of a shock. All that having to be entertaining to someone other than your family whilst not wearing your joggers. Thank God for simple desserts like this to distract guests from my out of practice dinner party banter.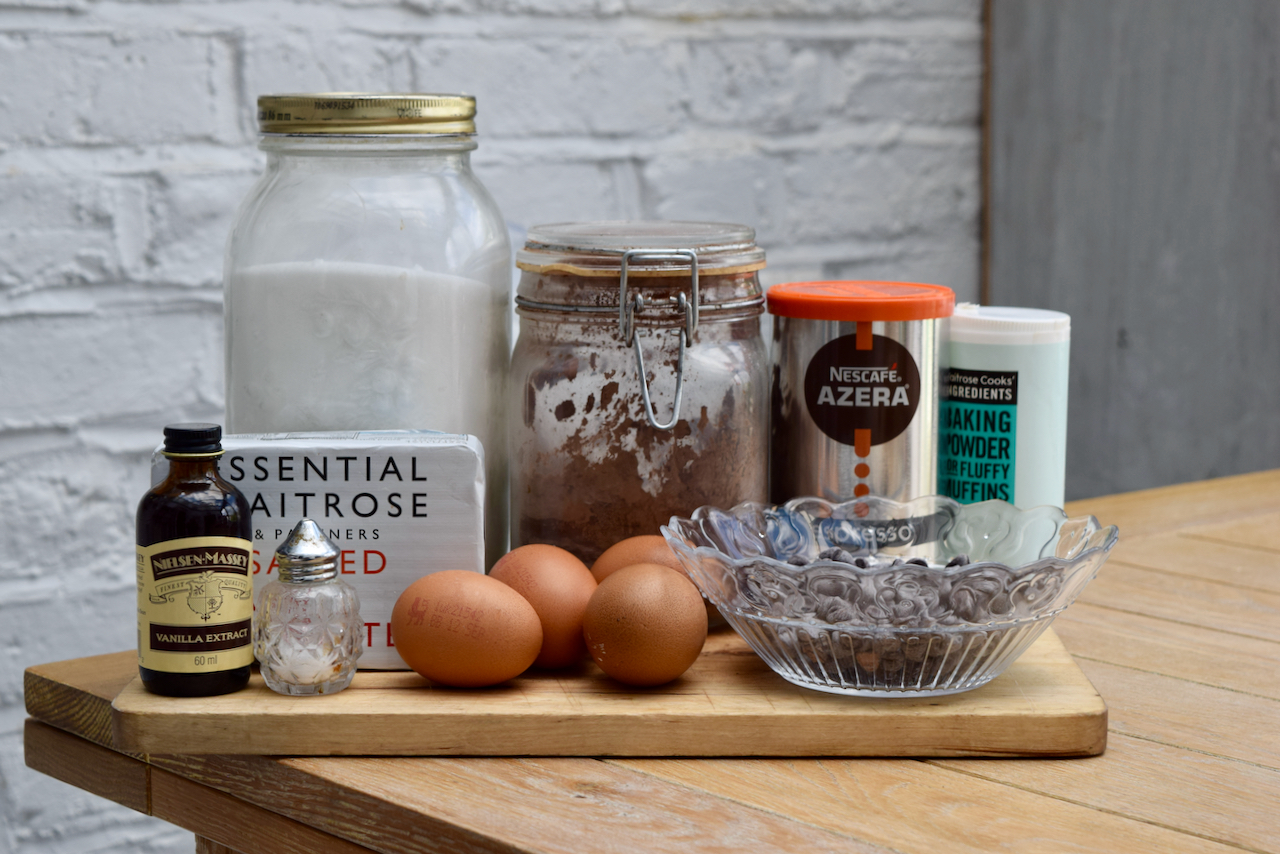 Nothing terribly taxing in this line up. The espresso powder is a must in our house for all your coffee cake and coffee ice cream making needs. This chocolatey dessert doesn't really taste of coffee however, it just gives it a super rich depth of flavour *bloody hell that sounds poncey*.
Like I said, this is a one bowl recipe and I wasn't lying. You do, however, need a 20cm loose bottom round cake tin, buttered and lined with baking paper. Also, pre heat the oven to 160 degrees fan assisted.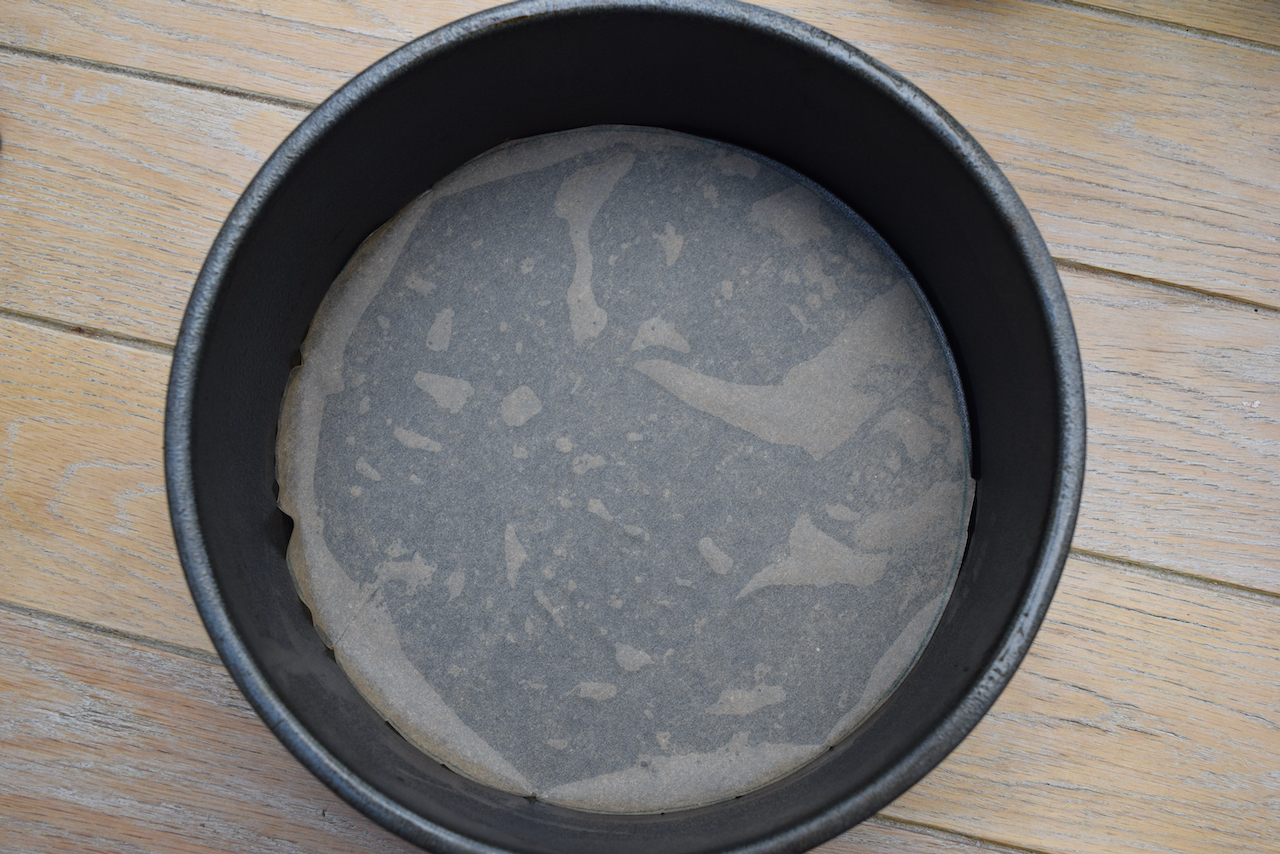 Next, take the aforementioned bowl and weigh in the chocolate and butter. Melt in 30 second bursts in the microwave or over a pan of simmering water. Remove when the butter and chocolate have melded together then stir to blend.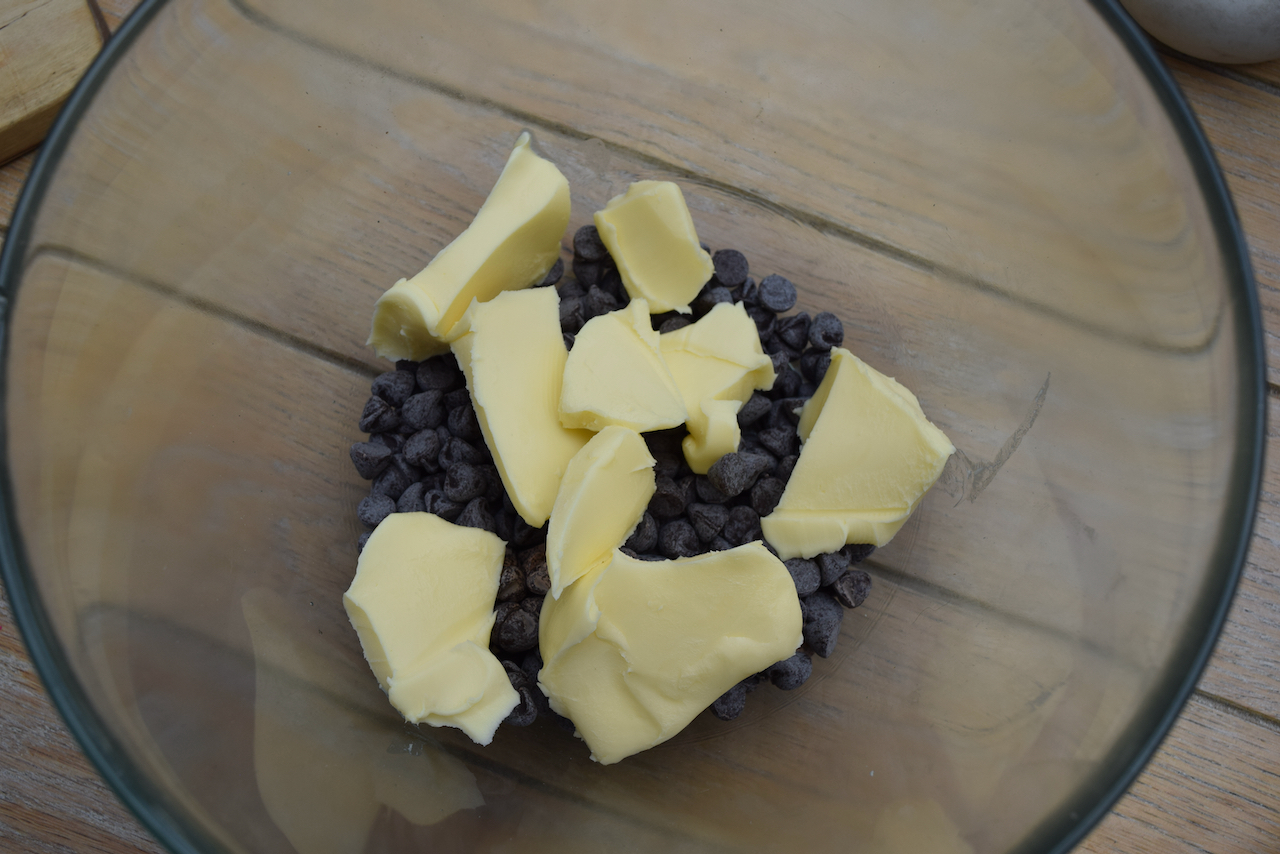 Whisk in the caster sugar, espresso powder and vanilla until mixed.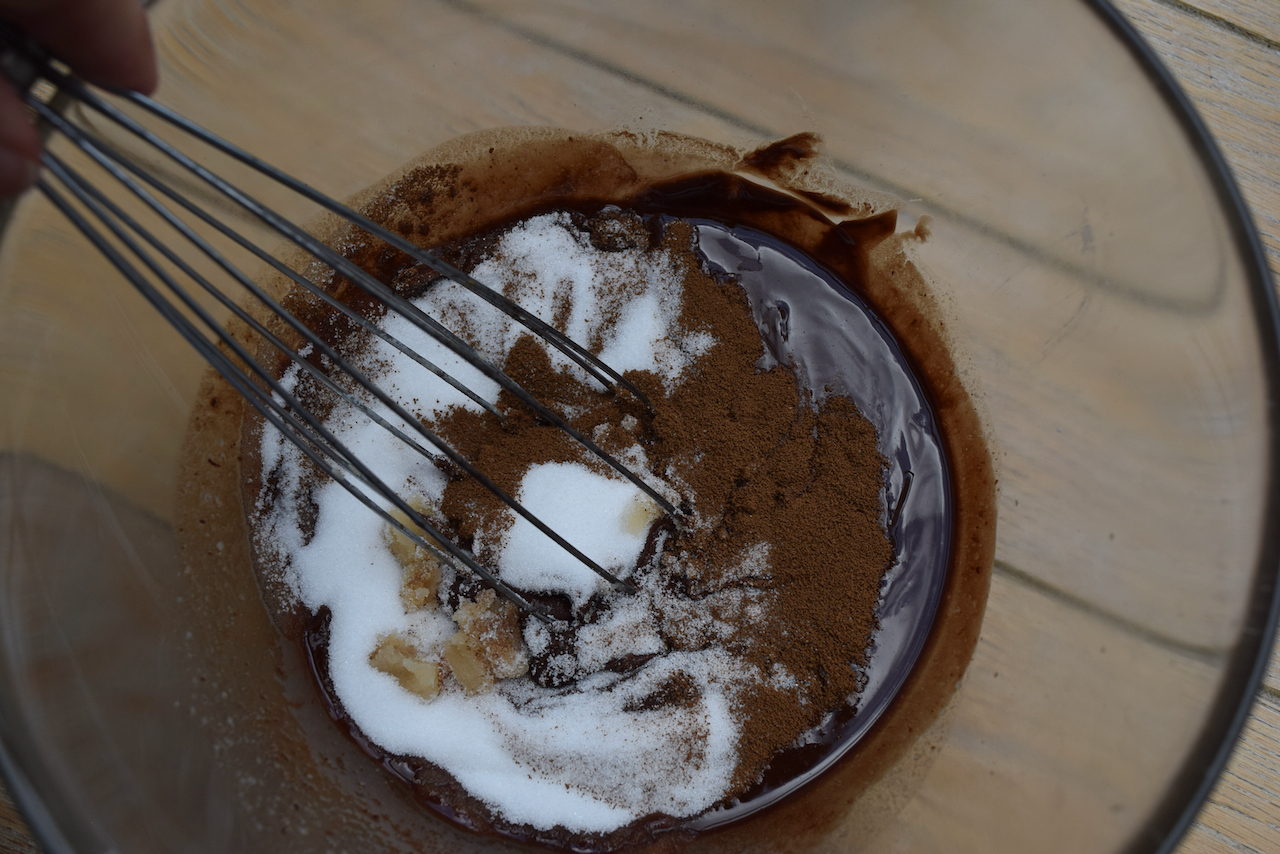 Now whisk in the four eggs then follow in with the salt, baking powder and cocoa powder.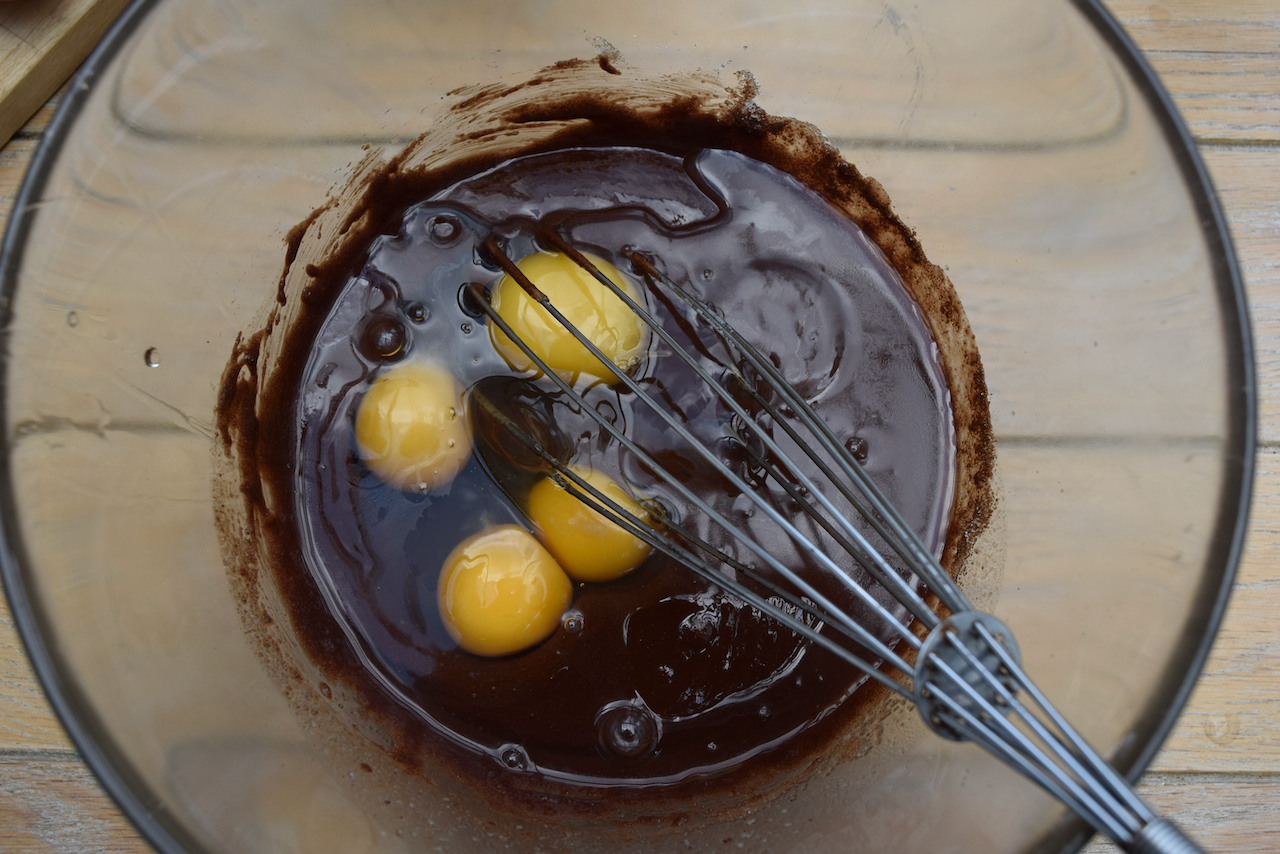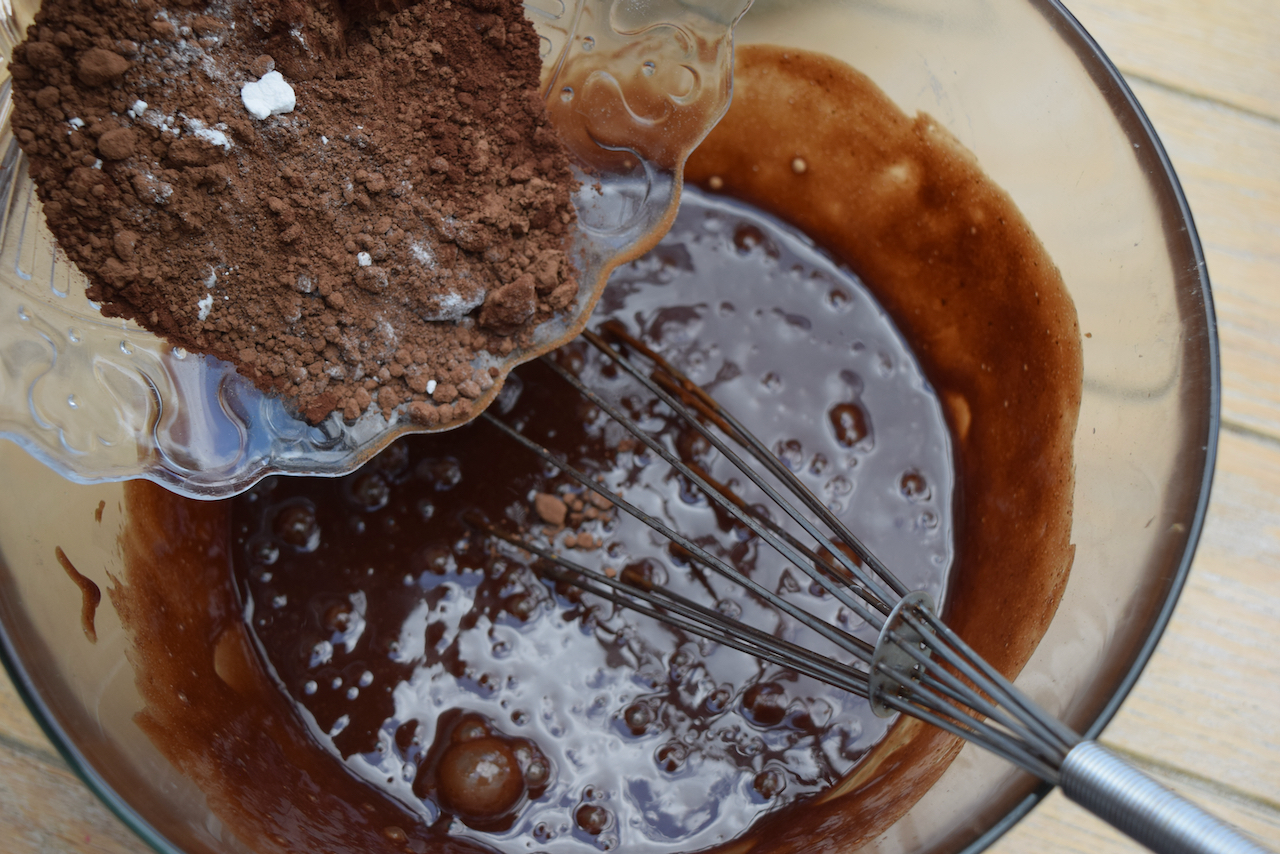 Whisk until thick and glossy. Pour and scrape into your lined tin.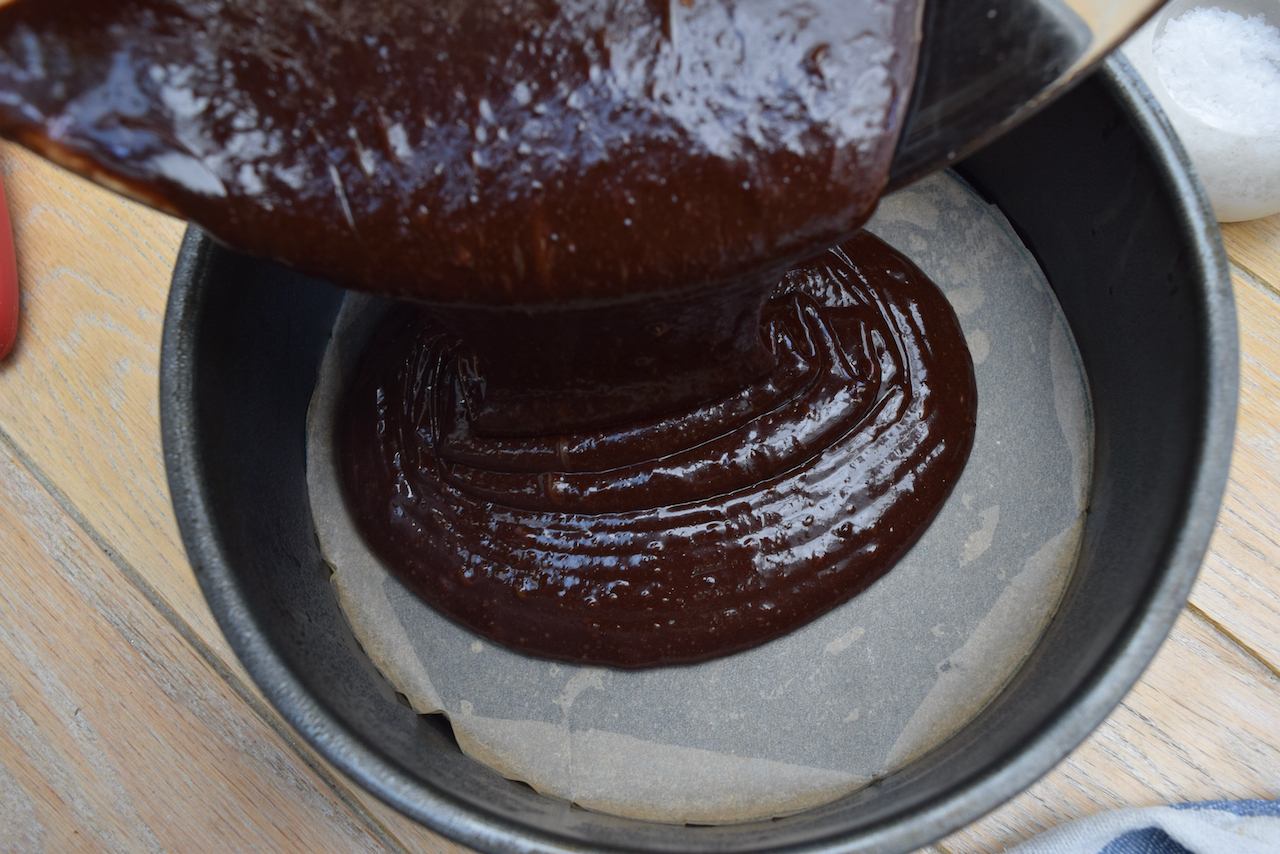 For the steam to make this cake super not dry *moist avoidance tactic* boil the kettle and pop a roasting tin into the bottom of your oven. Place the cake in the oven then pour the kettle of water into the roasting tin in the bottom and close the oven door quickly, to trap the steam in the oven.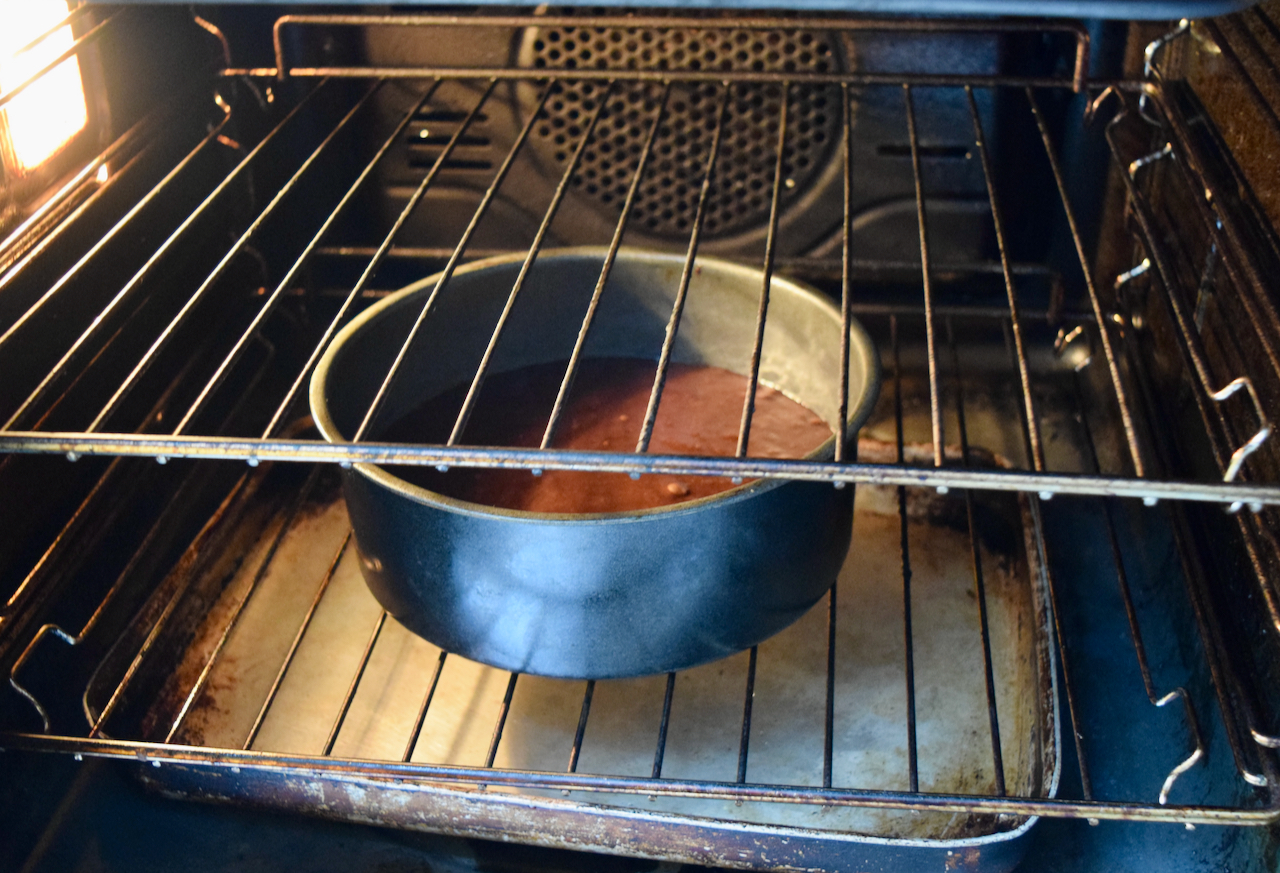 Don't judge the state of my oven please.
Cook the cake for around 25 minutes. The finished cake is just firm to the touch and starting to pull away from the edges of the tin. Oh and the kitchen will be smelling oh so chocolatey.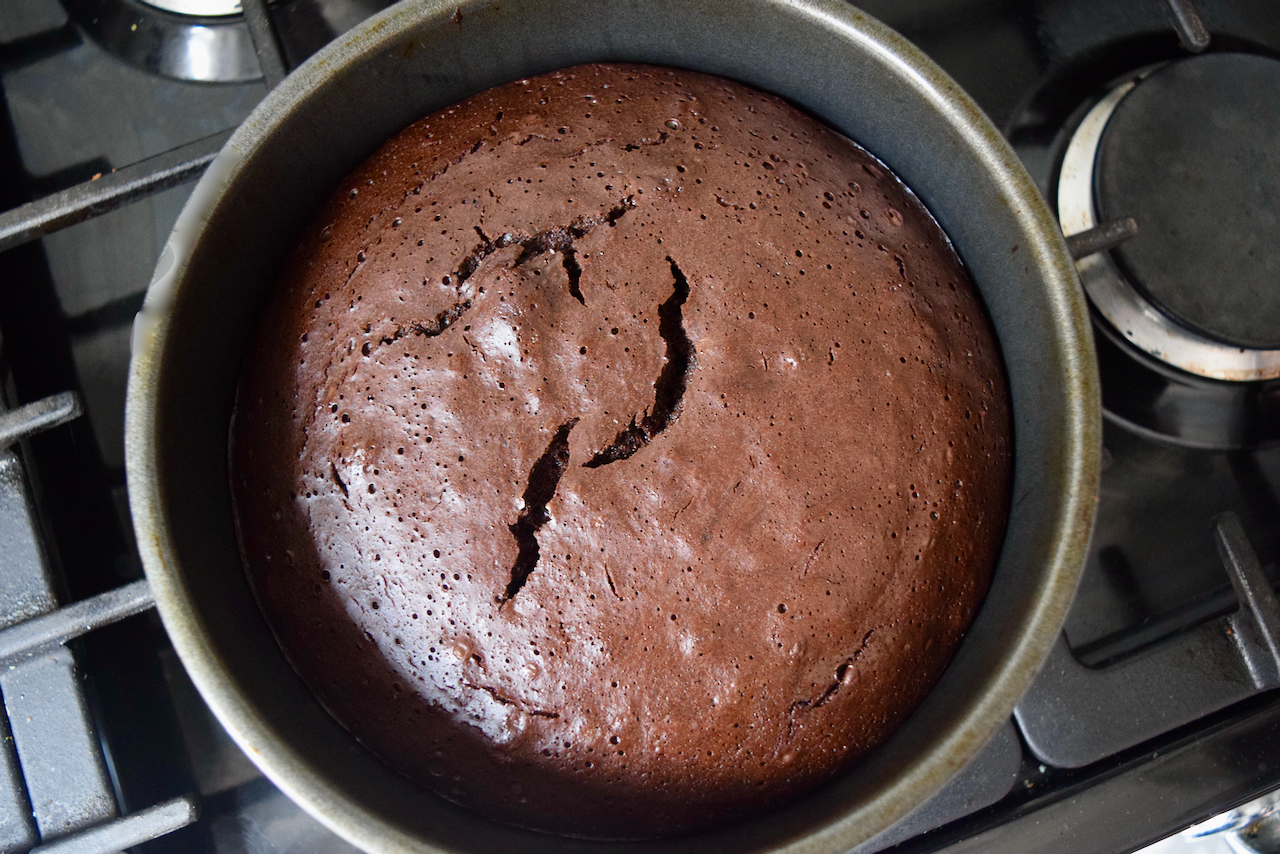 Leave the cake to cool in the tin for 10 minutes. While still warm, carefully ease out of the tin and take off the base and paper. Leave the cake to cool completely on a wire rack.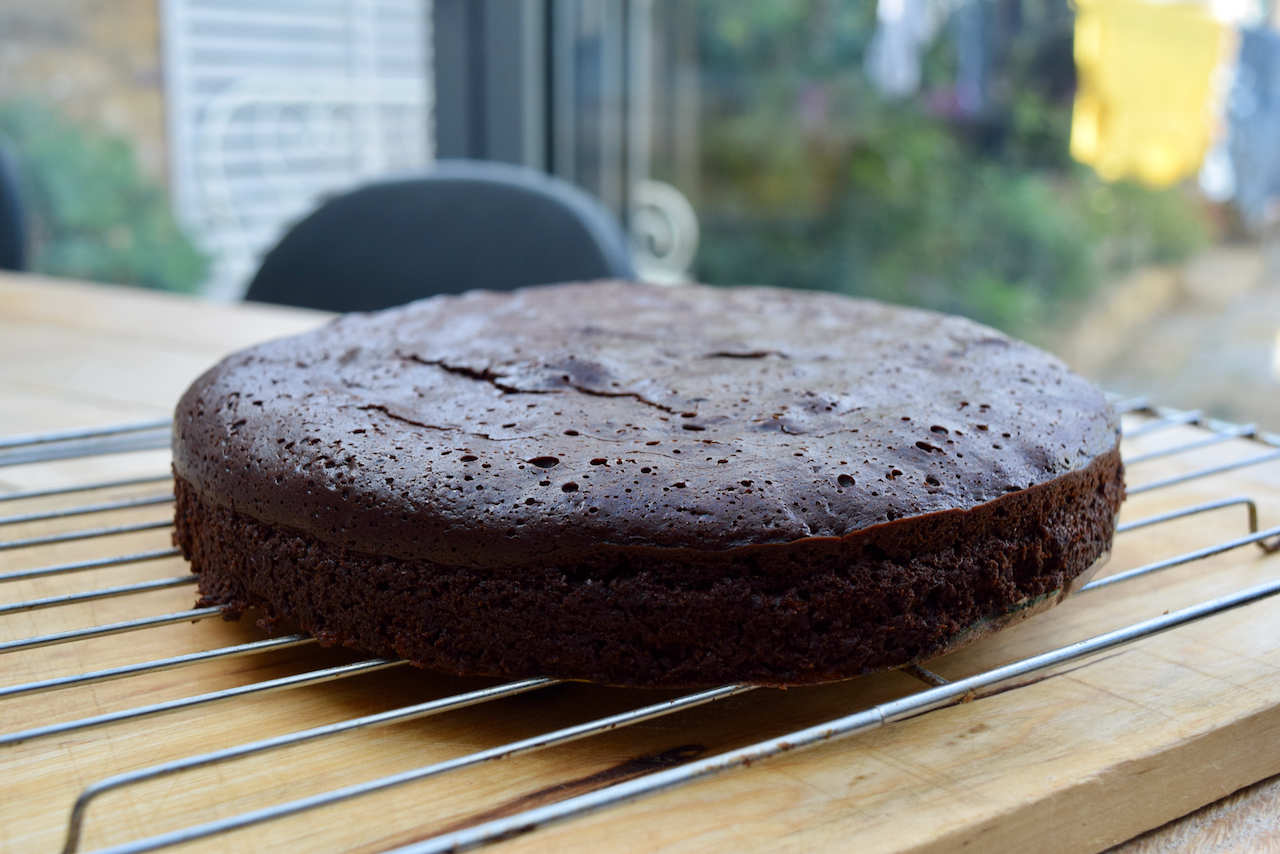 When you're ready to serve, place the cake on your chosen cake stand. I was generously made this amazing wooden stand by my friend Becky's super talented Father for my 50th. It's a total beauty and I love it so much, almost as much as I love this cake. Decorate with the berries of your choice. I don't love raspberries so went for hulled strawberries and they were just lovely.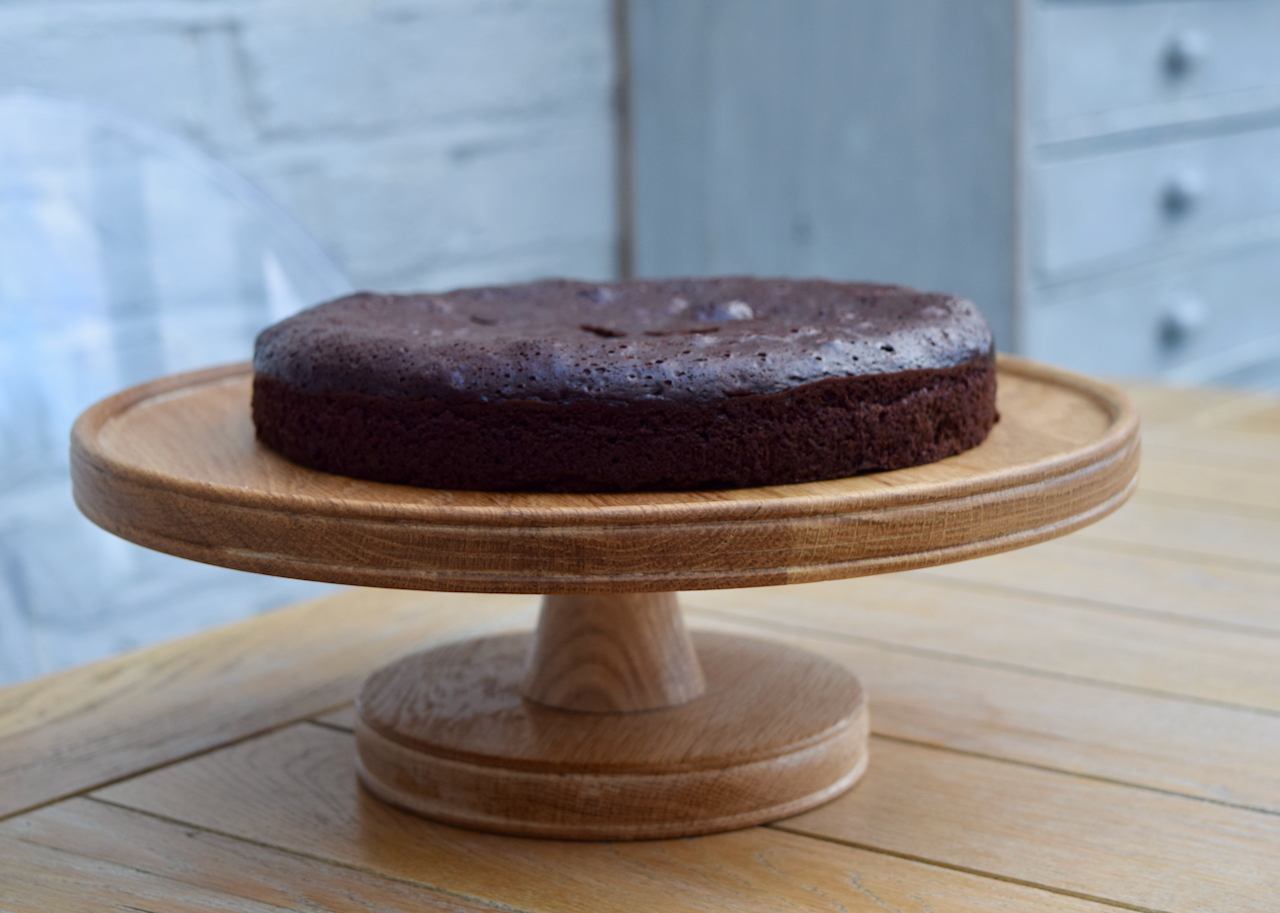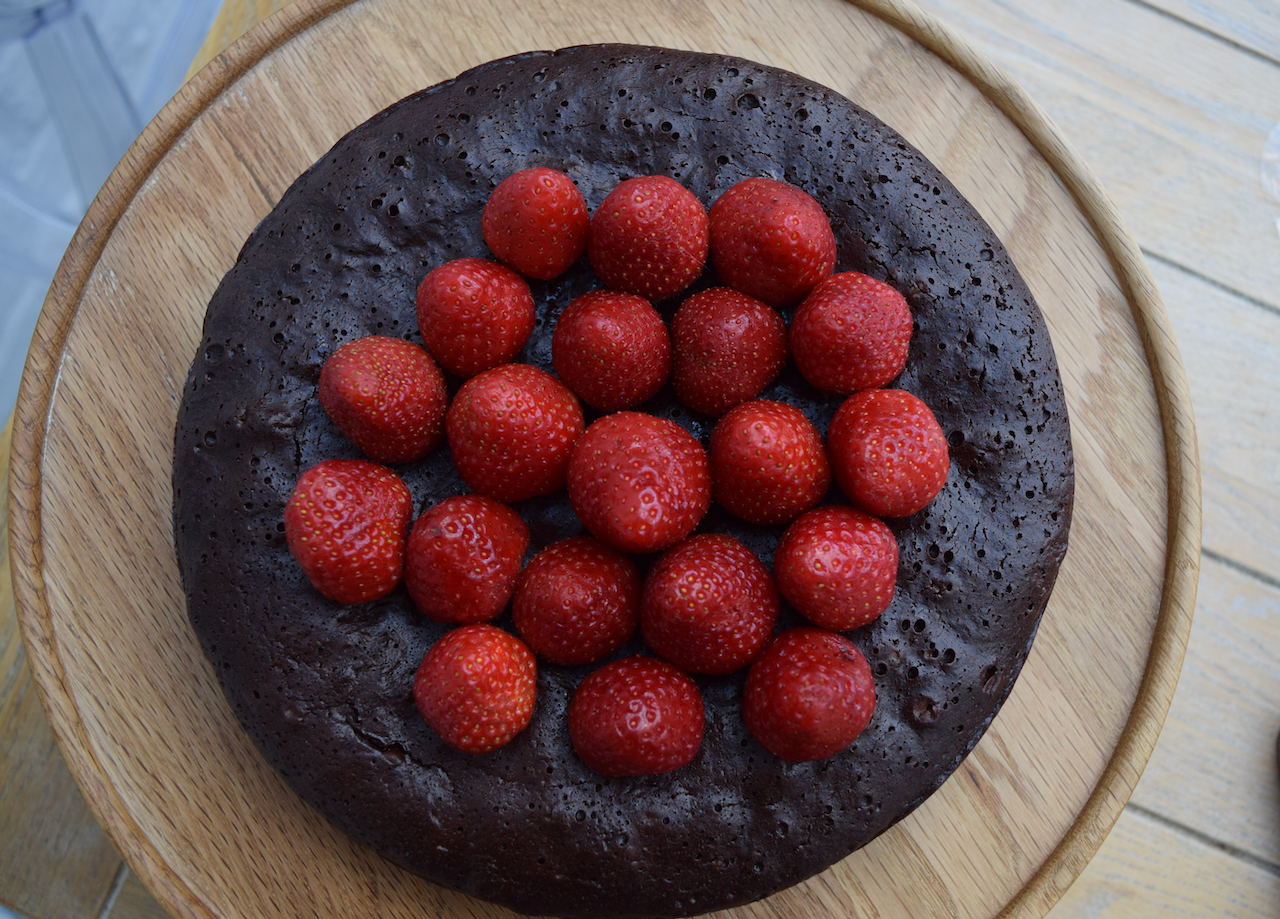 Dust with a little icing sugar if you like then prepare your cream or ice cream choices. Then serve, and for once, small elegant slices are best. You could always go in for seconds.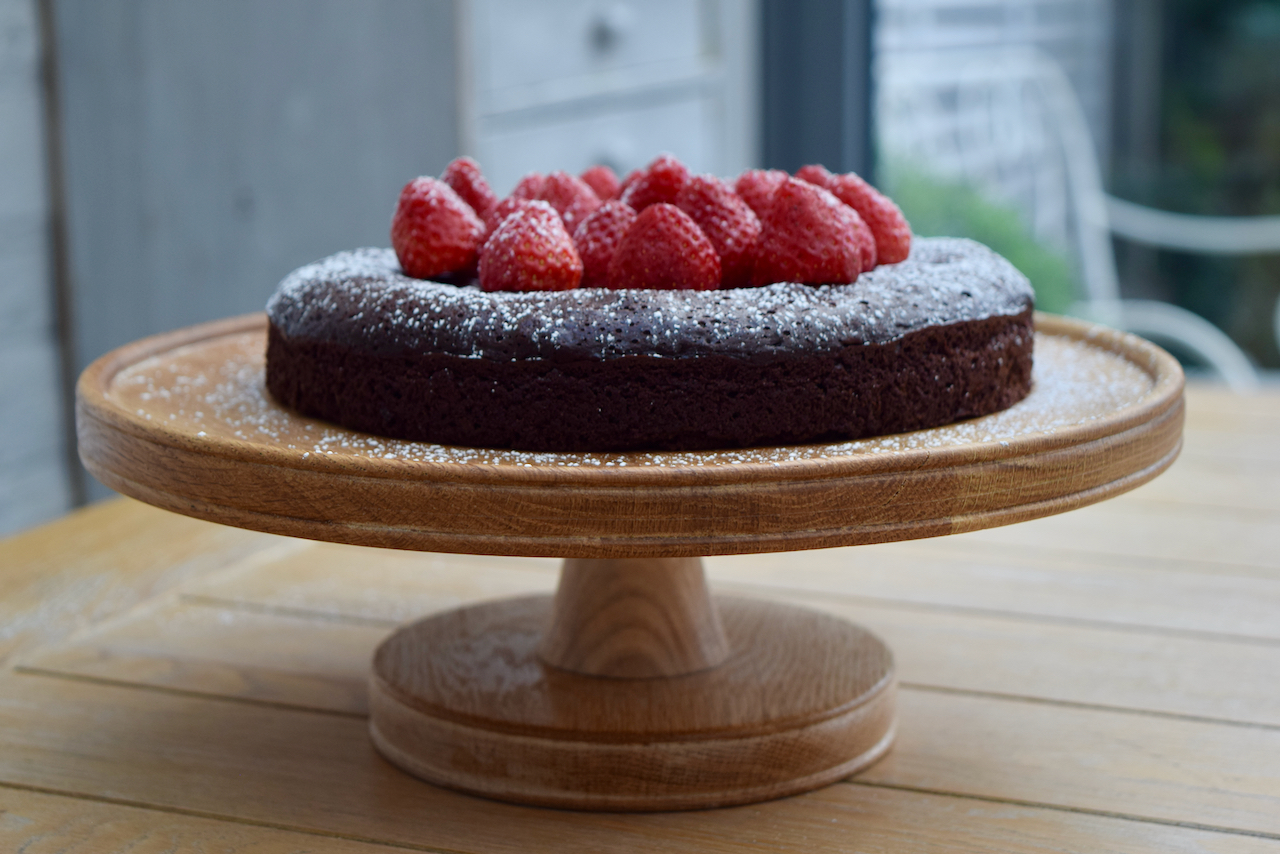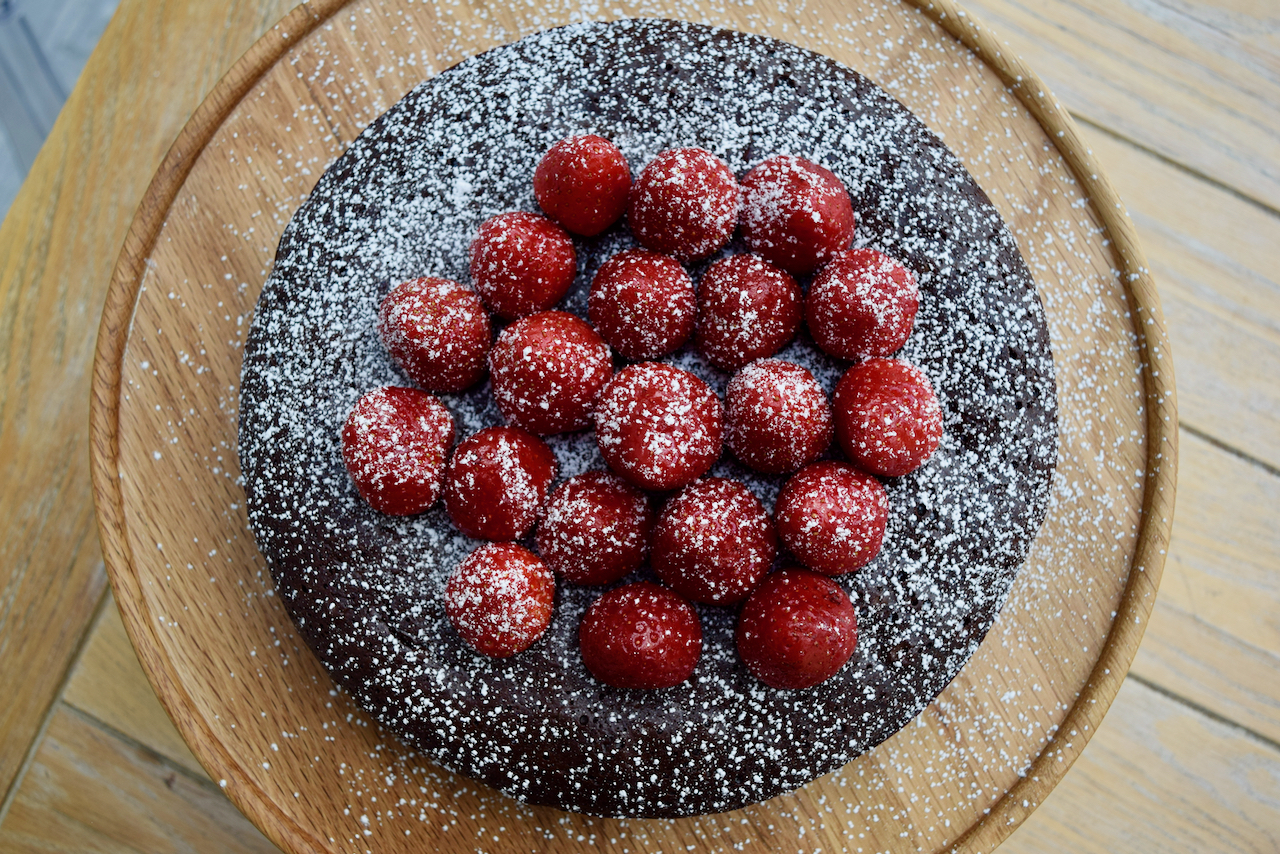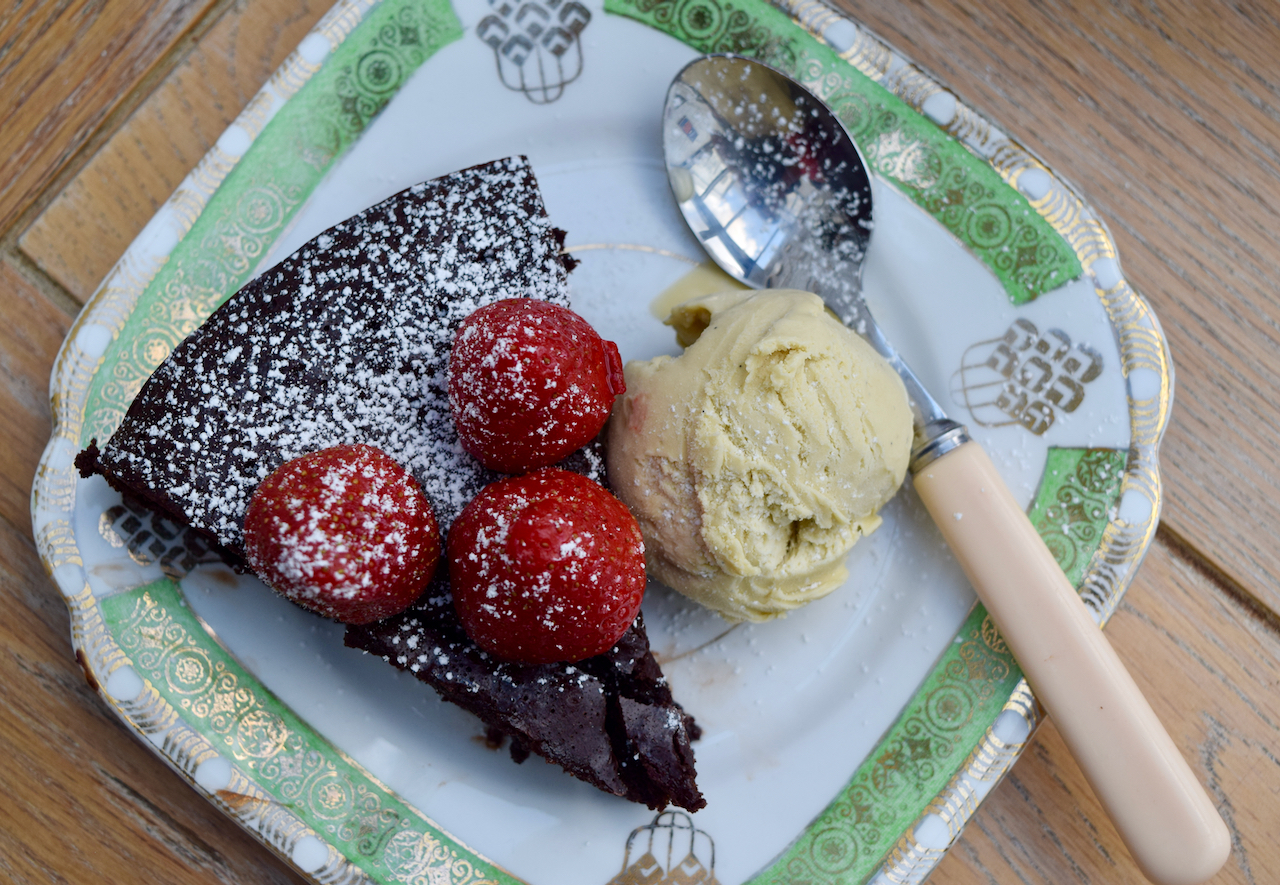 If you do have 5 other people joining you, in a socially distant way, for dinner anytime soon, then this easy one bowl, gluten free, richer than rich flourless chocolate cake is for you. Just don't tell them about the easy part, it will spoil it for everyone.
Lucy x
Rich Flourless Chocolate Cake recipe
Serves 6 to 8, greed dependent
You will just need a bowl and an 8 inch loose bottom cake tin for this
115g butter
170g dark chocolate, anything over 50% cocoa solids is good
135g caster sugar
2 teaspoons instant espresso powder
1 1/2 teaspoons vanilla extract
4 eggs
28g cocoa powder
A pinch salt
1/2 teaspoon baking powder, make sure it's a gluten free one if you want the cake to be gluten free
Strawberries or raspberries to decorate and cream or ice cream to serve
Line your loose bottom tin with baking paper and butter the sides. Pre heat your oven to 160 degrees fan assisted.
In a large bowl melt the butter and chocolate either over a bowl of simmering water or in the microwave. Once the butter has melted, stir the mixture together until it glossy. Leave to cool for a moment.
Whisk the caster sugar, coffee powder and vanilla into the chocolate mixture then mix in the eggs until smooth.
Finally whisk in the salt, cocoa and baking powder until you have a thick batter. Pour this into your lined tin.
Place a roasting tin in the bottom of the oven and pour in a kettle of boiling water. Pop in the cake and shutting the door quickly to trap the steam. Bake the cake for 25 to 30 minutes, or until it just firm to the touch and starting to pull away at the edges. Take out of the oven and leave to cool in the tin for 10 minutes. Remove from the tin and take off the lining paper and leave to cool completely on a wire rack.
Place on a cake stand and decorate the top with raspberries or strawberries dusted with icing sugar. Serve with cream or ice cream, or, as always, both.
Leftover cake will keep, well wrapped, in the fridge for a couple of days.