Oreo Chip Cookies Recipe
I did warn you Lucy Loves would be all about the children this week and I wasn't lying. Mine have already emptied the fridge and my purse and it's only Wednesday. I have been robbed for swimming, ice cream, pancakes, shorts, t-shirts and the contents of the snack cupboard. But, at least they're having fun and the sun has been making quite a few guest appearances. So, to continue keeping the family happy and entertained, today I am sharing this wonderful chewy Oreo Chip Cookies recipe.
Oreos and children seem to go hand in glove. I am not entirely sure of their appeal, give me a whole packet of custard creams anyday, but I really could take or leave Oreos. Unless they are my homemade Golden Oreos, of course. However, they are massively popular in our house and crushed up in these cookies, they become really rather tasty. The Oreos add a strange grey hue to the dough, but this is overridden by the delicious chocolatey sweetness of the crumbs. The dough is v soft so I decided to chill it down for a while before cooking, however, it does still spread quite a lot in the oven, so make sure you leave plenty of space between each dough ball. Otherwise, you will just make one large Oreo Chip Cookie.
These are the sort of flat, chewy cookies, so make sure you leave them slightly undercooked on the baking tray. They have a tasty softness to them, with the addition of a touch of crunch from the extra chunks of Oreos. Yum. I only cooked off half the dough and kept the other half safely wrapped in clingfilm in the fridge for such times when we are a treat free house. You can then have freshly baked chewy Oreo Chip Cookies in the space of 10 to 12 minutes. I can't guarantee they will last much longer once they come out of the oven, however, unless you have a really good biscuit hiding place.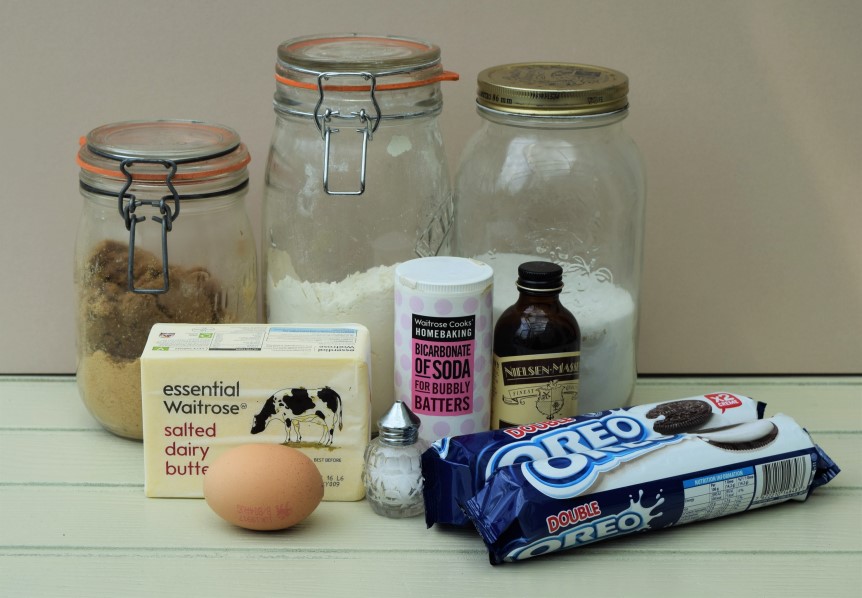 Here's the tasty looking line up. The inspiration for which came from the wonderful Buzz Feed and their super teen friendly video recipes. I could only get double filled Oreos but I think normal filled ones would be best as my dough was a bit filling heavy. Please spot my crapness and note you need 2 eggs for this recipe and not 1. I wasn't even hungover either, just rubbish.
Make a start by crushing the first packet of Oreos in slightly aggressive fashion with a food bag and a rolling pin or in a food processor for a less feisty method.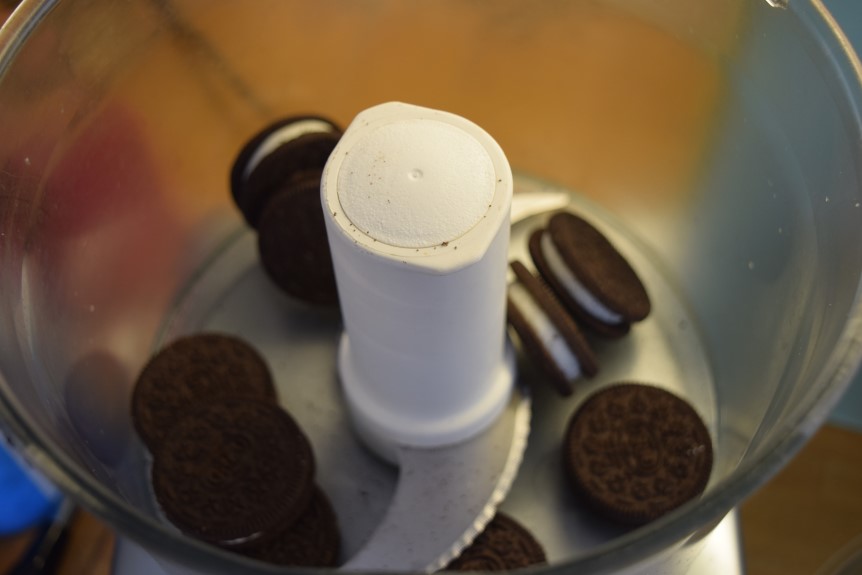 Tip the crumbs into a bowl along with the plain flour, bicarbonate of soda and salt and pop to one side.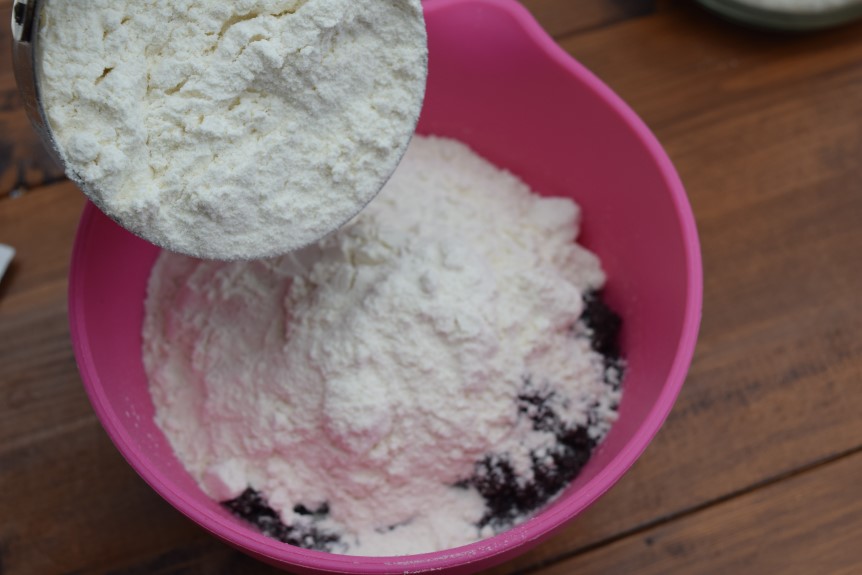 For the next step, either in your food processor again or in a large bowl with a wooden spoon, add the soft butter and both the brown sugar and caster sugar.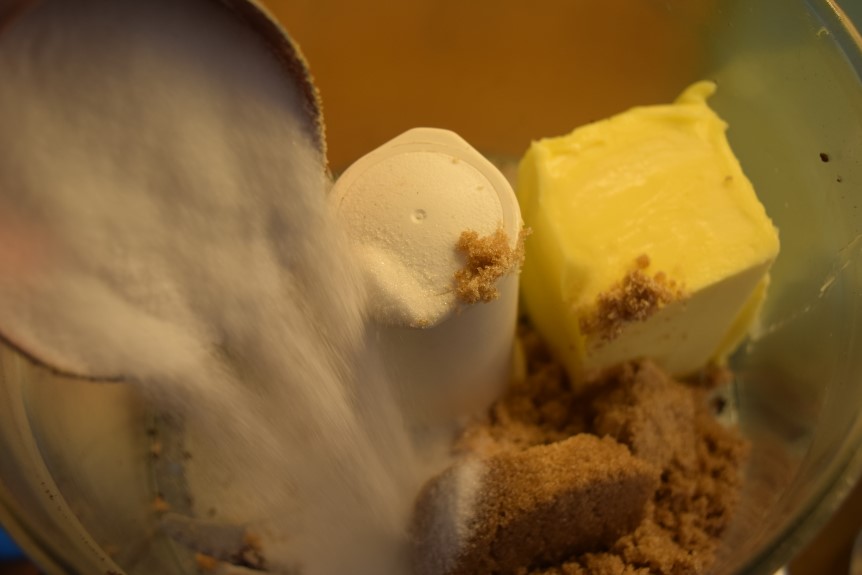 Next, drop in the 2 eggs and the vanilla extract then process or beat/mix until smooth.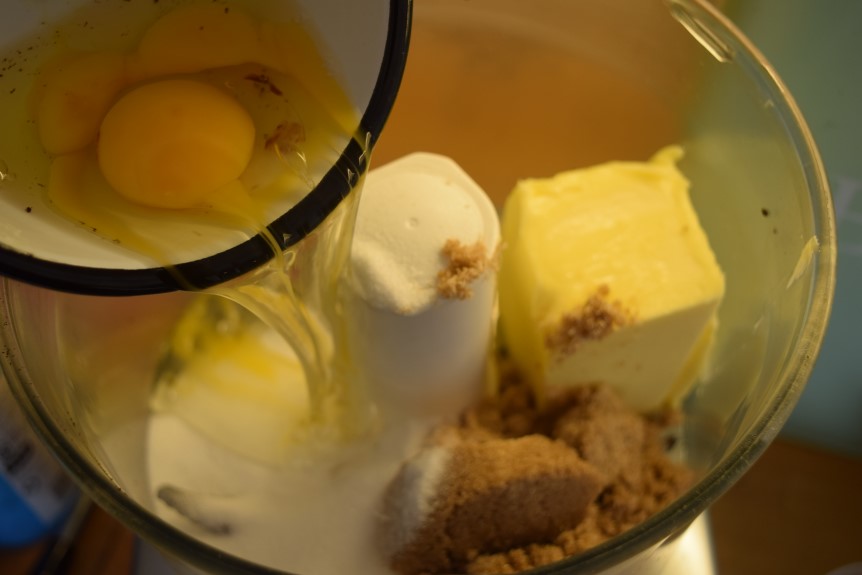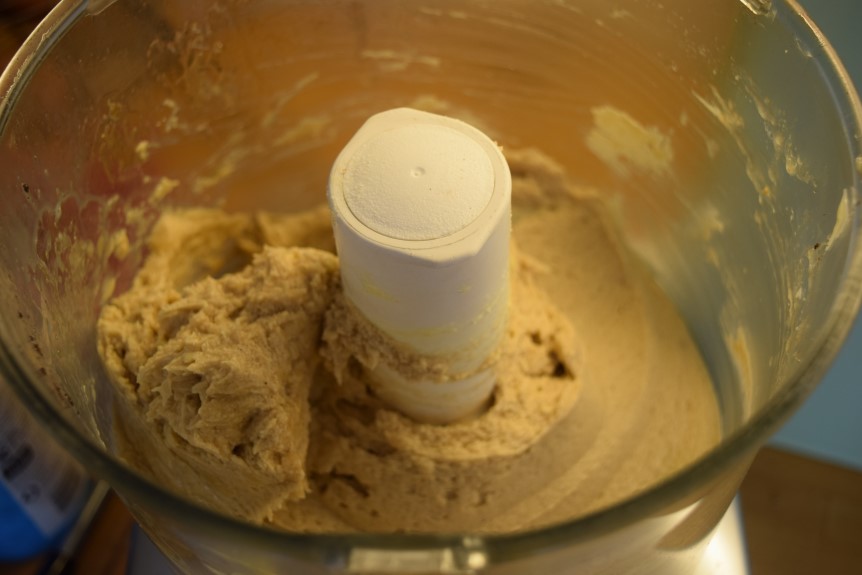 Now, pour in the flour/cookie crumb combo and process or mix again until you have a smooth cookie dough type texture.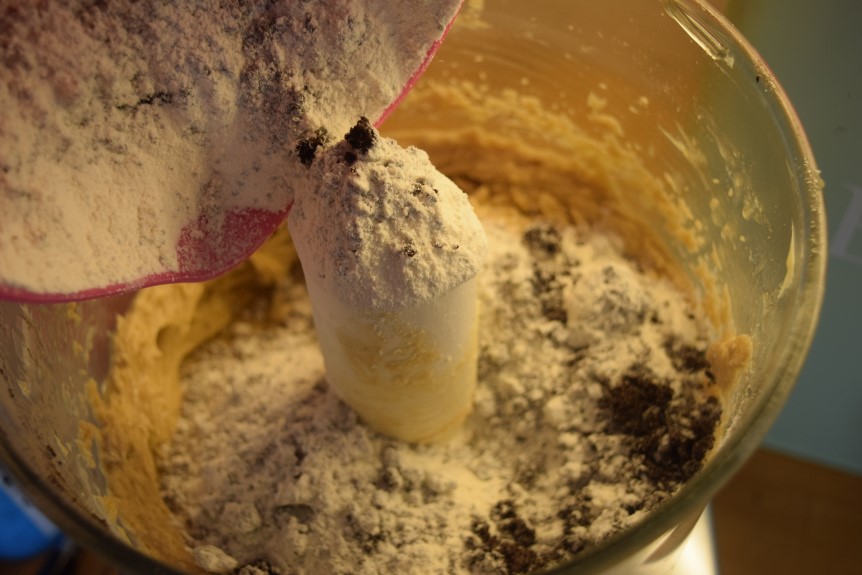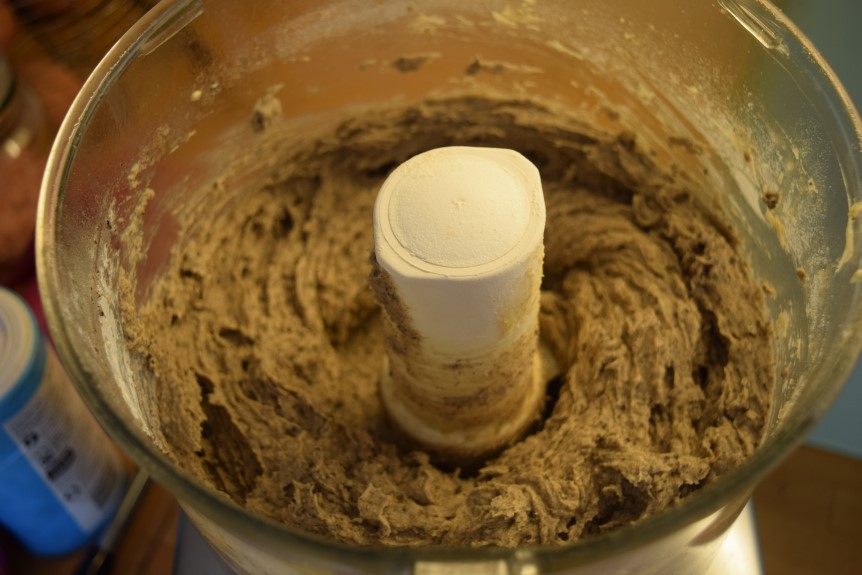 If you accidentally eat a big mouthful of the dough at this point, it wouldn't be the end of the world. It's absolutely delicious *raw egg warning, blah blah blah*.
In a final flourish, chop the second packet of Oreos into chunks and stir this through your dough base.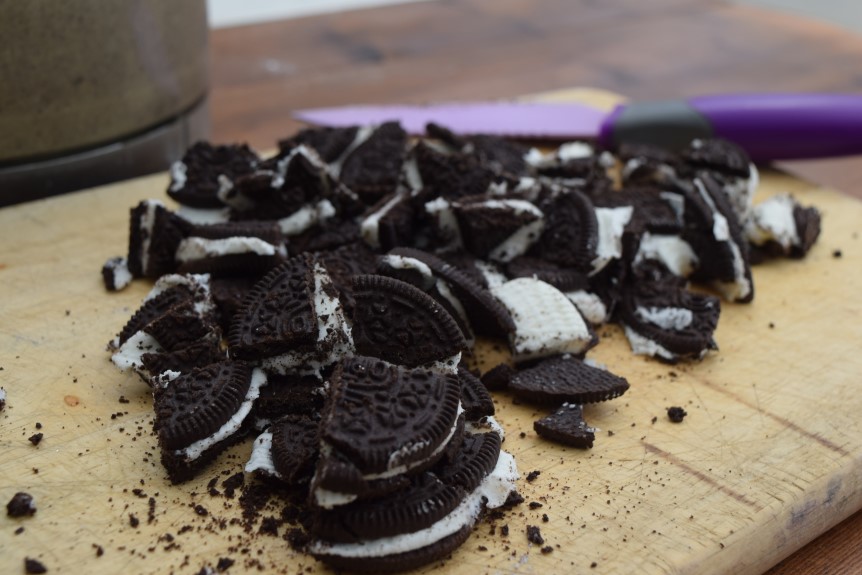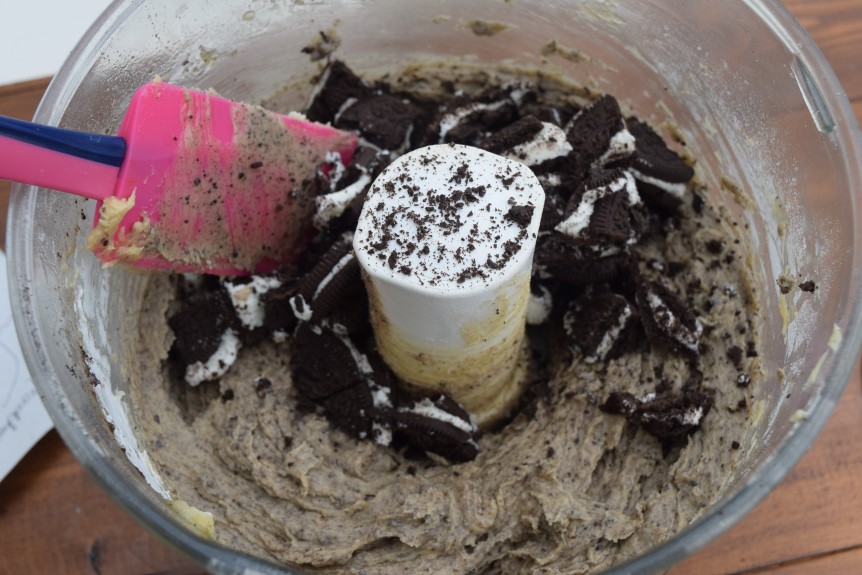 Wrap this biscuit laden dough in some cling and pop in the fridge for an hour or the freezer for half an hour to firm up a little.
When you are ready to cook your cookies, pre heat the oven to 160 degrees fan assisted. Then line a couple of baking trays and unwrap your chilled dough. Roll into walnut sized balls and pop them onto your trays. As I mentioned earlier, leave plenty of space in between to allow for spreadage.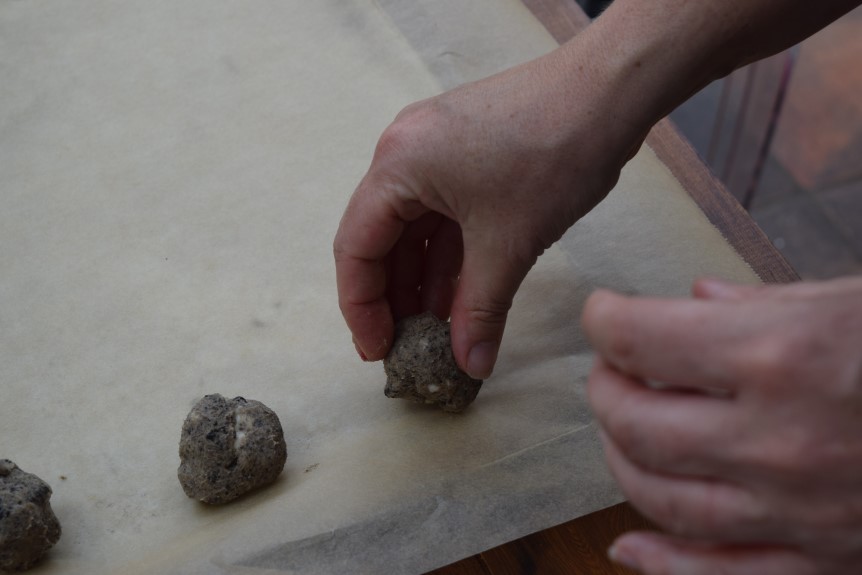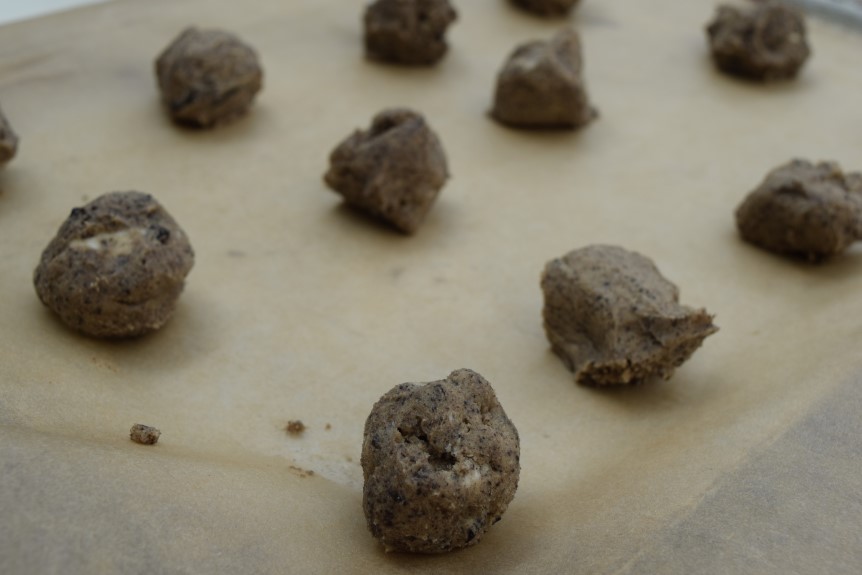 Bake these little beauties for between 10 and 12 minutes. They should just be turning golden but still be slightly soft in the middle. If you prefer a crisp biccie, leave for a minute or two longer.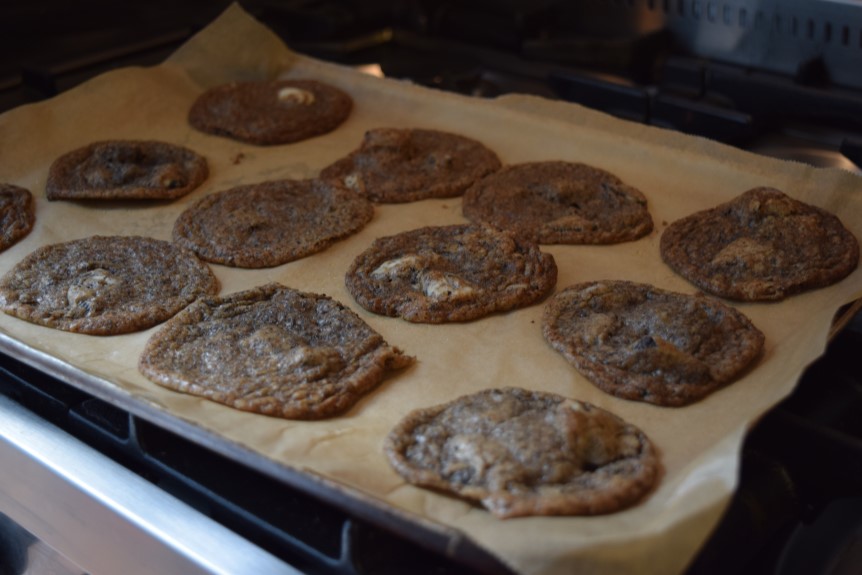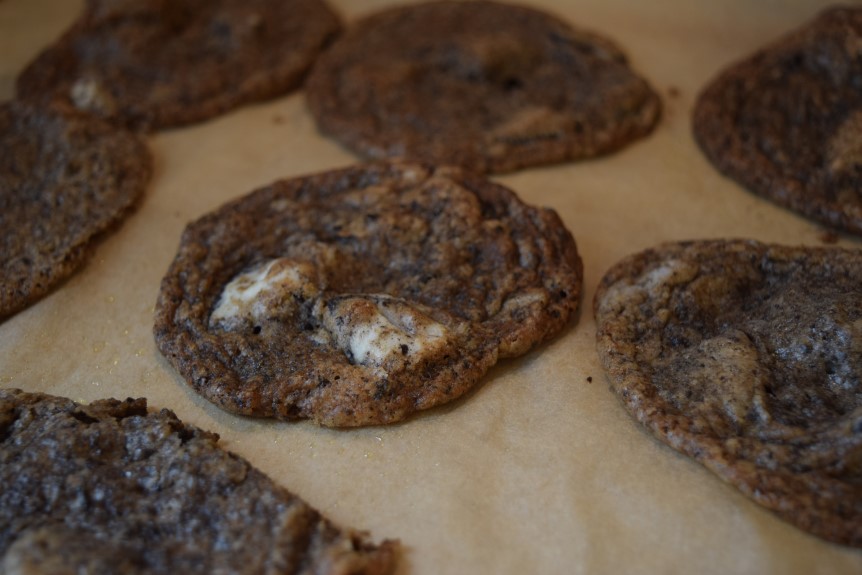 Leave these to cool completely on the tray *ha ha I ate three while they were burning hot* then store in an airtight tin or jar for the scant amount of time before you and your family see them all off.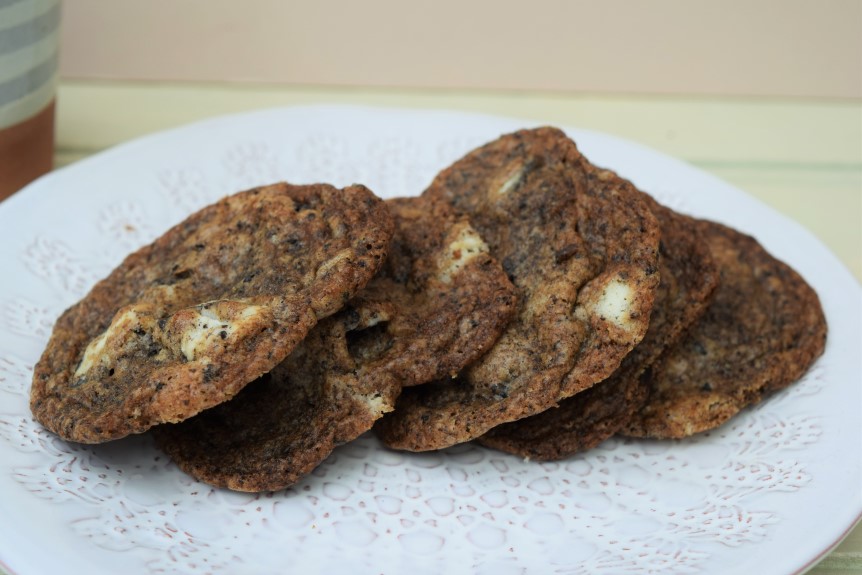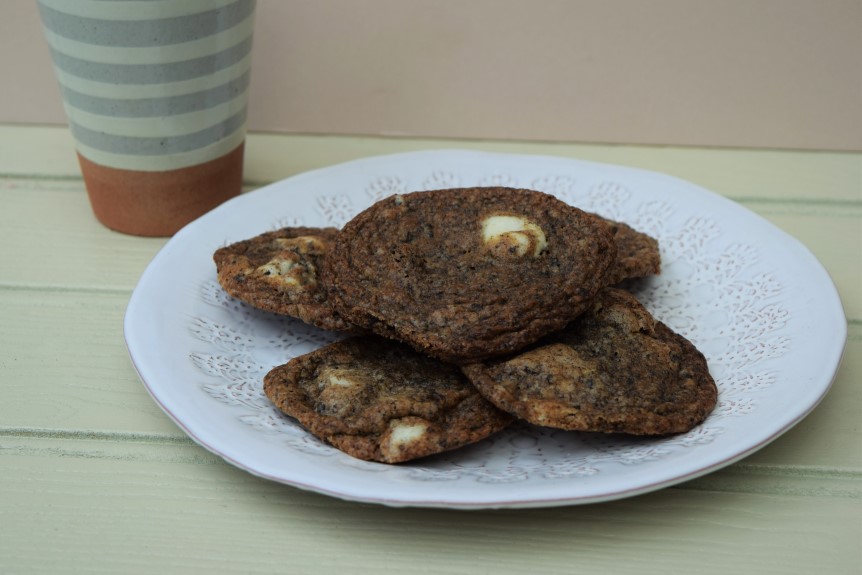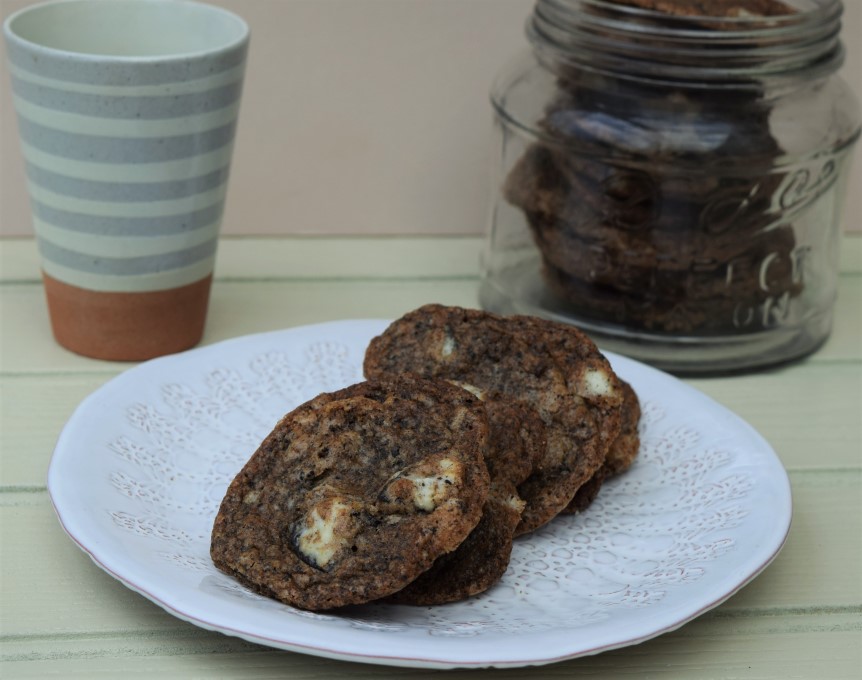 These are super sweet, super chewy Oreo Chip Cookies. They don't have any health qualities, but they may just be the perfect purveyors or an afternoon energy boost or just the tastiest sweet treat.
Lucy x
Oreo Chip Cookies Recipe
Makes around 45 cookies, size dependent
You will need a couple of lined baking trays
2 packets of Oreos, one crushed into crumbs, one just chopped into chunks
250g plain flour
1/2 teaspoon bicarbonate of soda
1/2 teaspoon salt
2 eggs
1 teaspoon vanilla extract
225g soft butter
200g soft brown sugar
110g caster sugar
Take the first packet of Oreo biscuits and crush to fine crumbs in a processor or in a ziplock bag with a rolling pin. Add these to a bowl along with the flour, bicarb and salt and put to one side.
In the bowl of your stand mixer or in bowl with a wooden spoon, mix together the soft butter, both sugars, 2 eggs and the vanilla extract. The mixture should be light and well blended. Fold in the flour and Oreo crumbs mixture until you have a soft dough consistency.
Chop the second packet of Oreos into chunks and stir this through the cookie dough. Wrap the dough in cling film and leave to chill in the fridge for an hour or in the freezer for half an hour.
When you are ready to cook the cookies, pre heat the oven to around 160 degrees fan assisted.  Roll walnut size balls of dough and place on lined baking sheets. Leave a good space between each ball as these will spread. Cook for 10 to 12 minutes, or until just starting to turn golden. I prefer a doughy undercooked cookie, so do give these another minute or two if you prefer yours crisp. Store the baked cookies in an airtight tin for up to a week.