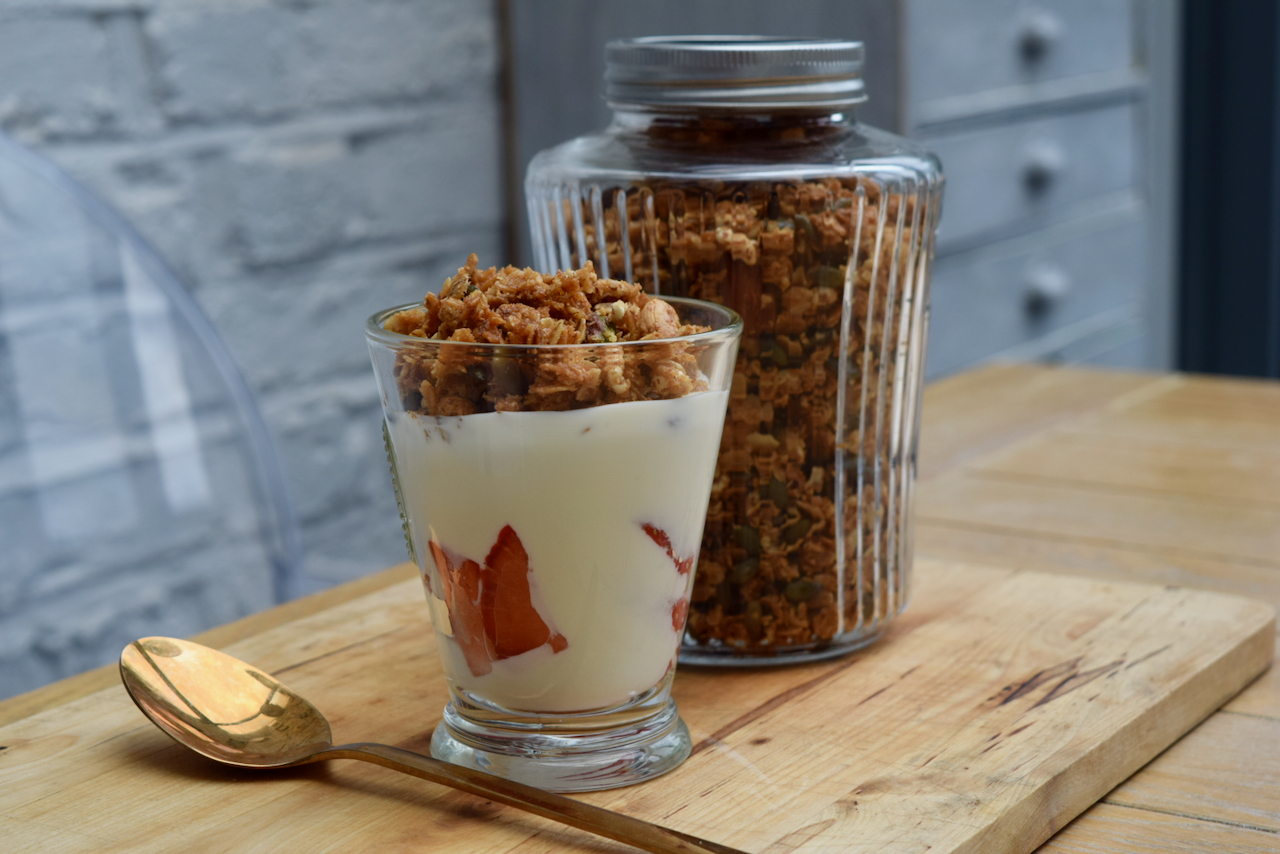 Puffed Whole Grain Granola recipe
My eating habits over the last four months have been erratic, at best. Losing my Dad so suddenly left me with no appetite whatsoever and then being lockdowned almost immediately afterwards, threw another eating spanner into the works. A constant, however, of my current stay at home existence, has been Granola. Even if I'm feeling miserable, I can usually manage to enjoy a bowl with a hearty dollop of Greek yoghurt. Finding new recipes is a hobby of mine and the whole family are thanking me for seeking out this Puffed Whole Grain Granola variety.
The name doesn't scream delicious breakfast fodder. But, it bloody is delicious breakfast fodder. This granola features a whole array of whole grains. I've used puffed spelt and barley flakes for the bulk of my granola; I have high cholesterol so these elements are meant to help with this. But by all means, don't go to special shops for these, this granola is just as fab with puffed rice, wheat or with oats instead of the barley. The olive oil, along with the nuts, are super examples of good fats, also said to have cholesterol reducing properties. A big virtual hug to the New York Times, for their wonderful recipe.
Of course, I'm not a doctor, I'm just a homecook with a penchant for granola and yoghurt. However healthy this crisp, nutty, not too sweet, but sweet enough breakfast offering is, it certainly isn't a chore to eat, it's a total bloody pleasure.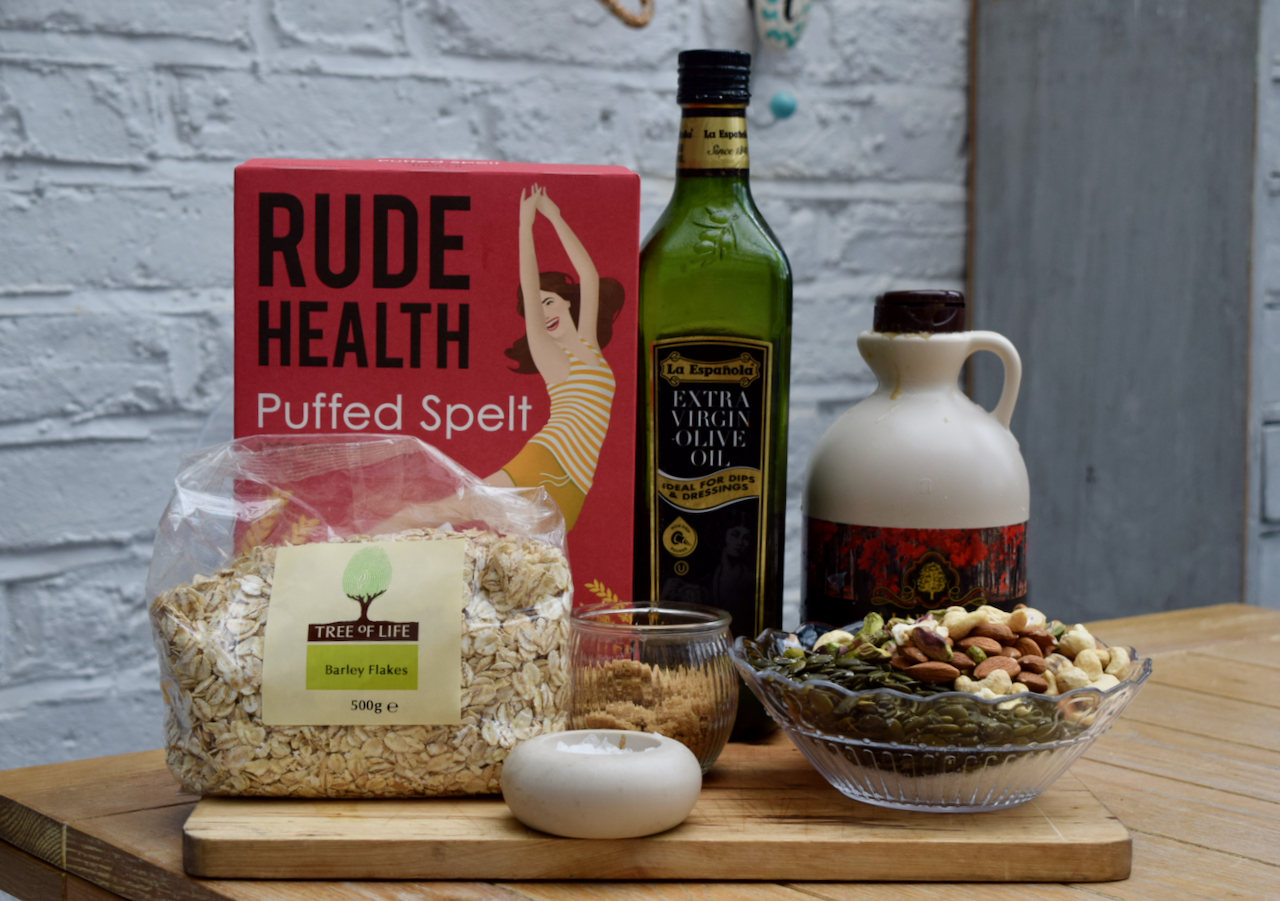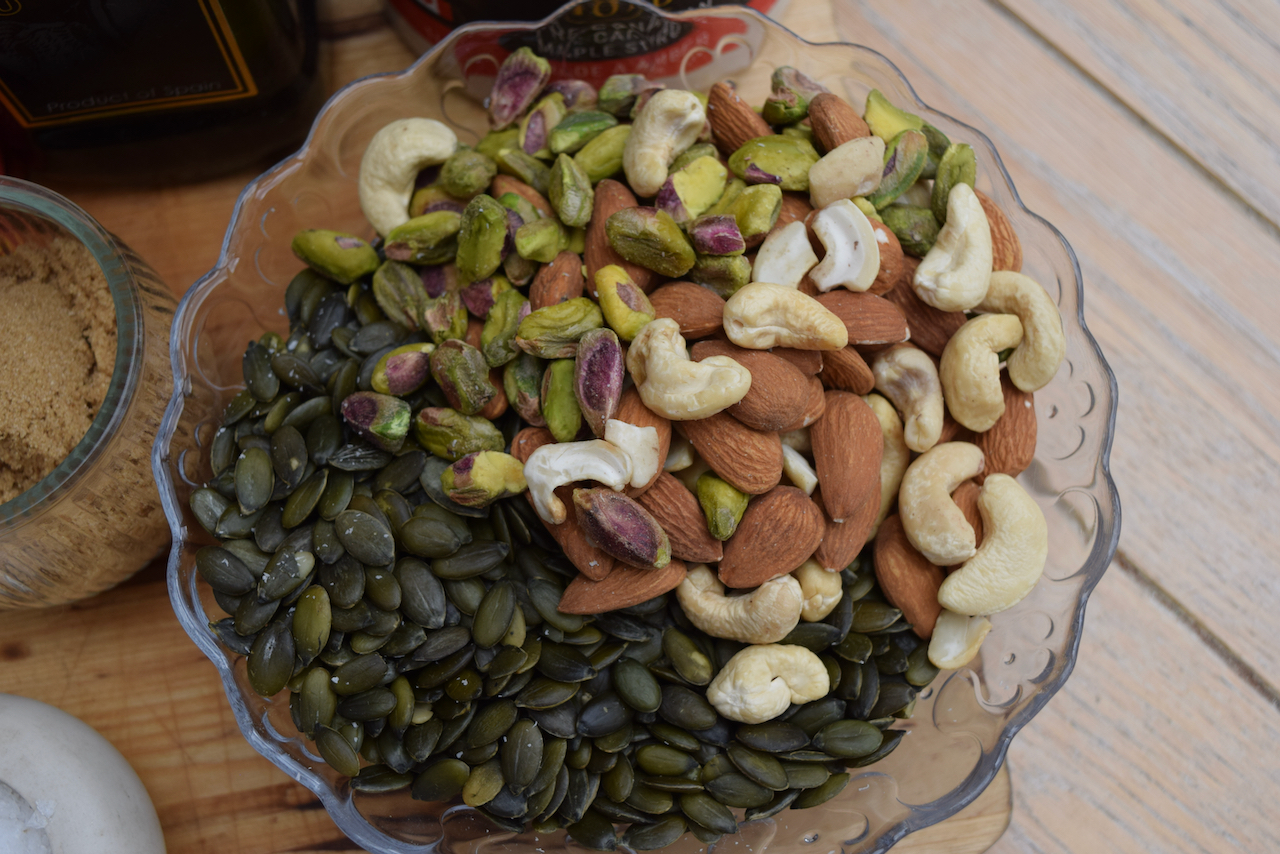 As usual, don't panic if you haven't got any of these ingredients to hand. This recipe is a template so you can use what you have. I had to seek out puffed spelt on Ocado, however, I have made this recipe using Rice Krispies instead, so there's no need to be too precious. Just to say, don't be put off by the olive oil, it really works, I promise you. I went for maple syrup too, as I had a big bottle from a fondly remembered trip to Costco.
Right, onwards and upwards. Pre heat the oven to 160 degrees fan assisted and line a large baking sheet with greaseproof paper. This is a one bowl affair, so start with a bowl. Measure in the barley or oats, spelt or other puffed business, coconut, seeds and nut selection. Fold through the brown sugar and salt and mix to combine the whole lot. Btw, can I just say I couldn't be arsed to chop my nuts, but if you can, fill your boots.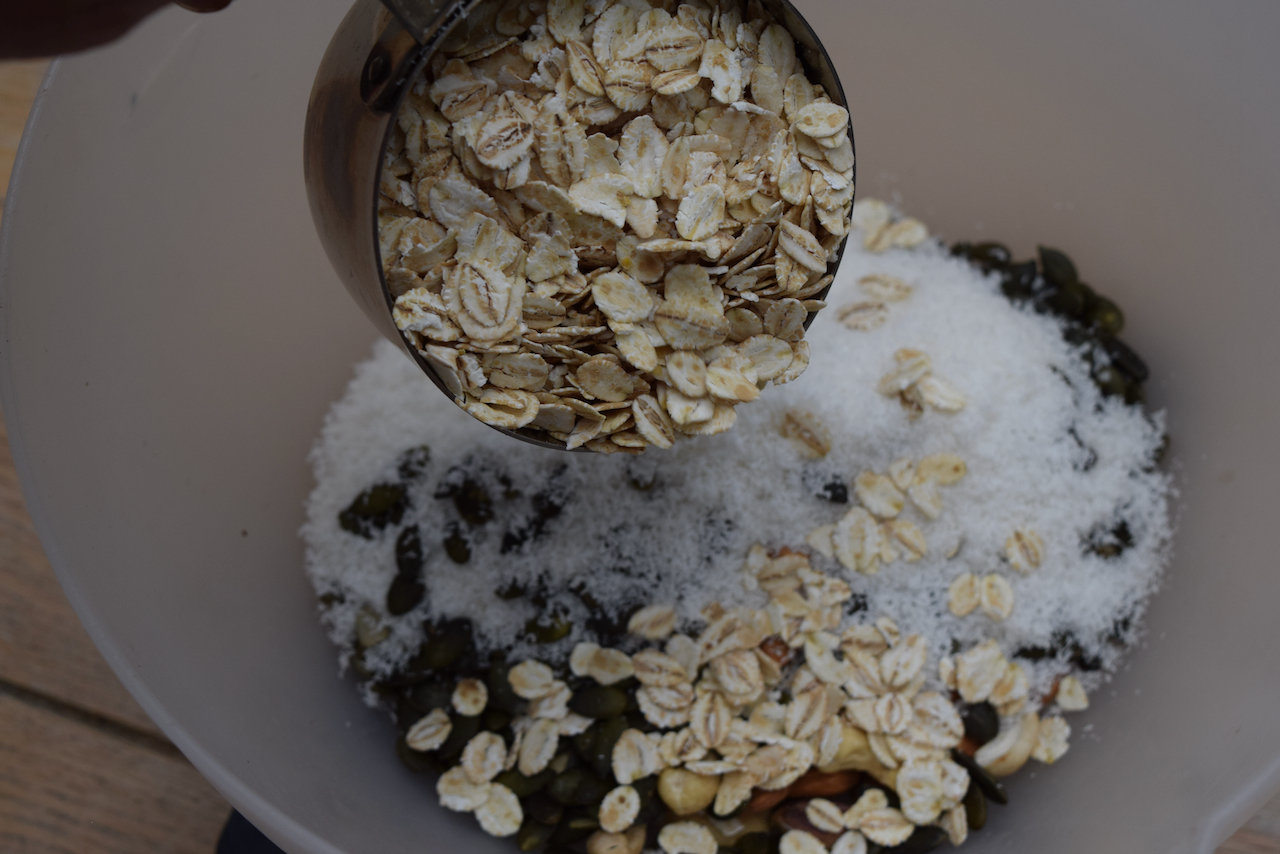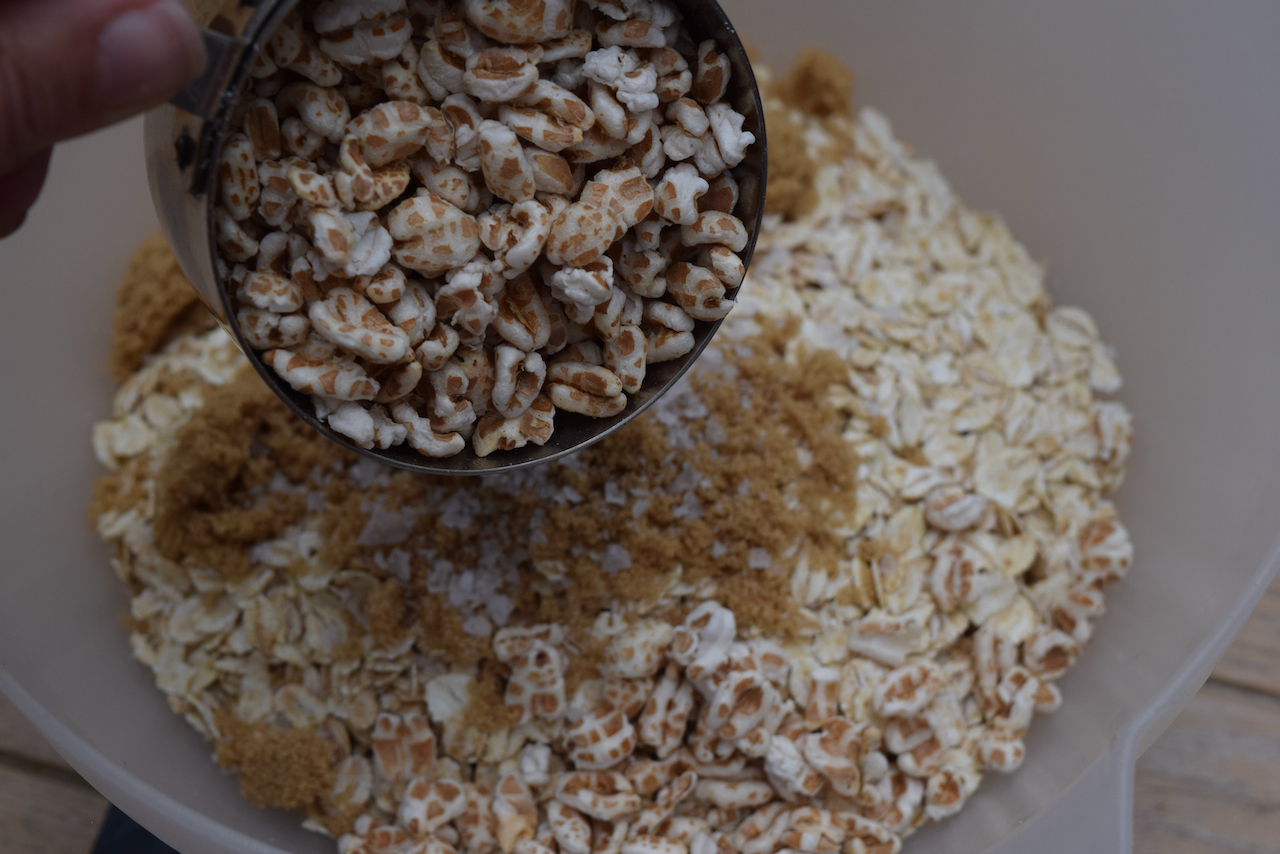 Now, if you're using honey you may need to give it a quick blast in the microwave to loosen it first. Pour this honey or maple syrup on, along with the 100ml extra virgin olive oil.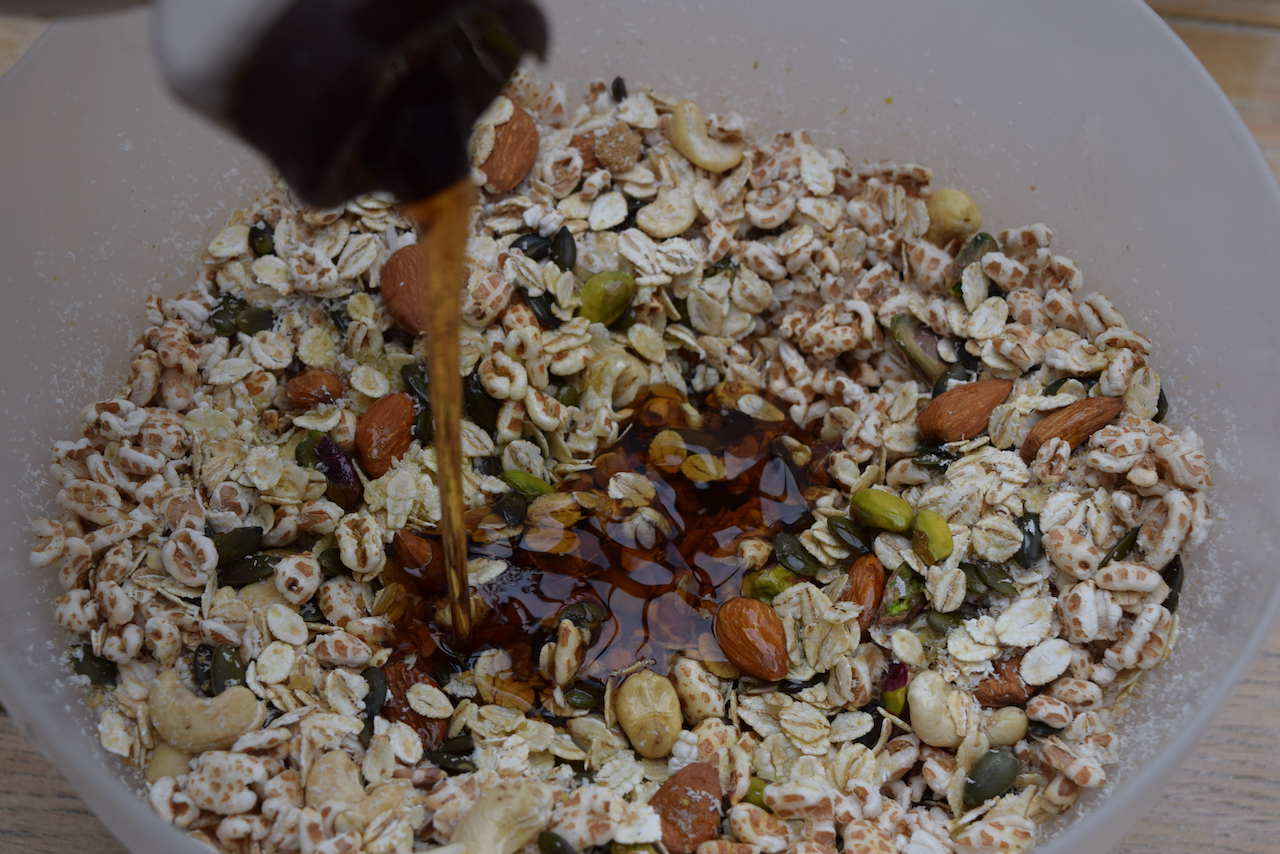 Give it all a hoofing great big stir to ensure every grain is coated in the oil and sweetness.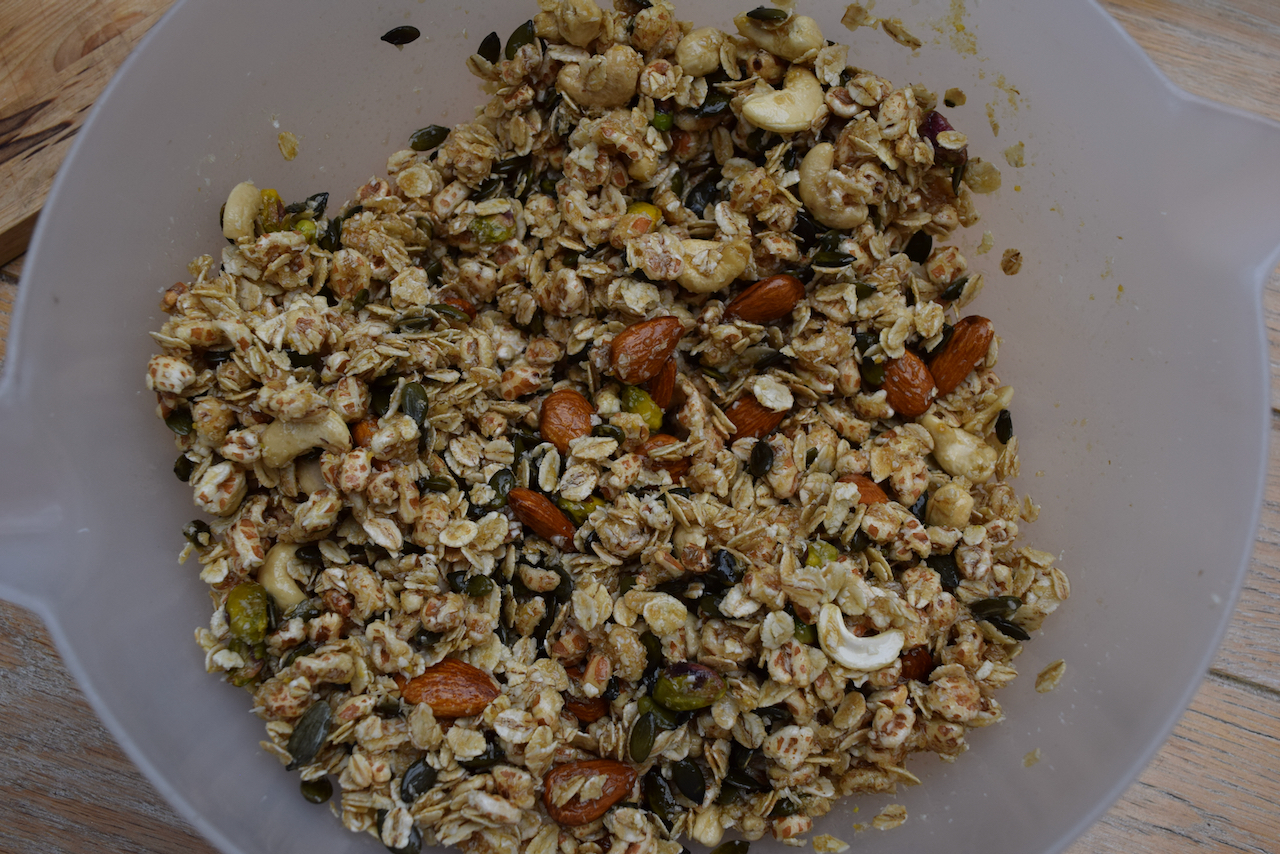 Tip the granola onto your lined baking tray and spread it out into one even layer. Use two baking sheets if yours are small.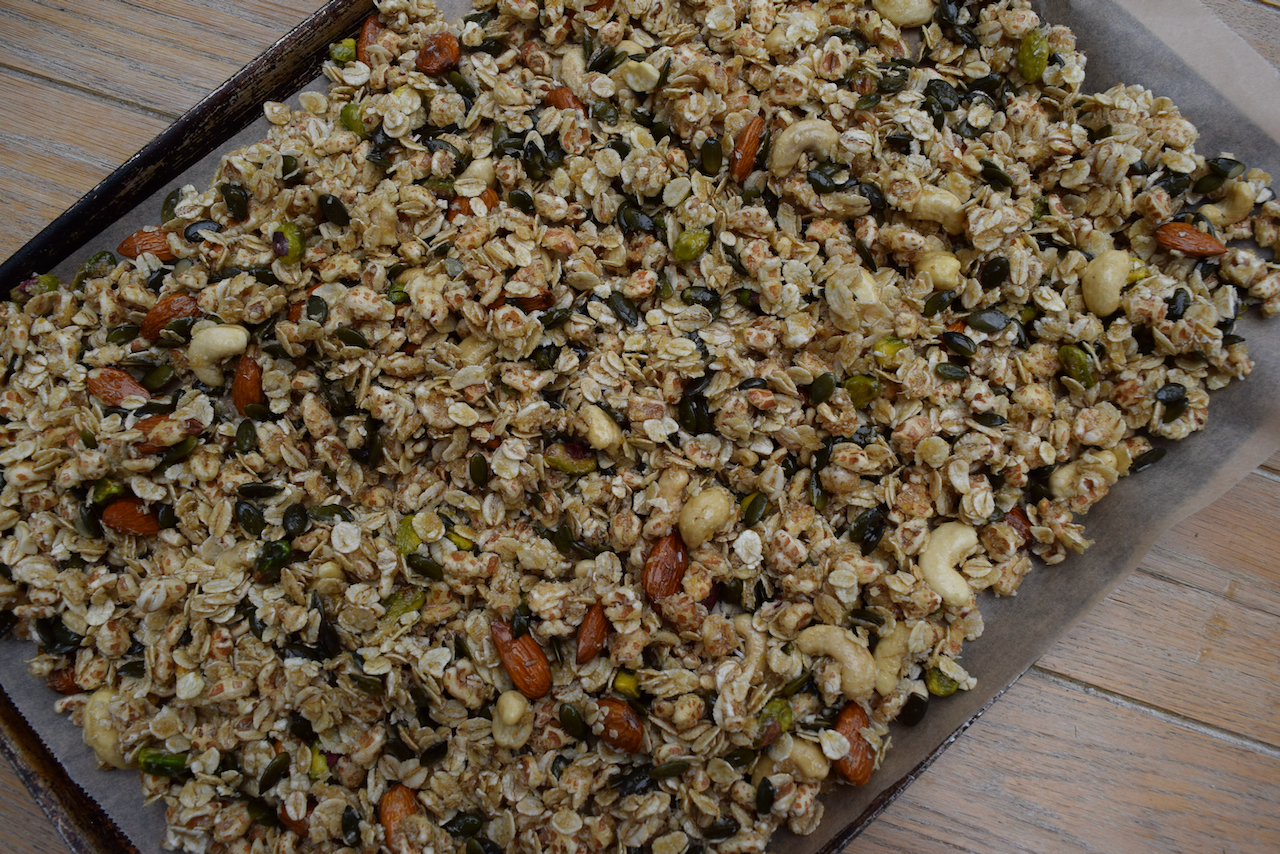 Bake this healthy-ish trayful in your pre heated oven for around 40 to 45 minutes. Give it a good stir every 15 minutes in order to get an even browning all over. Draw the granola into the centre of the tray and mix well as it does brown more on the edges.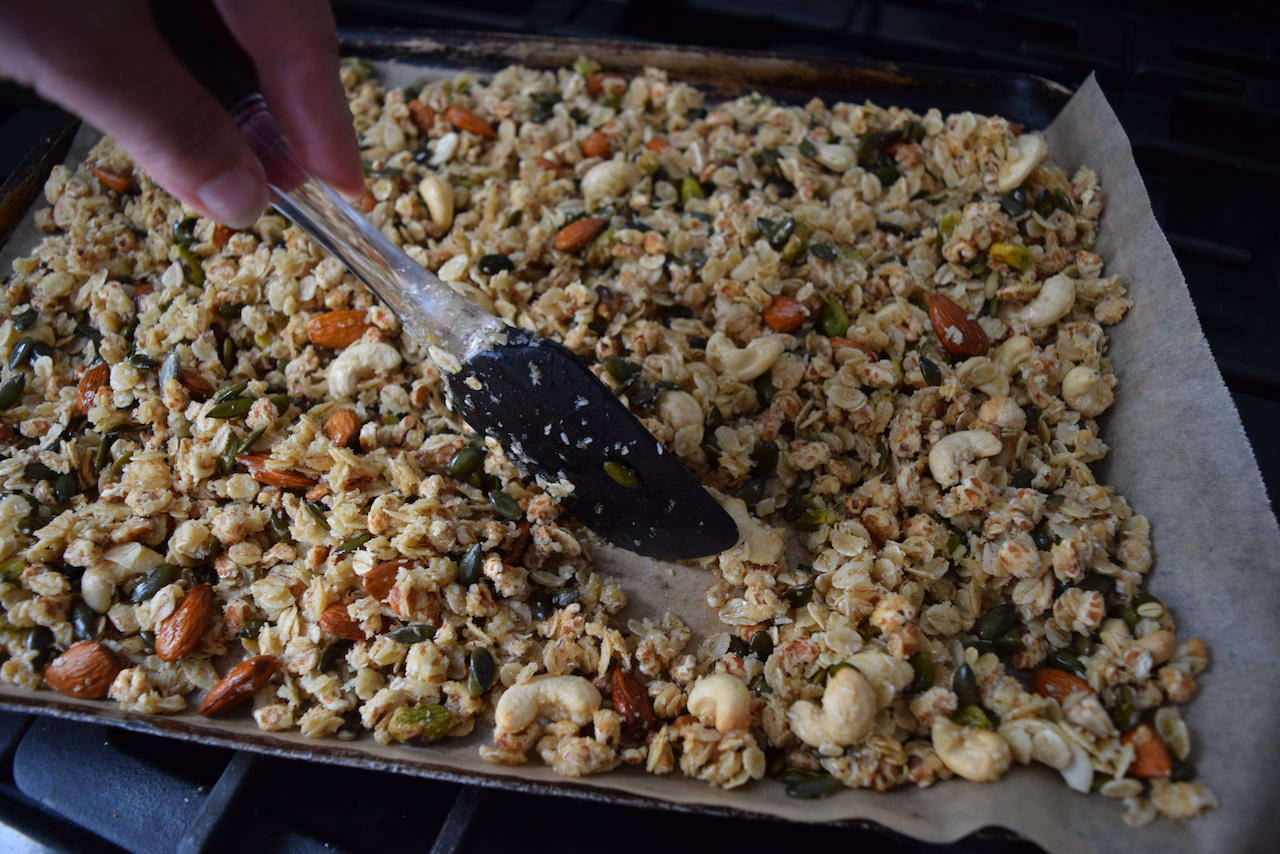 It's all ready for you when it's golden, crisp and smelling so irresistible you could eat large mouthfuls right there from the tray.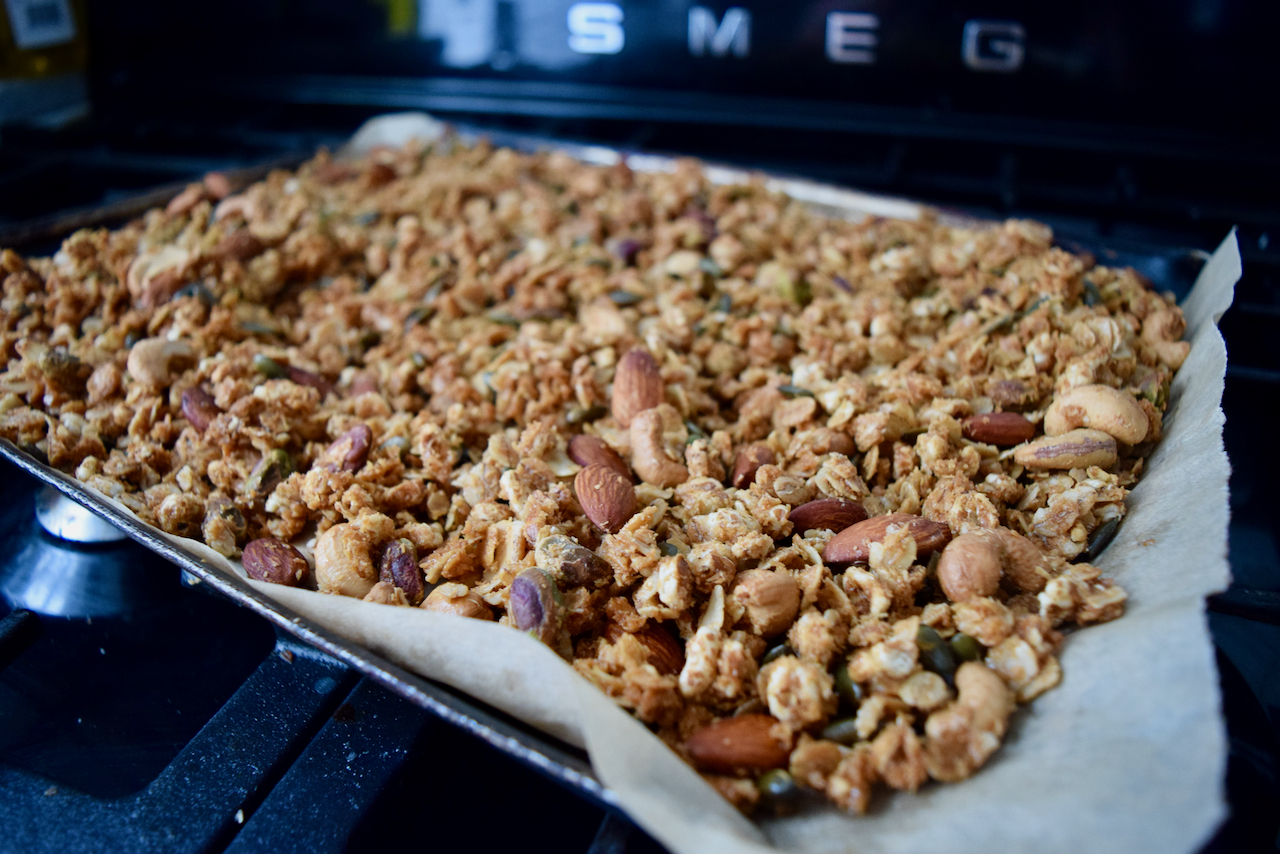 Try to restrain yourself and leave the granola to cool before popping into a couple of airtight jars. I love making little fruit and yoghurt granola pots with mine and then devouring them.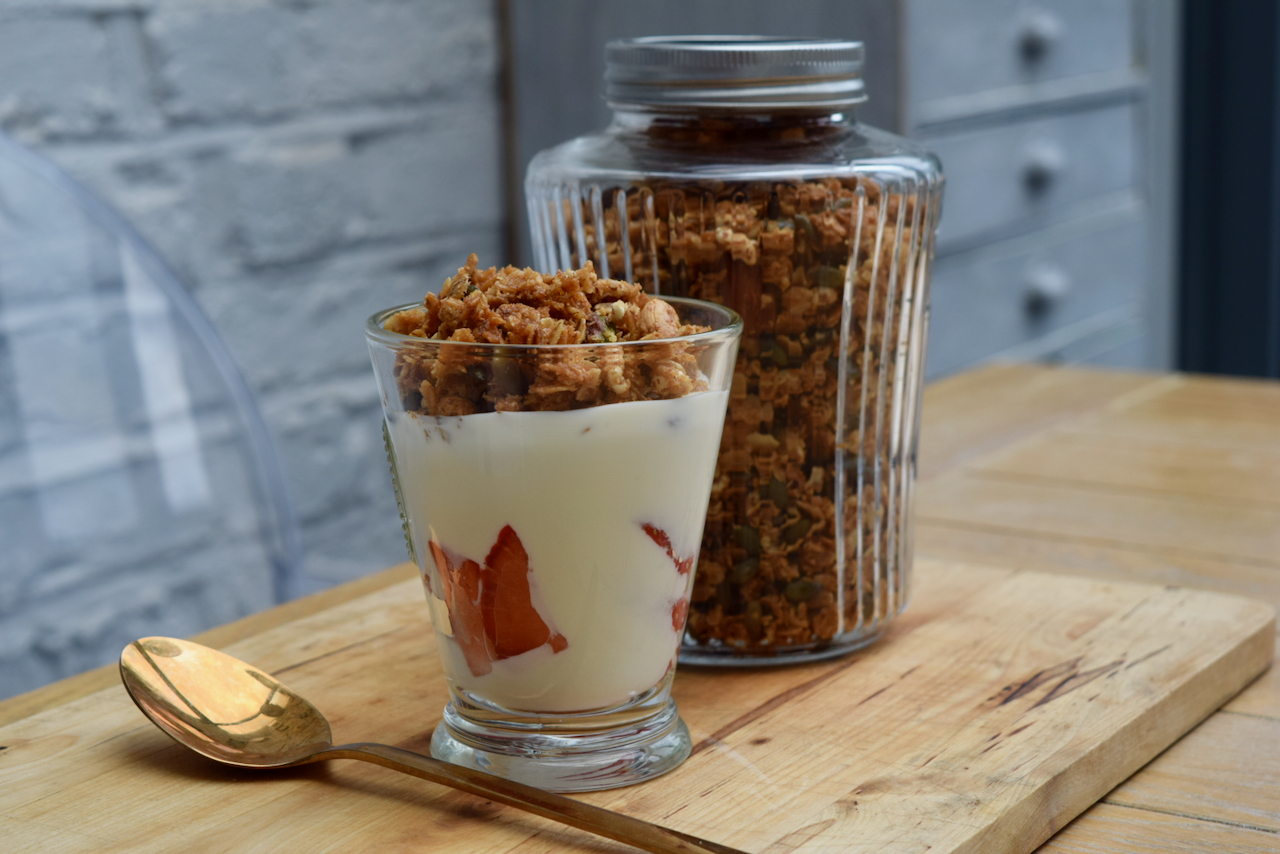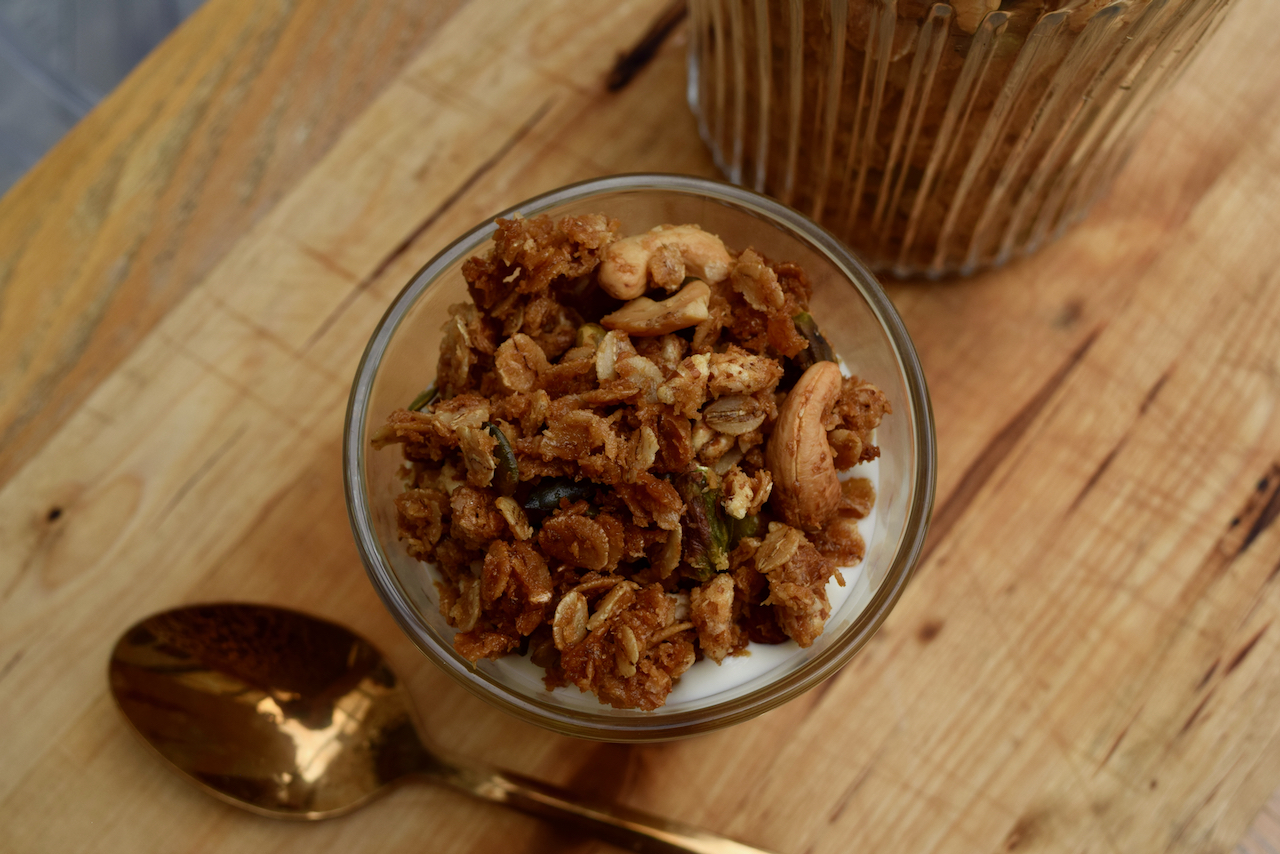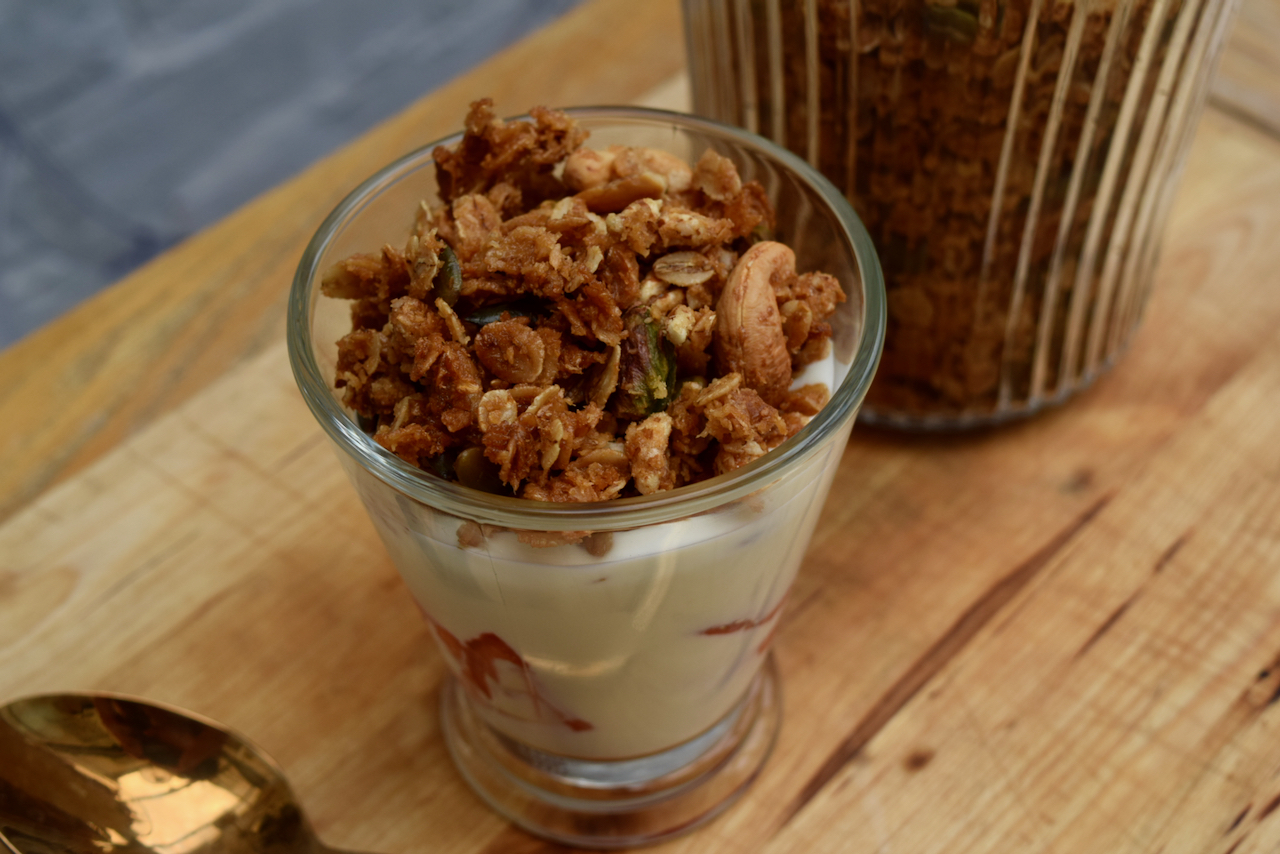 This is an effortless recipe with huge reward. I can eat this Puffed Whole Grain Granola for breakfast, lunch and dinner. Annoyingly, so can Clyde and George so I am, currently, filling my days filling empty granola jars.
Lucy x
Puffed Whole Grain Granola recipe
Makes a good two jars worth
You will just need bowls and a baking sheet
30g puffed spelt, wheat or even puffed rice (Rice Krispies)
180g barley flakes or oats
150g nuts, I went for a combo of almonds, cashews and pistachios, roughly chop them if they're big
100g pumpkin seeds, or whichever seeds you have to hand
60g desiccated coconut
50g soft brown sugar
1 teaspoon sea salt
160ml honey or maple syrup
100ml extra virgin olive oil
Yoghurt and fresh fruit to serve, if you like, or just have with milk
Pre heat your oven to 160 degrees fan assisted and line a large baking sheet, or two if they're small, with baking paper.
In a large bowl measure in the puffed grain, barley or oats, nuts – chopped if they're on the big side, seeds, desiccated coconut, brown sugar and salt. Give it all a good mix to combine.
Pour on the honey or maple syrup and olive oil. If your honey is not runny enough, give it a couple of seconds in the microwave before you add to the mixture.
Stir well making sure every grain is coated. Tip the granola onto the lined baking sheet and level into a single layer. Pop into the oven and cook for around 40 to 45 minutes. Every 15 minutes or so give the granola a stir, ensuring you mix around the edges.
Your granola is ready when it's crisp and golden. Leave to cool on the tray then store in an air tight jar for a good couple of weeks.
Serve with milk, Greek yoghurt or fruit, with a splash more maple syrup, if you like.