Red Velvet Cookies Recipe
The end of term is hurtling towards us and thank the Lord for that. We are a houseful of people on the edge. George is around 6 weeks from the start of his GCSE's, Clyde's busy editing up a storm at work and I'm always balls to the wall, so no change there then. We're all in need of a break so Easter can't come soon enough. To celebrate the end of what's seemed like an endless term, these Red Velvet Cookies are just the treat we all need.
I love Red Velvet Cake so to discover there is such a thing as a Red Velvet Cookie fairly blew my mind. This cookie is not just a regular cookie with red food colouring added, it's so much more than that and all courtesy of the New York Times food site, with thanks. This is a soft cookie with a crisp exterior. Chunks of white chocolate add sweetness to a not overly sweet treat. There's just a hint of cocoa to darken the flavour and to create a rich and tempting cookie. And they're simple to make because no one needs any additional drama in their lives. Use a stand mixer if you have one, if not just a bowl, a wooden spoon and some elbow grease will do the job.  This recipe makes a bloody great big batch, but they won't last, I can assure you.
It's time to look forward to a rest from the school run, work or just a break from nagging. Celebrate with a Red Velvet Cookie or two, or three, if your lack of restraint is as woeful as mine.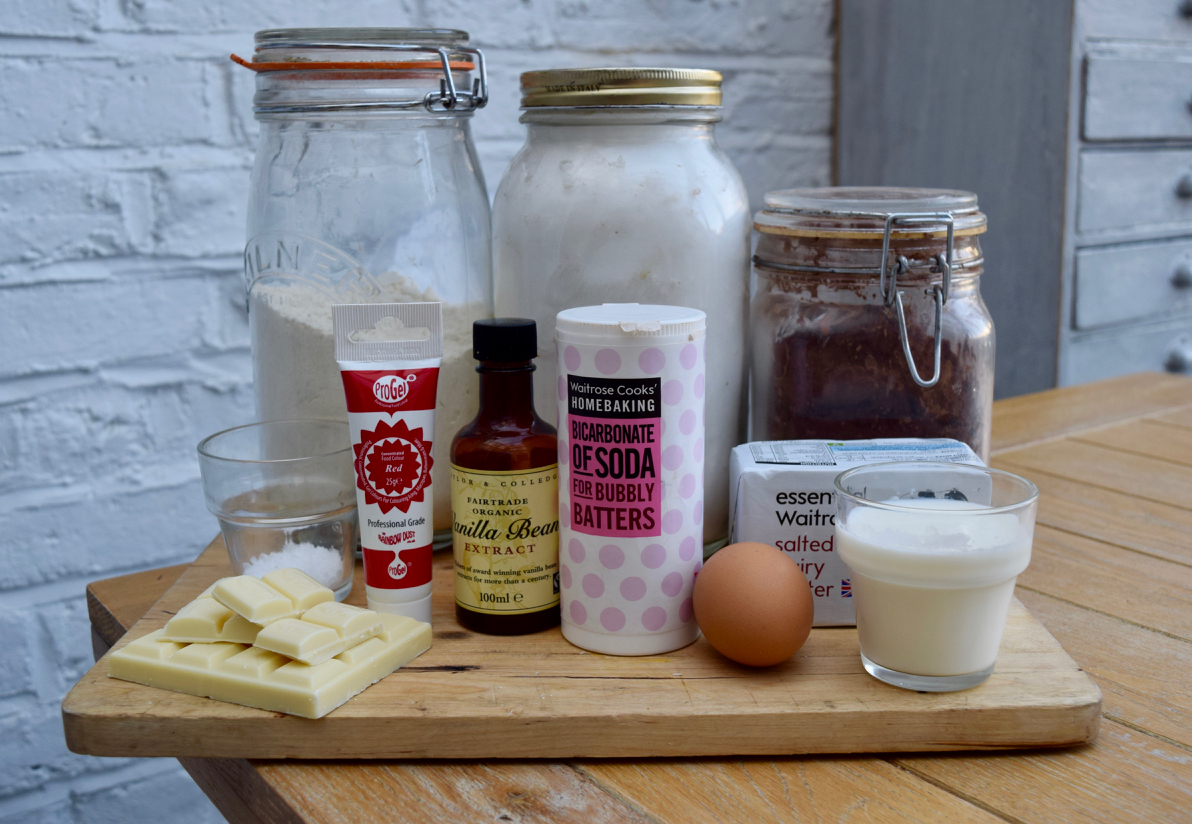 What a lovely festive looking line up for this recipe. I love these ProGel food colourings, they're super concentrated and so much better than the liquid ones. You can get them from Ocado or Amazon quite readily. You need a small amount of buttermilk for this recipe, but if you don't have any then just use full fat milk instead.
Start this recipe by lining your two large baking trays with baking paper and pre heating your oven to 160 degrees fan assisted. Next, dust off your stand mixer or use a large bowl and a wooden spoon, and beat the soft butter and caster sugar until they're lighter in colour and texture.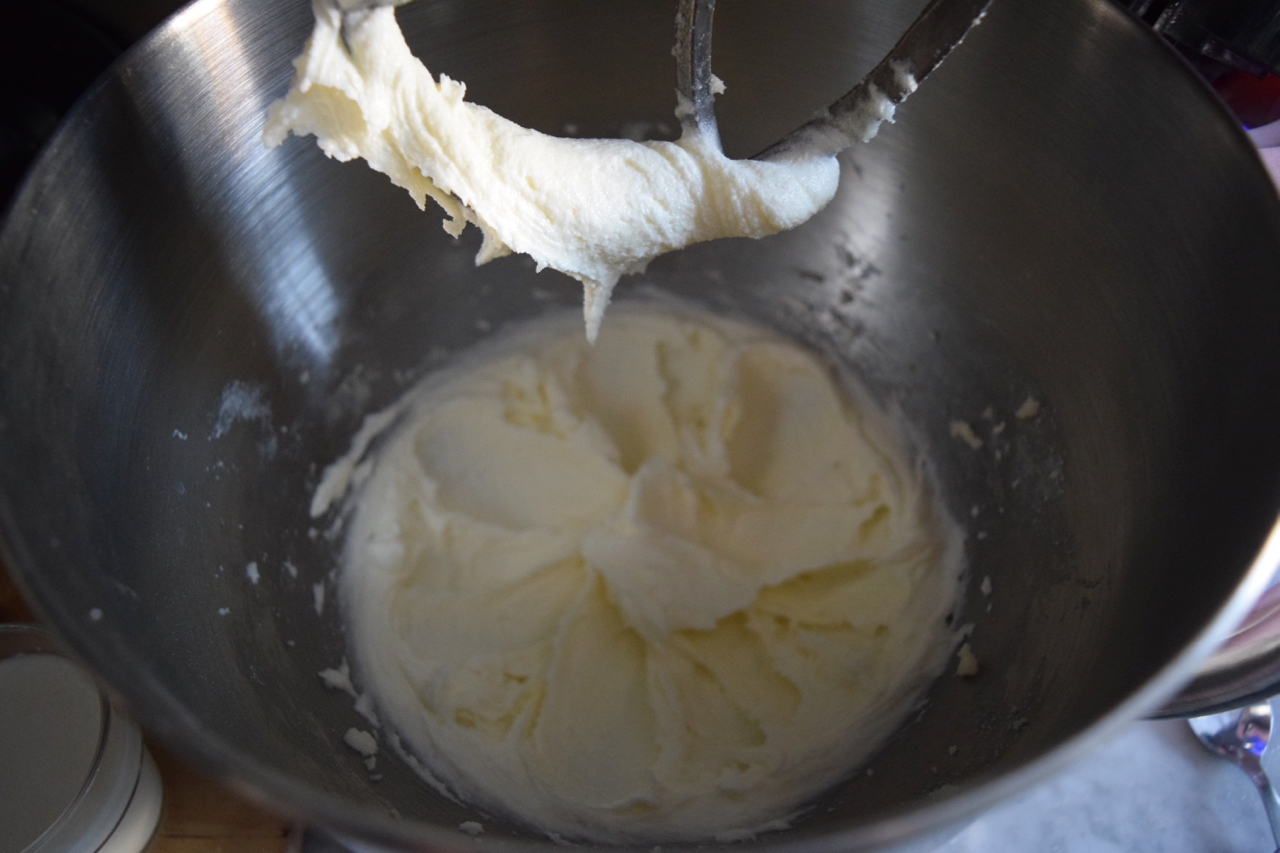 Next, add the egg and vanilla then beat in the red food colouring. You want a vibrant red for these so use between 1 and 1 and a half tablespoons of the gel colour until you get the desired red.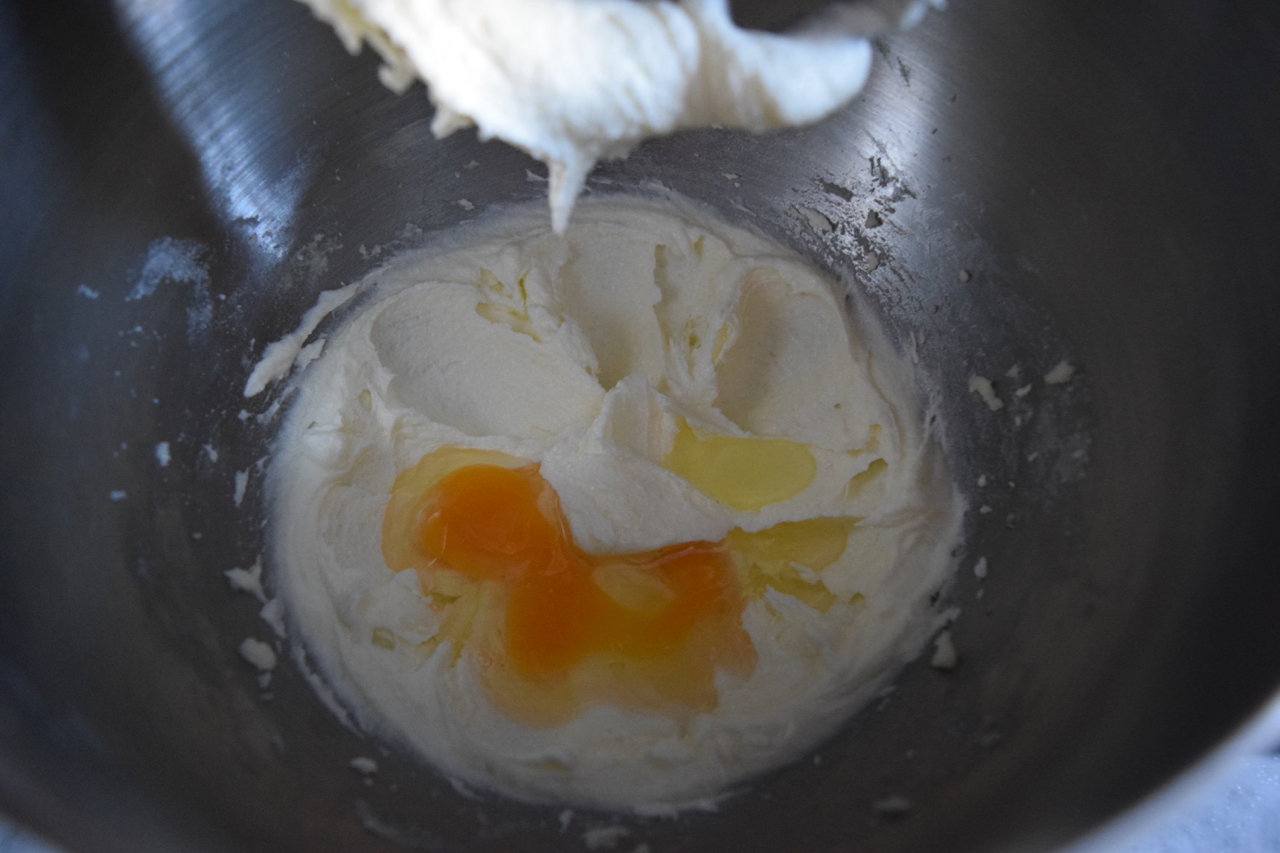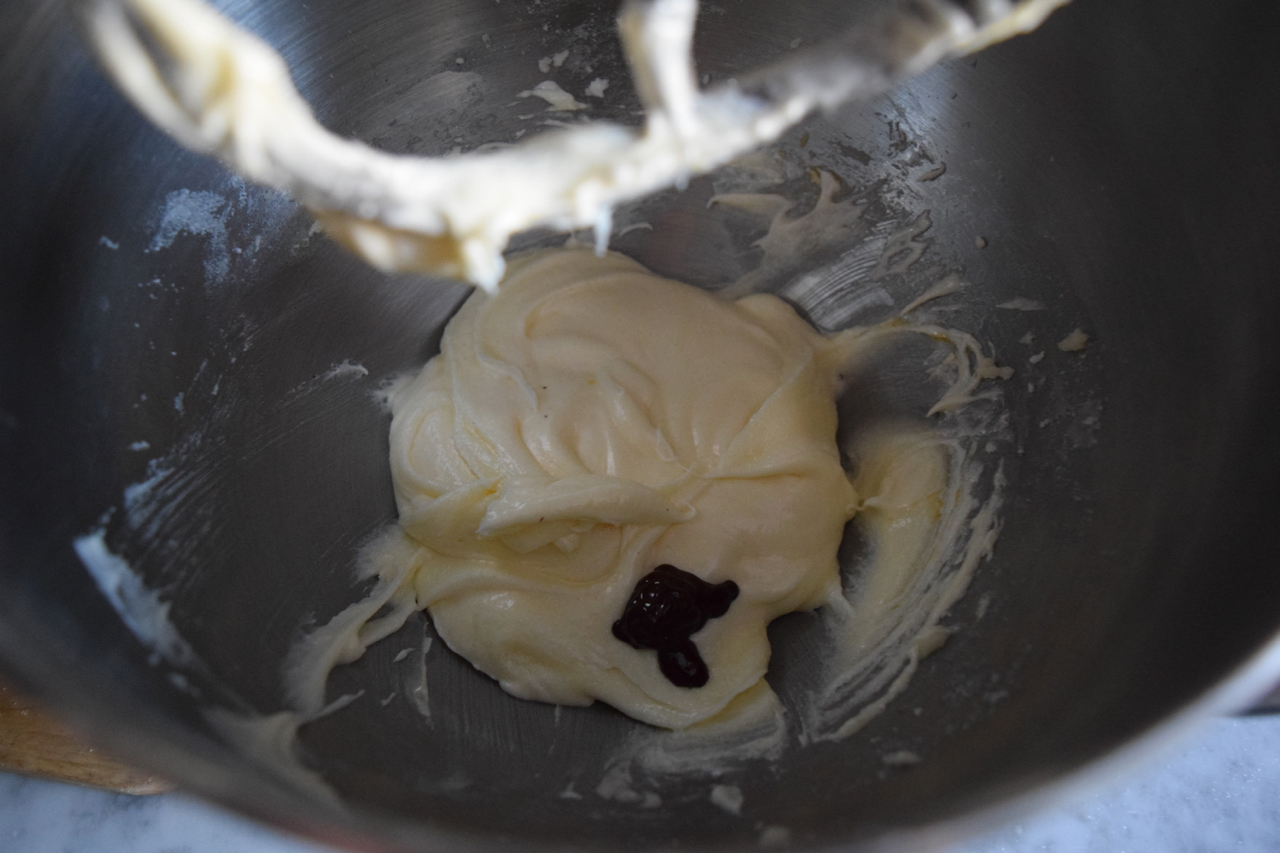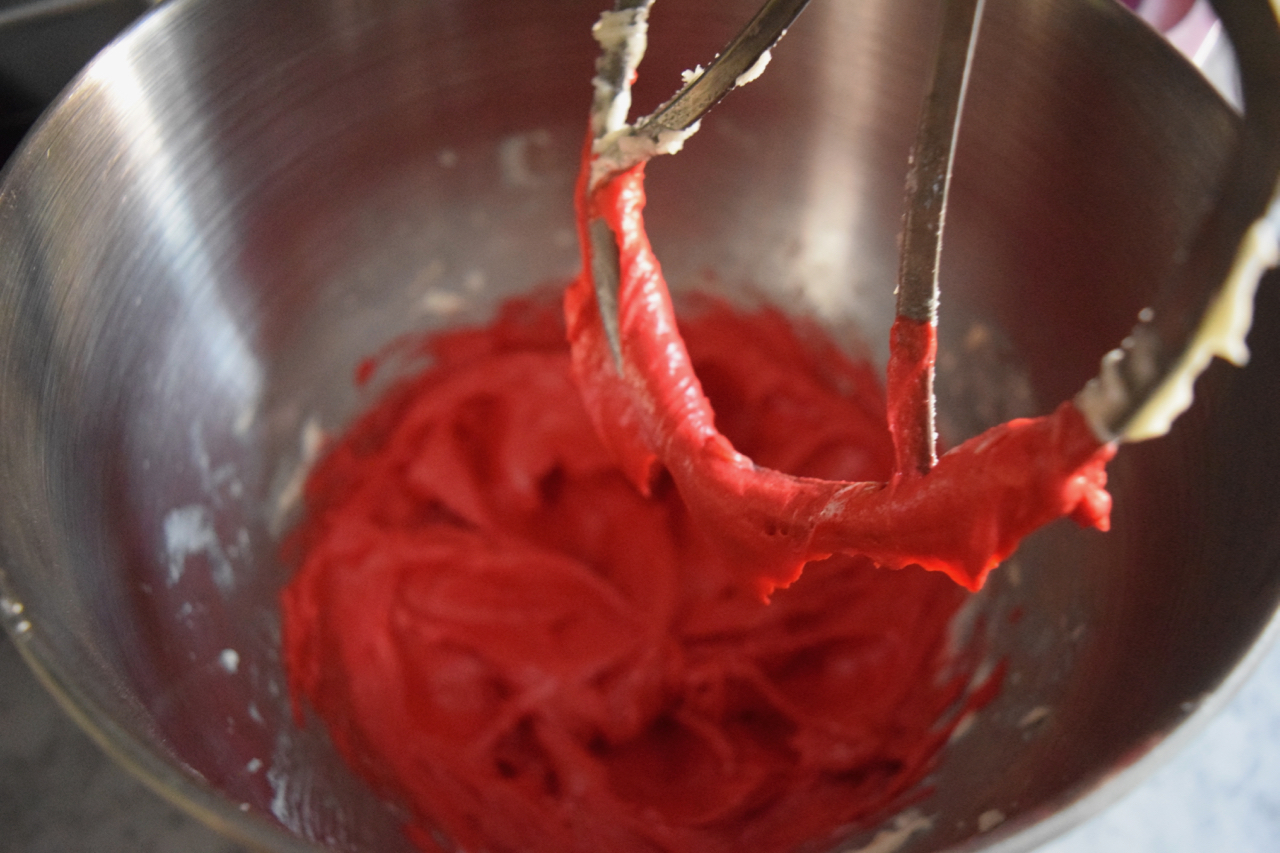 In a separate bowl, mix together the flour, salt, bicarb and cocoa and give it a little stir. Chop your white chocolate into chunks.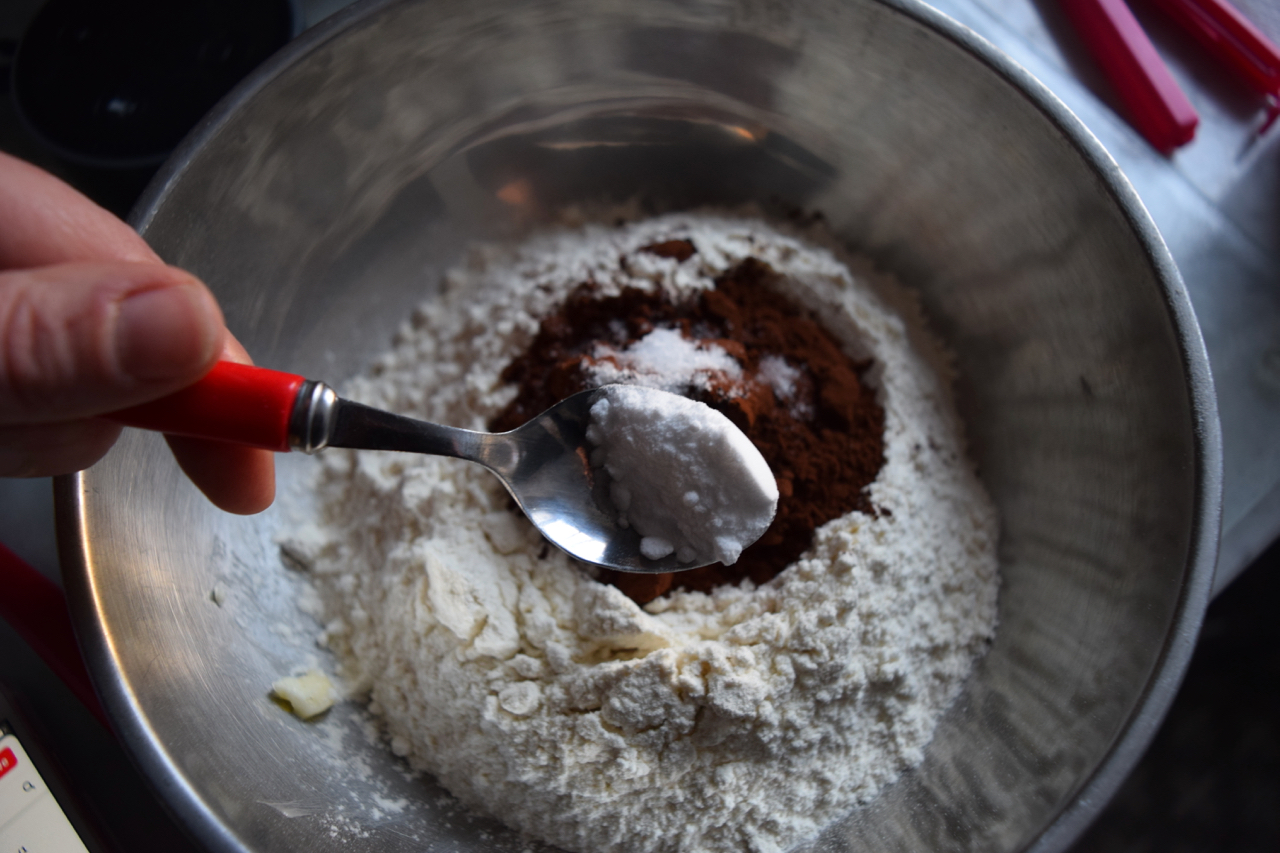 Slowly fold the flour and cocoa mixture into the red butter mixture. You will have a lovely stiff-ish, and delicious tasting, dough.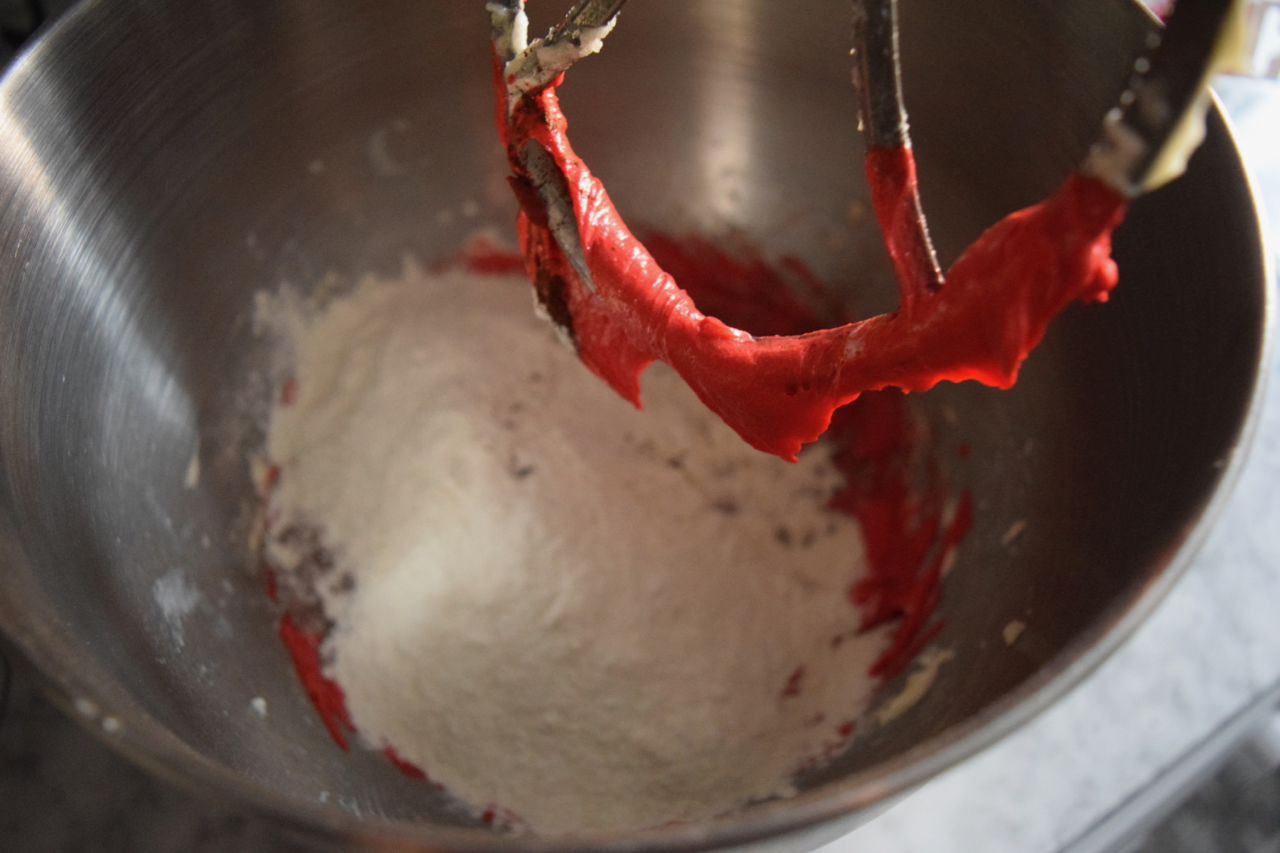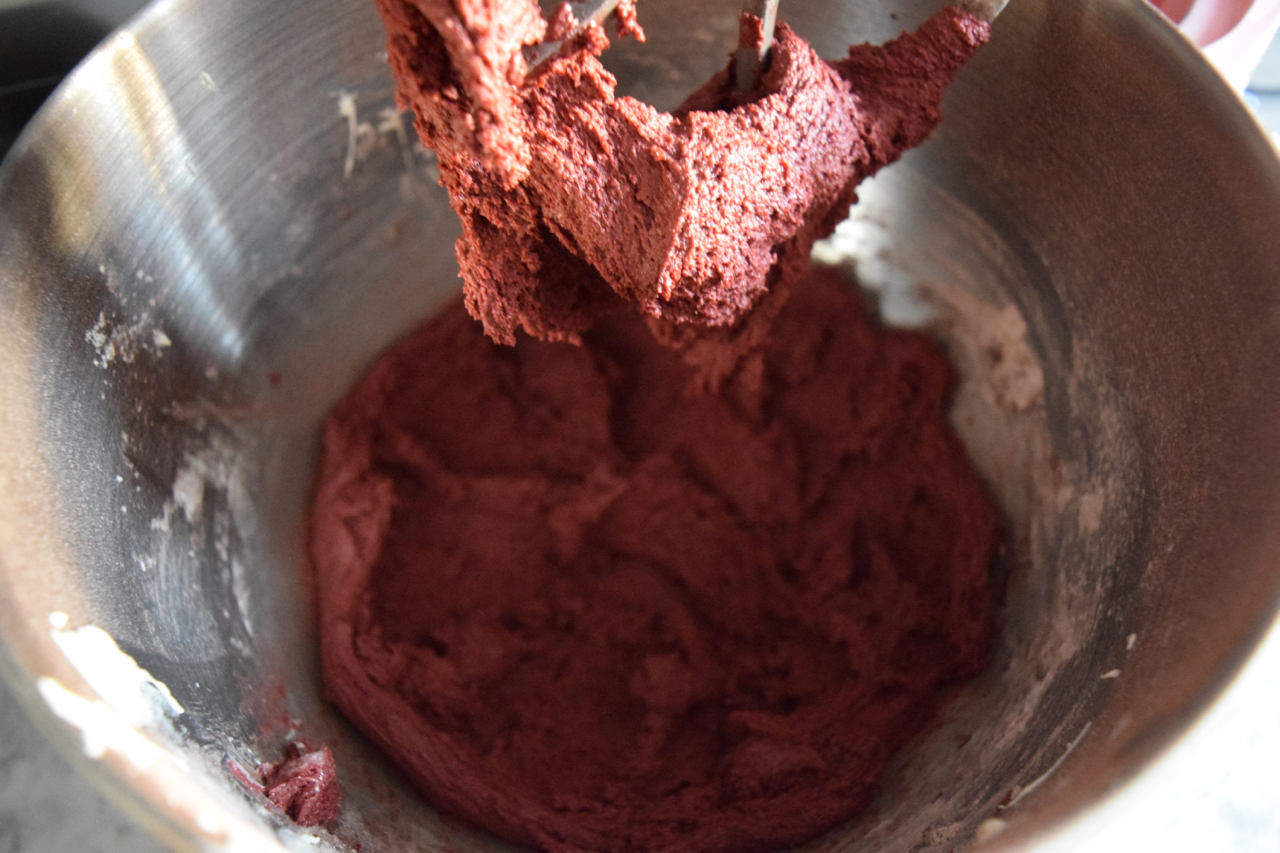 Finally fold in the two tablespoons of buttermilk or milk to loosen the cookie dough then mix through three quarters of the chopped chocolate.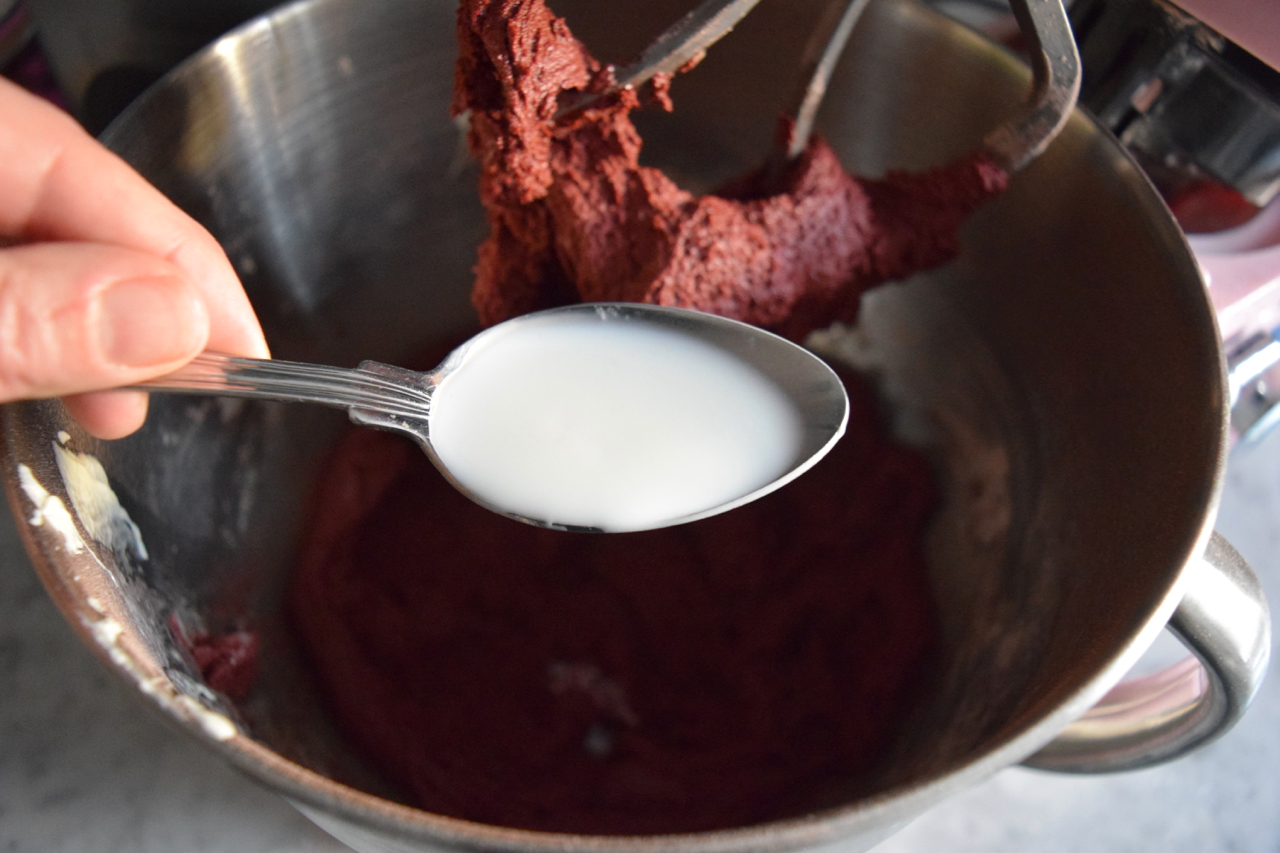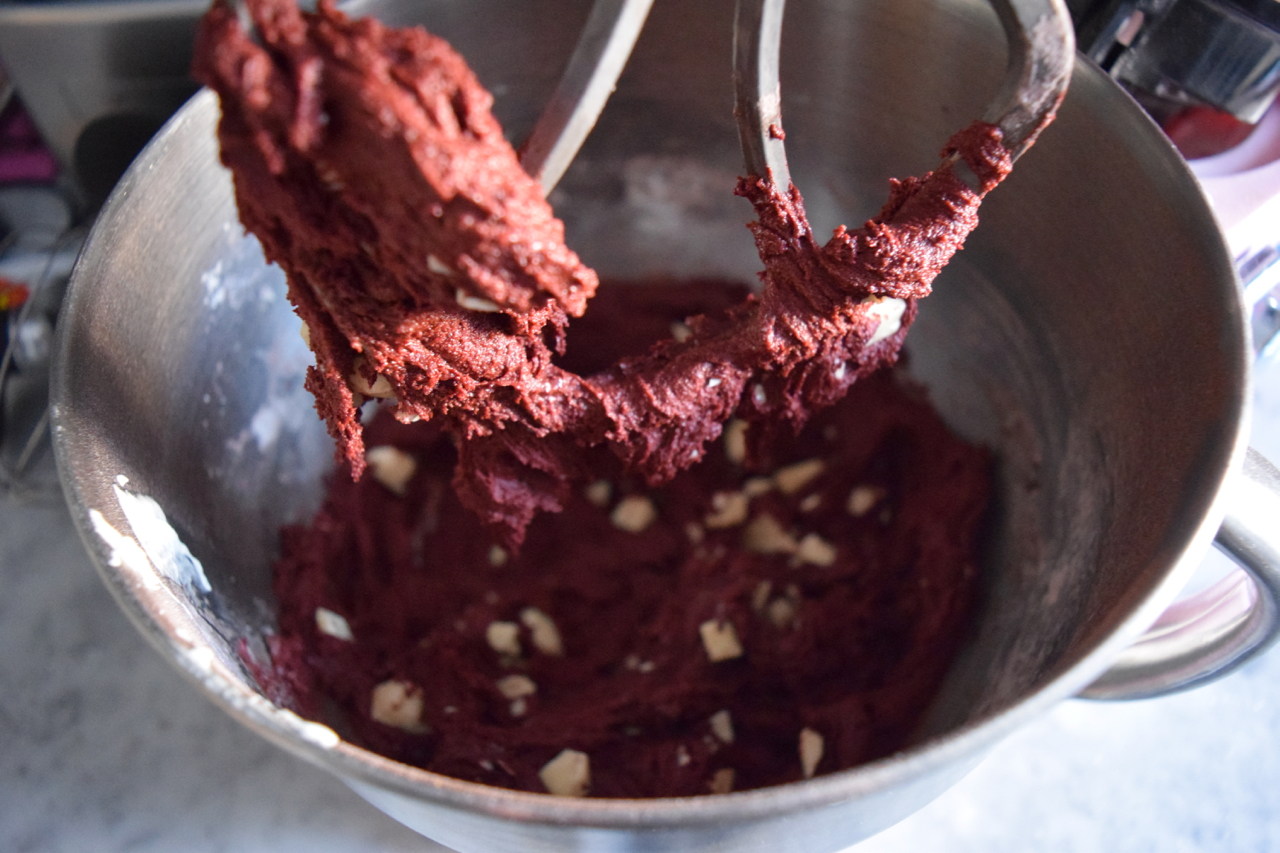 Spoon heaped tablespoons of the dough onto your lined baking sheets then press down the tops a little. Press a couple of the reserved chunks of chocolate onto the tops of each cookie.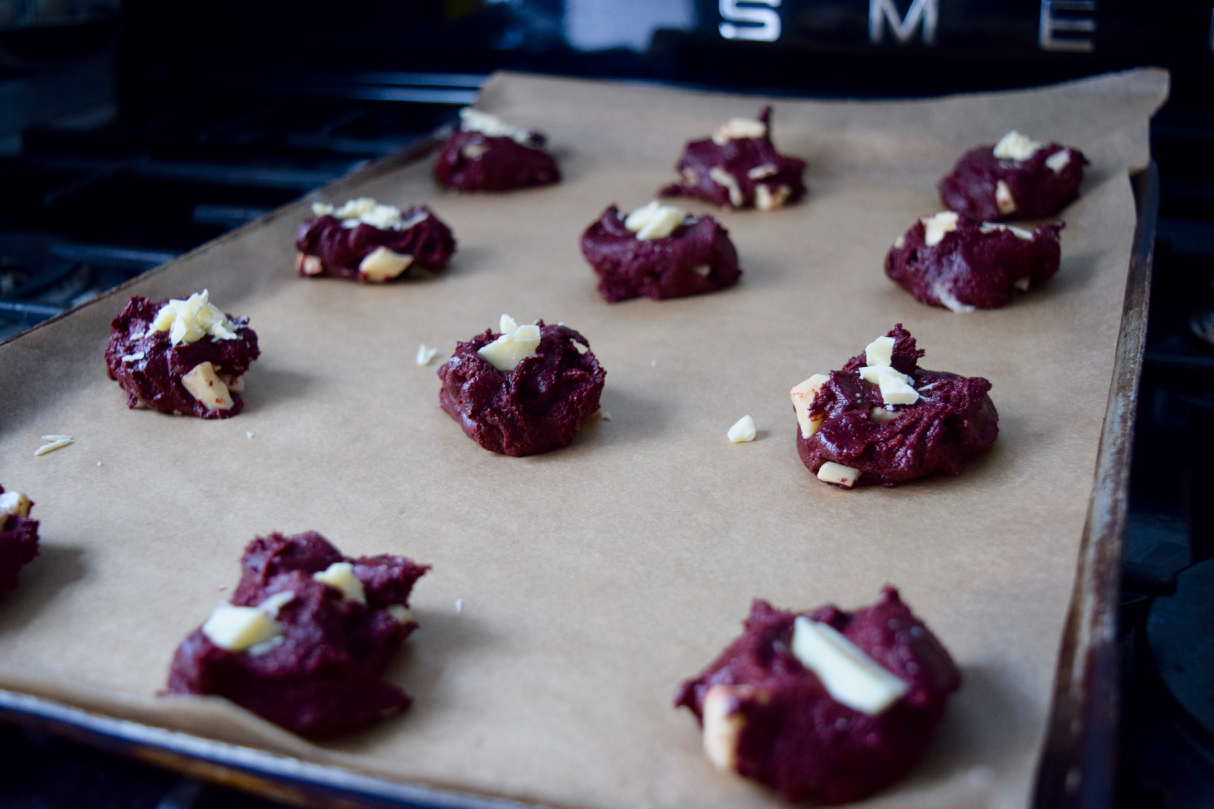 Cook these beauties for 10 to 12 minutes or until just firm to the touch and starting to colour at the edges.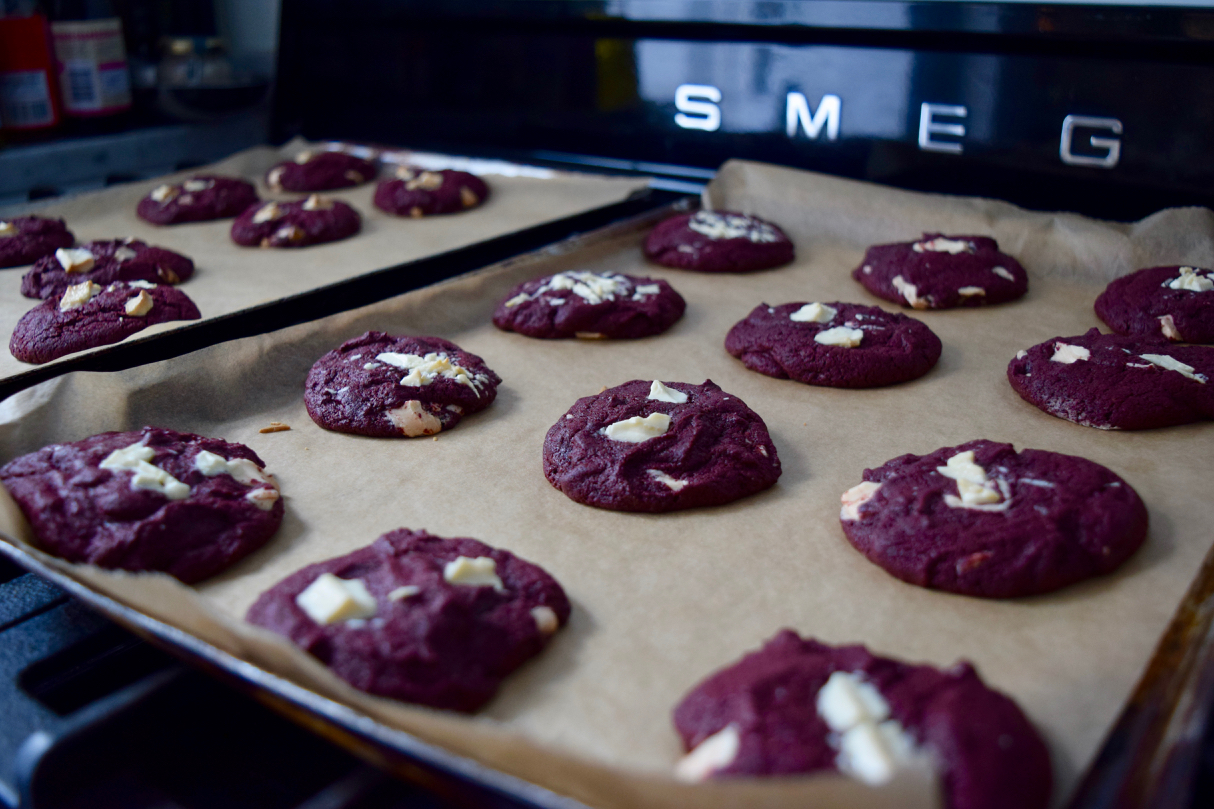 Ta dah. These are so bloody photogenic, they should be on the wall of an art gallery.  If you can bear it, leave them to cool on the trays before storing them in an airtight tin or jar or devouring them in one single sitting.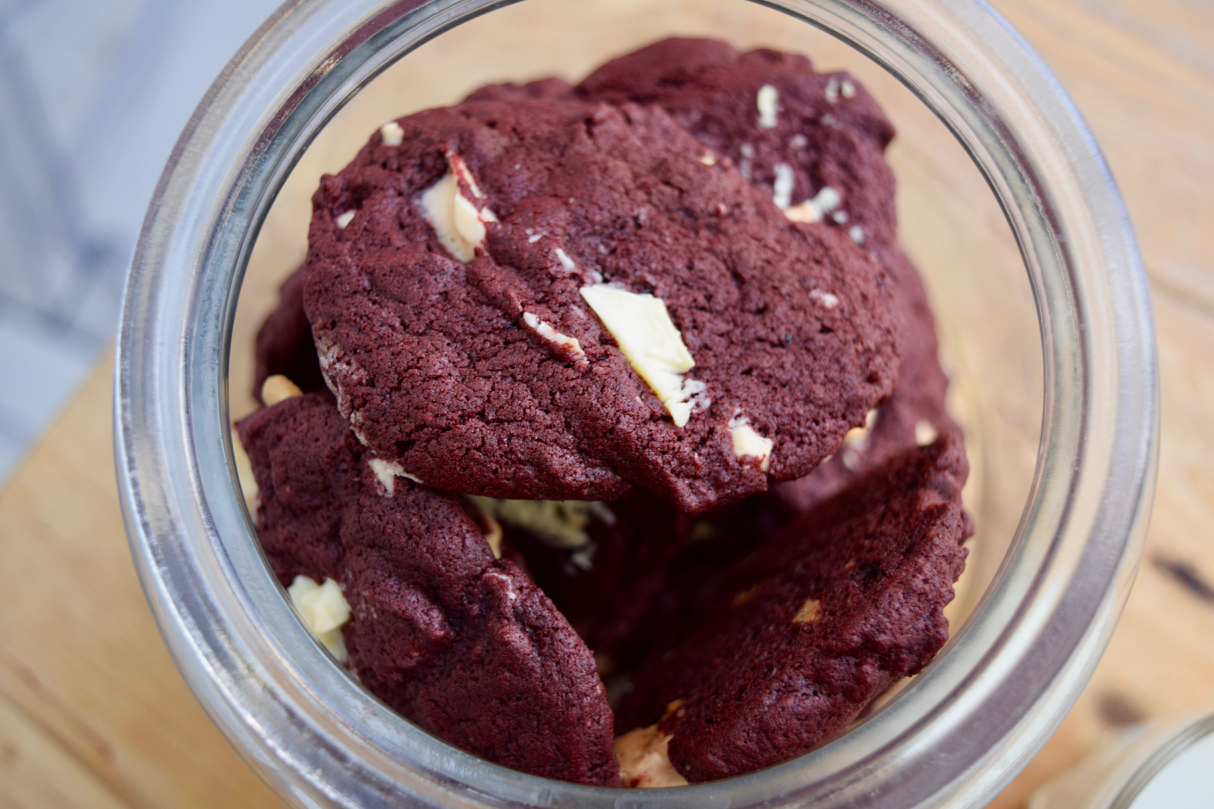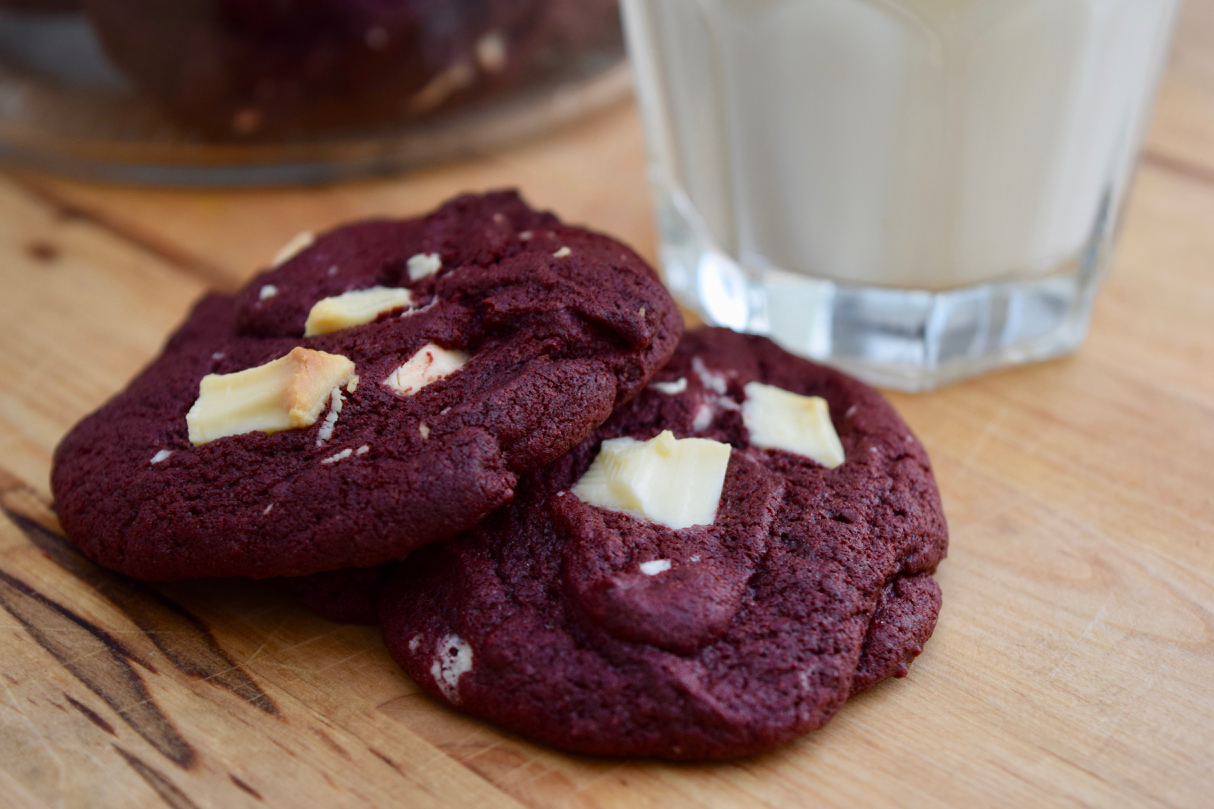 These are so sumptuous *ooh wordy*, rich, chocolatey, and not too sweet. I love them and they are my new favourite cookie. Pretty as a picture, a great one for gifting or just scoffing, it's up to you.
Hurry up now Easter, we're all so ready for you.
Lucy x
Red Velvet Cookies Recipe
Makes 24 cookies, size dependent
115g soft butter
150g caster sugar
1 egg
1 to 1 1/2 tablespoons red food colouring, I use Progel red colouring as it's good and strong
1 teaspoon vanilla extract
195g plain flour
3 tablespoons cocoa powder
1/2 teaspoon bicarbonate of soda
1/2 teaspoon salt
2 tablespoons buttermilk or full fat milk
100g white chocolate, chopped into chunks
Pre heat your oven to 160 degrees fan assisted and line two large baking trays with greaseproof paper.
In your stand mixer or a bowl with a spoon, beat the caster sugar and soft butter until lighter in colour and texture. Add the egg and vanilla and beat again until smooth. Beat in the red colouring and mix well.
Mix the flour, cocoa, bicarb and salt then fold this into the butter and egg mixture until you have a stiff-ish dough. Do this slowly so it doesn't fly all over your kitchen. Finally fold in the milk or buttermilk and three quarters of the chopped white chocolate.
Place heaped tablespoons of the mixture onto your lined baking sheets, leaving room for it to spread. Press the balls to flatten slightly then add the rest of the white chocolate chunks onto the tops of each cookies. Bake for 10 to 12 minutes or until just firm and staring to colour at the edges.
Leave these to cool completely before removing from the trays and storing in an airtight jar or tin. These will keep for a good 3 to 4 days. Or they freeze well in a sealed bag.