Banana Berry Baked Porridge Recipe
Happy New Year to you. It's only the 1st of January and already I am bored of saying that. My hangover and I walked the dog this afternoon and I politely muttered it to at least 10 people who crossed our path. I am feeling quite grumpy and tired after a finale of excess which included a gin and red wine soaked new years eve and a Chinese takeaway to soothe my jaded soul. We have spent the day watching action films and napping even though I had 100 other things I should have been doing. Tomorrow, it's back to reality with a bang; Clyde's back at work and I'm preparing to re-educate my entire system to eat 3 meals a day, some of which will include fruit and vegetables. I will be starting my week *even though I think it's Wednesday already* with this Banana Berry Baked Porridge.
I can't bear to go cold turkey *poor choice of analogy* after at least 3 weeks of constant eating and drinking. I am going to try and cut down on my refined sugar intake, drink some actual water and to eat more fruit and vegetables, which makes this Banana Berry Baked Porridge a great place to start. It's simple, which helps as my cooking motivation is low, it's so tasty and is super filling which may keep me away from those final Quality Streets for at least 5 minutes. If the slightly oddly named Veganuary is your thing, use almond milk and maple syrup for this to make it part of your plant based day. I went for a combo of almonds and cherries, because they are my favourites and I happened to have them in my depleted store cupboard. Assemble this in 5 minutes then you are 30 minutes away from something filling, nutritious and so bloody tasty. Thank you to Skinny Taste for the great inspiration for this dish.
I still have to plan what I am going to eat for the rest of the week, but at least with this Banana Berry Baked Porridge I am making tiny in roads into my Christmas spare tyre.
What a wholesome looking line up, one which my whole being is crying out for. Other than the odd satsuma, I have virtually been a fruit free zone for the last 3 weeks. You do want lovely ripe bananas for this, they add sweetness and flavour to this breakfast treat.
Make a start by pre heating your oven to 160 degrees fan assisted and butter your chosen serving dish. Next, take your bananas and mash in a small bowl then pop to one side. Measure out your berries.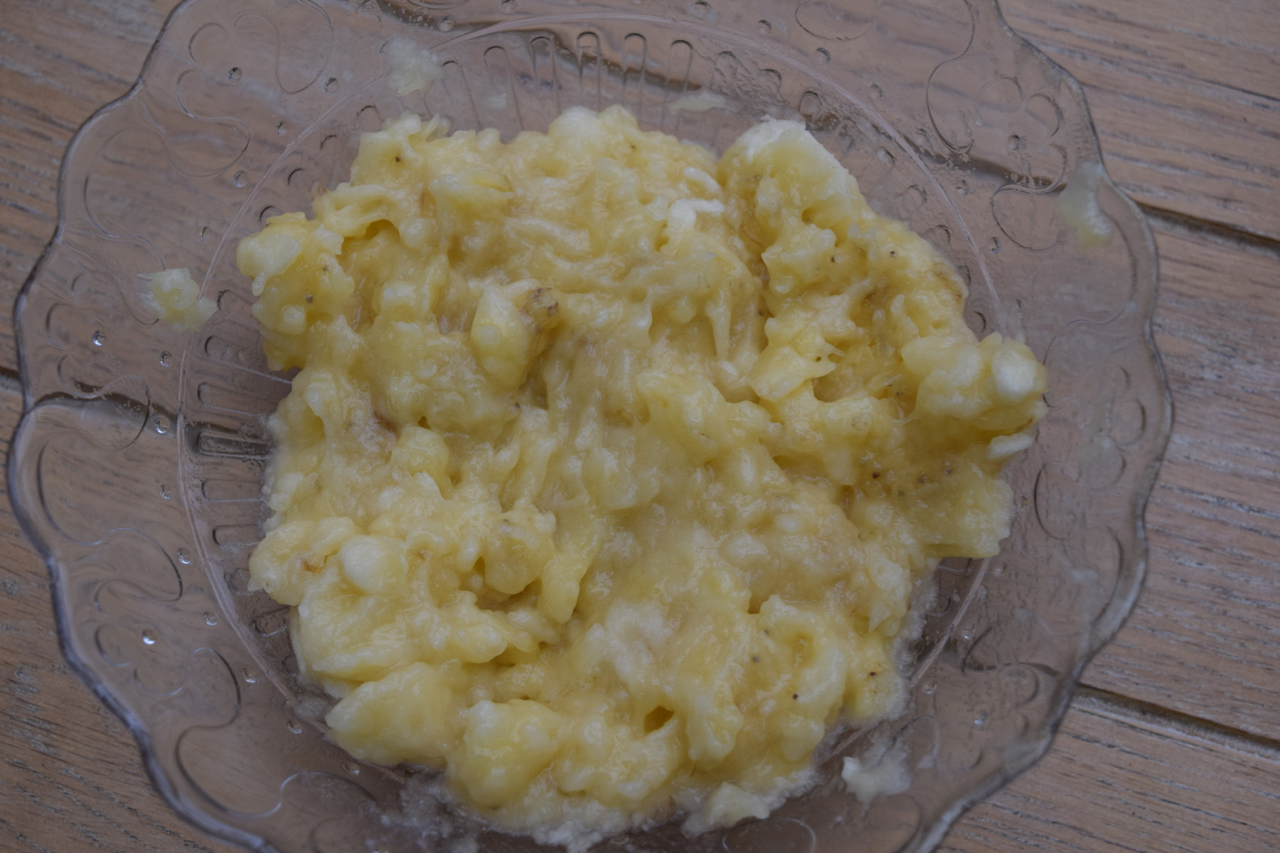 In a another larger bowl, measure the oats along with the baking powder, cinnamon, salt and all the nuts apart from a tablespoon.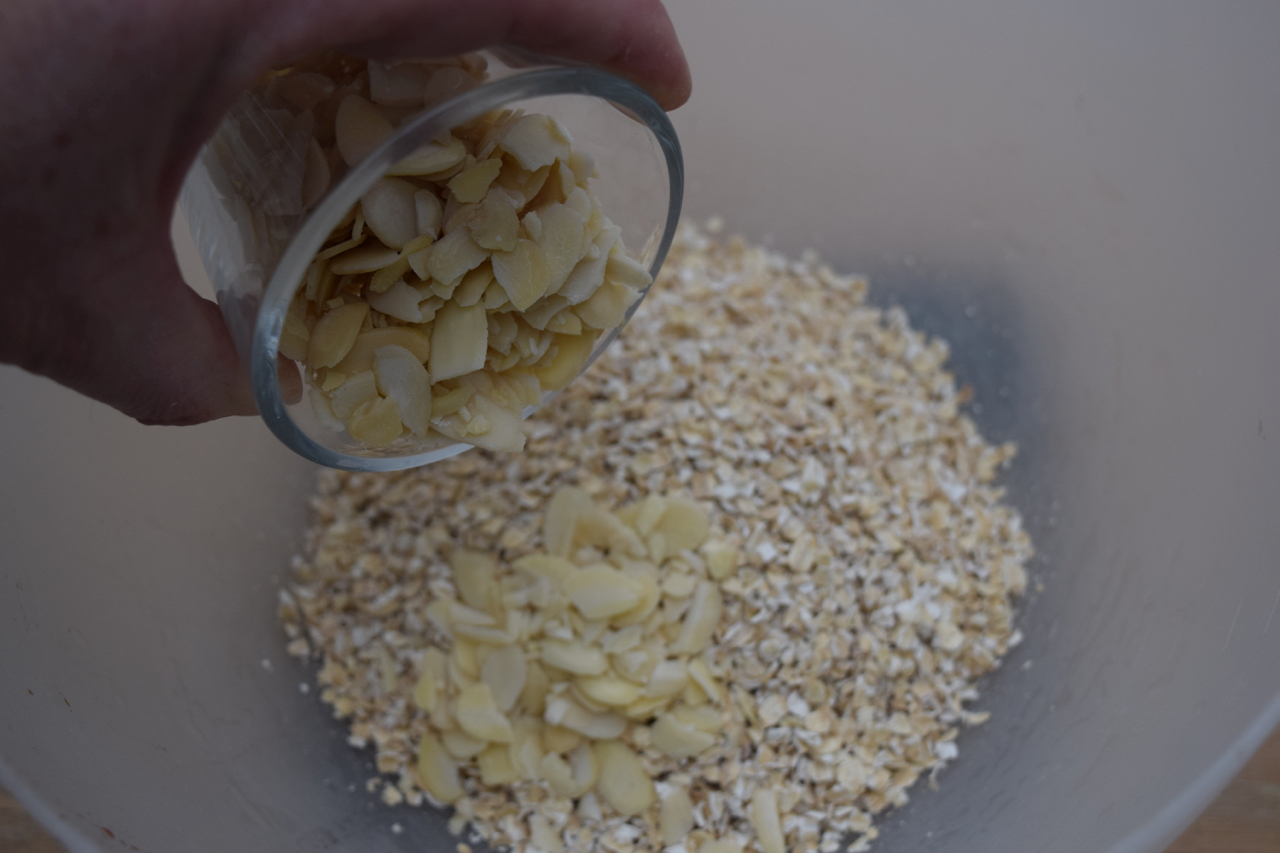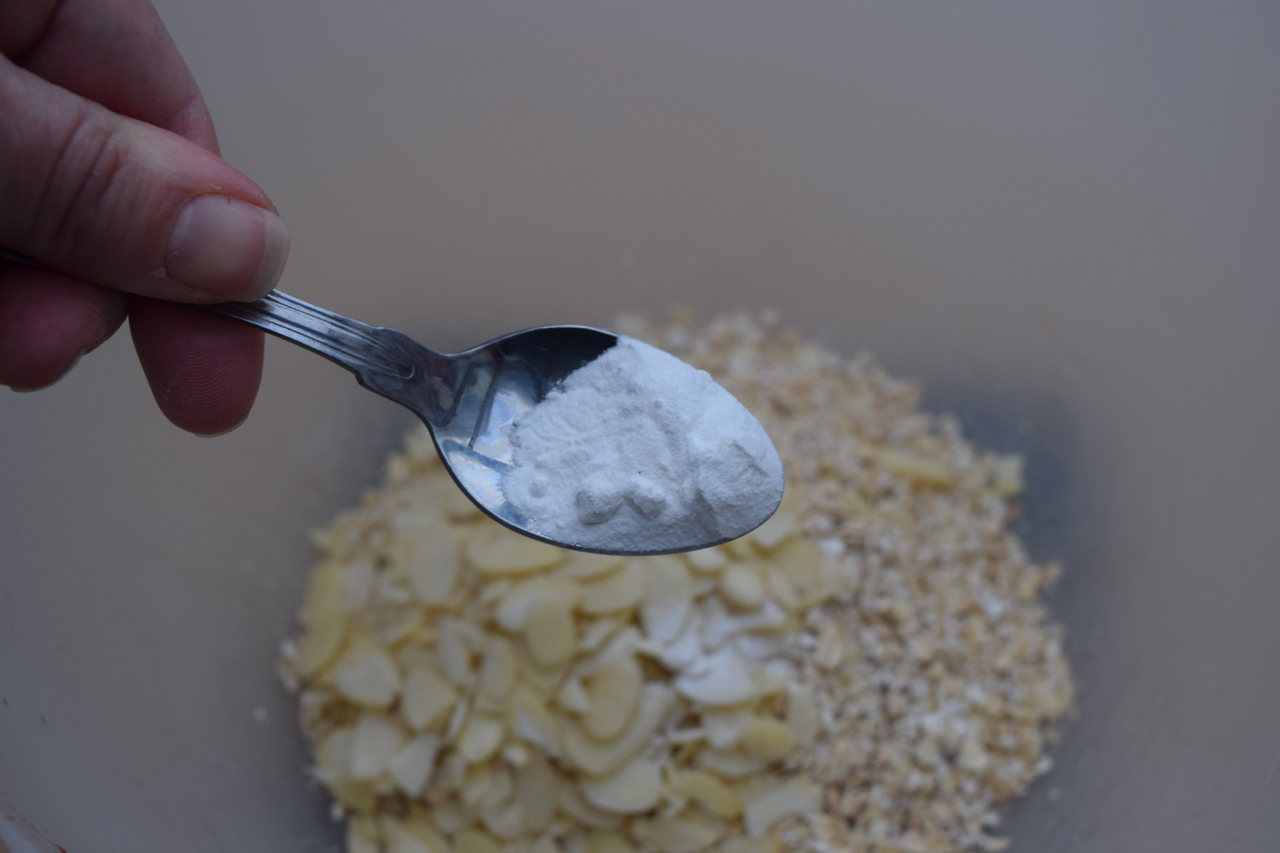 Give it all a stir then leave for a moment while you mix the wet ingredients.  In a jug whisk the milk, egg, vanilla and maple syrup or honey.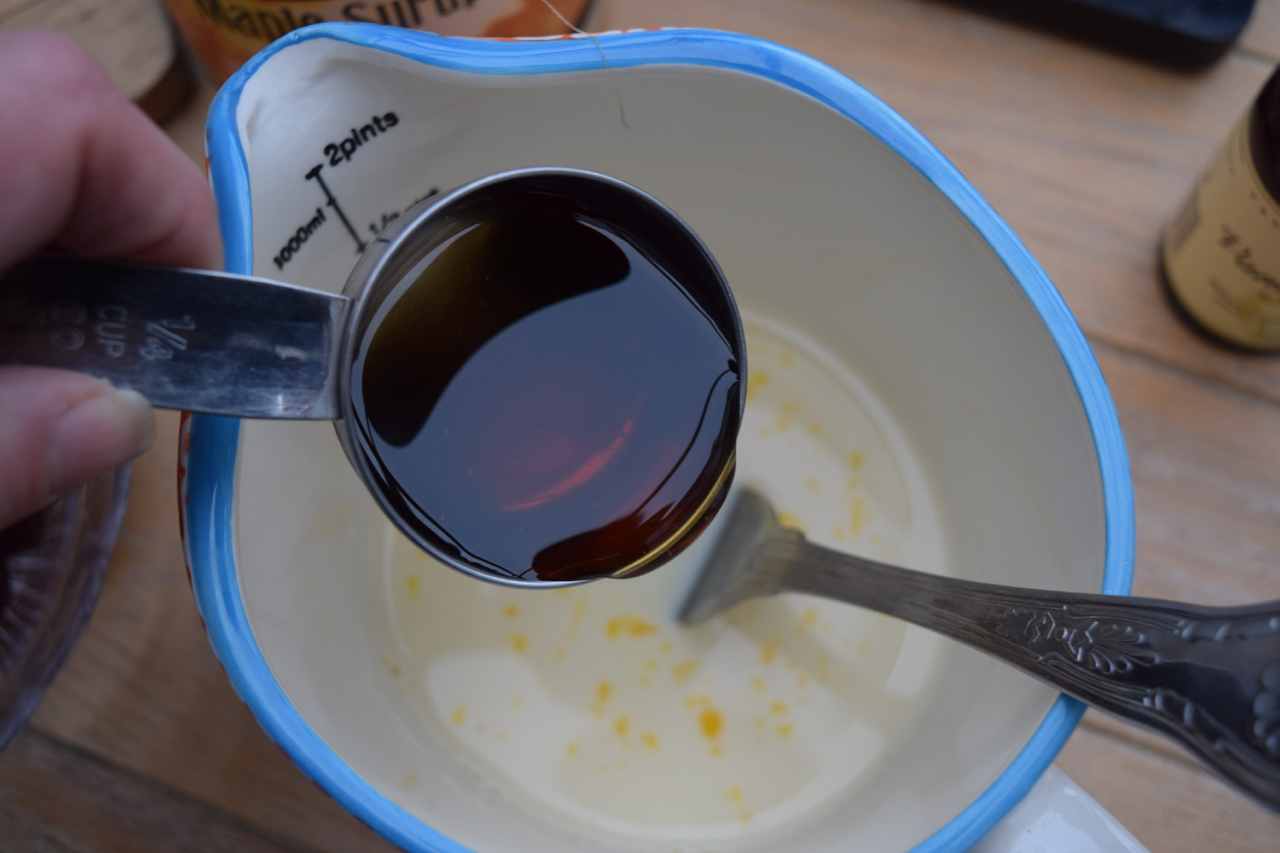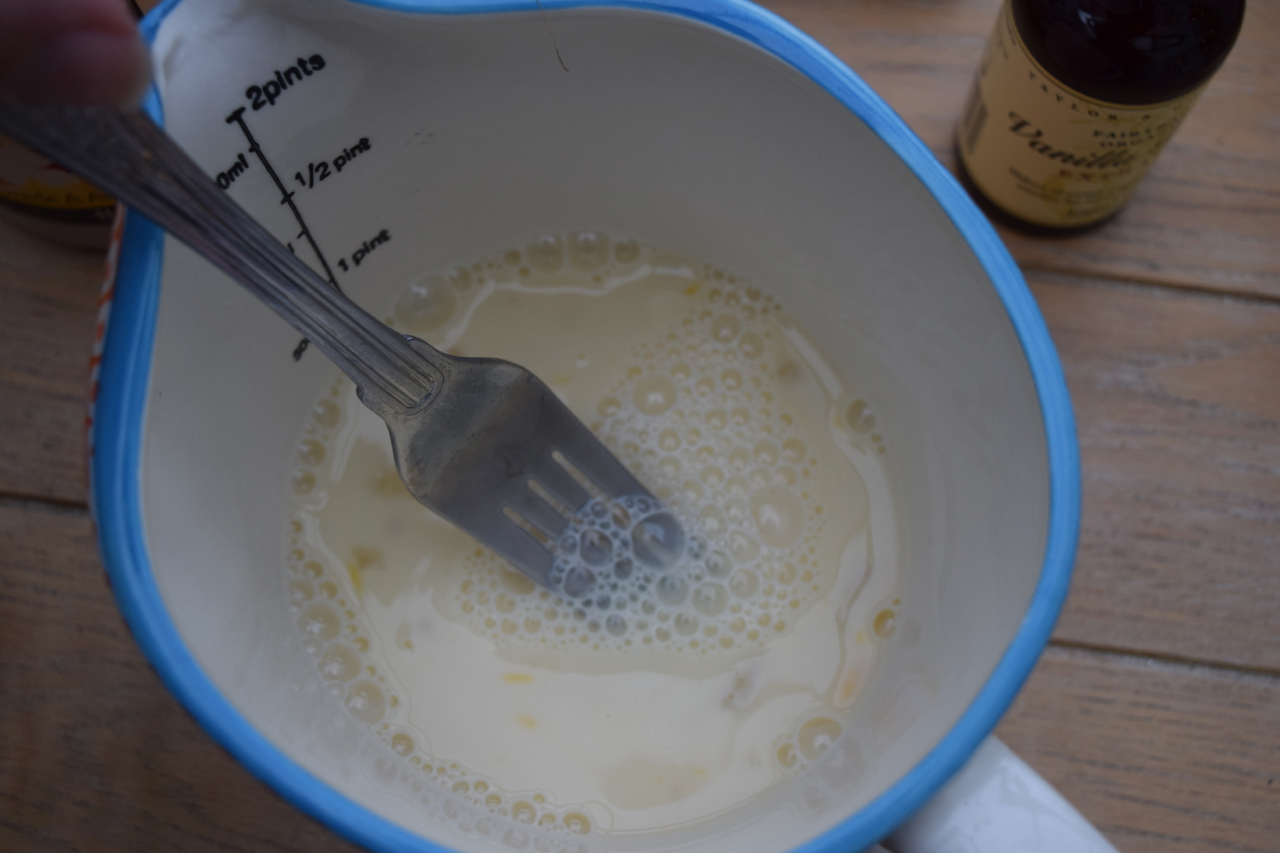 Now it's ready to assemble this baked breakfast dish. Take your buttered dish and sprinkle over half the oat cinnamon mixture.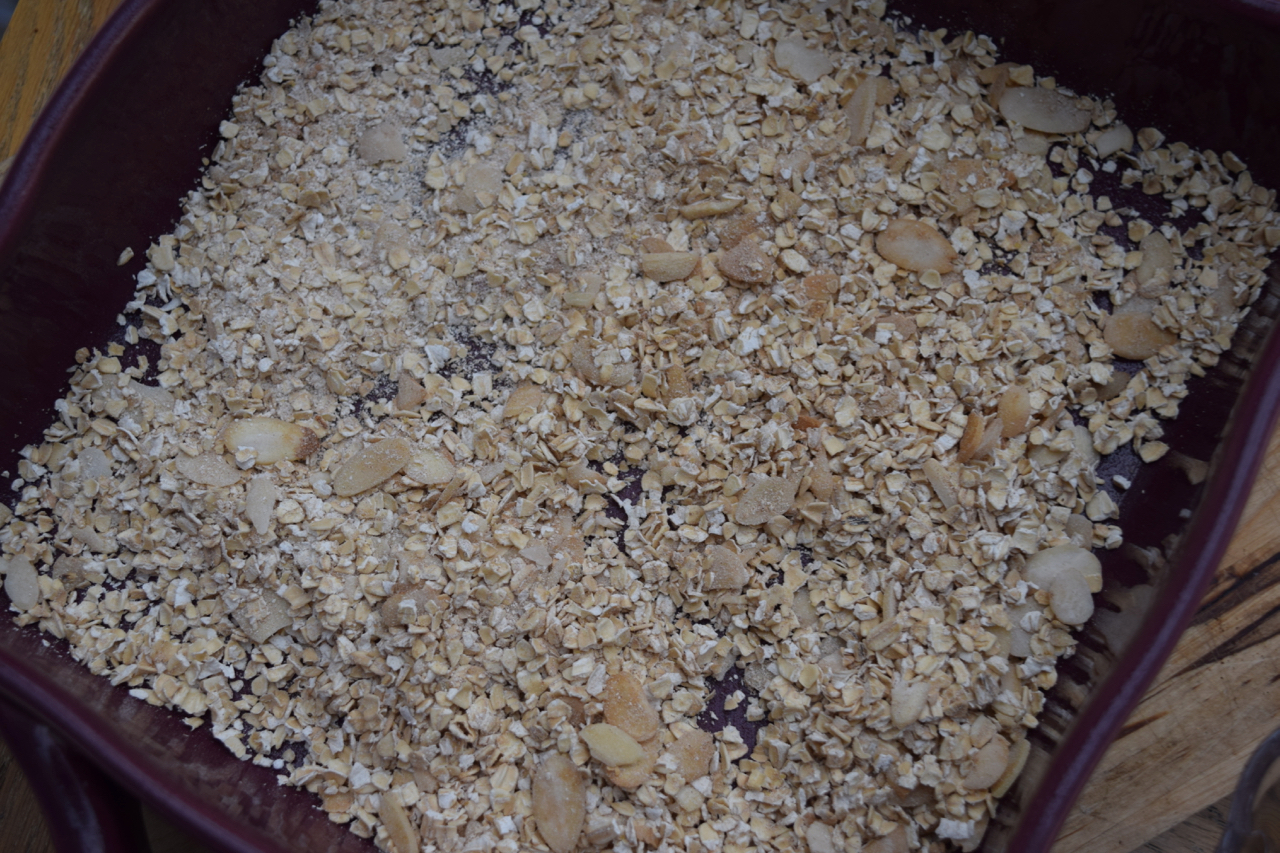 Spoon on the mashed banana and dot your chosen berries over the top.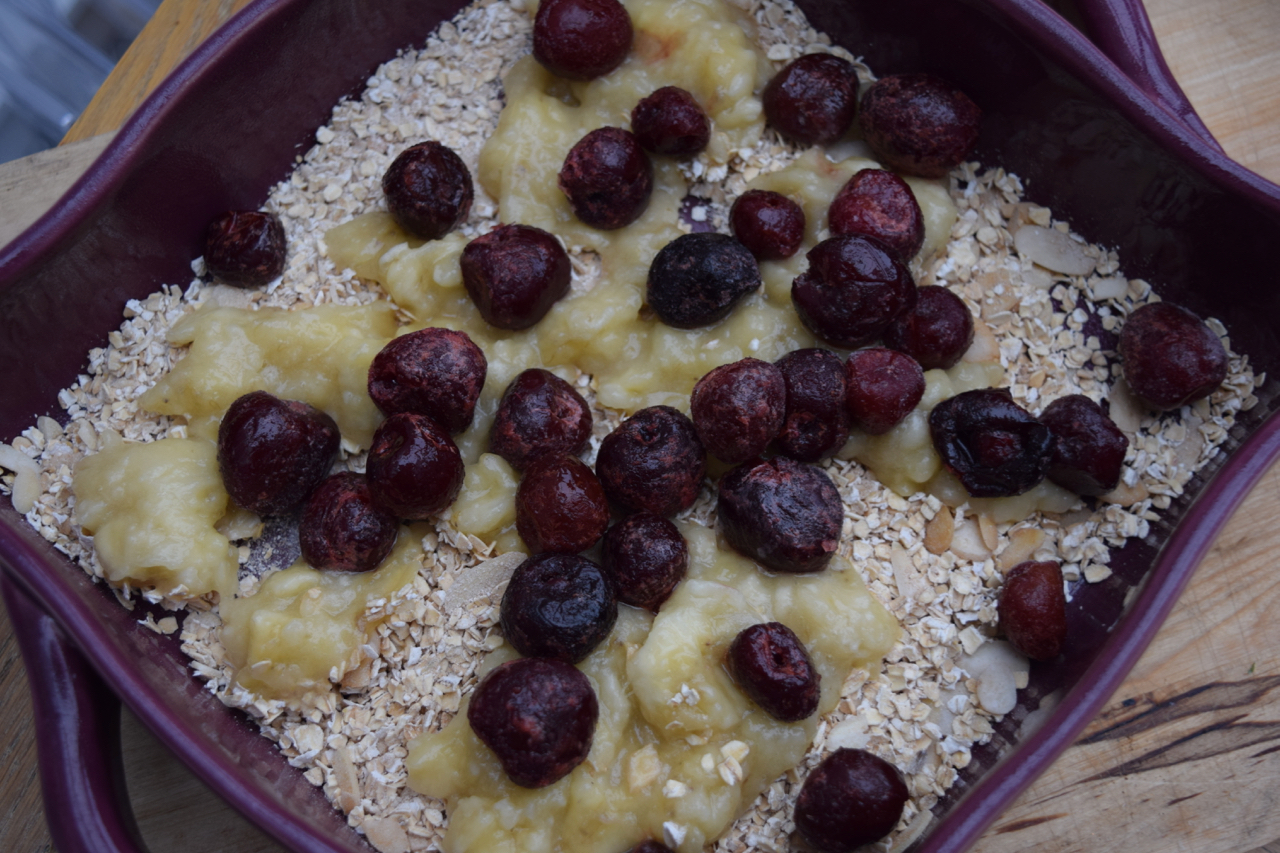 Cover the fruit with the rest of the oats then pour the milk maple mix evenly over the whole dish. Press down with a fork to ensure the oats are covered by the milk.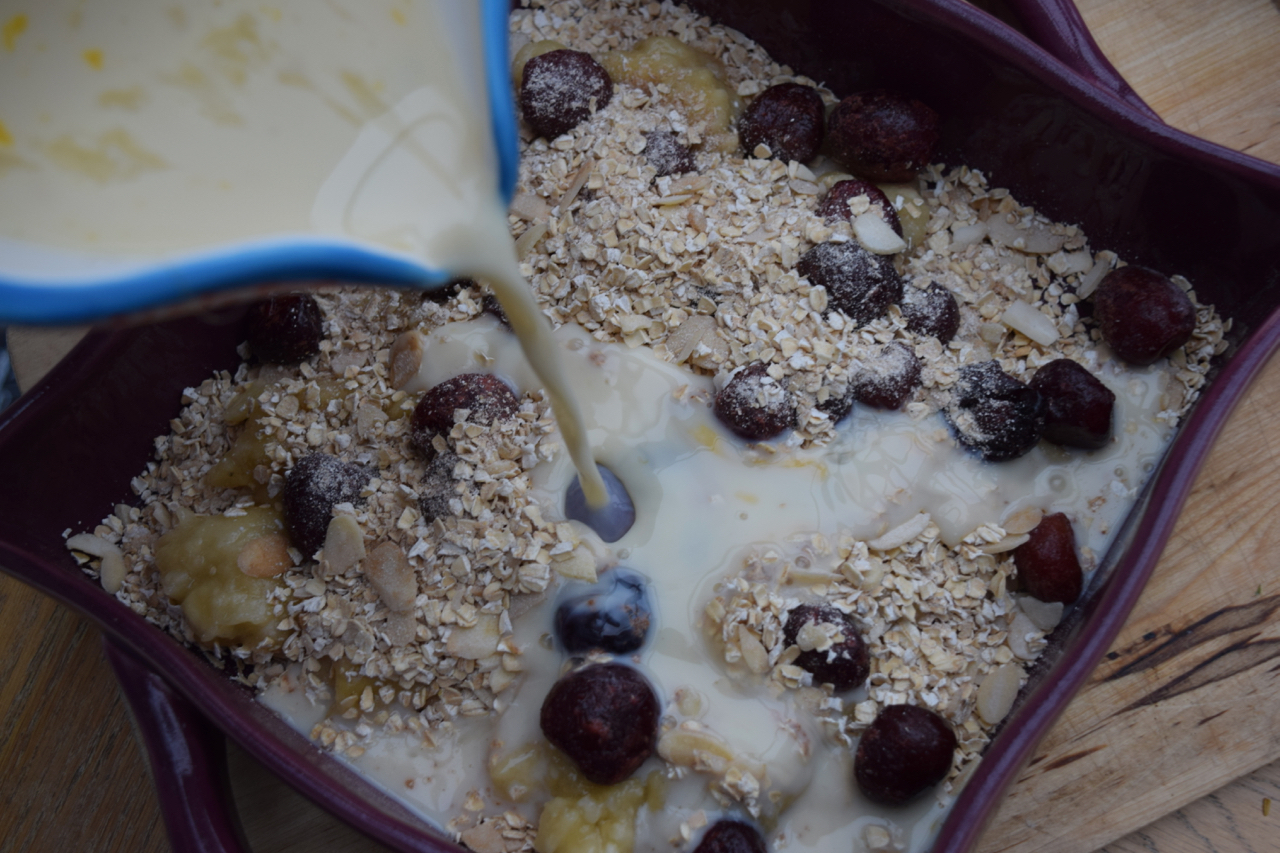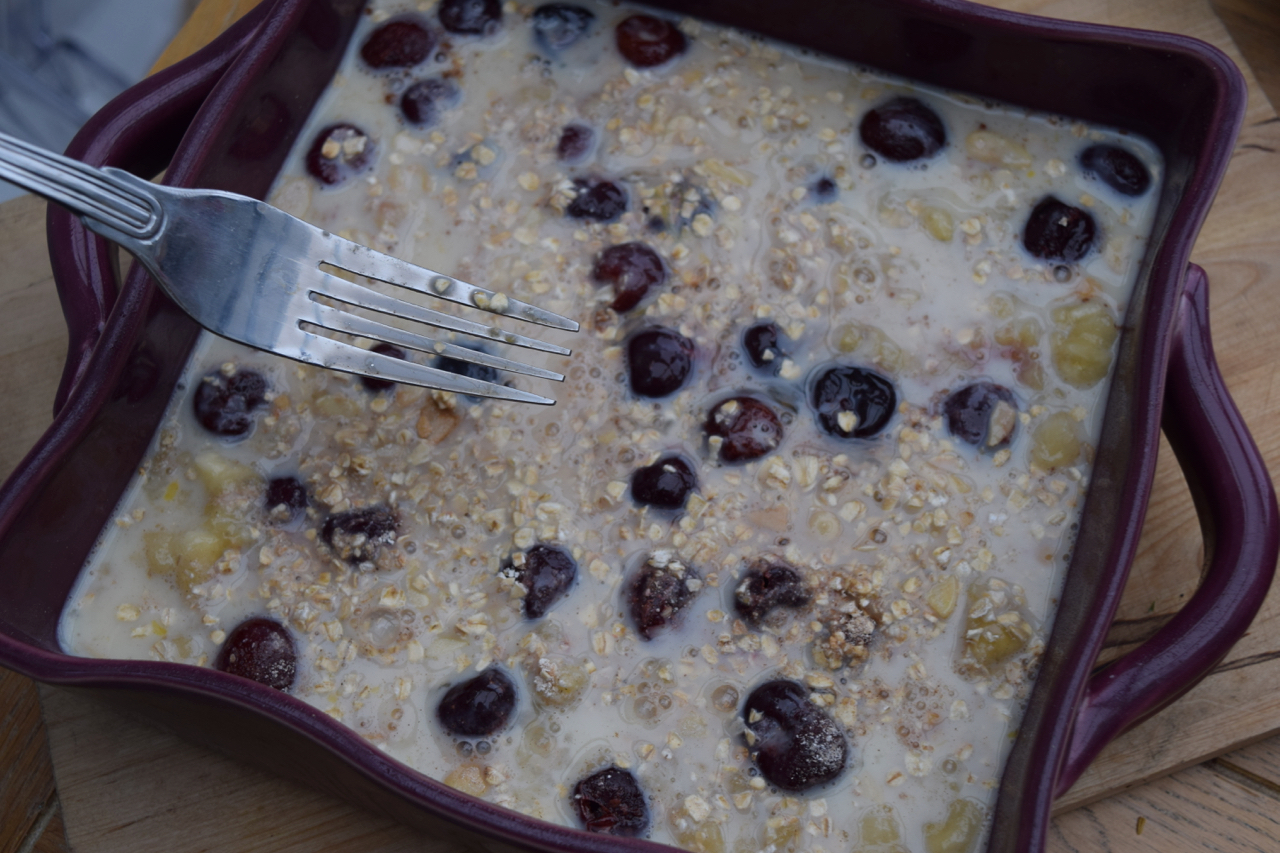 Sprinkle the top of the dish with the reserved tablespoon of nuts then put into the pre heated oven for 25 to 30 minutes.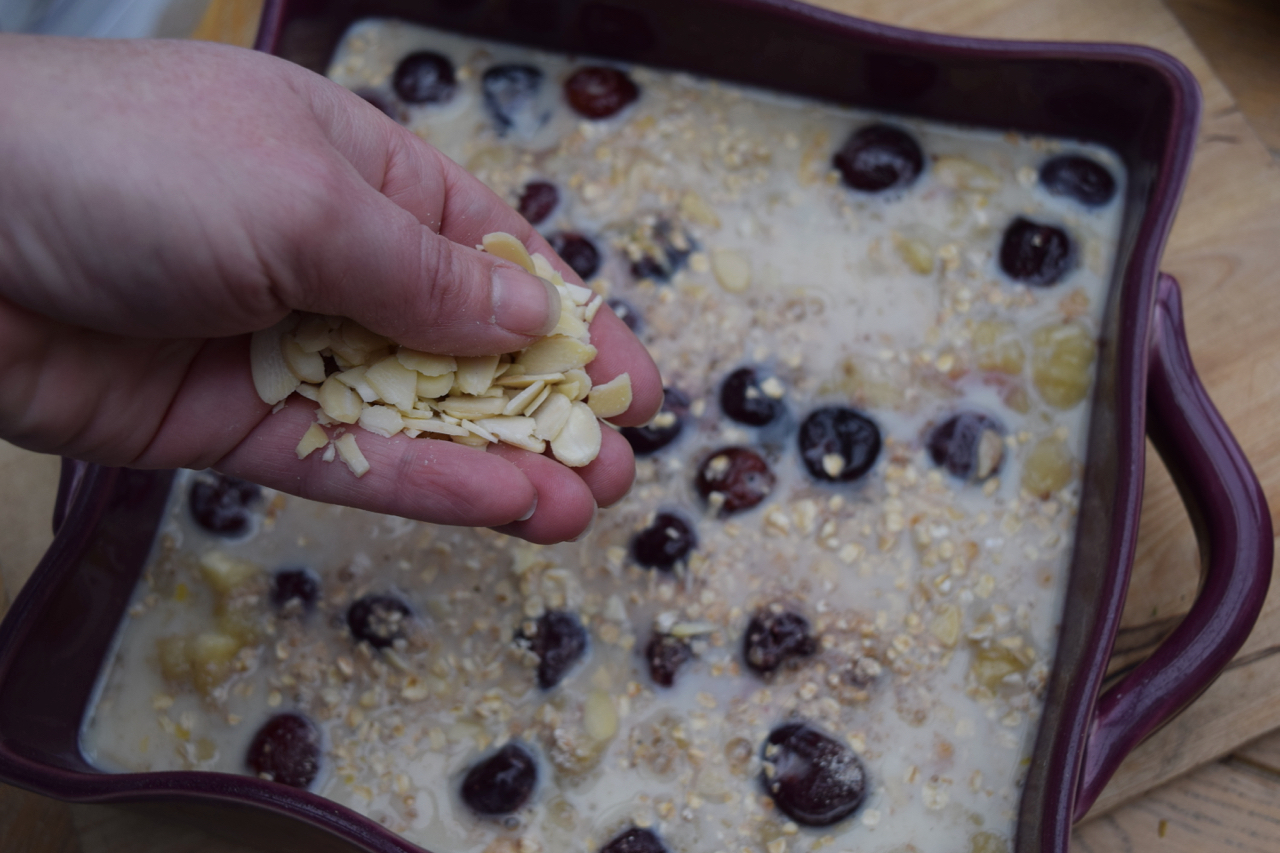 Your baked porridge will be golden, firm to the touch and smelling super tempting when it's ready.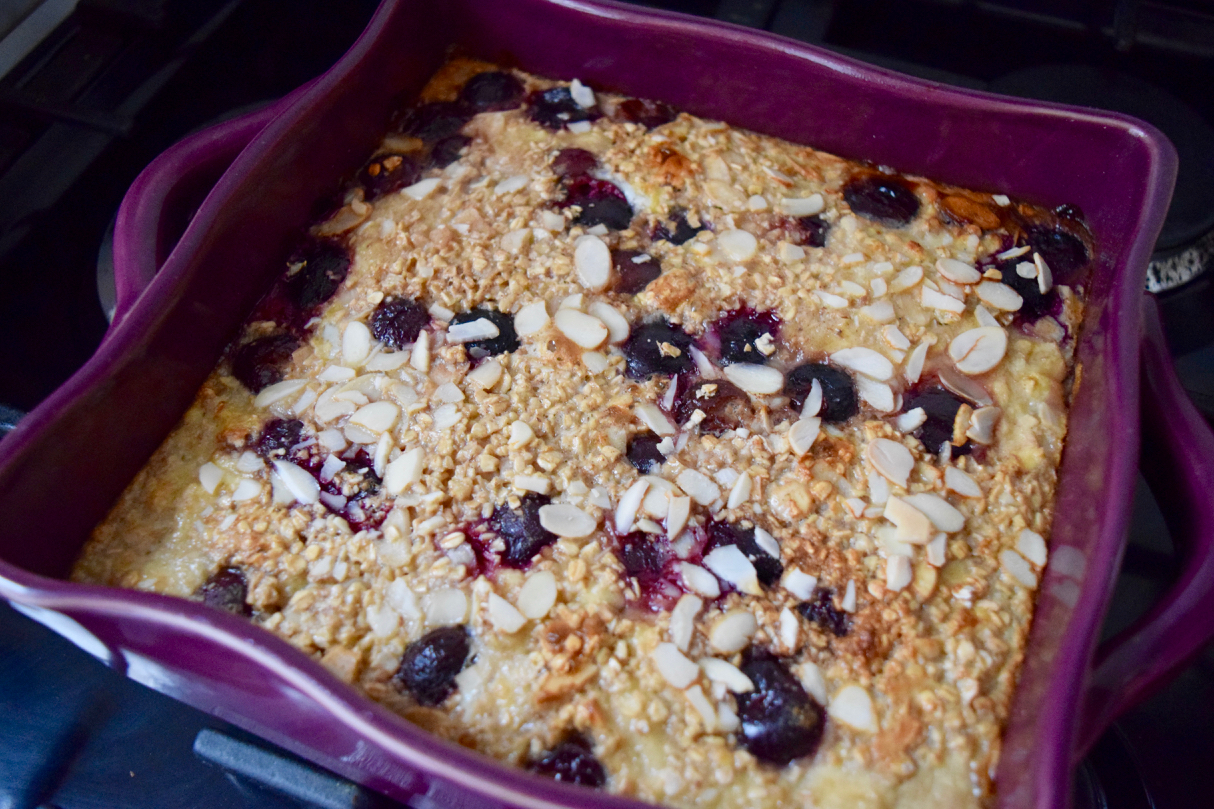 Serve in large bowlfuls with an extra drizzle of maple syrup if you like.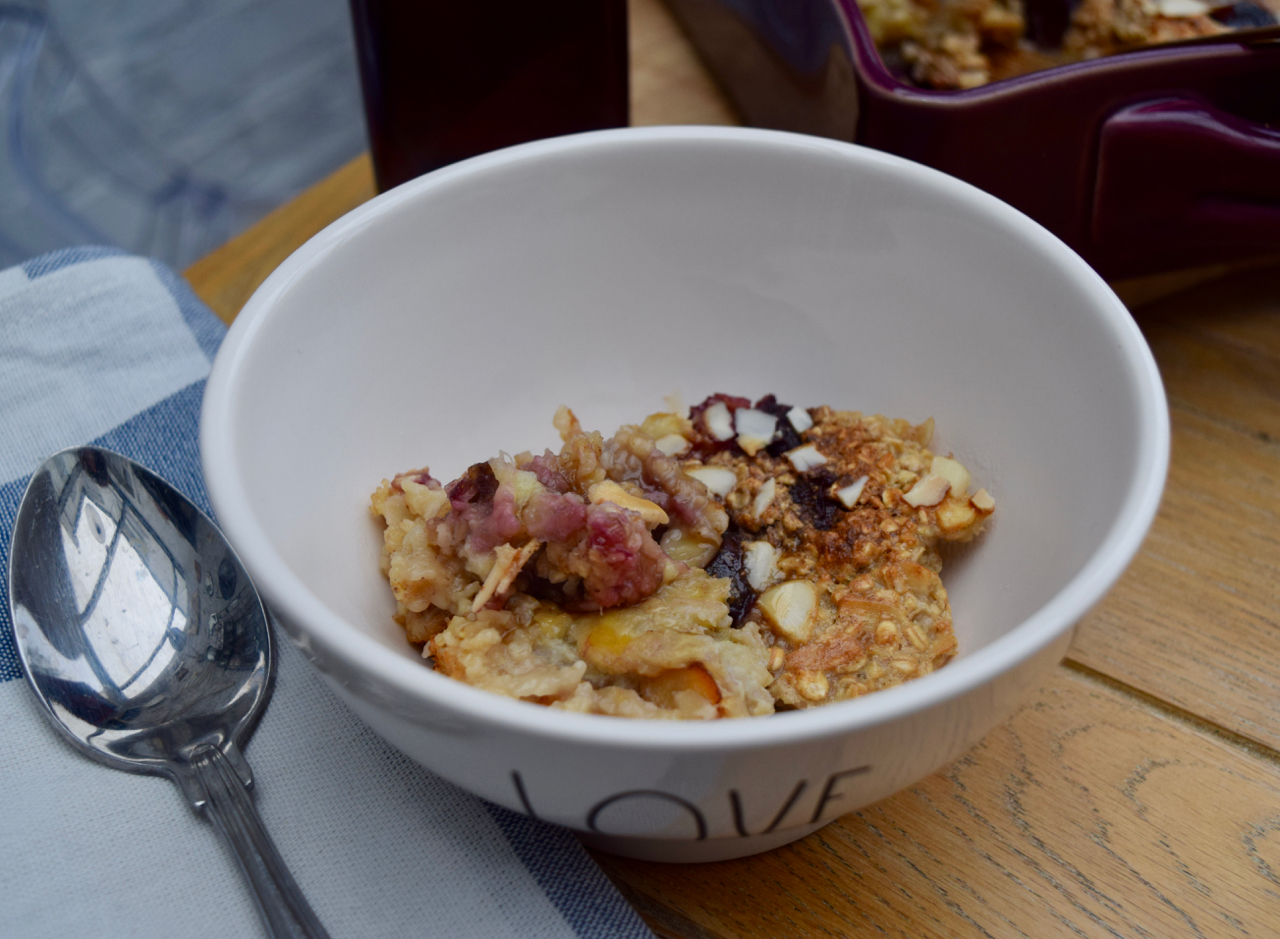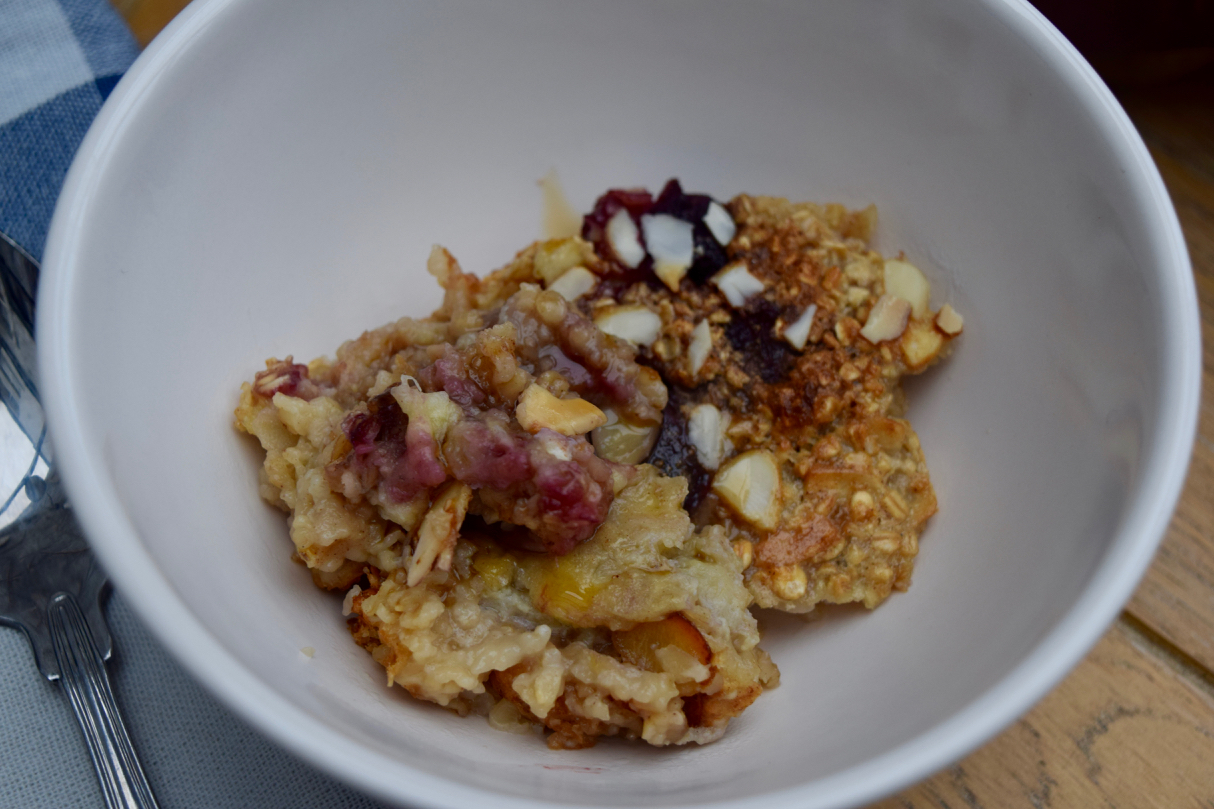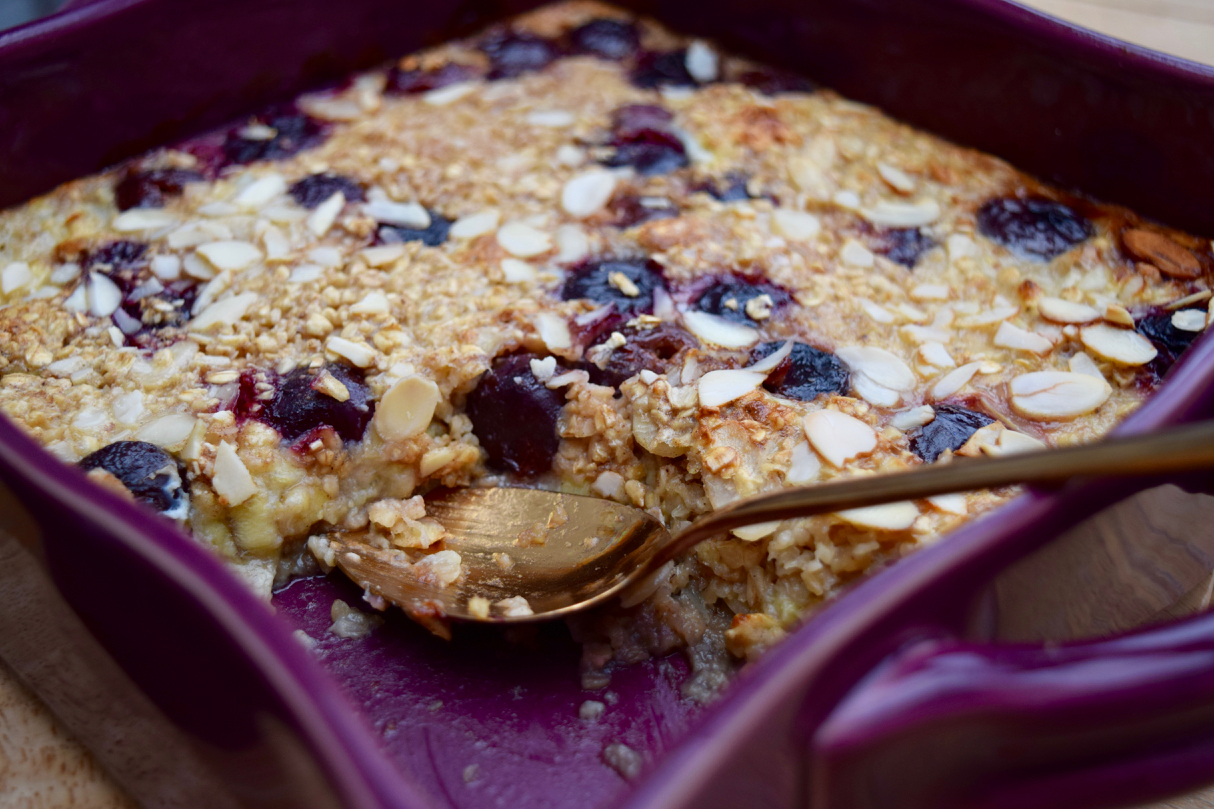 This Banana Berry Baked Porridge is a joy to eat and my first new love of 2019. Clyde and I absentmindedly ate this whole dish between us. I am sure in small portions it's good for you, just try and show a bit of new year restraint.
Happy New Year, now for goodness sake let's just leave it at that.
Lucy x
Banana Berry Baked Porridge Recipe
Serves a generous 4
You will need a 20cm square dish or similar
2 ripe bananas, mashed
150g berries, I used frozen cherries, but fresh blueberries or raspberries would be lovely
90g porridge oats, make sure yours are Gluten Free if you are GF
40g chopped nuts, I had flaked almonds to hand
1/2 teaspoon baking powder
1 scant teaspoon cinnamon
a pinch of salt
250ml milk of your choice, nut milk for vegans
60ml maple syrup or honey
1 egg
1 teaspoon vanilla extract
A drizzle of extra honey or maple syrup to serve
Pre heat your oven to 160 degrees fan assisted and butter your chosen dish.
Take a bowl and mash your two bananas and measure out your berries of choice, pop both to one side. In another bowl weigh in the oats then stir in the baking powder, cinnamon, salt and all but a tablespoon of the chopped nuts.
In a jug whisk together the milk, maple syrup or honey and the egg. It's now time to assemble the porridge. Sprinkle the bottom of your dish with half the porridge oat mixture. Spoon on the mashed banana then sprinkle with the berries. Spoon over the rest of the oats.
Pour over the egg milk mixture then press down with a fork to ensure the oats are well covered. Sprinkle with the reserved nuts then place into your pre heated oven for 25 to 30 minutes or until golden and firm to the touch.
Serve with a drizzle of extra syrup or honey if you wish. Any leftovers can be re heated in your microwave for subsequent delicious breakfasts.