Fresh Lemon Smoothie Recipe
This picture doesn't scream amazing, in fact it does just look like a glass of milk. However, this Fresh Lemon Smoothie is one of the most tempting drinks I have ever had which doesn't actually contain alcohol. I have made tons of smoothies, in fact I try and get George to drink one most days as it's a great way of sneaking 5 pieces of fruit into a glass. But this one is a different ball game. As an added bonus, and from first hand experience I can vouch for the fact this is a super hangover cure.
Now the warmer weather is here, and is promised to stay for the lovely second Bank Holiday weekend in May, a Fresh Lemon Smoothie makes the perfect breakfast drink. It has a wonderful, fragrant fresh tasting zing and it does have healthy connotations, unlike most of my other ramblings. Not only is this abundant in lemon freshness it has tart ginger, turmeric and yoghurt for good measure and good health. Honey adds plenty of natural sweetness and an early morning energy boost. Sometimes the banana based smoothies are too much, not so this Lemon Smoothie, it's light and leaves you feeling less weighed down and more lightened up. Huge thanks to Food Fanatic for the inspiration.
I love lemon, and have a lemon water every morning before I leave the house. This Lemon Smoothie is fresh, light and thirst quenching, just right for a balmy bank holiday weekend when you can start the day in a more leisurely fashion and even drink it in the garden. Now I've said that, watch the forecast change and the heavens open. Sorry in advance.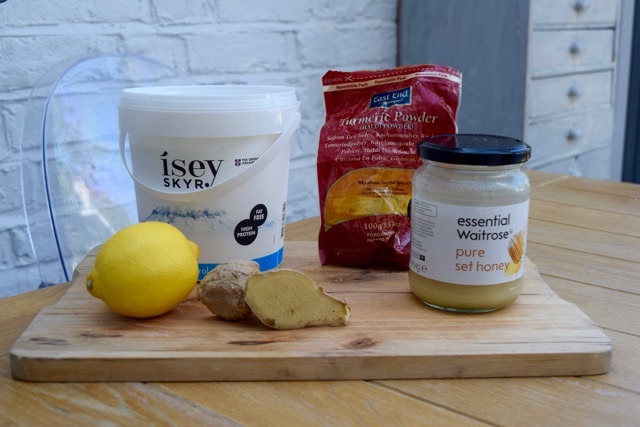 Could this look any more healthy? I love this Skyr yoghurt, it's thick, rich but still manages to be low fat and a great source of protein. Feel free to use fresh turmeric in this, you would only need a tiny amount, but add it if you have it. I do, but cunningly froze it, then couldn't find it in the war zone that is my freezer.
Make a start in a similar style to a cocktail by adding a good couple of handfuls of ice to your blender or NutriBullet.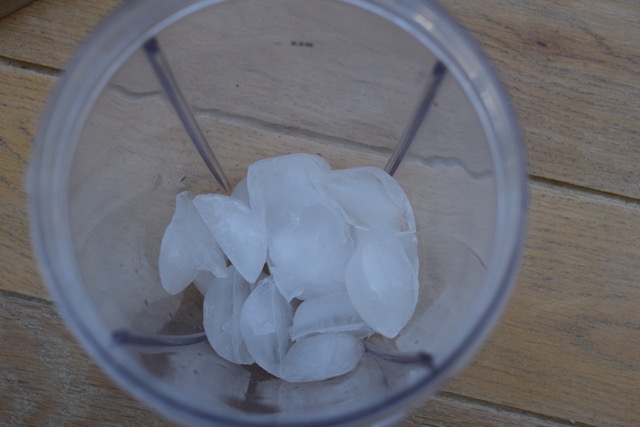 Follow in with the yoghurt of your choice. I used the lovely thick Skyr variety but Greek, vanilla or just simple plain would work.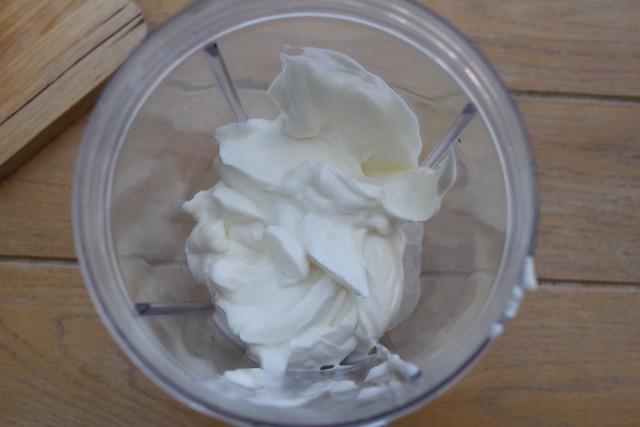 Add the lemon juice and zest then the chopped fresh ginger.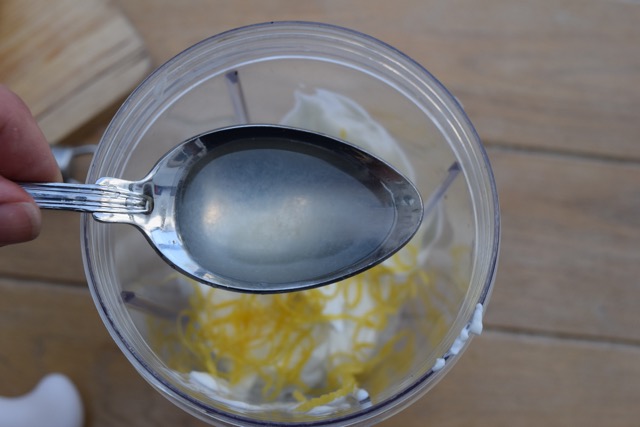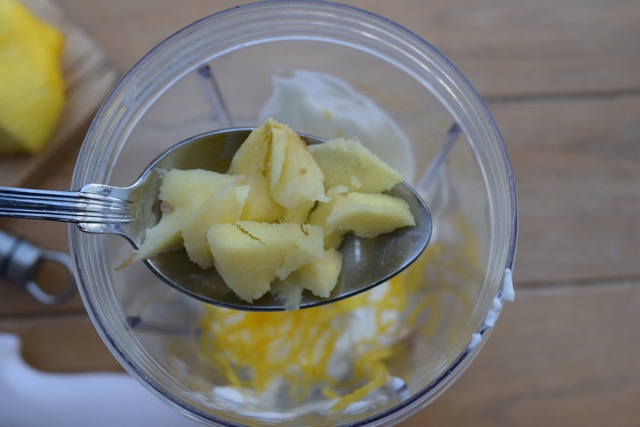 Finally add the honey. Add one or two tablespoons to taste, it's up to you, you can always add more later, and then the 1/8 teaspoon of ground turmeric or fresh if you have it.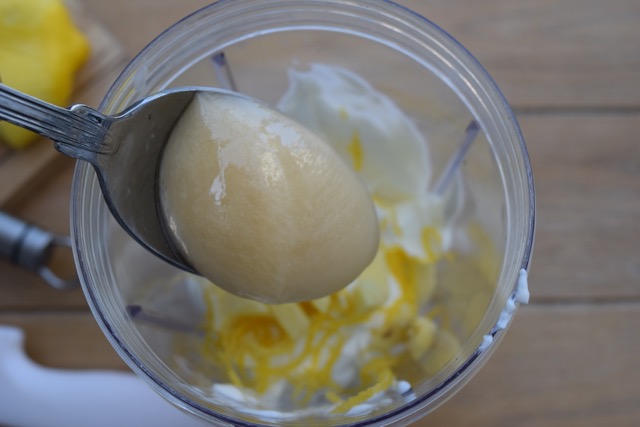 Now, it's blitzing time. Process until smooth and all the ingredients are well blended together.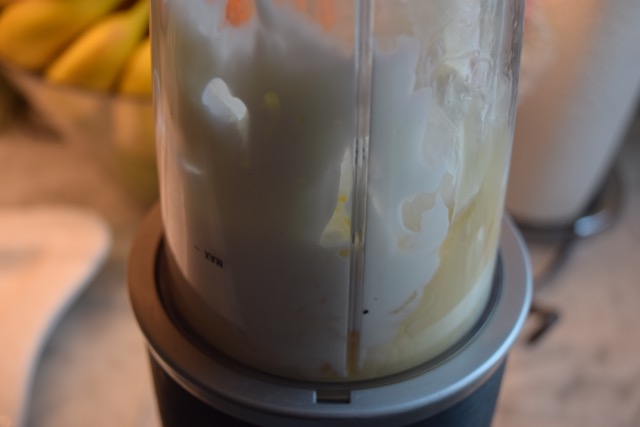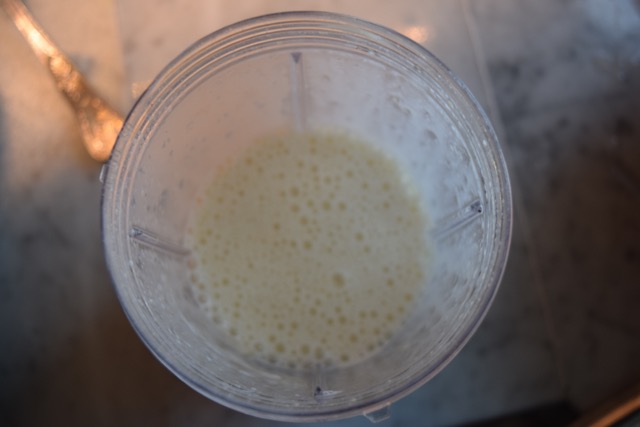 Serve in a large glass with a side of your choice. Granola bar, a handful of nuts, or toast and Marmite, your call.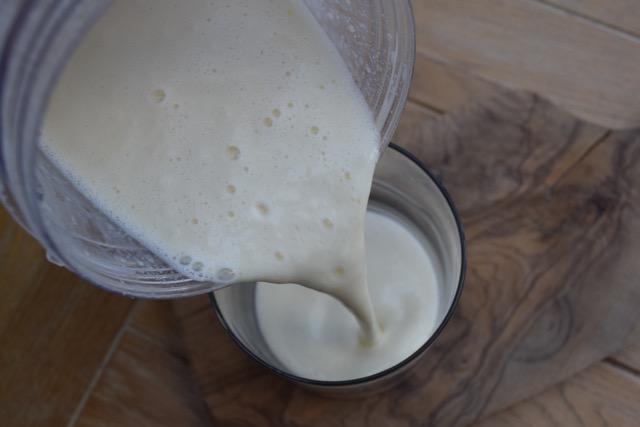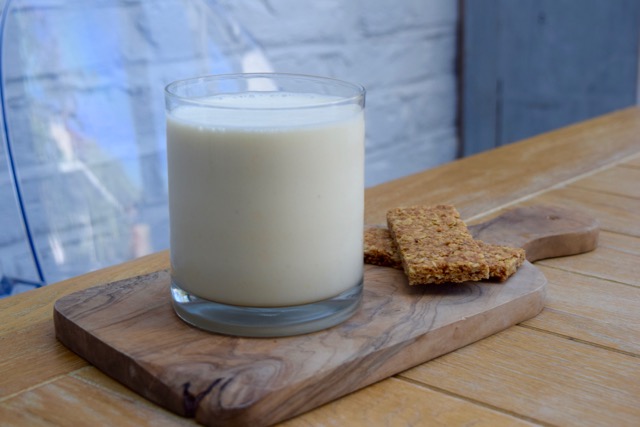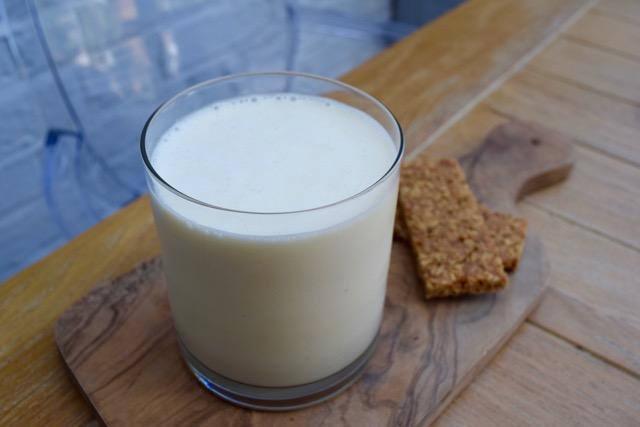 This is simple, doesn't look much, but tastes divine. You are left feeling fresh and refreshed by it. There are times when only a bacon and fried egg bap will do for breakfast but then there are other times when a Fresh Lemon Smoothie is the order of the day. Or both, both is good, it's a long weekend, treat yourself.
Lucy x
This post contains an affiliate link to Amazon. Should you wish to buy through this link, Lucy Loves will receive a tiny commission, at on extra cost to you.
Fresh Lemon Smoothie Recipe
Makes 1 generous glass 
You will need a blender and a lovely big glass
280g yoghurt – I used low fat thick yoghurt but use Greek or whatever you have in your fridge
2 handfuls of ice
2 tablespoons lemon juice
1 to 2 tablespoons honey, to taste
1 tablespoon chopped fresh ginger
Zest of a lemon
1/8 teaspoon ground turmeric
Take your blender or NutriBullet and add the couple of handfuls of ice. Spoon in the yoghurt, lemon juice, honey, chopped ginger and lemon zest. Finally measure in the ground turmeric then blitz the whole lot together until smooth and fully blended. Check to see if you need more honey, to taste.
Pour into a large glass and serve with a lovely crunchy granola bar for a satisfying treat.
SaveSave
SaveSave
SaveSave