Slow Cooker Chicken Korma Curry Recipe
I can always eat a curry. Day or night. Mostly nights, but a curry for breakfast wouldn't be the end of the world. It's a versatile dish, it can be speedy and for the family or slow and fragrant, just right for guests. In a big bowl with a spoon when hungover or at a stylishly laid table with your best cutlery, curry has no airs and graces. I feel I have been neglecting my lovely Crockpot, kindly given to me some months ago, so this weekend I dusted it off and made this completely delectable Slow Cooker Chicken Korma Curry.
The original recipe from Baking Queen 74, with thanks to her, billed this as a Pasanda. I have re-named it as a Korma Curry due to the almond and creamy nature of this dish, but I'm no aficionado. Right or wrong *probably wrong* this is Lucy Loves and I can call my curry what I like. All I do know is, this Slow Cooker Chicken Korma Curry is so bloody good. Creamy, warming, soft, comforting: this curry will exhaust all my predictable food blogger phrases in one post. And it's simple, so, so simple. Plonk everything in your slow cooker and leave it. You can fry off the chicken, onions and garlic first, but who can be arsed, the whole point of a slow cooker, for me, is it's all-in-one nature. If you don't have a slow cooker, buy one. No, seriously, I have also made this Korma Curry on the hob and it is as wonderful, just fry everything off, pour in the coconut milk and simmer for 20 minutes, lid on. With the slow cooker the timings are up to you. I started mine for an hour on high then cooked it on low for another 2 and a half hours until tender and unctuous. This suited my timings, but cook this to suit yours, this brilliant curry can sit simmering on low for up to 6 hours.
I stirred through some fresh spinach and a handful of coriander for extra freshness and to hide some greenery from George. He still managed to pick it out though, as standard. Korma or Pasanda, this curry is versatile, creamy, nutty and spiced to perfection. It can simmer away whilst your day races past you then be ready to comfort you and your family whenever you're ready for curry. All day, every day, if it's my family.
Here's the line up for this curry, which does look like a bloody great big selection of spices. It's nothing too fancy though, I had all these in my newly tidied kitchen cupboard. I used lazy ginger as I am lazy and forgot to include the fresh chilli in the photo because, at times, I am worse than useless. Also I couldn't find any ground almonds, so ground some whole ones up in the Nutri Bullet. I am innovative if nothing else, and couldn't find a child to bribe to walk up to Waitrose.
Rambling aside, make a start by switching your Crockpot on to heat up. Take the pot and add the cubed chicken. I went for breasts as I had them to hand, however, boneless thighs work here too.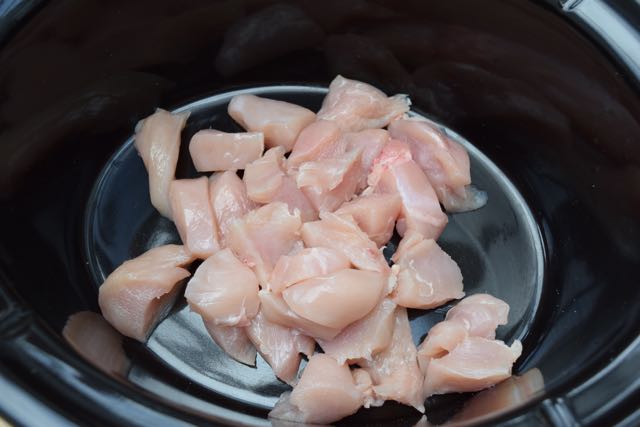 Thinly slice the large onion and chop the garlic then sling them into the pot along with the ground almonds.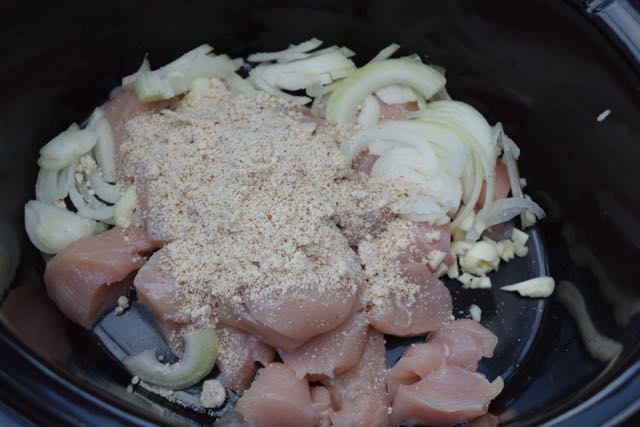 Now it's time for the fresh chilli and ginger and the tomato paste. I had a pot of concentrated paste which worked perfectly.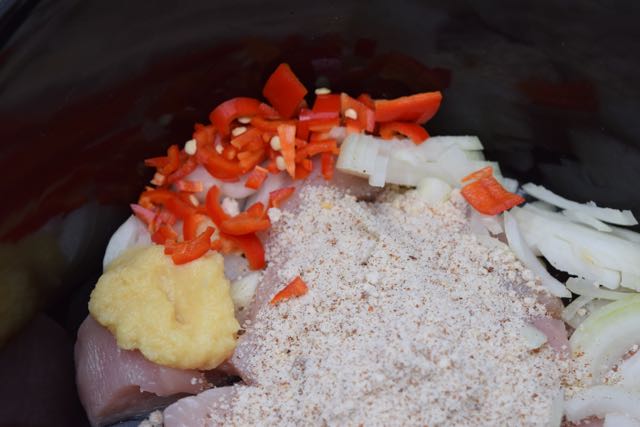 Then it's all about the spices. Measure in the garam masala, turmeric, ground coriander, cumin and both curry and chilli powders. It seem's like a lot, but they all add their own personalities to your curry party.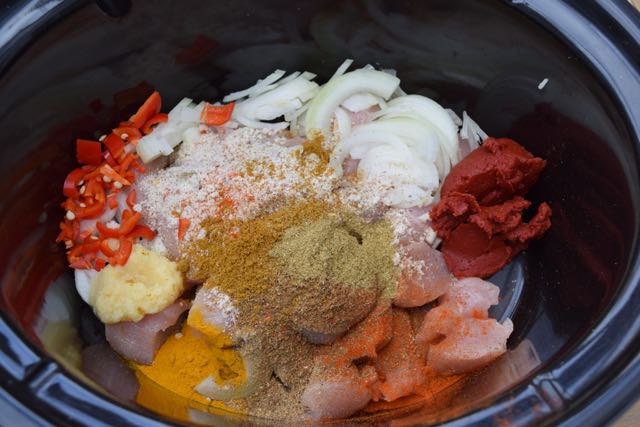 So artistic.
Now, pour in the coconut milk and give the whole spiced, fragrant combination a mighty good mix.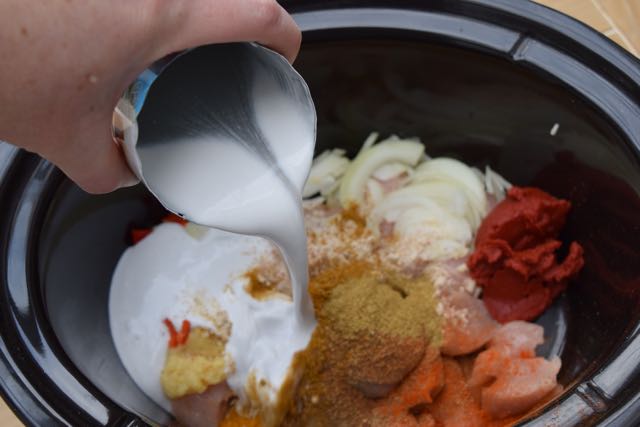 Add some salt and pepper, to taste.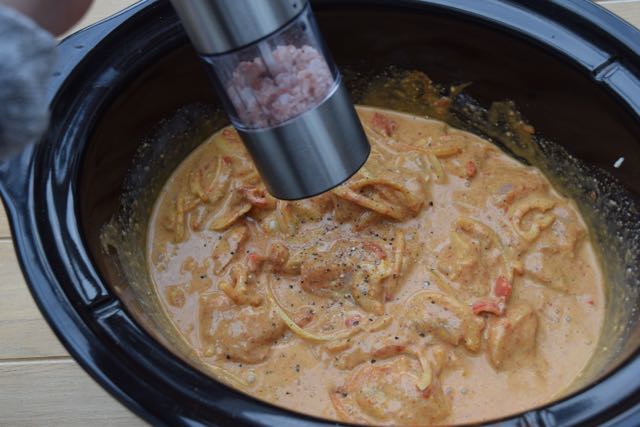 Put the lid on and leave your slow cooker to do it's business. Up to 6 hours on low or 3 on high.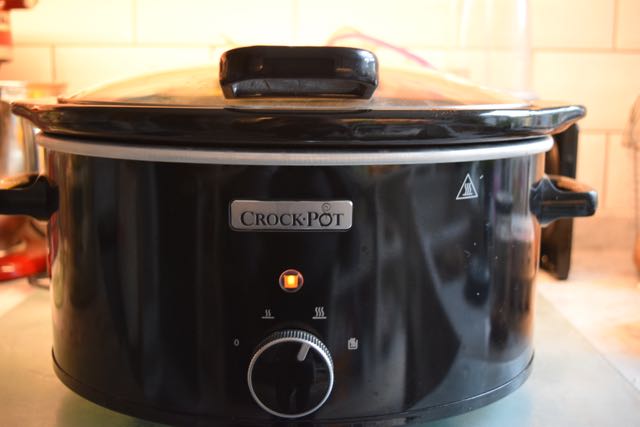 By the time your chosen cooking time is up you will be being lured into the kitchen by the fragrant curry based wafts.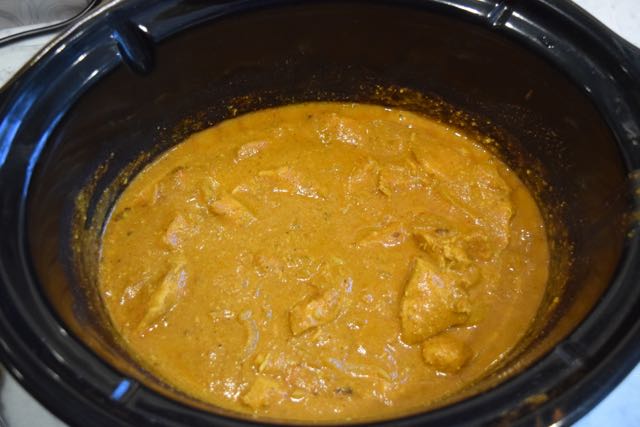 Stir though some fresh spinach and return the lid for another 5 minutes while you prepare your sides.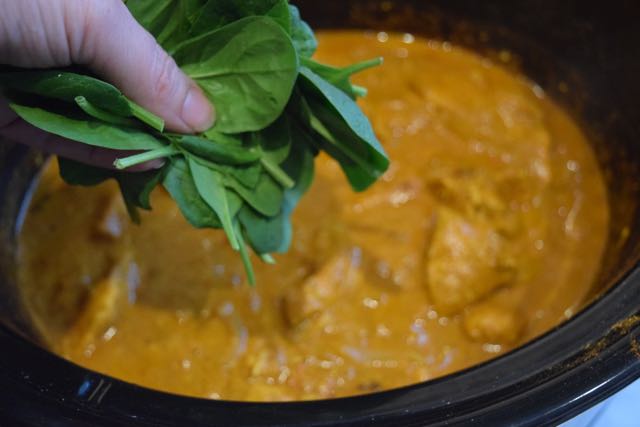 Spoon your rich, smooth Korma/Pasanda over some rice and scatter with fresh coriander leaves.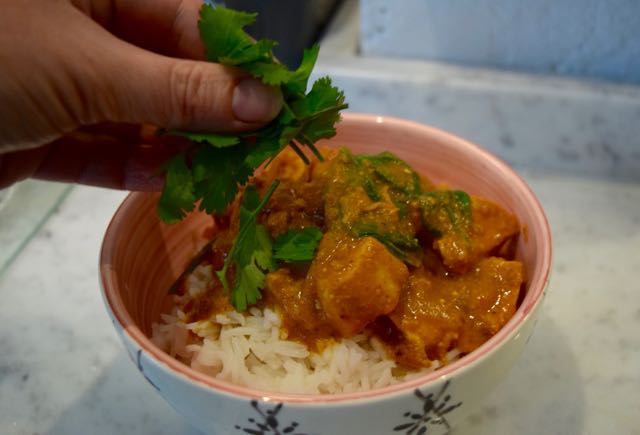 If Lucy Loves had audio, you would have just heard my tummy growl.
Devour in bowlfuls like my family did, in fact I now double this recipe in order to accommodate the greedy calls for seconds.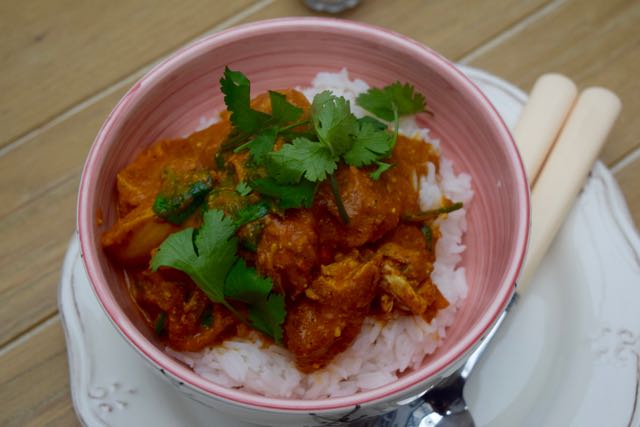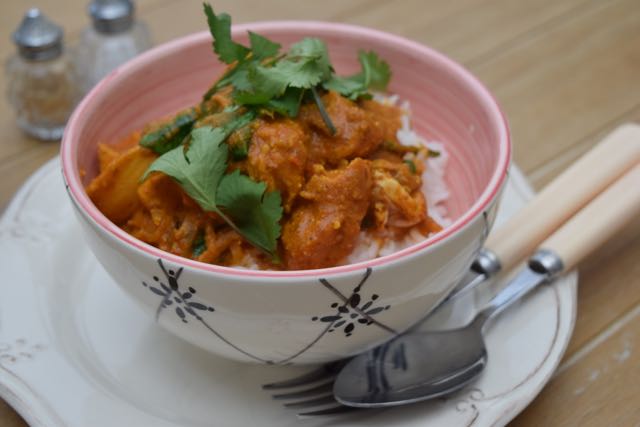 This is convenience food at it's finest. Use your slow cooker to take the effort out of your curry or cook on the hob if that suits you. Either way you will be more than rewarded with a Chicken Korma your family will ask for again and again. If they are hog-like curry fans like my family, that it.
Lucy x
Slow Cooker Chicken Korma Curry Recipe
You will need a slow cooker, or not, this can also be made on the hob
Serves up to 4
500g chicken breast or thigh fillet, chopped into bite sized pieces
1 large onion, sliced
2 to 3 cloves garlic, chopped
1 teaspoon lazy ginger or an inch fresh ginger, peeled and chopped
1 fresh red chilli, chopped and de-seeded if you prefer a little less heat
2 heaped tablespoons ground almonds
5 tablespoons tomato paste
2 teaspoons garam masala
1 teaspoon turmeric
1 teaspoon ground coriander
1 teaspoon cumin
2 teaspoons curry powder
1 and a half teaspoons chilli powder
1 x 400ml can coconut milk
salt and pepper
Optional handful of fresh spinach
Fresh coriander to garnish with rice, naan, mango chutney to accompany
Take your slow cooker and switch on high to heat up.
Cut the chicken into bite sized pieces and add to the slow cooker pot. Follow on with the sliced onion and garlic followed by the ground almonds.
Add the chopped fresh chilli and ginger then the tomato paste, garam masala, turmeric, ground coriander, cumin, curry powder and chilli powder.
Pour in the coconut milk, stir well then season with salt and pepper. Put on the lid and cook for 3 hours on high or 6 on low. Once cooked, add a handful of fresh spinach, stir then put the lid back on for 5 more minutes.
Check for any additional seasoning needs then serve this curry with rice, naan, mango chutney and garnish with handfuls of fresh coriander. Any leftovers are amazing the next day.