Green Mint Choc Chip Smoothie Recipe
My week of healthy eating has made it to the end of Tuesday. Congrats to me. Well not really congrats, I have just managed to swerve sugar for nearly 48 hours, but that's a biggie for me. I haven't been too maniacal about it, I am still eating fruit and have spent hours making a huge array of my homemade Nakd Bars, but not a single square of Dairy Milk has passed my lips since Sunday. So far, I don't feel too deprived but variety is the key when I am trying to be good, and I do love to embrace a new diet. It means looking for new recipes and new ideas. This Green Mint Choc Chip Smoothie is a bloody brilliant find and one I am happy to share with you today.
In the summer, taking a smoothie to work for breakfast is a fab idea. It's portable, chilled and refreshing, and this Green Mint Choc Chip Smoothie is packed full of vitamins.  You can use a milk of your choice, I randomly had some coconut milk in the fridge and this worked wonderfully. This is then blended with spinach, fresh mint, banana for natural sweetness and some cocoa nibs for a whiff of chocolate and a hint of crunch. It looks like pond water, but tastes like a fresh vitality giving, flavour filled breakfast in a glass. You don't have to drink this for breakfast, it would make a speedy, filling lunch or post exercise sustenance. Just throw everything into the Nutri bullet or blender and that's it. This smoothie has all the qualities and flavours of an ice cream sundae with none of the crap. My inspiration for this came from a v information smoothie selection on the Greatist website, with huge health-laden thanks.
Packed with iron, antioxidants and anti bacterial qualities this vivid green, flavour enriched blend is perfect for keeping your spirits up if you are feeling miserable on a diet. So far I am coping admirably, but it has only been a scant 2 days, so no need to award me a medal for endurance just yet.
Fresher than fresh, apart from the banana which is frozen from my collection of around 200 over-ripe bananas currently residing in my freezer. Whenever I go looking for sausages or chicken breasts all I can ever find is more sodding bananas, so I was happy to be shot of at least one in this fabulous Green Mint Choc Chip Smoothie. Feel free to use a fresh over-ripe banana, if you are not as much of a food horder as I am.
Make a start by taking your blender and adding a good handful of ice. Then add the banana, fresh or frozen, although I do find the  frozen one adds a touch of bulk.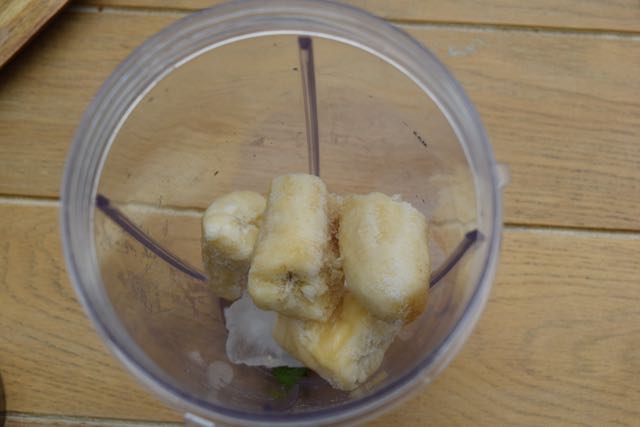 Now go in with the handful of spinach and the fresh mint leaves, with their such vibrant colours and zingy qualities. Pour on the milk of your choice. I had coconut which I am loving at the moment, especially, and I don't want to sound like too much of a ponce, for a splash in my matcha tea or in a coffee.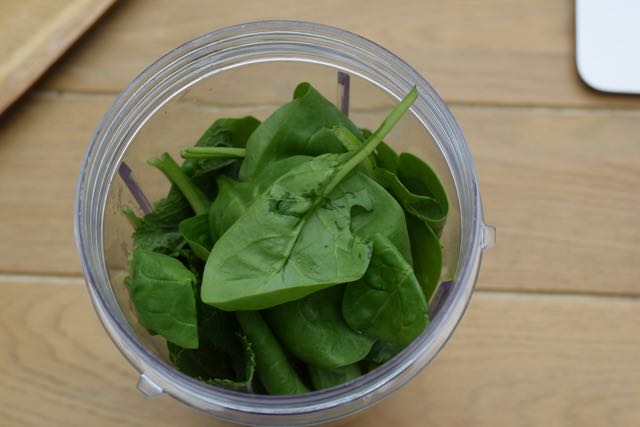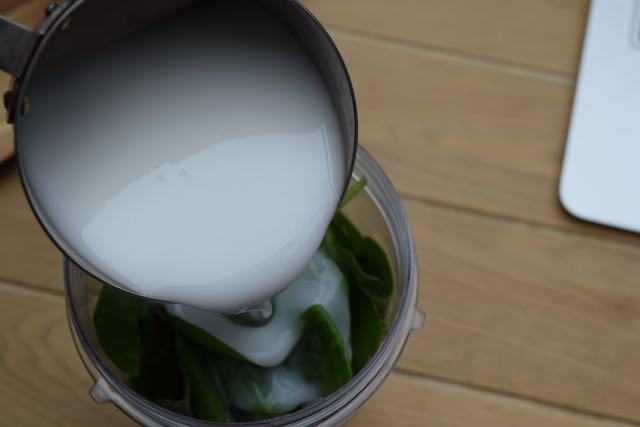 Now add a drop or two of vanilla for extra sweetness then follow on with one of the two tablespoons of cocoa nibs or dark chocolate chips.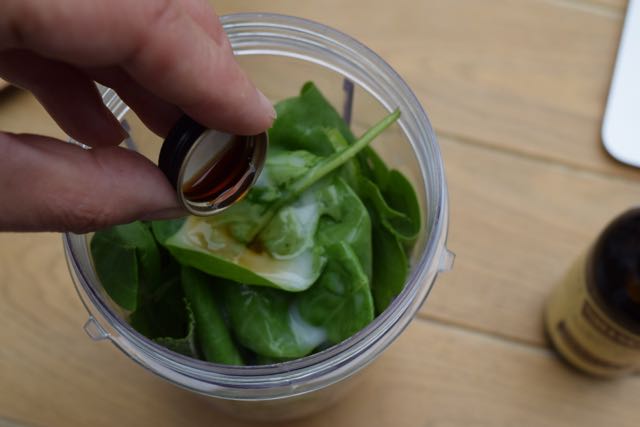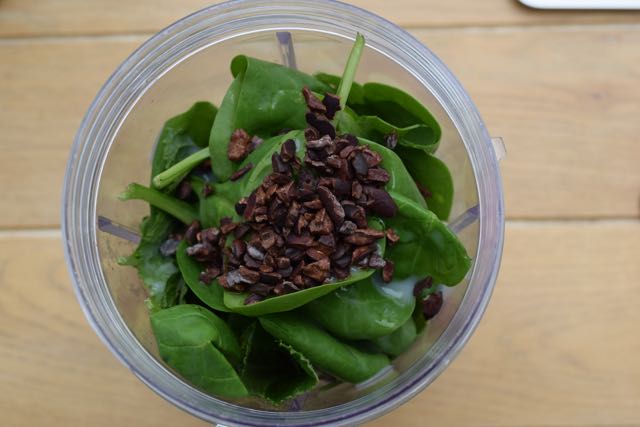 Now blitz or blend this super mix until smooth and a rather lurid green.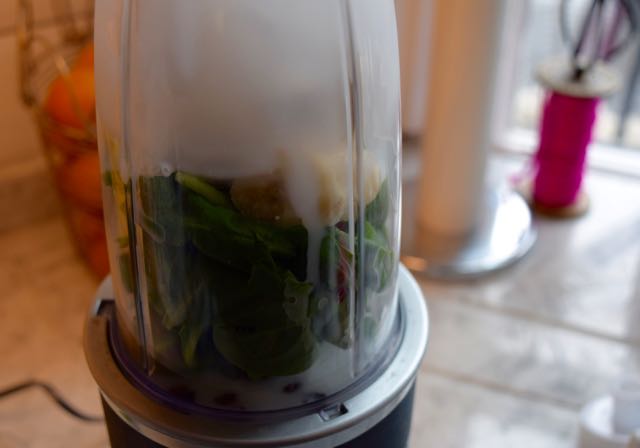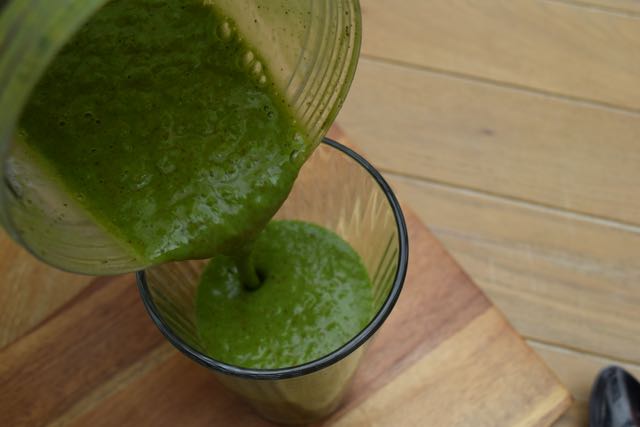 Sprinkle the Green Mint Choc Chip Smoothie with the final tablespoon of cocoa nibs or chocolate chips. These add a brilliant crunch to each mouthful.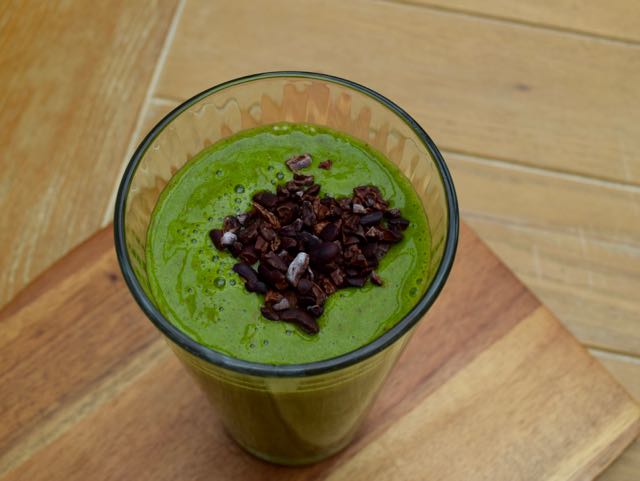 This tastes amazing, so fresh and refreshing.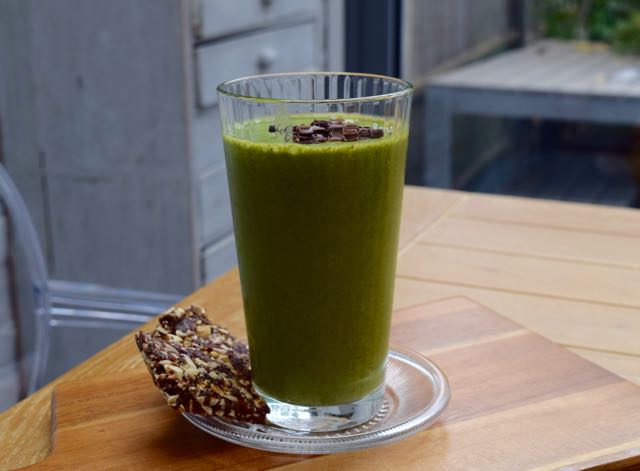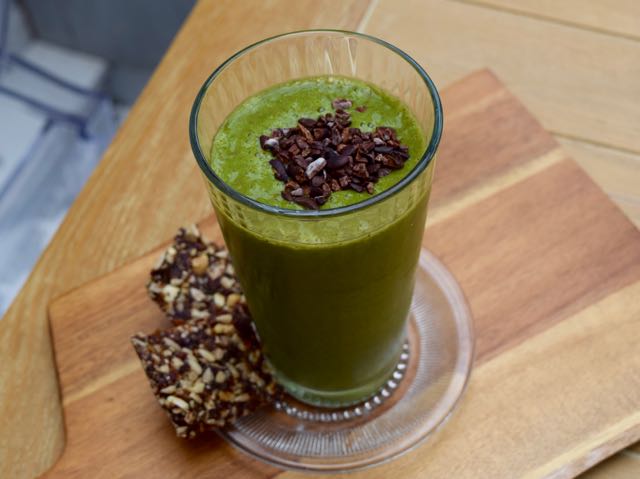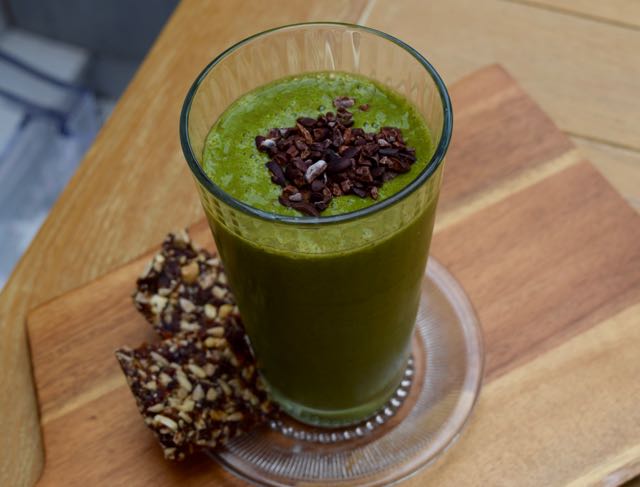 Alongside my rather wholemeal looking date and seedy bars *recipe to follow when I have a mo* this smoothie makes such a fresh, green start to the day. It screams health, even though it tastes quite the opposite with its mint choc chip qualities. Just make sure you don't spend the day with spinach in your teeth.
Lucy x
Green Mint Choc Chip Smoothie Recipe
Makes 1
You will need a blender or NutriBullet 
A handful ice
1 banana, frozen if you like
a small handful fresh spinach, around 50g
fresh mint leaves, around 25g
half teaspoon vanilla extract
250ml milk, almond, coconut, cows, cashew
2 tablespoons cocoa nibs, or dark chocolate chips
Take your blender and add the ice and the banana. Follow in with the spinach and fresh mint then add the vanilla and milk of your choice. Add one tablespoon of the  cocoa nibs or dark chocolate chips then blend until smooth.
Pour into a large glass and top with the final tablespoon of cocoa nibs or chocolate chips. This will keep in the fridge for a couple of hours, but shake before drinking.