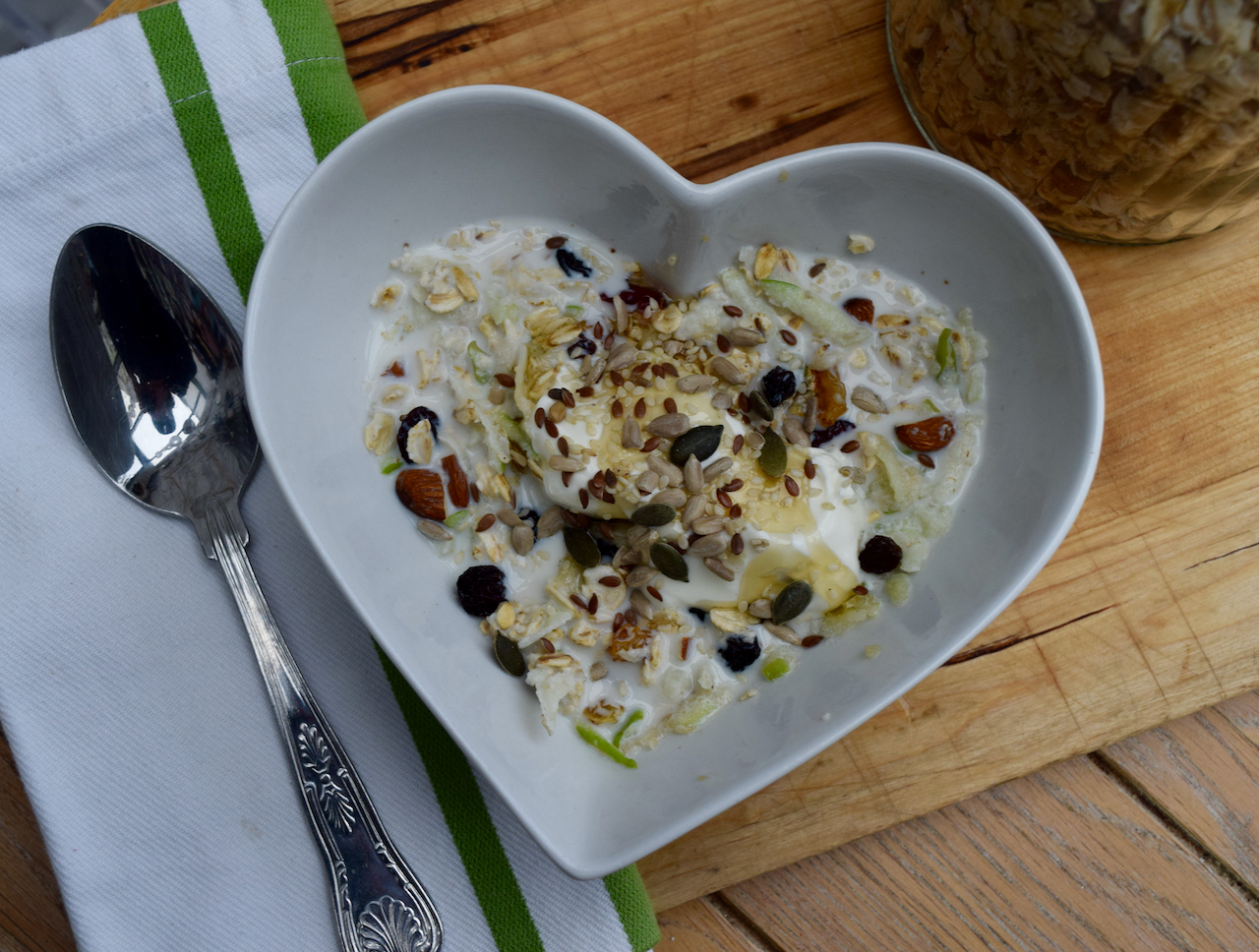 Homemade Bircher Muesli recipe
I am a child of the 70's and not ashamed to say it. When I was growing up a 100 years or so ago, certain foods in our house were deemed to be not for children. This list contains such items as Special K, proper steak *my sister and I always had what we called knitted steak, never sirloin or rump* and Alpen muesli. These weren't kept from us in a mean way, more for frugality and we were allowed these occasionally; but their adult status made them treats and 'special'. After all these years, I've decided to treat myself, and you, to a batch of Homemade Bircher Muesli, and it tastes just like the legendary Alpen.
This Muesli recipe is a simple mix. I've stayed loyal to the original recipe thanks to some pointers from the lovely Fuss Free Flavours. Oats, barley flakes, nuts and fruit are stirred together to create the base. This can then be made into the original Swiss overnight oats – Bircher Muesli. Just stir through some grated apple and milk and leave overnight, if you're organised, or at least 15 minutes if you're not. Tart this fresh breakfast up further on serving, with a generous dollop of thick yoghurt, a sprinkling of seeds, more dried fruit and a healthy trickle of honey. I can't tell you how this is helping me get through the tedious lockdown mornings.
I am a nostalgic old thing, and this Muesli is a delicious step back in time. And now I'm a grown up, I can eat it whenever I like.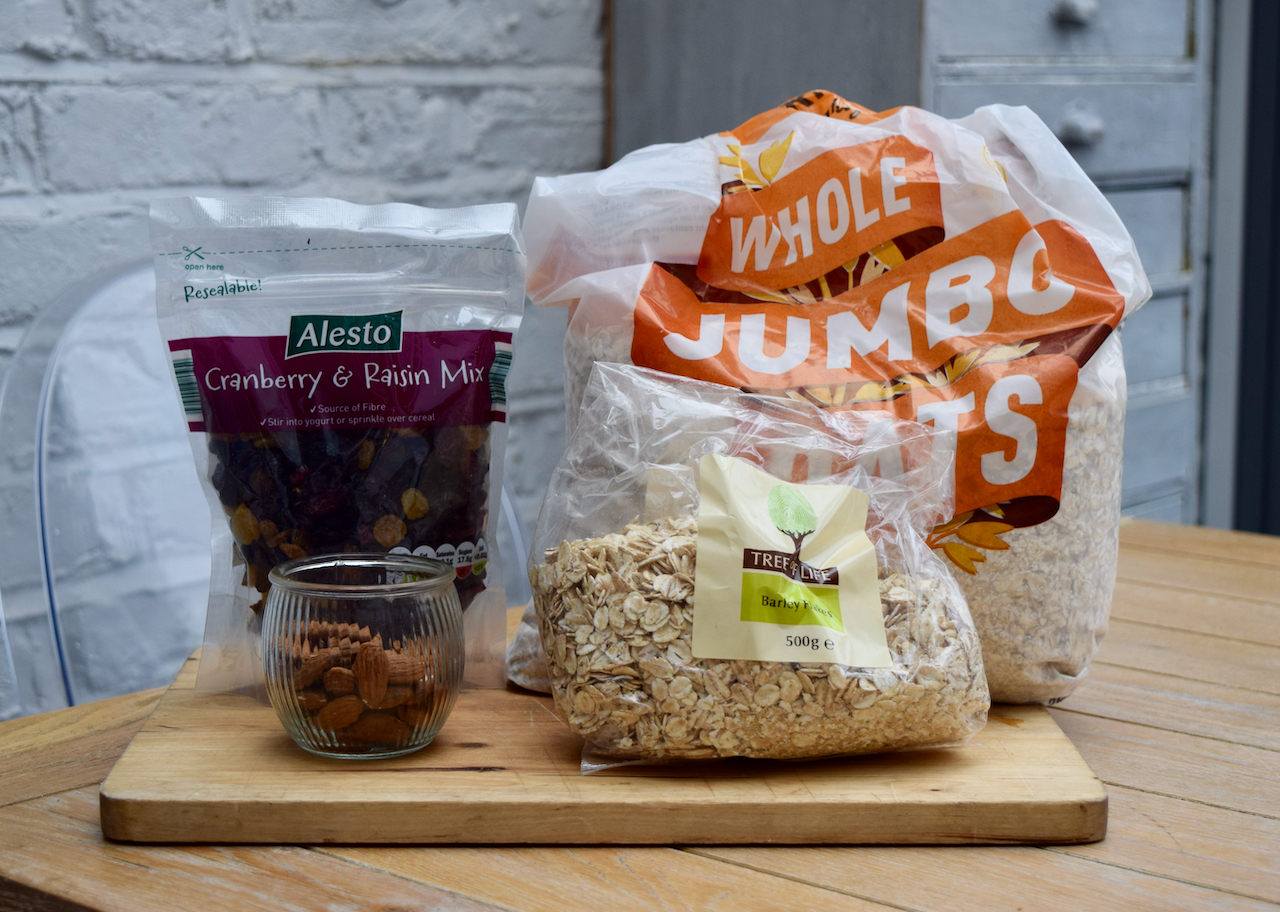 We are quite the family of oat eaters, hence the gigantic bag of the jumbo variety. The other grain I used was barley, but wheat and rye flakes seem to be readily available and all have useful cholesterol reducing properties. I had a bag of mixed raisins and cranberries lurking, so I added these to my Muesli, but you can add your favourites. Same with the nuts, you choose.
The Alpen style muesli base is a simple stir in a bowl affair. Measure in the oats, barley flakes and raisins.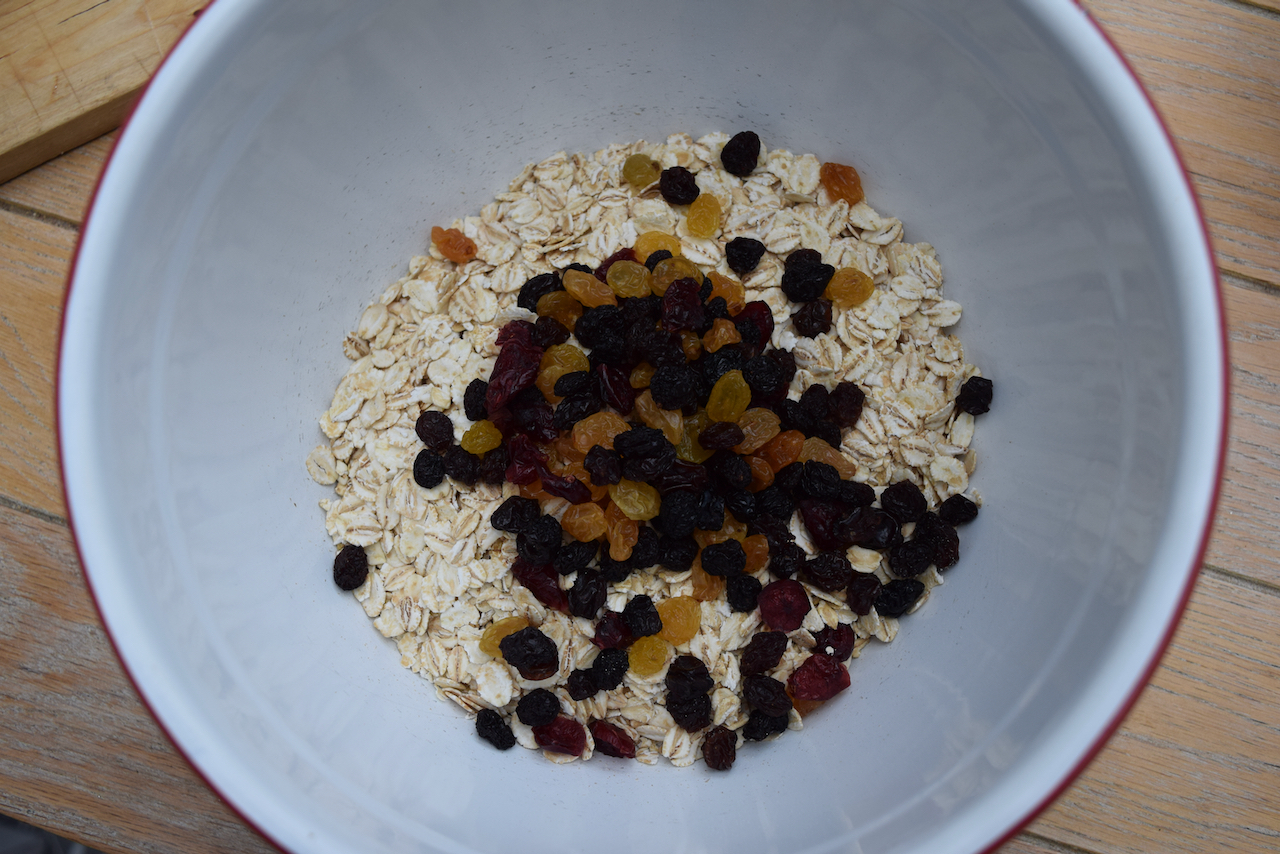 Chop your nuts then stir into the mix.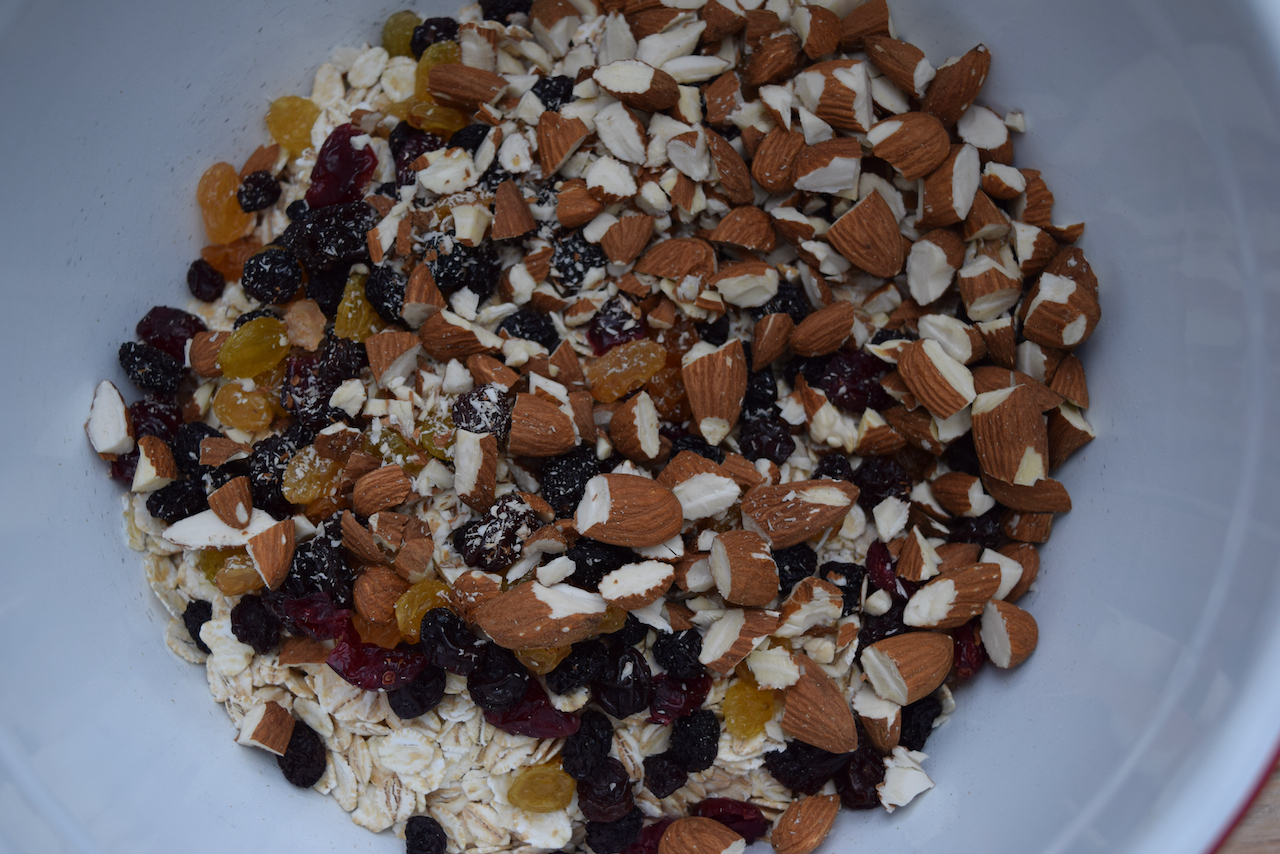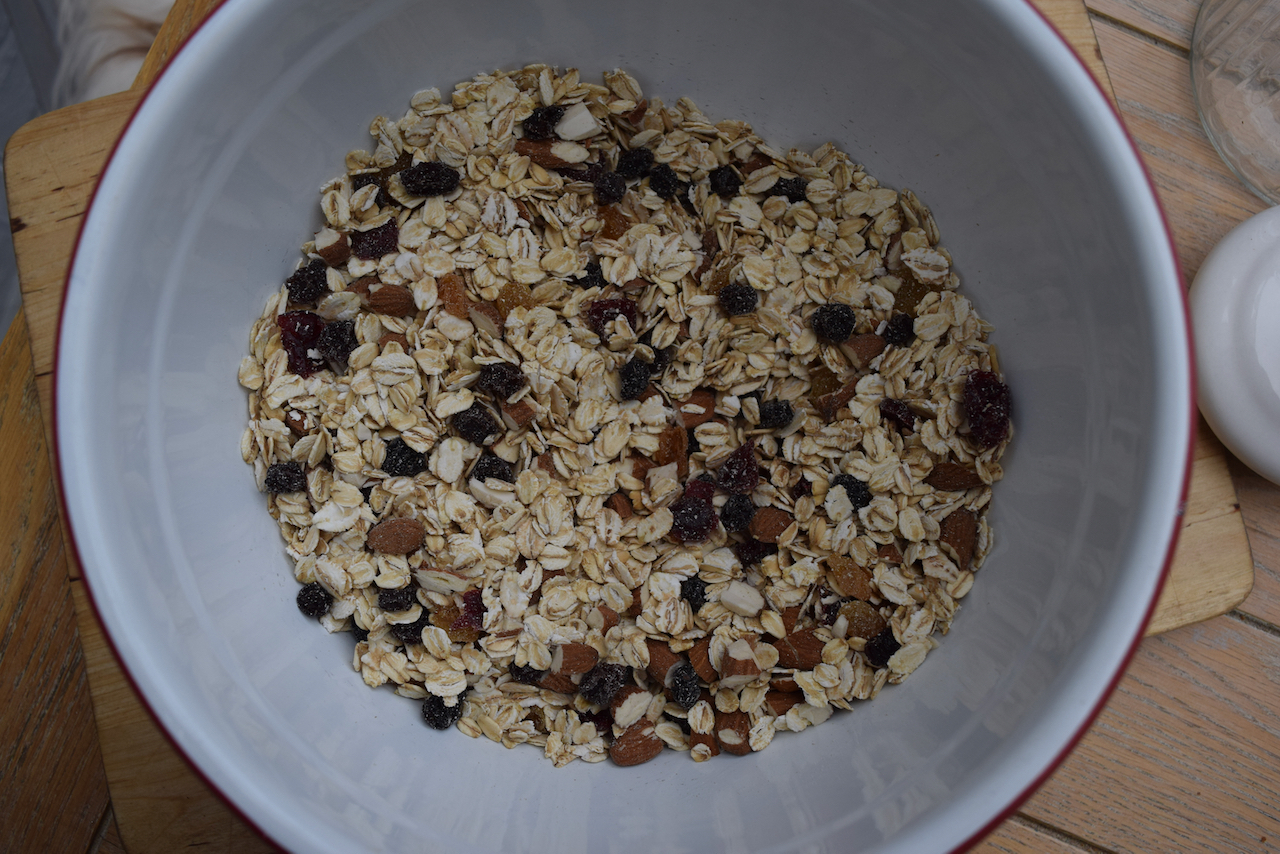 Now this can happily live in a jar for a good couple of weeks. Serve it with milk as you would with your childhood Alpen.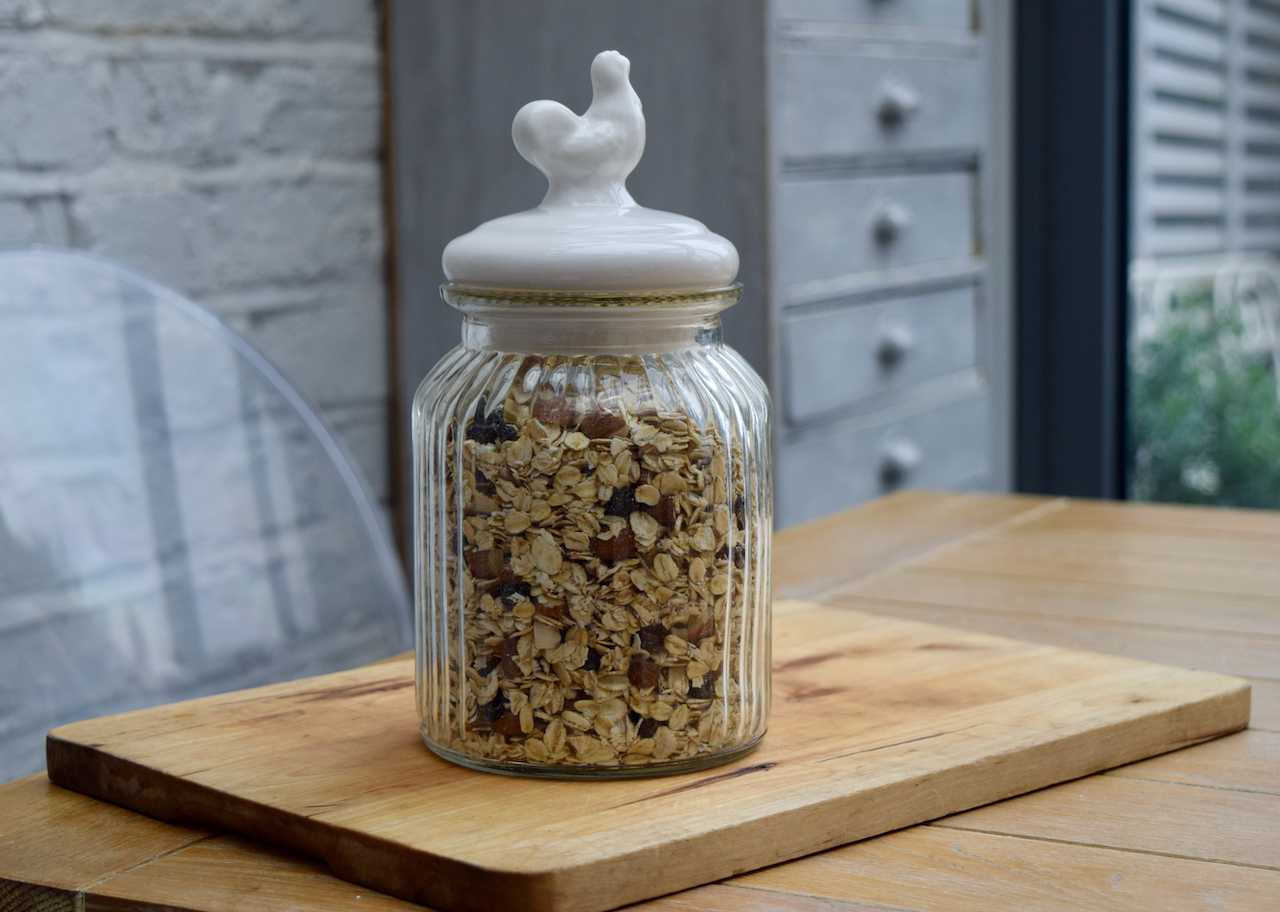 To fashion your breakfast into Bircher Muesli all you need is an apple and some milk. Grate one small apple onto around 50g of your muesli mix. You don't even have to peel the apple hooray.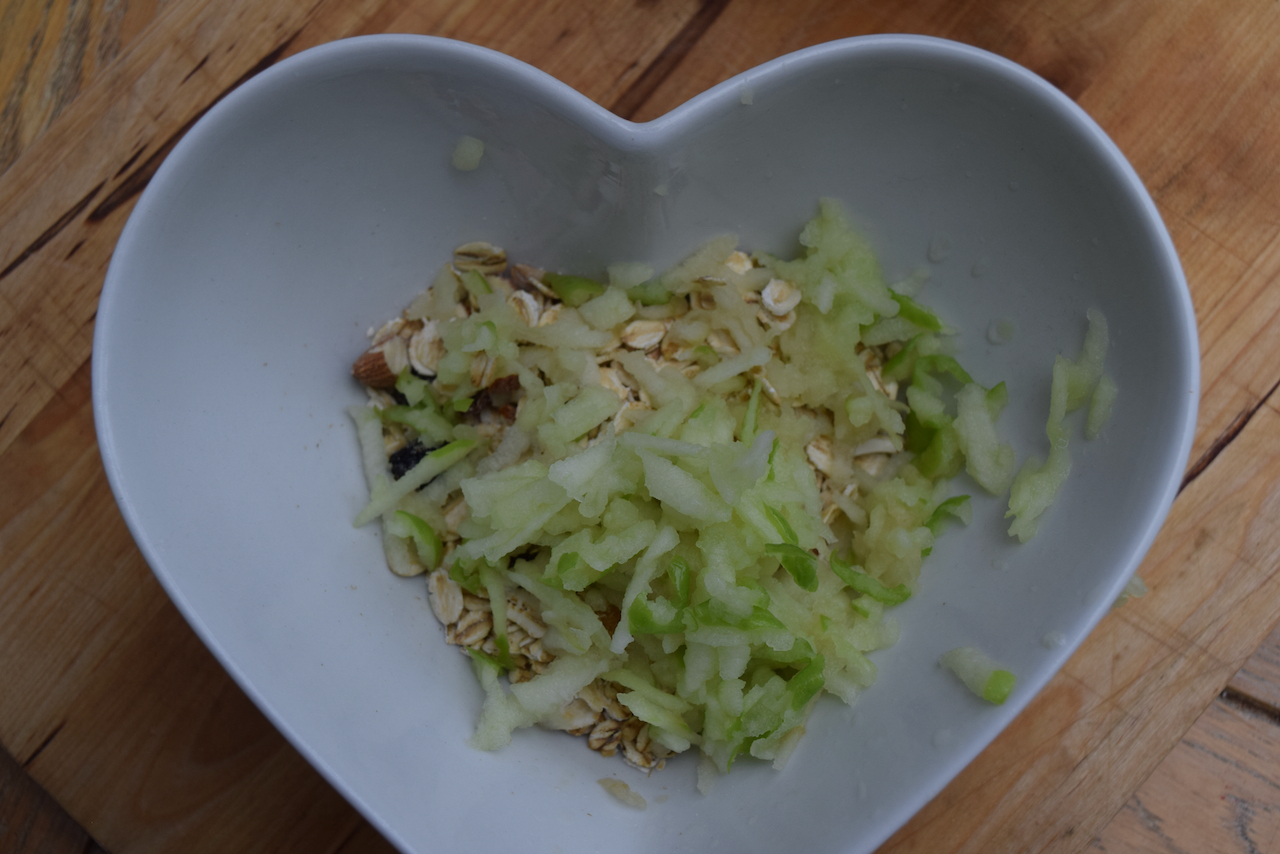 Pour on about 100ml of your chosen milk, stir well and then if you have time, cover and leave in the fridge overnight. If you don't, just leave it for as long as you can bear.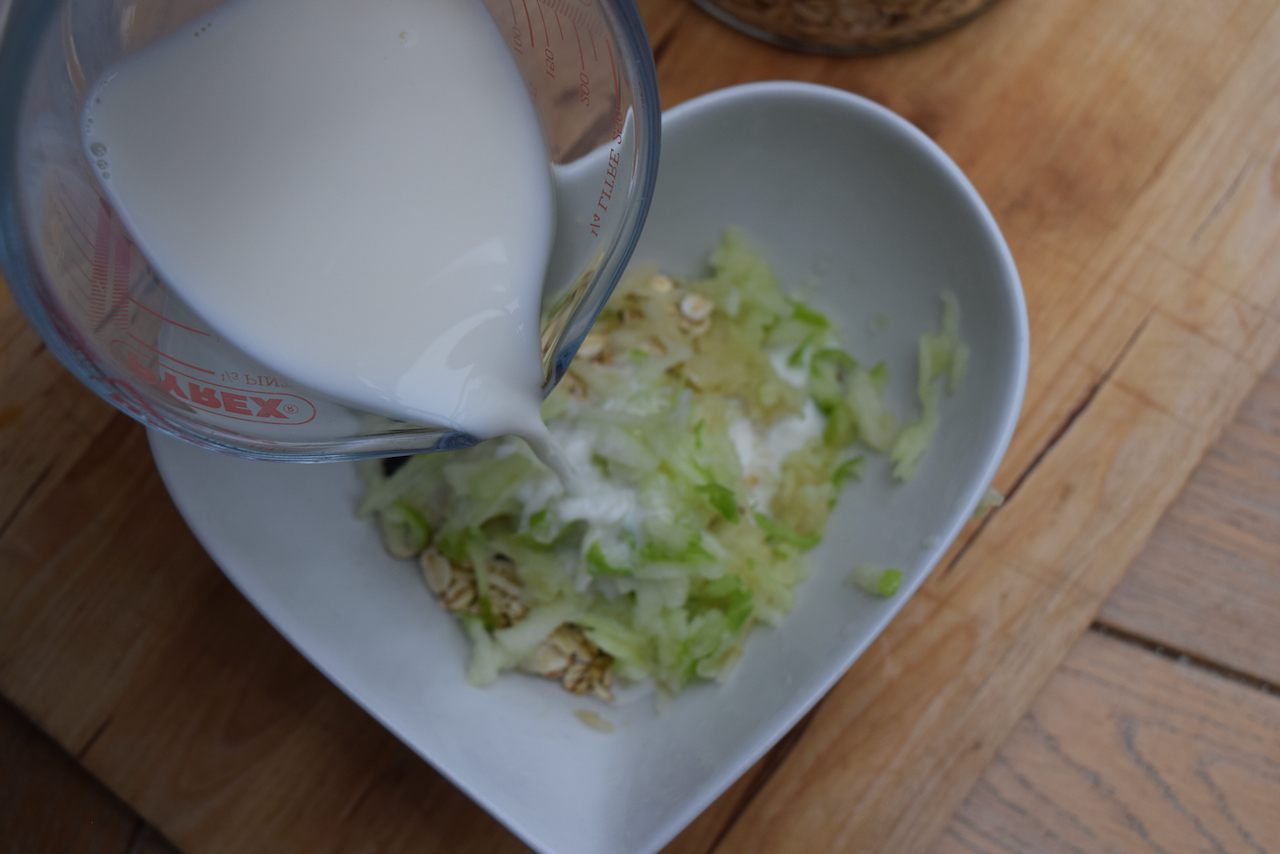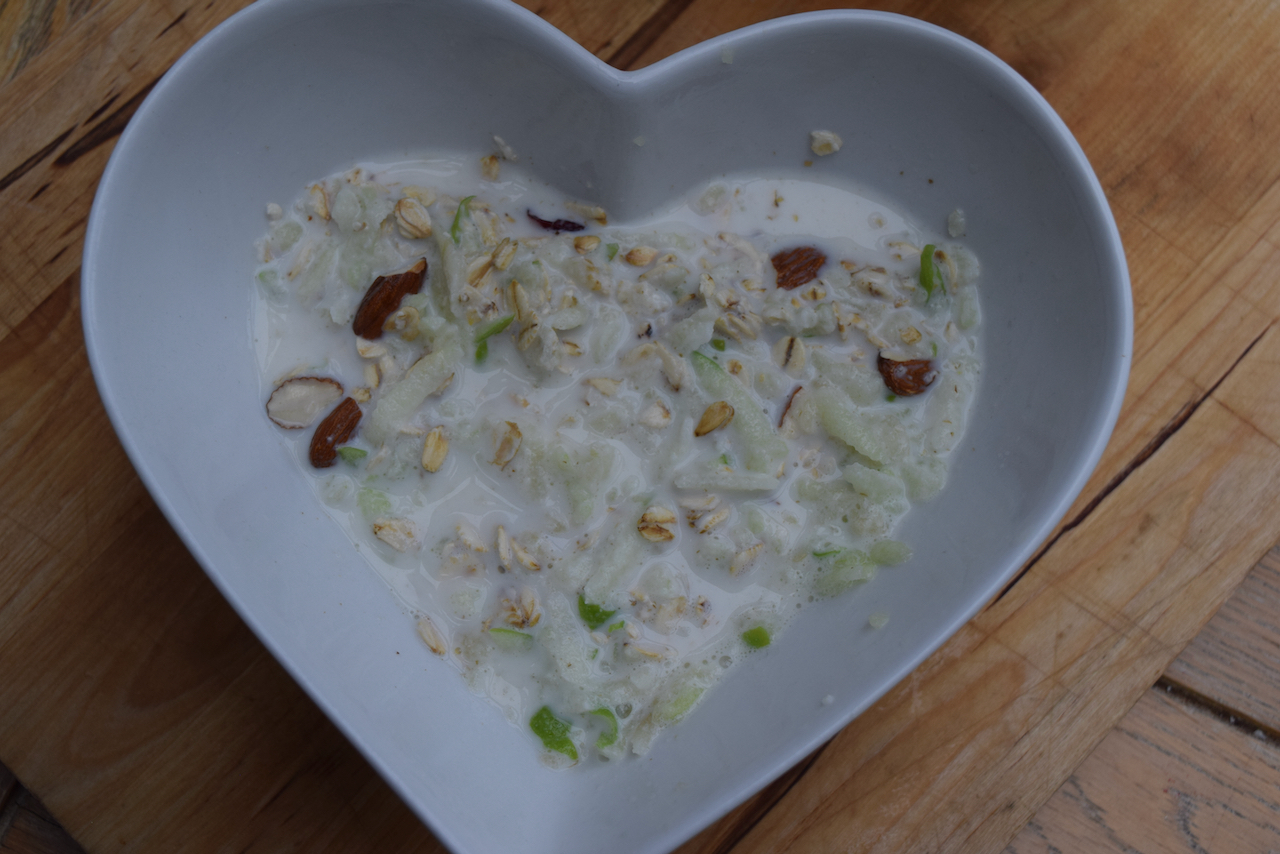 Of course, I didn't have time on my hands, so left my Bircher Muesli for a scant half an hour. It was still good, especially once I'd dolloped on some yoghurt, went heavy on the seeds and raisins and artistically drizzled the honey.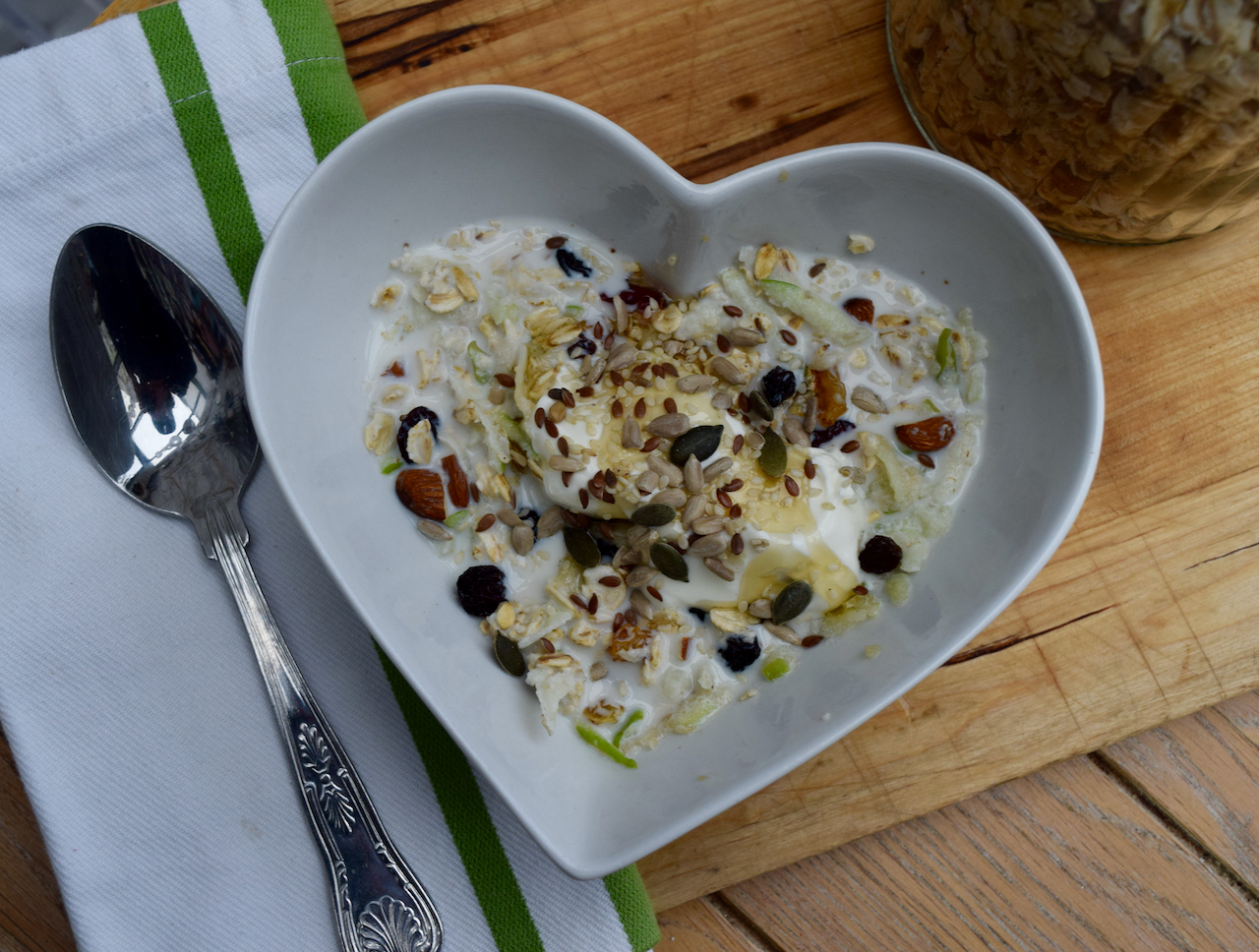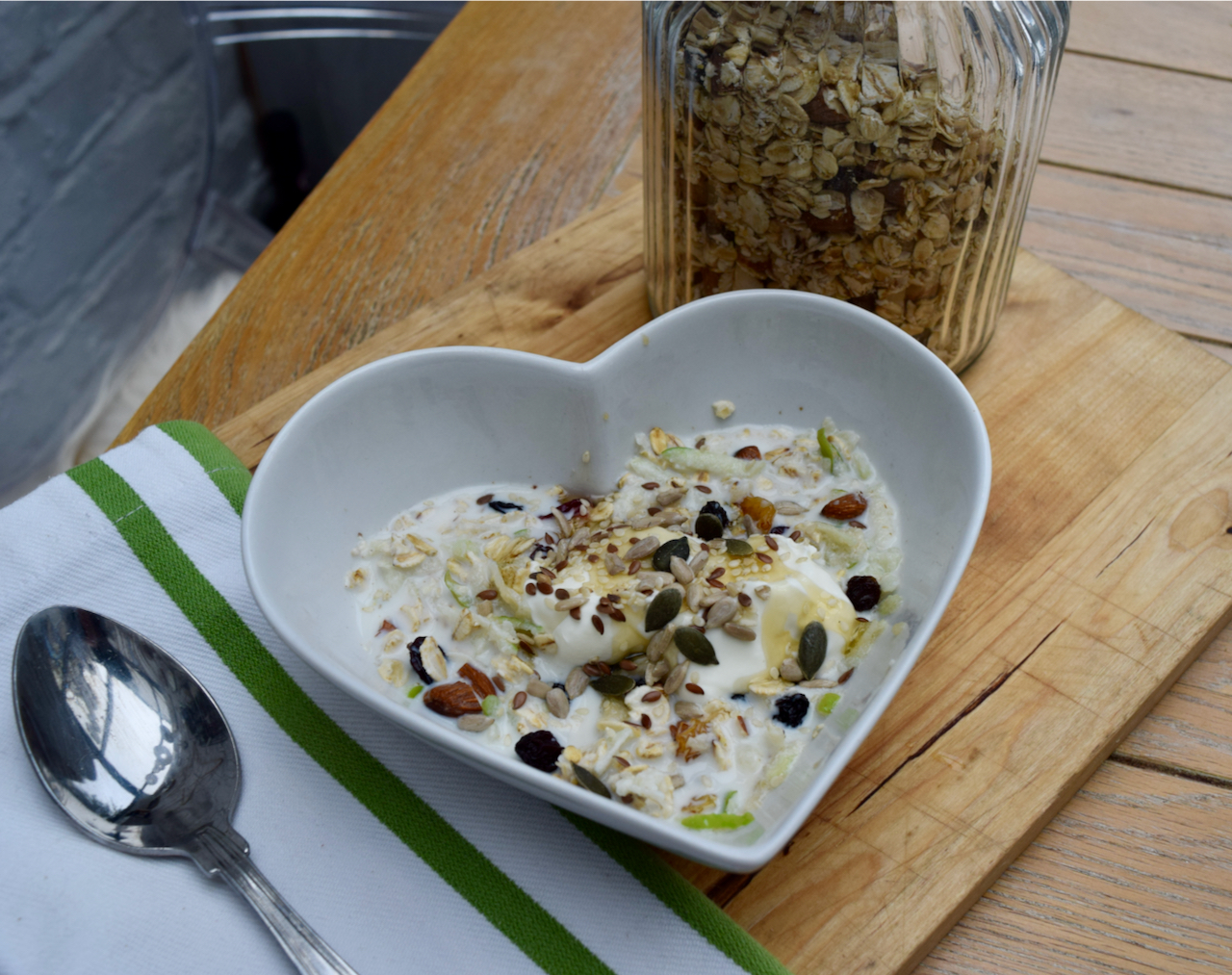 Not all lockdown misery eating needs to be chocolate based. I have been eating bowls and bowls of this muesli to keep my spirits up and I can happily say it works.
Lucy x
Homemade Bircher Muesli recipe
You will just need a bowl for mixing and a jar for storing
Muesli
220g oats, mine were jumbo
60g other flaked grain such as barley, wheat or rye, or just use more oats
40g chopped nuts, I used almonds, you can add hazelnuts or whichever you have to hand
60g raisins or other dried fruit of your choice
Bircher Muesli
50g muesli
1 small apple, or half a larger one, grated, skin on
Approx 100ml milk, full fat, semi, skimmed, nut or oat, up to you
A sprinkle of seeds, a dollop of Greek yoghurt, extra dried fruit and a drizzle of honey to serve
Take a large bowl and measure in the oats, the other grains, nuts and raisins. Stir well to combine then tip into your jar.
You can enjoy this muesli simply with milk for breakfast. Or for Bircher Muesli measure out around 50g of muesli, add a small grated apple and stir in around 100ml milk. You can pop this, covered, into the fridge and leave to sit overnight or just give it at least 15 minutes then devour with a large dollop of thick yoghurt, a sprinkling of seeds and a good drizzle of honey.
The muesli mix will keep for a good couple of weeks in the jar, but I doubt if it will.